There is a good chance that this post contains affiliate links. If you make a purchase through them, I may receive a small commission at no extra cost to you! As an Amazon Associate, I earn from qualifying purchases. As ever, all opinions are my own.
Last Updated on December 5, 2021 by Ella
The charming seaside town of Whitstable is one of the most popular places to visit in Kent. With pastel beachfront huts, yummy oysters, and peaceful pebble beaches, Whitstable has everything you need to enjoy a perfect trip to the coast.
Not only is this town gorgeous, but it's also super convenient to get to. On a sunny weekend, you'll find plenty of day-trippers from London strolling its streets, as well as the family holiday crowd, who are big fans of Whitstable. Plenty of people spending a weekend in Canterbury also extend their trip with a day in Whitstable.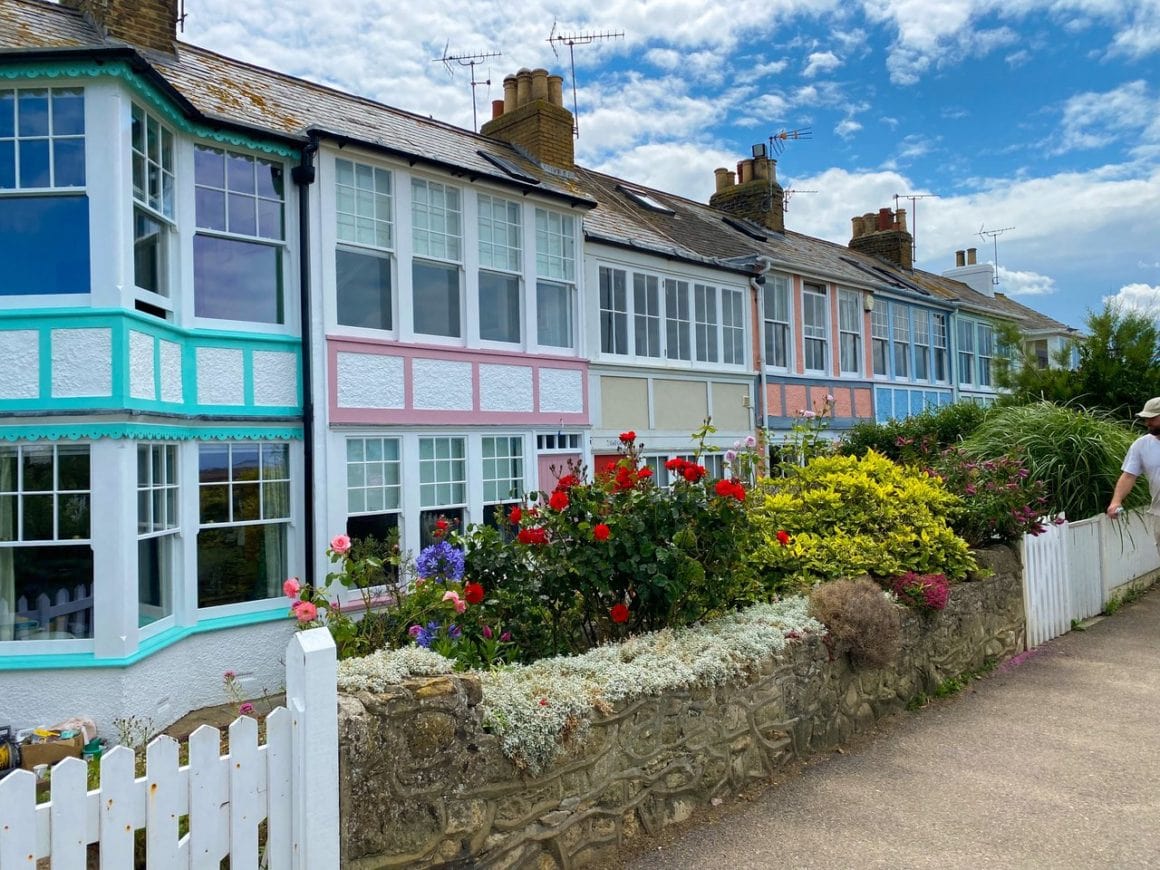 I mentioned oysters earlier, and Whitstable is super famous for them. Native oysters were collected from beds on Whitstable's beaches from Roman times until the mid-twentieth century. They're not farmed here as much nowadays, but the town's shops and restaurants certainly have no shortage of them!
How to Get to Whitstable
You can certainly drive to Whitstable, but the easiest option is to use public transport. For such a small place, Whitstable is very well-connected! 
From Canterbury, you can catch the Triangle Bus from Canterbury Bus Station to St Alphege Church in the centre of Whitstable. The journey takes 30 minutes, and the return ticket costs £7.30.
However, since the South East DayRider ticket lets you hop on and off all along the coast (so you can also visit nearby Herne Bay) and costs the same amount as a straightforward return ticket, you're better getting that instead. 
It's suuuuper easy and quick to get to Whitstable from London. Direct trains take just 1 hour and 17 minutes! A day return ticket costs around £26 – but if you buy your tickets in advance you can get a better deal. Check train times and ticket prices here.
How Long Do You Need in Whitstable?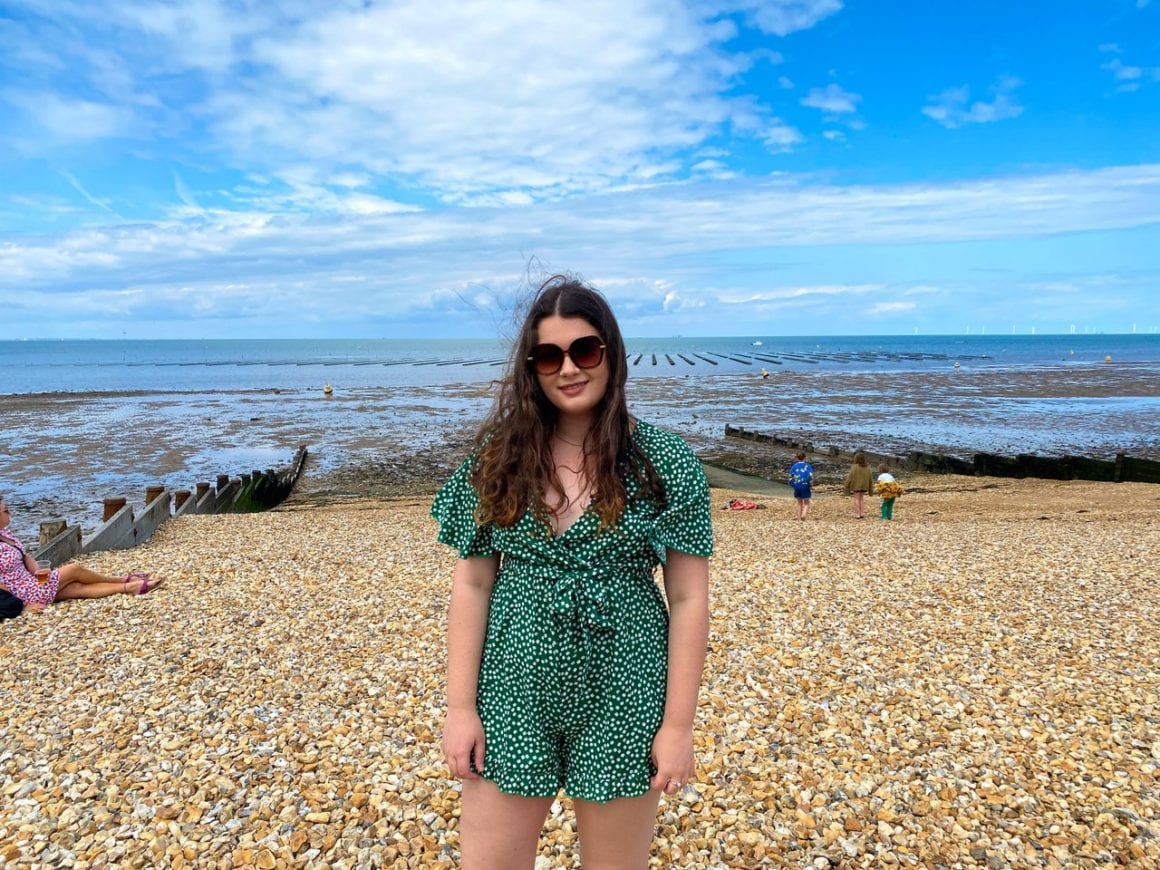 Whitstable is ideal as a day trip, and there's plenty of things to do to keep you occupied. However, since it's such a laid-back destination you could even just spend the morning or afternoon there. The charm of Whitstable is in pottering around without an agenda, so you can basically spend as much or as little time there as you'd like.
During my visit to Whitstable, I was taken aback by how many cute beach-front accommodation options there were. I ended up wishing I had booked to spend a night or two at one. Reading, eating my body weight in fish and chips and having more time to explore Whitstable's many cozy pubs sounds like heaven!
If you're looking to make a weekend of your trip to Whitstable, I recommend staying at the Whitstable Fisherman's Huts – we walked past them and they looked perfect! They're right on the beach, gorgeously decorated and get great reviews. A private apartment costs around £109 per night. Check availability here.
Things to Do in Whitstable
Snap a Photo of Wheeler's Oyster Bar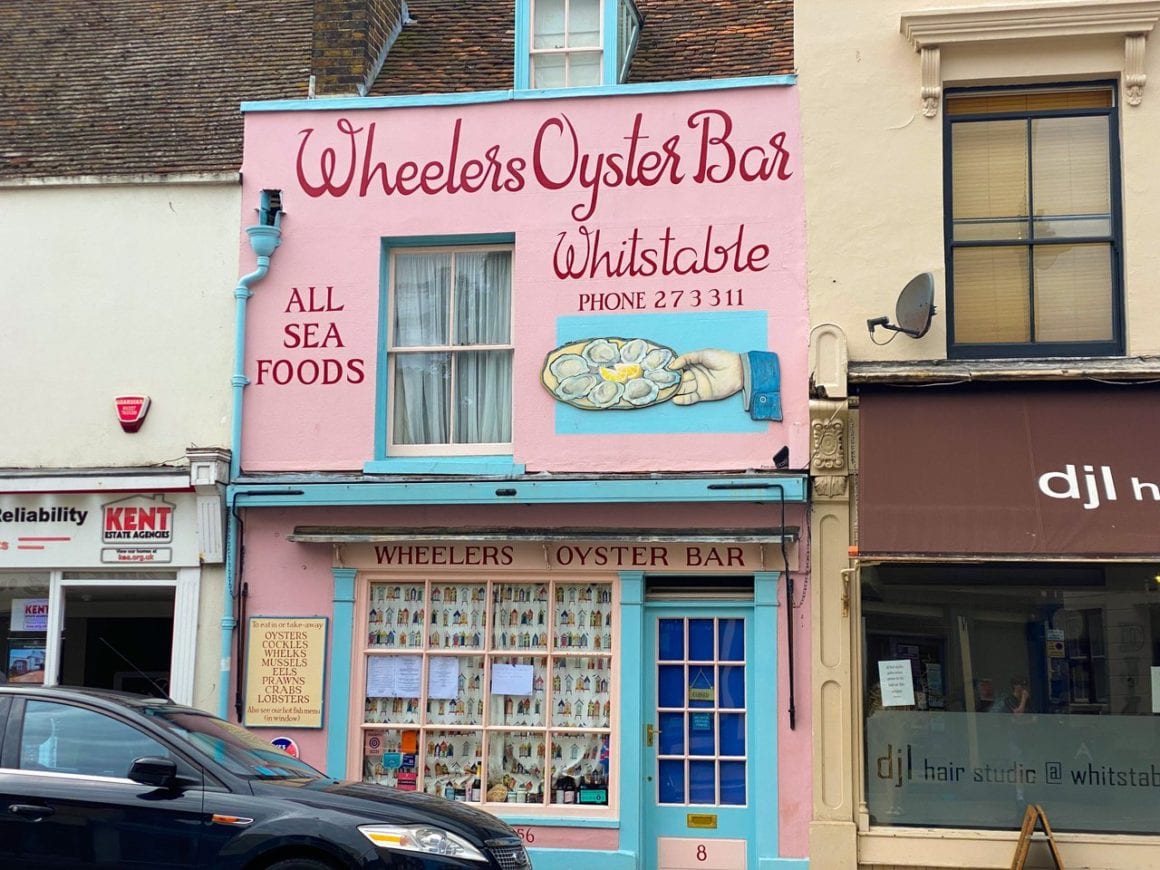 Wheeler's Oyster Bar is no doubt the most photogenic building in Whitstable. Even if you hate oysters, it's worth walking by this popular restaurant just to check out its cute exterior decor and snap a photo or two.
Wheeler's Oyster Bar is right on the high street, so there's a lot of passing footfall and cars are also able to park along the road outside of it. For this reason, snapping the perfect photo takes some dedication. Visiting mid-week and as early in the day as possible is the best way to snap a photo without other people (or their cars!) in it. 
Wander the Whitstable Harbour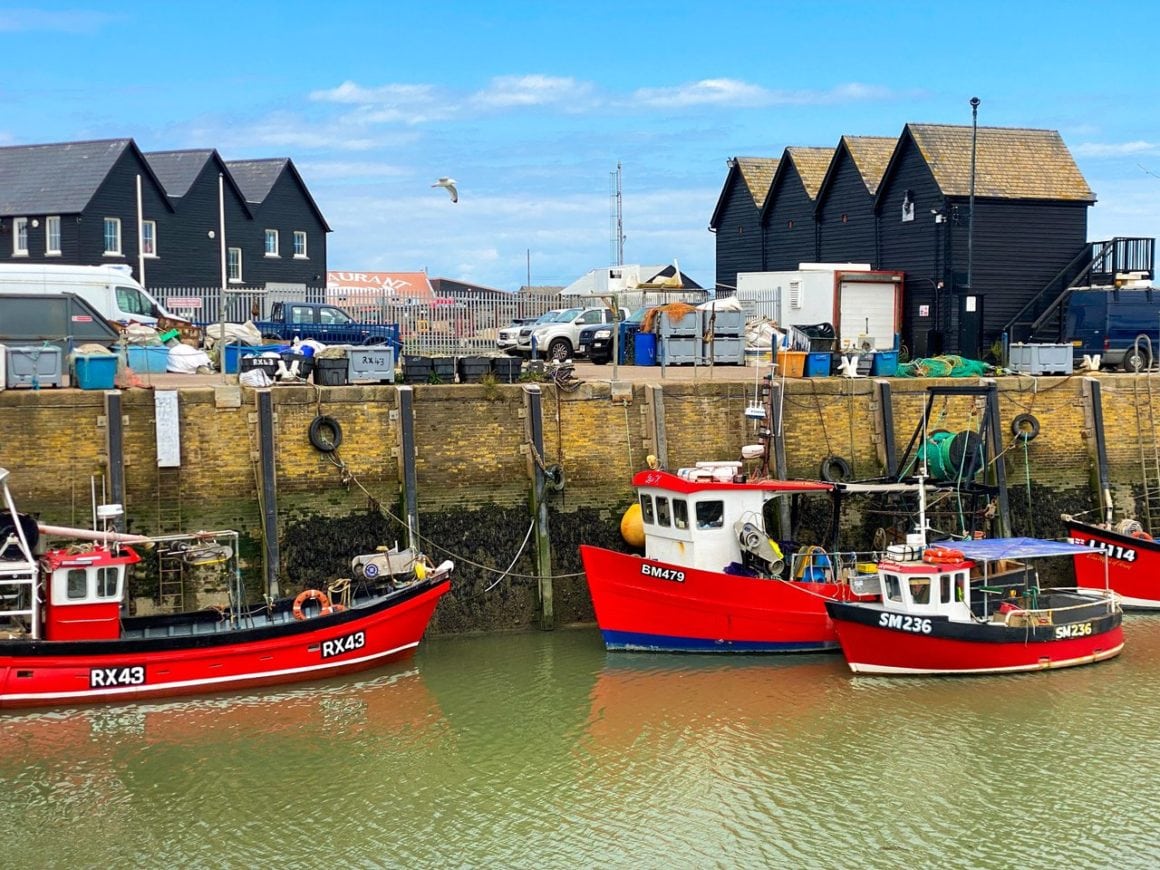 Whitstable Harbour is still a fully working harbour, so plenty is going on here at all hours of the day. It's a cool spot to wander around and take everything in.
Depending on the time you visit, you'll find fishermen heading out for the day, boats unloading the catch of the day, families eating ice creams on the harbour walls and lots of busy oyster and seafood stalls!
You won't need more than a few minutes if you just want to 'see' the harbour, but if you fancy doing some people watching this is a great spot for it.
Eat Fish & Chips
What's a trip to the seaside without a steaming portion of fish and chips?
As you can imagine, the fish here is superb, probably because it's super fresh. Add to that the intense competition between fish and chip vendors in Whitstable, and you'll find some truly mouth-watering offerings.
There are a few restaurants you can eat inside at, such as VC Jones, but if the weather is on your side you can't miss getting your chips to take away and eating them on the beach. We opted to go to The Forge, a small beach-side shack, and eat our food on the beach. The fish was fabulous and I'd definitely recommend it!
Go Crabbing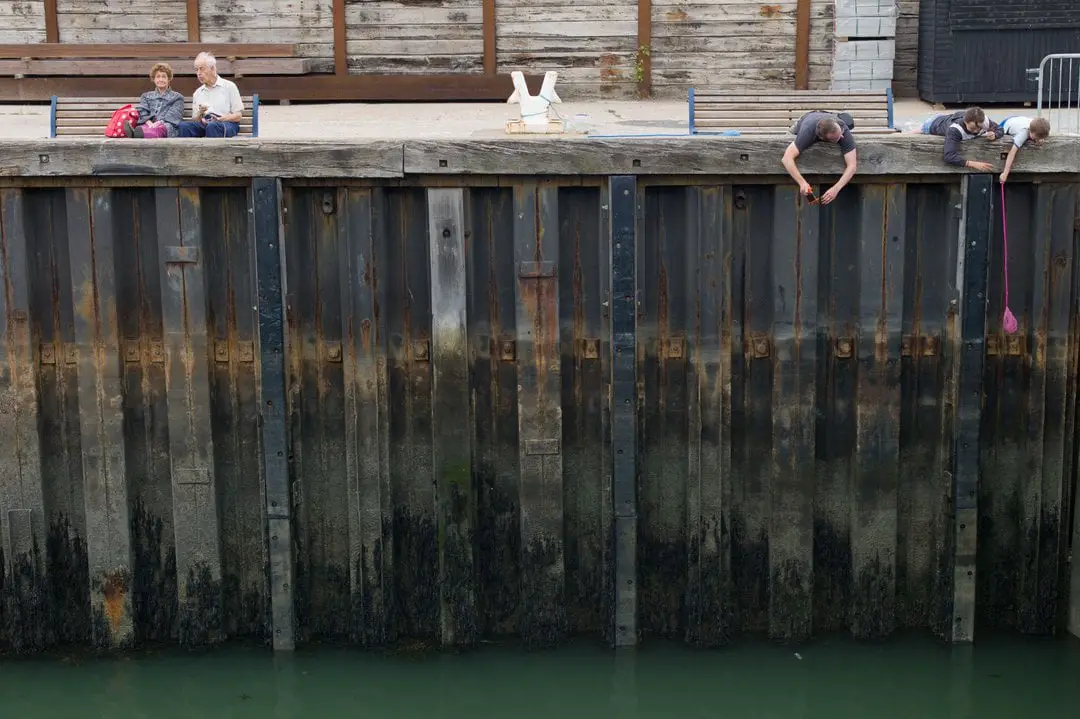 There are plenty of shops in town that sell all the gear you'll need to do some crabbing in Whitstable. I used to do this on every family holiday as a kid, and it's a ton of fun!
Even if you have no crabbing skills whatsoever, it's really easy to pick up. Buying a bucket, a crab line and some bait costs next to nothing, and with the many great crabbing spots in Whitstable, chances are you'll be very successful. 
Crabbing is definitely a fun activity, but it's SUPER important that you take care of the crabs properly and return them to the sea no worse off than you found them. Be sure to fill your bucket with a bit of sand, pebbles and seaweed to make them more comfortable, don't overcrowd your bucket, and be sure to return the crabs to the sea ASAP! 
I highly recommend this brilliant guide on how to go crabbing safely and compassionately.
The best spots to go crabbing in Whitstable are from the groynes at high tide on West Beach, from the jetty on West Beach, or in the town harbour.
Hit the Beach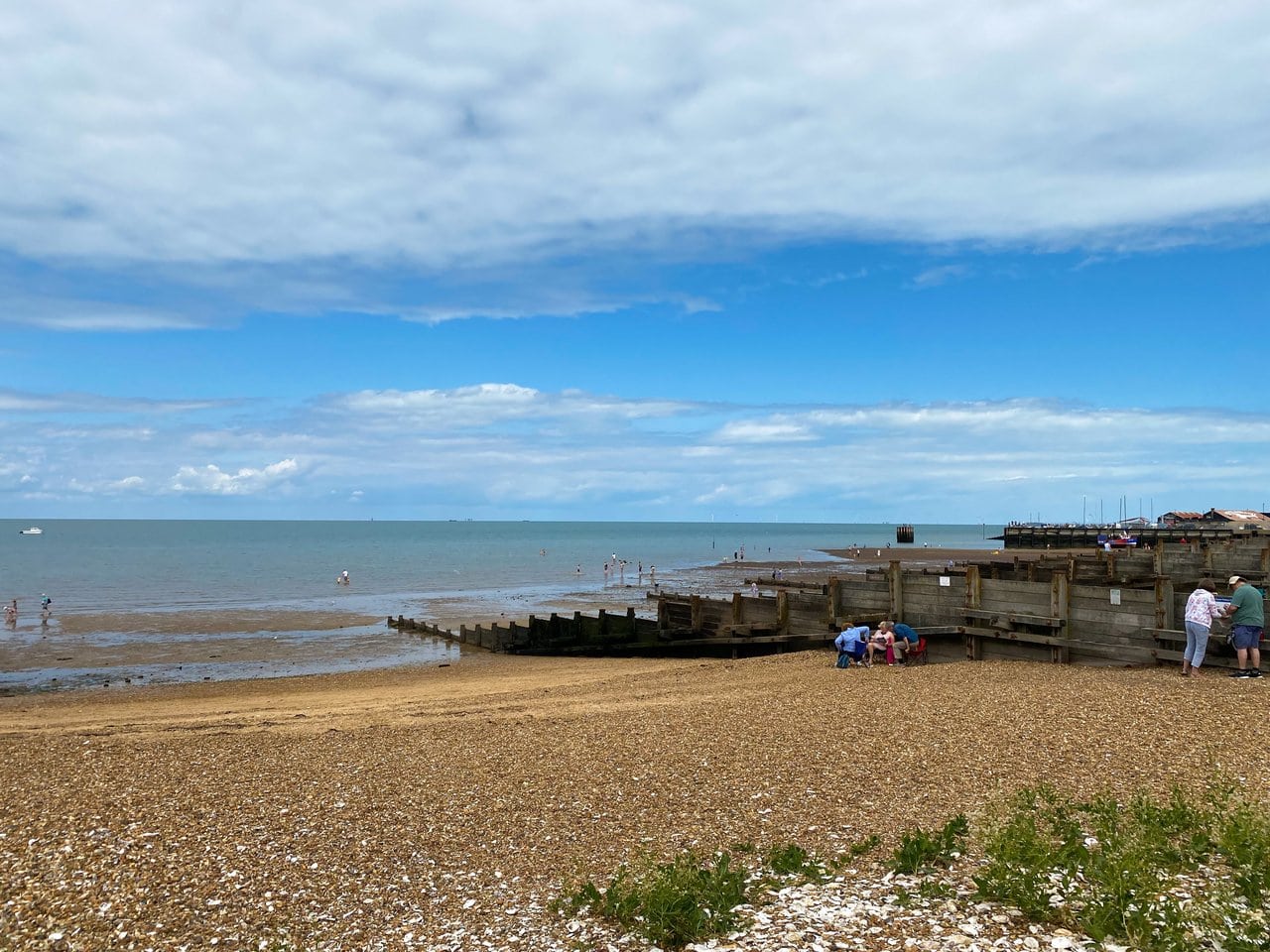 Look – if you're in search of a beautiful beach, Whitstable is not the place to go. In fact, the beaches here are actually pretty… ugly…
Sorry, I said it!
The beaches in Whitstable are pebble beaches, not sand, and the sea has a lot of seaweed. Add to that the rows of wooden groynes, and it's hardly the beach destination of your dreams. 
However, if you're happy just sitting around for a while, maybe sipping a cup of coffee, going for a paddle, or eating fish and chips, the beaches in Whitstable certainly do the job.
West Beach is the beach closest to central Whitstable, and there's actually a walkway along it for you to enjoy. A 10-minute walk East of the harbour, you'll find Tankerton Beach. Both are pretty similar, so just pick whichever is most convenient.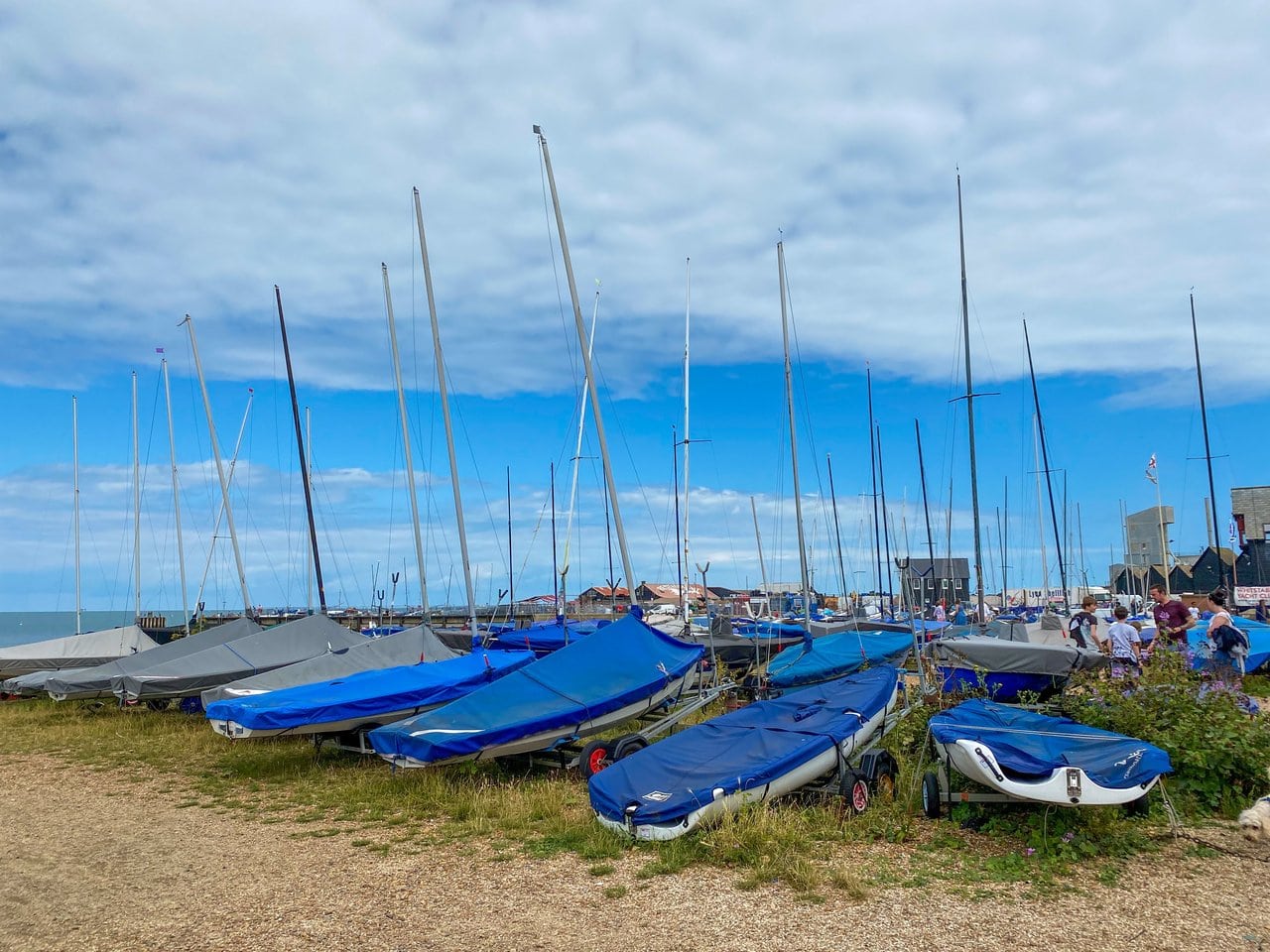 Can You Swim in the Sea at Whitstable?
It's definitely possible to swim in the sea at Whitstable, but due to the dramatic tides, it's best to go at high tide. This is because, at low tide, the water stays extremely shallow for a long way out. 
However, I wouldn't personally swim at Whitstable. As I'm writing this, swimming has been banned there due to a sewage leak. Ew!!! I'm sure this will be cleared up, but, ya know… I'm sure there are nicer places you could find to go swimming in the sea.
Visit the Red Sand Maunsell Forts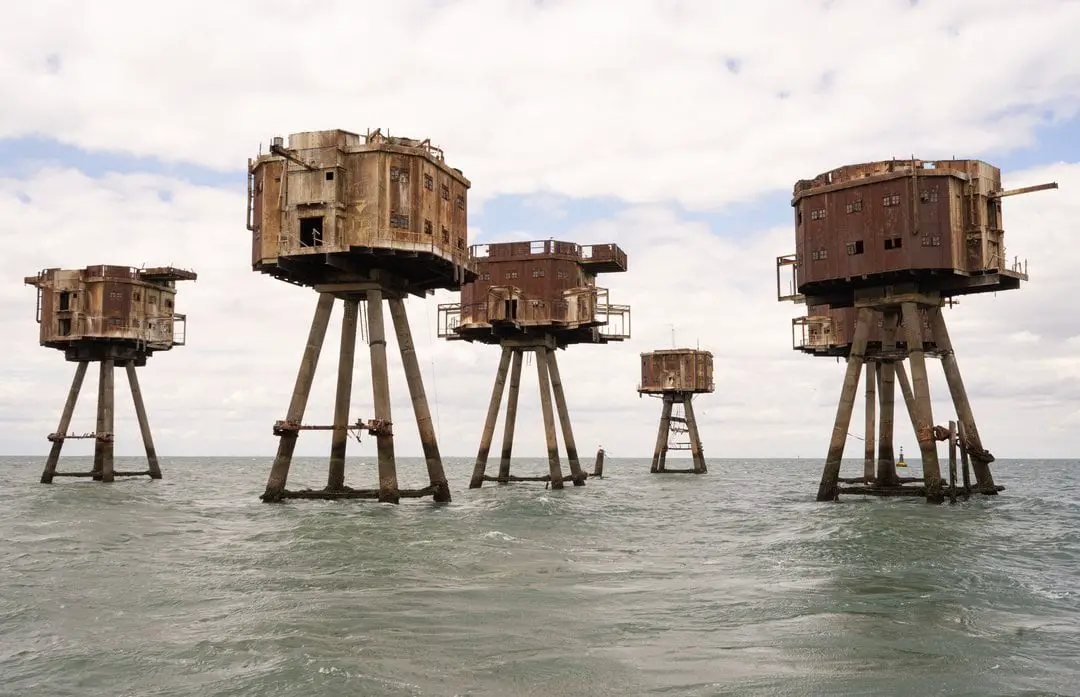 A visit to the Red Sand Sea Forts, which form part of the Maunsell Forts, is definitely the most unusual of all the things to do in Whitstable. Just off the coast of Whitstable (and close to the mouth of the Thames Estuary and Essex), these forts were built during WW2 to protect Britain from enemy aircraft and bombers.
In fact, during WW2 the forts successfully shot down over 20 enemy aircraft and over 30 flying bombs!
There are several tour operators who run boat tours from Whitstable to the forts, but the most popular is probably Whitstable Boat Tours. All of the tour operators pretty much offer the same thing, though, which includes a guide who will share all the fascinating history of the forts. They all cost £40 per person. 
Tankerton Slopes
The Tankerton Slopes are where you'll find Whitstable's colourful beach huts, which are worth a visit even if just to snap a photo!
The rolling cliff-top slopes here offer great views over "The Street" (which we'll talk about later) as well as Tankerton Beach, and if you look far enough, you'll even spot the WW2 Maunsell Forts out to sea.
You'll see cannons scattered across the tops of the slopes, hinting at Whitstable's role in the UK's coastal defence over the years. With plenty of benches and sheltered places to sit in the area, the Tankerton Slopes are the ideal spot to stay awhile and relax as you watch the sea.
Sample Oysters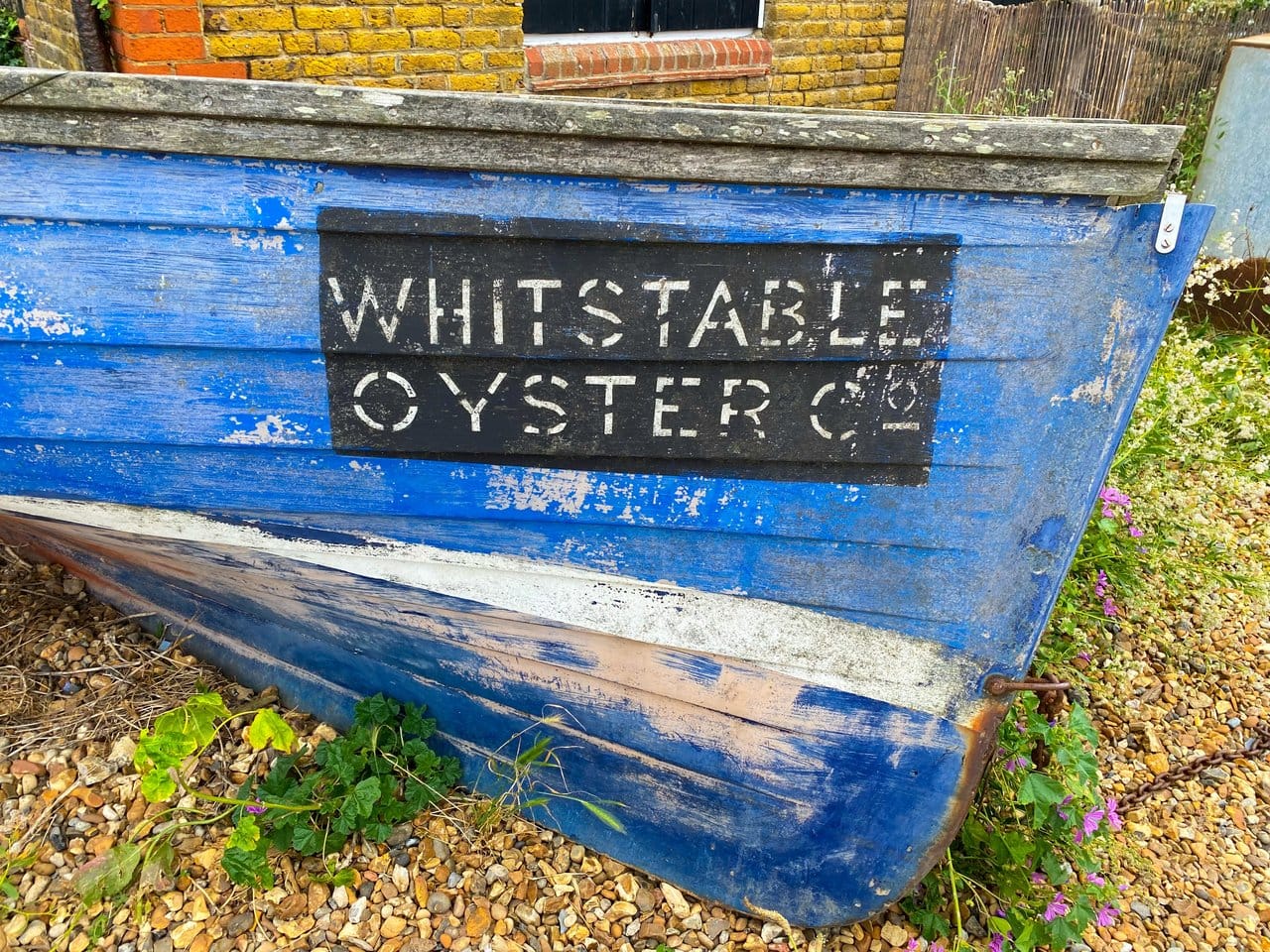 Whitstable is the place on the Kent coast to sample oysters, and there are soooo many different places that sell them!
I had never tried an oyster before visiting Whitstable. Given what I'd heard about them, I was convinced I'd hate them. To my very pleasant surprise, it turns out I'm one of those people who love them. Although they definitely don't look appealing, if you're on the fence I definitely recommend giving them a try – you could really like them!
They're not expensive in Whitstable, and you can get them everywhere. You don't have to commit to a huge plate of them either! For those of us new to oysters, you can luckily purchase them individually, for around £2 each, to check if you like them.
Go Kayaking or Paddleboarding
If you're looking to get active, head over to Oyster Coast Watersports at Tankerton Beach, where you'll be able to hire kayaks and stand-up paddleboards by the hour. During summer, the shop is open 7-days a week, and hire costs £15 per hour for either a kayak or a paddleboard. 
If you don't quite fancy submerging yourself into the freezing sea, exploring Whitstable's coastline by kayak or paddleboard is the perfect alternative. The price of hire includes use of a wetsuit, so you'll stay toasty and warm, and you'll find that these activities are actually quite the workout!
You can't book any of the equipment in advance, so to give yourself the best shot at getting your hands on some equipment, head over there during the week or as early as you can at the weekend.
Drink at Neptune's Arms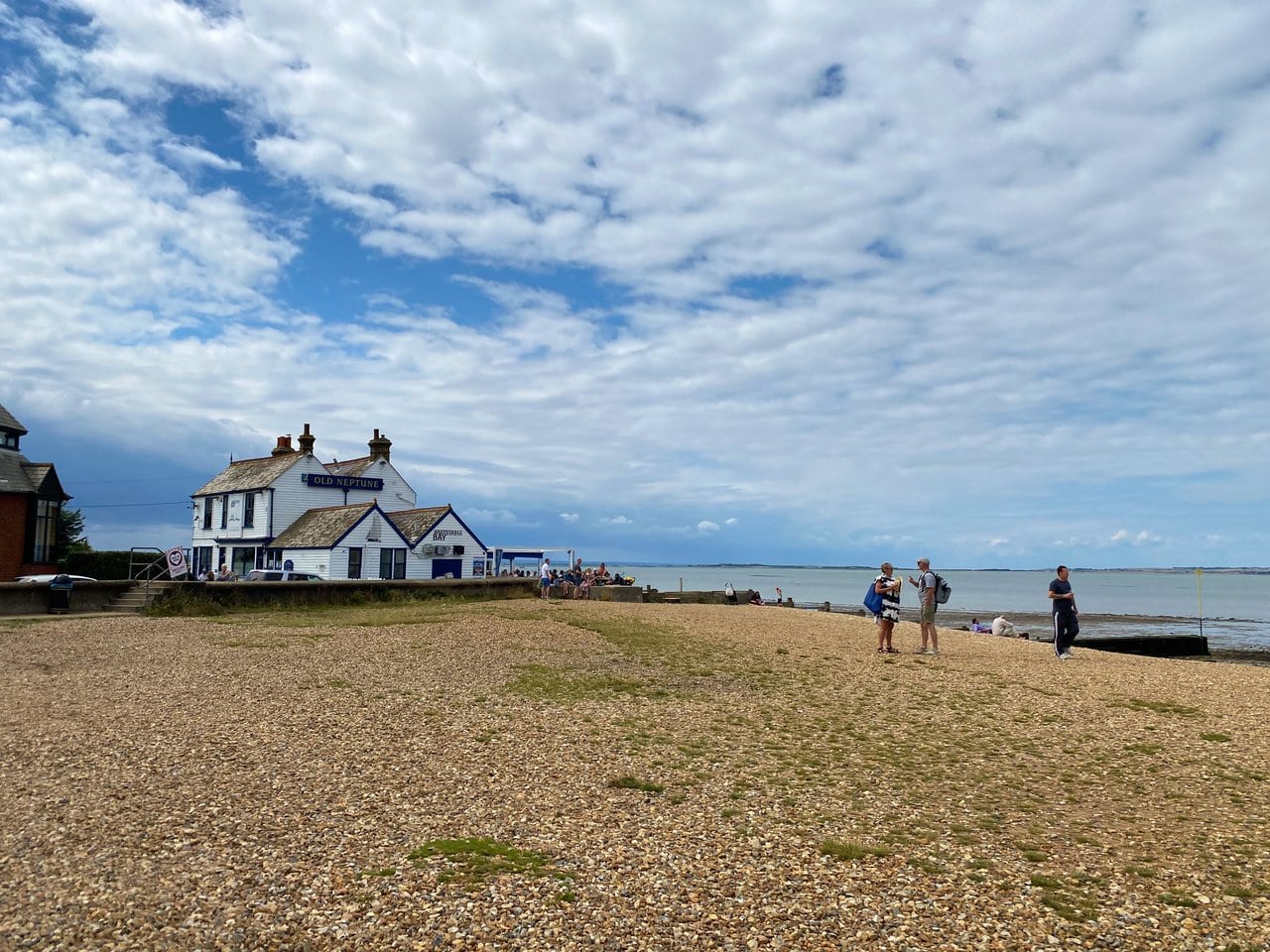 I'm a sucker for a pub right on the beach, and the Neptune's Arms pub certainly delivers. Just a short stroll along the beach away from town, you'll find this Victorian building which is probably the most popular place to get a pint in Whitstable.
Compared to London, the prices are super reasonable (just £5 a pint! It's sad that that's a bargain nowadays…) and they have a variety of established brands as well as local beers. 
It can be a challenge to get one of their tables out on the beach – it is, after all, the most popular pub in Whitstable! But you can sit on the pebbles or perch on the wooden groynes as you drink, so you'll manage to find somewhere.
We didn't get to sample their food offering, but they serve traditional pub grub offerings and the portions looked huge!
Explore Whitstable Castle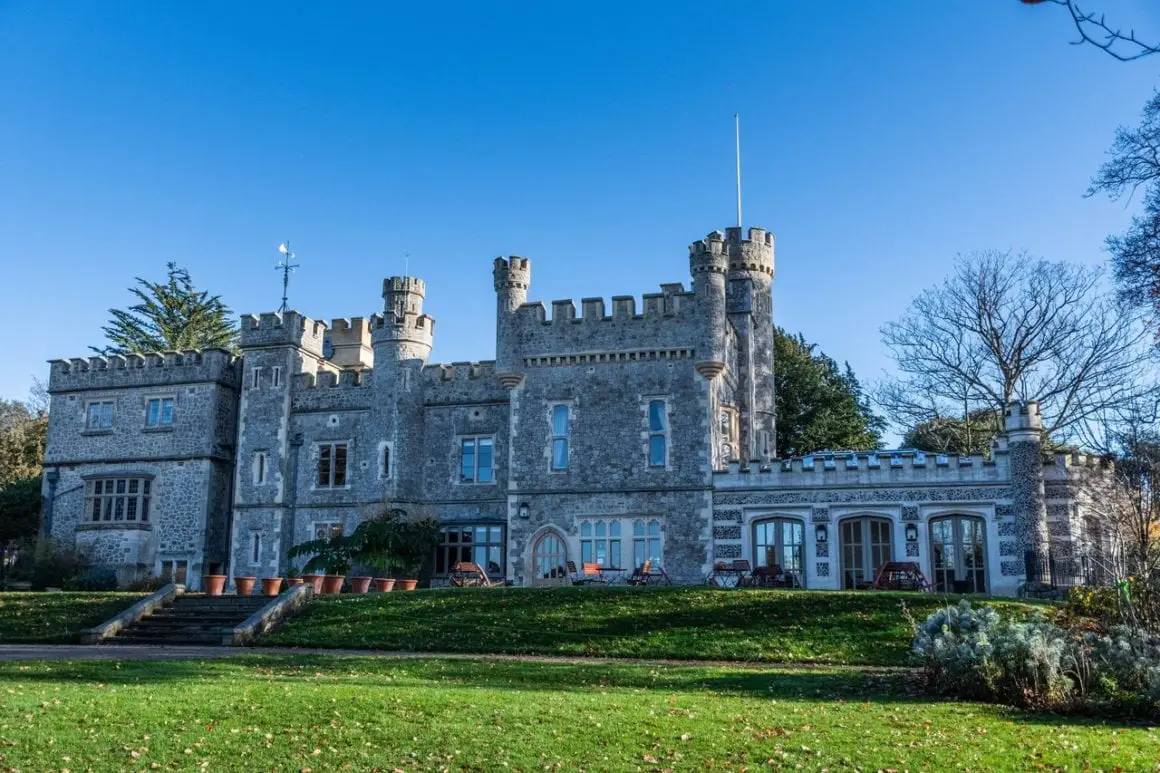 Whitstable Castle is super easy to miss on a trip to the town because it's just slightly out of town and away from the seafront, but this means it's never overcrowded. It's the perfect place to escape the masses on summer weekends in Whitstable.
The name is rather misleading, as it's not actually a castle, but it is a very fancy manor house that looks enough like a castle. You could totally just pretend that it is one.
The only way to explore the interiors is on a guided tour, but luckily these are totally free and run every 20-minutes or so. If you're not bothered going inside, it's still worth a visit to check out the grounds, which are very tranquil and spacious.
Go Shopping on Harbour Street
Harbour Street is the main shopping street in Whitstable, and it's got a ton of unique shops you won't be able to resist popping into.
Harbour Street in general has a very vintage vibe, and with colourful bunting, pastel-coloured storefronts and a ton of painted wall murals nearby, it's definitely worth dedicating some time to.
As well as cutesy seaside trinket shops and local clothing brands, you'll also find a ton of charity shops. I'm a big fan of charity shopping as you never know what you're going to find, it's sustainable, and it's cheap!
As well as charity shops, there are a couple of delightful bookshops in Whitstable – the town favourite probably being Oxford Street Books, which boasts over 30,000 books spread over two floors. There's also Harbour Books, which has a more curated selection of both fiction and non-fiction, and hosts regular literary events.
Walk "The Street" at Low Tide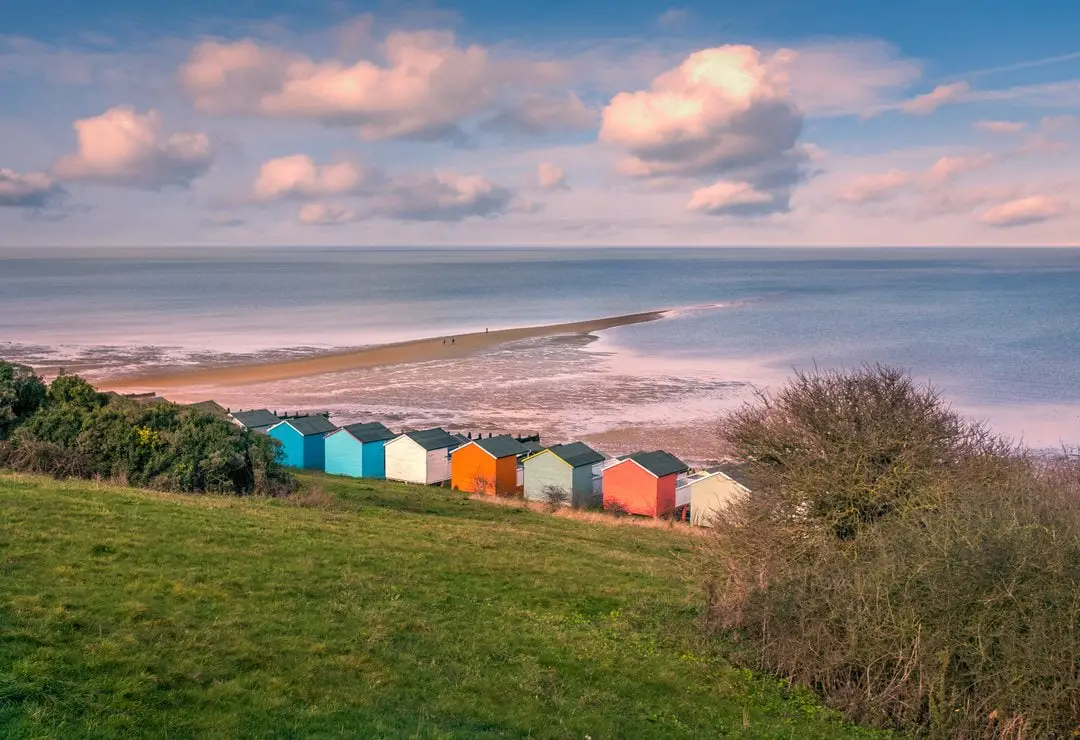 The unassuming name of this Whitstable attraction certainly doesn't reveal how cool it actually is. See, unlike a typical street, the Whitstable "street" is actually a long shingle strip that extends about half a mile out to sea when the tide is low. Cool, right?
You can find "the street" at Tankerton Beach, and if you've visited at low tide, chances are you won't have it all to yourself. Lots of visitors wait for the tide to go out so that they can wander out to sea along this stretch of shingle and look back at Whitstable from a unique viewpoint.
Don't forget to check the Whitstable tide times before you visit!
Is Whitstable Worth Visiting?
Absolutely! Whitstable is laid-back, beautiful, and lacks the tackiness that you may expect from a typical British seaside town. It's full of cool bars and restaurants, cute vintage stores, book shops and lots of things to do to keep you busy during a day or overnight stay in Whitstable.
I had a great day in Whitstable and was definitely happy I made the journey out there. In fact, it was my favourite destination I visited on the Kent coast during my recent week in Kent. 
Liked this post? Pin it!