There is a good chance that this post contains affiliate links. If you make a purchase through them, I may receive a small commission at no extra cost to you! As an Amazon Associate, I earn from qualifying purchases. As ever, all opinions are my own.
If you're looking to get away from London for a weekend, I highly recommend heading to Canterbury!
This city, which is one of the most popular places to visit in Kent, is full of historical attractions. It also has a growing food and hipster coffee scene. If that wasn't enough to convince you, though, prices here are cheaper than in London. Yay!
Most people visit Canterbury to explore the world-famous Canterbury Cathedral, but since there are so many other fun things to do and see in Canterbury, you'll have a fabulous time here even if you're not super into cathedrals.
I visited Canterbury this summer, since international travel was so difficult, and I didn't have super high hopes. Luckily for me, I was very surprised by how much I enjoyed my visit to the city! I'm a huge fan of historical attractions and cosy old pubs, and Canterbury definitely checked those boxes!
So, if you're considering spending a weekend in Canterbury, or are just looking for a guide to Canterbury to help you plan your trip, look no further! This Canterbury itinerary will cover everything you need to know to plan an unforgettable weekend break.
How to Get to Canterbury
There are two train stations in Canterbury: Canterbury (East) and Canterbury (West). Both are just a few minutes' walk away from the city centre, so it doesn't matter which one you arrive at. 
Getting to Canterbury from London is very easy, with over 150 services per day running between the two cities! The quickest train is the direct journey from London St Pancras to Canterbury (West), which takes 54 minutes. However, you can catch a train from almost anywhere in London. You'll usually have to change at Stratford or Ashford to arrive in Canterbury in around 1 hour and 20 minutes. 
Advance return tickets cost around £22, rising to around £34 if you purchase them on the day of travel. If you're not afraid of commitment, book your tickets more than a month in advance and you'll probably get them even cheaper. 
If you're visiting Canterbury from other cities in the UK you'll have to change trains in London. Check train times and prices here.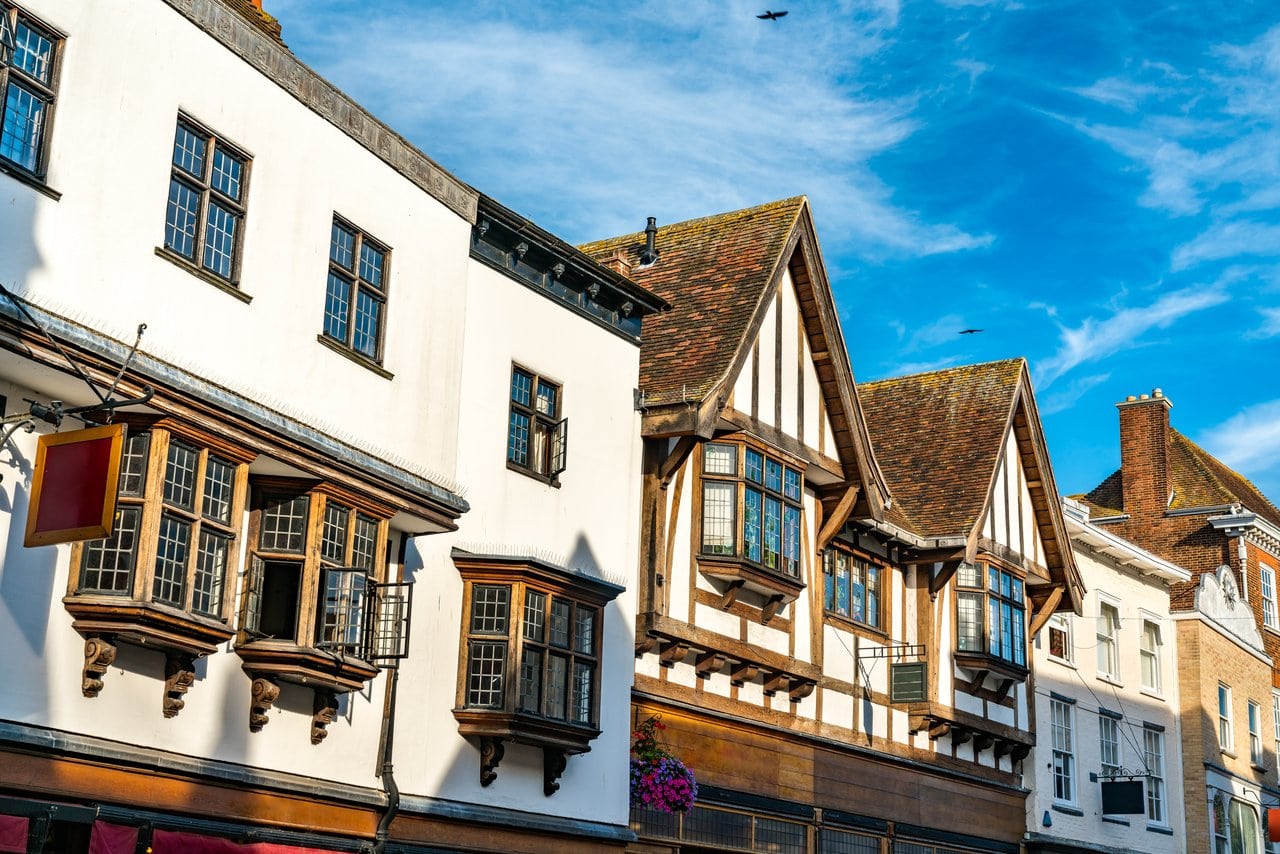 Where to Stay in Canterbury
There's a good selection of hotels and B&Bs in Canterbury, with lots of competition amongst mid-range hotels. We booked our stay fairly last minute so we stayed at The Hampton by Hilton, which luckily still had availability since it's such a large hotel.
It's also affordable – we paid £76 per night for a double room, and breakfast was included! Its location was fantastic and just a short walk from everywhere in the city, and our room was perfect (the TV was HUGE and the shower was soooo nice).
Breakfast was self-serve, which included continental or cooked English breakfast options as well as a waffle machine. It was great considering that it was free, but the food definitely wasn't great.
Check prices and availability here!
For this reason, when we return to Canterbury we'll stay at this charming hotel. I love boutique hotels, and the decor of the rooms at this hotel is so unique –  and I love the wooden beams of the ceiling in the hotel bar! Plus, the building dates back to 1403, so it's quite the relic from historic Canterbury.
Double rooms cost around £80 per night, so it's a great budget option if you're travelling with somebody else. Check prices and availability here!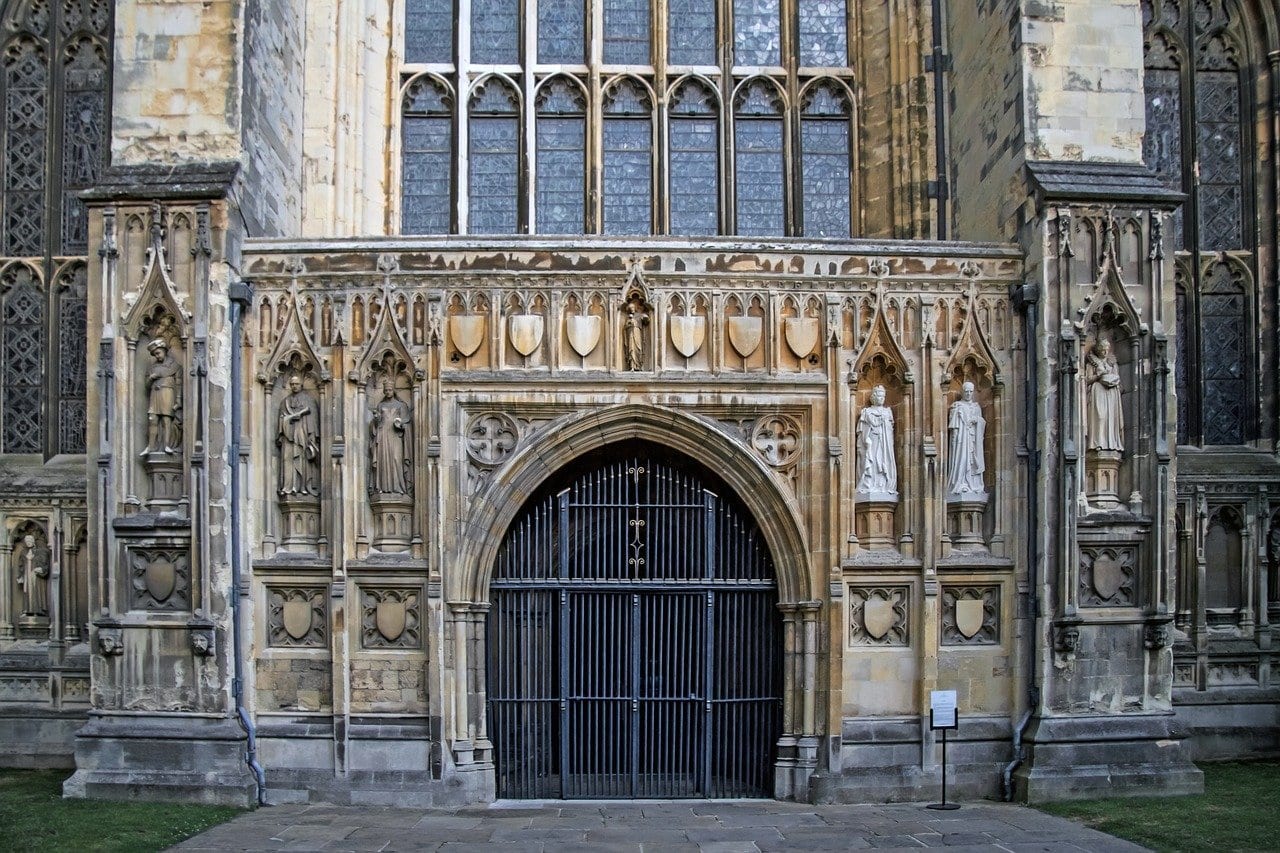 Day 1 – Canterbury's Most Famous Attractions
Stop 1 – Arriving in Canterbury & Coffee
I recommend arriving in Canterbury at around 11 am so that you don't have to get up ridiculously early. From the train station, drop your bags off at your hotel and then we'll kick off this Canterbury itinerary at Garage Coffee, which is right in the centre of the city.
This Kent coffee chain serves up incredible coffee (I visited their branch in Whitstable so I can vouch for them!) as well as pastries, tea and other classic coffee shop offerings. Although their cafe is ultra cool and hipster-esque, I actually recommend getting your coffee to go so you can get exploring faster.
Stop 2 – Canterbury Cathedral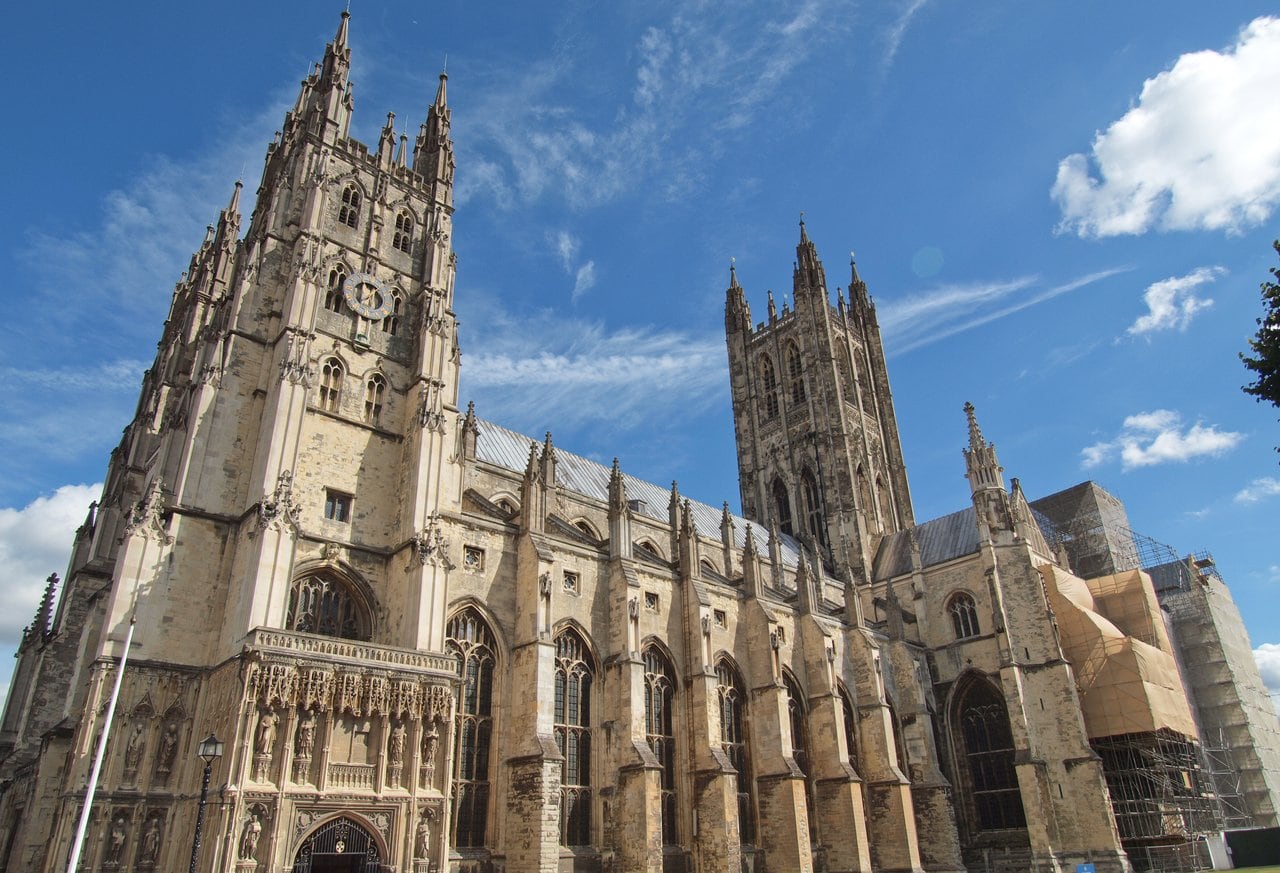 Next up, it's time to head straight to the city's star attraction, Canterbury Cathedral. Unfortunately, there you can't see the cathedral without paying. Tickets can sometimes sell out a couple of days in advance so make sure you get your ticket before you arrive. Tickets cost £14 for adults, but children under 18 visit for free.
The star of Chaucer's The Canterbury Tales, Canterbury Cathedral pulls literature, history and religion enthusiasts from around the world to its grounds. The building of the cathedral began in 579 AD, and nowadays it's seen as the home of the Church of England.
If you've read a few posts on this site you may know that I'm not really a huge cathedral fan. I definitely understand if the £14 entry fee is off-putting for some (it certainly was for me)!
However, if you're going to visit a cathedral whilst in the UK, Canterbury Cathedral is one of the only ones that I would say is worth it. Even without the religious aspect, there's plenty to appreciate from a historical and architectural perspective.
Stop 3 – The Beaney House of Art & Knowledge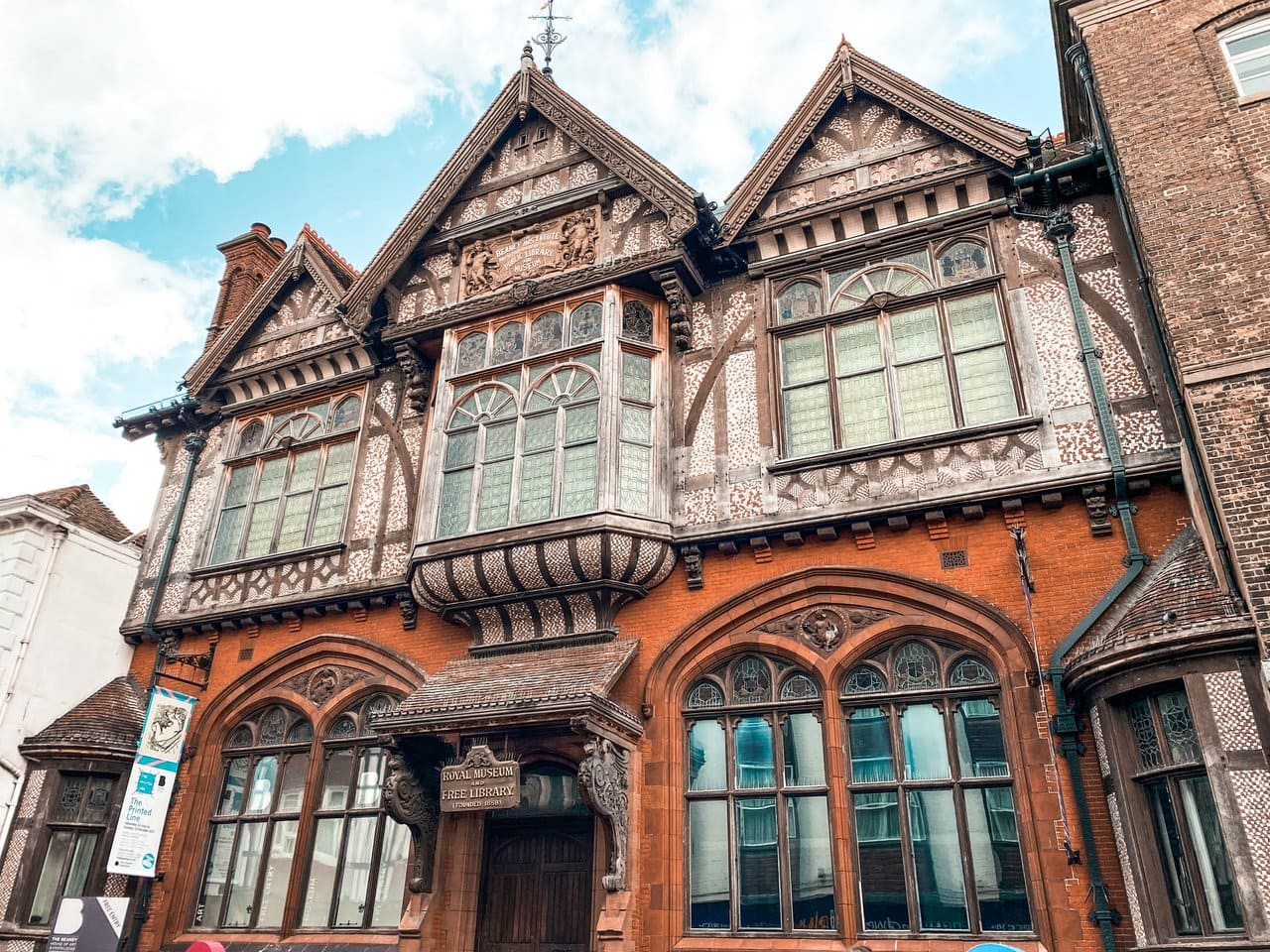 Near Canterbury Cathedral you'll find the Beaney House of Art & Knowledge, a museum, art gallery and library. Admission is free, but it's this building's exterior that makes it really worth visiting. The grand 19th-century building is certainly unique, and you'll see visitors to Canterbury standing outside taking photos of it at all times of the day.
Inside, you'll find a pretty standard museum, which definitely has some interesting artefacts and information. I don't think it's worth exploring for too long though (unless it's raining outside!).
Stop 4 – Lunch at Notorious BRG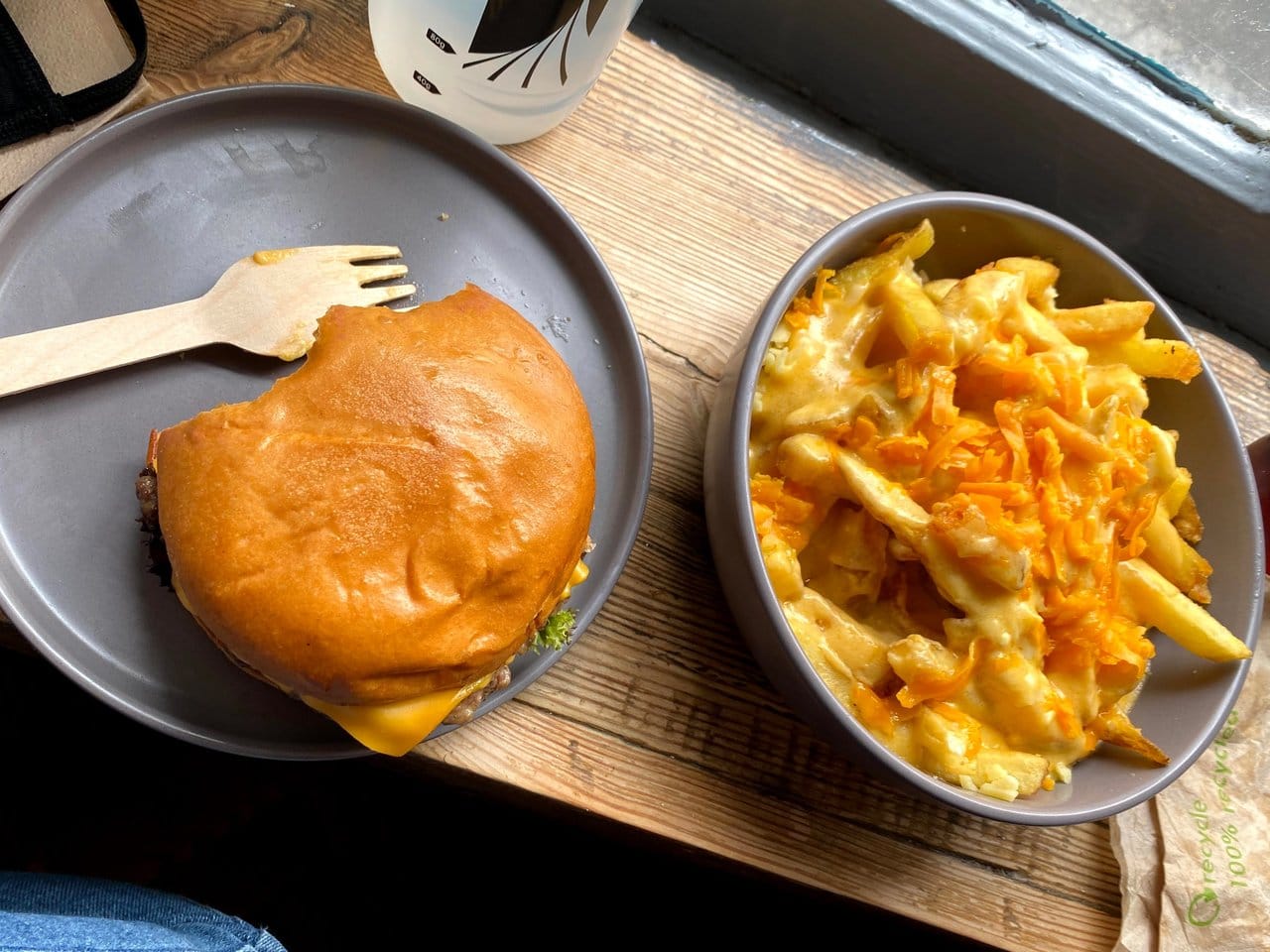 Lunch at this burger stop was one of the highlights of my trip to Canterbury – it really is incredible! I found it completely by chance when I typed "lunch" into Google Maps, but the 4.9/5 review score spoke for itself!
This place is tiny, so seating inside the restaurant itself is extremely limited. This is easily solvable if you're visiting Canterbury on a nice day. Just order your food to go and find somewhere outside to eat. 
All of the burgers on their menu are available as vegan options, which is awesome, but their loaded fries are what really stole the show for me. I ordered the triple cheese fries and Rob ordered the chilli cheese fries, and we both agreed that they were the best fries we had ever eaten in our lives!
Plus, the fries portions are absolutely huge, so you definitely don't need a burger as well (although you'll probably end up ordering one anyway as they are so delicious!).
Stop 5 – St Augustine's Abbey
St Augustine's Abbey is a 12-minute stroll away from The Notorious BRG, so this is the opportunity to stretch your legs and give your food a chance to digest on the way. 
Just outside of the Canterbury city walls, the abbey's original purpose was as a burial place for the Anglo-Saxon Kings of Kent. It was founded in 598 AD and functioned as a monastery until the English Reformation in 1538. 
St Augustine's Abbey is mostly just a collection of ruins now which visitors are allowed to wander around. There's also a small museum that documents the history of the abbey. Since most visitors only know about Canterbury Cathedral, St Augustine's Abbey is one of the more unusual things to do in Canterbury, and it's far less busy. Plus, alongside Canterbury Cathedral and St Martin's Church, St Augustine's Abbey is a UNESCO World Heritage Site.
The abbey is owned by English Heritage, and entry costs £7.90 for adults and £4.70 for children.
Stop 6 – Sir John Boyes House/Catching Lives Bookshop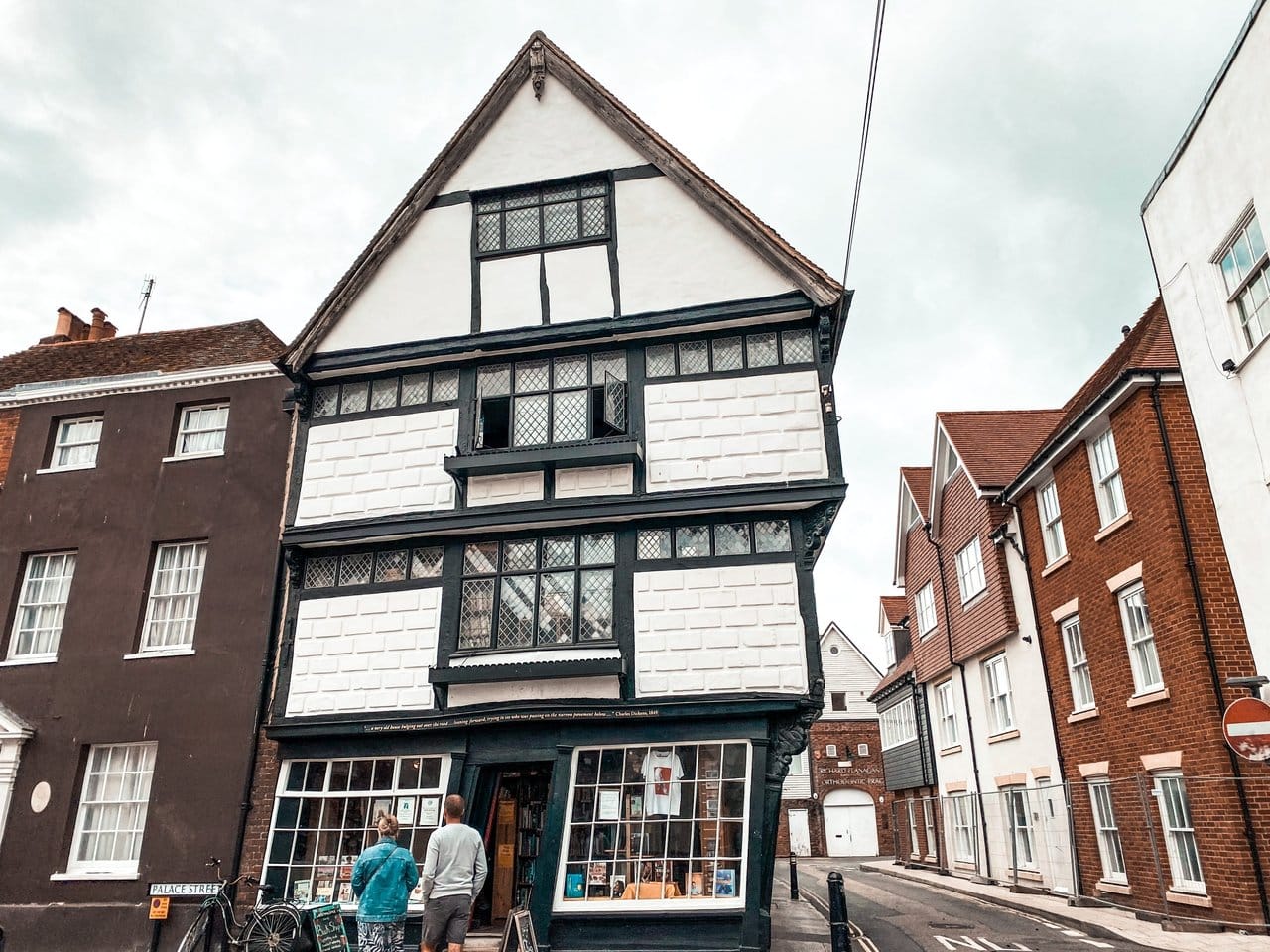 From St Augustine's Abbey, stroll through Canterbury until you reach the Sir John Boyes House, which is now the Catching Lives Bookshop. This wonky, 17th-century building looks super bizarre, and it's a fun novelty to walk through its diagonal door to explore the bookshop inside. 
The Catching Lives Bookshop contains countless second-hand books across two floors, and they're very decently priced. What's more, each purchase helps to support Catching Lives, a Canterbury charity that supports homeless people.
This building has such a recognisable exterior that you'll probably see other visitors standing outside taking photos and posing in the doorway. It's not surprising. After all, aside from Canterbury Cathedral, it's the most photographed building in the city!
To get a photo without having to pose in front of others, visit at dusk in summer. You'll still have enough daylight to take photos but there will be barely anybody else there!
Stop 7 – A Pint at The Parrot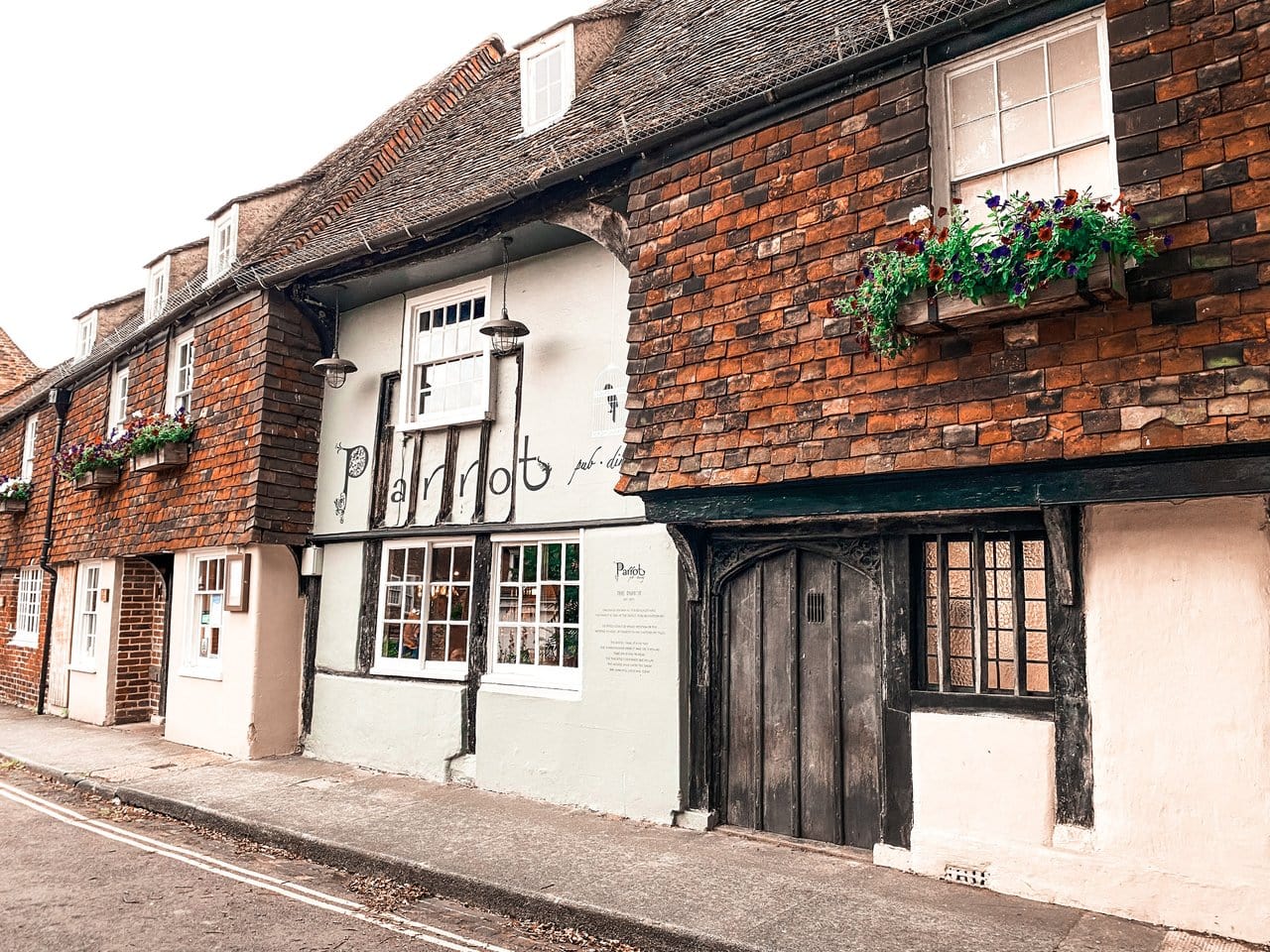 There's debate about which of Canterbury's many old pubs is its oldest, but from my research it appears that it's The Parrot, which dates back to the 14th century. If it's winter, grab yourself a seat by the crackling log fire and enjoy a pint surrounded by history.
I LIVE for really old-fashioned pubs, and this one absolutely gets my approval!
Even if you're visiting Canterbury in summer it's worth going to The Parrot as their beer garden is decorated in a really cute style and is a very peaceful place to hang out and sip a couple of drinks in.
Stop 8 – Dinner
We ate at three different restaurants in Canterbury, and each one was excellent, so I'm going to recommend all three for you to choose from:
The Parrot serves excellent pub grub and, since you're already there, it's the easiest option if you're exhausted after your first day in Canterbury. The prices aren't bad (£10 – £14 for a huge main course), the quality is great, and the staff there are super friendly.
The Ancient Raj is probably the only place in the country where you can enjoy curry in a 15th-century building, complete with wooden beams and old-fashioned decor. The curry here was good, but obviously it's the surroundings that make this restaurant stand out from the crowd. Towards the back of the restaurant is more modern, so be sure to request a table near the windows at the front of the restaurant to be in the old-fashioned section. It costs around £13 for a curry with rice.
The Korean Cowgirl serves Texas-style BBQ and Korean Fried Chicken side-by-side, and boy do they take their food seriously. The smell as you walk in the door will have you salivating! It's on the expensive side (burgers cost £15, six Korean wings cost £8) but worth it if you fancy a treat.
Stop 8 – Marlowe Theatre
Famous playwright Christopher Marlowe was born in Canterbury, and the city's Marlowe Theatre honours its famous citizen by putting on performances of Marlowe's plays as well as Shakespeare, pantomimes, stand-up comedy and more. 
It's worth checking out what's on whilst you're in Canterbury.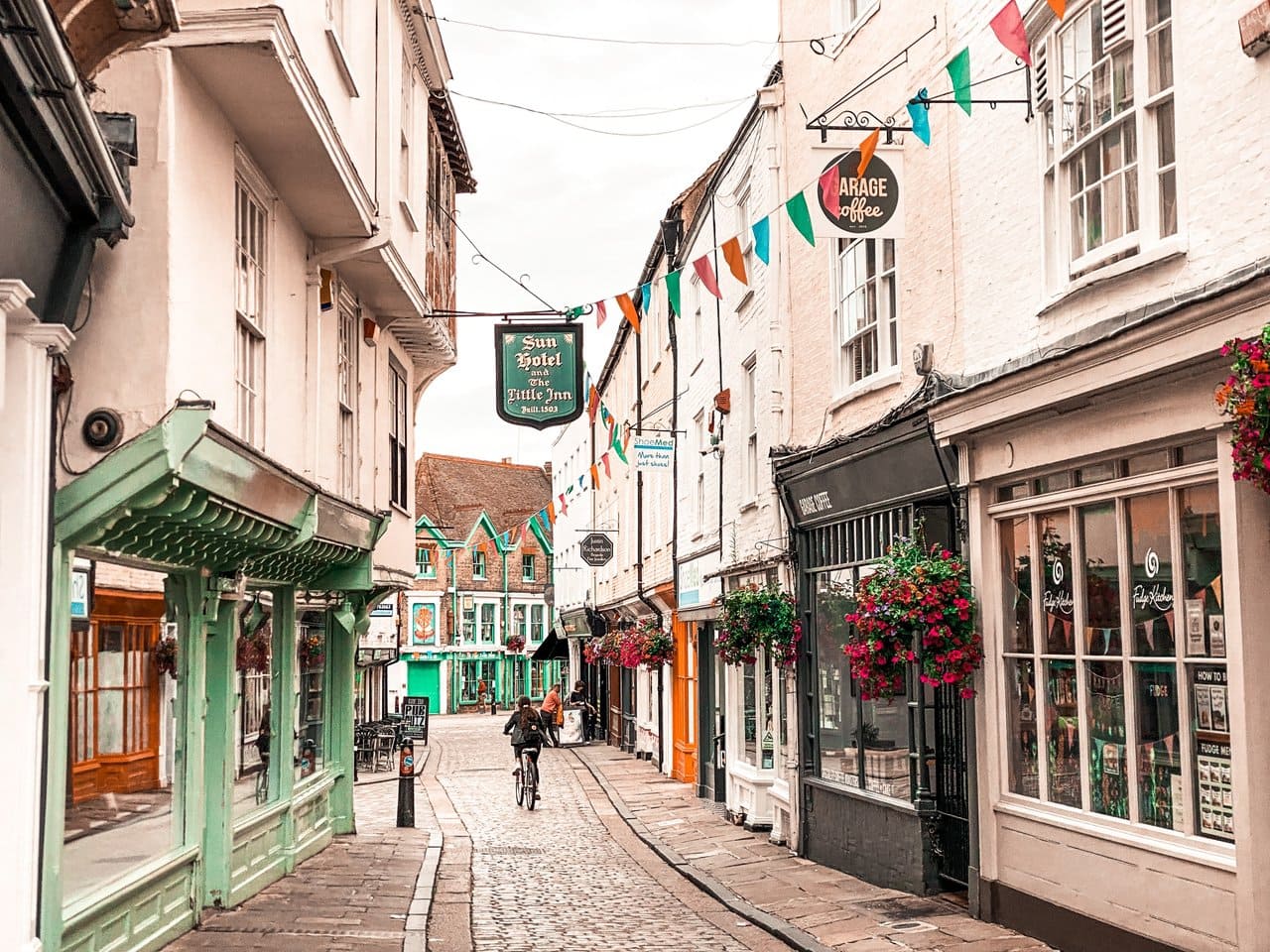 Day 2 – Exploring Ancient Canterbury
Stop 1 – Breakfast
If breakfast was included with your accommodation then skip this step, but if not, it's time to start day two of this Canterbury itinerary by sampling the city's brunch offerings.
Although I unfortunately didn't get to eat here myself (our hotel included breakfast) I feel confident recommending The Refectory Kitchen. It's one of the highest-rated restaurants in the city and specialises in mouth-watering breakfasts and brunches.
From the traditional English Breakfast to fluffy waffles, overnight oats and Eggs Benedict, this place takes their brunch offering very seriously and has a lot of options to choose from. 
I recommend getting here as early as you can because every time I walked past there was a queue!
Stop 2 – Westgate Towers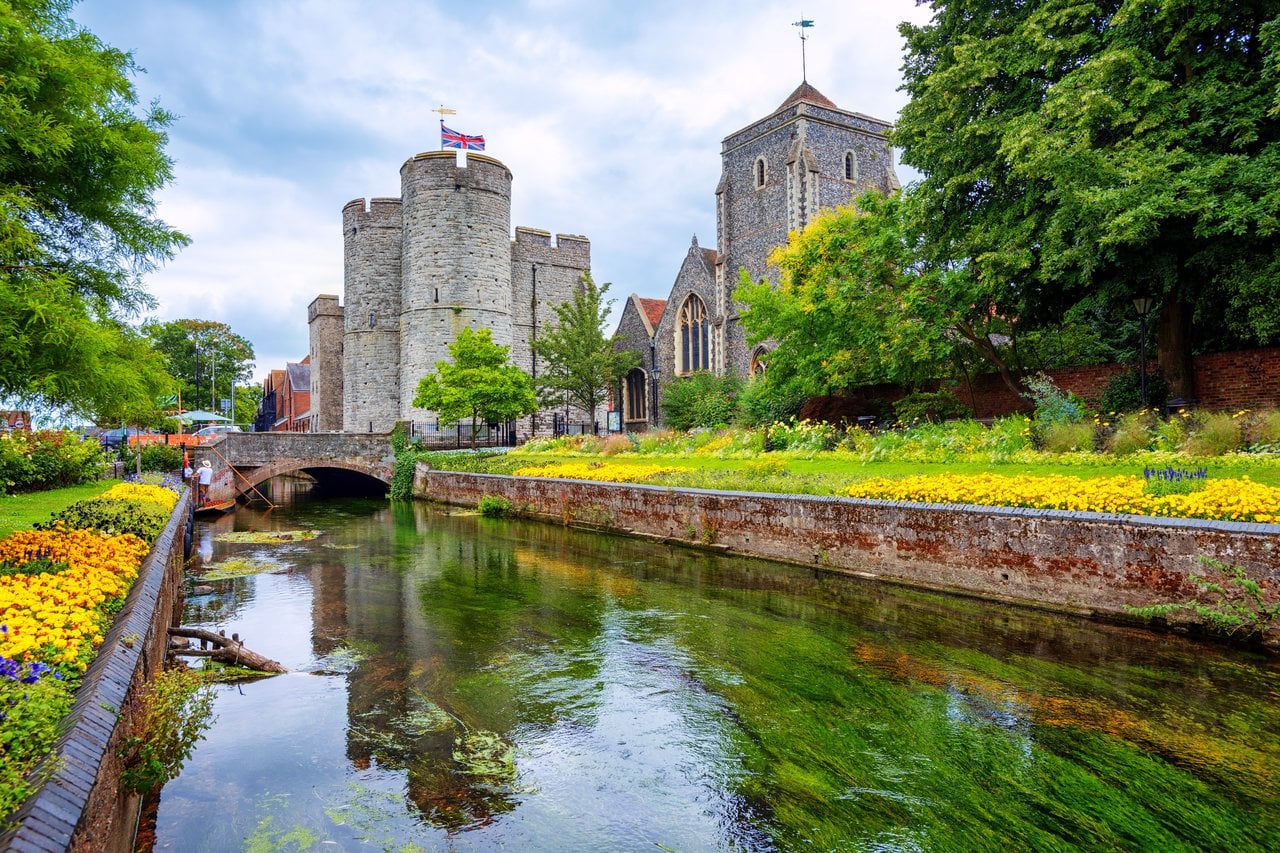 Just next to The Refectory Kitchen you'll find Westgate Towers, England's largest surviving medieval gateway. Dating back to 1380, it was built to protect Canterbury from foreign invasion during the Hundred Years' War and then spent time as a gaol, a museum, and an air defence station during WW1 and WW2. 
Nowadays, it contains a museum and educates visitors on the history of war in Canterbury, crime and punishment at Westgate Towers when it was a gaol, and also the history of Westgate itself. Once you've checked out their exhibitions don't miss heading up to the viewpoint for wonderful views over the city.
The staff here are wonderful (shoutout to Bob!) and will eagerly share their wealth of knowledge about the history of Canterbury and Westgate Towers with you, which adds a personal touch to your visit.
The attraction is only open from 12pm-3:45pm, so you'll have to keep your eye on your watch to time your visit right. Tickets cost £4 for adults and £2 for children and are only available at the door.
Stop 3 – Westgate Gardens
Since you're nearby, it's definitely worth taking a short stroll in Westgate Gardens if the weather is on your side. It's a tranquil place to take a stroll along the River Stour and check out the colourful flower beds if they're in bloom. Plus, the Westgate Gardens are one of the few free things to do in Canterbury.
The Westgate Gardens are a lovely place to take photos of Westgate Towers surrounded by greenery and flowers, so if you fancy showing off how gorgeous Canterbury is to friends back home now is a good opportunity to whip out your camera.
Stop 4 – Go Punting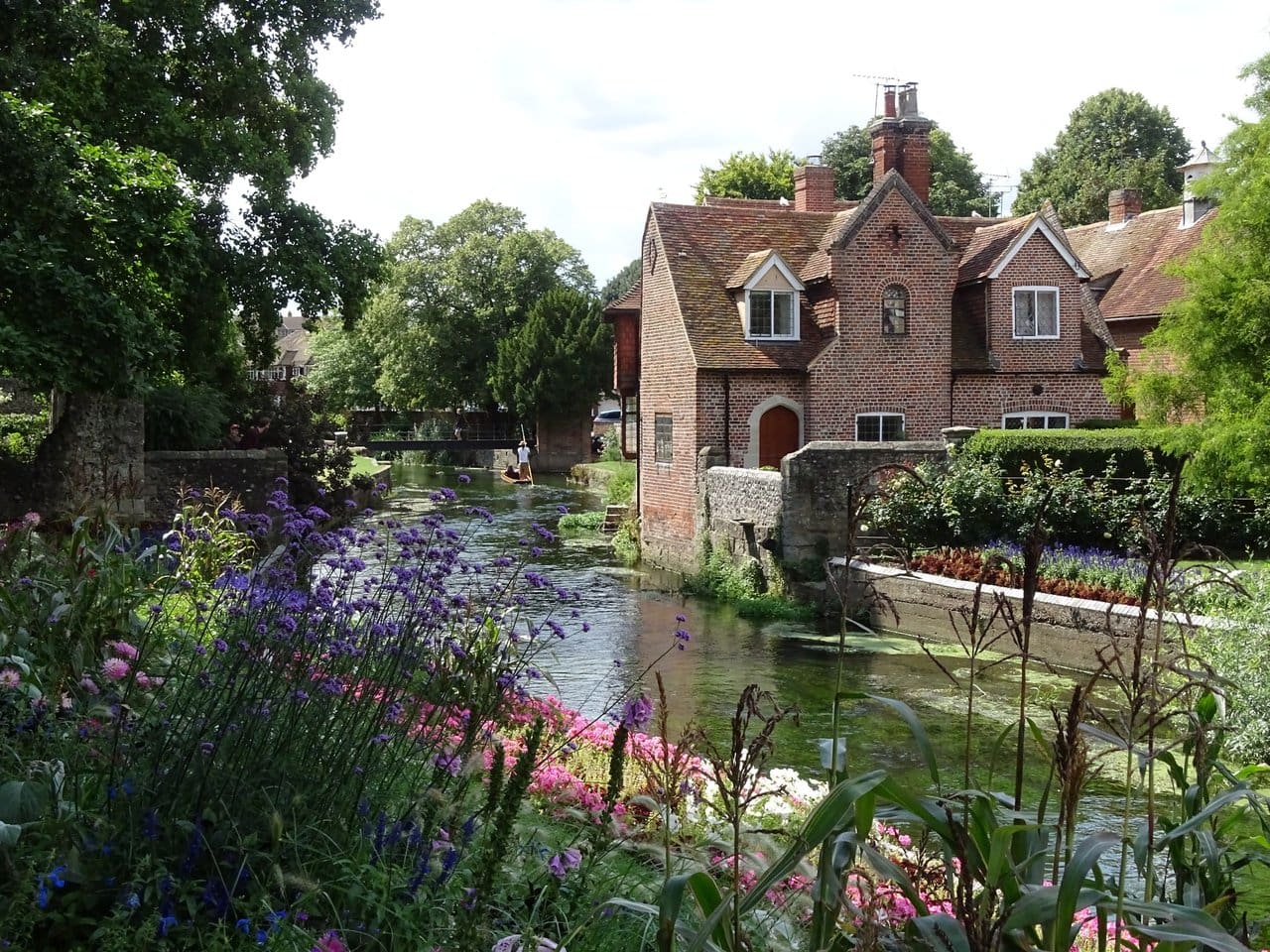 Get a comprehensive tour of Canterbury throughout the ages on a punting tour along the River Stour. In case you've never heard of punting before, let me explain. 
A punt is a flat-bottomed boat with a flat area at the bow, where your tour guide will stand and use a pole to push off the bottom of the river to guide the boat and navigate along the river. The tour guide will also tell you about the history of the city and point out its most famous landmarks. 
Punting is super popular in Cambridge and Oxford – but you'll also see it in Canterbury! It's a very relaxing and fun way to explore. Canterbury Punting Co runs tours daily from 10am-5pm, which cost around £15 each, although it depends on how many people join your group. 
Stop 5 – Lunch 
For a quick lunch on the go, I highly recommend making a stop at The Sandwich Bar. Not only do they have countless sandwich fillings on offer, but they also offer Croque Monsieurs, salads and quiches. Their food is fresh, raved about by locals, and it's cheap! Sandwiches cost around £4.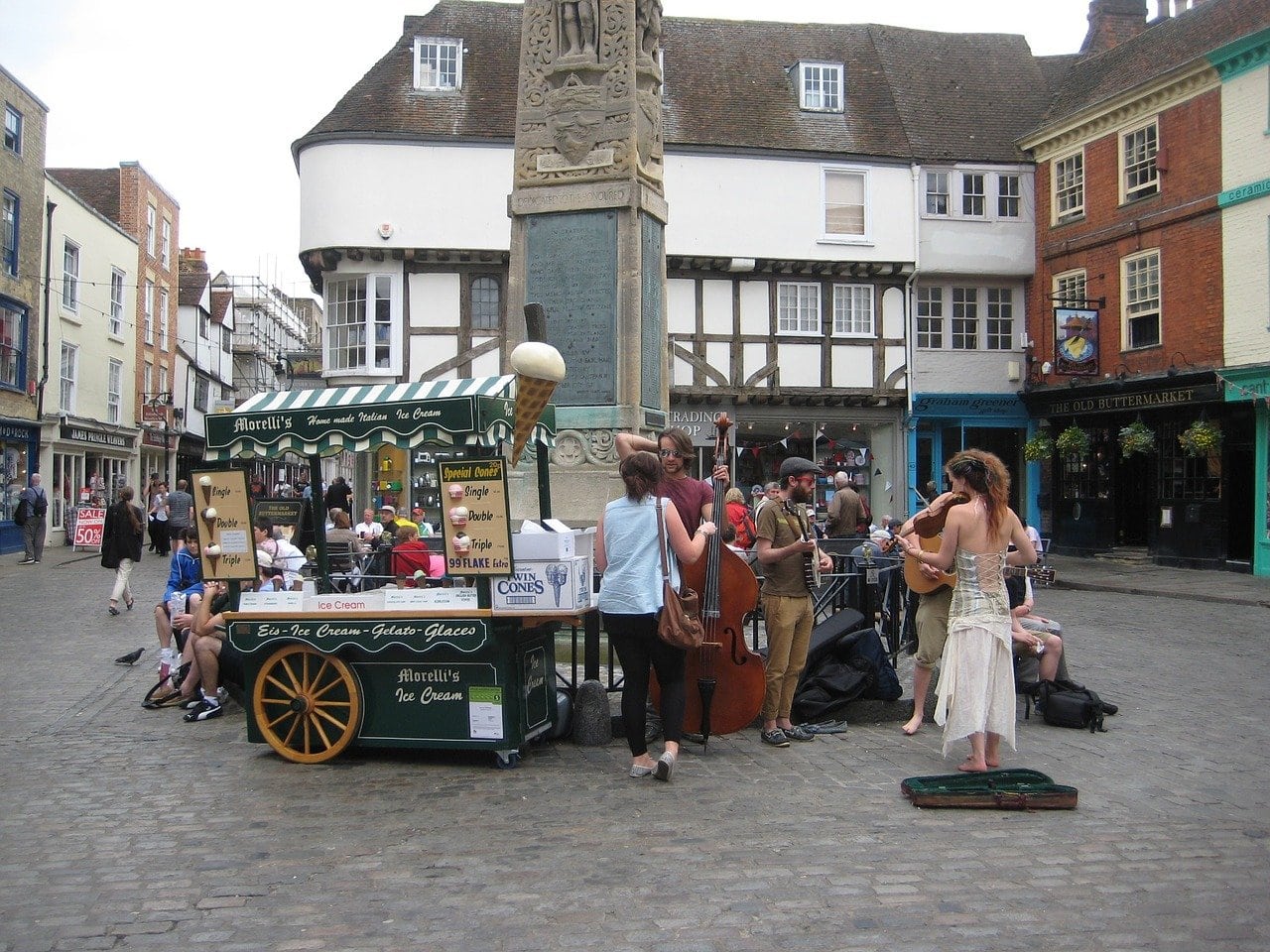 Stop 6 – Canterbury Roman Museum
To round off a wonderful weekend in Canterbury, head to the Canterbury Roman Museum. The museum is inside the remains of a Roman courtyard house and contains a Roman pavement which was only discovered when the city was bombed during WW2.
The museum documents the history of the Romans in Kent and displays plenty of excavated artefacts from Canterbury and its surroundings. I had no idea that Kent had much Roman history. Although small, this museum was a great little find, and one of Canterbury's best activities if it's raining!
Adult tickets cost £9.30, and child tickets cost £4.70.
Stop 7 – Home!
After spending such a fun weekend in Canterbury, you'll be desperate to return as soon as you can! There's just something about this old-fashioned city that will captivate you and make you want to return time and time again!
How Many Days Do You Need to Visit Canterbury?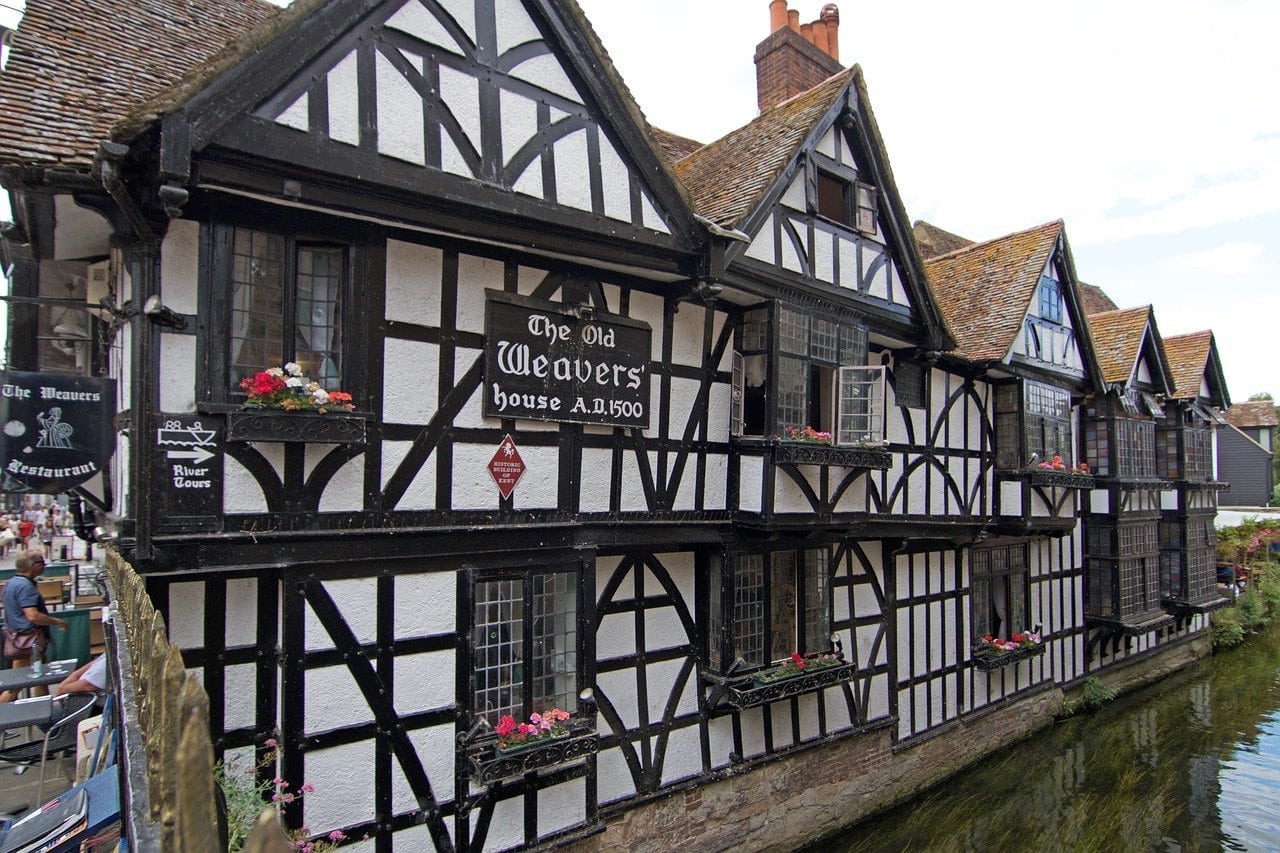 Ideally, you should spend two days in Canterbury (two full days and one night). However, even if you only have one day to spare, Canterbury is definitely worth visiting on a day trip. 
In one day, you'll still get to see all the sights and try some fabulous food, but you'll just have less time to spend relaxing and soaking up the sights. Having visited quite a few places in Kent, I feel strongly that Canterbury is the best destination out of all the day trips available in Kent!
We actually stayed in Canterbury for three days, so on the third day we decided to do a day trip from Canterbury to Whitstable, which I highly recommend if you have extra time! Whitstable is a small town on the coast, and it's super cute. 
That said, If we had not done a day trip from Canterbury I would have found three days in the city itself to be too long.
---
Have I convinced you to spend a weekend in Canterbury yet? Let me know in the comments!