There is a good chance that this post contains affiliate links. If you make a purchase through them, I may receive a small commission at no extra cost to you! As an Amazon Associate, I earn from qualifying purchases. As ever, all opinions are my own.
The 3 Island tour in Split is one of the most popular activities to do in the city, and if you're pressed for time it's the ideal way to cram a bit of island hopping into your itinerary.
After having the time of my life on the wonderful 5 island tour, I caught the island hopping bug and just wanted more! For this reason, I decided to book myself on the 3 island tour, another very popular island hopping route from Split.
Although if I had to compare I do prefer the 5 island tour over the three island tour (more island time is always better), the 3 island tour is the perfect introduction to island hopping if you're on a time or budget constraint.
There are a tonne of operators offering this tour, but, after doing extensive research, I decided to opt for this epic 3 island tour.
Here is why I chose this tour over all of the competitors:
Snorkel gear is included in the price.
Booking via Get Your Guide means you have extra protection. Their

cancellation policy

means you can cancel up to 24 hours before the tour for a full refund, which is helpful as plans can change.
The tour is in the 'G Originals' category. This means it is one of the highest-rated tours on Get Your Guide, so Get Your Guide has added its stamp of approval to the tour. This is quite rare!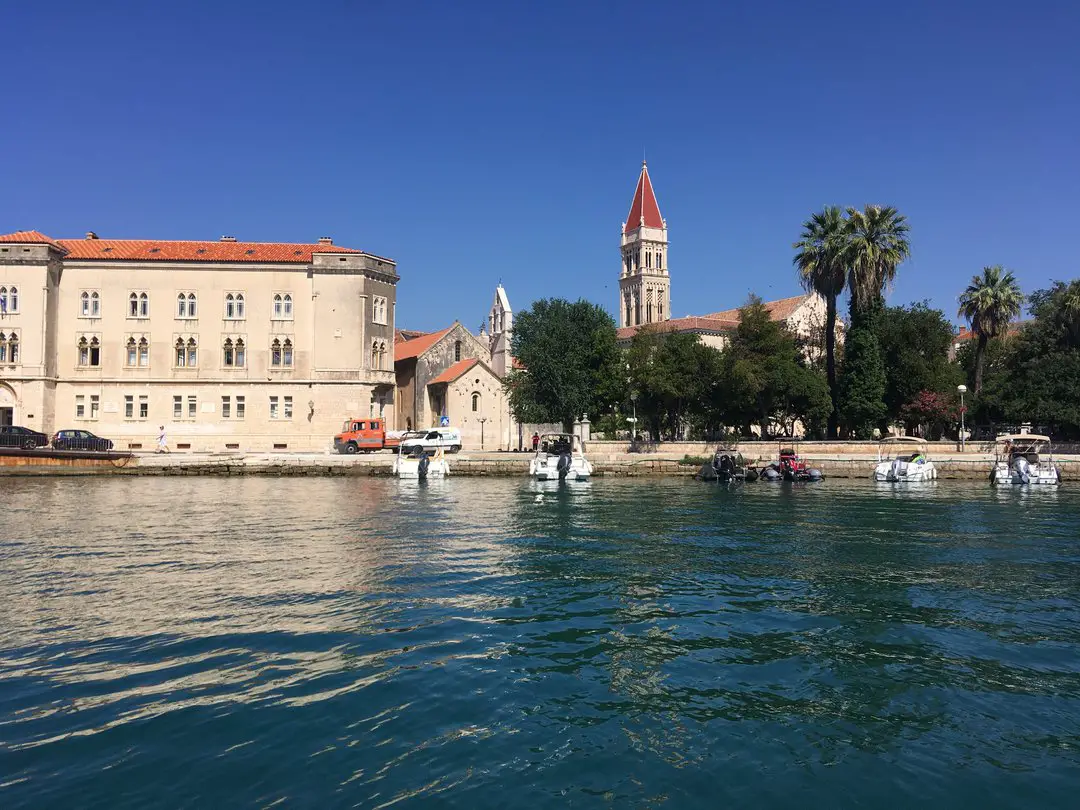 Unlike the 10-hour 5 island tour, the 3 island tour is the perfect half-day activity. It lasts around 5.5 hours, and costs around half of the price of the 5 island tour, at around €59. This makes it perfect if you fancy jumping on a speedboat and going island hopping without spending a fortune.
Stops on the 3 Island Tour from Split:
This itinerary means you'll get a little taste of everything – you get to explore the stunning old town of Trogir, go snorkelling in the bluest waters you'll ever see at the Blue Lagoon, and lounge on the dreamy shores of Šolta island.
The Boat Ride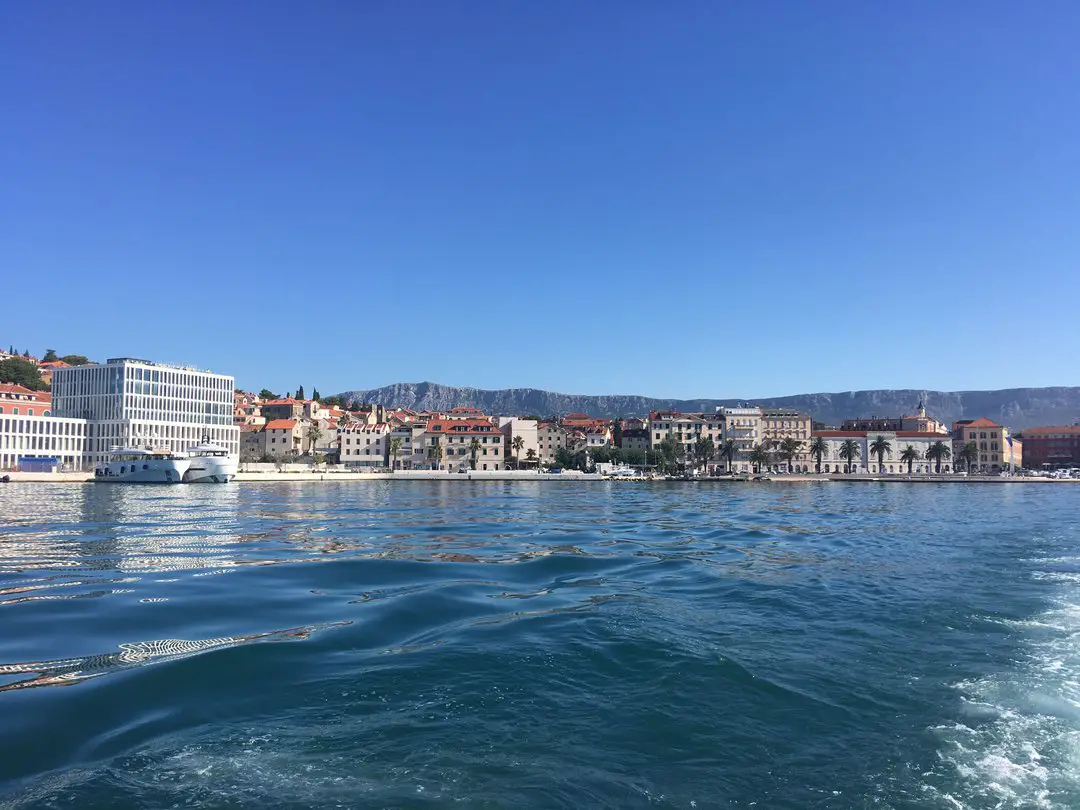 I met my tour group bright and early at the Toto Travel office by Split harbour at 8.30am. If you fancy a lie-in, though, they also run this tour at 2.30pm. There were only seven of us on the tour, which made me very happy – I love small groups! 
Just like the 5 island tour, we hopped on to a speedboat, the most fun way to get around in Split! 
The first boat journey, to Trogir, lasted around half an hour, which I spent admiring my gorgeous surroundings and listening to our tour guide tell us all about local life in Split and the history of Trogir. 
It can get very windy on the journey and no matter how hot the day might be, chances are you'll get cold on the boat. For this reason, be sure to pack both a sweater and sunscreen.
Stop 1 – Trogir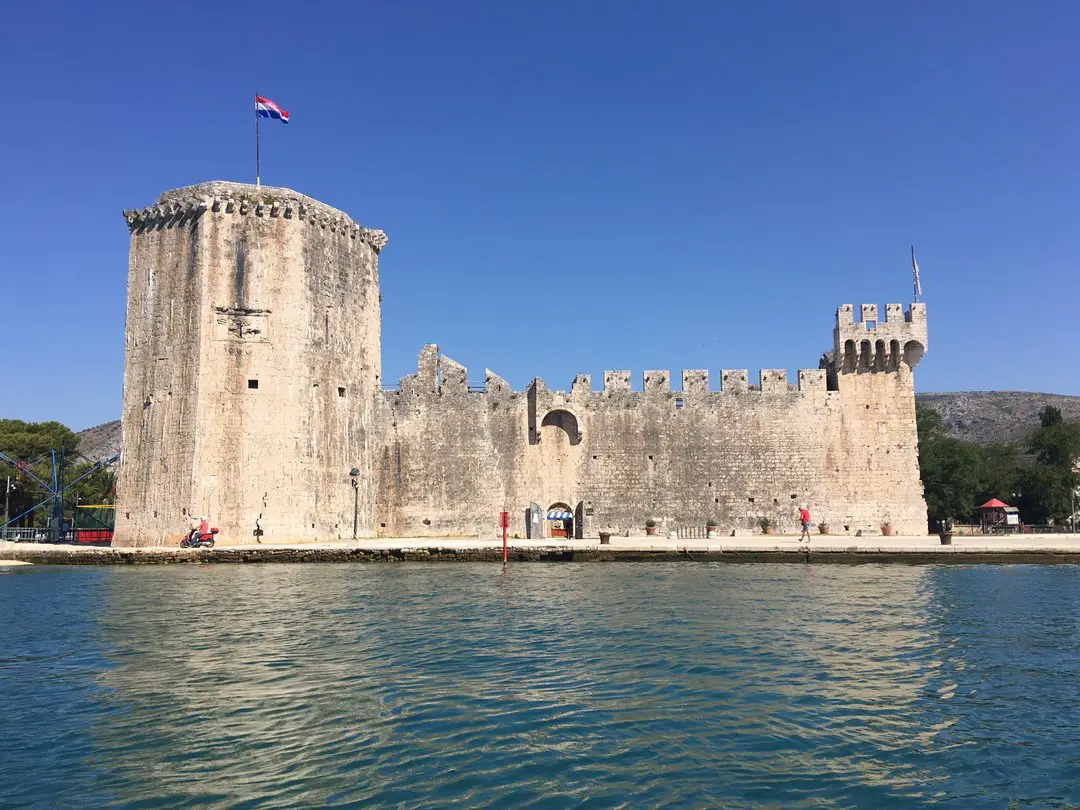 As you step off the boat, you'll understand why so many people visit here on a short trip from Split. The charming old town in Trogir was declared a Unesco World Heritage Site in 1997, and every corner of it is goooorgeous!
Although there are a few fun things to do in Trogir, this isn't a town crammed full of attractions, so I was glad I just spent 90 minutes or so here during the 3 island tour rather than making a dedicated journey just to visit Trogir from Split, as so many tourists do.
Your first stop at Trogir should be Kamerlengo Castle, which dates back to the early fifteenth century. You can pay to enter the castle, which costs 10 HRK (€1.30) or just walk around its walls for free.
I recommend spending some time strolling along the Trogir promenade and also checking out the clock tower and city loggia, a perfect example of the postcard-perfect architecture in Trogir.
Stop 2 – Blue Lagoon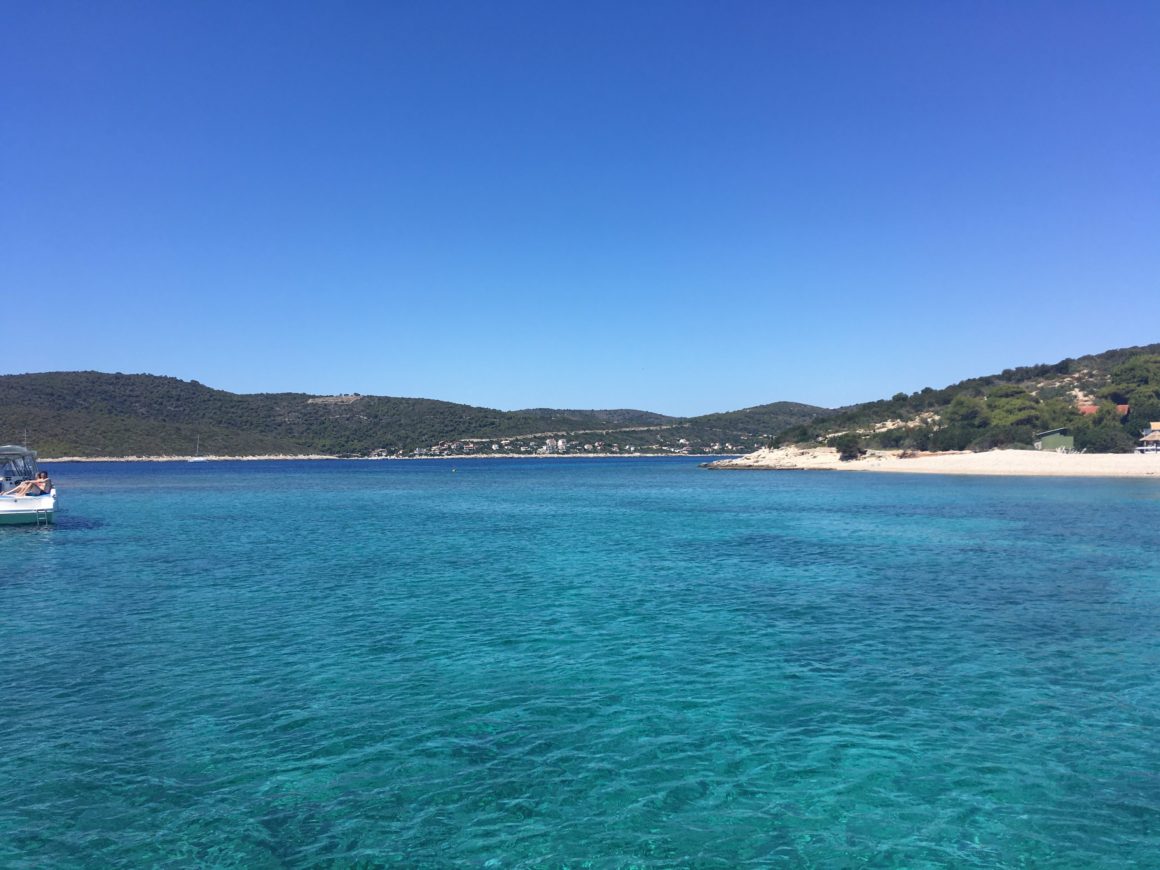 By now, the day was getting HOT, so I was thrilled to be returning to the Blue Lagoon, a stop that was also included on the 5 island tour and a place that I fell in love with. 
You'll find the Blue Lagoon in between the islands of Veliki and Krknjasi, and it gets its name from the unbelievably blue water that stretches between the two. It's the perfect place to go swimming and snorkelling to cool off from the scorching Croatian sun! This is when it also becomes very convenient that the 3 island tour I chose included snorkel equipment.
You'll have around 1 hour at the Blue Lagoon to chill out and soak in the sights before continuing to the third and final stop on the 3 island tour – Šolta!
Stop 3 – Šolta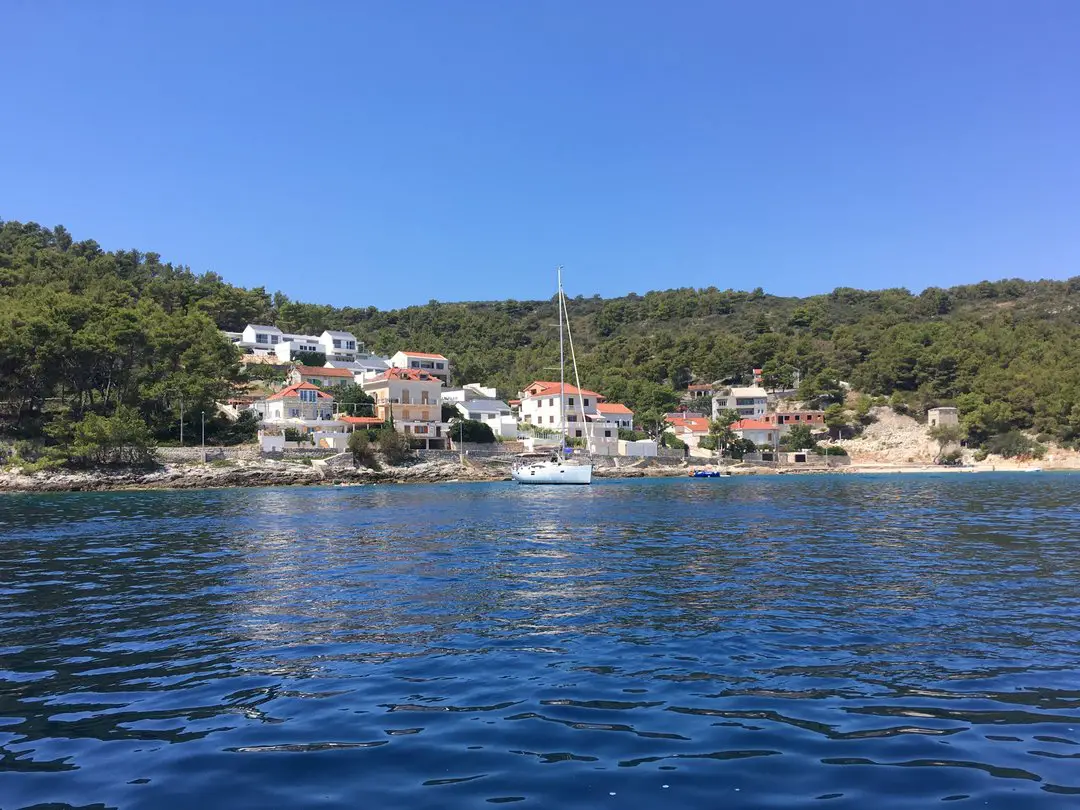 It's a pretty wild statement, but you'll believe me when you see it for yourself – I think Šolta is one of the most beautiful places in Croatia!
This tiny, unspoilt island is one of the lesser-known islands near Split, meaning you're likely to enjoy some peace and quiet when you're here.
You'll dock at Maslinica, the only village and port on the western side of Šolta. There's pretty much nothing to do here except to go wandering around the island or chill on the beach, which are the only two things you would even want to do since this place is just so dreamy!
After taking in the views of the lovely Šolta, it's time to head back to Split. The journey will take around 30 minutes, and by now I guarantee you'll feel so chilled out that you'll practically float off the boat when you dock back in Split!
FAQs about the 3 Island Tour from Split
What to Pack for the 3 Island Tour
Sunhat
SPF 30+ sunscreen
Sunglasses
Towel
Swimsuit
Sweater
Lots of water
Should I Book the 5 Island Tour or the 3 Island Tour?
If you're researching the 3 Island Tour, chances are you'll come across the 5 Island Tour as well. The 5 island tour is basically a longer and more comprehensive island hopping tour from Split.
I actually went on both of the tours, and although I loved the 3 Island Tour, I have to admit… the 5 Island Tour is a million times better.
Not only is it pretty much double the duration of the 3 Island tour, but the stops are (in my opinion) more interesting. It's better value for money, in my opinion, if you have the extra money and time to spare. You can read my full review of the 5 island tour here.
However, if you don't have the spare money or time, fear not – the 3 Island Tour is still definitely worth it.
If you're wondering what the differences between the two tours are, I have summarised them below:
| | | | | |
| --- | --- | --- | --- | --- |
| Tour | Duration | Destinations | Price | Where to book |
| 3 Islands Tour | 5.5 hours | Trogir, Blue Lagoon and Šolta | € 59 | Click here! |
| 5 Islands Tour | 10 horus | Blue Cave, Komiža island, Stiniva Cove, Blue Lagoon, Hvar | € 115 | Click here! |
What's Included on the 3 Island Tour from Split?
Speedboat ride
Skipper and guide
Snorkelling gear
Life jackets
Bottled water
Guided tour of Trogir
How Far in Advance Should I Book?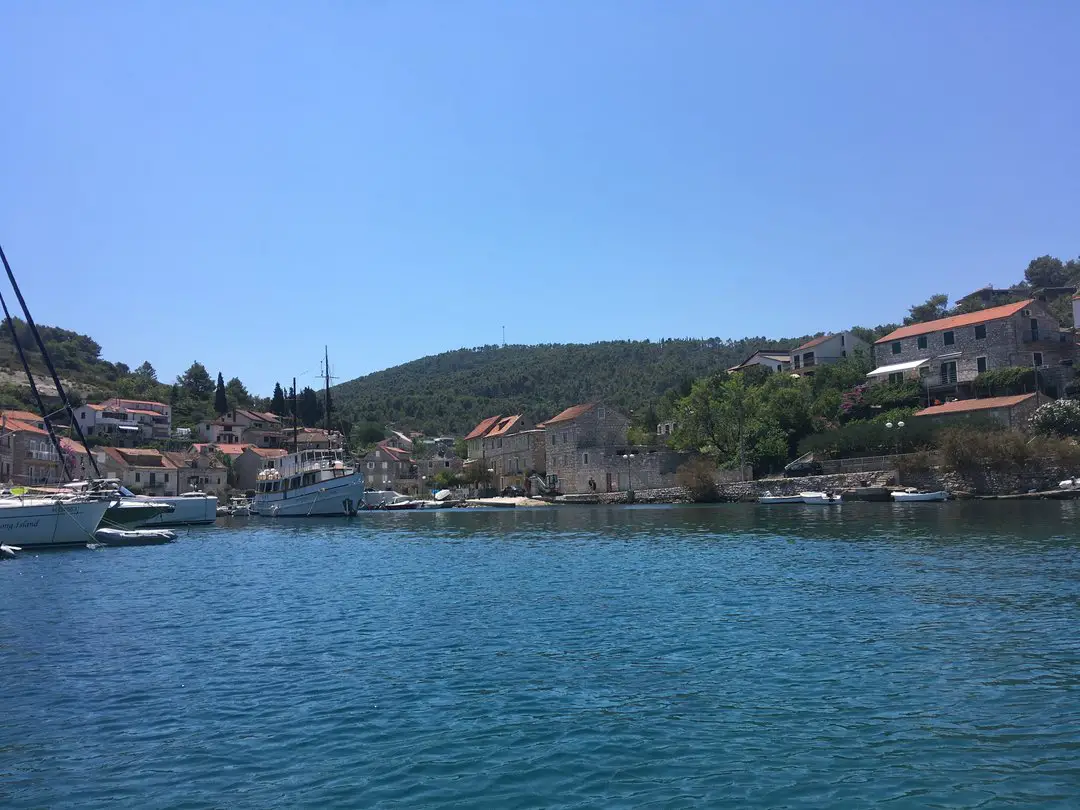 As early as you can! Get Your Guide has an excellent cancellation policy so it's worth bagging your place as soon as you can and taking advantage of their awesome flexibility. In peak summer months, tours can sell out fast (especially the best ones) so it pays to be organised. You can book your place here.
I had an amazing time on the 3 Island Tour From Split and highly recommend you go on it if you're in Split! It's the perfect introduction to the Croatian islands.