There is a good chance that this post contains affiliate links. If you make a purchase through them, I may receive a small commission at no extra cost to you! As an Amazon Associate, I earn from qualifying purchases. As ever, all opinions are my own.
Looking for a Croatian island getaway where you can lounge on the beach or windsurf to your heart's content? Well, look no further than the beachside town of Bol, Croatia!
Many people head here to see the iconic Golden Horn, and, I've gotta admit, that was the main reason that I visited Bol. I had a wonderful time in this delightful beach town, but I quickly realised that Bol is so much more than the Golden Horn!
In fact, I'd go as far as to say that the Golden Horn is one of the least impressive parts of Bol – it really is such a stunning town!
So, whether you're on the fence about whether or not to visit Bol, or absolutely adamant that you're visiting, you'll definitely need to know a couple of things before you visit. And that's where I come in! 
In this post, I'll go over everything I wish I knew before I visited Bol, including the best things to do in Bol and the best places to stay. I'll also spill the tea on whether or not the Golden Horn is actually worth visiting. 
Let's get started!
Top tip: As of 1 January 2023 the currency used in Croatia is now the Euro. All prices in this post are listed in Euros.
Where is Bol?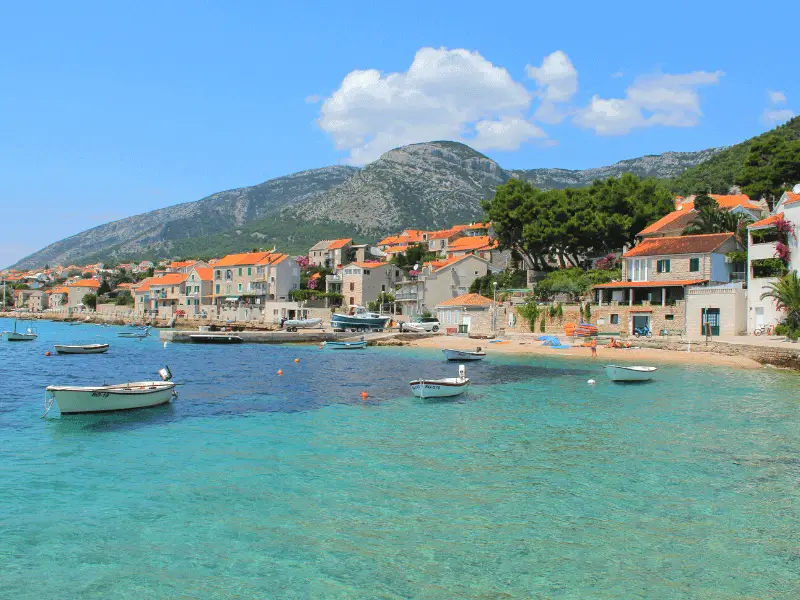 The small, beachside town of Bol is on the southern side of Brač, an island on Croatia's Dalmatian Coast. 
It's around 33 km from the popular city of Split, making Bol one of the most popular day trips from Split. So many people head out from Split to go island hopping, and Bol is a popular destination on many Croatian island-hopping itineraries.
How to Get to from Split to Bol
When it comes to how to get to Bol, the best way is from the city of Split, in mainland Croatia.
From Split you can easily catch the Split to Bol ferry with either Jadrolinija or Kapetan Luka ferries. The journey takes just 50 minutes, departing from Split harbour, and costs around €5 each way. Unfortunately, though, there are only two journeys per day, so you don't have much flexibility in terms of departure times. 
Also, since this direct service is so limited, you should definitely book your tickets in advance as they do sell out.
An alternative option is to catch the ferry from Split to Supetar, which is another town on Brač. This route is operated by Jadrolinija, takes around 50 minutes, and, importantly, runs around 14 times per day in the summer season. Yay for flexibility! 
Tickets cost around €4 each way, and you can then catch the bus, rent a scooter, or take a taxi to Bol. I went for this option, and I found others when we got off the ferry who also wanted to go to Bol so we were able to share the price of the taxi and arrange for a pickup time for them to bring us back to Supetar together. Otherwise it can get pricey. 
What's great about this option is that you can explore both Bol and Supetar in one day – perfect for those of us who can't get enough of visiting new destinations!
Your third option is to hop on one of the many boat trips from Split to Bol.
Things to Do in Bol, Croatia
Zlatni Rat Beach (Golden Horn)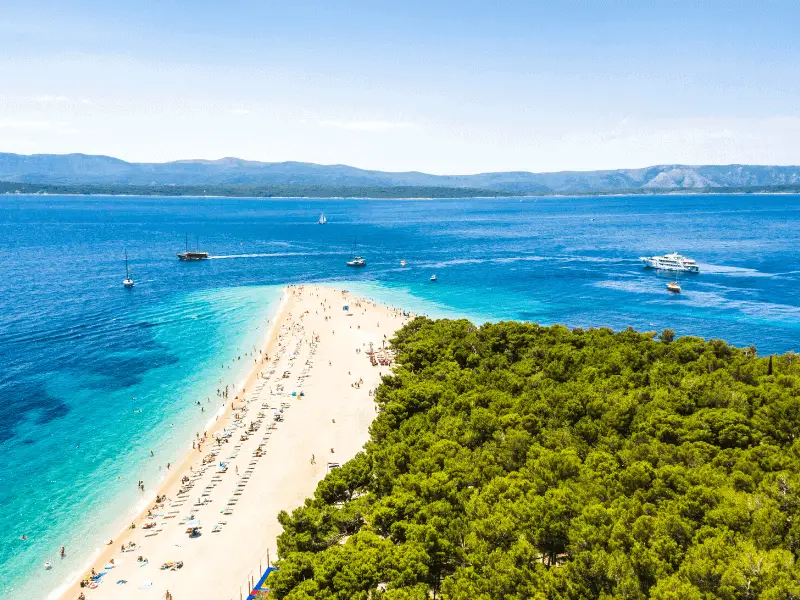 The star attraction of Bol is Zlatni Rat Beach, where you'll find the iconic Golden Horn. This long spit of sand stretching out into the ocean looks incredible from above, so drone owners flock here to capture their own footage.
If you've ever seen photos of Croatia, chances are you'll have seen a photo of the Golden Horn before. When it comes to what to see in Bol, the Golden Horn gets the top spot!
However, I have a bit of news for you – if you don't have a drone, the Golden Horn is nothing special. From the ground, it just looks like an isolated stretch of beach. Its beauty really is best seen from above. 
Golden Horn aside, though, Zlatni Rat is one of the most popular beaches in Croatia, and there are plenty of sunbeds and beach bars here, making it an awesome place to hang out for a while.
The crowd here is mostly young, music is always playing, and the vibe is perfect for a summer day at the beach.
Blaca Monastery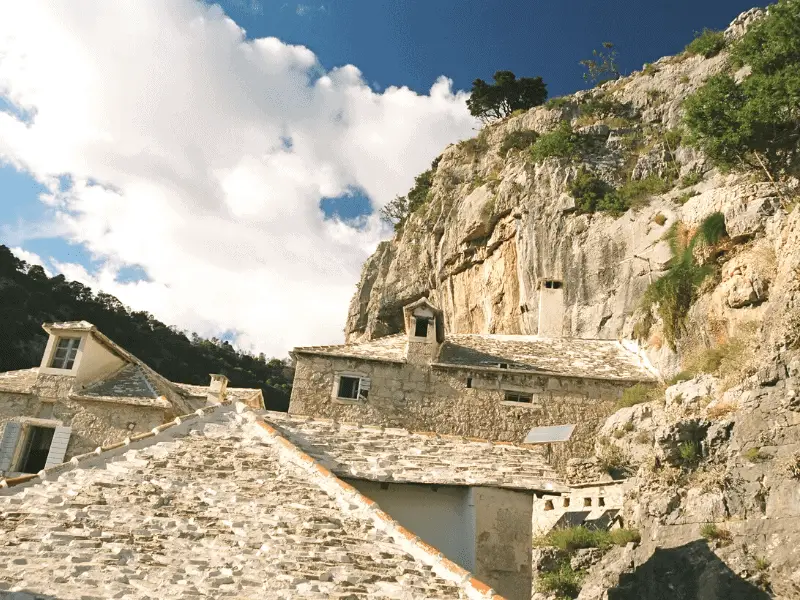 This hilltop monastery, which was used for over 400 years, is one of Bol's hidden gems and has been added to the UNESCO World Heritage tentative list.
Monks once inhabited the Monastery, producing copious amounts of olive oil, wine and honey here.
Since the Blaca Monastery is off the beaten path you can't access it via vehicle. Instead, the best way to get there is the steep hike from Bol port. If you do decide to drive, you'll still have to hike around 30 minutes each way from your parking space in Dragovoda.
Wander along the Promenade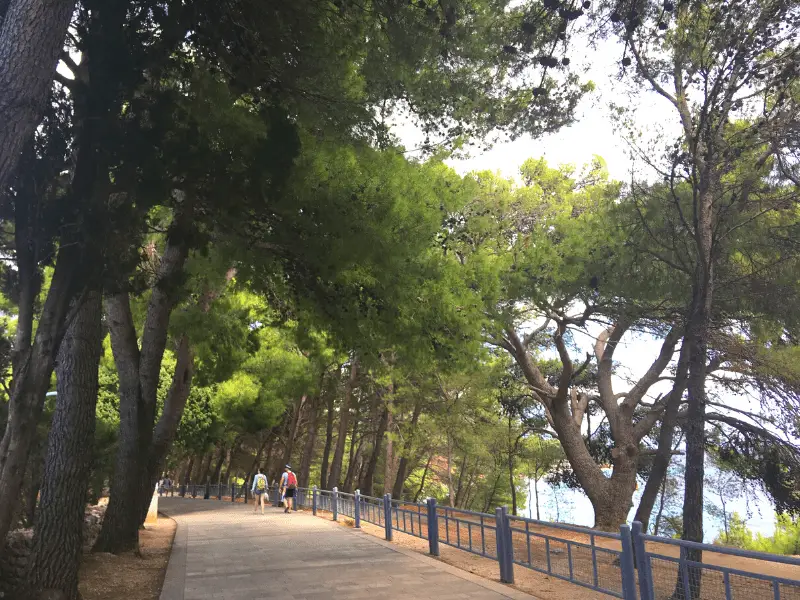 Wondering what to do in Bol? Simply stroll its waterfront promenade, which takes you from the town of Bol all the way up to Zlatni Rat Beach.
This is the best way to scope out sheltered beaches you want to return to later for sunbathing, as you pass plenty of gorgeous ones on this route.
You'll never be out of sight from the sea on this route, which makes it a beautiful route for getting to know Bol. On either side of the promenade you'll find hip restaurants, beachfront bars and casual street food shacks.
This place really comes alive in the evening when people head out for food and drink after a day of sunbathing and windsurfing!
Go Windsurfing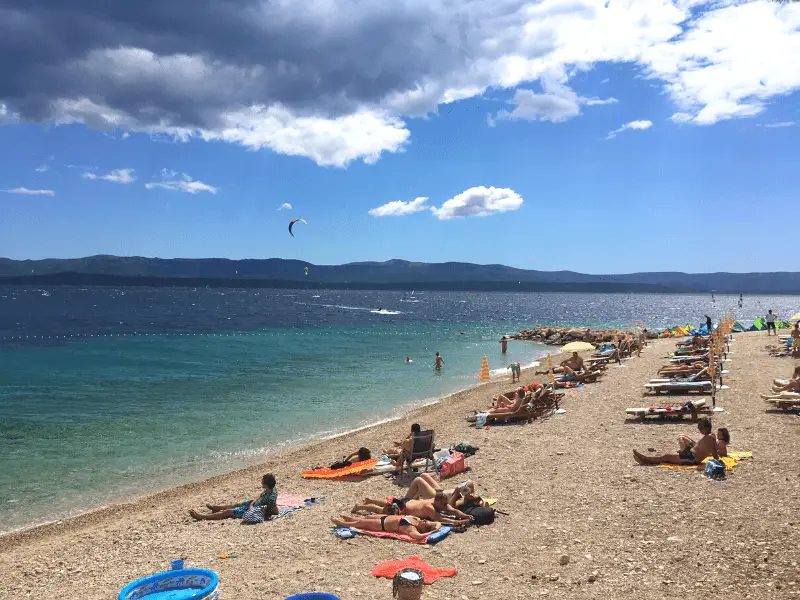 Bol is one of the best windsurfing destinations in Europe, so whether you're a seasoned pro or a complete beginner, Bol is the place to get out on the water and try your hand at windsurfing. 
There are a couple of equipment hire places around Zlatni Rat beach, or, if you're a complete beginner, you can join an intro course (a 2 hour class costs around €50, and a 5-hour class costs around €105).
For more information about windsurfing equipment and lessons in Bol, check out ZooStation.
Branislav Dešković Gallery
Located right on the seafront in Bol, the Branislav Dešković Gallery is one of the best things to do in Bol, especially if it's too windy to sunbathe!
This gallery exhibits a range of paintings and sculptures by some of the most influential Croatian artists of the 20th century. It's named after Brač's most famous artist, the sculptor Dešković, and you'll find some of his sculptures at this gallery.
Entry costs around €2 for adults and €0.50 for kids.
Rent a Bike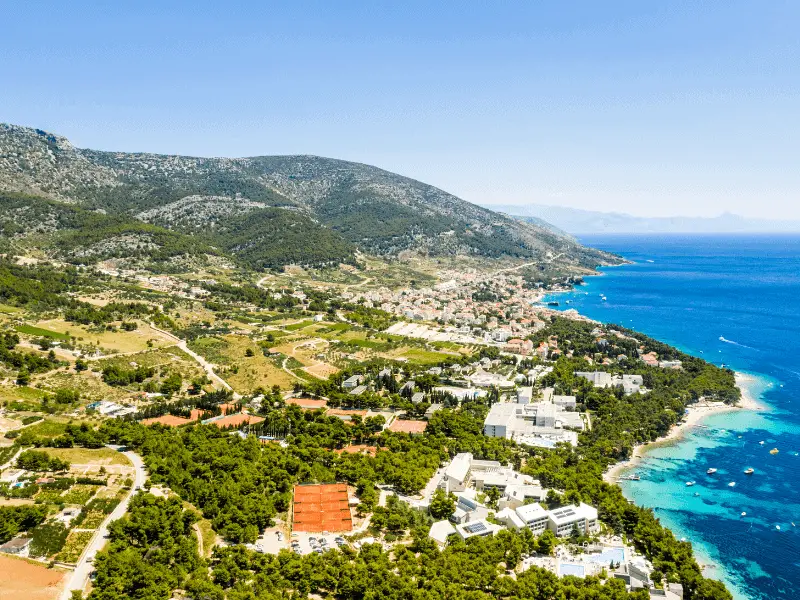 Bol has some of the most dreamy surroundings you could imagine, and the views you get of the town from the hilltops above are what Croatia travel dreams are made of. 
For this reason, if you're physically able to, I definitely recommend hiring a bike for a couple of hours to explore Bol.
This rental place gets great reviews and has a range of bikes to choose from.
Best Restaurants in Bol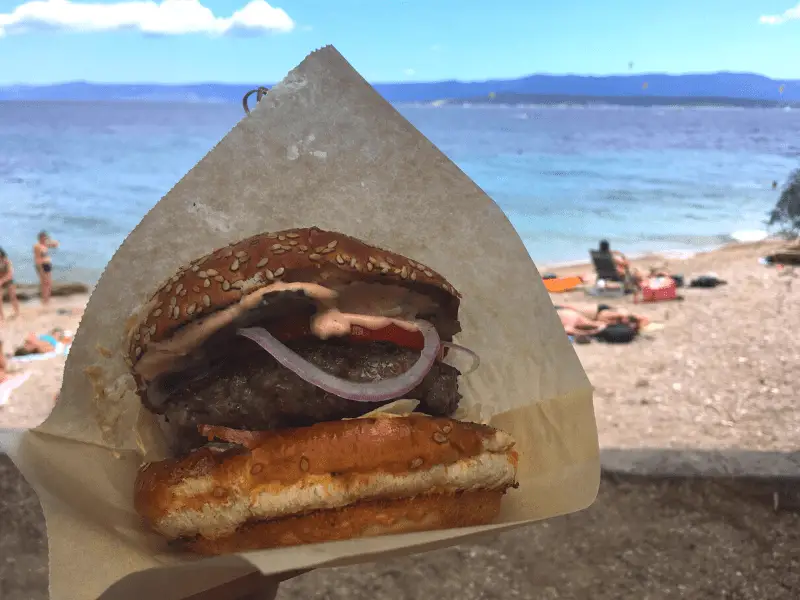 Bol is a fairly small town, but it certainly doesn't have a shortage of awesome restaurants to choose from. Whether you're looking for a fancy restaurant or a casual beachfront street food shack, Bol has got you covered. Here are three of the top-rated restaurants in Bol:
Snack Box – for delicious and affordable street food that you can take away to eat on the beach, head to Snack Box. Trust me when I say the burgers here are INCREDIBLE! I was so pleasantly surprised, and highly recommend that you eat here on your trip to Bol!
Bio Mania Bistro – healthy, locally-sourced food with plenty of vegan options is what you'll find at Bio Mania Bistro. That's why it's the #1 restaurant in Bol on TripAdvisor!
Restaurant Jadranka – come here for local Bol seafood at its best. This old-school restaurant is authentic and traditional, with attentive service.
Where to Stay in Bol, Croatia
Budget Hotel
Located less than 200 metres from the beach, this super affordable guesthouse not only gets rave reviews, but also offers sea views and a BBQ and garden guests can use, so you can save some money and avoid eating at restaurants every day. It costs around €36 per night for a double room, which is crazy-good value!
Click here to check availability!
Mid-Range Hotel
This stunning boutique hotel has everything you'll want for a beach getaway, including an outdoor pool, sun deck, and sauna. An exceptional breakfast is also included in the price, so that's one less thing for you to think about on your relaxing trip to Bol. Each room is stylish, and decorated with high-quality fabrics and materials. Lush!
Click here to check availability!
How Many Days to Spend in Bol, Croatia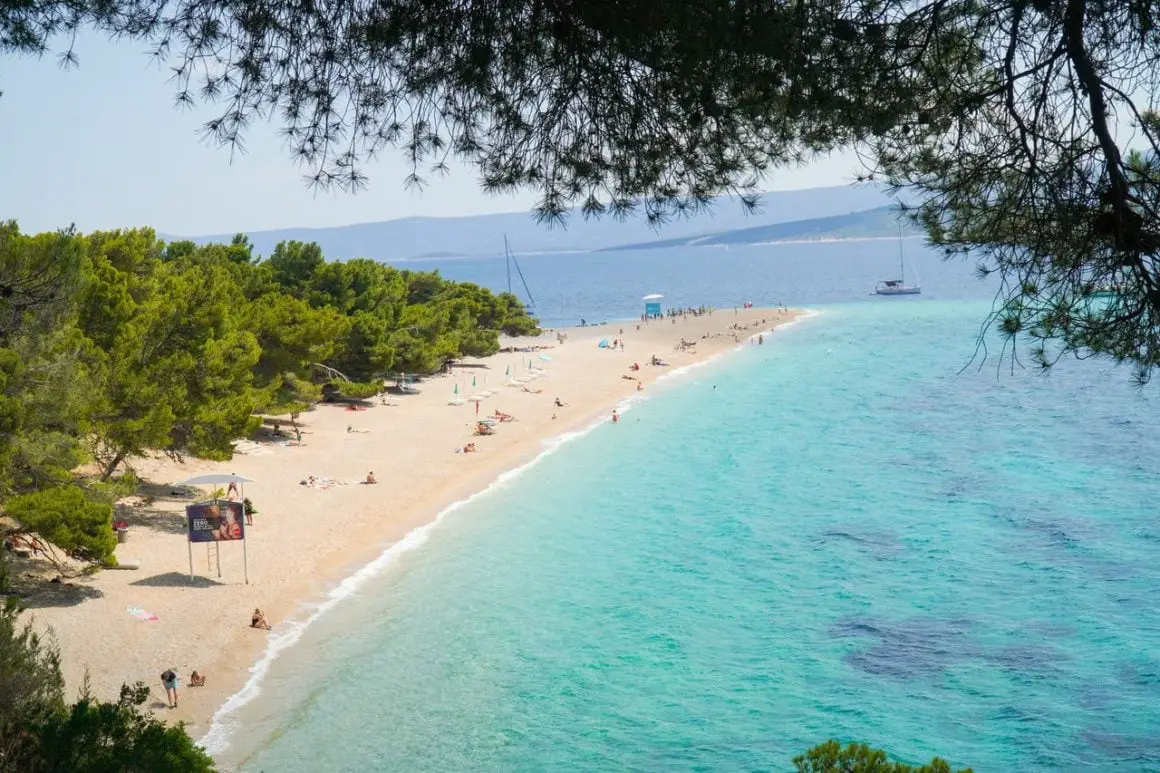 There isn't much to do in Bol if you're not into windsurfing. For that reason, you don't need to spend more than one day here. You can even spend just half a day here if you don't have much time!
Bol is really popular with families – both Croatian and international, so it's definitely not uncommon to stay in Bol for a few days or a week and spend your time lounging at your resort and hanging out at the beach.
However, that would be for a laid-back family trip rather than the more adventurous sightseeing trip that I prefer.
When is the Best Time to Visit Bol?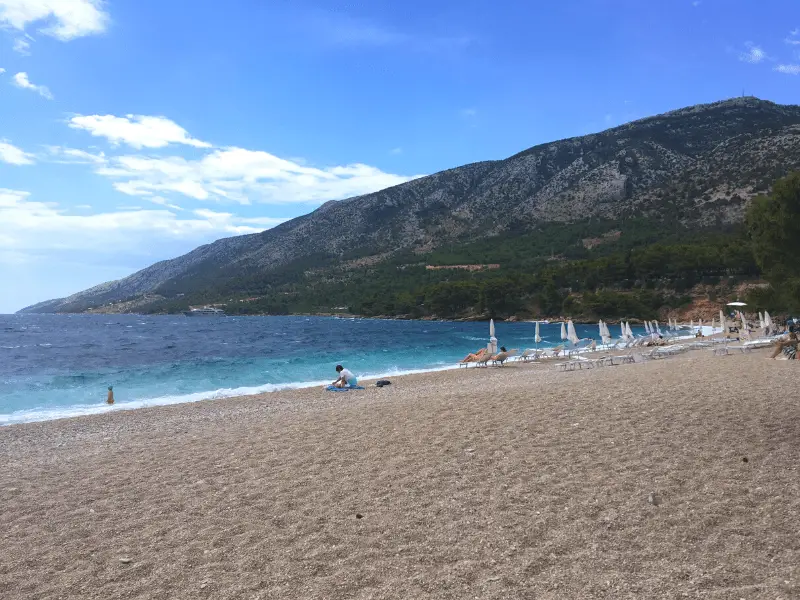 There's no doubt that the best time to visit Bol is summer (June-August/September). This area is very seasonal, and if you visit in winter it'll feel like a ghost town!
If you're able to visit early or late in the summer season, in June or September, rather than right in the middle of summer, you'll find fewer crowds and cheaper accommodation prices.
I visited Bol in late June and it was a great time to visit! It wasn't too crowded yet and the weather was perfect! Just remember, though, that Bol is famous for windsurfing, so expect a lot of wind! If you want to sunbathe you'll have to search for a sheltered beach.
What to Pack for Bol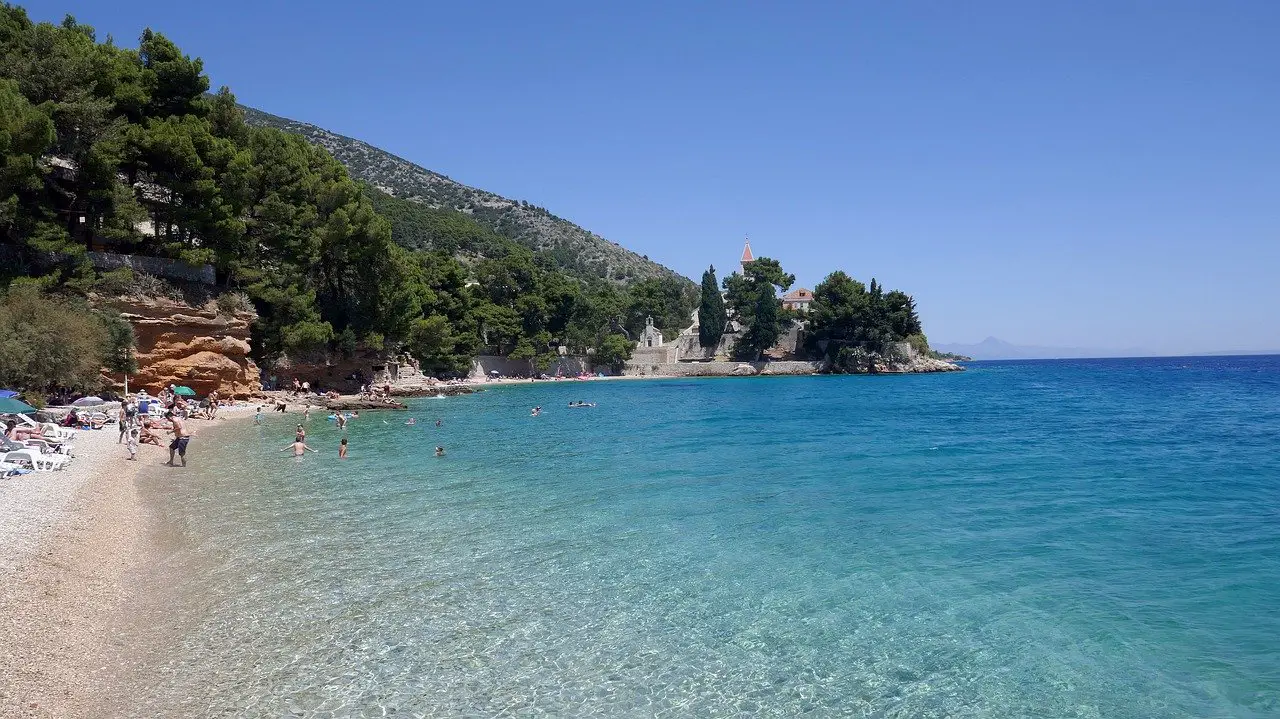 You won't need to pack anything specifically for Bol, or Brač Island, that you wouldn't already have with you if you followed my Croatia packing list. However, if you want a quick summary of the essentials, here are a few things you definitely need to bring to Bol!:
This quick-dry towel is my go-to! It dries super quickly, so you don't have to carry a soggy towel around with you, rolls up into a tiny ball, and sand doesn't stick to it. It's perfect for a beach trip.
Reef-friendly sunscreen is the way to go if you want to protect your skin without polluting and damaging the ocean and marine life there.
This waterproof phone lanyard If you want to go into the sea but don't want to leave your valuable belongings on the beach I can't recommend getting one of these enough! You can put your phone, money and ID in the waterproof pouch and wear it around your neck as you go for a paddle or swim. I also love that the case is see-through, so you can take selfies and videos underwater!
I'm obsessed with guidebooks and love to read about the destination I'm travelling to whilst I'm on bus or train journeys or sunbathing at the beach. I recommend packing the Lonely Planet Croatia guidebook to help you to plan your Croatia trip. It's the one I own and I've found it comprehensive and accurate.
If you want to head into the sea on the beach in Bol you definitely need water shoes! 
Most beaches in Croatia are pebble beaches, and Bol is no exception. And trust me, walking on the beach without water shoes is pure pain!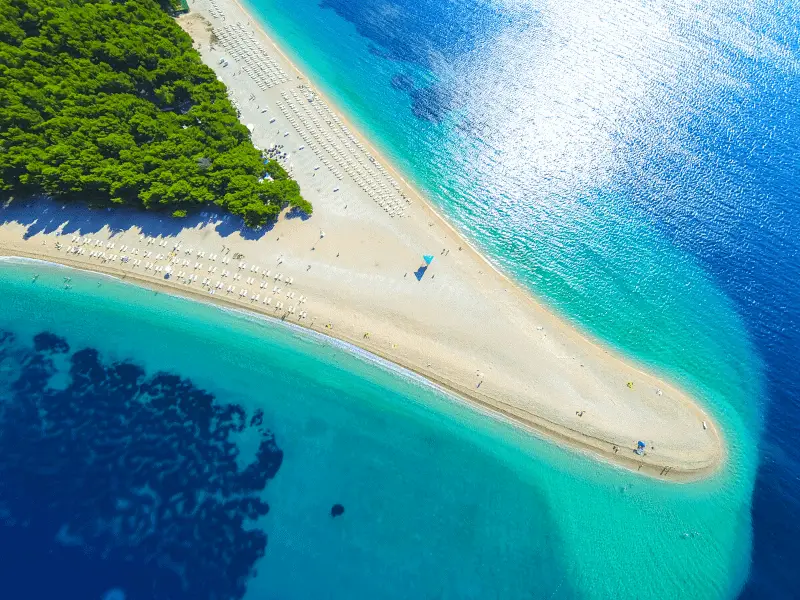 The Best Travel Insurance for Croatia
I've never travelled without insurance, but it's scary just how many people do. You can be as careful as humanly possible, but bad luck happens to all of us and some things are just totally out of our control. 
That's where travel insurance comes in. Get your wallet stolen? Fall sick and need emergency medical treatment? The airline loses your luggage? No problem, your insurance will have you covered.
It's unlikely that anything bad will happen to you in Bol, or Croatia in general, but having insurance could be the difference between the trip of a lifetime and a total nightmare.
For my adventurous readers I recommend SafetyWing. This covers a ton of fun activities so you can go hiking or mountain climbing with no worries.
Click here to get a quote from Safety Wing!
Is Bol Worth Visiting?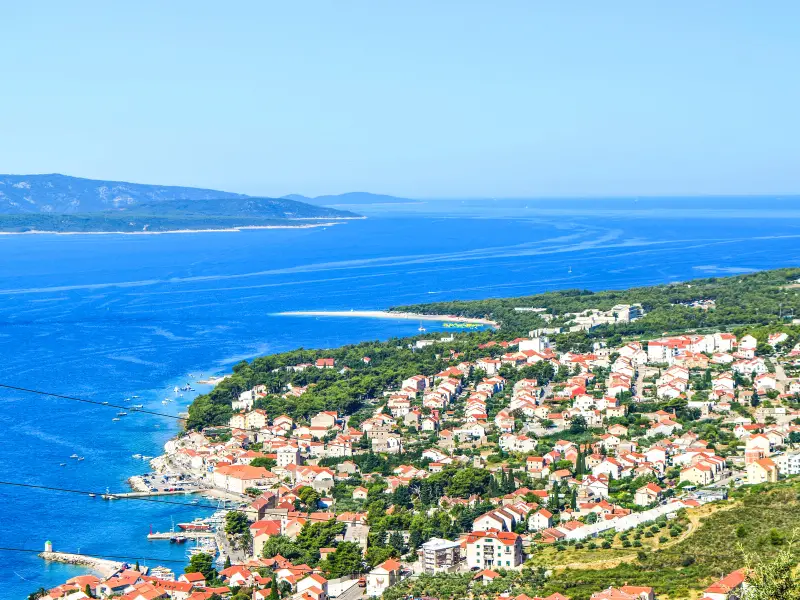 If you're looking for a laid-back day trip from Split, Bol is absolutely worth visiting! It's probably the best place to visit on Brač Island and is home to the Golden Horn, one of Croatia's most famous landmarks.
However, If I had to choose between Bol and Hvar Town, another popular place to visit from Split, I would choose Hvar – there's more to do there, and it's more beautiful – but that's just my opinion!
So, although Bol Croatia is worth visiting in my opinion, you definitely don't need to spend a lot of time there.
FAQs About Visiting Bol
Is Bol Croatia Expensive?
Bol is expensive by Croatian standards, but it's not terribly expensive if you're visiting from a Western European country, the USA or Australia. Prices in Bol are very similar to those in Split, on mainland Croatia.
How do you get to Bol Croatia?
The easiest way to get to Bol Croatia is via direct ferry from Split, on mainland Croatia, but these ferries are not common. Another option is to get the ferry from Split to Supetar, another town on the island of Brac where Bol is located, and then drive or take a taxi to Bol.
What Country is Bol in?
Bol is a town in Croatia. It's on the island of Brac, which is just off the coast of the city of Split.
What is Bol Croatia like?
Bol is a very relaxed and chill Croatian beach time where you'll feel very relaxed and at one with nature. Despite being very popular it's not overdeveloped, and there are plenty of peaceful places to relax.
Do You Need a Car in Bol Croatia?
You don't need a car in Bol if you're just staying in the town itself. However, if you're going to explore Bol's surroundings or the rest of Brac island, you'll need to hire a car or ATV. There is a public bus system in Brac but it's infrequent.