There is a good chance that this post contains affiliate links. If you make a purchase through them, I may receive a small commission at no extra cost to you! As an Amazon Associate, I earn from qualifying purchases. As ever, all opinions are my own.
Last Updated on June 22, 2022 by Ella
Since it's just 30km from Split, the charming town and island of Trogir is one of the most popular places to visit near the city. Trogir's fascinating Old Town became a UNESCO World Heritage Site in 1997, and, with its swathes of Renaissance, Baroque and Venetian architecture, it's easy to understand why. 
It's been a huge magnet for tourists on the Dalmatian Coast ever since!
There aren't a million things to do in Trogir, but there are a few stand-out highlights that make a visit here worth the journey. So, without delay, let's get into the very best things to do and see in Trogir, Croatia!
Best Things to Do in Trogir, Croatia
Tour the Kamerlengo Castle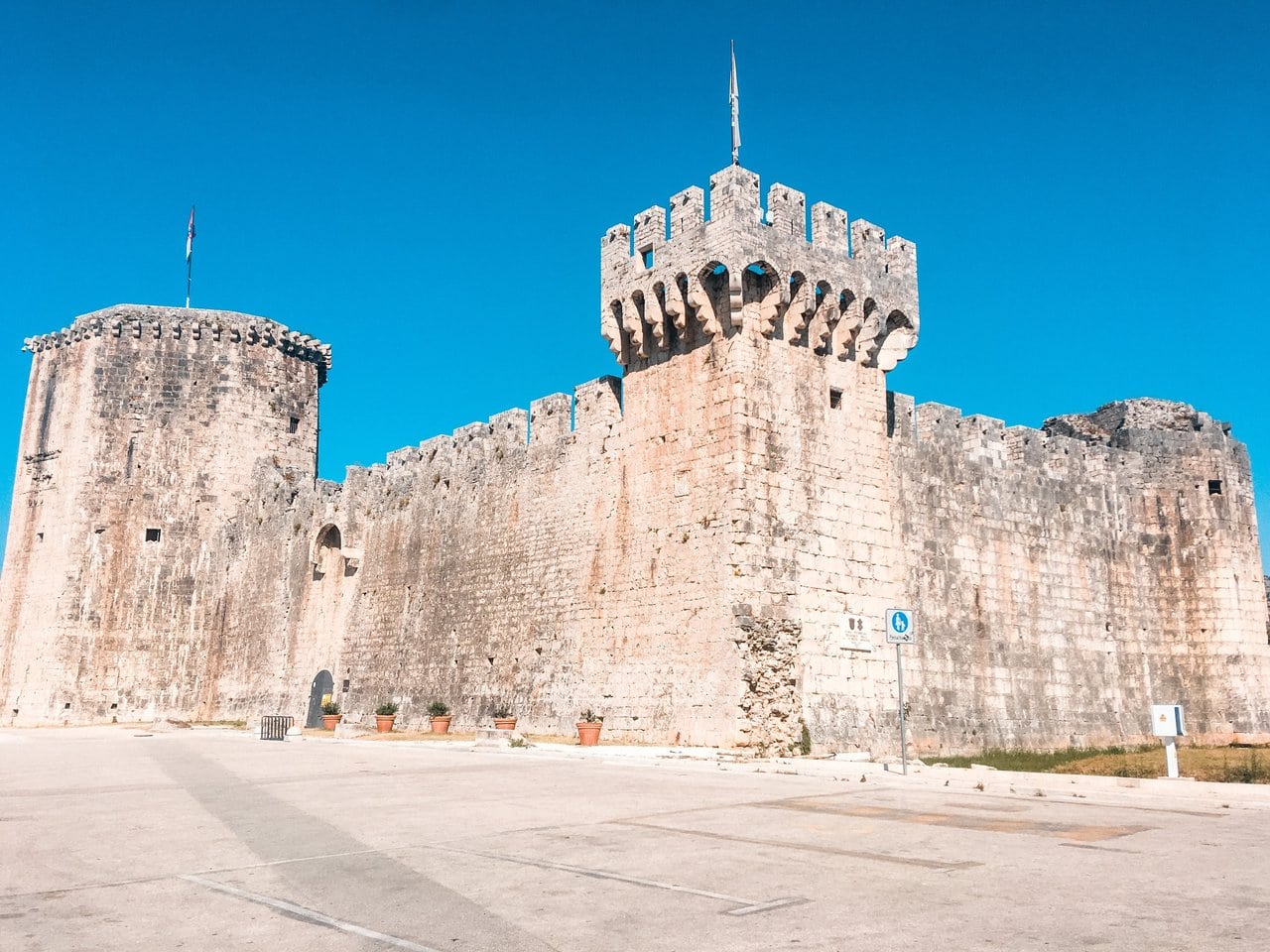 The noteworthy Kamerlengo Castle is one of Trogir's most famous landmarks. If you're arriving in Trogir by boat you'll see its imposing walls towering over the town, and you absolutely can't visit Trogir without heading to the castle!
The castle traces back to the early fifteenth century when it was built by the Venetians and served for a time as the governor's palace. With its commanding views over the sea, it's no surprise that many people head to the top of the tower first. The castle itself is still very traditional, but the locals have breathed new life into its courtyard by using it as a venue for outdoor performances in the summer.
Entry costs 10 HRK (€1.30) which also includes your entry to St Mark's Tower.
Climb St Mark's Tower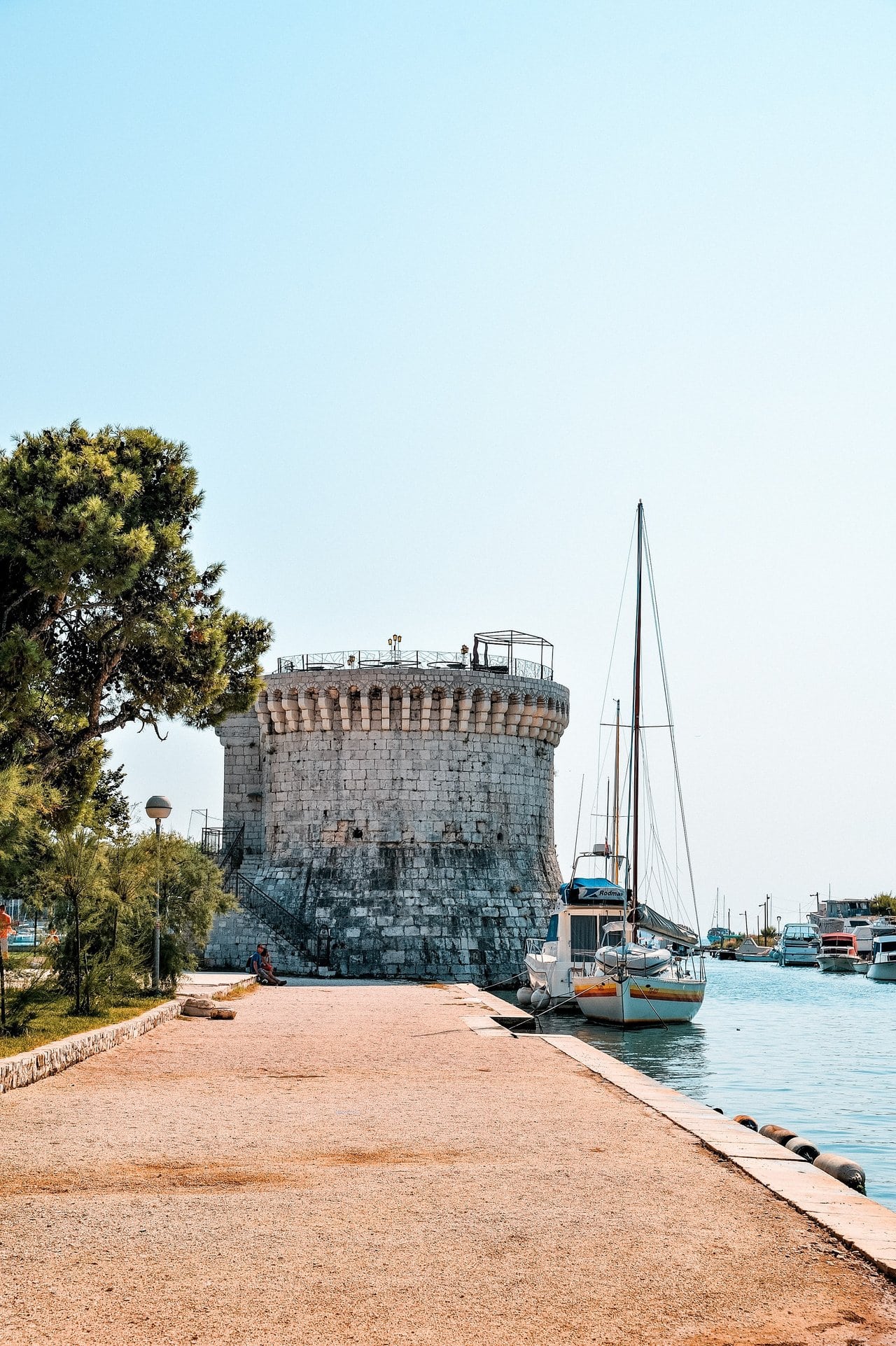 On the northwest corner of the Island you'll find St. Mark's Tower (Kula svetog Marka), which is a separate extension of the Kamerlengo Fortress. Built shortly after the castle, in a circular shape, it was once used to support artillery on its broad roof and was built to defend the channel between the island and the mainland. 
St Mark's Tower used to be connected to the castle by a wall that protected the town from Turkish invasion, but that's since been lost to history.
Just like the castle, St Mark's Tower has a wonderful waterfront setting, so it's one of the best places to visit in Trogir if you're after dazzling views of the town and ocean. 
Go on a Trogir Walking Tour
The best way to orient yourself in a new town and learn about its culture and history is on a walking tour led by a local guide. This 90-minute walking tour of Trogir will show you all of the town's most notable attractions, and you'll get the local perspective of your tour guide, who is a resident of Trogir.
On the walking tour you'll also learn all about Trogir's Venetian history and architecture and also check out a few local hidden gems that are off the beaten path.
Click here to check availability and latest prices!
Stop by the Cathedral of St Lawrence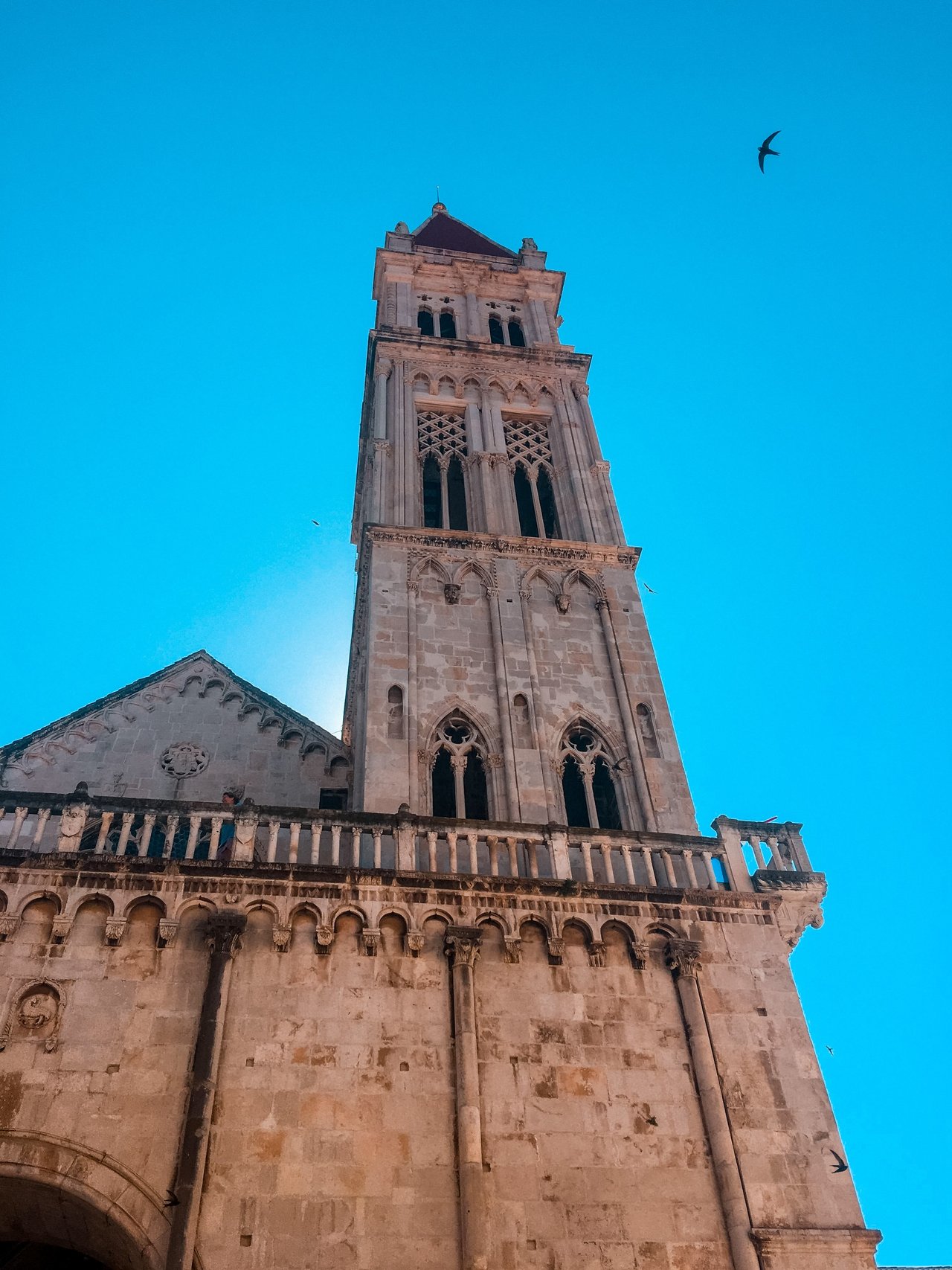 Trogir's Cathedral, the Cathedral of St. Lawrence, is probably one of the most beautiful buildings in Croatia! Building started in 1193, but it wasn't totally finished until the 16th century. I have no idea what took them so long!
Entry to the cathedral costs 25 HRK (€3.30).
The star attraction of the Cathedral of St Lawrence is its intricate Romanesque entryway, which is known as the Radovan Portal. Wandering through this huge entrance, you'll be in awe of the detailed carvings that surround the door. The entrance was completed in 1240 by local sculptor and artist Master Radovan, and it's incredible that it still looks so great after such a long time!
Once you've checked out the entryway, it's time to climb the 140 steps of the Bell Tower, which stands at 47-metres tall. It's yet another opportunity to check out the town from above, and it's one of the must see attractions in Trogir. If you head there early in the morning you'll probably get to enjoy the Bell Tower all to yourself!
Inside the church itself, don't leave without checking out the Chapel of St. Ivan, which displays many fine artistic creations paying respect to Ivan Orsini, also referred to as "John of Trogir".
Stroll Trogir's Waterfront Promenade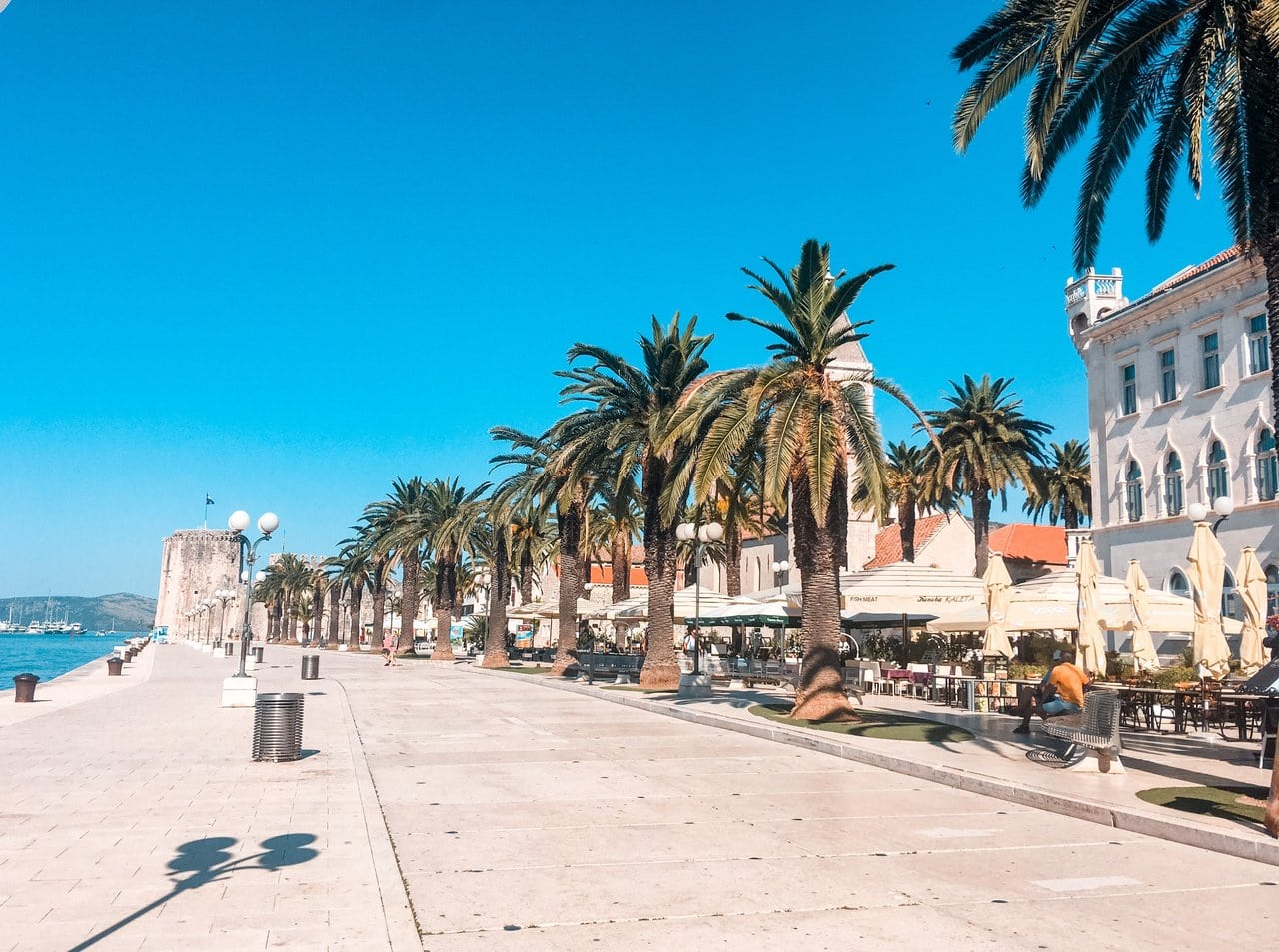 One of the best things to do in Trogir is to stroll along its magnificent waterfront promenade and check out the little boats bobbing along in the crystal clear water. The promenade is a wide walkway lined with palm trees, and it's definitely the best place to visit in Trogir for people watching. 
No huge ships moor in Trogir, unlike the waterfront promenades in Split and Zadar, so there isn't anything blocking your views out over the ocean. It also means that Trogir doesn't get overrun with cruise ship tourists. Yay!
There are plenty of relaxed cafes and restaurants lining the walkway. If you're visiting Trogir in summer chances are you'll want to escape the heat for a while under their many huge umbrellas. 
Food and drinks are far more expensive here than in the middle of town, due to the perfect location. That said, it's still worth stopping for a light snack or some refreshing juice to fortify you before you head out and visit more attractions in Trogir!
Hit the Beach at Okrug Gornji
The Okrug Gornji Beach is around a 30-minute stroll from the centre of Trogir, but if you don't fancy the walk you could always take a taxi. If you're visiting in summer, it's the perfect opportunity to take the water taxi! The boat takes 30 minutes and costs 20 HRK (€2.60) each way. 
Okrug Gornji beach is situated on the neighbouring island of Ciovo, although it's connected to the mainland by a bridge. It's one of the highlights of the Trogir riviera! In fact, the seashore is nicknamed "Copacabana" due to the many bars, cafés and vibrant nightlife. 
Nightlife aside, you can swim, snorkel, jetski, parasail or windsurf, at the beach, as well as, of course, just lie back and soak up the sun.
The beach is pebbly, as most Croatian beaches are, so you may want to hire a sunbed. However, I personally think they're a bit of a ripoff and recommend just packing a thick towel and putting up with the discomfort! Just make sure you add some water shoes to your Croatia packing list so that you can go in the sea without discomfort!
Other Beaches Near Trogir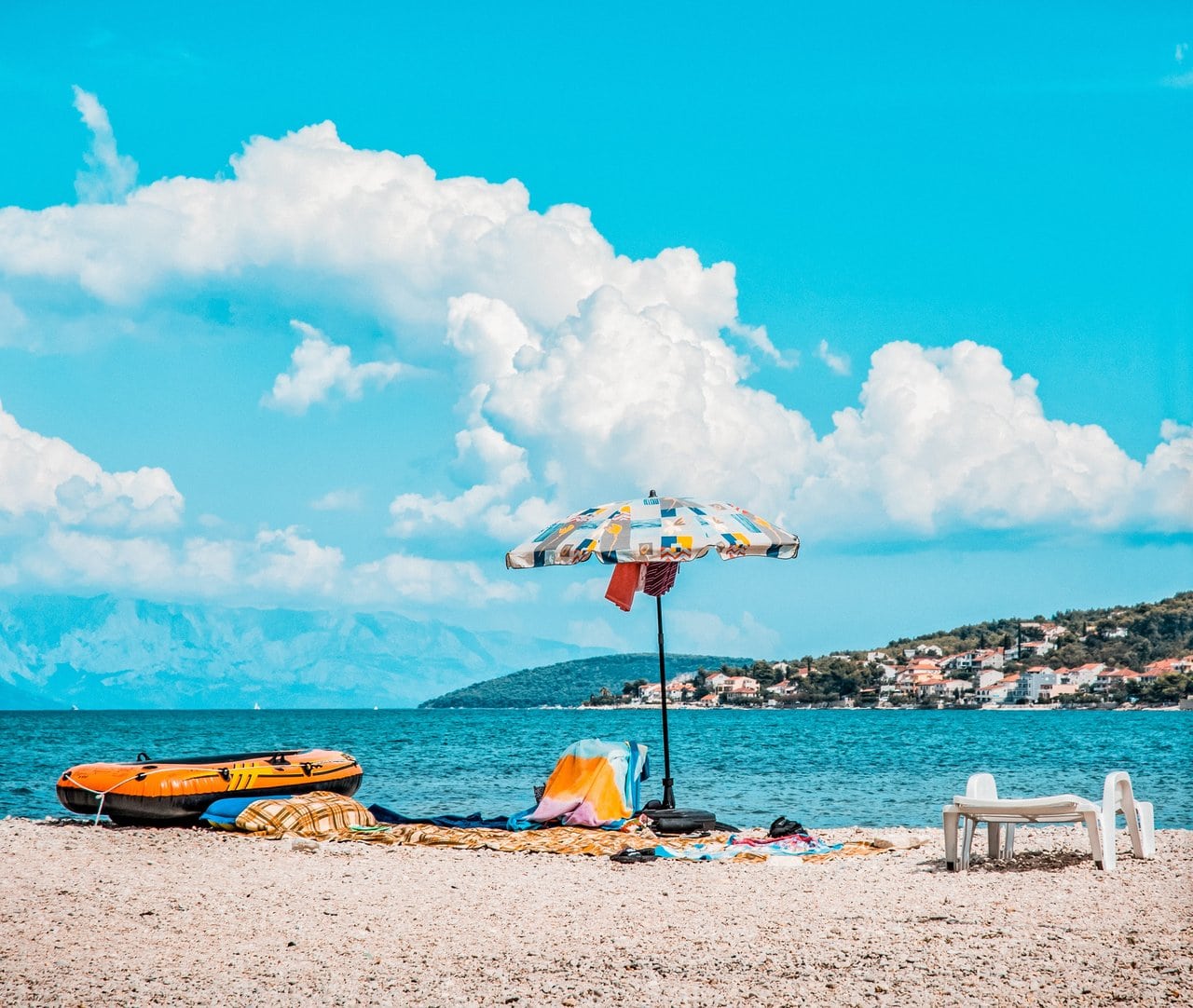 There are quite a few stunning beaches near Trogir, so if you have plenty of time on your hands you may want to do some beach-hopping! You'll find Patan Beach, which is just under a mile from the centre of Trogir, at the mouth of the Patan River. 
If you want a bit more of a walk, head to Medena Beach, which is around 2.5 miles from Trogir. Medena Beach is hugely popular with families since there are heaps of things to do there, from beach volleyball to watersports, to parasailing! 
Check out the Trogir City Museum
If you want to know more about Trogir's long and varied history, the best place to visit is the Trogir City Museum. You'll only need around 30 minutes to visit the entire museum, but you'll come away with a deeper understanding of Trogir's history and culture through the ages.
The museum spans from the prehistoric era up until the present day and exhibits artefacts, outfits, and excavated objects. You'll also learn about the Greek settlement of Tragurion in the 3rd century BC, which is the origin of the town of Trogir.
Trogir Farmers Market
You'll find the Trogir Farmers Market back on the mainland, and you just need to take a short walk across Trogir's main bridge to get there. It's very close to the Trogir bus station, so it's an ideal first stop on your Trogir itinerary if you're arriving by bus.
Farmer's markets have recently experienced a boom in popularity, and Trogir Farmers Market is no exception. Although it's usually the go-to place for local produce, the vendors have decided to take advantage of the number of tourists who visit the market by deciding to sell local souvenirs in the summer as well as their usual fresh produce.
Many vendors aren't fluent in English, but they know enough to get by. You won't struggle with a language barrier provided you keep things simple!
Stop by the Clock Tower and City Loggia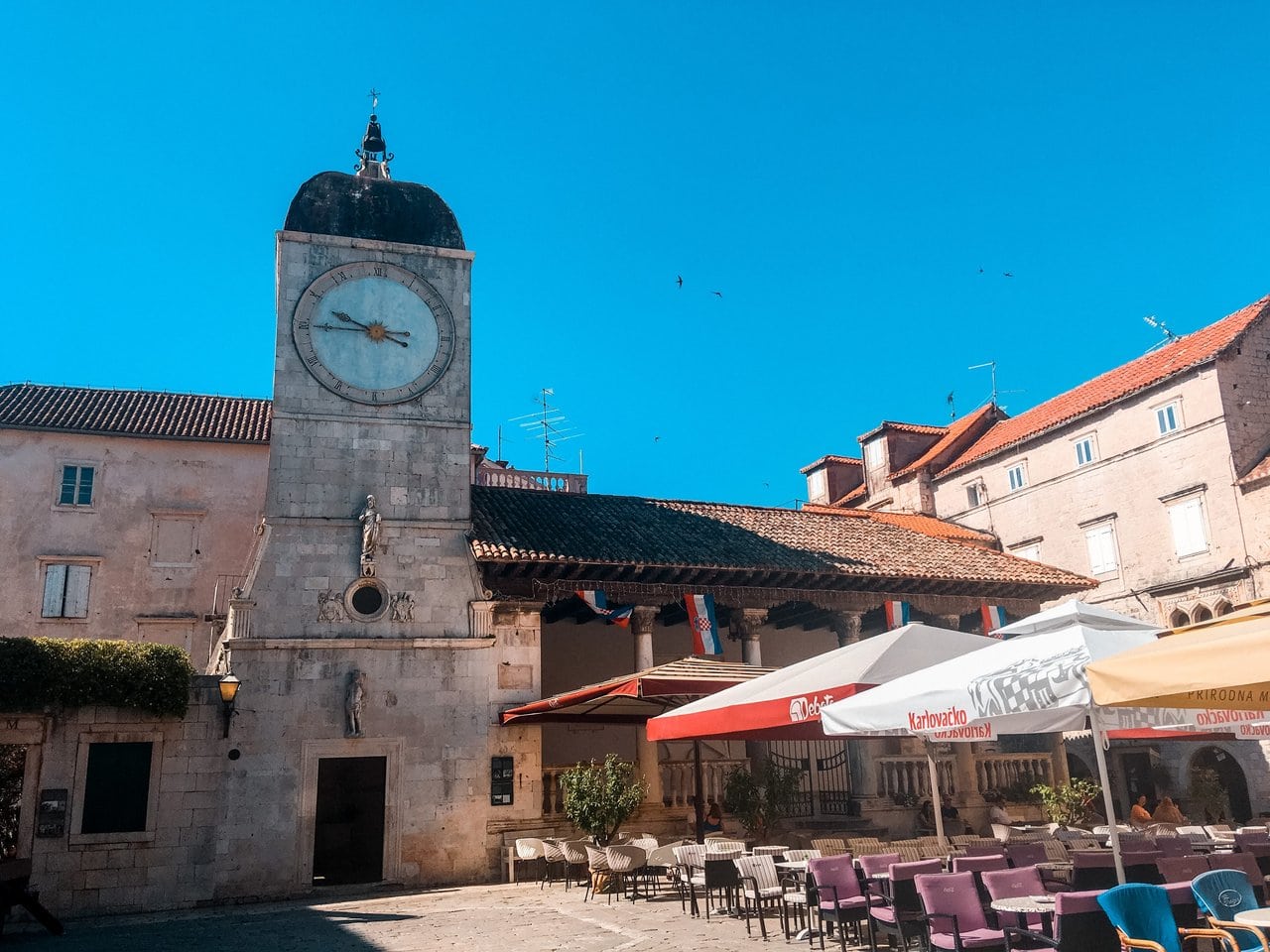 One of Trogir's most well-known tourist spots, the Clock Tower, is famous for its huge blue face, and domed rooftop. On a sunny day, you'll get incredible photos of the clock tower's blue face matching the deep blue of the sky.
The Loggia, which was previously used as the town's courtroom during the Renaissance period, was built in the 14th century. Entry is free, and you'll only need a few minutes to walk around and check out the historic works of art inside. 
Outside, you'll find yourself in the centre of Trogir's Old Town. It's the perfect spot to rest your legs and hang out.
Snap Photos of Cipiko Palace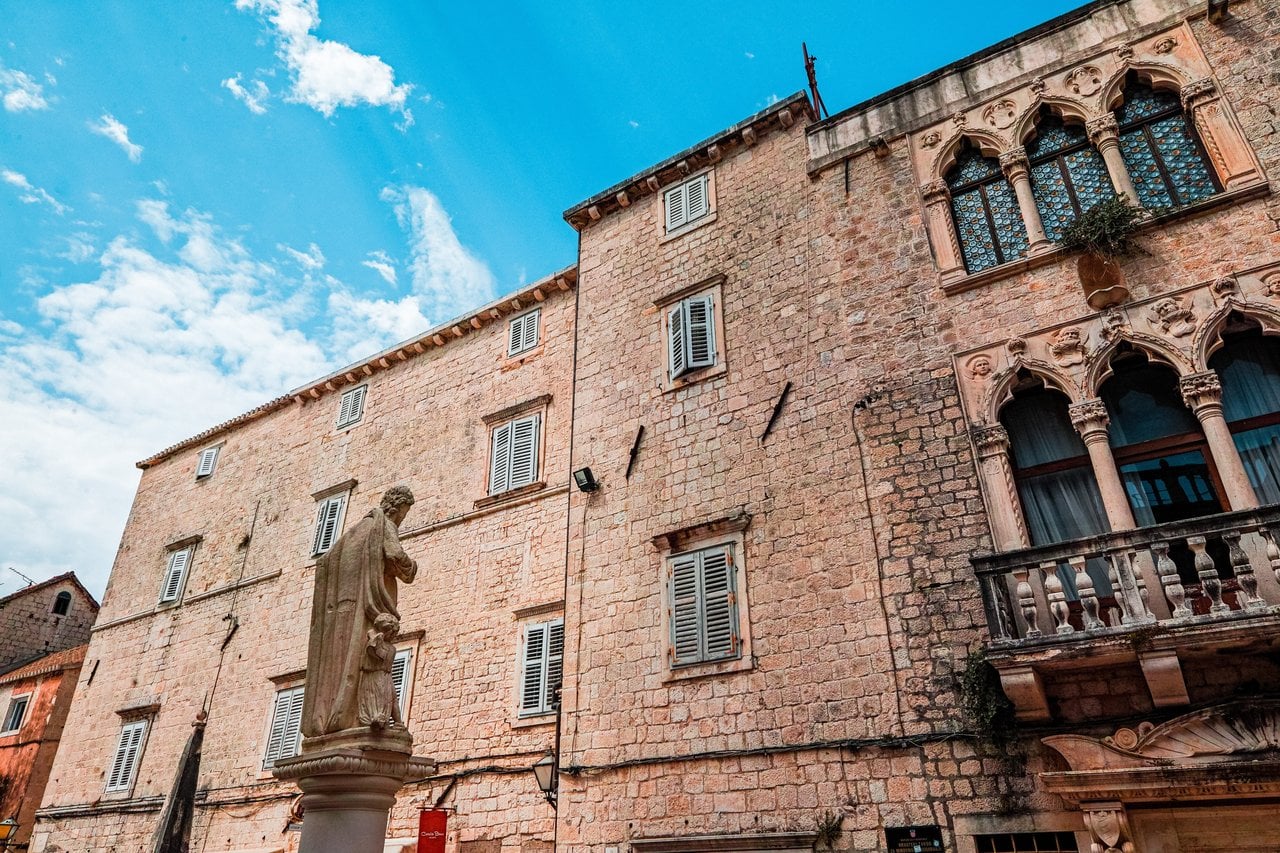 Cipiko Palace, in the Town Square opposite the entrance to the Cathedral of St Lawrence, was once the home of the Cipiko family, one of the area's most influential families during the 15th century. It was built in 1457, and it's clear to see the Venetian influence in the architecture here. It looks like it could be right next to Venice's Grand Canal! 
Most of the palace is not open to the public, but it's worth adding it to your one day in Trogir itinerary even just to admire it from the outside. 
Visit the Trogir Land Gate
The Land Gate (Kopnena Vrata) was once the main entryway to the ancient walled city of Trogir. Nowadays, it's one of the best things to see in Trogir for tourists. It was originally a fundamental part of the city's defences and was built in the Venetian style. It was then revamped in the 17th-century in the late-Renaissance style.
Striking elements of the Land Gate include the Lion of St. Mark (the symbol of Venice) which you'll see over the entryway's roof, and a sculpture of the city's benefactor, St. John of Trogir. 
Again, this is another attraction in Trogir that you just visit to look at and snap some photos, but it's a wonderful historic building and really adds to the Venetian feel of the town.
Sample the Local Dessert
If you like almonds (and who doesn't?), you can't leave Trogir without sampling the local dessert! Called Trogirski Rafioli, these dumpling-shaped pastries contain ground almonds, lemon and orange extracts, and are mouth-wateringly good!
It's not clear when the dessert was first created, but according to legend there was once a young girl, whose surname was Rafiloli, imprisoned in the famous Kamerlengo castle. To kill the time whilst waiting for her prince to rescue her, she developed the recipe for Trogirski Rafioli. She then baked the recipe for him forever once they reunited.
Obviously, we can take this tale with a pinch of salt, but it sure does sound romantic! 
The pastry is generally made with pork fat, so if you're a vegetarian be sure to ask if the bakery has any made with vegetable fat instead.
How to Get to Trogir From Split or Zadar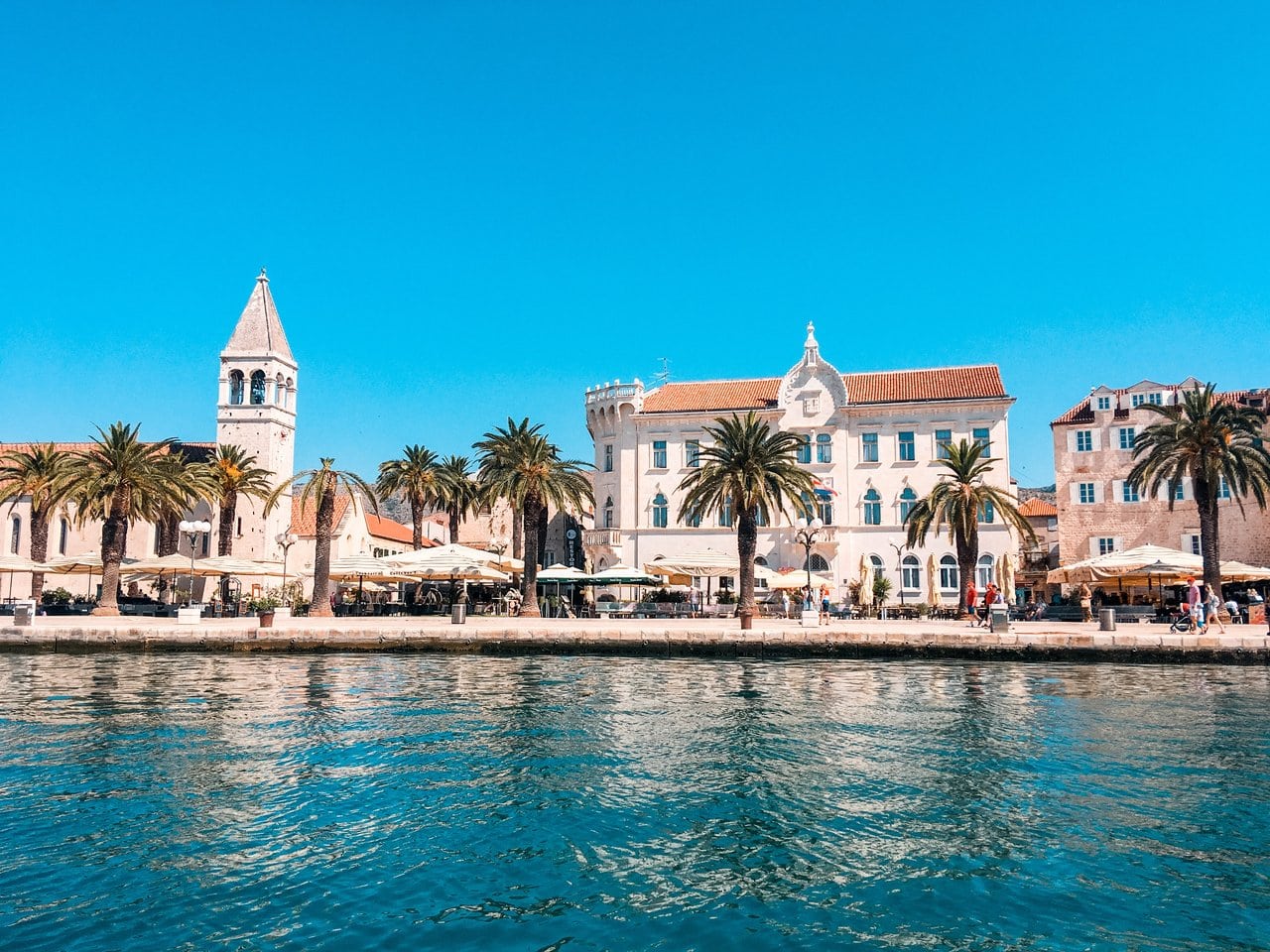 Trogir is one of the most popular day trips from Split since it's so easy! You can visit the island independently via car, bus or ferry, or on a 3-Island Tour from Split.
Since Trogir is only 30 kilometres away from Split, the drive there is very quick and easy. If you've hired a car in Croatia, this is definitely the easiest option, and the journey takes around 40 minutes. From Zadar, the journey takes around 90 minutes.
You can visit Trogir from Split or Zadar on the bus, and Trogir's bus station is just a few minutes walk away from the town centre. From Zadar, the journey takes around 2 hours and 30 minutes each way, so it's quite the trek. From Split, the bus is just 30 minutes, which is perfect! For both routes, you can purchase tickets in advance via FlixBus.
The Split to Trogir Ferry only operates in summer. The journey takes around 1 hour, and tickets cost around 35 HRK each way (€4.65).
The most fun way to visit Trogir, and the option I chose, was to join this 3 Island Tour from Split. This 5.5-hour tour will take you to three of the Dalmatian Coast's most beautiful spots – Trogir, the Blue Lagoon, and the idyllic island of Šolta. 
I highly recommend doing this tour because it gave me a few hours to spend in Trogir. In my opinion that was plenty of time, and it also meant I got to see two other beautiful places. It's a win-win!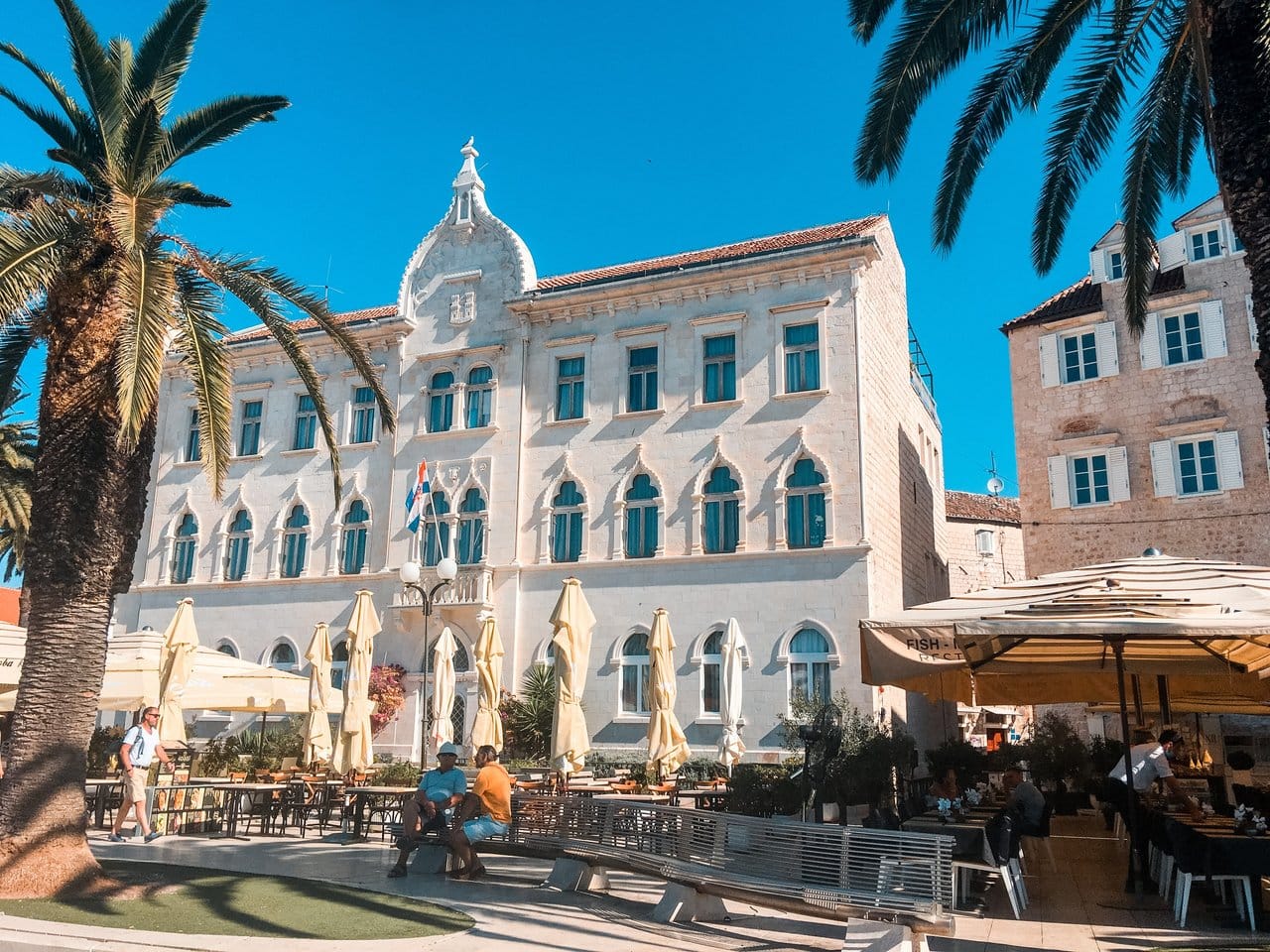 How Long to Spend in Trogir
Although Trogir is a very popular place to visit, you really don't need to spend long there. From my experience, anywhere between two hours and half a day is the perfect amount of time to spend in Trogir. 
As you can see from this post, there aren't a million things to do in Trogir. Although many people visit it as a day trip from Split, I think you would struggle to spend an entire day in Trogir. There's just not very much there.
Is Trogir Worth Visiting?
If you have some time to spare during your trip to Split, Trogir is definitely worth visiting for a few hours or half a day. The town is absolutely stunning, and it's got a few fascinating historical attractions and things to do. It's also super easy to get to from Split, which is always convenient.
However, if you already have a jam-packed itinerary, I don't think it's worth sacrificing another attraction or day trip option to squeeze in a visit to Trogir. 
Instead, I highly recommend visiting Krka National Park, heading to the kitesurfing town of Bol, or going on a day trip to Hvar. I visited all of these places during my trip to Split, and I personally think they are all much more fun and interesting than Trogir. That's just my opinion, though!
Liked this post? Pin it!