There is a good chance that this post contains affiliate links. If you make a purchase through them, I may receive a small commission at no extra cost to you! As an Amazon Associate, I earn from qualifying purchases. As ever, all opinions are my own.
Last Updated on May 20, 2022 by Ella
An unforgettable highlight of my trip to Croatia was the day trip I took to the dreamy island of Hvar from the city of Split. If you have a day to spare on your Split itinerary, you should definitely make the trip here!
Known as the playground of the rich (and when you see all the super-yachts in Hvar Town port you'll know what I mean), Hvar is a gorgeous island just 40km from Split that feels worlds away from the hustle and bustle of the city. Hvar is the place to kick back, relax and take it easy. It's drop-dead gorgeous!
On day 2 of my Croatia trip, I took a full-day island hopping tour from Split. We stopped off in Hvar for just a few hours, but I was SOLD. I knew I needed to return to explore more, so I decided to go back the very next day for a full day trip!
To save you time, I decided to create this handy blog post to share everything I know about taking a day trip from Split to Hvar island! I've also included lots of extra tips, including what to do in one day in Hvar, how much to budget for your day trip to Hvar from Split, and more!
Suggested Post: Is The Blue Cave Worth Visiting in Croatia?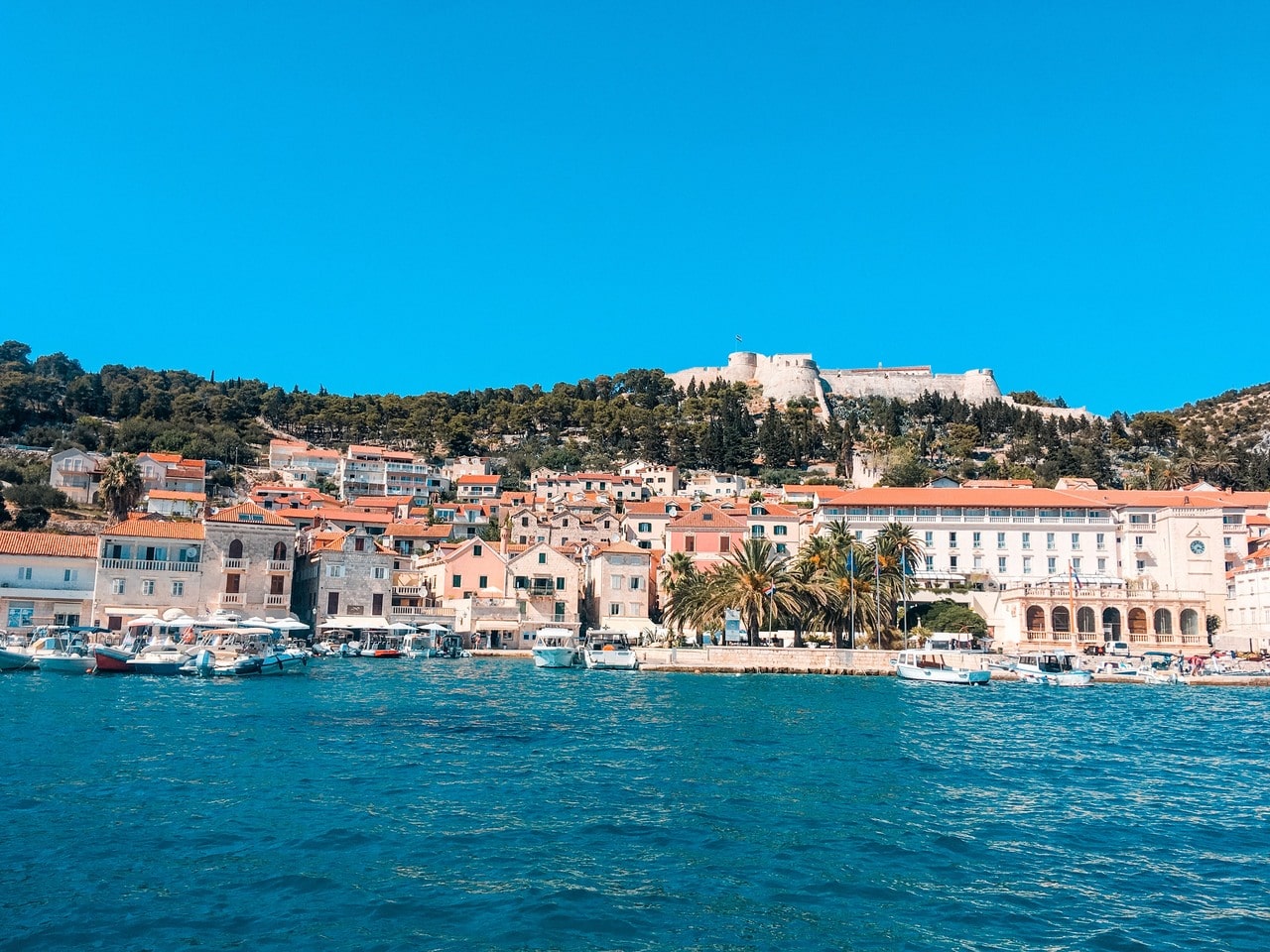 How to Get to Hvar From Split
I highly recommend taking this 5 Island Tour from Split to visit Hvar. It's the tour I went on, and I had an amazing time! You can even read my full review of the tour here. It's the perfect solution if you want to spend the day island hopping and visit Hvar as well as plenty of other awesome destinations.
If you don't want to join a tour, you'll have to take the ferry from Split to get to Hvar. It's possible to visit either Stari Grad or Hvar Town on the ferry from Split, but I highly recommend going to Hvar Town! This is the hub of the island, and it's where you'll find all the hippest beach hangouts.
Three different ferry companies operate on the Split to Hvar route: Kapetan Luka, Jadrolinija and Krilo Shipping. I recommend going with either Kepetan Luke or Jadrolinija as they have the most ferry services. This means you can be a bit more flexible with your arrival and departure times.
How Long Does It Take to Get from Split to Hvar?
Depending on which operator you choose, it can take between 55 minutes and 1 hour and 40 minutes to make the journey. In my experience, the majority of ferries take around 1 hour 5 minutes.
As a pedestrian, simply arrive at the correct dock number at the port of Split around 30 minutes before departure. As people begin to board you'll have to get your ticket checked, and then you're free to grab a seat! 
Most of the ferries have an indoor area on the first floor and an open-top area on the second floor. Get in line for the ferry as early as you can so you can snag fabulous seats overlooking the ocean on the top floor!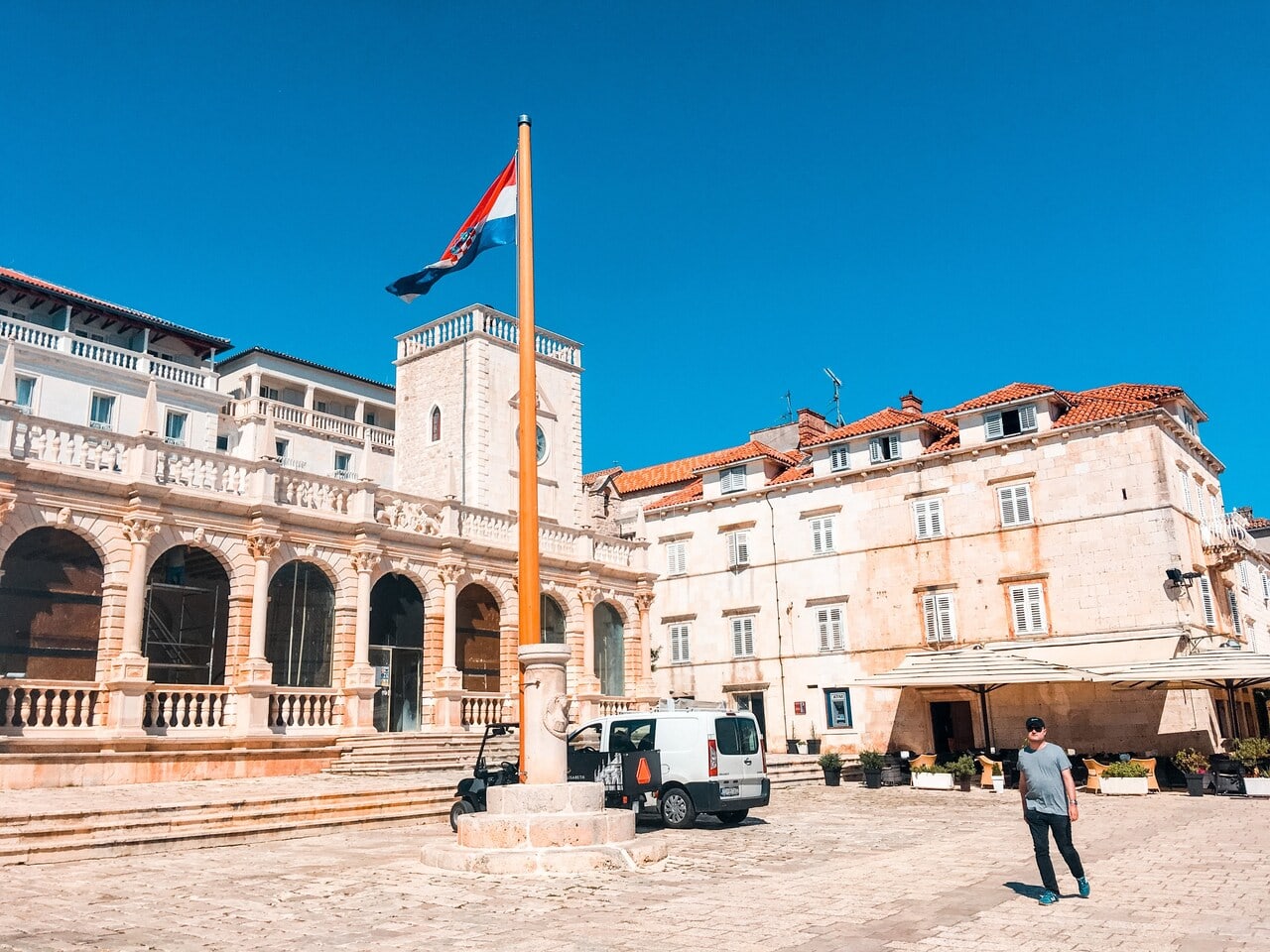 How Frequent Are the Ferries Between Split and Hvar?
Be sure to check the timetables on the official websites of the ferries, as I found the timings on other websites were incorrect. In high season you'll need to book your ticket in advance, but in winter I've heard you can just arrive at the port and buy one from the kiosk there.
I travelled in August 2020, so (obviously) Split was nowhere near as busy as a typical summer. Lucky for me, my last-minute-ass was able to buy a ticket on the day. 
If you buy a ticket with, say, Kapetan Luka, you'll only be able to catch Kapetan Luka ferries, and so on. Double-check when the return ferries are for your chosen company so you don't end up stranded or having to buy another ticket from a different company!
How Much Does the Split to Hvar Ferry Cost?
The price of tickets varies massively, from 40-110 Croatian Kuna (kn) each way (€5-14.50). The price depends on which company you choose, how fast the journey is, and a load of other factors.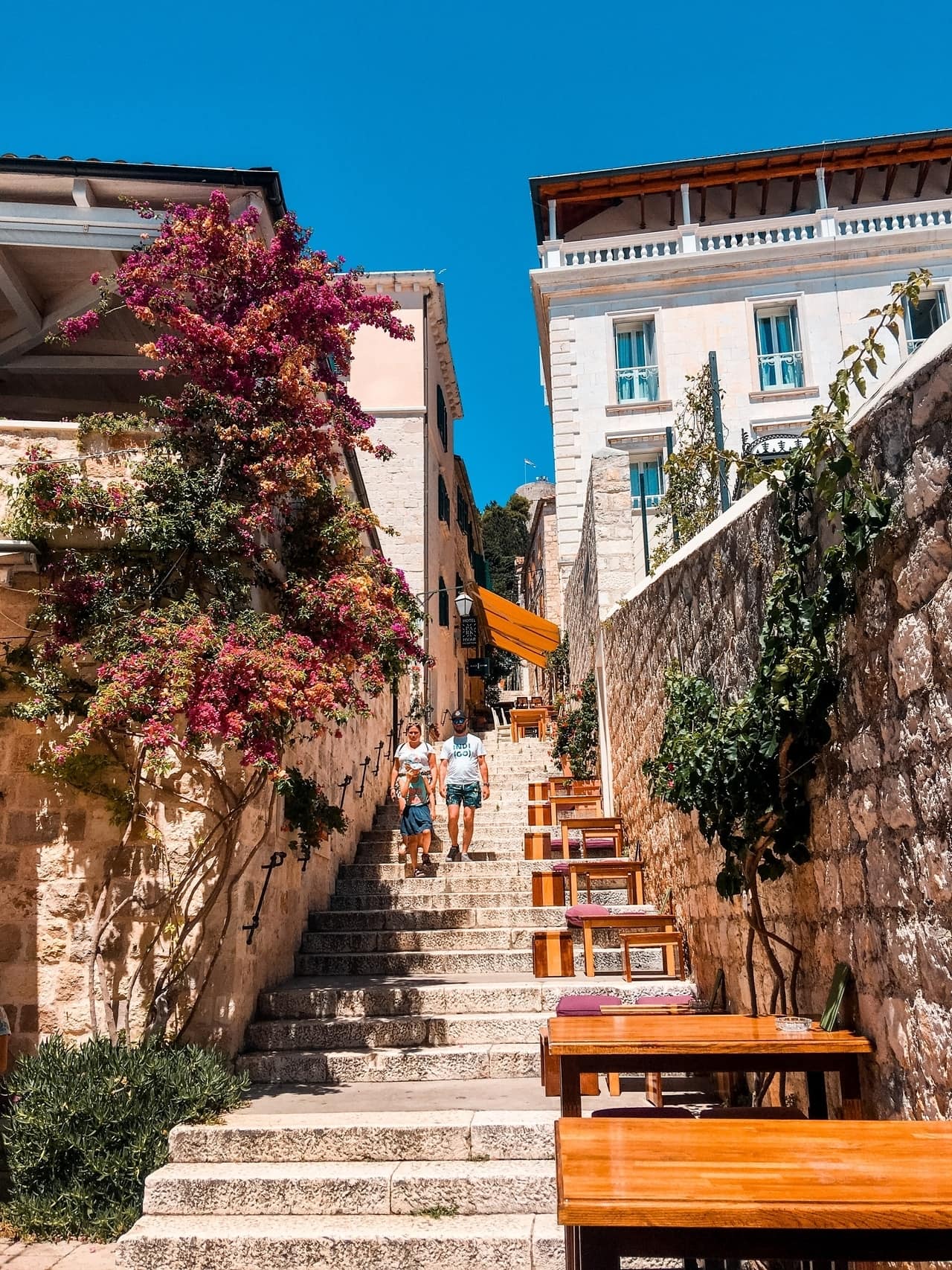 Things to Do in One Day in Hvar
This one day in Hvar itinerary is based around Hvar Town (the most popular destination in Hvar). There's enough to do here to fill an entire day and then some without needing a car or public transport. If you're looking to explore Hvar past Hvar Town you really need to stay for at least one night.
So, let's get started – here's the perfect itinerary for a Hvar day trip from Split!
Tvrdava Fortress
Looming high over the town, you'll have a long uphill trudge through the narrow streets of the old town to get to the Tvrdava Fortress, but I promise the views over the town, the surrounding Pakleni Islands and the glittering ocean are more than worth it.
Because it's such a slog to get there, and summer temperatures in Hvar can soar to up to 31°C, I recommend visiting as early as you can to beat the heat!
The fort was built in the early 16th century, when Hvar was under Venetian rule, and was reconstructed in 1579. Entry tickets cost 40 kn (€5) and apparently has a collection of artefacts dating from the middle ages.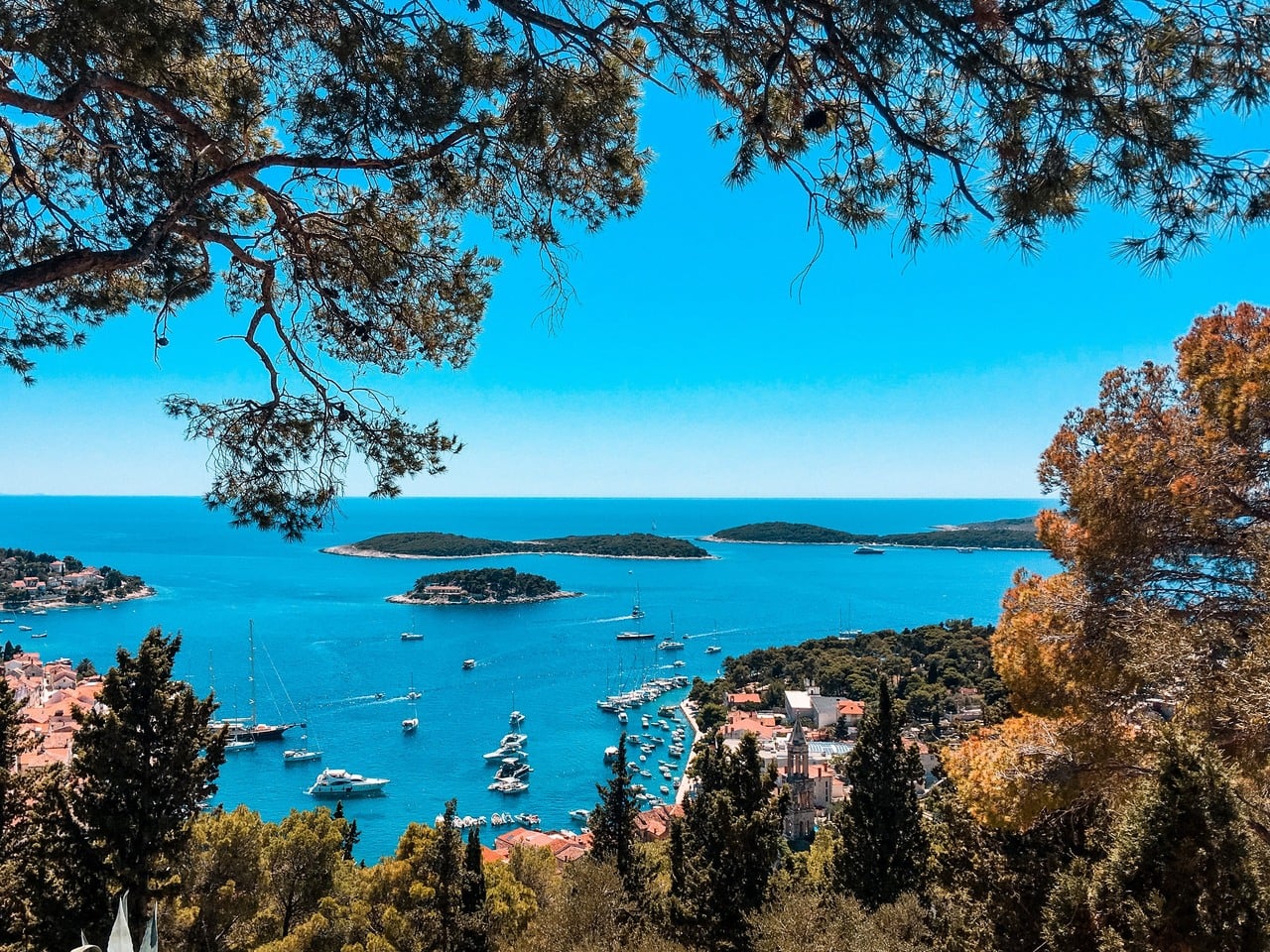 The reason you're here is for the view, though. I didn't go into the fort itself because I didn't fancy spending a whole €5 and was already dying from the heat. Instead, I sat in the shade for a while and rehydrated whilst the friends I travelled with went in to explore the fort. They said it was great, but they were only inside for about 20 minutes, so I felt pretty fine with my decision to save money. 
Plus, it gave me way more time to snap photos of Hvar!
Hvar Old Town
Wandering back to town from the fortress, take your time and explore the quaint streets on your way down to Old Town Hvar. Start your walking tour of Hvar back near the harbour, at the Venetian Loggia and Clock Tower. Here, you'll be able to snap photos of these dazzling white buildings with the Tvrdava Fortress in the background!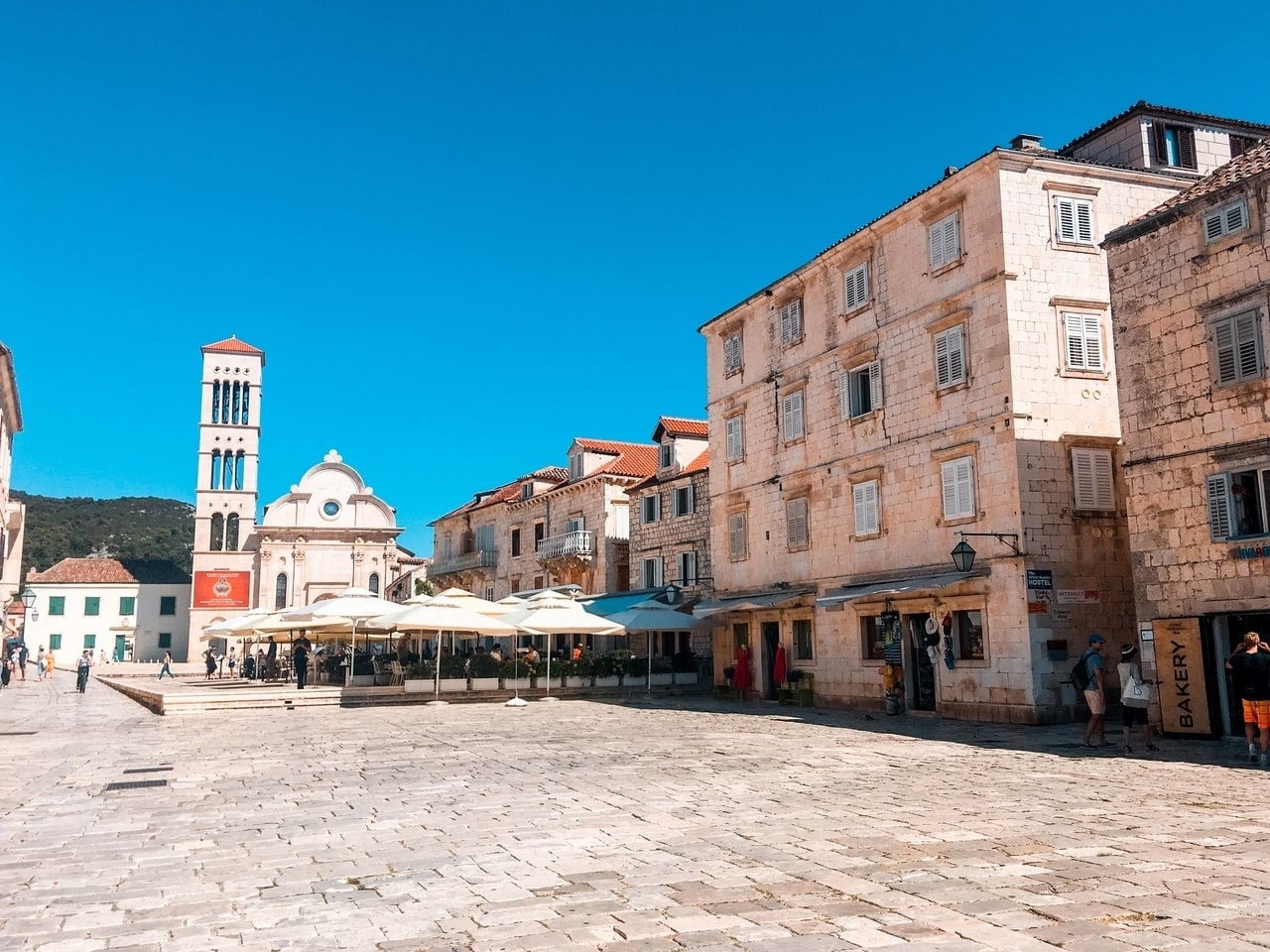 Then, wander in the direction of St Stephen's Square, stopping every so often to marvel at just how gorgeous everything is, because you just won't be able to help yourself!
The buildings around here are to-die-for. Everything looks straight out of a holiday brochure – whitewashed buildings, clear blue skies and ancient cobblestoned streets.
At the end of the square you'll find the Hvar Cathedral. It looks much more impressive outside than in, so enjoy the view of its 17th-century bell tower outside for free.
Lunch at Hanibal
Right outside Hvar Cathedral you'll find the outdoor seating of Hanibal restaurant. I ate here twice during my time in Hvar and was very impressed both times! They pride themselves on using fresh ingredients and you can totally tell. 
On the first day, I ordered a veggie pizza which was so fresh and light that I just couldn't stop eating! On my second visit to Hvar I ordered their greek salad. It was absolutely delicious and just what I needed on such a hot day.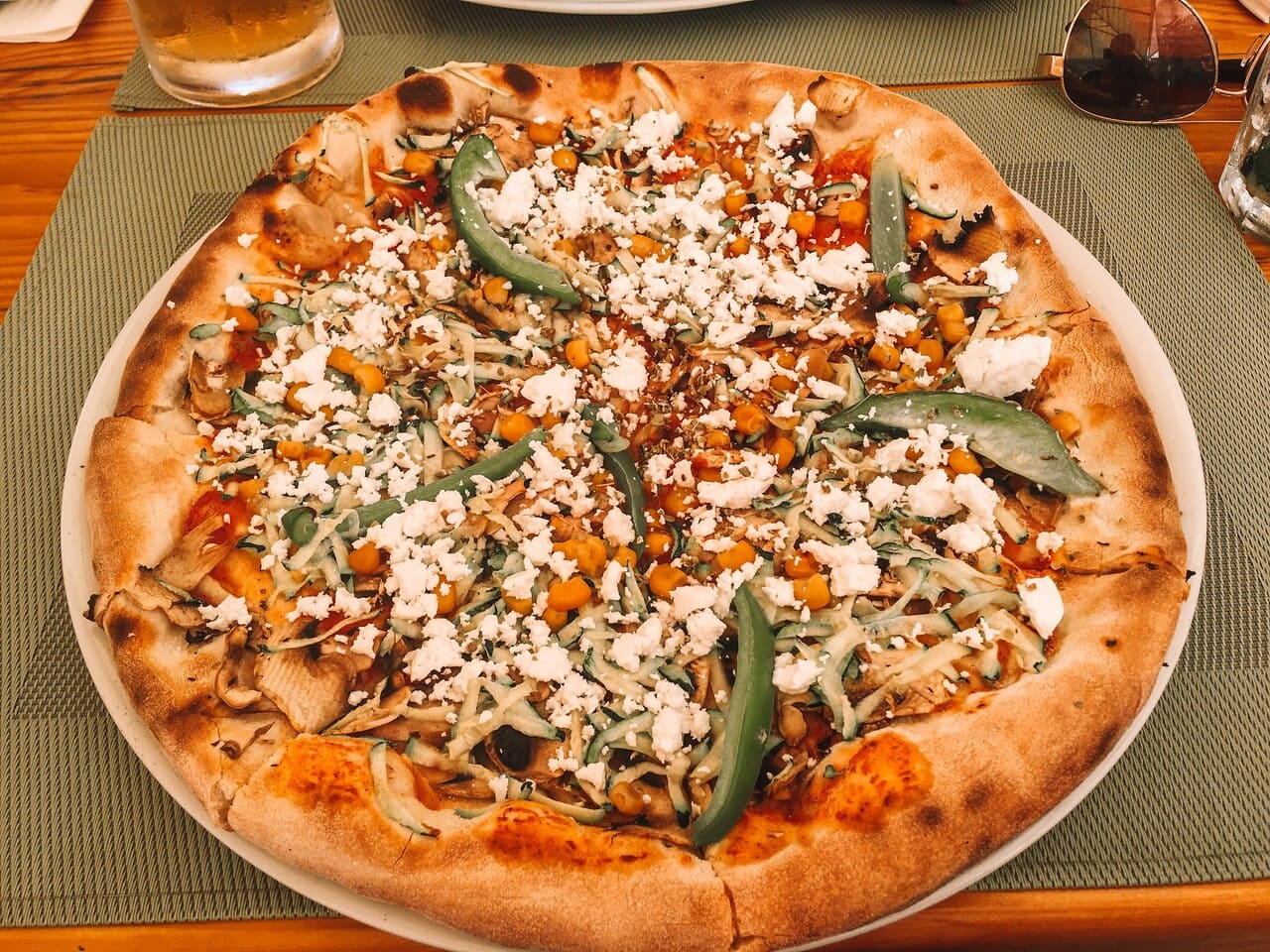 The prices are unfortunately not on their online menu, and I can't for the life of me remember what I paid, but I know for sure that it wasn't too expensive. 
Sitting outside in the shade of the restaurant's parasols, this is a great place to hide out for the hottest part of the day, watch the world go by and perhaps sample some Croatian wine.
Chilling at Pokonji Dol Beach
Strolling along the waterfront past the port, a 25-minute walk (which is lovely all by itself) will lead you to the deep-blue water and pebbled shore of Pokonji Dol Beach. This is probably the best beach within walking distance from Hvar Town. 
Did you know Croatia's beaches are pebble, not sand? At first, I was slightly disappointed, because it meant I had to fork out for a sun lounger for the afternoon, but this turned out to be one of my most pleasant surprises!
Lying on the fancy sun lounger by the water's edge felt so luxurious, and I couldn't help but imagining myself as the 6th Kardashian sister, living a life of luxury.
Since I was suffering so much from the heat, I decided be extravagant and hire an umbrella too. You really should do this! I can't imagine how burnt and dehydrated I would've been if I hadn't had the shade from my umbrella. It was worth every penny.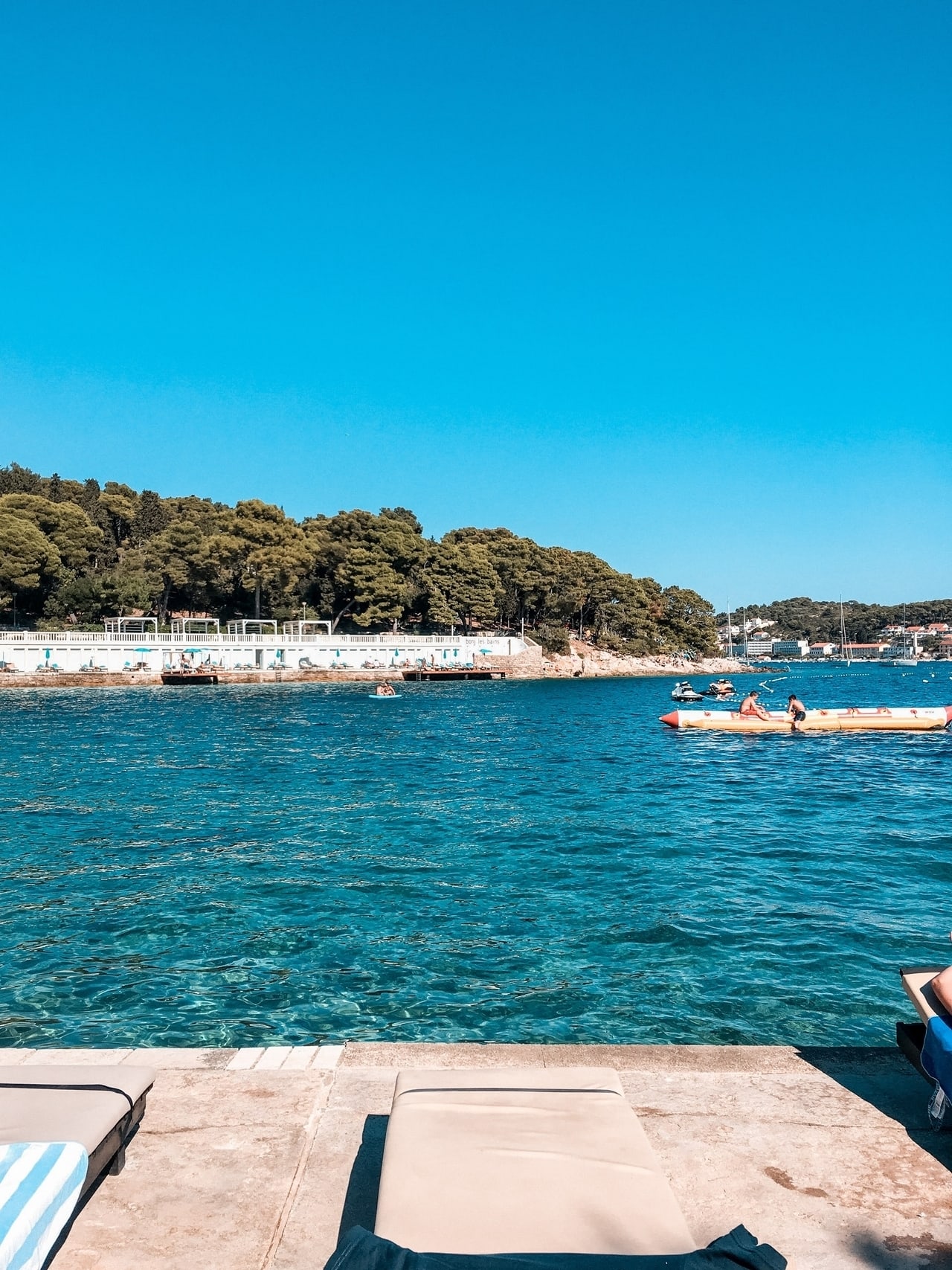 Hiring a sunbed will set you back between 80 and 100 kn (€10-€13) for the day, and an umbrella will cost a little bit extra. Yeah, it's not cheap, but let's not forget that this is the Dalmatian island of the rich and famous!
The water here is so delicious and refreshing! Every half-hour or so I took a dip to cool off, and I just couldn't get over how blue the water was! It looked like dye had been put in it, it was so vibrant!
Fancy something more active? If you're looking to explore the gorgeous Pakleni Islands surrounding Hvar, you're in the perfect place! You can book onto a Pakleni Islands Sailing Tour for the afternoon, which costs around €67, or an Afternoon Kayaking Tour of the islands, which costs around €58.
Hula Hula Beach Bar!
After you've chilled at the beach, it's time to see what Hvar's hip beach bar scene has to offer, and you'll struggle to find a more kick-ass location for a bar than Hula Hula!
Situated right on the oceanfront, Hula Hula is full of young travellers kicking back with a few drinks. You can come here at any time of day (they have huge sunbeds to sip your drinks on), and can kind of just treat it as an extension of the beach, but with funky music and a bar on hand!
If you're a fan of watching the sunset over the ocean (who isn't?) you really have to stay here until the sun sets. The views are epic!
A word of warning about Hula Hula – it's SO expensive for Croatia. And the service isn't great. 
Why do I recommend it, then? 
Well, its location is amazing and the set up is just so fun and cool. The other guests are all good fun, the music is great, and the food is just *chefs kiss*. You HAVE to get yourself here to order the Pljukanci (Croatian pasta) with truffles!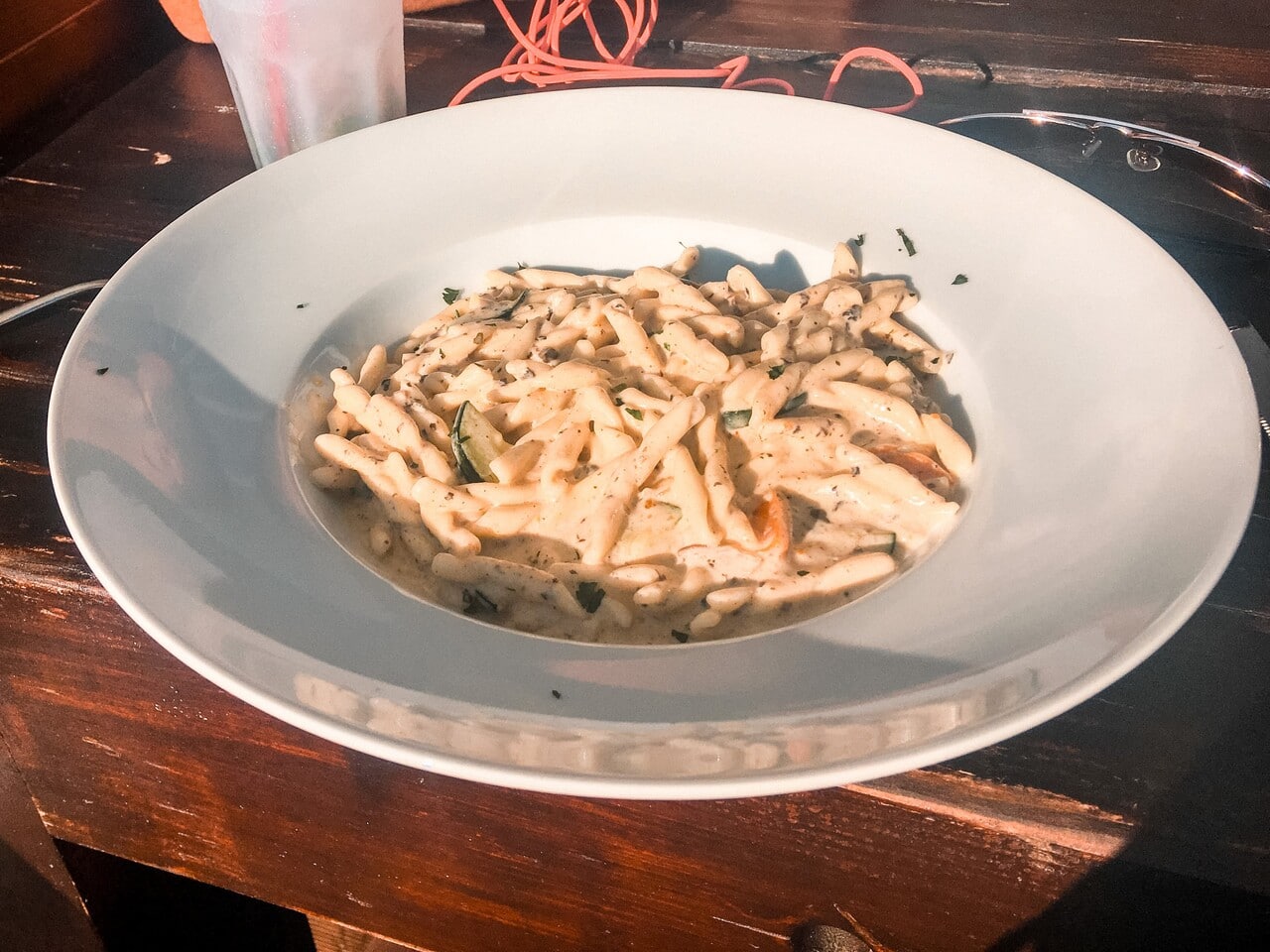 Good lord, that meal was delicious. 
It cost me a whopping 110 kn (€14.50) but, to my own surprise, it was absolutely worth the splurge! Just keep in mind that the drinks are not cheap at all (especially for Croatia). At €6 for their cheapest bottle of beer I was glad we didn't spend too long there!
After your meal and a drink or two it'll probably be getting dark. Now is the perfect time to head back to the port to catch the ferry back to Split,
On the ferry back try to get a seat in the indoor area as it'll be chilly on the open deck. Plus, the ferry ride home is the perfect time to have a nap.
What to Pack on a Day Trip to Hvar from Split
Luckily, I've already written a comprehensive list of everything to bring to Croatia. Out of these items. there isn't anything extra you'll need to bring on your day trip to Hvar from Split, but, of course, there are some things you simply couldn't visit Hvar without!
In your day bag, remember to pack sun cream, a sun hat, sunglasses, your beach stuff, a portable phone charger and a water bottle.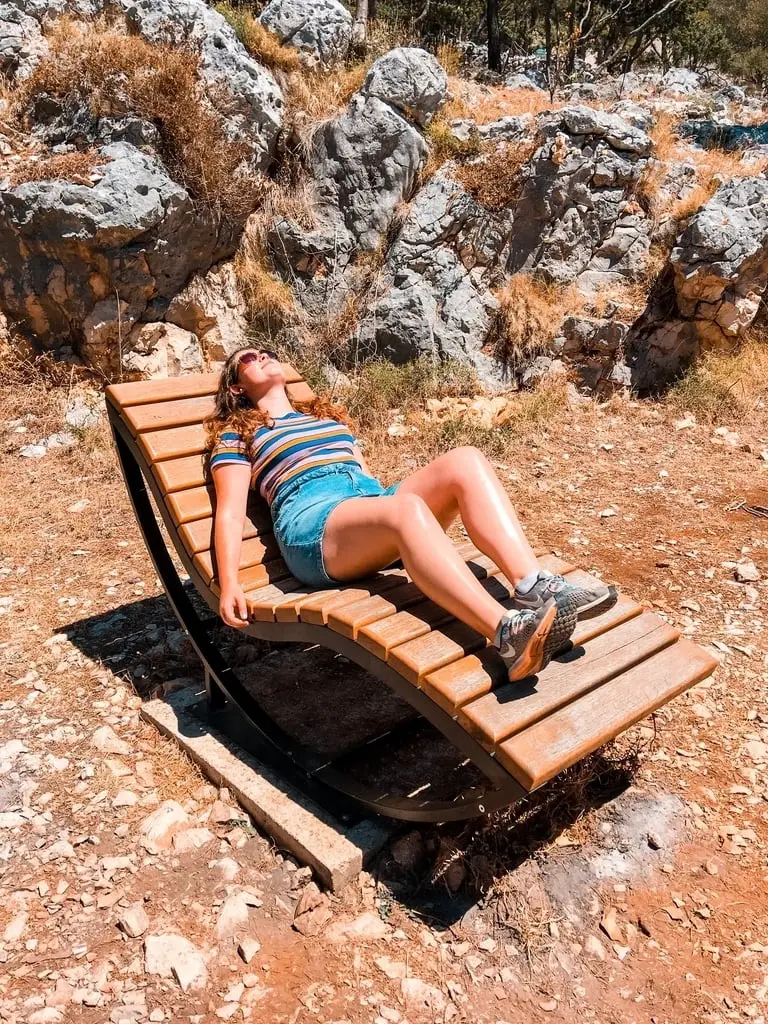 For a more comprehensive list of what to pack for a day trip, check out my helpful post all about that here!
How Much to Budget for One Day in Hvar
Obviously, you could spend a lot of money or very little money during your one day in Hvar. It all depends on your travel style.
As a ballpark figure, if you're following this itinerary and getting the ferry, I think around 550 kn (€65) would be a good amount to budget for the day. This would be enough to cover your ferry tickets, a delicious lunch and dinner with a few drinks, and renting a sun lounger and umbrella.
If you brought your own packed lunch and dinner from Split and decide to sit on the pebbles on the beach rather than hiring a sun lounger, you could easily spend just 220 kn (€30) for your one day in Hvar. For this reason, it's totally possible to visit Hvar on a budget.
Want to Extend Your Hvar Day Trip from Split?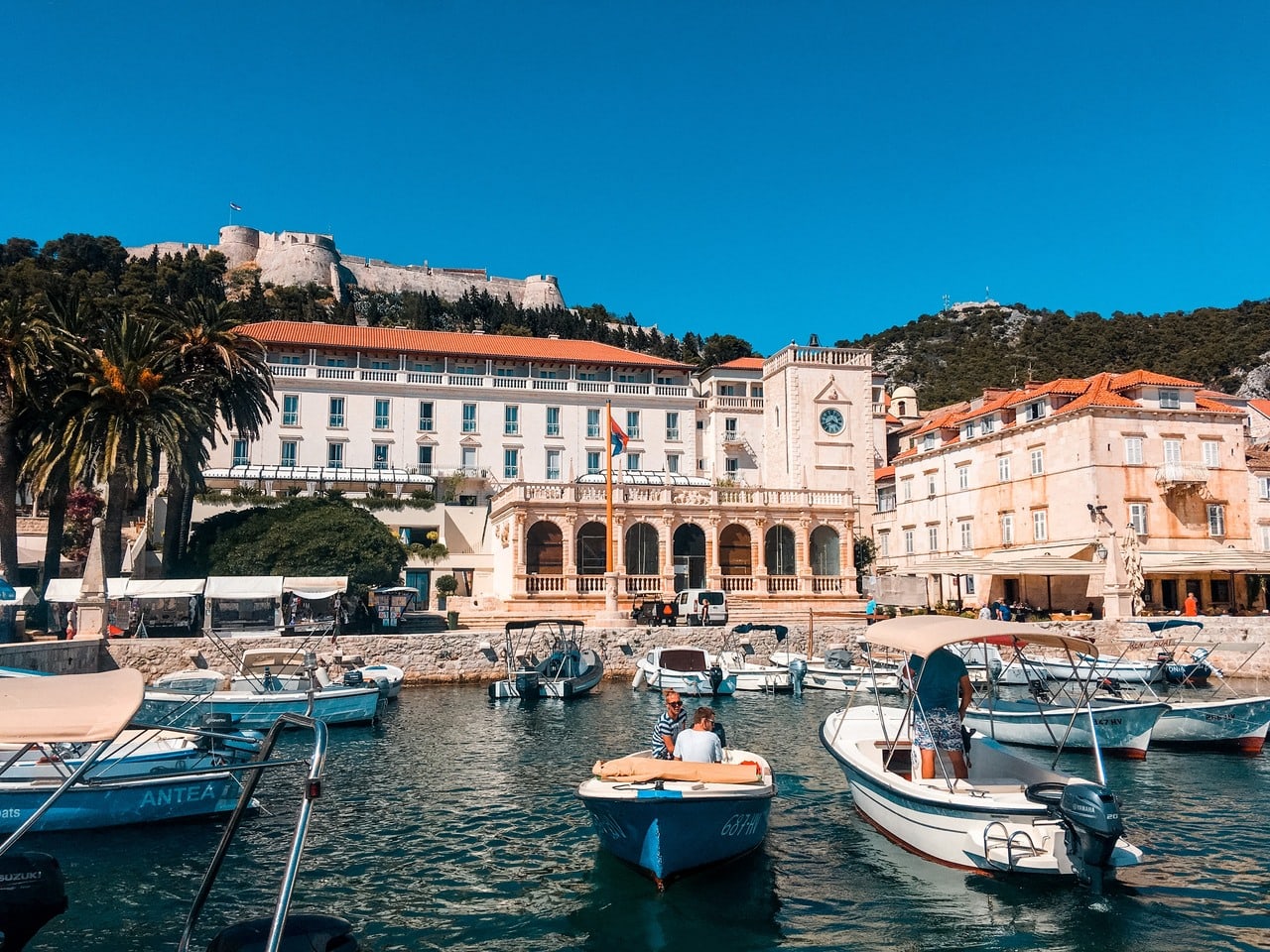 If you have time to spend longer than one day in Hvar I really recommend staying overnight in Hvar Town! This was one of the biggest regrets from my Croatia trip as I've heard its nightlife is incredible.
Hostel
For budget backpackers, I've heard great things about Hostel Villa Skansi (and its reviews speak for themselves!). Not only is it right in the centre of Hvar town, but they put a huge emphasis on being sociable, and run LOADS of events to get you mingling with your fellow travellers.
Prices vary throughout the year depending on whether you're travelling peak or off-peak, so it's best to check how much it'll be for your dates on Hostelworld.
Hotel
If you're not travelling on a tight budget you can't go wrong staying at Pharos Hvar Hotel. At €175 per night (for a double room) it's definitely not cheap – but nowhere on Hvar is! What sweetens the deal is that an excellent breakfast is included in this rate and you'll have access to their pool, which will save you from paying to hire sunbeds on the beach!
Other Places to Visit on Hvar
If you're staying in Hvar for a second day you should get a taxi over to Stari Grad. This journey should cost you around 220 kuna (€30).
Stari Grad is another tourist hotspot on Hvar island with a quieter and more traditional vibe. Plus, it has direct ferry links with Split, so you can just catch the ferry from Stari Grad back to Split when you're ready to leave Hvar island and return to the mainland.
Suggested Post: How to Visit Croatia's Blue Lagoon (+ Why You Should!)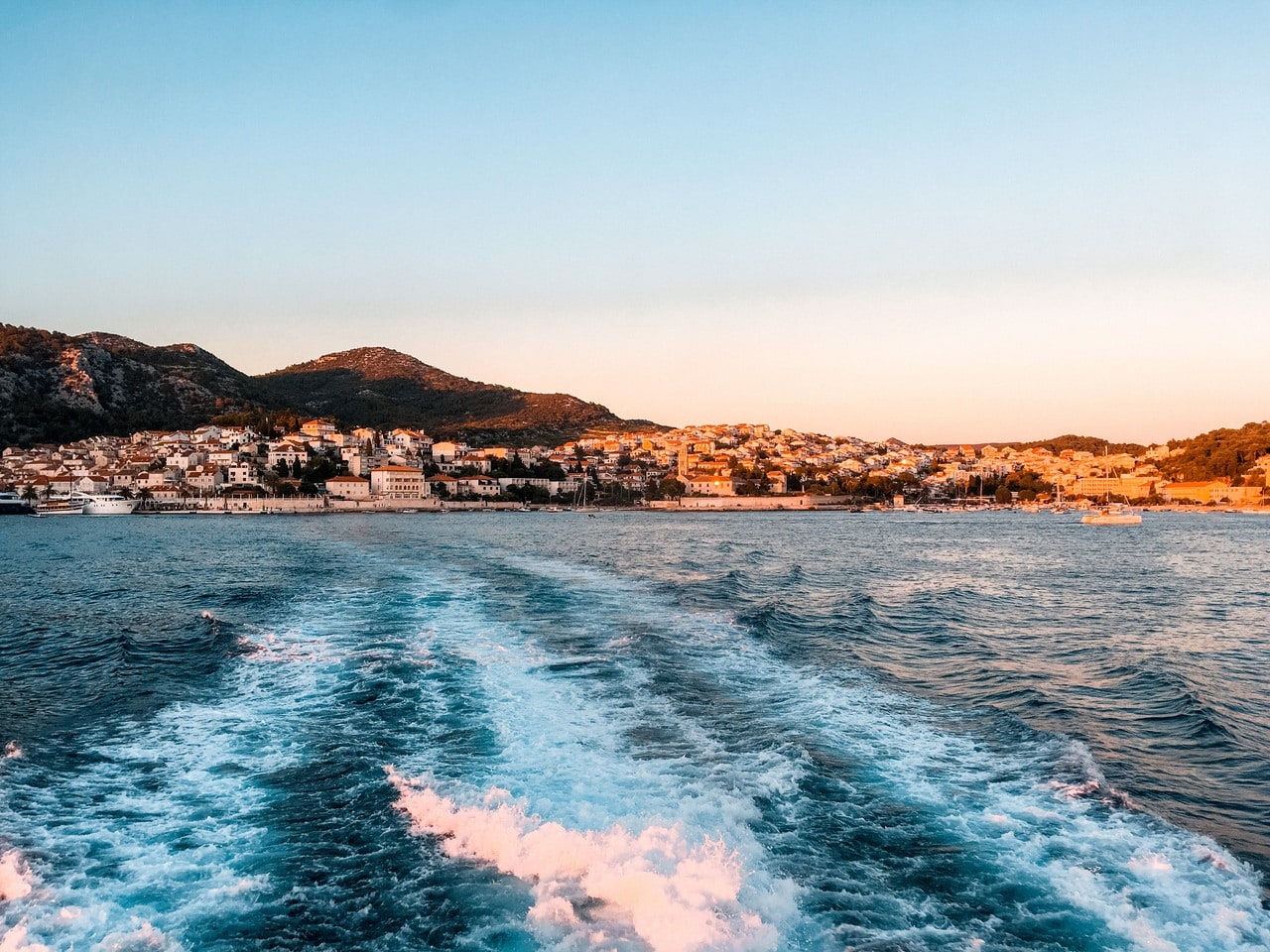 Did I convince you to take a day trip from Split to Hvar yet? I sure hope so! My time in Hvar was wonderful, and it left me wishing I had a couple of months to do some in-depth island hopping in Croatia!
For an introduction to the Dalmatian coast, though, Hvar is definitely the right place.
Have you visited Hvar yet? How did you find it? Let me know in the comments!