There is a good chance that this post contains affiliate links. If you make a purchase through them, I may receive a small commission at no extra cost to you! As an Amazon Associate, I earn from qualifying purchases. As ever, all opinions are my own.
The 5 Island Tour is probably the most popular day trip from Split, and you'll find countless boat companies lining Split's harbour offering their own 5 island tour. It can be a bit overwhelming knowing which one to go with! 
During my 5 days in Split, I couldn't resist joining a 5 island tour to get a taste of Croatian island hopping in the limited time I had.
The tour is a jam-packed 10-hour day, but I was eager to see some of the most beautiful places in Croatia. The tour stops off at many of the best islands to visit near Split.
As I said, there are a ton of different providers all offering Blue Cave 5 island tours from Split or Trogir, but after speaking to my hostel owner and doing extensive research I booked this 5 island tour. 
Note: I was not paid by the tour company to write this review. I paid full price for my Split 5 island boat tour with my own money, and the company had no idea that I was a blogger or planned to write about my experience after the tour.
Here is why I chose this tour over all of the competitors:
Booking via Get Your Guide means you have extra protection. Their cancellation policy means you can cancel up to 24 hours before the tour for a full refund. This was ideal for me as my plans were very loose.
The tour is in the 'G Originals' category. This means it is one of the highest-rated tours on Get Your Guide, so Get Your Guide has added their stamp of approval to the tour. This is quite rare!
Snorkelling gear is included in the price.
It has a load of outstanding reviews (over 100!) so I knew I was going to have an amazing time.
The downside, though, is that the tour comes in at around €115 for the day, which is definitely not cheap. My research showed that all 5 island tours from Split cost similar, though, so I guess that's just the price.
I cringed as I handed over my money, but I'm pleased to say that it's well worth it! I had one of the best days ever on this tour, and highly recommend it!
Don't just take my word for it, though. In this post, I'll share the stops you make on the tour, what you can expect, and my review of the Split 5 Island Tour.
Top tip: What's the correct currency for Croatia? As of 1 January 2023 the currency in Croatia is now the Euro. All prices in this post are listed in Euros.
Stops on the Five Island Boat Tour from Split:
Komiža (a town on the island of Vis)
Blue Cave
Blue Lagoon
Stiniva Beach
Hvar
The order you visit the destinations depends on how much time you have and how busy the skipper thinks each destination will be.
They try to order your stops so that you'll hit each destination at the quietest time possible. For this reason, there's a chance you'll head to the Blue Cave first since it can get crazy busy there.
The Boat Ride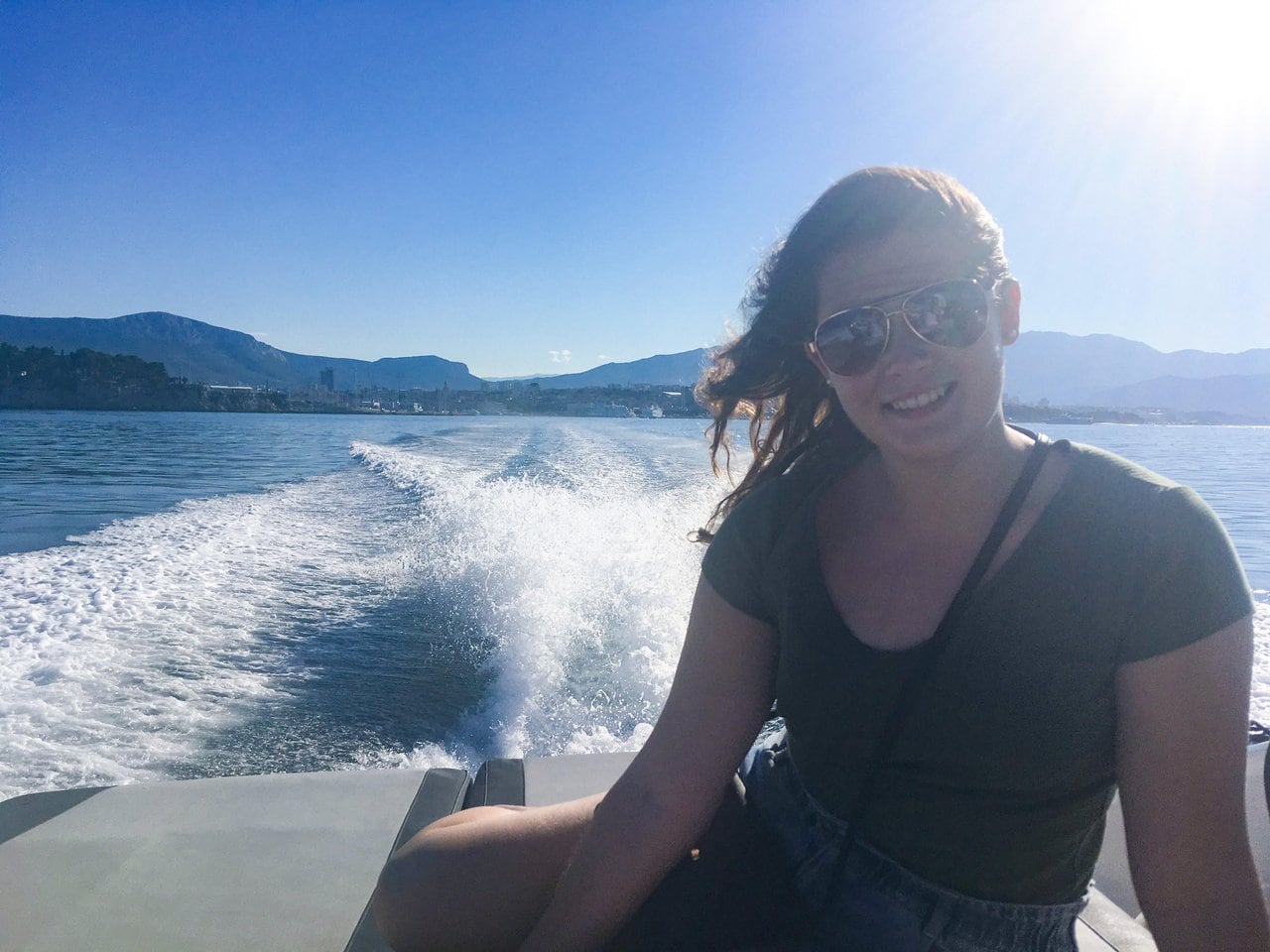 I met my tour group in Split harbour and I was instantly happy to see that the group size was around 12 people, meaning it was fairly small. Huge tour groups suck!
I was also happy to see that people of all ages and travel styles were on the tour. As a young solo traveller, I can feel very awkward if I join a tour full of married couples.
I was glad to see there were other solo travellers, couples, families and friends all on the tour, so I didn't feel like the odd one out. 
I was also thrilled to be stepping foot on a speedboat – very fancy! 
The speedboat has a sundeck section on the back, and I recommend you head straight here when you board the boat. Otherwise it'll fill up quickly! I spent the whole journey lounging here, and it meant I definitely got the best views on the boat. 
The first journey on our five island speedboat tour lasted approximately 90 minutes before you get to your first destination. Lie out on the deck, listen to some music and enjoy the journey!
It can get very windy on the journey and no matter how hot the day might be, chances are you'll get cold on the boat. For this reason, be sure to pack both a sweater and sunscreen, which you'll already have with you if you've checked out my guide to packing for Croatia.
The boat crew have windproof jackets that you can wear too, but it's good to have a sweater to go underneath to keep warm.
Stop 1 – Komiža, on the Island of Vis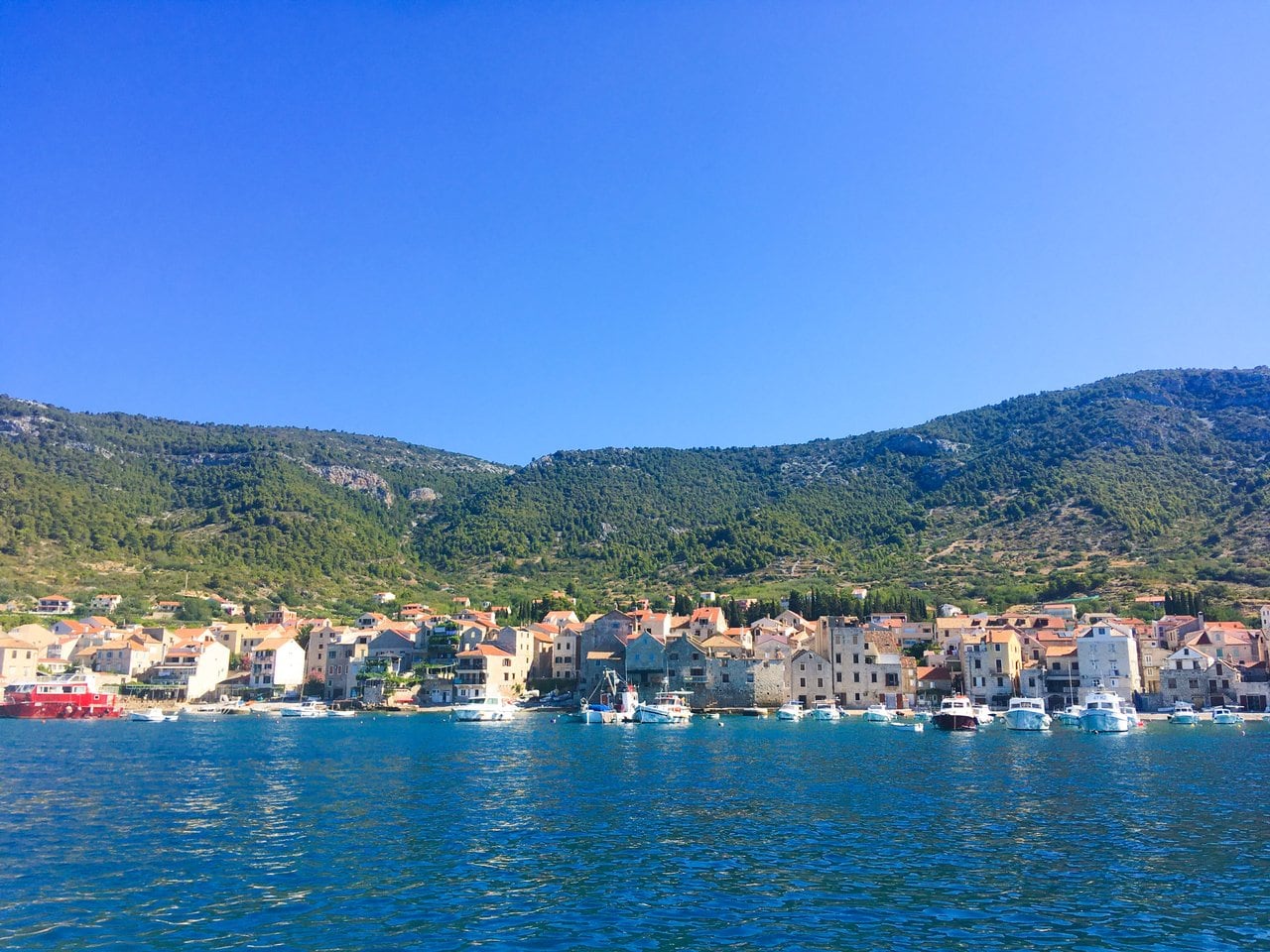 If you're a fan of musicals, you may recognise the harbour in Komiža as one of the filming locations in Mamma Mia 2. I haven't seen the second movie yet, but as soon as I found out it was filmed here I was instantly excited. After all, everyone adores the picture-perfect setting of Mamma Mia!
You'll get around 1 hour to explore this fishing village. This is just enough time to wander the harbour, dip your toes in the water of the pebble beach, and stop for a coffee whilst people watching.
I did find that cafe prices were pretty steep in Komiža, probably because it's a growing tourist destination, so just keep that in mind.
Even with the limited time you do have at Komiža, though, there's no doubt you'll fall hard for this charming Mediterranean-style village. The 17th and 18th-century houses that crowd around the harbour are so idyllic that it's easy to imagine you're in Mamma Mia yourself!
Stop 2 – Blue Cave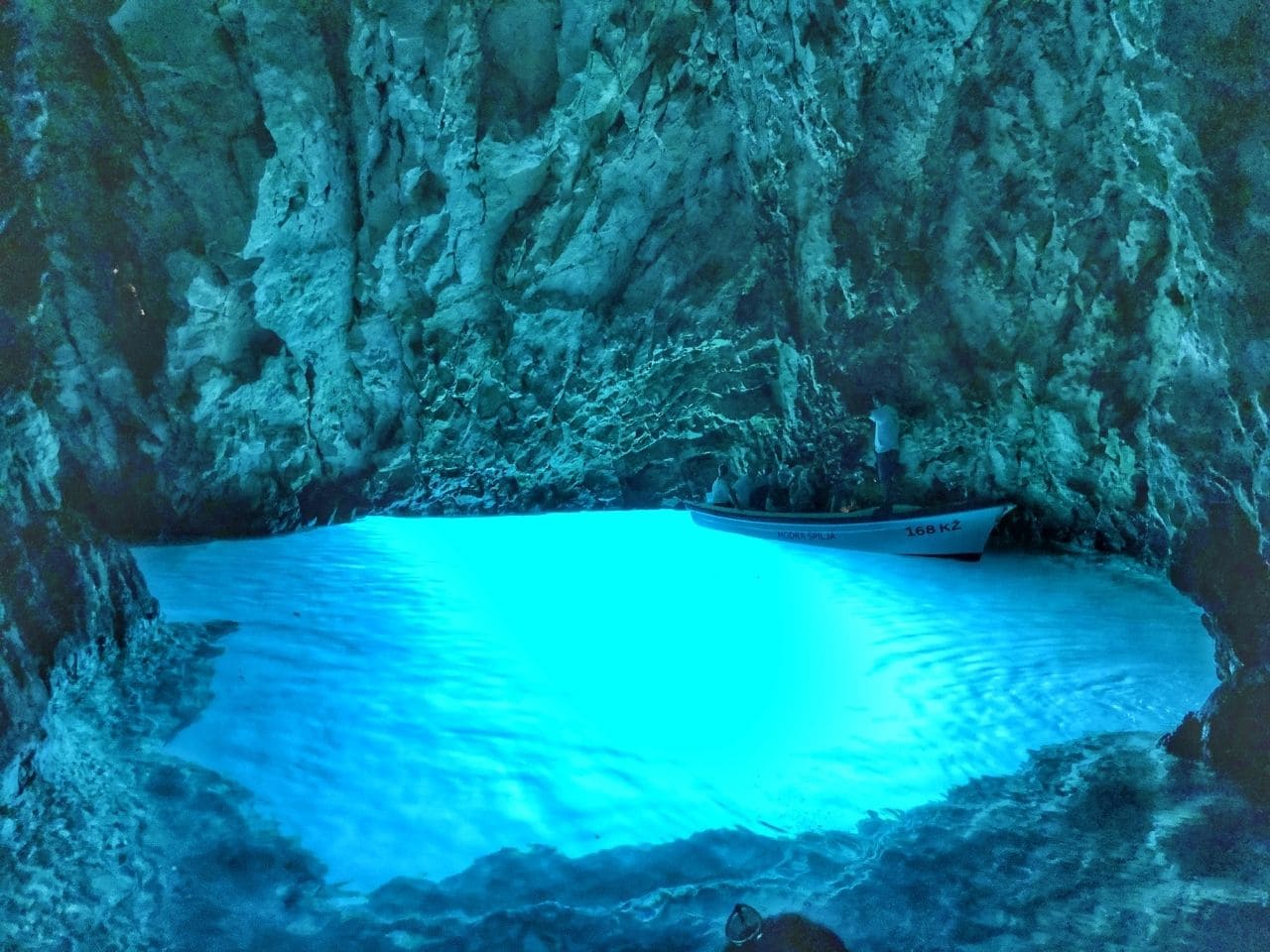 The Blue Cave is the reason most people join a Split 5 Island Tour,
Often, however, they don't even really know what it is, or why they should go there. I certainly didn't! I had just seen 'BLUE CAVE' plastered on tour advertisements in Split harbour, so I assumed it was some epic destination that I just couldn't leave Split without visiting.
It's funny, because the Blue Cave is (in my opinion) the worst stop on the 5 Island Tour in Croatia. That's because SO. MANY. island hopping tours go there. 
The Blue Cave is a waterlogged sea cave in a bay on the island of Biševo, about 70km from Split. Pretty much nobody lives on the island, and it's just a base for tourists waiting to visit the Blue Cave. 
You can read more about visiting the Blue Cave on my post about what to expect when visiting, but in short: expect long waits!
I waited around 2 hours. It was very hot, but there was a shaded waiting area and a bar/cafe you could pass the time in.
Since the queue goes so slowly, and your skipper will be keeping an eye on it, you're free to explore the small island. You could also go to the small beach near the harbour, or sit in the shade reading a book.
Boats are limited to spending around 5 minutes in the Blue Cave, so it's a brief visit to say the least. It was very cool once we were inside though.
I don't personally think the Blue Cave was worth waiting hours for, but if I had known about the wait I'd have packed a book to pass the time.
Stop 3 – Blue Lagoon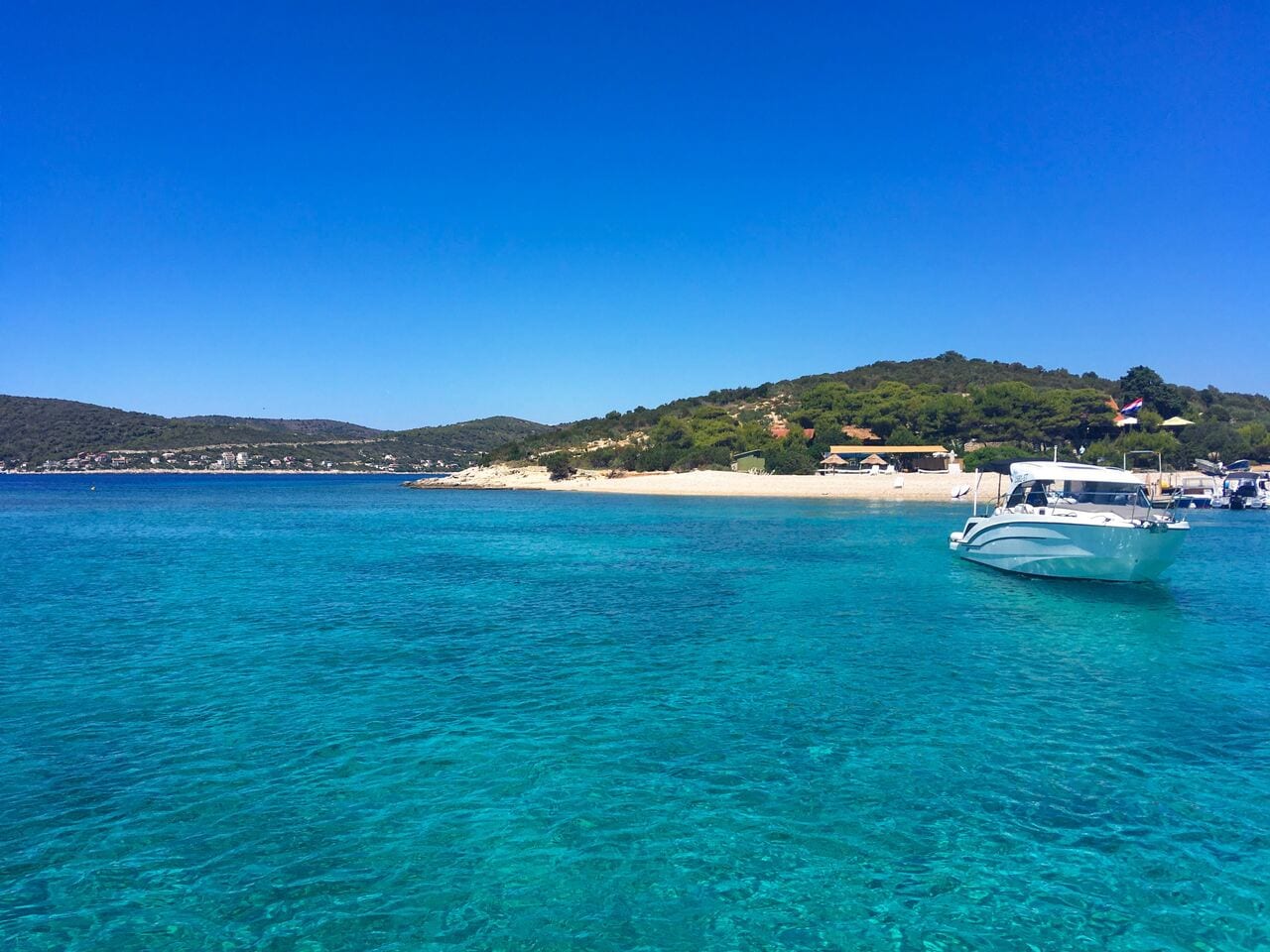 I adored visiting the Blue Lagoon, and it's an unmissable stop on the five islands tour from Split!
Located between the Dalmatian islands of Veliki and Krknjasi, the unbelievably blue and clear waters of the Blue Lagoon keep calling to travellers. It's a very popular place to visit! 
The good news, though, is that it's almost impossible to visit the Blue Lagoon without a boat, and this stops it from getting too crowded. The water is a brilliant shade of blue (it's called the Blue Lagoon after all), and as clear as glass!
The main reason people visit the Blue Lagoon is to swim and snorkel, and this is where the free snorkel equipment included in the price of the tour comes in handy!
You'll have between 1 hour and 90 minutes at the Blue Lagoon, depending on how long you spend at the Blue Cave. Be sure to make the most of your time here to swim, snorkel, and jump off the back of the boat into the water like a big kid!
The water is so freaking cold (yes, even in summer!) that it'll definitely refresh you from the heat of the sun.
Stop 4 – Stiniva Beach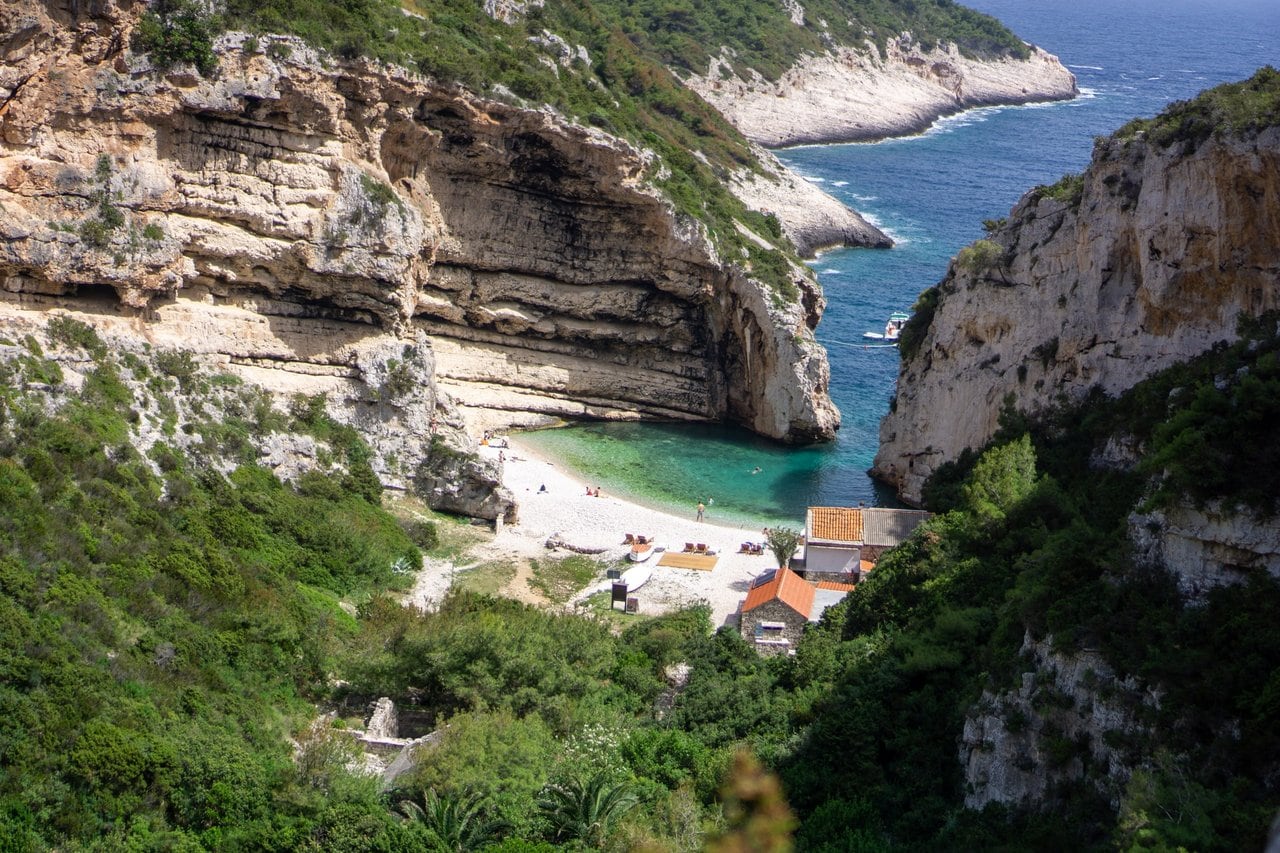 Voted the most beautiful beach in Europe by the European Best Destinations website, this hidden cove is pretty hard to get to without a boat. This means a visit to Stiniva Beach makes you one lucky traveller!
The high cliffs that surround the beach allow just a narrow 'sea entrance' to the cove, so your boat will dock out in the ocean. From here, you'll have to swim through the opening to get to the beach.
The water, like everywhere in Croatia, is an unbelievably vibrant turquoise colour. You can see all the way to the bottom of the ocean with ease. Having to swim to the cove makes getting there even more rewarding!
There's a small bar on the beach, so if you have a waterproof case to bring some cash with you then bring it! The beach, however, is a pebble beach, so it's not too comfortable to sit on. Instead, your time at Stiniva Beach is better spent splashing and swimming in the water.
You'll spend around 45 minutes at Stiniva Beach. This is the perfect amount of time to cool off in the ocean, crawl over the pebbles on the beach, and spend some time sunbathing.
Stop 5 – Hvar Town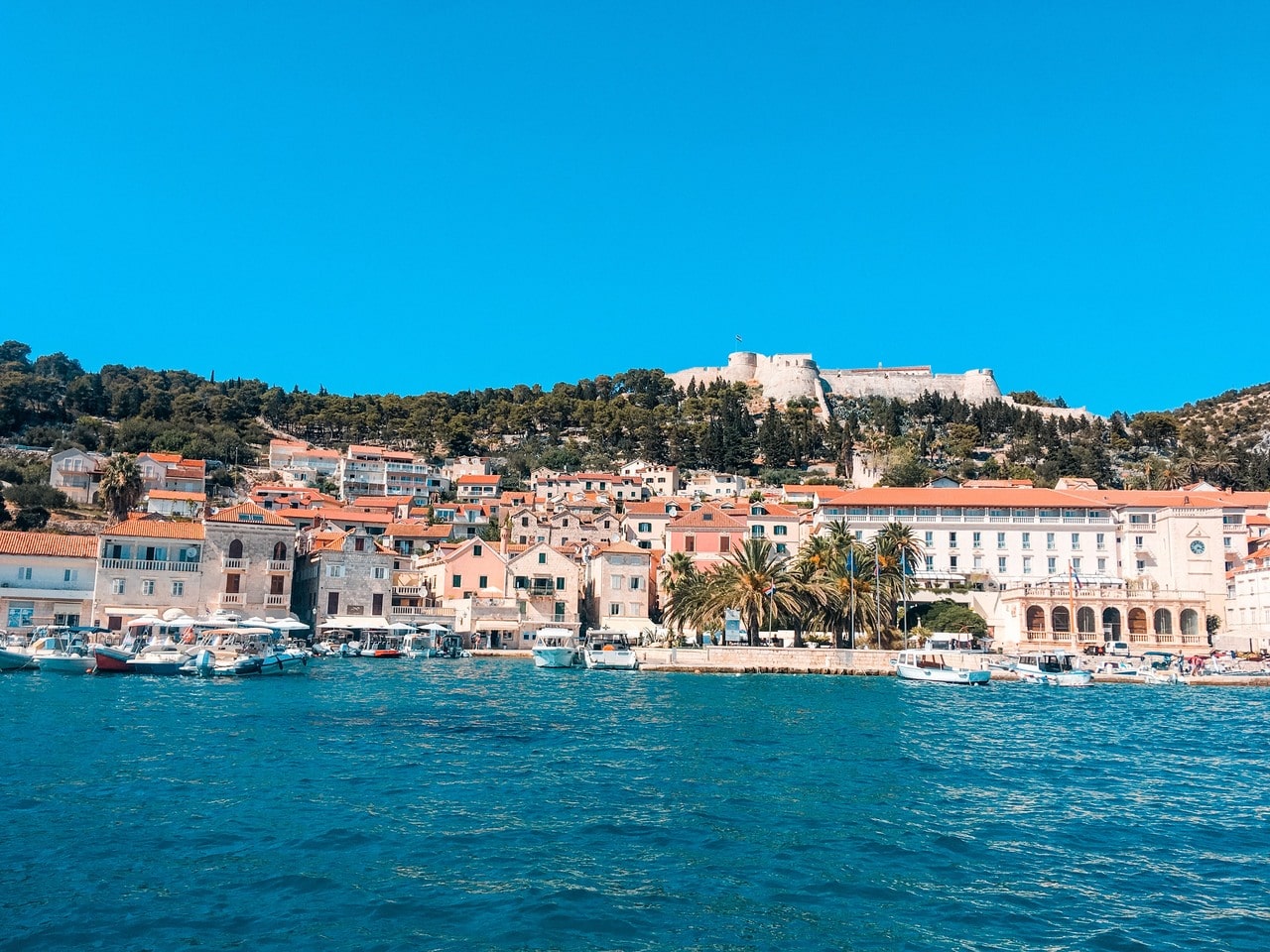 Hvar Town, on the island of Hvar, is a playground for both the rich and famous and down and out backpackers. I know – they're not two groups you'd expect to mix, but it works!
I liked it so much that I actually returned the very next day for a full-day trip from Split! 
If you can, you should spend at least one full day in Hvar, but visiting on the 5 Island Tour is the perfect taster to get you hooked and make you want to visit again.
Hvar will be the final stop on the 5 Island Tour, and they possibly saved the best until last. As your boat draws into the port, you'll be blown away by the beauty of the whitewashed buildings and blue water.
Hvar Town really is a knock-out. I think you'd struggle to find a more beautiful town on the Dalmatian Coast.
Grab a late lunch at Hanibal, who make the most epic veggie pizza I've ever eaten, then stroll around Hvar's stunning old town, walk up the hill to Tvrdava Fortress or wander along the coast to find a beach to lounge on for a while. 
You'll have around 1 hour 45 minutes in Hvar, so use it wisely!
It's then time to return back to Split (boo!). The journey will take around 60 minutes on the speedboat, so try to get a seat on the sunlounger at the back of the boat again for the best views.
You'll arrive back in Split just in time to see the harbour bathed in golden glowing light before sunset.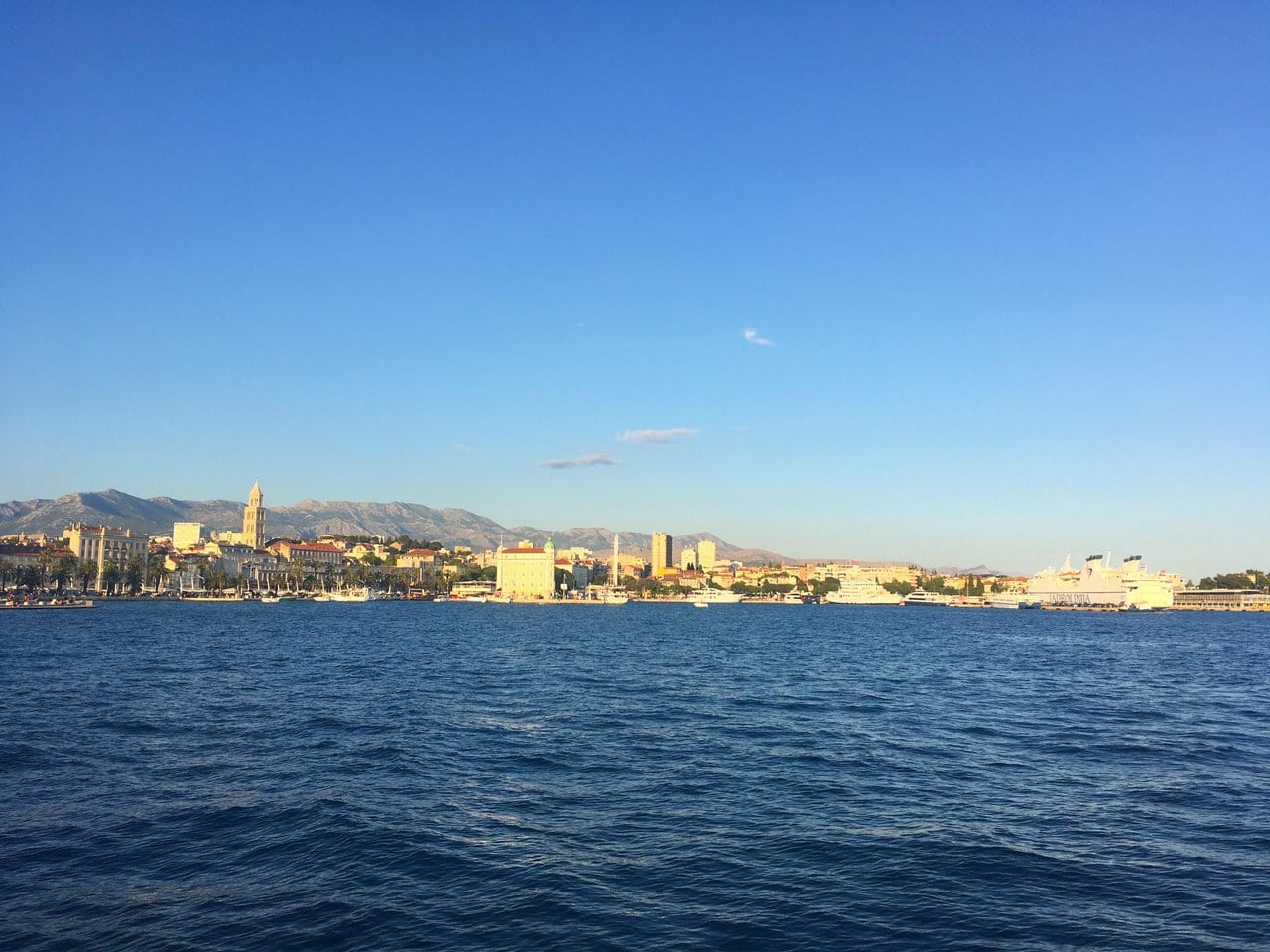 Once in Split, I recommend finishing off your amazing island hopping day by wandering along the promenade and getting a glass of Croatian wine from Maduro Bar.
FAQs About The 5 Island Tour From Split
What to Pack for the 5 Island Tour
Sunhat
SPF 30+ sunscreen
Sunglasses
Towel
Swimsuit
Sweater
A book (to read whilst waiting at the Blue Cave)
Lots of water
Should I Book the 5 Island Tour or the 3 Island Tour?
If you're researching the 5 Island Tour, chances are you'll come across the 3 Island Tour. It's basically a shorter and cheaper island hopping tour from Split, and you can read my full review of it here.
I actually went on both of the tours (after doing the 5 Island Tour I wanted to do even more island hopping!) but the 5 Island Tour is a million times better.
Not only is it pretty much double the duration of the 3 Island tour, but the stops are (in my opinion) more interesting. It's far better value for money.
If you're wondering what the differences between the two tours are, I have summarised them below:
| | | | | |
| --- | --- | --- | --- | --- |
| Tour | Duration | Destinations | Price | Where to book |
| 5 Islands Tour | 10 hours | Blue Cave, Komiža island, Stiniva Beach, Blue Lagoon, Hvar | € 115 | Click here |
| 3 Islands Tour | 5.5 hours | Trogir, Blue Lagoon and Šolta | € 59 | Click here |
What's Included on the 5 Island Tour from Split?
Entry tickets for the Blue Cave
Speedboat ride
Skipper and guide
Snorkelling gear
Windproof jackets
Life jackets
Bottled water
Insurance
How Far in Advance Should I Book?
As early as you can! Get Your Guide has an excellent cancellation policy so it's worth bagging your place as soon as you can and taking advantage of their awesome flexibility.
In peak summer months, tours can sell out fast (especially the best ones) so it pays to be organised. You can book your place here:
FAQs About The 5 Island Tour in Split
What is the 5 Island Tour in Split, Croatia?
The 5 Island Tour is a boat tour that takes you to five beautiful islands off the coast of Split. It's an all-day excursion that allows you to explore some of the most stunning places in Croatia.
Can I bring my own food and drinks on the 5 Island Tour?
Yes, you can bring your own food and drinks on board the boat, and this is a great idea if you're visiting Split on a budget, as most tour providers won't provide lunch and will expect you to buy it on one of the islands or bring your own.
Is the 5 Island Tour in Croatia suitable for children?
Yes, definitely – kids will love this trip. It's the perfect family excursion from Split, combining sightseeing, swimming, and exploring. Nobody on my tour got seasick but it's worth taking medicine in advance if you or your kids suffer from this.
How long does the 5 Island Tour last?
The 5 Island Tour usually lasts around 10 hours.
Is the 5 Island Tour suitable for people with mobility issues?
That totally depends on your mobility issues. The tour involves getting on and off the boat several times and walking on uneven terrain on some of the islands. If you have specific concerns, it's best to contact the tour operator directly to discuss your needs.
What is the best time of year to take the Split 5 Island Tour?
The best time to take the tour is during the summer months, from May to September, when the weather is warm and sunny, and the sea is calm. In fact, most tours only run in these warmer months due to sea conditions and cold temperatures in the Croatian winter.
I had an amazing time on the 5 Island Tour From Split and highly recommend you go on it! It's the easiest and most fun way to go Split island hopping.
It was the best thing I did during my 5-day trip to Croatia and gave me a fabulous taster of the different islands surrounding Split. If you can only go on one of the many boat trips from Split, make it this one!
Liked this post? Pin it!