There is a good chance that this post contains affiliate links. If you make a purchase through them, I may receive a small commission at no extra cost to you! As an Amazon Associate, I earn from qualifying purchases. As ever, all opinions are my own.
Last Updated on June 30, 2021 by Ella
Newquay has so many awesome beaches that it's hard to choose which is the best. After all, being the surfing capital of the UK, you can expect Newquay to have a lot to offer. It sure doesn't disappoint!
Unlike many of the other popular towns in Cornwall, it doesn't have any airs and graces. It's a cool and hip destination which typically attracts a younger crowd. It's down to earth, it's fun, and it's super-duper casual. What you wear to the beach is A-ok to wear to the pub or a restaurant straight after! It's definitely my kind of town, and I'm sure it'll be yours too.
Anything goes in Newquay, and that's why it's buzzing with visitors and locals year-round. Whether you're looking to surf, build sandcastles, go for a swim or just lounge in the sun, you'll find a beach in Newquay that's perfect for you. 
There are quite a few beaches in Newquay to choose from, though! So, unless you want to spend time beach-hopping to sample each of them for yourself (and who could blame you), it's good to have a plan of action. So, I've pulled together this super helpful guide on the best beaches to visit in Newquay to help you choose!
Let's get started.
Fistral Beach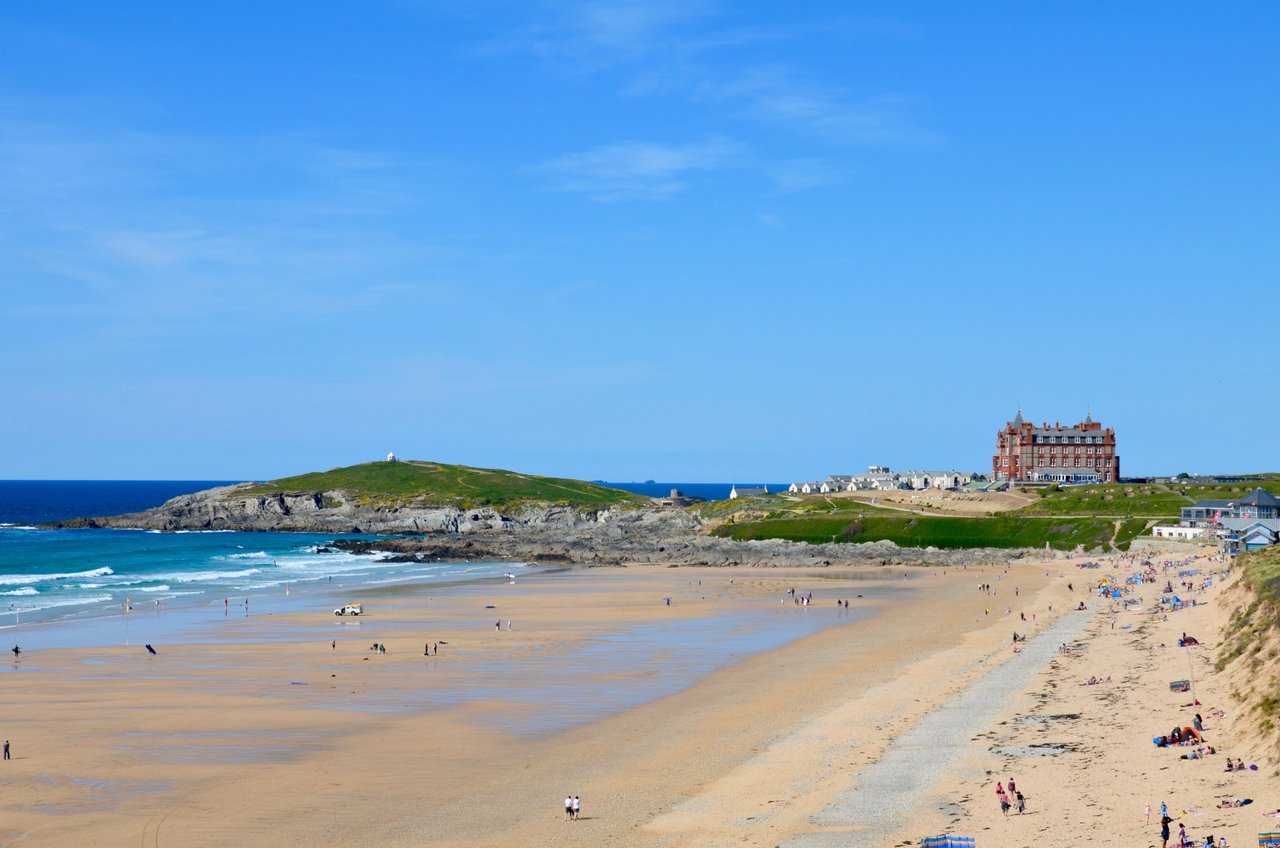 If you only visit one beach in Newquay, make it Fistral. 
This beach is iconic, and truly puts Newquay on the map when it comes to surfing. All of the big UK surfing competitions take place here, and if you look in advance you'll be able to time your visit to watch the pro surfers do their thing – usually for free!
Of course, you don't have to be a pro to go surfing at Fistral Beach. After all, loads of surf schools operate on the beach and it's the ideal place to learn to surf in Cornwall. If you already know how to surf, that's cool too. There are surf equipment rental places right on the beach.
There's no doubt about it, Fistral is a hugely popular beach. Luckily, it doesn't get overcrowded – even in summer. It's huge, so there's plenty of space for everybody. Plus, Fistral beach is slightly out of Newquay town centre, meaning it's a bit more effort to get to (which probably weeds out some visitors). The beach is surrounded by cliffs and sand dunes rather than buildings – perfect if you want to feel like you're far away from it all. 
To round off your day at Fistral, head to one of the cafes and bars overlooking the beach, and order a pint of local Cornish beer (I recommend Tribute!). It's the ideal way to wind down after a surf and watch the sun go down.
Lusty Glaze 
Crowned Beach of the Year in 2017, Lusty Glaze is downright dreamy.
If you love nothing more than lounging in the sun with a book in hand, this is the Newquay beach for you! Steep cliffs on either side shelter the beach, making it an absolute suntrap! Also, since Lusty Glaze is privately owned (but open to the public for free) it's usually quieter than the more well-known, public beaches.
Lusty Glaze is also the go-to beach for adventure enthusiasts. The centre located on the sand offers up a whole host of adventure activity packages, from coasteering, jet-ski lessons and banana boat trips to tightrope-walking and surf lessons. This beach is the go-to if you want an adrenaline boost!
Watergate Bay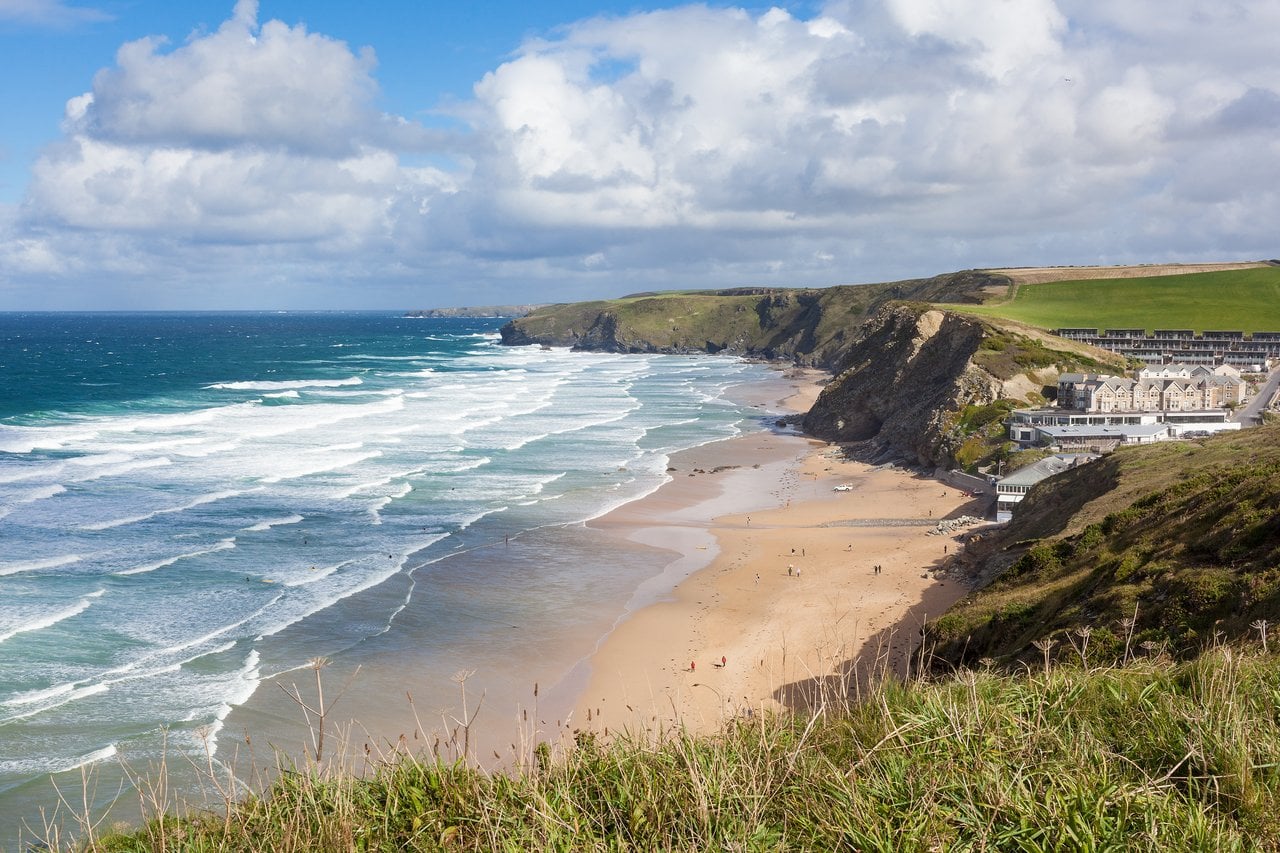 Although Fistral Beach is my personal favourite beach, Watergate Bay gets my vote for the best beach in Newquay. It's just so darn STUNNING!
Watergate is further out of town than Fistral, overlooked by steep sand dunes. It feels like you're miles away from the hustle and bustle when you get here!
The surf here is slightly calmer and more forgiving than Fistral. That makes it ideal for beginners, and it's also very popular with bodyboarders. Watergate Bay is also huge! At low tide, you'll find two miles of sprawling, golden sand for you to roam and enjoy. 
For one weekend in August, the Boardmasters music festival takes place on the farmland overlooking the beach – making it probably the most scenic festival site in the UK! That does mean that the beach gets absolutely packed with the festival crowd, though. It's a load of fun, as the festival-goers' energy is infectious, but if you're looking for a more relaxing beach trip, double-check the Boardmasters dates before you arrive.
Mawgan Porth
At about 4 miles away from Newquay town centre, Mawgan Porth is certainly not as accessible as some of Newquay's other beaches. There are some perks to it being so out of the way, though. After all, everyone likes to escape the crowds every now and again!
The high cliffs on either side of the beach shelter it from the wind, making it the ideal place to soak up the sun on a summer's day. Fortunately, the cliffs don't shelter this spot from the huge Atlantic swell, making it a hit with surfers.
As well as surfers, Mawgan Porth is also ideal for families, who love exploring its many rock pools, checking out its cave, and splashing about in the small stream that runs across the sand. 
Towan Beach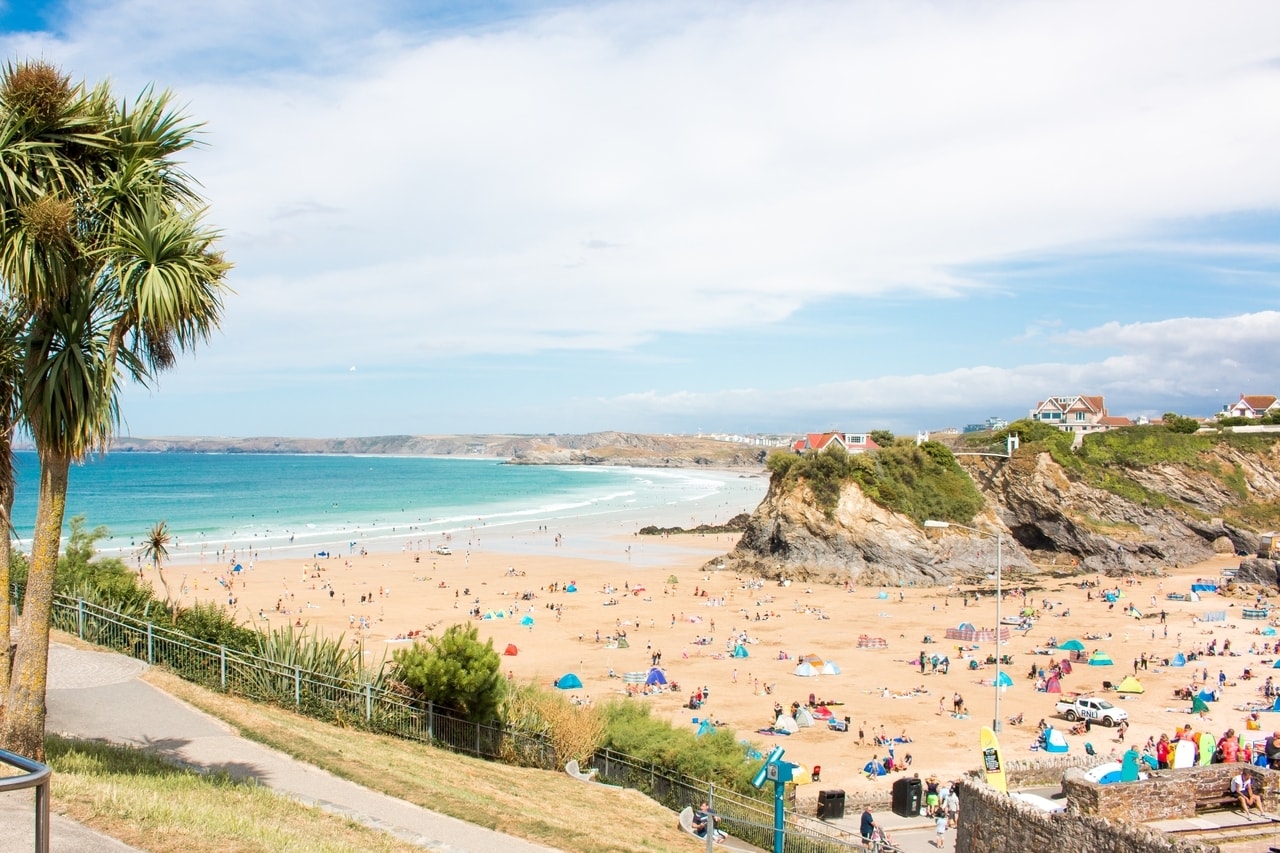 Towan beach is probably the most recognisable of Newquay's beaches. This is due to the 'island', a towering rocky outcrop with a house on it right in the middle of the beach!
This beach is often called 'Town beach' because it's so close to Newquay town centre, so it's super convenient to get to and close to all of the town's amenities.
Right on the beachfront you'll find the Blue Reef Aquarium, the go-to attraction in Newquay when it's raining. But, enough about the aquarium, you're probably thinking "but what about the random house balancing on a stack of rocks on the beach?!?"
Yeah. It's weird. The house was built in 1901, and, after various owners over the years, is now a luxury holiday rental. Of course, it comes at a very steep price, but it's fun to gawp up at the house for free and wonder how the other half live. Plus, it looks cool in photos!
Crantock Beach
Owned and cared for by the National Trust, this beach is a knock-out! 
Backed by grassy sand dunes, the beach sits between the Pentire Headland and the Gannel Estuary – so there's no shortage of gorgeous natural landscapes nearby. Crantock is dog-friendly year-round, and there's plenty of space for your four-legged friend to explore when the tide goes out.
Crantock Beach is quite a way away from Newquay town centre, so the best way to get here is to drive. Fortunately, there is a National Trust car park right by the beach – but you'll have to get there early to snag a spot!
There is plenty of swell at this beach, so bodyboarders and surfers will be good to go. Plus, if you fancy something a bit more relaxing, it's possible to paddleboard on the nearby Gannel Estuary. 
Tolcarne Beach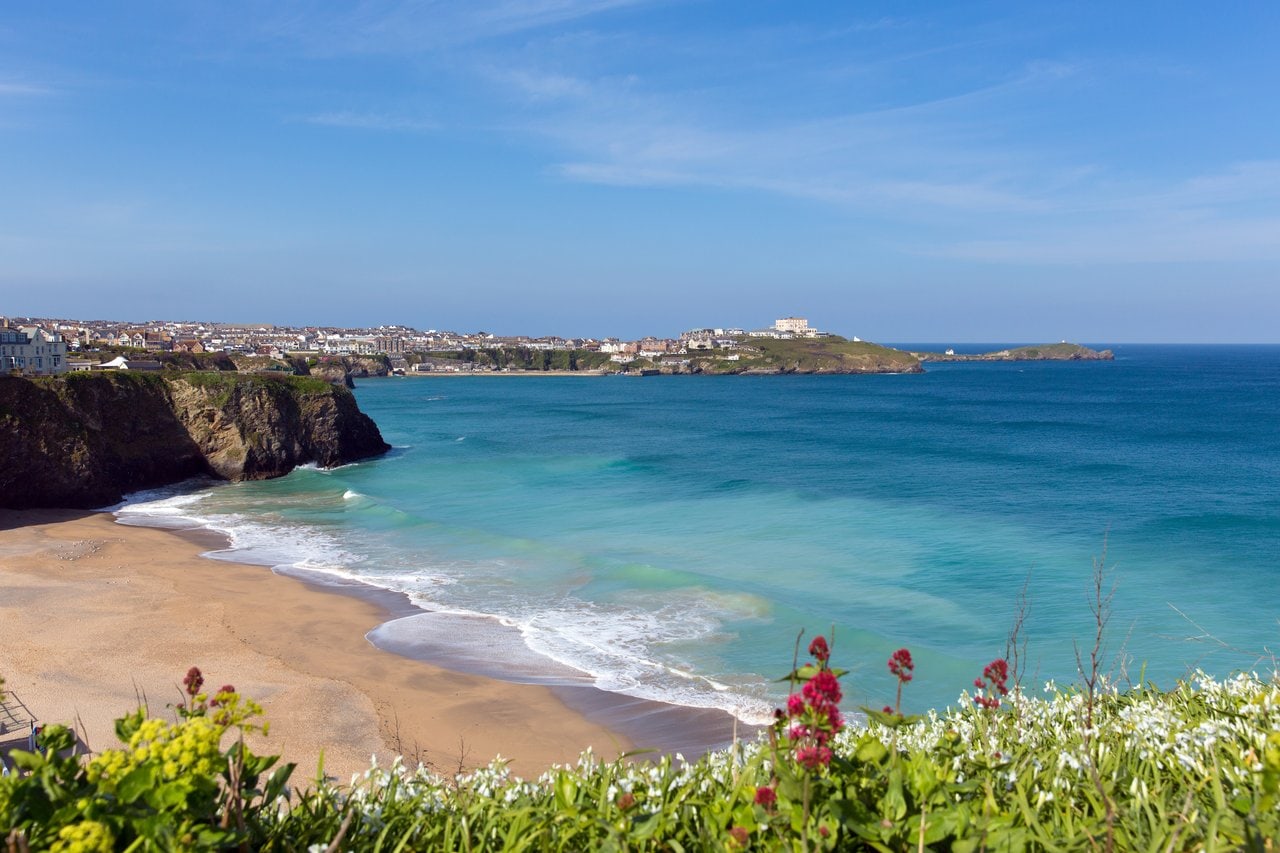 At just a few minutes walk from Newquay town centre, this beach is super conveniently located, but also somewhat of a hidden gem. 
This crescent-shaped beach is situated in a sheltered bay, backed by steep cliffs that you'll have to venture down (and then back up again!) to get to the beach. These steps really are steep, so bear that in mind if you have any mobility issues.
The beach is backed by rows of apartments which, in my opinion, are a bit of an eye-sore, but they're easy to ignore as you'll be facing away from them, towards the mesmerising blue sea.
Porth Beach
Central to all of Newquay's attractions, Porth beach is a great option for enjoying a few hours on the beach without having to venture far. 
The Mermaid Inn on Porth Beach is one of Newquay's most popular pubs with both locals and tourists alike – no doubt due to its top-notch location. Not only can you enjoy a pint or two by the sand, but it's also a fabulous spot to watch the sunset from.
Porth beach is incredibly child-friendly, with plenty of rockpools to splash around in and a stream running into the sea, perfect for a paddle or playing in the shallow water. 
The coastal path runs along the coast by Porth Beach, and what better way to get to know the beaches of Newquay than walking the 1.7 miles from Porth Beach to Watergate Bay. You can check out more info on the walk here!
Newquay Harbour Beach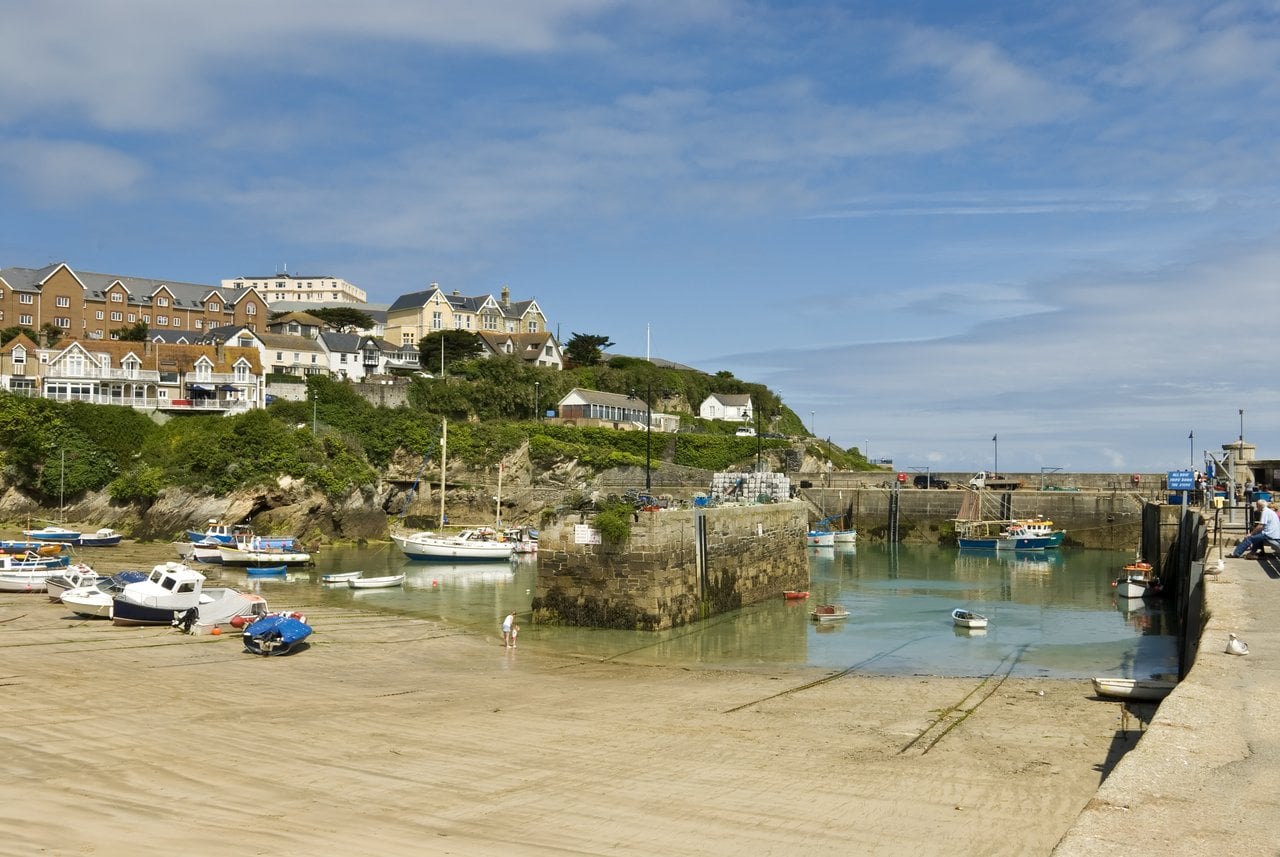 The Harbour Beach is easily the smallest in Newquay, and probably isn't the place you'll want to lay down your towel for the day. That said, during low tide, it offers calm waters to swim in – incredibly rare given Newquay's 'surf capital of the UK' status. 
The beach totally disappears at high tide, so check tide times before you visit. The harbour is also still a working harbour, so keep your eye out for moving boats and ropes if you're swimming here!
Great Western Beach
Great Western Beach can be a bit of an adventure to get to, as you'll either have to wait for low tide to walk along the sand from neighbouring Towan or Tolcarne beaches, or you can take the easy option of walking down the tarmac path by the Great Western hotel. The good news is that it's just a couple of minutes' walk from the town centre.
Great Western Beach was awarded a Blue Flag in 2020, is popular with families and, due to its numerous small coves, offers some seclusion if you're looking for peace and quiet.
Great Western is thought to be the UK's first surfing beach, with lifeguards starting to surf here in the early 1960s. Apparently, this was what kick-started surfing in Newquay, and Cornwall as a whole! For obvious reasons, paying a visit to Great Western beach whilst in Newquay is a must for surfers! 
---
Well, it's safe to say Newquay has no shortage of irresistible beaches. There really is something to suit every kind of beachgoer! 
Although Newquay isn't my favourite town in Cornwall (anybody who has been here before knows how much I love Perranporth!) it sure comes close. It's such a fun place, with epic beaches, a hundred and one things to do, and a buzzing atmosphere year-round. 
I highly recommend spending some time in Newquay, and at its many brilliant beaches, during your trip to Cornwall!
Enjoyed this post? Pin it!