There is a good chance that this post contains affiliate links. If you make a purchase through them, I may receive a small commission at no extra cost to you! As an Amazon Associate, I earn from qualifying purchases. As ever, all opinions are my own.
Last Updated on January 7, 2022 by Ella
Staycations are all the range this year, and lots of Brits are looking for short breaks closer to home. Where once people would look for a quick weekend break in Paris or Prague, travellers are now (finally!) directing their attention to the spectacular offerings we have here in the UK. Specifically, people are looking for short breaks in my favourite region – Cornwall!
I've visited Cornwall over 50 times. I've visited on all types of trip, from huge month-long holidays to quick weekend breaks. This means I know a thing or two about the best places to visit in Cornwall, especially on short breaks! What's more, I know exactly which seaside towns will check all your boxes for an epic weekend away in Cornwall.
When considering which of the many gorgeous Cornish towns to recommend, I made sure to only recommend places that have enough to keep you entertained for a couple of days, even if the weather is bad. This is no mean feat in Cornwall, where the majority of tourist hotspots rely totally on their beaches! 
So, without further ado, here are my recommendations for the best seaside towns in Cornwall for short breaks!
Perranporth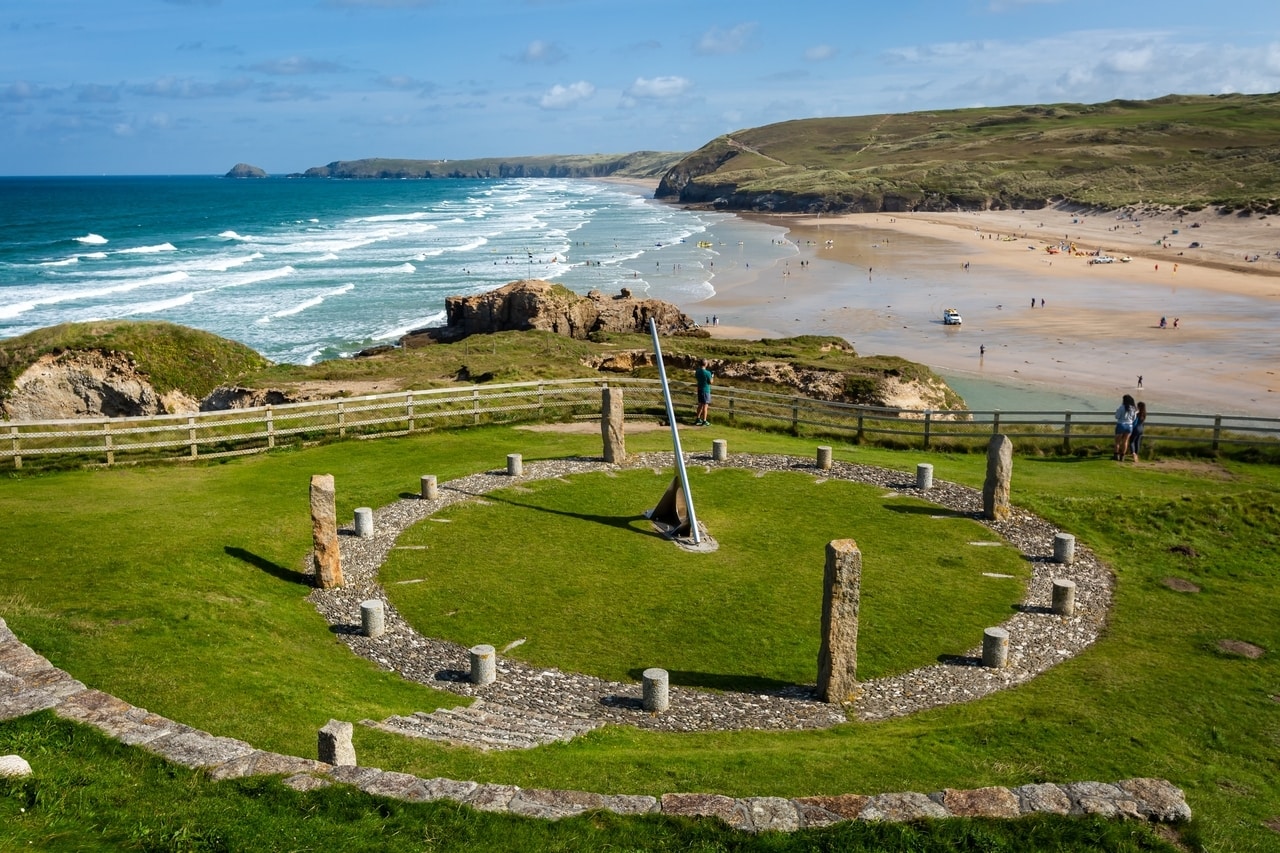 My favourite town in all of Cornwall, Perranporth is the ideal destination for short breaks in Cornwall. Let's start with its three miles of golden sandy beach, which boasts epic surfing conditions and lots of hidden rock pools deep enough to swim in. Sounds dreamy, right?
The aim of many short breaks in Cornwall is to learn how to surf, and in Perranporth you've come to the right place. There are several surf schools in Perranporth, all offering lessons for a very reasonable price (around £35 for a two-hour class, including all equipment).
Already know how to surf, or just want to work it out for yourself? Cool – there are lots of places willing to hire you a wetsuit (around £5/day) and a surfboard (£6-10/day). 
Of course, I also need to mention the kickass hiking trails from Perranporth! Situated right on the mighty South West Coast Path, you can dip into this humongous trail for a gorgeous hike. There are two trails which are the most popular. Firstly you have the Perranporth to St Agnes coastal walk, which is 4.4 miles.
This is my favourite of all the beauty spots on the South West Coast Path in Cornwall. A hike on the South West Coast Path should ideally feature on the itineraries of all short breaks in Cornwall – it really is that beautiful!
Walking along the St Agnes Heritage Coast, you'll get some of the most gorgeous views of Perranporth Beach, the dramatic coastline and even a few disused tin mines! Fortunately, taxis in St Agnes ferry hikers back to Perranporth for around £15.
The other hugely popular hike goes in the opposite direction, heading over the Perranporth sand dunes to Holywell Bay. Passing by military bases and mine shafts (both thankfully well signposted) this hike is interesting, to say the least. A constant of this hike though is the panoramic sea views and the gorgeous wild coastline. At the end of the hike, the Treguth Inn welcomes you for a well-deserved pint.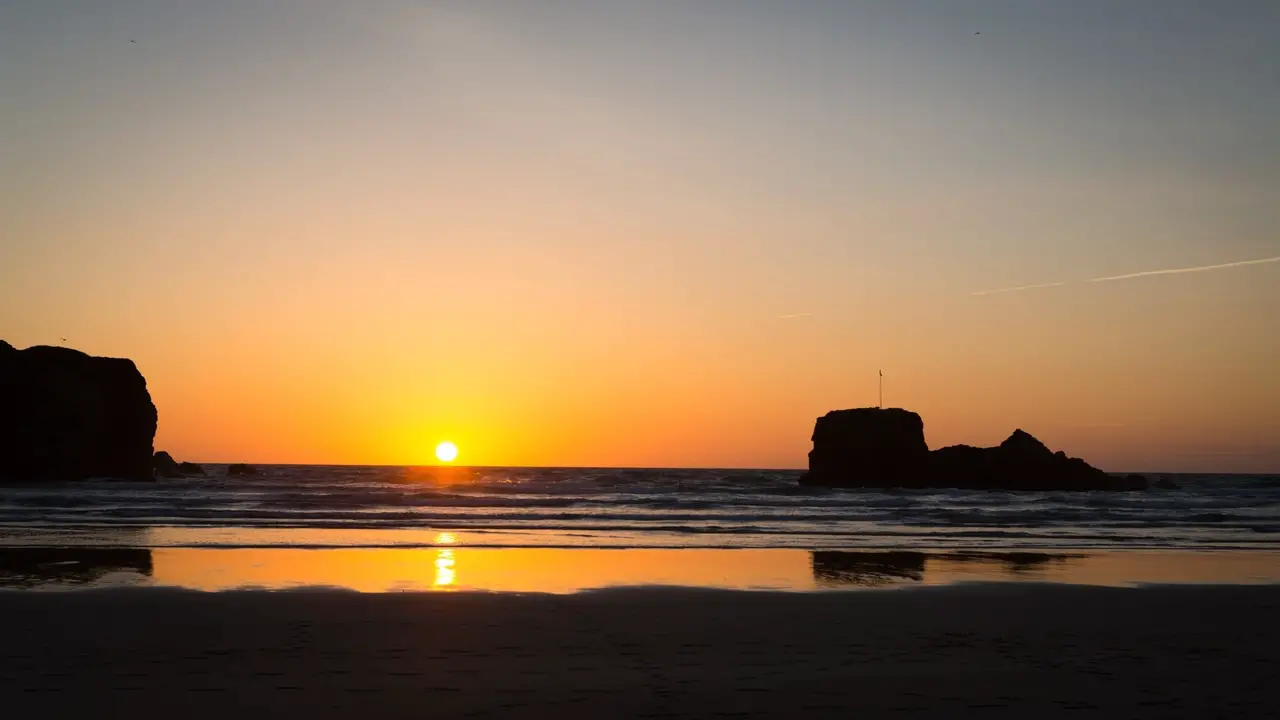 Finally, and arguably the thing that makes Perranporth so unique, it has its very own bar on the beach. Yes, ON the beach. The Watering Hole, regularly voted one of the best pubs in the UK, serves up thirsty visitors with a huge range of branded and local booze. Gather your glasses and head out to the picnic benches outside to catch the sunset.
St Ives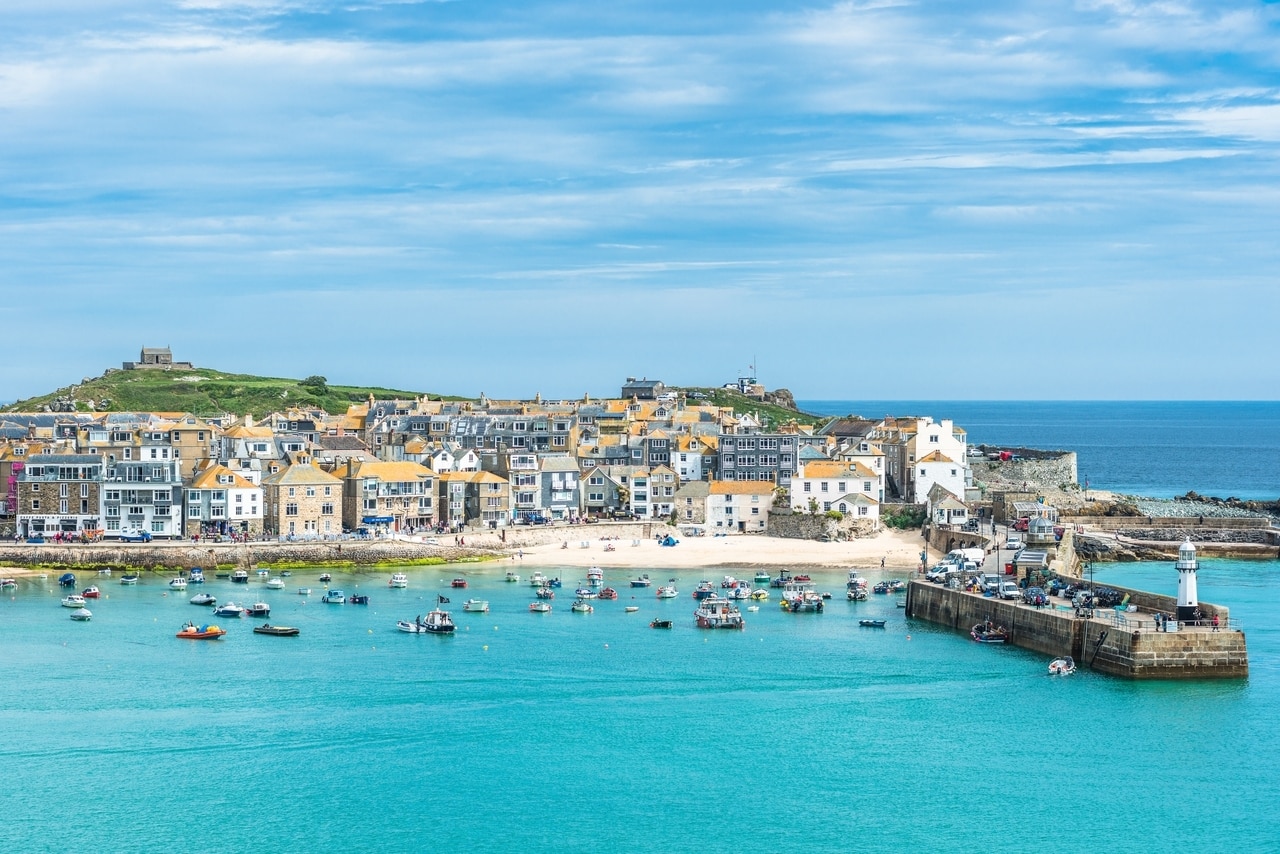 Arguably the most popular destination in Cornwall, I can assure you this is for good reason. Whether you're searching for romantic breaks in Cornwall, family breaks, or just a good old-fashioned weekend away, St Ives has got you covered.
Cutesy cobbled streets, delicious bakeries, a thriving harbour and countless top-notch restaurants are just a few of the reasons why you should visit St Ives! 
The most popular way to spend an hour or so in St Ives is walking around the 'Island', a small headland breaking up two of St Ives' beaches. This is, in my opinion, one of the most picturesque places in Cornwall. Start on Porthmeor Beach, a surfers paradise and definitely an area worth spending more time in. Once you've soaked up the sun for a while, walk over to the Island and embark on your hike. 
Despite being so close to the hustle and bustle, being on the Island feels like you're miles out to sea.
Stay awhile and marvel and the waves slamming into the rocks, the seagulls circling overhead and the lovely salty air before continuing your walk. Up ahead, you'll see the tiny St Nicholas Chapel, which is free to peek inside. I doubt any chapel in the UK has such amazing views!
Back into town, The Sloop Inn is the most iconic pub in St Ives, and has been serving thirsty punters since 1312! Overlooking the harbour, there is no better place to spend a sunny afternoon. You'll have to keep your eyes peeled and act fast to get a table though!
St Ives is hailed as an artist's paradise, and with the amount of inspiration on the doorstep, it's easy to see why. There are countless independent art galleries in this small town, as well as the Tate St Ives.
If that's not enough art, you can even book a weekend art class package at the St Ives School of Painting. With the number of stunning paintings displayed in the town's charming art shops, it's very unlikely you'll come home without one!
Padstow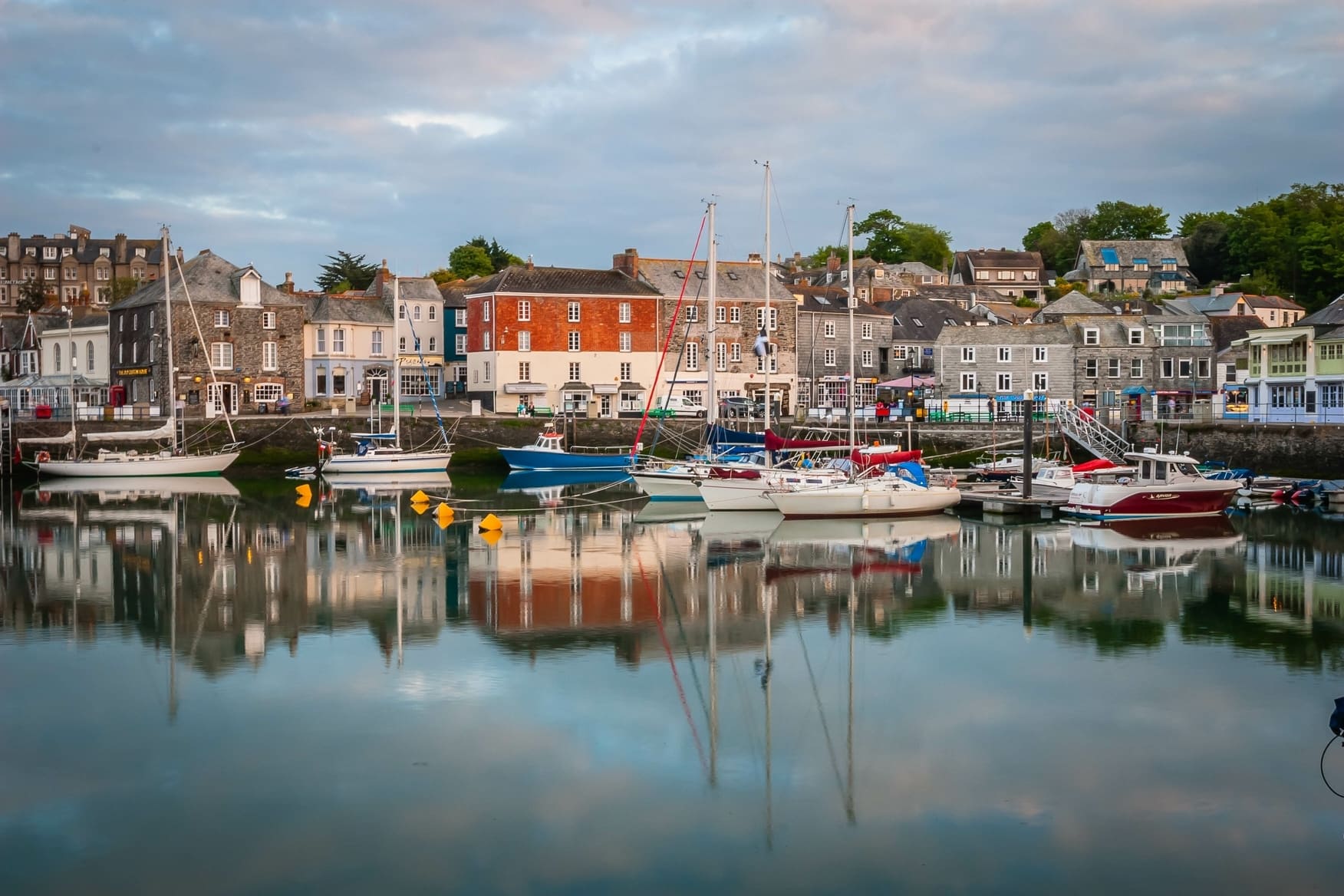 Famous for its picturesque harbour, Padstow is a firm favourite amongst Cornish holidaymakers. Buzzing with activity in summer, Padstow harbour thrives year-round with its many restaurants (serving the freshest fish around), traditional pubs and, of course, ice cream shops selling beloved Cornish ice cream.
Speaking of all the food on offer, Padstow really is the best of all the short breaks in Cornwall for foodies. It's even dubbed "Padstein" after celebrity chef Rick Stein fell in love with the area's delicious seafood and decided to open four restaurants there!
Eating at one of these restaurants really makes you realise that you've been cooking fish wrong, as Stein's stripped-back approach to cooking seafood will blow your mind (and your tastebuds)! To get a reservation here you'll have to plan in advance, but it'll be worth the wait. 
After gorging on all Padstow's amazing dining offerings, make your way to Harlyn Bay. You can get there either by the GORGEOUS 6.8-mile hike along the South West Coast Path or on a quick 15-minute bus departing from Padstow Bus Terminus. Harlyn Bay is considered one of the most family-friendly beaches in the UK. Plus, its sheltered location is perfect for escaping the wind!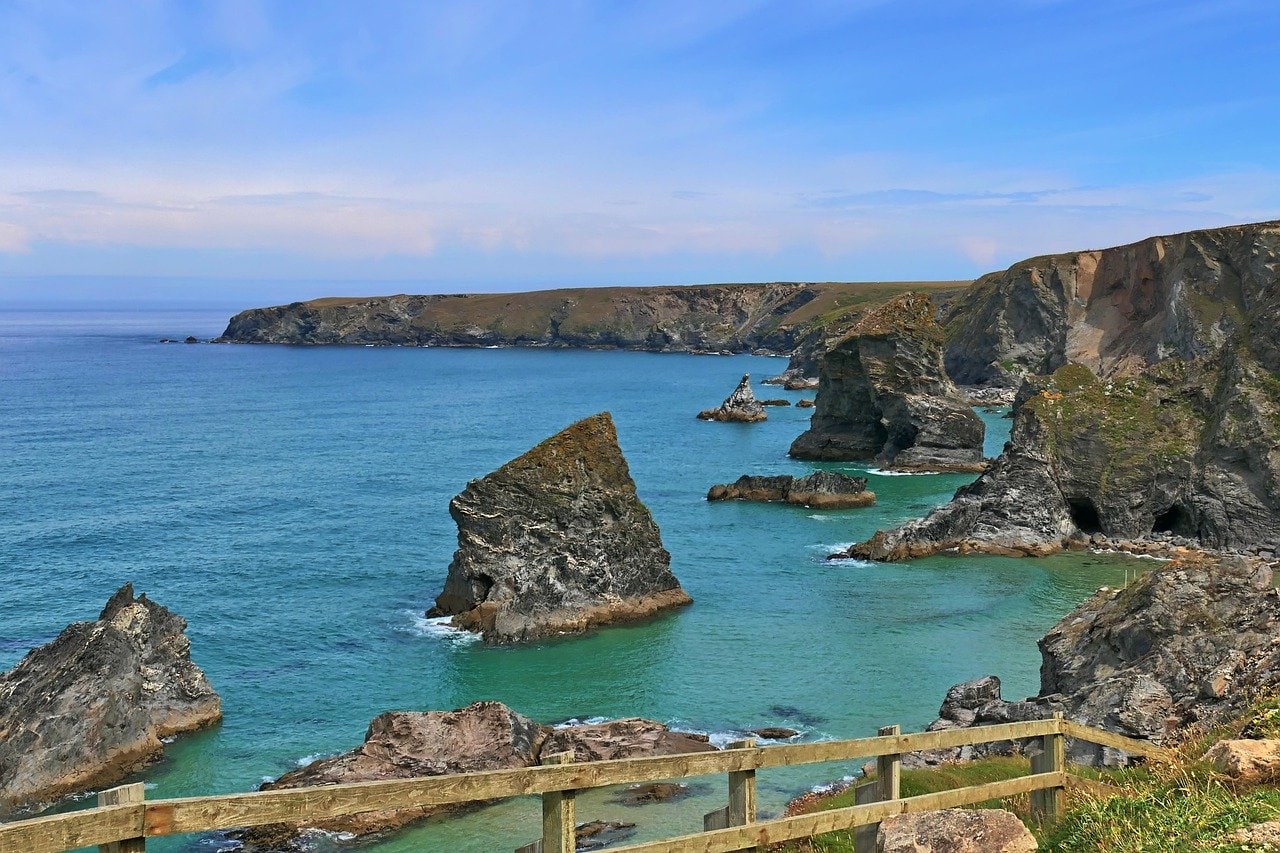 Another great thing to do in Padstow is to take the ferry to the nearby village of Rock. The journey takes just 5-10 minutes, and ferries run regularly – as often as every 20 minutes in summer.
So, why should you visit Rock?
Well, Rock is the playground of the rich and a fascinating place to see how the other half live. Just spotting all the crazy-extravagant houses and wondering who lives there is an entertaining way to get your bearings in the village. Rock is also another foodie destination, with a selection of restaurants all serving up food fit for millionaires.
Falmouth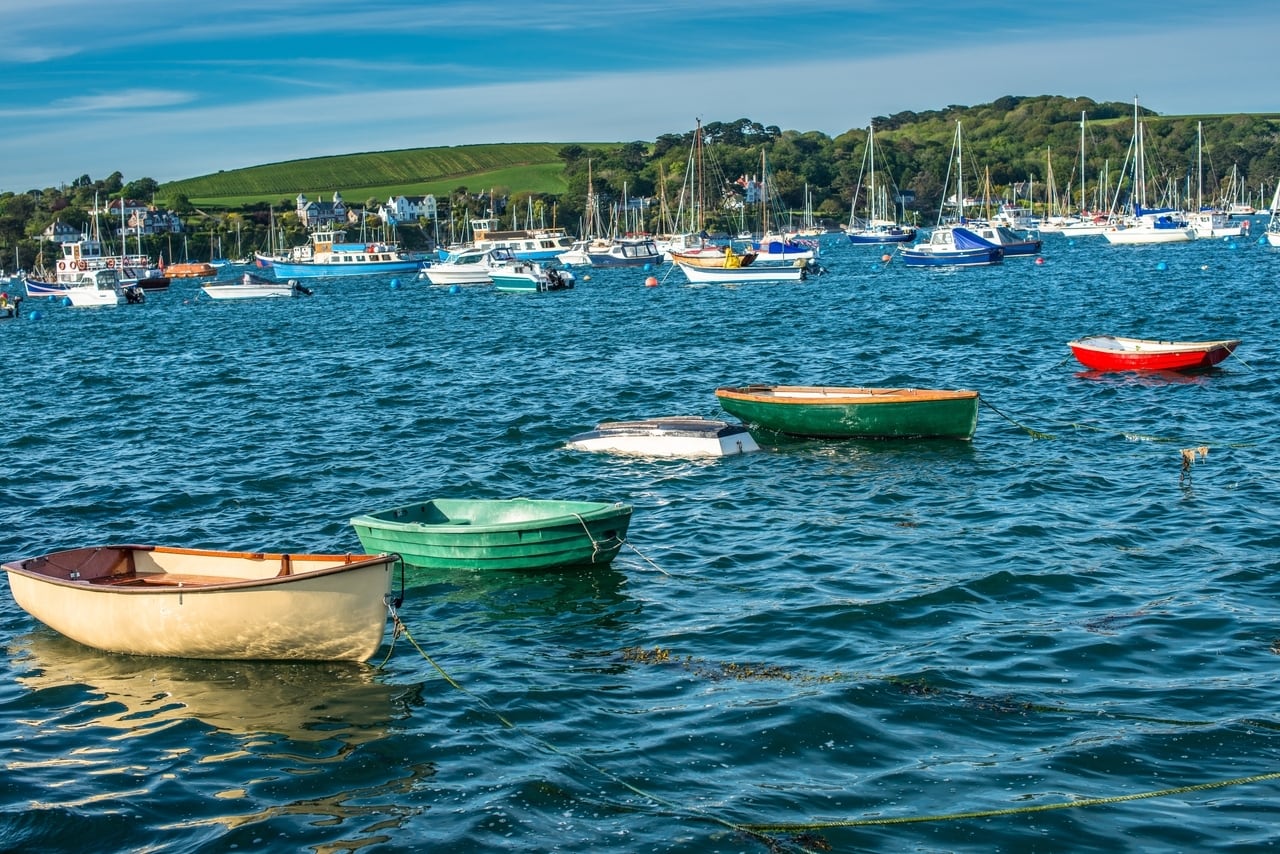 Home to over 5,000 students, the town of Falmouth is buzzing year-round, and a haven for hipsters and the art crowd. With its own specialist arts university, there's no wonder why. It's in Falmouth you'll find some of the best coffee, vintage clothes and vinyl records in Cornwall!
Start your visit with coffee at Beacon, an independent coffee shop and Falmouth staple, offering both drink-in and takeaway options. As a coffee snob and Flat White enthusiast, I give their coffee a huge thumbs up. Their reviews say it all really!
For history enthusiasts, you have Pendennis Castle right on your doorstep. This castle was built by Henry VIII in the 1540s. Originally intended as protection from French attacks, the castle is now one of the most popular visitor attractions in the Falmouth area.
Entry costs £12.20, and there are also guided tours to learn more about the castle and its history. The castle is really exposed to the elements though, so remember to bring a warm coat no matter what time of year you're visiting! 
Another great site for history enthusiasts is the National Maritime Museum Cornwall which is in Falmouth. The museum contains 15 galleries over 5 floors exploring seafaring history and the ocean's influence on culture through the years.
Entry costs £14.50, but for people super into ships (which, if you have read this article, you will know is me), it's well worth it. You can lose a looong time here, and it's also a good option if it's raining.
Next up, spend some time hanging out in Falmouth town itself. As I mentioned before, Falmouth is a place to hang out, relax and take things easy. You'll find countless funky indie clothing shops, some owned by graduates of Falmouth University, delicious bakeries, vinyl record stores (be sure to visit Jam!) and everything else your hipster heart could desire. 
Falmouth has all the great aspects of city living but transported to an idyllic Cornish seaside town. What's so awesome about Falmouth is that, unlike many Cornish holiday destinations (which turn into ghost towns in the winter), you'll find a great vibe here all year long.
For a pub with a twist, head to Beerwolf Books. This awesome pub is housed within a bookshop, and you can browse the selves whilst sipping on some delicious local pints. After that, enjoy dinner at Oliver's, a local institution which focuses on serving only the freshest fish around on their "daily catch" menu.
Mevagissey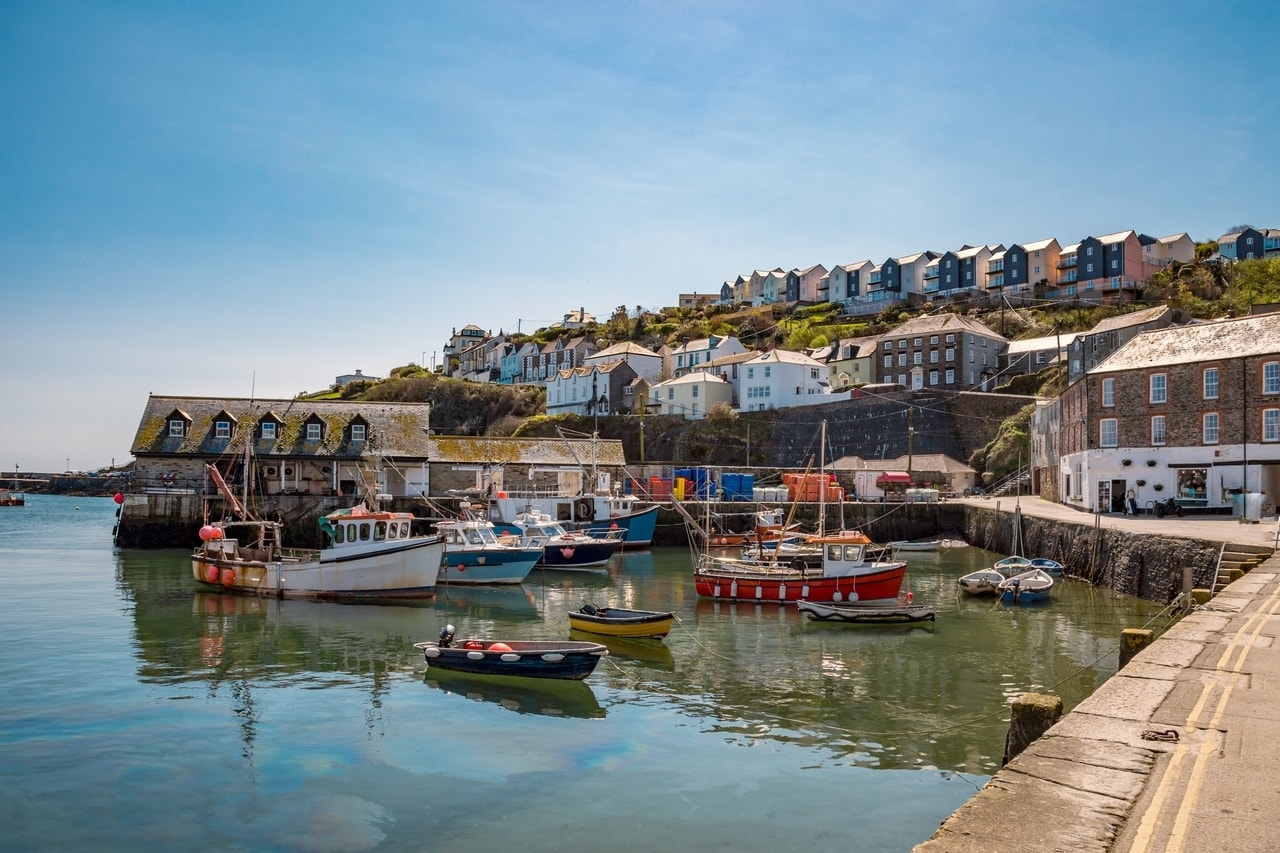 Most visitors to the South Cornwall gem of Mevagissey skip right over its charming streets and laid-back vibe. Instead, they head straight for the world-famous Lost Gardens of Heligan. It's easy to see why – these beautiful botanical gardens are easily some of the best in the UK.
What's more, the fact that the gardens, which were once the pride of the Heligan Estate, were left unattended from the end of the First World War until the early 1990s adds an extra layer of intrigue and magic. If you're visiting Mevagissey, the Lost Gardens of Heligan should be a half-day visit. 
Mevagissey is situated in a UNESCO Area of Outstanding Natural Beauty, so it's safe to say there are countless hikes and beautiful landscapes for you to enjoy. Nearby favourites with holidaymakers include the Eden Project, Charlestown Shipwreck Centre and Caerhays Castle (only open in spring). That's plenty to do to fill short breaks in Cornwall!
One of my favourite (and totally free!) things to do in Mevagissey is the 2.4-mile coastal stroll along the cliffs to the nearby village of Pentewan. Although fairly up and down, the walk is breathtaking and short enough that you won't need any fancy hiking equipment.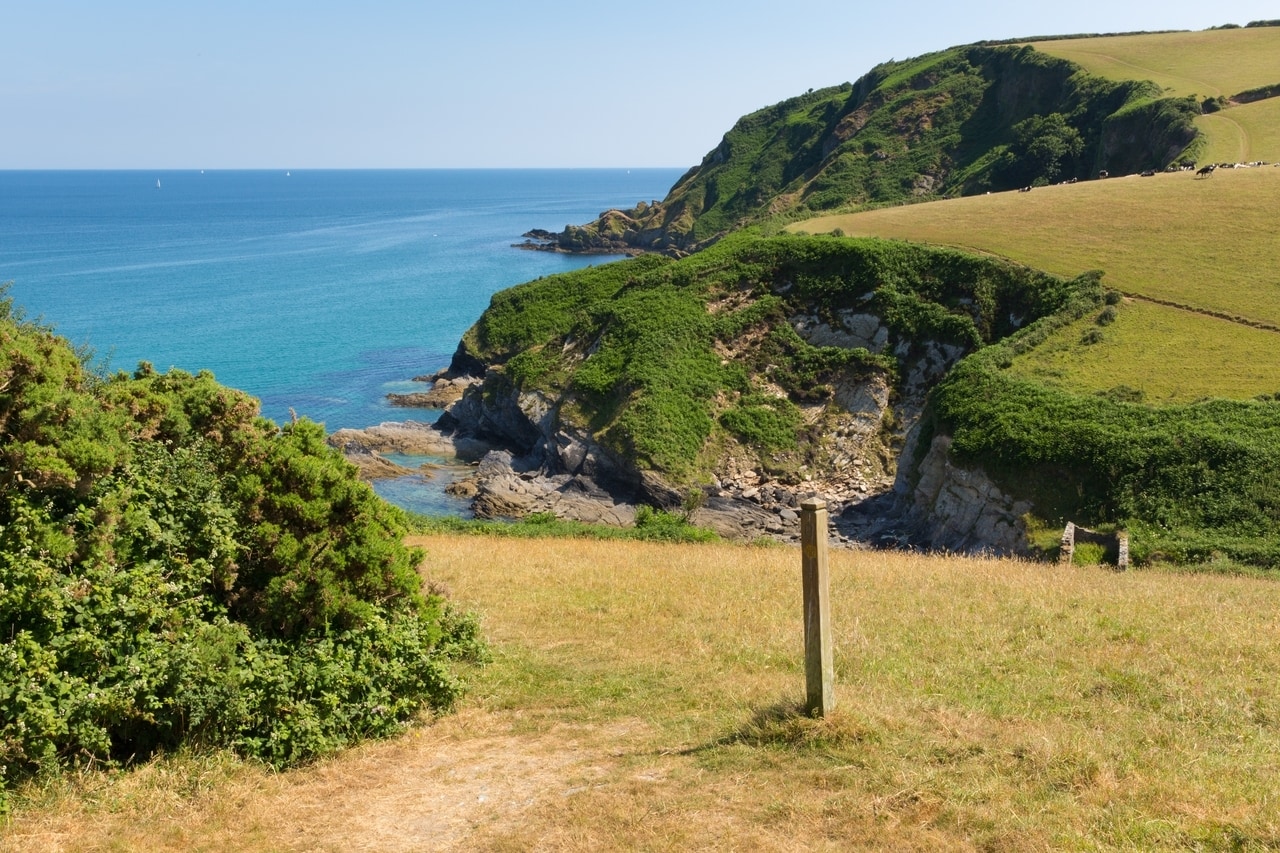 There's not a great deal to do in Pentewan itself, but I've spent weeks of my life in this tiny village. It's easy to become captivated by its tranquillity and off-the-beaten-path feel.
It would be ridiculous of me to ignore the gigantic holiday park which dominates Pentewan, but visit the village outside of the school holidays and you'll have it all to yourself.
I recommend you spend time on the beach, either sunbathing and swimming on a hot day or just taking a stroll along it in winter. Next, visit The Ship Inn in the centre of the village. This is one of the most traditional pubs around, and its food is second to none! Unfortunately, the pub has a tendency to flood in winter, and there are photos and marks on the wall showing just how high the water gets!
Back in Mevagissey itself, even if you're not travelling with kids you shouldn't miss out on some good, old-fashioned crabbing! The local shops sell everything you'll need, and the harbour wall is the crabbing hotspot. Just please treat the crabs well! Don't put too many in a bucket together, and put them back in the sea once you're finished! If it's raining, head to the Mevagissey Aquarium, and the Mevagissey museum.
Unlike most of these recommendations for short breaks in Cornwall, you really will need a car to visit Mevagissey. Public transport in this area of Cornwall is slow, infrequent and very unreliable!
Newquay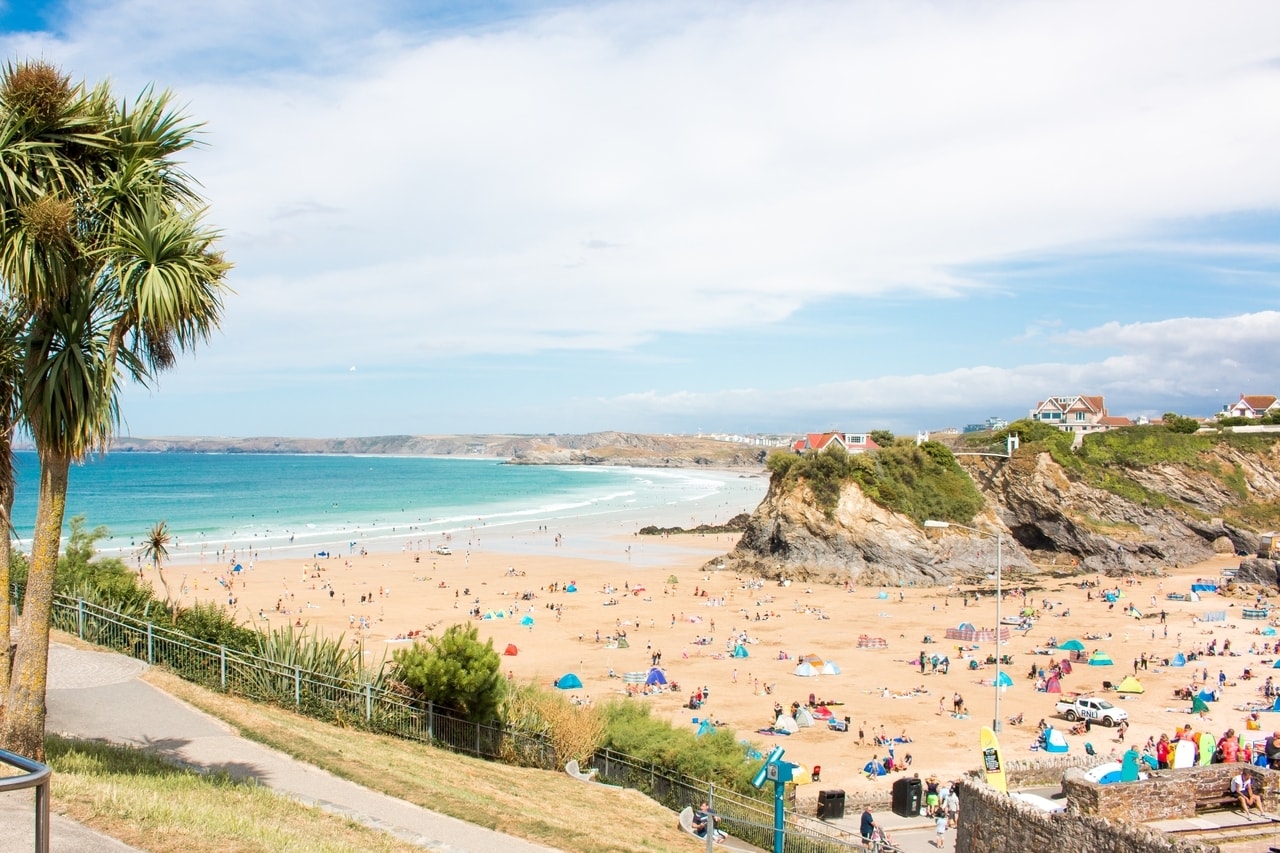 Every August, thousands of revellers descend on Newquay to attend Boardmasters, my favourite music festival in the world! Overlooking the ocean, you'll struggle to find a more picturesque setting to watch your favourite artists. That being said, even if you're not attending the music festival there's still so much to do in Newquay.
Newquay is referred to as the surfing capital of England, and it would be hard to argue with that! Boasting a staggering 12 beaches, everywhere you look in Newquay you'll find surf shops, surf hire stands and offerings of surf classes.
Often the waves here can be slightly more powerful than other areas of Cornwall, but there are beaches to suit surfers of every level. My personal favourite (and most surfers' favourite) is Fistral.
During Boardmasters, Fistral is home to a huge surfing competition which is free to watch! Planning your short break in Cornwall to coincide with Boardmasters is a great way to see Newquay in its element!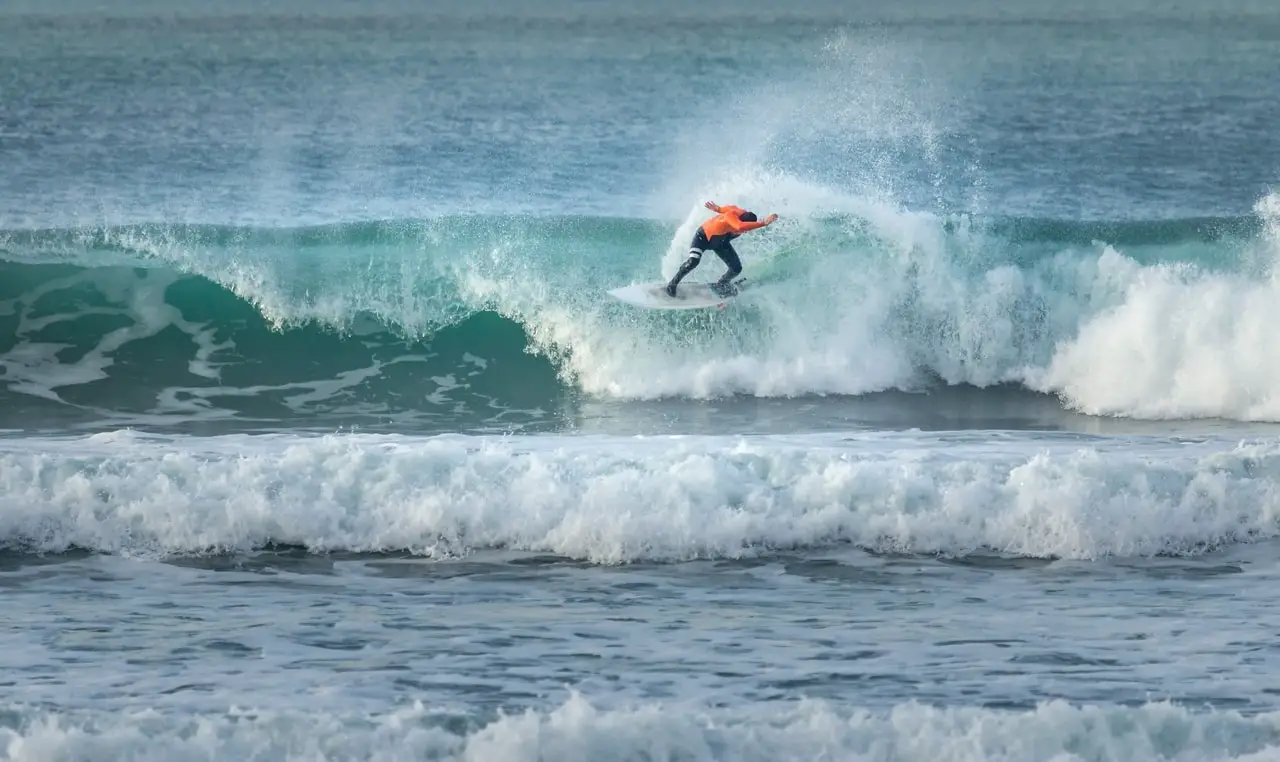 Even if you're not a surfer, Fistral is an epic place to watch the huge waves rolling in in winter. The Headland Hotel, which is perched overlooking the ocean here, even offers winter Storm Watching packages.
This is the way to witness the power of nature from the comfort of your hotel room. If you're looking for short breaks in Cornwall in winter, I highly recommend basing yourself in Newquay!
If you're tired of beaches (which is unlikely), there are lots of other things to do near Newquay. Take a trip to the Elizabethan manor house of Trerice, visit the Newquay Zoo, sample ciders at Healey's Cyder Farm, or hang out in the St Mawgan Japanese Garden.
What's so convenient about a short break in Newquay is that it's extremely well-connected in comparison to other towns in Cornwall. There are several taxi companies, a functioning bus service, a train station and an airport. That is unheard of for Cornwall!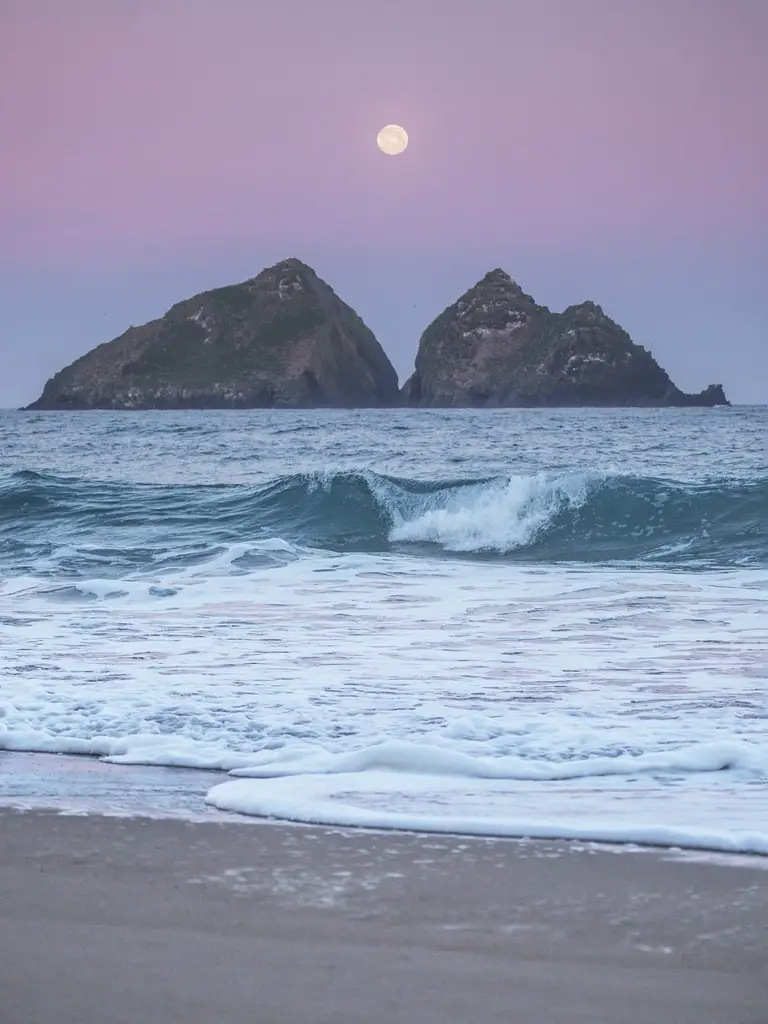 Another selling point for Newquay is that it has the widest range of cuisines in Cornwall. Yes – you can find more than just deliciously fresh fish in Newquay! You'll find Chinese, Indian, Italian, Spanish, Portuguese, Greek – you name it!
Newquay also attracts a younger, more energetic crowd. This means you'll find a few rowdier areas of the town which are perfect if you're looking to party hard!
Obviously, if you're not looking to party hard, check the location of your hotel to make sure you'll be able to get a proper night's sleep!
I hope my recommendations help you to plan your next short break in Cornwall! This part of the country really is spectacular, and I could write non-stop about it. I hope you fall as hard for Cornwall as I did!