There is a good chance that this post contains affiliate links. If you make a purchase through them, I may receive a small commission at no extra cost to you! As an Amazon Associate, I earn from qualifying purchases. As ever, all opinions are my own.
Last Updated on February 23, 2022 by Ella
Denia, on Spain's Mediterranean coast, is a wonderful place to spend a couple of days lounging on the beach, gorging on Paella and cruising along the coast.
It's not a typical sightseeing destination. Denia is actually more of a family holiday destination, with plenty of resorts and a big focus on chilling at the beach, but there are still a few other things to do to keep you occupied. Plus, Denia is near plenty of other tourist destinations, making it a great base for more Spanish sightseeing!
I spent 3 months living in Denia and spent plenty of time exploring its best bits. So, today, I'm going to share the very best things to do in and near Denia with you. I'll include Denia's best activities, day trips, and a couple of hidden gems!
Want to know what it's like to live in Denia? Check out my post all about it here!
Where Is Denia?
Denia is the sun-kissed holiday town you've never heard of. Perched on Spain's Costa Blanca halfway between Valencia and Benidorm, this authentic town has all the Spanish charm you could ask for, without the summertime crowds of its neighbours.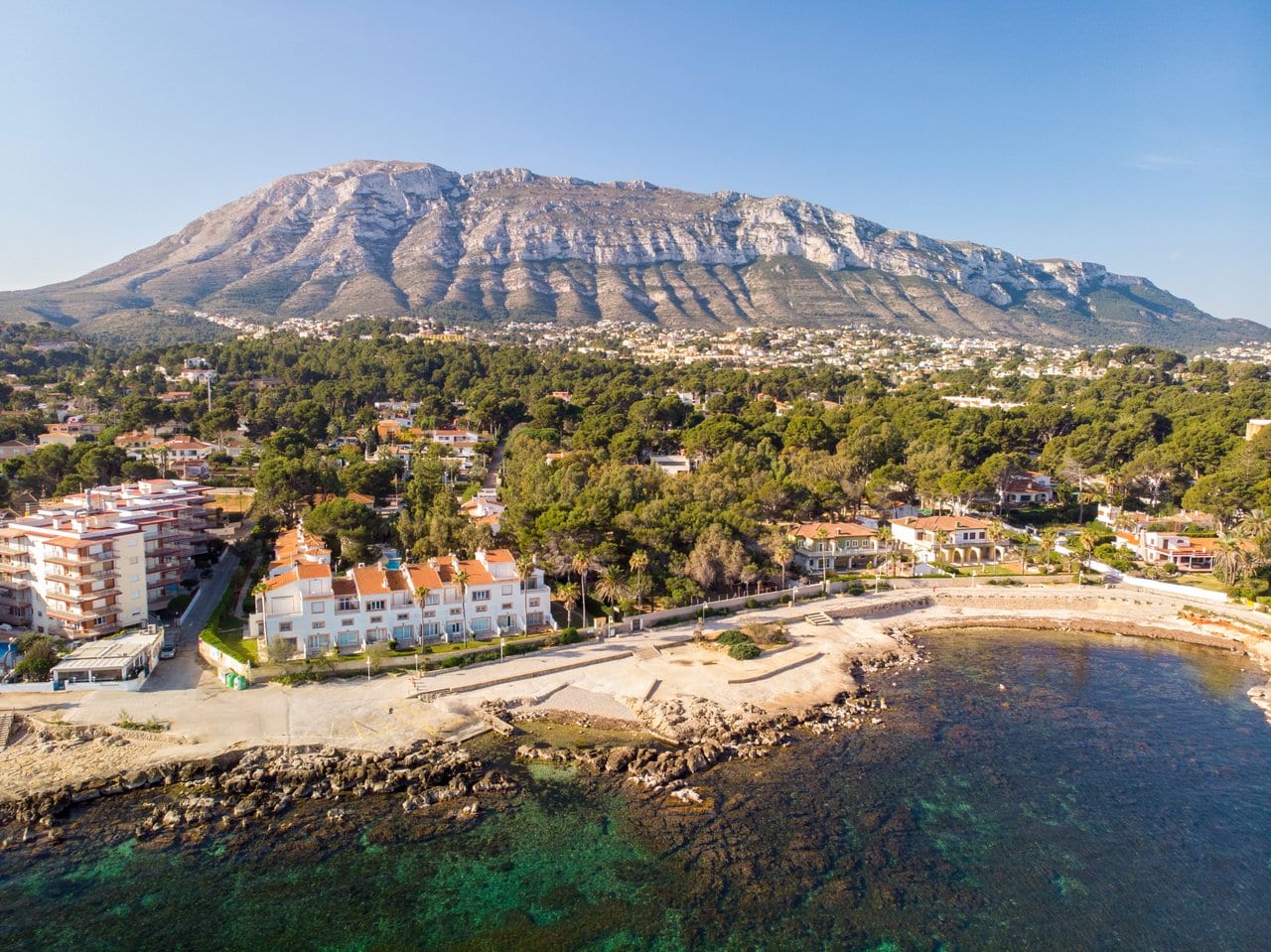 The Best Things to Do in Denia
Head to the Beaches of Denia
Soaking up the sun on Denia's beaches was easily one of my favourite things to do! Every morning after breakfast, I would head down to the beach for a few hours of relaxing, reading, and cooling off in the sea.
If you're staying in a condo or resort, chances are your accommodation will be just a few steps away from the beach, which obviously is #goals. However, if you're visiting central Denia there are a couple of beaches in town which are also fabulous.
My favourite beaches were Punta del Raset and Les Albaranes, which are both white sand beaches with warm, blue water. There aren't any waves in Denia, but the flat ocean is perfect for sunbathing or stand up paddleboarding!
If you're visiting Denia in summer, be sure to get to the beach early in the morning or from 4pm onwards. The early afternoon in summer is baking hot, and it's downright dangerous sunbathe when the sun is that strong!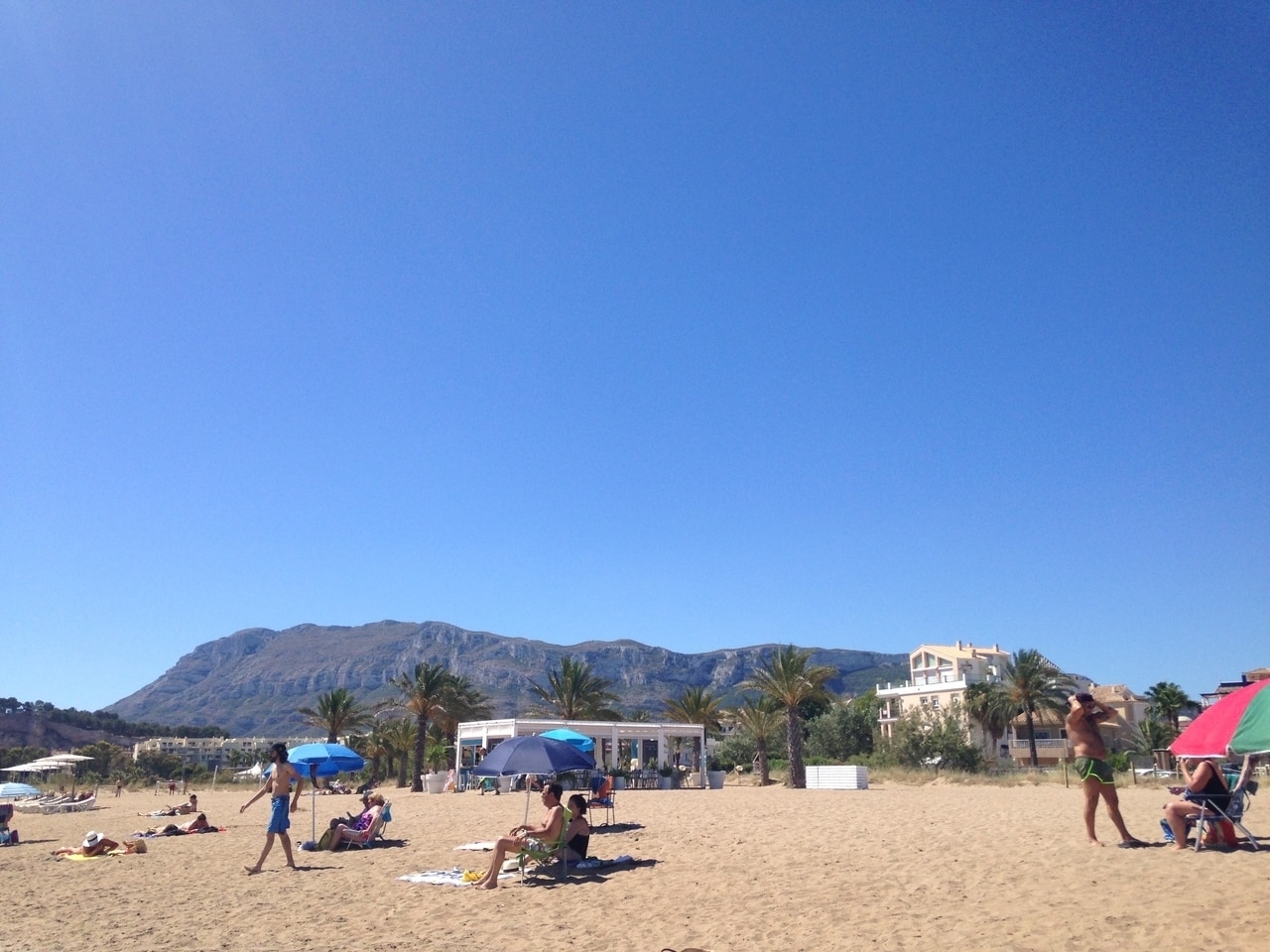 Go Parasailing 
Since Denia is on the coast, there are a ton of watersports and fun activities you can try out whilst you're here! One of the most exciting has got to be paragliding over the glittering coastline of the Costa Blanca.
This parasailing tour is one of the most exciting things to do in Denia! Not only will you get a thrill flying high above the ocean, but you'll also get incredible views over Denia, the beaches and the ocean. What more could you want?
Parasailing tours last 1.5 hours and cost €60. Click here to check availability and to book!
Sample Authentic Paella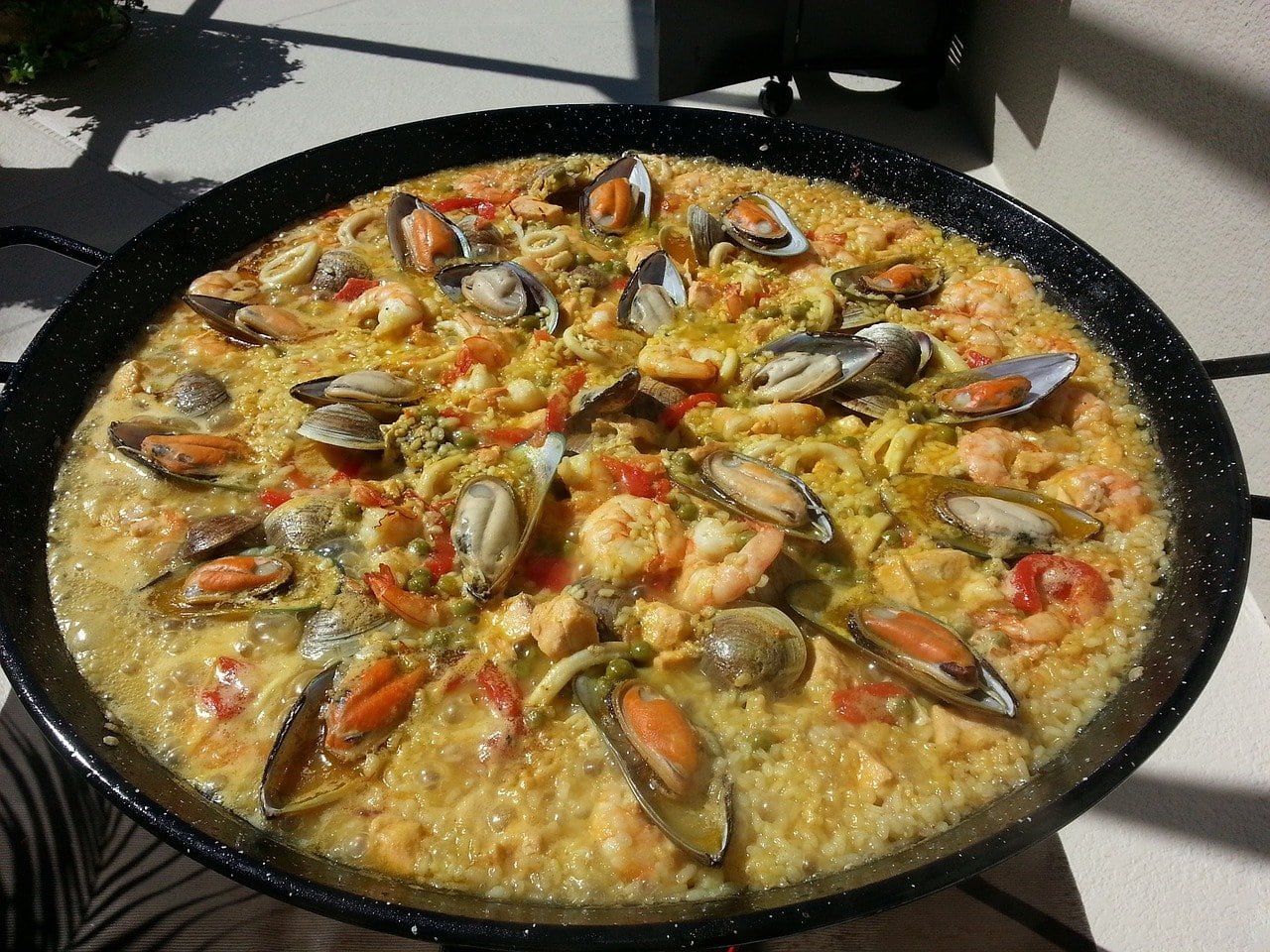 Rice is a core staple of Valencian food, and there's no more authentic Valencian dish than Paella. 
[Side note: you may be slightly confused here – after all, this post is about the best things to do in Denia, not Valencia. Actually, Valencia is more than just the city of Valencia. It's an entire province, and Denia is located in the province.]
Although we non-Spaniards often view Paella as a typical Spanish dish, it's actually very much a Valencian dish. For this reason, there's no better place to try paella in Spain! 
Paella actually means "frying pan" in Valencian, which is the regional language of Valencia. It's cooked in a wide, shallow pan, and there are a ton of different variations nowadays. The original recipe, though, contains rice, green beans, peas, rabbit, chicken and butter beans, and is cooked in olive oil and chicken broth. 
You'll find plenty of places that serve epic paella all over Denia, but it's worth checking out a few reviews beforehand to ensure you pick somewhere that's not just a "tourist restaurant". 
Hike the Montgó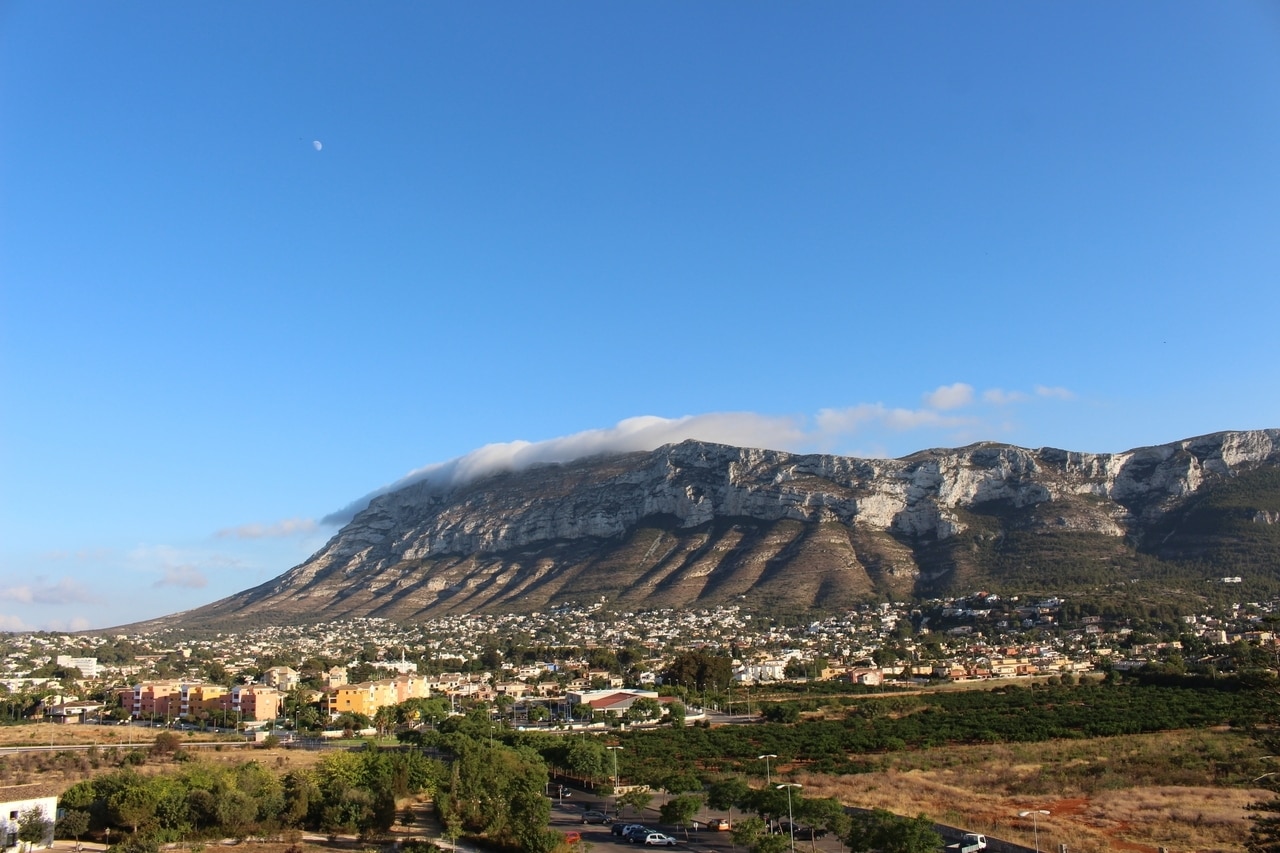 The Montgó mountain looms over the town of Denia. If you embark on the hike to the top you'll get the very best views Denia has to offer! Not only is this a totally free thing to do in Denia, but it's also the perfect way to get to know the town as you'll get to see it all from above!
You can make your hike as moderate or challenging as you like, as there are several different routes. The mountain stands at 753 metres high and is one of the locals' favourite places to visit in Denia. 
Explore the Denia Markets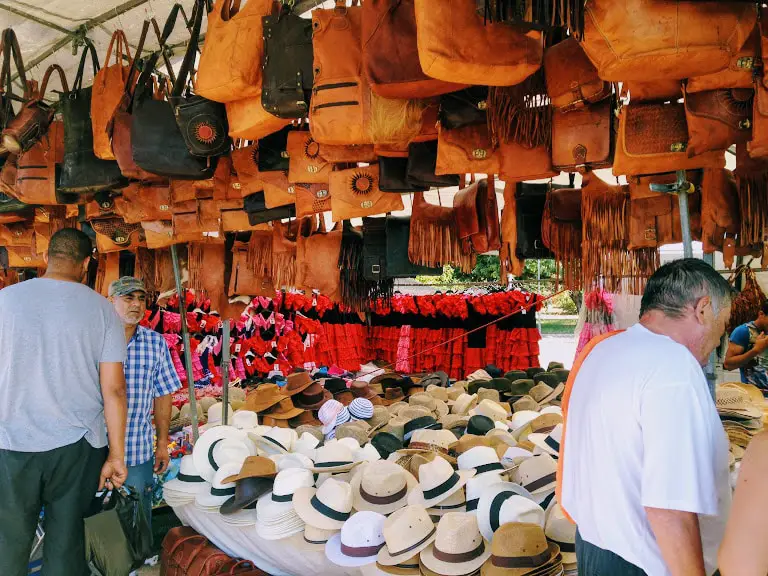 The Monday Markets are one of the best things to do in Denia, and you'll see a huge turnout from both locals and tourists. The markets sell all sorts of things, from clothing to local crafts, and, fortunately, the market isn't just full of tourist "junk".
The markets take place from 8am-1:30pm every Monday at Torrecremada Esplanada. Strolling the market is a great way to get an insight into Spanish life, and you'll probably be able to pick up some bargains at the same time! 
If you want to try traditional churros on your trip to Spain (and you definitely should!) head to the traditional stall at the entrance of the market. 
Go on a Catamaran Boat Tour!
Leaving from Denia Pier, this awesome catamaran tour is the perfect way to escape the sizzling heat in summer and chill out. Once you've taken in some sights, your skipper will anchor up the boat to allow you to dive into the sea!
There is an assortment of hidden caves and beautiful cliffside views to be taken in from the coast. The only way you'll be able to get there, though, is on a boat tour.
There's nothing better than jumping into the sea during summer in Denia, so if you're looking to cool off during a hot summer's day, this is the best thing to do!
Click here to check availability and book!
Denia Castle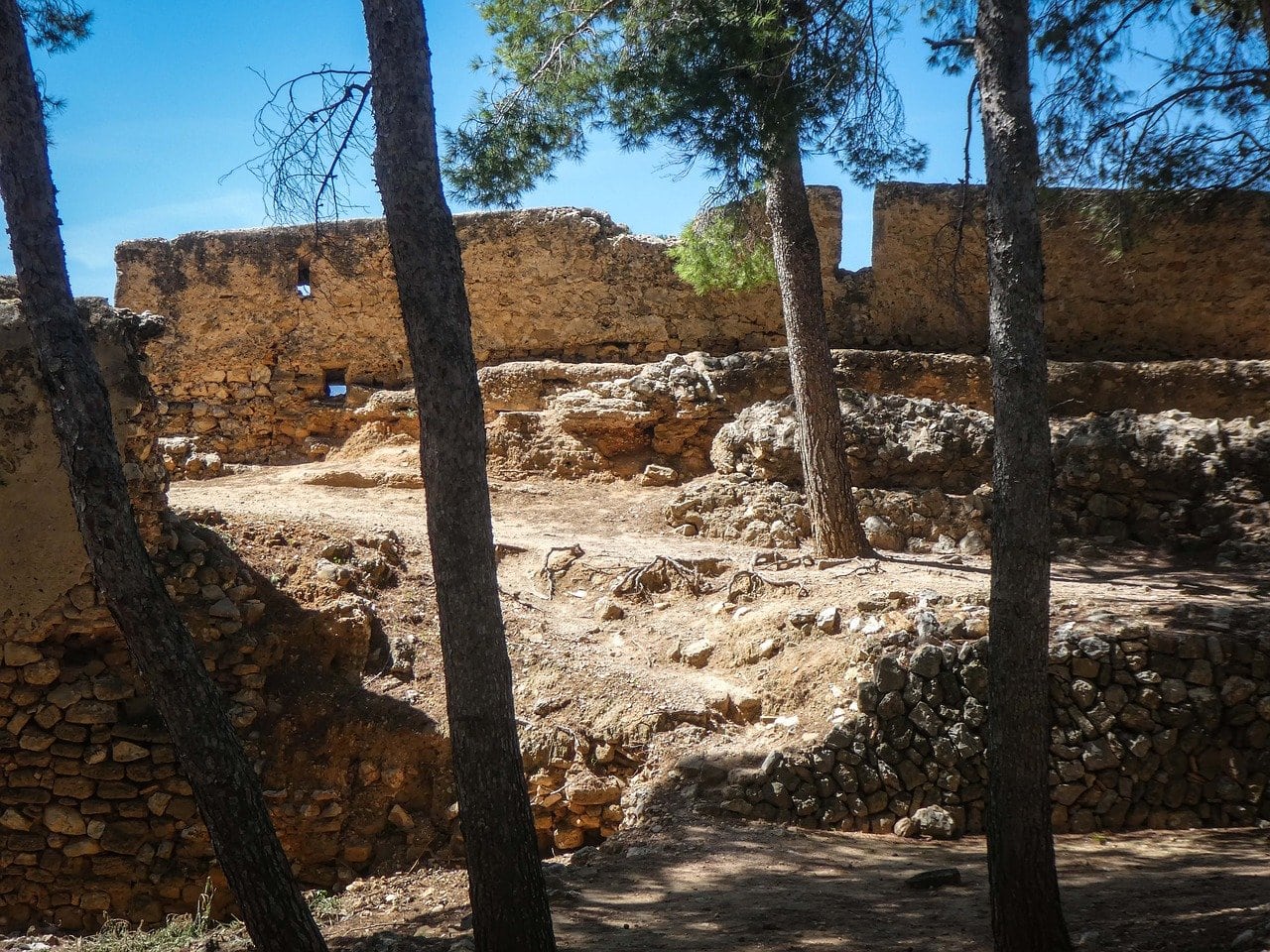 With over two thousand years of history, there's no doubt that Denia Castle is the oldest of all the tourist attractions in town. It's one of the most popular things to see in Denia! Since entry to the castle costs just €3, there's no excuse to miss it!
The castle is located in the centre of town and is a reminder of Denia's Moorish past. The Moors ruled Denia from the 8th to the 13th century, and they built the town of Denia to protect against potential intruders. To do this best, they obviously had to build an imposing castle!
There's not a whole ton of information at the castle itself, so I recommend doing some reading about the castle before your visit so you're clued up.
Stroll around Marina el Portet
Just a short walk from the old town of Denia you'll find Denia's port, which is referred to as the Marina. It's always full of fancy and expensive boats, so it's fun to have a walk around and see how the other half live.
This area of the town is very pretty because, if you turn back on yourself, you'll get views of the marina with Denia Castle in the background, combining the old and new.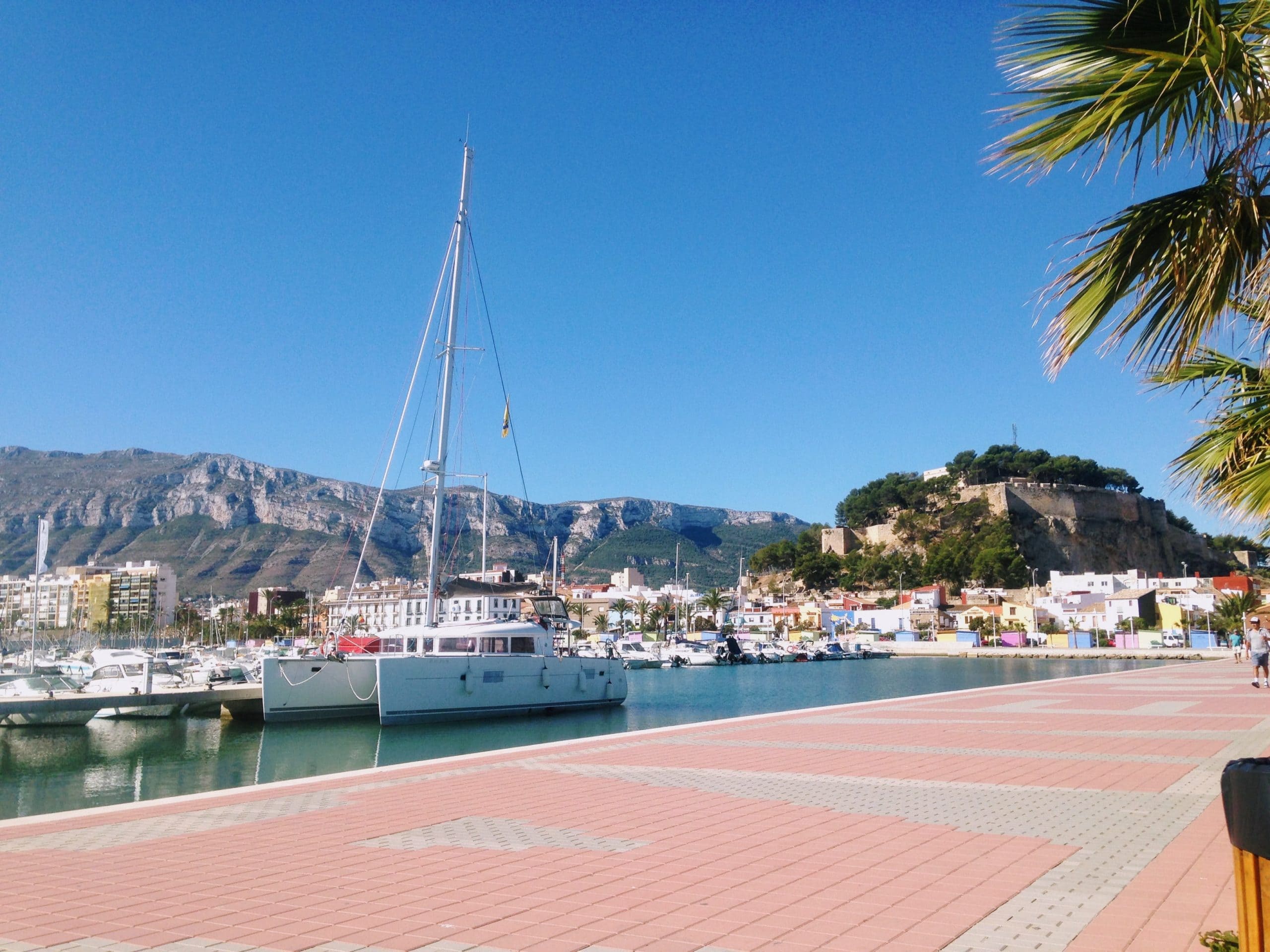 Best Things to Do Near Denia
So, we've now gone over the very best things to do in Denia, but what if you have some extra time and want to explore its surroundings?
No worries – there are plenty of fabulous day trips from Denia, and things to do around Denia that will enable you to explore more of Spain. Denia's location makes it the perfect base for day trips since it's close to many popular tourist destinations!
You're also near many of the other towns on the Costa Blanca, so a change of scenery is always just a short journey away.
Here are my suggestions for the best day trips from Denia:
Benidorm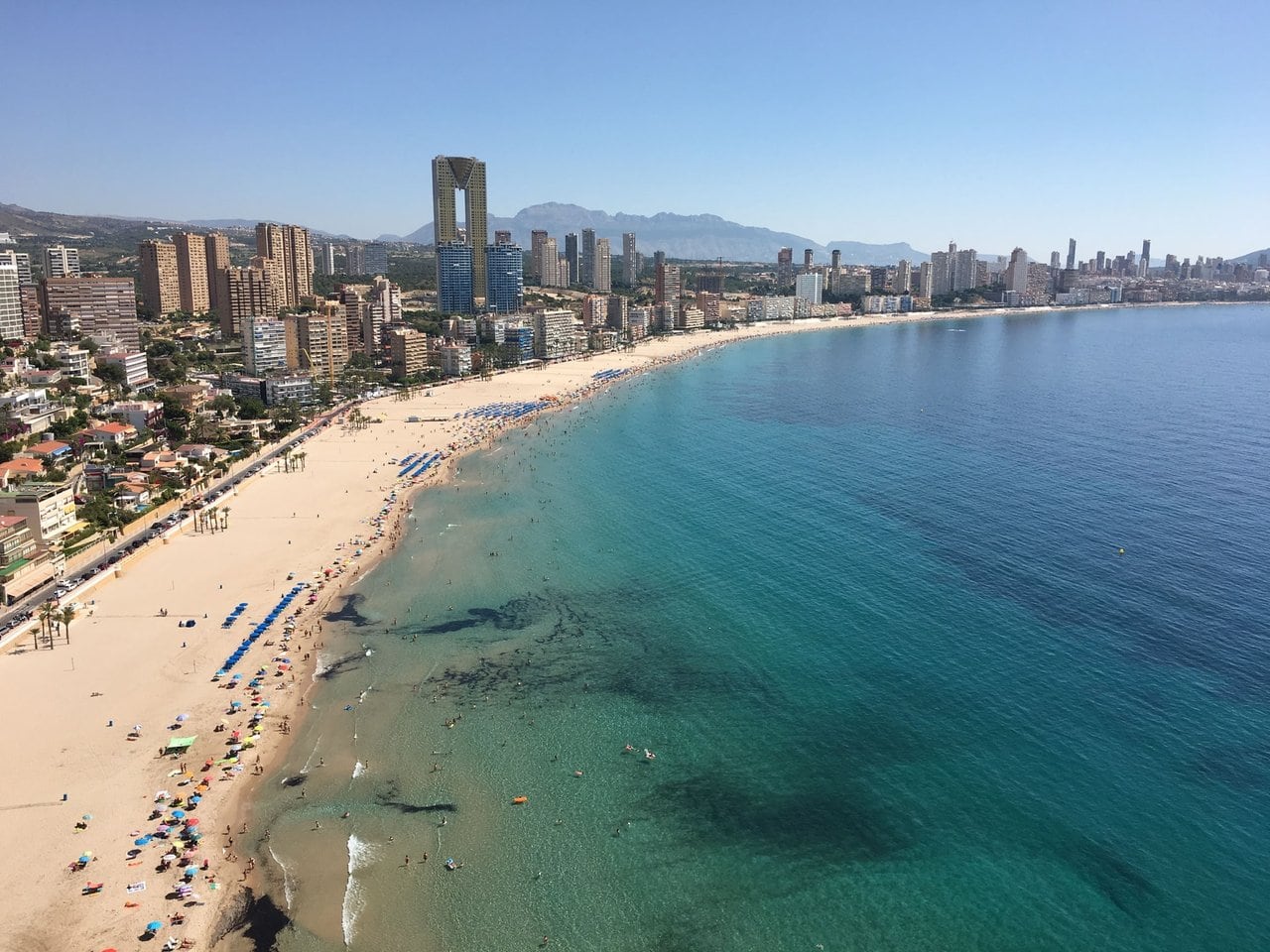 Benidorm has a bit of a reputation for being "Britain in the sun" because of the huge British expat community who live there, but it can be a tonne of fun! Whilst you're in Benidorm, check out the old town, hit the beaches and then… Drink!
Benidorm has a huge drinking and party scene, and the majority of tourists head here to do just that. It's the perfect place to let your hair down and have a good time! Oh, and did I mention that the drinks in Benidorm are crazy-cheap?
Getting to Benidorm from Denia: the drive is 35 minutes. You can also catch the express bus, which takes 45 minutes and costs €7.20 each way. Unfortunately, though, the express bus isn't too frequent. No worries though, there is a regular bus which costs the same amount but takes around 2 hours each way.
Cape San Antonio
Cape San Antonio, a stunning nature reserve, is a headland sandwiched between the Montgó and the sea near the town of Javea. You're able to visit Cape San Antonio via boat from Denia on this tour, which includes time for swimming, snapping lots of photos of the Montgó, and learning about all the wildlife and sea life in the nature reserve.
Getting to Cape San Antonio from Denia: the drive takes 20 minutes, otherwise you'll have to join a tour since Cape San Antonio is not served by public transport.
Click here to check tour availability and book!
Alicante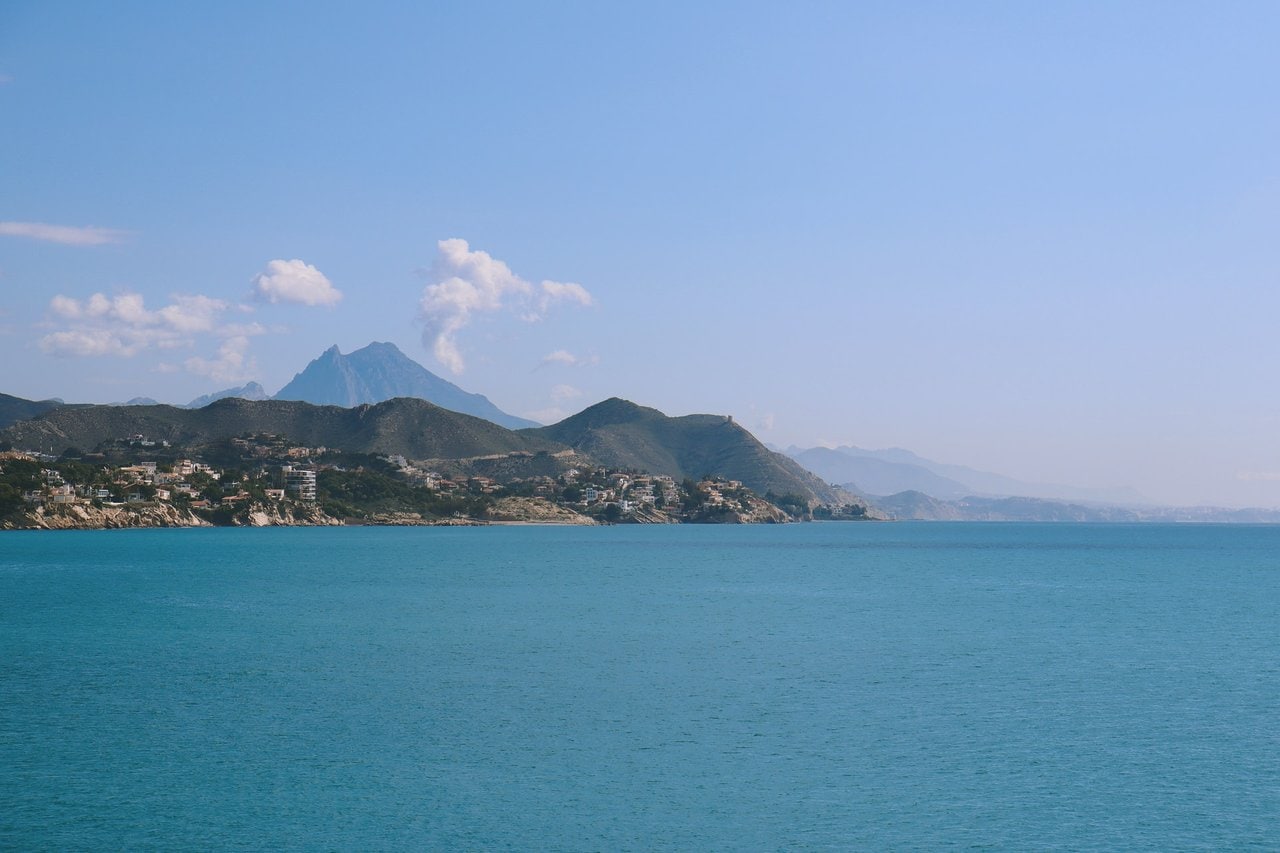 This awesome town has something for everyone, and it's one of Spain's most popular holiday resorts for a reason. Alicante is compact, so you can spend the morning strolling the old town, the afternoon lounging on one of Alicante's stunning beaches, and the evening having a few drinks with other holidaymakers.
As well as being great for relaxation and drinking, Alicante also has a brilliant art gallery, the Museum of Contemporary Art. Housed in a 17th-century mansion, this is the ideal place to check out some masterpieces.
Getting to Alicante from Denia: the drive takes one hour, or you can catch the bus which takes 1 hour and 45 minutes and requires one change. Tickets cost around €11.80 each way, and you can get them here.
Javea
Also known as Xàbia, Javea has secluded beaches and miles of unspoilt coast, making it a very popular kayaking and snorkelling destination. There are also quite a few fun things to do in Javea!
A trip to Javea is all about getting out onto the ocean, so it'd be a crime not to join in! The best introduction to the beauty of Javea's coastline is on this 2.5-hour kayak and snorkel tour to the Javea sea caves! The experience costs €45, and has over 200 excellent reviews!
Getting to Javea from Denia: the drive to Javea is 20 minutes, or you can catch the bus, which takes 45 minutes. This makes it one of the best places to visit around Denia as it's so nearby! Tickets cost around €4 each way.
Valencia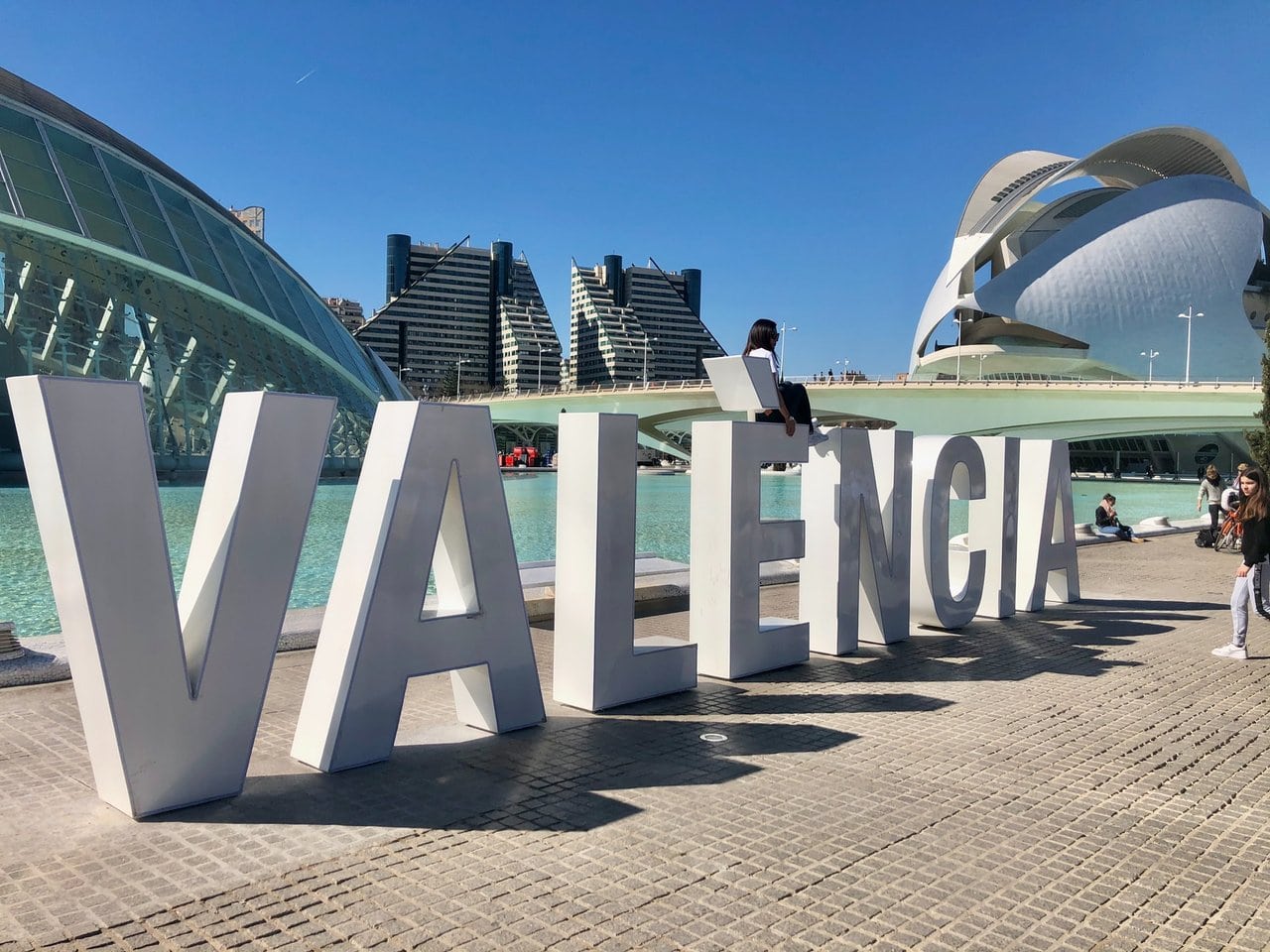 What better way to explore the province of Valencia than by exploring Valencia city? It's the biggest city in the region and is perfect for a short city break away from Denia. 
The Ciudad de las Artes y las Ciencias, the science and culture park, is one of the city's most iconic landmarks. It contains a fabulous science museum that you simply can't miss when you're in the city. 
There's also the gorgeous 13th-century Valencia cathedral to check out, and you should also stop by the Serrans Gate, a city gate built in 1392. Don't miss climbing to the top of for views over the city. For some retail therapy, head to the Central Market of Valencia, which has over 1000 stalls!
Getting to Valencia from Denia: the drive from Denia takes around 1 hour and 10 minutes, or you can catch the bus which takes around 1 hour and 40 minutes and costs €11.60 each way. Check bus times and tickets here.
Ibiza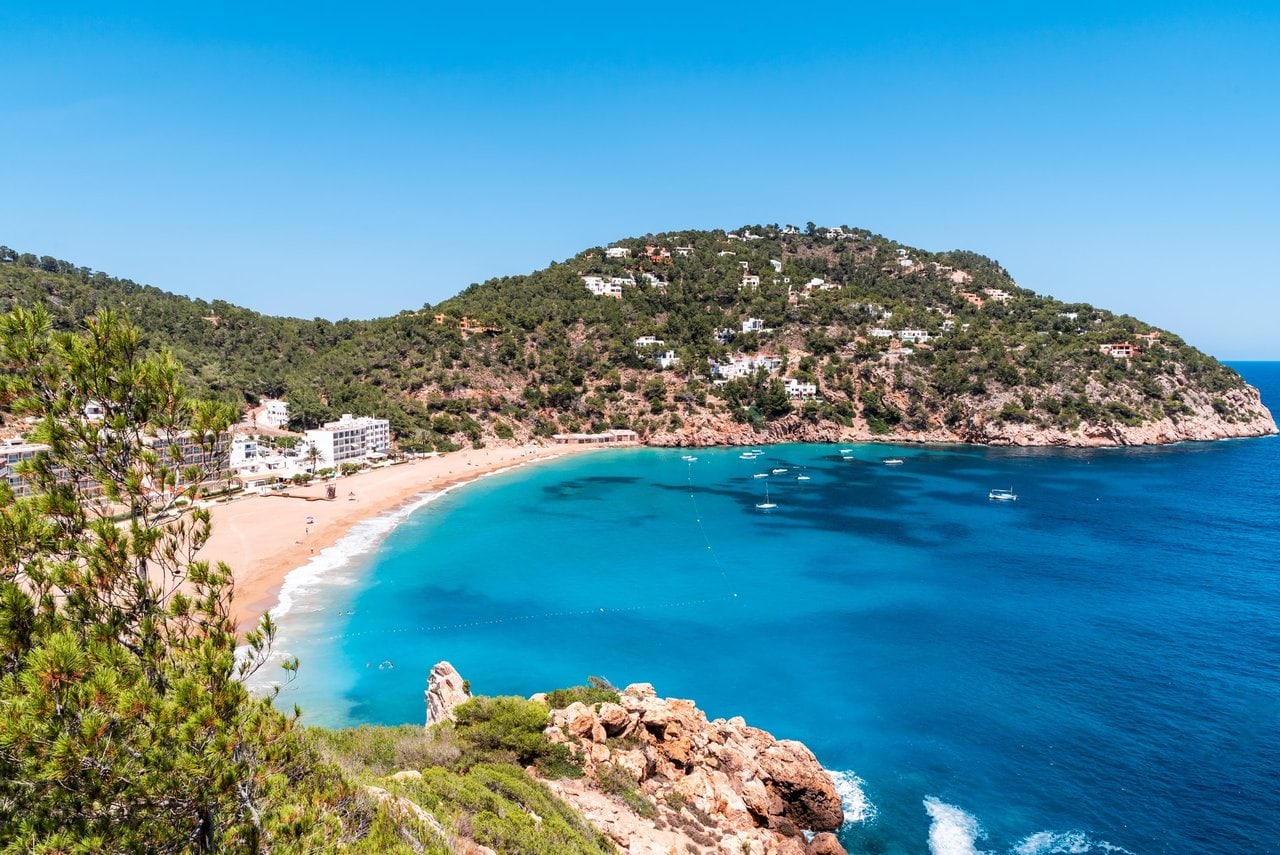 Take advantage of the Denia marina and head down there to catch the 3-hour ferry to the island of Ibiza! 
This island is one of the best places to party in Europe! Visitors flock from all over the world to join in! Even if you're not looking to party, Ibiza is definitely worth checking out to see its famous beaches and crystal-clear waters, which offer excellent snorkelling opportunities.
Given Ibiza's popularity, the island can be quite expensive, so if you're on a budget it's a good idea to limit your time here and budget for your trip in advance!
Getting to Ibiza from Denia: you'll have to catch the ferry to get to Ibiza from Denia, which takes around 3 hours each way and is pretty expensive, costing around €60 each way! You can find tickets here.
Other Places to Visit near Denia
In case you needed a few other suggestions of places to visit near Denia, I suggest looking at some other Costa Blanca towns such as Altea, Moraira or Calpe!
What's the Weather like in Denia?
Hot, hot, hot!
By European standards, Denia is hot all year round. Of course, you probably won't be sunbathing at the beach in December, but winter temperatures hover around a pretty mild 13°C.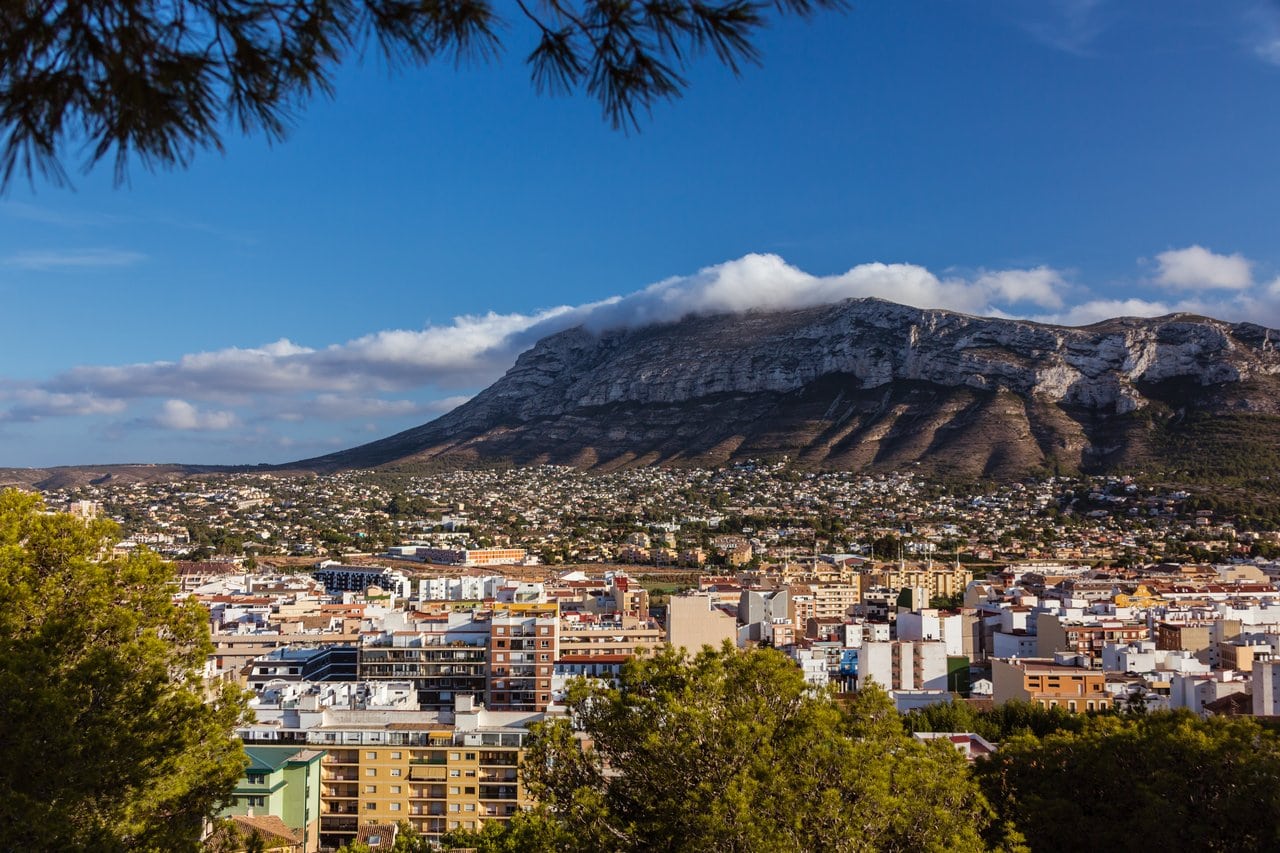 When Is The Best Time to Visit Denia?
Summer is the best time to visit Denia for tourism as tourist attractions will be open (some attractions close in winter). Plus, with all the holidaymakers in town Denia becomes buzzing, with a lovely blissed-out holiday atmosphere. Plus, in summer the buses/ferries you'll need to visit places near Denia will run more frequently.
On the other hand, though, the summer temperatures in Denia are insane. Unless you're happy to take a siesta every afternoon, or have accommodation with a pool, you'll suffer trying to do any sightseeing in the afternoon heat.
For this reason, I recommend late spring (May) or early autumn (October) to visit Denia for the ideal sightseeing weather. It'll be warm enough to go to the beach and swim in the sea, without the heat knocking you out. Win!
---
I hope this post has helped you plan your trip to Denia, and hopefully you've learnt about a few things to do in and near Denia that you never knew about! 
I had a fabulous time in Denia and I'm sure you will too! As always, if you have any questions, or just want to let me know how your trip went, please drop me a comment below!
Until next time!
Ella