There is a good chance that this post contains affiliate links. If you make a purchase through them, I may receive a small commission at no extra cost to you! As an Amazon Associate, I earn from qualifying purchases. As ever, all opinions are my own.
Last Updated on December 16, 2020 by Ella
After a gruelling 25 hours of flying, I still thought I'd be able to get a full night's sleep no problem. In fact, after numerous long haul trips over the years with minimal impact on my sleeping schedule, I was secretly starting to believe that jetlag was a myth…
Oh, how wrong I was!
It was 3:30am on my first morning in Australia and I was wide awake. I watched YouTube videos and texted people from home in a feeble attempt to pass the time until 5:30am, the earliest acceptable time to get up. The good news was, in a classic example of my "cram in as much as possible" style of trip planning, I hadn't allowed myself even a second of post-flight recovery and had instead booked this day trip to Moreton Island departing Brisbane at 7am, figuring I didn't want to waste a moment sleeping when I could be doing something.
So, why Moreton Island?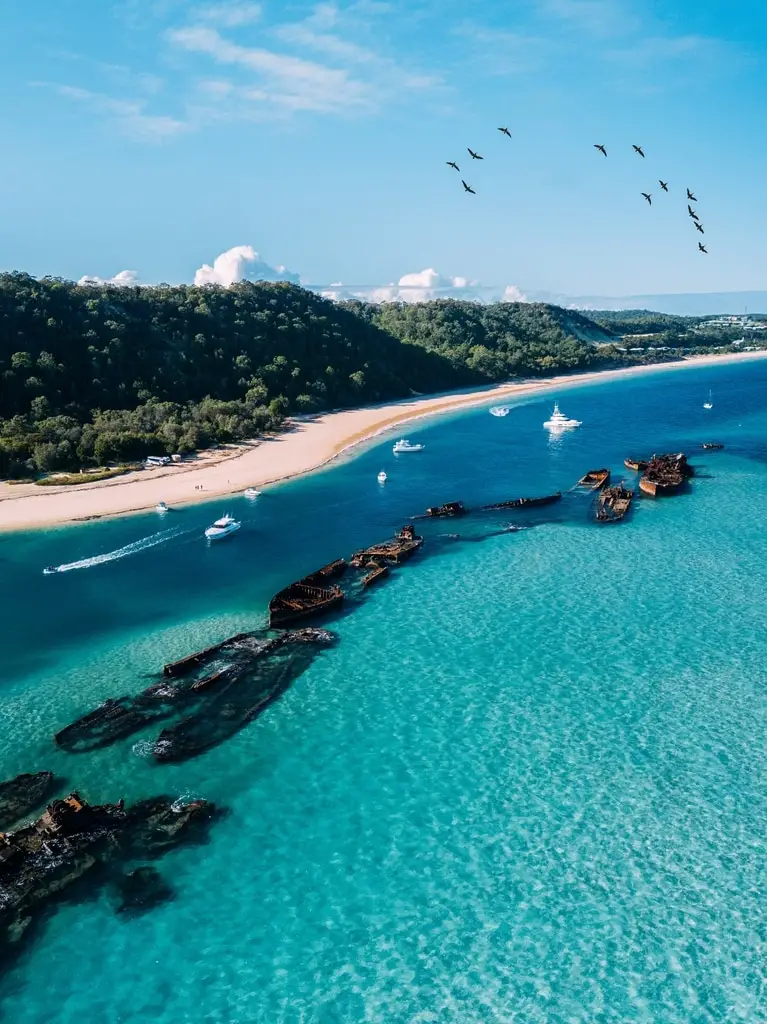 During the planning stages of my trip I asked nearly everybody I knew for itinerary suggestions. Luckily, a colleague of mine had lived in Brisbane for a year, and suggested I take an overnight visit to North Stradbroke Island. Not really knowing where to find an extra two days from my itinerary to fit this in, a quick google turned up another, smaller island: Moreton. After scrolling through a few forums weighing up Moreton vs Stradbroke, and being the contrarian that I am, I booked a day trip to Moreton Island instead. Situated off the coast of Brisbane, Moreton Island is the world's third largest sand island. A whopping 95% of it is a designated National Park!
After sampling some of the fabulous coffee Australians are famous for and boarding the bus, we spent around half an hour driving to the port of Brisbane. This was my first time seeing Australia in the daylight, and my eyes were glued to the window for the entirety of the journey as I watched the city skyscrapers glittering in the early morning sun.
How do you get there?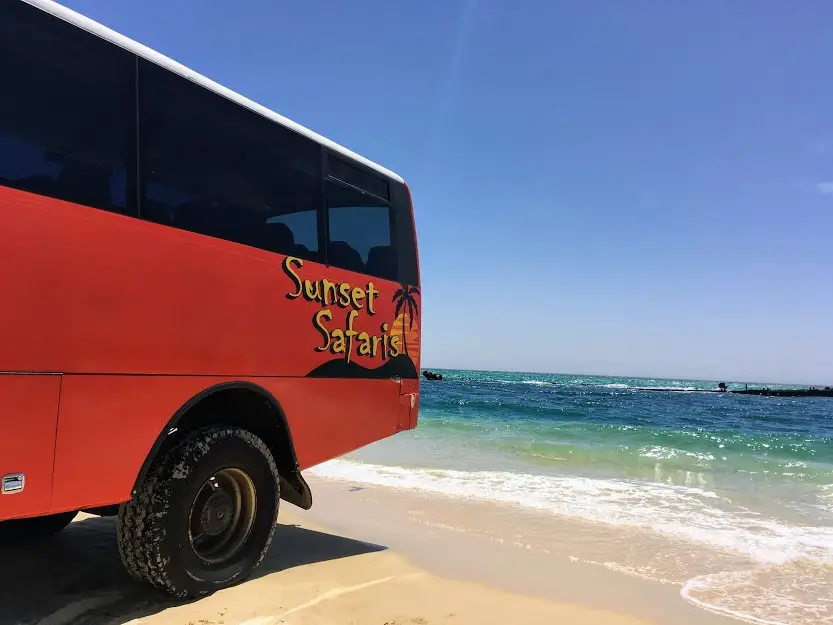 Although numerous operators offer day trips to Moreton Island, I opted to go with this tour run by Sunset Safaris. Their one day tour, which included snorkelling, kayaking and sandboarding, seemed like the perfect amount of activity to ensure that I couldn't fall asleep, no matter how tired I got! They also offer a scenic day tour as well as an overnight tour combining both trips. I'm happy to say it was great value for money, and I was really happy with my choice. My Moreton Island day trip set me back 139 AUD (approx. US $95) with an AUD (US $35) payable at the start of the tour.
Setting sail to Moreton Island
On the ferry over to the island I bought myself an iced coffee, knowing full well I needed to stock up on the caffeine while I still could. The journey took us around 75 minutes, so I headed up to the top deck for some sun and to admire the view of Brisbane Harbour fading from view as we approached the island.
As we pulled up, the first things I saw were the towering white sand dunes and lovely greenery. Moreton had luckily avoided the horrendous brushfires plaguing Australia at this point.
As we got closer I couldn't believe just how clear and blue the water was. It really did look like we were arriving in paradise! We were the only group set up on the beach and exploring the wrecks, which was super lucky. Online photos of the wrecks often show hoards of boats moored up in the waters. Maybe early December isn't peak time to visit Moreton?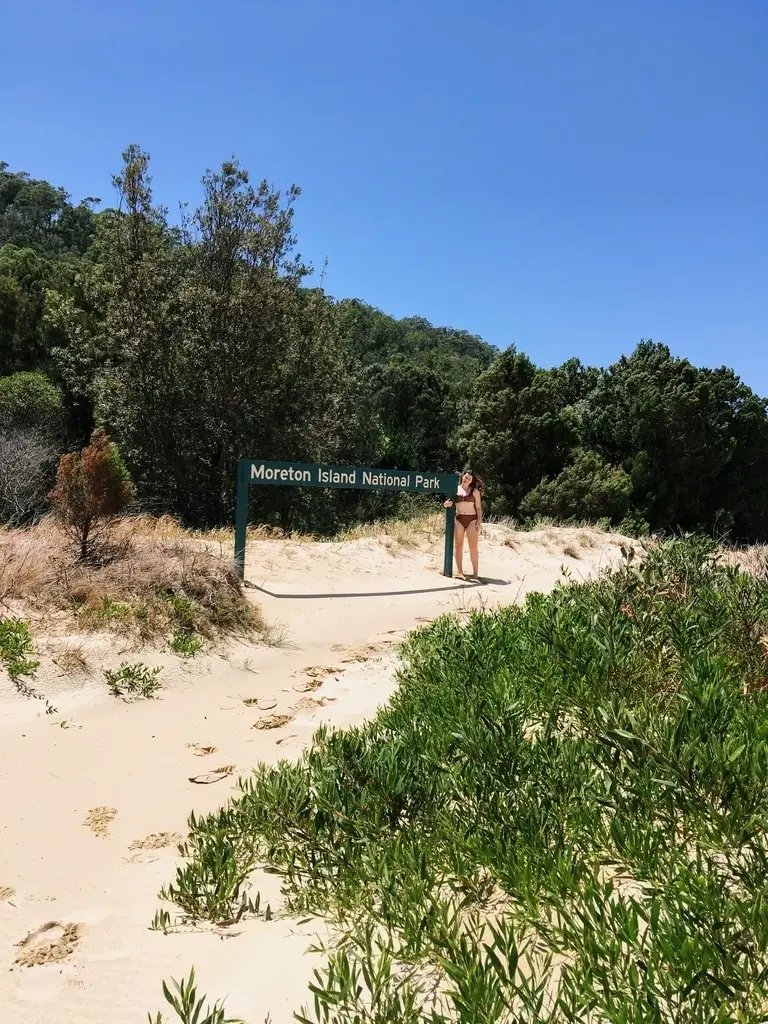 Shipwrecks
The first activity on the itinerary was kayaking around the Tangalooma Wrecks. Admittedly, I felt much more comfortable on discovering that the wrecks were actually deliberately sunk in 1963. This enabled small boats to dock on the island. To me, something about hanging out at an actual wreck site just seems a bit… uncomfortable. We set off in transparent kayaks, which in theory allow you to see under the water. A great idea, but in reality the sand in the bottom of the kayaks, and the thick plastic they're made out, of rendered it kinda useless.
In any event, kayaking around the wrecks was incredible! We kayaked around the wrecks with our guide, who had a wealth of knowledge and information to share with us. She even gave us bread to feed the fish so that we could take a closer look at them (I'm not sure about the nutritional value of bread for fish, but…). Nowadays, the wrecks are huge hunks of rusty metal and tetanus waiting to happen, and, to be honest… quite an eyesore. However, under the water is a different story altogether.
Snorkels
On getting our snorkel equipment on we headed out via jetski to the wrecks and were free to explore. I was gutted to find out full length wetsuits with gloves were mandatory, but it was admittedly better than the alternatives of being cut by the rusty metal of the wrecks or burnt to a crisp by the sun. The reef that has developed on the wrecks is incredible, and swimming down to peep through the window areas of the ships and spotting really cool fish, like angelfish! Lifejackets were available for the snorkelling, but I didn't use one. This was totally the right decision as I could dive down to see things the others couldn't.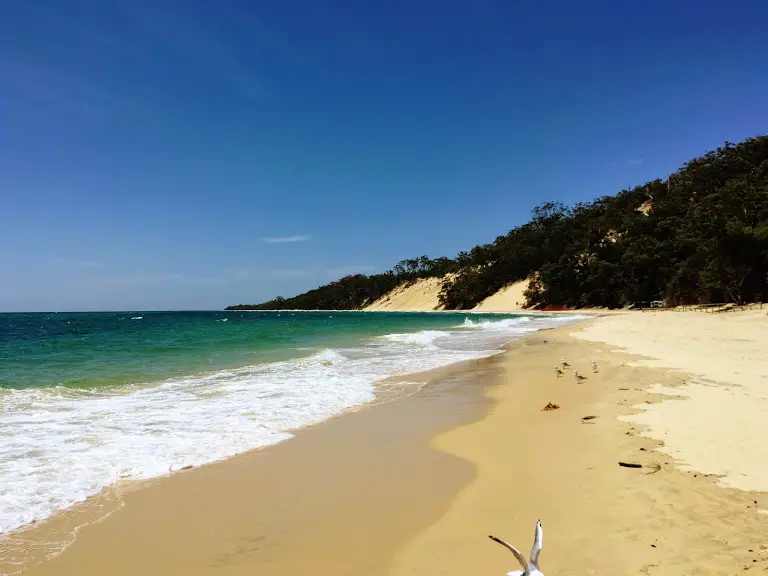 Word of warning here – Queensland in summer is HOT. You may be rolling your eyes and saying well duh at this point, but hear me out. I slathered on my factor 50 sun cream every half hour. Luckily, I didn't get burnt, but others on the trip were not as vigilant and paid the price. Please be careful, and use that sun cream like it's going out of style!
Sandboards
After a quick sandwich lunch on the beach we hopped in the 4-wheel-drive bus. Navigating the bumpy dirt roads was definitely an experience – hold on tight! On pulling up to "the Desert" I was absolutely baking and desperate to jump straight back in the sea! Instead, we each took a sandboard and trekked up one of the dunes. At this point, it finally dawned on me. The dune was a lot higher than I expected and I did not fancy sliding down it head first! I don't have a fear of heights per se, but I wasn't loving the idea of hurtling down the dune head-first as we approached the top!
We waxed up our boards and, after a quick demo from the guides, queued up to give it a go. I really felt like bailing, but my determination to make the most of my trip meant I gave it a go. And a second one! Getting sand stuck all over my body was less than pleasant, but soooo worth it. I felt like a little kid going sledding in the snow! It was so much fun!
We then got back on the bus to head to the beach for a quick swim before the ferry home. I settled on the deck of the ferry, beer in hand. Watching the island disappear on the horizon, I was so, so happy with my choice. I highly recommend visiting Moreton Island to anybody who finds themselves in Brisbane. I also highly recommend the tour I took.
Is Moreton Island worth visiting?
Top tip: If you're planning to visit both Moreton and Fraser Islands, you'll get the most out of Moreton if you visit it first. Moreton Island was great, but if I visited it after my trip to Fraser it wouldn't have compared. On the Moreton tour I was jealous of those who opted for the overnight trip. Now, having been to Fraser as well, if I had to choose between overnighting on Moreton Island or adding an additional day and night to my Fraser trip (staying for 2 nights instead of 1) I would choose Fraser every time.
Have you visited Moreton Island? Did I miss out by skipping North Stradbroke Island? Let me know in the comments!
Liked this post? Pin it!