There is a good chance that this post contains affiliate links. If you make a purchase through them, I may receive a small commission at no extra cost to you! As an Amazon Associate, I earn from qualifying purchases. As ever, all opinions are my own.
Last Updated on February 11, 2022 by Ella
Looking for things to do in Noosa, Queensland? You've come to the right place!
Noosa was my favourite town I visited during my backpacking trip to Australia. With all that golden sand, tropical weather and sparkling blue ocean, Noosa will have you head over heels in a matter of minutes!
I spent 4 days in Noosa, shopping to my heart's content on Hastings Street, hitting the waves for some surfing, hiking my rear end off in its epic National Park, and being a lazy beach bum for a few days. Who could blame me!
It's safe to say I know a thing or two about what to do in and around Noosa. Being a backpacker, I was also on a mission to save money, so I have some great recommendations for the best free things to do in Noosa too.
Let's get started.
The Best Things to Do in Noosa
Go Hiking in Noosa National Park
Let's be real – this is probably what drew you to Noosa. If it didn't you're in for one hell of a good surprise! Noosa National Park is the most popular national park in the whole of Australia, racking up over one million visitors every year! 
There are 5 main hiking tracks in the park, which vary greatly in length. The majority of visitors are here to hike the Noosa Headland coastal track, though. It's the most popular route by far since it's so darn gorgeous! Taking in hidden beaches and non-stop coastline, this 5.4km track is a must-do if you're in Noosa, and is my top recommendation for totally free things to do here! 
Although there's plenty of visitors, I never felt like the hike was crowded – and I was there in peak season! It's really important you start the hike either super early in the morning or later in the afternoon, as the sun is merciless in Noosa in the afternoon! 
If you need more persuading, or just want to know more about hiking the coastal track, you can check out my blog post dedicated to just that here! What's more, koalas hang out in the trees above Tea Tree Bay on this hike, so if that isn't a reason to lace up your boots I don't know what is!
As much as I love the coastal track there's lots more hiking to do in Noosa National Park.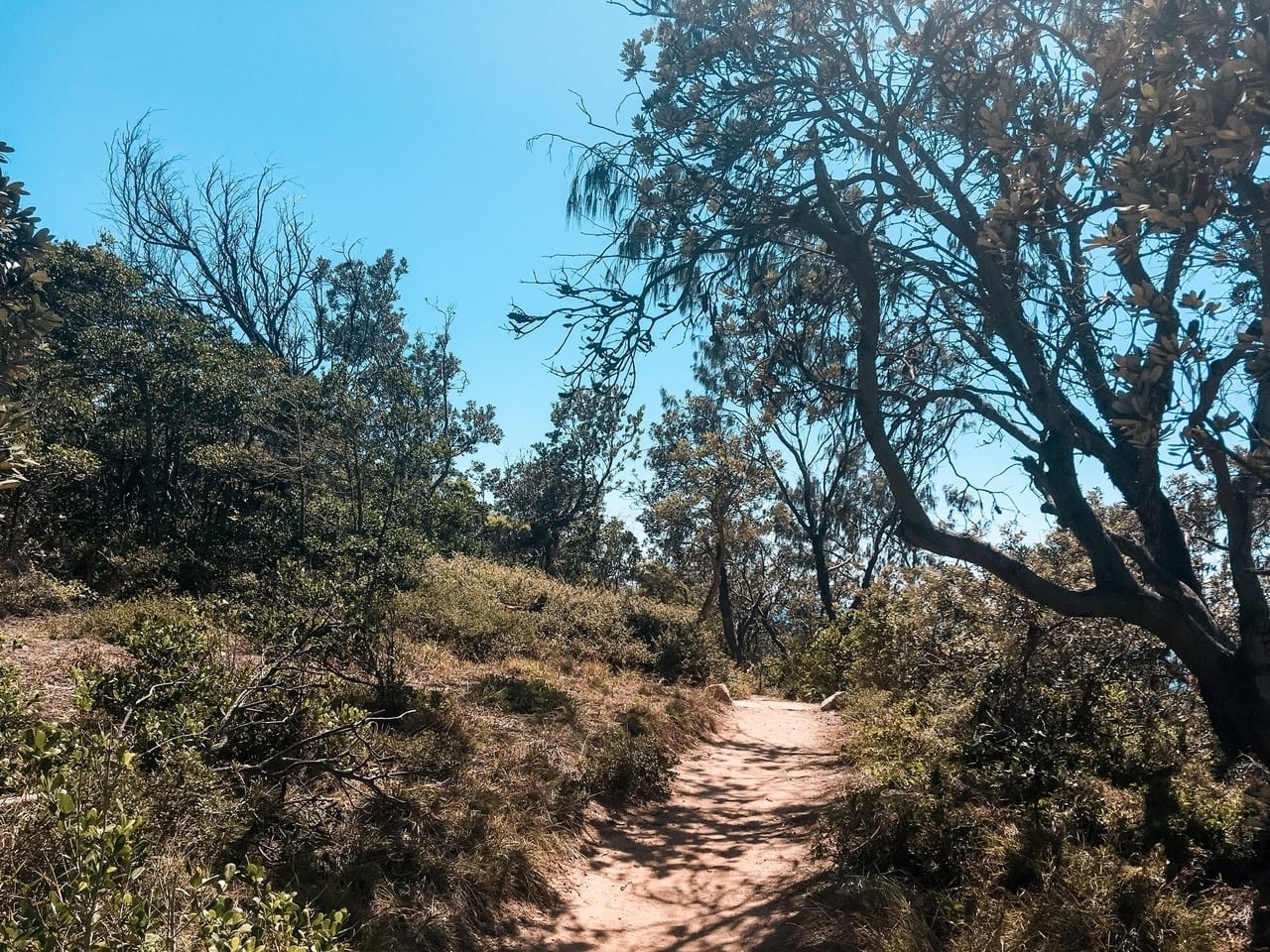 For a more isolated walk, you have to check out the 3.8km Tanglewood track. This walk meanders through the rainforest to Alexandria Bay, where it joins the coastal track. 
In the Emu Mountain section of Noosa National Park you'll find the Emu Mountain Summit walk, a very short but steep trek to the top of the mountain to see incredible panoramic views of the coastline.
There are so many different routes that you could easily spend 3 days just hiking in Noosa if you fancied it!
Read: Hiking Noosa's Gorgeous Coastal Track
Find the Noosa Fairy Pools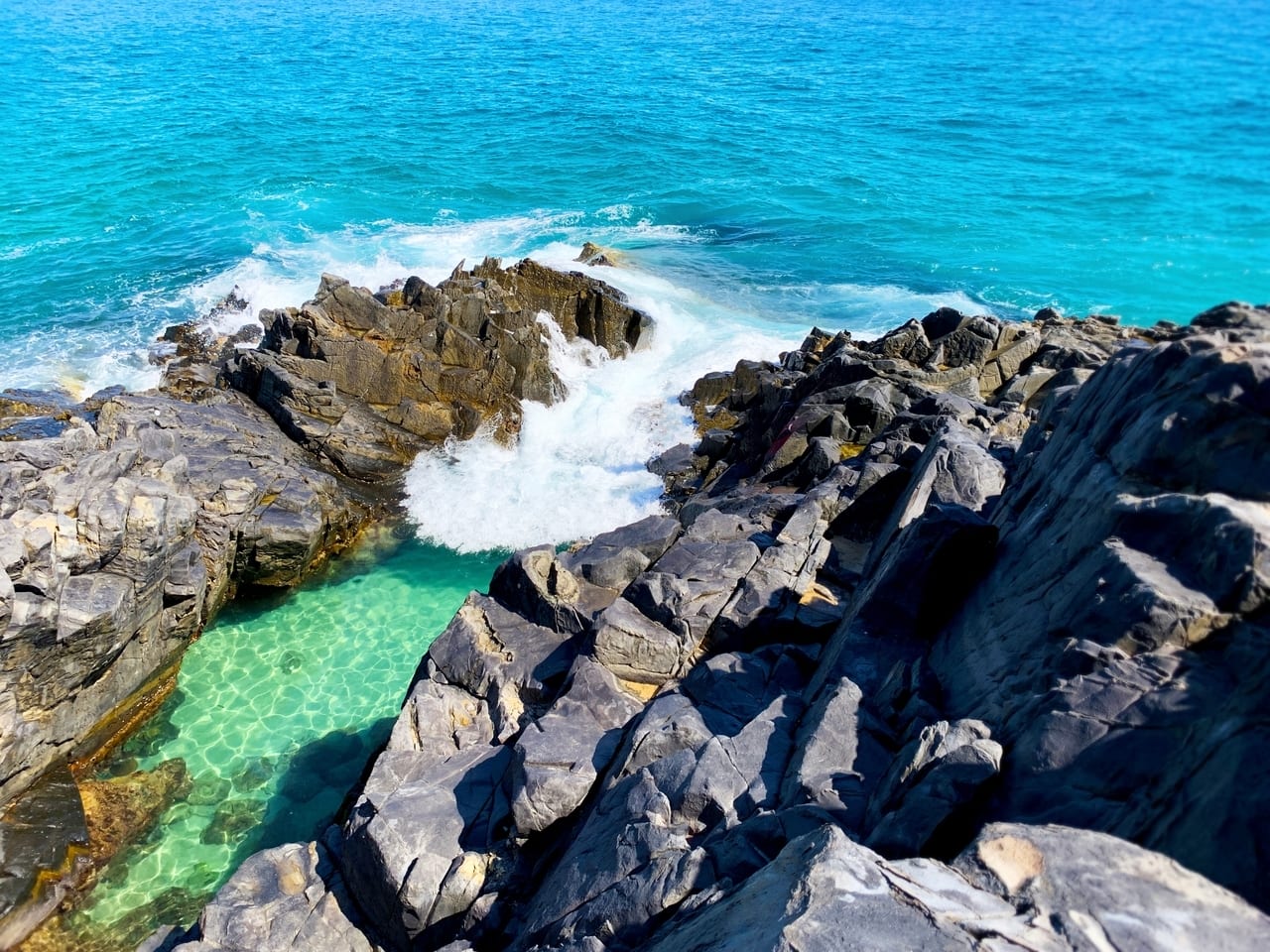 Although they're on the Noosa National Park coastal track, the Noosa Fairy Pools deserve an entry just on their own because they're one of Noosa's most famous tourist attractions!
It all started on Instagram when someone decided this shallow rockpool would be the perfect place to get a jealousy-inducing shot of them sprawled out in the water. 
It quickly became a sensation. Nowadays, Instagram girls from all over the world head to Noosa to get their shot at the Noosa Fairy Pools. I'm absolutely not an Instagrammer, but I visited to see what all the fuss is about.
But Ella, what are the fairy pools?!
I'm glad you asked, because the name certainly makes them sound exciting. Unfortunately, there are no actual fairies there. 
I know, bummer.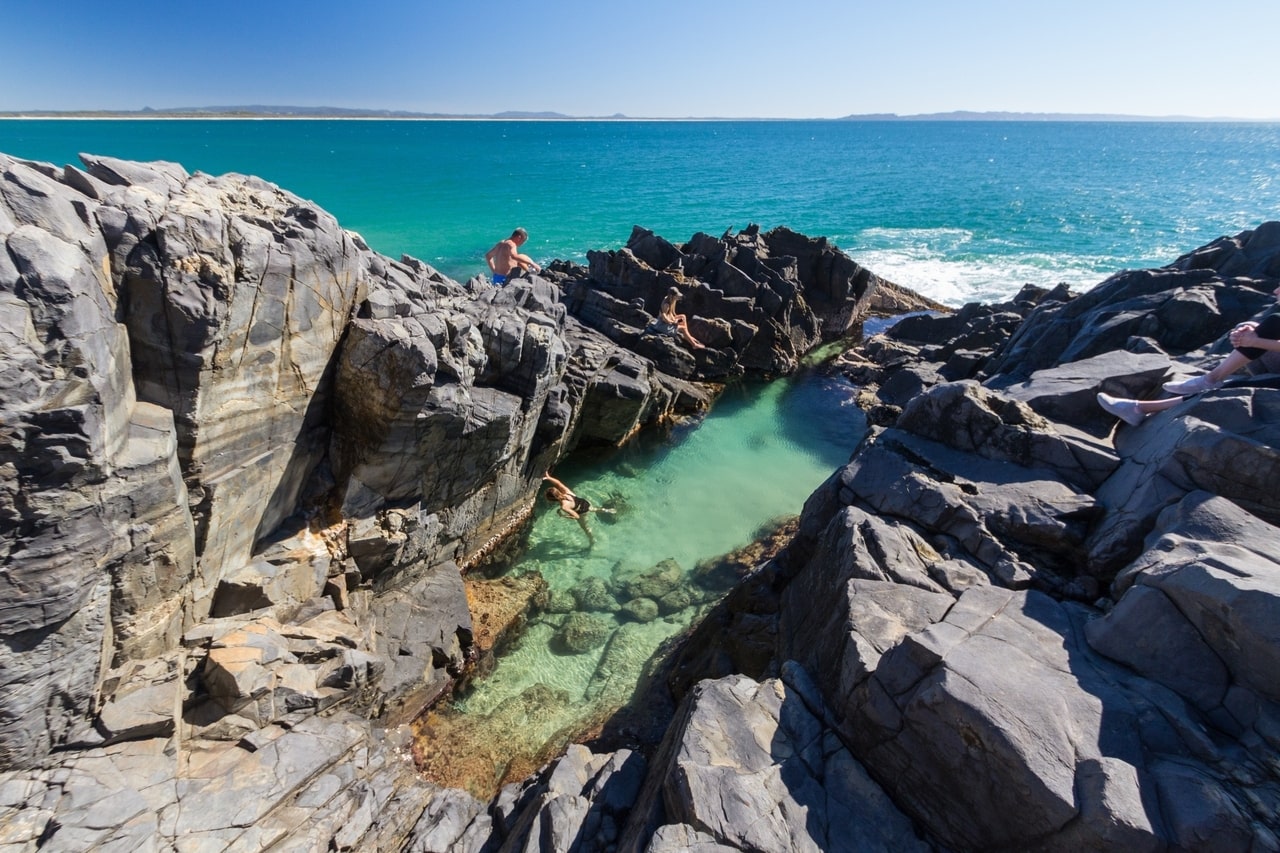 Instead, the Noosa fairy pools are natural rock pools just off the hiking path which fill with seawater. They make a fabulous stop on the hike to cool off at! If you don't fancy hiking, the fairy pools are towards the end of the coastal hike, so you can easily walk here in your flip flops from Hastings Street or Noosa Main Beach.
A word of warning – it could have just been the time of day I visited but the waves rolling into the pools were pretty ferocious when I was there. Be careful!
Go Shopping on Hastings Street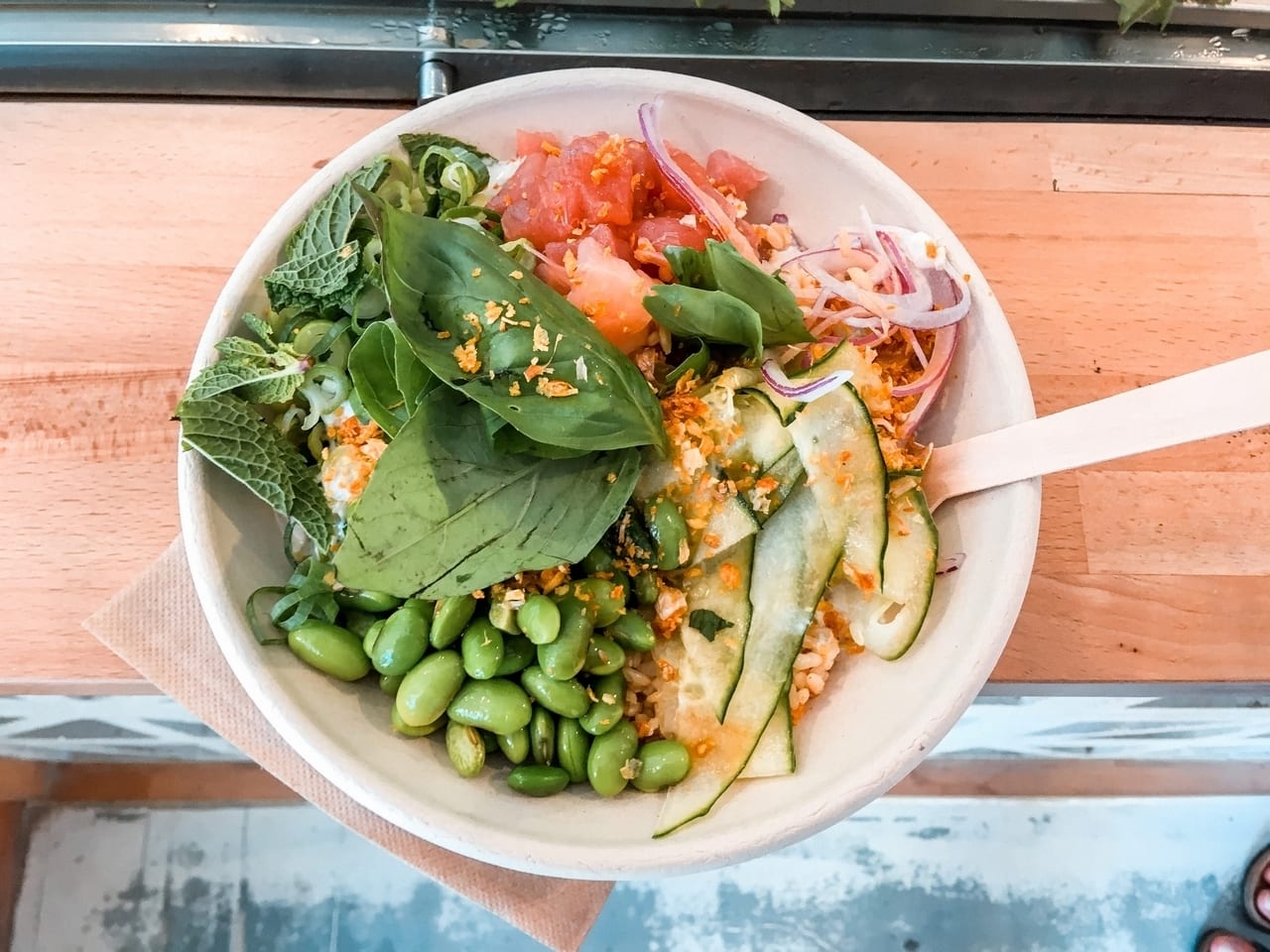 Hastings Street is the heart of Noosa, and you'll find it buzzing with excitement at any time of day. There are plenty of accommodation options nearby, so you can stay close to all the action.
My favourite thing to do on Hastings Street would be to start the day off right with a croissant and a coffee at Aromas. I snagged an outdoor table each morning to watch the world go by and plan my day. And their iced coffee is excellent!
From here, I recommend taking a leisurely stroll along Hastings Street, and around the centre of town more generally. There are so many charming gift shops, independent clothing boutiques and fitness stores. I bought my favourite sports leggings of all time at Hastings Street, so shopping here has a special place in my heart.
Since Noosa is all about outdoor and healthy living, you'll find plenty of poke and acai bowls on Hastings Street. There are also a tonne of fresh smoothies, so come with an empty stomach!
Take a Noosa Everglades Tour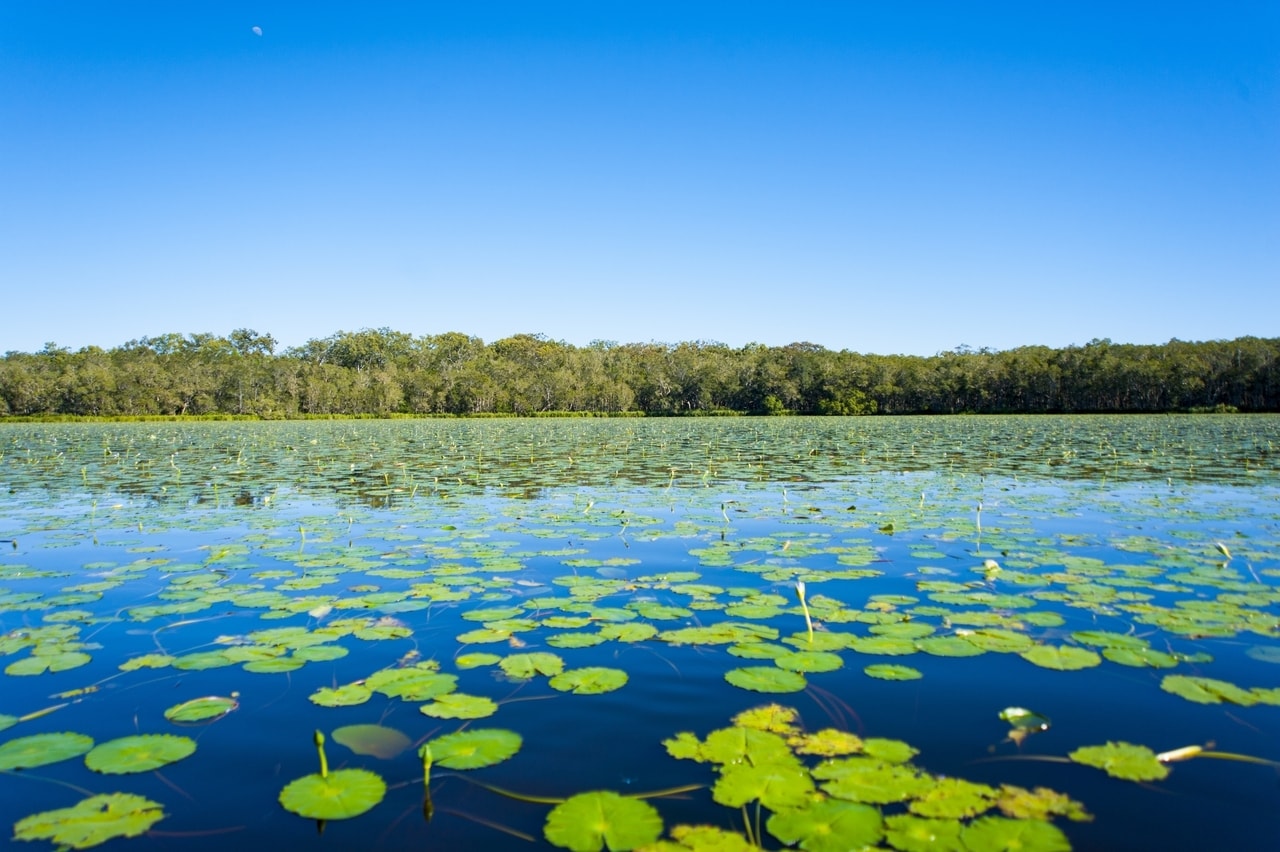 Noosa really is jam-packed full of natural beauty, and the Noosa Everglades are one of the top things to do around Noosa. 
Located about a 20-minute's drive away from central Noosa, the Everglades, also known as the "river of mirrors" is one of only two everglades systems on the entire planet! It's also, obviously, one of the most gorgeous areas in Queensland, and visiting the Everglades is a total "must do" for your trip to Noosa. This is coming from someone who couldn't decide whether to splash the cash and go or not then ultimately ran out of time and has regretted it ever since! 
Learn from my mistakes – get yourself there!
The easiest and most common way to visit the Noosa Everglades is by a guided boat tour. The benefit of this is that you'll get a knowledgeable guide to teach you everything there is to know about the area and take you to all the best spots.
Tours usually come in at around 80 AUD for a full day. They include a shuttle to and from central Noosa, a guided boat tour and snacks. Click here to book.
Browse the Noosa Farmers Market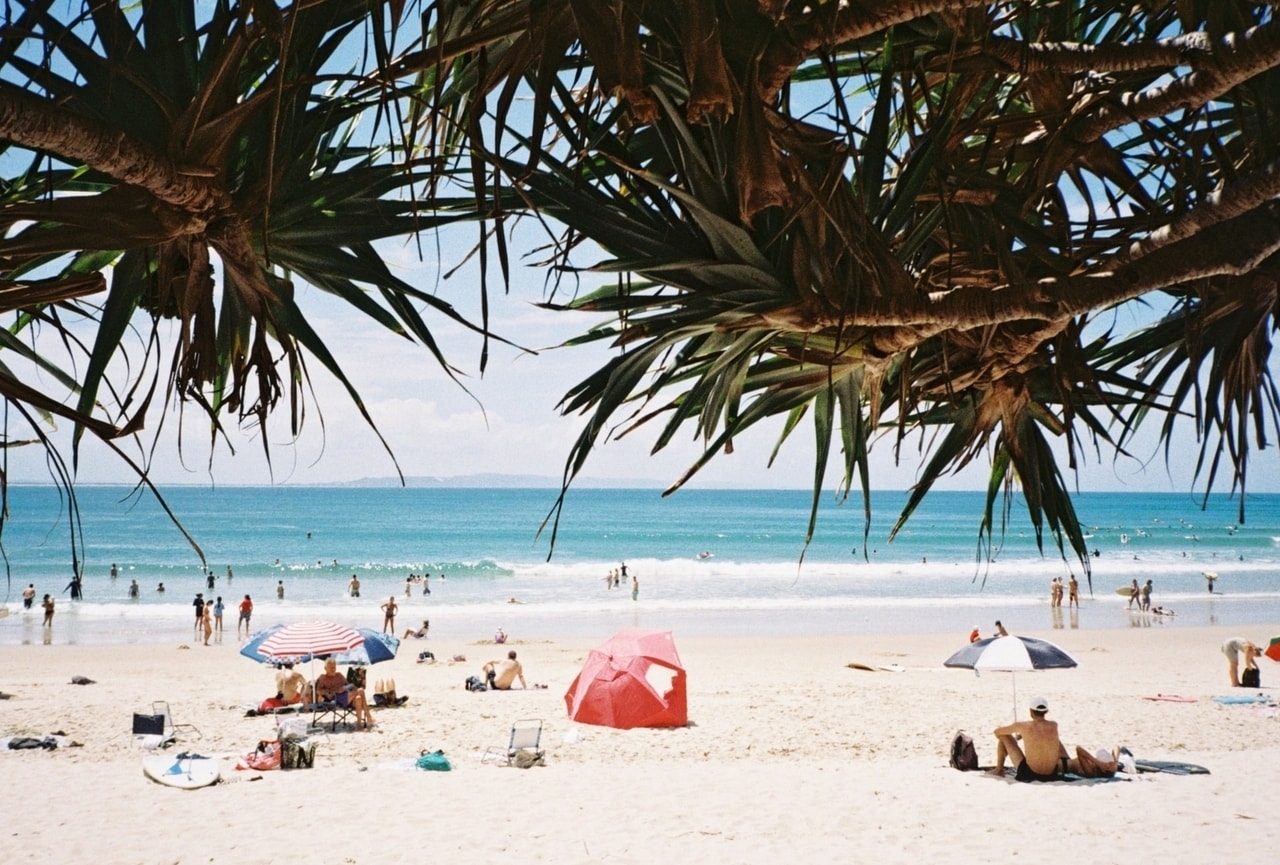 Make sure you're in Noosa on Sunday so you don't miss the beloved Noosa Farmers Market! To get here, take the 628 bus from Noosa Junction for 4 stops. You'll get off the bus at the 'Weyba Road near Swan Street' stop.
The farmers market is hugely popular with locals and tourists alike, and the range of fresh produce on offer is staggering! Not only that, but there's plenty of local arts and crafts if you're needing to buy last-minute souvenirs or want a special memento from your trip.
My favourite part about Noosa farmers market is being able to try a whole load of weird and wonderful things you'd never find at a farmers market here in the UK. Sugar cane juice, anyone? There are so many mouth-watering foods on offer here, so come with an empty belly and prepare to leave very full!
Some of the stalls are cash-only. Although there's an ATM at the market it charges $3 per withdrawal. It's much better to come with cash at the ready.
Chill at Sunshine Beach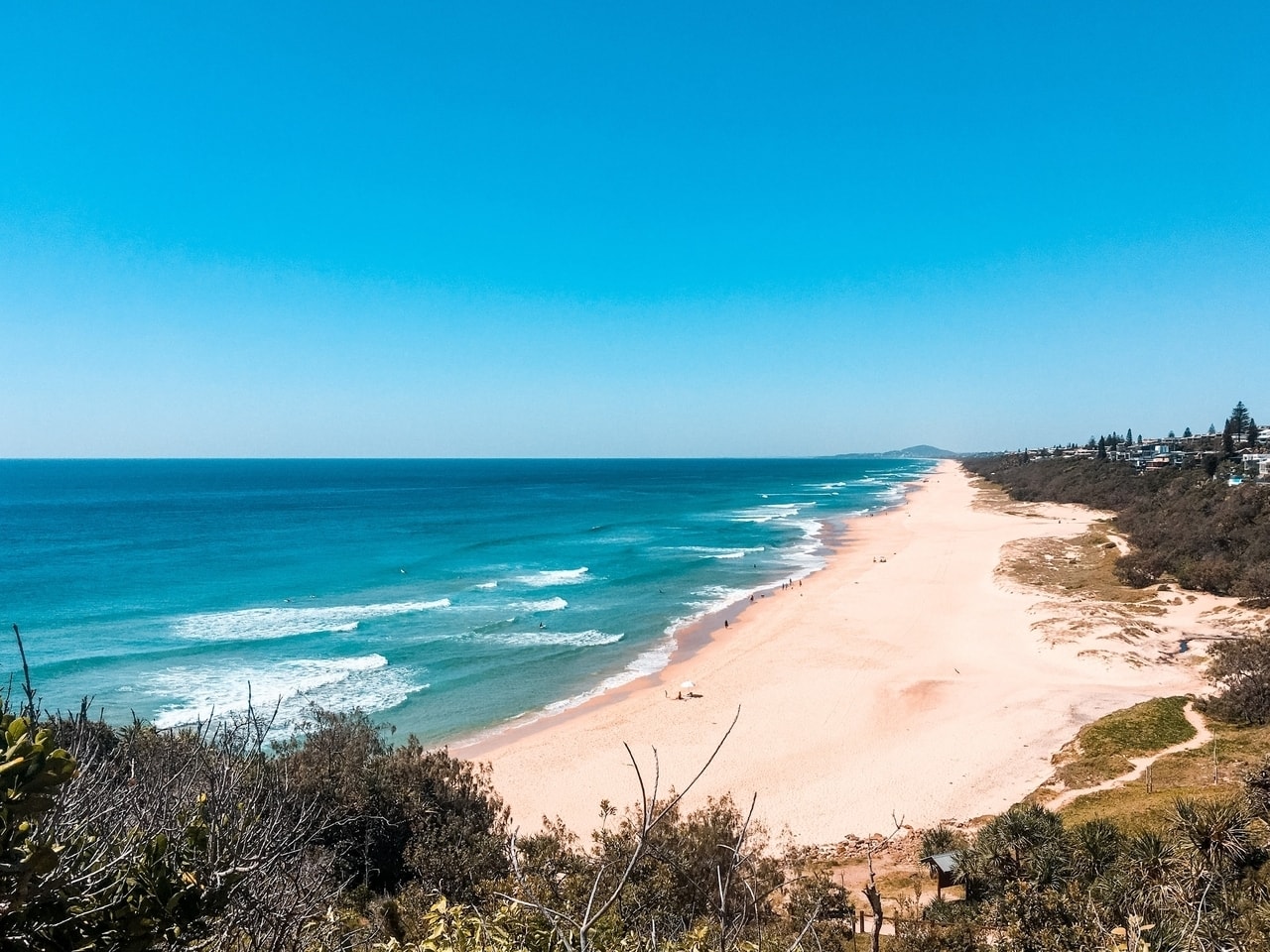 My favourite beach in Noosa by far was Sunshine Beach. This slice of heaven is exactly where you need to go to spend the afternoon lounging, cooling off in the sea, and taking some much needed "me time". The beach is patrolled by lifeguards, so you're safe to swim or surf to your heart's content. Sunshine beach was my favourite place to visit in Noosa. I think I went there every day!
I spent so much time here reading, swimming, sleeping off my jet lag. Just be suuuuuper careful with the sun and make sure you are ON. IT. when it comes to sun cream when you're at Sunshine Beach. There is pretty much no shade on Sunshine Beach and the sun is vicious in summer. I recommend packing a cover-up, a sun hat, high SPF sun cream and a whole lot of water.
The reason I love Sunshine Beach so much is that it's away from central Noosa. This means it's generally quiet, and there's a tonne of space to spread out.
Near the beach you'll find a few hip cafes and bars, and the restaurant Sum Yung Guys (my favourite of all the restaurants in Noosa)! This place is super hyped by locals and both the quality and the quantity of food is second to none.
To get to Sunshine Beach from Hastings Street, you have a few options. You can either complete the coastal track hike (it starts near Hastings Street and ends at Sunshine Beach) or catch the 620 or 627 bus from Noosa Heads Station. The journey takes around 8 minutes.
I have a full post dedicated to the amazing beaches in Noosa you can check out for more beach inspo!
Hang out at Noosa Main Beach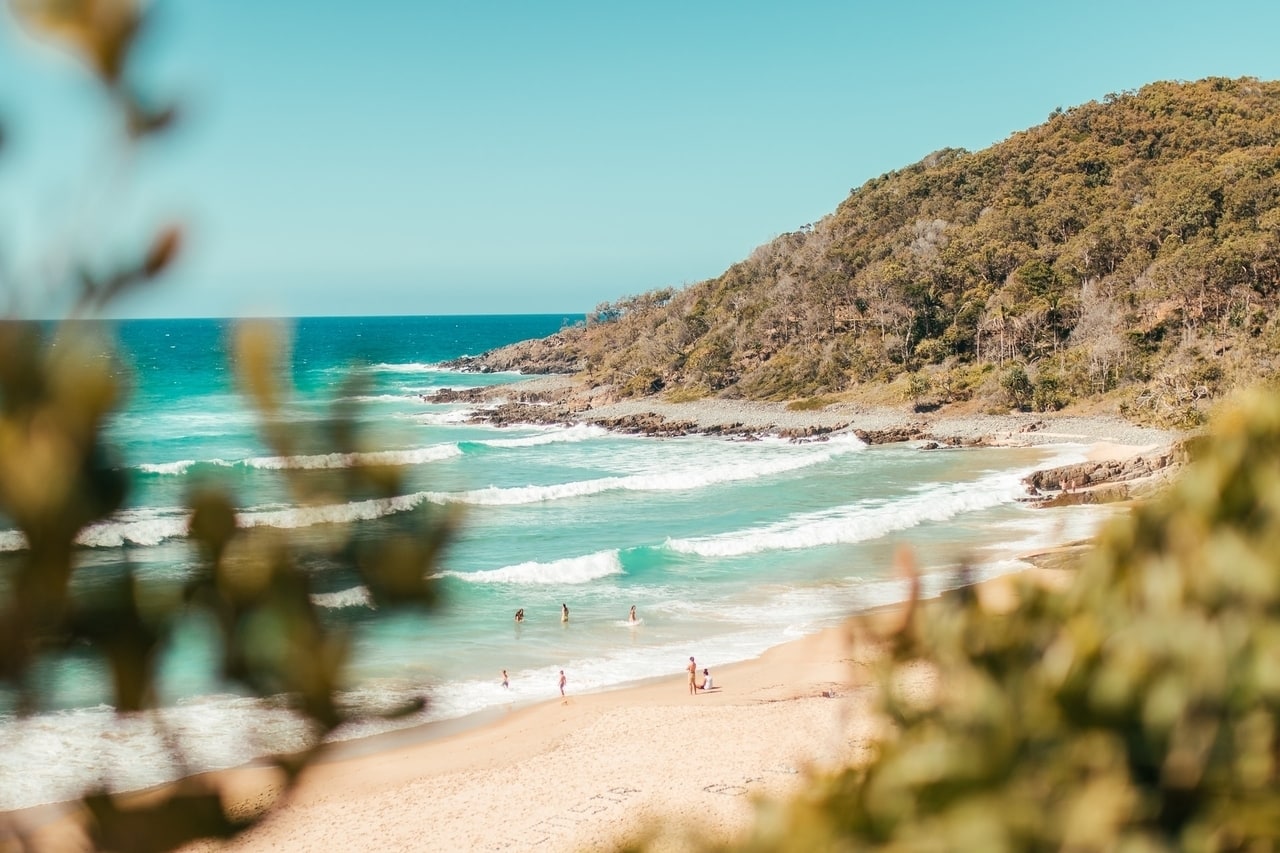 Another free thing to do in Noosa (Noosa is full of 'em!) is hanging out at Noosa Main Beach. Located just off Hastings Street and right by the town centre, it's incredibly easy to break up a shopping trip with a stop at Noosa Main Beach. Or, you could do what I did and get a delicious take-out poke from Raw + Rice and have a picnic on the beach. 
This beach gets suuuuper busy so you may have to walk a while to snag a good spot. Lifeguards patrol the beach, and there are plenty of nearby shops and stalls where you can hire sun loungers, surfboards and paddleboards. Its location is really convenient as you'll find all the amenities you'll need nearby.
Although it wasn't my favourite beach in Australia, Noosa Main Beach is super popular (especially with families). It's a great place to hang out and read a book. Who can resist spending a summer afternoon lounging on the beach?
Try Surfing or Stand up Paddleboarding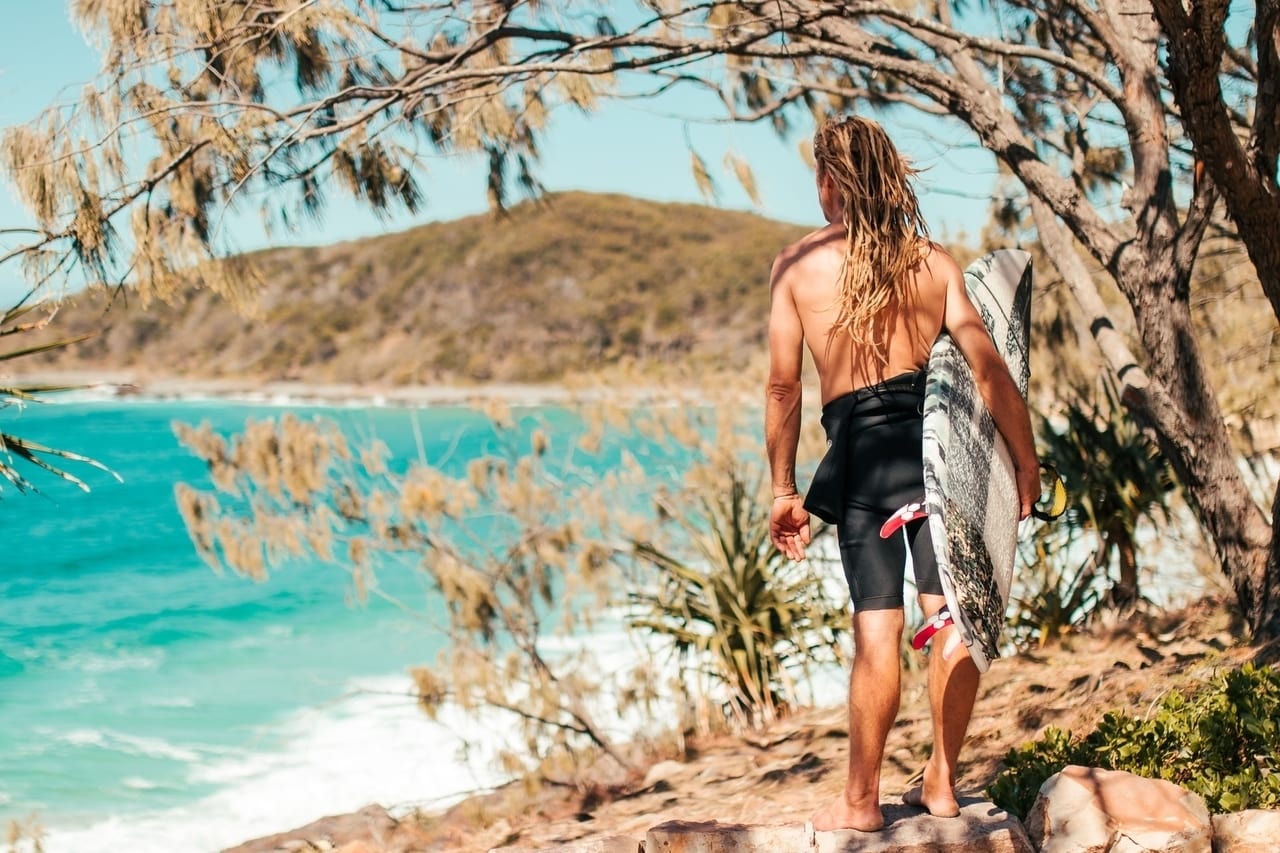 Noosa is a surfer's paradise, so if you've never tried surfing out before now is the time!
There are loads of packages you can book which include surf lessons and equipment hire, so if you have no idea what you're doing I recommend (for your own safety!) to take a lesson or two. You're looking at around AUD 75 for all equipment hire and a 2-hour lesson. That's pretty cheap in comparison to lessons back here in the UK! You can find out more information about surf classes in Noosa here.
If you've surfed before and feel confident, there's a place you can rent equipment from next to the surf club on Noosa Main Beach. If you're looking to surf at Sunshine Beach, you might struggle unless you have your own equipment. I didn't see any hire places nearby as the beach is a lot more isolated than Noosa Main Beach. If you're staying at this hostel, like I did, they'll let you use their boards for free. Score!
Of course, good surf conditions are never guaranteed. The surf was irritatingly calm when I was there! If this is the case, you can still get out on the water on a paddleboard.
Laze by the Noosa River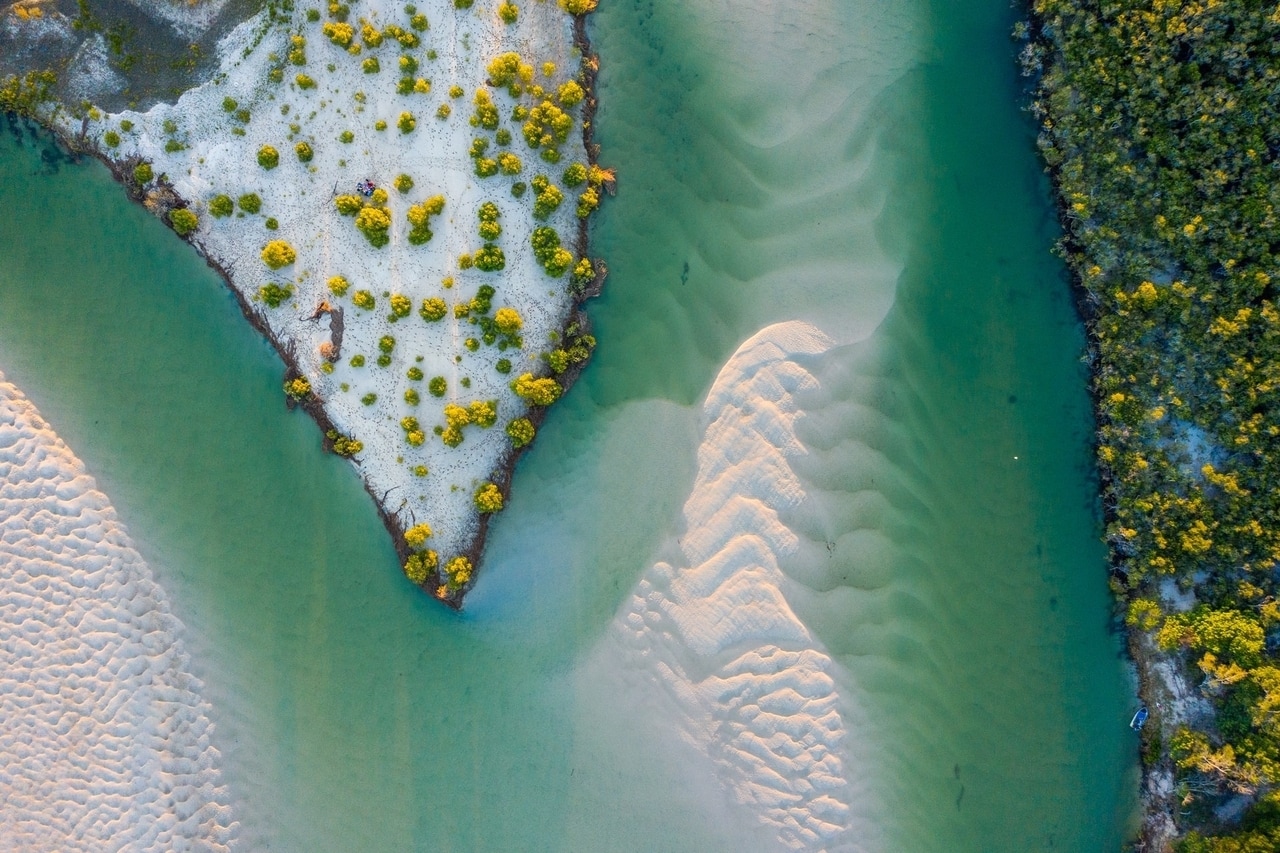 The Noosa river is more of a local's hangout spot, which means it's less crowded than Noosa Main Beach but still just as fabulous. Visiting the Noosa river is another totally free thing to do in Noosa, and one of the best day trips!
To get here from Hastings Street, the quickest option is to catch the 631 or 620 bus for 6 minutes. Alternatively, it's about a 50-minute walk from town. Remember to pack a towel as there are lots of places to sunbathe by the water. It's also a great idea to bring a picnic lunch, as there are communal picnic tables and BBQs you can use by the river.
This is no swampy river – the Noosa River is safe to swim in, and with crystal clear waters, is pretty irresistible! Around the river you'll also find plenty of activities you can do such as hiking and cycling, so there is something here to suit pretty much everybody! To add a bit more activity to your day, consider renting a stand-up paddleboard or a kayak.
Walk up to the Laguna lookout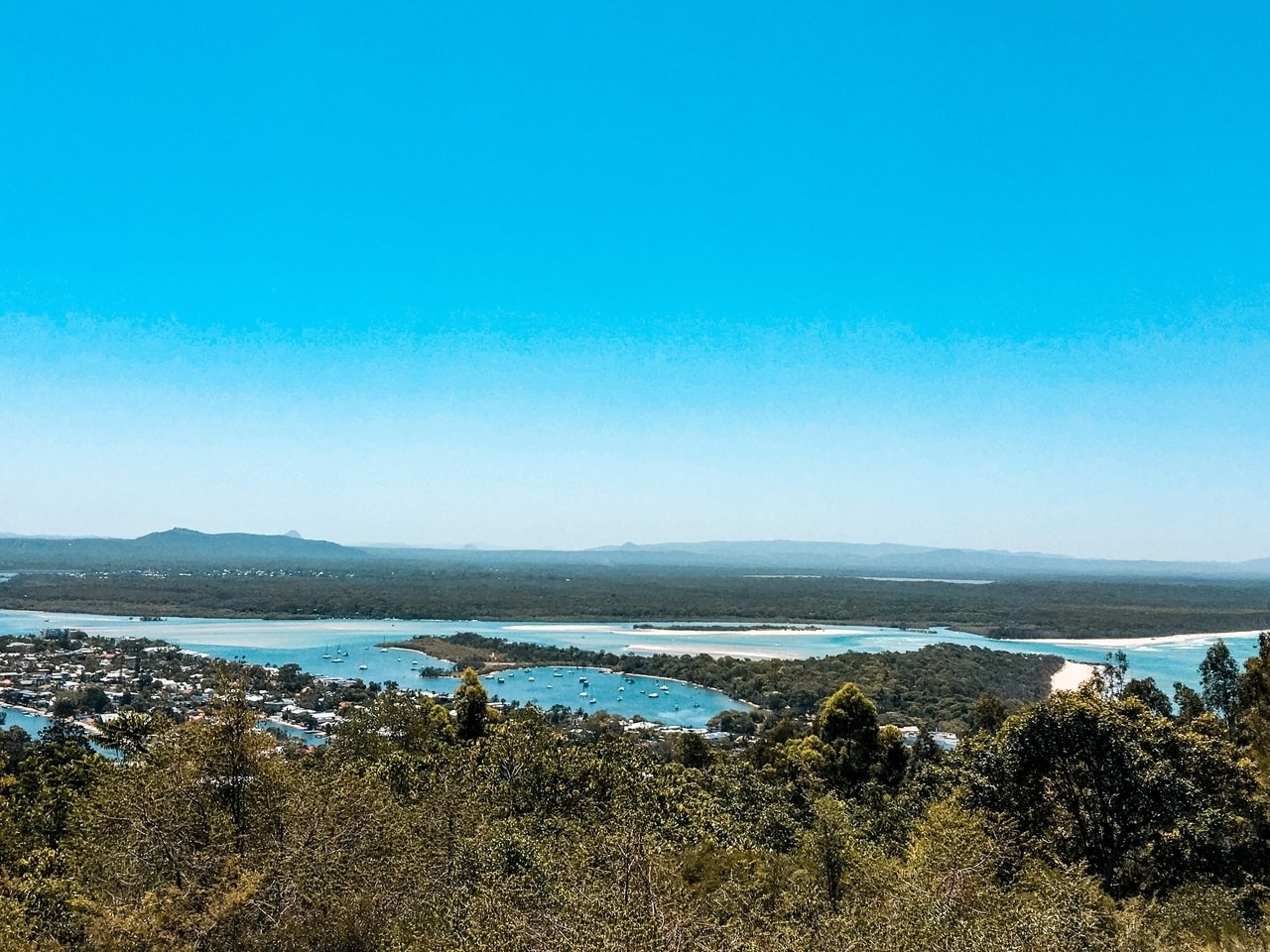 Tucked away just off Hastings Street and Noosa Main Beach is a steep hiking trail to the Laguna Lookout. If you have a car you can drive up here, and there's parking right by the lookout. If you're on foot get ready for a steep climb!
It's absolutely worth making the journey though, as the views from the Laguna Lookout are beautiful. Those swirly sandbanks make the water look out-of-this-world, and the panoramic views will really remind you how dreamy Noosa is.
Lots of people head up to the Laguna Lookout for sunset, but if you climb up during the afternoon you may well have it all to yourself! Visiting the Laguna Lookout absolutely deserves the title of one of the best free things to do in Noosa!
Where to Stay in Noosa
Budget Hotel
This top-rated motel offers the best private budget accommodation in Noosa, and is just a stone's throw away from the beach! Here, you can expect surprisingly modern hotel rooms for rock-bottom prices, making a stay in central Noosa affordable for everybody!
Click here to check availability & latest prices!
Mid-Range Hotel
This affordable-luxury hotel is located in Hastings Street, the very centre of Noosa and offers spacious, modern apartments fully-equipped kitchens, private balconies and stunning views. It also has two swimming pools, a spa, and hotel gardens! The hotel's 4-star rating speaks for itself!
Click here to check availability & latest prices!
Hostels in Noosa
Since I'm a hardcore budget traveller, and I was travelling by myself in Australia, I actually stayed at this hostel. It was a wonderful place to stay in Noosa, just a short walk away from Sunshine Beach, and they held a tonne of fun events like pizza night to keep everybody entertained!
Click here to check availability and latest prices!
How Many Days to Spend in Noosa?
Three days is the perfect amount of time to spend in Noosa. With three days you can spend plenty of time relaxing on Noosa's many scenic beaches, head out on a few hikes in Noosa National Park, and try your hand at surfing.
If you have less time, two full days in Noosa is also enough time to spend in Noosa to get a flavour for the town. One day is definitely not enough!
Is Noosa Worth Visiting?
Yup – Noosa is a gorgeous coastal town, and undoubtedly one of the most beautiful places to visit on the Sunshine Coast. All of this is to say that Noosa is absolutely worth visiting. I can't really imagine a type of traveller that wouldn't enjoy Noosa, since there's something for every type of traveller here!
---
Hopefully after reading this you'll be frantically planning your next trip to Noosa. And who could blame you? Noosa is such a dreamy beach town, and with so many free things to do here it's easy to visit on a budget! I had an amazing time here, and I'm sure you will too.
What's your favourite thing to do in Noosa?