There is a good chance that this post contains affiliate links. If you make a purchase through them, I may receive a small commission at no extra cost to you! As an Amazon Associate, I earn from qualifying purchases. As ever, all opinions are my own.
When it comes to the best places to visit in Queensland, you have so many amazing places to choose from! So many, in fact, that this list was originally supposed to contain just 15 places, but I got carried away and ended up adding 26 to this list.
Oops!
I may be slightly biased, since Queensland is my favourite state in Australia, but still!
From the countless world-famous national parks to the glittering Central Business District of Brisbane, the isolated sand islands and the deserted beaches of Tropical North Queensland, this list covers a variety of places in Queensland. You'll find a tonne of places to add to your bucket list, and lots of fun things to do, no matter what you're into!
So, without further delay, here are the very best places to visit in Queensland!
Best Places to Visit in Queensland, Australia
The Great Barrier Reef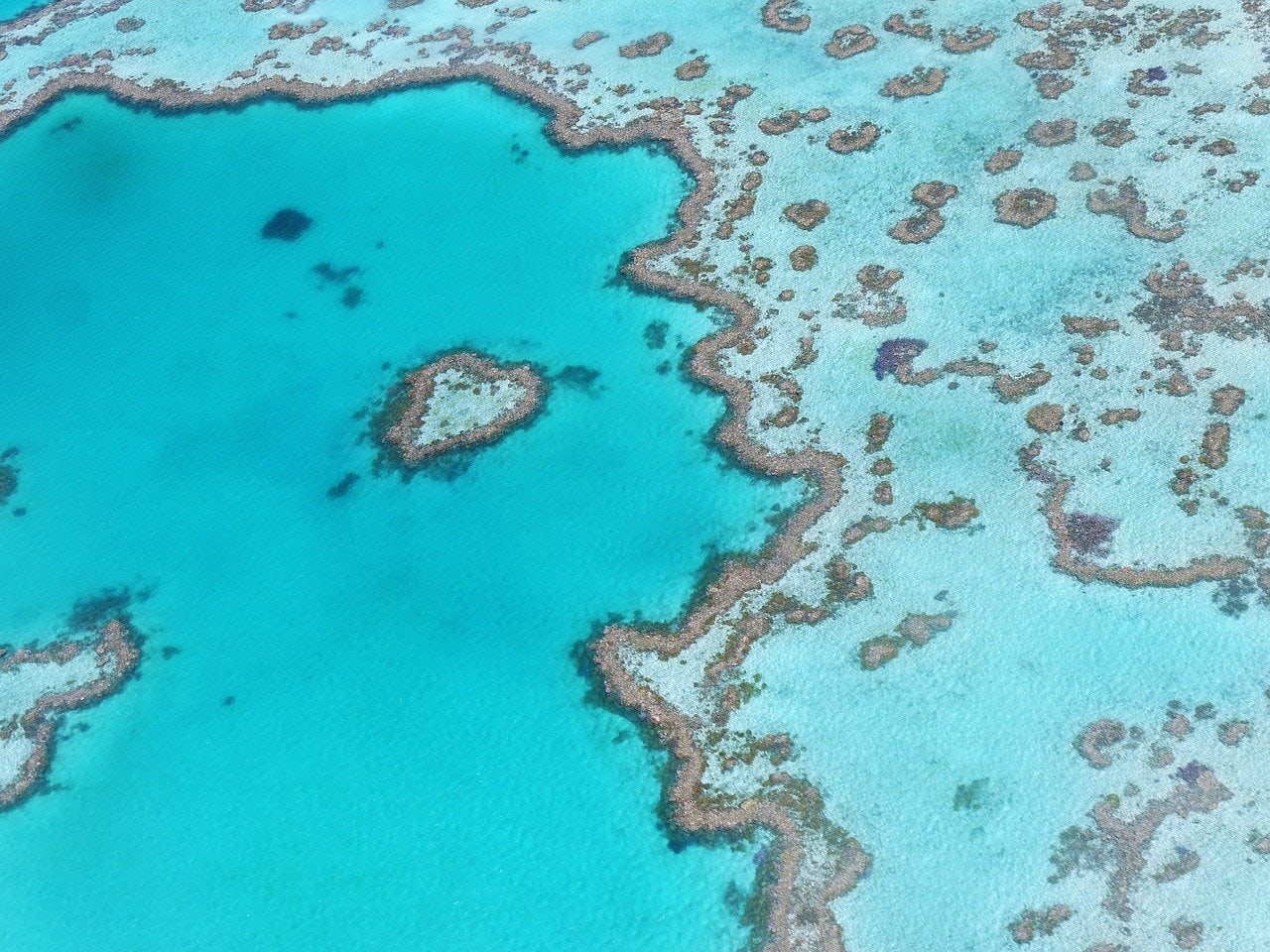 As one of the seven natural wonders of the world, the Great Barrier Reef is an obvious but essential stop for anyone visiting Queensland! 
It's the world's largest expanse of reef habitat, so there is no shortage of amazing and colourful wildlife to see here. More than 1,600 species of tropical fish inhabit the reef, as well as sharks, dugongs, dolphins, turtles, giant clams, and kaleidoscopic soft and hard corals. Remember to keep your eyes peeled and your under-water camera ready! 
To get to the Great Barrier Reef you can take a day trip out via private or shared boat. On a tour, your guide will give you all of the must-know information about Australia's beloved reef system. Then, you'll get to dive in to experience it for yourself!  
If you don't fancy getting wet, there are underwater viewing stations and glass-bottom boats that offer a window into the beauty of this natural environment. 
There are plenty of different Great Barrier Reef tours available, depending on your travel style and your budget. Check them out here! 
Glass House Mountains National Park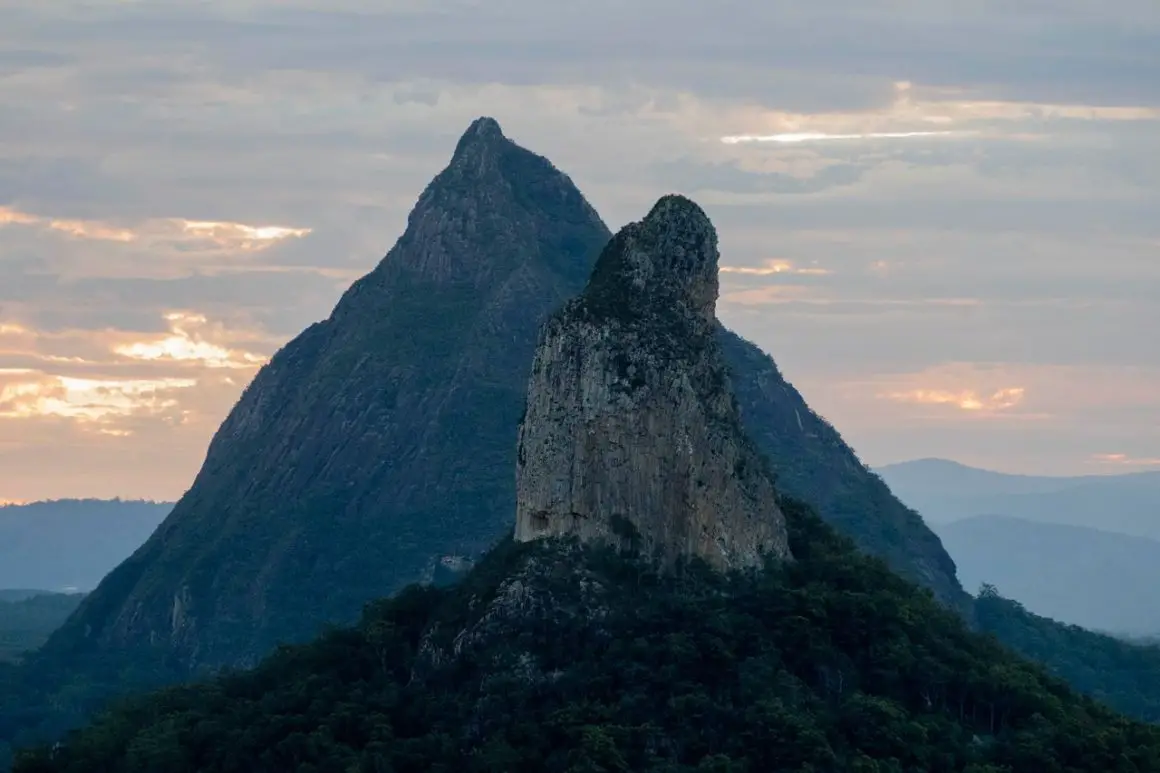 To learn more about aboriginal history and culture, you can't get better than visiting the Glass House Mountains National Park. 
This stunning area was a special meeting place for First Nations People, who gathered here for trading and ceremonies. Much of the land of the Glass House Mountains is considered sacred, and nowadays many of the ceremonial sites are protected.
For panoramic views over the mountains, head out on one of the many marked hiking trails. If you fancy more of a challenge, you can hike to the top of Mount Ngungun. The peak of this mountain offers knockout views over the other mountains of the national park and its varied landscape. You're also able to hike around the base of Mount Tibrogargan.
Since this area is so spiritually significant to the local aboriginal people, it's essential to be considerate. Remember to stick to the official hiking trails and lookout points. 
Hervey Bay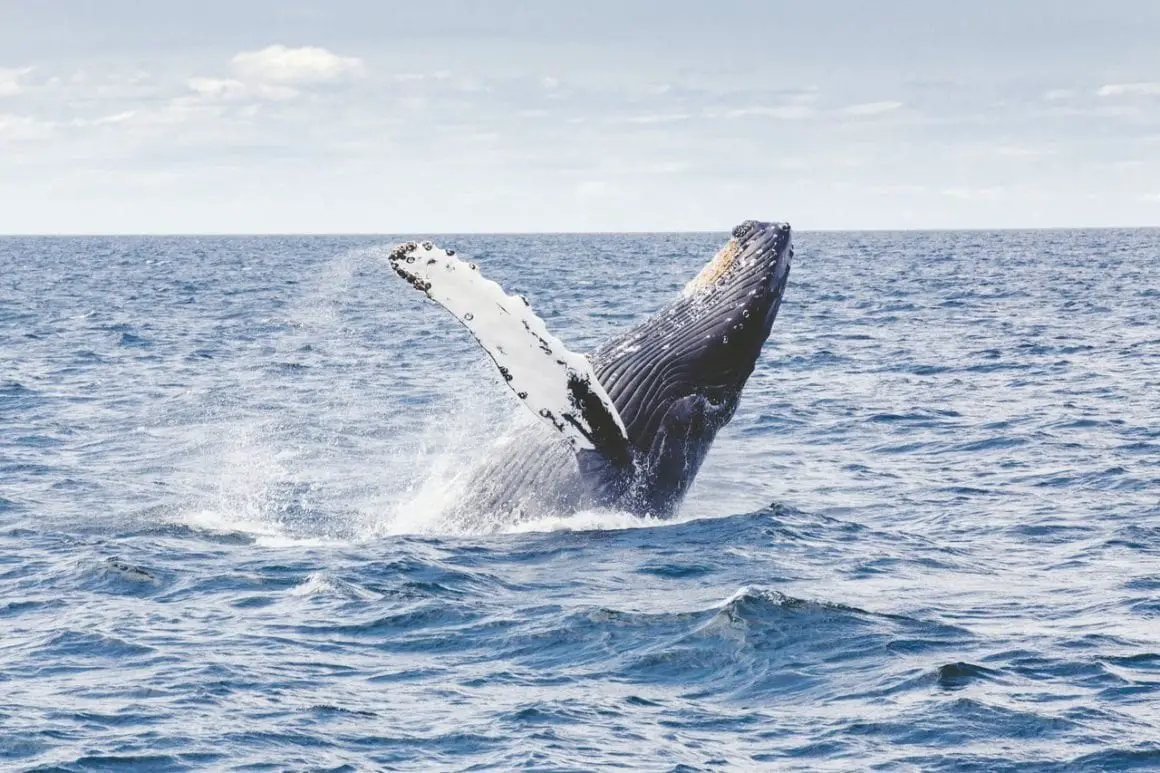 Haled as the "whale watching capital of Australia", Hervey Bay is the perfect location to get up close and personal with some of the biggest animal species on earth. 
The shallow waters of Hervey Bay offer humpback whales the perfect resting area along their typical migration routes. That's what makes this area one of the world's most ideal whale watching locations. Here, you can see the whales rest from their travels and socialise with each other (hello photo-op!). 
Some Hervey Bay boat tours offer the chance to swim with these magnificent creatures, while others present the option of admiring them from your boat with your tour guide. 
The ideal whale watching season in Hervey bay is between July and early November. If you're desperate to see the whales, booking a trip during that time period is your best bet.
If your trip doesn't line up with these dates, however, there is no need to fear. Hervey Bay is home to many kinds of wildlife all year round! Many companies offer whale watching experiences at different price points, so it's worth looking through the different options here to choose which is right for you!
Australia Zoo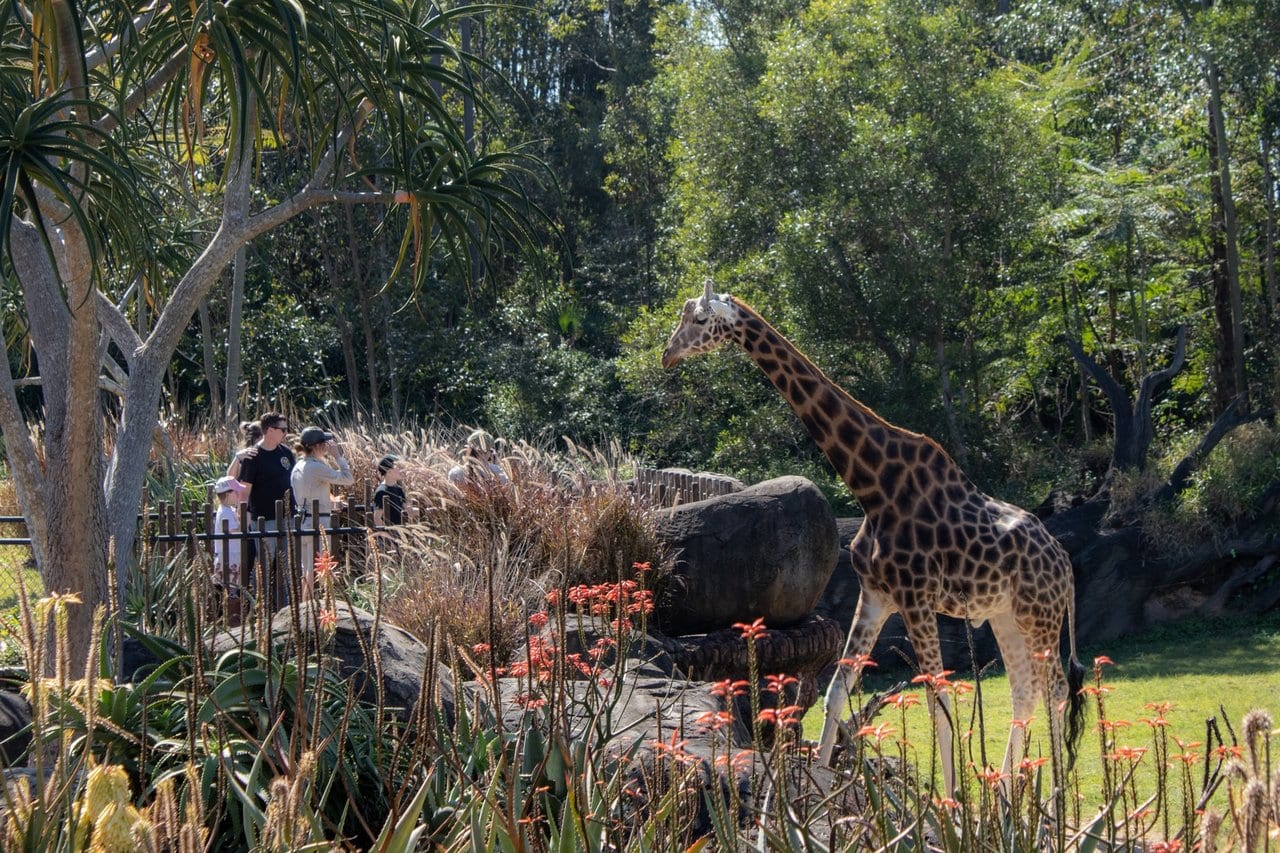 Explore the zoo made famous by the late conservationist Steve Irwin and his family! 
The Australia Zoo is world-renowned for its devotion to education and the pursuit of the rights and correct treatment of animals, and that is put on display so well in every part of this zoo. 
This site, which is an easy day trip from Brisbane, is the perfect day out for families or groups. The zoo allows you to meet countless species of animals, and you'll also get to see some presentations given by zoo staff (and occasionally a member of the Irwin family). 
As if that wasn't enough, there are also "encounters" where you can personally get to know animals such as Bengal tigers or komodo dragons! 
Since the Australia Zoo is an all-day activity, it has plenty of dining options and picnic areas. If you're on a tight budget, make sure to bring a packed lunch! Ticket prices start at $59 per adult, and you can purchase them on the zoo's website. 
Tamborine Mountain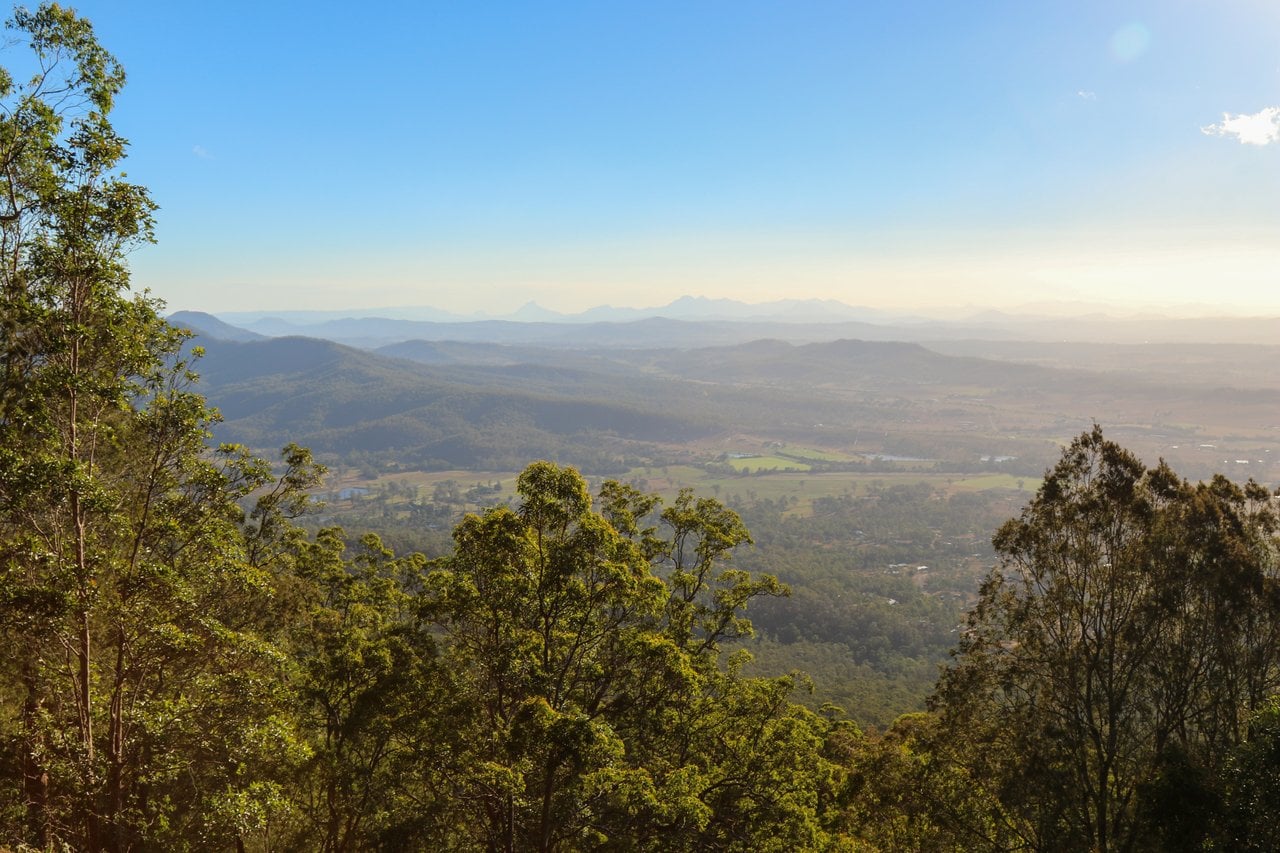 Located in the southeast region of Queensland, Tamborine Mountain is, without a doubt, one of the best places to visit in Queensland. 
Aesthetically, the area is beautiful and offers many natural waterfalls and species to encounter. You can even choose to take a nighttime glowworm tour if you dare. Tamborine Mountain also maintains a thriving tourist industry, so you won't have to look far to find good restaurants, cafes, and shopping locations. 
Tamborine Mountain ideally requires a couple of days at least, as there is so much to see and do in the area! If you're an avid hiker, you'll be in heaven. There are countless hiking trails at Tamborine Mountain with varying levels of difficulty. So, whether you're looking for a gentle stroll or a vigorous hike, you'll find it here!
Queensland Museum
This wonderful Brisbane museum has a little bit of everything, which is what makes it perfect for travellers looking to gain some knowledge of the history of Queensland. For this reason, you'll find that the Queensland Museum is one of the best places to visit in Brisbane.
The Queensland Museum is very popular with families, and, given its dinosaur exhibits, Anzac legacy gallery, and lego sculpture showcase, it's no surprise! 
There are both permanent and rotating exhibits at the museum. Plus, unlike what you'd picture when you think of a museum, the information at the Queensland Museum is fun and interactive.
The best part is, the majority of the events and exhibits offered are free! 
Cairns Esplanade Lagoon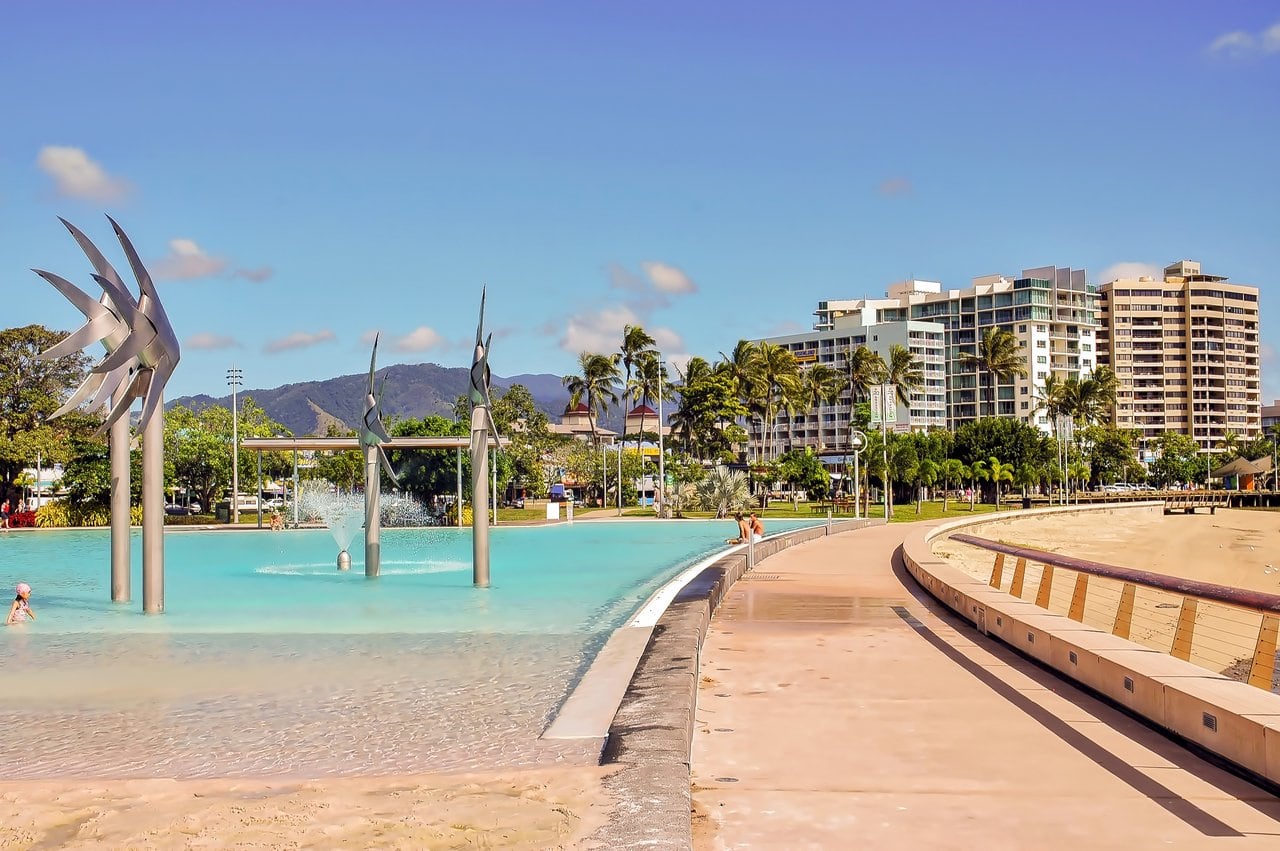 This attraction in the North Queensland city of Cairns is great for a break from the often warm and humid Australian weather. 
The Lagoon is a 4800 square metre saltwater swimming pool that offers both locals and tourists a year-round safe swimming location. The Esplanade Lagoon is great for visitors of any age, as it contains shallower areas and sand pits for children as well as relaxation areas for adults. 
You're also sure to run into many locals at this famous and beloved spot! The Lagoon is open year-round, so no need to worry that your trip dates will clash with operation times. 
Other amenities at the Lagoon include restrooms, shower areas, restaurants, and public BBQ areas, so it's easy to pretend you're at the beach. What's more, entry is free!
Diamantina National Park
Located in west-central Queensland, about 14 hours away from Australia's coast, lies a natural wonder, not for the faint of heart. This beautiful national park hosts hiking trails, camping areas, and scenic views that make for a great few days spent within its borders, exploring all that it has to offer. It's one of the best places to visit in inland Queensland!
Since you'll need such a long drive to get to the area, I recommend allotting 2 or 3 days total for this adventure and bringing ample food and water as there are no facilities in the park. Since the drive there is so long, it's the perfect opportunity to embark on a road trip!
Diamantina National Park is also home to several endangered species, making it all the more special if you want to feel a sense of natural discovery. Obviously, due to its beautiful natural landscape, camping here is a must. 
The best time to visit is between April and September, as the summer months can bring both intense heat and dangerous flooding, although the park is open all year round. It's one of the most unique places to visit in Queensland since it gets so few visitors. For this reason, it's also one of Queensland's more secret spots!
You can visit the park's official website to learn all about this beautiful park and to plan your trip!
Lone Pine Koala Sanctuary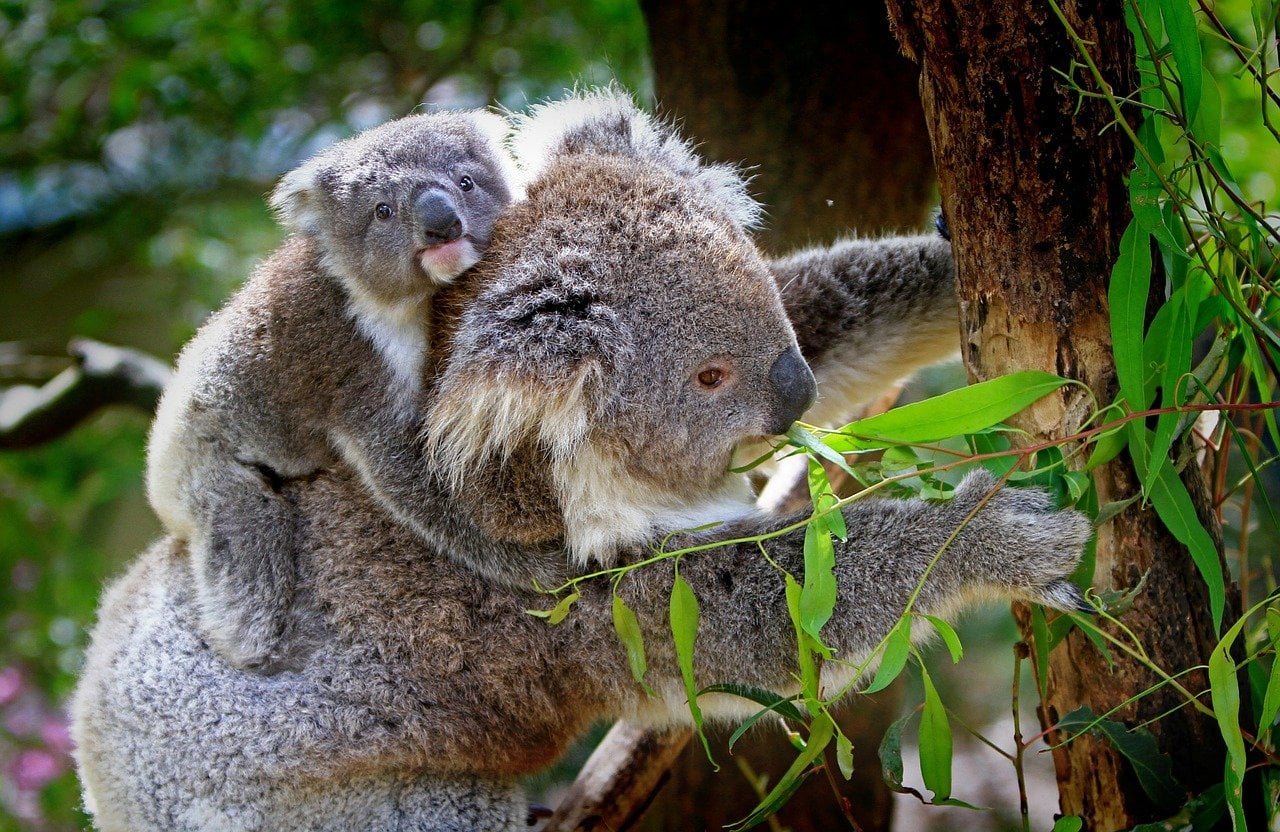 Founded in 1927, the Lone Pine Koala Sanctuary is the world's first and largest koala sanctuary, meaning you're sure to experience the best in animal conservation work at this location. 
Beyond the cute and cuddly creature that is one of the most famous symbols of Australia, you'll also get to visit up to 70 other species of animals and plants that are native to Australia. We're talking kangaroos, platypus, and local cattle dogs. 
The sanctuary also offers animal encounter experiences that allow you to hold a koala or feed a kangaroo. However, I urge you to think carefully before you decide to hold a koala. It's illegal in some states due to the stress it can put on the koala, but there doesn't really seem to be a definitive "yes or no" answer as to whether it's okay. 
I highly recommend checking out this blog post which gives lots of information about the ethics of holding a koala in Queensland.
Day passes to the sanctuary start at $49 per adult.
North Stradbroke Island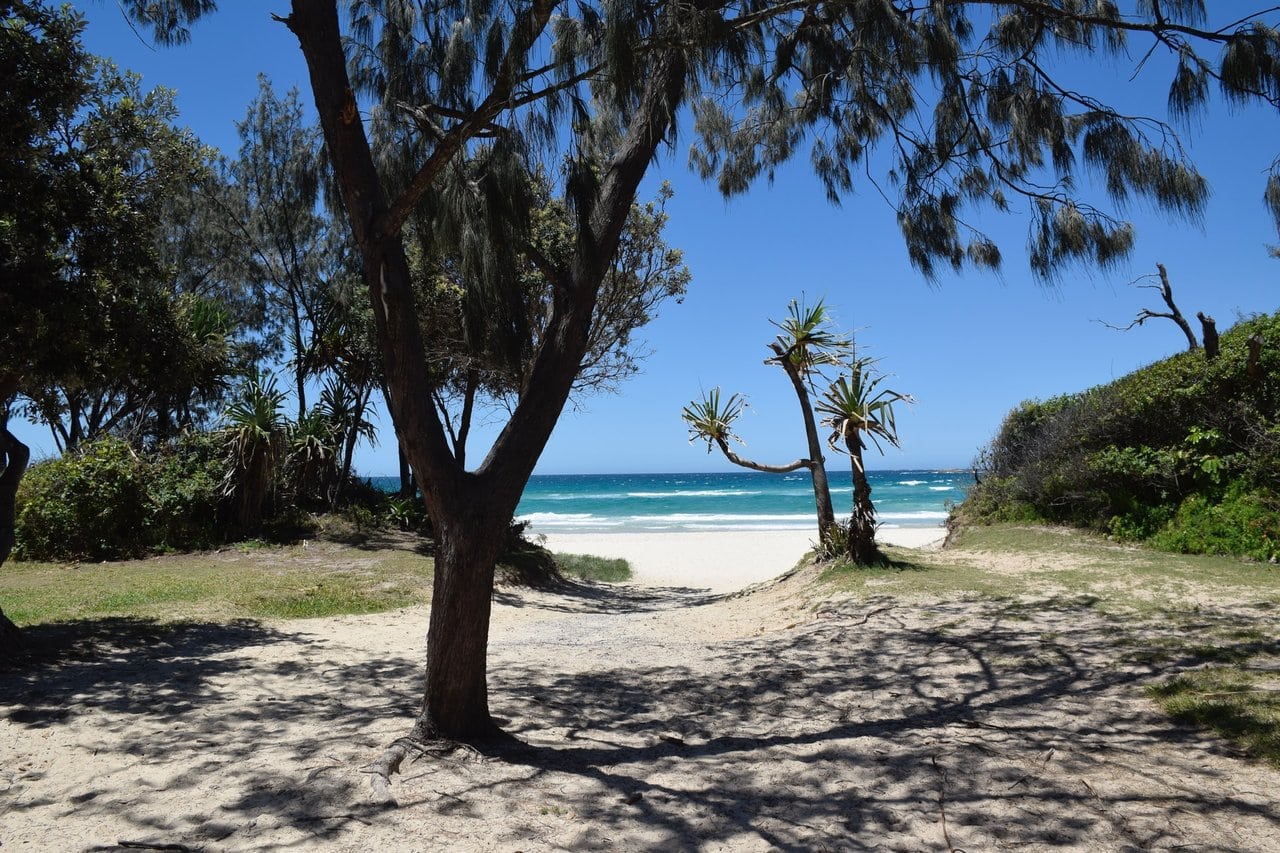 North Stradbroke Island, or "Straddie", as the locals call it, is without a doubt one of the best places to visit in Queensland! The tropical beaches of this island are exactly what you'd picture when you think about a holiday in Queensland. They're just so dreamy!
This breathtaking island is a fantastic destination year-round, with long, balmy summers and short winters which you can spend whale watching. 
Continuing with the Australian travel dream that North Stradbroke Island offers, did I mention that kangaroos hop around on the island? Yup! There's a good chance you'll see these native animals on your trip to Stradbroke, and if you're anything like me that'll be one of the highlights of a trip to Australia!
During your stay at Stradbroke (which should be at least a couple of days!) be sure to hit the beaches, walk the North Gorge, and visit the Blue and Brown lakes. If you're on a tight schedule, though, it's possible to visit North Stradbroke Island on this top-rated day trip from Brisbane.
Either way, you'll have an unforgettable trip!
South Bank Parklands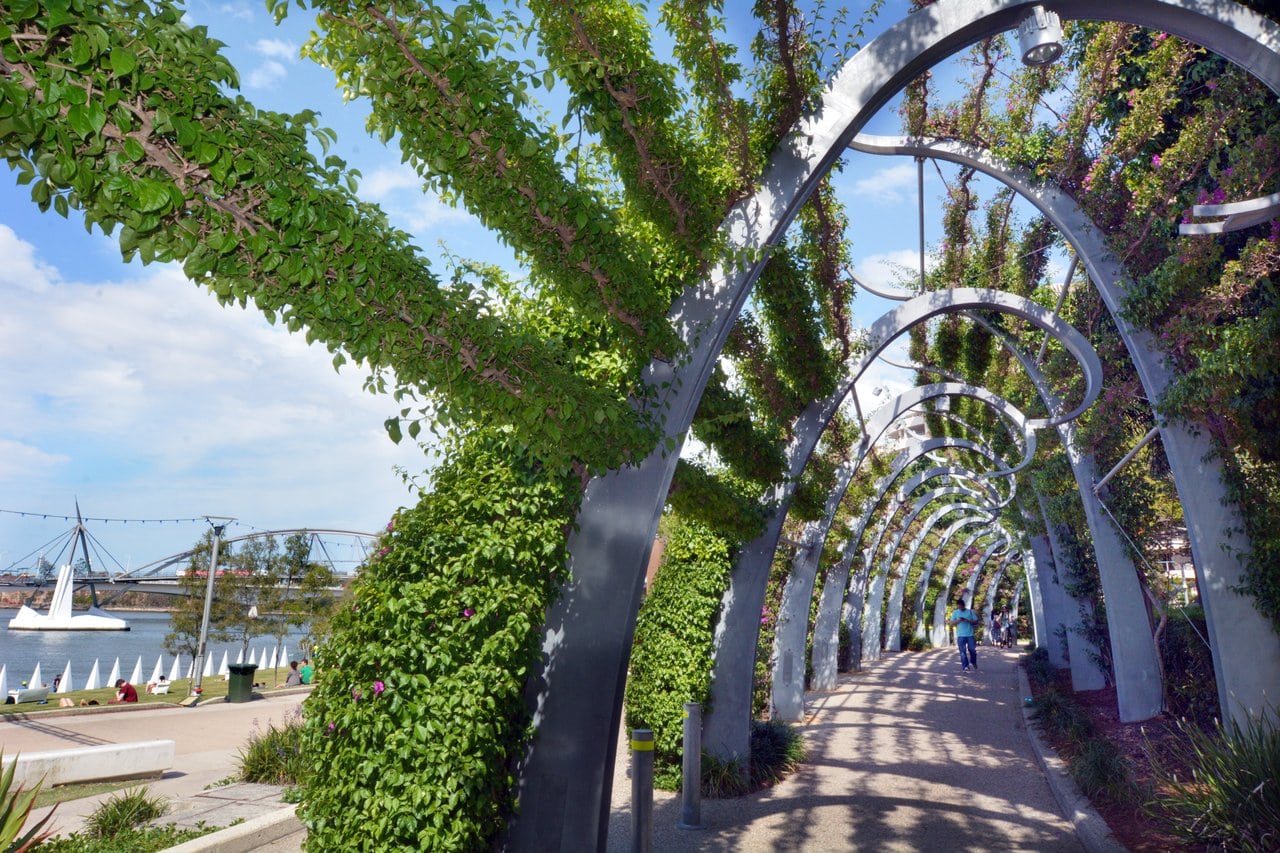 Brisbane's South Bank area is the city's premier lifestyle and cultural destination, located on the southern banks of the Brisbane River. 
The area's 17 hectares of lush parklands, world-class eateries, stunning river views, and hundreds of delightful events all year round make it the perfect place to relax and unwind after a busy day. 
Here, you can enjoy anything from cafe eating to sunbathing on open lawns, to local shopping and even live entertainment at night. With so much changing every day, no two trips to the South Bank will ever look the same, which is the fun of it! 
Be sure to do your research on what specific events will be taking place during your visit, and definitely carve out some time in your Brisbane itinerary to visit this vibrant area.
Whitsunday Islands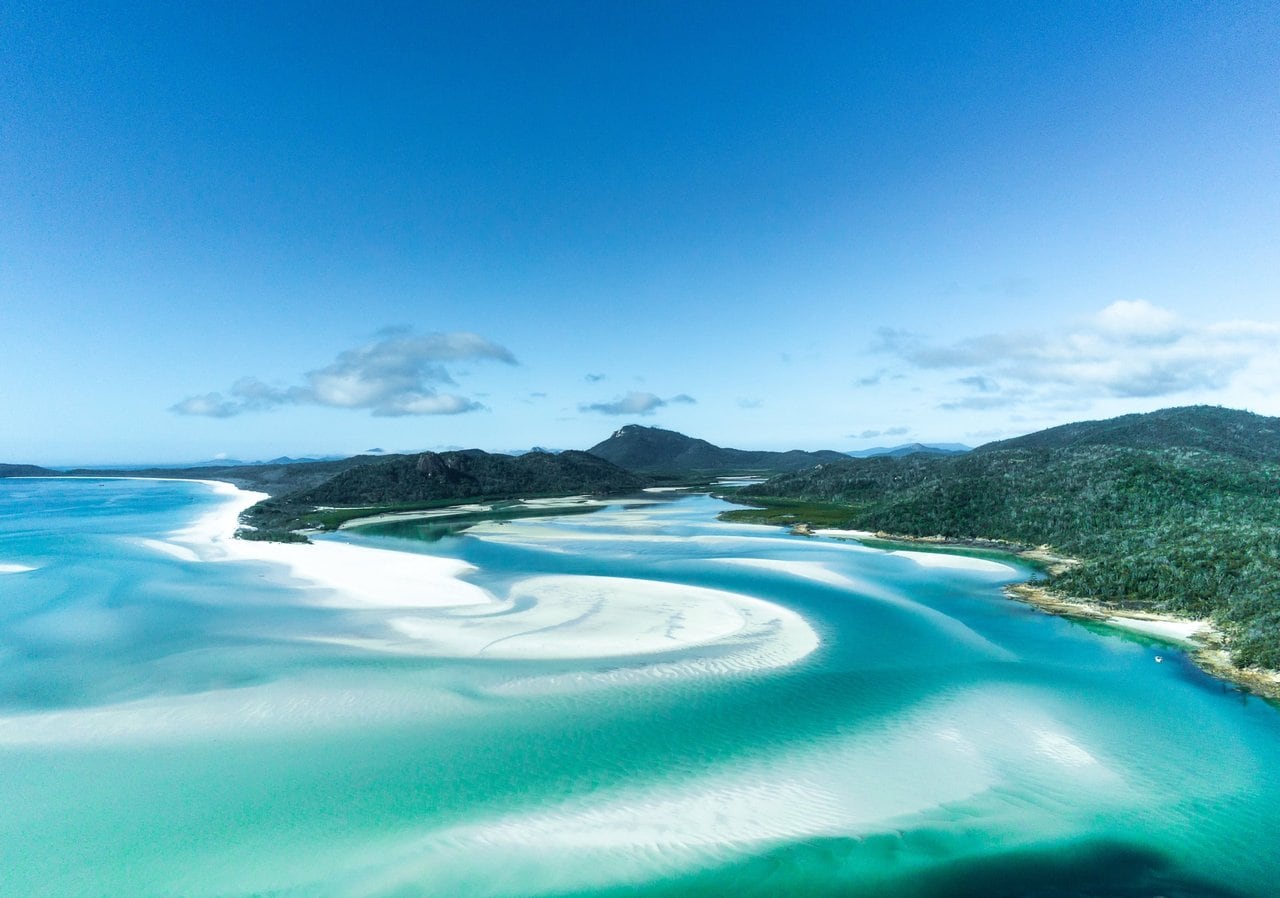 The Whitsunday Islands are probably the top bucket list attraction in Queensland, and maybe even Australia! If you've ever seen a photo of them, you'll surely know why.
This archipelago of 74 tropical islands lies just next to the Great Barrier Reef, around 34 miles off the coast of Queensland. Most of the islands are uninhabited, but you can stay overnight on a few of them, or join an overnight boat tour so that you can see even more of the islands.
The star attraction of the Whitsundays is definitely Whitehaven Beach. This epic beach is recognisable the world over for its swirling sandbanks that make the water look the most vibrant shade of blue you've ever seen! You'll find it on Whitsunday Island, the largest in the archipelago, and most boat tours stop here since it's one of Queensland's best tourist attractions.
The best way to explore the Whitsunday Islands is on a boat tour (unless you can drive your own boat!) which usually depart from Airlie Beach. Click here to compare Whitsunday tours!
Bundaberg Rum Distillery
Nothing sounds better after a few long days of exploring than touring this expansive distillery and getting to sample (or indulge in) some of the best rum that Australia has to offer. 
Located in Bundaberg, Queensland, millions of litres of Bundaberg Rum are aged to perfection here at the Bundaberg Rum Distillery. Inside, you'll walk through a series of 75,000 litre American White Oak Vats – the very same vats which have matured hundreds of thousands of litres of rum for over 50 years. 
Inside these vats you'll find a sensory experience where you can see, touch, and smell your way through the rich history of the distillery. There is also an immersive Bundaberg Rum Museum located on the property, where the information never stops! 
Tours of the distillery run several times each day, with tickets starting at $28.50 per adult.
Noosa National Park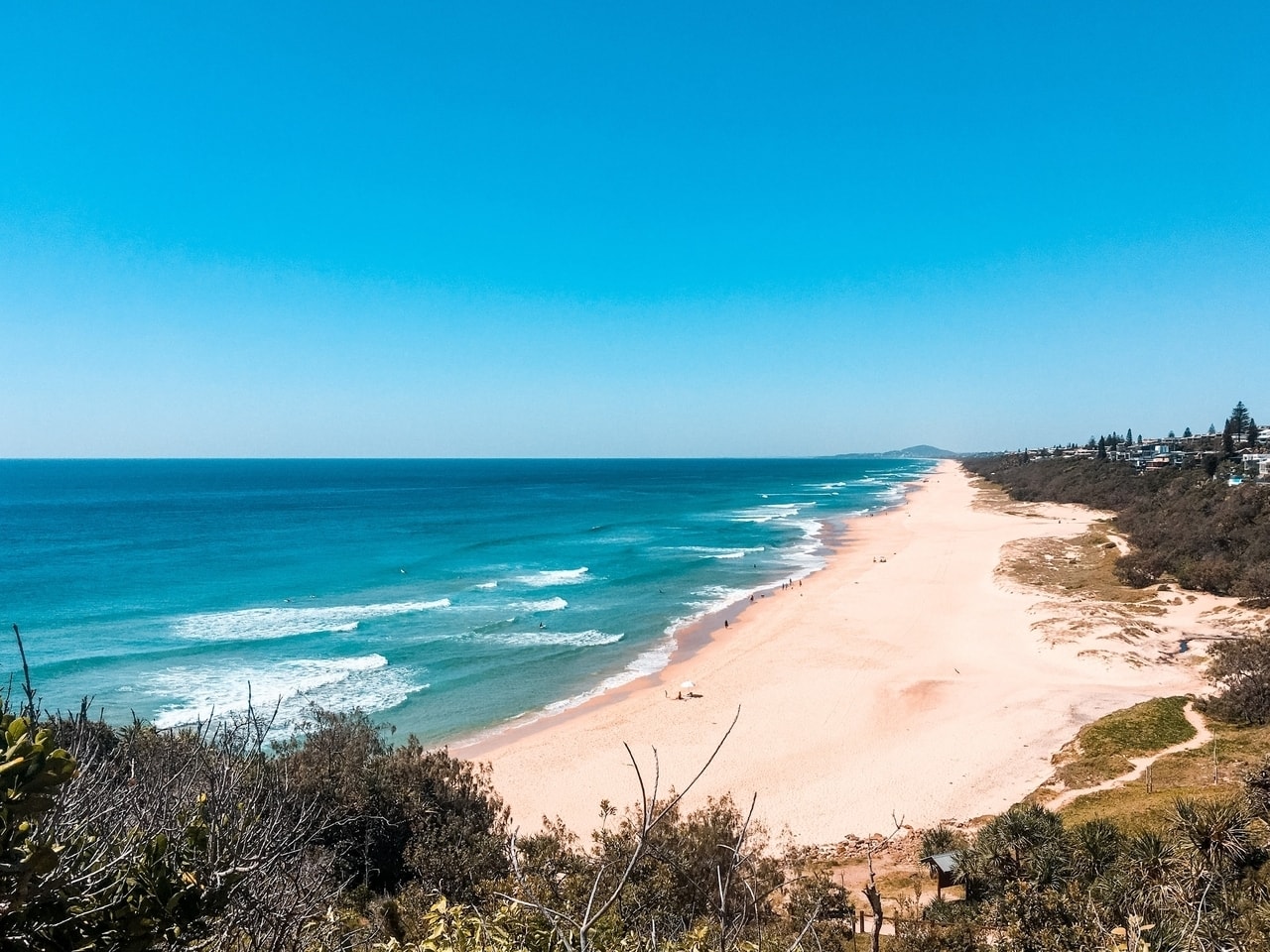 Noosa National Park is a tropical paradise located in Noosa, north of Brisbane, and it runs along the coast of Queensland. It's right in the town of Noosa, one of the most popular holiday destinations in Queensland, and indeed all of Australia!
Noosa National Park features the spectacular coastal scenery of Noosa Headland, and nearby areas around Lake Weyba, Peregian, and Coolum. This park is also a wildlife sanctuary, protecting beautiful stands of eucalypt forest, woodland, melaleuca wetland, colourful heathland, and pockets of dense vine-strewn rainforest. 
This park offers you the chance to be within nature without the need for traditional hiking, as the area is quite flat especially along its established trails. It's a great spot for guests at almost any activity level.
Complete with various walking routes, barbeque grills, restroom access, and picnic tables, you and your group could choose to spend an entire day at this location and never find that you run out of beautiful views or things to explore. 
Entry to the park is also free, and this site is open all year! I personally can vouch for the Noosa National Park Coastal Walk, which has some of the most beautiful views I have ever seen!
Kuranda Scenic Railway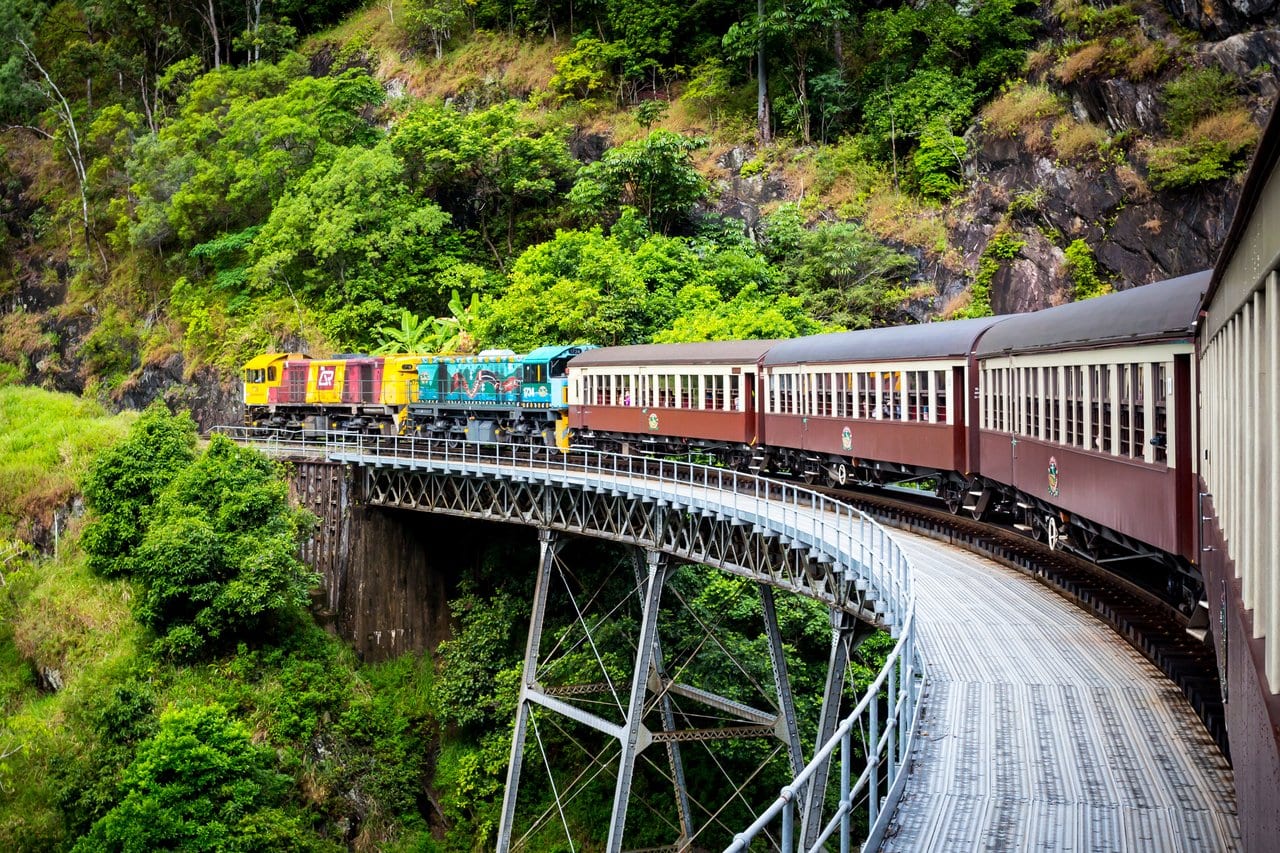 Experience the UNESCO World Heritage-listed Kuranda Rainforest on a full-day tour that departs and returns to/from the area of Cairns. You'll start by taking the Kuranda Scenic Railway to Kuranda where you first visit the Australian Butterfly Sanctuary, the largest flight aviary in Australia. 
You'll then tour the Rainforestation Nature Park in an amphibious Army Duck vehicle, then see koalas, dingoes, and more at the Koala and Wildlife Park. 
You can also take an amazing walk with a Pamagirri guide for the Pamagirri Aboriginal Experience, then feast on an Australian barbecue buffet lunch. Finally, you'll return to Cairns on the scenic Skyrail Rainforest Cableway. What a day! 
This is listed as one of the world's greatest railroad journeys, so you aren't going to want to miss this! Tickets for this excursion start at $193 per person, but that includes each of the stops listed above as well as a few other perks and surprises.
Fraser Island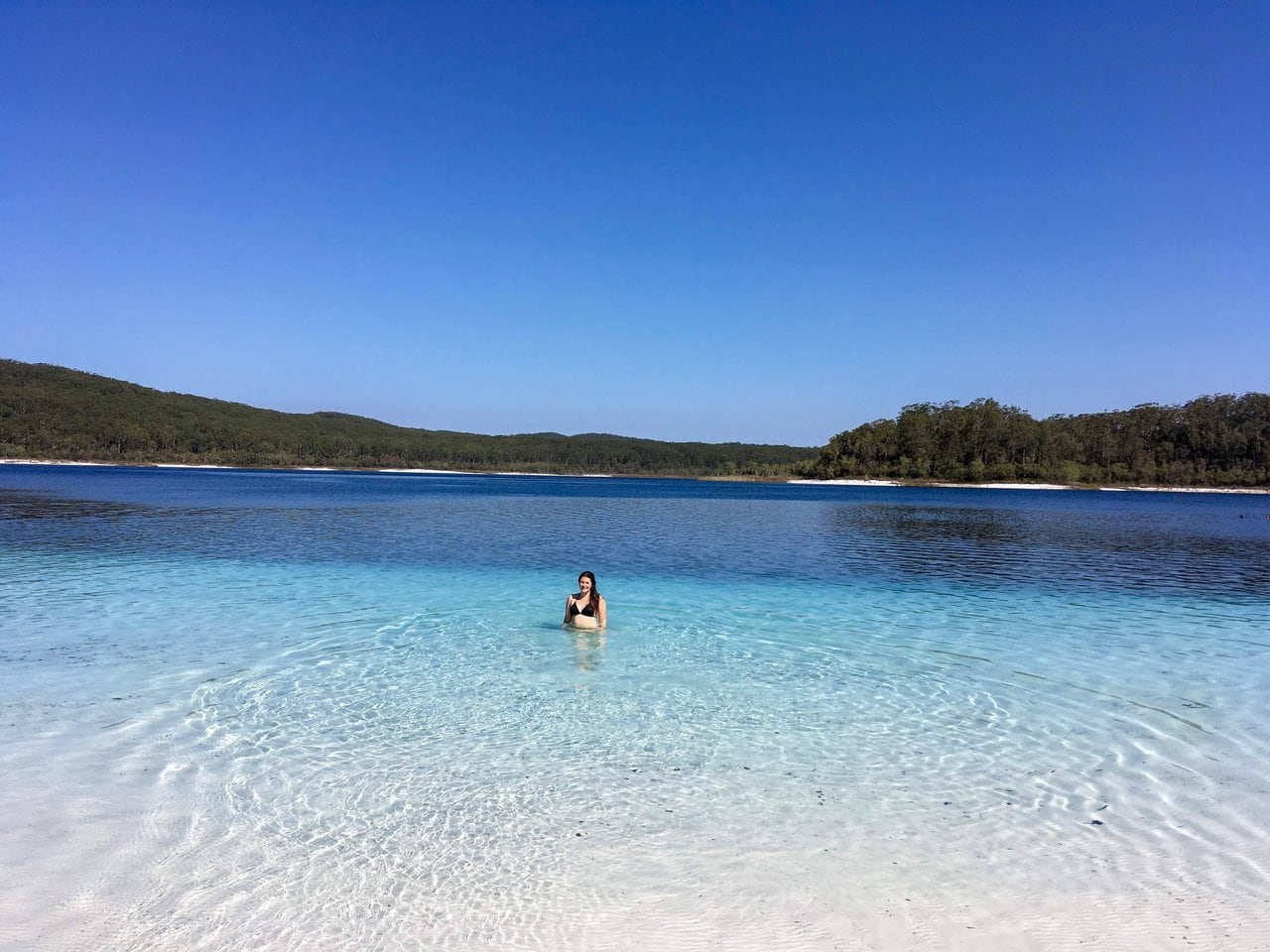 Fraser Island is the world's largest sand island, and you'll find it just off the coast of south-eastern Queensland, about 160 miles north of Brisbane. 
A trip to Fraser Island is one of the best off-the-grid adventures you can have in Australia. It was definitely the best thing I did on my trip to Australia! You'll either need a 4×4 vehicle or to join a tour, to get to Fraser Island since there are no roads at all! Although you can visit Fraser Island for the day, in reality you really need at least two to see the highlights. 
To get to the island from mainland Queensland you'll need to take your vehicle on a ferry, and then, once you arrive, it's time to step on the pedal as you rocket along 75-Mile Beach to get to some of the island's highlights, such as Lake McKenzie, Lake Wabby, and the Wrecks of the SS Maheno.
Click here to compare Fraser Island tours!
Port Douglas Sunday Market
Located pretty far north in Queensland, Port Douglas is a relatively small coastal town known for its beaches and natural biodiversity. Another huge staple of the town is the Sunday Market, where both travellers and locals can buy goods such as fresh produce, hand-made crafts and goods, and home-brewed coffee. 
This lovely market is held every Sunday from 8 am to 2 pm in Market Park, a great grassy area just off the coast that provides great views and ideal locations for enjoying the tasty treats that you're sure to buy. It's one of the best places to visit in Queensland!
The drive to the market from Cairns only takes about an hour, and is filled with ocean views that make time fly! The journey, as well as the destination, are both fun! 
Entry into the market is free and the market runs every Sunday of the year (weather permitting).
Josephine Falls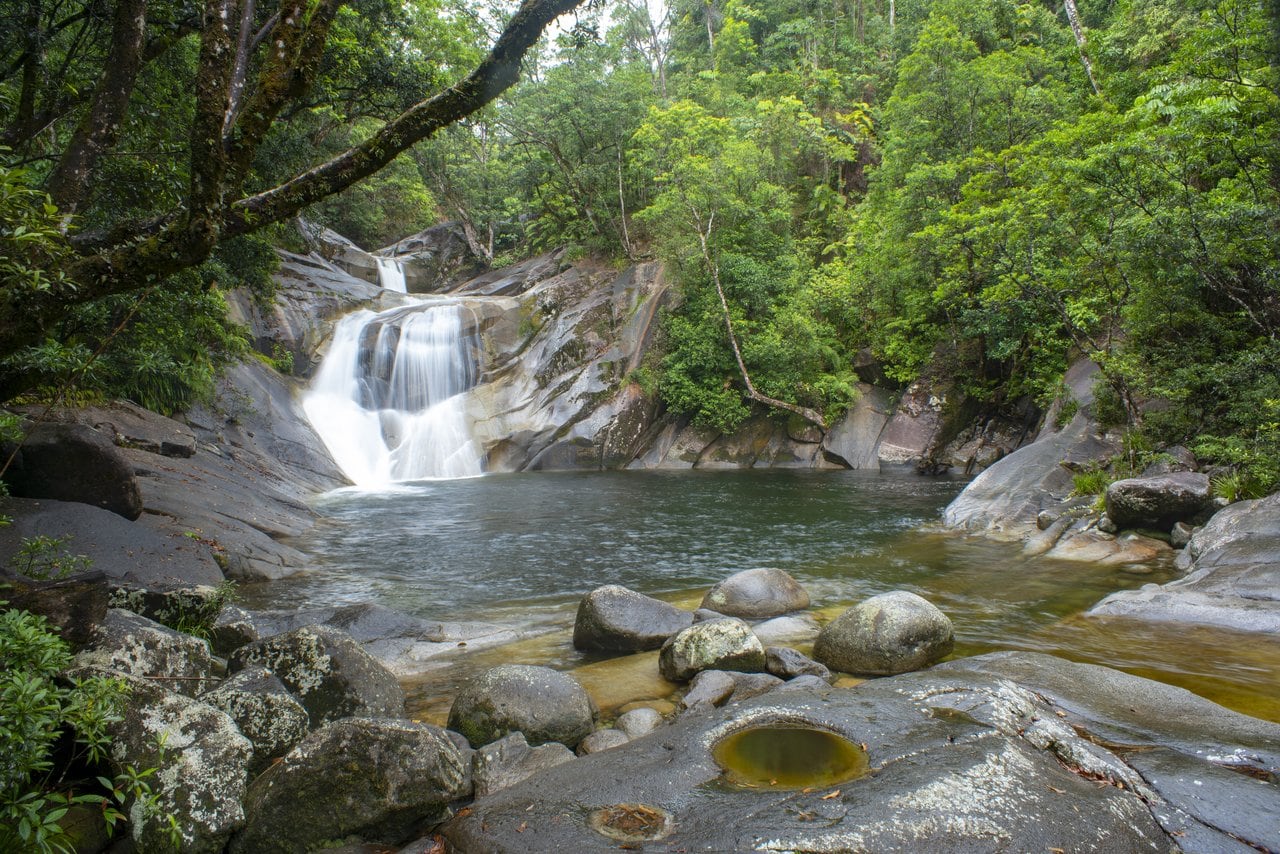 Located in Wooroonooran National Park, the Josephine Falls are ranked amongst some of the most beautiful waterfalls in Tropical North Queensland, Australia. 
So beautiful, in fact, that the site has been used in many TV adverts. A visit to Josephine Falls includes enjoying a swim in the crystal clear waters, taking in the amazing waterfall views, and relaxing on the area's sandy beaches. 
The Josephine Falls are actually located a little over 45 miles from Cairns in a small town called Mirriwinni, which is just a short trip away. Once you've parked up there is an approximately 700-metre walk to the falls, and then the relaxation can begin!
If you don't have your own car, don't worry. This popular full-day tour departs from Cairns and will take you to Millaa Millaa Falls, Josephine Falls, Mount Hypipamee and Lake Eacham, all for around $129.
Mooloolaba Beach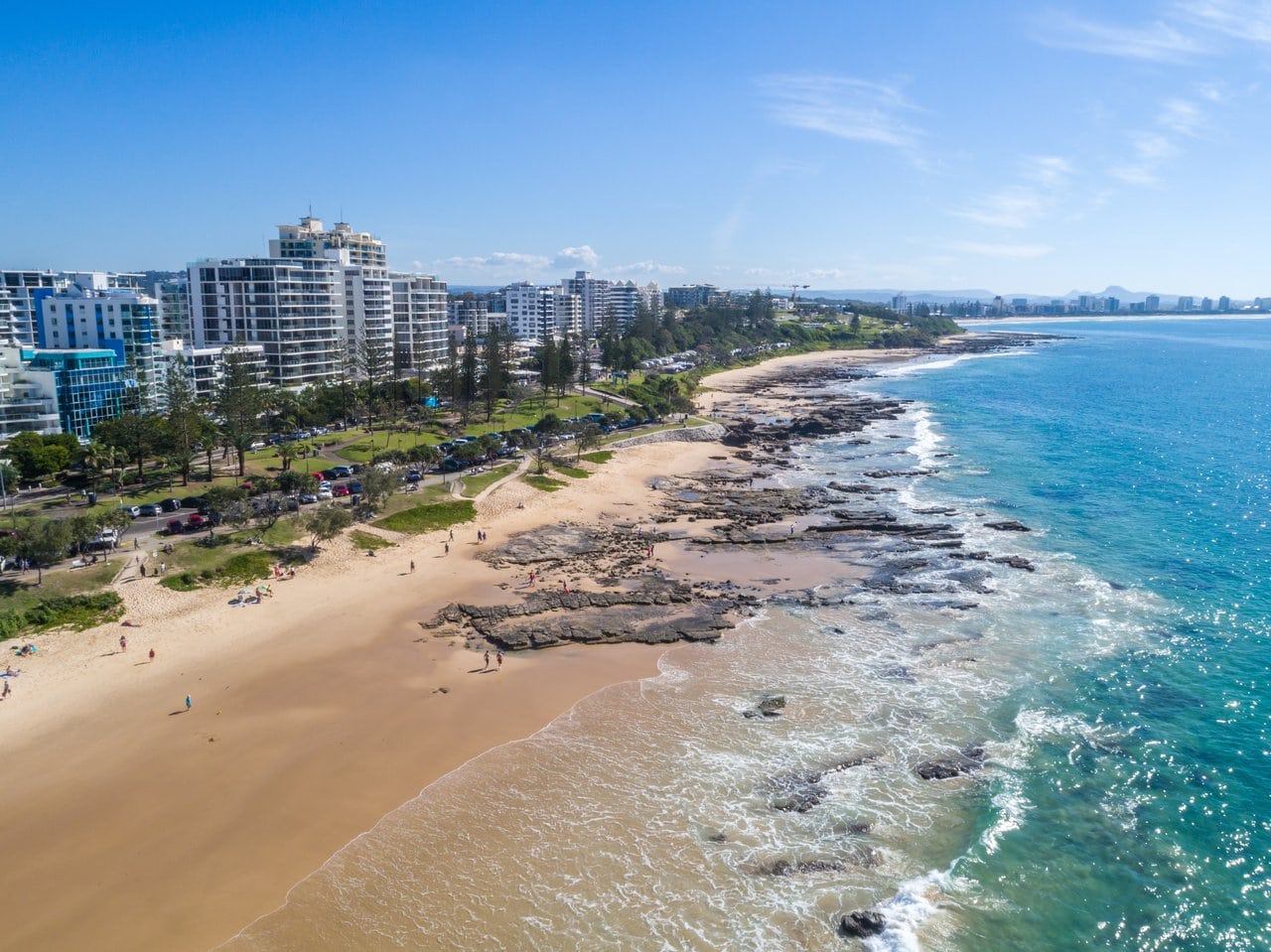 Known to be one of the best swimming sites along Australia's coast, Mooloolaba beach has been a long-time favourite for locals and travellers. 
This beautiful beach is located on the Sunshine Coast area of Queensland and is not far from quite a few major cities. 
Aside from the great beach, the Mooloolaba area is a great place to spend the day. It's modern, has great weather, and has plenty of options when it comes to retail, dining, and drinking locations. The best way to enjoy the beach in the evening when it's cooled down outside is to order your food to take away, then go and dine on the beach! 
Mooloolaba isn't great for surfing, but it's perfect for bodyboarders. Just watch out for the jellyfish during cyclone season (December-April)!
Australian Butterfly Sanctuary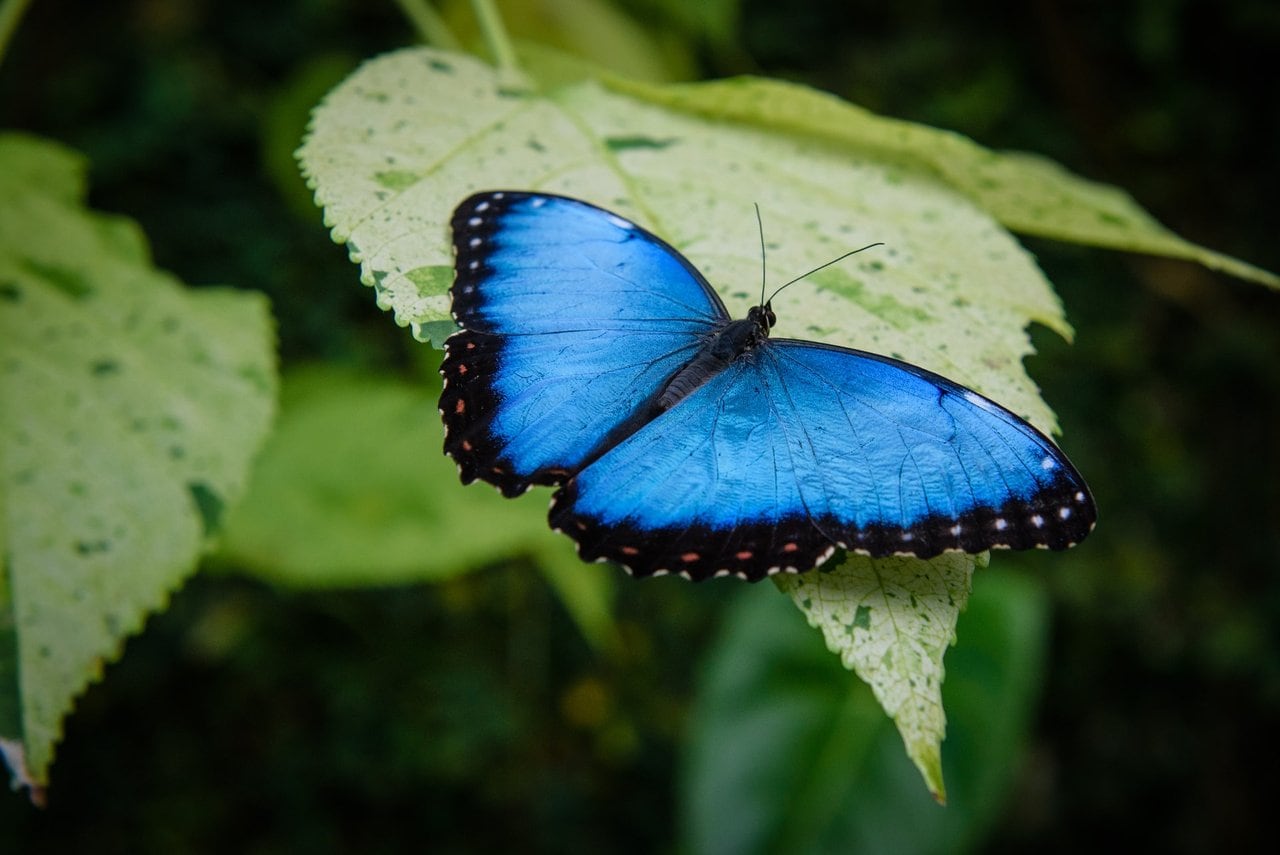 The awesome Australian Butterfly Sanctuary is located in a small area called Kuranda, a bit inland toward central Queensland from the coastal area. 
This location houses the largest butterfly flight aviary and exhibit in Australia, and is home to over 1500 magnificent butterflies! The facility is indoors, so it's one of the best places to visit in Queensland when it's raining!
The sanctuary is open for visitors every day of the week, but they only allow a limited number of visitors per day so be sure to plan ahead! Entry starts at just $20 per person, and you can book your tickets in advance on their website. 
Surfers Paradise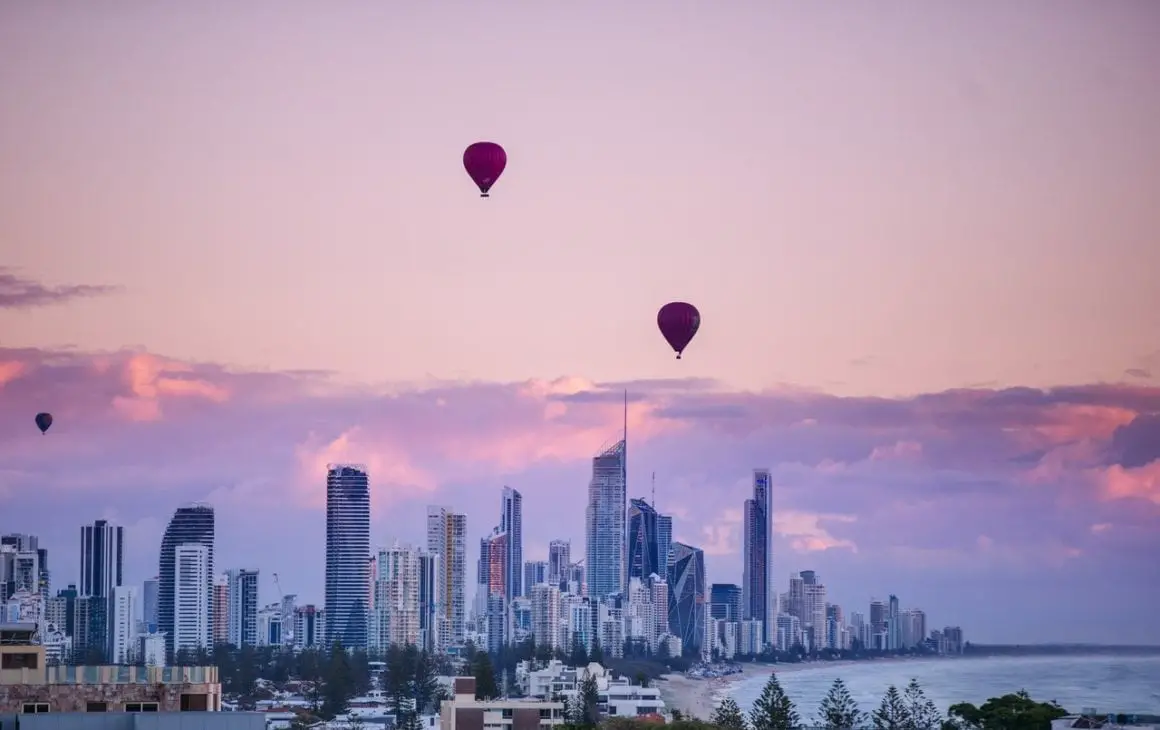 Despite the awesome name, most people don't actually head to Surfers Paradise (or "Surfers" for short) to surf. Nope! In fact, Surfers Paradise is one of Australia's biggest party destinations, and one of the most popular resorts on the Gold Coast.
Although you can surf at Surfers, it's far more fun to head out into the town at night, when you'll find a tonne of others all going out and ready to have a good time. Bars and clubs are open until the early hours, and you're bound to have a very entertaining and interesting night!
Is Surfers Paradise one of the most beautiful places to visit in Queensland? Definitely not! But it sure is a lot of fun!
Maleny Botanic Gardens & Bird World
This incredible botanic garden and bird sanctuary is located in Maleny, a rural town in the Sunshine Coast region of Queensland. The Botanic Garden, in particular, has been called the "jewel" of Maleny because it is such a large draw for tourists. 
In the privately-owned garden space you'll find many springs, waterfalls, rock formations, and of course countless flowers that make you feel like you have stepped into a paradise. 
With the Botanic Gardens you'll also get to explore Bird World, an interactive bird encounter that brings you up close and personal with colourful birds from all across the globe, from finches to macaws. 
There are regular guided walks around Bird World every day (with tour times that vary according to visitor demand). The Maleny Botanic Gardens and Bird World is open from 9 am to 4.30 pm 7 days a week, with admission starting at $27 per person.
Moreton Island
Moreton Island is a small slice of paradise just off the coast of Brisbane. Given its proximity to the city, it's one of the very best day trips from Brisbane – you'll feel like you're a million miles away!
Moreton Island is the third-largest sand island in the world. It's famous for its steep sand dunes, which you can go sandboarding down, and the Tangalooma Wrecks! The wrecks are one of the island's top attractions, and a visit to Moreton Island isn't complete without going kayaking or snorkelling around them!
To access the island, which is about 25 miles off the coast of Brisbane, you'll need to catch the ferry. I opted to take this full-day guided tour of Moreton Island and I can't recommend it enough! You can check out my blog post here if you want to know more about planning a trip to Moreton Island! 
Daintree National Park
At over 180 million years old, the rainforest at Daintree National Park is the oldest in the world. Pretty impressive, right?
The park is absolutely huge and divided into two sections – Cape Tribulation and Mossman. Entry is free, but to get there you'll have to pay to get the ferry across the Daintree River. Tickets cost $30 per vehicle for a return ticket. If you don't have your own vehicle you can visit the Daintree National Park on this full-day tour from Cairns or Port Douglas.
There are obviously countless things to do in the national park, but some of the best are heading out on one of the many rainforest walks, visiting some of the swimming holes, cruising the Daintree River and visiting the beautiful beaches around Cape Tribulation.
Magnetic Island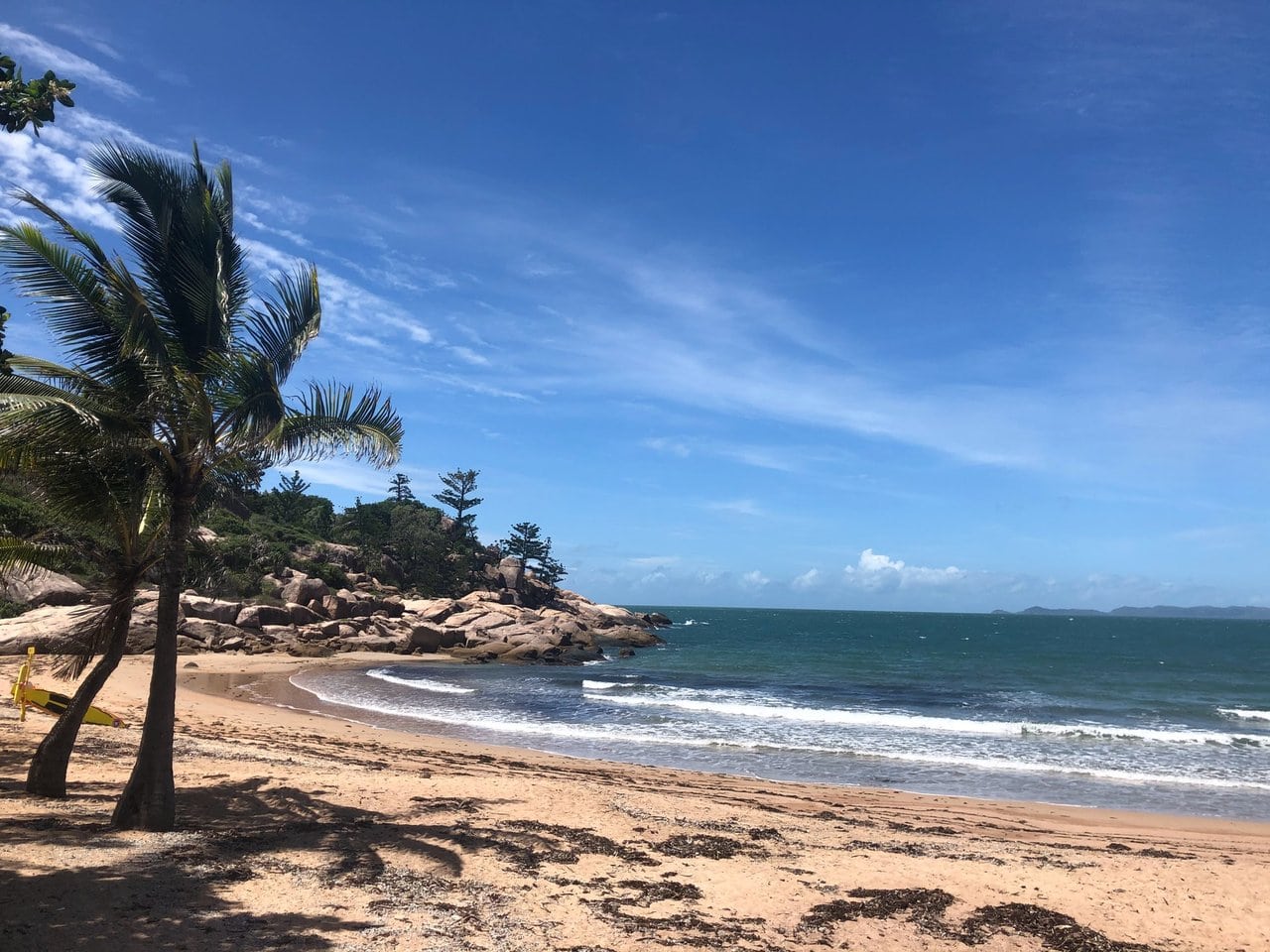 It's time for yet another dreamy island, and this time it's Magnetic Island, just off the coast of Townsville. It attracts every type of traveller, from shoestring backpackers to luxury travellers, and with world-class hiking trails, snorkelling, and long, sandy beaches, there's no excuse not to visit!
The short (0.75 miles) Hawkings Track is a short trail accessible to most visitors, which offers stunning views over the island. Other top things to do include lounging on one of Magnetic Island's 23 beaches and diving to the SS Yongala Wreck. If you'd prefer a longer hike, head out on the Forts Walk, which passes two WW2 forts along the route.
To get to Magnetic Island from the mainland, catch one of the 20-minute passenger ferries or 35-minute car ferries that depart from Townsville multiple times a day.
Springbrook National Park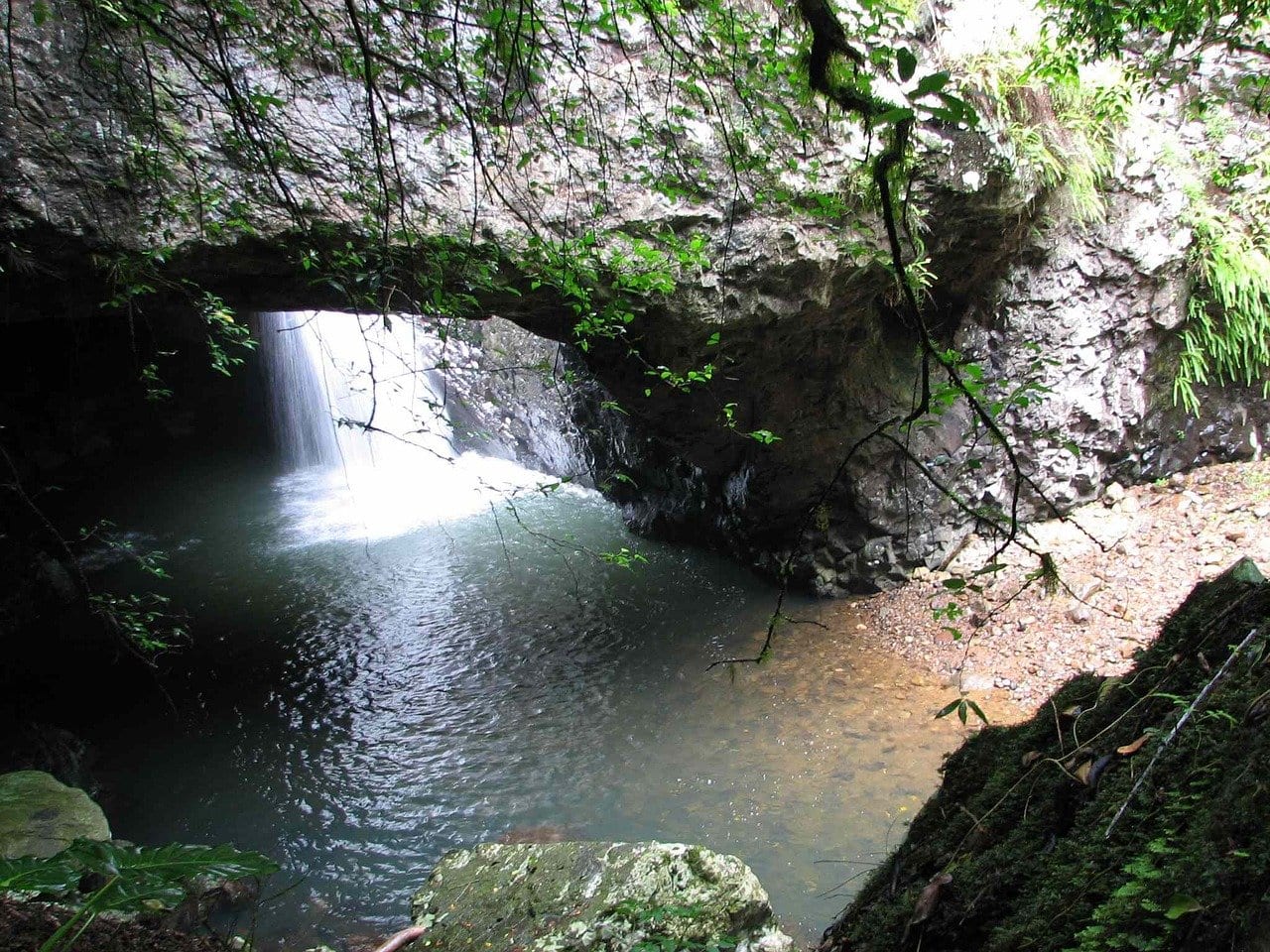 The last entry on this list, but still 100% worth visiting, is Springbrook National Park. Yup, it's another one of Queensland's wonderful national parks! It's just 100km from Brisbane and is home to countless breathtaking waterfalls and scenic hiking trails.
Although the national park attracts over 2 million visitors a year, there are still plenty of places to get off the beaten track here. The most popular thing to do here, by far, is hiking.
Two short walks worth embarking on are the 4km Twin Falls Circuit, where you can take a dip in some of the large rock pools along the route, or the 4km Purling Brook Falls route, where you'll visit an area with great views of the waterfall.
If you have longer and are into hiking, head out on the 14km Warrie Circuit, which passes a range of waterfalls, springs and rock pools, and covers some of the very best sights and attractions in the natural park.
---
Did you add any of these awesome places to your Queensland bucket list? Have you already visited some? Let me know in the comments!
Liked this post? Pin it!