There is a good chance that this post contains affiliate links. If you make a purchase through them, I may receive a small commission at no extra cost to you! As an Amazon Associate, I earn from qualifying purchases. As ever, all opinions are my own.
Last Updated on January 13, 2022 by Ella
Lake McKenzie, on Fraser Island, was probably my favourite attraction in the whole of Australia.
Yup, that's definitely a big statement to make!
The thing is, though, with its crystal clear water, Insta-perfect setting and pure white sand, who could blame me?
Thousands of people visit Fraser Island every year, and you can bet that the majority of them make a stop at Lake McKenzie. After all, it's probably the most beautiful spot on the whole island. Just being able to dip your toes in its crystal clear water makes the white-knuckle ride across the sand of Fraser Island to get there absolutely worth it.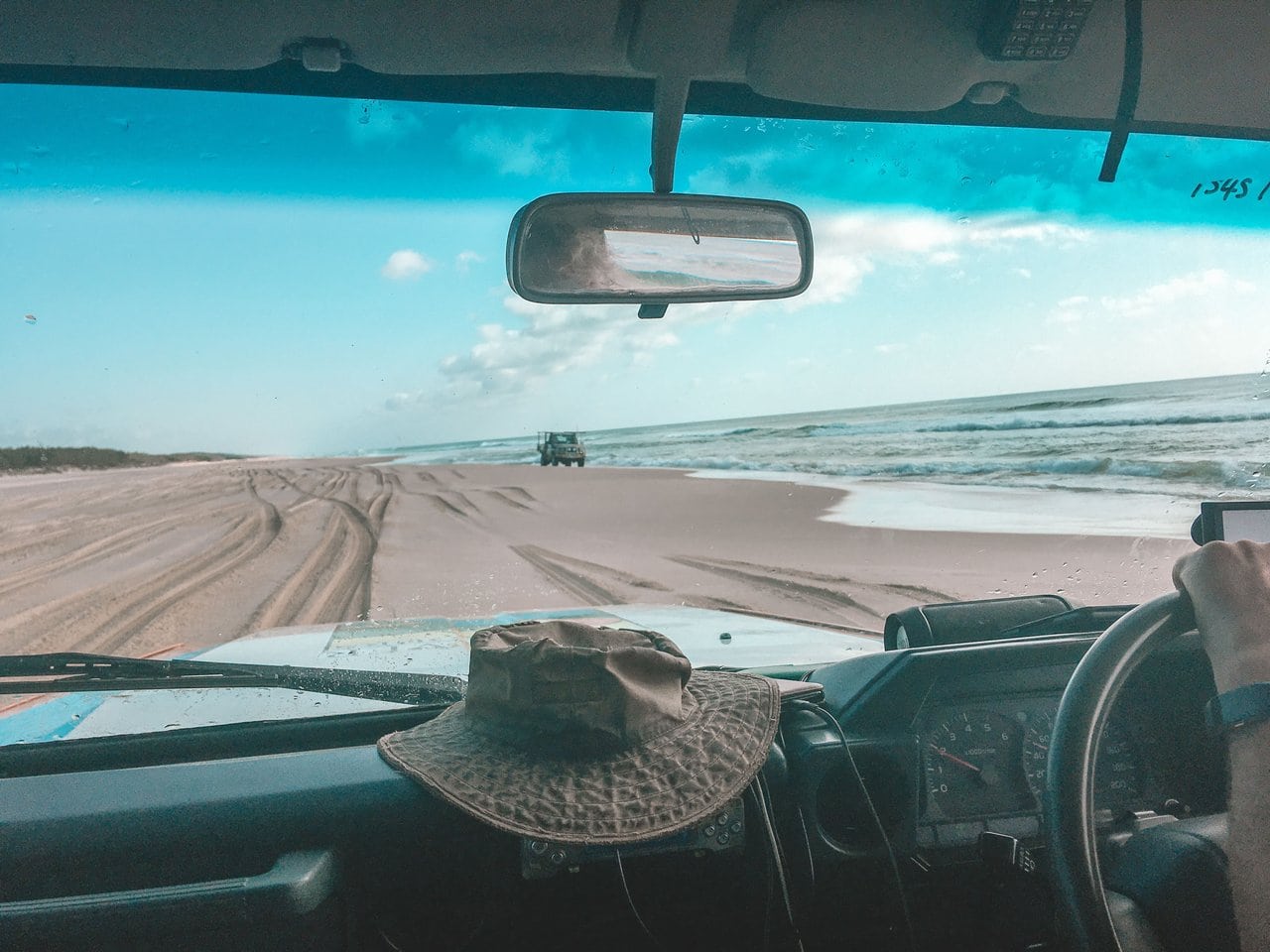 I did barely any research before I booked myself on a tour of Fraser Island, so I had no idea what attractions I would visit. Lake McKenzie was the first attraction I visited on Fraser Island, and It's safe to say I was immediately smitten! 
Today, I'm going to share absolutely everything you need to know about visiting Lake McKenzie on Fraser Island. If the photos haven't convinced you already, I'll also share why you have to visit Lake McKenzie!
Let's get started.
Where is Lake McKenzie?
You'll find Lake McKenzie in the Great Sandy National Park on Fraser Island, Queensland, Australia. In case you didn't know, Fraser Island is the world's largest sand island. It's also (in my opinion) one of the best places to visit in Queensland. Heck, it's even one of the best places to visit in Australia.
Fraser Island is huge, though. It stretches over 120km! So, to find Lake McKenzie you'll need clear directions to find this awesome lake!
How To Get To Lake McKenzie
You can get to Lake McKenzie the easy way, or the hard way.
The easy way is to book on to a guided tour and leave the nightmarish off-road driving to somebody else. I'm a terrible driver, so this was the perfect choice for me! I went on this tour, and couldn't recommend it highly enough.
If you're a good driver, though, and you have a 4×4 (this is absolutely essential!) you can drive to Lake McKenzie yourself. Disembarking from the Mantaray ferry from the mainland, turn right onto 75-Mile Beach.
It's around a 20-mile drive along the beach to the Eurong Resort, which you'll see signs for. Turn off the beach towards the Eurong Resort and follow the one-way road to Central Station. Once you've arrived at Central Station you'll see signs for Lake McKenzie, which is about 3.5 miles away.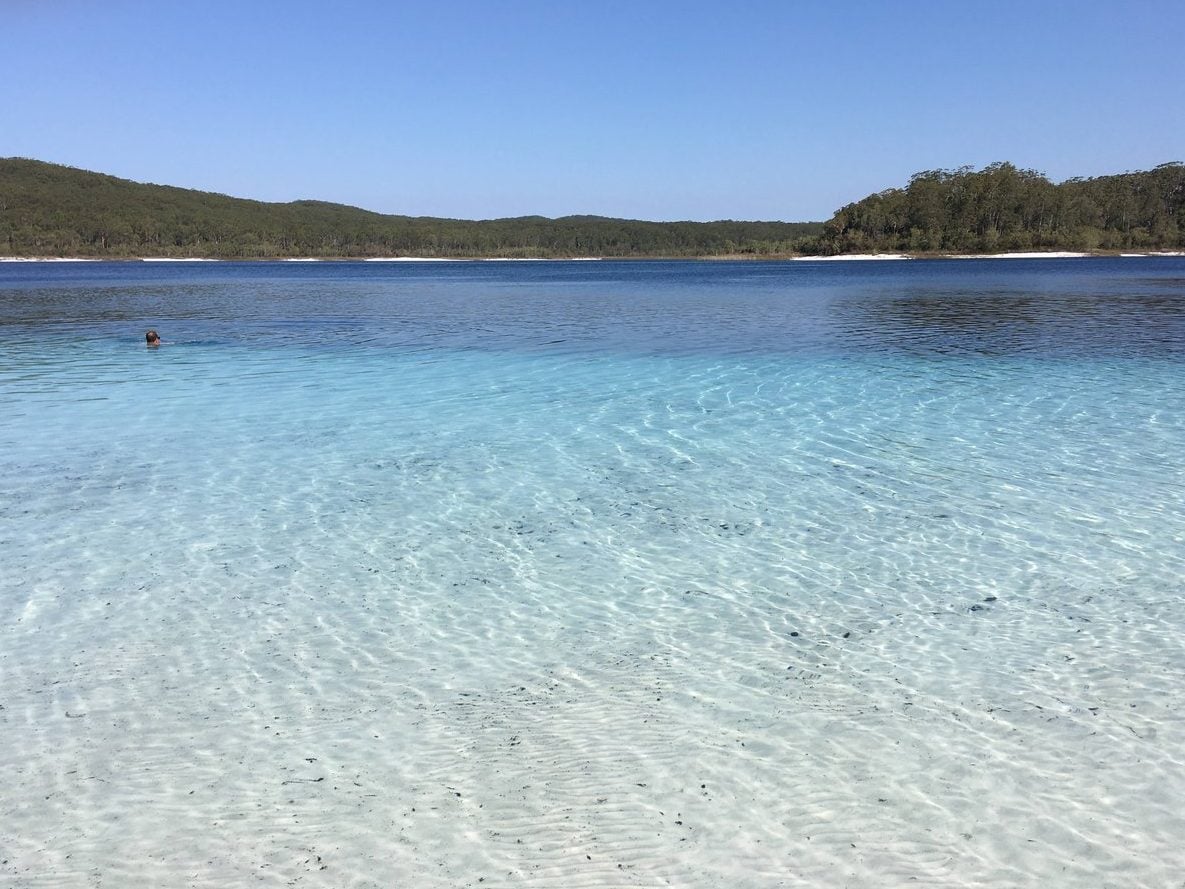 Facts About Lake McKenzie & Fraser Island
You can just rock up to Lake McKenzie and take it from there, but visiting it becomes way more special if you know a few things about it beforehand. Here are some fun facts about Fraser Island:
The lake is called Boorangoora by the traditional owners of the land, the Butchulla people. 
Lake McKenzie is one of 40 perched lakes on Fraser Island and sits 100 metres above sea level. A perched lake means its waters are purely rainwater, which is what makes the water at Lake McKenzie so unbelievably clear.
The sand around Lake McKenzie is made of silica, meaning it plays an important role in the purification of the rainwater and gives the lake its stunning tropical blue colours. Our guide told us that, since the sand here is so fine, it's the ideal exfoliator. Of course, I couldn't resist scooping some up from the lake and testing it out – but I probably looked pretty stupid!
The lake is around 1.2km long and reaches depths of 5 metres. It has plenty of shallow areas perfect for swimming, and there are long stretches of the perfect Lake McKenzie white sand to sprawl out on and soak up the sun.
Since there's no flow of water into and out of the lake, it's SUPER important to either not wear sun cream or to apply it at least an hour before swimming in the lake, to avoid polluting it. Sun cream pollution has become a growing concern over the last few years, so it's really important to follow the rules to help preserve this incredible spot.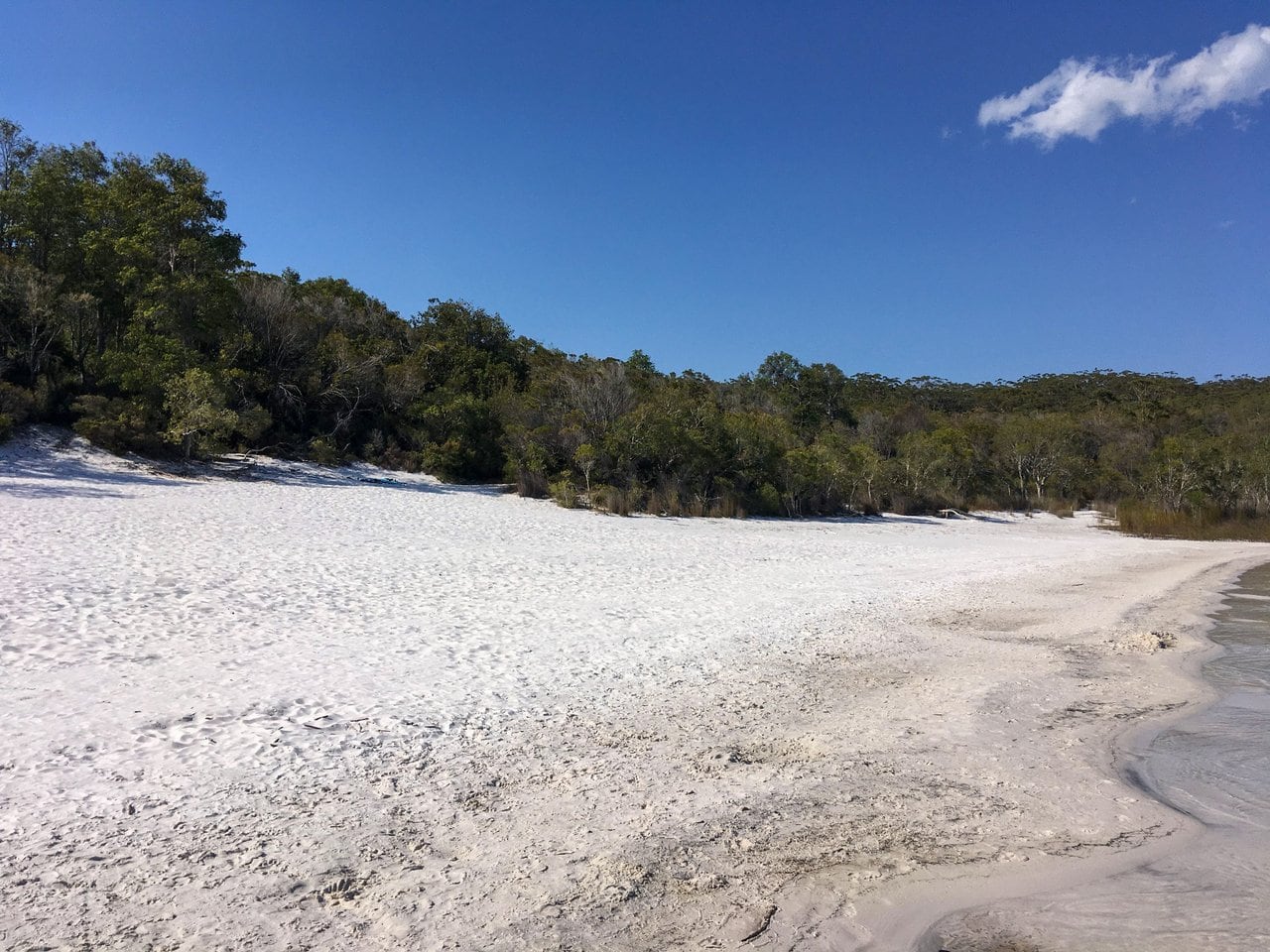 Facilities at Lake McKenzie
Lake McKenzie is open every day of the year. It has a car park with some toilets and a picnic area fenced off from the dingoes.
Aside from that, there's not much else near Lake McKenzie. After all, a visit here is all about getting back to nature, right?
You can actually camp at the Fraser Island Great Walk campsite, although if you're looking for a site with better facilities you're better heading to Dilli Village.
So, what's it like to visit Lake McKenzie?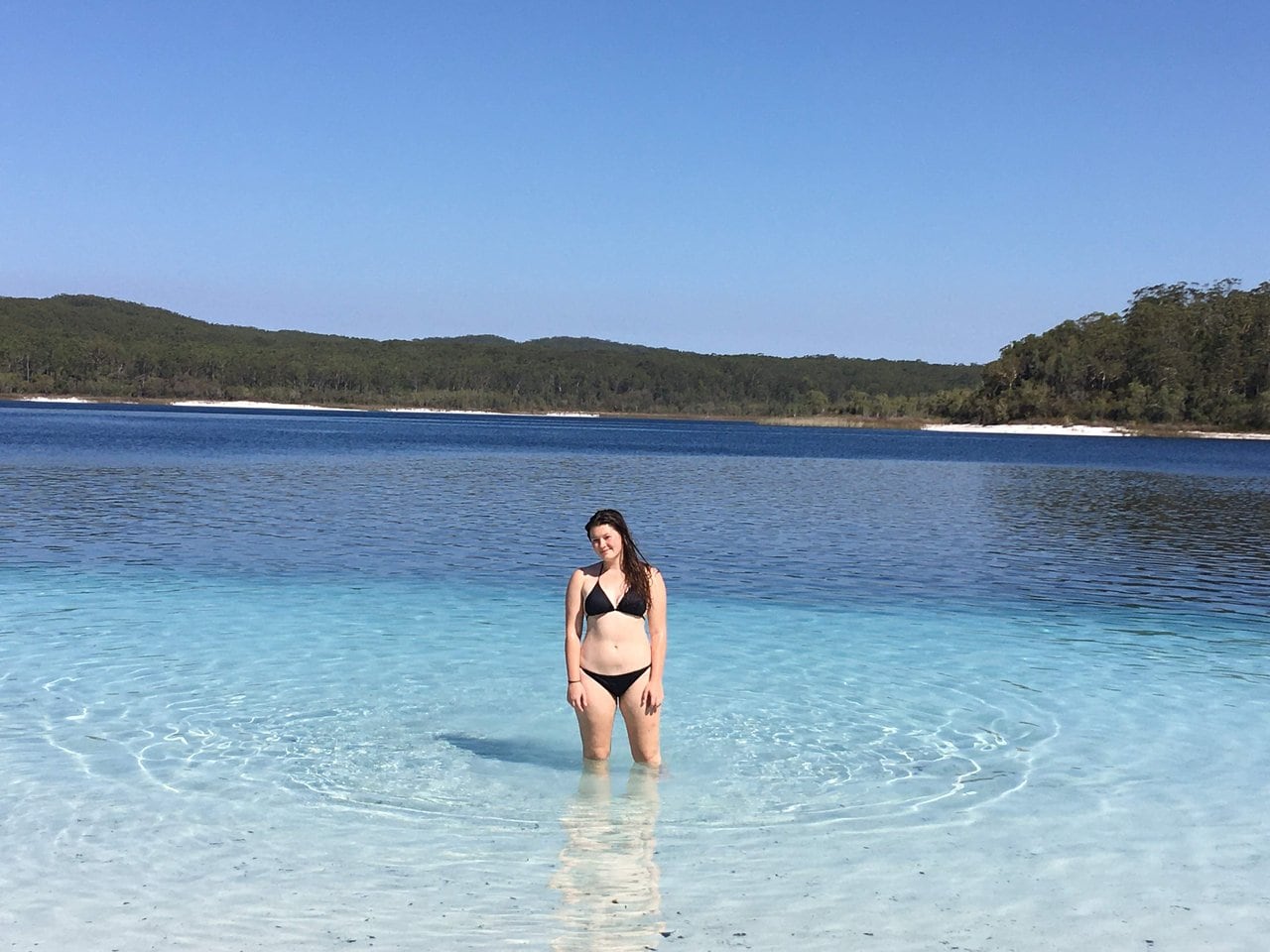 I've covered everything you need to know before visiting Lake McKenzie, so now it's time for me to convince you to visit and discuss my experience!
Like I said before, I hadn't had time to do much research before booking my trip to Fraser Island (it was very last minute). For this reason, after throttling along 75-mile beach in my first experience of offroading, I felt exhilarated, to say the least. 
I couldn't wait to see what Lake McKenzie would be like – especially since our tour guide said it was one of the most beautiful spots on the whole island!
Plus, it was hot. I visited Fraser Island in the height of summer, and our van had no air con. The idea of diving into a lake to cool off was irresistible.
Since our guide said it was a spot that every visitor to Fraser Island visited, I expected Lake McKenzie to be absolutely packed. Instead, as we emerged from the trees onto the beach, I couldn't believe my eyes. It really looked too good to be true – but it's not!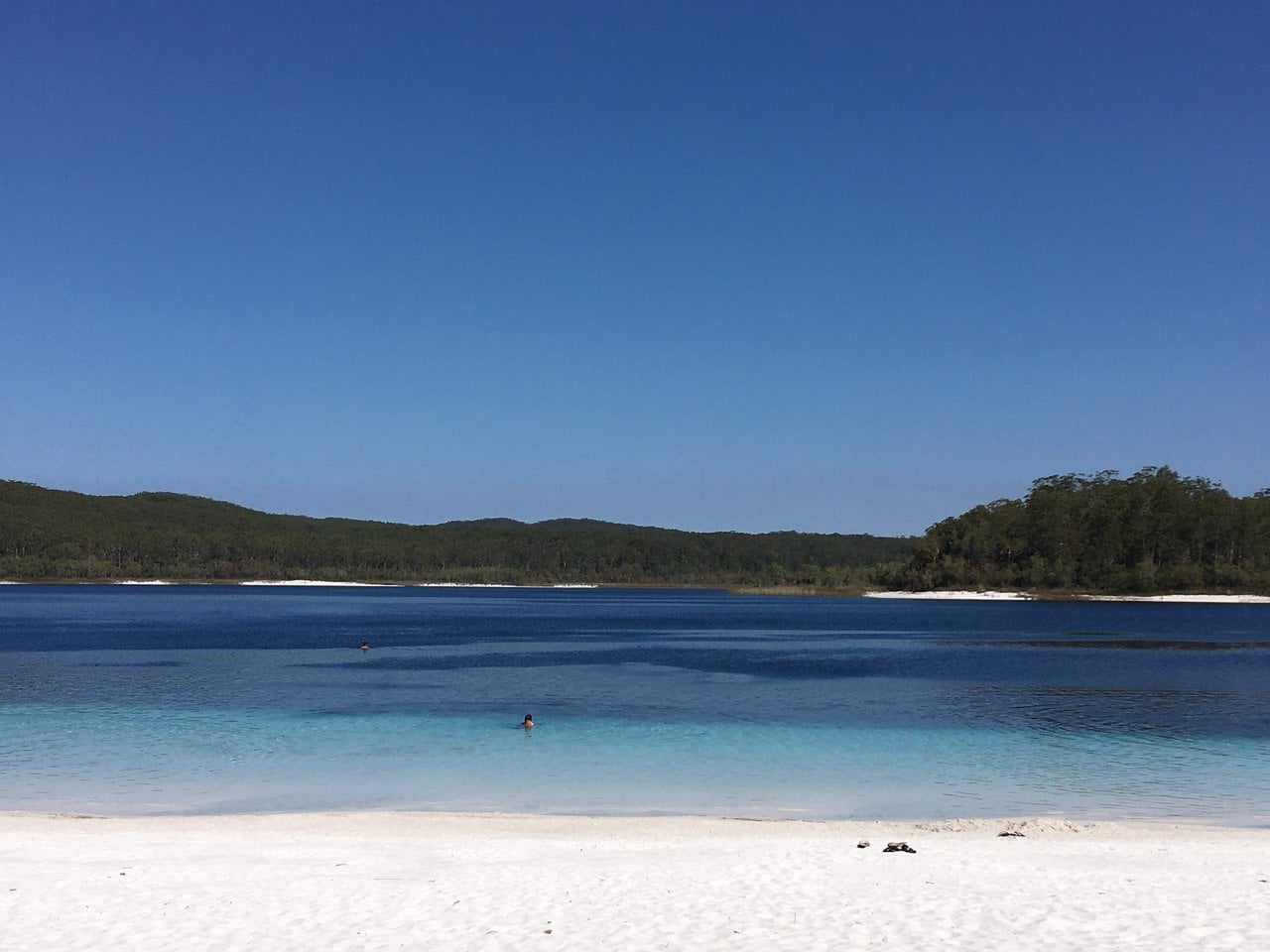 Not only was the lake the closest thing to paradise I had ever seen, but the whole area only had a handful of people there. The water looked like somebody had taken a photo and applied real-life filters to it! It was so vibrant, blue and clear that it looked otherworldly.
I put my things down on the sand, lay down my towel, and sat there for approximately 5 seconds before I gave into temptation and rushed into the lake!
The water in Lake McKenzie was surprisingly warm, so the cold shock I expected never happened. Instead, it felt like sinking into a warm bath after a long day. Ahhhhh…
Of course, I couldn't resist taking a few photos!
We spent around 2 hours at Lake McKenzie, but honestly I could have spent the entire day there. I adored the rest of my time on Fraser Island. It was easily the highlight of my trip to Australia! Of all the places we visited on Fraser Island, though, Lake McKenzie is my #1 you-can't-miss-it recommendation.
Get yourself there!
For more awesome Australia posts, check out these: