There is a good chance that this post contains affiliate links. If you make a purchase through them, I may receive a small commission at no extra cost to you! As an Amazon Associate, I earn from qualifying purchases. As ever, all opinions are my own.
If there's one thing the Queensland town of Noosa is famous for, it's stunning golden beaches. And, as someone who goes googly-eyed over a good beach, you can be sure that during my few days in Noosa I made it my mission to visit as many as possible. After all, this town is one of the best places to visit in Queensland!
What's so great about the beaches in Noosa is that there's such a variety! You'll find empty beaches, busy beaches, surfing beaches, and even a nudist beach!
Yup, Noosa definitely caters to every kind of beachgoer.
So, since I'm such a fan of beaches and Noosa has so many to visit, I decided during my visit to embark on some *ahem* very scientific research into what makes each of Noosa's many beaches so awesome!
I prepared a handy map for you guys so you can plan your visit to the beaches in Noosa:
Sunshine Beach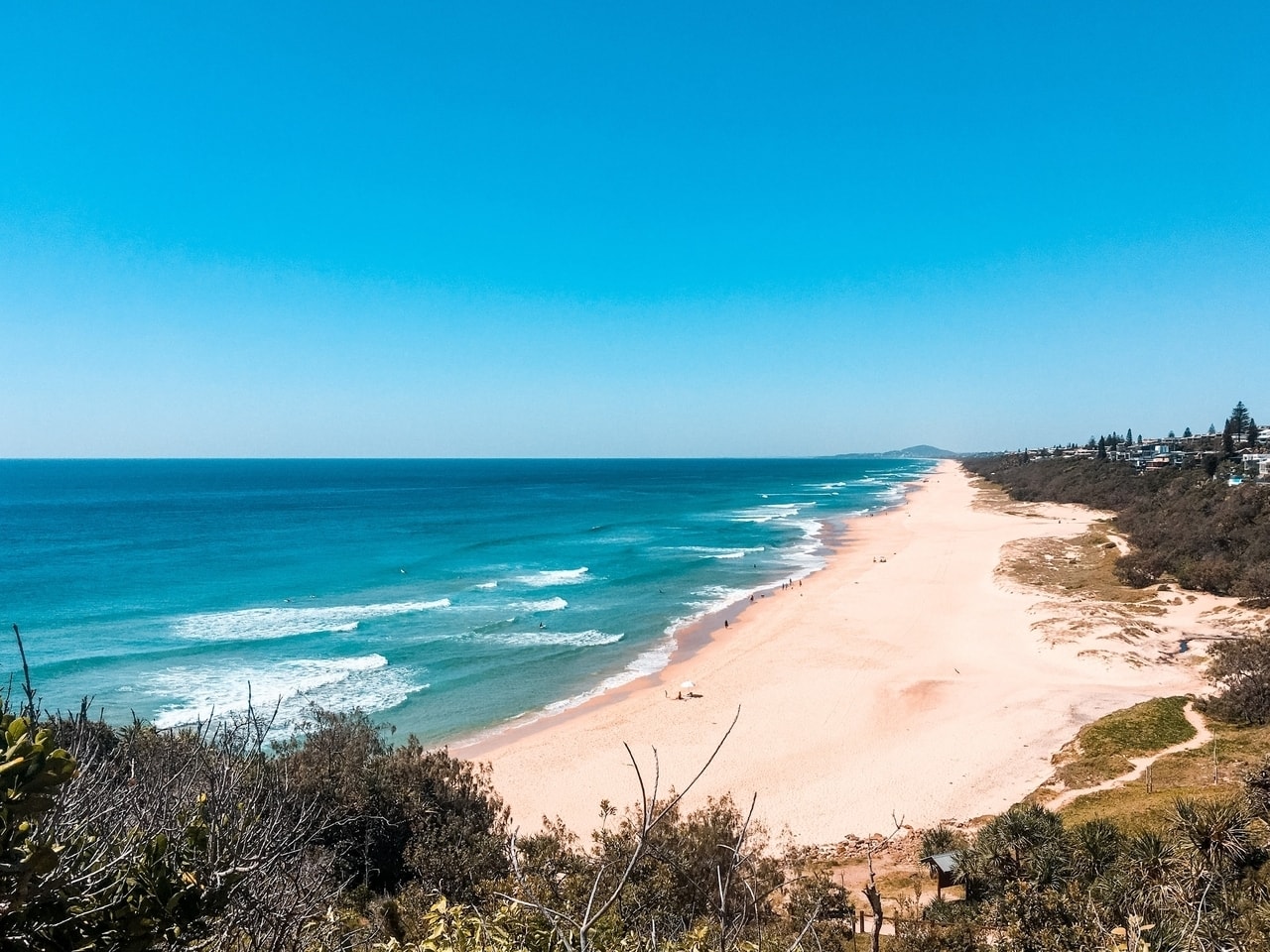 Of course I had to start this round-up with Sunshine Beach, because I freaking love it!
I wouldn't even blame you if you spent your entire time in Noosa at Sunshine Beach. Hanging out here is one of the best things to do in Noosa! With 3km of golden sand, awesome surf conditions and plenty of hip restaurants and coffee shops nearby, it's hardly surprising.
There are lifeguards at the beach, so it's totally fine to go swimming or surfing here. There aren't any rental places nearby, though, so you'll have to bring your surfboard and wetsuit with you.
Sunshine Beach is outside of central Noosa, which means it's much quieter and relaxed than Noosa Main Beach. It also means there's plenty of space to spread out your towel and soak up some rays in peace.
There's barely any shaded areas on Sunshine Beach. If you're heading there in the afternoon make sure you bring your own shade and a ton of sunscreen! I foolishly visited Sunshine Beach for the first time during the hottest part of the day. It's safe to say I spent the whole time slathering myself in sunscreen, terrified that I would burn!
Getting there: To get to Sunshine Beach from central Noosa, you can drive, catch the bus or walk. The most scenic option is to either embark on the Noosa National Park coastal walk, which loops around Noosa Headland before finishing up on Sunshine Beach. If you're looking for an easier way, you can catch either the 620 or 627 bus from Noosa Main Station. The journey only takes around 8 minutes.
Noosa Main Beach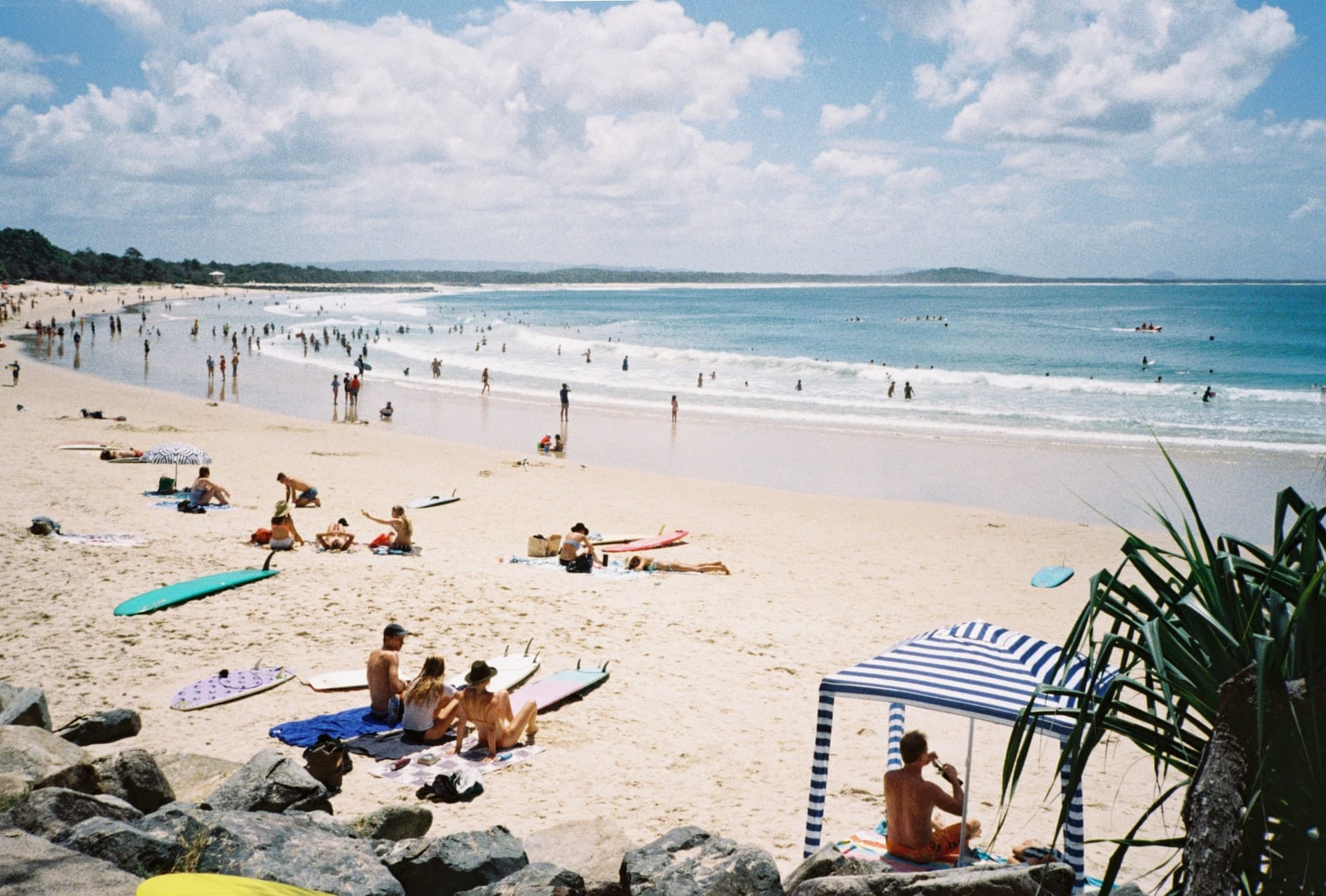 Sunshine Beach marks one end of the Noosa National Park coastal walk, and Noosa Main Beach marks the other end.
Located just off Hastings Street, right in central Noosa, this is the most popular beach with both locals and tourists in Noosa by far! Here, you'll find families playing in the sand, surfers strutting their stuff and people breaking up shopping trips with a breather on the sand. There are a tonne of accommodation options on Hastings Street, so you can even stay just a stone's throw away from this beach!
In summer, Noosa Main Beach gets incredibly busy – but that's not surprising given its convenient location. Plus, near the beach there are plenty of equipment hire options for bodyboards, surfboards and paddleboards. You'll never get bored here!
Lifeguards patrol Noosa Main Beach, so swimming and surfing are safe, and the waves are (usually) not too rough.
To round off a trip to Noosa Main Beach, pay a visit to the Noosa Surf Lifesaving Club. This lovely bar and restaurant sits right on the beach. If you can bag a table on the balcony and order a drink you'll be able to round off the day in the best way possible!
Getting there: Getting to Noosa Main Beach is incredibly easy, as it's right in the centre of town. Catch the bus to Noosa Heads bus station, or find nearby parking spots here.
Little Cove Beach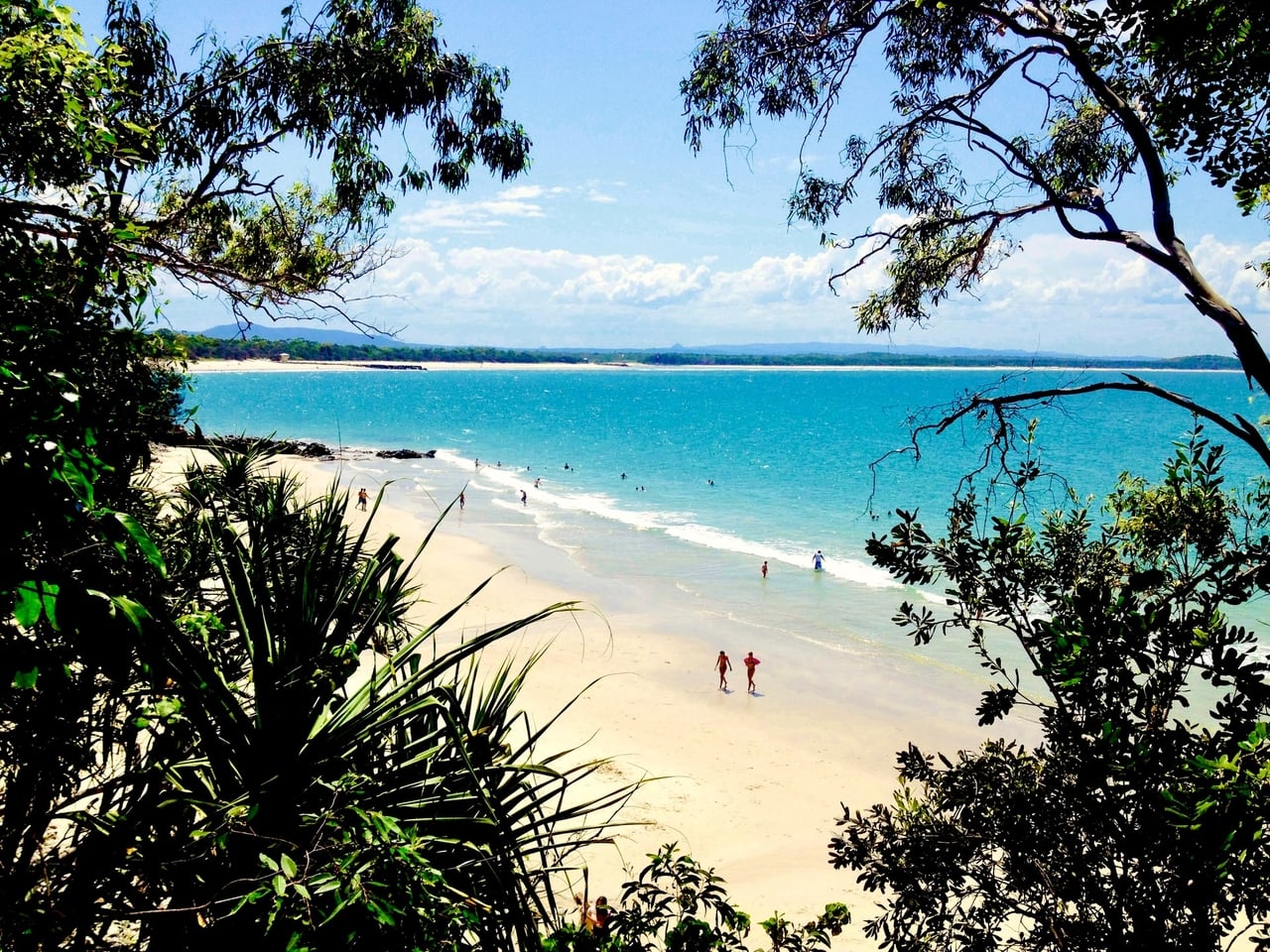 Little Cove Beach, coming in at around 100-metres long, is definitely little!
Sitting at the entrance of Noosa National Park, just a short stroll away from Noosa Main Beach, Little Cove Beach is the ideal place to celebrate the end of your Noosa National Park coastal hike (if you started in Sunshine Beach, anyway. If you started at Noosa Main Beach this is only just the start!).
Whilst lifeguards don't patrol the beach, the water is often gentle here and there are enough people around that taking a dip or a snorkel is totally fine.
This beach is easy to forget since it's right next to the massively popular Noosa Main Beach. If you want to stay central but escape the crowds, this is the best beach to visit.
Getting there: Little Cove Beach is just a 5-minute walk down the road from Noosa Main Beach. Although it's the gateway to the national park, you can walk here in flip flops and don't need hiking shoes.
Tea Tree Bay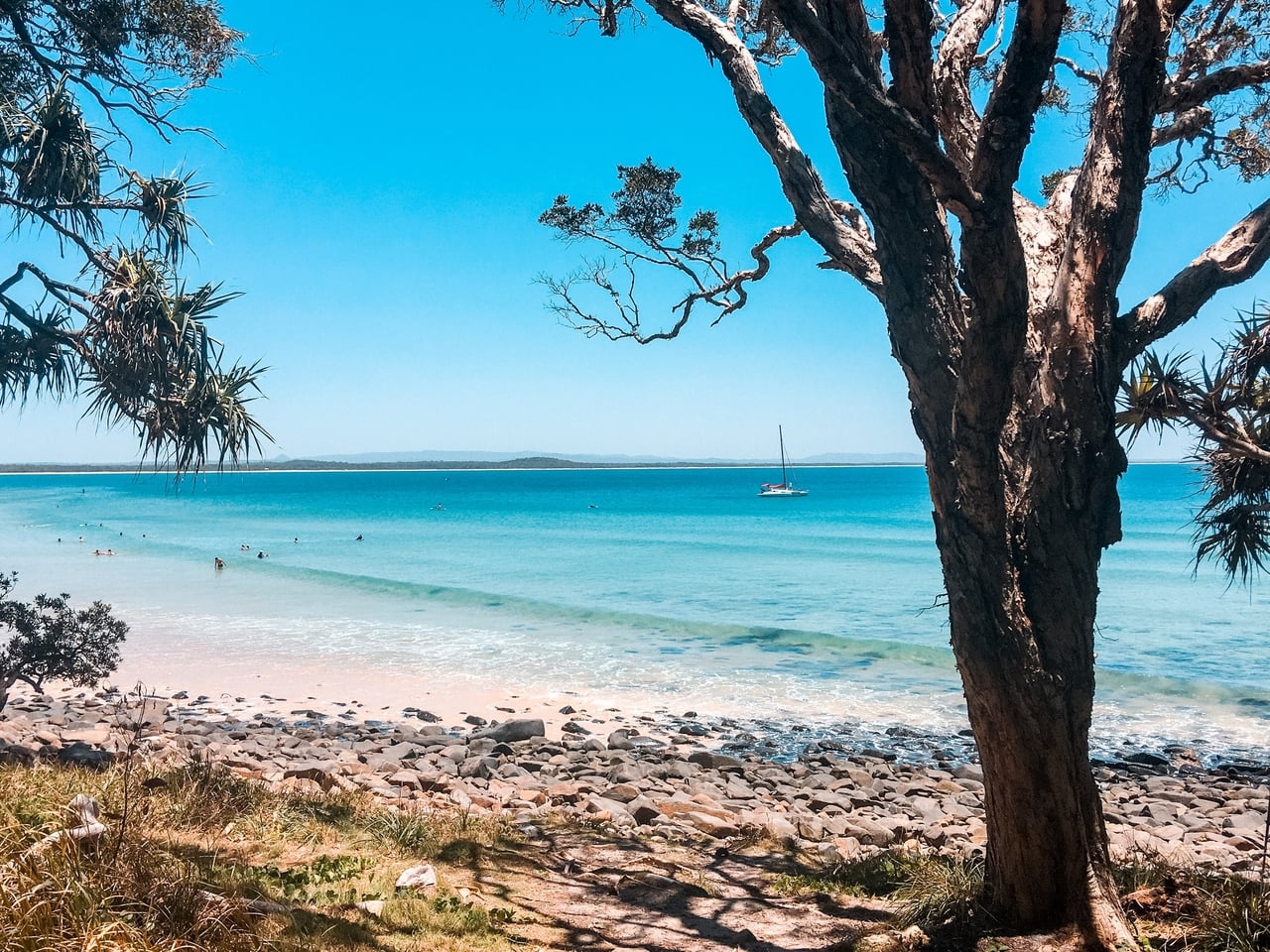 Given that Tea Tree Bay is inside Noosa National Park, it's no surprise that this beach is a knock-out.
Surrounded by shady palm trees and foliage, Tea Tree Bay is the place to head when the sun is beating down in the middle of the day and you need a shaded area to escape to.
By the sea you'll find plenty of soft sand, but the area further up the beach is covered in rocks and pebbles, making it slightly less comfortable to sunbathe. The rocks by the side of the beach do make for excellent rock pools to explore and dip your toes into, though.
There are no lifeguards at Tea Tree Bay, so try to avoid swimming and surfing here. Locals head out to surf here (since the beach is known for its steep waves at low tide), but that's because they know where the rocks are and how to avoid them.
There aren't any shops or restaurants near Tea Tree Bay, since it is in the National Park, so make sure you bring everything you'll need with you. There are picnic benches and public toilets nearby, though.
Getting there: Tea Tree Bay is just a 20-minute walk through the National Park from Noosa Main Beach. It's pretty easily accessible by foot but won't require a hike.
Alexandria Bay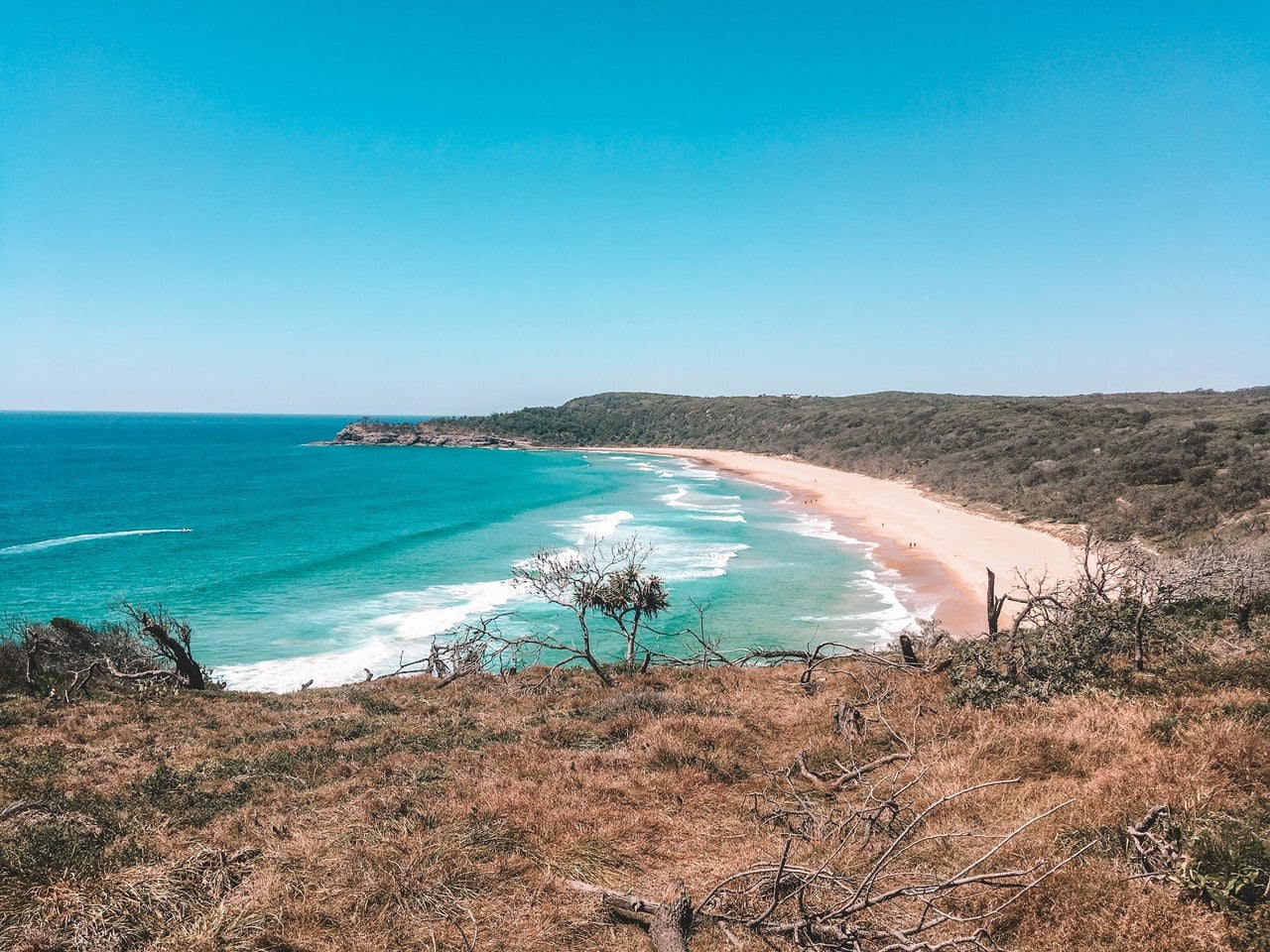 I've already told the story of my absolute shock when I stumbled upon Alexandria Bay and discovered (the hard way) that it was a nudist beach here. So, long story short… Alexandria Bay is Noosa's nudist beach.
There are no rules, and you're welcome to visit without getting nude but… Unless you're a fan of getting back to nature, Alexandria Bay may just be a passing stop for you on the Noosa coastal walk.
This beach is pretty large, and, despite me not being fully comfortable with seeing people's parts out with no prior warning (I am British, after all, and we get incredibly embarrassed about situations like this!) there's no denying that Alexandria Bay is a gem. After all, the reason it became a nudist beach is because it's so quiet and isolated.
If you do decide to stay for a while, there are no lifeguards here so be careful if you're going into the sea. There are also no nearby amenities, so be sure to bring everything you'll need.
Getting there: The fastest way to get to Alexandria Bay is to walk along the coastal track from Sunshine Beach, which takes around 20 minutes. There is parking at McAnally Drive by Sunshine Beach.
Winch Cove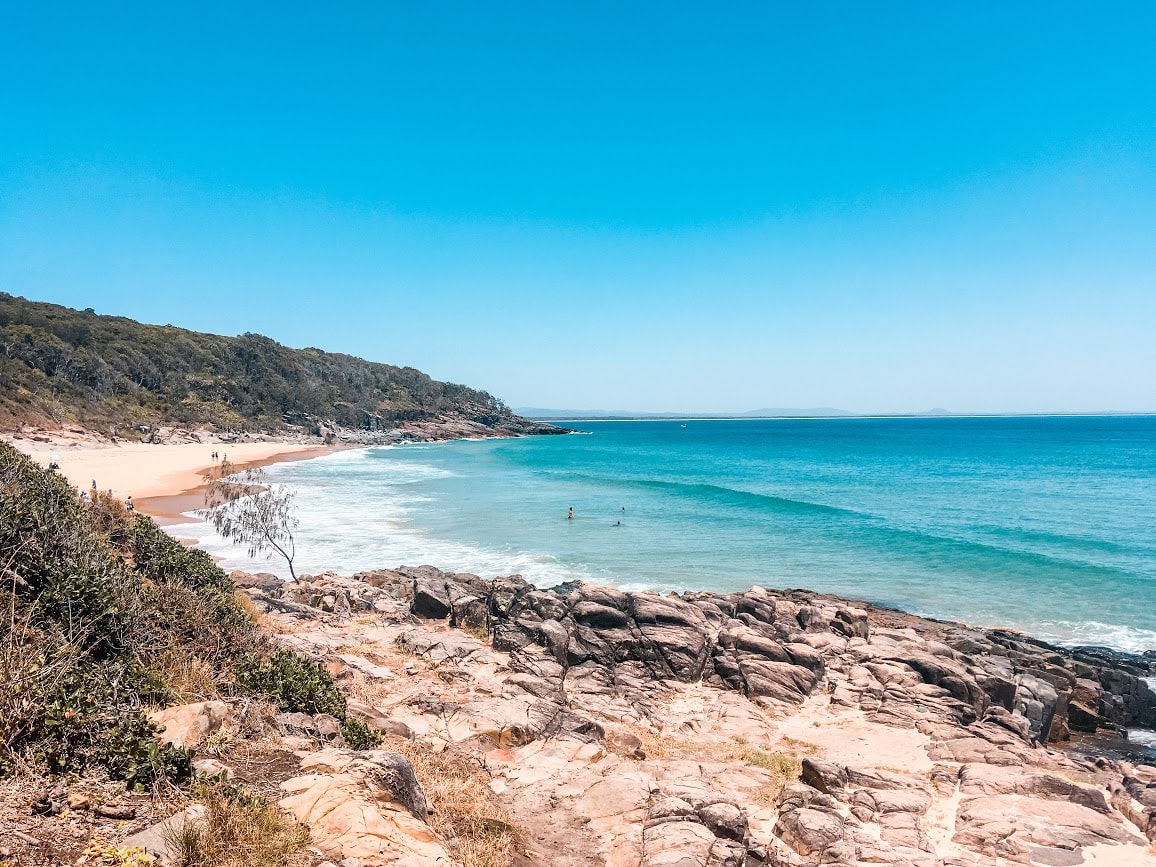 Winch Cove, a secluded beach in Granite Bay is probably my favourite of all the beaches in Noosa National Park, and here's why:
Firstly, since it sits almost in the middle of the coastal track, it's probably the quietest beach on the route. This is because it's the furthest to get to! I hiked the coastal track on a summer morning with a friend and when we stopped off to sunbathe at Winch Cove we were the only people there!
Everybody loves a private beach, right?
There are no lifeguards, so (time to repeat myself again) don't swim or surf there (unless you're a professional, obvs).
And now it's time to be a hypocrite, because, after another couple arrived at the beach, my friend and I did go for a splash in the water. 
Obviously, the safest thing to do is just not go in the water without lifeguards. 
But the water was just irresistible! My rule of thumb in these situations is to never swim alone, make sure there are other people nearby and don't go deep!
Advanced surfers adore Winch Cove, and it draws some incredible talent due to its prime conditions. If the surfers are in the water, kicking back and watching them is a great way to spend the day.
Getting there: The walk to Winch Cove from Noosa Main Beach takes around 45 minutes. It also follows the incredibly gorgeous coastal track. If you're starting the coastal track from Sunshine Beach the walk is slightly longer.
Picnic Cove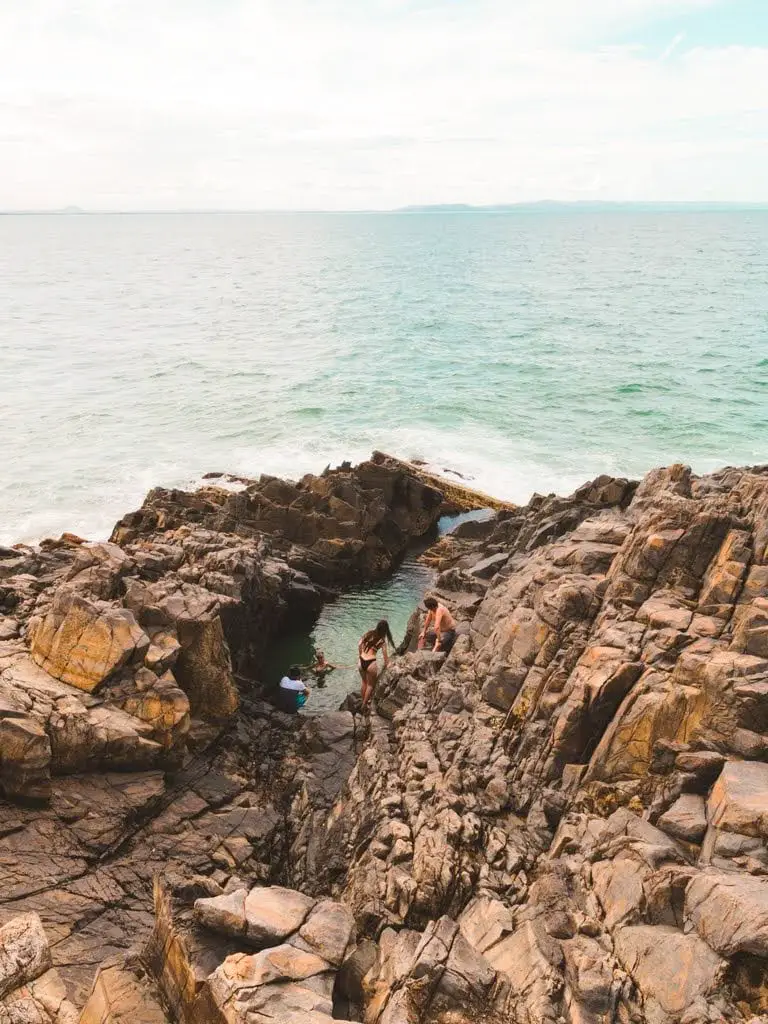 Just a short stroll away from Winch Cove you'll find the tiny pebbled beach of Picnic Cove. As you emerge from the bushland of the coastal track out to Picnic Cove, you'll feel like you've stepped onto a secret beach!
Picnic Cove is often overlooked by coastal path walkers in favour of one of Noosa's most famous tourist attractions (which is just a short walk away) – the Noosa Fairy Pools! Although the Fairy Pools are worth stopping by, don't forget to also dip your toes into the sea at Picnic Cove!
Getting there: The only way to access Picnic Cove is on foot via the Noosa National Park coastal track. The fastest route is to begin at Noosa Main Beach
So, which is the best beach in Noosa?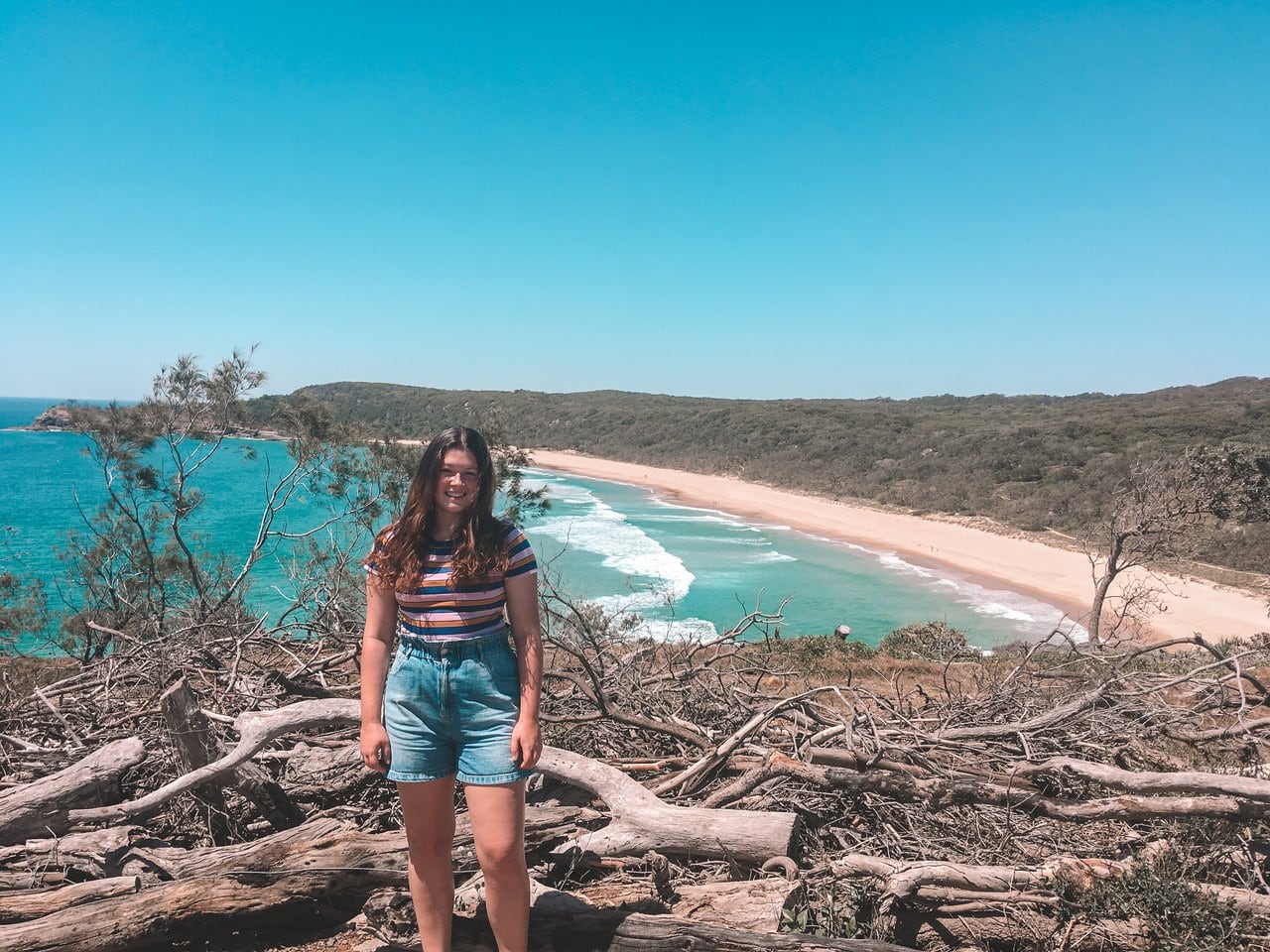 It's so hard to choose which beach is objectively the best in Noosa since they're all so gorgeous.
I mean, most of them are within a national park, so I suppose we can expect nothing less than for them to be drop-dead gorgeous. But still!
Although my favourite beach in Noosa is Sunshine Beach, that's probably because I stayed at a hostel nearby so I spent a lot of my time hanging out there!
If I had to decide on the very best beach in Noosa it would have to be Winch Cove. It's super secluded, it's totally gorgeous, and hiking there makes it all the more rewarding!
It's also important to say that there are other beaches in Noosa that I didn't include in this roundup. A couple of them are further away from the centre of town, so a bit of a pain to get to. Since I didn't visit them I didn't include them, but if you can explore Noosa's surroundings, you'll find quiet and peaceful beaches without the tourists!
Which is your favourite beach in Noosa?
If you're travelling in Australia, head over to my Australia page for more blog posts! And if you liked this post, don't forget to pin it!