There is a good chance that this post contains affiliate links. If you make a purchase through them, I may receive a small commission at no extra cost to you! As an Amazon Associate, I earn from qualifying purchases. As ever, all opinions are my own.
Last Updated on February 9, 2022 by Ella
Brisbane is one of the most popular cities in Australia, and there's no shortage of fabulous day trips to take from Brisbane! Brisbane is a great base for exploring the surrounding area, and from Australia Zoo to the Gold Coast, there's no shortage of awesome day trip ideas from Brisbane.
Here's a selection of the 15 best day trips from Brisbane!
Noosa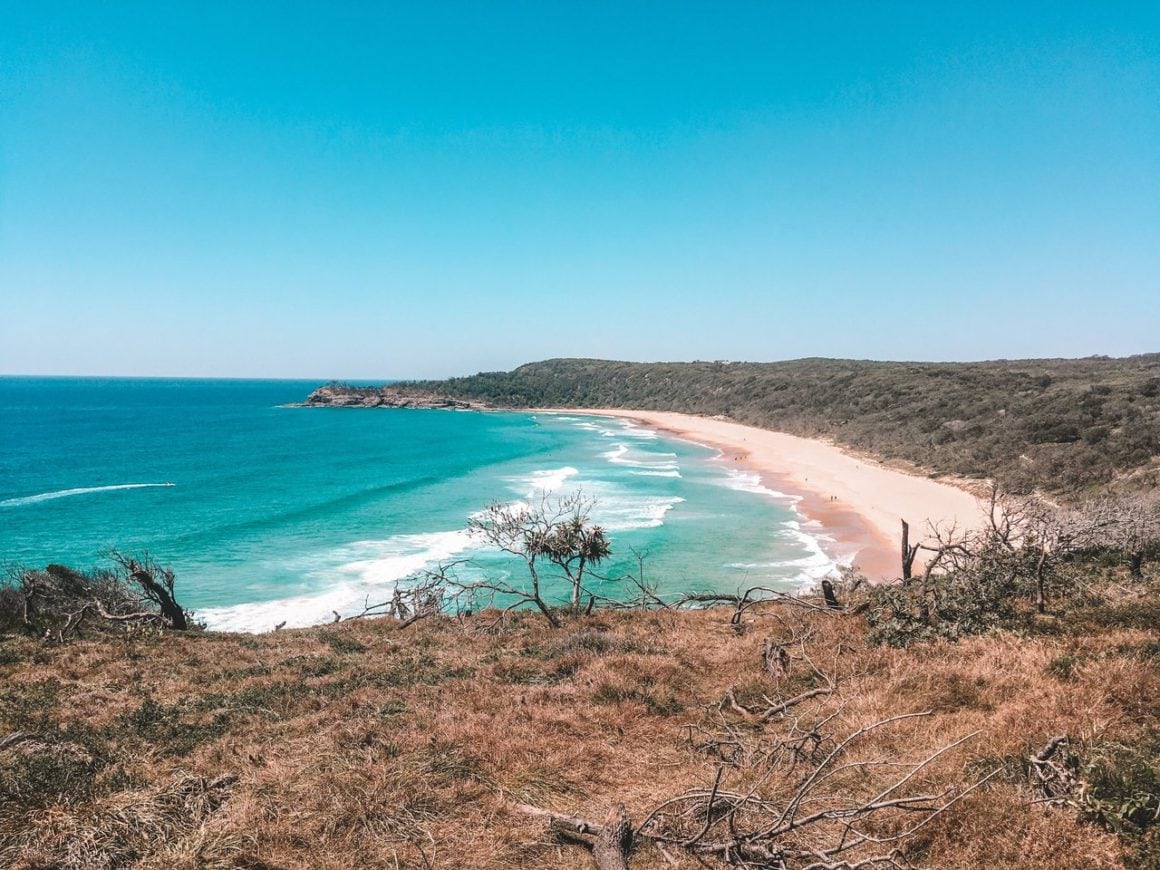 At 90-minutes in the car or bus away from Brisbane, the surfing town of Noosa is one of the gems of the Queensland Sunshine Coast. The sun-drenched beaches of this area of Australia really are something special, so it's no wonder may day trippers from Brisbane head here to escape the city. Whether it's just for the day or you're planning to stick around for a while, there are countless things to do in Noosa, including shopping, surfing and hiking in Noosa National Park.
One of the most popular hiking trails in Noosa is the coastal walk, a stunning route along the Noosa Head. The hike is around 5.4km, taking in secluded beaches, tropical forest and brilliant lookouts. It gets extremely hot on the hike in summer, so it's a good idea to head out at the break of dawn or in the evening to avoid the worst of the heat.
If you're taking your day trip on Sunday, make sure you arrive in Noosa early to visit the famous Noosa Farmers Market. Here, they sell all sorts of quaint arts and crafts and drool-worthy local produce! On Hastings Street, the main street in Noosa, you'll soon realise that Noosa is all about outdoor and healthy living. When it comes to nutritious, fresh food and sporting activities, you won't know where to start! At Noosa Main Beach you can try your hand at a surf lesson, or you can pop over to the Noosa Everglades to go hiking. Plus, the Noosa River is a fabulous place to while away the afternoon.
Springbrook National Park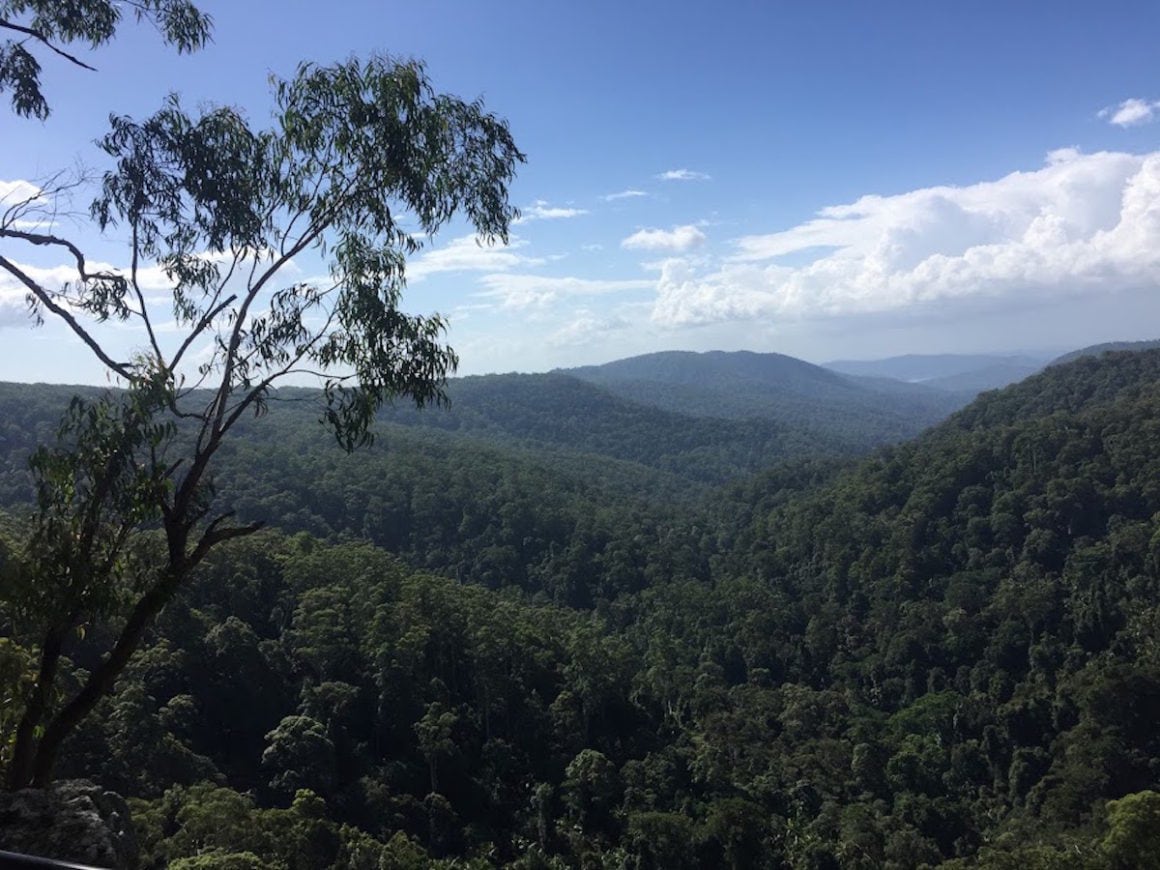 Delve into the Gondwana Rainforests at Springbrook National Park, which is undeniably one of the best day trips from Brisbane. From Brisbane, it is 100km south and a 1 hour 30 minute drive to reach the World Heritage Area. On arrival, you will feel surrounded by the outstanding natural beauty of the diverse rainforest and ancient trees whose roots go back 100 million years. The national park is immense and covers 6,558 hectares and is divided into four sections.
There are many things to see and do in the park, including hiking the Twin Falls Circuit, chasing waterfalls at Purling Brook Falls and taking pictures at the aptly named Best of All Lookout, where you can see Murwillumbhah, Mt Warning and as far as Brunswick Heads. One of the main attractions is the Natural Bridge, which is a true hidden treasure.
What's great is that you can go on a tour from Brisbane to visit the Natural Bridge, or you can drive yourself depending on your preferences. It is easy to reach and accessible for everyone to enjoy. You will see a waterfall pouring through a basalt cave, with a backdrop of natural light. It is enchanting, and even more so when it begins to get dark because the glow worms in the cave appear and shine in this spot. Springbrook is magic – you will have to see for yourself!
Contributed by Rachel from Average Lives
Bribie Island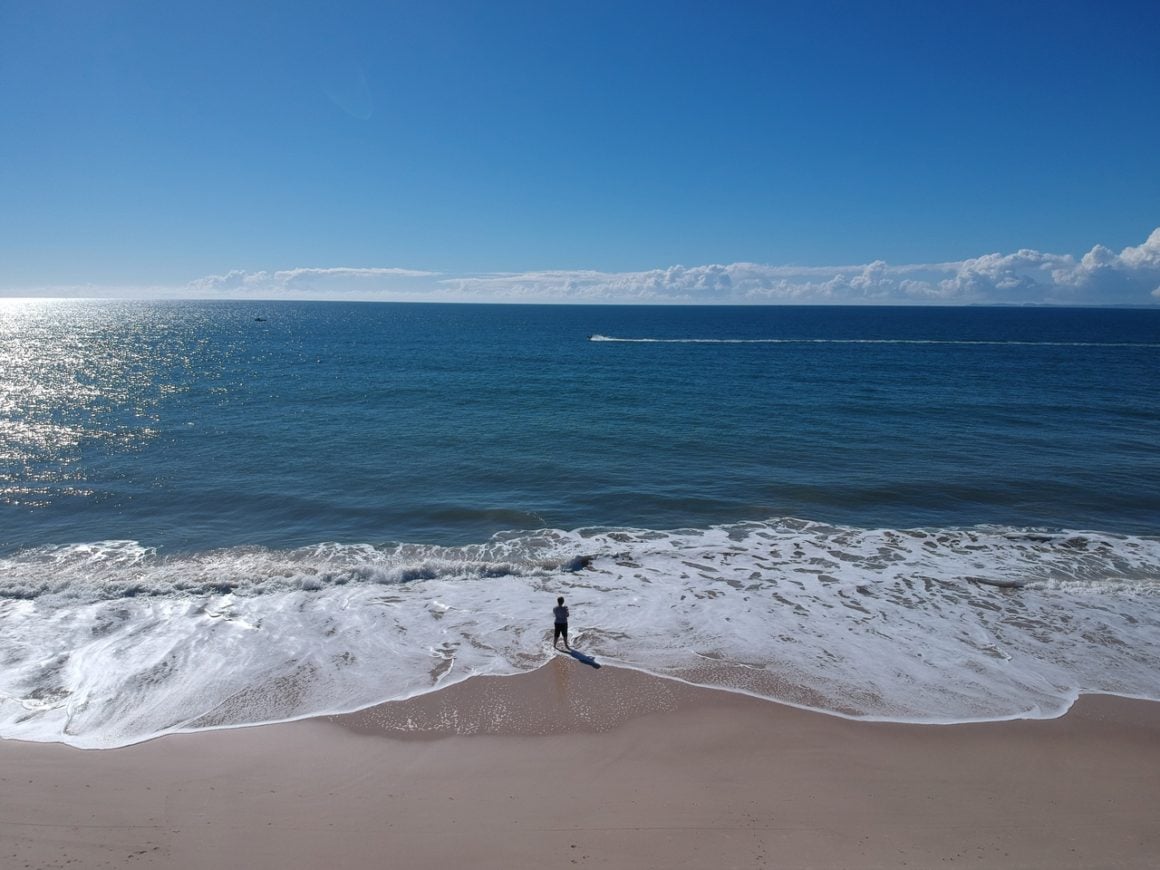 Enjoy the beaches, surf, swimming, shopping, or four-wheel driving when you take off on a Bribie Island Day Trip from Brisbane. It's located on the north side of town and known for its relaxed atmosphere and an endless supply of activities. Otherwise, choose to get away from it all and relax at the best beaches you will see closest to Brisbane.
The great thing about this Island is you can actually drive there. Only separated by the Pumicestone Passage and taking only a minute to travel over the Bribie Island Bridge. The atmosphere on each side of the Island is completely different. The westside provides the small café's & shopping district, along with calm beaches. The eastside giving the beaches full of surf, holiday houses, and four-wheel driving tracks.
Being able to drive means your options are open for regular Train or Bus public transport, getting there and getting around the Island. Booking Tours can provide site seeing adventures and exploration on the North Side of the Island. This can come in handy if you don't have your own four-wheel drive or want to buy a permit for these isolated tracks.
Accommodation can vary from small or large groups and catering to your budget from Camping to Luxury homes.  You can choose to Camp on the sand away from everyone else or rent a home, waking up to those relaxing beach views every morning.
This is one Island destination that is easy to get to and well worth the day trip from Brisbane!
Contributed by Chris Fry from The Aquarius Traveller
Coolangatta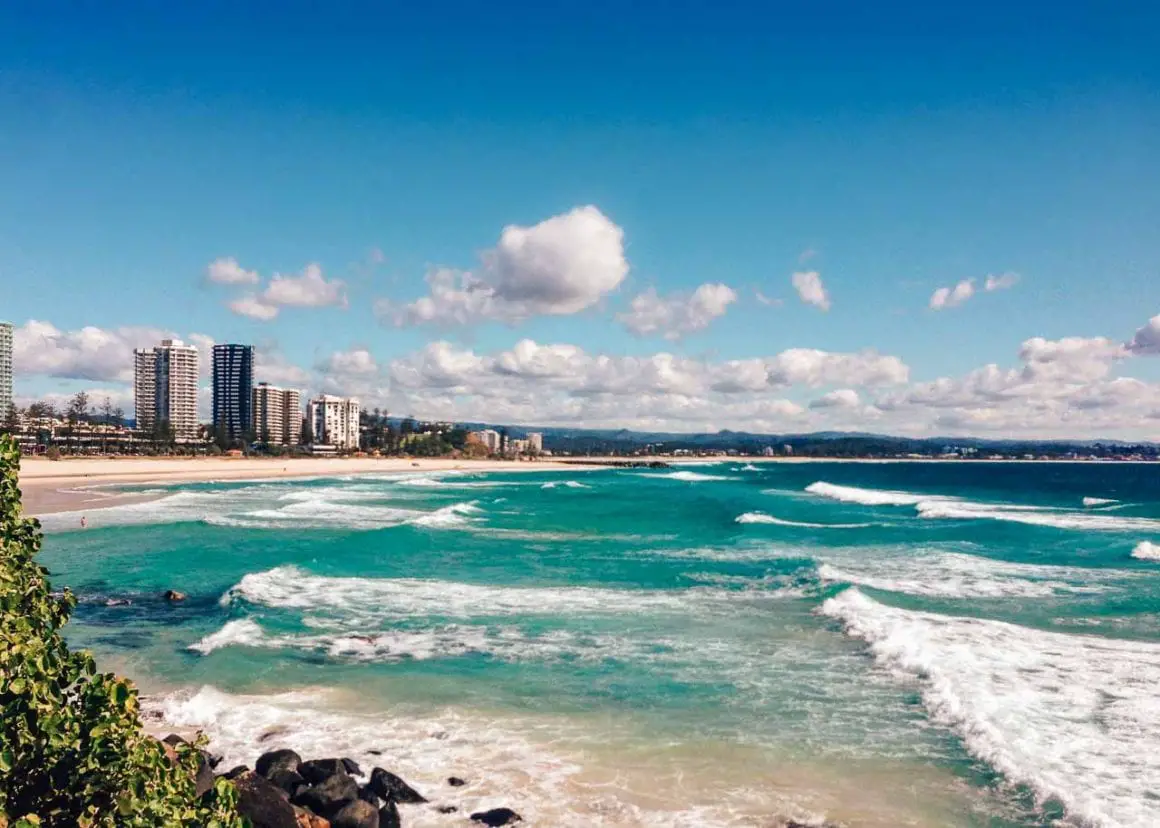 Coolangatta is one of the coolest surf towns on Australia's East Coast. As you may expect from a town so focused on surfing, the pace of life here is nice and slow and you'll enjoy the laid-back atmosphere as you walk around town.  
You'll find some world class waves here at Kirra Beach, Snapper Rocks and Duranbah Beach and if you visit at the end of March, you'll get to see the world's best surfers compete at the World Surf League event at Snapper Rocks. If surfing isn't your thing, then you can still enjoy the epic beaches and swim in the beautiful calm waters of Greenmount.  
The coastal walk along Greenmount Point is spectacular as you get uninterrupted views all the way across to Surfers Paradise. If you visit on the second Sunday of the month, you'll get to enjoy the local art and craft market. Shop for locally made products or enjoy some delicious food.
One of the cool things about Coolangatta is that the town actually shares a border with New South Wales which means during the months of daylight savings time the town has two different time zones on either side of Boundary Street.  
The easiest way to get here from Brisbane is to drive, which takes just over an hour. You can get here using public transport though. Take the train from Roma Street Station to Varsity Lakes and then you can either take an uber or catch the bus to finish the journey. Coolangatta is such a cool place and the slower pace of life here makes it an awesome spot to visit." 
Contributed by Luke and Roxy from Wild About BC
Kondalilla Falls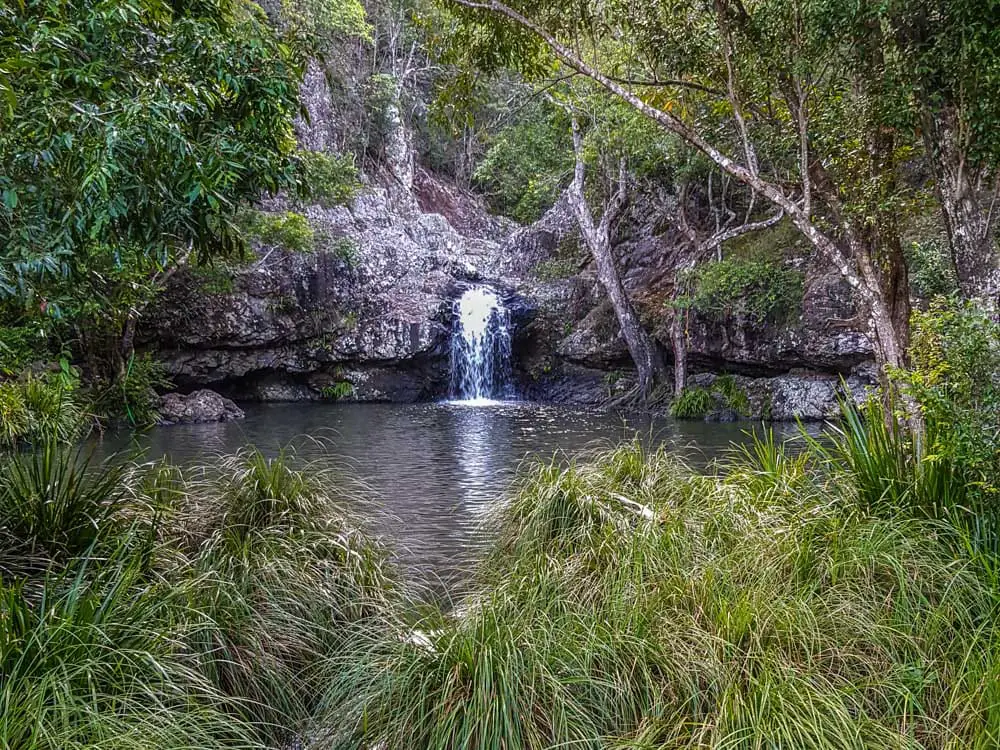 Travelling a short one and a half hours from Brisbane, you could be hiking and swimming in the beautiful Sunshine Coast Hinterland. A Kondalilla Falls day trip is popular for locals and tourists as great exercise, as well as the falls running most of the year-round.
Public Transport options are limited getting to Kondalilla Falls. It can get really involved changing from Trains to buses, and then walking. Therefore, the easiest way is always driving your own vehicle and able to be flexible with your time.
The Car Park is large along with bathroom facilities, picnic tables and makes it easy to pack a lunch and drive up from Brisbane for the day.
The Kondalilla Falls walking track is 4.7 kilometres long and explores the forest in a circuit trail. There are plenty of stairs but a formed track, suitable for most people. Although, it is recommended to have a reasonable amount of fitness to complete.
If swimming is your main objective, then the waterhole is roughly 1.2 kilometres into the track, and you can just hike here, go swimming, and return on the same track. You're lucky that the falls are not very strong, and it's easy enough to swim right up to it. On occasion, you will also see others jumping from a rope swing with a fairly deep hole.
The waterhole is mostly shaded and can be cool in temperature, although extremely refreshing in the summertime.  Wintertime has limited rain, and you will see the water level drop, a little cold for swimming, but still a lovely hike to complete.
Contributed by Chris Fry from The Aquarius Traveller
Australia Zoo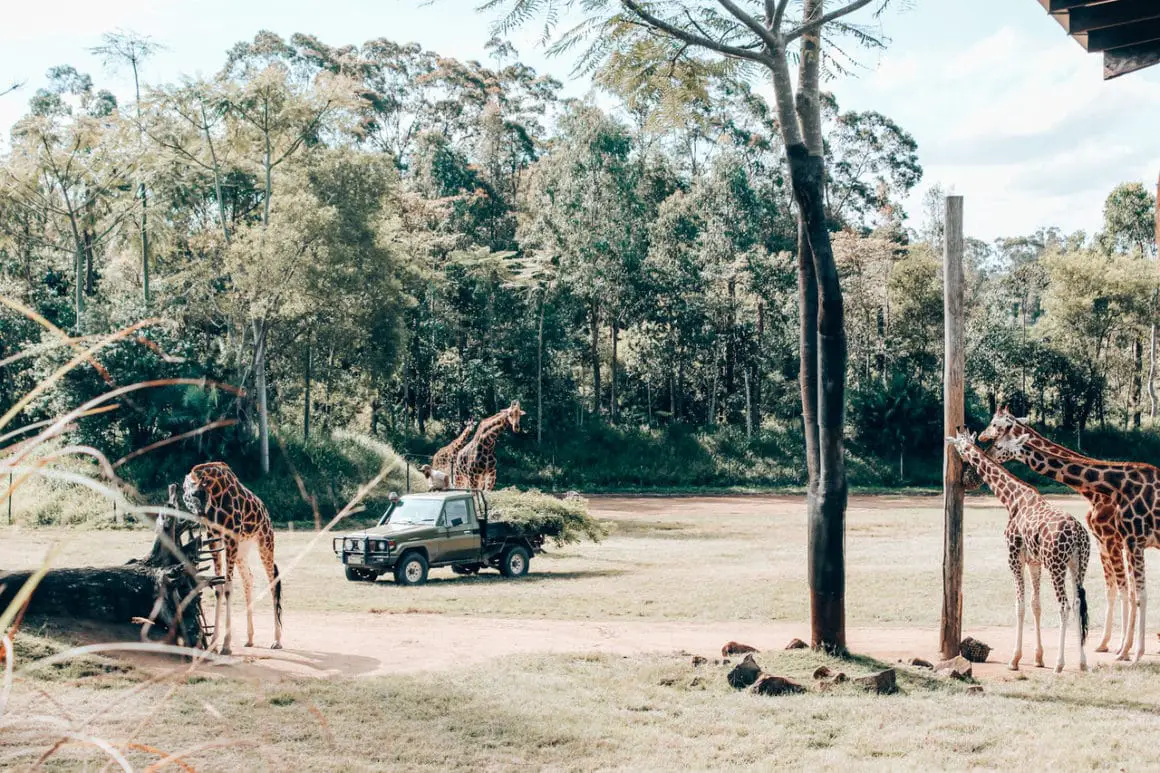 A visit to Brisbane isn't complete without taking a day trip to the Australia Zoo. The Australia Zoo was founded and is owned by the Irwin family- Crickey! Remember Steve Irwin? The Crocodile Hunter? The zoo is located in Beerwah, Queensland, which is situated exactly one hour from Noosa and one hour north of Brisbane on the Sunshine Coast. I highly recommend stopping at the Australia Zoo on your way from Noosa to Brisbane while exploring the Sunshine Coast in Australia. A car is the easiest way to access the zoo. Adult admission tickets cost $59 AUD.
This zoo is ginormous.1,000 acres to be exact, and will make you feel like you're traveling the world without ever leaving the confines of Queensland. The zoo is also set up like an animal sanctuary so that no animals are locked in cages. In the Africa section of the zoo, you'll find zebras, giraffes, meerkats, and more roaming free throughout the Savannah, just like they would in eastern Africa. It's here that you can also pay to feed a giraffe. If you're looking for additional animal encounters, there's koala holdings and the famous Wildlife Warriors Show! This show takes place in the Crocoseum every day at noon and is still run by the Irwin family.
Contributed by Nicole from The Abroad Blog
Kingscliff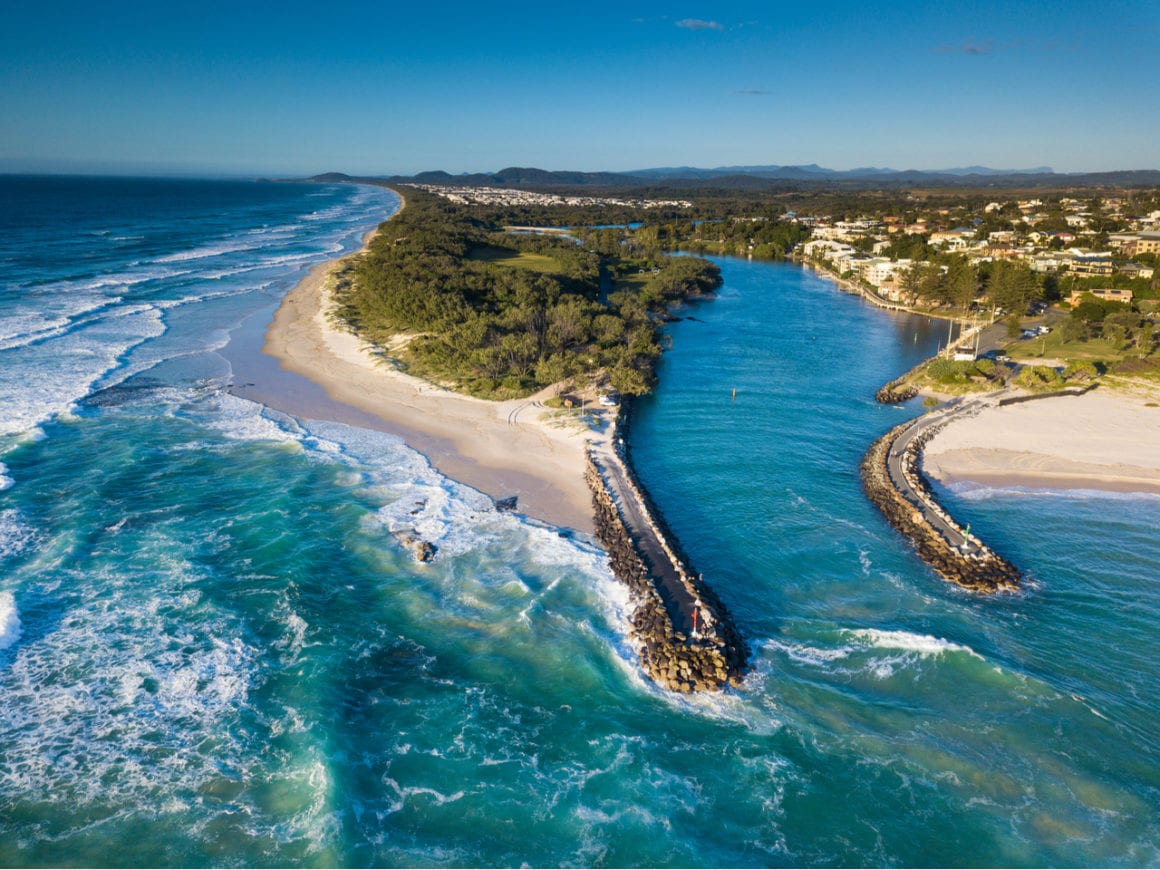 One of the best day trips from both Brisbane and the Gold Coast is Kingscliff. The Brisbane locals like to keep Kingscliff a secret! It's a perfect 'big city escape' with a beautiful beach, but no big crowds, traffic, or skyscrapers to contend with. It's only about a 60 to 90 minutes drive from Brisbane via the M1.
Kingscliff is a quaint seaside village. with the main road running parallel to the beach. It has upmarket boutique clothes, surf and sports shops, a small art house theatre, and a great range of cafes and restaurants. The shops are a refreshing change from the usual name-brand stores that you see in every town and city and there's a good selection of local markets on at the weekends.  
The local surf club is right on the beachfront and you can sit outside on the deck and watch all the action in the surf while you enjoy a meal and drink,  The bowls club is also on the beachfront and has a very popular champagne breakfast on a Sunday morning. The newly renovated 1932 Kingscliff Beach Hotel is a lively place that often has live music.
You'll have plenty of choices for interesting walks. There is a very pleasant five-minute walk to Fingal Head lighthouse with great ocean views in both directions, a 40-minute walk from Kingscliff to Salt Beach, and miles of beach to stroll along. There are plenty of shortish walks through the bush to the surrounding beaches and also to see the local version of the Giant Causeway in Ireland with its basalt rocks. At the southern end of town is the Cudgen Creek area which is excellent for fishing or paddle boarding and non-surf swimming particularly for families with small children. You may have to share the creek with the local pelicans though.  
Contributed by Maureen from So Many Places! So Little Time!
The Gold Coast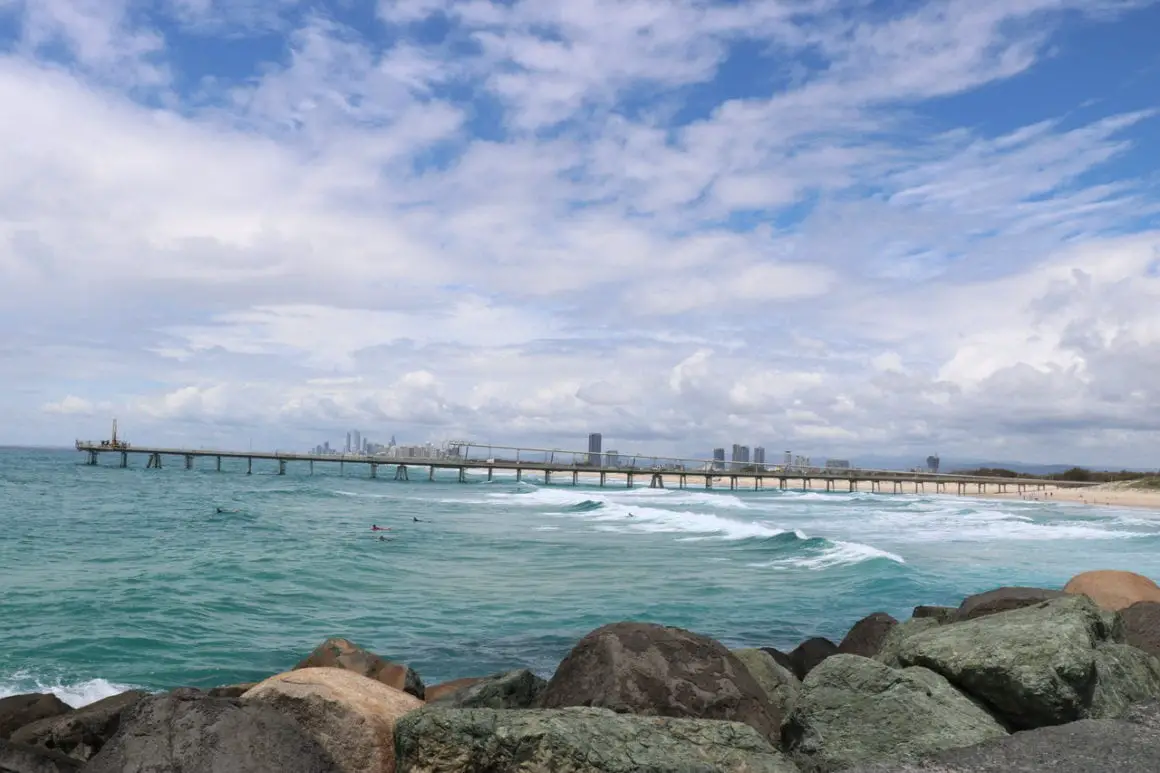 One of the most popular and easiest day trips to do from Brisbane has to be heading out to the amazing Gold Coast. This section of Queensland's coastline is famous for its beautiful white sandy beaches, crashing surf and theme parks where rollercoaster lovers can get their adrenaline hit.  It's one of the best places to visit in Queensland!
From Brisbane, a trip to the Gold Coast is extremely accessible as the distance between the two is only around an hour's drive. Whilst driving is definitely the easiest option, trains also run from Roma Street Station in Brisbane to Nerang, which connects up with the 740 bus line to Surfers Paradise in the heart of the Gold Coast.  
There are so many things to do on a day trip from Brisbane to the Gold Coast depending on your tastes. If you're just after a bit of beach action, then head straight for the coast and plonk yourself down for a day of relaxing and sunbathing. If you'd prefer to spend your day visiting a theme park, then Movie World is definitely the pick of the bunch with several great rollercoasters to ride on and great themed shows throughout the day.  
The SkyPoint observation deck at the Q1 tower is a great way to take in the coastal views from above, whilst admiring the architecture of Australia's tallest building. For some real indulgence, you can also enjoy a cocktail or a meal from the 77th floor restaurant while you watch the ocean.
Contributed by Emma from Emma Jane Explores
Currumbin Wildlife Sanctuary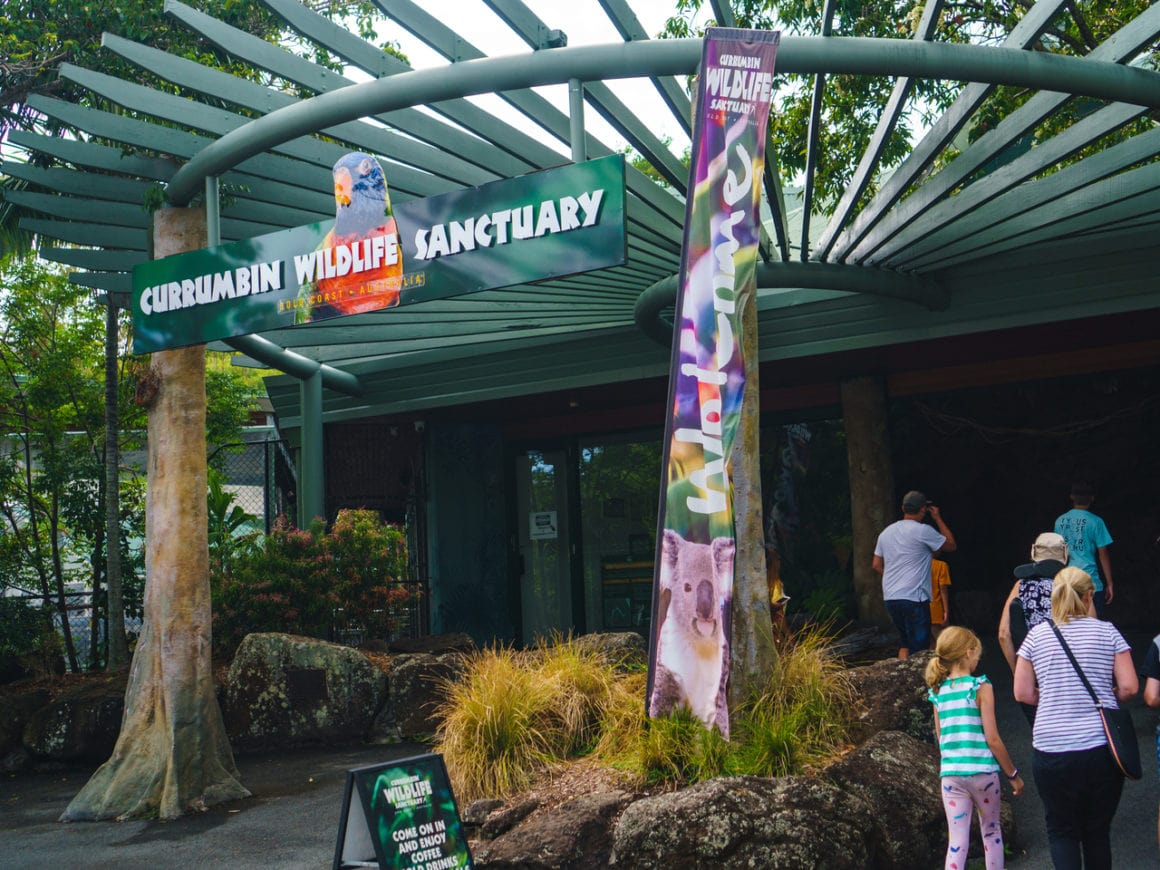 Currumbin Wildlife Sanctuary is a day trip from Brisbane for the whole family.  The easiest way to get there is to drive from Brisbane – it's just over an hour away.  I recommend getting there when it opens, as there is plenty to do for a full day. 
There are several 'shows' that are worth seeing. These include an introduction to several Aussie snakes; a raptor show where birds swoop for prey overhead; and a chance to see crocodiles up close. These are both entertaining and informative and are a great chance to learn more about these creatures and how we can help protect them. The sanctuary also has a large animal hospital you can look into and see vets care for animals such as kookaburras and koalas. 
There are plenty of other opportunities to see Australian animals, such as koalas, emus, kangaroos and Tasmanian Devils. Simply go to see the feeding and speak to a wildlife ranger who will happily answer all your questions.
The sanctuary isn't limited to Australian wildlife – there are also several areas with Asian and Latin American animals such as a red panda and enormous capybaras (kind of like oversized guinea pigs – very cute!).
The sanctuary used to be called a bird sanctuary because of the large flock of rainbow lorikeets that usually visit twice a day.  The name may have changed, but the birds do still visit. You can get a dish of milky food that is good for them and that they love and you'll soon find your outstretched arms covered in brightly colored birds. This is the perfect way to end your day at the wildlife sanctuary.
Contributed by James from Travel Collecting
Tamborine Mountain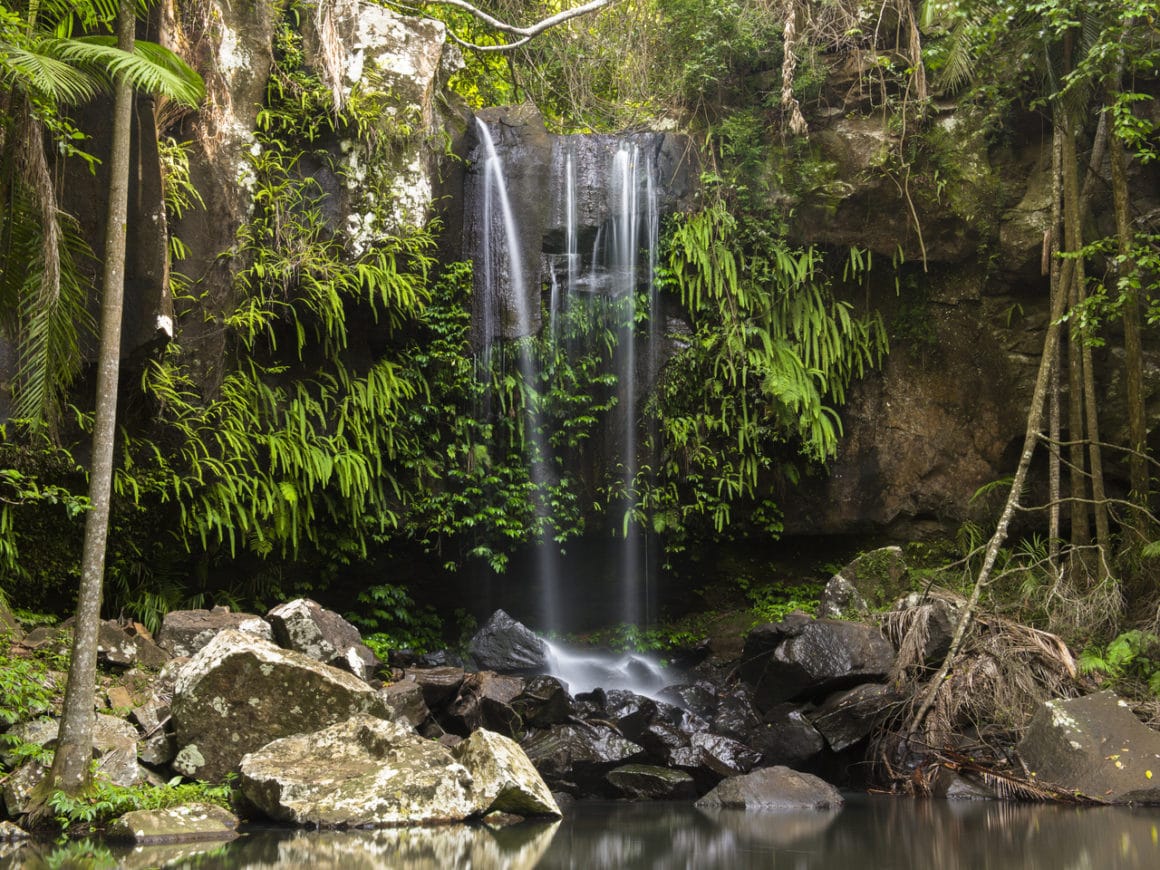 One of the best day trips from Brisbane is to Tamborine Mountain in the Gold Coast Hinterland. Located only 80km south of Brisbane, the area offers a range of things to do and see.
Our first recommendation for a day trip is to head to the Tamborine Mountain Gallery Walkway. Along this street you will find a multitude of cafes and restaurants, quirky shops and even a winery! Housed in an authentic Bavarian chalet, don't miss the Cuckoo Emporium where you will find cuckoo clocks of all shapes and sizes.
After lunch you have a choice of activities. Head to the Tamborine Mountain Walkway and enjoy the 1.5 km of walks and trails and explore the rainforest from above. Wear flat shoes if you decide to include the walkway in your Tamborine Mountain itinerary.
Another option is to visit the Glow Worm Caves and take a tour to see thousands of glow worms in action! Tours depart every 30 minutes.
If you enjoy wineries you may be interested to know there are 7 on Mt Tamborine! Book a guided tasting tour – some even include lunch.
Lastly, if you enjoy hiking there are 6 main bushwalking areas to choose from on the Mountain. Most of the trails are under 3 km and take around an hour.
Before heading home from Tamborine Mountain why not enjoy a meal in one of the many great restaurants nearby. We recommend the Three Little Pigs Bar and Bistro, Clancy's Irish Bar or Hickory. All 3 restaurants offer delicious menu options – just check opening times and book ahead!
Contributed by Tracy from Tracy's Travels In Time
Caloundra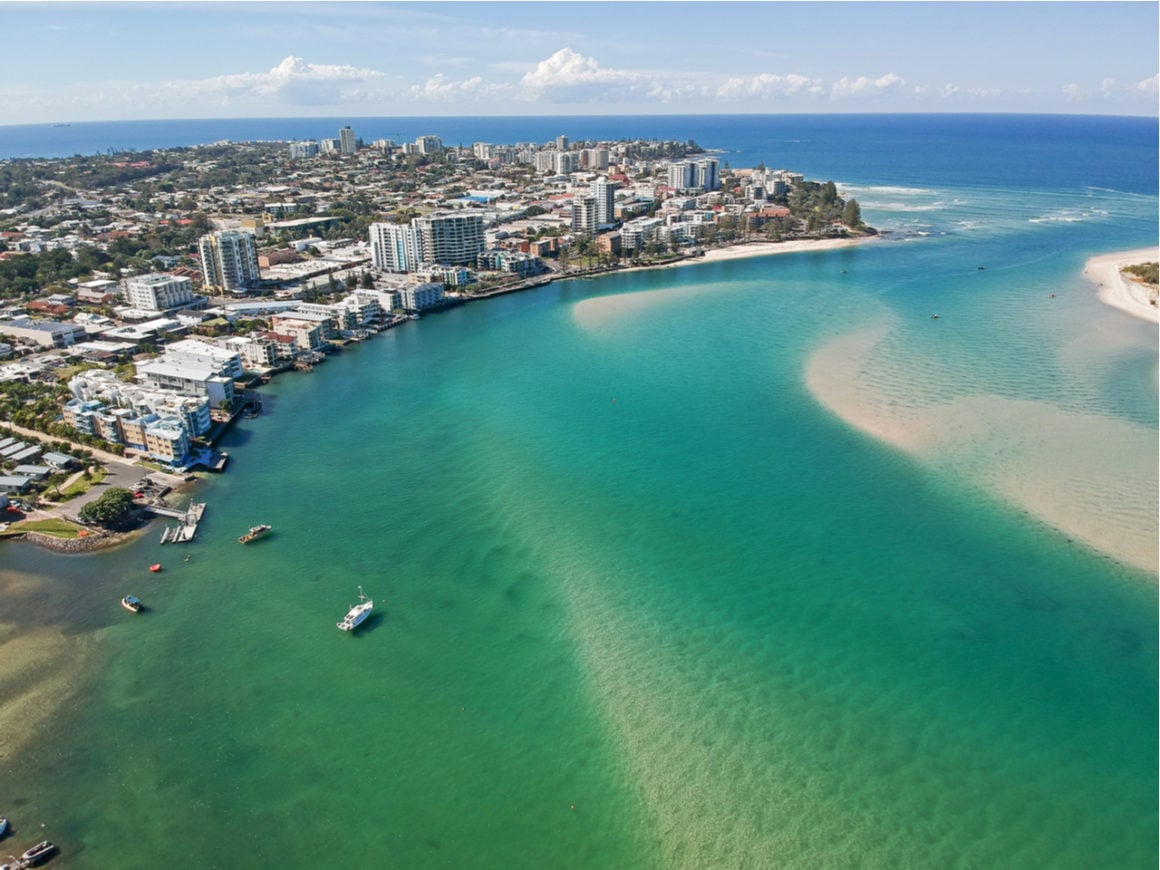 If you're looking for beautiful beaches, great camping spots and plenty of things to do and see then Caloundra is the perfect day-trip destination from Brisbane.
Located just an hour north of the city and often considered the gateway to the Sunshine Coast this beautiful town is great for a quick trip to get back in touch with nature. You'll love King's Beach which is great for swimming, surfing or simply relaxing. There is a large pool available for those who prefer swimming in calmer waters as well as lifeguards and plenty of little eateries nearby for lunch.
Of course, Bribie Island is one of the main attractions in Caloundra, so why not combine both day trip destinations for a lovely weekend break from Brisbane?
Back on the mainland, make sure to visit the Currimundi Lakes which are great for swimming and camping. Moffat Beach is the place to go if you're looking for the best surf spots around so pack all your gear for this Brisbane day trip.
Contributed by Victoria from Guide Your Travels
Lamington National Park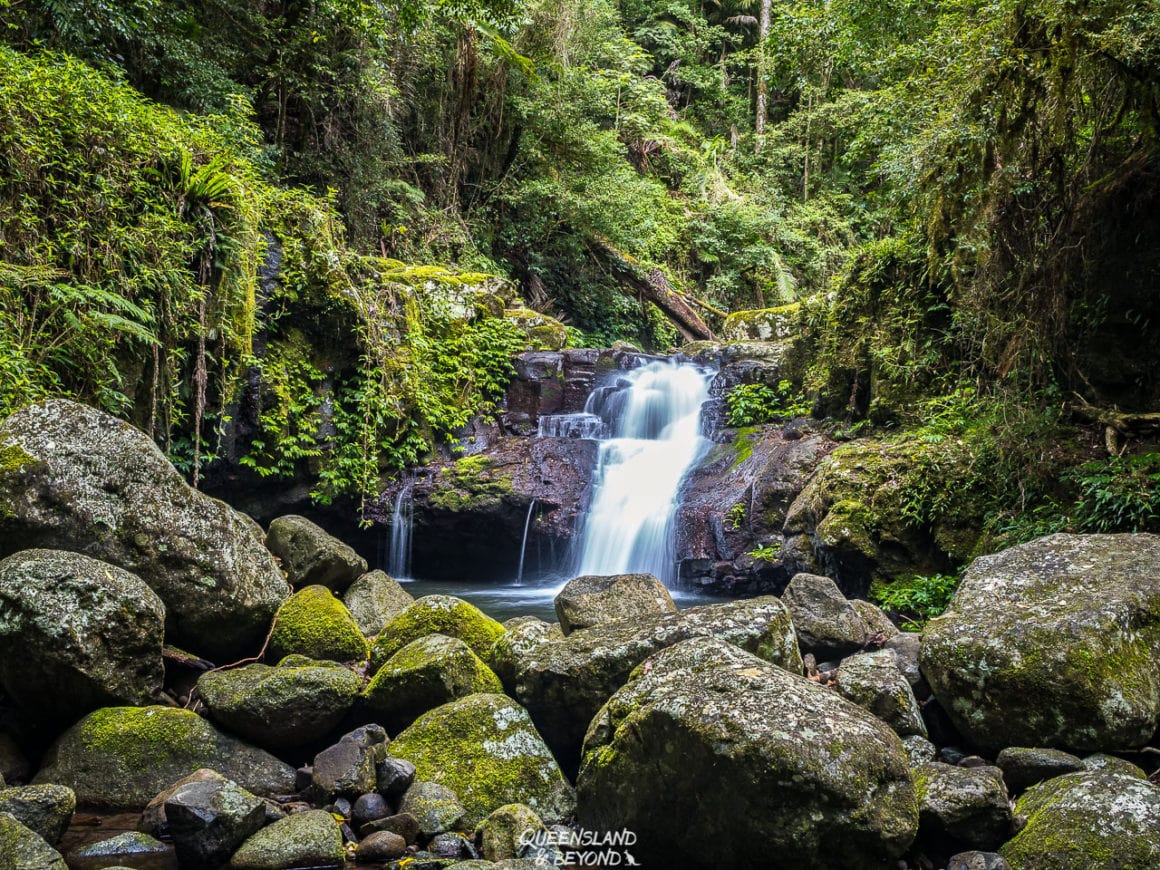 Lamington National Park is one of the oldest national parks in Queensland, and part of the Gondwana Rainforests of Australia. It's an amazing natural wonderland full of ancient rainforest, myriad waterfalls, lush fern gullies, lookouts, and bird life that is second to none.
Lamington is in the stunning Scenic Rim region, and about a 100km south of Brisbane. There are two sections, Binna Burra and Green Mountain, and both are just as fantastic for spending the day. In fact, you'll have a hard time choosing between the two!
Neither section is accessible by public transport so you will need a car to get there.
Just driving up the windy road to Binna Burra or Green Mountain will give you great views but not surprisingly, hiking is one of the best ways to experience the natural beauty that Lamington offers.
Popular trails include Coomera Circuit (try counting all the waterfalls!) or Tullawallal Circuit through rainforest at Binna Burra. At Green Mountain, Box Forest Circuit, including the magnificent Elabana Falls, is not to be missed. Or try one of the easier walks, such as to Morans Falls Lookout at Green Mountain.
For a shorter, more family-friendly experience, drive up to Green Mountain and do the (free) Tree Tops Walk at O'Reilly's. Afterwards, you could feed rosellas or just enjoy a coffee at O'Reilly's Café.
At Binna Burra, the Tea House is finally open again after the 2019 bushfires caused extensive damage. Scones and tea are a real treat here since the views into the Numinbah Valley are truly amazing!
So even if you're not really into hiking, visiting Lamington for the day will only make you want to come back for more.
Contributed by Kati from Queensland and Beyond
Byron Bay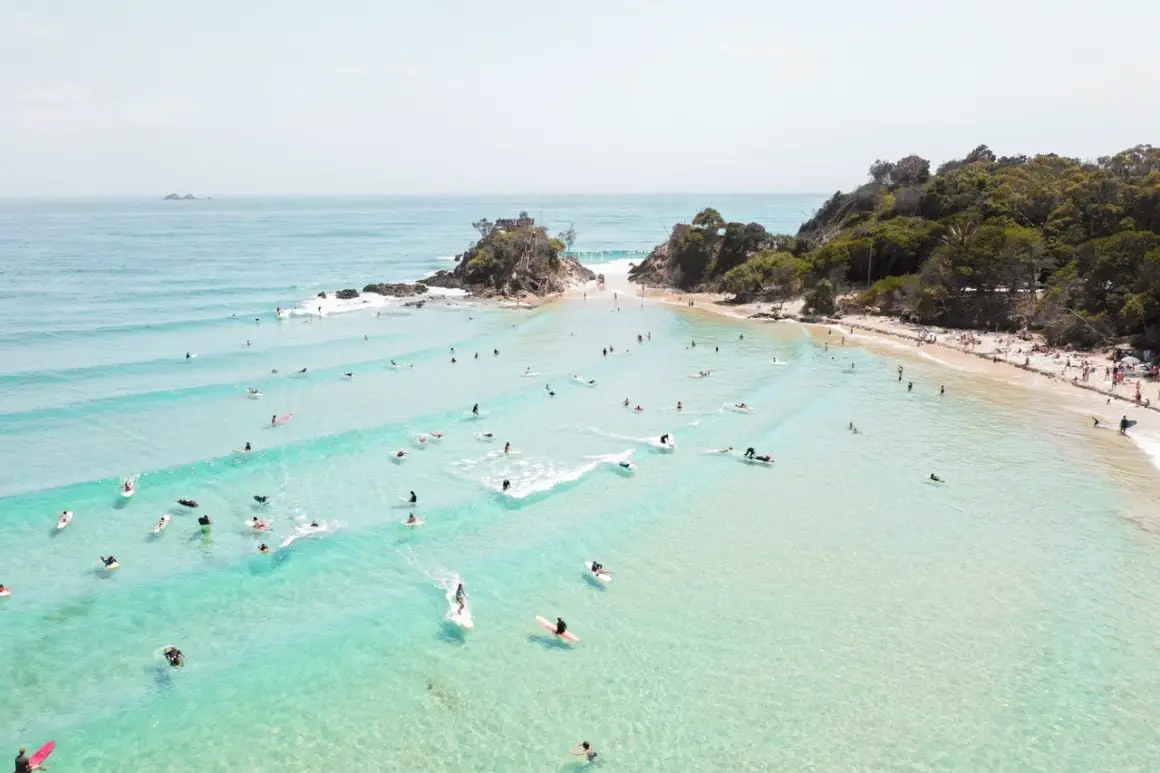 As one of the most popular places along Australia's East Coast, Byron Bay is a wonderful day trip from Brisbane. It's got a kind of magic in the air that makes people want to stay forever – but luckily, it's a great day trip too. 
The town is most famous for surfing, as well as its bohemian, hippy lifestyle. To get to Byron from Brisbane, it's best to hire a car and drive, with the journey taking approximately 2hr10 minutes, although you could take a bus between the two. 
Once in Byron, the town is easily explored on foot. One of the most popular things to do is to hike to the Cape Byron lighthouse, positioned proudly at the most eastern point in Australia. It's just a short walk from the town centre. From here, you can admire incredible views in all directions – of the long extensive, golden beaches as well as the lush, tropical Arakwal National Park that backs the beach. After working up a sweat, take a dip in the gorgeous ocean – there's no shortage of beach areas to pick from near the heart of town, including Tallow Beach, Belongil Beach, Clarks Beach and The Pass. You might even spot dolphins further out from the shore!
Make sure to also visit one of the local markets to pick up some wonderful artisan goods, enjoy all day live music at one of the awesome bars, explore the craft beer scene or even search for the elusive platypus on a guided nature walk. At the end of the day, why not stop at the Byron Bay Farm for a delicious dinner on your way back to Brisbane. 
Contributed by Claire from Stoked To Travel
Ipswich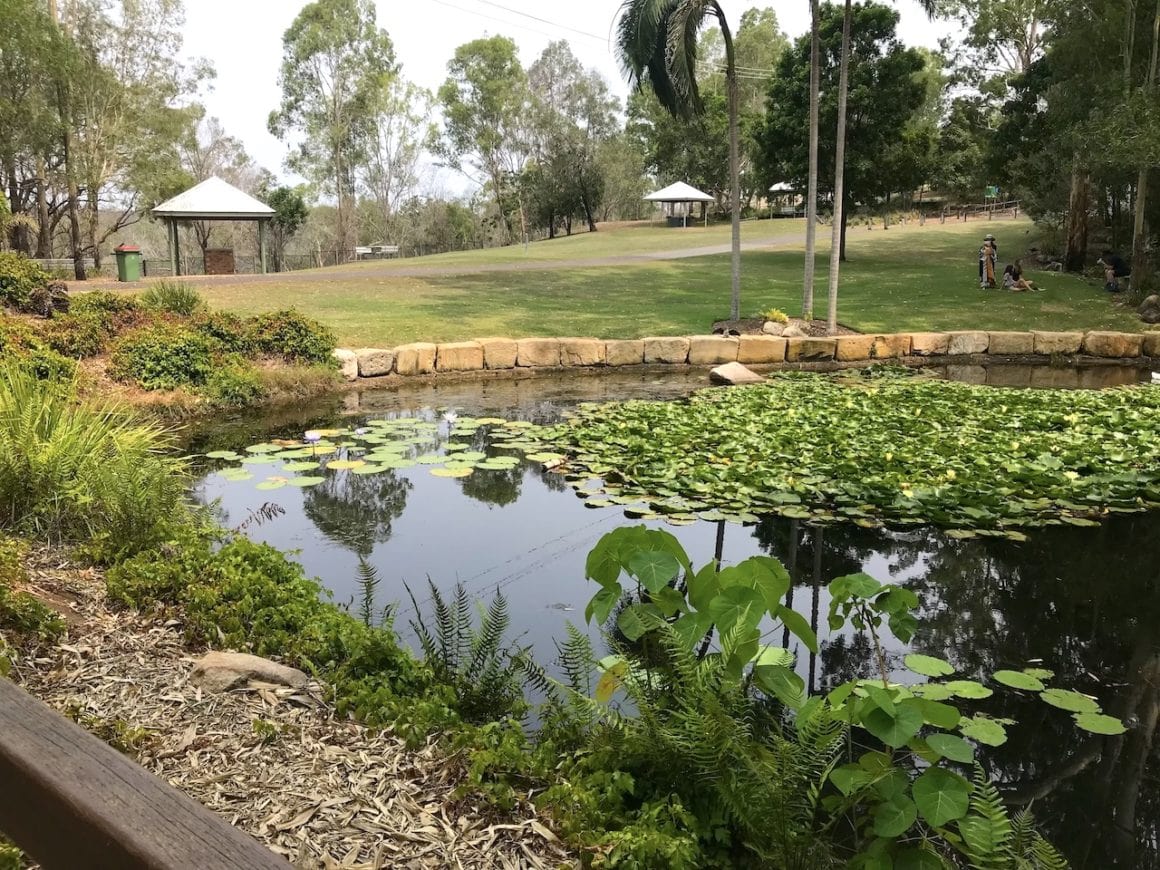 Ipswich is an easy day trip from Brisbane and one that is often underrated as a family day out. It is located less than an hour from Brisbane and easily reached by car or train.
Ipswich sits on the cusp of where the city meets the country so you can enjoy small-town vibes despite it being a large city. Here you will find delicious restaurants, historic buildings and plenty of fun attractions for all ages.
For train and automatic enthusiasts, the Workshops Rail Museum is a popular attraction with the history of trains in Queensland, interactive displays, replicas and many of the actual trains that shaped our railway history over the decades. 
Ipswich Nature Park is a free wildlife park in the centre of Ipswich, with many native Australian animals to see. This is a leisurely way to spend an hour strolling through the gardens and spotting the resident wildlife.
Next to the nature park is one of Ipswich's most well-known parks, Queens Park and Nerima Gardens, a Japanese garden that is open daily to explore.
If visiting with kids, there are some fantastic playgrounds and parklands including Robelle Domain and Ripley Ecco Park with splash playgrounds and the free Orion Lagoon at Springfield Lakes for swimming during the warmer months. 
Before you head home, make sure you stop at Rafter and Rose or Pumpyard Bar And Brewery for a meal. For dessert, head to Ungermann Brothers Gourmet Ice Cream, owned by a former Masterchef finalist.
Contributed by Holly from Four Around The World
Toowoomba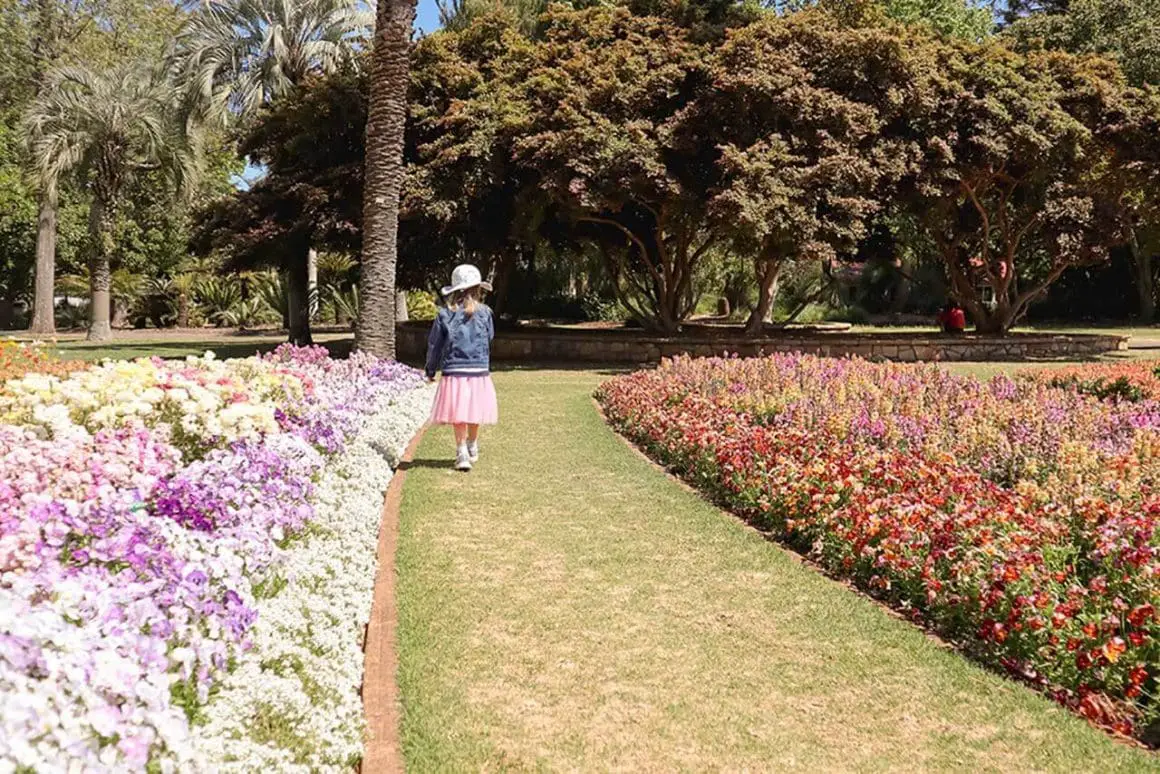 One of the best short trips from Brisbane is the city of Toowoomba. A spectacle of colour in any season, but it is the annual Toowoomba Carnival of Flowers held in Spring that has put this city on the map and why it is now affectionately called the "Garden City".
Toowoomba is located 125 kilometres west of Brisbane on the edge of the Great Dividing Range. The main Warrego Highway connects Brisbane and Toowoomba and with the distance being less than a two-hour drive Toowoomba is the perfect place for a day trip out of Queensland's capital.
Step back in time and gain an insight into the region's past at the Cobb and Co Museum, one of the most popular things to do in Toowoomba. The museum has a range of permanent and temporary exhibitions, an interactive science centre, and hands-on workshops.
With over 150 parks and gardens, a visit to Toowoomba would not be complete without visiting one if not a few. The expansive green spaces offer visitors many ways to enjoy them. Laurel Bank Park and Queens Park Botanic Gardens are superb places to wander, while they also provide playgrounds for kids to burn off energy. The Toowoomba Japanese gardens are one of the largest in Australia. The tranquil oasis spans three-hectares and acts as a place of solitude in the outer suburb of Toowoomba.
One of the top places to appreciate the location of the city and the panoramic views is at Picnic Point Parklands which looks to Table Top Mountain and over the Lockyer Valley. Throw down a picnic rug under the towering trees and let the hours fade away. For those who would prefer to keep active explore the area on one of the walking trails. 
Contributed by Sharee from Inspire Family Travel
Liked this post? Pin it!