There is a good chance that this post contains affiliate links. If you make a purchase through them, I may receive a small commission at no extra cost to you! As an Amazon Associate, I earn from qualifying purchases. As ever, all opinions are my own.
If you're looking for a European getaway for a weekend, I highly recommend Krakow!
Not only is it one of the best cities in Europe when it comes to value for money, but it's got everything you'd want to spend a few days in the city – we're talking excellent food, world-class museums and, of course, lots of cheap beer.
Hooray!
WW2 was brutal for Krakow (and Poland as a whole, really), so a lot of the main tourist attractions in the city are WW2-based. And I gotta say, they're far from lighthearted. I think I've struck the perfect balance this weekend in Poland itinerary between the heavy, yet incredible, WW2 attractions and more carefree and fun attractions. 
Even if you're not a museum person, though, you really do need to check out a few in Krakow. They're essential for understanding the history of the city, and the Schindler's Factory Museum in particular is an unmissable attraction in Krakow.
Having heard so much about Krakow, I decided it was finally time to visit for myself and see what all the fuss is about. Well, I can personally confirm that Krakow is a lovely place to spend a weekend in, and, if you follow this itinerary, you'll definitely return from Krakow agreeing with me!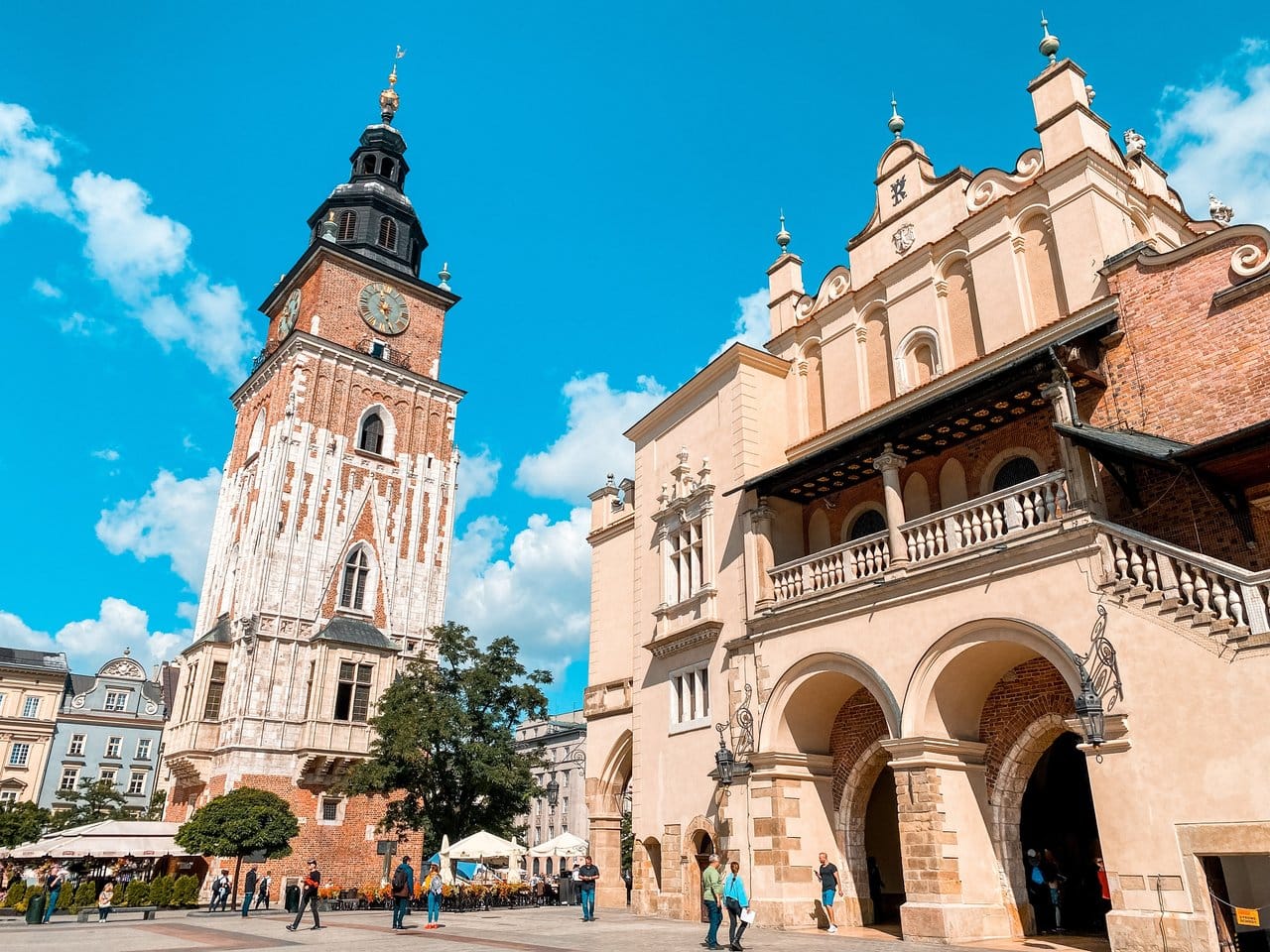 How Many Days Should I Spend in Krakow?
I stayed in Krakow for a whopping five days, and, to be honest, it was too long.
In reality, you only need to spend two days in Krakow, which makes it perfect for a weekend trip! You could even see the highlights in one day if you were extremely selective about which attractions you visit, although that would be tricky!
However, there are a tonne of brilliant day trips from Krakow, so I think three days, a long weekend, in Krakow is the perfect amount of time to explore the city, eat some incredible pierogi, and take one day trip from the city.
Since I spent so long in the city, I have some really great tips and recommendations for planning your trip to Krakow. This weekend in Krakow itinerary will cover all the best things to do in the city for two or three days, as well as the best places to stay, how to get around, and some other travel tips I picked up during my time in Krakow.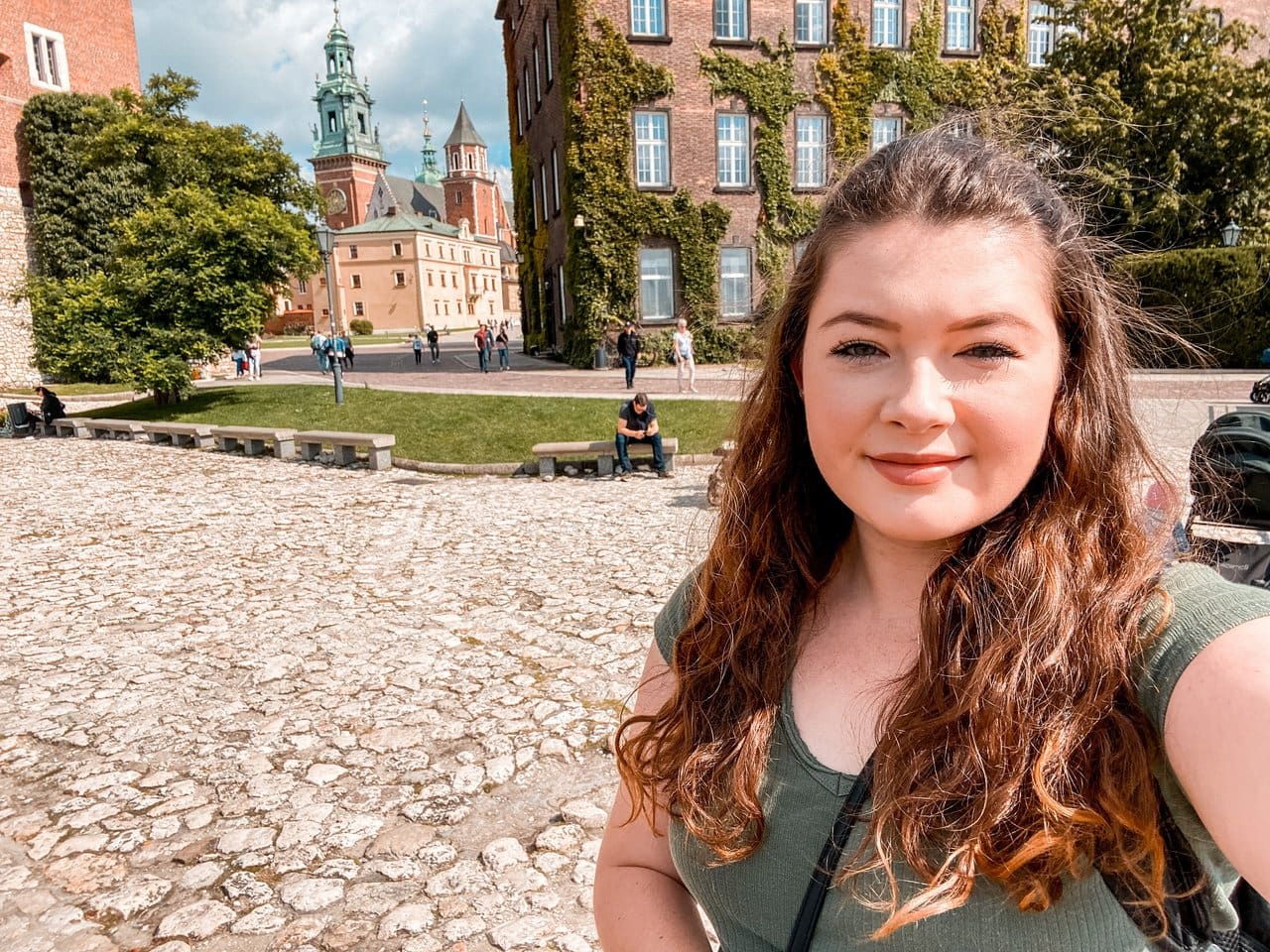 How to Spend a Weekend in Krakow
I have planned out itineraries for both 2 and 3 days in Krakow so that you're covered whether you're visiting Krakow for a long weekend or just a standard weekend.
You can do the days of this itinerary in any order, but I recommend spending your first day in Krakow in the gorgeous Old Town and the Wawel Castle area to settle in and get a taste of the city centre before branching out into day trips, or the neighbourhood of Podgórze.
Top tip: The Polish currency is the Polish Zloty (PLN), but I have listed most of the prices in this post in Euros to keep everything simple.
Day 1: Wawel Castle & The Old Town
Stop 1: Wawel Royal Castle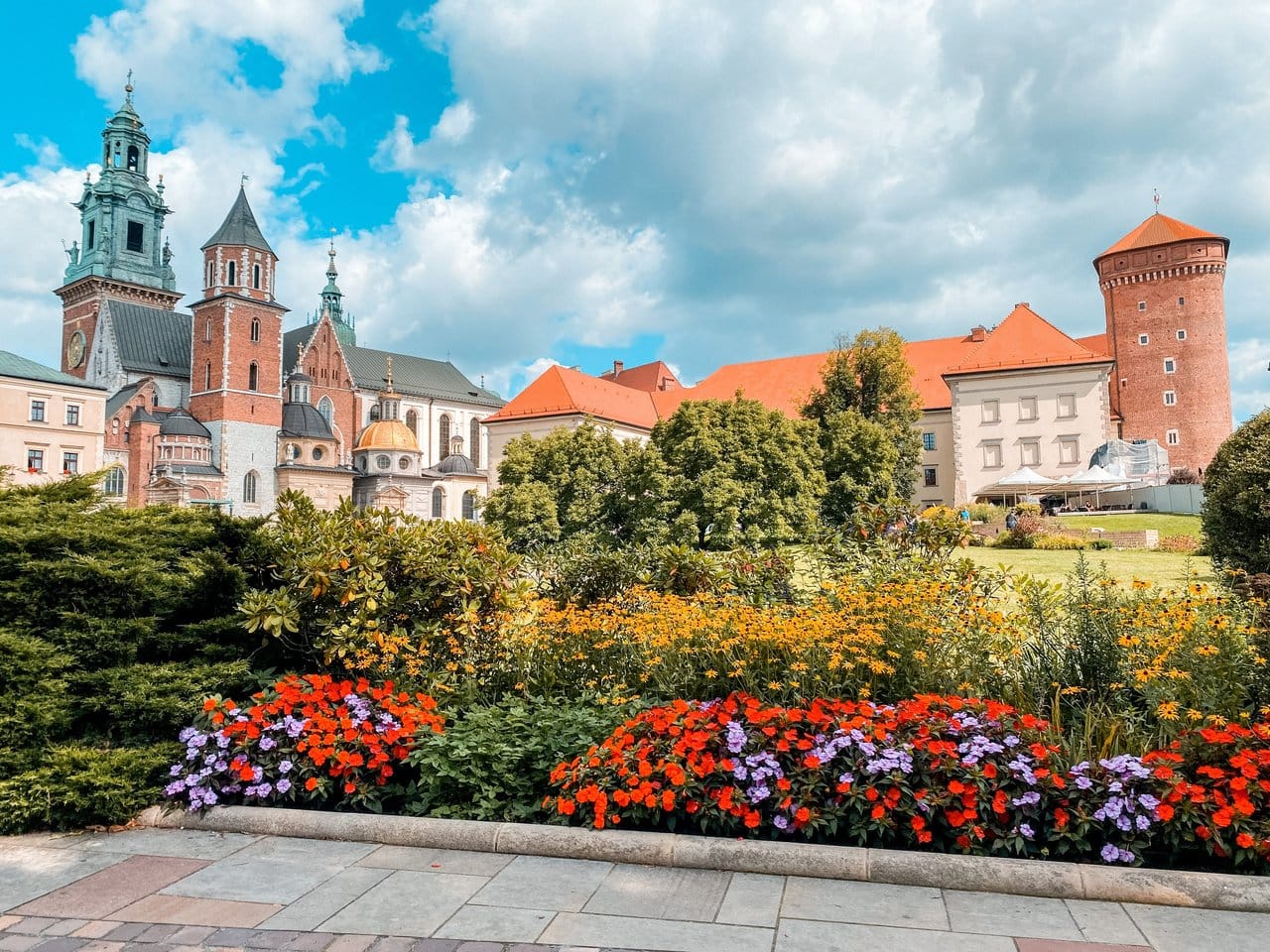 The best place to start your weekend in Krakow is the Wawel Royal Castle! The castle complex, which overlooks the Vistula River, was the cultural centre of Poland in the 16th century. Nowadays, it's a very beautiful museum complex containing five different sections, each of which will require a separate ticket. 
You can choose between the State Rooms, the Royal Private Apartments, the Crown Treasury and Armoury, Lost Wawel and the Exhibition of Oriental Art. I opted for the Royal Private Apartments and the State Rooms, and I highly recommend a visit! 
If you're visiting Krakow on a really tight budget, here's a tip: there are quite a few free places to visit in Krakow, and the Wawel Castle grounds are one of them! They were my favourite part of the whole castle complex! 
Stop 2: Sail Along the Vistula River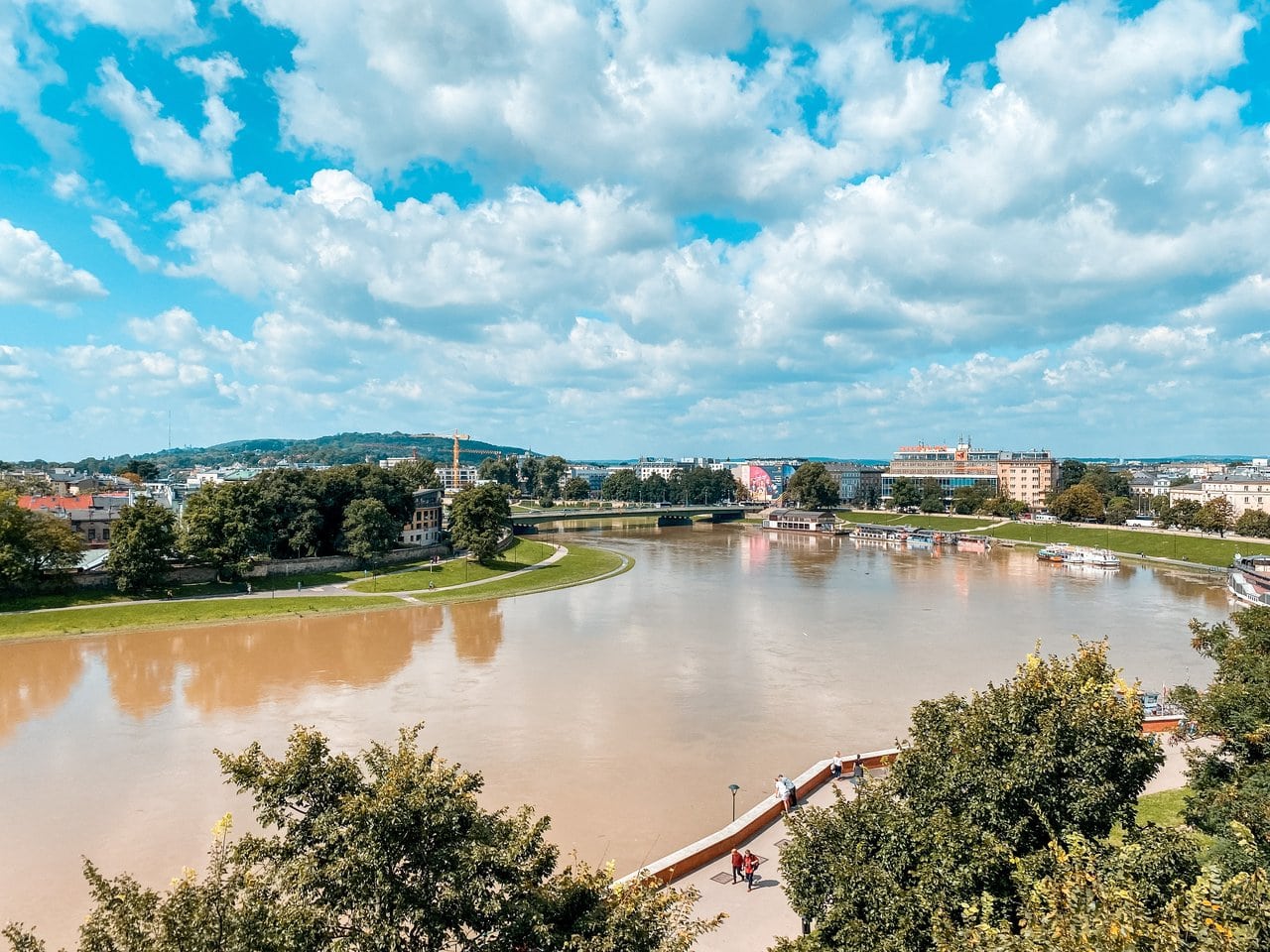 From Wawel Castle, it's time to descend to the river banks to join this laid-back boat tour, which means you'll get to explore Krakow from the water. 
The boat tour costs €21, and during the journey your knowledgeable guide will share lots of fascinating information about Krakow's history and daily life in the city, as well as point out some notable landmarks. The observation deck is heated in winter, so even if you're visiting Krakow during the colder months you'll have a great time!
Stop 3: Lunch at Pierogi MR Vincent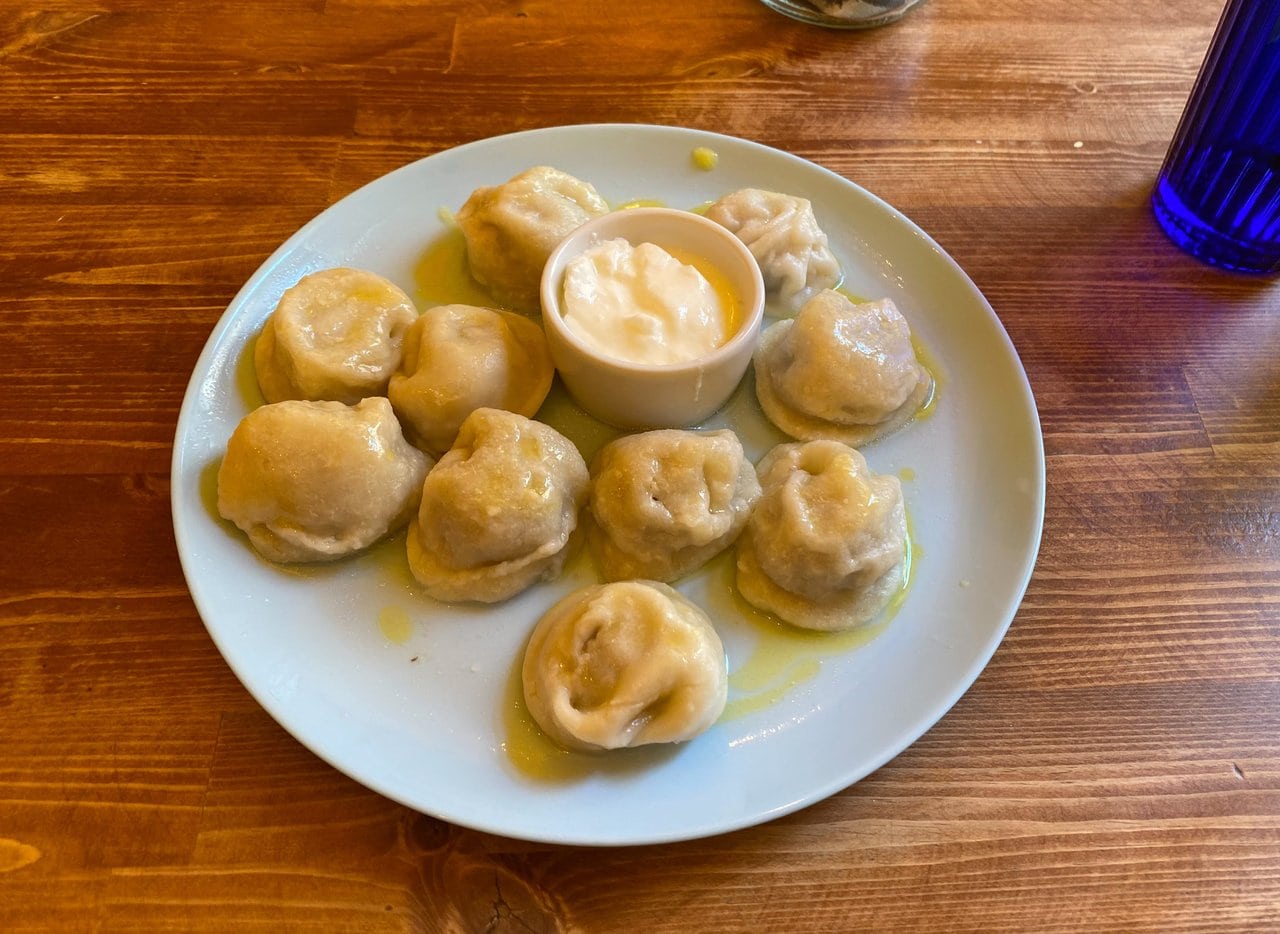 Now it's time to head to Kazimierz, the Jewish district. After the morning's sightseeing you'll have probably worked up quite the appetite, so it's time to sample one of Poland's most famous dishes – pierogi! 
They have a huge menu, with both traditional, vegetarian, and some more out-there options, but everything is delicious and cheap, cheap, cheap! The staff also speak English, so there's no language barrier to worry about.
I got some Pielmieni pierogi which contained beef, pork, and onions, and the large dish cost me just 20 PLN (€4.30).
Stop 4: Galicia Jewish Museum
Since you're now in the Kazimierz Jewish District, it's the perfect opportunity to visit the Galicia Jewish Museum to learn all about the history of the city's Jewish population. 
The museum tells the harrowing story of Krakow's Jewish citizens during WW2, commemorates those who lost their lives and celebrates the region's Jewish culture and traditions.
The museum is very well laid-out, leading you through letters, artefacts and information telling a very important story. It's a HUGE place, so to really have time to soak it all in I recommend spending around 2 hours here. 
Entry costs 17 PLN (€3.70) and you can buy them at the museum or in advance on its website.
Stop 5: Wander around Kazimierz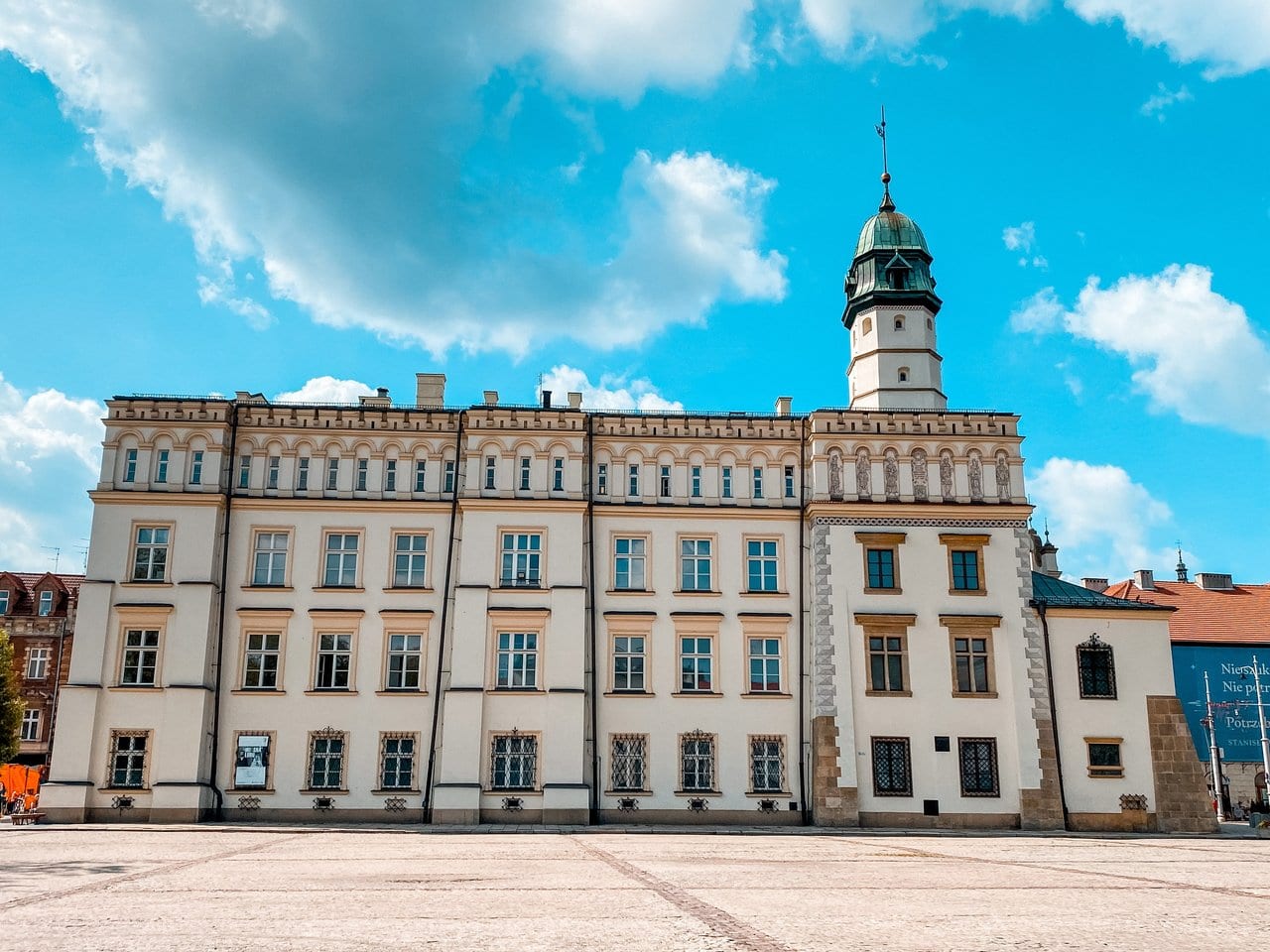 Since you're already in Kazimierz you should definitely take the opportunity to explore this funky neighbourhood. As well as the Galicia Jewish Museum and the many interesting synagogues on Szeroka Street you'll find a tonne of vintage clothing shops, independent coffee shops and unique galleries.
It's the type of place to get lost in, and to also shop till you drop if you're into vintage fashion like me! You'll also probably take a tonne of photos since this area of Krakow looks so different to the rest of the city, with a tonne of old, gorgeous buildings.
Stop 6: St Mary's Basilica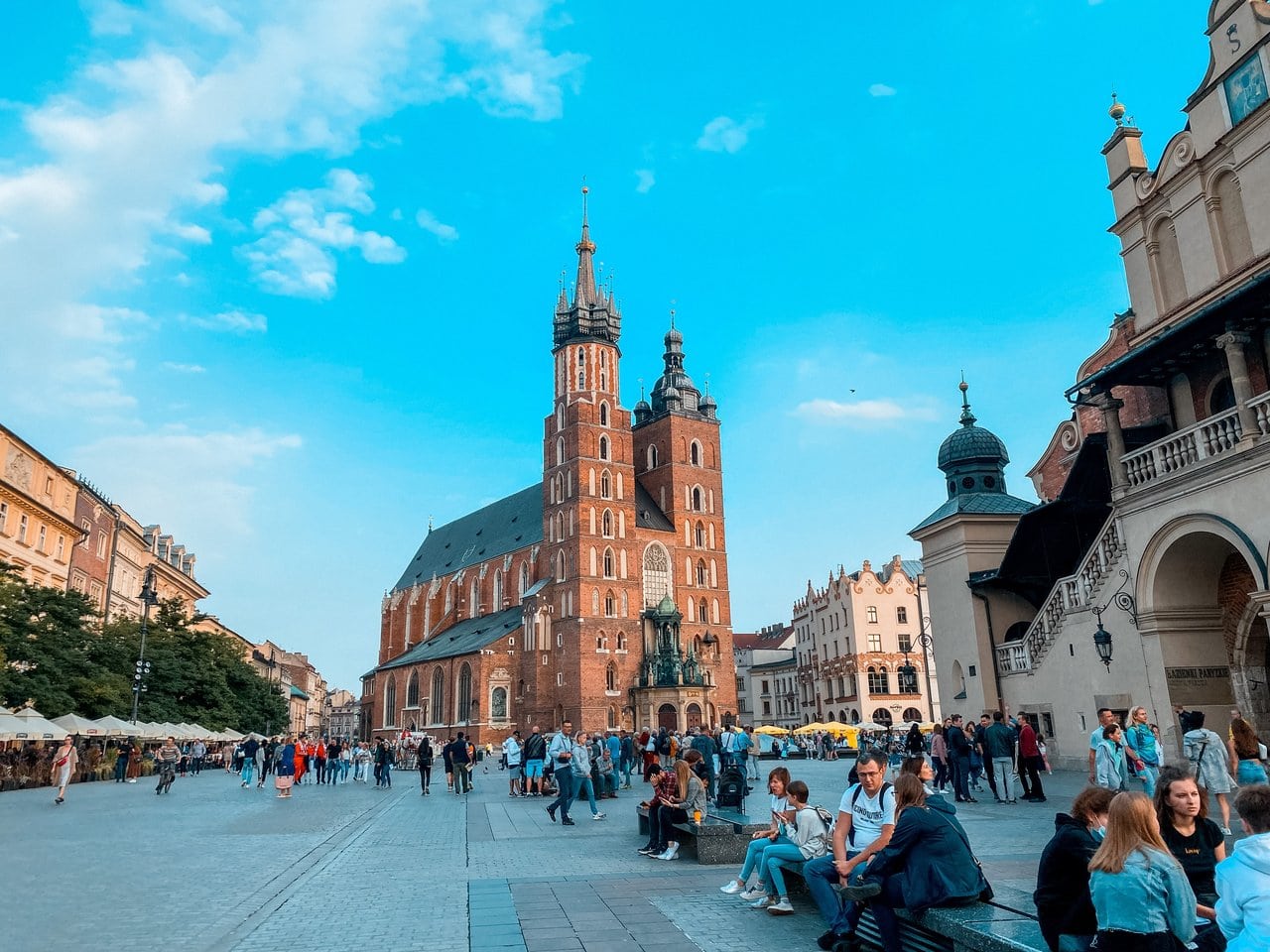 Back in the centre of Krakow, it's time to head to one of the most iconic landmarks in the city. You'll find St Mary's Basilica in Rynek Square, where it's overseen daily life in Krakow since the 14th-century. Its uneven towers give it a unique look, and in summer you can even climb to the top of the tower to get knockout views of the city. Entry to the tower costs 15 PLN (€3.30).
It can be a bit confusing working out how to enter because there are two entrances to the church. The opulent main entrance is where people who are going to worship enter. The tourist entrance is around the side, to the southeast.
I don't really think it's worth going inside the church if you're not going to head up to the top of the tower. That's because inside it just looks like any other fancy church. Instead, make sure you time your visit to St Mary's to be on the hour, as every hour there's a bugle call from the tallest tower which is cool to witness.
Stop 7: Krakow Old Town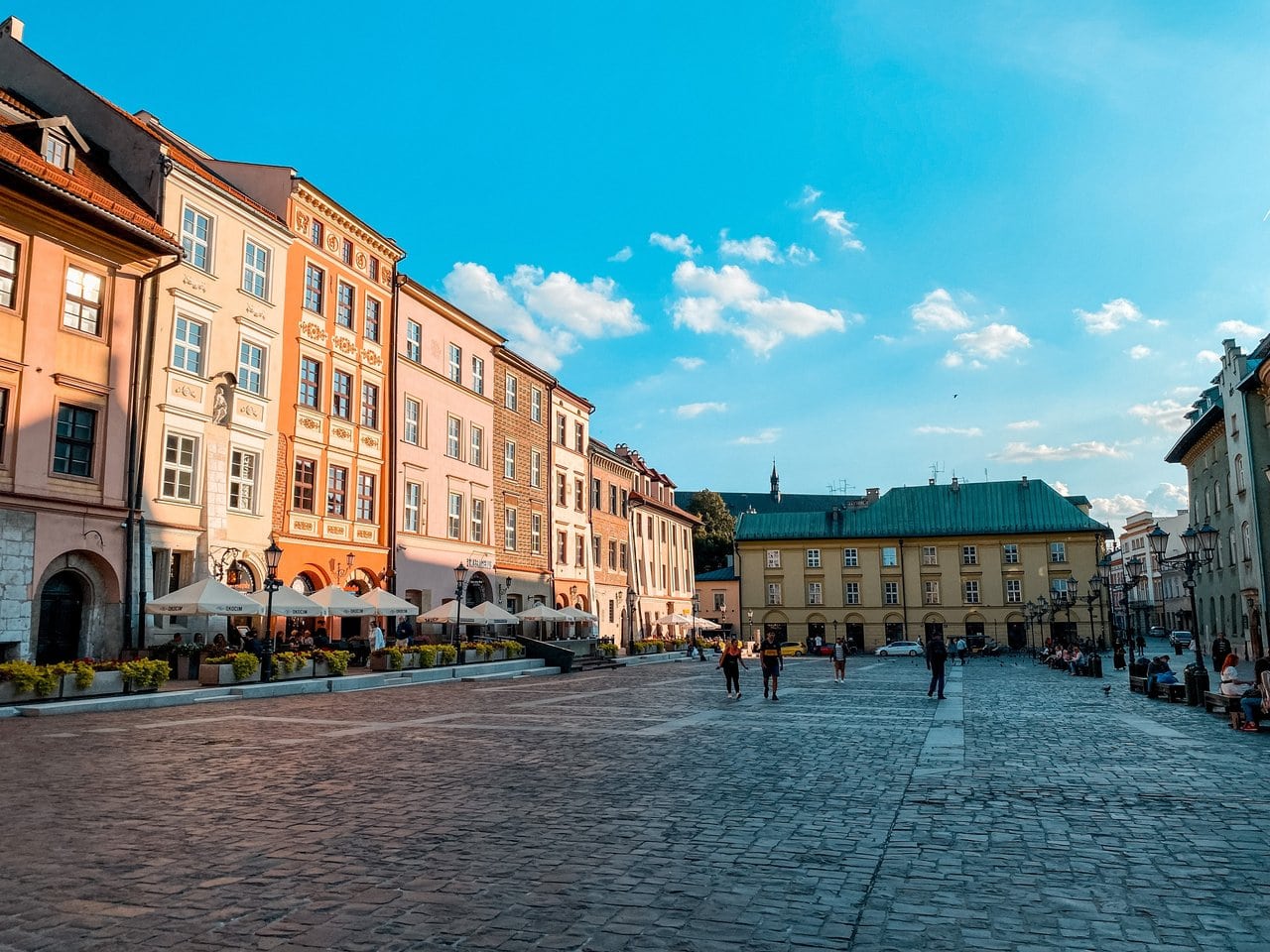 Since you're now in the heart of the Old Town, it's time to do some more exploring of this wonderful part of the city. The Old Town is also called Stare Miasto, and you'll see it referred to as either.
Rynek Square is one of the most stunning parts of the city, and at the centre you'll find the Sukiennice Cloth Hall, a reminder of Krakow's heritage as a trading hub. Inside its arches you'll find local traders selling knick-knacks and souvenirs, although you can get them far cheaper elsewhere. 
There are a tonne of coffee shops, bars and restaurants lining the square, and although their location makes them slightly more expensive than other places in the city, taking a break to sip a coffee or beer and watch the hustle and bustle of Krakow's Old Town is always a good idea.
Stop 8: House of Beer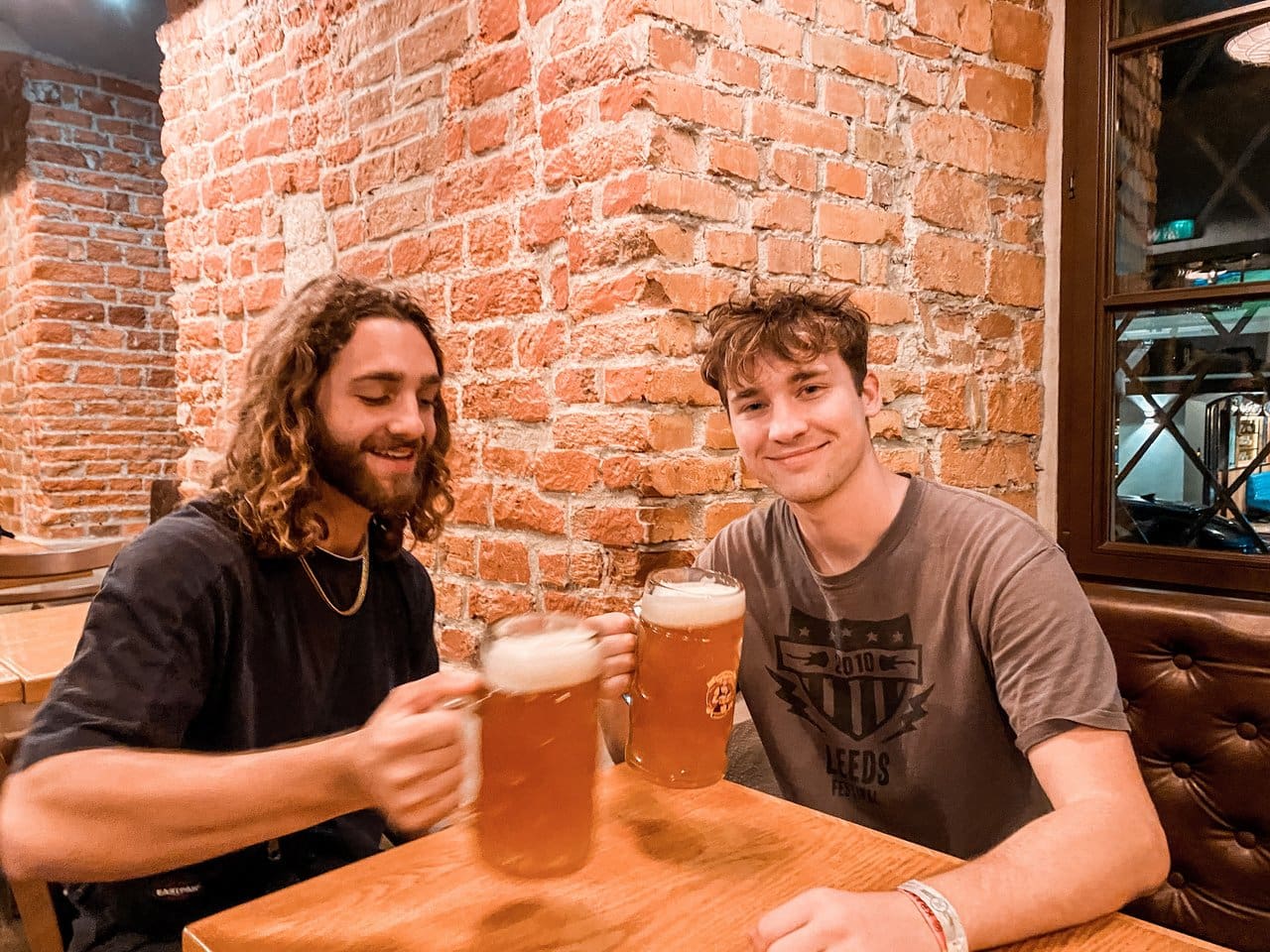 After such a busy day of sightseeing you have definitely earned a drink or two, and there's no better place in the city to head to than House of Beer. Not only is it just off Rynek Square, making it very convenient, but it's also got a huge range of Polish, German, Lithuanian and Belgian beers.
This is Krakow so, as you'd expect, everything is super cheap compared to Western prices. So grab yourself a glass of beer, sit back, and toast to a successful first day of sightseeing in Krakow!
Stop 9: Dinner at Pod Wawelem Kompania Kuflowa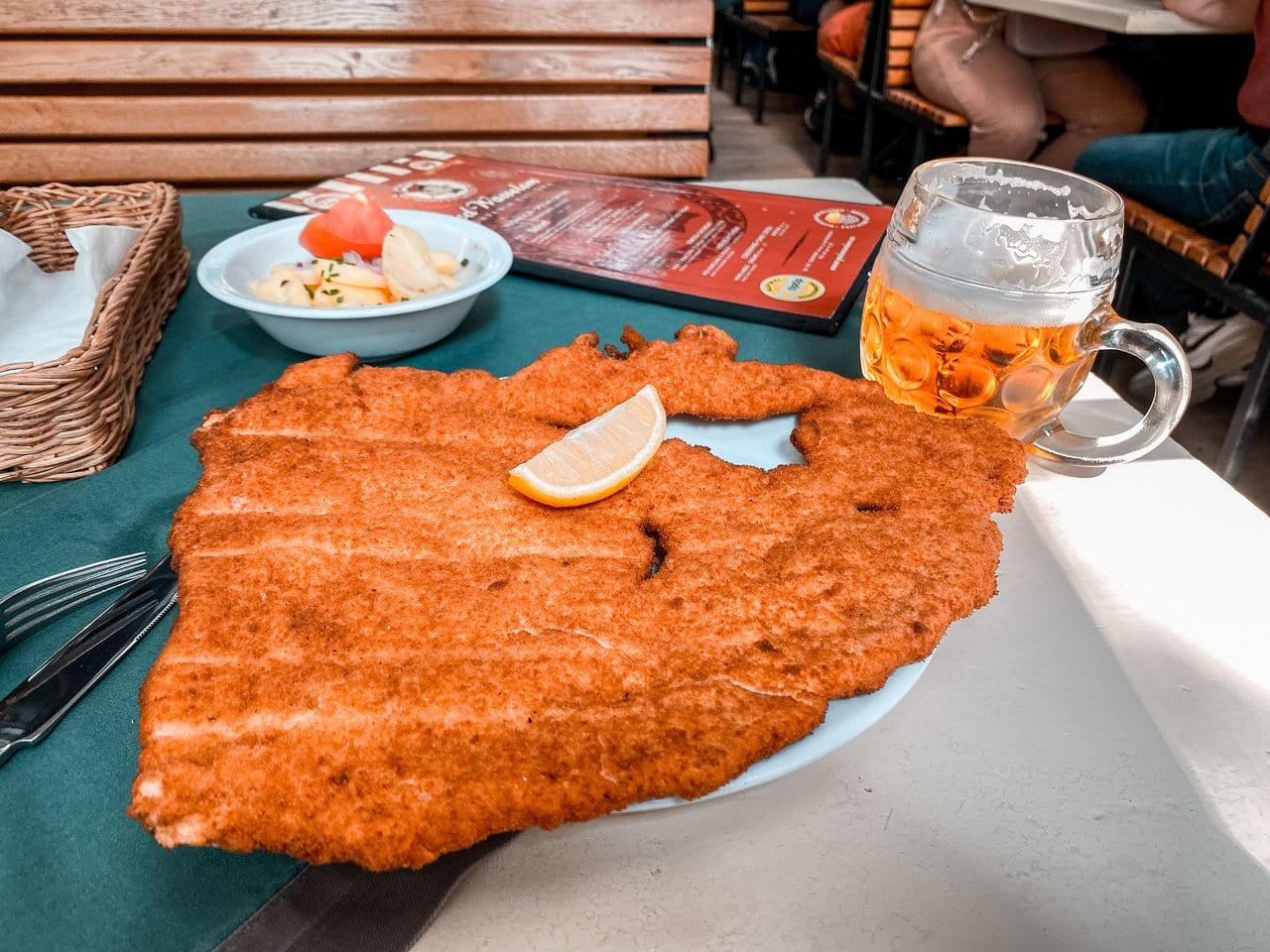 Okay, so this is definitely one of the most popular restaurants with tourists in Krakow, but hear me out – it's popular for a reason!
With a cosy, traditional interior and views of Wawel Castle, this palace gets a 10/10 from me for setting, and they have a HUGE menu. It's not as cheap as the other restaurants I recommend in this weekend in Krakow itinerary, but it's still cheap by Western standards, and it's worth the splurge.
The service here is pretty slow since it gets so busy, so allocate plenty of time to your visit, but the atmosphere is great, the portions are huge, and the beer selection is well above average. I ate the Schnitzel and it was fabulous.
Day 2: Schindler's Factory & Podgórze
Stop 1: Fragment of the Jewish Ghetto Wall
At Lwowska Street you'll find one of the only remaining fragments of the Jewish Ghetto Wall.
The ghetto was created in March of 1941, with the walls going up in April 1941. Barely any remain now, thankfully, but I think it's important to visit, reflect, and remember those who perished in the ghetto. Visiting here is a very sobering experience, and not many tourists make it out here, but I think you'll be glad that you did.
Stop 2: The Eagle Pharmacy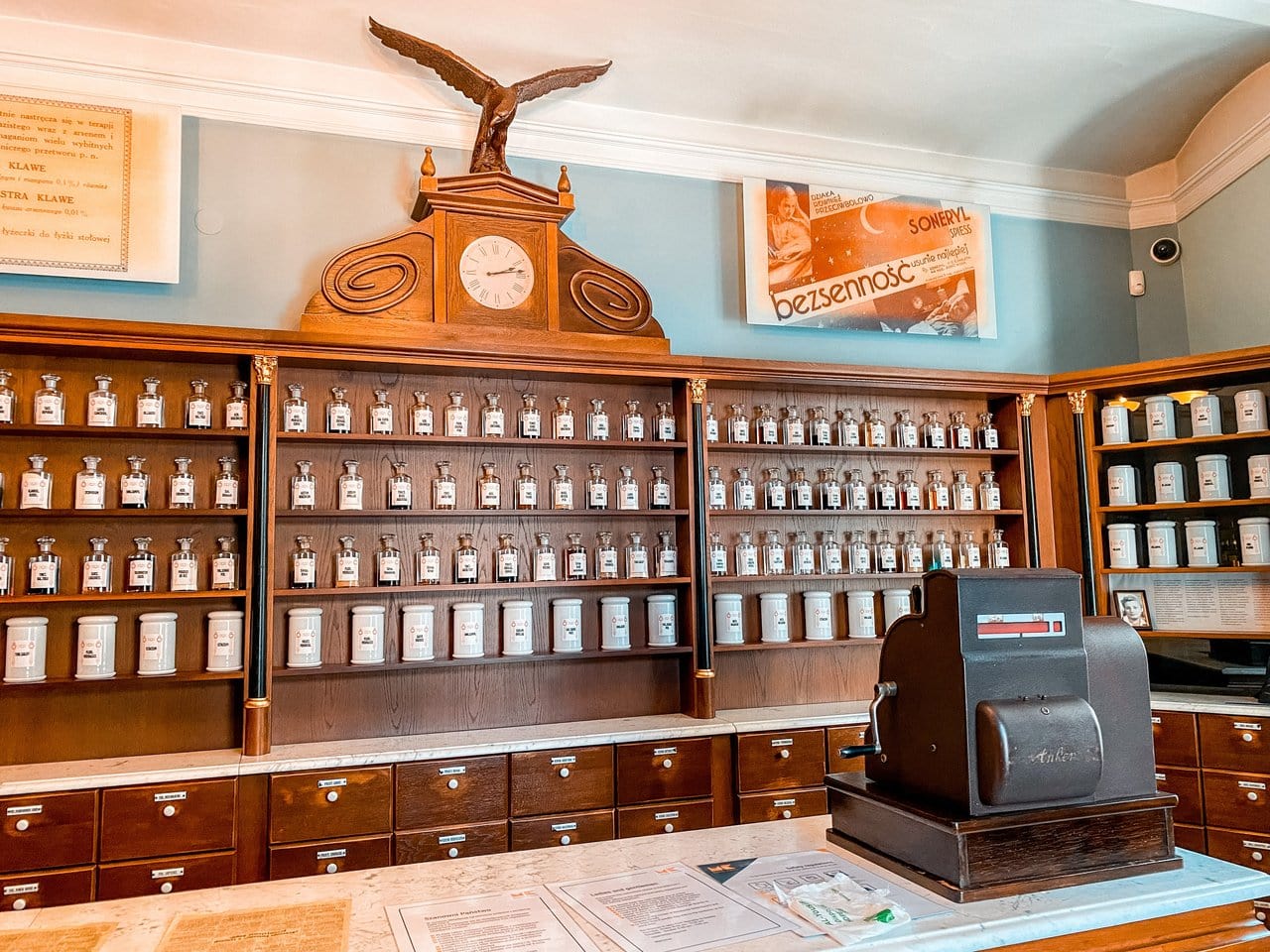 Over the river in Podgórze you'll find the famous Eagle Pharmacy, which was the only pharmacy in the Jewish ghetto during the Nazis' occupation of Krakow.
Inside, everything is decorated in the same way it was in the 1940s, but by pulling open the many cupboards and drawers you'll learn a tonne of information about life in the ghetto and the pharmacy's important role in trying to care for the neighbourhood's many residents.
Although it's not as well-known as Schindler's Enamel Factory, the Eagle Pharmacy played just as important a role in helping thousands of people, even when it was forbidden. It's one of the most unusual things to do in Krakow.
Entry costs 14 PLN (€3), and, since it's a bit of an off-the-beaten-path destination, you might get the museum all to yourself!
Stop 3: Museum of Podgórze
Just along the road you'll find the Museum of Podgórze, which is a surprisingly fascinating museum that has a lot to teach you. I only spent half an hour here, but I learnt a lot! The museum documents the history of Podgórze from its origins to the present day, and it turns out Podgórze was once a separate city from Krakow!
It became part of Krakow in 1914, and it was fascinating to learn all about the incorporation, why it happened, and what the local people felt about it. The museum then also dealt with Podgórze's time as the Jewish Ghetto and then tells us all about Podgórze's transformation in the post-war years.
Again, I was the only person in the museum, so chances are you will be too, but I highly recommend a visit here. Entry costs 14 PLN (€3), but it's free on Thursdays.
Stop 4: Lunch at Krakus
From the Museum of Podgórze it's just a 10-minute walk to one of Krakow's cheapest Milk Bars – Krakus.
A milk bar is a very cheap cafeteria where you can get very tasty, traditional Polish food for just a few zloty. Usually, you approach the counter and order whatever you like (pointing is fine! The staff often don't speak much English), you'll then pay, take the food to your table to eat, and then return your plate and tray to a designated area once you're finished.
The menu is in Polish, so I recommend downloading the Google Translate app so you can just point your camera at the menu and see it translated before your eyes. A plate of Pierogi Ruskie (the traditional Polish filling of potatoes and cheese) costs just 7.10 PLN (€1.61) and a steaming bowl of traditional Zurek soup (sour rye, egg and potatoes) for 5.60 PLN (€1.20).
Stop 5: Oskar Schindler's Enamel Factory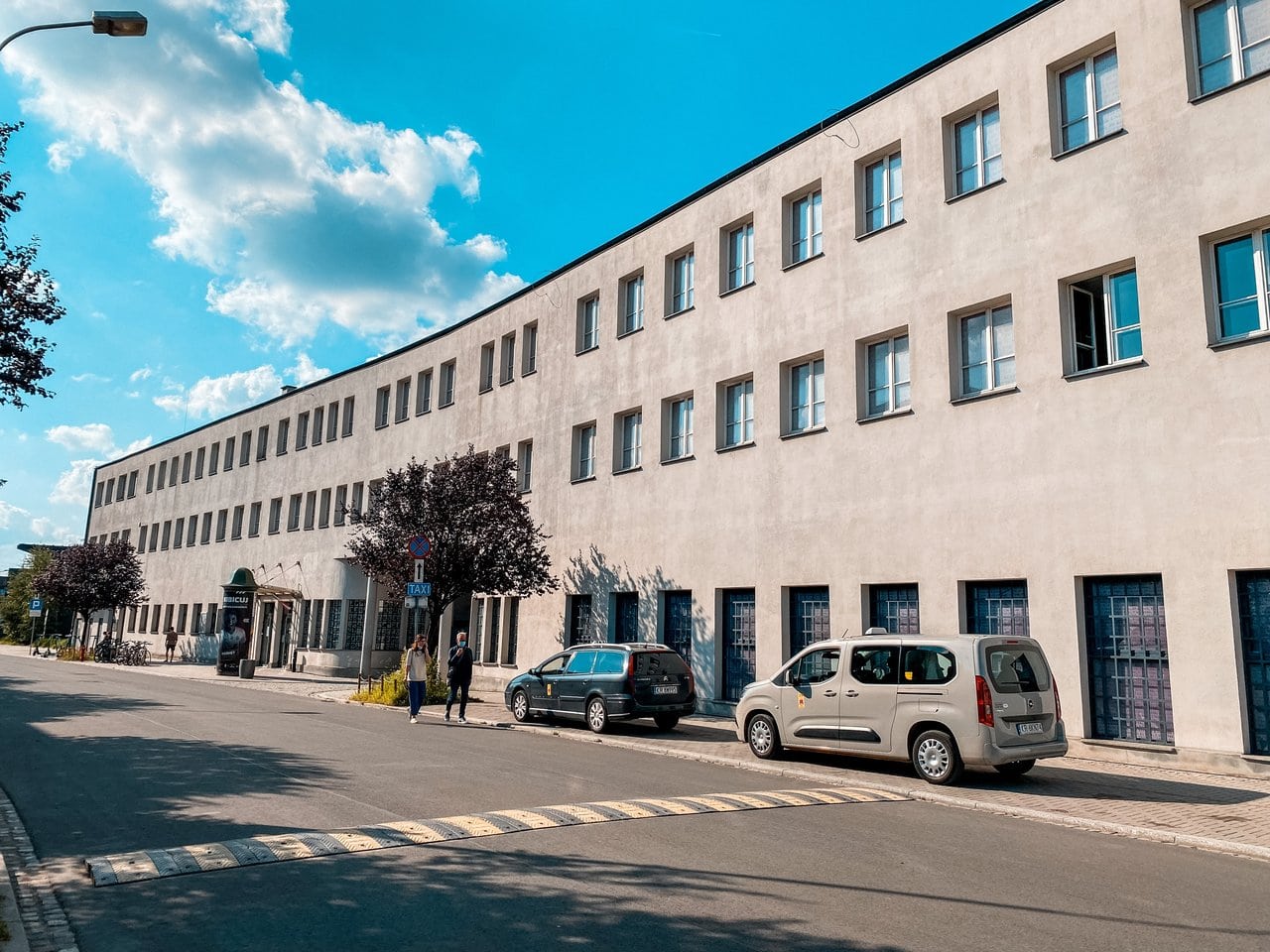 A must see for any visitor to Krakow is Oskar Schindler's Enamel Factory. It was here, during the Nazi occupation, that Nazi industrialist Oskar Schindler became aware of the horrifying atrocities his party were inflicting on Krakow's Jews and saved the lives of his Jewish workforce, who were otherwise going to be sent to Plaszow concentration camp.
This museum is HUGE and you could spend the entire day there if you read absolutely everything, so it's important to be selective if you're on a schedule. Schindler's Factory is one of the best things to do in Krakow in winter as you can spend so long there escaping the cold!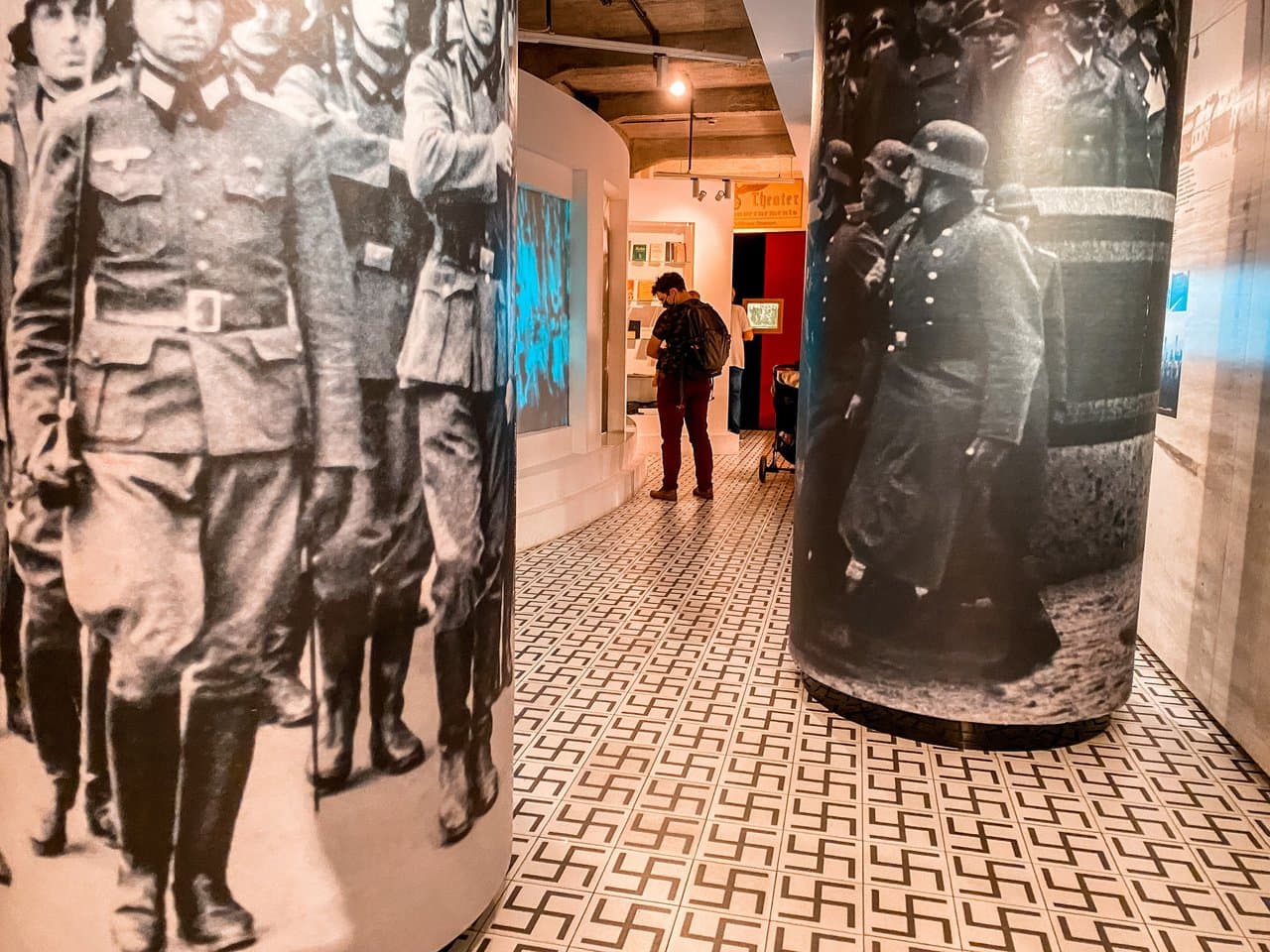 Surprisingly, only a small part of the museum is dedicated to the story of Oskar Schindler and his workforce. The rest is all about the Nazi occupation of Krakow, the resistance movement, and the later Soviet occupation of the city. In any event, it's fascinating, and you'll get to visit Oskar Schindler's restored office space and watch videos of survivors talking about their experiences.
Tickets cost €8.50. Since this is one of the most popular things to do in Krakow, so tickets do sell out during busy periods. For this reason, it's best to buy them online in advance here!
Stop 6: Église Saint-Joseph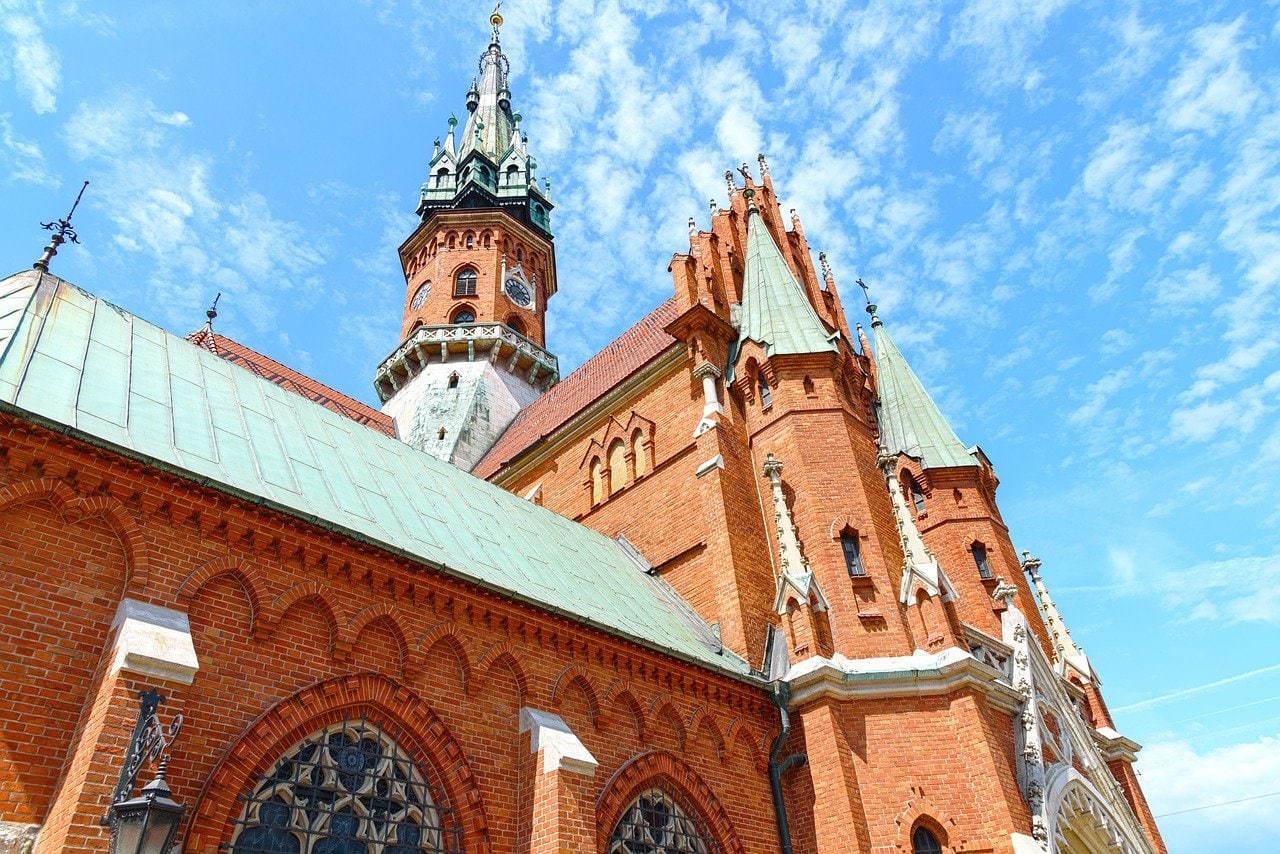 The next stop on this weekend in Krakow itinerary is the stunning Église Saint-Joseph, a landmark brick church built in the Gothic style in the early 1900s. Krakow definitely doesn't suffer from a shortage of churches, but this one in particular is a real gem.
There are plenty of benches nearby, so if you just want to rest your legs in a scenic area this is a very good opportunity! If not, you're welcome to go inside to explore.
Stop 7: Propaganda Pub
After such a heavy day of exploring and learning it's time to wash it all away with some more delicious and cheap Polish beer! 
Propaganda Pub is a lot of fun, and takes the style of old communism and puts it on its side. You'll find socialist signs on the walls, plenty of busts and portraits of Lenin and a tonne of themed parties, this is the place to be at any time of day or night. 
The staff are incredibly friendly and speak English, and I would definitely recommend this place for solo travellers as it's such a social place that you're bound to get talking to somebody.
Stop 8: Dinner at Tradycyjne Polskie Smaki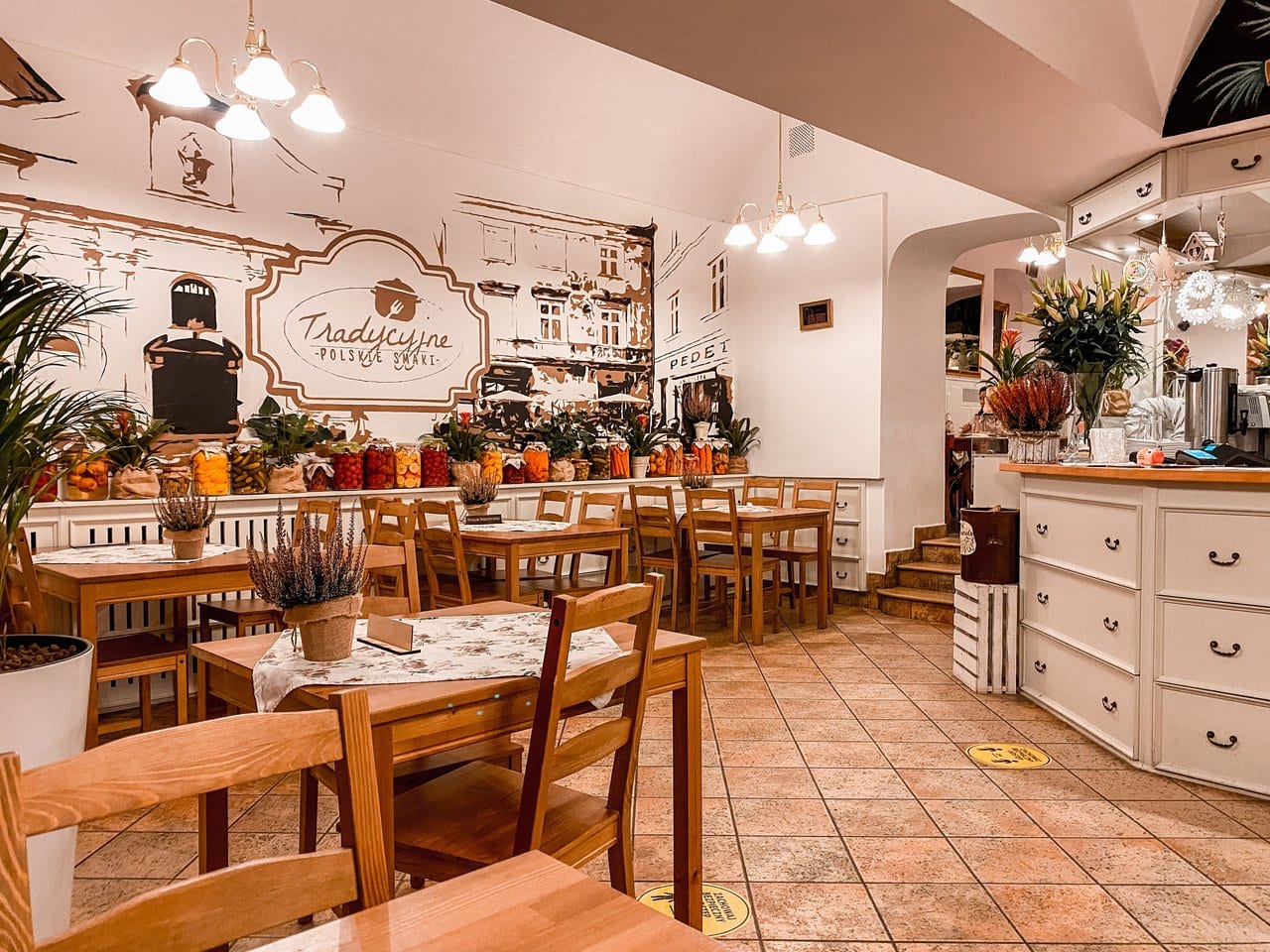 Finally crossing over the river back to Krakow, it's time to enjoy a relaxed dinner to round off your first 2 days in this weekend in Krakow itinerary. For dinner, I can highly recommend another Milk Bar (this one is much nicer decorated than the last), Tradycyjne Polskie Smaki.
Tucked away down a side street just a few minutes from Rynek Square, this cute little place offers friendly service (despite their very limited English) and fast, fresh, homemade Polish food. 
Since you've already had plenty of opportunities to have pierogi, I recommend you branch out here. Their stuffed cabbage gets rave reviews, as does their Bigos (a dish of meat, sausages, cabbage, onions, potatoes and sauerkraut). They also have beer on tap which, although I can't remember the price off the top of my head, was very cheap.
I felt very comfortable here as a solo traveller and recommend it! Just remember that you'll need to pick up your food from the counter when it's ready, and take your dirty dishes to the back once you're done. If anything's not clear, just ask the staff.
(Optional) Day 3: Auschwitz and the Wieliczka Salt Mine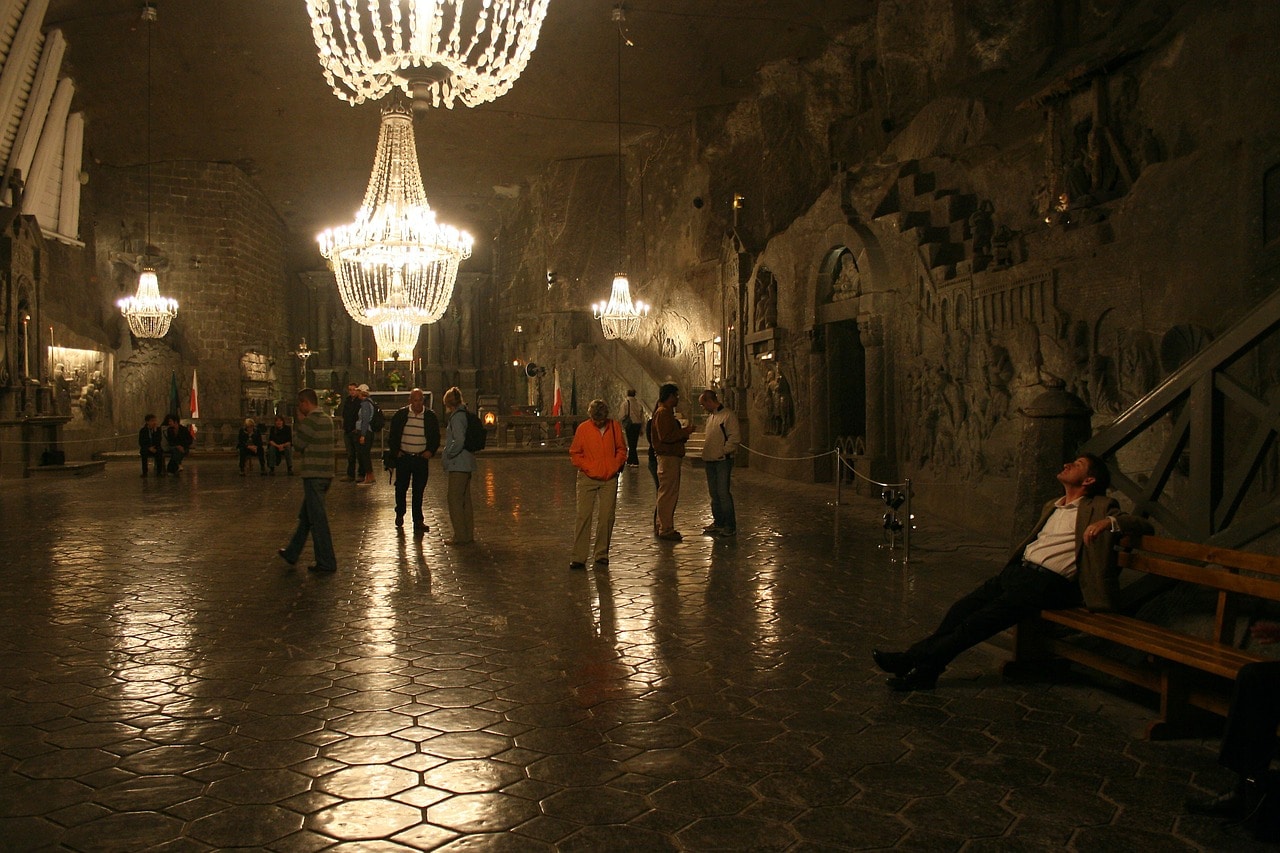 If you have a third day in Krakow it's the perfect opportunity to go on one of the many popular day trips from the city. The most popular, by far, are the Auschwitz Birkenau concentration camp and the Wieliczka Salt Mine.
If you visit both attractions independently, you'd definitely need more than one day to see them. However, this top-rated tour cuts out the public transport time and allows you to visit these two fascinating attractions in one day!
Auschwitz Birkenau probably needs no introduction, but if you want to learn more about the holocaust and really comprehend the magnitude of the Nazi's atrocities, this is the place to visit. Obviously, it's an incredibly heavy place to visit, but almost everybody who visits says they're glad that they did.
The Wieliczka Salt Mine is a UNESCO World Heritage Site and has welcomed tourists since 1772. It's also one of the most popular places to visit in Poland! The mine produced salt from the 13th century until 2007, and you can now tour the Mine's labyrinth of underground tunnels and salt sculptures.
The full-day tour lasts between 10 and 11 hours, includes your entry tickets to both attractions and your transportation, and a local guide who'll tell you everything you need to know about both places. 
Click here to check current prices and availability!
Extra Information for Your Weekend in Krakow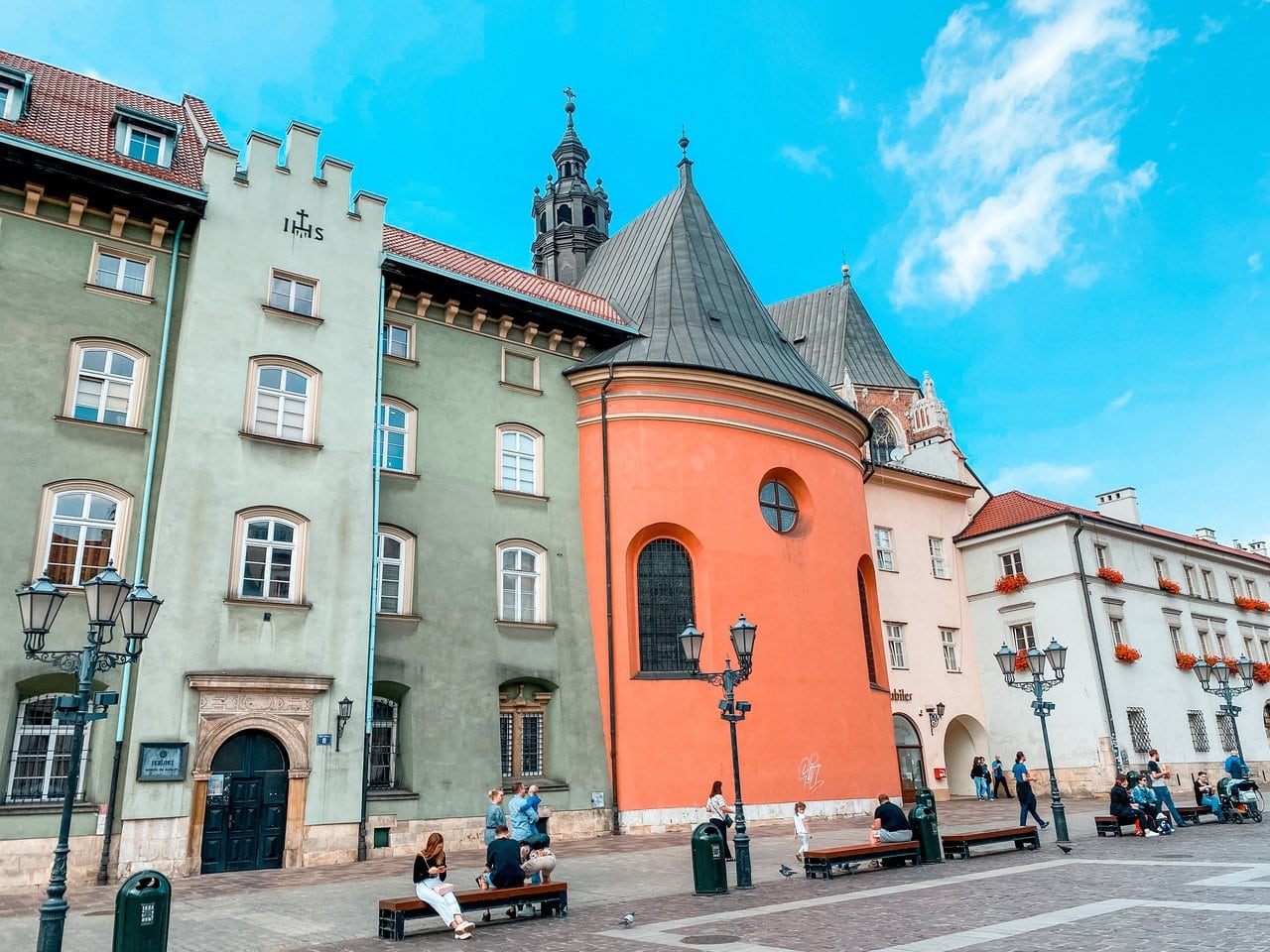 With a weekend in Krakow, you'll have time to check out the city's most famous attractions, learn a tonne about the city's harrowing history, and have time to drink a cheeky Tyskie (or ten!). 
If you extend your weekend in Krakow to three days, you'll also have enough time to visit some of the most famous landmarks in Poland – Auschwitz Birkenau and the Wieliczka Salt Mine.
If you're looking for more information to help you to plan your weekend in Krakow, fear not! In this part of the post you'll find all the practical information you'll need to plan your trip.
The Krakow Card – Is It Worth It?
I want to address a question that will be on the minds of a lot of visitors to Krakow – is the Krakow Card worth buying?
For those of you that haven't heard of the Krakow Card, it's a tourist card that covers all of your transportation and museum entry in Krakow. It costs €22 for one day, €34 for two days, and €38 for three days.
This might sound cheap, but when you consider how cheap entry to individual museums is in Krakow, you'll probably agree that it's not worth it. For full transparency, I didn't purchase the Krakow Card because I couldn't see myself getting value for money from it, so I can't speak from personal experience.
However, I didn't use public transportation at all in Krakow, so I wouldn't have used that aspect. You'd also have to really hit the museums hard to save the amount of money the Krakow Card cost you. I think you'd have to be deliberately trying to earn your money back from the Pass to do so.
So, yeah… I don't think the Krakow Card is worth the money, but that's just my opinion. I'm sure others will think differently, and it's always worth doing your own research. I just wanted to share my opinion so you don't waste money!
Click here to find out more about the Krakow Card.
Language in Poland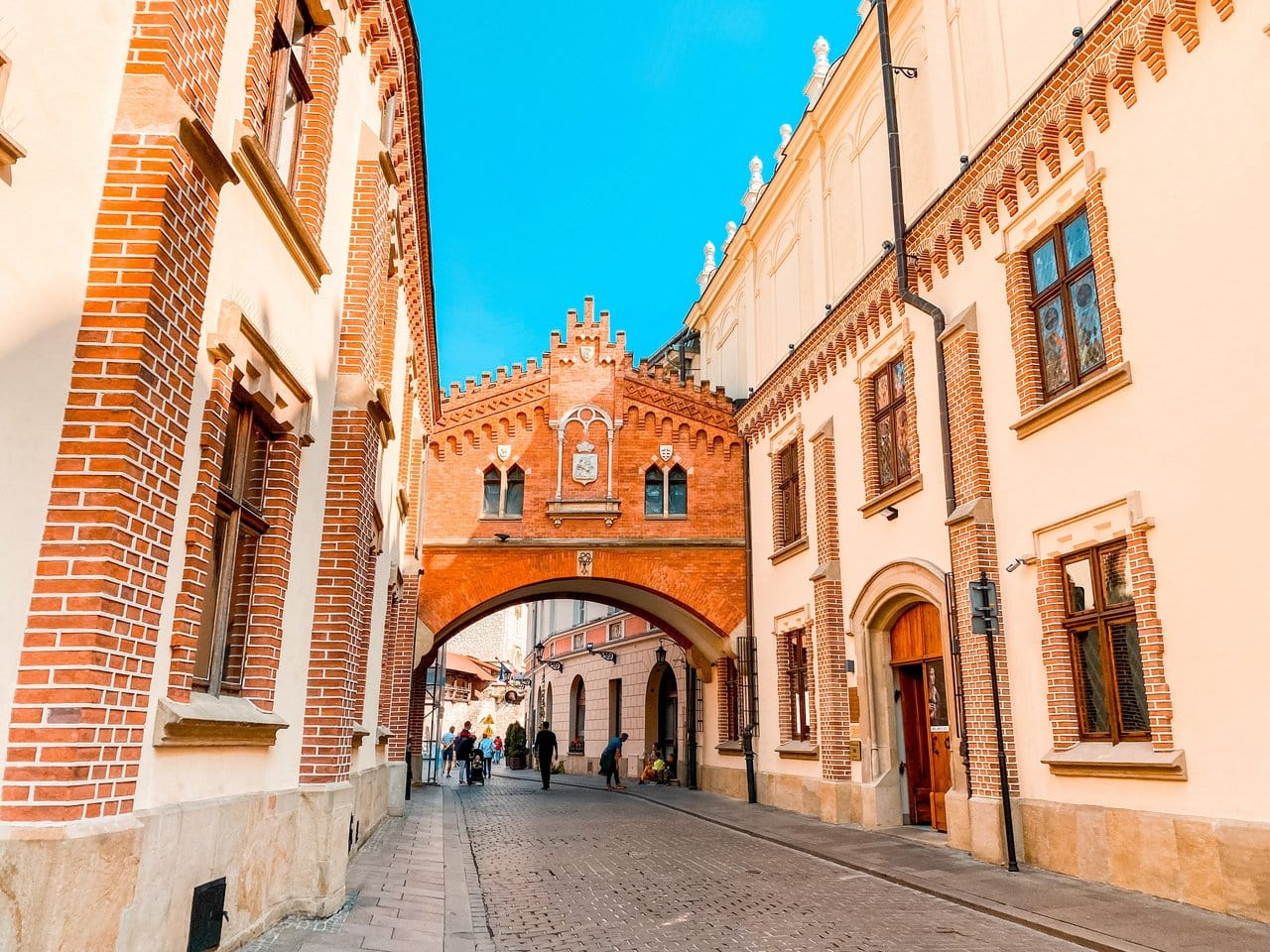 The official language of Poland is Polish. However, due to Poland's many border variations over the years, there are fifteen officially recognised minority languages in Poland!
Unlike many other European cities, people you come across in Poland won't necessarily speak English. Of course, since Krakow is a major tourism city, you can expect museum staff, bar staff and hotel staff to be able to speak English to some degree. That said, you'll need to get ready to communicate in hand gestures for some grocery store staff, people who work at milk bars and transportation workers!
Learning some very basic Polish (even just thank you) will make a difference, and you'll see Polish peoples' faces light up when you make the effort – even if it feels daunting and you're certain your pronunciation is off. A little goes a long way!
Weekend in Krakow Travel Tips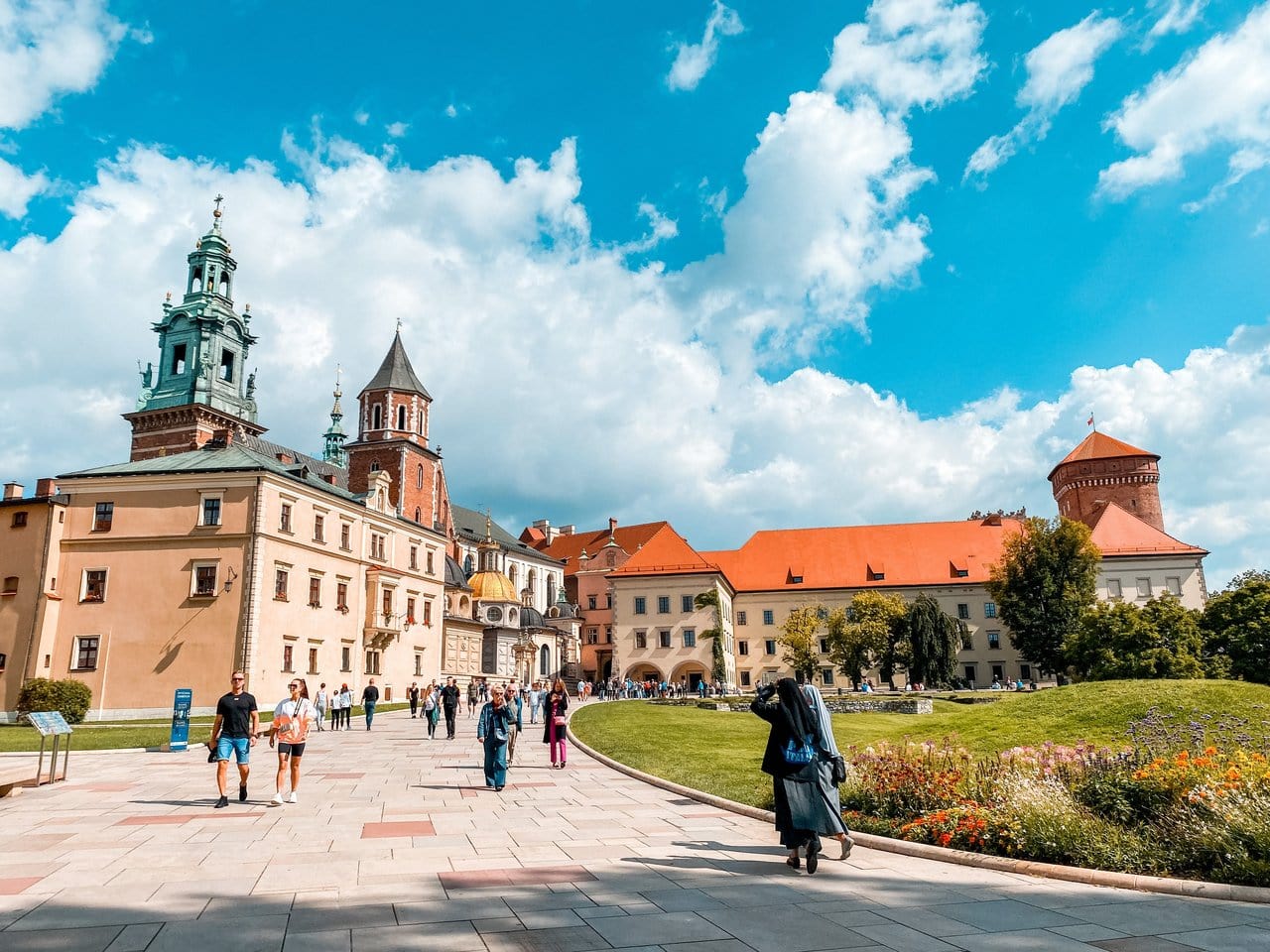 You'll do a tonne of walking during this weekend in Krakow itinerary, so I highly recommend packing some comfortable shoes. I also recommend carrying around a portable charger for your phone, as you'll use plenty of battery using Google Maps and Google Translate.
On that note, downloading the Google Translate app to your phone and making sure you have Polish downloaded for offline use will save you a lot of hassle. With the app, you can simply point your camera at some Polish words, for example a menu, and it'll translate it for you right there on the screen.
I was surprised to find out that credit and debit cards are very widely accepted in Krakow, so there really isn't a need to withdraw tonnes of zloty from the ATM at the start of your visit. Just make sure you have a travel card that won't charge you for spending in a different currency. I use a Starling Card, which I'm very happy with, but I've also heard great things about Monzo.
The weather in Krakow can be extreme in both summer and winter, so it's a good idea to check the weather forecast before you visit. In general, though, it can be pretty cold. I packed a light jacket for my trip in early September and wore it every day, so if you're visiting Poland in winter make sure you're prepared for the weather!
Airport and Transportation Trips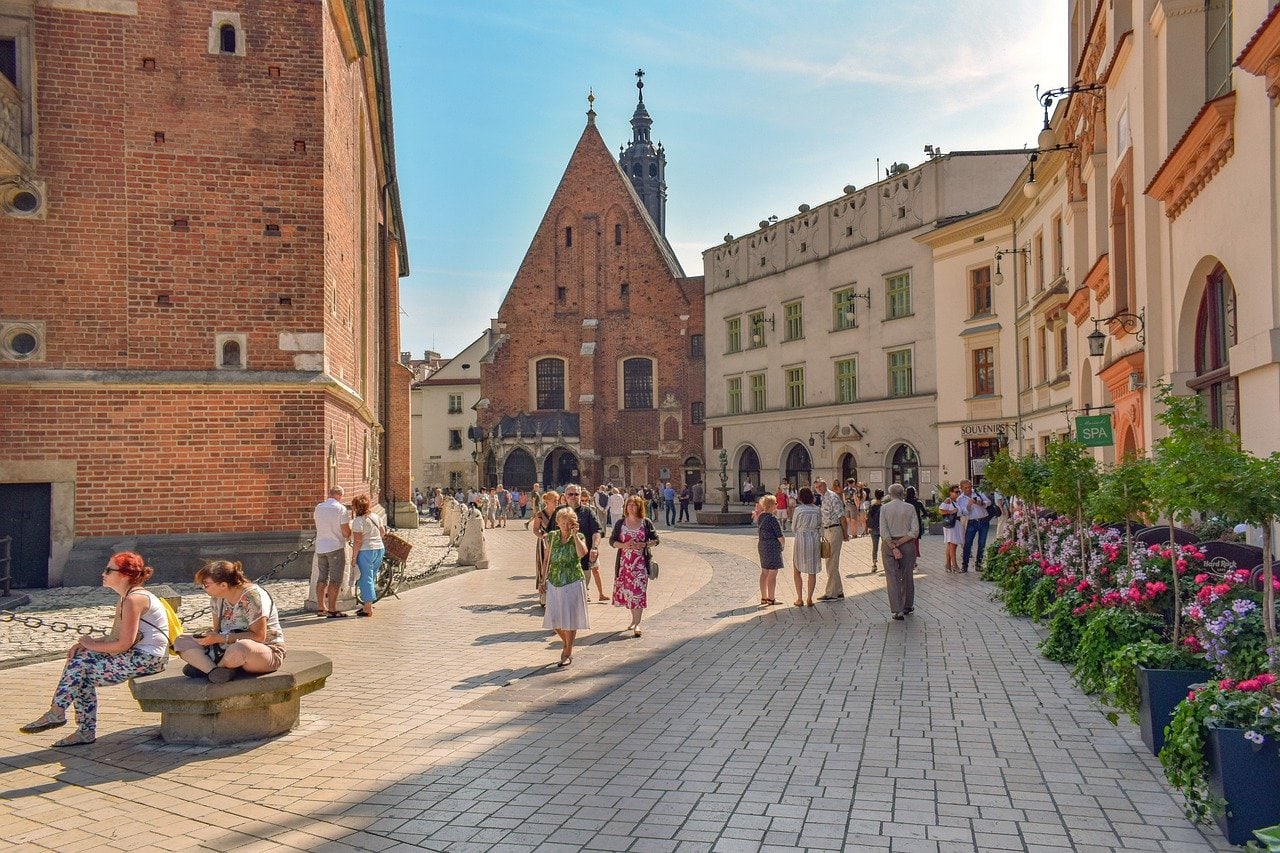 The easiest way to get from Krakow Airport to the city centre is by train, which takes you directly to Krakow's main train station, Kraków Główny. 
You'll need to buy a ticket from one of the ticket machines before you board (you can buy from the conductor but they only accept cash so it's a bit risky). The journey takes just 20 minutes. Single tickets cost just 9 PLN (around €2), so it's a fabulous budget option!
You can also catch the bus from Krakow Airport to the city centre, which is slightly cheaper than the train and is included if you have a Krakow Card. If you don't have a Krakow Card, single tickets cost 4zł (around €1) but it takes 45 minutes, so in my opinion the marginal saving isn't worth the extra time.
I recommend checking out this guide to getting to the city from the airport, which is incredibly helpful.
In terms of getting around in Krakow, I never had to use public transport once. However, this involved a few days of gruelling mileage, and if the weather hadn't been so nice I certainly wouldn't have walked everywhere.
There are plenty of public transportation options in Krakow, and the best way to work out how to get from A to B is to search the directions on Google Maps, which will tell you which bus or tram to get and where to get it. 
Every bus and tram has a ticket machine inside, so there's no need to stress. Just board, select the English option, then purchase your ticket. You can pay by card or cash. Just remember to validate your ticket on board by inserting it into the "validation" machine. This is mandatory, so don't forget!
When is the Best Time to Visit Krakow?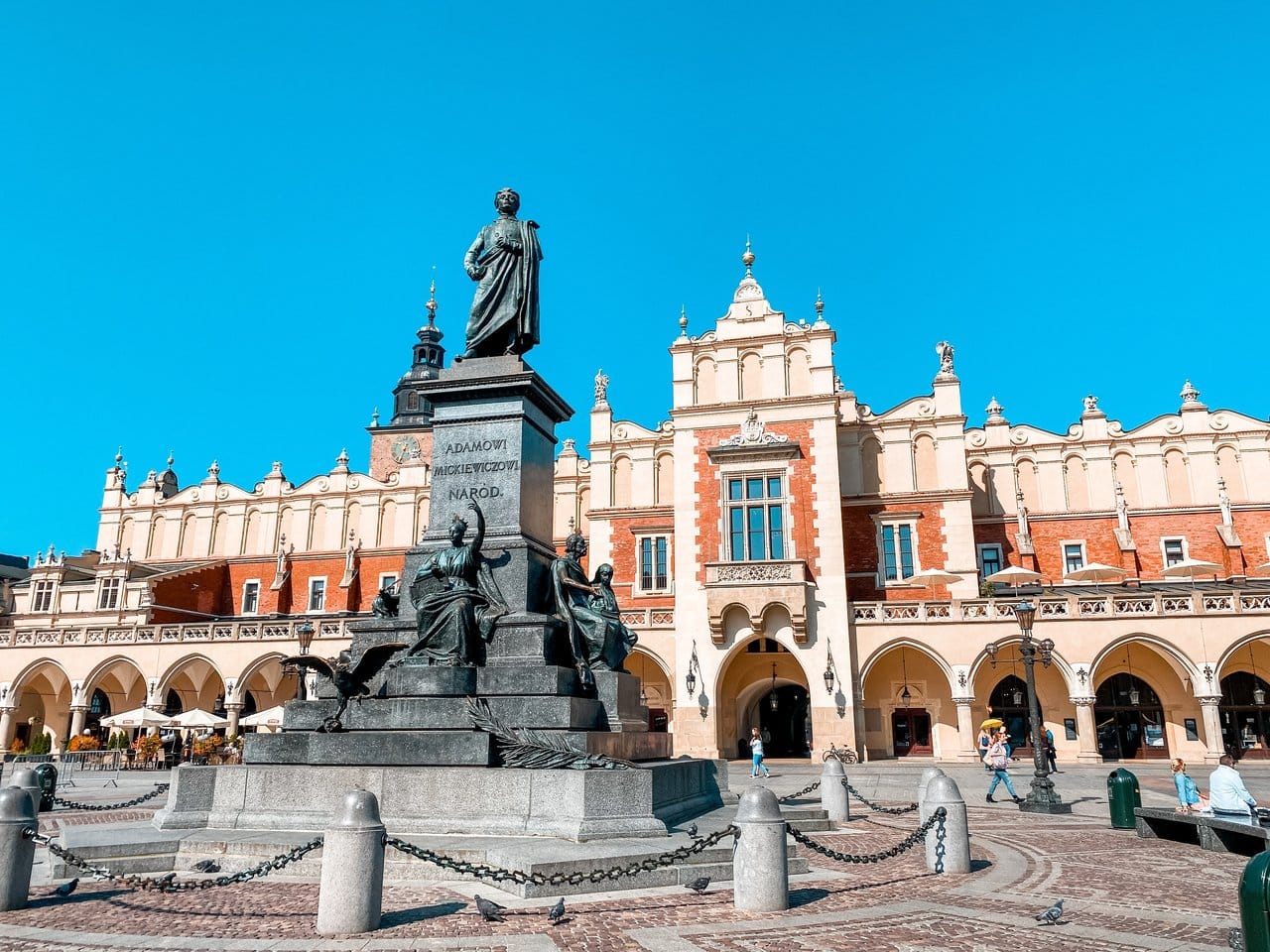 Krakow is a city break you can do at any time of year, but, having visited Poland in winter, I strongly advise against it if possible. It is FREAKING. COLD in Poland in winter, but spring, summer and autumn are all lovely times to visit. 
I visited Krakow in early September and the weather was ideal – it was clear and sunny every day, and I only needed to wear a light jacket!
That said, Krakow has one of the best Christmas Markets in Poland, so December is a very good time to visit.
Is Krakow Safe?
I can only speak from my experience, but I felt incredibly safe in Krakow. I also haven't heard of any issues from anybody I have met who travelled to Krakow.
As a solo female traveller, I even went out and about after dark by myself, and I still felt totally safe. However, my accommodation was in the city centre in a rather touristic area, so if you're staying further out I honestly don't really know what the situation is in terms of safety. 
However, since accommodation in the city centre is so cheap there's no reason to stay further out!
The only "unsafe" thing I have heard about in Krakow is the strip clubs. Many women stand on the tourist streets and try to encourage men to enter their strip club (I witnessed this as I often walked around with some guys from my hostel). 
I have heard horror stories in travel communities of men going to these clubs, getting drugged and waking up the next day having spent thousands of Euros at the club. It seems like the staff at some of these clubs deliberately drug men to then use their victims' face ID to make purchases whilst they were out cold. 
I obviously haven't experienced this, and I don't want to villainize the people who work at these clubs based on rumours, however it's worth being EXTREMELY CAREFUL in situations like this and potentially avoiding the strip clubs.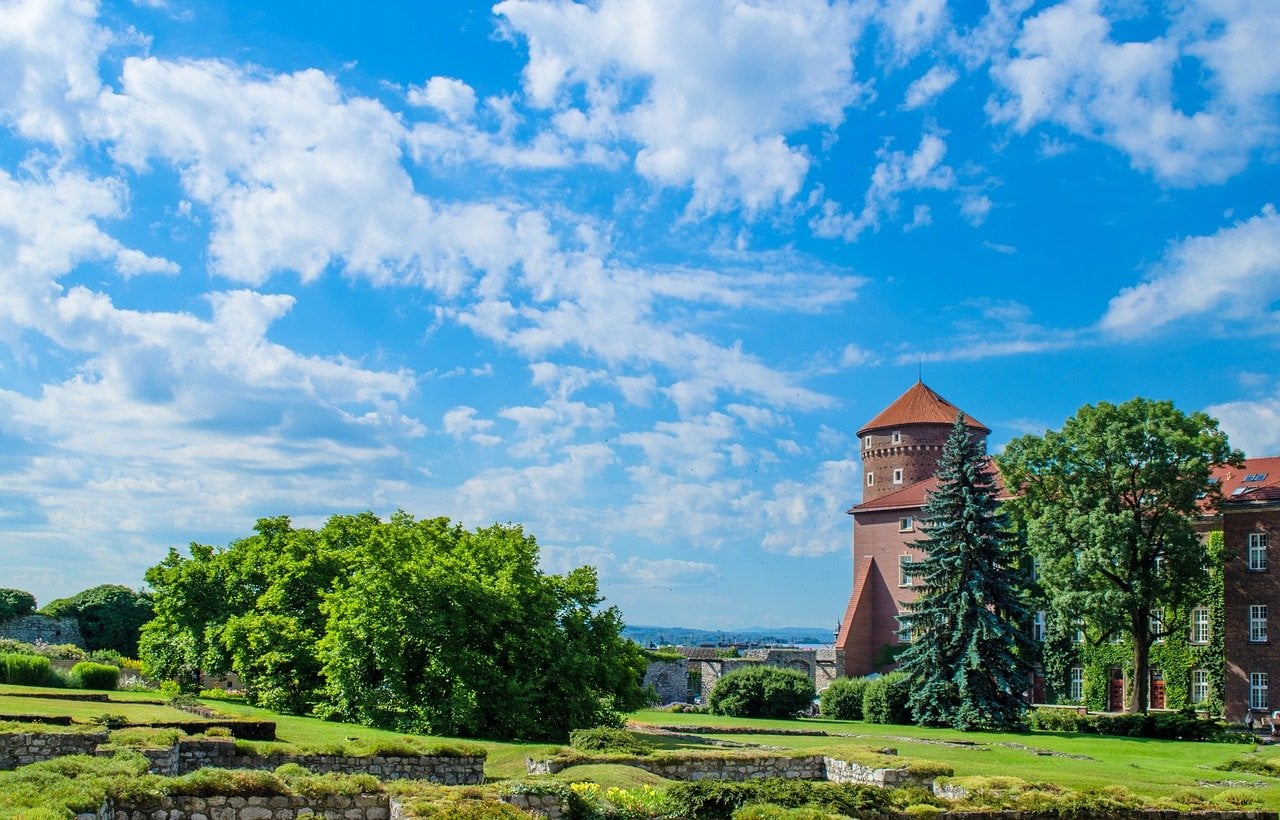 Where to Stay for a Weekend in Krakow
Hostels in Krakow
When it comes to price, location, and pretty much everything else, you can't beat this lively hostel! It's right in the centre of the Old Town and includes free dinner (which is actually good), free breakfast, and free beer for an hour each night. However, they serve the same food pretty much every night, so if you're staying for a while as I did you'll probably end up going out to eat a few times too.
I stayed here during my trip to Krakow and, as a solo traveller, found it very easy to meet people. The only downside, though, is this is a party hostel so it can be pretty loud. It costs €13 for a bed in a 12-person dorm or €15 for a bed in a 6-bed dorm.
If you're looking for a cheaper hostel that doesn't have all those free offerings I've heard great things about this top-rated hostel, which costs €7 per night.
Budget Hotels in Krakow
There's a great range of budget hotels in Krakow, making it a very cheap place to spend a weekend without spending much.
If I had travelled with my boyfriend or friends I'd have stayed at this boutique hotel, which has a reassuring 9.1 on Booking.com, is in the centre of the Old Town, and has lovely rooms with huge bathtubs! Perfect for warming up after a winter day out in Krakow.
Double rooms cost around €45 per night. Click here to book!
---
Well, that's all from me! If you follow this 2 or 3 day itinerary I'm absolutely certain you'll have an amazing weekend in Krakow! If you have even more time to spend in the city, I highly recommend that you head over to my day trips from Krakow post for a few ideas of other places to visit.
I have quite a few Poland posts by now, so don't forget to head over to my Poland page if you want any more trip inspiration or practical info for travelling Poland!
Liked this post? Pin it!