There is a good chance that this post contains affiliate links. If you make a purchase through them, I may receive a small commission at no extra cost to you! As an Amazon Associate, I earn from qualifying purchases. As ever, all opinions are my own.
Liverpool has a long and mind-blowingly interesting history, so it makes sense that there are a tonne of fun facts about Liverpool that you probably don't know.
I've been visiting Liverpool for over 15 years now, and I still feel like I learn something new with each visit. There's just that much to learn!
So, what are you waiting for? Here are the very best, funniest, and most interesting Liverpool facts.
Best Liverpool History Facts
1. Liverpool is the 5th most-visited city in the UK
Enchanting and full of surprises, Liverpool claims its spot as the 5th most-visited city in the UK. That's all thanks to its mix of history, culture, and live music.  
Football and The Beatles are undoubtedly reasons that draw many to Liverpool, but, even without those things, it's an incredible city for tourists.
There are just so many things to do here, no matter what you're interested in!
2. Liverpool Cathedral is the biggest in the UK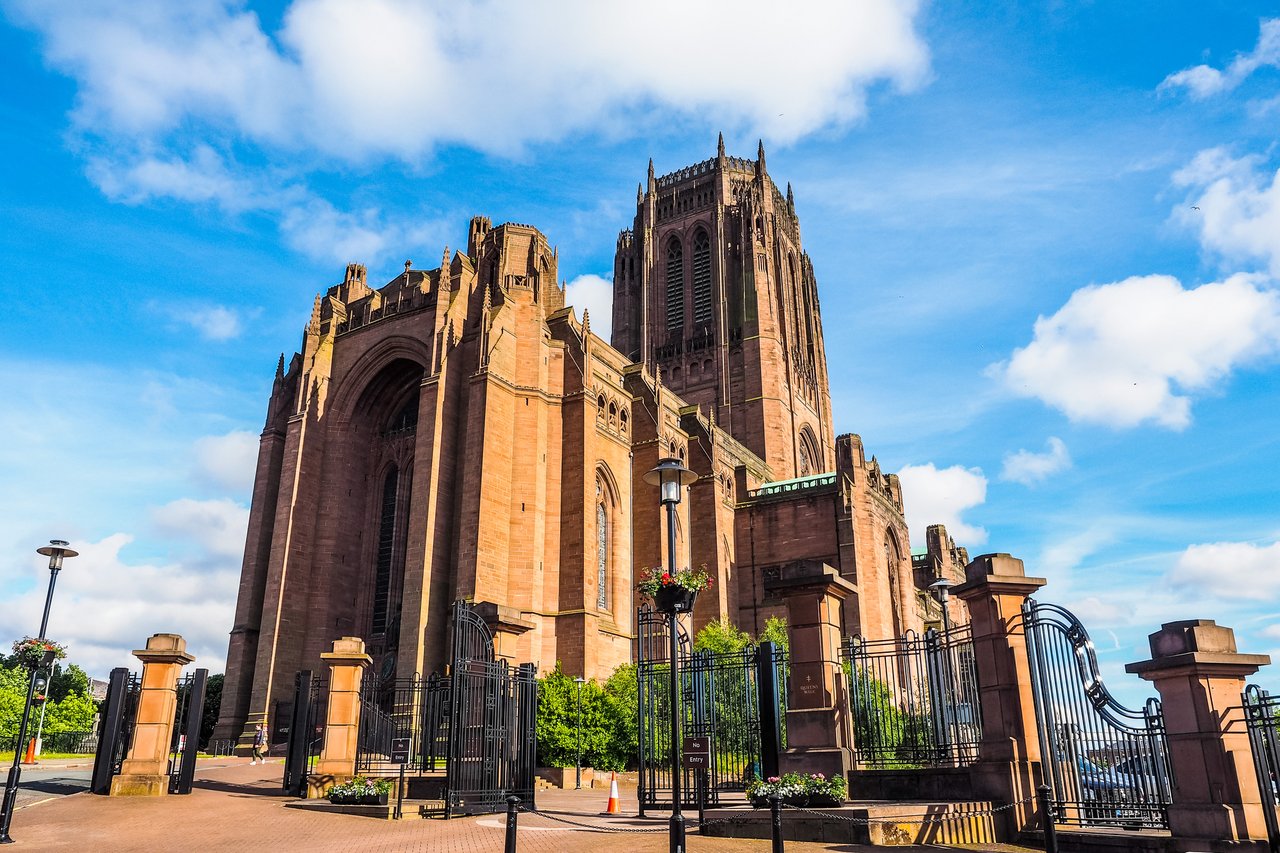 The gigantic Liverpool Anglican Cathedral is the largest cathedral in the UK, with an area of 9,687.4 square metres.
As well as being the biggest in the UK, it's the 5th largest cathedral in Europe! Its external length is 189 metres, making it the longest cathedral in the world.
Located in Liverpool city centre, you'll find Liverpool Cathedral on Hope Street.
Do you know what else you'll find on Hope Street? The Liverpool Metropolitan Cathedral! It's called Hope Street for a reason!
3. Liverpool is home to the world's first wet docks
The construction of the Old Dock in Liverpool in 1715 marked a significant milestone in maritime history.
This innovative dock, designed by Thomas Steers, was the first wet dock in the world!
But what is a wet dock used for? Well, a wet dock enabled ships to directly unload and load cargo on land, eliminating the need for laborious river transfers. 
Building upon this success, the Liverpool dock system expanded with the addition of the Salthouse Dock in 1753 and the Canning Dock in 1737.
These remarkable achievements propelled Liverpool to become a maritime powerhouse and one of the most important ports in the world.
4. Liverpool had the world's first inter-city passenger railway line
Liverpool made transportation history with the opening of the world's first inter-city passenger railway line, known as the Liverpool and Manchester Railway. This is one of the coolest Liverpool city facts!
Unveiled in 1830, this visionary railway system forever transformed travel, seamlessly connecting the two industrial cities of north west England, Liverpool and Manchester.
It reduced the journey time to just two hours – a miracle back in those days!
5. Liverpool is home to the oldest Chinatown in Europe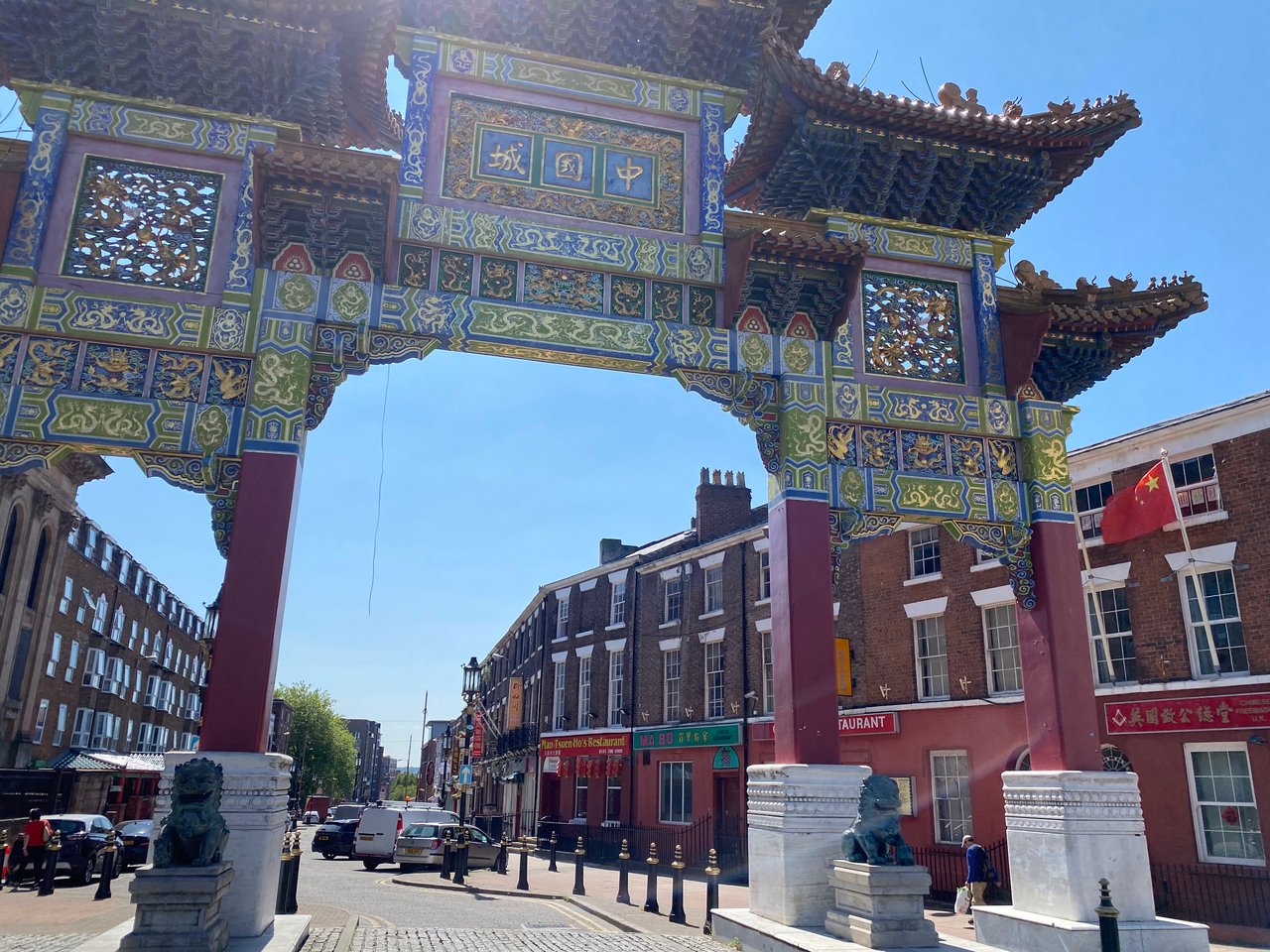 Liverpool takes the crown for having the longest-established Chinese community in Europe, all because of the trade links between China and Britain.
Oh, and because living in Liverpool, is great, of course!
The first wave of Chinese immigrants arrived in Liverpool in 1866 with the establishment of the Blue Funnel Shipping Line and decided to settle in an area near the docks since many of them were sailors.
This is one of the top historical facts about Liverpool because its historic Chinese community is an important part of Liverpool's culture in the present day.
Liverpool is also the proud home of the largest Chinese Arch outside of China, the Imperial Arch, which measures 13.5 metres (44 feet) tall. 
6. Liverpool was founded by King John
On the 28th of August 1207, King John, (yup, the same King John from Robin Hood), made history by officially founding Liverpool.
With a flick of his royal pen, he granted the area of 'Liuerpul' the status of an official town through his Royal Charter.
This is one of the most essential facts about Liverpool history, because, without this happening, Liverpool might not even exist!
7. It took 27 years for Liverpool supporters' names to be cleared after the Hillsborough Disaster
The Hillsborough Disaster was a tragic event that unfolded at a football match between Liverpool and Nottingham Forest on 15 April 1989, that claimed the lives of 97 people.
In the wake of the disaster, the blame was wrongly placed on the devoted Liverpool fans who had suffered unimaginable loss.
It took a heartbreaking 27-year struggle for justice to prevail and for the names of Liverpool supporters to be cleared.
The tireless efforts of families, campaigners, and the wider Liverpool community ultimately led to the true verdict the community deserved.
Liverpudlians' fight for justice after the Hillsborough Disaster is one of the most important Liverpool 1980s facts.
8. St John's Gardens are super spooky
Did you know that beneath the serene St John's Gardens there's a hidden secret? You see, this land was once a graveyard, and held the remains of a staggering 82,000 individuals. 
During the early 20th century, it was decided to transform the old cemetery into St John's Gardens.
As part of this transformation, the majority of the bodies were exhumed and moved to other burial sites, but not all of them!
It's no wonder that St John's Gardens has become a popular destination for ghost tours, where curious visitors delve into the eerie tales and supernatural legends that surround St John's Gardens – one of the most haunted places in Liverpool.
9. Liverpool had the first overhead railway
We've already spoken about Liverpool leading the way when it came to transport innovation, so here's even more proof: Liverpool was home to the world's first overhead passenger railway system!
On a cool day back in 1893, Liverpool's waterfront came alive as the Liverpool Overhead Railway made its grand debut.
This game-changing marvel stretched over 6.4 miles (10.3 kilometres) and served commuters and workers along Liverpool's many docks, making this one of my favourite Liverpool docks facts.
It facilitated the movement of goods, eased the daily commute for dock workers, and played a significant role in the growth and prosperity of Liverpool as a major port city, before closing on 30 December 1956.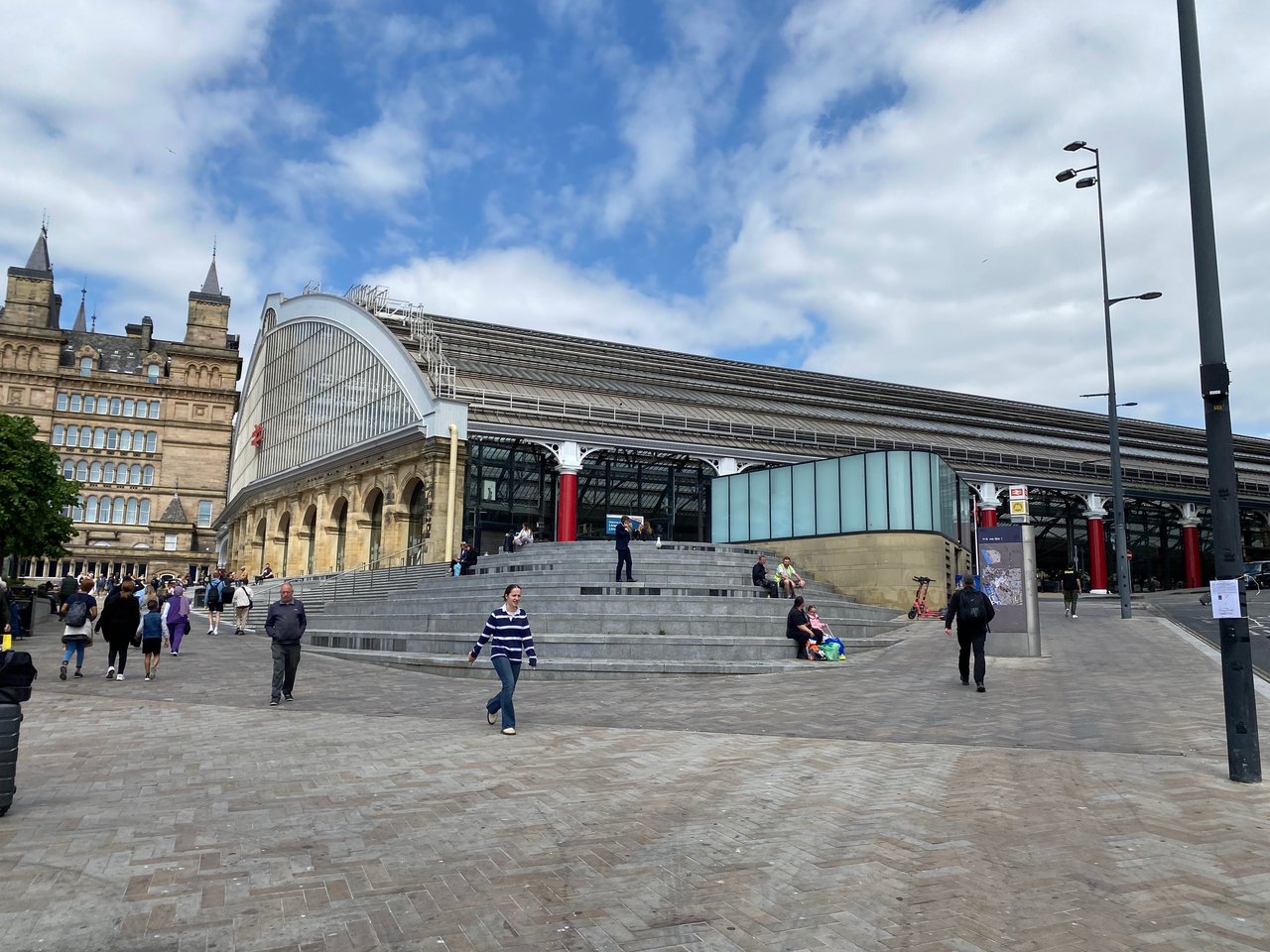 10. The captain of the Titanic used to live in Liverpool
Liverpool was not only the home of Captain Edward Smith, the captain of the ill-fated RMS Titanic, but it also served as a hub for many of the ship's crew members.
Captain Smith resided at 4 Marine Crescent, Waterloo, Liverpool.
He called this address home for several years, thanks to the White Star Line (Titanic's owners, and Smith's employers) being headquartered in Liverpool at the time. This is one of the coolest facts about Merseyside!
In addition to Captain Smith, a significant number of Titanic's crew hailed from Liverpool. Around 90 crew members, including engineers, firemen, and sailors, embarked on that fateful journey from this city. 
You can find out more about Liverpool's Titanic connections at the Titanic Exhibition at the Merseyside Maritime Museum.
11. Hitler's family lived in Liverpool in the 1910s
Here's one of the most unusual facts about Liverpool: during the 1920s, Adolf Hitler's immediate family, including his half-brother Alois Hitler Jr., lived in Liverpool.
It's thought that Adolf Hitler himself lived with his brother in Liverpool from November 1912 until April 1913.
The Hitler family were based in Liverpool for employment reasons, with Alois Hitler Jr. working as a waiter at the city's Adelphi Hotel, on Ranelagh Street.
The family's stay in Liverpool, although relatively brief, is a significant historical footnote.
It's quite an interesting twist that Adolf Hitler went on to bomb Liverpool heavily during WW2.
The best of all the Liverpool Blitz facts is that Liverpool was the most-bombed area of the country outside of London during the Blitz.
12. The Calder Stones are older than Stonehenge
Let's move on to Liverpool's ancient treasure – the Calder Stones.
Even older than Stonehenge, these Neolithic monoliths date back 4,000 to 6,000 years and are located in Calderstones Park.
These sandstone blocks were once part of a burial chamber or ceremonial monument – we're not really sure!
Adorned with carvings including spirals and circles, the Calder Stones provide a fascinating glimpse into Liverpool's ancient past.
This is one of the very best facts about Liverpool for kids.
13. Liverpool is home to the oldest black community in Europe
Liverpool proudly holds Europe's oldest black community, with roots that trace back to the 18th century.
In the 1750s, Black settlers arrived in Liverpool, including sailors, freed people who had previously been enslaved, and student sons of African rulers.
The epicentre of Liverpool's black community emerged in the area of Liverpool 8, which grew into a tight-knit community that shaped the history of the entire city.
You can find out more about Liverpool's black community at the Museum of Liverpool's Black Community Trail.
Fun Facts About Liverpool, England
14. The Beatles performed at the Cavern Club almost 300 times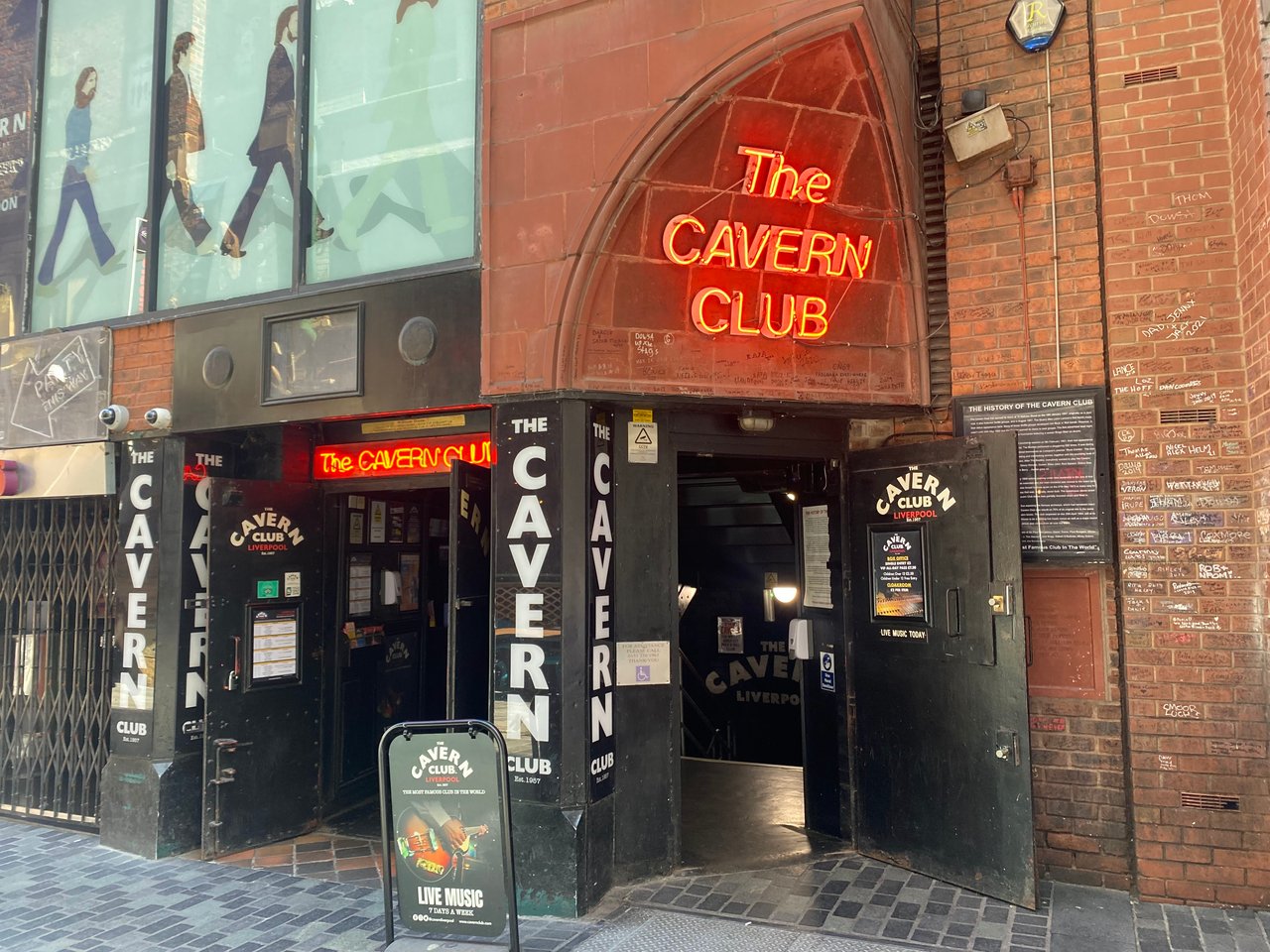 The most famous and beloved sons of Liverpool, The Beatles, graced the stage of the Cavern Club for an astonishing number of nearly 300 performances.
This is one of the best-known Liverpool in the 1960s facts.
From 1961 to 1963, this iconic music venue witnessed the rise of Beatlemania as John Lennon, Paul McCartney, George Harrison, Ringo Starr and Pete Best captivated audiences with their electrifying performances.
Pete Best?!
Yup! He was the original drummer in The Beatles, playing with the band until he was kicked out and replaced by Ringo in August 1962.
Many people wonder whether or not the Beatles were American, but they were 100% British, born and raised in Liverpool.
The Cavern Club, located on Mathew Street in Liverpool, holds a significant place in music history as the birthplace of The Beatles, and you can still visit it today, or take their Beatles bus tour of Liverpool!
15. Peaky Blinders was filmed in Liverpool
Peaky Blinders was one of the biggest British TV hits of recent years – but did you know that it was actually filmed in Liverpool?
Well, it's true! Liverpool served as the backdrop for Peaky Blinders, providing the perfect setting for the gritty, post-World War I drama.
Various locations throughout the city, including the iconic Stanley Dock, the historic Port of Liverpool, and the city's atmospheric streets were transformed into the Birmingham of the 1920s, where the show is set.
Liverpool's unique blend of Victorian and industrial architecture captured the essence of the Peaky Blinders' world. Nowadays, you can visit all of the filming sites on Liverpool Peaky Blinders tours.
16. Charles Dickens was a big Liverpool fan
Charles Dickens had a special bond with Liverpool, spending time in the city as often as he could when he wasn't at his London home. 
He first arrived in 1838 to visit a friend and held countless readings of his works in the city over the years.
His performances at the Philharmonic Hall drew enthusiastic crowds, including a remarkable four-day series of public readings in 1858.
Not one to shy away from exploring the city's grittier side, Dickens even ventured into the Liverpool docks in 1860, gathering inspiration for his non-fiction works.
He needed police supervision to do this, so he was sworn in as a "Special Constable" for the occasion!
17. There's a real Eleanor Rigby grave in Liverpool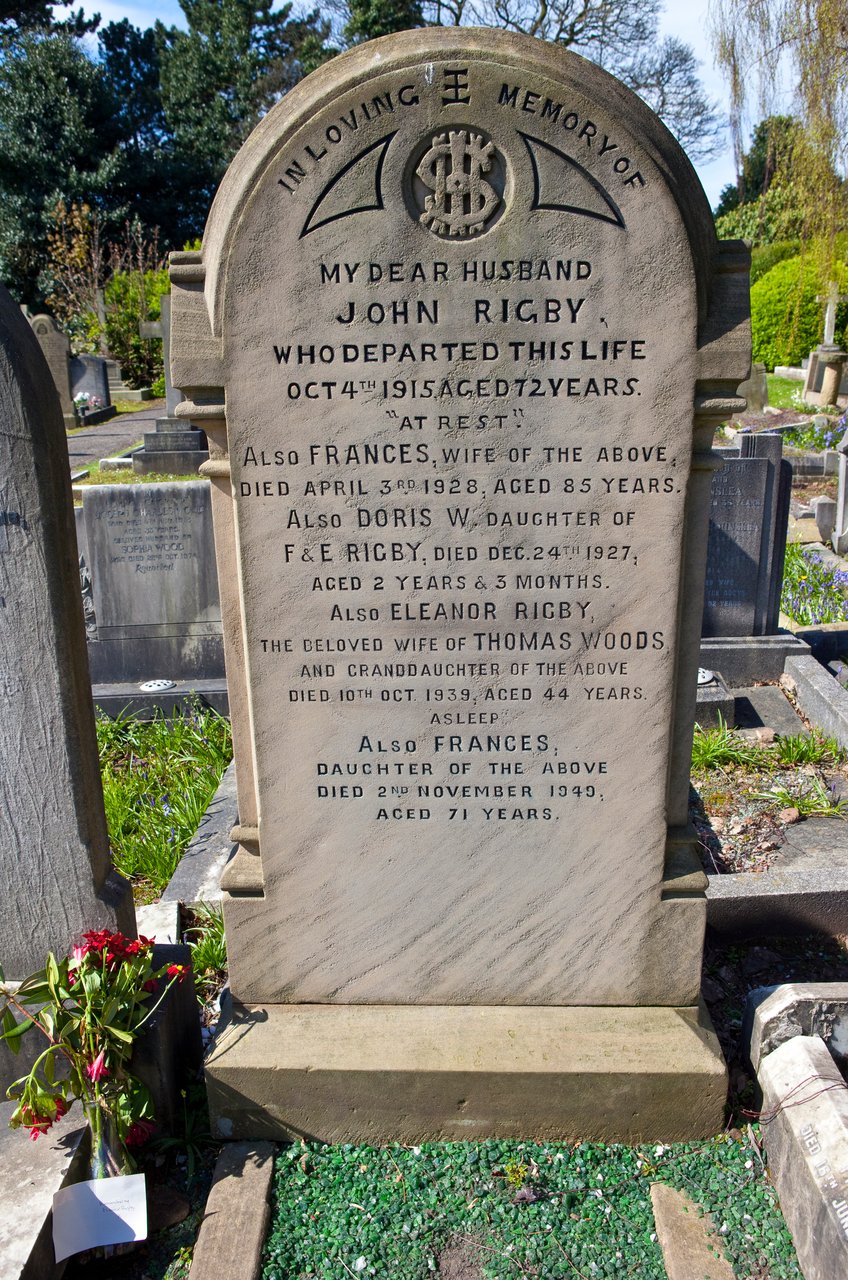 St. Peter's Churchyard in Woolton is famous for being the place where John and Paul first met. At the time, though, John's band wasn't called the Beatles – it was called the Quarrymen.
However, there are other local Beatles connections to this place.
You see, in the graveyard you'll find a gravestone bearing the name "Eleanor Rigby".
While the character in the famous Beatles' song of the same name is fictional, the presence of this actual grave has intrigued fans.
Was Paul inspired by this gravestone, or was it just a coincidence?
This is one of my favourite little-known facts on Liverpool!
18. Liverpool created more number 1 hit songs than any other city in the world
Looking for some music information about Liverpool? Well, Liverpool proudly boasts an incredible record of creating 57 number one hit songs, more than any other city in the world!
Obviously, a significant portion of these chart-topping triumphs can be attributed to The Beatles, who contributed a staggering 17 number one hits to the city's impressive tally. 
It's not just about The Beatles, though. Other chart-toppers include Frankie Goes to Hollywood, Gerry & The Pacemakers, and The Scaffold.
19. Crosswords were invented by a Liverpool journalist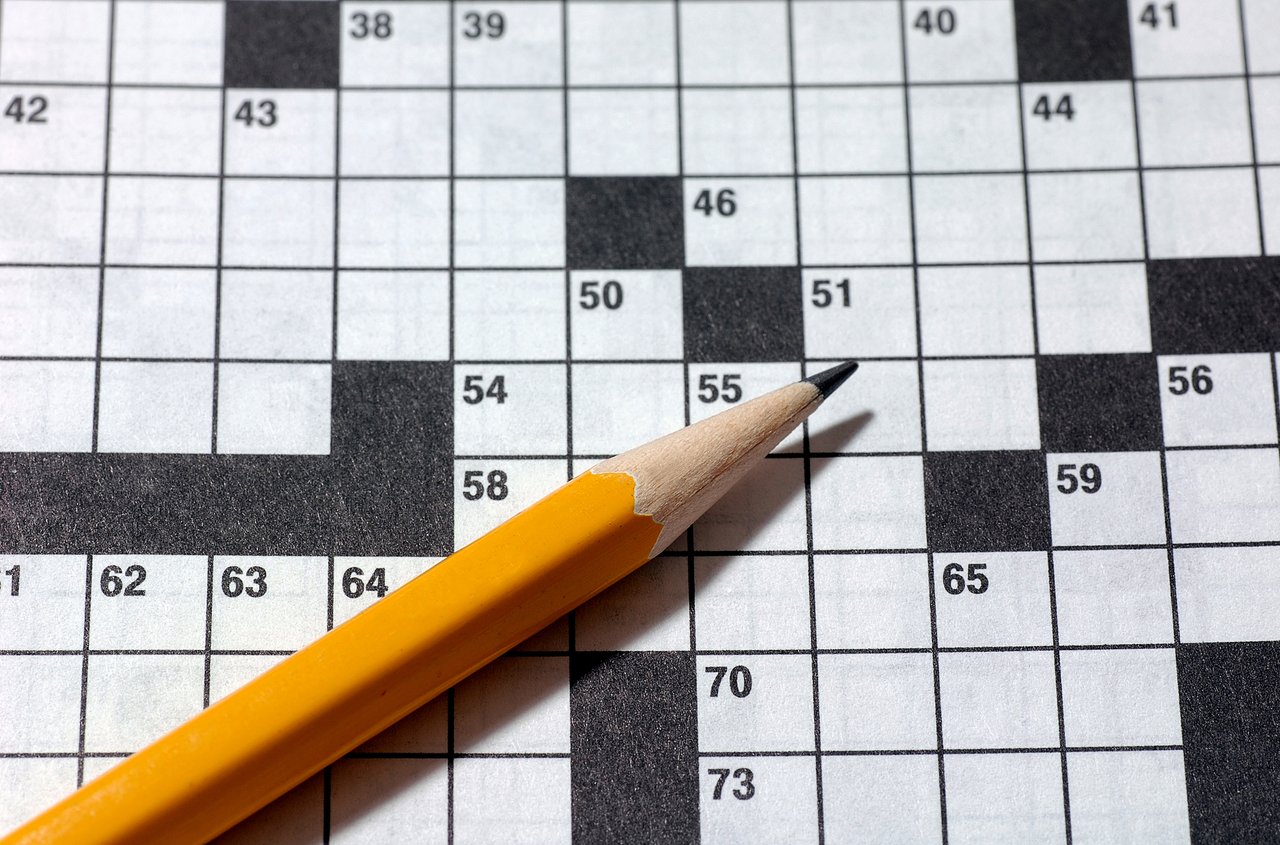 In the year 1913, Liverpool journalist Arthur Wynne changed the puzzle game forever. 
This brain-teasing invention, initially called the "Word-Cross Puzzle," took the nation by storm, captivating puzzlers far and wide.
Inspired by other word puzzles of the time, Wynne wanted to create a unique and engaging game that combined wordplay, deduction, and problem-solving. The crossword was born!
Wynne's genius gave birth to a new form of entertainment, providing hours of brain-bending fun for crossword enthusiasts across the globe.
This is one of the most fun Liverpool trivia facts, so memorise it in advance of your next pub quiz!
20. Beatles tourism brings around £120,000 per year to Liverpool's economy
Here's one of the most interesting facts about Liverpool city: Beatles tourism injects a whopping £120,000 per year into Liverpool's economy! 
Every year, Beatles fans from across the globe descend upon the city, to check out the many famous Beatles sights. The Beatles were together for just under 8 years, but their impact has lasted multiple generations!
They explore the childhood homes of John, Paul, George, and Ringo, learn at The Beatles Story museum, and join Beatles tours all over the city.
This pilgrimage of Beatlemaniacs fuels Liverpool's economy, providing jobs, income and investment to the city and its people. Liverpool is a true Beatles destination.
21. The world's 5th most valuable football club is Liverpool FC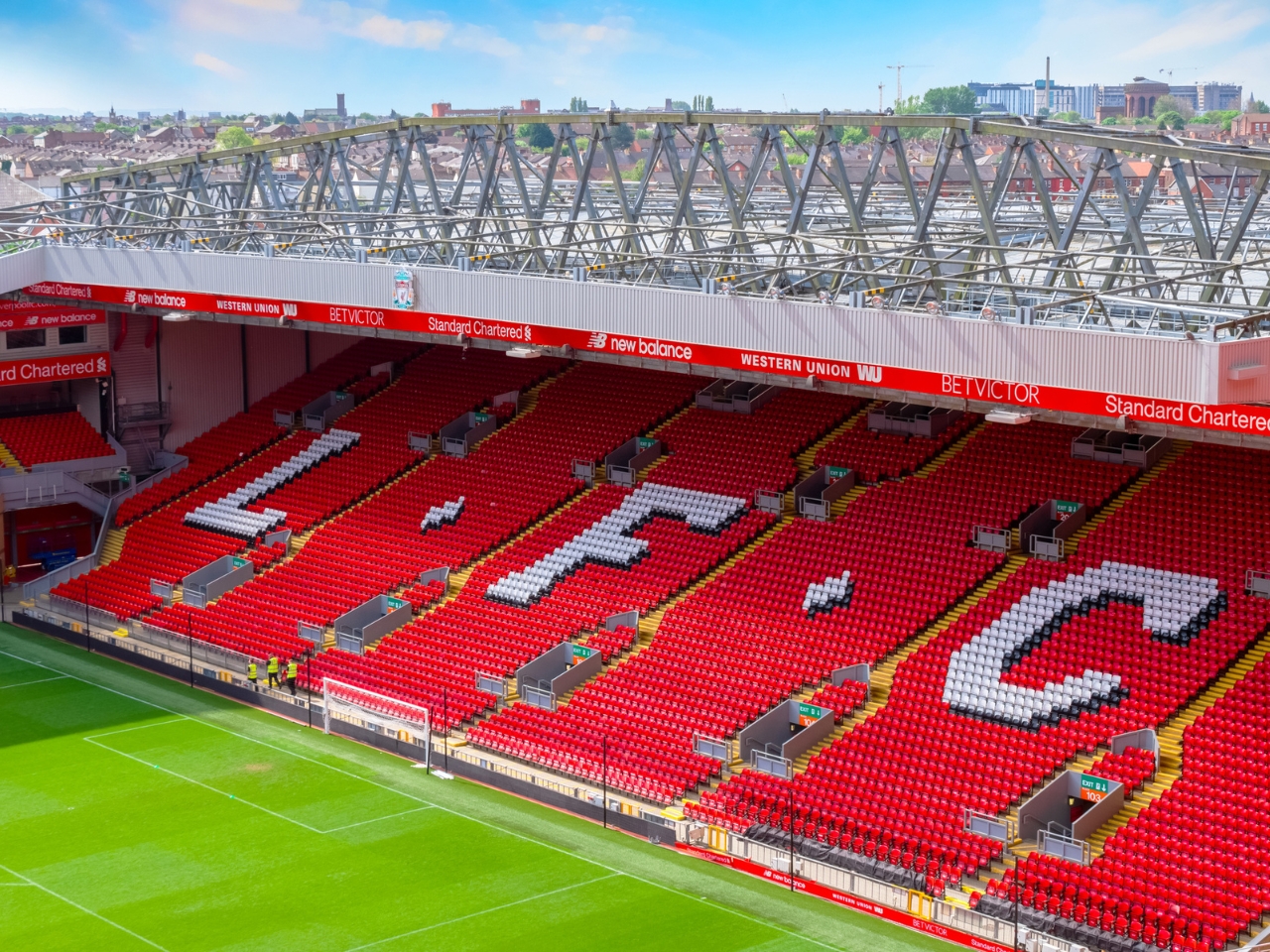 Liverpool FC, with a mind-boggling value of $5.29 billion, proudly holds the title of the world's fourth most valuable football club. 
This makes it the most valuable football club in England too, leaving Manchester City just behind it in 5th place. This is easily one of the best Liverpool facts about football!
Liverpool FC has not only captured the hearts of millions across the world, but it also pulls in a staggering annual income of $793 million.
Wowza!
Funny facts about Liverpool
22. "Scouse" is the name of a famous local stew
I bet you didn't know that Liverpool has its own culinary delight, but it does, and it's called Scouse! 
This famous local stew from Liverpool has a fascinating history.
Originally known as "lobscouse," it traces its roots back to the city's seafaring heritage and the sailors who frequented its docks.
The hearty ingredients of Scouse include tender chunks of meat (usually beef or lamb), potatoes, onions, and carrots, creating a wholesome and comforting dish best enjoyed on a cold winter's day.
So grab a spoon and dig in!
23. The iconic Liver Birds have names – Bella and Bertie!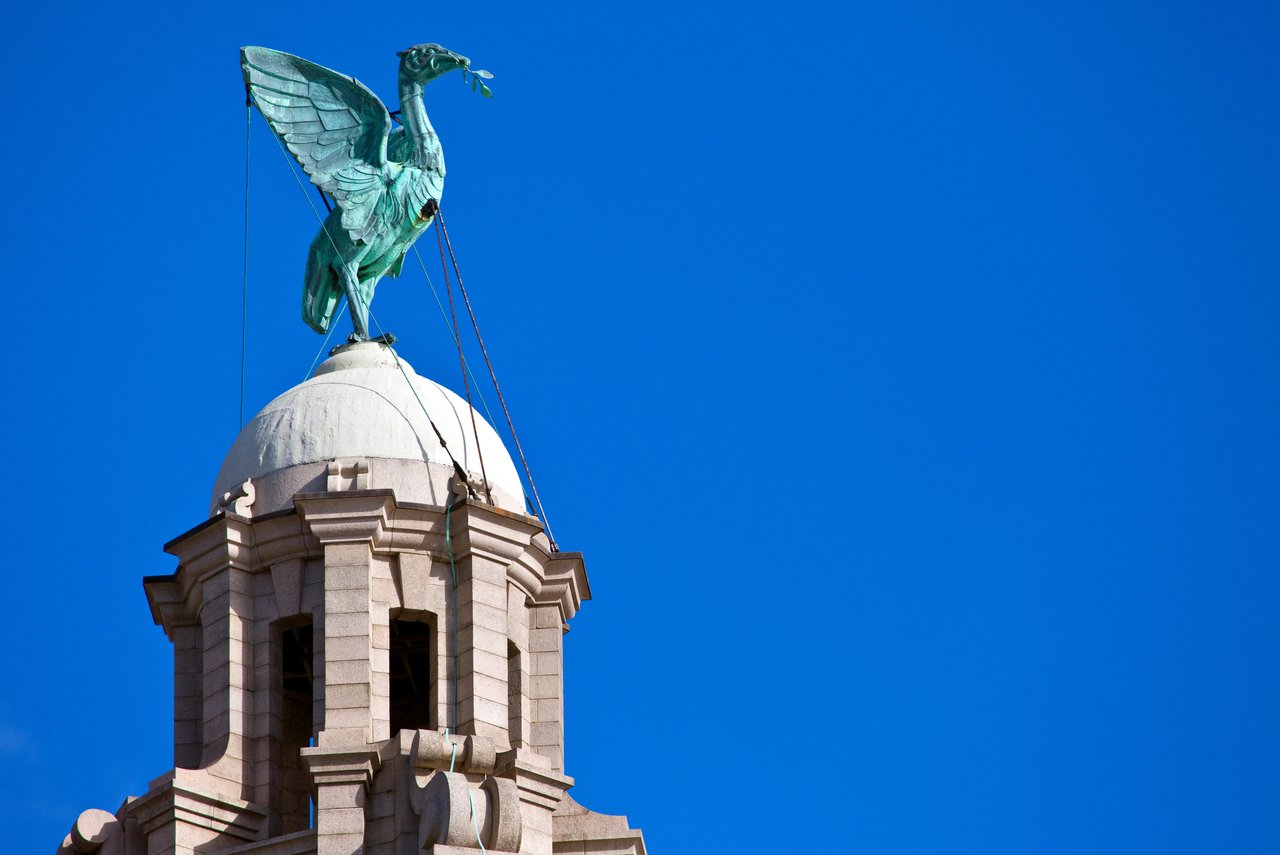 Did you know that the iconic Liver Birds, perched atop the Royal Liver Building in Liverpool, have names?
Allow me to introduce you to Bella and Bertie!
This is one of the best Liverpool facts for kids and one of the top facts about the Liver Building!
These magnificent statues, standing as guardians of the city, have become beloved symbols of Liverpool's maritime history and enduring spirit.
Bella, the female Liver Bird, gazes out to sea, while Bertie, her male counterpart, watches over the city below.
Legend has it that if these iconic birds were ever to fly away from the Liver Building, the city of Liverpool itself would cease to exist.
Let's hope they stick around for a long time, then!
24. The Sun Newspaper is unofficially banned in the city
In Liverpool, there's an unofficial ban on The Sun newspaper, and, because of this, you won't find it on any newsstands in the city.
The reasons behind this ban are deeply connected with one of the city's most tragic memories: the Hillsborough Disaster in 1989, which resulted in the loss of 96 lives.
The Sun's cruel, insensitive, and frankly disgusting reporting of the event fueled anger and resentment among Liverpool residents, who were outraged by the newspaper's portrayal of the tragic event and its aftermath. 
As a result, many Liverpudlians have chosen to boycott The Sun as a sign of solidarity and to honour the memory of the victims. 
25. Radio City Tower used to be a revolving restaurant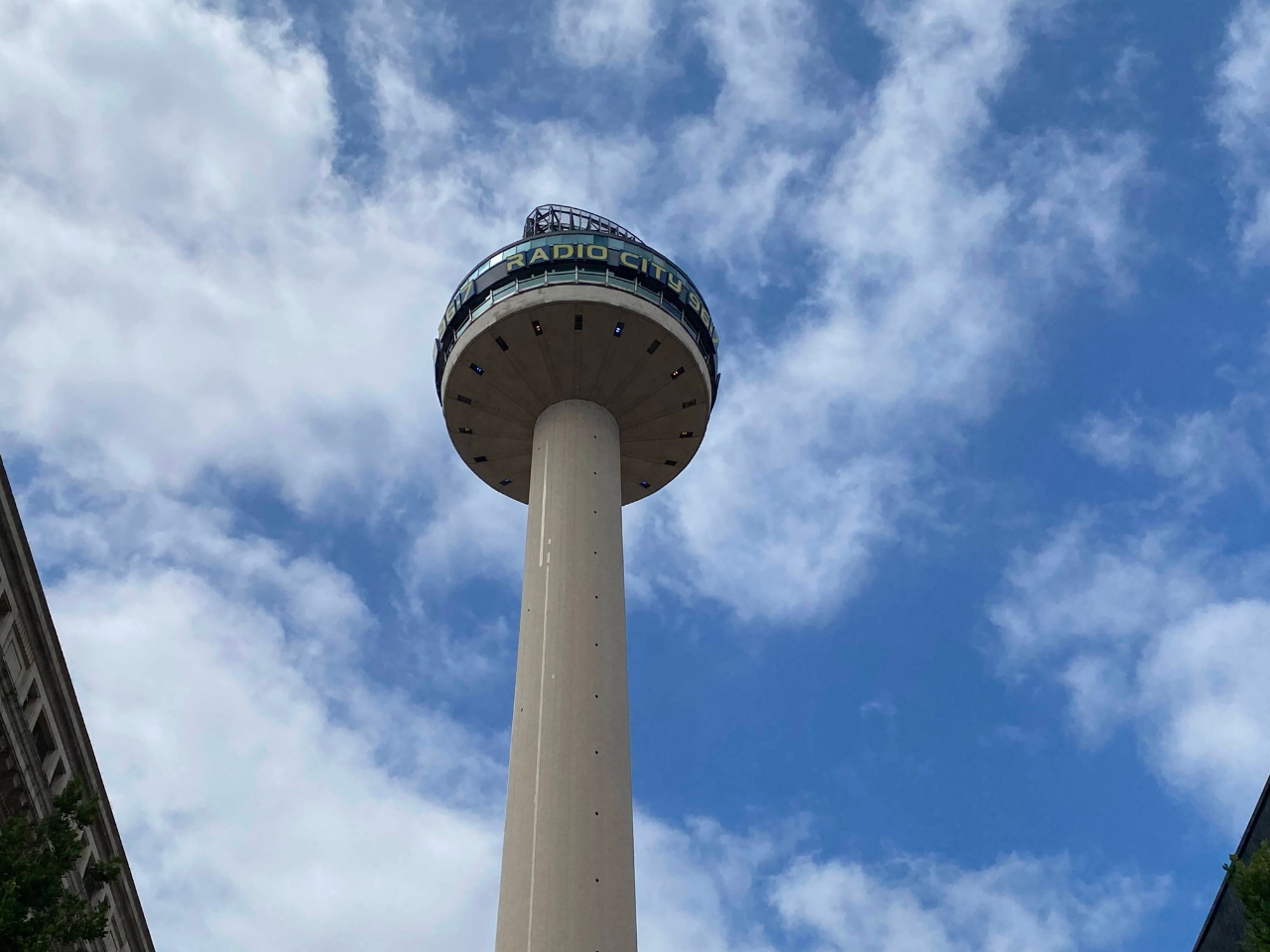 Did you know that the Radio City Tower, a prominent landmark in Liverpool, once housed a revolving restaurant? 
This cool tower, also known as St. John's Beacon, originally featured a restaurant on its upper levels that offered breathtaking panoramic views of the city.
The restaurant's unique feature was its ability to rotate, allowing diners to enjoy a 360-degree view as they enjoyed their meals.
While the revolving restaurant is no longer in operation (it closed in the early 90s), the Radio City Tower continues to stand tall, serving as a broadcasting hub for Radio City.
Nowadays, it also has a viewing platform that you can visit!
26. Liverpool has the oldest Santa's grotto in the world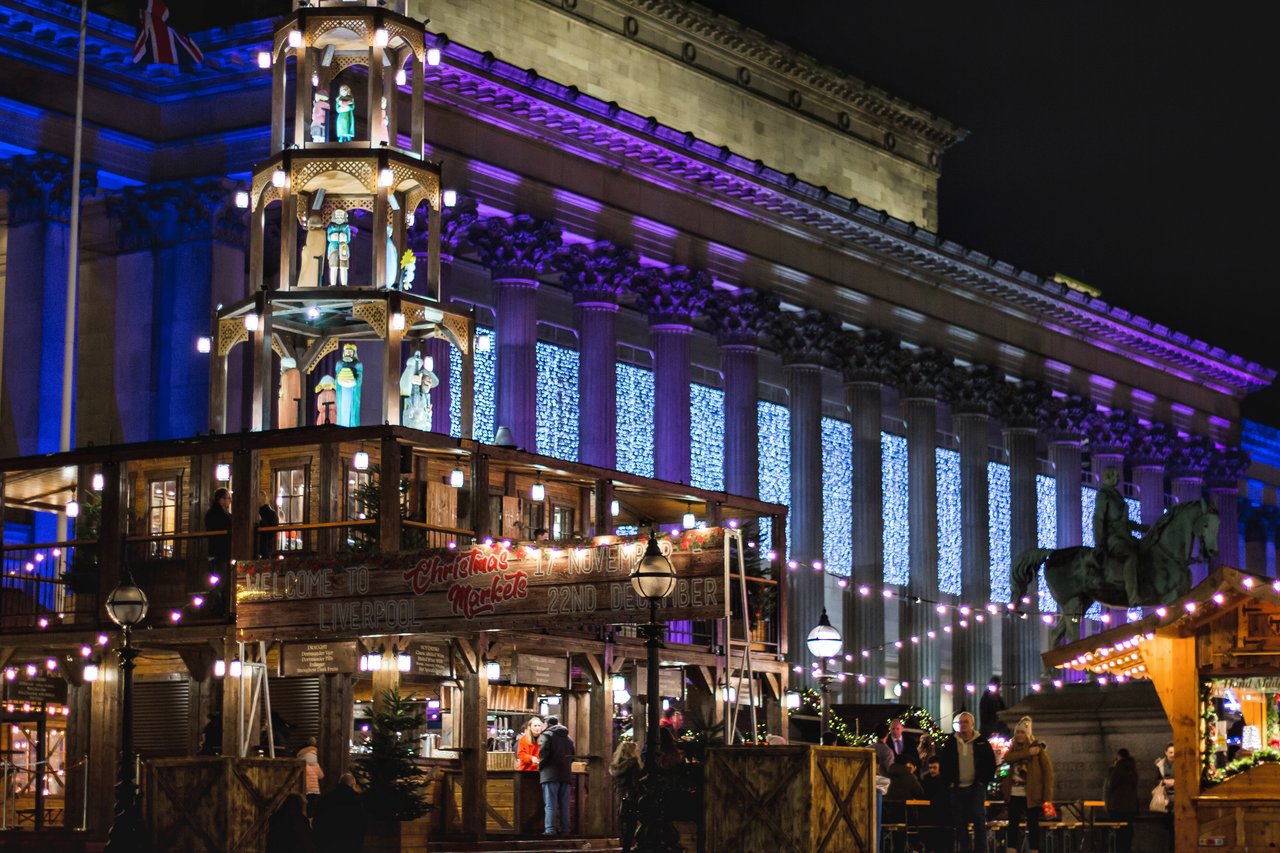 In operation for 123 years, Liverpool proudly boasts the oldest Santa's Grotto in the world!
Known as The World's Famous Grotto and located inside St John's Shopping Centre, this festive grotto has been spreading Christmas cheer since its grand opening in 1879.
If you find yourself in Liverpool at Christmas, a visit to this magical grotto is an absolute must-do!
27. Liverpool was the first UK city to import bananas and pineapples
In the late 18th century, Liverpool made history as the first UK city to import exotic fruits such as bananas and pineapples!
This groundbreaking development was all thanks to Liverpool's bustling port, which saw a fair few interesting imports.
As ships sailed into the city's docks, they brought with them a treasure trove of tropical delights, including bananas and pineapples.
These fruits quickly became a sensation, and it's hard to imagine that we once lived without them.
28. Liverpool means "Muddy Pool" in Old English
How did Liverpool get its name? Well, let's dive into its history! In Old English, the city's name translates to "Muddy Pool".
This funny nickname aptly describes the city's historical origins near the meeting point of the River Mersey and the Irish Sea, where muddy waters swirled.
The name Liverpool emerged from the combination of "lifer," meaning "muddy water" or "muddy river," and "pol," which simply means "pool".
Interesting Facts About Liverpool
29. The Royal Albert Dock used to be UNESCO-Listed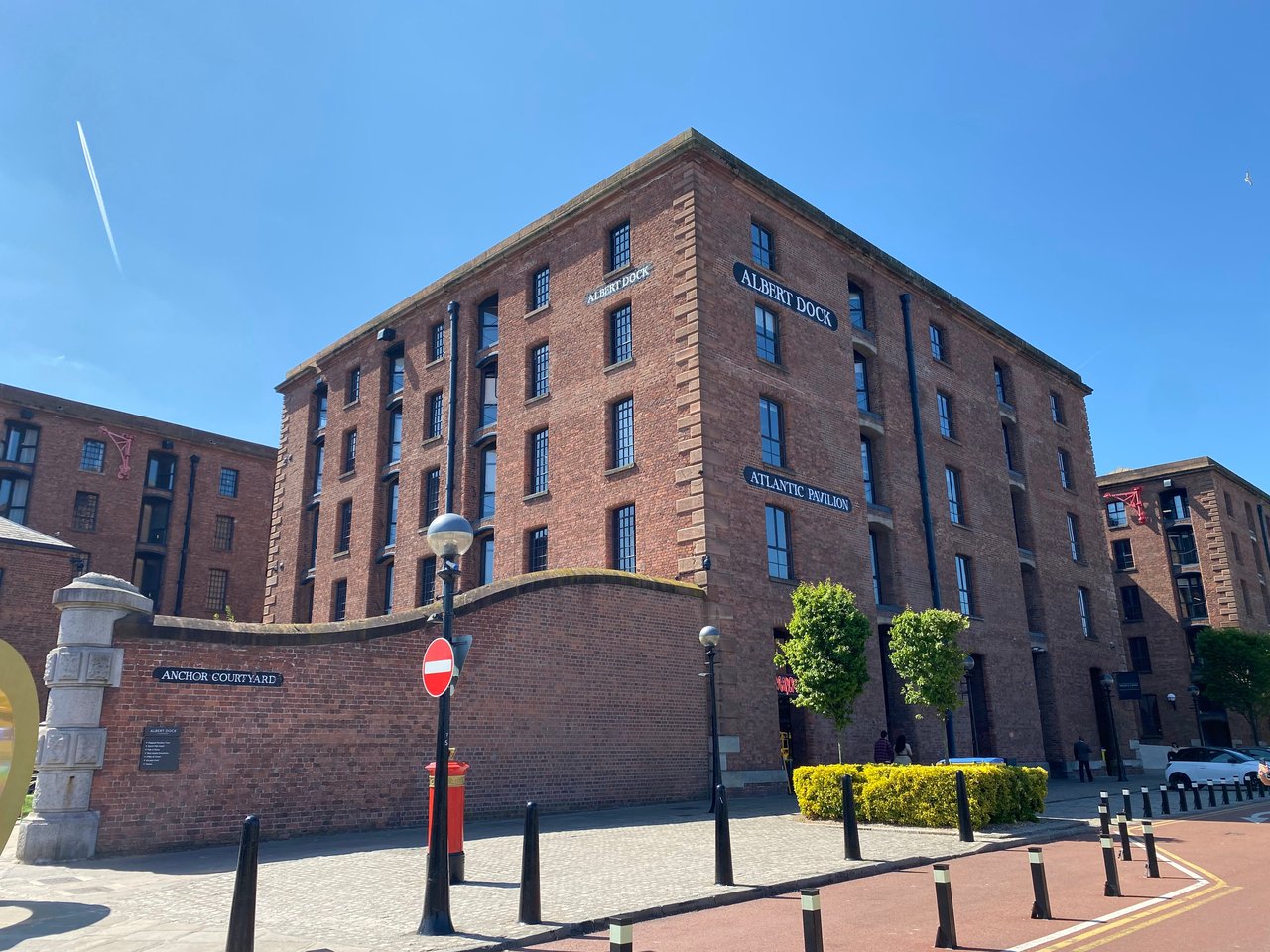 The historic Royal Albert Dock in Liverpool was once proudly listed as a UNESCO World Heritage site!
It received this prestigious designation in 2004, recognizing its remarkable architectural and cultural significance.
The UNESCO Site was called "Liverpool Maritime Mercantile City", and it included six locations in the city centre, with the Albert Dock being the focal point.
The Albert Dock, opened in 1846, served as a vital hub for trade and transportation during Liverpool's maritime heyday.
However, in 2021, it was unfortunately removed from the UNESCO World Heritage list due to concerns over development projects that impacted the area's authenticity and integrity. 
This is one of my favourite Albert Dock facts!
30. The world's first air-conditioned building was in Liverpool
St George's Hall in Liverpool, known for hosting Charles Dickens' premiere reading of A Christmas Carol in 1866, holds another groundbreaking accolade…
It's home to the world's first modern air conditioning system, designed by Dr David Boswell Reid!
This revolutionary technology brought refreshing coolness to the grand halls, setting a precedent for future advancements in indoor climate control.
I can't imagine a world without AC!
31. Liverpool has over 2,500 listed buildings!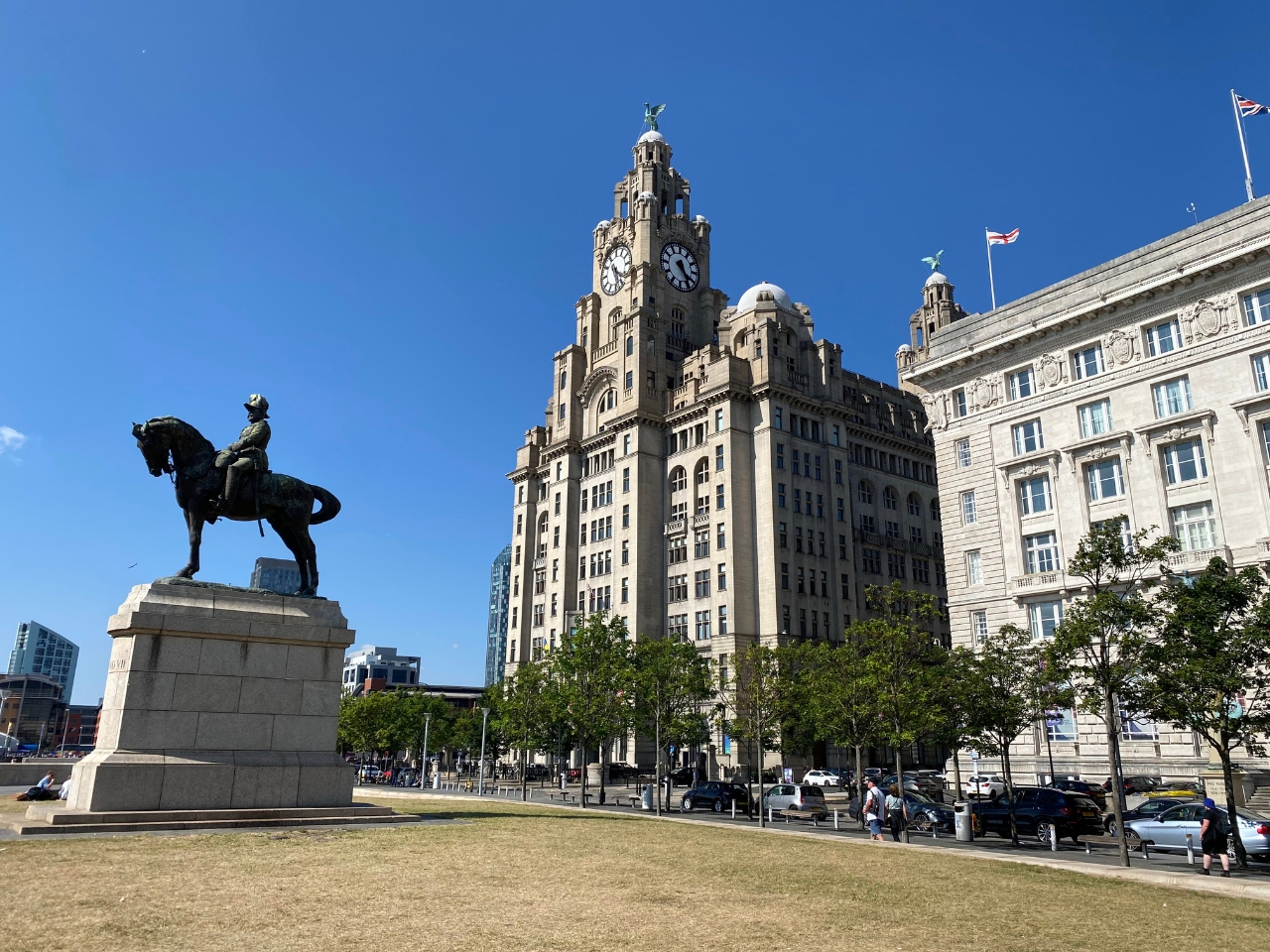 Liverpool boasts an impressive collection of over 2500 listed buildings, with 27 of these buildings holding the esteemed Grade I listing, signifying their exceptional historic and architectural significance. 
Some of the most famous Grade I listed structures include the Liverpool Anglican Cathedral, the Royal Liver Building, St George's Hall, and the Albert Dock.
These treasured landmarks, along with numerous others, stand as testaments to Liverpool's varied architectural legacy
32. Liverpool has the second-highest amount of museums in the UK (after London)
Prepare for a museum extravaganza! Liverpool, the city of culture, is home to an astonishing array of over 24 museums, making it the city with the second-highest number of museums in the UK.
This is largely thanks to the National Museums Liverpool group.
The winner? London, of course. 
You'll learn a tonne and have fun doing it whilst you explore Liverpool's museums, checking out the planetarium at the World Museum, wowing at maritime wonders at the Merseyside Maritime Museum, and going on art-filled adventures at Tate Liverpool. 
What's even better is that many of the museums in Liverpool are totally free!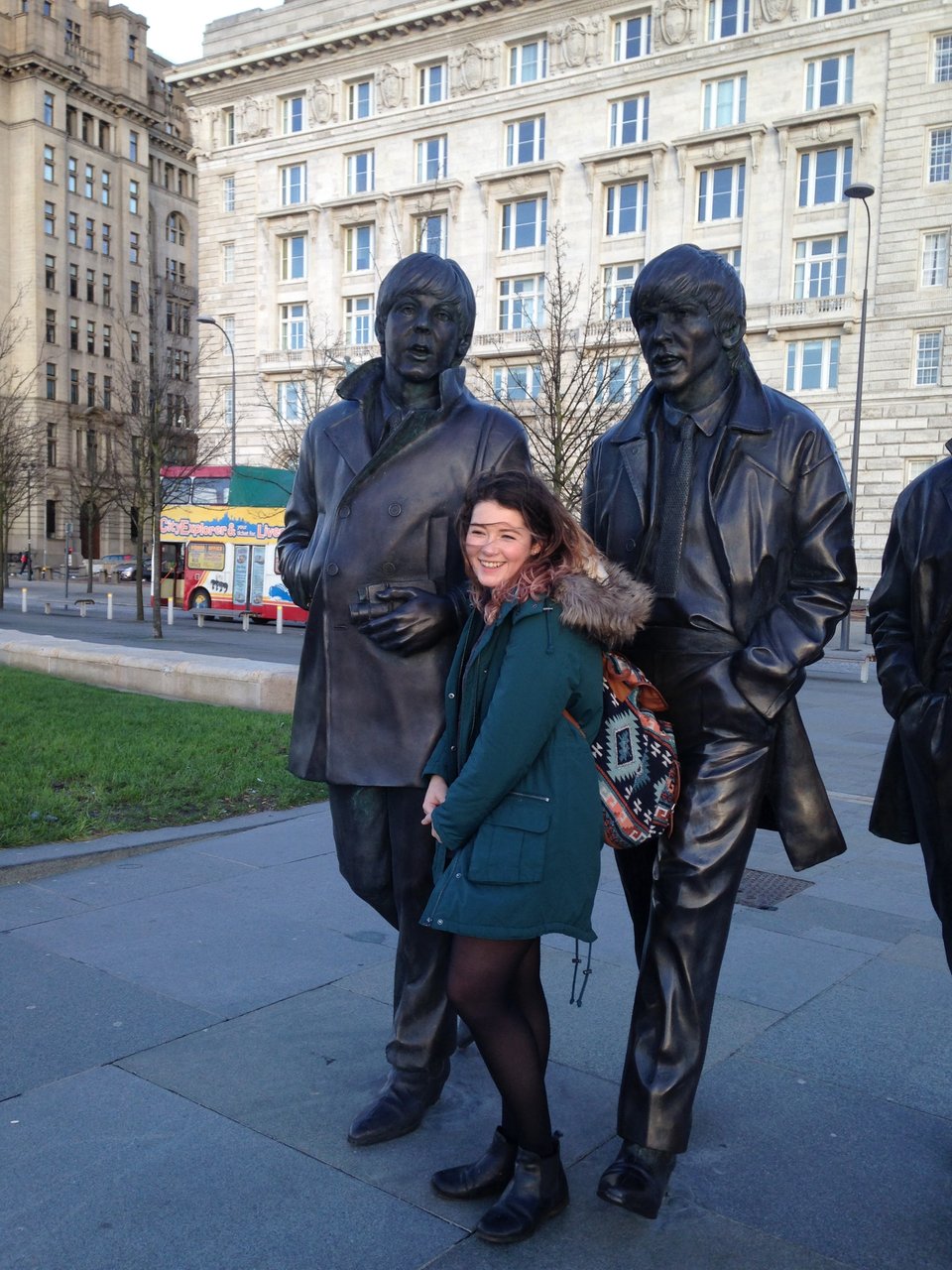 33. Liverpool was crowned European Capital of Culture in 2008
Liverpool took home the crown for European Capital of Culture in 2008, becoming the ultimate cultural hotspot.
This coveted title given by the European Union recognises cities for their outstanding cultural achievements, vibrant arts scenes, and commitment to cultural diversity. 
Liverpool dazzled with its legendary music legacy, awe-inspiring art galleries, and vibrant festivals.
Its unwavering passion for the arts sealed the deal, securing its well-deserved place in the European cultural spotlight.
34. Liverpudlians were allowed to move to Australia for just £10
After World War II, Australia faced a significant shortage of people and skills.
To address this, the British government, as part of the Commonwealth, started an immigration scheme. The first city to be offered this opportunity was Liverpool!
The scheme offered British citizens, including Liverpudlians, the opportunity to relocate to Australia for just £10.
Nice, right?
Under this scheme, they were promised an identical life in Australia: the same job they held in England and rebuilt houses in the new land.
Entire neighbourhoods were enticed to make the move, resulting in a mass exodus of thousands of Liverpudlians and their families to Australia.
The Cunard's ships departing from Liverpool transported these British migrants, who came to be affectionately known as the "Ten Pound Poms" by the Australians and New Zealanders.
35. Yoko Ono bought John Lennon's childhood home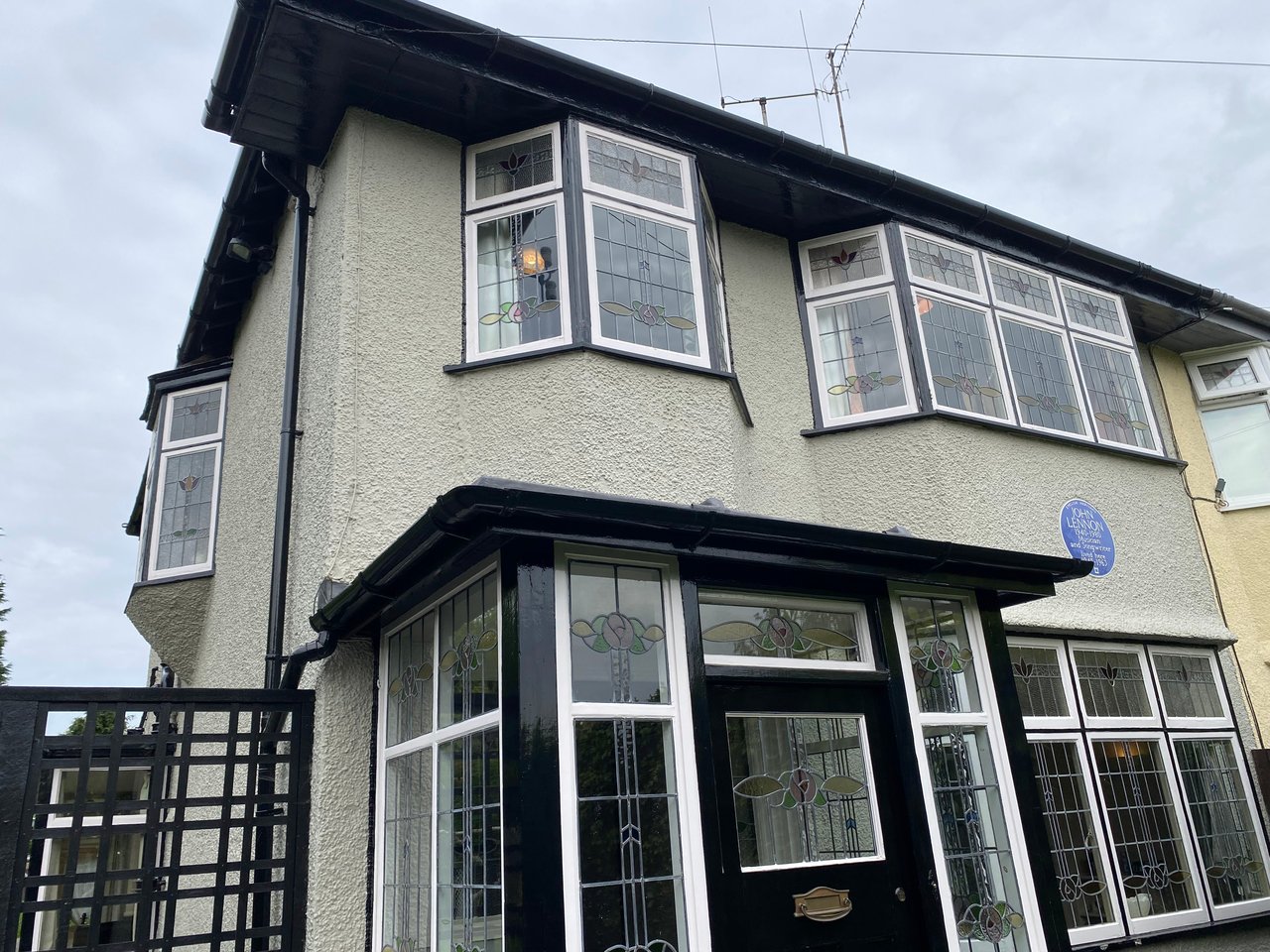 In a remarkable gesture, Yoko Ono, the wife of the late John Lennon, purchased his childhood home located on 251 Menlove Avenue in Liverpool in 2002. 
The house known as Mendips, holds great historical significance as the place where Lennon lived during his teenage years.
Yoko Ono's love for Lennon and commitment to honouring his legacy led her to spend £150,000 on the purchase before generously donating the house to the National Trust.
Nowadays, you're able to go inside John's house to see it as it looked during the time he lived there on dedicated Beatles houses tours.
36. Liverpool One is Europe's largest open-air shopping centre
Prepare to shop 'til you drop at Liverpool One, Europe's largest open-air shopping centre! 
Spanning a staggering 42 acres in the heart of Liverpool, this retail paradise boasts over 170 stores, making it a shopaholic's dream come true, and it was designed with a focus on sustainability and urban regeneration. 
With a diverse range of high street brands, luxury boutiques, and an array of dining and entertainment options, it attracts over 22 million visitors per year!
37. A Liverpool engineer designed the first-ever football goal net
Liverpool engineer John Alexander Brodie left an indelible mark on the world of football with his groundbreaking invention – the first-ever football goal net. 
In 1890, Brodie's innovative design revolutionised the game, adding an essential element to the sport.
His invention, consisting of a net stretched across the goal frame, made its debut, forever changing the way goals were celebrated and recorded.
Where would we be without goals?
38. Liverpudlian William Gladstone became Prime Minister four times
Let's talk about a Liverpool-born figure who rose through the political ranks – William Gladstone. Born on December 29, 1809, in Liverpool, this guy became Prime Minister not once, not twice, but a whopping four times! 
From 1868 to 1874, then 1880 to 1885, a short stint in 1886, and another go from 1892 to 1894, Gladstone ruled the roost in British politics. 
He has been Prime Minister more times than any other person!
39. Cilla Black used to work in the cloakroom of the Cavern Club
Here's one of the best facts about Liverpool in the 1960s – before Cilla Black became a renowned singer and television personality, she had her humble beginnings at the legendary Cavern Club.
Just like The Beatles!
In the early 1960s, Cilla worked in the cloakroom of this iconic Liverpool music venue, where she witnessed the birth of the Merseybeat era.
Amidst the rocking sounds of The Beatles and other emerging bands, Cilla's career took shape.
It was during her time at the Cavern Club that she caught the attention of Brian Epstein, who would become her manager and guide her towards British superstardom. 
40. William Brown Street is the only street in the world to only have cultural buildings on it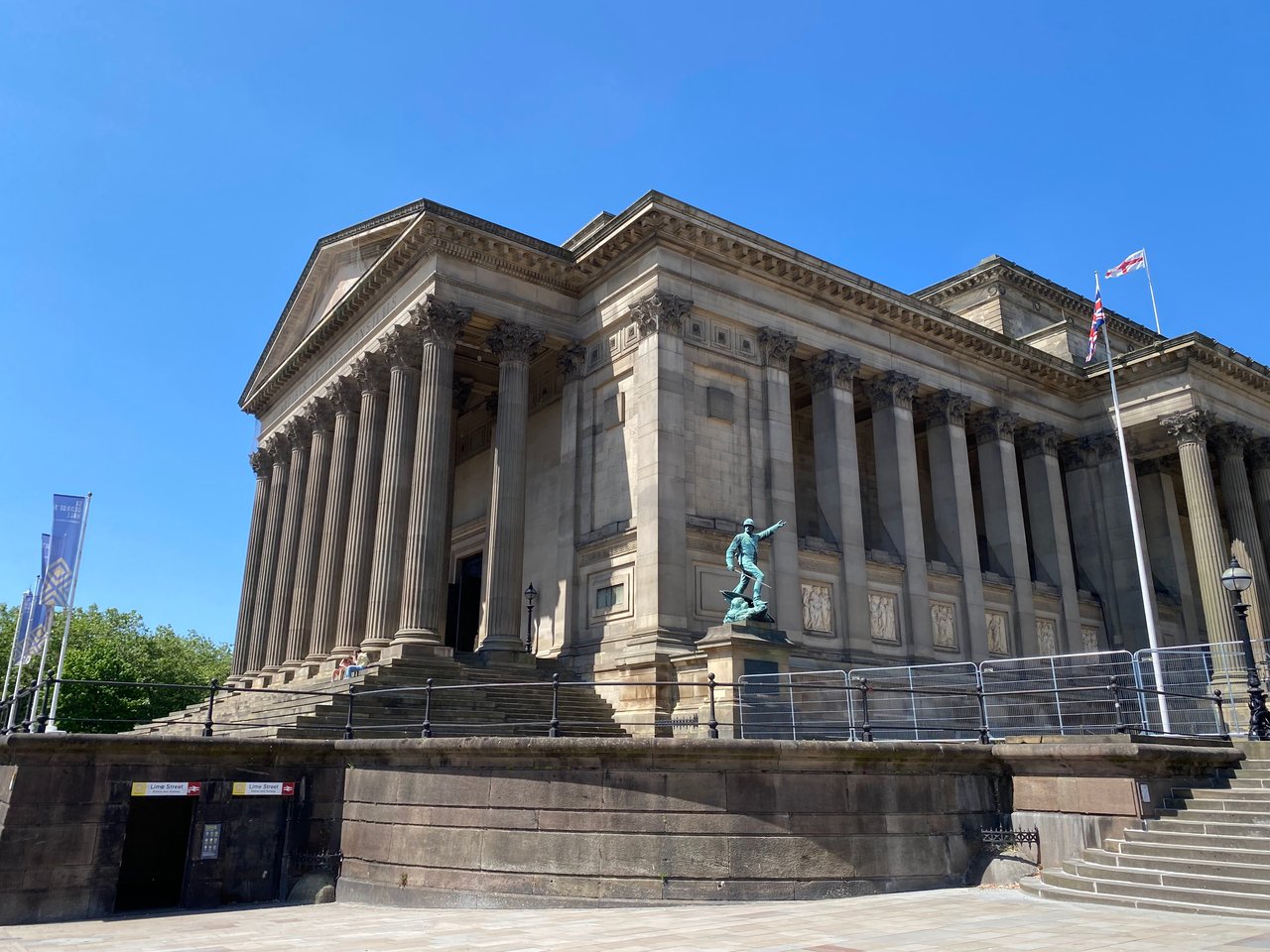 William Brown Street in Liverpool proudly claims the title of being the only street in the world exclusively dedicated to cultural buildings!
This extraordinary street is adorned with architectural marvels like the Central Library, the Walker Art Gallery, the World Museum, and the majestic St. George's Hall. 
You can't miss wandering down here when you're next on a day out in Liverpool!
41. The Liver Building has the largest clock faces in the country
Standing tall and proud, the iconic Liver Building in Liverpool boasts an impressive claim – the largest clock faces in the country. 
With a whopping diameter of 25 feet (7.6 metres), these colossal clock faces dominate the city skyline.
They're even bigger than the clock faces of Big Ben, one of the capital's most iconic landmarks!
Each minute hand on the Liver Clocks stretches an impressive 14 feet (4.3 metres) long, while the hour hands reach an astounding 9 feet (2.7 metres) in length.
These are some of my favourite Liverpool facts and figures!
42. Liverpool has the world's only slavery museum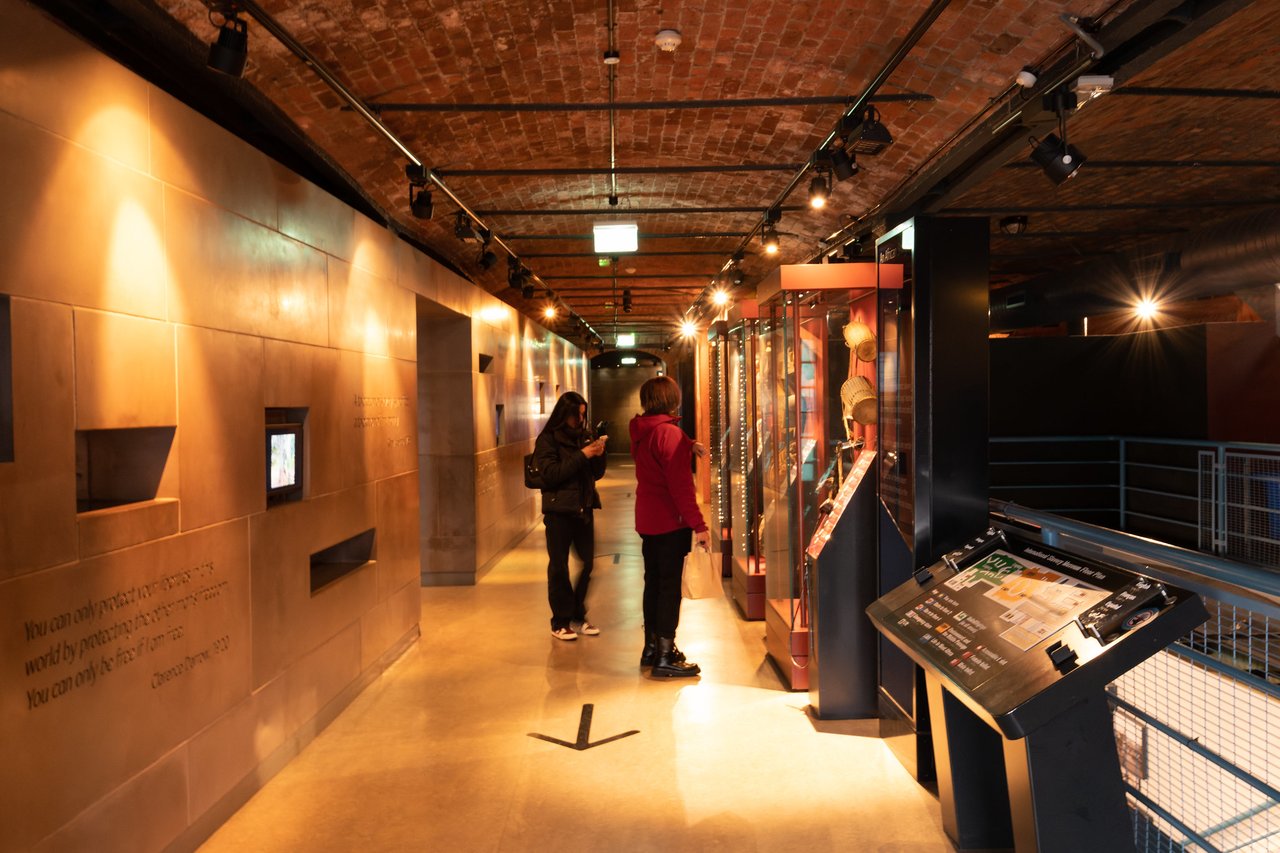 Liverpool proudly houses the world's only slavery museum, a bold statement showing the city's commitment to confronting its historical involvement in the transatlantic slave trade. 
The International Slavery Museum opened its doors in 2007, precisely 200 years after the abolition of the British slave trade.
This groundbreaking museum aims to educate visitors about the harsh realities of slavery, challenge existing prejudices, and promote dialogue for a more inclusive future.
Through powerful exhibits, thought-provoking displays, and engaging storytelling, the museum sheds light on Liverpool's complex history, encouraging reflection, understanding, and a collective commitment to the eradication of all forms of slavery.
It's the go-to place for more Liverpool slavery facts.
43. Liverpool's mayors were involved in the slave trade
Ready for one of the most disgusting and shocking Liverpool slave trade facts? Many of the city's affluent people in the 18th century profited off the slave trade.
Involvement was so widespread that some of its mayors were directly involved in the Liverpool slave trade.
One such figure is Thomas Golightly, who was Mayor of Liverpool in 1772 and 1773, who was heavily invested in the slave trade and opposed its abolition.
Another example is James Penny, a Liverpudlian slave trader who was presented with a gift from the city for speaking to a parliamentary committee about the benefits of slavery. 
These individuals, along with others, reflect a troubling aspect of Liverpool's past, reminding us of the city's historical entanglement in the abhorrent practice of slavery.
FAQs About Liverpool Facts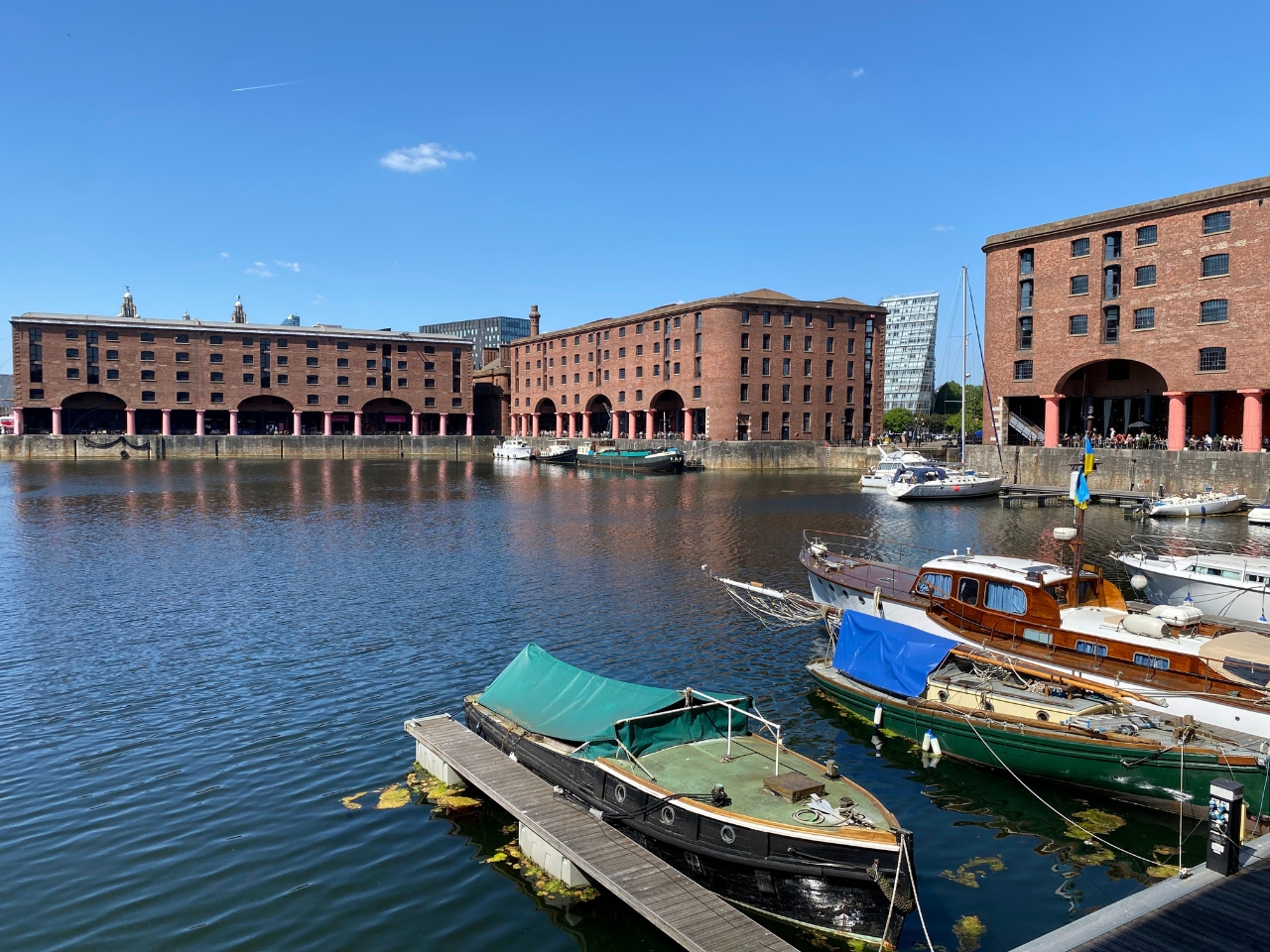 What is unique about Liverpool?
Liverpool is unique for its world-famous creative scene, legendary musical roots (thanks to bands like The Beatles), and globally recognised football teams. The city's architectural marvels like the iconic Liver Building add to its unique charm. Liverpool's wide range of museums, thriving art scene, and tight-knit community contribute to its distinctive character, making it a remarkable destination for music, sports, and artistic expression.
How old is Liverpool the city?
Liverpool, as a city, was officially founded in 1207, making it over 800 years old. Its history dates back even further, with evidence of settlements in the area as early as the 1st century. Liverpool has grown and evolved into a culturally diverse and world-famous city over the centuries, while still retaining its historic charm.
Why is Liverpool a great city?
Liverpool is a great city thanks to its awesome and multifaceted history, exemplified by its status as the birthplace of The Beatles and its thriving artistic community. The fact that Liverpool is a successful footballing city, with historic clubs like Liverpool FC and Everton FC, also makes it great. Liverpool's striking architecture, including the iconic Liver Building, and its friendly residents make it one of the best cities in the UK.
What did they invent in Liverpool?
Liverpool was home to the world's first commercial wet dock system, introduced in 1715 by engineer Thomas Steers. The world's first inter-city railway line, the Liverpool-Manchester line, was created in 1830 by George Stephenson. Other notable inventions in Liverpool include the crossword puzzle in 1913, and the football goal net in 1890.
Is Liverpool or London bigger?
London is a lot bigger than Liverpool in terms of both population and geographical size. As of 2021, London had a population of approximately 9 million people, while Liverpool had a population of around 500,000. Geographically, London covers an area of 1,572 square kilometres, whereas Liverpool spans 111 square kilometres. 
How to Find Out More About Liverpool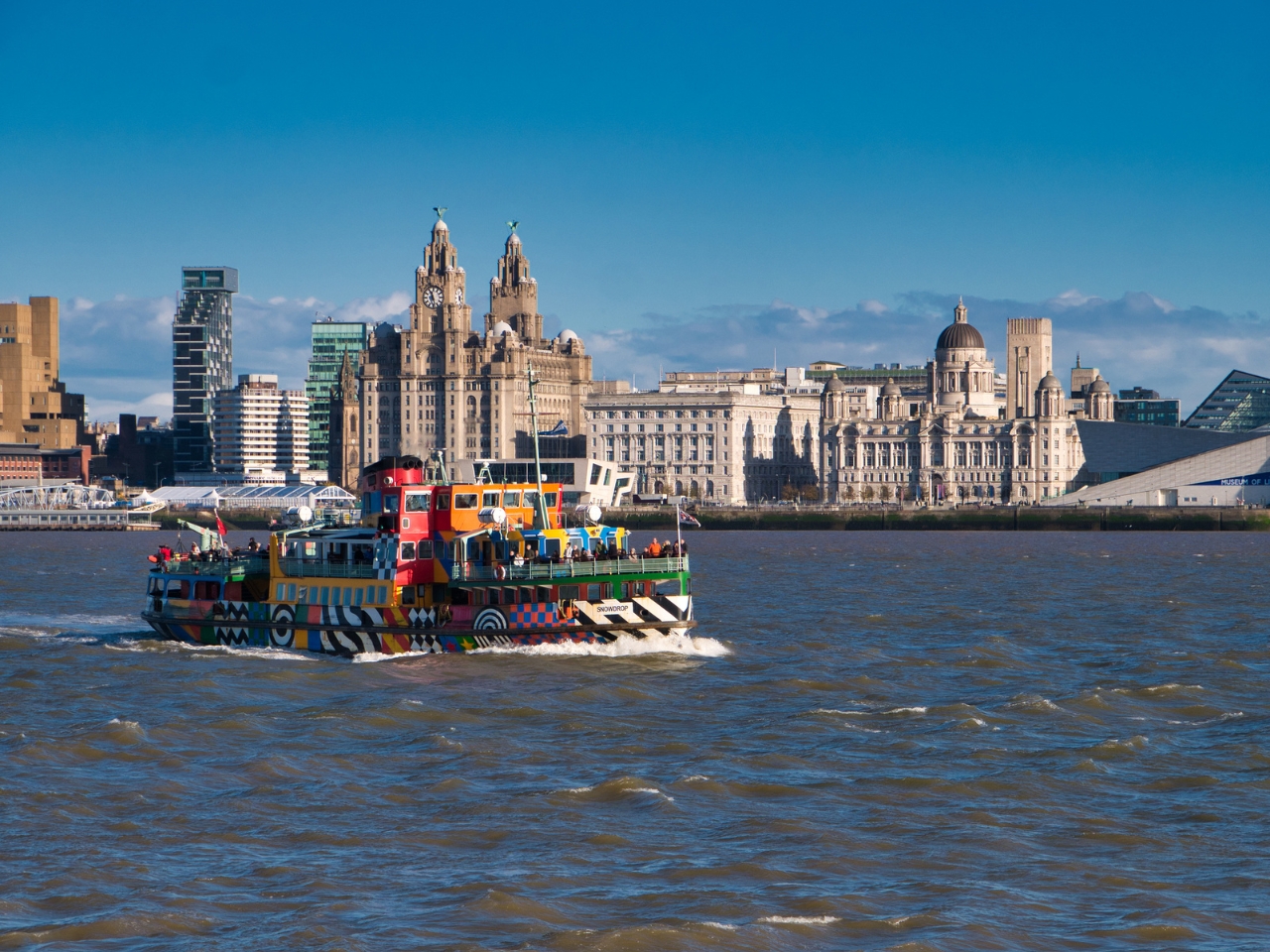 This list has been massive, but we've only just scratched the surface when it comes to fun facts about Liverpool! 
The best way to learn more information on Liverpool is by joining a tour of the city with a local guide.
They'll share locally-known facts of Liverpool that most outsiders don't know, and take you to hidden gems in the city you'd have never seen otherwise.
Here are my top picks for Liverpool tours:
For Beatles fans, you can't miss the Beatles Fab Four Tour. This 3-hour tour will take you to all of the most famous Beatles sites in Liverpool, including Paul and John's childhood homes, Penny Lane, and Strawberry Field. It's a must-do!
The Liverpool hop-on hop-off bus tour is the best tour of the city for tourists on their first trip to Liverpool. You'll see all of the city's highlights and most important landmarks, guided by a local with a whole host of local trivia up their sleeves.
Finally, the Ferry Across the Mersey is not just a famous song – it's a 1-hour sightseeing cruise along the River Mersey that'll give you a kick-ass view of the city from the river.
You'll also get to see some of the lesser-known Liverpool attractions, all accompanied by an audio guide. You can read my full review of the experience here!
Conclusion: Fun Facts About Liverpool
Are you excited to visit Liverpool now? I sure hope so! Head on over to my Liverpool page to check out all of my Liverpool posts to help you plan your perfect trip!