There is a good chance that this post contains affiliate links. If you make a purchase through them, I may receive a small commission at no extra cost to you! As an Amazon Associate, I earn from qualifying purchases. As ever, all opinions are my own.
Last Updated on February 17, 2022 by Ella
It'd be hard to find another city in the world with as many famous landmarks as London! There's no other place in the UK that draws as many tourists year-in, year-out. For many, a trip to London is a once in a lifetime opportunity! 
Planning a trip to London can feel overwhelming, to say the least. There's just SO much to do here. I've lived here for three years now, and I still haven't managed to see everything I want to yet!
A great starting point for planning your London itinerary is looking over this list of the most famous landmarks in London and visiting as many as you can during your trip! These landmarks are some of the very best things to see and do in the city. If you follow the list you can't go far wrong!
Since London is such a huge city, some of its most famous landmarks are quite far apart. To help you plan your route, I've created a map of all the landmarks, which you can see below.
Pssst – don't go anywhere, because at the end of this post I'm going to share my top tip that will save you a FORTUNE on your trip to London!
London's Most Famous Landmarks
Buckingham Palace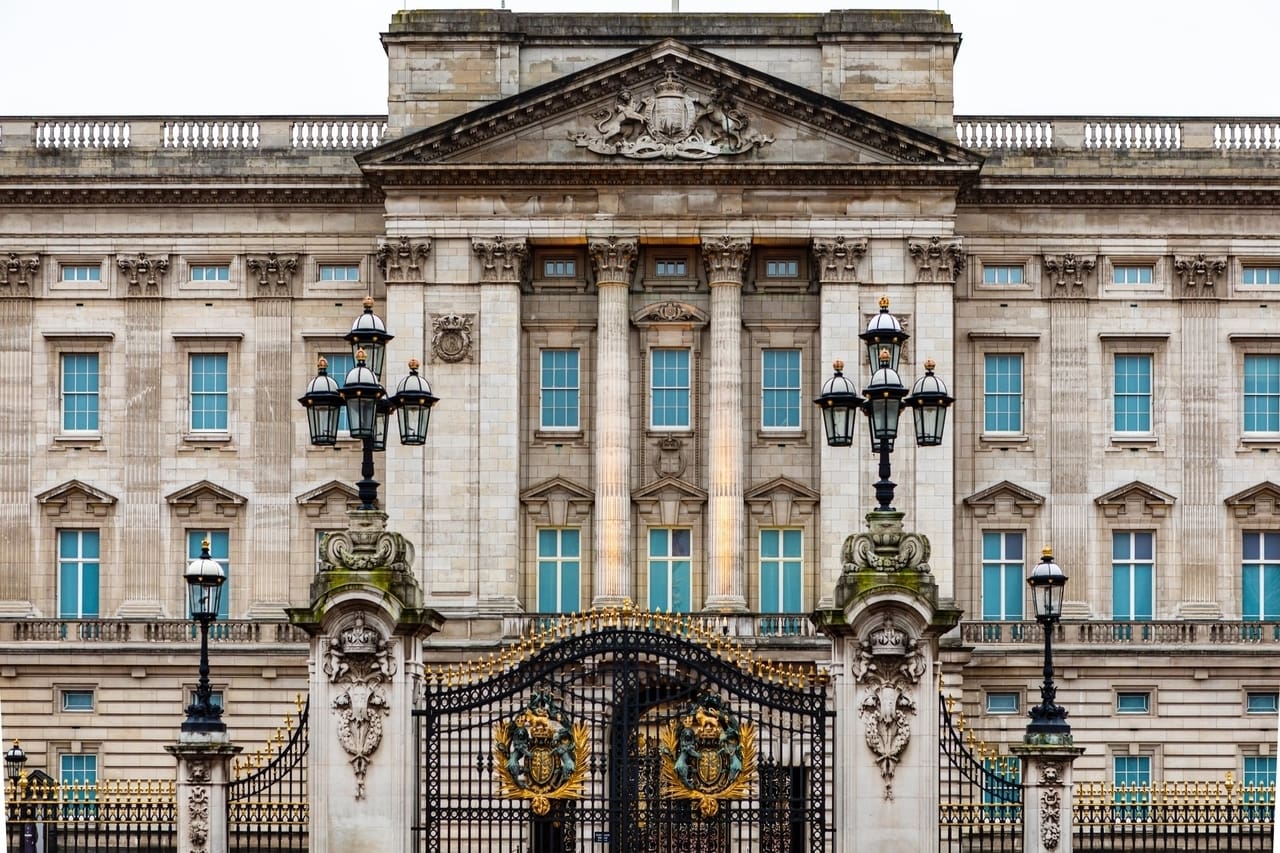 Probably the most famous building in London, Buckingham Palace is an unmissable stop on any London itinerary. Yup – even if you only have one day in London!
Buckingham Palace has been the British Monarchy's official residence since 1837. If the Queen is in residence you'll see a yellow, red and blue flag flying high above the palace. If she's not at home, chances are she'll be at Windsor Castle, and you'll see the Union Jack flying instead.
Read More: How to Visit Windsor on a Day Trip From London
A typical visit to Buckingham Palace involves strolling through the enchanting St James' Park (one of my favourite London Parks!) to get to the Palace. At the palace, you'll snap some photos, peek through the palace gates and watch the Queen's Guards standing to attention outside the palace. 
If you visit Buckingham Palace at around 10.45am on the right day, you'll be able to check out the Changing of the Guard Ceremony. It's one of the best free things to do in London! The Changing of the Guard doesn't take place every day, so I recommend checking the calendar before you visit.
Between July and September, you're even able to enter Buckingham Palace to tour its lavish State Rooms. Tickets cost a pretty penny (around £60!), so it may only be worth it if you're a Royal Family superfan.
Tower Bridge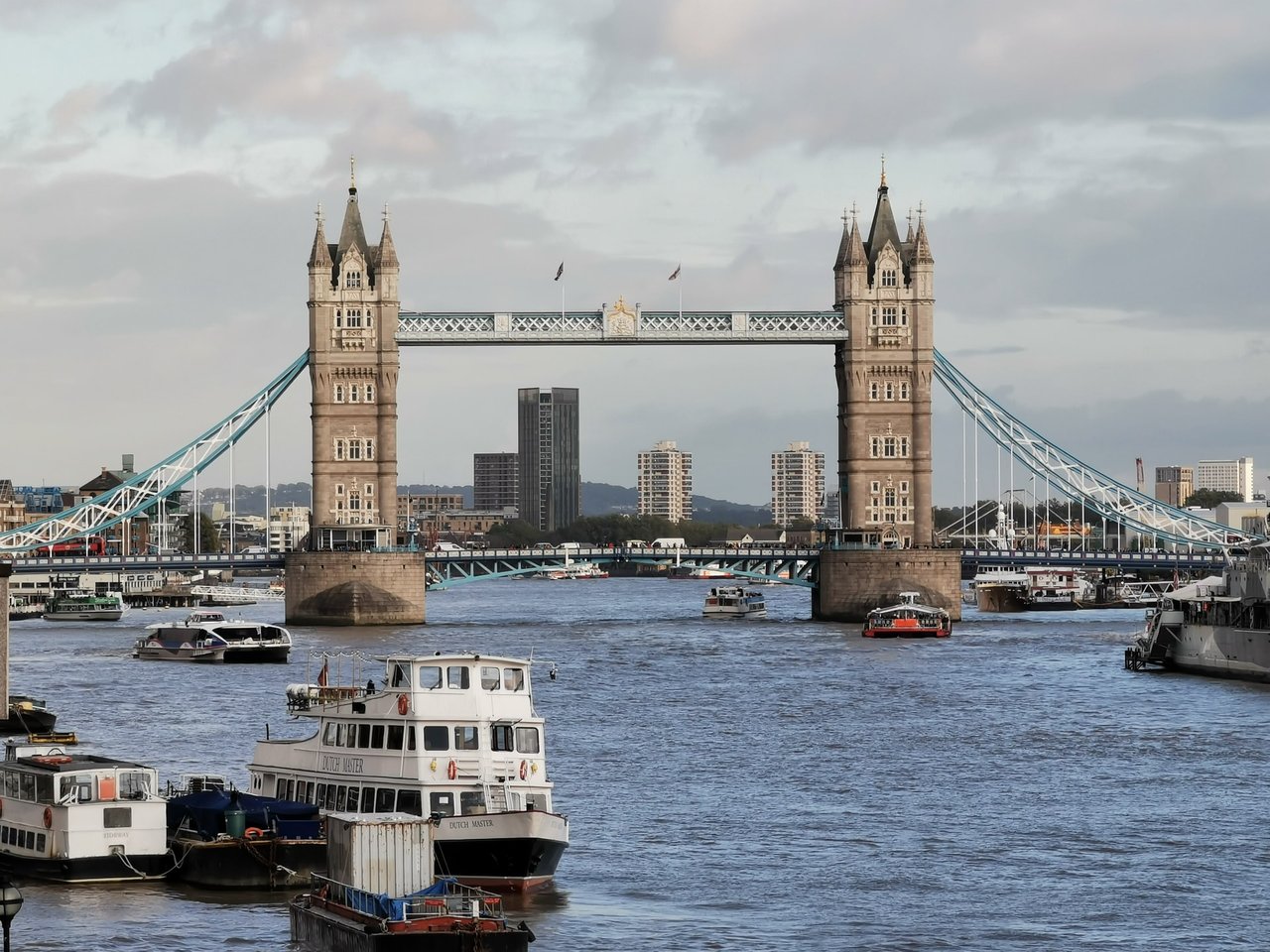 Tower Bridge is easily one of the most iconic landmarks in London, and it has stretched across the River Thames since 1894. Tourists often confuse this bridge with London Bridge, but London Bridge is actually just a very boring bridge further along the river.
No matter where you are when you first glimpse Tower Bridge, chances are you'll probably gasp. It looks absolutely gorgeous in real life. Although you'll usually see the bridge closed, it does still open up to let boats through. If you want to see Tower Bridge open up then summer is the best time to visit London. During summer, the bridge opens up to ten times per day.
Tower Bridge is one of the London landmarks you can enjoy for free just by looking at or walking past. However, if you're wanting more you can visit the Tower Bridge Exhibition, which includes a glass walkway above the Thames and the Tower Bridge road crossing. If you're fine with heights and want to learn about the history of the bridge, it's definitely worth a visit. 
You have to book your tickets to the Tower Bridge Exhibition in advance on the Tower Bridge website. Adult tickets cost £10.60, or they're free with the London Pass.
Houses of Parliament & Big Ben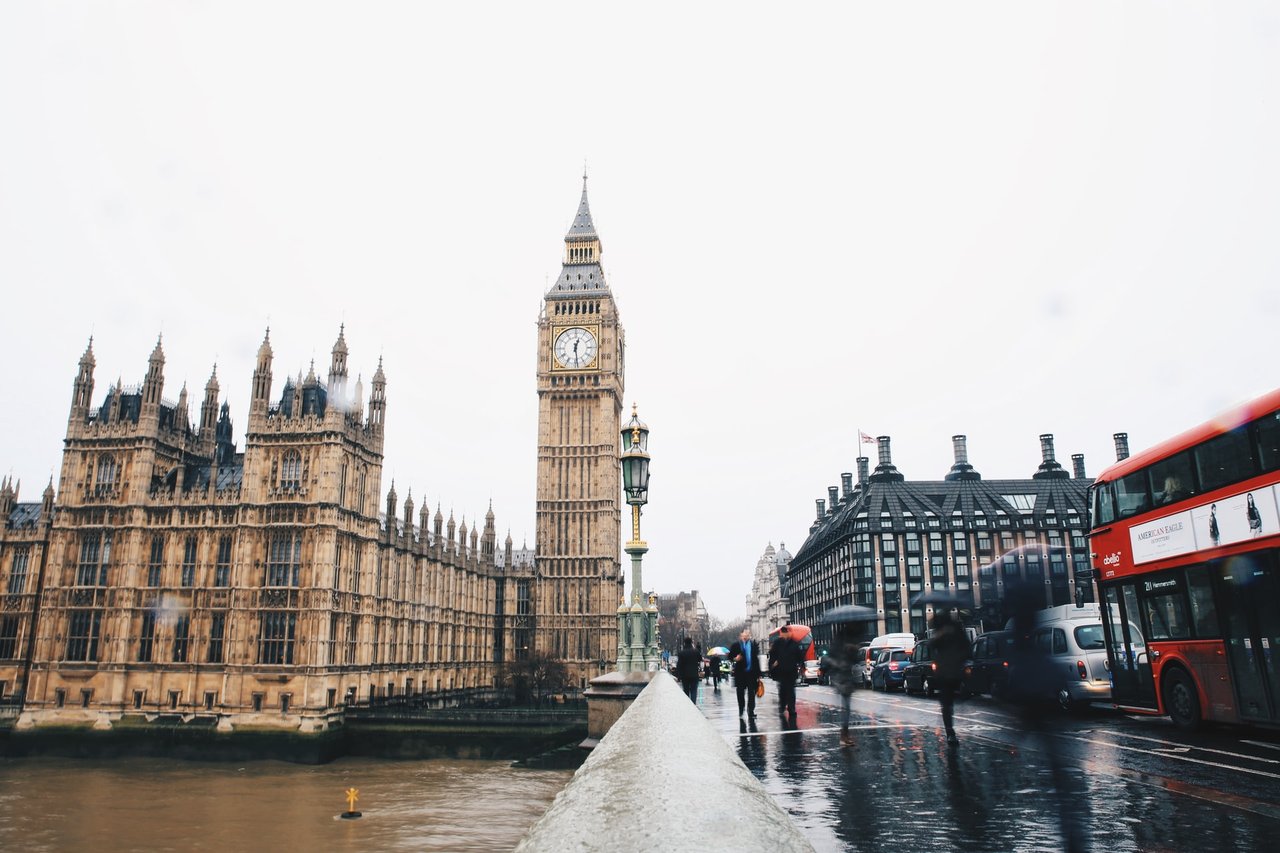 You can't visit London without laying your eyes on its star attraction, the Houses of Parliament! The restoration of Big Ben is finally over. This means for the first time in years you'll be able to see it in all its glory, rather than covered in scaffolding.
Some well-informed Londoners will tell you that Big Ben is actually called the Elizabeth Tower. Yup, Big Ben is actually the name of the 13.7-tonne bell inside the tower. It doesn't really matter, though. Listening to Big Ben chime the ho is a London bucket list experience!
The Houses of Parliament is officially called the Palace of Westminster and dates back to the mid-19th century. The Westminster Hall section actually dates back to the 11th century! The UK's politicians all come here to debate and pass laws. 
Although it's not easy to go inside (there aren't many tours and you have to book them far in advance) you definitely need to check it out from the outside. The best views of the Houses of Parliament are actually from the opposite side of the river. On the south side you'll you'll get wonderful views of the whole building. 
St Paul's Cathedral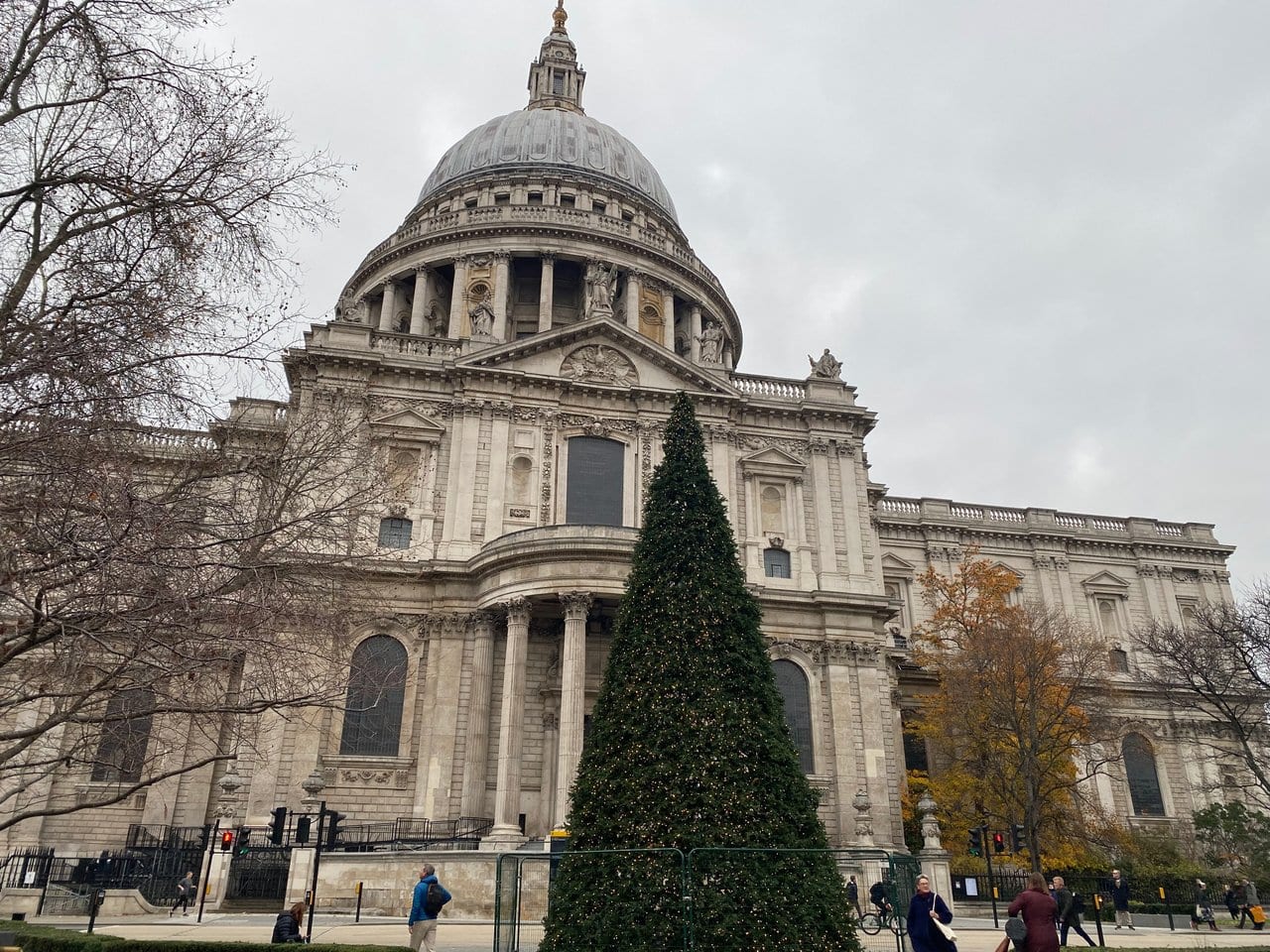 In the centre of "the City", the financial district of London, you'll find the gorgeous St Paul's Cathedral, one of the most historic buildings in London. The 300-year old cathedral was designed by famous architect Christopher Wren to replace the previous St Paul's Cathedral, which burnt down during the 1666 Great Fire of London.
There were two other St Paul's Cathedrals on this site before that, too!
During the Blitz, there were numerous near-misses, where Luftwaffe bombs came very close to destroying the Cathedral's famous dome. Since it continued to dodge the bombs, Londoners began to see St Paul's as a symbol of the city's resilience.
Having a burial, funeral or memorial in St Paul's is one of the highest honours you can get. Inside, you'll find monuments to William Blake, Florence Nightingale, Sir Alexander Fleming and John Donne all memorialised in the cathedral. It was also the venue for Princess Diana and Prince Charles' wedding in 1981!
Visiting St Paul's Cathedral costs £20 per adult if you buy your tickets at the door, or £17 if you buy them in advance here. Your visit will include admission to the cathedral floor, the crypt and the main galleries, as well as an audio guide. Entry is free if you have the London Pass!
Below the dome you'll find the Whispering Gallery, which you can't skip! If you whisper against the wall at one end of the gallery anybody on the opposite end will hear you!
Tower of London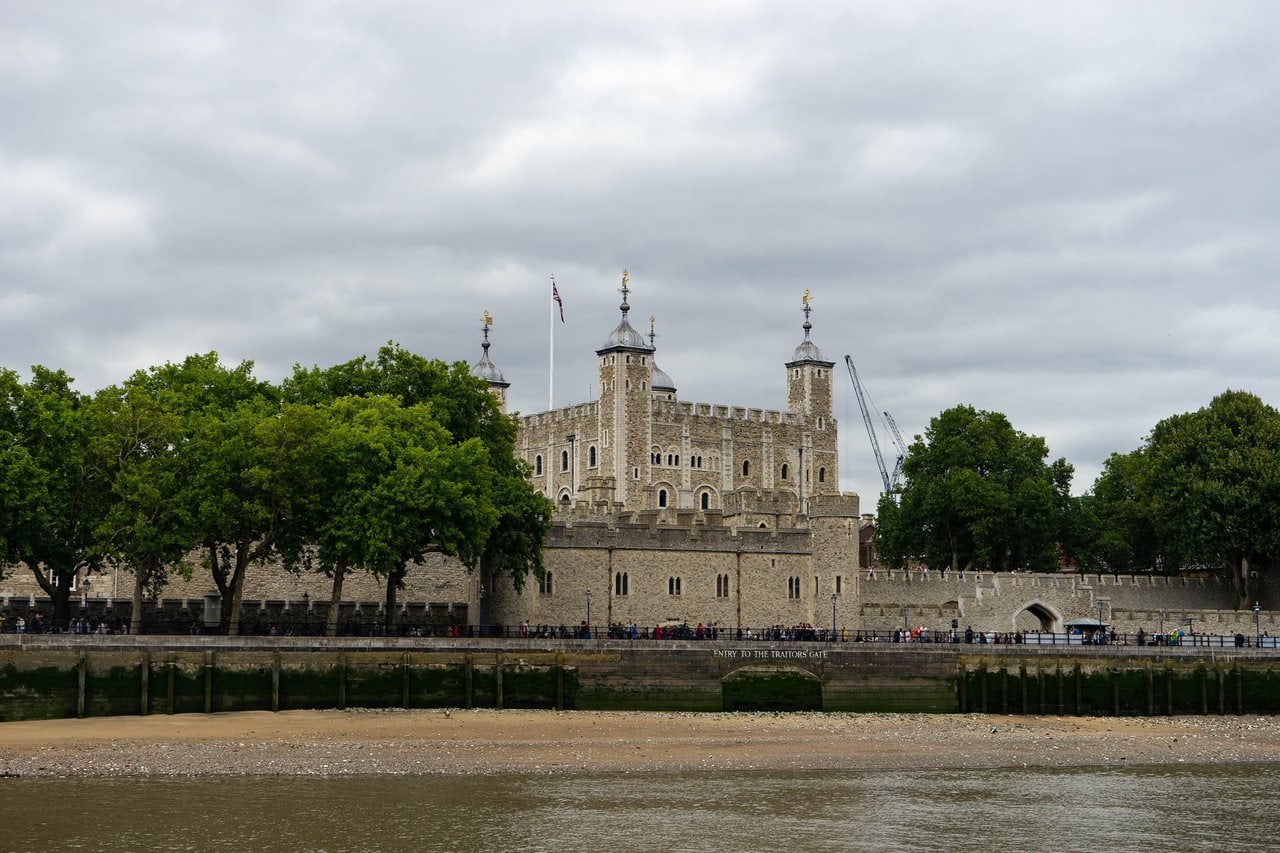 Built in the 1070s by William the Conqueror, The Tower of London is the oldest building in London. It plays an invaluable role in London's long history. It's been a royal residence, a zoo, an armoury and a prison, but nowadays it's one of London's busiest tourist attractions.
Many visit the Tower of London to learn all about its horrifying history of torture and imprisonment. The Tower "welcomed" its first prisoners in 1110, and, during the Tudor reign, it was the location of Lady Jane Grey and Anne Boleyn's executions. It was also the place where Guy Fawkes was tortured until he confessed to the Gunpowder Plot to destroy Parliament.
Read More: 15 Spooky Things to Do in London at Halloween
Grisly history aside, there are plenty of fun things to see and do at the Tower of London. It's here that the Crown Jewels are stored and displayed, as well as a mind-boggling amount of weaponry and armoury.
The Tower of London is huge, and there's so much to take in on a visit there! You'll also have to add some time to account for the crowds because it gets really busy there. For this reason, I recommend allocating half a day to exploring the Tower of London. If you're on a budget, you can look at the Tower from the south side of the river for free.
Tickets cost £29.90, but they are often much cheaper during super off-peak months such as January and February. Click here to get your tickets!
Entry to the Tower of London is free with the London Pass.
Shakespeare's Globe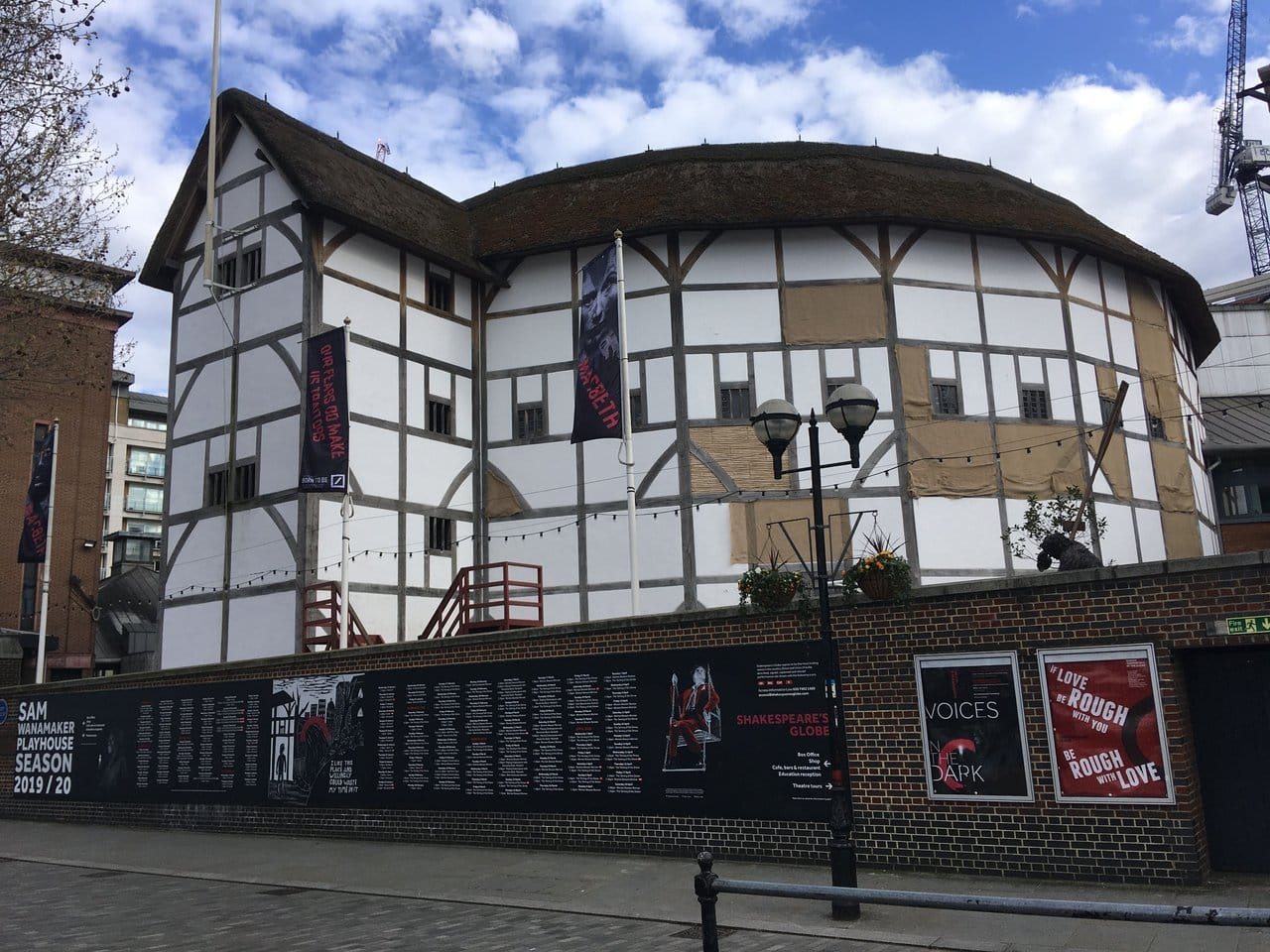 Seeing a play at Shakespeare's Globe is the ultimate London bucket list experience. This Shakespearean theatre looks very different to any other playhouses you've visited before. The wooden, "O" shaped building, which has a thatched roof and a hole in the middle, is a recreation of the original Globe Theatre where Shakespeare's plays were performed.
The Globe Theatre ran from 1599 until 1613, when a cannonball explosion during a performance of Henry VIII went awry and burnt the place to the ground! Very quickly, it was rebuilt and continued to put on performances until 1642, when the Puritans closed all theatres.
It was only in 1987 that construction began on the replica Globe Theatre. It first opened to guests in 1999, and it looks so good that I'm sure even Mr Shakespeare would approve!
In summer you can catch a performance for as little as £5 if you're willing to stand and risk getting rained on. If that doesn't sound like fun, you can pay more for a seat. In winter, performances move to the candlelit Sam Wanamaker Playhouse next door. If you want to watch a performance, it's important to check out their performance schedule a few months in advance.
If you don't want to watch a play you can join a guided tour of the Shakespeare's Globe. Tours last around 50 minutes and cost £17, or they're free for London Pass holders. On the tour, you'll learn all about Shakespeare, the Globe itself, and the role of the Theatre in 17th century London.
Related: Visiting London in Summer – The Ultimate Guide!
The London Eye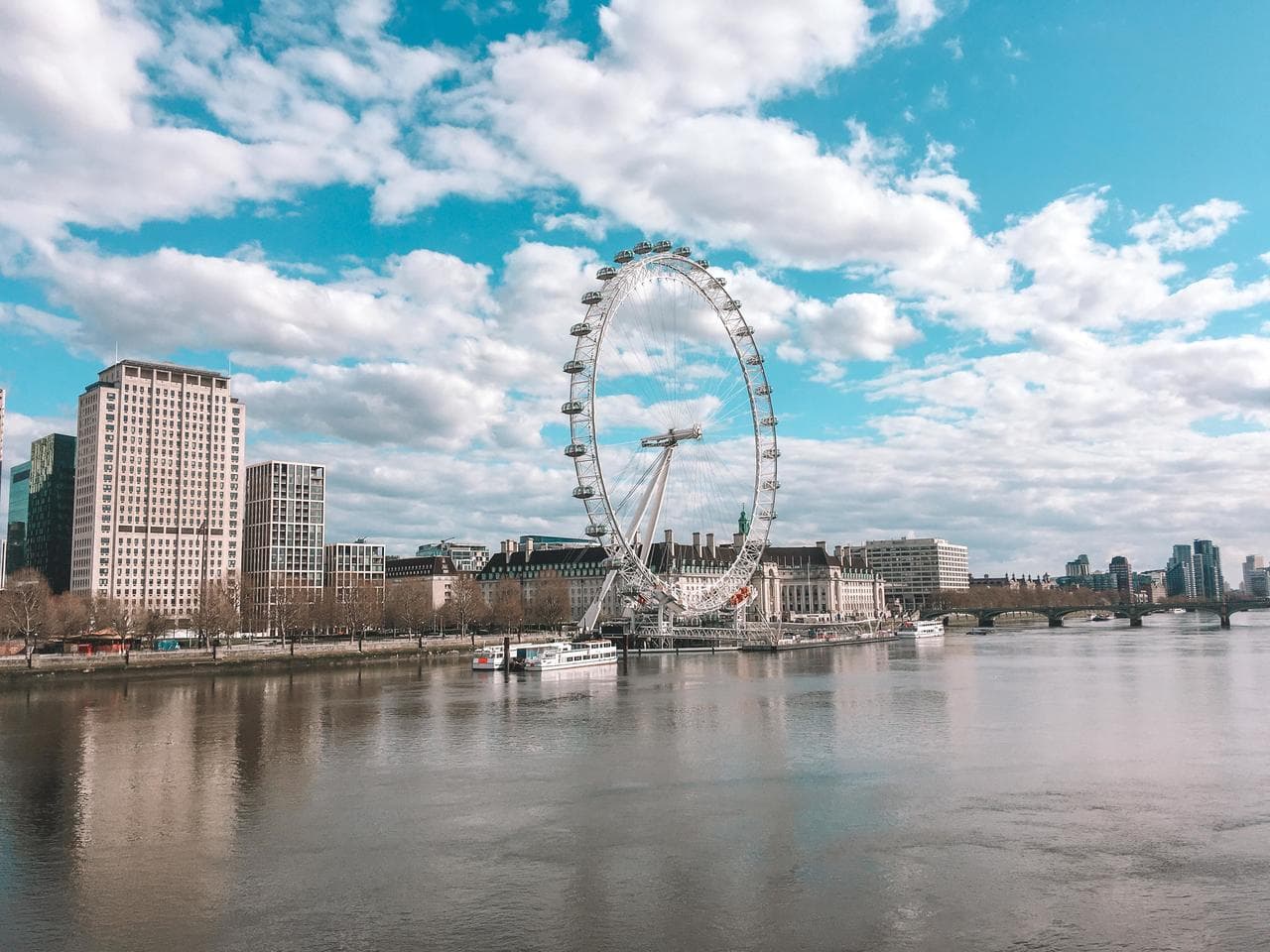 It's hard to believe that one of the most famous places in London was originally only temporary, but it's true! When it opened in 2000 the London Eye was called the Millenium Wheel, and the plan was to dismantle it in 2005. The Wheel proved so popular with visitors that it's still standing today, with no plans to dismantle it!
It's the world's largest Ferris Wheel, and there's no better view you'll be able to get of London than on the London Eye. After all, at 135m above the ground in a city without many tall buildings, you'll get a birds-eye view of the city.
A ride on the London Eye takes around 30 minutes. On a clear day you can see as far as 25 miles! Even when it's raining, you can still see plenty of London's most famous landmarks, such as Tower Bridge and the Houses of Parliament, very clearly. 
Since the London Eye is one of London's most popular landmarks, the queues here can get crazy. To beat the queues, arrive just as it opens or just before it closes, or purchase a skip the line ticket. 
If you book more than five days in advance you'll get a £6.50 discount. That brings the price of an adult ticket down to £27 (£37 for skip the line). If you're booking less than five days in advance, adult tickets cost £33.50 (£43.50 for skip the line).
Click here to book your tickets!
The Shard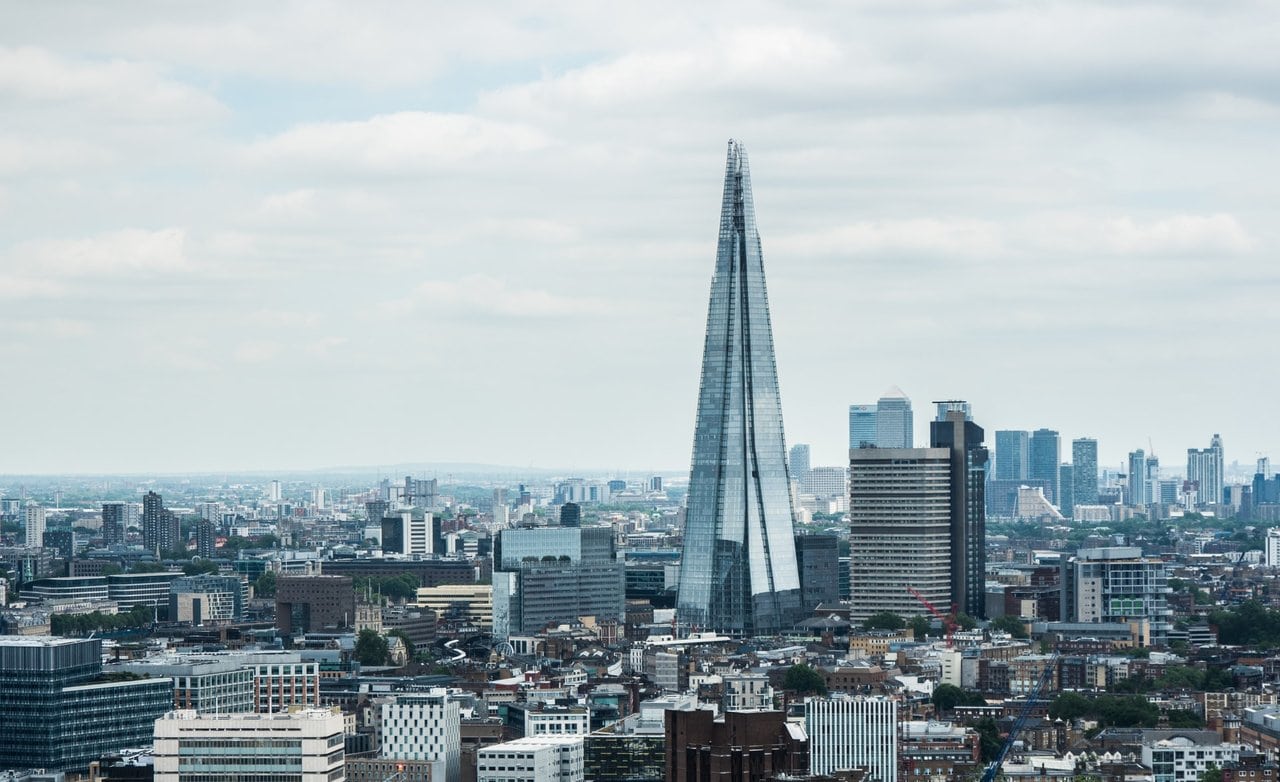 The dramatic structure of The Shard, London's tallest skyscraper, is one of the most recognisable features of London's skyline. Standing at 1016 metres, it's also one of the tallest buildings in Europe.
The Shard was built in 2012, so it's still a very new addition to the list of most famous landmarks in London. Nowadays, though, it's hard to imagine London without The Shard!
Thousands of visitors to London every year visit The Shard to go up to the viewing platforms on floors 69 and 72. It costs a staggering £32 though. Holders of the London Pass, are winning because entry to the viewing platforms will be free!
If you don't have the London Pass but still want to save money, I'll let you in on a little secret… go to the Aqua Shard bar, on the 31st floor, and you'll get pretty much the exact same views for far less money. All you'll have to do is buy a drink, which you'll get to enjoy whilst taking in the scenery! 
Drinks aren't cheap (it costs around £6 for a small beer) but it's a much cheaper option than the viewing platform!
HMS Belfast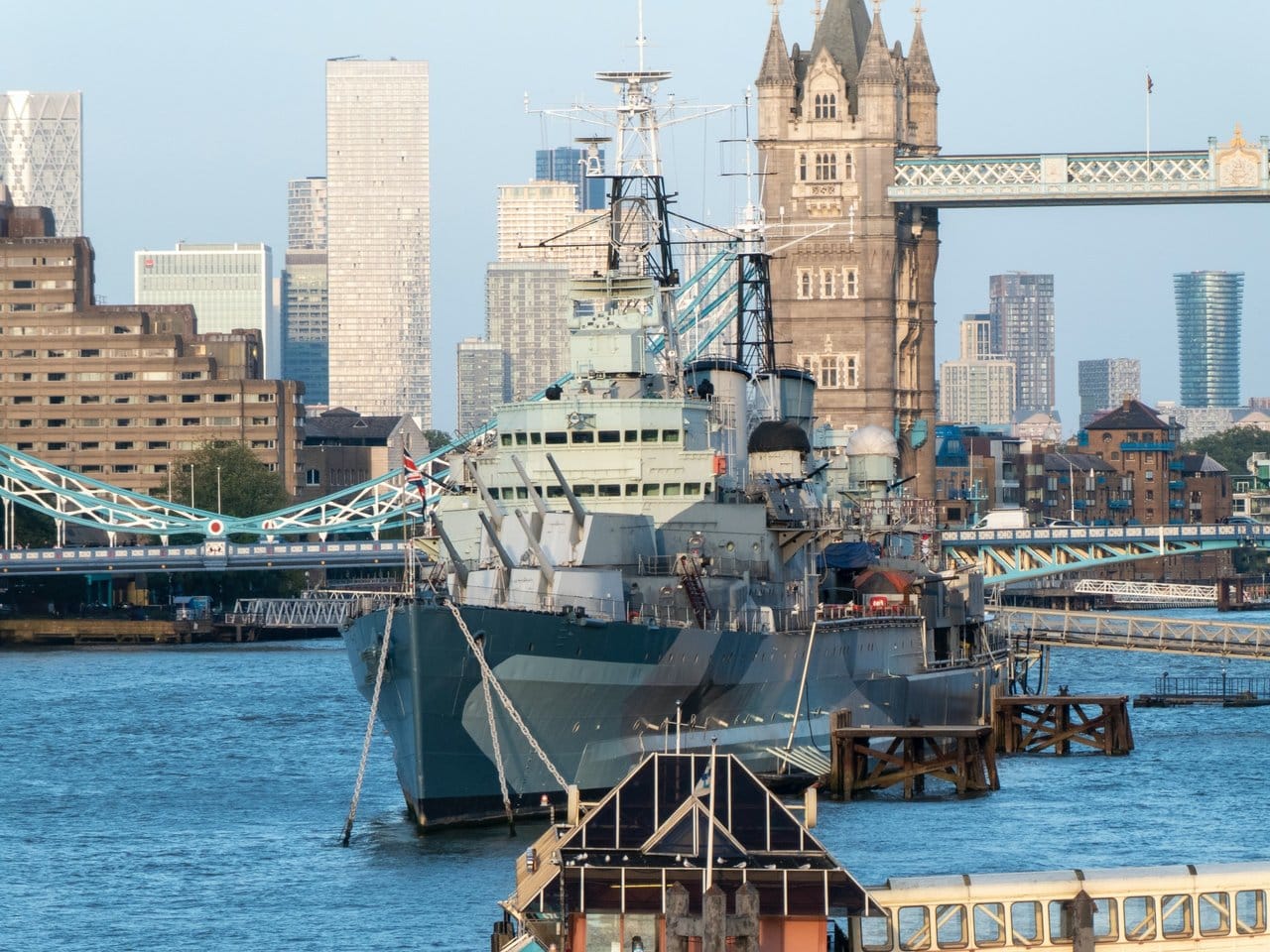 Right in front of Tower Bridge you'll find another of the most iconic tourist attractions in London, the HMS Belfast. You'll find this navy ship docked in the River Thames, and it's one of the best places to visit in London with kids!
This huge ship, which was built in 1938, served in WW2 and the Korean War. The ship has been open to visitors on the River Thames since 1971.
One thing that will surprise you when you see the HMS Belfast in real life is how HUGE it is! There's a tonne of information inside, which covers what life was like on board during peacetime and war, and the audio guide includes fascinating stories from the ship's former crew members.
Entry tickets cost £22.70 for adults, and you can purchase them on the door or from their website.
Kensington Palace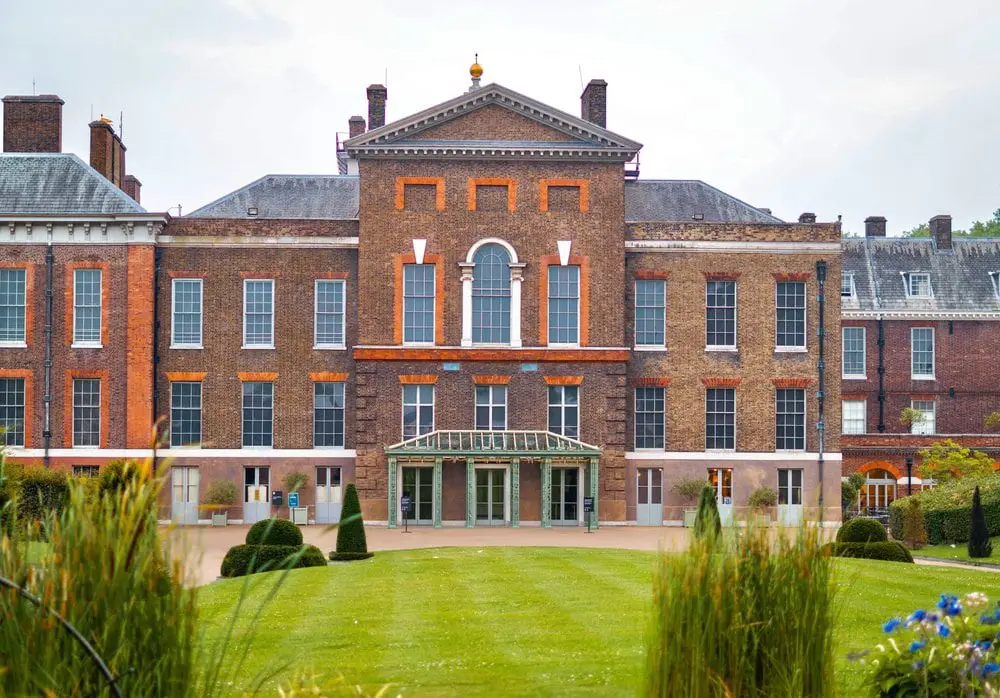 If you're into the Royal Family, or just love beautiful buildings, you definitely need to add Kensington Palace to your London trip plan! Not only was this palace the birthplace of Queen Victoria and the home of Diana, Princess of Wales, but it's still a royal residence, and is currently the home to Prince William and Kate Middleton.
Read More: 11 Best Royal Palaces in London
Despite being a royal residence, the palace is open to the public to visit. Although you absolutely have to visit the Kensington Palace grounds, the palace interiors are just as special. Inside, it's jam-packed with outfits worn by the royal family, artefacts, and heirlooms. When I visited there was even an exhibition about Princess Diana's fashion.
Kensington Palace is located just two miles from Buckingham palace. To visit both of these fabulous landmarks in one day, I recommend starting at Buckingham Palace and then strolling through Hyde Park and Kensington Gardens to arrive at Kensington Palace.
Entry tickets cost £23 if you purchase them at the palace, but you can get them much cheaper when you book online here, or, get them for free with your London Pass.
Harrods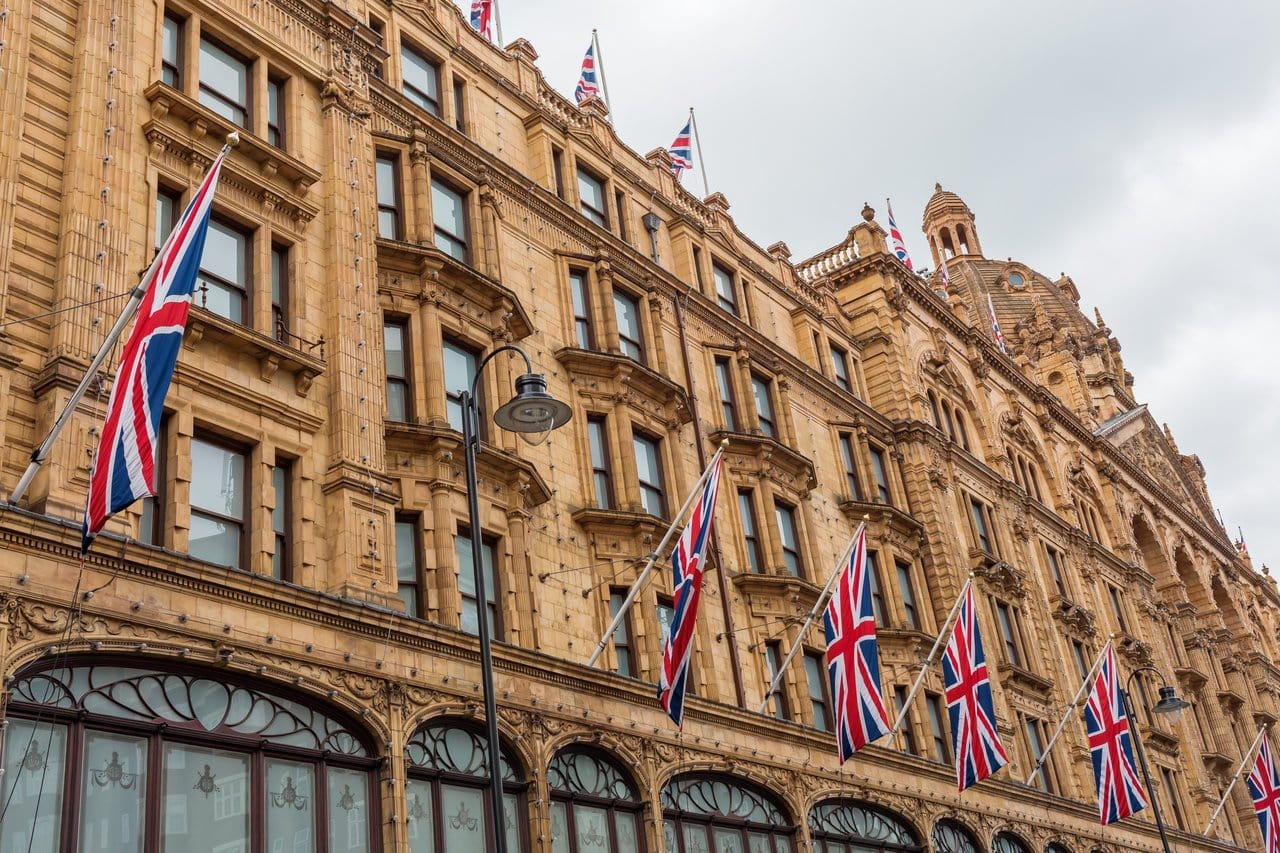 London's fanciest department store is the place to see and be seen. If you have a spare thousand pounds to spend, it's the perfect place to shop.
Even if you're not incredibly rich, us commoners can visit Harrods just to have a look around to see how the other half live, so there's no need to feel intimidated. Harrods sells everything you can imagine, and some of the price tags will make your eyes jump out of their sockets!
Harrods was founded in 1834, originally as a greengrocer's, before it expanded into the luxurious all-rounder it is today. Its flagship store on Brompton Road boasted of the very first escalator in England in 1898. People were so overwhelmed by the "moving stairs" that they were offered brandy at the top to help them recover!
Entry to Harrods is free, and you could easily lose track of time and spend hours exploring its labyrinth of floors.
Cutty Sark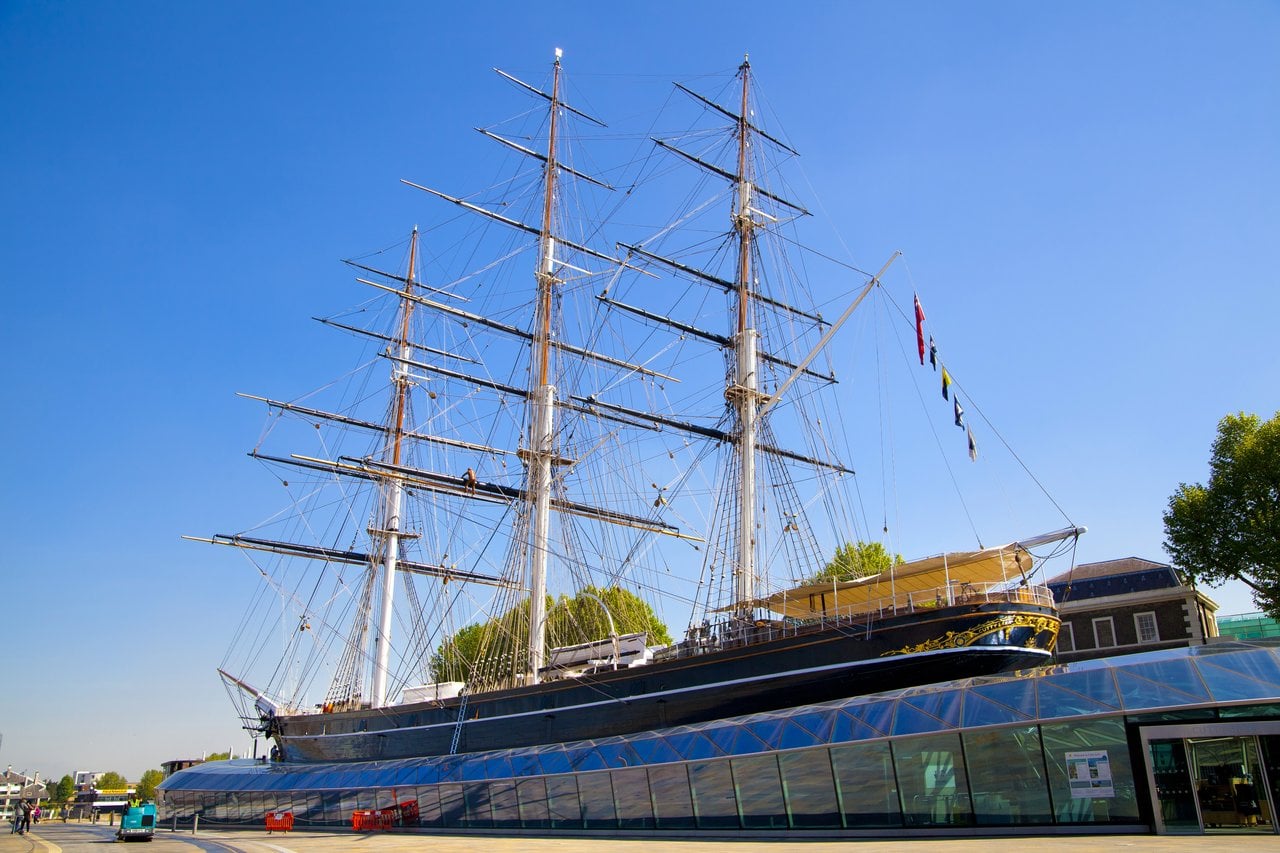 You'll find the venerable Cutty Sark docked in the Greenwich neighbourhood of London, where it attracts thousands of visitors every year!
In case you have no idea what the Cutty Sark is, it's the world's last surviving tea clipper. That's a type of merchant ship used in the mid-18th century to transfer goods along the Europe and East Indies trade route. The Cutty Sark itself was built in 1869 to carry tea to England from China. It visited nearly every port in the world along the way and breaking multiple speed records!
Entry costs £15 (but they're free to London Pass holders), and you can skip the queues by booking your tickets in advance here.
You'll start your visit by boarding the ship and learning all about its history. This is no dull museum, though, as there are a tonne of multimedia resources such as snippets of audio, interactive information sections and films to keep your attention. Once you've learnt everything there is to know about the Cutty Sark it's time to head up on deck and imagine what working on board in the middle of the stormy seas must have felt like.
The Cutty Sark is one of the London landmarks I recommend very highly for families visiting London, as sometimes costumed characters walk the deck, which adds a touch of fun to your visit.
10 Downing Street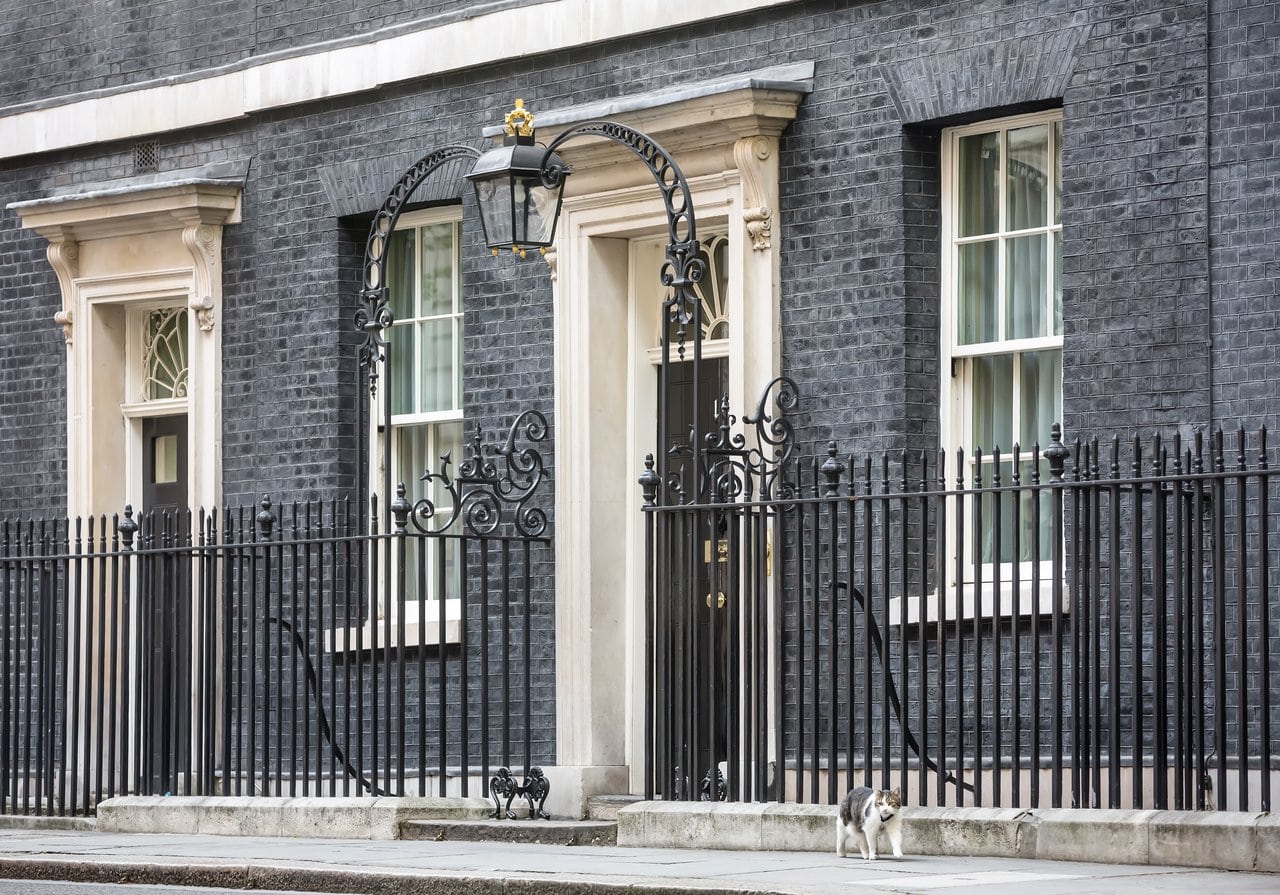 If you've ever watched the news in the UK, chances are you've already seen the black front door of 10 Downing Street. It's been the official office of British leaders since 1735, and nowadays is home to the Prime Minister.
Although it looks tiny and unassuming from the outside, Number 10 Downing Street is actually three houses combined into one. It contains around 100 rooms and a garden of 2,000 square metres!
You can't actually go inside 10 Downing Street, for obvious reasons, but you can go up to the gates to visit. When I first visited back in 2015 I saw Boris Johnson arriving at work on his bike, which was quite bizarre! Also keep your eyes peeled for Larry, the Downing Street cat, who may be strolling around the gates.
Many British people want nothing to do with 10 Downing Street. Every time we receive bad news on the TV that darn black door is in the background! However, whether it's popular or not, there's no doubt that Number 10 Downing Street is one of the most important landmarks in London.
Trafalgar Square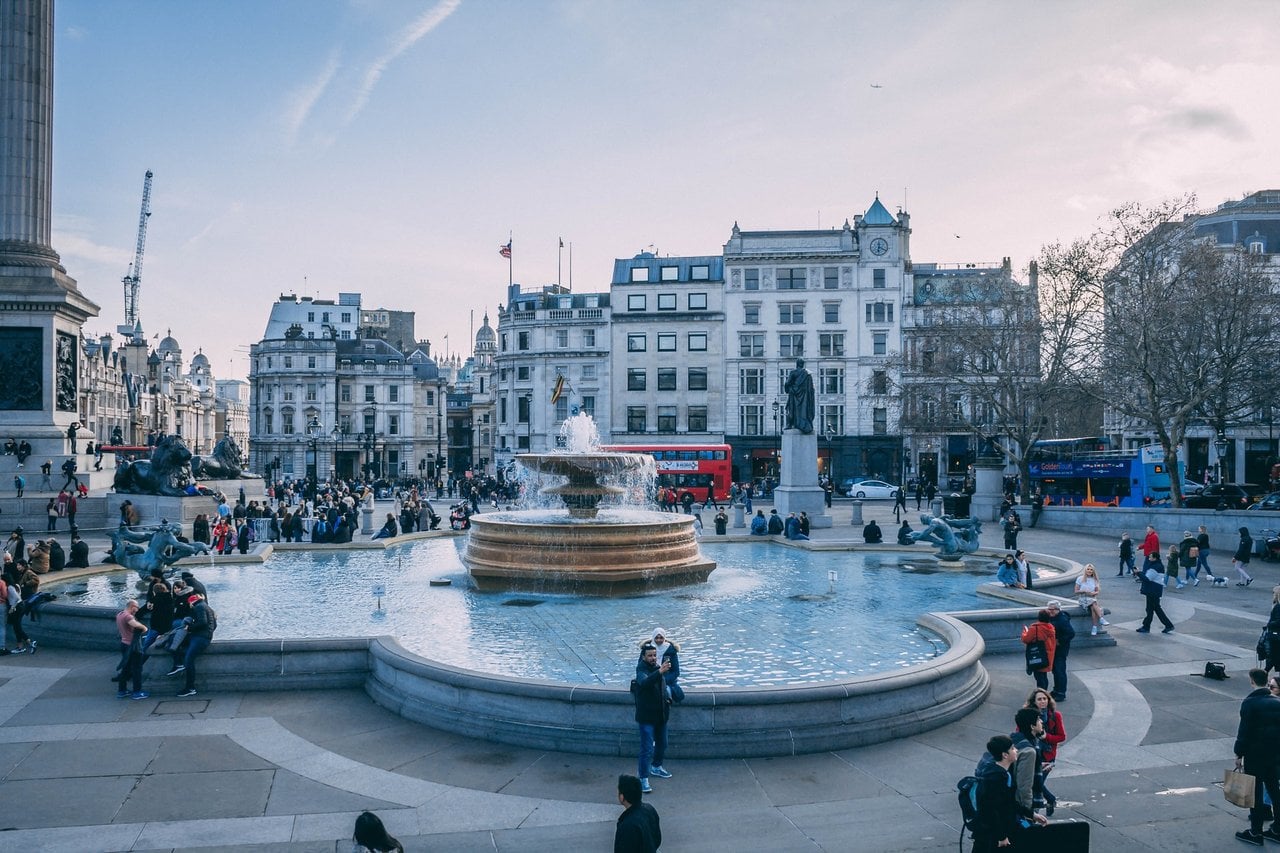 Trafalgar Square is the city's meeting point for festivals, celebrations, festivals, and everything in between! At any time of day you'll find Trafalgar Square heaving with people, and it's one of the most famous landmarks in London.
Lining Trafalgar Square you'll find two of London's best galleries – the National Gallery and the National Portrait Gallery, which are both totally free to enter and could keep you occupied for days! In the Square itself, you'll find the 52-metre tall Nelson's Column, flanked by four bronze lion statues. It was built in 1843 to commemorate Admiral Horatio Nelson, who died in 1805 at the Battle of Trafalgar.
In the Southeast corner of Trafalgar Square you'll find a novelty Londoners call "London's smallest police station". It's actually just a police phone box for the police to use if any protests get out of hand, but that doesn't sound as exciting!
Westminster Abbey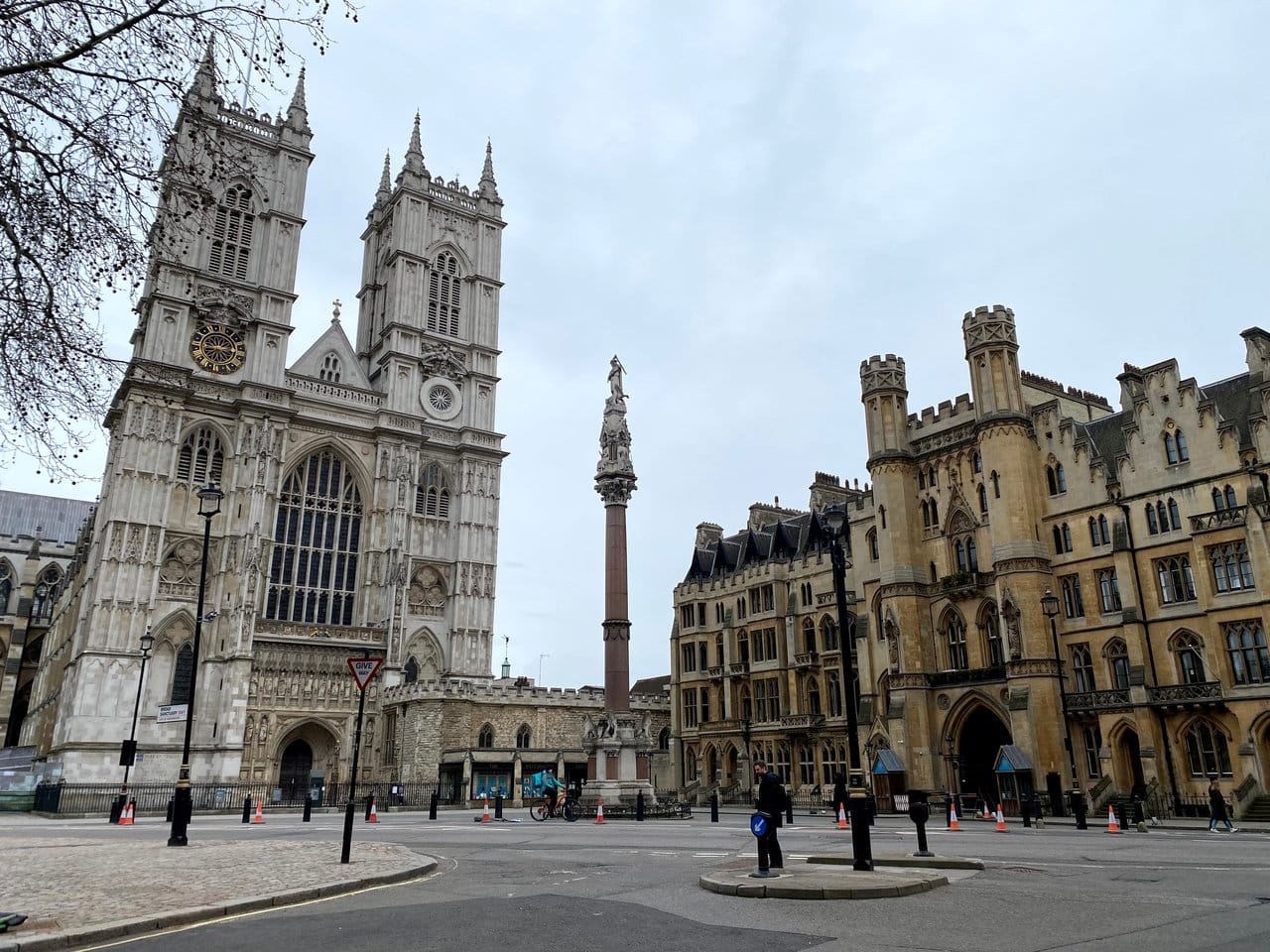 To visit the place where 16 royal weddings, countless famous funerals and every coronation since 1066 have taken place, it's time to head to Westminster Abbey!
This stunning Abbey is beautiful inside and out, with its elaborate Gothic architecture, but to be honest that's not the reason it's one of the most iconic landmarks in London. Instead, it's because there are so, so many famous people buried here. We can all admit it's morbidly fascinating.
Inside Westminster Abbey you'll find the graves of 17 Kings and Queens, as well as Charles Darwin, Isaac Newton, Charles Dickens, Geoffrey Chaucer and many, many more. 
One of the most famous graves in Westminster Abbey is actually of a person we don't know at all – The Unknown Soldier. This is the grave of an unidentified British soldier who died during battle in WW1. He represents the countless soldiers who died during the war and were never identified. It's a pretty sobering attraction!
As well as all the famous graves you should spend some time wandering in the Abbey Gardens, which are just delightful, and visit the Queen's Diamond Jubilee Galleries, which sit 70 feet above the ground and offer epic views of the Houses of Parliament and into the Abbey.
Westminster Abbey is included in the London Pass. If you don't have it, adult tickets for Westminster Abbey cost £24. Get them here!
Tate Modern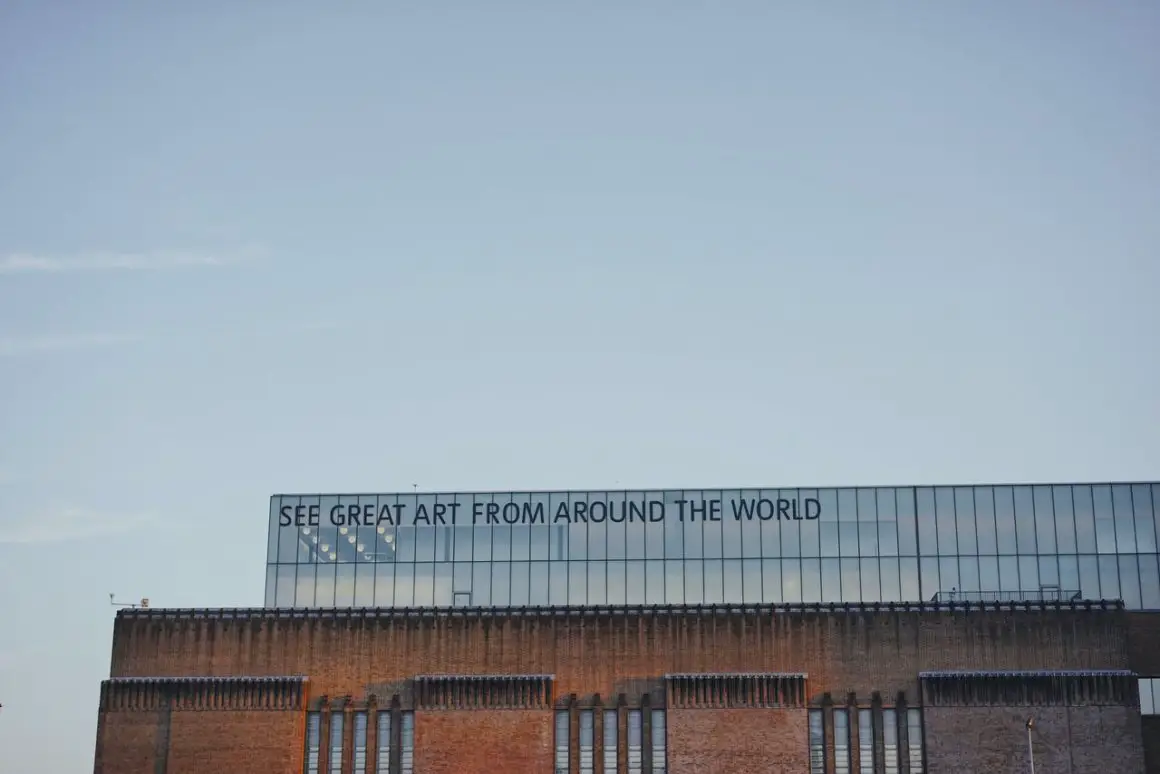 Housed in the imposing building that was once Bankside Power Station, the industrial-looking Tate Modern sits on the South side of the River Thames, just opposite St Paul's Cathedral. Entry is totally free, so it's one of the best things to do in London when it rains.
I have to be honest with you guys – modern art just doesn't do it for me. I've been to the Tate Modern three times now, and each time I thought all the art just looked like a bunch of old rubbish. Call me unsophisticated, but that's just how I feel! 
For this reason, I can't really hype up the Tate Modern to you – even though it's one of the most popular landmarks in London.
This museum is incredibly popular with art lovers and students, so if you're into modern art I'm sure you'll love it. The place is MASSIVE, and you could easily spend hours exploring it. There are a whopping 60,000 pieces in its collection, which are displayed on rotation. Even if you visit more than once you'll usually see different pieces.
Kew Gardens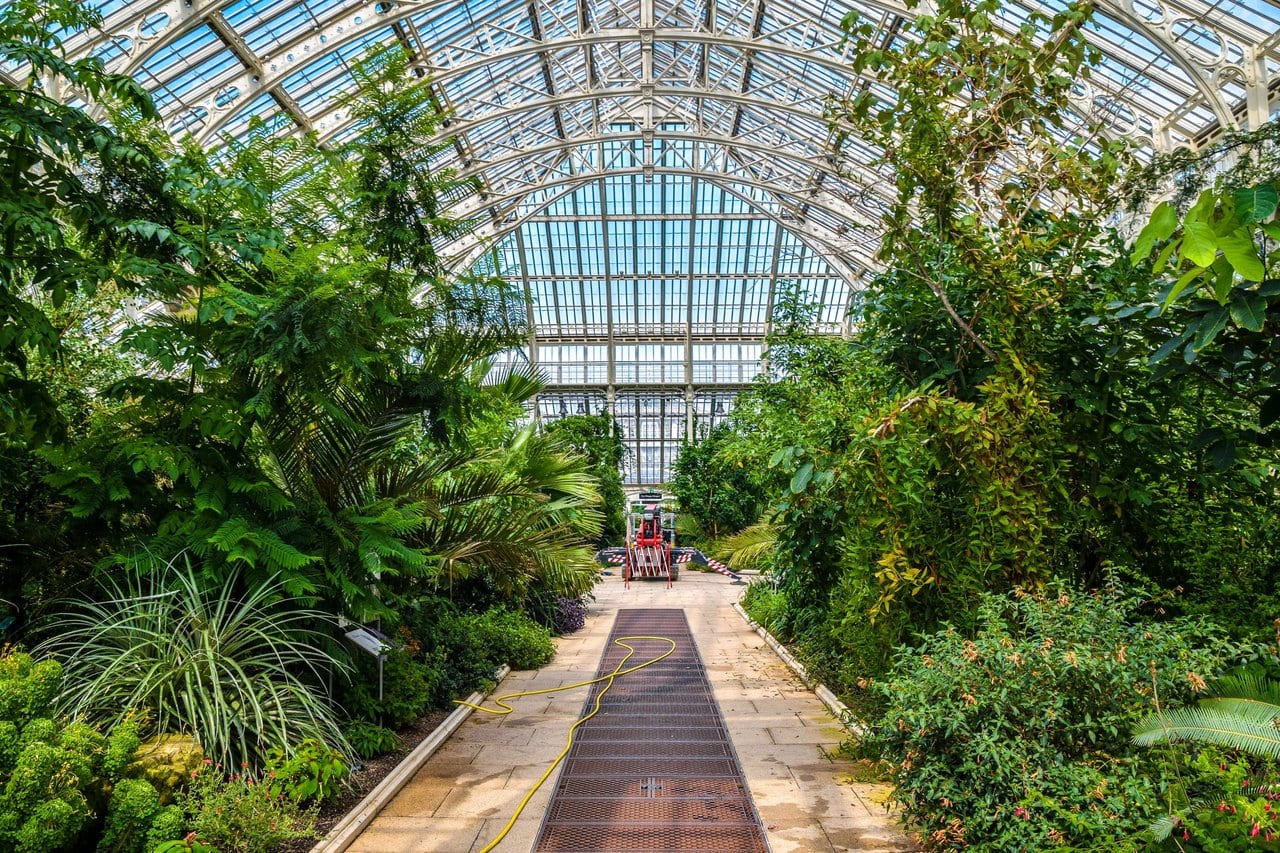 Kew Gardens is easily King when it comes to Botanical Gardens. The 299-acre gardens are a must-visit for everybody – yup, even if you know nothing about plants! As well as being a lovely botanical garden Kew is also a world-leading education centre, so you'll learn a tonne about the natural world on your visit.
The most famous attraction at Kew Gardens is probably the 10-storey, 18th-century, Chinese pagoda. The many Victorian glass houses are also incredibly popular.
Whilst in Kew Gardens you shouldn't miss a visit to Kew Palace, London's smallest palace! This gorgeous red-brick building was originally the home of King George II and Queen Caroline in the 1720s. It later became the home of King George III when he became ill. Inside, you'll find exhibitions about royal life at Kew, and entry is included in your Kew Gardens ticket.
If you're a London Pass holder, entry to Kew Gardens is free with your ticket. If not, adult tickets to Kew Gardens cost £13.50 and often sell out since it's such a popular place to visit. For this reason, I recommend buying your tickets in advance here.
Wellington Arch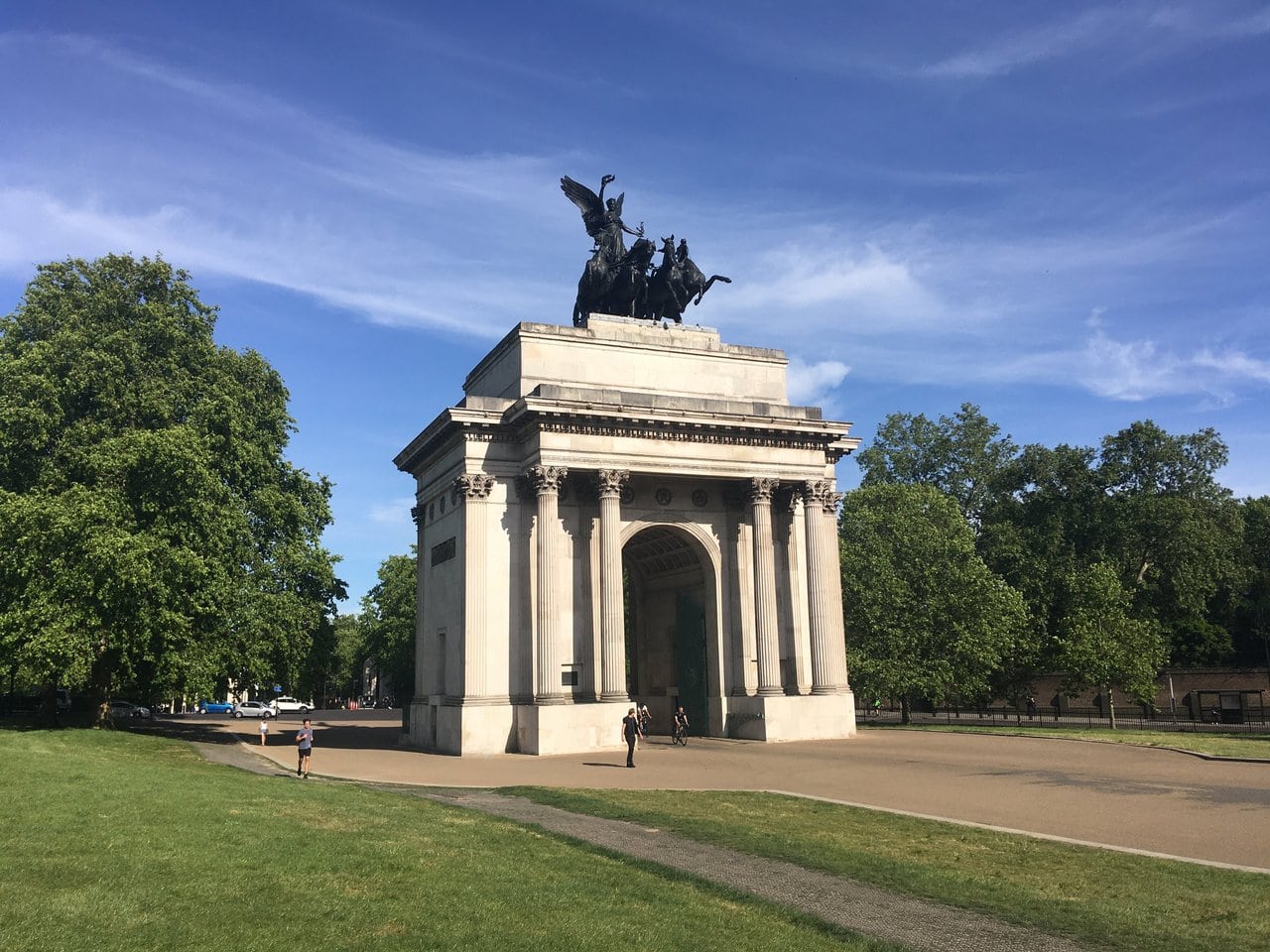 Standing tall at Hyde Park Corner you'll find the majestic Wellington Arch. This majestic monument proclaims Wellington's victory over Napoleon during the Napoleonic Wars.
The monument was originally supposed to be the entrance to Buckingham Palace, but everybody agrees that its prime position outside Hyde Park today is the perfect place for it! On top of the Wellington Arch you'll see the largest bronze statue in Europe – making this iconic London landmark look absolutely breathtaking.
Many Londoners don't actually realise that you can go inside (and even on the balconies!) of the Wellington Arch. I passed it about a hundred times on my running route before I realised! That means that a visit to the Wellington Arch is actually a chance to explore somewhat of a hidden gem.
Tickets cost £5.90 for adults. Inside, you'll find four floors of galleries and a permanent exhibition on the history of the Arch, as well as open-air balconies. If you've purchased the London Pass, your entry is free!
From the balconies you'll get epic views of Hyde Park and Buckingham Palace. If you time it right (check times here) you'll even be able to watch the Household Cavalry on their way to and from the Changing of the Guard at Buckingham Palace!
How to Save Money Visiting Famous Landmarks in London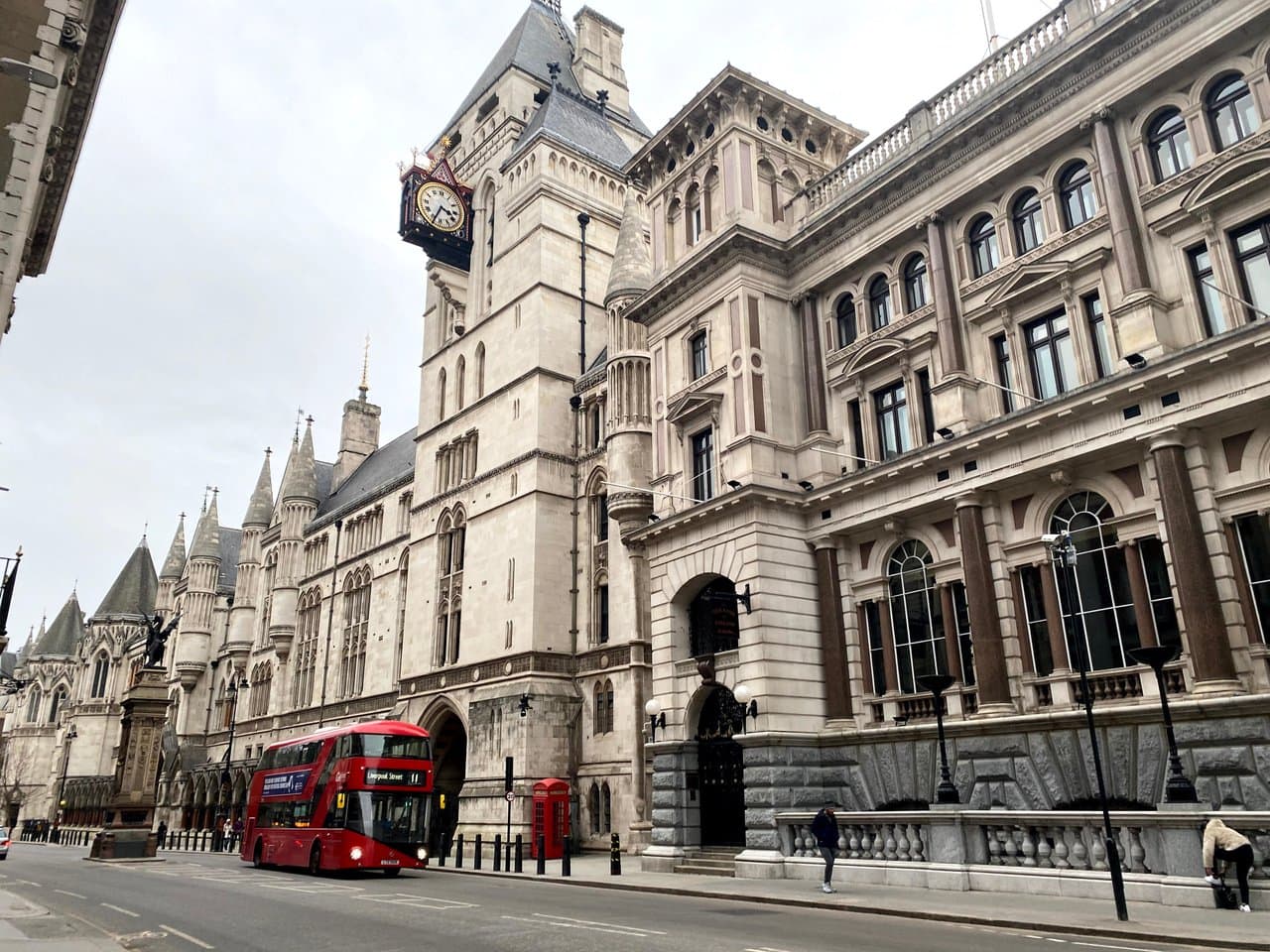 Sightseeing in London can be eye-wateringly expensive. Especially if you want to see all the big attractions (and why wouldn't you?). That's the reason you're visiting London!). There's one way you can see a tonne of London's most popular landmarks without spending a fortune, though, and that's the London Pass!
The London Pass includes your entry to over 80 attractions, but, importantly, it includes all of the most popular (and most expensive!) attractions in the city. 
You can buy the pass for any duration between 1 and 10 days, but the 2-day pass is the perfect option. This way, you can see all of the most expensive landmarks in London during these two days, and then spend any additional days visiting London's many cheap and free attractions.
The 2-Day London Pass costs £86. So, let's add it up:
If you visited the Tower of London, Tower Bridge, St Paul's, the Shard, and Shakespeare's Globe on Day 1 and Kensington Palace, the Wellington Arch, Westminster Abbey and Kew Gardens on Day 2 you'd have spent a whopping £176.60 total on entry tickets! Compared to that, the £86 for the 2-Day London Pass is an insane saving!
Click here to buy your London Pass!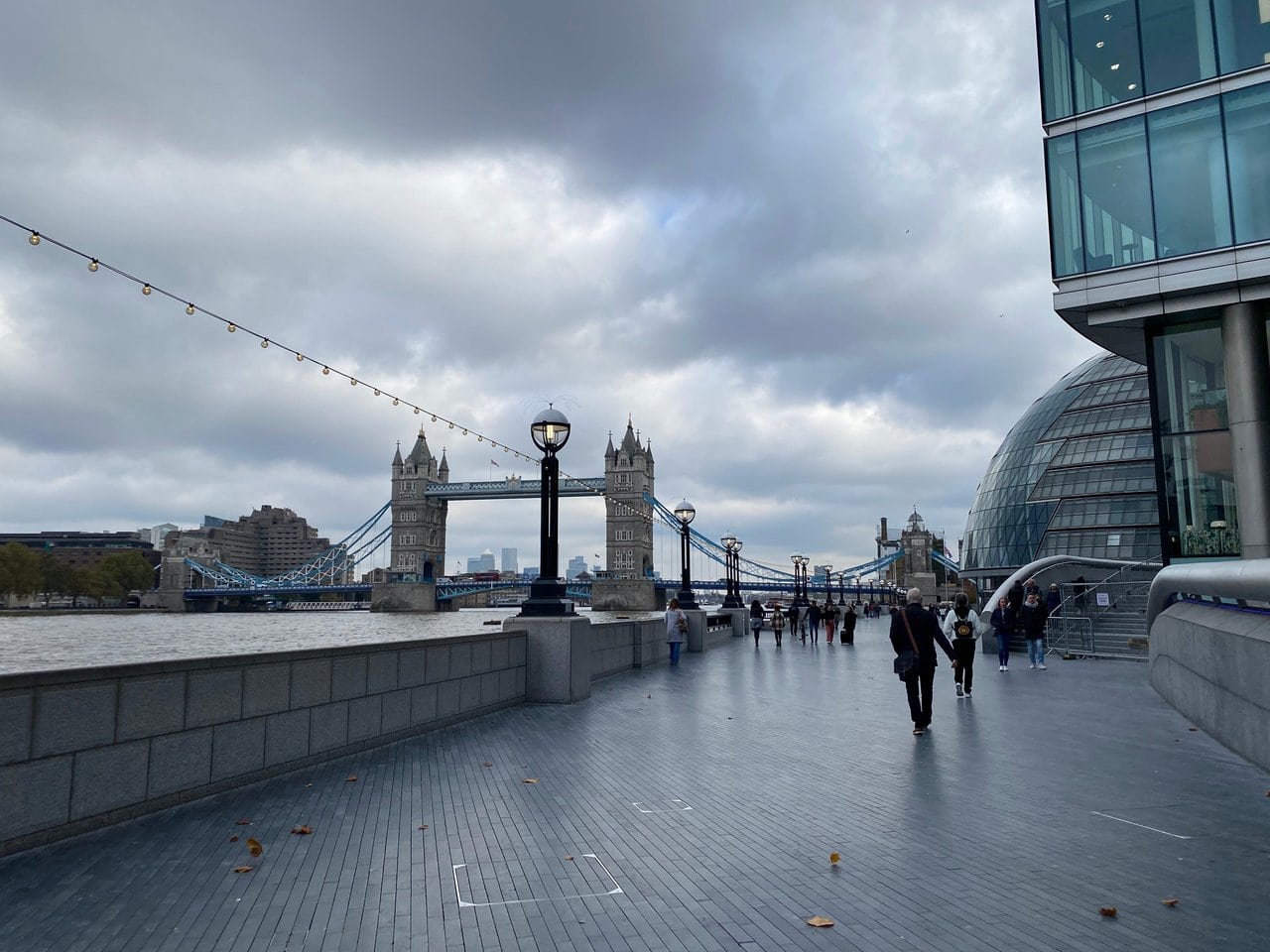 ---
London is an incredible city, and everybody should visit it at least once in their lives (or five, or ten times!). Luckily, you now have this super-helpful list of London's most iconic landmarks to add to your itinerary! 
It'd be a mean feat to visit every single one of these landmarks in just one trip to London. But that just means you have more of an excuse to visit again. Hooray!
Liked this post? Pin it!