There is a good chance that this post contains affiliate links. If you make a purchase through them, I may receive a small commission at no extra cost to you! As an Amazon Associate, I earn from qualifying purchases. As ever, all opinions are my own.
If I told you that you could visit Santorini on a budget, you'd probably raise a sceptical eyebrow. I get it – Santorini is world-famous as a luxurious honeymoon destination. Hardly the place you'd expect to be able to visit on the cheap.
But today, my friends, I'm going to let you in on a little secret – Santorini can absolutely be visited on a budget, and I'm going to tell you how.
Sure, Santorini is definitely not a place where you can get by on €10 a day, but with a few tips and some advance planning you can visit Santorini on a budget of around €65 per day if you stay in a hostel, or €90 per day if you're staying in a hotel or apartment and sharing with somebody else.
Here's how.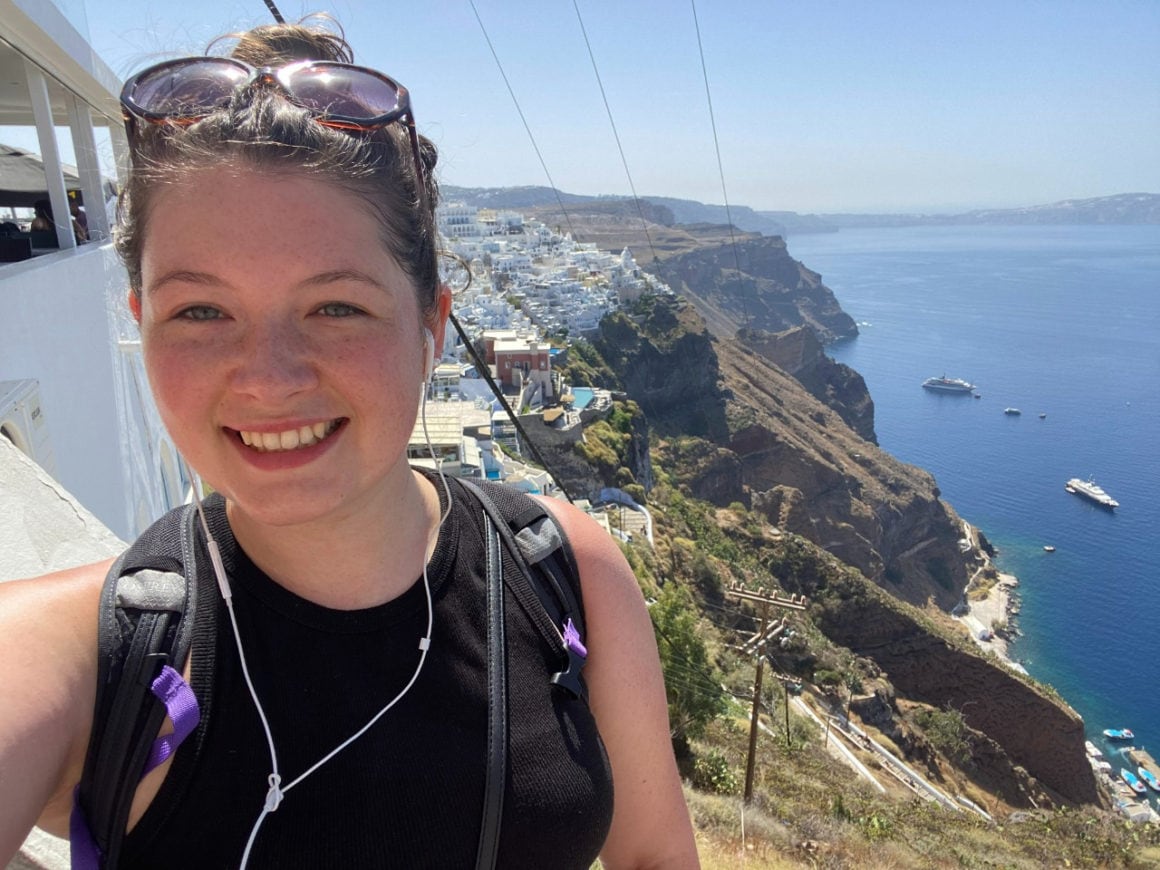 Getting to Santorini on a Budget
By Air
Santorini has an international airport with lots of direct flights around Europe. If you check the budget airlines like Ryanair, EasyJet and WizzAir well in advance you might be able to find a great deal.
However, in summer, the price of direct flights skyrockets and it can feel like even getting to Santorini would blow your entire budget!
Fear not, though.
Athens is one of Europe's main flight hubs, and you can find cheap direct flights to this city from across the world (but especially from across Europe) year-round.
From Athens, direct flights to Santorini are frequent and often a lot cheaper than flying direct. The journey also only takes around 50 minutes.
By Ferry
Santorini is a popular stop on many Greek island-hopping itineraries. Frequent ferries run between Santorini and other nearby islands such as Naxos, Ios, Paros and Milos, as well as destinations further afield such as Athens and Crete.
You have plenty of choice to get to Santorini by sea.
Ferry prices can be surprisingly expensive, but slower ferries are almost always the cheapest (and not really that much slower). I also found that the company Blue Star Ferries was often the cheapest.
It's great value to visit Santorini from Ios, where the ticket prices are much cheaper and the distance shorter than other destinations.
I used this website to book my ferries in Greece and have nothing but good things to say about it. This website allows you to compare prices and departure times across different ferry companies and have all of your bookings in one place. Plus, their prices are the same as on the ferry companies' websites.
Click here to check ferry times and prices!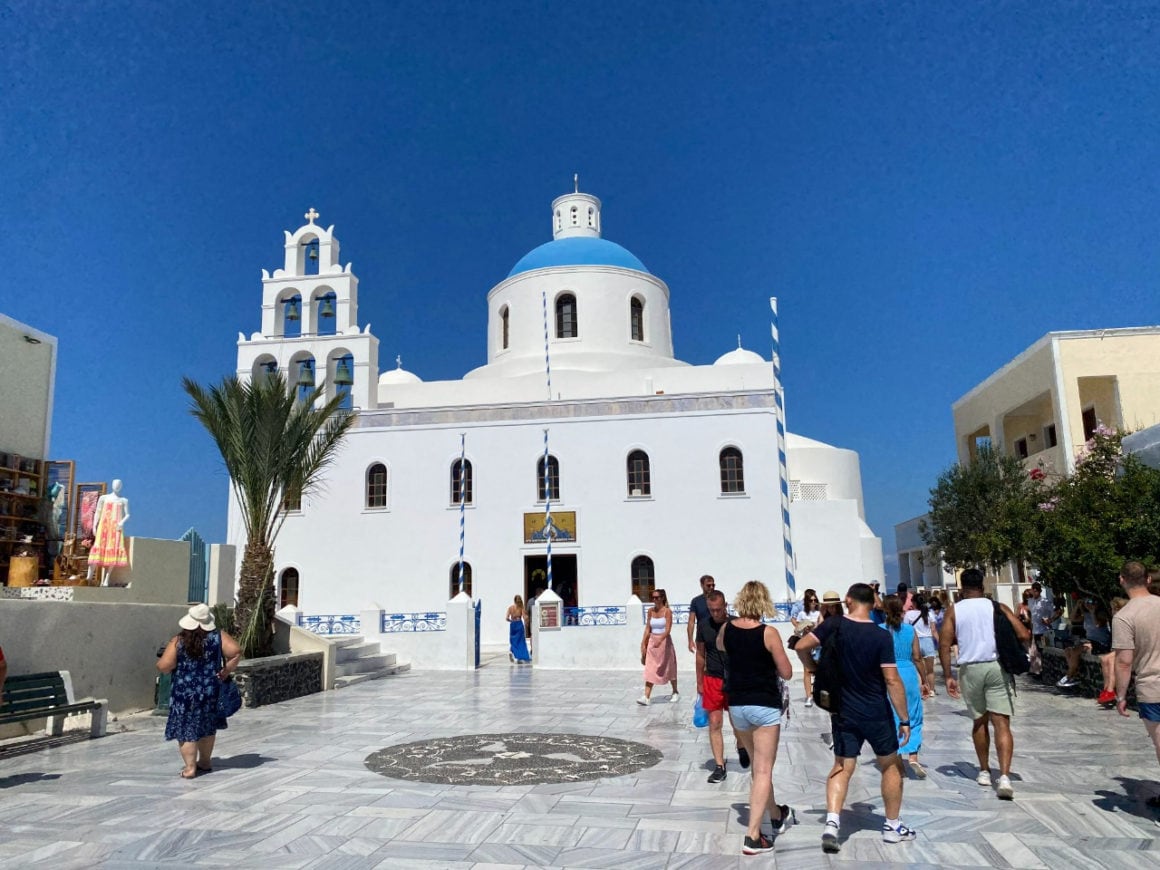 Where to Stay in Santorini on a Budget
There are two main towns on Santorini where tourists stay – the glitzy and glamorous Oia (pronounced ee-yah), and the cheaper (but still beautiful!) Thira. Take a guess at which one you should stay in if you want to stick to a budget…
Thira is the ideal place to stay on the island because it's centrally located. You'll also find the island's main bus station here. From the bus station you can get direct buses to pretty much all the island's tourist hotspots, including Oia, Perissa, Kamari and Akrotiri.
In Thira, for a hotel with a pool during peak season you're looking at at least €120 per night. In Oia, it's at least €250.
That gets a BIG YIKES from me, so even if you're not typically a hostel person I highly recommend looking into them. You can get private rooms or private apartments at hostels in Santorini and they're likely to save you a lot of money.
Recommended Budget Hotels and Hostels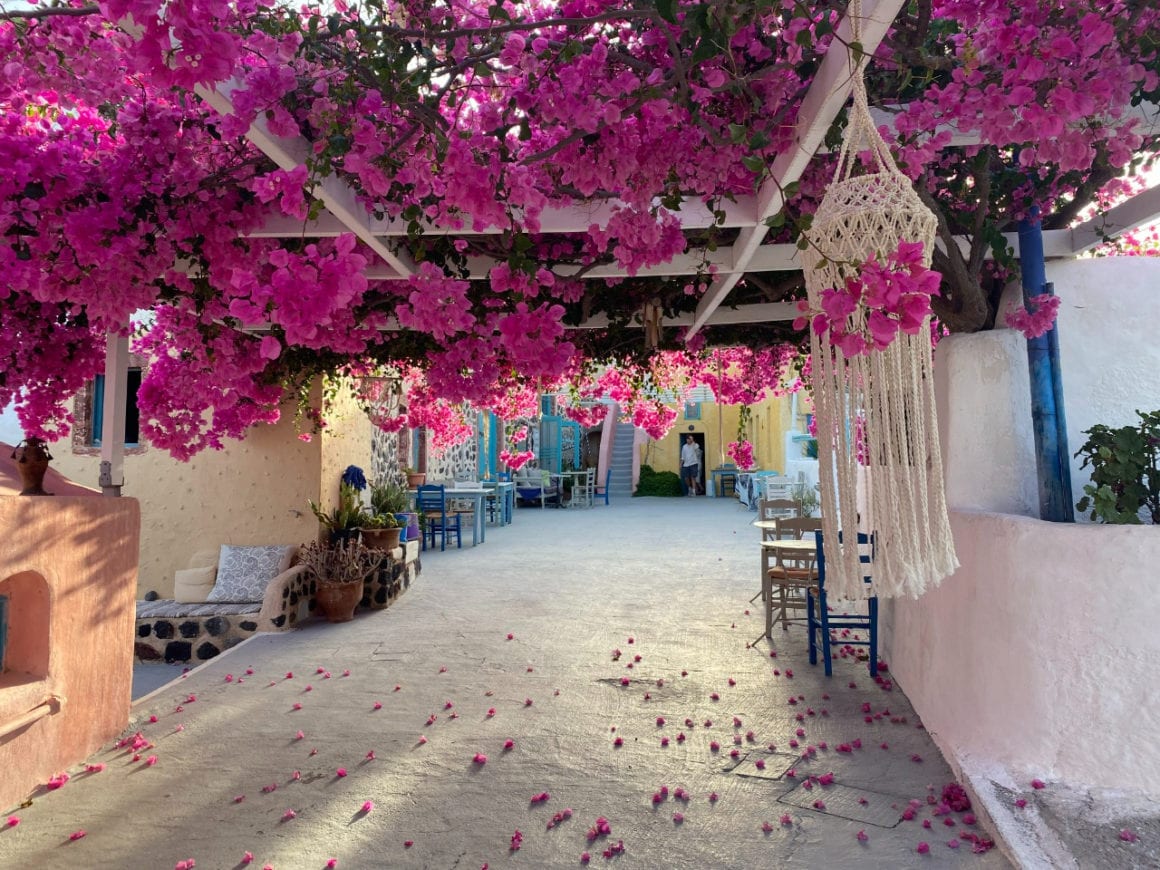 If you're on a backpacker budget there are a couple of hostels on the island. They're more expensive than the typical price of hostels in Greece, but this is Santorini, so they're still far cheaper than private hotel rooms or apartments.
I stayed at this wonderful hostel which was just outside of Thira in a quiet town called Karterados. It was only a 25 minute walk into Thira and worth it for its quiet and peaceful surroundings.
With a pool, free breakfast, and sunset yoga, you really can't beat this place – even though it's pricier than a standard hostel.
The town of Karterados is Santorini's best kept secret when it comes to budget accommodation. The town is very close to Thira and centrally located on the island, and, since it's not one of the tourist hotspots you cant get a decent hotel with a pool for around €80. Check out Katerados hotels here.
When to Visit Santorini
I visited Santorini in September and this, in my opinion, was the perfect time to visit on a budget. Don't get me wrong – the island was still crowded, but less so than the photos and videos I've seen of Santorini in the summer holidays (July-August).
Santorini is a seasonal destination, so visiting in the off season (November-March) is without doubt the cheapest time to visit. Let's be real, though – most people visit the Greek Islands for their beautiful weather.
Because of this, I recommend visiting Santorini in the shoulder season (April – June and September-October). At this time of year you'll get fewer crowds and lower prices, but you'll still have great weather and a good buzz around the island.
Getting Around Santorini on a Budget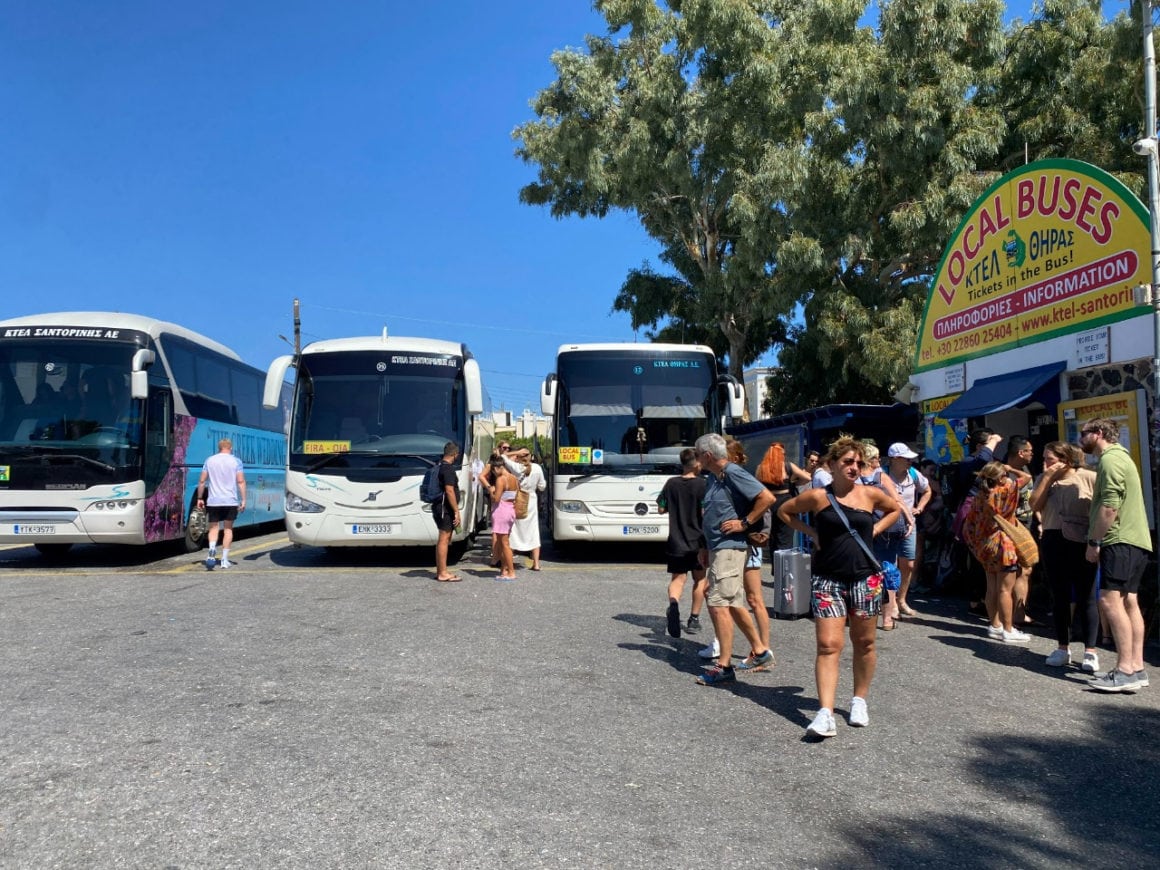 Before my trip to Santorini I read loads of blog posts that recommended hiring a car, motorbike or ATV for your trip. The good news is, I can personally confirm that you really don't need to do this.
If you're in a group it may make sense to hire a vehicle for the day and split the cost, which means you can get the price down to around €15 each.
However, if you're travelling on a shoestring, or solo, the island's bus system is surprisingly good, and you'll be able to get to most of the places you want to for cheap.
Budget travellers rejoice – one-way tickets on Santorini's buses cost either €1.60 or €2.20 which means you can explore the whole island without breaking the bank. You can also catch buses to and from the ferry port and the airport, which will save you even more money!
If you have a lot of luggage and need to catch a taxi, it costs around €20 from the airport to Thira, and €30-35 from the Ferry Port to Thira. It'll cost more to get to Oia as it's further away (around €40) – yet another reason to stay in Thira.
Free and Cheap Things to Do in Santorini
Although you could easily spend thousands of Euros on your trip to Santorini, you'd be surprised by just how many things you can do there for free or very cheap. Here are my top recommendations!
Thira to Oia Hike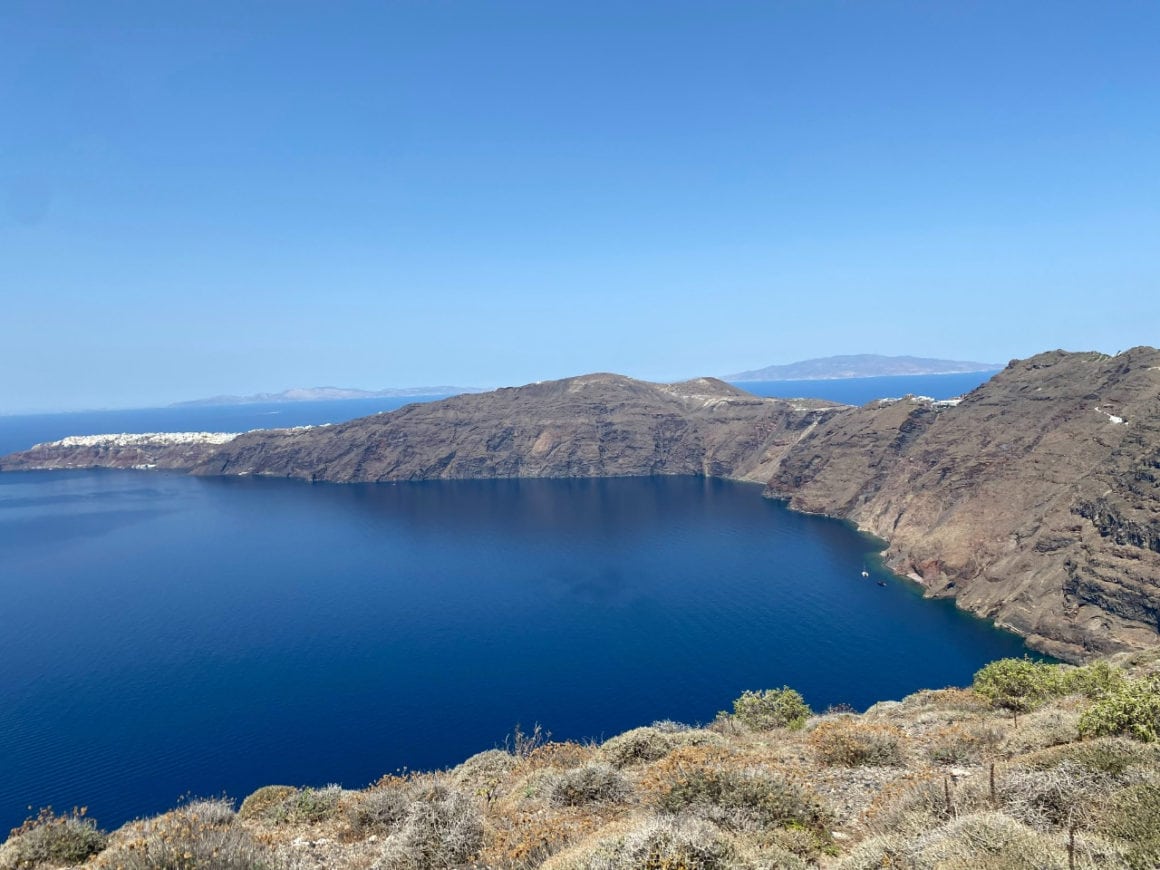 This one isn't for the feint of heart, but if you're into hiking then the 6-mile Thira to Oia hike is the perfect way to explore the island's most beautiful spots without the crowds!
Starting in Thira, you'll wander along Santorini's jaw-dropping coastline past the incredibly expensive luxury villas. You'll constantly have a view of the glittering ocean down below that looks all too inviting in the heat.
A word of warning about this hike… It's only 6 miles, so it's tempting to think it'll be super easy. That's what I thought. One thing you're probably not factoring in, though, is the heat!
You guys, the heat on this hike is EXTREME. There aren't many shaded areas so if you're visiting Santorini in summer make sure you're wearing proper sports clothes (with your shoulders covered for sure!) and pack plenty of water, snacks and sunscreen.
I did this hike in 32°C/90°F and sweated buckets. It's an incredible experience, but make sure you're prepared for it!
Explore Oia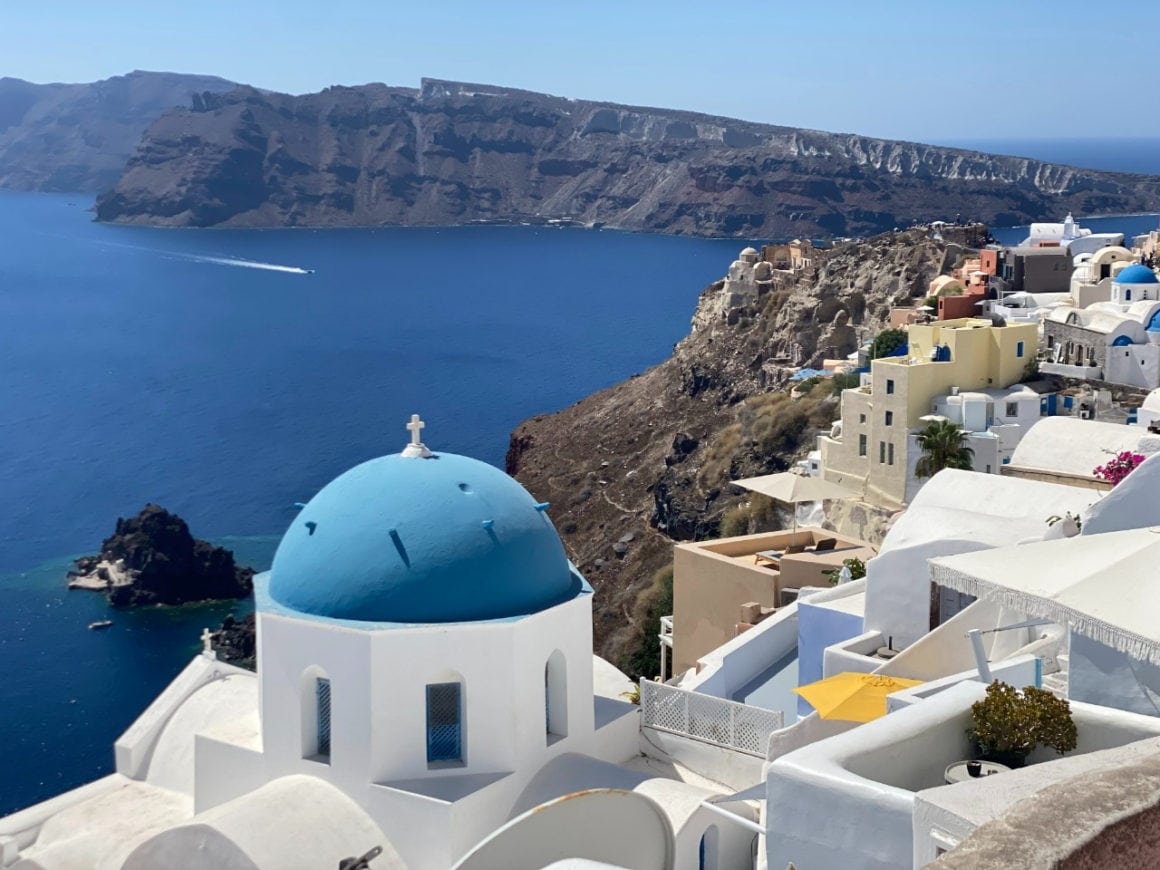 Oia is the Santorini you've seen on Instagram and Google Images. We're talking blue-domed churches, winding cobbled streets and stunning views in every direction you look. Although it's crazy-expensive to stay here, it's definitely worth a visit.
Oia is one of the most beautiful places I have ever seen. And yes – it looks just like the photos.
Wandering around Oia to check out the scenery and snap photos is totally free. You only need a couple of hours here, and since you're travelling on a budget you should get out of there as soon as possible!
This is where the rich and famous stay in Oia – not you and me.
Watch a Santorini Sunset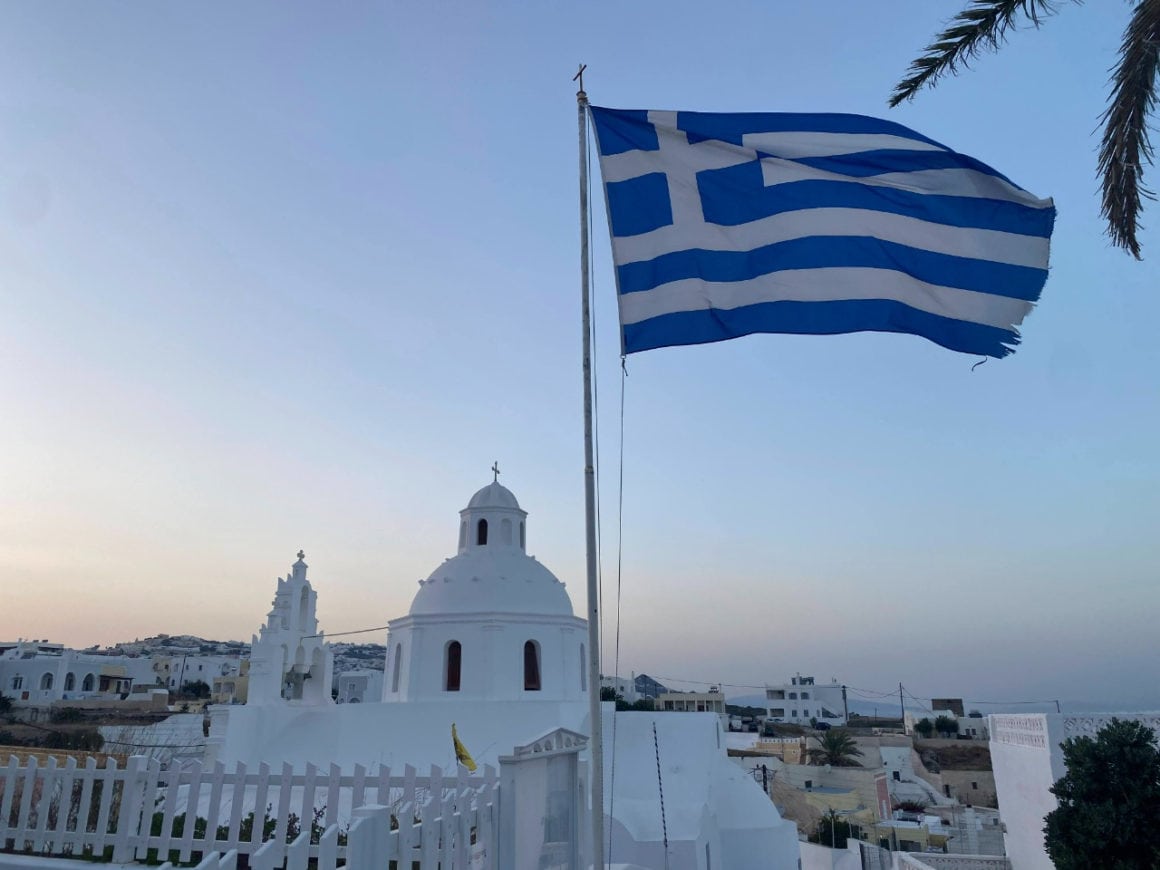 Santorini is world-famous for its sunsets and watching the sun set is free provided you watch it from the street rather than some swanky bar or restaurant.
Both Oia and Thira have great sunset vantage points, although Oia is the more iconic (and busy!) sunset destination.
In peak and shoulder season you'll need to arrive at least half an hour before sunset to be in with a chance of finding a spot to stand – people really cram into the streets like sardines at sunset!
Visit the Black Sand Beach at Perissa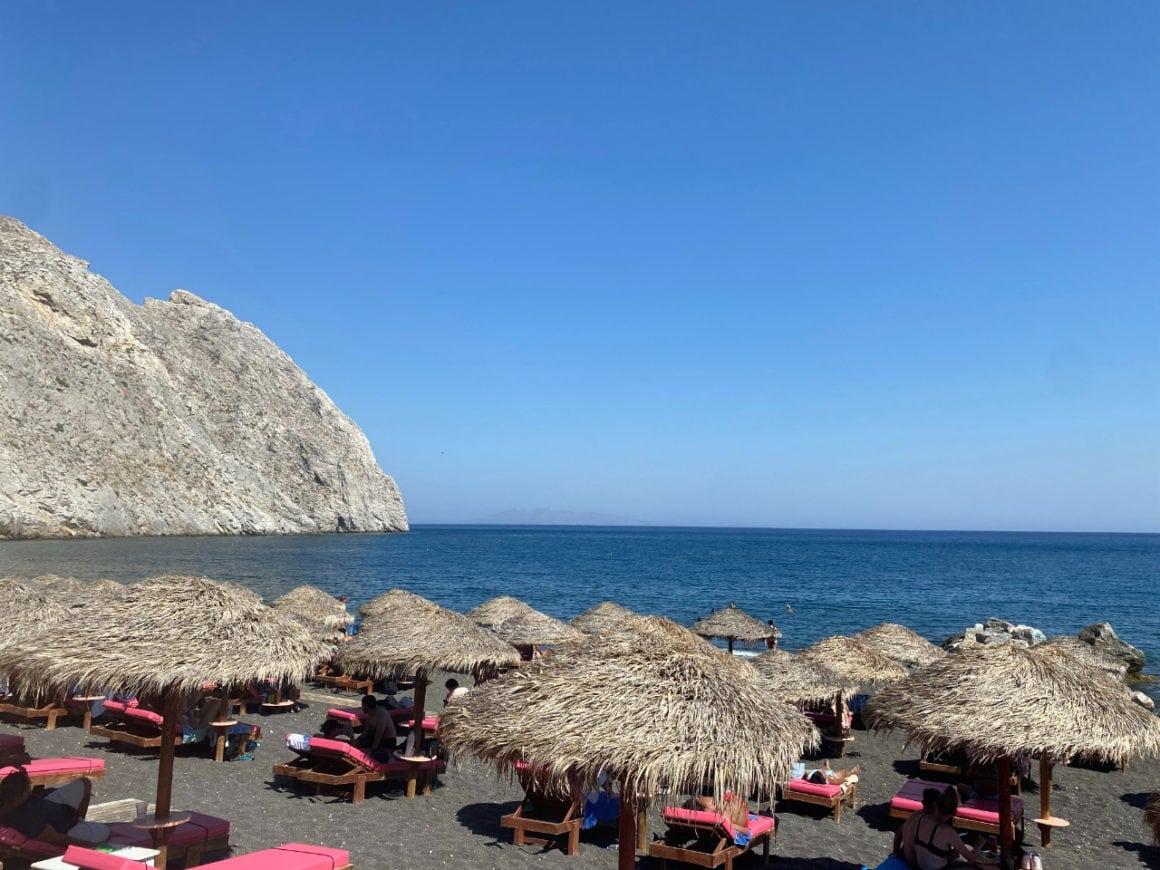 From Thira you can catch the bus to the coastal town of Perissa which costs just €2.20 each way. Here, you can chill on the stunning Perissa Beach for free and cool off in the ocean.
Since it's so, so hot in Santorini the water feels amazing to swim in, and I highly recommend adding a beach afternoon to your Santorini itinerary.
Santorini is famous for its black sand, which was caused by the eruption of the Santorini volcano 3,600 years ago which covered the island in volcanic ash and pumice, giving the sand its dark colour.
Visit Ancient Thera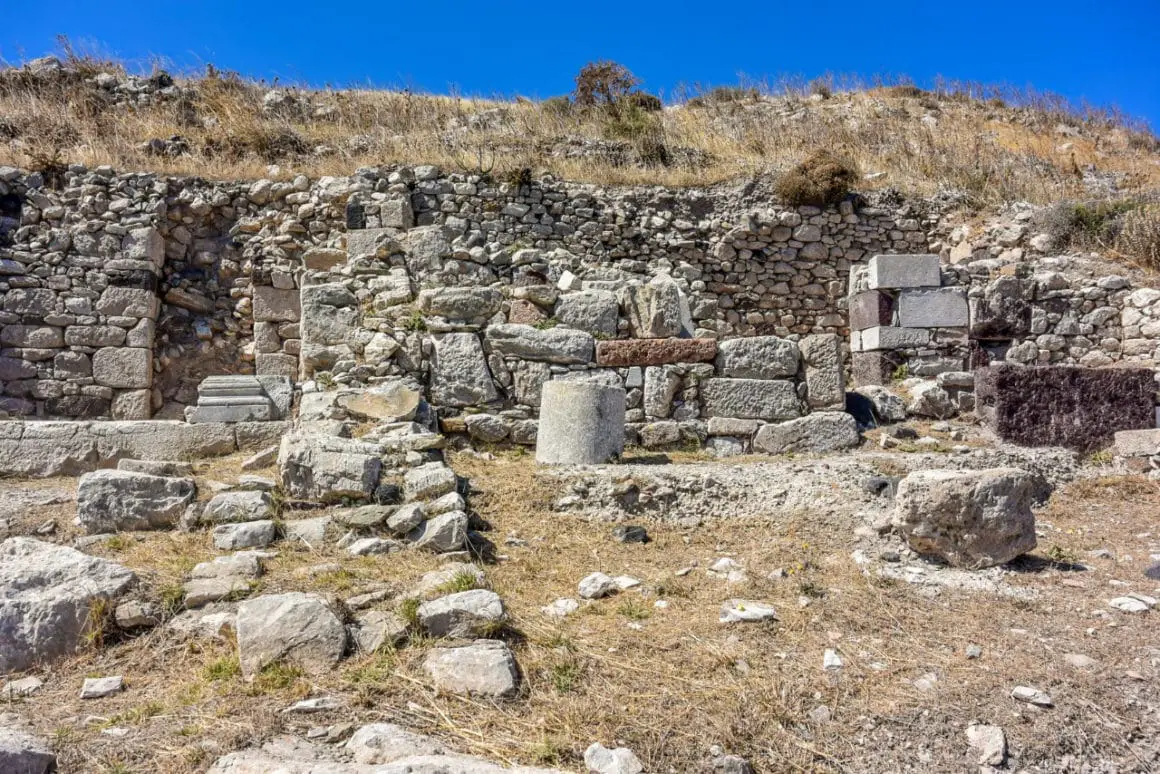 If you're into history you won't want to miss the hilltop site of Ancient Thera. You'll have to hike up here from Kamari (the journey takes around 2.5 hours), drive up there yourself, or take a taxi, but the site itself is more than worth the trek up to it.
The view of the Santorini coastline from Ancient Thira is jaw-dropping, but that's snot why we're here. Instead, cough up the €6 for entry and check out the ancient ruins from the Archaic, Hellenistic and Roman periods.
Eating and Drinking on a Budget
Food in Santorini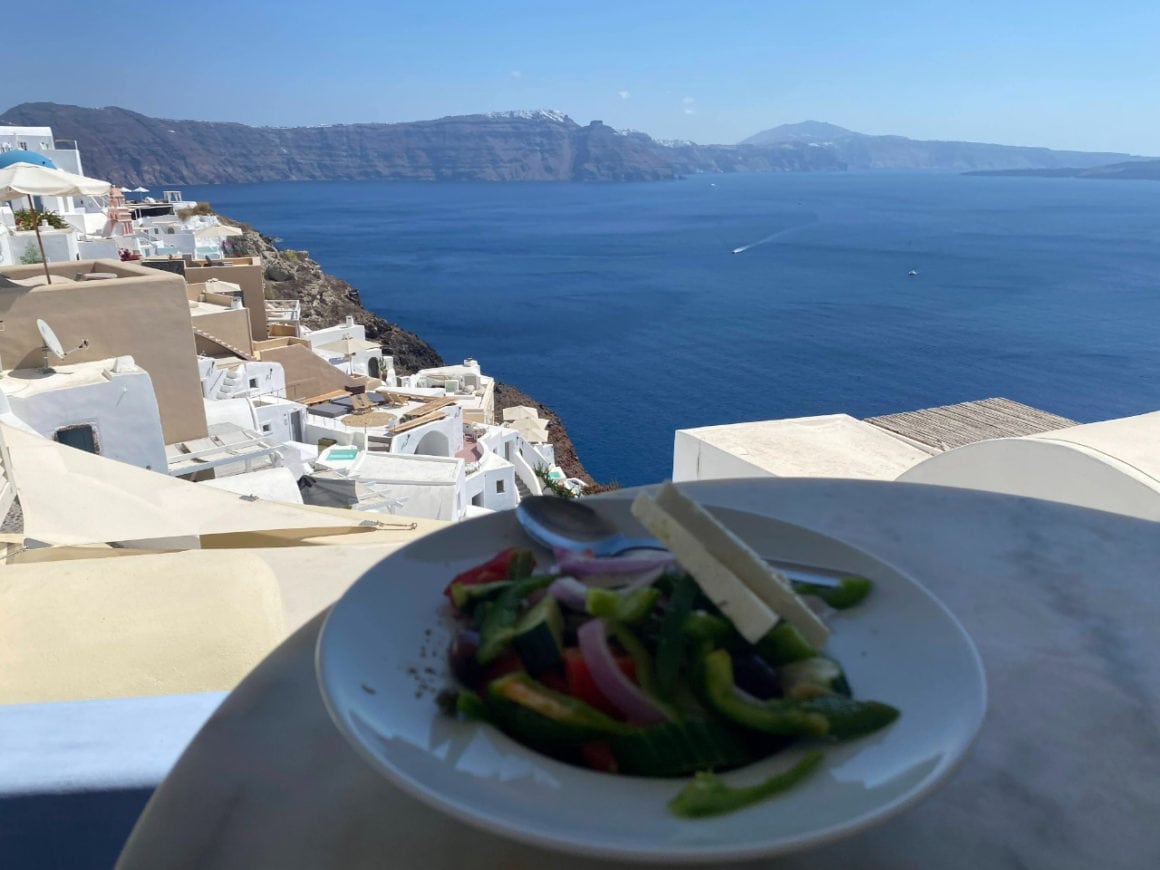 The price of eating in restaurants in Santorini is pretty eye-watering… ESPECIALLY in the restaurants with a view in Oia.
I paid €13 for the Greek salad in the photo at a beautiful waterfront restaurant in Oia, and that was on the cheaper end. I regularly saw Greek salads listed on menus in Oia for €20!
So… how do we avoid prices like this?
If you're on a super tight budget, Greek fast food like gyros is your new best friend. You can get gyros, even in Oia and Thira, for less than €5. In less touristy areas of Santorini, you'll find gyros for €3. They're delicious and filling – perfect for dinner on a budget!
I recommend buying fresh fruit, Greek yoghurt and honey from the supermarket for breakfast. If you're staying somewhere that has a fridge you can store these ingredients and have cheap breakfast at your accommodation every morning!
The supermarket is also great for snacks. Provided you're visiting a chain supermarket rather than a small touristy place, prices are comparable to any other Greek island.
For lunch, I loved heading to the bakery, where you can find salads, Greek pies and sandwiches for around €5.
It's absolutely worth splurging occasionally on tzatziki or a Greek salad at a restaurant, but if you're doing this I recommend heading to a restaurant without a sunset view, preferably in Thira. You can then expect to pay around €7.50 for a salad instead of €12+.
Drinking in Santorini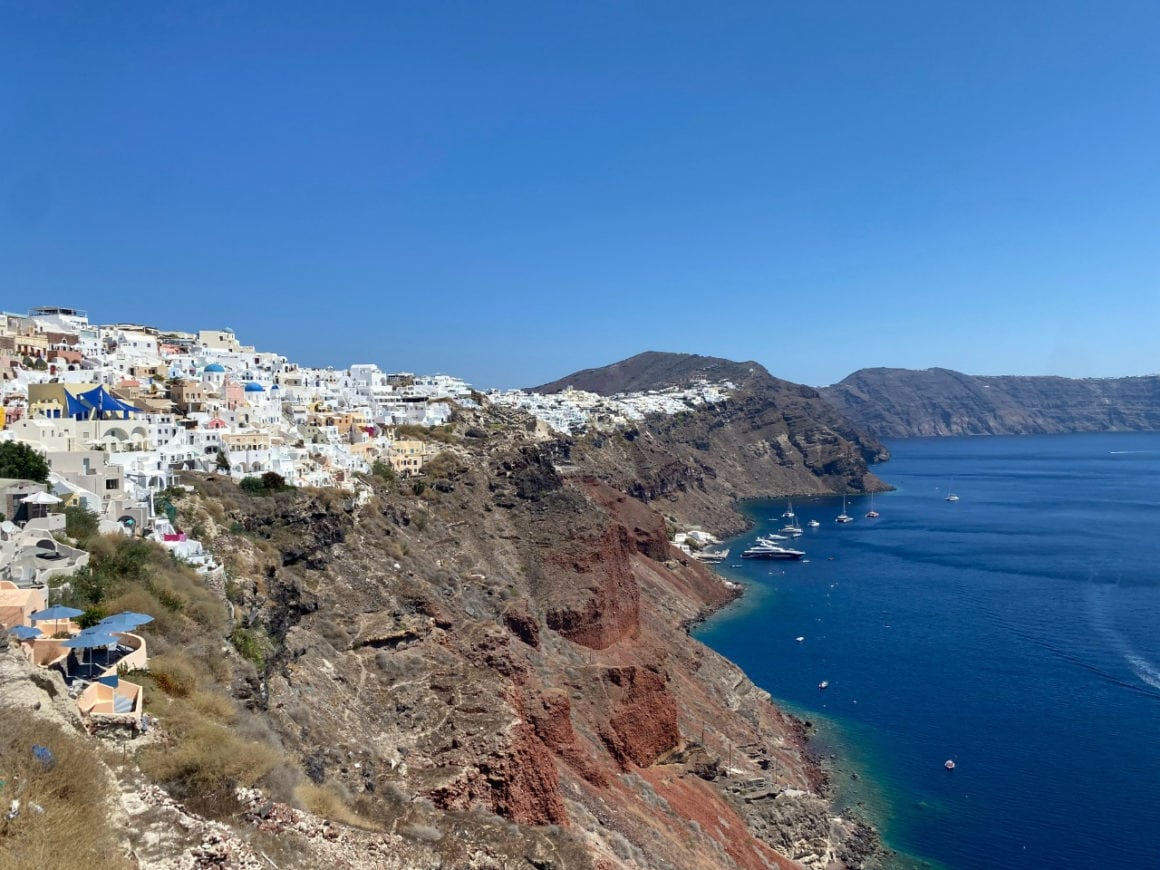 Just like everything else here drinking in Santorini is expensive. However, with a few adjustments you can bring your alcohol spending right down.
If you're on a super tight budget, your best bet is to buy beers from the grocery store, where you can get a can of Mythos beer for around €1.50. A bottle of wine will cost around €6.
You can then drink these on the beach, watching the sunset, or at your accommodation. It'll save you a fortune!
At restaurants, a bottle of beer will cost around €5 pretty much across the board, unless you're in a fancy restaurant in Oia. A large glass of house wine will cost around €6, and cocktails will be a huge budget breaker – a friend of mine ordered a Margarita at a bar in Oia and it cost €20! Yikes!
Thira has a thriving party scene, so the good news is if you're going out for drinks at cheaper bars rather than nice restaurants you'll find that "happy hour" seems to last almost all evening!
A few backpackers I stayed with mentioned a widespread deal of two cocktails for €12 in Thira's party bars, so if you're into cocktails this is probably the cheapest price you'll find them for!
Is Santorini Expensive?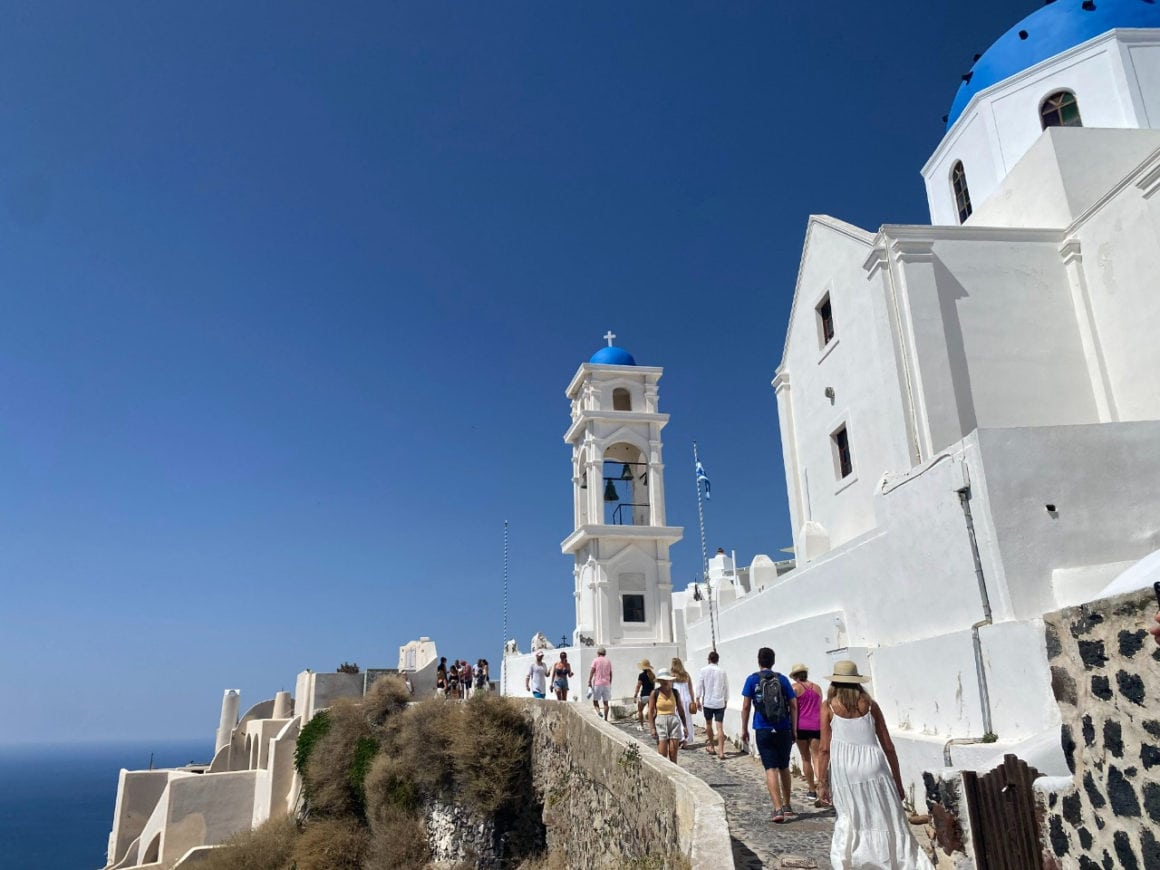 There's no doubt that Santorini is expensive – both to visit, and I'm sure to live in. After all, this is one of the most expensive Greek islands, so it makes sense that visiting Santorini doesn't come cheap.
As you can see from this post, though, it's possible to visit Santorini on a budget and still have a great time! In fact, you might be surprised by just how little you can spend here.
Still undecided on whether to visit Santorini or not? Check out my full post on the pros and cons of visiting Santorini here!