There is a good chance that this post contains affiliate links. If you make a purchase through them, I may receive a small commission at no extra cost to you! As an Amazon Associate, I earn from qualifying purchases. As ever, all opinions are my own.
Last Updated on May 13, 2022 by Ella
During my research for my trip to Australia, one activity that kept popping up was taking a day trip to Nimbin from Byron Bay, New South Wales.
I was intrigued.
Nimbin is known as Australia's hippie town, and is also referred to as the "weed capital" of Australia. It was set up in the 60s by counter-culture enthusiasts as a hippie town away from the hustle and bustle of city living. In Nimbin, Australia's hippies could wear tie-dye, smoke weed and practice yoga to their heart's content.
I wanted to see what Nimbin was all about.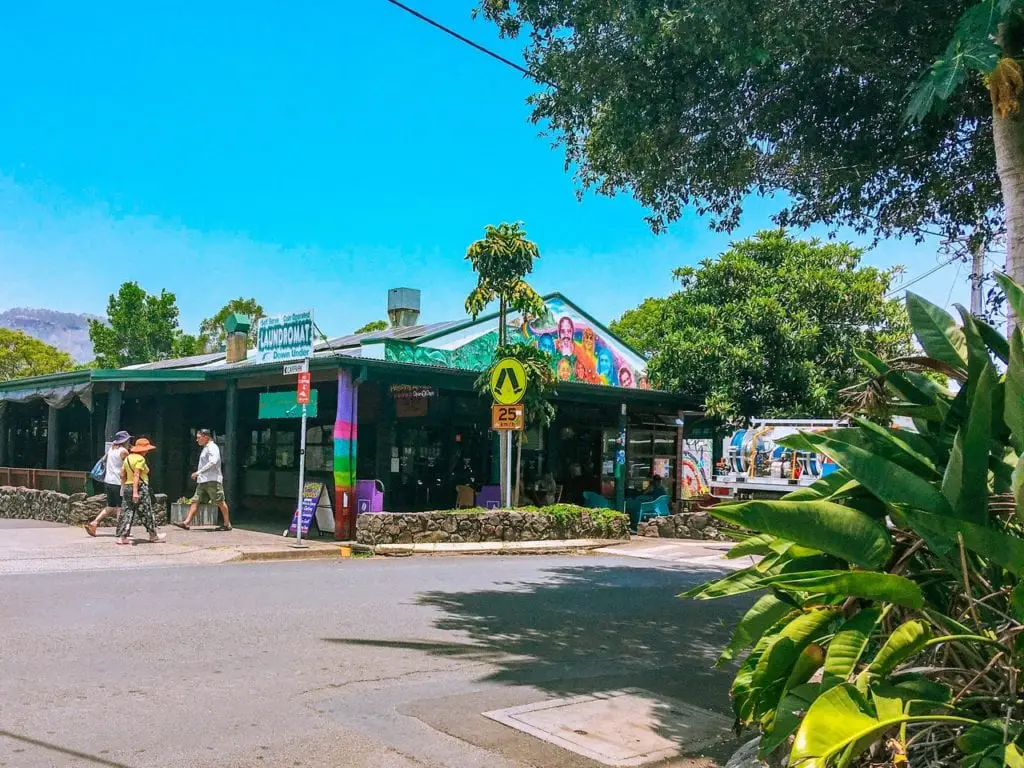 Heading over to Youtube, I checked out Christianne from Backpacking Bananas' Nimbin road trip video. I was taken in by colourful buildings and the beautiful nature surrounding the town, and instantly booked myself onto a Nimbin day trip bus tour.
Getting to Nimbin from Byron Bay
There are two options for visiting Nimbin. If you have a car, Nimbin is about a 70 minute drive from Byron Bay in the state of New South Wales (NSW), and is a popular stop for road trippers in Australia. The driving distance from Byron Bay to Nimbin is around 65km.
The second option is to get to Nimbin from Byron Bay by bus. You can do this on an organised tour, as there are no public transport buses on this route. Since I didn't want the hassle or expense of hiring a car, this is the option I went with.
Taking a Bus Tour to Nimbin From Byron Bay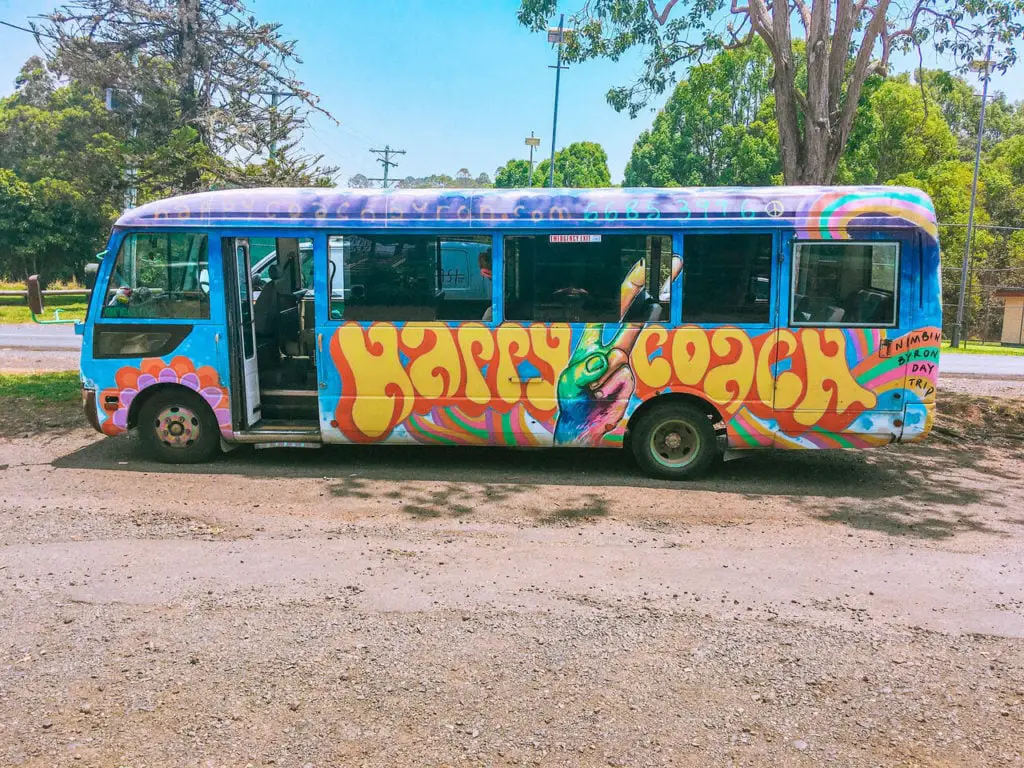 If you want to take a bus tour of Nimbin from Byron there are two providers for your day trip:
The Happy Coach (which I opted for) costs AUD 55 and includes a 'gourmet' BBQ lunch. It's supposed to be a half-day tour, but I would say lasted from 10am-4:30pm. It also included a trip to a waterfall near to Nimbin. You can check out reviews here.
The other option, Grasshoppers, is a 'full day' tour which costs AUD 79. The Grasshoppers day tour lasts a few hours longer than the Happy Coach, but it includes a load of the best things to do near Nimbin, such as stopping off at Nightcap National Park and Minyon Falls. Check reviews here.
You can book for Grasshoppers, and a few other tour providers, down below!
(Update – both tours tours have been suspended until further notice due to the ongoing situation. Hopefully they'll be back soon!).
Grasshoppers seemed to be the more popular option with people from my hostel, presumably because of the extra hinterland stops. The fact that it's more expensive was the deciding factor, and I opted for the Happy Coach.
However, given how much I loved my time in the hinterland, I wish I had just spent the extra AUD 24 and joined Grasshoppers. I'd have loved to visit the National Park and seen a few more waterfalls on my way to Nimbin!
That isn't to say Happy Coach is bad by any means, I just think the focus of each tour is different. Plus, the Happy Coach's decoration is way cooler!
The Happy Coach picked me up from my hostel at 10am, and I was greeted by the driver who came to collect me. The driver was a woman who introduced herself as Princess Fiona.
Wearing a top hat, a pink tank top, black biker jacket, pink tutu and crocs, she really did look the part of Nimbin tour guide! It sure was an 'out there' approach to fashion, but I lowkey loved it. I hopped on board the Nimbin bus, embracing the 'weirdness' the day was surely going to bring.
The Happy Coach Bus to Nimbin
The interior of the bus was plastered with slogan stickers ranging from the funny to the downright weird, and the roof was painted just like the sky. I took my seat, Princess Fiona cranked up the music and we set off. I was ready to live my best hippie life!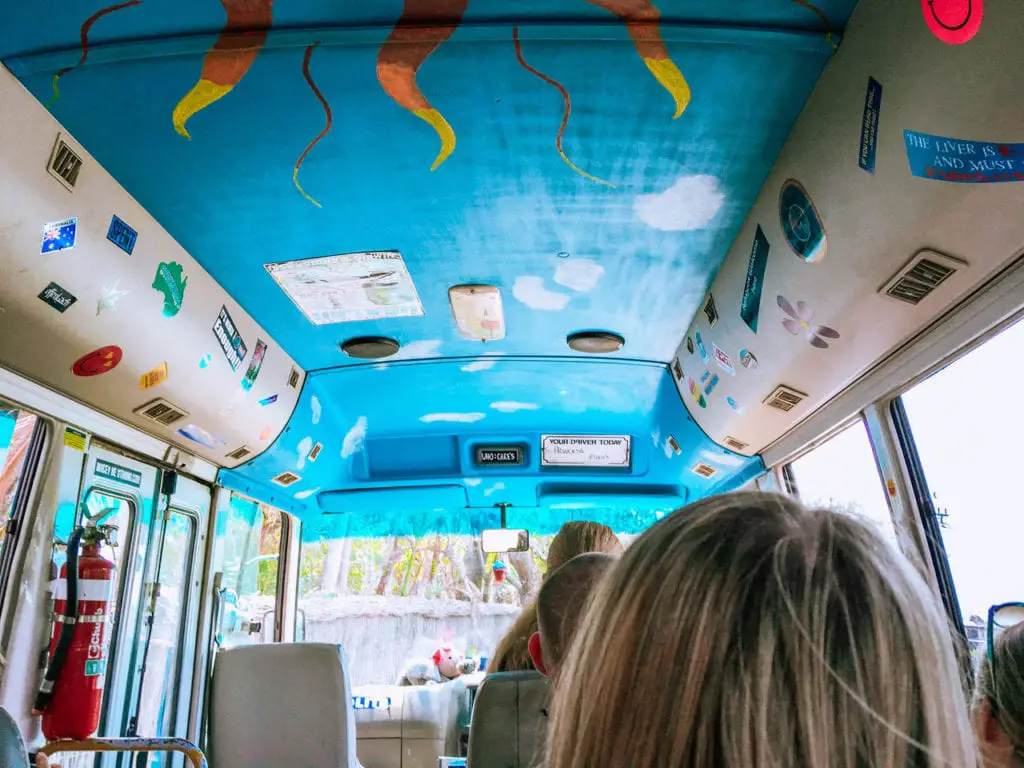 One issue? It was already 35°C outside, and the air con had broken. I am such a baby when it comes to heat, so I was guzzling water and fanning myself like crazy!
The countryside was super lush and green, and I couldn't stop snapping photos. We passed the city of Lismore (population 27,000) and I couldn't help but wonder what all its citizens do for fun around there. Getting into rural(ish) Australia was fascinating, and a real eye opener to me. Being from England, where you can't go 15 minutes before coming across the next town, I couldn't comprehend living so remotely.
The hinterland was empty, bewitching and HOT. Princess Fiona's commentary about our surroundings added context to what we were seeing, and she was really knowledgeable about the area.
We stopped off a roadside pub in the hinterland for a quick rest stop before hopping back in the bus to visit Killen Falls.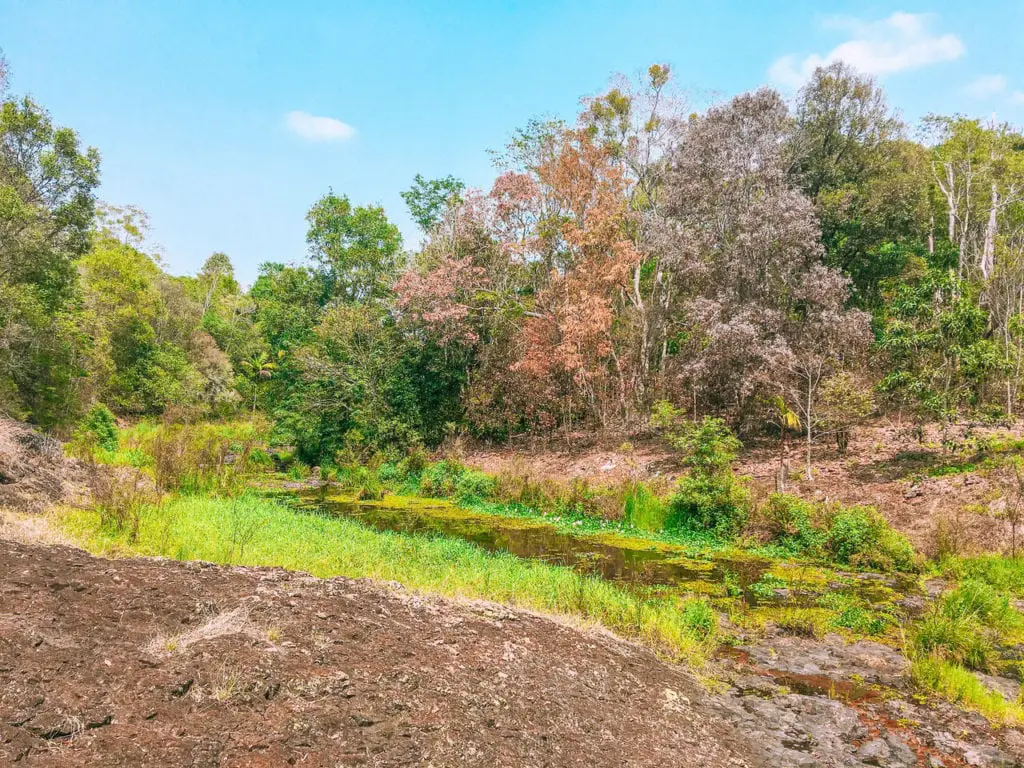 I was in Australia during December 2019, when the country was experiencing huge drought and some of the worst bushfires the country had ever seen. This meant that the waterfall, although normally full, was full of stagnant water and pretty dry. It was interesting (and sad!) to see just how much of a difference the weather had made!
---
Want more Australia posts? Check these out!:
•  8 Dumb Mistakes I Made on my First Trip to Australia
• The Coldest Swim of My Life at the Bondi Beach Pool
•  How to Take a Day Trip to Moreton Island from Brisbane
• 10 Unmissable Things To Do In Bondi, Sydney
---
Exploring Australia's Hippie Town
As we pulled into Nimbin, I couldn't believe the state some of the houses we passed were in. It looked residents hadn't done any upkeep on them for fifty years! Surprisingly, Nimbin has a permanent population of just 300. For some reason I thought it'd be slightly larger.
Princess Fiona, after informing us that, of course, marijuana is illegal in Australia, then proceeded to give us instructions on how to get it and how to take it responsibly, if that was what we wanted to do.
Nimbin is informally known as the weed capital of Australia, and its residents are proud supporters of the legalise cannabis movement. Each May they hold the famous 'MardiGrass' festival, attracting thousands of tourists to the town for marijuana related fun and games. It came as no surprise to find out, then, that a lot of tourists travel to Nimbin specifically to buy weed.
We had around 90 minutes to explore the town, and I eagerly set off to explore.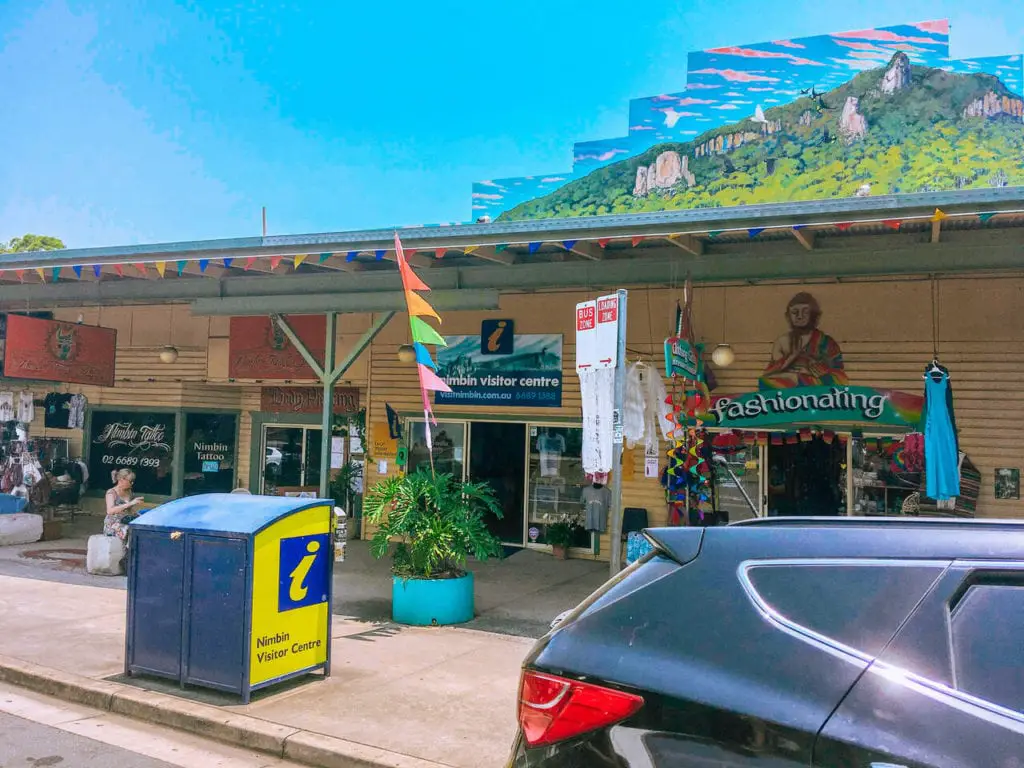 The town of Nimbin is basically just one street. Bizarrely, the buildings of the main street were all reminiscent of a wild-west frontier town. Some buildings even had saloon-style doors!
The town was a jumbled mish-mash of styles and eras and colours, and it was definitely jarring to step into. It was different, sure, but the buildings looked super cool.
Things to Do in Nimbin
If you're visiting outside of the Nimbin Mardi Grass Festival you'll struggle to fill more than a couple of hours in Nimbin. Nimbin has a few shops (90% weed related) a hostel and a coffee shop.
Obviously, Nimbin is only a small town, so it's not surprising there aren't a million things to do in the area. It's more of a place to take things easy and slow.
One of the most popular things to do in Nimbin is stopping by the Hemp Embassy, a cool-looking non-profit that campaigns for cannabis law reform. The exterior of the Hemp Embassy in Nimbin is super wacky, and it's an educational place to visit.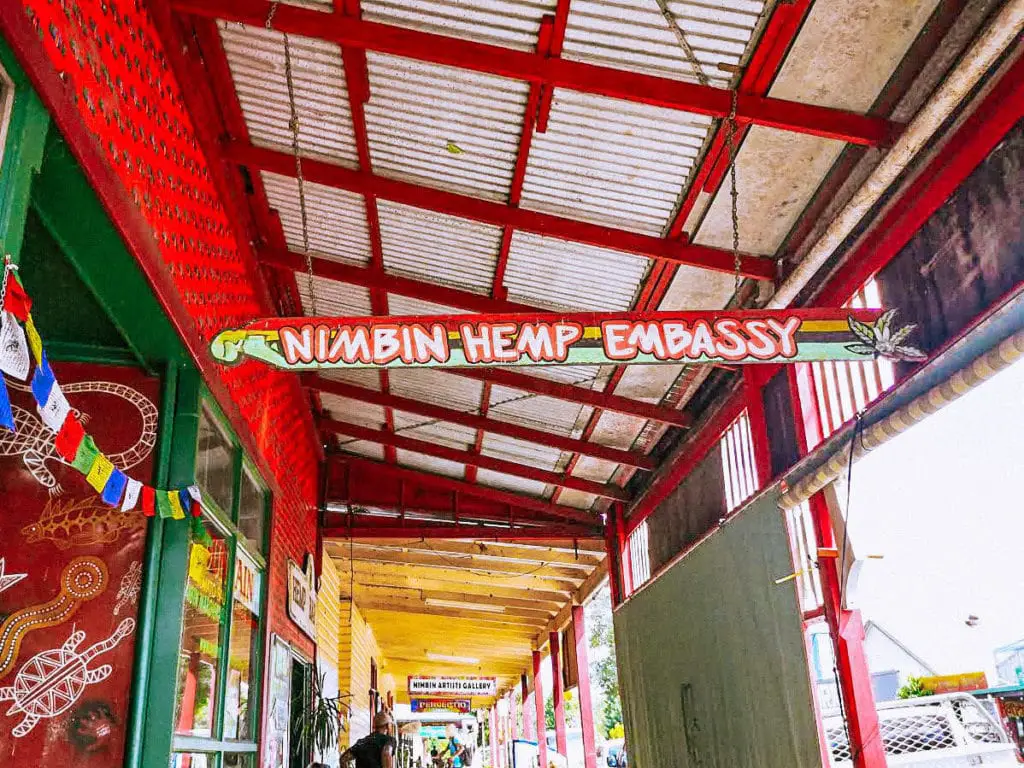 I bought a cute shell necklace at a shop before making my way along the street with a group of people I met on the bus, and went on the hunt for the perfect tie dye shirt. The shops in Nimbin have such cute hippie and vintage clothes!
Lots of shops also stock fun stickers like the ones that were on the roof of the Happy Coach. If you've ever seen the "I love Nimbin" sticker stuck to things around town, you'll easily find this sticker in the town shops.
After completing our shopping and heading into the Hemp Embassy we still had loads of time to kill, so extended our walk past the main street.
Here, we came across a lovely rainbow-painted area, where I got the cute photo I use for my bio. Some locals, noticing our excitement, told us that this building was actually the community health centre.
They explained that the idea behind its decor was to make visits there feel more welcoming (and less intimidating). The world would be a better place if more health centres looked like this!
If you're wondering what to do in Nimbin, this is definitely one of the coolest things to see.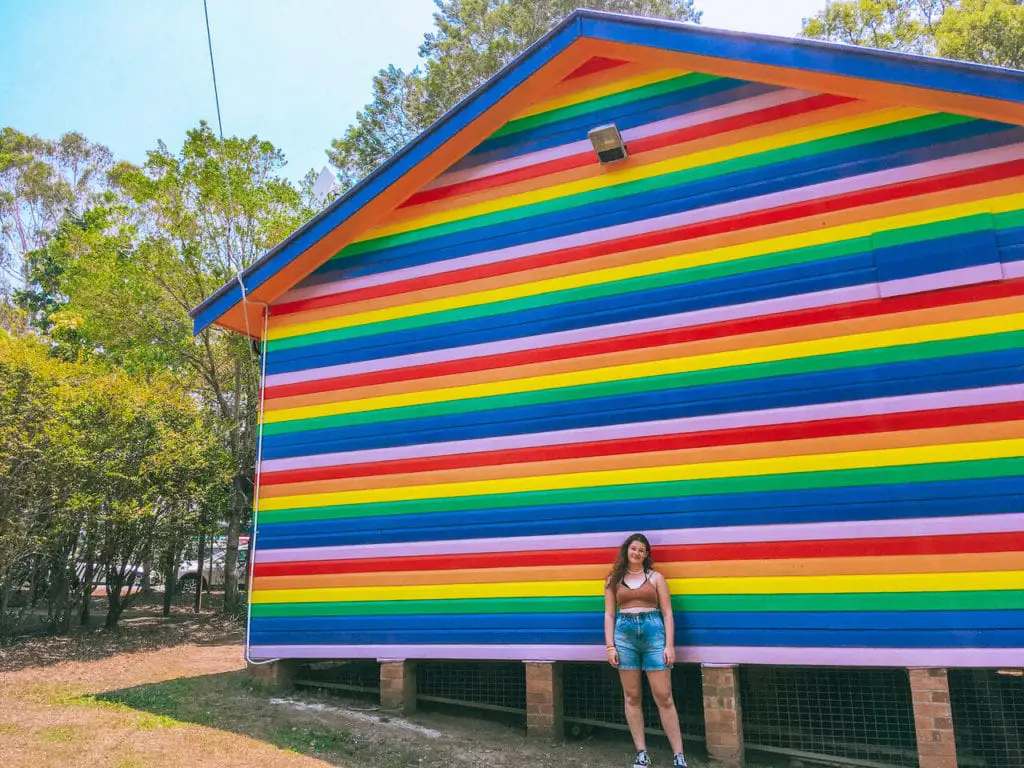 The Downside
As I was walking through the town, a sense of unease crept up on me. Some of the town's residents were definitely distinguishable from the tourists. Quite a few people we came across looked like they were living with an addiction, a severe mental illness or in poverty.
It was kind of jarring.
Out of nowhere, a guy across the street broke out into a complete rage, and then started screaming. He was arguing with nobody and kicking and hitting a street sign. My feelings towards Nimbin changed very rapidly.
I had enjoyed my brief visit, but now I wanted to get the f*** out of there!
Is Weed Legal In Nimbin?
It seems that most visitors make their way to Nimbin with plans of buying weed. I mean, the town hardly shies away from it. There's a Hemp Embassy, weed-themed shops, and huge weed murals on the streets.
Despite all the signs to the contrary, weed is not legal in Nimbin, and the local police renew their efforts every so often to clamp down on the buying and selling of weed in Nimbin. They don't seem to actually do much about it, though. There seems to be an understanding between law enforcement and the community that clamping down would kill Nimbin's tourism.
After my trip, I did some research on this, and although it's widely known that you can still buy weed in Nimbin, apparently law enforcement has been cracking down on tourists travelling to Nimbin to buy weed. During my research, I even read a story of the police setting up roadblocks to check tourists' cars leaving Nimbin!
I didn't see anything like that, but it pays to be careful if this is something you're planning to do.
Personally, I don't use weed, so I have no idea if the weed is any good in Nimbin or how strong it is. What I do know is that it's very easy to get hold of it here.
Where To Buy Weed In Nimbin
If you're visiting Nimbin in hopes of buying some weed, you won't have to look very far. The locals know that tourists are looking for it and will approach you to offer it.
"Some cookies, girls?" croaked a woman stooped under a shop shade. I didn't want to buy some, but one of my friends from the tour did. The friend only had 10 AUD ($6.75) in cash with her. The woman debated for a while before insisting she get the full 20 AUD ($13.50) she was asking for.
"I normally would do it for ten, but I need to buy dog food tonight" she said.
Bleak.
Sure, this could have just been her bargaining technique, but I got a strong feeling it wasn't. The fact she needed an extra 10 AUD to be able afford to buy dog food was definitely a bummer.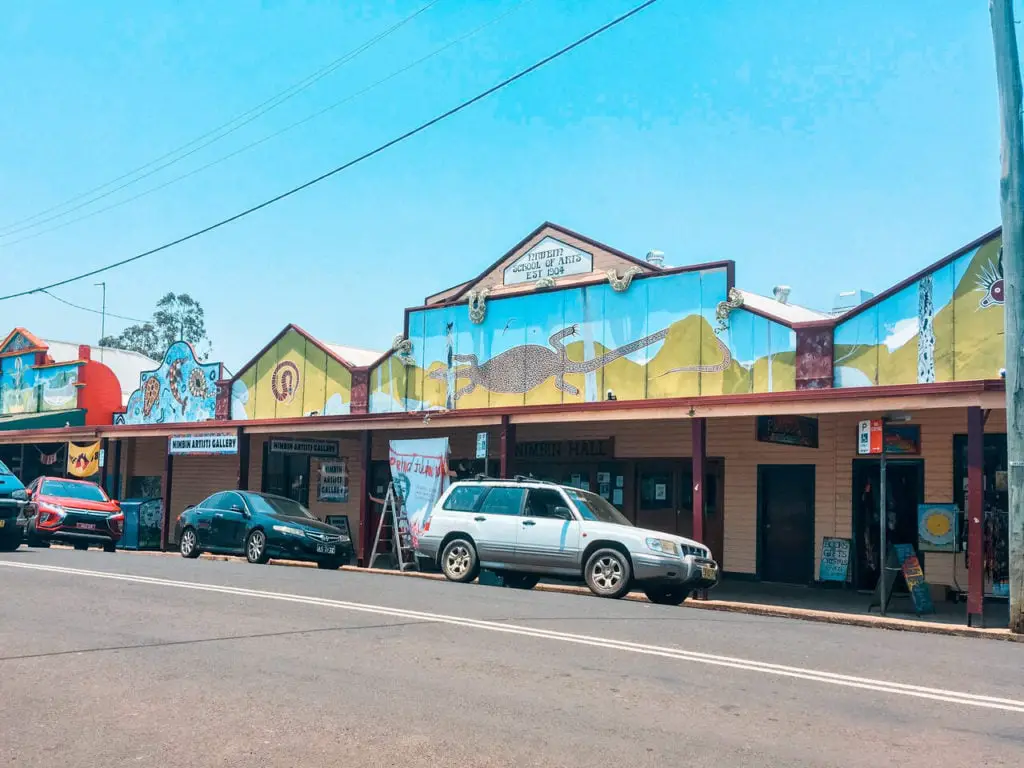 Lunch
Realising that we really had done everything we could, we made our way to the Nimbin Bowling Club to meet Princess Fiona for a BBQ lunch.
Guys, it was 37°C in Nimbin that afternoon. I was struggling – the heat was immense. At every opportunity I frantically slathered on an extra layer of sun cream. There was not even a breeze to disrupt the sweltering heat. In fact, Princess Fiona explained, Nimbin sits in a crater, meaning any kind of breeze is rare.
Let me tell you, walking inside the bowling club to use the bathroom was one of the greatest moments of life! Their air conditioning felt incredible, and I never wanted to leave its lovely cool climate.
As I ate my burger (not quite 'gourmet' as advertised, but still perfectly fine) it seemed like half of the town's residents were also with us at the bowling club, drinking on a Tuesday afternoon. Some guy who looked like he hadn't washed in 3 weeks approached us and offered us weed cookies.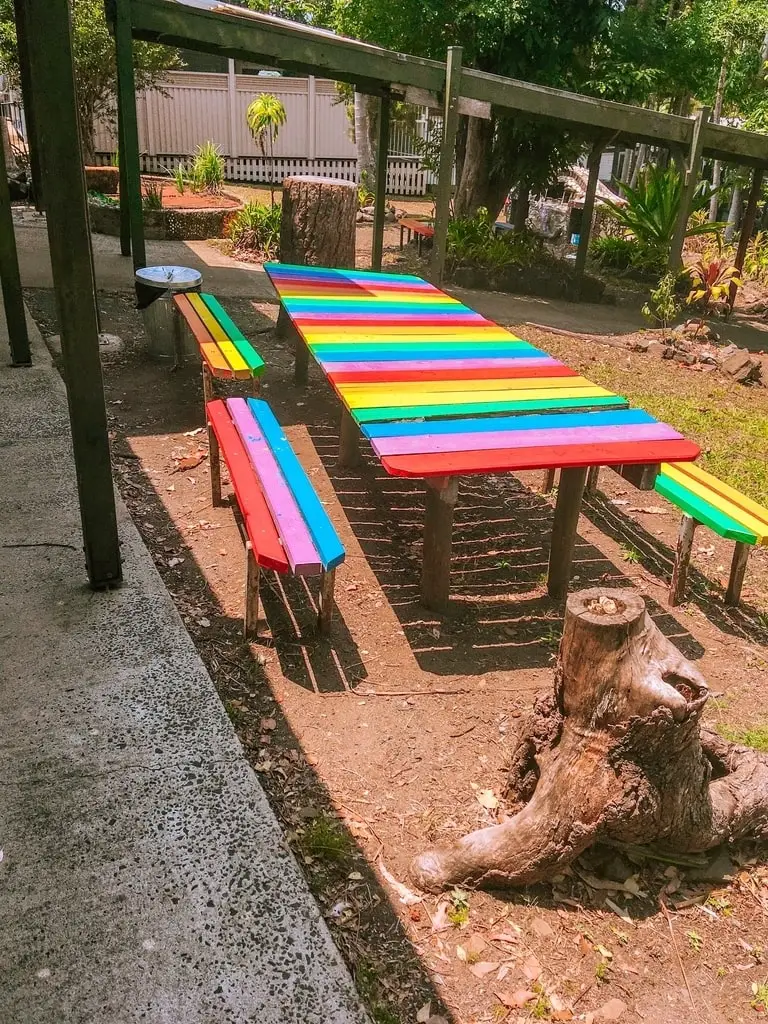 Is Nimbin Safe?
Summarising my Nimbin tour in one word, I'd say it was, well… weird. In spite of the colourful buildings and 'hippie' reputation, I did feel uncomfortable there at times, and the vibes were just… off.
I can't really say that Nimbin feels unsafe, but it definitely was a strange old town.
Accommodation in Nimbin
Since Nimbin is such a small village, there aren't many accommodation options if you're planning to stay overnight. That said, the accommodation it does have seems to be pretty good quality.
The most popular and highly rated guest house in Nimbin is the Grey Gum Lodge. It gets consistent rave reviews, is just a 5-minute walk to the centre of the village and each room comes with a terrace with views of the mountains. It also has an essential in Nimbin – aircon! Double rooms come in a very reasonable AUD 110 per night. You can check availability here.
So… Should I Take a Day Trip to Nimbin?
Erm…
Look, if you're in Byron Bay and have nothing else to do, why not.
That being said, should you specifically add visiting Nimbin to your Byron Bay itinerary? In my experience, no. I loved exploring the hinterland from Byron Bay, but the actual time in Nimbin was not particularly exciting for me.
Don't just take my word for it, though! Loads of people seem to love Nimbin, so it seems like it's all down to your preferences and what you like to do.
The Happy Coach was good value for money. Even if I did find the town itself slightly weird, I had a good day and I learnt a lot. I definitely don't regret visiting Nimbin! Princess Fiona was an interesting character and a truly entertaining guide. If you are looking to visit Nimbin on a tour from Byron Bay I recommend the Happy Coach.
What did you think of Nimbin in Australia?