There is a good chance that this post contains affiliate links. If you make a purchase through them, I may receive a small commission at no extra cost to you! As an Amazon Associate, I earn from qualifying purchases. As ever, all opinions are my own.
Last Updated on January 4, 2022 by Ella
For someone who used to moan about living in Yorkshire at every opportunity she got, I sure do write about it a lot on this blog.
I lived in Leeds in Yorkshire for three years, and I spent the whole time wishing I was anywhere else. 
Work was stressful, I was miles away from family, it was freezing all the time and I was constantly broke. It was easy to blame my misery on Yorkshire. But sometimes, it takes leaving a place to fully appreciate just how fabulous it is! 
I mean – all that countryside right on the doorstep! Some of my favourite restaurants ever! The cheap beer! Looking back on my time in Yorkshire, I definitely didn't give it as much of a shot as I should have. 
When we were finally freed from lockdown at the start of summer I was desperate to get travelling again. However, all the uncertainty had led me to check out places to visit within the UK. I was surprised to say the least when my research revealed just how many amazing places in Yorkshire I still had to visit! After spending what felt like weeks researching all the amazing things to do in Yorkshire, I was desperate to get back and do some more exploring! I quickly arranged to meet up with my former Leeds housemate, Ben, and we started to plan a North Yorkshire coast road trip together.
Getting off the train at Leeds station was a surreal experience. It had been over a year since I'd been here, and so much had changed. One thing was for certain though – I couldn't wait to finally see Ben again! On my arrival at his swanky new flat (a big contrast to our cheap student house-sharing days!), we instantly began plotting our road trip to take in some of my biggest oversights in Yorkshire.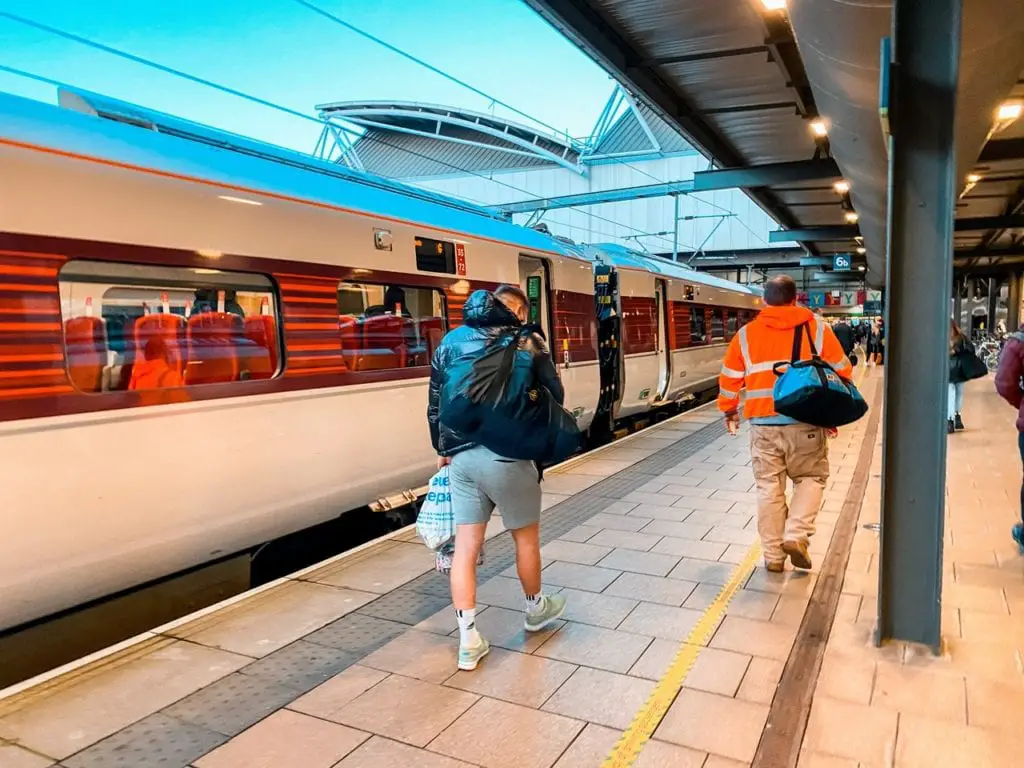 Of the entire Yorkshire coastline , I'd only visited Staithes. I instantly adored it and had been desperate to see more ever since. There had just been one thing stopping me: without a car, getting to the coast from Leeds is a mission. 
Now, with the keys to Ben's mum's car in our grasp, the whole of Yorkshire was open to us. Keen to check out some more of the coast, we agreed on visiting both Robin Hood's Bay and Whitby, in North Yorkshire. My suggestion of stopping by Scarborough, which I had only visited once before and wanted to explore more in-depth, was very quickly shot down by Ben. 
"No chance".
"Surely it's not that bad?" I asked. Scarborough has a reputation for being run-down and a bit rough around the edges.
"It really is – I'm not going there again" he laughed.
That was it then – no Scarborough.
The Open Road to the North Yorkshire Coast
Bright and early (7am on a Saturday!), we hopped in the car to stop by Heaney and Mill in Headingley for an early breakfast. This cute restaurant is really close to our old house, and a firm favourite of ours. It felt super bizarre to be back in Headingley after over a year, but Heaney and Mill's breakfast certainly lived up what I remembered!
Caffeinated and full of poached eggs, we hopped into the car, cranked the Abba tunes and set off on our way.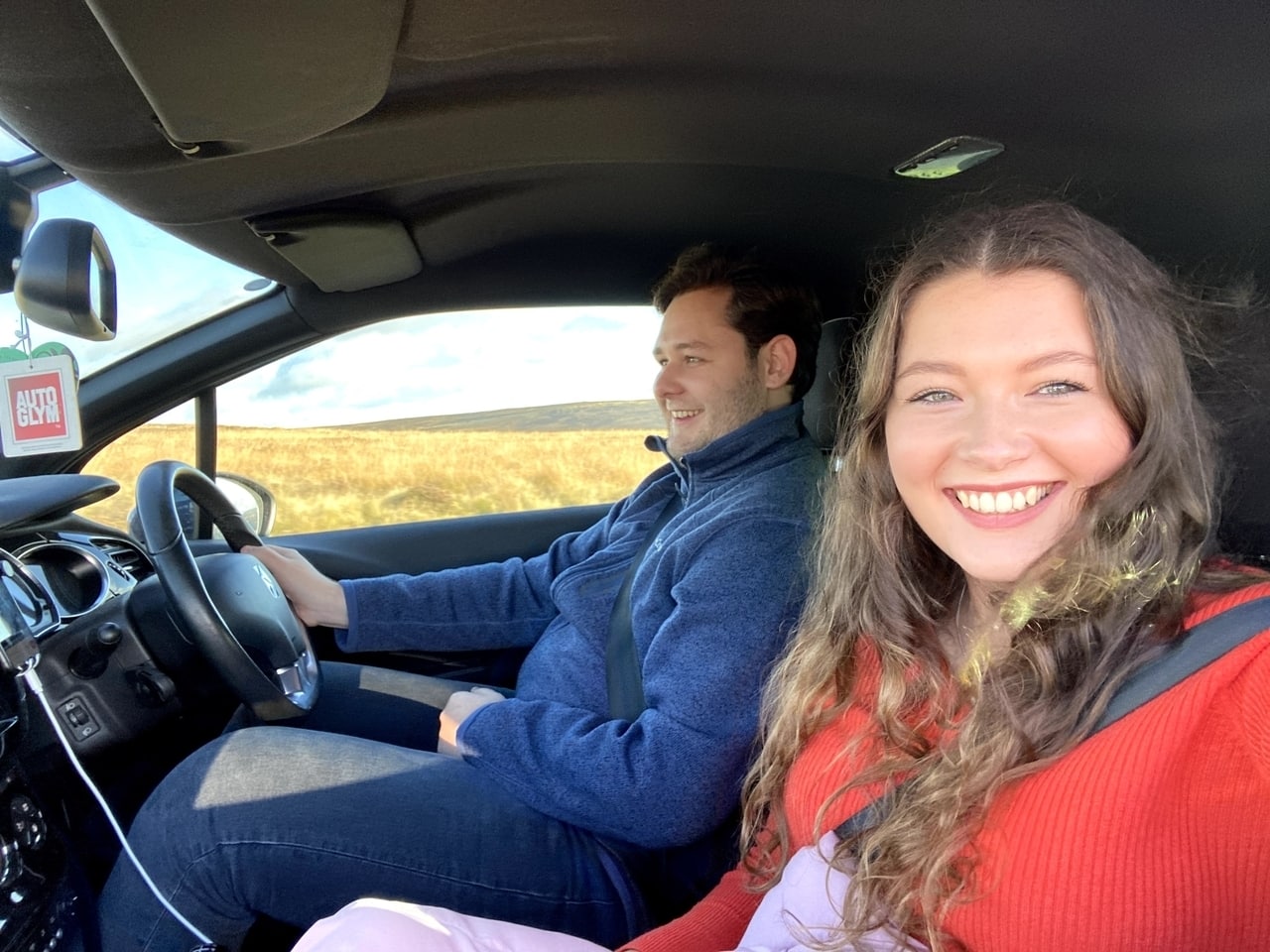 That's when we came across an issue.
Putting our destination into the navigation system, it turns out Leeds isn't very close to the North Yorkshire coast. Like, at all. In fact, our route involved 2 hours of driving without a break just to reach the coast.
Something had to change. Who wants to spend 2 solid hours driving?!
Reviewing our route, I saw that we drove right around the outskirts of York, and I had an idea.
"You heard of the Eden Camp Museum?" I asked Ben from the passenger seat.
"Erm…no"
"It's an outdoor war museum set in an old prisoner of war camp, and it's right on our route!" I cheered. I was so excited! Visiting the Eden Camp Museum was firmly on my Yorkshire bucket list, and it's a place very few people seem to actually know about. The only issue was that it was out in the middle of nowhere. With a car, visiting it suddenly became possible, as well as a great way to break up our drive. I was definitely desperate to make a stop there, and Ben, like a good sport, agreed.
The sky was bright and clear, and it seemed like the weather was going to play fair.
The Eden Camp Museum
Pulling into the museum just a few minutes past opening time, we paid our entry (£12 each) and parked up. We weren't over the moon about the entry fee. It's common for museums to be free here in the UK, so although £12 was quite a surprise, we had decided to go with the flow on our road trip. Pushing the fee to the back of our minds, we parked up.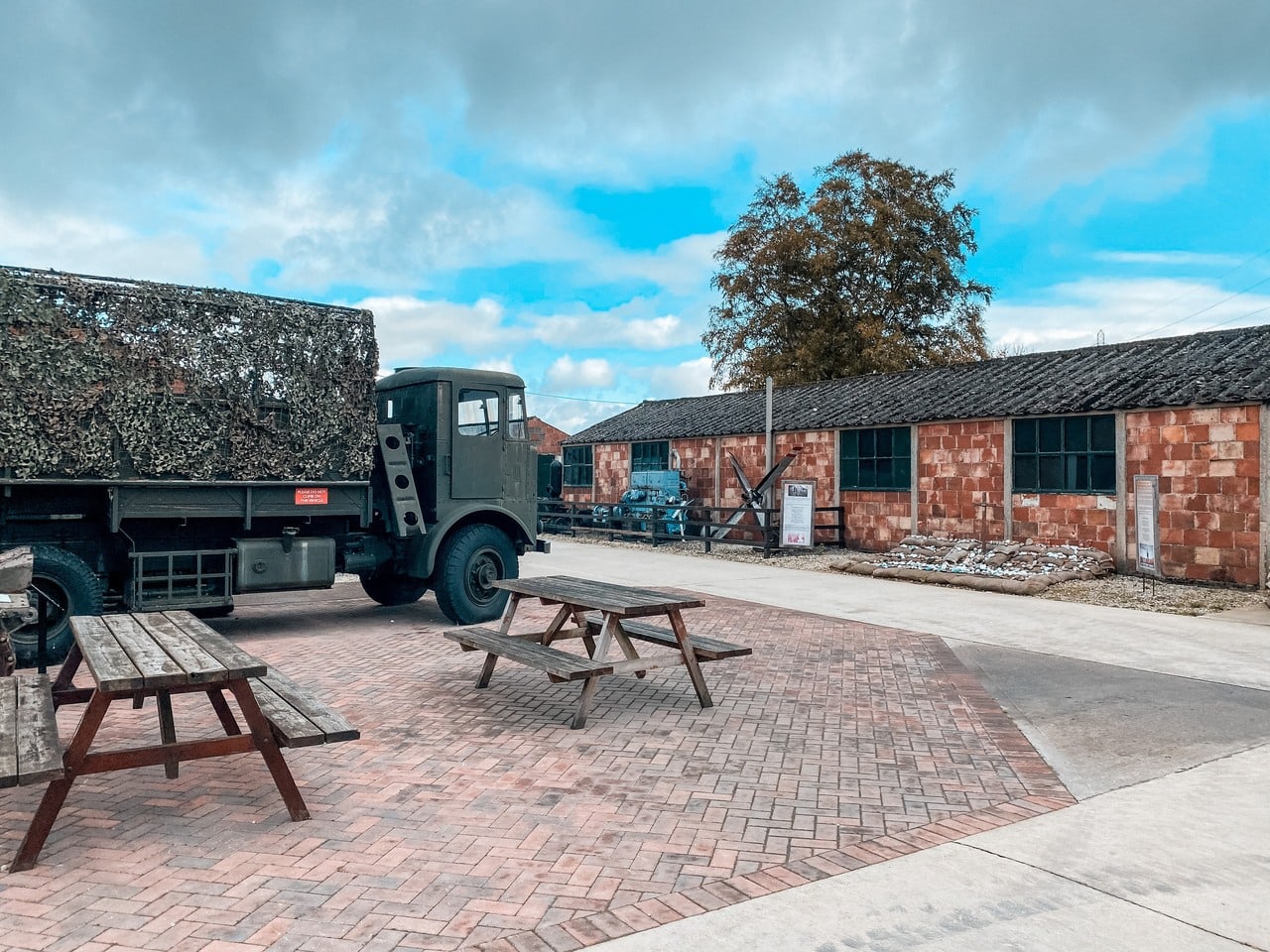 Once a prisoner of war camp during the Second World War, the Eden Camp Museum is now a hugely informative museum. Its displays span all of WW2, from the home front to fighting in Asia and further afield. It's one of the most underrated museums I've ever visited! In fact, it's so underrated that, despite being just 30 minutes away from York, I had never even heard of it whilst living in Yorkshire.
The museum consists of 33 huts, which were originally used to house the prisoners. Nowadays, each hut tackles a different aspect of the war. If you've taken any British history class, you're sure to know most of the information contained in the first few huts, (appeasement, treaties, and all that jazz) but it's when the huts reach the home front and the history of the Eden Camp itself that things get interesting. 
I'd never learnt about prisoners of war in school, so it was especially interesting to learn what went on here. Surprisingly, it sounded like the prisoners had a pretty good time. There were artworks they created on display, and information about how they spent their free time (although, of course, I'm slightly sceptical that staying at the Eden Camp was the all-round good time the museum made it out to be). Turns out the last prisoner didn't leave until 1949!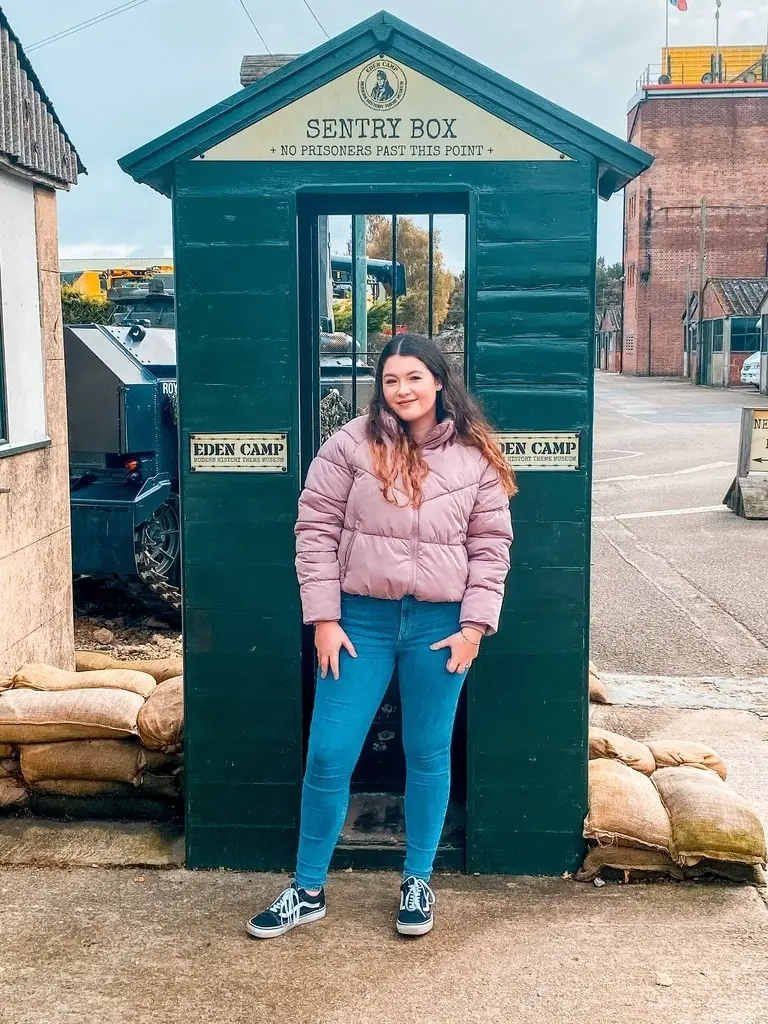 I'd suggest visiting the Eden Camp Museum in spring or summer, when it's not absolutely freezing, as the huts don't seem to have heating and you'll spend lots of time outside. Our chosen Saturday in October was exceptionally chilly (or have I just lost my northern immunity to the cold after too long spent in London?), and I wish I had wrapped up in warmer clothes! I noticed that some visitors were even dressed in 1940's fashion, so if that's your thing, go for it!
Robin Hood's Bay
Back in the car, with plenty of Abba tunes left to go, we set off towards the coast. First stop: Robin Hood's Bay.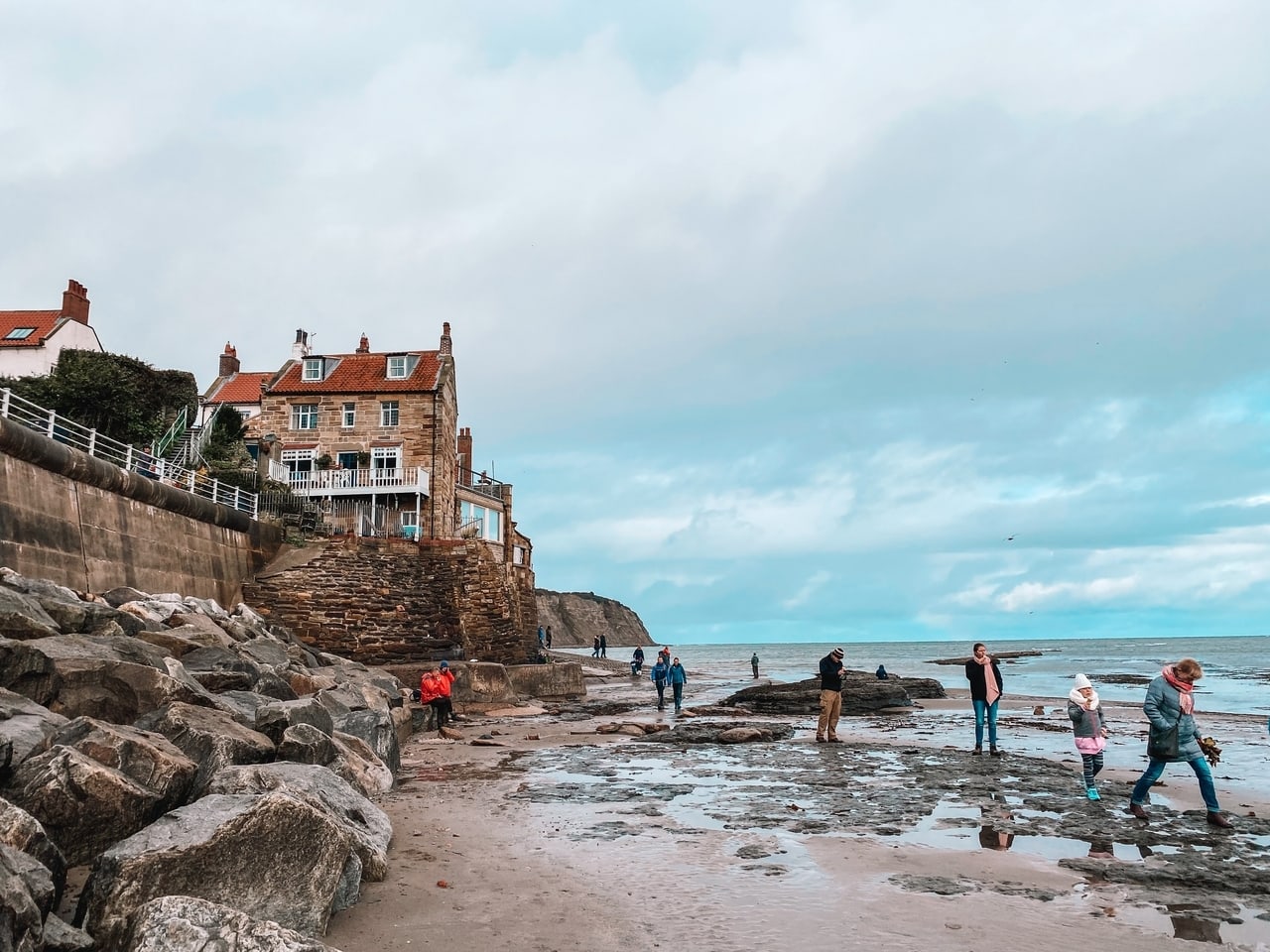 This tiny fishing village is one of the most popular destinations on the North Yorkshire coast. It's constantly hyped by people in Yorkshire, so it was already on my radar. However, it was only after its starring role as the backdrop to the movie The Phantom Thread that I became very eager to visit! Not many international tourists make their way to the North Yorkshire coast, so if you're looking to get off the beaten track during your next trip, this is the place to go. 
After almost getting stuck in the mud in a dreadful car park and spending 20 minutes trying to work out how the pay and display machine worked, we finally descended into Robin Hood's Bay. Typically, the second we stepped out of the car it started chucking it down.
For the first time in my life, I had come prepared for the weather and pulled out my umbrella, but Ben wasn't so lucky. Ducking into a tiny cafe to escape from the rain, we ordered huge cups of coffee and some scones in an attempt to skip the downpour. Thankfully, by the time we'd finished our delicious scones the rain had stopped. As the sun began to make feeble attempts to break through the clouds we set off exploring.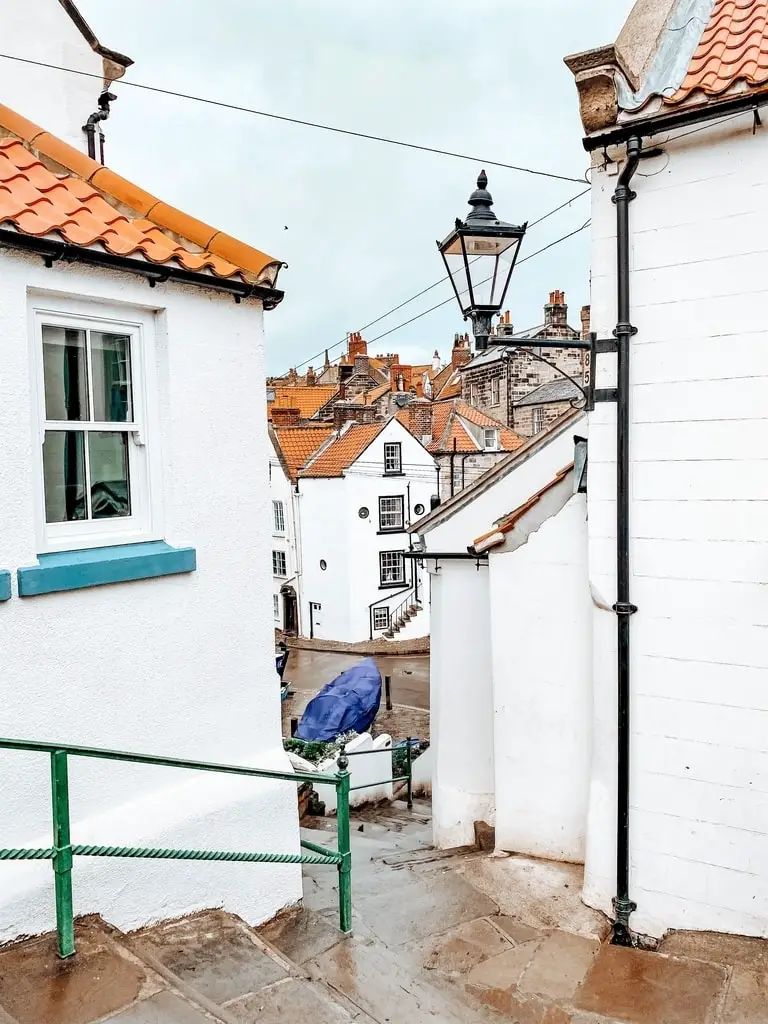 What I had absolutely adored about my visit to Staithes was the white houses with their pretty orange roofs that made Staithes look every bit the traditional fishing village.
Luckily, Robin Hood's Bay came up with the same offering. We wandered past a few very old and cosy looking pubs in the village, which, if Ben wasn't driving, we definitely would have stopped off at. There were also a few quaint souvenir shops and a couple of cafes, but that was pretty much the extent of the offering at Robin Hoods Bay. We decided to take a wander along the beach, which is regularly claimed to be one of the best beaches in Yorkshire.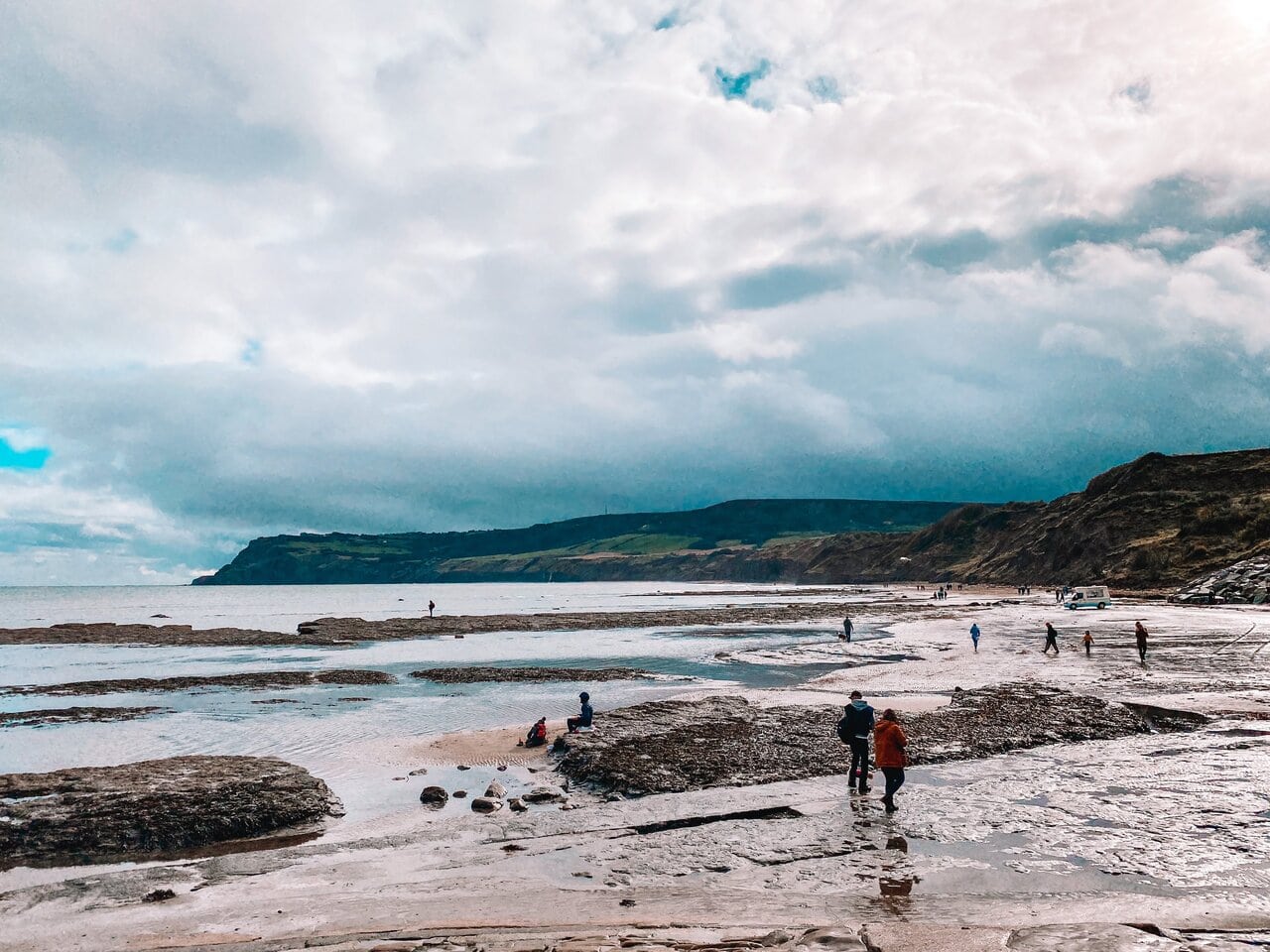 Like, it was totally fine, but the sky was grey and it was cold, so I probably didn't see Robin Hood's Bay in all its summertime glory. With the skies threatening to rain again, we quickly decided to return to the car.
Guys – let me warn you. If you want to visit Robin Hood's Bay, get ready to do some STEEP uphill walking. The vast majority of the hotels (and all the car parks) are up on the top of the hill. The heart of the village, and the beach, are at the bottom of the hill. You see the issue here. I had to take a breather after the absolute trek to the top! Squelching out of the mud in our parking space, Ben only stalled once during his attempt to exit the town.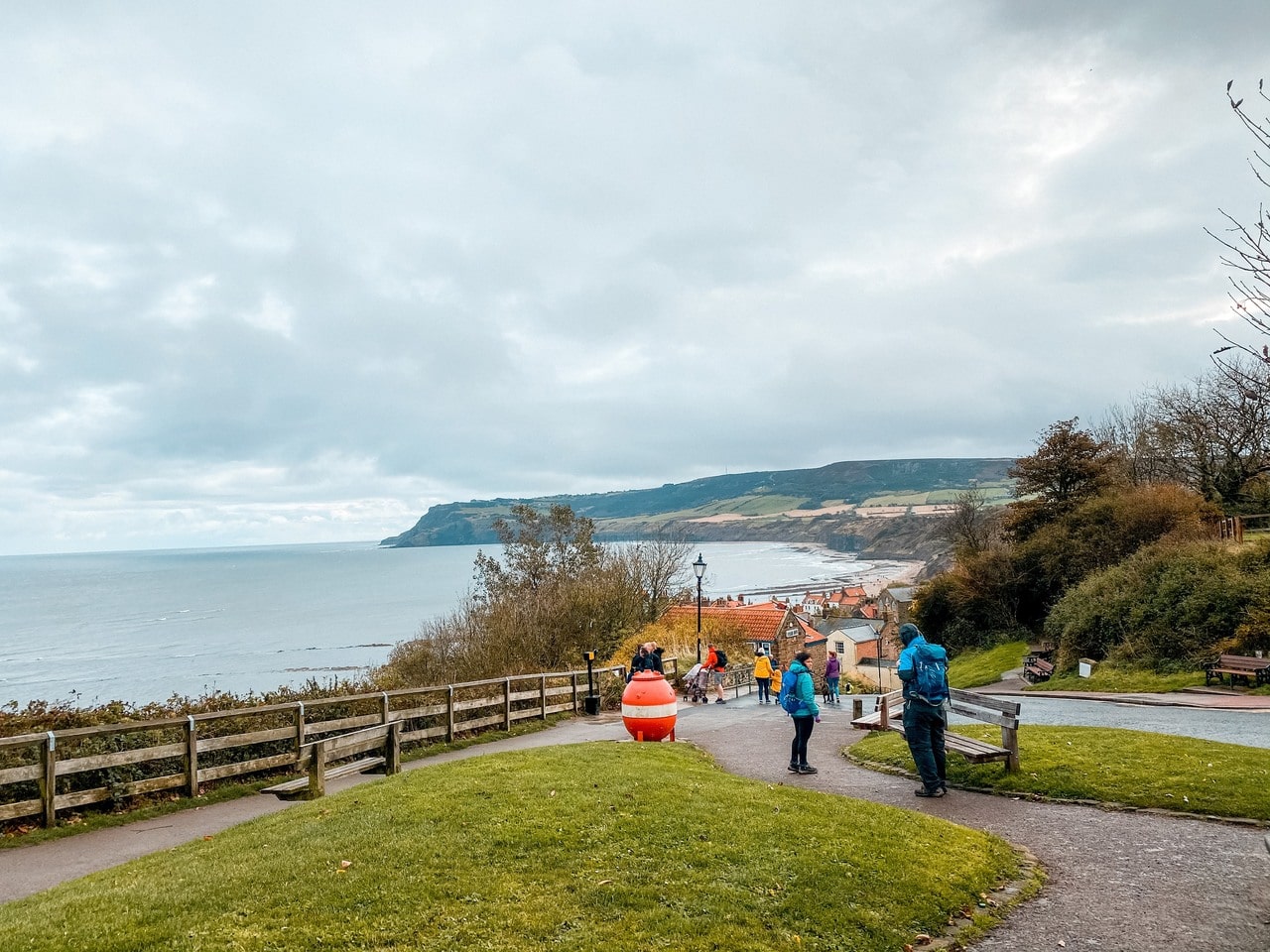 Whitby
It was only a short drive from Robin Hood's Bay to Whitby, and, despite nearly taking off into the air a couple of times thanks to Ben's driving (apparently he didn't see the need to slow down when approaching bumps in the road?), we made it there in one piece. The scenery getting to Whitby is drop-dead gorgeous! The sun once again was shining, the grass was green and the roads empty.
Scenes like this are exactly what I had in my mind for a Yorkshire road trip!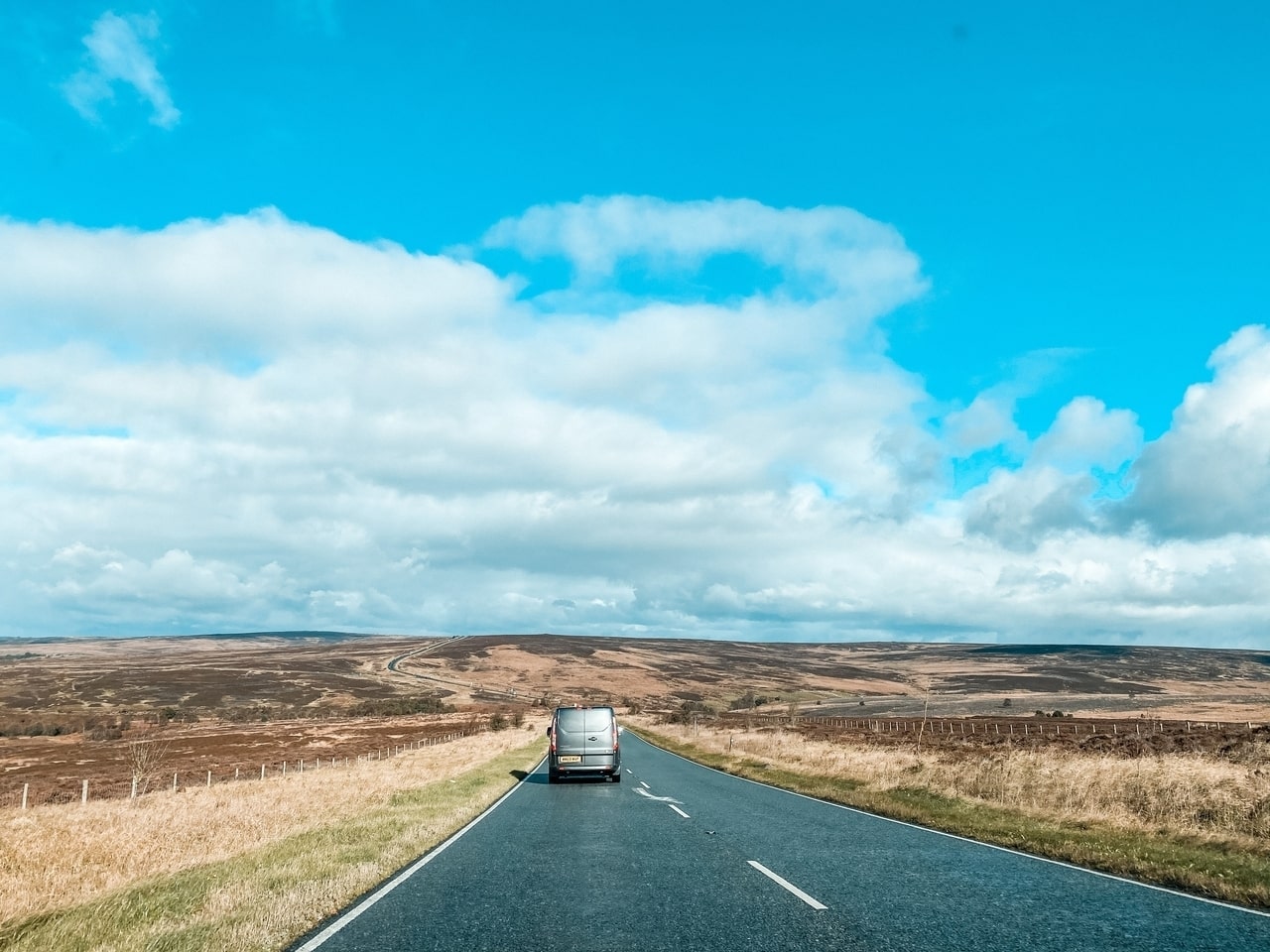 Whitby was a town I had always overlooked as probably being a typical British, run-down seaside town. It was definitely the stop on our road trip that I was the least excited about. I expected it to be way too built-up to be charming, and to have a sketchy vibe. I desperately wanted to visit to see the Whitby Abbey and retrace Dracula's steps, though. (For those of you that don't know, a good chunk of the book Dracula takes place in Whitby).
As is a recurring theme with me and the North Yorkshire coast, it well exceeded my expectations!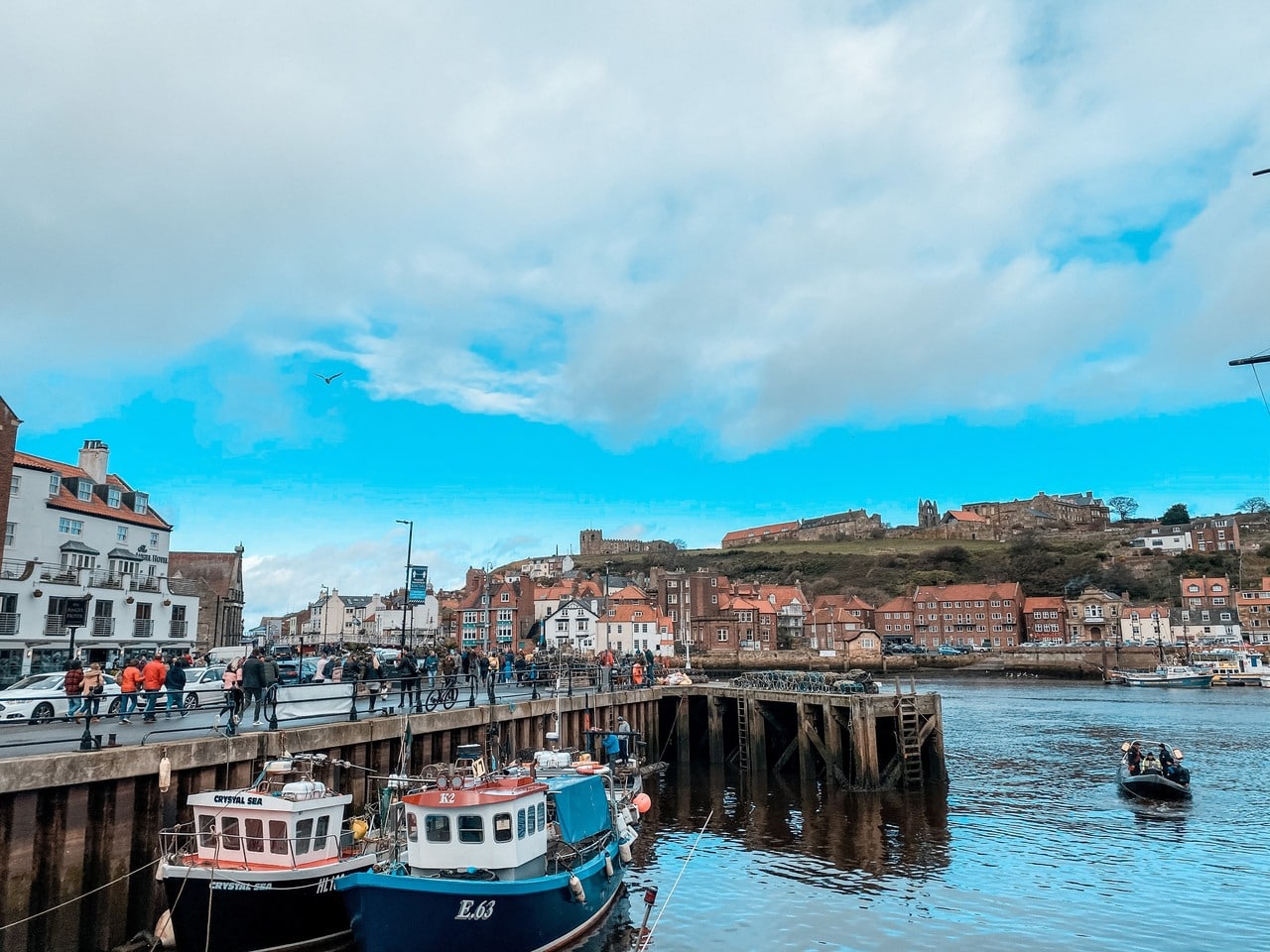 By the time we had parked up in Whitby it was almost 3pm and we were both ravenous. Obviously, the only logical thing to eat at the seaside is fish and chips. With this in mind, we made our way into the town centre to devour some. What we hadn't counted on was just how many different fish and chip restaurants there were. We had no idea where to start, so we just decided to pick somewhere close to the beach. 
We settled on Quayside and tucked into some of the tastiest fish and chips I've had in a while! It was also a great relief to step inside for a while to warm up. We had totally underestimated how cold the sea breeze could be.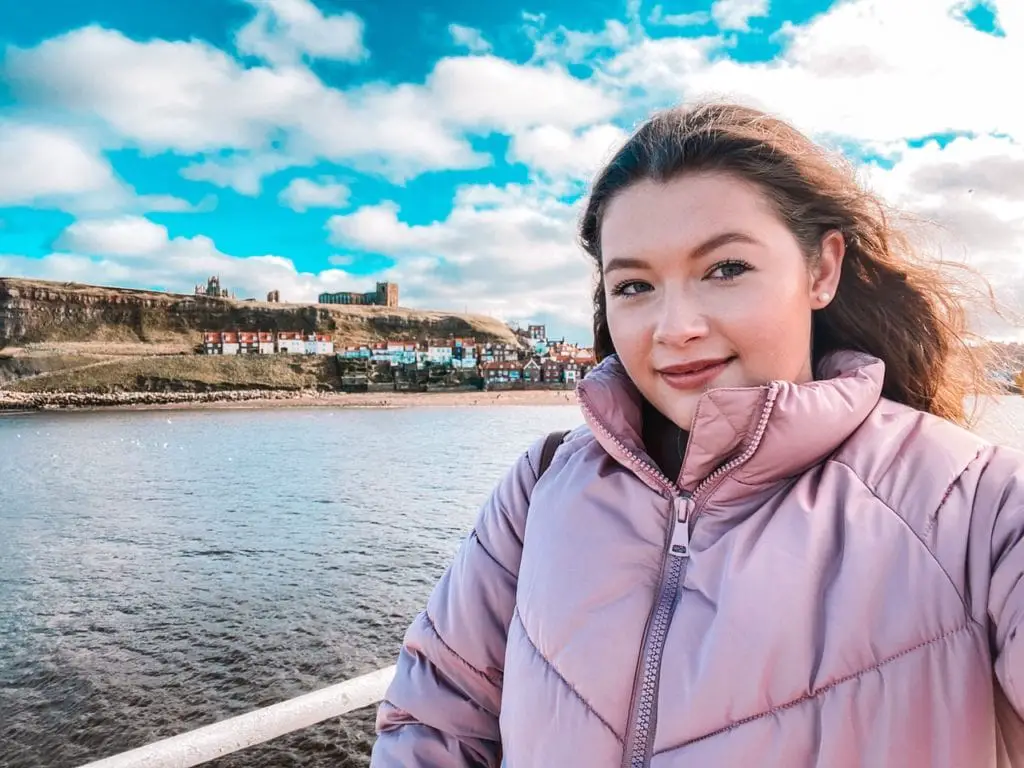 Bracing ourselves, we ventured out into the cold once again to wander along the pier. From here, we snagged fabulous views of the town, the beach and Whitby Abbey. We unfortunately didn't have time to make the incredibly steep climb up to explore the abbey, so had to settle with viewing it from a distance. That, and Ben said he'd made the climb up there once before and refused to do it again!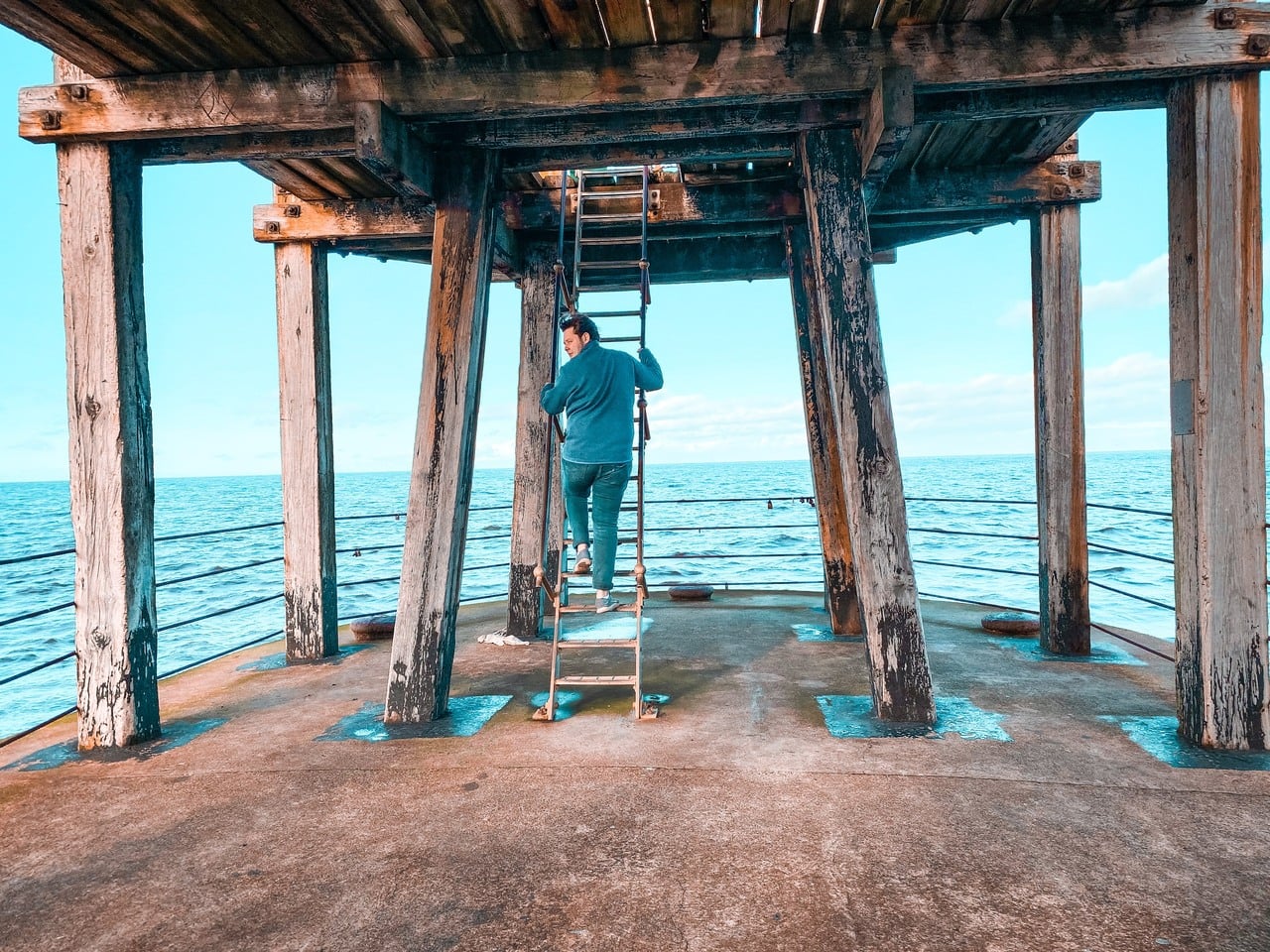 As we wandered to the very furthest part of the pier, the wind lashed against us and I felt like my fingers were going to get frostbite. It was all worth it though, as we got a great view over Whitby. I had not expected this town to be so stunning! I knew that the few hours we had there weren't going to be enough to truly get to know Whitby. I'm desperate to get back there as soon as I can!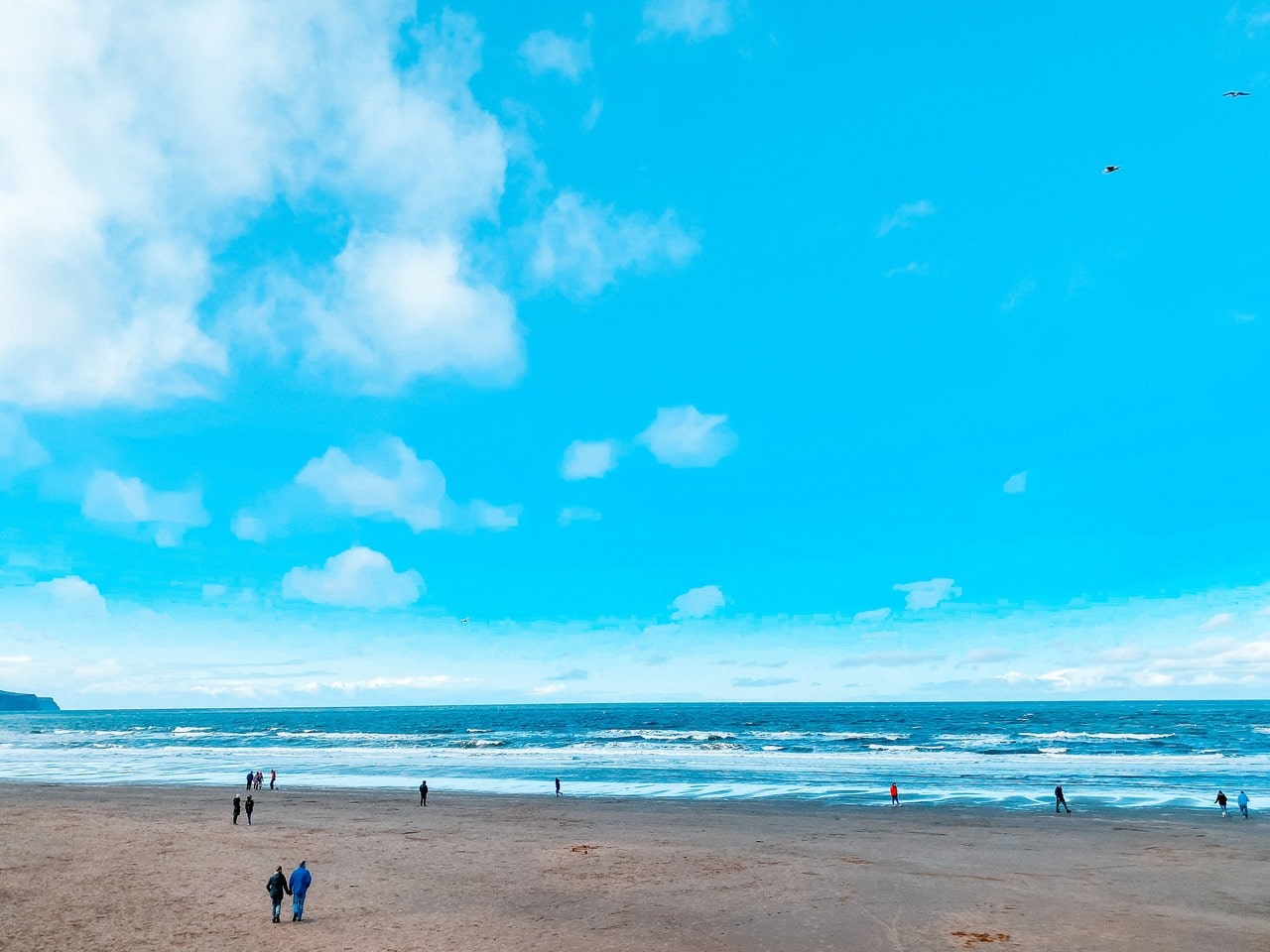 Finally back at the car, we buckled in for the long drive back to Leeds.
"Is that… a sheep?" Ben asked, squinting into the distance. I tried to follow his line of sight.
"Like, in the middle of the road?!" I asked, checking what I was seeing was correct.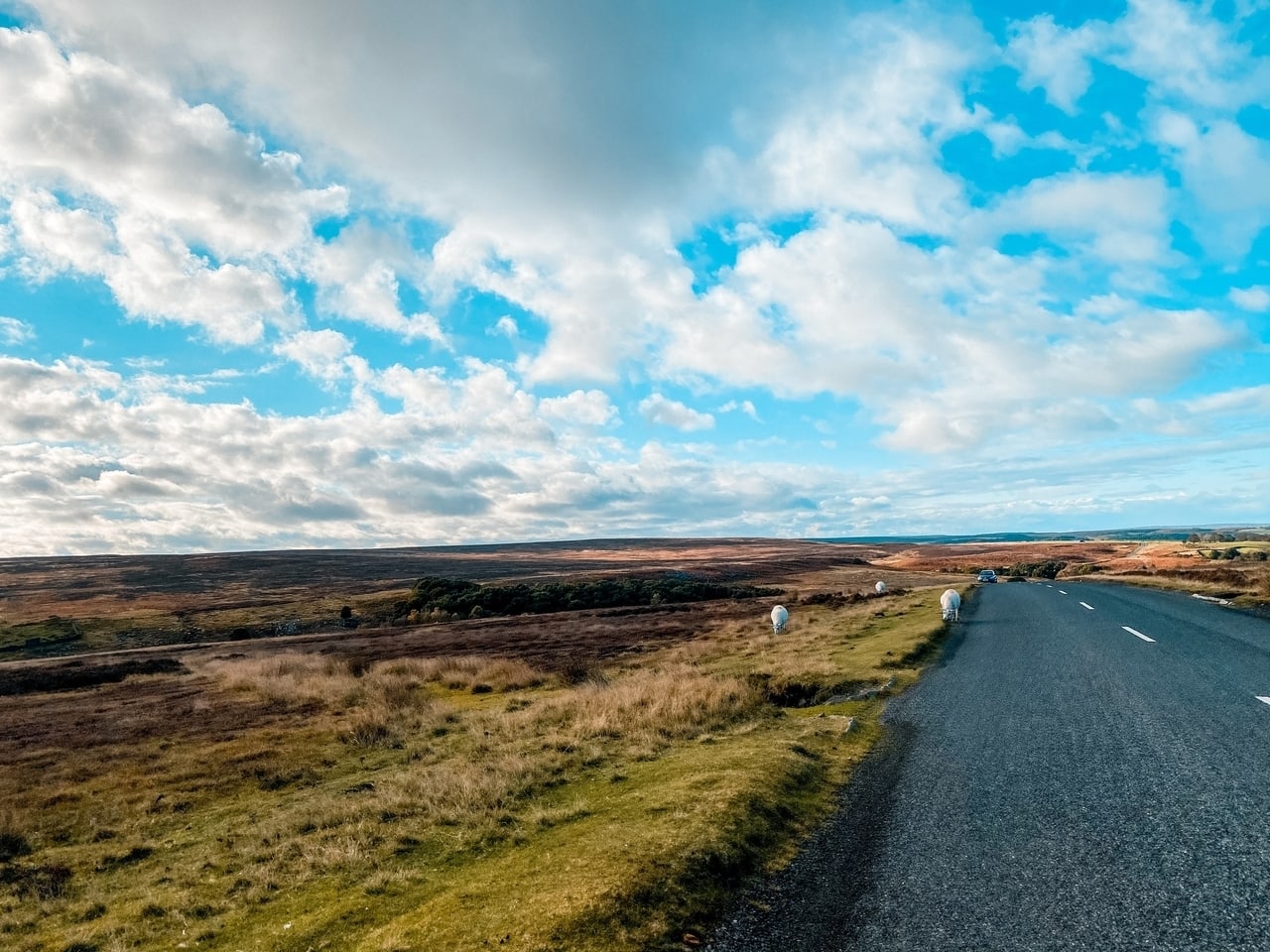 It was correct. In fact, as we would soon learn, the whole road leaving Whitby was covered in sheep, who didn't seem at all in a hurry to move.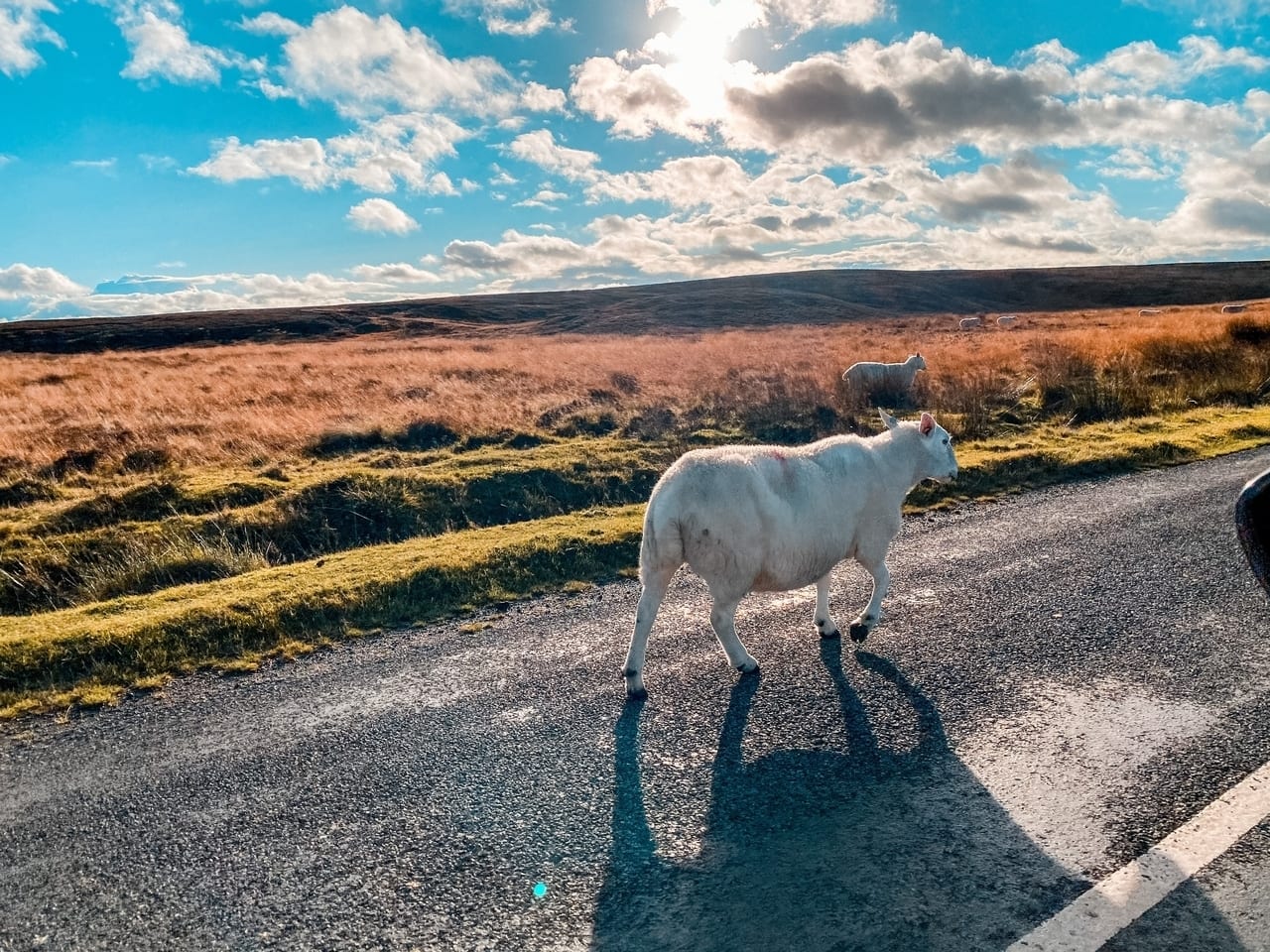 Finally getting out of sheep territory, Ben stepped on the pedal to make up time on our trek back to Leeds.
Lupe's Cantina
As we arrived back in Leeds there was still no time to relax, despite us both being exhausted after a long day of exploring. Instead, we headed to a restaurant I absolutely insisted we visit whilst I was in Leeds and one of my favourite restaurants of all time – Lupe's Cantina. We ate so much delicious food during this day!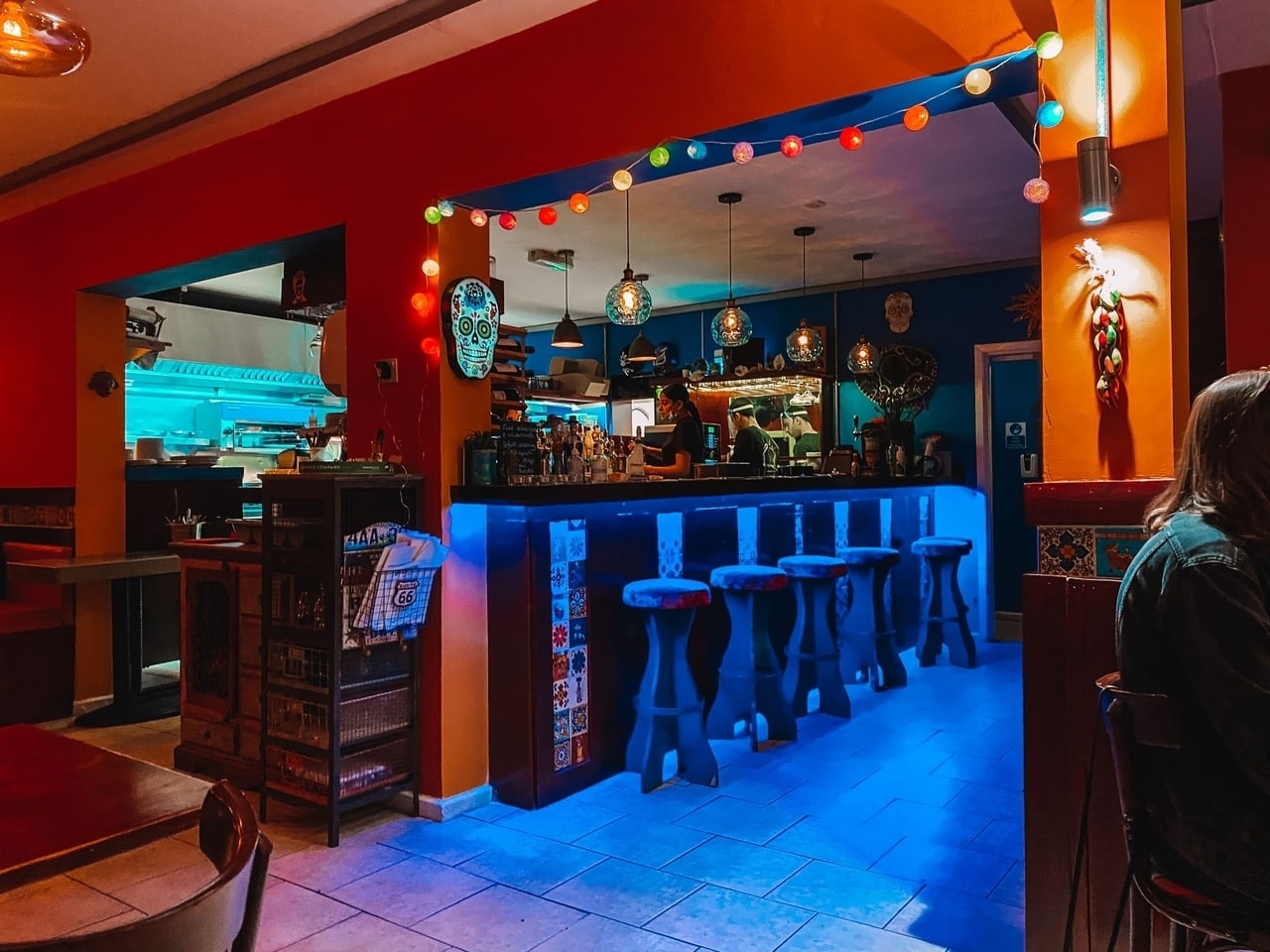 This restaurant is a local's recommendation if ever there was one. This tiny and hugely popular restaurant is well away from anywhere tourists would ever find themselves, in a rather run-down area between the suburbs of Burley and Hyde Park. Trust me though, the food here is worth the journey.
Getting good Mexican food in the UK (especially outside of London) is pretty damn challenging. Luckily, this place does everything right. We toasted our day with a couple of beers and some mouth-watering Mexican food before we headed back to Ben's. I crashed out on my air mattress almost immediately!