There is a good chance that this post contains affiliate links. If you make a purchase through them, I may receive a small commission at no extra cost to you! As an Amazon Associate, I earn from qualifying purchases. As ever, all opinions are my own.
There's no doubt that the breathtaking Douro Valley is the most popular day trip from Porto. This region is the oldest demarcated wine region in the world, and it's no secret that its landscapes are absolutely breathtaking.
And, of course, there are a tonne of fabulous wineries to visit there!
During my time in Porto I couldn't resist joining a tour of the Douro Valley to hit all of the area's highlights in just one day. And fitting all of the highlights into one day makes it a very jam-packed tour indeed – the tour lasts nine hours, and I returned to Porto feeling like I had been in the Douro Valley for days!
There are countless tour companies all offering tours of the Douro Valley, but I opted for this one, which I can definitely recommend!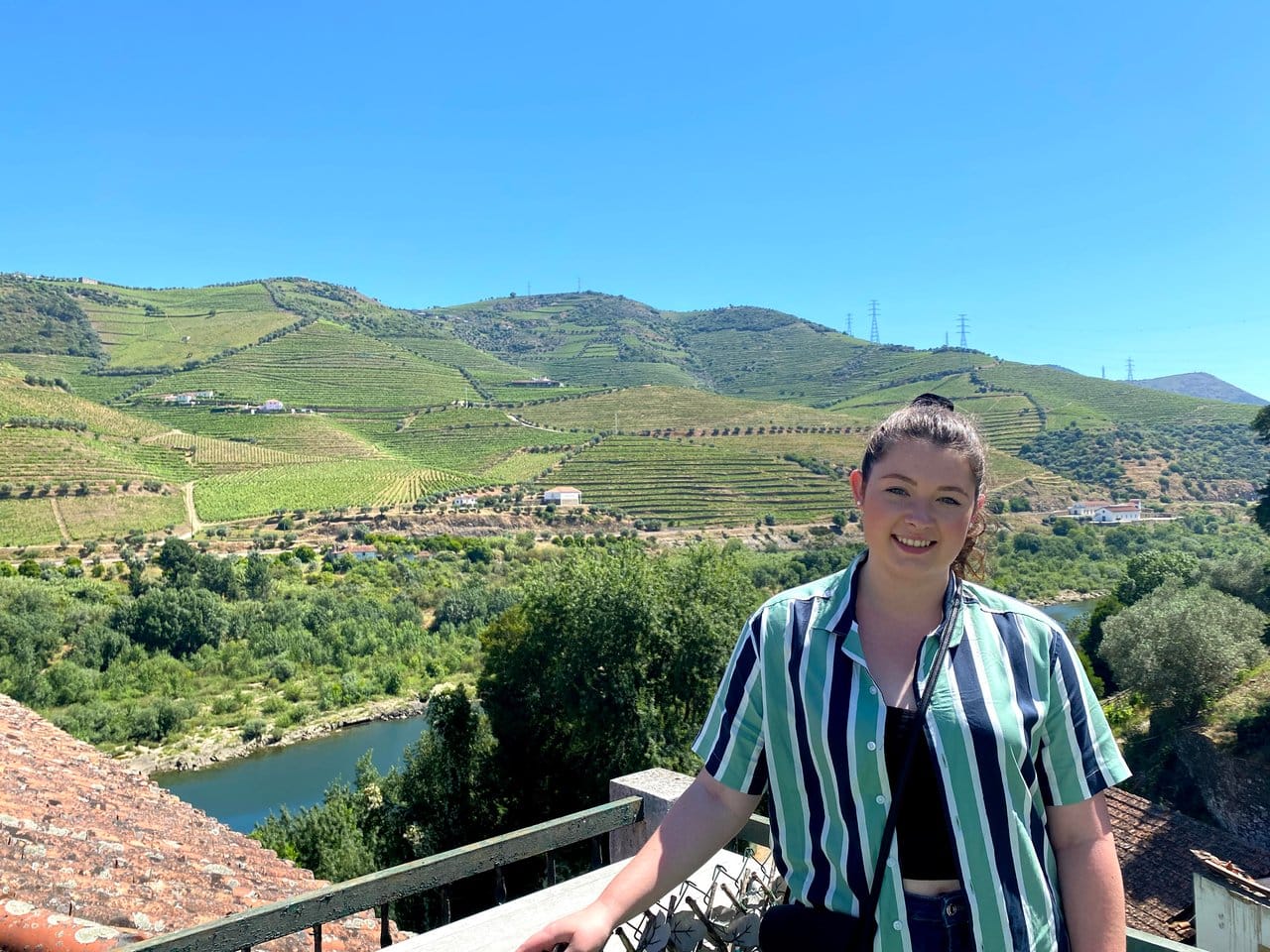 Do You Need a Tour to Visit the Douro Valley?
You may be thinking "okay, but do I really need to go on a tour to visit the Douro Valley?" and the answer is no… But yes.
Let me clarify.
It's physically possible to visit the Douro Valley independently, either by driving yourself or on public transport, however there are major flaws to doing this. That makes taking a guided tour the only sensible option for a day trip to the Douro Valley from Porto.
If you drive to the Douro Valley you have the freedom of being able to visit anywhere you like, and hand-pick the wine estates you want to visit. However, it's pretty clear that if you're driving you can't take advantage of being in the Douro Valley by drinking plenty of its famous wine. With a tour, you can drink as much wine as you like without worrying about the drive home.
Public transport in the Douro Valley is very limited. You can catch the train from Porto to Régua, which is a very scenic journey, but the issue is that once you arrive in the Douro Valley you're kind of stuck. It's very difficult to get around without a car, so you'll miss out on most of the best things to do here.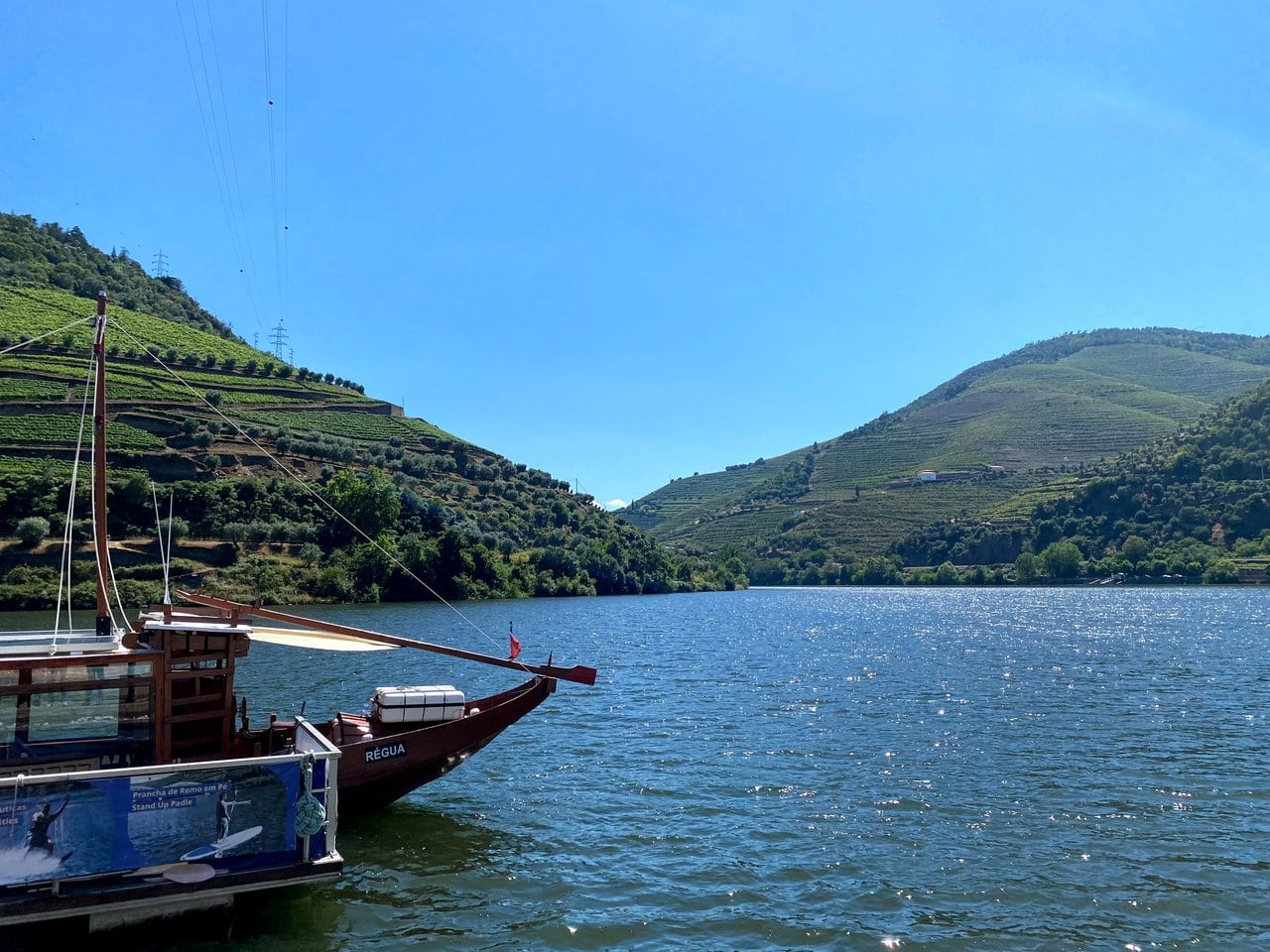 The Best Douro Valley Tour From Porto
There are a million and one providers all offering "the best Douro Valley tour", which is a good thing, as the competition keeps standards high, but it can also make choosing the right tour for you feel overwhelming!
After some research, I booked this full-day tour from Porto, which cost me €89 per person.
Here is why I chose this tour over all of the competitors:
It has a tonne of excellent reviews, averaging a 4.8/5 from over 550 reviews! This gave me the peace of mind I needed. After all, it wasn't cheap, so I needed to know that the tour would be worth it.
The tour is on GetYourGuide, my favourite tour website. I always prefer to book my tours on GetYourGuide because they have a very generous cancellation policy. Provided you cancel up to 24 hours before the tour, you'll get a refund. Since COVID is still a thing, the option to cancel without a penalty was important to me.
The tour is a 'G Originals' tour. This means that it is one of the best and most popular tours on the entire GetYourGuide website, so much so that GetYourGuide have put their stamp of approval on it. This is quite rare!
The cost of the tour includes Lunch (which is crazy good value – but we'll get into that later) and all of your wine tasting.
Click here to book your place!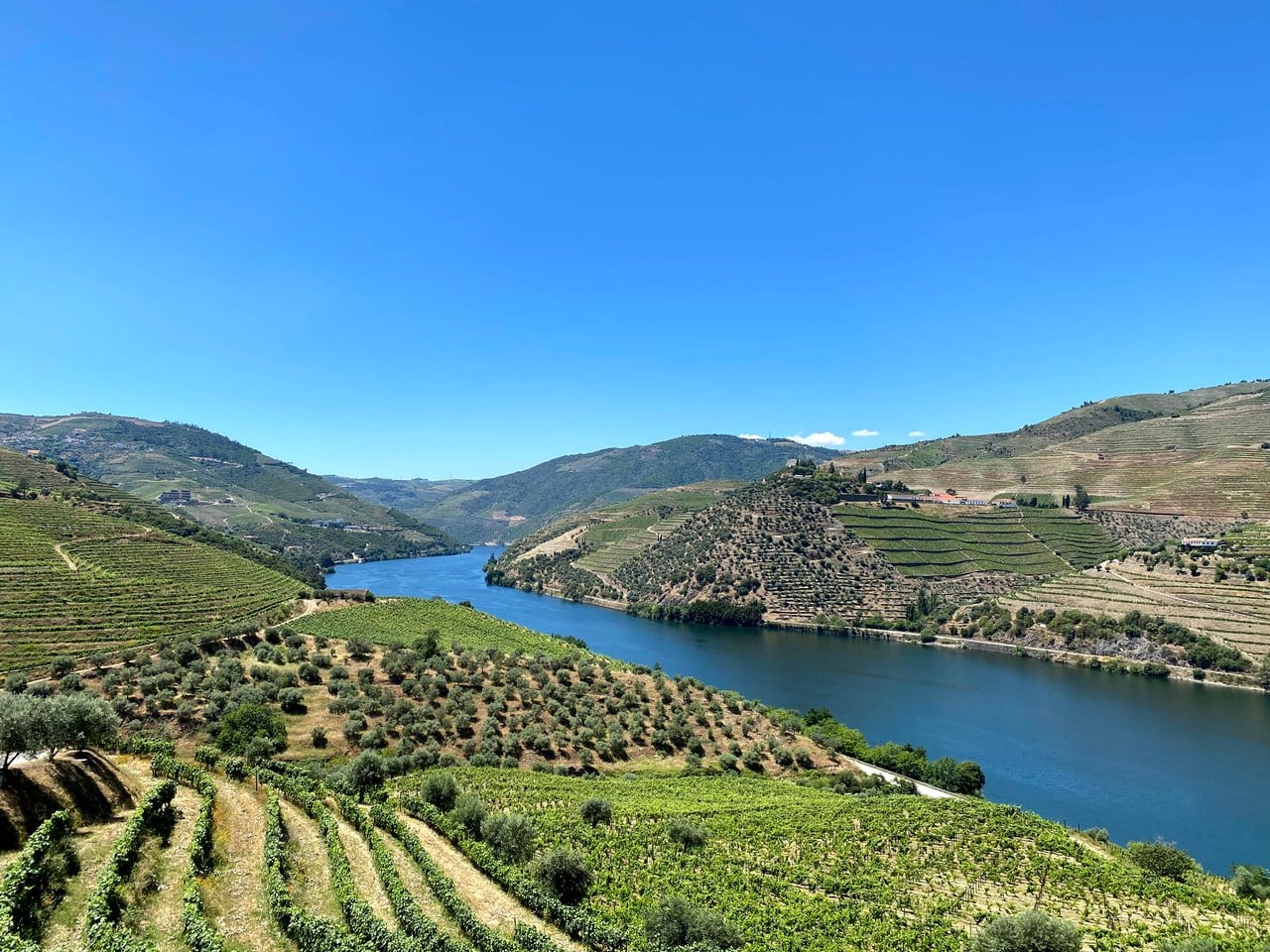 Like I said, at around €89 per person (prices do vary depending on when you're travelling, though) the tour isn't cheap. However, it's well worth it. Not only does it include your local guide and transportation, but it also includes lunch, wine tasting, and a sightseeing cruise along the Douro River.
You don't just need to take my word for it, though! In this post, I'll share everything you see and do on the Douro Valley tour from Porto, including the stops you make on the tour, what you can expect, and my review, so that you can decide for yourself whether or not to book.
Stops on the Douro Valley Tour from Porto:
Peso da Régua
Vineyard
Lunch
Vineyard
Pinhão (river cruise)
Sabrosa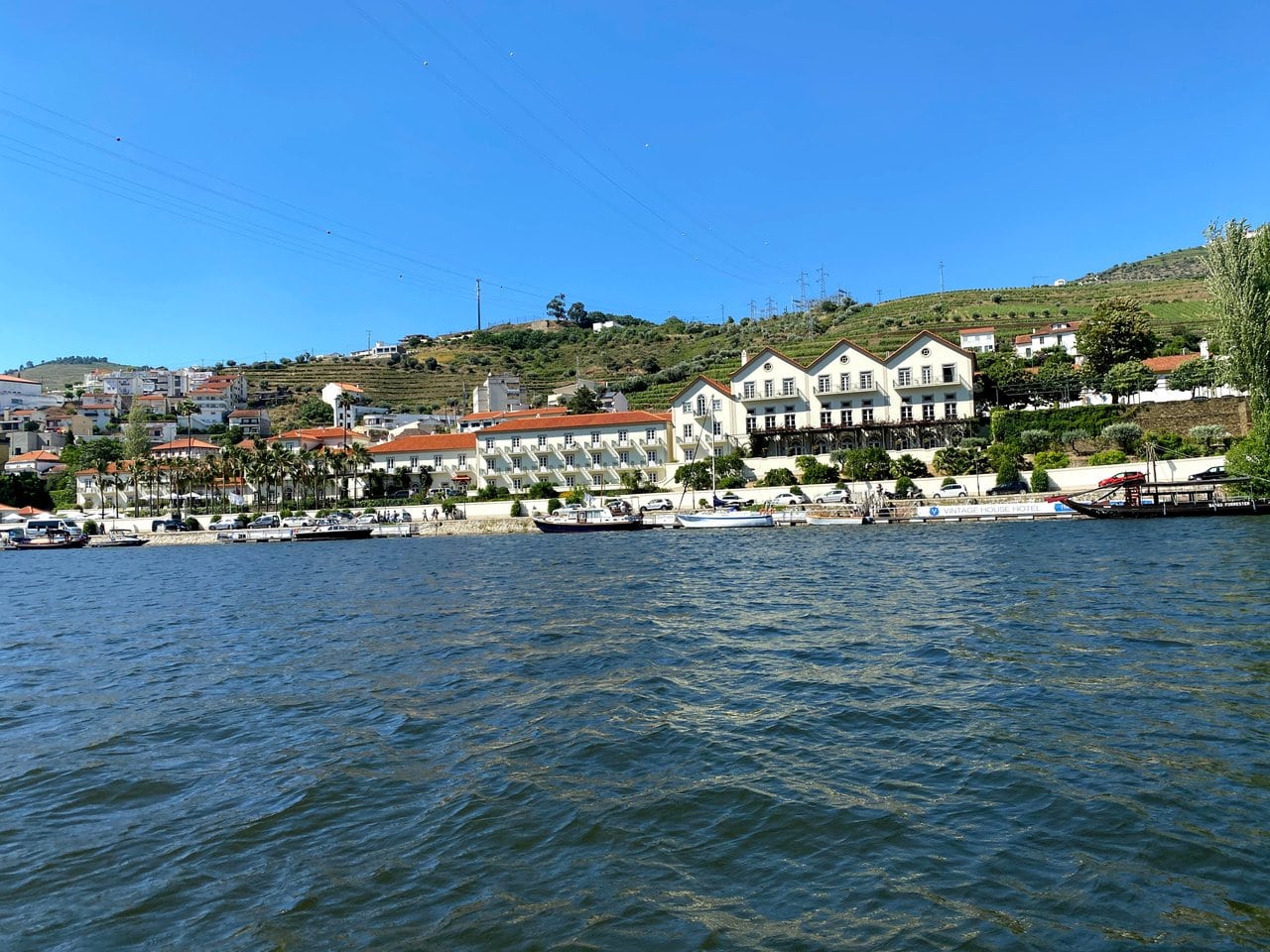 The Bus Journey
Rob and I met our tour group early in the morning in the centre of Porto, and I was instantly happy to see that our tour group was small – around 12 people in total. There's nothing worse than travelling in a huge group of 30+ travellers, so this was a huge relief! It means you can ask your guide any questions you have without having to wait in line.
Although the tour group was mostly young couples like ourselves, there were also a few solo travellers and a couple of older couples too. It seemed like people of all ages and travel styles booked the trip. 
On our drive to the Douro Valley our tour guide pointed out any points of interest we passed, gave us a thorough introduction to winemaking in the Douro Valley, and the different types of Port wine. He also told us all about the history of the Douro Valley.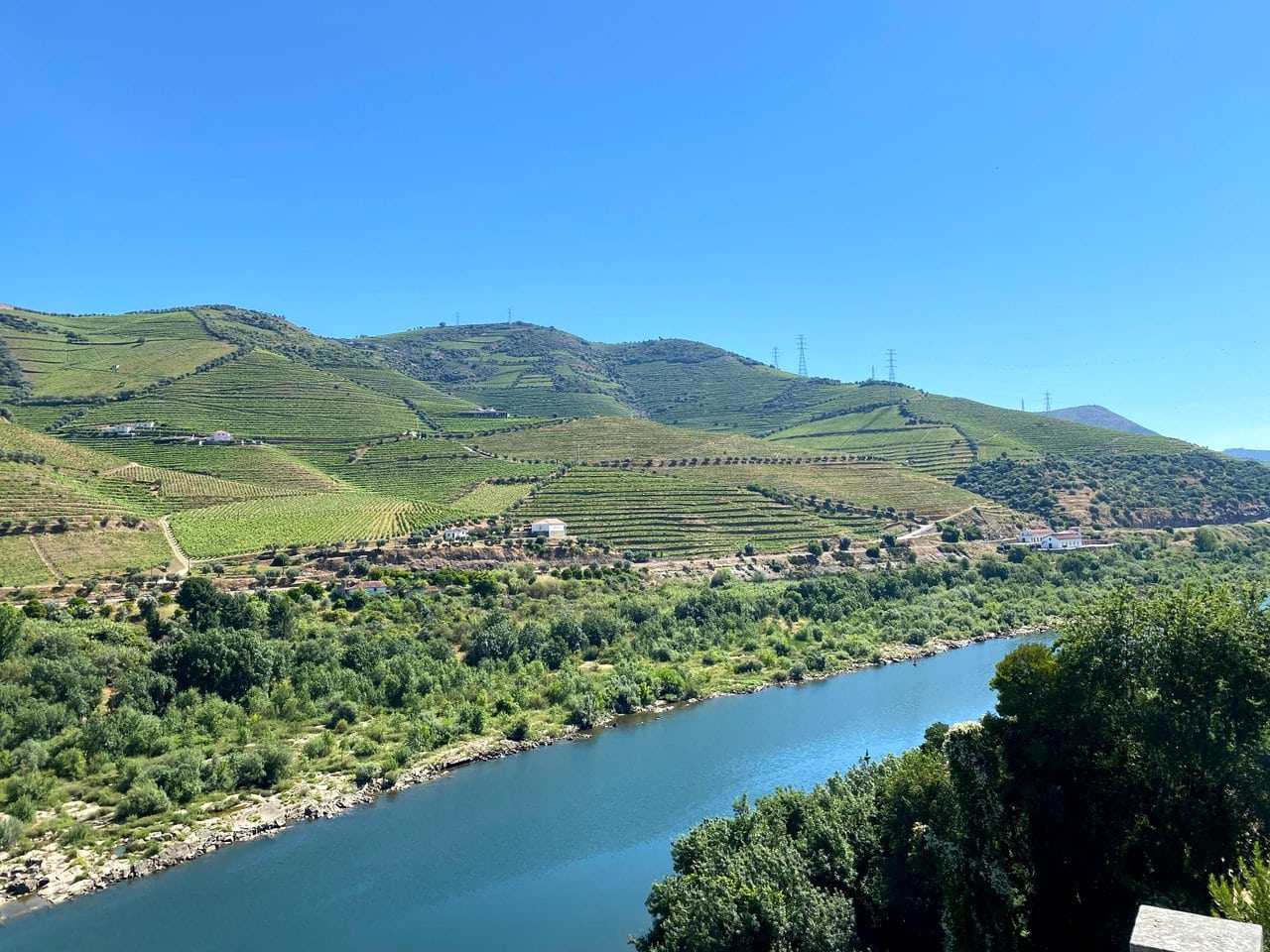 Stop 1 – Peso da Régua
Our first stop was in the town of Peso da Régua (or just Régua), where we broke up the driver for a coffee in a local bakery. Learn from my mistakes and DO NOT buy coffee here. It tasted like a tiny bit of instant coffee with some frothy milk. As a coffee nerd, I was sorely disappointed.
Instead, I recommend using this time to go on a quick stroll around Régua. You only get around 15 minutes to explore, but the town is right on the Douro River, so you may as well take advantage of your first glimpses of the river.
Stop 2 – Quinta de Marrocos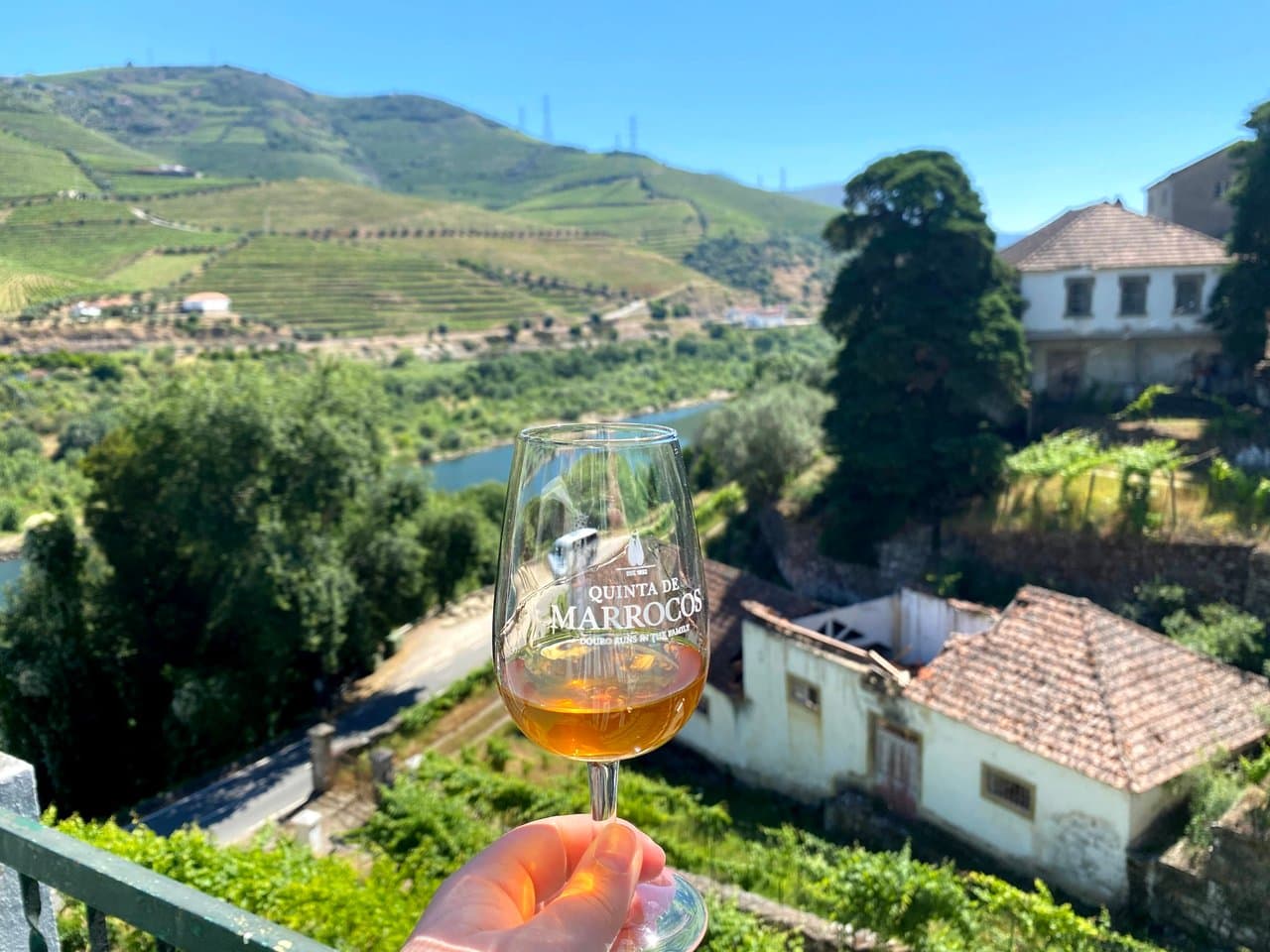 Our first winery of the day was the idyllic Quinta de Marrocos, a very small winery with unbelievable views over the surrounding scenery and the Douro River. It's one of the oldest "Quintas" on the Douro, and all work is manual here. 
Yup! They pick all their grapes by hand.
After some time for photos we climbed up the hill to gather on the sun-soaked patio of the winery. Here, we got to try a few different Port wines, and the guide at Quinta de Marrocos taught us all about the differences between Tawny and Ruby port. Before the tour, I didn't even know there were different types of Port!
We were also provided with crackers and different types of jam or cranberry sauce made with Quinta de Marrocos' ports, and boy, they were delicious!
It's worth mentioning that the tour itinerary doesn't specifically name the two wineries you visit, so they may change depending on availability or something.
Stop 3 – Lunch at a Fancy Restaurant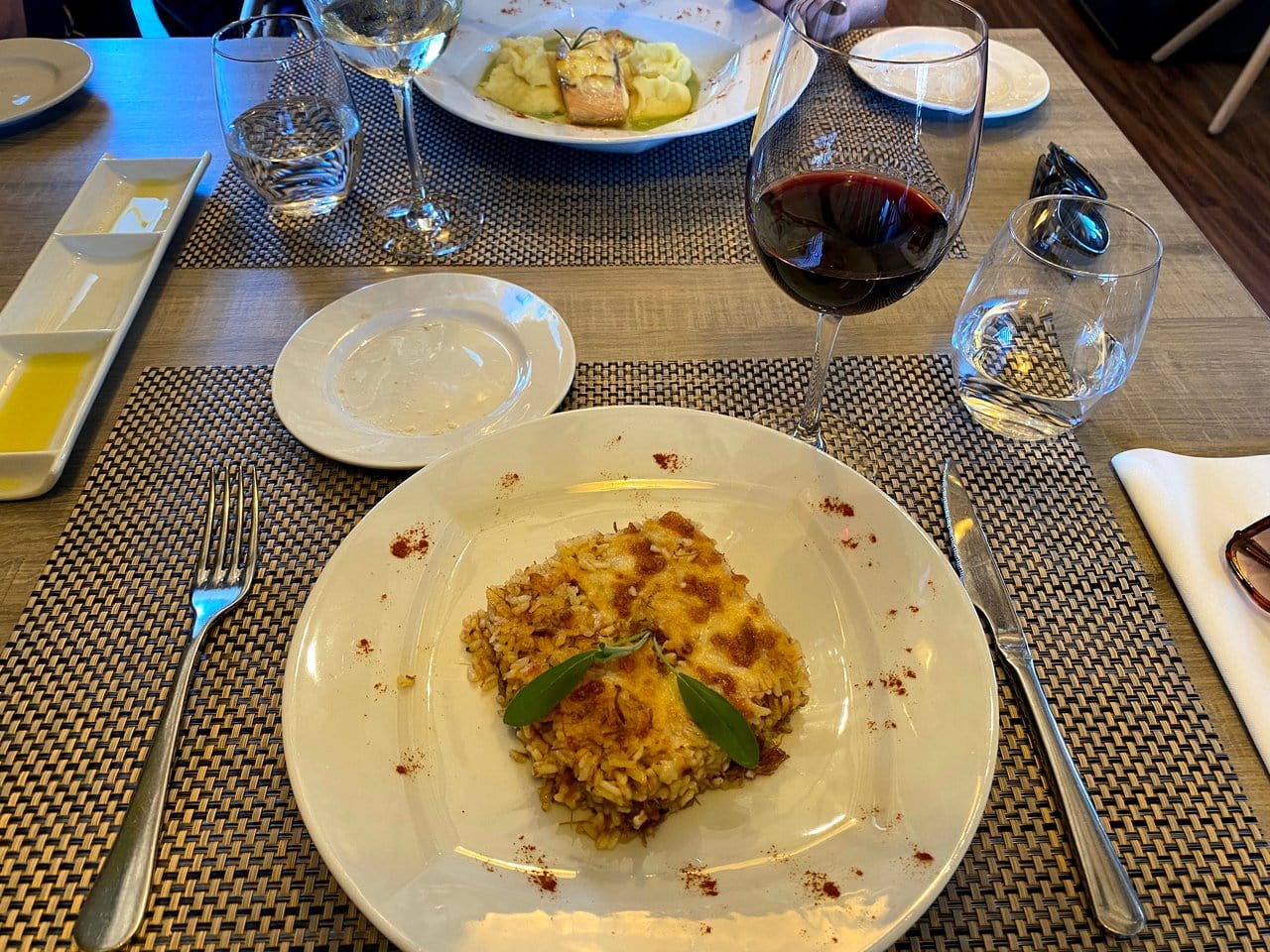 I can't for the life of me remember the name of the restaurant we ate at, but I really wish I did because it was very special. Usually, when a tour includes lunch, I'm sceptical. I typically expect a picnic lunch. What I was not prepared for was the sit-down, three-course meal with free-flowing wine we enjoyed on this tour, which was all included in the tour price!
The restaurant sat just to the side of the Douro Valley, and the food was incredible. The wait staff were also superb, and it seemed like they were under strict instructions to keep the wine coming to us – something nobody was complaining about!
Most people were paired with others on the tour to share a table together, which I don't usually enjoy, but our tablemates were lovely. We got to know them a lot faster than if we hadn't been forced to socialise together. This is also a great thing for solo travellers – you won't have to sit at a table by yourself.
Stop 4 – Quinta de S. Luiz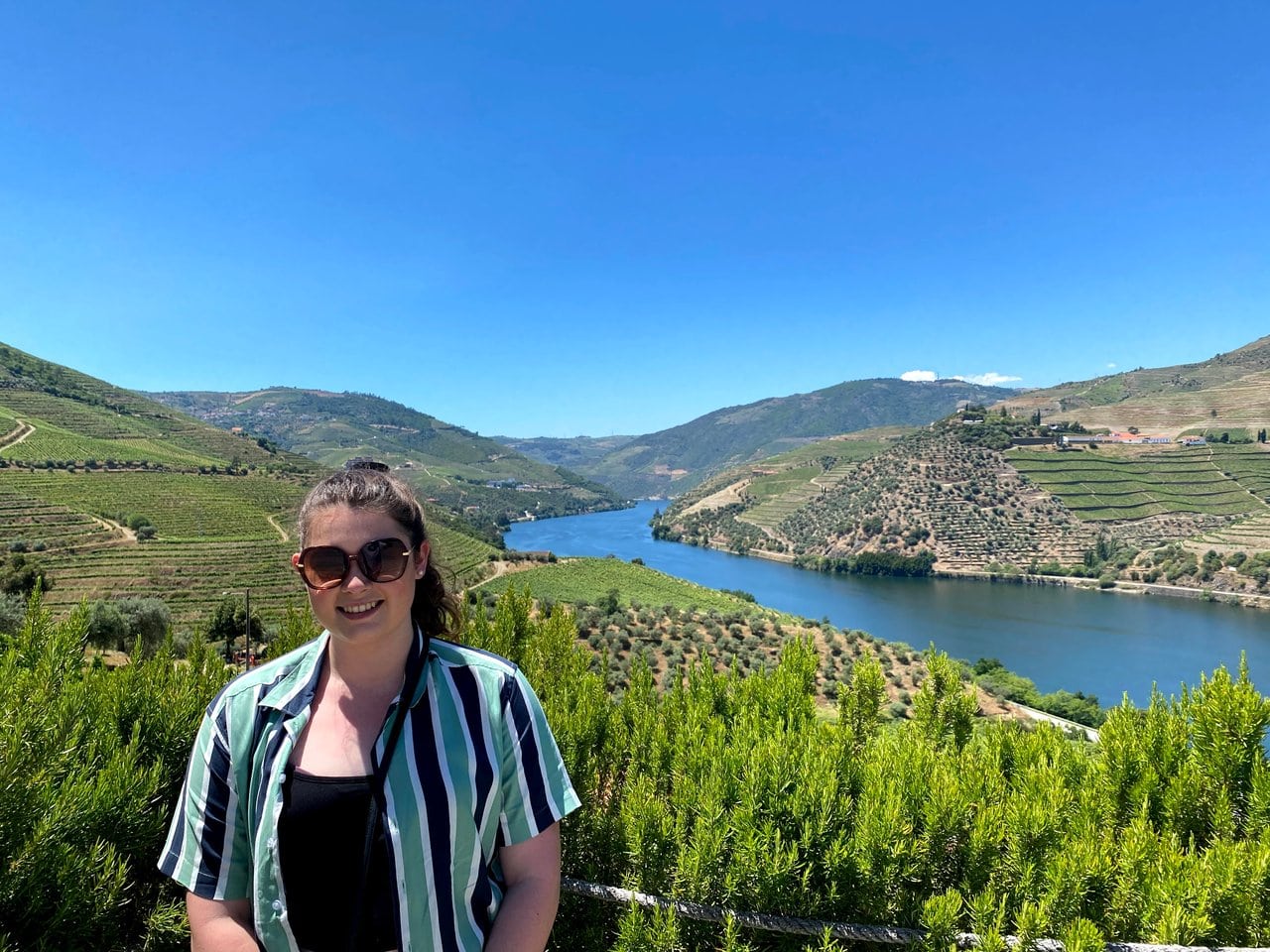 After lunch, it's time to visit a more commercial Douro winery to compare with the old-timey, hand-picking ways of Quinta de Marrocos. That's why you'll visit Quinta de S. Luiz!
Again, the views from this winery are insane, to the point that I was barely listening to our guide. I was just so enthralled by my beautiful surroundings.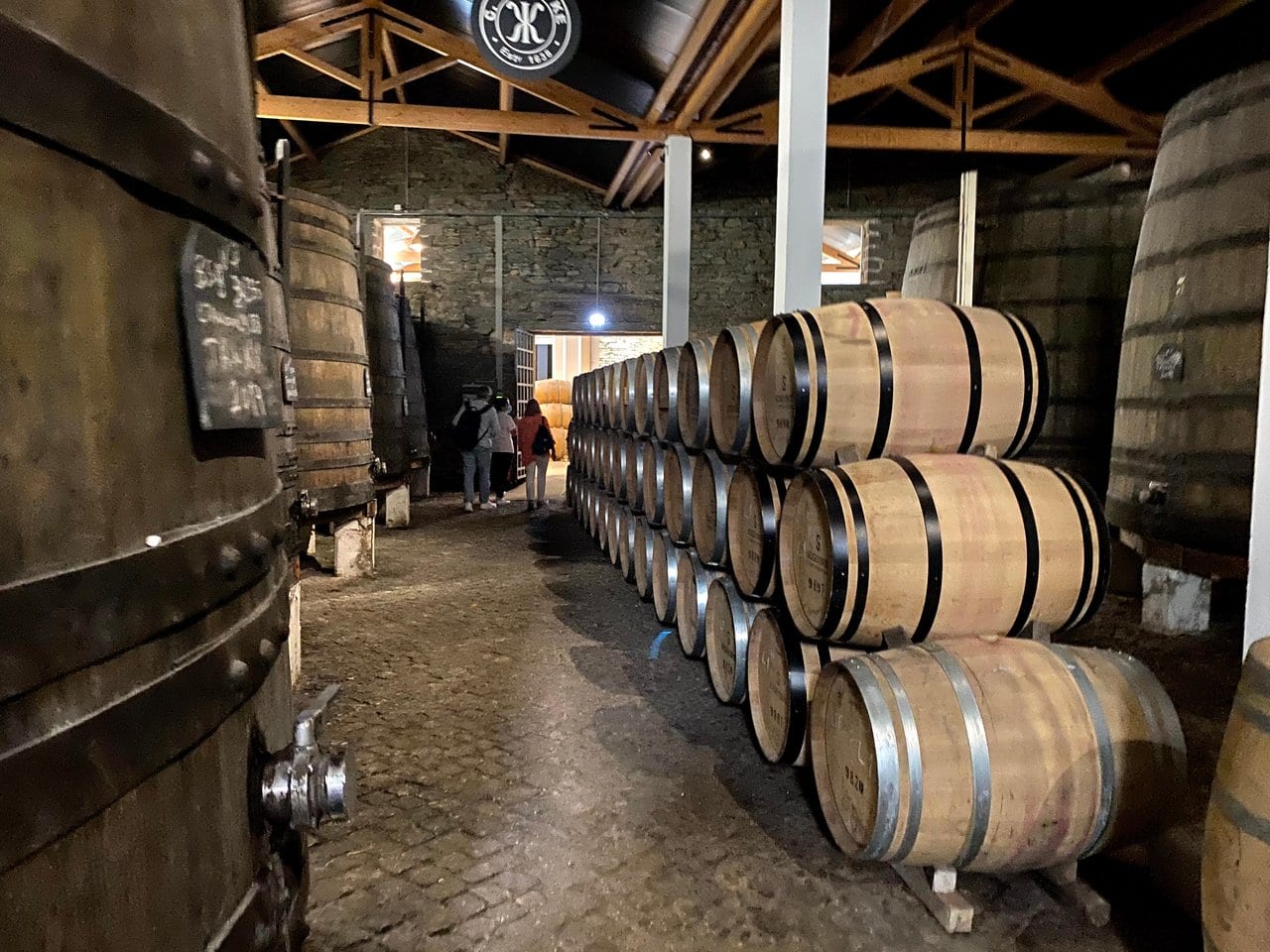 Our guide at the winery introduced us to the history of Quinta de S. Luiz and taught us about the differences between the way they prepare their Port vs how it's prepared at Quinta de Marrocos.
We then got a tour of the wine cellars of the winery, which was fascinating. I couldn't believe how huge the barrels that the wine is stored in are – they're at least double my height! 
Finally, we went to the winery's tasting room. Here, we were given a number of the winery's different wines (not just port) to sample, which were obviously delicious.
Stop 5 – Pinhão River Cruise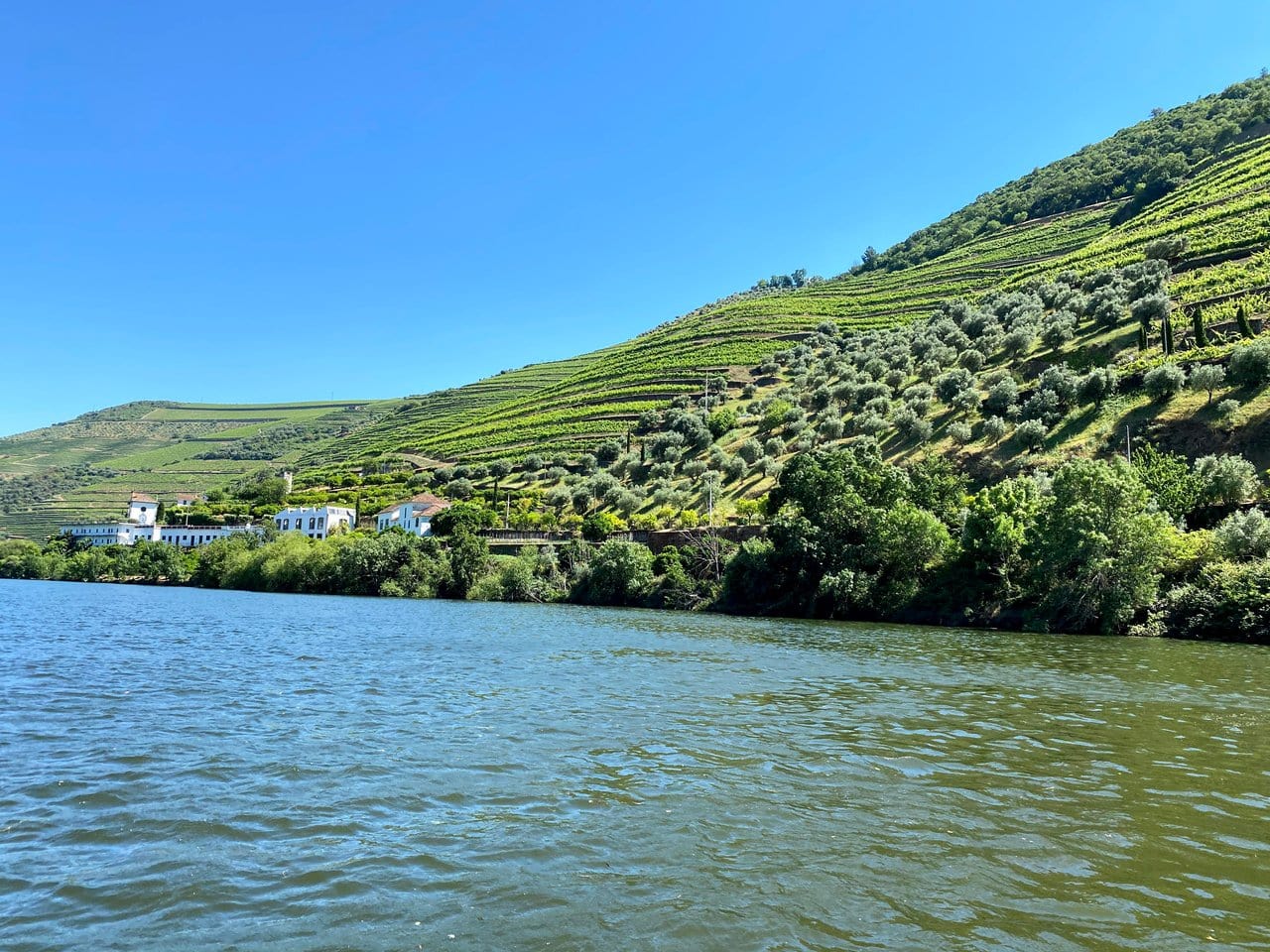 The final stop of the day was Pinhão, a pretty little village with a few resorts, to board our boat. From here, we enjoyed a blissful hour cruising along the waters of the Douro River. 
We were given audio guides which shared the history of the area and pointed out any landmarks we passed, but to be honest after a while I was more interested in lying out at the front of the boat and soaking in the views and sun, rather than listening to the audioguide!
I can't overstate the beauty of the Douro River. I didn't fully come to grips with it until we were gliding along the river, under the beating sun, looking at the lush green hillsides sloping away from us. The cruise was one of the very best moments of my two weeks in Portugal!
Stop 6 –
Sabrosa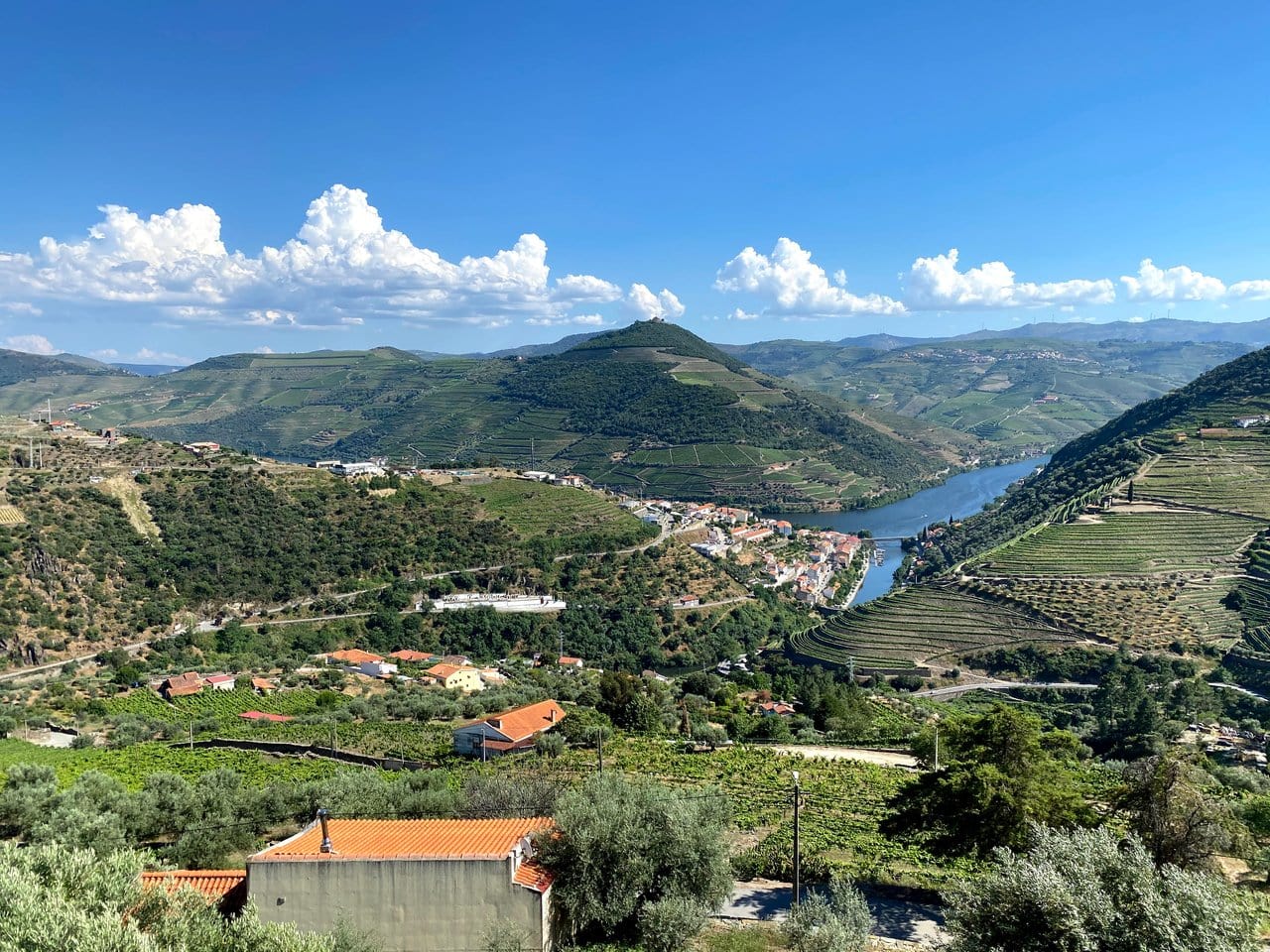 The last stop on the day was a very brief stop at a viewpoint in Sabrosa, and I think I got some of my favourite photos of the Douro Valley from there!
FAQs about the Douro Valley Day Trip Tour from Porto
Is the Douro Valley Worth Visiting?
There's no doubt that the Douro Valley is worth visiting. This small region packs a punch, and if you spend a day there you'll never forget it. It's easy to only focus on the cities and the beaches in Portugal, but getting out and seeing the beautiful hillsides and vineyards of the Douro Valley is a totally unique experience.
How Far in Advance Should I Book?
To secure your place on the tour I recommend that you book at least a few days in advance (and much further in the peak summer season!). This is one of the most popular tours of the Douro Valley out there, and there are only a certain number of seats on the minibus. The earlier you book your spot the better.
Luckily, like I mentioned earlier, GetYourGuide has a fantastic cancellation policy so it's totally fine to provisionally book for now and then cancel later (and get all your money back!) if your plans change.
Click here to book your place!
What's Included in the Tour?
Transportation to, from and around the Douro valley from Porto in an airconditioned minivan (with wifi!)
Bottled water
Wine and Port tasting
Port wine cellar tour
Sightseeing cruise on the Douro River
Exceptional lunch
Visits to two wineries
Local guide
---
As you can see, my day trip to the Douro Valley was unforgettable, and I just couldn't believe how beautiful this region was! I'm definitely glad I went on the Douro Valley day tour and explored more of northern Portugal.
Taking the tour taught me a tonne about Portuguese wine and the Douro region's landscape and history. You definitely need to add a day in the Douro Valley to your Porto itinerary.
I'd have definitely regretted it if I hadn't gone on the tour, and I think you would too!
Liked this post? Pin it!