There is a good chance that this post contains affiliate links. If you make a purchase through them, I may receive a small commission at no extra cost to you! As an Amazon Associate, I earn from qualifying purchases. As ever, all opinions are my own.
Last Updated on February 4, 2022 by Ella
To escape the city's heat, locals and visitors alike take a day trip from Lisbon to the cool coastal town of Cascais. This seaside resort town is easily the most popular beach trip from Lisbon.
Since Lisbon itself doesn't have any great beaches, and the city gets so hot, Cascais' proximity to the city and the direct transport links between the two destinations make it the perfect place to sprawl out on the sand, take a dip in the water, and get away from the city for a while.
Cascais is one of the most expensive places to live in Portugal, and attracts the rich and famous from all around the world. It has been booming ever since King Luis I and the Portuguese royal family made Cascais their seaside residence way back in 1870.
Even if you're not one of the rich and famous (God knows I'm not!) Cascais is still a fun place to visit for one day. Yes – even if you're travelling on a budget!
I visited Cascais on a day I was feeling particularly lazy and just wanted to hang out on the beach and read. This was a huge mistake, though. I went on my Lisbon to Cascais day trip on a national holiday, so the beach was packed. There was pretty much no space at all! Apparently, it also gets very busy on weekends.
If it's a relaxing beach day trip you have in mind, head to Cascais on a weekday instead.
Want more inspiration for fabulous day trips from Lisbon? Check out my post here!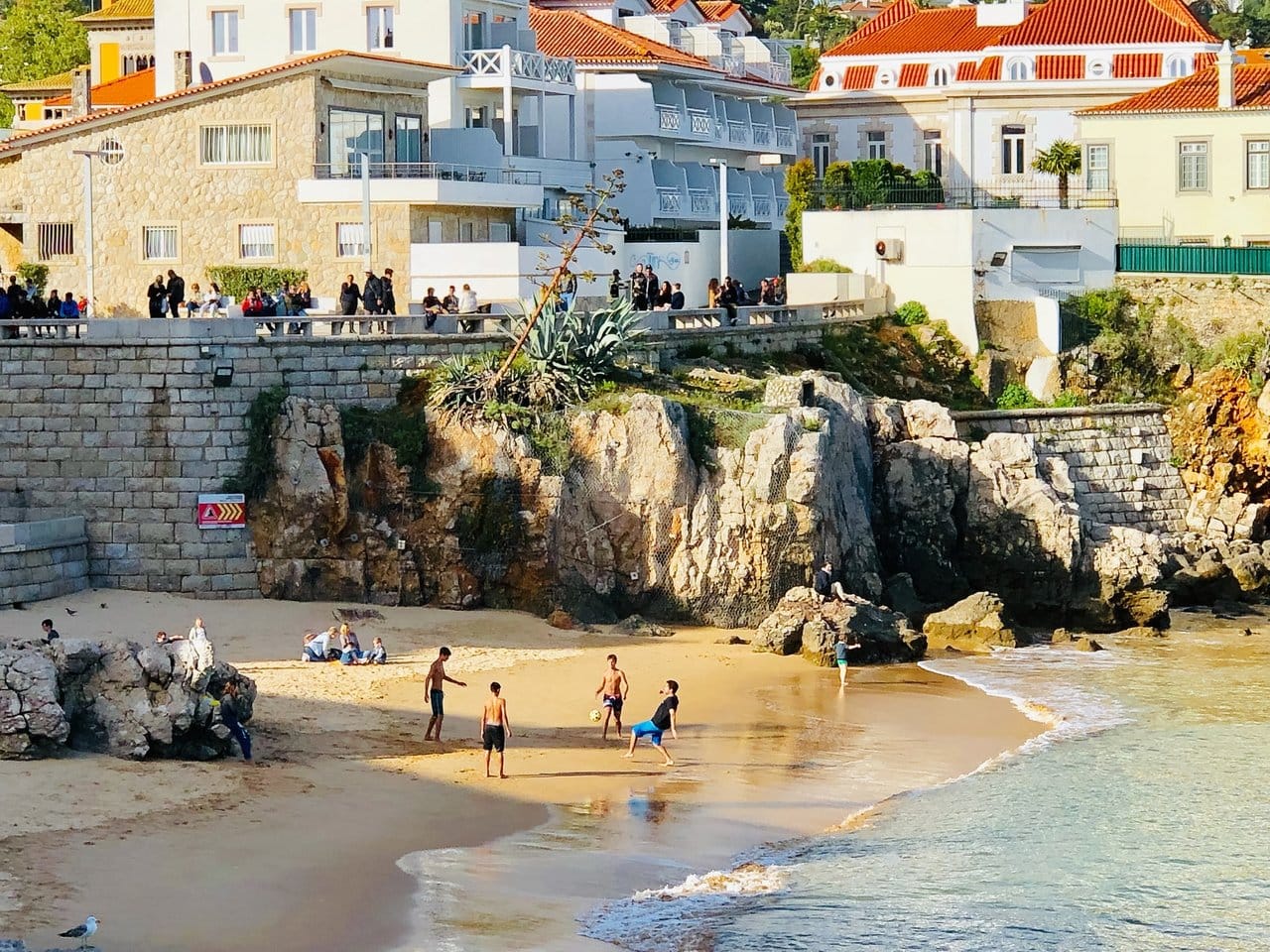 How to Get to Cascais from Lisbon
Cascais is around 30km west of Lisbon and is connected to the city by a frequent, super-cheap train. Departing from Cais do Sodre station in Lisbon, the journey takes between 33 and 40 minutes. 
There's no need to buy tickets in advance as you can just add them to your Viva Viagem card (the pay-as-you-go Lisbon transport card you'll need to get around the city).
Simply arrive at Cais do Sodre train station and purchase a 4-zone ticket. This is a single ticket, which costs €2.25. If you want a return ticket, you'll have to buy two single tickets which will cost €4.50.
There is a bus heading from Lisbon to Cascais but it takes longer than the train, so it's not worth it. Plus, the bus station is less convenient to get to than the train station. You can also drive to Cascais from Lisbon, but you'd be crazy to do this as parking in Cascais can be almost impossible.
Things to Do in Cascais In One Day
Most people head to Cascais just to check out the beach, but if you're going on a full day trip to Cascais, there are plenty of other attractions to keep you busy.
Old Town Cascais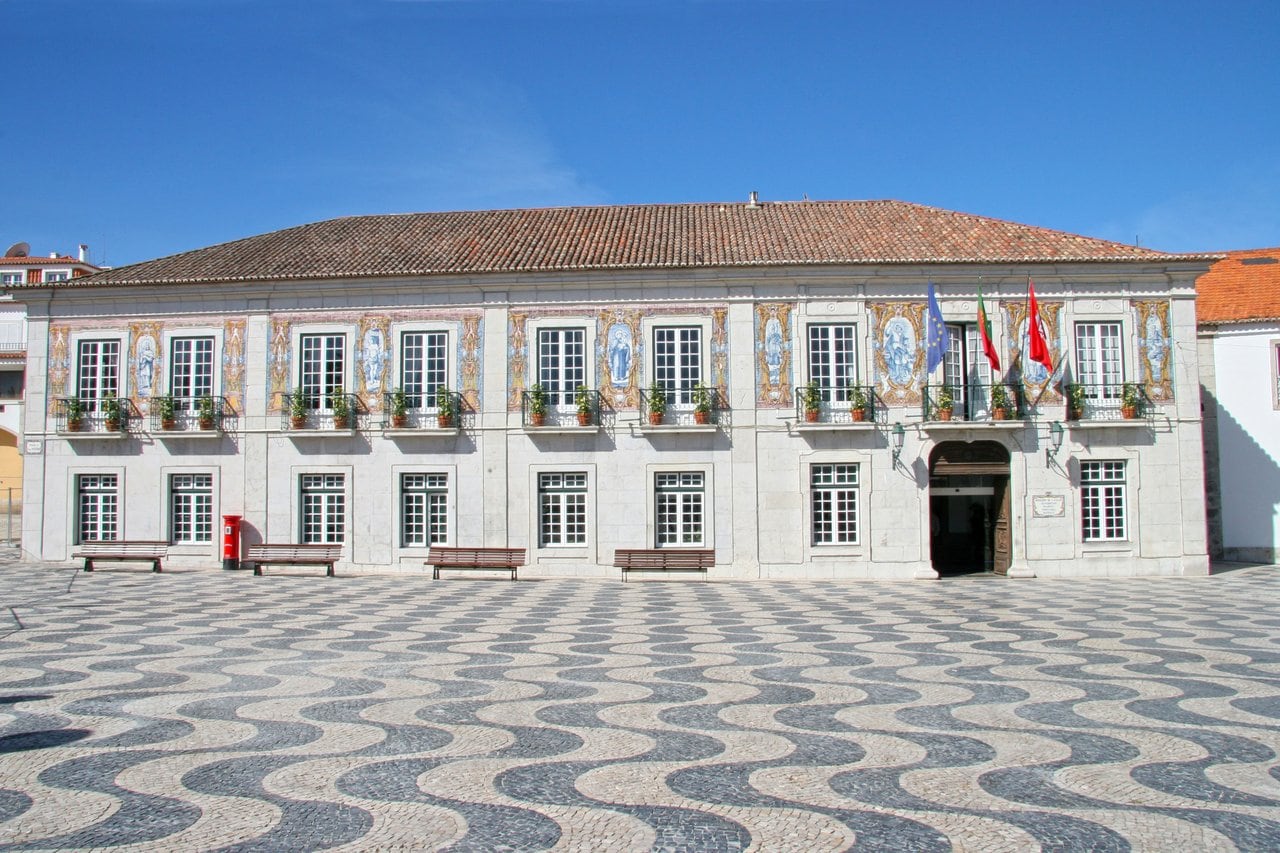 The old town of Cascais is such a pleasant surprise. You don't hear much about the old town in Cascais, normally because people just talk about its beaches, but actually the old town is an attraction that could lure you from Lisbon just by itself!
In the old town you'll see a few of the country's famed azulejos, pastel-coloured walls, narrow, cobbled streets and feel an authentic charm. My top tip is to get here as early as you can, before all the other day-trippers descend. Wandering the narrow streets in the early morning, it's easy to imagine not much has changed for many years.
Boca do Inferno
A 20-minute walk along Cascais' coastline will lead you to Boca do Inferno, or the 'Mouth of Hell'. On a calm summer's day it's hard to see how this sea-arch and cliff formation got its intimidating name, but head here in winter or during a storm and you'll see it getting battered by the full force of the Atlantic Ocean. 
During storms, the water rushes into this crag and the force of it makes the water explode upwards, like an erupting volcano! I visited Cascais in summer, so I unfortunately missed the spectacle, but getting here in winter is firmly on my Portugal bucket list.
There are perks to visiting in summer, though. For one, the walk along the coast is totally beautiful. If you can, time your visit for sunset to marvel at the sky's orange hues from the Boca do Inferno viewing platform.
Santa Marta Lighthouse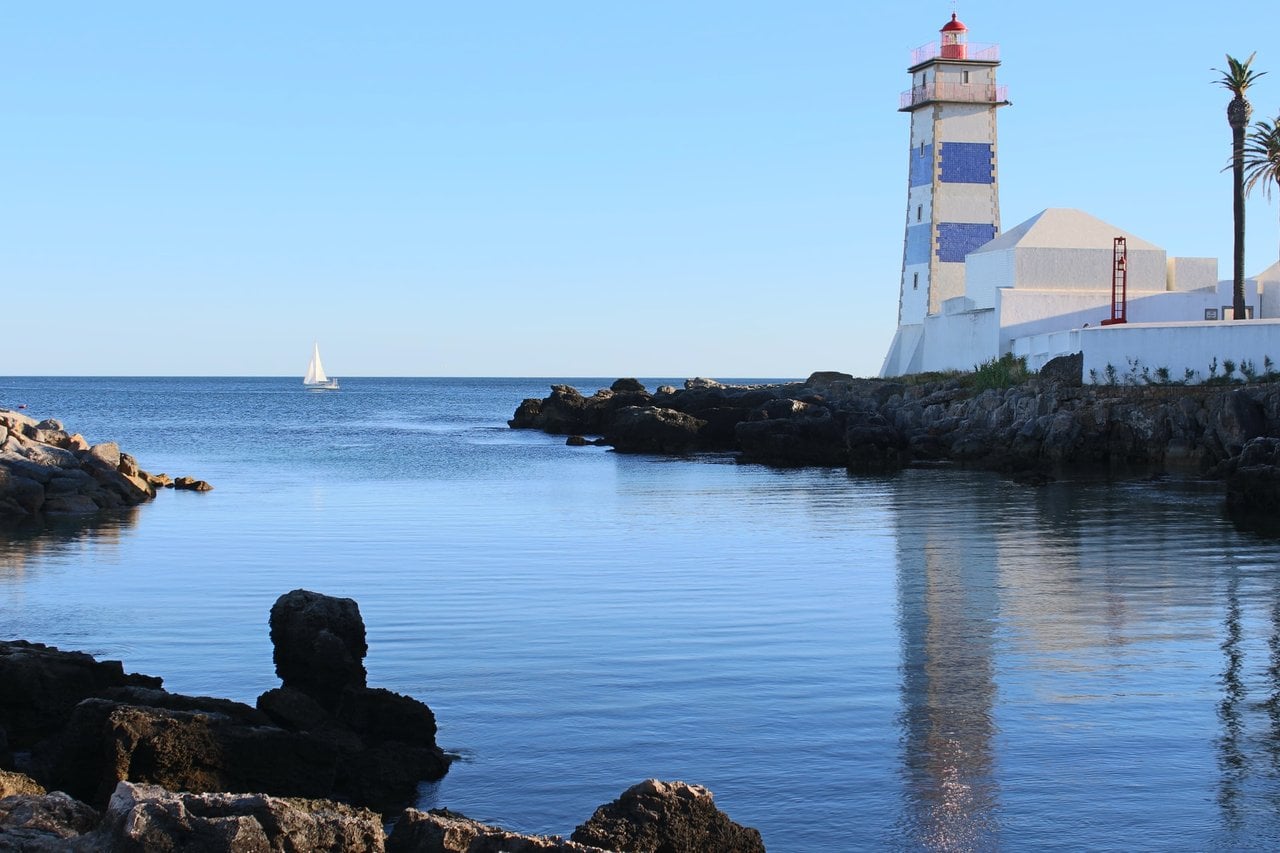 On the coastal route to Boca do Inferno you'll pass the Santa Marta Lighthouse, the most recognisable landmark of Cascais.
It was manned by lighthouse keepers until 1981, but the light is now electronic. Nowadays, the lighthouse's primary function is as a tourist attraction. It contains a small museum covering the history of the site and teaching about what lighthouse keepers used to do.
Although the museum is cool, it costs €5 to enter, and its opening hours are quite sporadic and unpredictable. Fortunately, that €5 is actually a combo ticket that also includes entry to Casa de Santa Maria next door. However, if you don't fancy spending the money, it's still worth visiting the lighthouse to take photos of its recognisable blue and white striped tower.
Casa de Santa Maria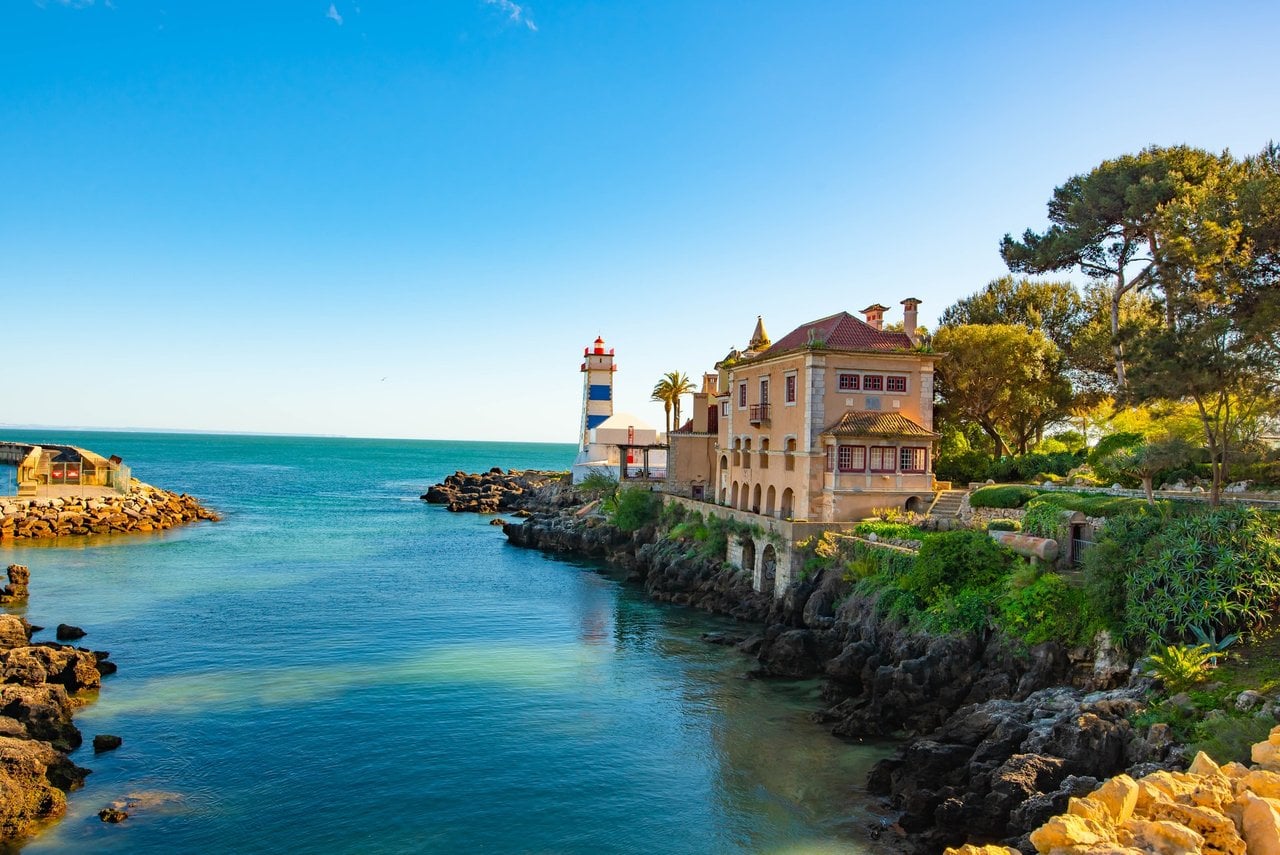 This impressive stately home was built in 1902 by an Irish millionaire, Jorge O'Neill, and was one of the most luxurious residences in Cascais at the time. With its colours of soft peach, Casa de Santa Maria is photogenic to the extreme, and it's probably the most photographed building in Cascais.
Its location overlooking the ocean is, obviously, to die for, and since most people in Cascais just visit the beach, the Casa de Santa Maria never gets too busy – perfect if you want to explore in peace!
As I mentioned before, you can get a €5 combined ticket for both the Santa Maria Lighthouse and the Casa de Santa Maria. Double-check their opening times before your visit as both attractions have unpredictable opening hours.
Museu Condes de Castro Guimarães
Just a short walk away from Casa de Santa Maria is the Museu Condes de Castro Guimarães, built by the same Irish millionaire. This lavish home, complete with an Arabic-style cloister and castle turrets, is the most impressive sight to see in the leafy grounds of the Parque Marechal Carmona. 
The museum itself is basically just the house, but you're able to walk around and check out the artefacts owned by the Counts of Guimarães who once lived there. 
The museum is open from 10am-6pm Tuesday-Sunday, and entry costs €4.
Parque Marechal Carmona
If you're looking to kick back and relax, but you're not a beach person (I know – apparently some people are not, in fact, beach people!) head to Parque Marechal Carmona. There's a big lawn where you can sunbathe, but there are also more secluded areas to stroll around.
Don't be surprised if you come across a peacock or two! Peacocks, as well as ducks, roosters and chickens, roam the park.  If you'd prefer to explore rather than lounge, don't miss the rose gardens, flower beds and eucalyptus in the park. 
Praia da Conceição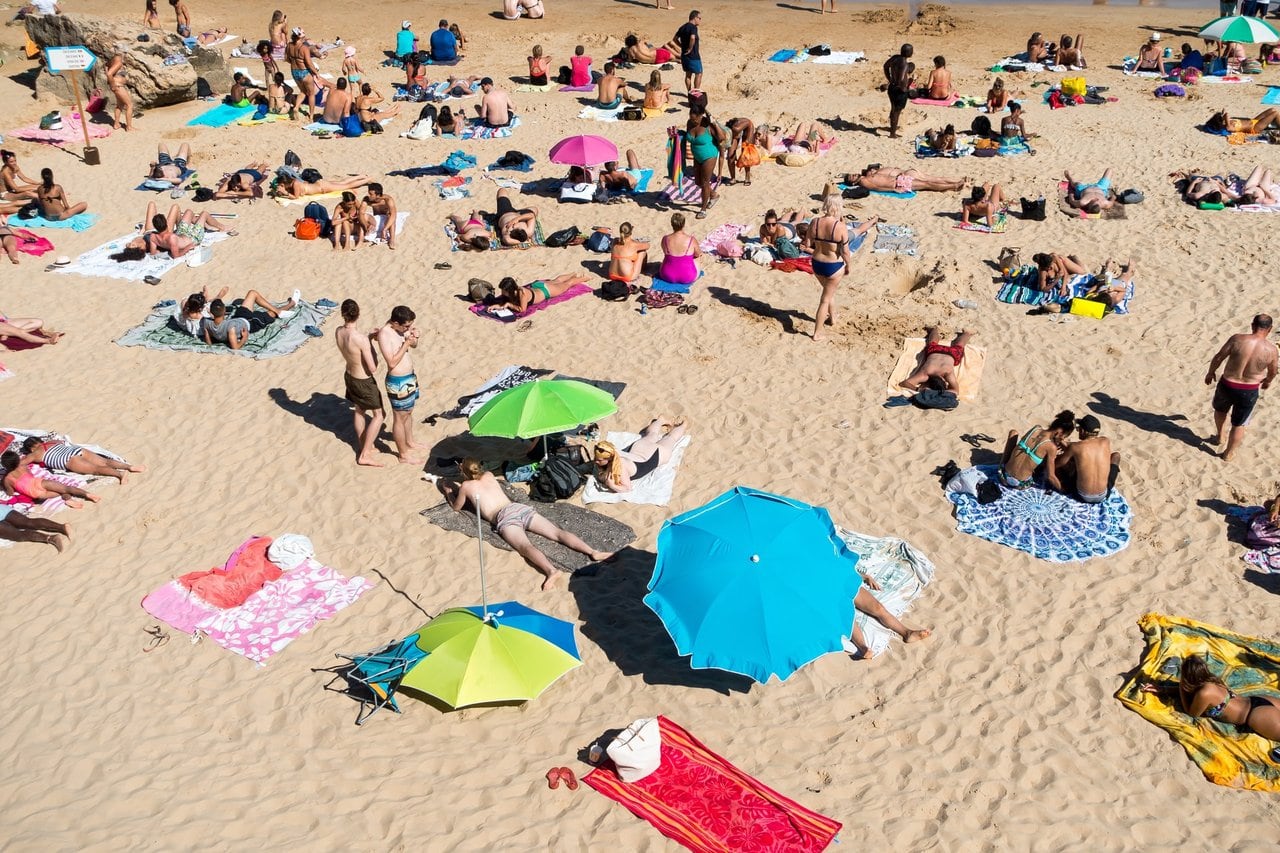 The biggest and best beach in Cascais, Praia da Conceição, still gets very busy on summer weekends. You'll probably struggle to find somewhere to lay down your towel if you don't arrive early. 
Unfortunately, the beaches in Cascais are hardly the most beautiful in Portugal. Praia da Conceição is probably the best of all of them, though. It certainly does the job and is one of the best beaches near Lisbon, but it's crowded, it's not, like, STUNNING, and it's pretty noisy because it attracts a mostly young crowd.
You should definitely go to Praia da Conceição if you're in Cascais. After all, chances are you probably headed here specifically to go to the beach! Just keep your expectations reasonable, get there early, and you'll have a great time.
Casa das Histórias Paula Rego
If you're into art, make a trip to the Casa das Histórias Paula Rego. If you have time, this unusually shaped red-cone building is worth visiting just to admire its strange exterior. Inside, you'll find exhibitions of artist Paula Rego's works. 
I'm not much of an art person, and was already out of time for my one day in Cascais, so I didn't get to visit, but it does get great reviews from art lovers.
Casa das Histórias Paula Rego is open Tuesday-Sunday and entry costs €5.
Want to know what to pack for your day trip? My ultimate day trip packing list will definitely help!
Combining a Cascais Day Trip with Cabo do Roca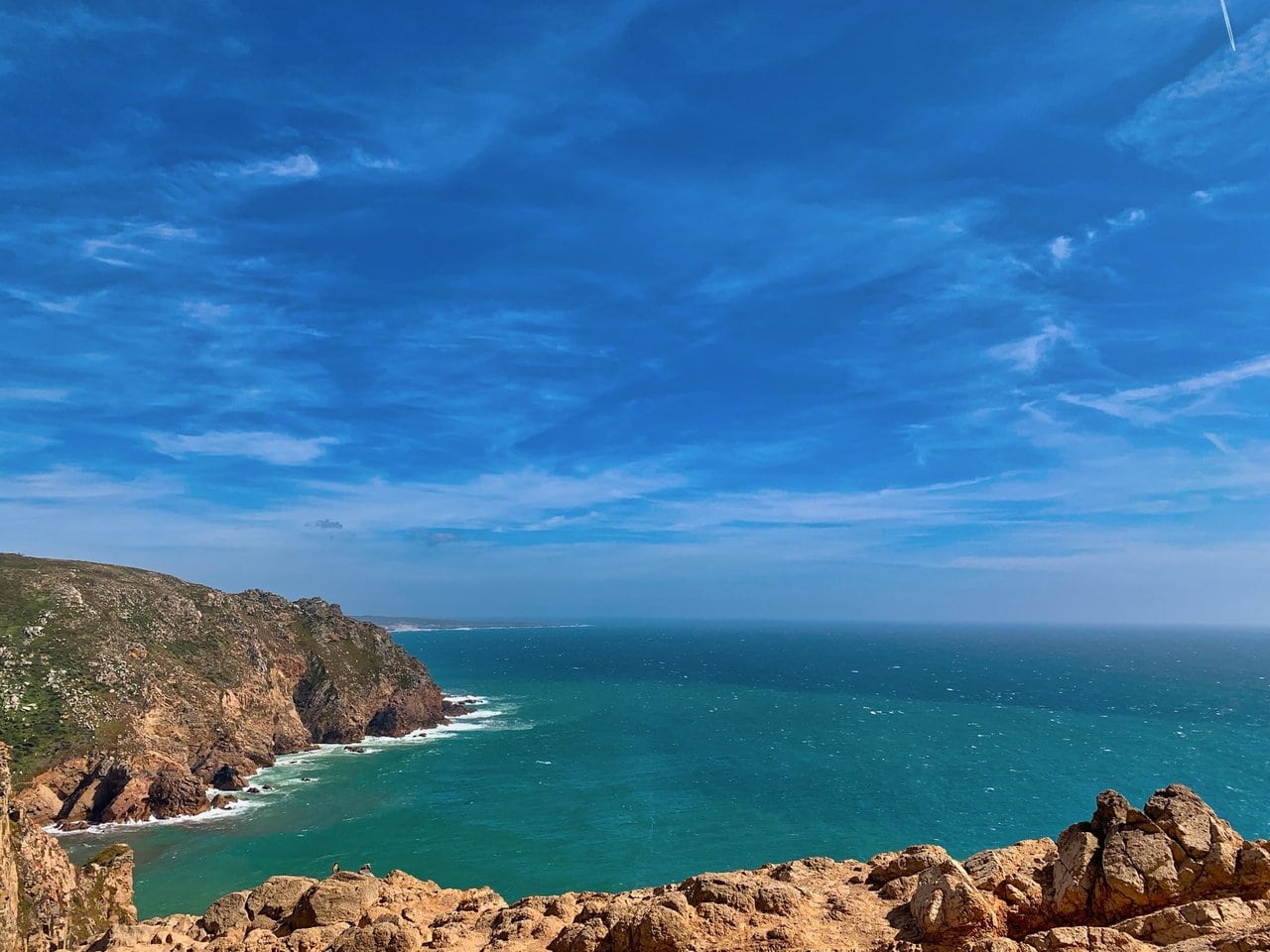 Since they're both near each other and on the coast, it's easy to combine a day trip to Cascais with a trip to Cabo do Roca.
Cabo do Roca is the westernmost point of mainland Europe, and back in the age of exploration, Portuguese explorers believed that Cabo do Roca was the end of the world! Obvs, we now know that's not the case, but staring out over the sea crashing below the cliffs, it does look like the sea just goes on endlessly.
Whilst you're in Cabo do Roca, walk up to the cliffs for views over the Atlantic, check out the Lighthouse, and maybe pop over to a beach or two nearby. Overall, you only need an hour in Cabo do Roca, so it's best to spend the majority of the day in Cascais and then finish it off here.
To get to Cabo do Roca from Cascais, catch the line 403 bus from Hotel Cidadela. The journey takes 30 minutes, and tickets cost €4.30. It's pretty expensive, but this bus line is a tourist bus, so I guess that's to be expected. To get back to Lisbon, it's easiest to first return to Cascais and then catch the train back to Lisbon.
Combining a Cascais Day Trip with Sintra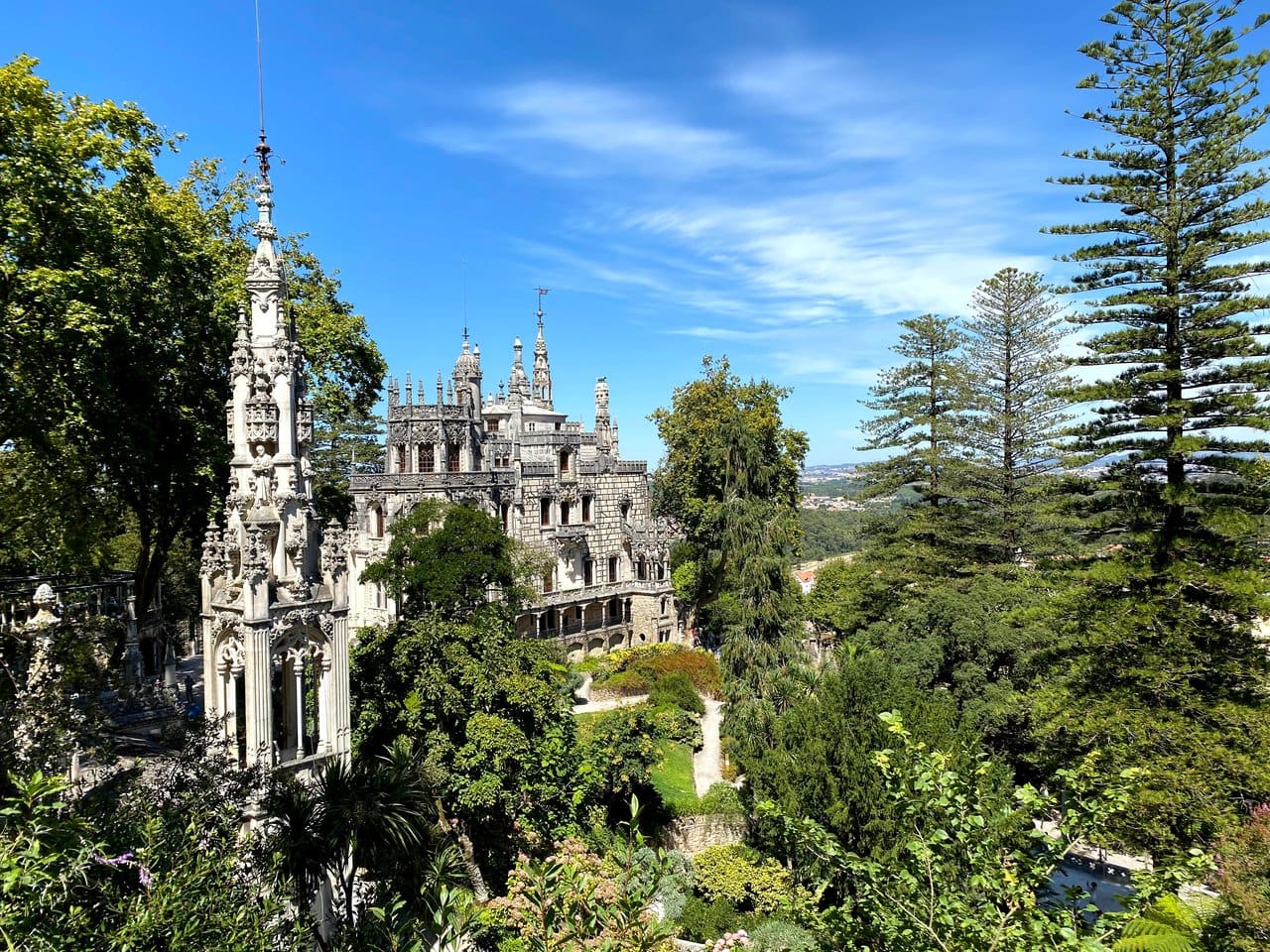 I've said it before, but Sintra is a really full-on day trip, and there's just no way you could fit any more into a day trip to Sintra! I've been to Sintra twice now, and each time I only managed to visit three of the palaces there. I can't imagine how anybody would have time to tie a trip to Sintra with a trip to Cascais!
That said, people do it. I guess if you only want to visit one palace in Sintra, it could be possible. 
If you want to visit both destinations, start the day off as early as you can in Sintra. Once you're finished in Sintra, you can catch the line 418 bus from the stop "Estrada Ch.Men.-Bonsai" to Cascais. The journey takes 27 minutes and tickets cost around €2.
This day trip would require so much organisation, though. If you want to visit Sintra and Cascais on a day trip, I highly recommend joining a tour for the day. Not only does it take all the stress out of getting from place to place (and the public buses in Sintra are, in my experience, unreliable to say the least), but you'll also learn way more than visiting by yourself as you'll have a local guide with you the whole day.
Combined tours of Sintra and Cascais from Lisbon are surprisingly affordable. This is the highest rated tour by far, and costs just €60 for the entire day. Given how many attractions you cram into just one day on this tour, it's a pretty good deal!
Once you've explored Cascais, you can then catch the direct train back to Lisbon.
---
Here's a summary of the reasons to visit Cascais on a day trip from Lisbon:
It;'s easy to get to on public transport
The entire town is walkable
It's near Cabo do Roca and Sintra
It has the best beaches near Lisbon
It has a charming old town
There are plenty of stately homes to explore
Visiting Cascais from Lisbon is such an easy and affordable day trip – and it's perfect if you just want to get away from the city to hang out on the beach for a while. 
Although Cascais isn't (in my opinion) the greatest beach town in Portugal, I really enjoyed my time there for what it was. It was great to lounge on the beach for a while, wander around the coast to Boca do Inferno, and snap photos at all the lavish stately homes!
Have you visited Cascais on a day trip from Lisbon?