There is a good chance that this post contains affiliate links. If you make a purchase through them, I may receive a small commission at no extra cost to you! As an Amazon Associate, I earn from qualifying purchases. As ever, all opinions are my own.
Last Updated on September 23, 2022 by Ella
Often overlooked in favour of the flashier and more colourful Lisbon, Porto is nevertheless the ideal city to visit if you only have 2 days to spend in Portugal. Since the city is compact, it's easy to see all of Porto's main tourist attractions in just a weekend – so you won't fly home with unfinished business here.
Let's be honest… A lot of you probably want to go to Porto because you've seen photos of the Livraria Lello, or you're a huge Harry Potter fan and heard that the Hogwarts library was inspired by this bookshop.
And yeah, the Livraria Lello is worth visiting. But once you get to Porto you'll be pleasantly surprised by just how wonderful the rest of the city is. 
Porto is ideal for the budget-minded traveller. Most of the tourist attractions are either free or just a few Euros. The food and drink in Porto is also surprisingly affordable – especially if you search for local restaurants and cafes, or visit the supermarket and create your own tapas platters.
In fact, I think you'll struggle to find a more affordable city to visit in Western Europe!
I have used my experiences from my own trip to put together this itinerary for 2 wonderful days in Porto. If you follow it I can pretty much guarantee that you're gonna have a great time. So let's get started.
Here's exactly how to spend 2 days in Porto!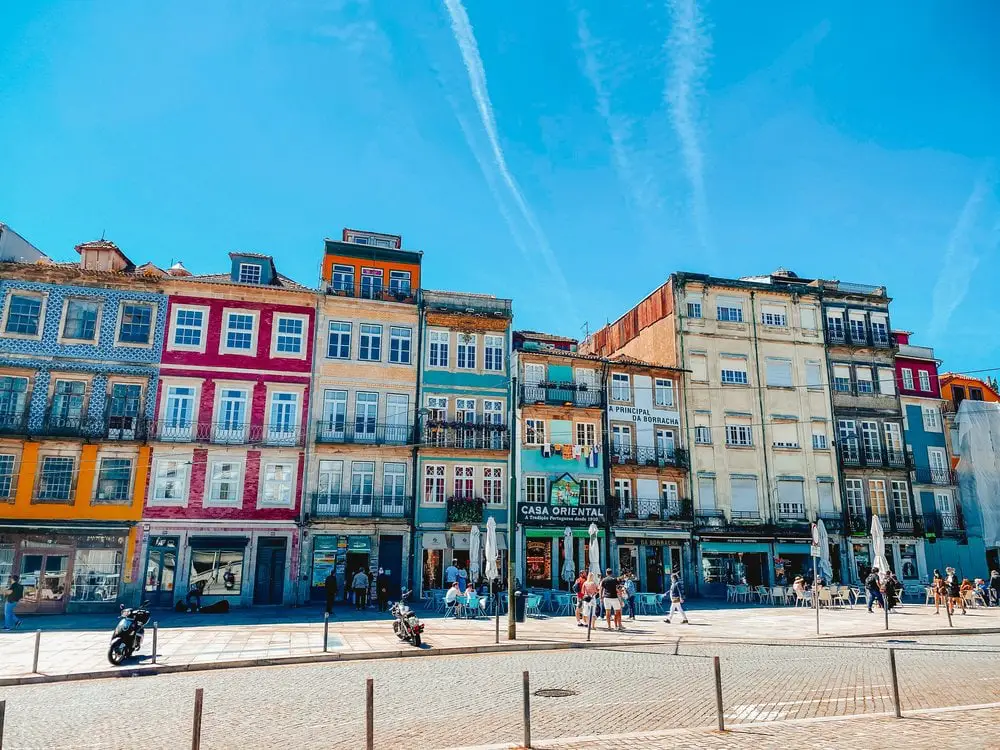 How Many Days Should I Spend in Porto?
In terms of just Porto itself, you can see everything in 2 days really. It's not a huge city, which makes it perfect to visit on a short trip.
However, if you want to visit other places in the North of Portugal (and you have more time) I recommend staying for 4 nights in Porto. Spend 2 days in the city, and then take 2 different day trips to nearby attractions such as the Douro Valley, Braga, or Peneda-Gerês National Park.
You'll find my recommendations for day trips from Porto later in this post.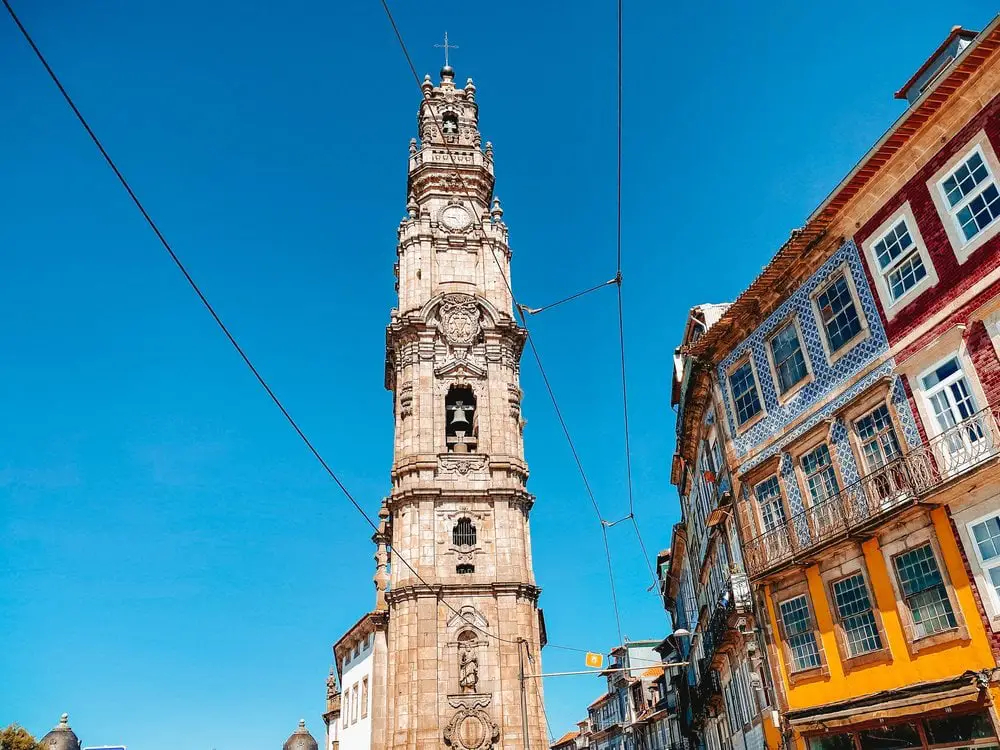 The Porto Card – Is It Worth It?
Before we get started on the itinerary, I wanted to cover off a topic that most visitors to Porto will be wondering… Is the Porto card worth buying?
In my opinion, no it's not.
Although the card only costs €13 for one day, and it includes unlimited public transport, I just can't see how you would get your money's worth. Porto is extremely walkable, so if you're following this itinerary you won't even need to use public transport aside from getting to the city centre from the airport.
It also doesn't even include your entry to any attractions worth going to. With the Porto Card, you only get a discount, rather than free entry, to all of the halfway decent attractions.
That's just my opinion, and I wanted to share it so that you don't waste any money. It's worth doing your own research, though, so if you want to learn more you can do so here.
How To Spend 2 Days (48 Hours) In Porto
Day 1: Churches, Bookshops and Coffee
Stop 1: São Bento Station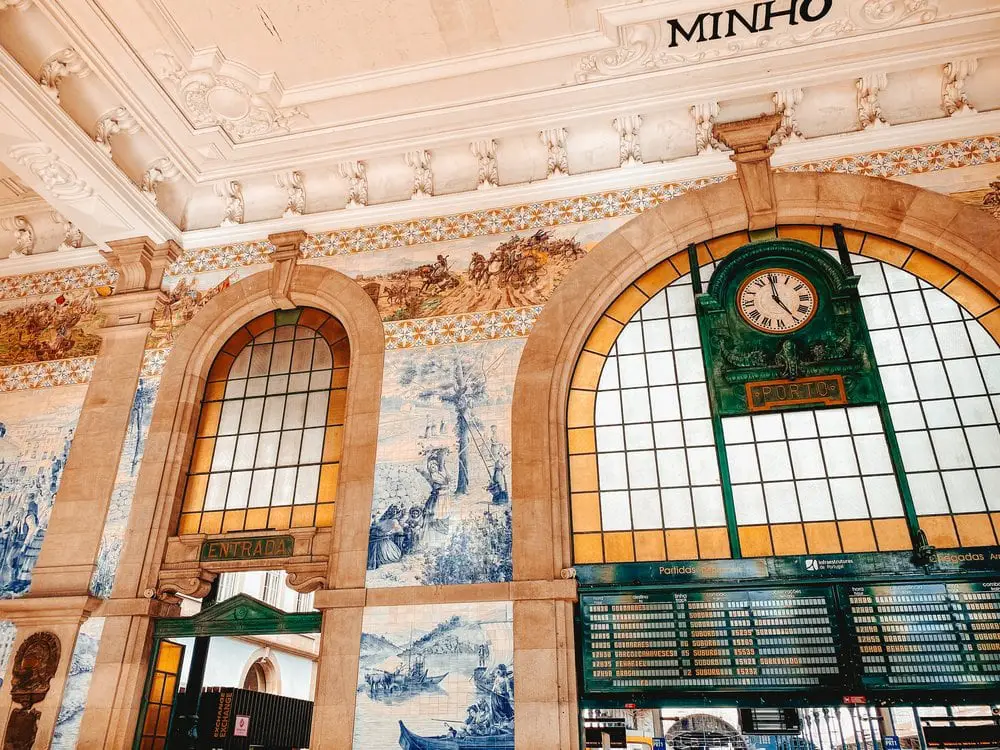 I recommend starting your first day in Porto at São Bento Station. It's right in the centre of Porto so you won't have to walk too far to visit other attractions.
I know what you're thinking though – why on earth would a train station be one of the the top things to see in Porto?
Well, the ticket hall of São Bento Station is covered in gorgeous traditional azulejos (Portuguese tiles) and it's one of the fanciest train stations you'll ever visit!
You won't need to spend long at São Bento, but be sure to pop inside to admire the azulejos and snap some photos.
Stop 2: Sample a Pastel de Nata at Manteigaria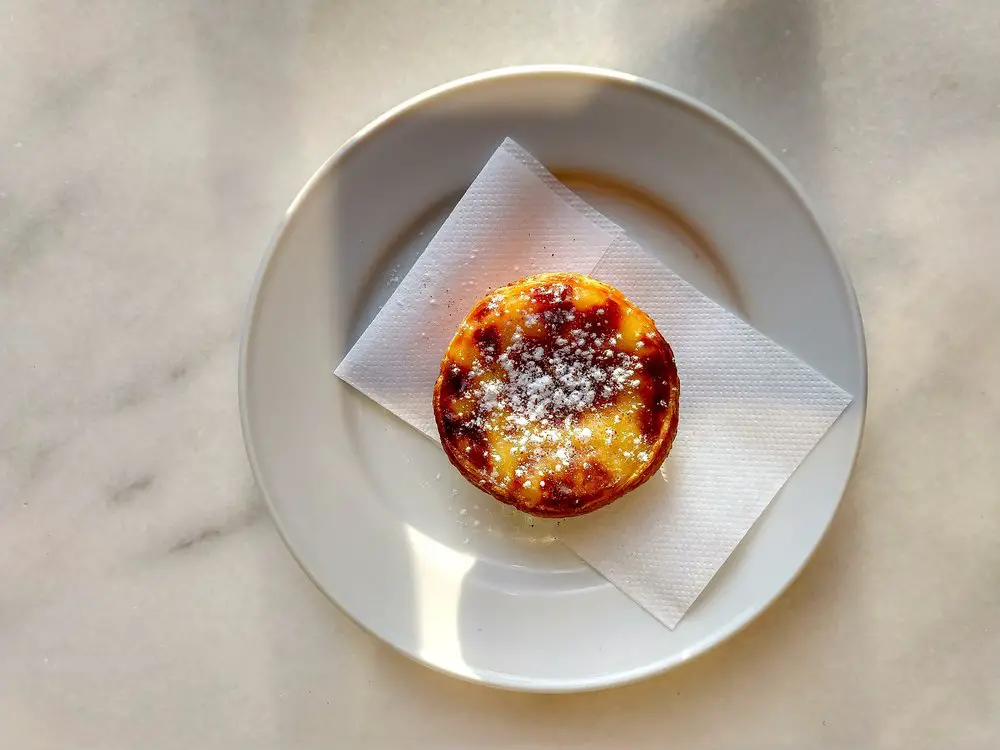 Next up, it's time to sample the most famous dessert of Portugal – the Pastel de Nata! These egg custard tarts dusted with cinnamon are one of my favourite things ever, and you simply can't visit Portugal without sampling one. 
My favourite place to try Pastéis de Nata in Lisbon was Manteigaria, so it was exciting to see that the bakery has a few branches in Porto. You'll want to head to the Rua dos Clérigos branch, because it's just a couple minutes' walk away from São Bento station. 
Each pastel costs just €1.10. Bargain!
Stop 3: Clerigos Tower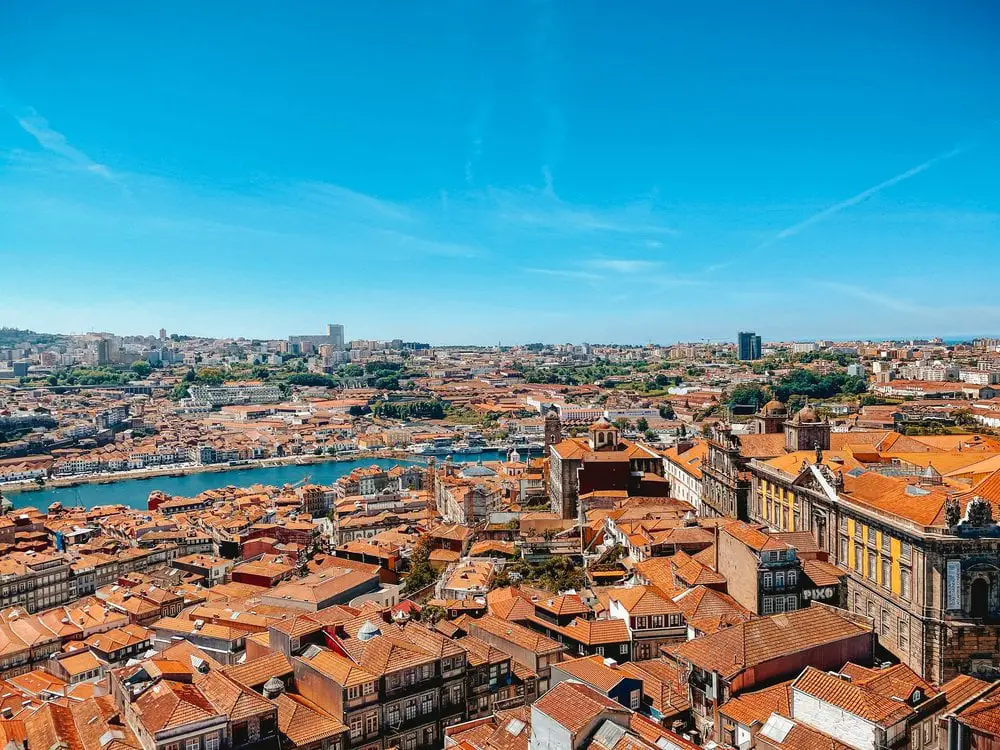 Next up is a visit to the Clerigos Tower which offers up some of the best views of Porto. The 76-metre bell tower is visible from all over the city, and it's one of the most recognisable landmarks on Porto's skyline. 
The tower is part of the Clerigos Church, which was built in the mid-1700s in the Baroque style. Your ticket covers entry to both the church and the tower. 
When you enter Clerigos, you'll find a surprising amount of exhibitions about the history of the church and the tower. You'll also find loads of religious artefacts. If you're into theology, you'll probably love it, but if you're anything like me, just skim past this and head straight to the tower.
The climb up Clerigos Tower is definitely no walk in the park. You start getting a bit dizzy as you climb its 225-step spiral staircase! However, what awaits you at the top makes the climb more than worth it. 
I spent around half an hour at the top of the tower and think this is the right amount of time. You simply won't be able to tear your eyes away from the river, the city's tiled rooftops, and trying to identify all the city's landmarks.
Entry costs €6, but if you book online in advance you get to skip the ticket queues.
Stop 4: Livraria Lello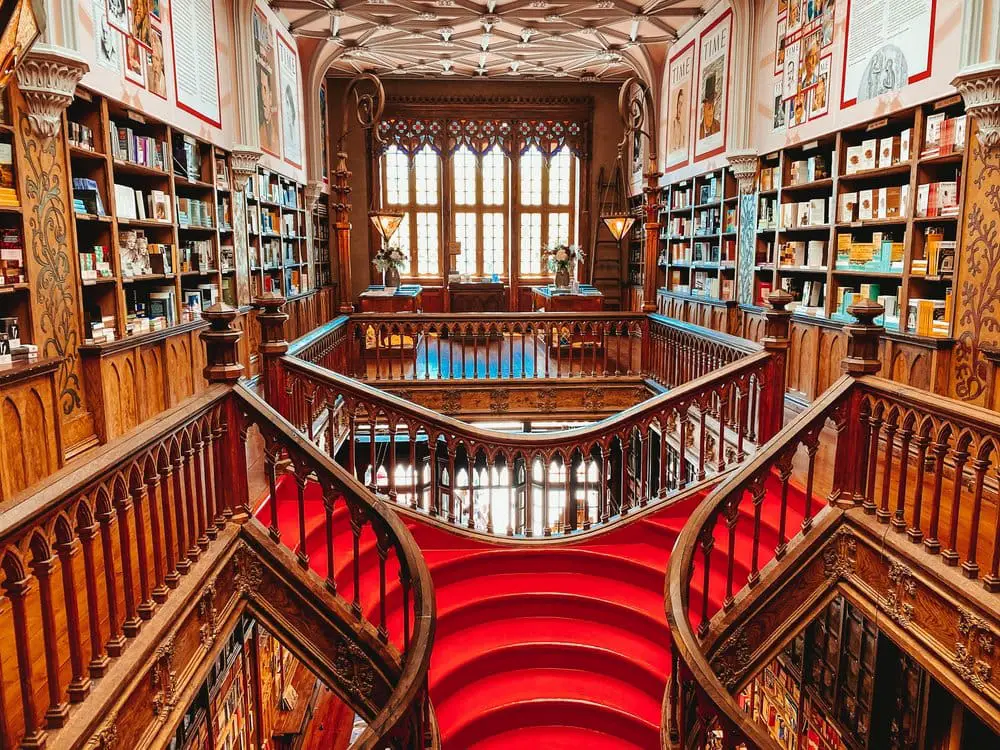 Chances are, you know exactly what the Livraria Lello is. After all, it's one of the top attractions in Porto! This ancient bookshop was apparently the inspiration behind the library in Harry Potter, and you'll find a ton of Harry Potter special editions inside.
The issue is, though, that Livraria Lello is a must see in Porto. This means the queues are absolutely insane! I tried to visit as soon as it opened, and the wait time was already over 2 hours long. If you only have 2 days in Porto you definitely don't have time for that!
That's why I recommend heading to Livraria Lello at lunchtime. When I spoke to the queue manager, he told me lunchtime always has the shortest waiting times – so I have it on good authority. You'll still have to queue for a while (I waited for an hour) but it's much quicker than usual.
Stop 5: Porto Sandwiches at Lareira – Baixa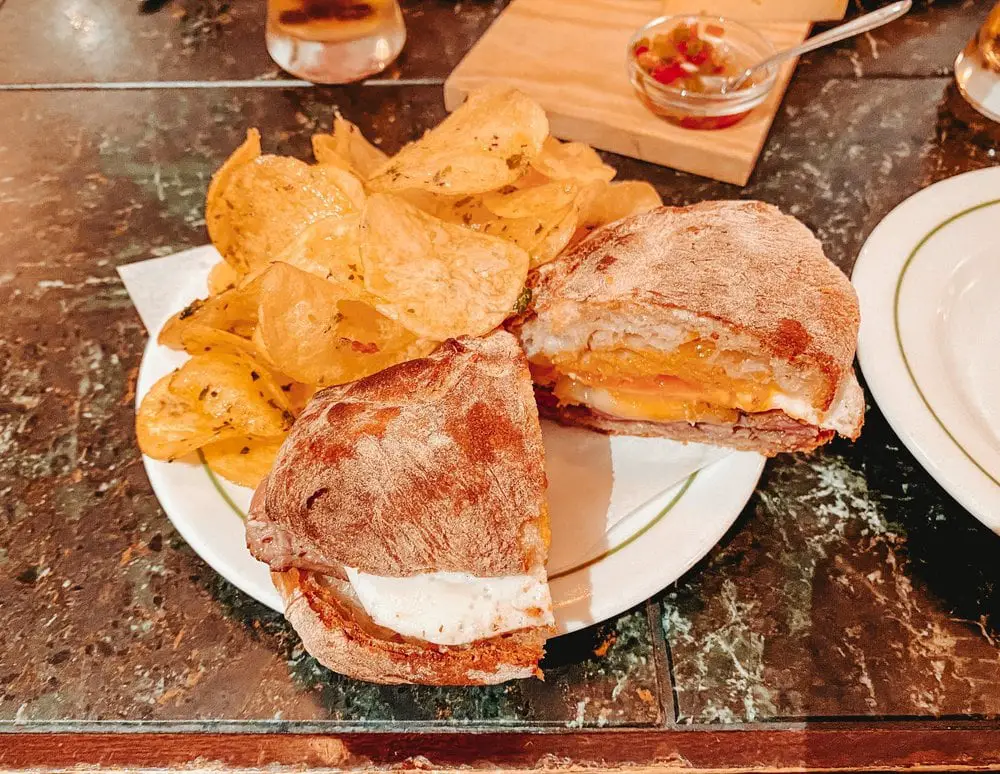 Since you were busy visiting the Livraria Lello over lunchtime, chances are you've definitely worked up an appetite by now. So, it's time to indulge in one of Porto's favourite foods – sandwiches!
I know, I know, sandwiches are hardly show-stoppers on the food scene, but Porto's sandwiches are in a league of their own. In fact, the sandwiches at Lereira Baxia were so nice that I ate here twice. And their sandwiches are cheap!
I recommend the steak and fried egg sandwich, which costs just €3.90 and will keep you full for hours.
Lareira Baxia is just a 4-minute walk from Livraria Lello and is a favourite with locals. You can either eat in or take out, but even if it looks incredibly busy outside don't be deterred. Chances are you will be able to get a table. The crowds outside are usually people waiting for their take out orders.
Stop 6: Igreja do Carmo and Igreja dos Carmelitas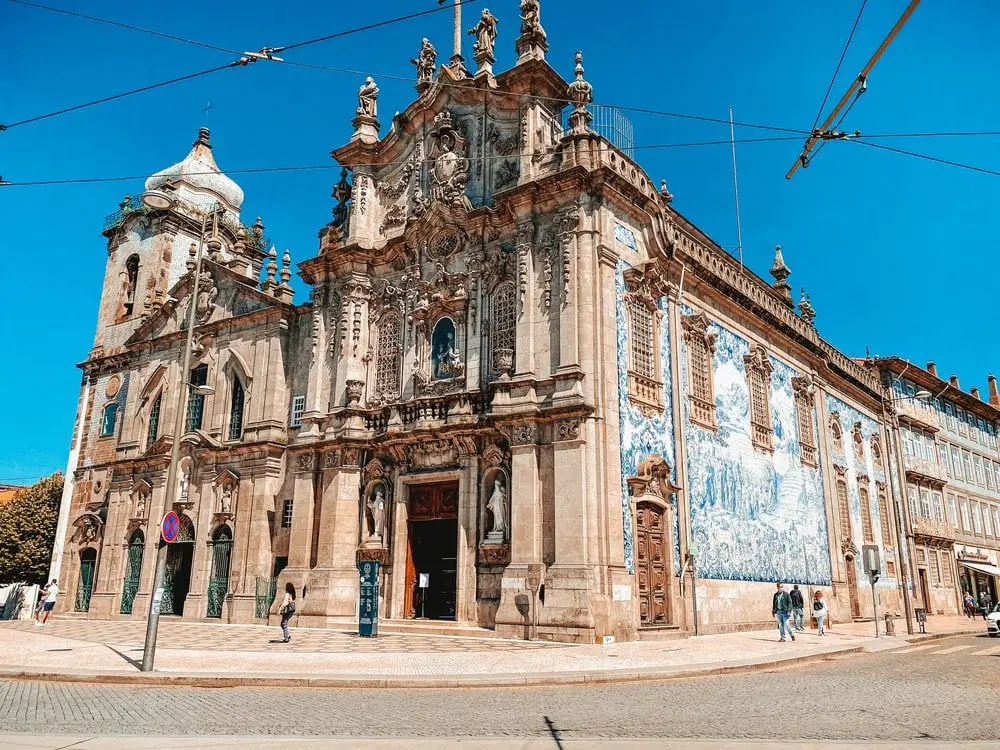 After delicious sandwiches, it's time to head to some magnificent churches. Although this looks like one huge building, it is actually two separate churches, separated by only a one-metre wide house. 
The Igreja do Carmo and Igreja dos Carmelitas are two of the oldest buildings in Porto, with one dating from the 1600s and one dating from the 1700s.
On the exterior walls of the churches you'll find more of the stunning azulejos you saw at São Bento. The tiles cover the exterior of these churches, making them look very different to churches you'll have come across in other European cities.
Admission is free, and inside, you'll find that a visit to these churches is anything but ordinary. Instead of just wandering the pews, you get to go "behind the scenes" here. You get to check out the priests' living quarters, the dining room used by Porto's official leaders, a small catacomb and even a secret passageway!
Stop 7: Majestic Cafe
After such a busy day of exploring so far, it's time to caffeinate. And there's no better place to head than Majestic Cafe, the most beautiful cafe in Porto. It's in the top 10 most beautiful cafes in the world!
As you sip your coffee, check out the lavish interior designs and the downright ostentatious uses of gold pretty much everywhere. You'll definitely feel like royalty!
Majestic Cafe is hella pricey, so I recommend you only get a coffee (€6!) to avoid a hefty bill. The pricey coffee is worth it for the totally unique experience of visiting Majestic Cafe, though.
Stop 8: Chapel of Souls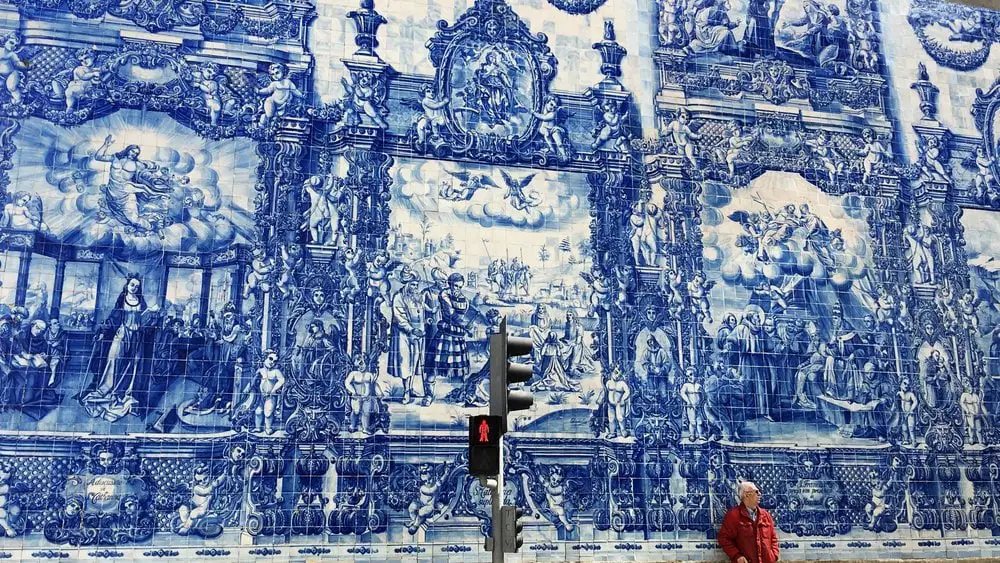 This is another azulejo-covered church, so if you feel like you've already seen enough today, feel free to skip visiting the Chapel of Souls. However, it's just a 4-minute walk from Majestic Cafe, so you may as well check it out whilst you're in the area.
It's free to enter, but its main selling point is its intricate tiled exterior, which shows painted scenes from the lives of saints. 
Stop 9: Porto Craft Beer
It's time to round off your first day in Porto with a drink. There's no better way to do it than by heading to the Craft Beer House. As a craft beer fan, my favourite way to get a taste for a city is through its craft beer, so when I walked past this place I couldn't resist!
The craft beer scene in Porto is still in its infancy. Here, though, you'll find a range of Portuguese craft beers as well as friendly service and free salted peanuts with every order (wahoo!).
Obviously, if you're not into craft beer, this isn't the place for you. Instead, head to WINE CLUB to sample some local wines.
Stop 10: Dinner at Carlos Alberto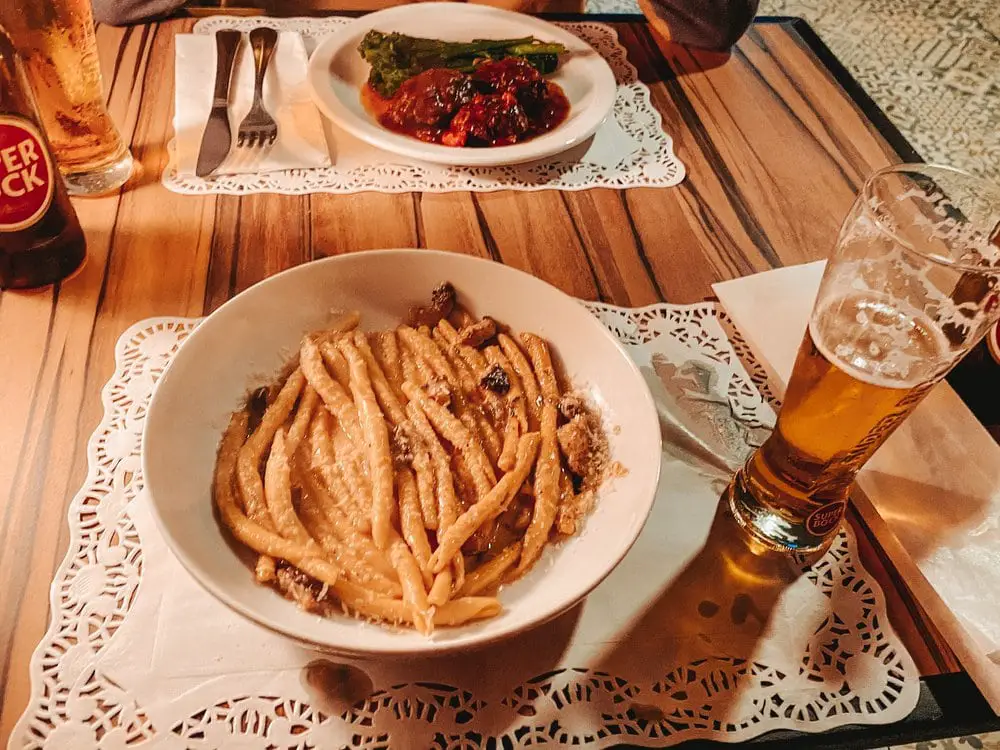 Okay, so I stumbled across this place completely by accident, but they serve the very best mushroom pasta I have ever eaten, and I highly recommend you eat here!
As well as their mushroom pasta, they offered steak, duck, seafood and other vegetarian dishes, all with hospitable service and affordable prices. 
Day 2: Port Wine, Palaces and Bridges
Stop 1: Porto Cathedral and Episcopal Palace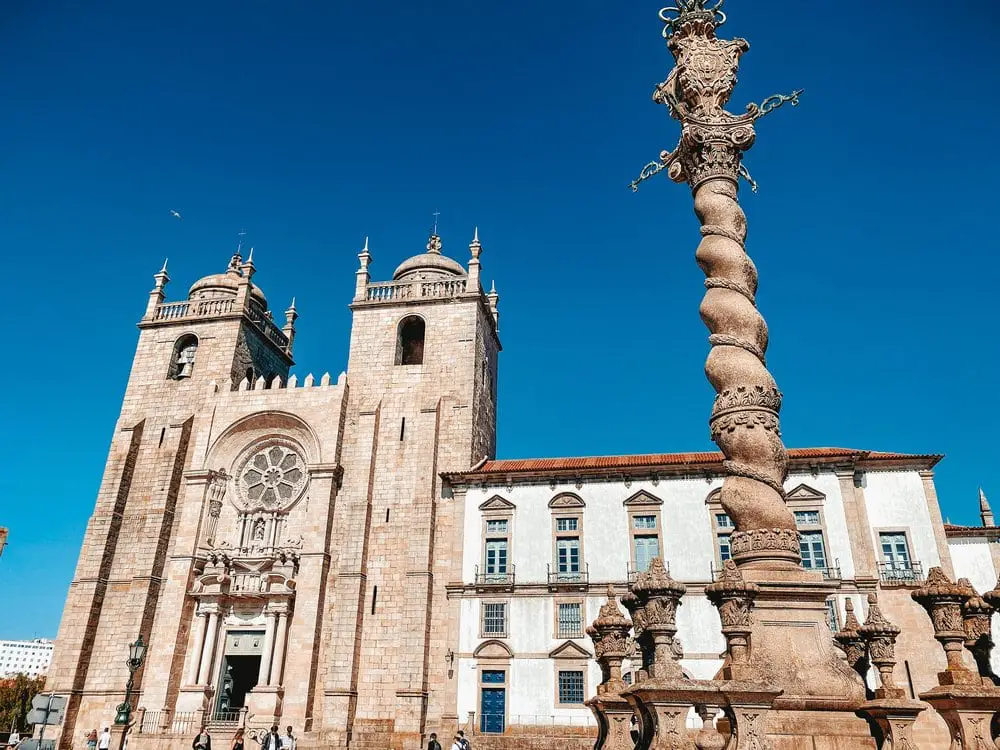 After grabbing breakfast from a bakery, your accommodation, or the grocery shop, it's time to start bright and early at the Porto Cathedral and the Episcopal Palace.
The Porto Cathedral, or Porto Sé, has a seriously impressive interior – it looks like the inside of a castle! I know that this is like… the 4th church on this list, but it's worth visiting from a tourist standpoint even for those of us who aren't religious.
This is the main cathedral of the city, and, perched on a hilltop, offers fabulous views over the city. For even better views, though, make the climb to the very top of the cathedral where you'll be able to see the river and the city of Porto from a different angle.
Entry is free, but if you want to climb to the top it costs €3.
Just next door to the Porto Cathedral you'll find the Episcopal Palace, the former residence of the Bishops of Porto. I didn't go inside, but it's worth checking out and snapping some photos of it whilst you're there.
Stop 2: Miradouro da Igreja de São Lourenço and Bolsa Palace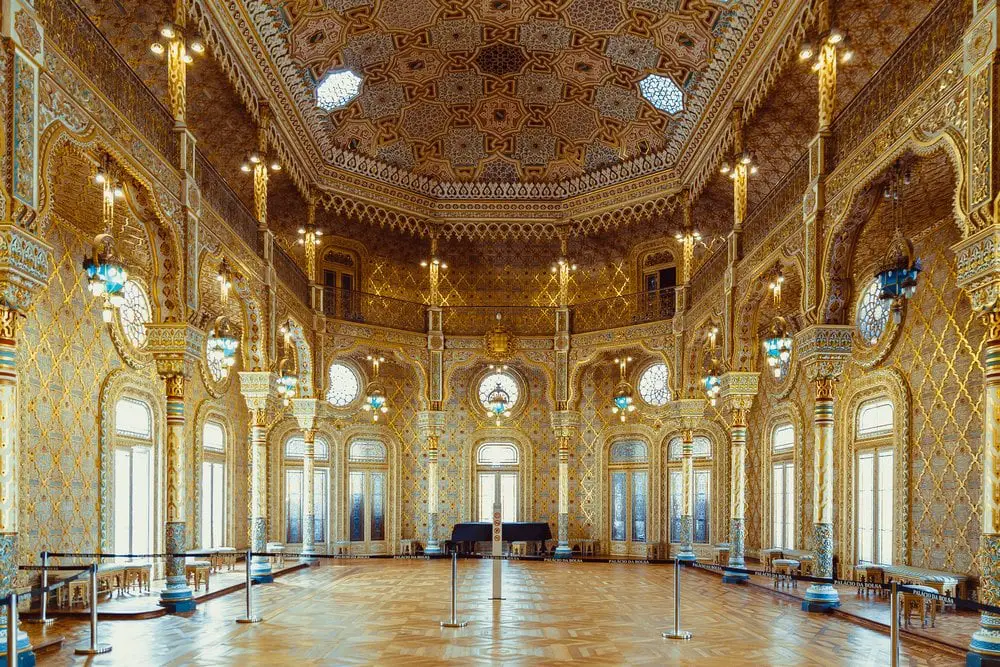 Next up is the Bolsa Palace, but you should break up the walk by stopping at the Miradouro da Igreja de São Lourenço. Miradouro is Portuguese for "viewpoint", so expect sweeping views over the city and the opportunity to take a ton of photos!
Next, it's time to head over to the Bolsa Palace. Built in the 19th century by the Commercial Association of Porto, Bolsa Palace is one of the city's top landmarks.
Although it's no longer used for its original purpose as a stock exchange, the palace is still owned by the Association and it's where they hold formal events and receptions.
The interior of this building is wild, with ridiculously lavish decor. This is best evidenced by the "Arab Room", where you'll struggle to find a single inch of wall space that isn't decorated. 
You can visit the Bolsa Palace on 30-minute guided tours, which cost €10.
Click here to book your tickets.
Stop 3: Miradouro da Vitória
Since you're nearby, you should definitely take advantage of visiting the Miradouro da Vitória for more fabulous views over Porto. It's just a 6-minute walk from the Bolsa Palace, although there is a steep uphill section.
Stop 4: Lunch at O Caraças
It's time for lunch, and there's no better place to visit in Porto if you like seafood than the family-run O Caraças.
This off-the-beaten-path restaurant feels like sitting in somebody's living room – in the best possible way! There are only two main dishes to choose from each day, so things are kept simple, fresh, and downright delicious. Plus, the portions are huge!
Stop 5: Stroll the Ribeira do Porto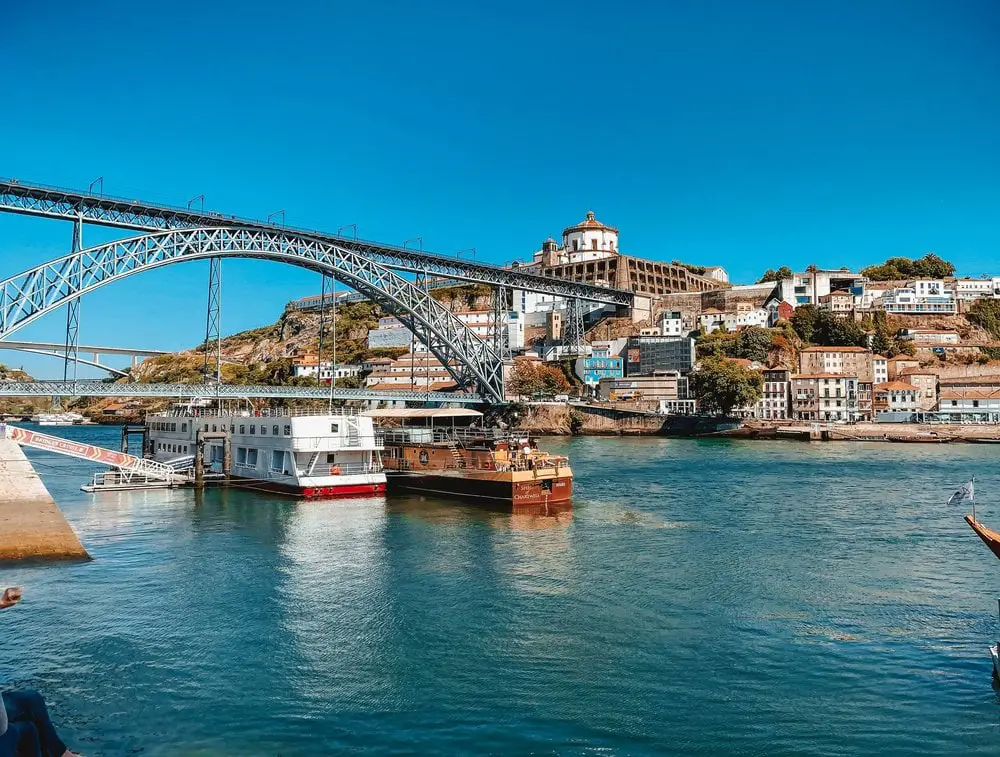 The Ribeira is the most touristy area of the city, but it really is lovely to stroll along. On a sunny day there is nowhere better than this walkway along the river.
You'll find hordes of other tourists here too, but it's great to watch the boats bob along the river, listen to the talented buskers who play at Ribeira, and maybe even enjoy an overpriced beer or two.
After all the walking you've done during your 2 days in Porto you have definitely deserved it!
Stop 6: Dom Luís I Bridge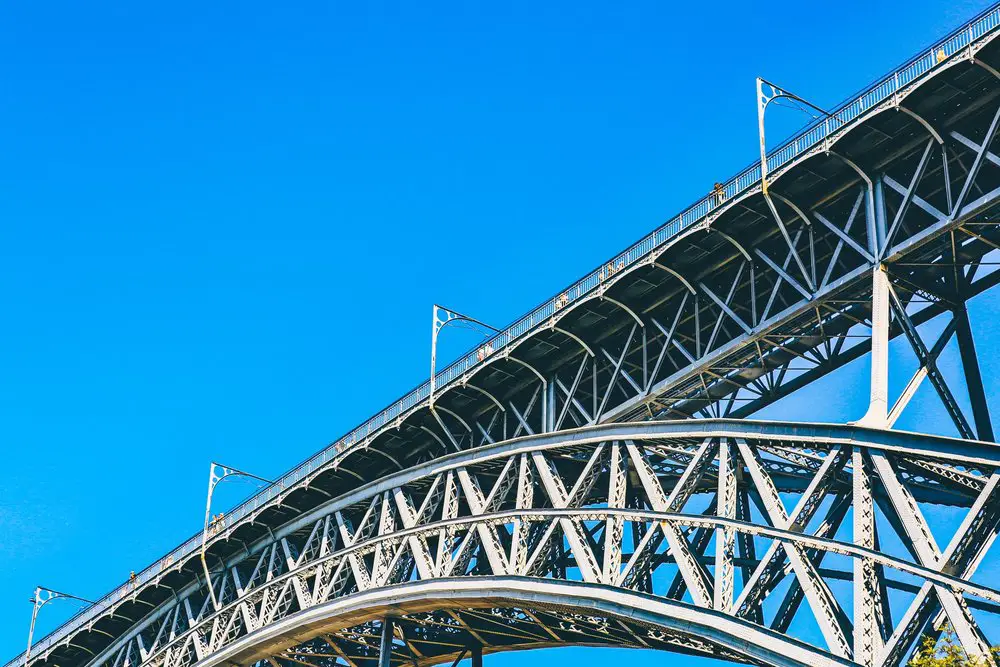 The Dom Luís I Bridge is definitely one of the most iconic Portugal landmarks and links downtown Porto with the Port wine cellars of Vila Nova de Gaia.
You'll have to cross the bridge anyway to get to the next stop on this itinerary, but it deserves its own place on your 2 days in Porto itinerary since it has (in my opinion) the best views of Porto – which is no mean feat! 
Stop 7: Port Wine Tasting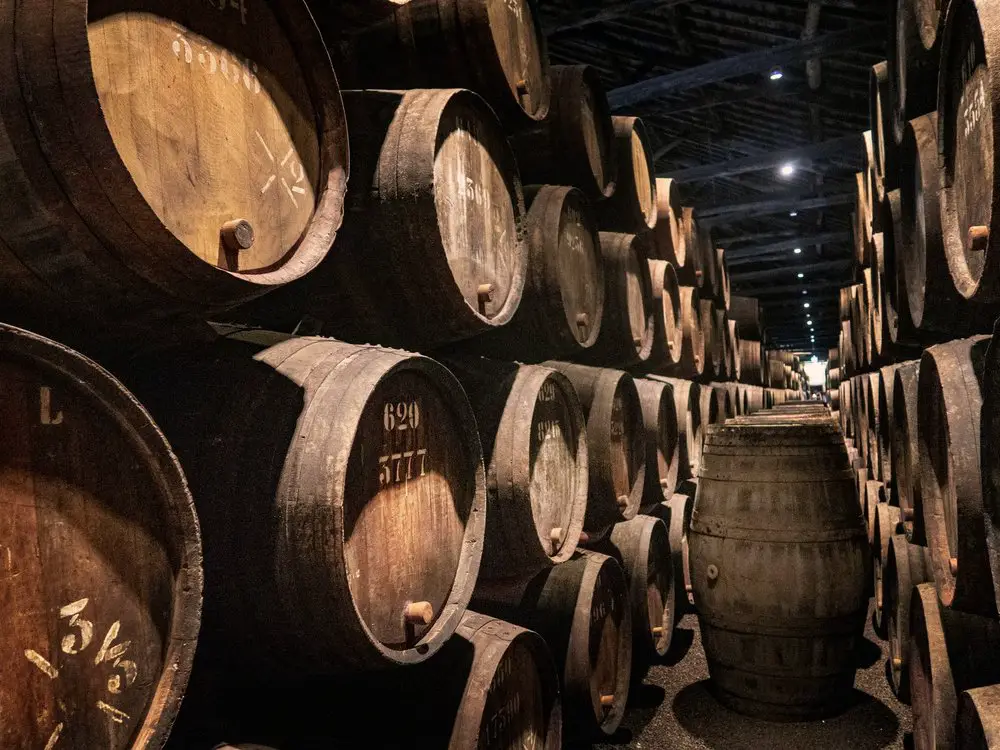 It would be outrageous to visit Porto without sampling some Port wine, and on the other side of the Dom Luís I Bridge you'll find all the best Port wine cellars in the city. 
The best way of visiting the wine cellars is on a guided tour, which costs €35 and includes a staggering 10 different wine tastings and visits to 3 different wine cellars!
Throw in a knowledgeable guide who'll share the history of Port winemaking and the Port wine cellars themselves, and it'd be crazy to try to visit the cellars independently. Find out more about the tour here!
I don't know about you, but I'm not that familiar with Port wine, so I would have been totally lost if I didn't have a guide to explain the different types, the process of how it is made, and how to taste it properly.
Click here to check availability & book your place!
Stop 8: Francesinha at O Afonso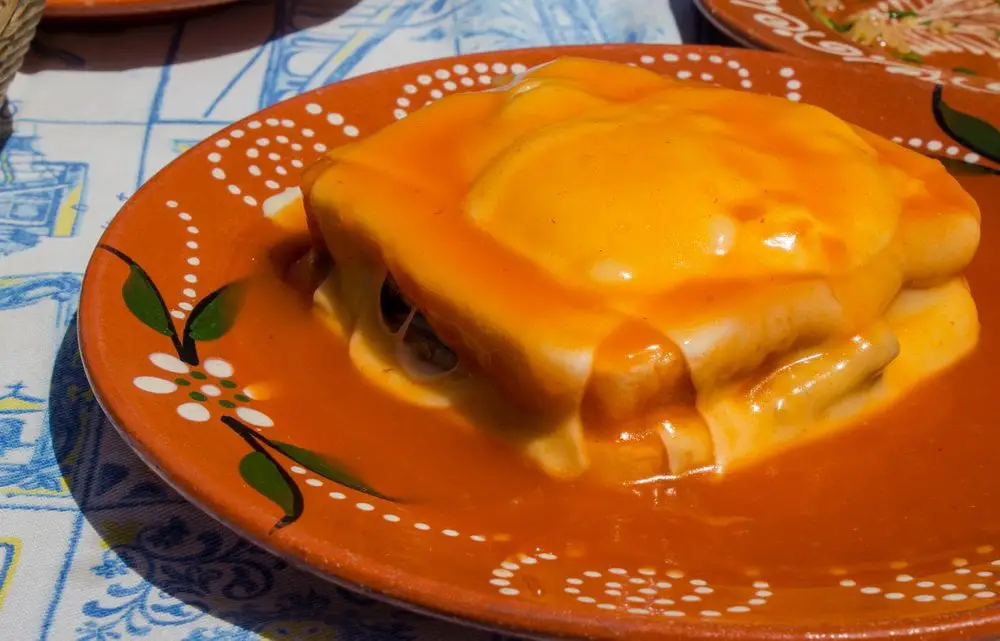 It's hotly debated where you can get the best Francesinha in Porto, but one of the top nominees is O Afonso. This is where Anthony Bourdain sampled the francesinha when he was in Porto, and that was enough of a recommendation for me!
A francesinha is basically the craziest sandwich you'll ever eat. It's a sandwich that includes pork, smoked sausage, bacon and steak, is topped off with a fried egg and melted cheese, and then coated in a rich, gravy-like beer sauce. And then it's served with fries.
It's probably the least healthy thing ever, but it's absolutely worth it.
Honorable mention: Sample Cachorrinhos at Cervejaria Gazela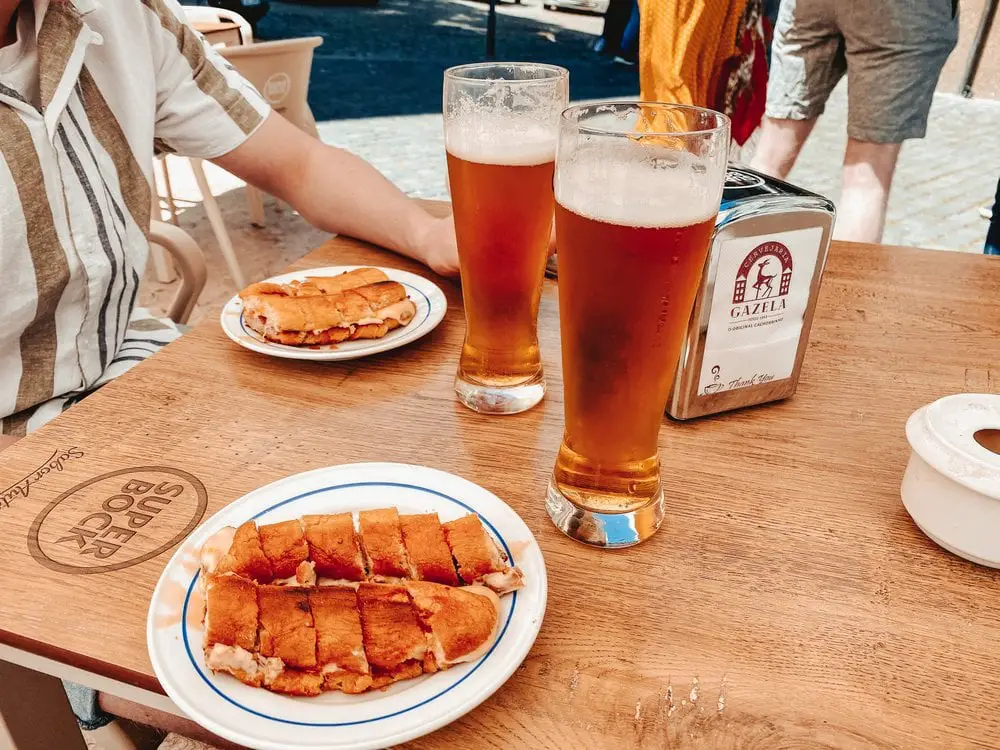 If you're looking for a top-notch snack whilst in Porto, or if you're just a foodie, I have another Anthony Bourdain approved joint for you to try. It's called Cervejaria Gazela, and it serves Cachorrinhos, a Porto staple you really need to eat whilst you're here.
A cachorrinho is a Porto-style hot dog, but it's way more special than a normal hot dog. It consists of crusty bread, fresh sausage, brushed with a spicy sauce and covered in melted cheese. It goes down incredibly well with a glass of cold beer when you're taking a break from sightseeing. 
How To Spend 3 or 4 Days In Porto
2 days in Porto is the perfect amount of time to sample the city's highlights. However, if you want to get out of the city and explore some of northern Portugal, I really do recommend adding a few extra days to your Porto itinerary.
If you're staying a few extra days, use Porto as a base for taking day trips to visit nearby attractions and cities.
I actually stayed in Porto for 4 days – I spent two days exploring Porto, and two days on day trips. You get the best of both worlds!
There are a ton of fabulous day trips you can do from Porto, but here are my top recommendations:
Douro Valley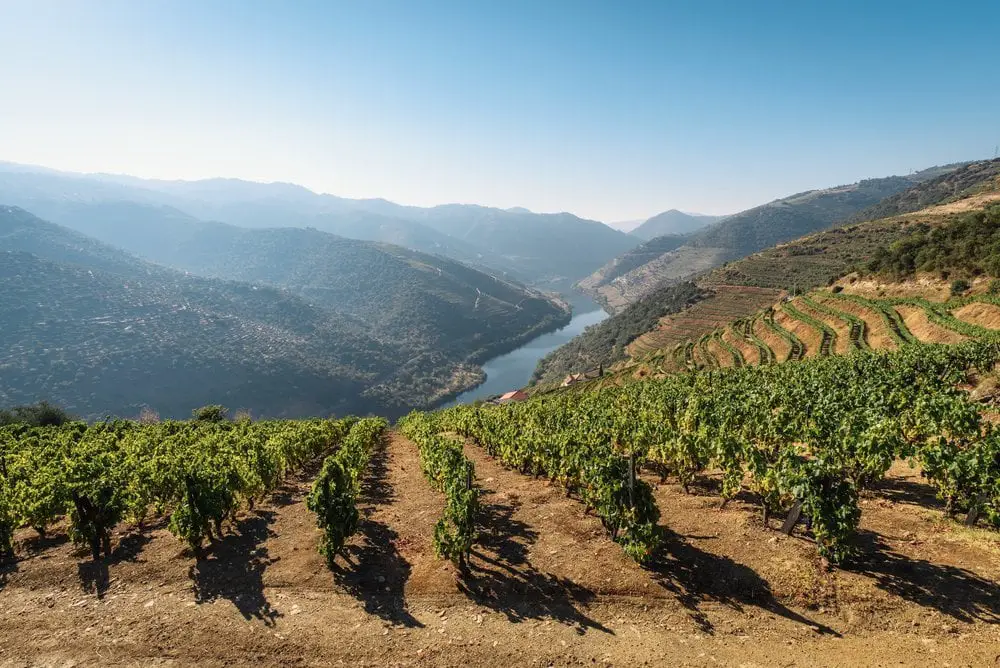 The home of Port wine and an all-around gorgeous place to visit, the Douro Valley is the most popular day trip from Porto by far. After all, everybody loves wine tasting!
The best way to explore the Douro Valley for the day is on a guided tour. That's because public transport between wineries is pretty much non-existent, and you hardly want to be driving or else you'll miss out on the wine!
I went on this tour and I can highly recommend it! You can check out my full review post here. We went wine tasting at two different wine estates, had a surprisingly luxurious lunch that included free-flowing wine, and went on a cruise of the Douro River, a mind-bogglingly gorgeous place. 
Braga and Guimarães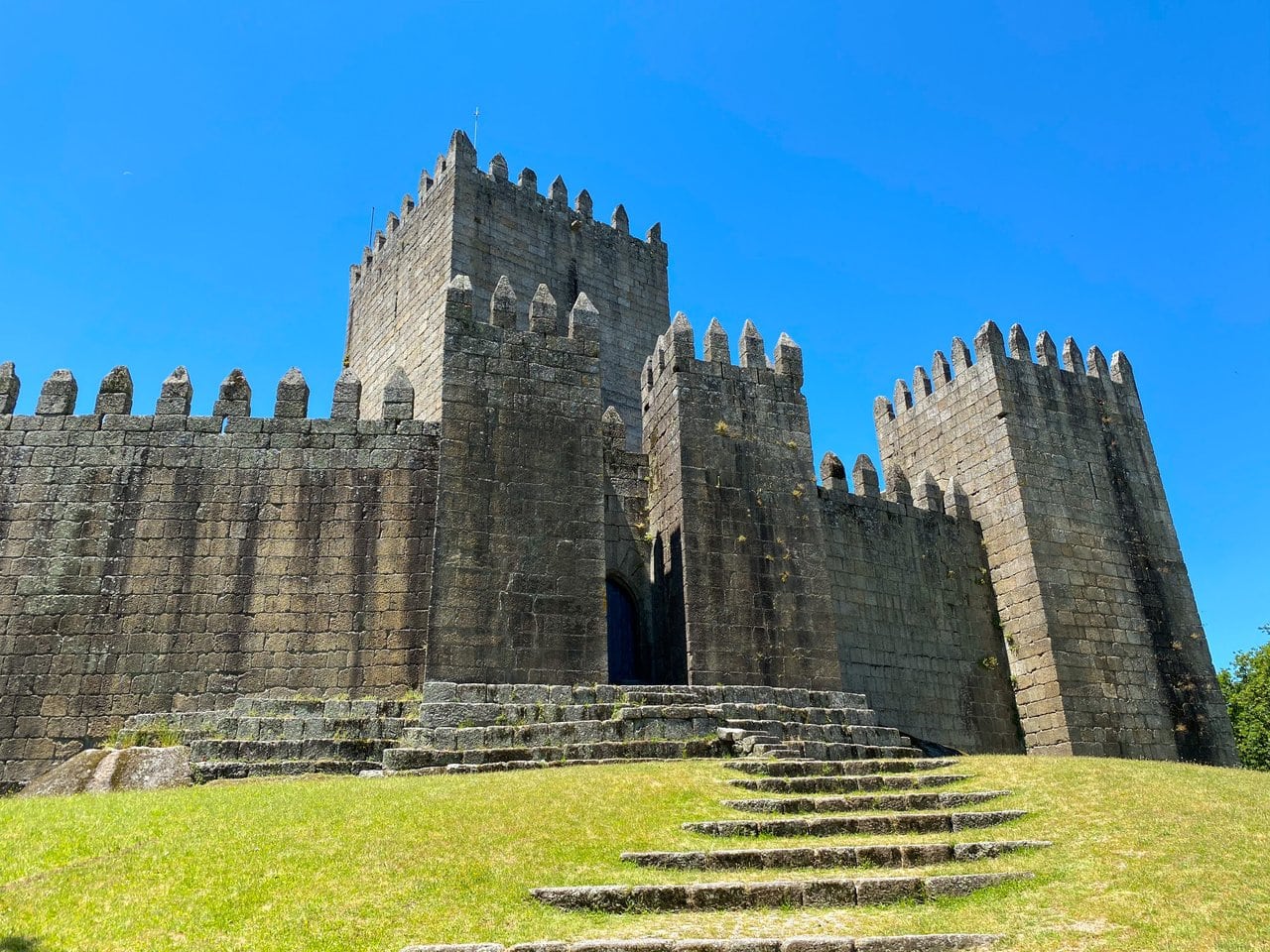 Braga and Guimarães are two cities that you can trace the foundation of Portugal back to, and there are lots of things to do in each city. I spent a full day just visiting Guimarães, and you can read all about how much I loved it here.
Chances are, though, you want to visit both cities but only have one day to spare. That's why I recommend joining this tour to take in the highlights of both magical cities in one day!
The day trip takes in the Bom Jesus de Braga, one of the most important pilgrimage sites in Portugal, the Guimarães Castle – the birthplace of the first King of Portugal, and a walking tour of Guimarães old town, the birthplace of Portugal.
Peneda-Gerês National Park
This lush national park is a national treasure of Portugal, and it's the perfect place to shake off the fast pace of the city. It's pretty much impossible to visit by public transport, so you'll need to join a tour to spend the day there. 
This tour includes your transport in a 4×4 to and from Porto, an 8-10km guided hike into the heart of the park, and a chance to swim in the natural pools of the park.
You'll also get to visit a small local village, where you'll enjoy an authentic Portuguese lunch which is included in the tour price. It gets insanely good reviews, and this is the exact same tour I was planning to book until my physio told me not to do any hiking on my trip… Boo!
Extra Travel Information For Your 2 Days In Porto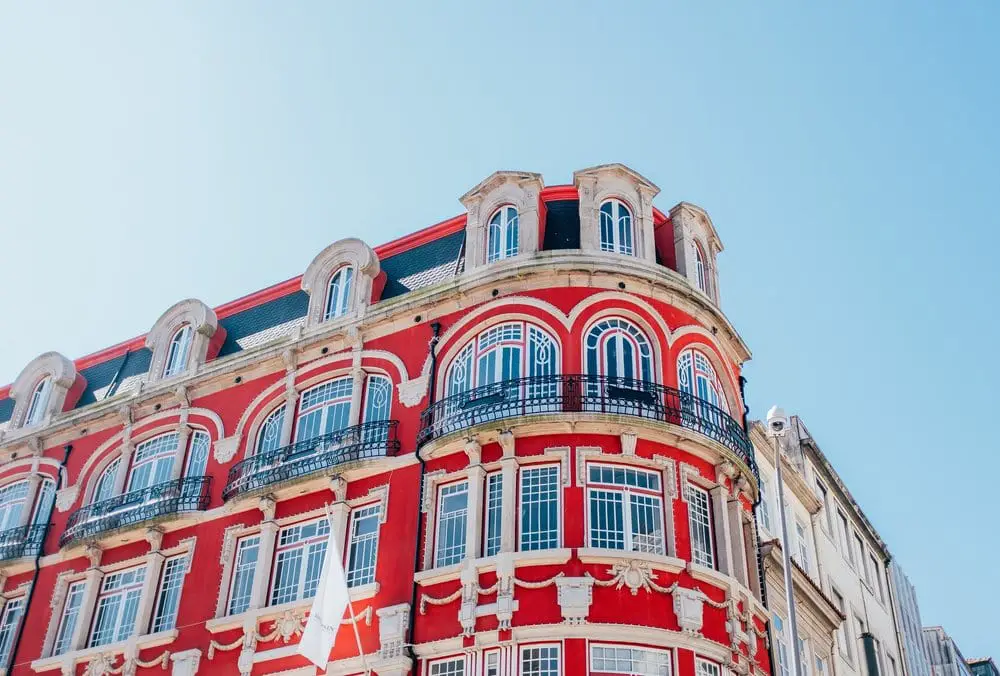 Language
Portuguese is the official language of Porto (and Portugal). Although everybody who works with tourists speaks English, you'll find that not as many people can speak English as in Lisbon. 
I recommend learning the very basics in Portuguese – Please, Thank You, Hi and Bye. Locals really appreciate it when you make a small effort to learn a few words of Portuguese. Plus, learning a new language is always fun!
Portuguese is its own distinct language and is definitely not Spanish. If you can't speak in Portuguese, it's much better to just speak in English than to assume that somebody will speak Spanish and potentially cause offence.
Porto Travel Tips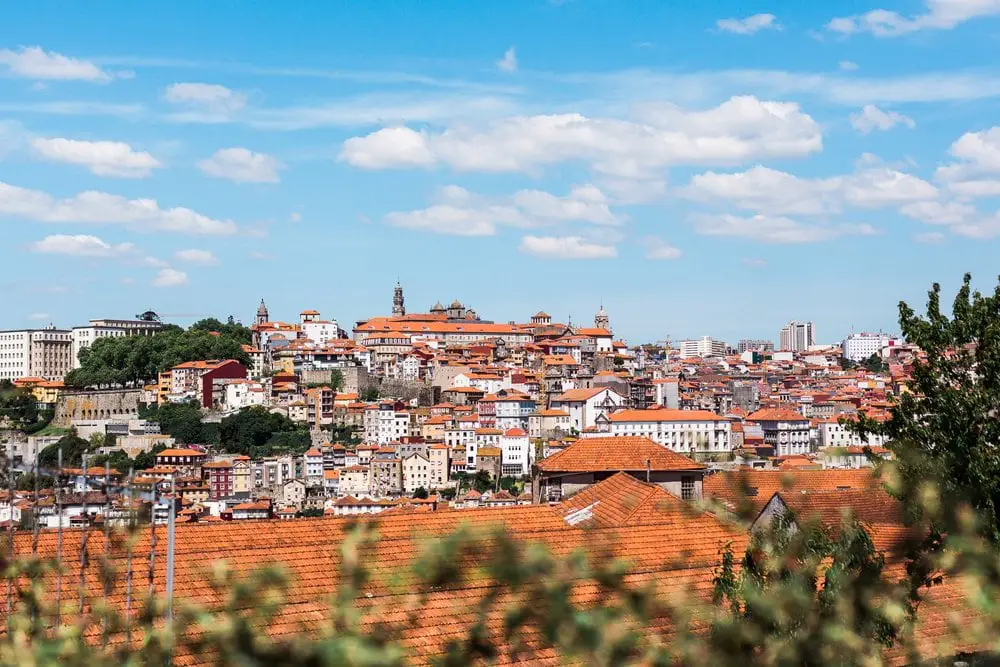 Some parts of Porto can be very steep, and this wasn't something I expected when I visited. I'd definitely heard about how hilly Lisbon is, but the uphill climbs I endured in Porto were a complete surprise to me.
I have put this Porto itinerary together in a way that minimises the amount of walking you'll need to do between destinations, but if you have limited mobility it may be better to get taxis.
The steepest area in Porto is around the Ribeira, so when you head down there be prepared to climb back up to town afterwards!
Since you'll do plenty of walking in Porto, be sure to bring comfortable shoes you can walk for miles in. Now is not the time to pack those cute new shoes you haven't broken in yet!
I was also surprised by how much cash is still used in Porto. In fact, quite a few local bars and restaurants don't accept cards at all. For this reason, it's definitely worth keeping enough cash on you at all times and taking a card that allows you to withdraw cash without charging you extra for overseas payments.
It can get pretty chilly in Porto, given its northern location, so it's definitely worth packing clothing that is warm. Even in the height of summer I wore jeans in Porto and even needed a sweater on some days!
How to Get Around Porto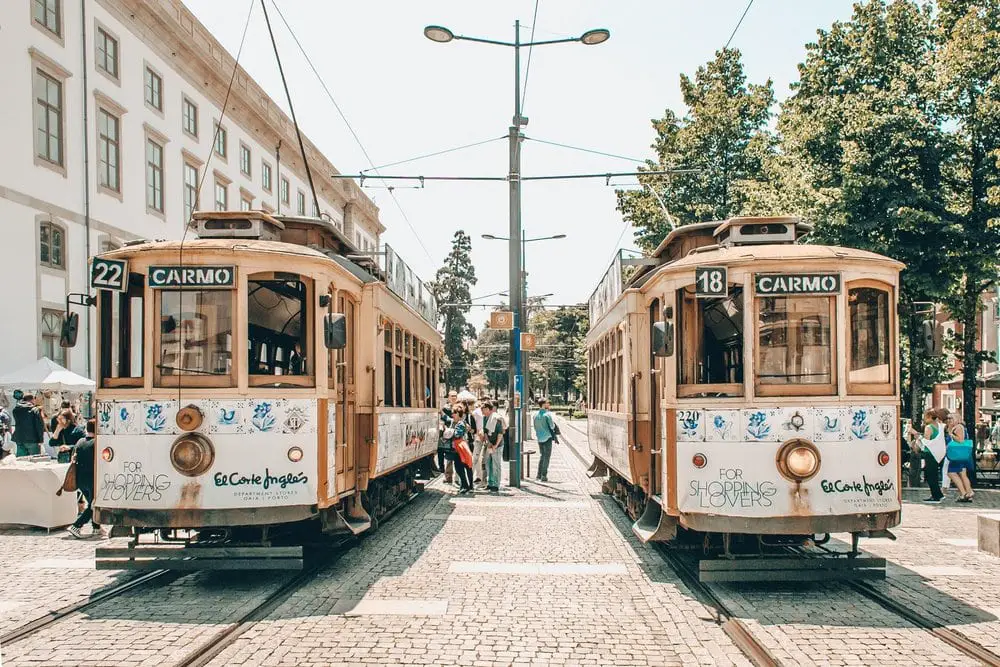 Getting around Porto is a breeze, and a lot of the city is actually walkable.
If you're flying into Porto you'll arrive at Porto Aeroport, which is connected to the city by the metro. In the arrivals hall, you'll see directions to the Metro Station, where you can purchase a ticket and board Line E (the purple line) to the city.
The metro runs every 20 or 30 minutes, and tickets cost €2.45 (which includes €0.60 for a reusable transport card). If you have bought a Porto Card and collected it from the airport, you can travel for free.
You'll need to always activate your ticket by 'tapping in' at the ticket scanner before each journey, and between trains if you're switching trains.
If you're arriving in Porto by bus or train, you'll either arrive right in the centre of the city or just a short metro ride away, so it's very easy to get around.
In terms of getting around in Porto, I never had to use public transport once. If you follow this Porto itinerary, you won't need to either. Not only is exploring the city on foot ideal for burning off all the heavy Portuguese food, but it also saves money! 
However, if your accommodation is far out of the city centre, you'll probably need to use public transport. There are a ton of buses in Porto, but it can get pretty confusing if you're not familiar with the stops and if you don't speak Portuguese. Instead, I recommend you use the metro where possible, as it's much easier to navigate!
The type of ticket you'll need depends on how many zones you'll travel through, but a normal single ticket taking you to most places you would want to go to as a tourist costs €1.20.
There are 24-hour metro tickets available, but as a tourist I just can't see how you would be able to get good value out of them.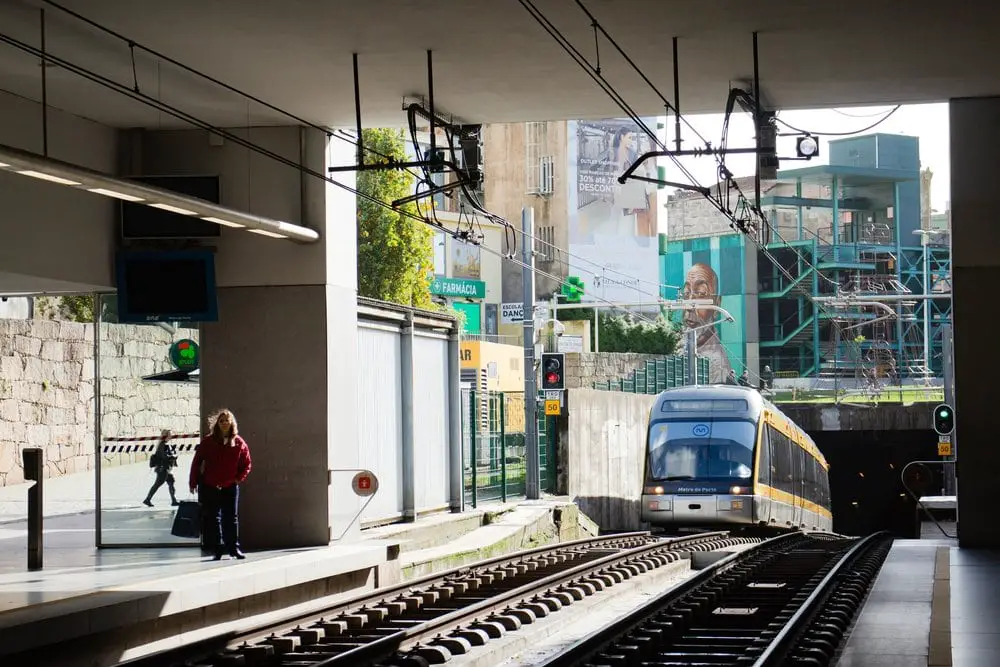 When Is The Best Time To Visit Porto?
Summer (June-August) is definitely the best time to spend 2 days in Porto because the weather is generally pleasant and it's very dry. Unlike what you might imagine about Portugal, the fact that Porto is in the north of the country means it doesn't actually get that hot, and can actually be very wet in winter!
It's quite rare that I recommend visiting a destination during its peak season, but for Porto I really do believe it is the best time! Unlike many other European cities, Porto doesn't get *that* overrun with tourists in summer. It's definitely not too crowded to enjoy. What's more, it doesn't get too hot to be enjoyable.
That said, if you're considering spending 2 days in Porto in winter, I still think it would be worth it. You'll spend far less time standing in queues and there are plenty of indoor attractions you can visit.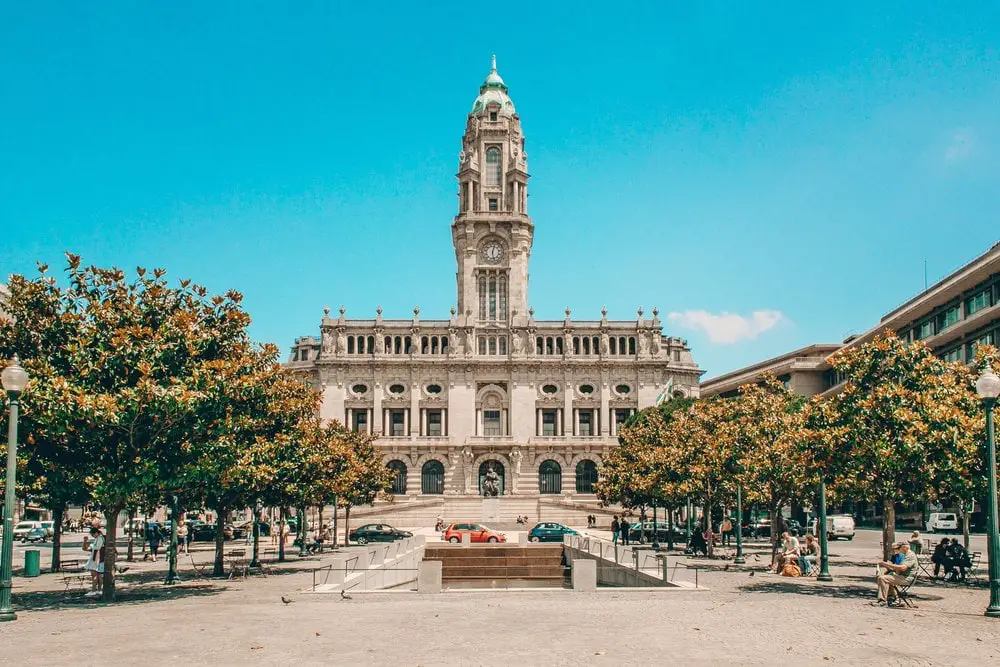 Where To Stay In Porto
Hostels in Porto
When it comes to both price and location, PILOT Design Hotel & Bar can't be beaten! It's got an awesome 9.3/10 on Hostelworld, costs just €11 per night for a dorm bed, and is located right in the centre of the city. It's the perfect place to stay in Porto if you're visiting on a budget or if you're a solo traveller looking to meet other travellers to hang out with.
Hotels in Porto
There's a great selection of high-quality budget hotels in Porto, provided you book quite far in advance if you're travelling during summer!
I, as usual, left looking for accommodation to the last minute. I struggled to find any good deals, so learn from my mistakes and book as far in advance as you can!
My favourite from my research was the PortoBay Hotel Teatro, which is right in the centre (saving you those strenuous uphill walks home) and is bright, spacious, and beautifully decorated using natural resources such as wood and lots of earth tones. It's got a very impressive 9.4/10 rating, AND they price match if you book via Booking.com, meaning you'll always get the best deal!
Double rooms cost around €112 per night. 
Airbnbs in Porto
I stayed in this fabulous Airbnb, which was great value for money and in the perfect central location.
Although I dislike Airbnb in general due to their shady business practices, the fact that I booked this trip so last minute meant I was struggling to find a decent hotel for a decent price. Begrudgingly, this Airbnb was the perfect solution.
Is Porto Worth Visiting?
Porto is absolutely worth visiting if you're looking for an authentic Portuguese city to discover that won't break the bank. I found it to be slightly cheaper than Lisbon, making Porto the perfect option for budget travellers!
Porto felt very different to Lisbon, so if you have time I recommend visiting them both to choose which one you prefer.
However, if you only have time for one city, my recommendation would be Lisbon. The capital felt more lively, had better weather, and is the perfect jumping-off point for Sintra, the most beautiful town in Portugal!
---
And that's it, folks! That's everything you need to know to spend a fantastic 2 days in Porto. I'm certain you'll really enjoy your time in this fun city, and if you can, definitely consider staying for an extra night or two so you can get out and explore the surrounding area!
I have quite a few Portugal posts, so don't forget to head over to my Portugal page if you want any more trip inspiration or practical info for travelling Portugal!
Liked this post? Pin it!