There is a good chance that this post contains affiliate links. If you make a purchase through them, I may receive a small commission at no extra cost to you! As an Amazon Associate, I earn from qualifying purchases. As ever, all opinions are my own.
Last Updated on January 4, 2022 by Ella
We've all heard of Sintra, the most popular day trip from Lisbon. But what if I told you you could explore a palace just as beautiful as any in Sintra, but you'll have the entire place to yourself? And the train there from Lisbon takes just 17 minutes….
Yup, we're talking about the National Palace of Queluz!
On my second trip to Lisbon I had already covered some of the more well-known day trips and was looking for something slightly different. After having such an amazing time in Sintra, I was definitely keen to explore another Portuguese palace, so when I came across Queluz Palace online I knew I needed to get there.
Well, I definitely made the right decision! Queluz Palace exceeded all of my expectations. What blew my mind when I finally arrived, though, is that I did not see a single other visitor my entire time at the palace. My boyfriend and I, quite literally, had the whole palace and gardens to ourselves! 
This palace is the definition of a hidden gem, and I HIGHLY recommend you visit it when you're next in Lisbon!
Get your Queluz Palace entry tickets here!
Why You Should Visit Queluz Palace
Okay, we've already covered that you should visit the National Palace of Queluz because it's absolutely gorgeous and is easy to reach from Lisbon, but let's go into a bit more detail.
If you've already been to the palaces in Sintra, you'll know that, although they're beautiful, you learn pretty much nothing from visiting them. That's because there's barely any information on the history of the palaces or their inhabitants on display. As a history nerd, I couldn't help but feel slightly disappointed.
That's not the case at Queluz Palace!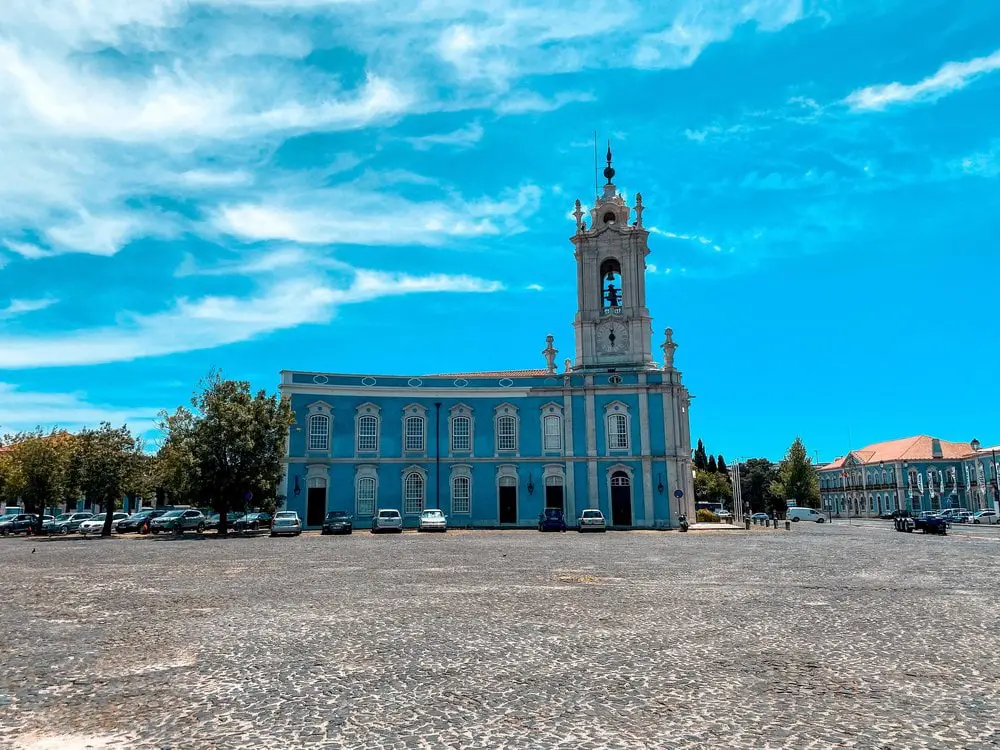 I learnt SO MUCH about the history of the Portuguese royal family on my visit to Queluz Palace. And trust me, there's quite a lot of scandal to learn about, like the… ahem… creepy King Pedro and his niece/wife (yup) Queen Maria.
It's also fascinating to learn about how the royal family managed to rule over both Portugal and Brazil way back when it would take you entire weeks to travel between the two.
Exploring Inside Queluz Palace
If you've been to a few palaces before, chances are you won't see much inside Queluz Palace that you haven't seen before. We're taking extravagant rooms with lots of gold, grand halls which held fancy events, and the complex chain of staterooms where courtiers would wait to see the King. It's beautiful and interesting, but it's not particularly unique.
One thing that is totally unique to Queluz Palace, though, is its hilarious family portraits. You would not believe how ugly the Portuguese royal family was. I know it sounds like I'm joking, but –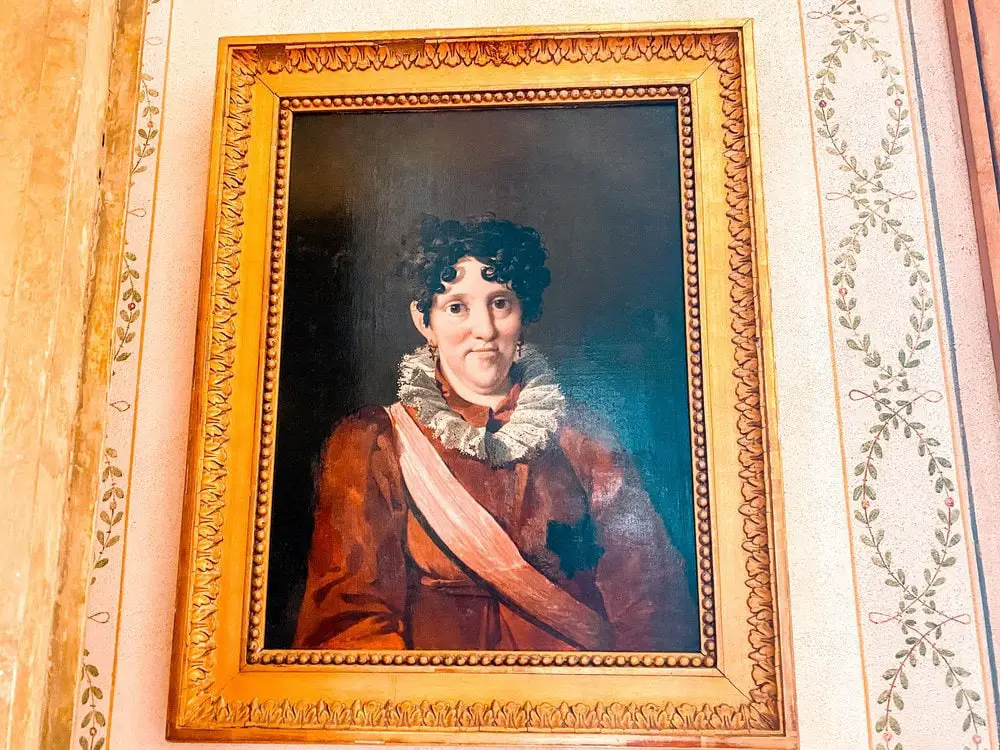 Ya see what I mean?
One of the highlights of wandering the Palace of Queluz is trying to hold back your laughter as you encounter yet another horrific family portrait. Or maybe I'm just easily entertained!
The Palace was built in 1747 and was modelled after Paris' Palace of Versailles. That's why it's called the Versailles of Portugal! It was the official home of the Portuguese royal family from the late 1700s until 1807, when they dramatically abandoned it. Napoleon was closing in on Portugal, and the family decided to pack up almost everything they owned and flee to Brazil.
In case you didn't know (I didn't) Portugal abolished its monarchy in 1910. The role of Queluz Palace therefore shifted to being a place where important official meetings or state functions took place.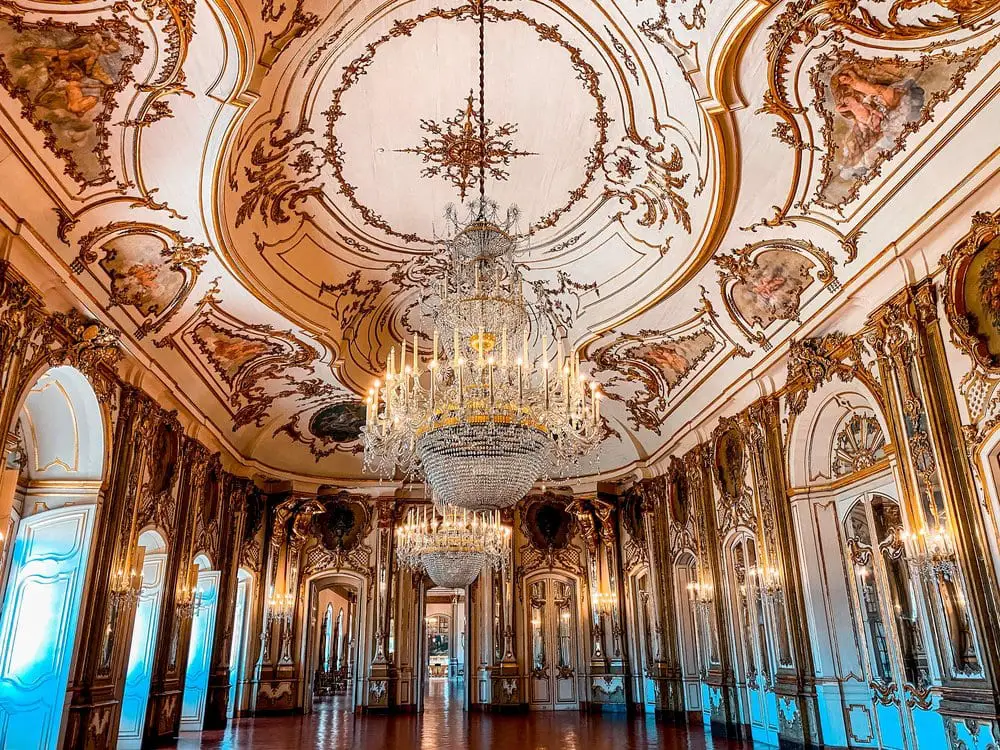 Nowadays, the Palace has been restored to its former glory. You'll be able to take in the mirror-lined Throne Room, the important Don Quixote Room, and the Ambassador's Room at your own pace, since you'll probably be the only visitor!
Oh – and be sure to look out for the funny portraits.
Strolling The Queluz Gardens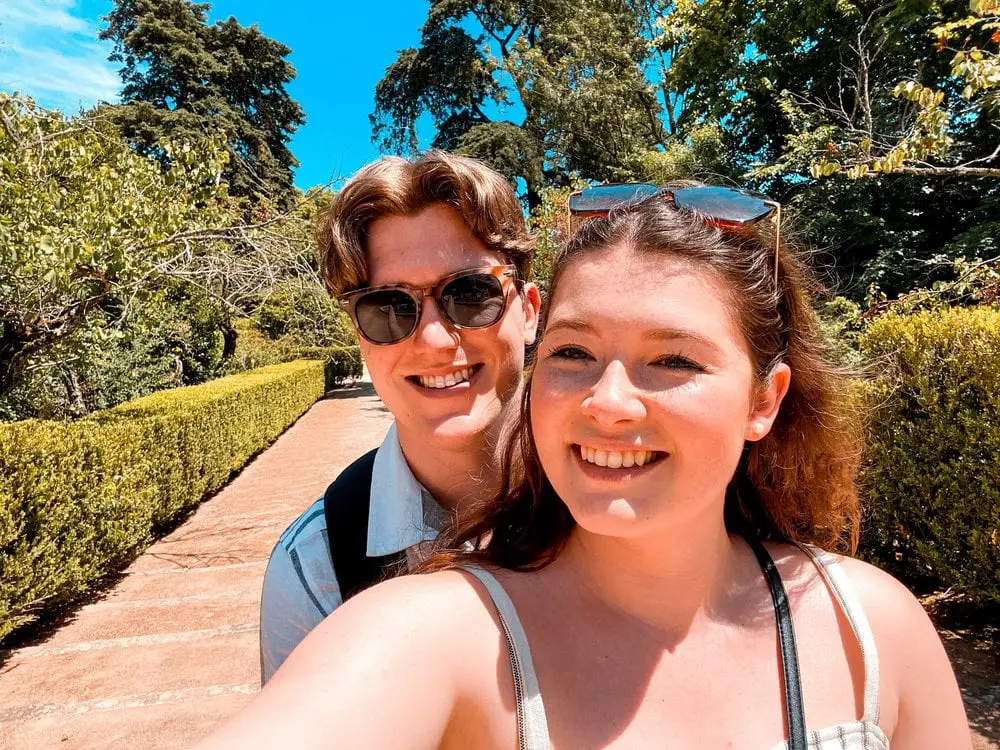 You also need to visit Queluz Palace for its gardens, which are easily the most beautiful gardens I have visited in Portugal (possibly ever?). Exploring them without any other visitors nearby, it's very easy to imagine yourself as part of the Portuguese royal family a few hundred years ago.
You'll get a map of the palace and gardens on arrival, but in my opinion, the best way to explore the gardens is wandering aimlessly, checking out anything that catches your eye. And there's plenty to catch your eye! You'll find countless sculptures of mythological creatures in the garden, as well as numerous fountains and the highlight, the tiled canal.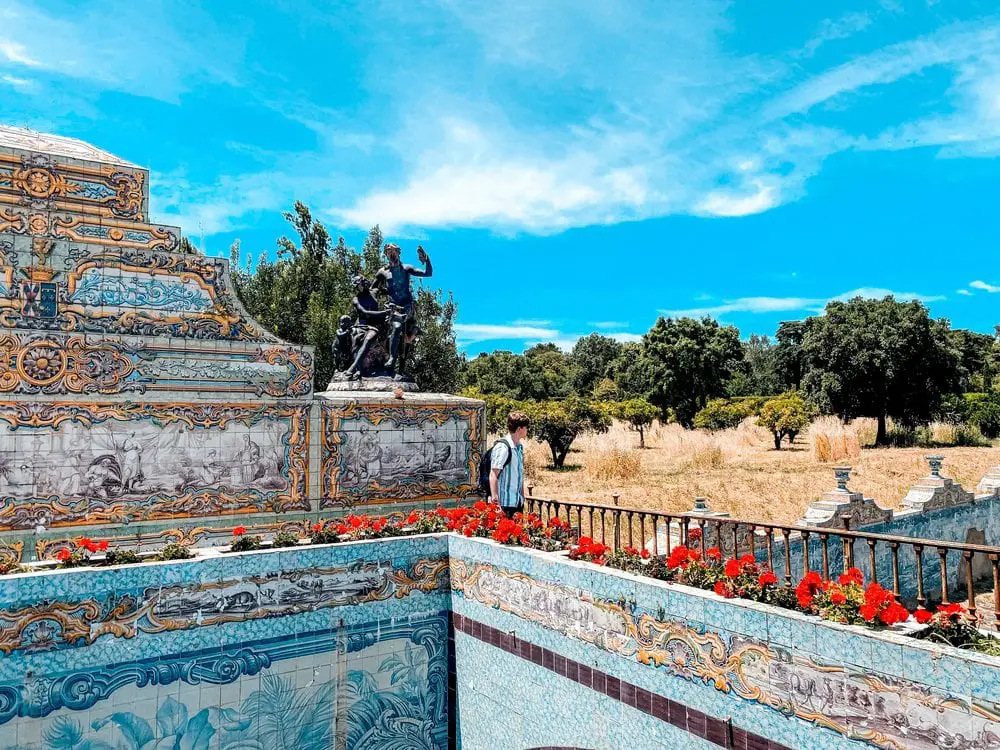 The canal does not have any water these days, but this used to be where the royal family would ride gondolas. It was absolutely wild to me to see that the complex and beautifully decorated tiles were used to line a canal because it seemed like such a waste. But I guess the royal family could have whatever they wanted. It must be nice!
We visited Queluz in summer, so it was baking hot, and there's pretty much no shaded areas in the gardens. Be sure to apply sun cream liberally and pack a ton of water to take with you if you want to spend a good amount of time in the Queluz Gardens!
How to Get to Queluz Palace From Lisbon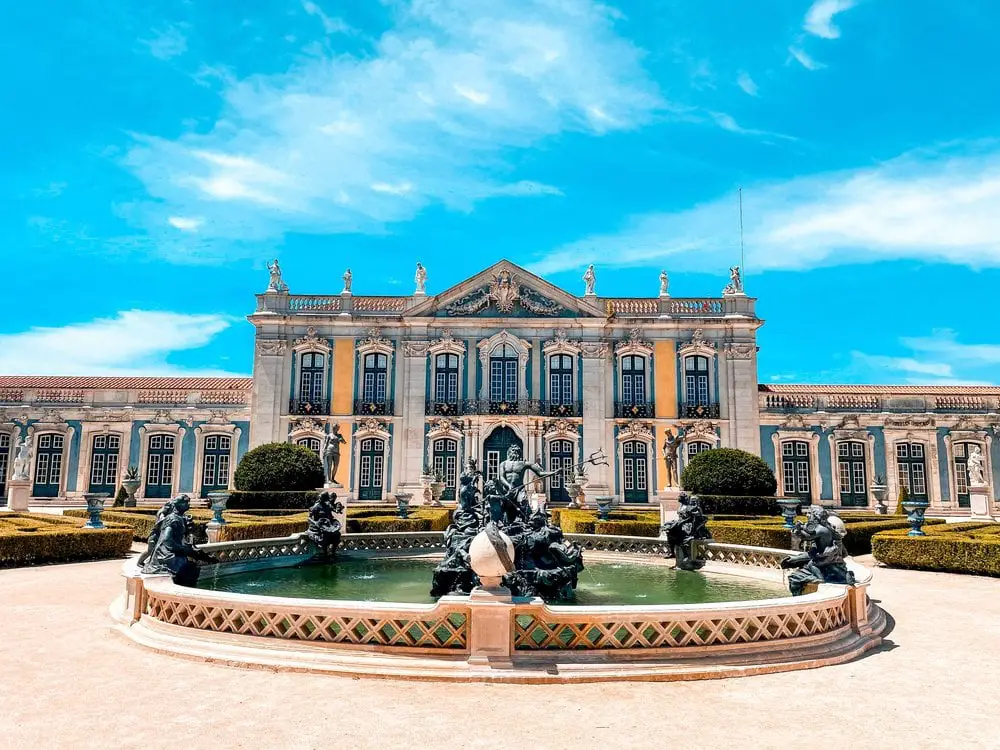 It's super easy to get to Queluz Palace from central Lisbon, and it's cheap too!
You'll need to catch the train from Rossio station in Lisbon to Queluz-Belas station. The train departs three times an hour, and it takes around 17 minutes. Before your journey, you'll need to add the correct ticket to your Viva Viagem card.
If you've been in Lisbon for a couple of days, chances are you already have a Viva Viagem card. It's a reusable train pass that lets you add credit or tickets to it to travel around the city. If you don't already have one, they're super easy to get at the ticket kiosk at the train stations, and cost €0.50.
You'll need to load your Viva Viagem with a 3-Zone ticket to get to Queluz, which costs €1.95. To cover your return journey back to Lisbon, purchase two of these (€3.90).
From Queluz train station, it's a very straightforward 12-minute walk to Queluz Palace!
Opening Times & Tickets for Queluz Palace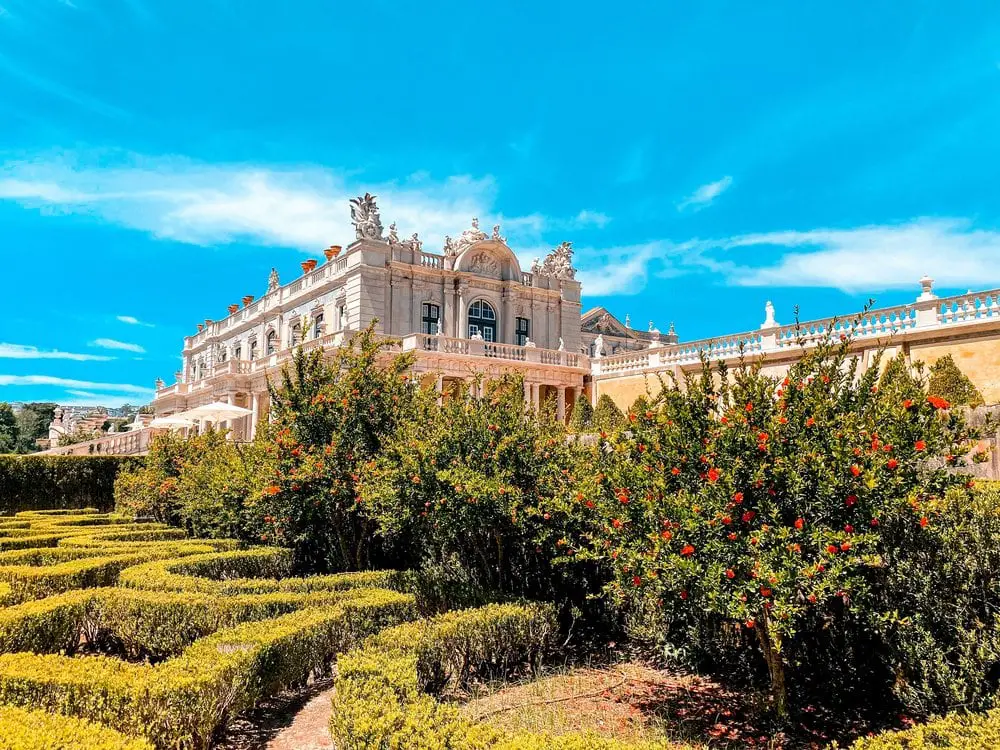 Queluz Palace is open every day from 9am-6pm daily, with the Queluz Gardens staying open an extra half hour, until 6:30pm. 
It costs €10 for a combined ticket for both the palace and gardens, and €5 for a gardens-only ticket.
Let's be real, though – you'd be massively missing out if you went all the way to Queluz and didn't explore the palace too. If you have the Lisboa Card, you'll get 15% off the entry price.
You're (technically) able to purchase Queluz entry tickets at the palace itself, but when we visited there was nobody at the ticket desk, so a security guard told us to purchase a ticket from the ticket machine instead. The only issue was, the darn machine wasn't working. 
Between us and the security guard we managed to, eventually, get the machine working, but to save yourself the uncertainty I definitely recommend just buying your tickets online in advance. The security guard didn't seem surprised that there was nobody at the ticket desk and that the ticket machine was broken, so I'm guessing that it's not a rarity. 
Click here to book your tickets!
Is Queluz Palace Worth Visiting?
Queluz Palace is definitely worth visiting – having the entire place to ourselves was incredible and the palace is excellent value for money. It's far cheaper than the popular Sintra palaces, but double the value! I liked it so much that I included Queluz Palace on my list of the best landmarks to visit in Portugal!
Since it's such a short journey on the train you won't need to allocate more than half a day to visiting Queluz – perfect if you're short on time!