There is a good chance that this post contains affiliate links. If you make a purchase through them, I may receive a small commission at no extra cost to you! As an Amazon Associate, I earn from qualifying purchases. As ever, all opinions are my own.
On my trip to Lisbon, Portugal, I had one goal: to take a day trip to see the big waves in Nazare.
As a surfing enthusiast, I've spent every winter for the last few years watching the insane surfing in Nazare!
It was not a disappointment.
I had an incredible time visiting Nazare, home to the biggest waves in the world, and in this blog post I'll teach you how to do the same.
This small beach town is world-famous for its monster waves.
Every winter, swathes of professional big wave surfers descend on the town ready to test themselves, physically and mentally, to the absolute limits.
Nazare is home to the biggest waves in Portugal, and the biggest (surfable) waves in the world!
They'll stay here for months, anxiously checking the surf forecasts and waiting for the big swells to roll in.
And when I say big waves I mean BIG.
These guys aren't playing around!
If you also dream of seeing the giant waves in Nazare, Portugal, this guide is for you.
Here, I'll go over everything you need to know to visit the Nazare waves, including how to get there, where, exactly, in Nazare you need to go to see the waves, when the Nazare big wave season runs, and more!
So, strap in, and let's get started.
Where Is Nazare?
Nazare is one of the most popular seaside resorts on the Silver Coast, an area on Portugal's west coast facing the Atlantic ocean.
It's around 75 miles away from Lisbon by car.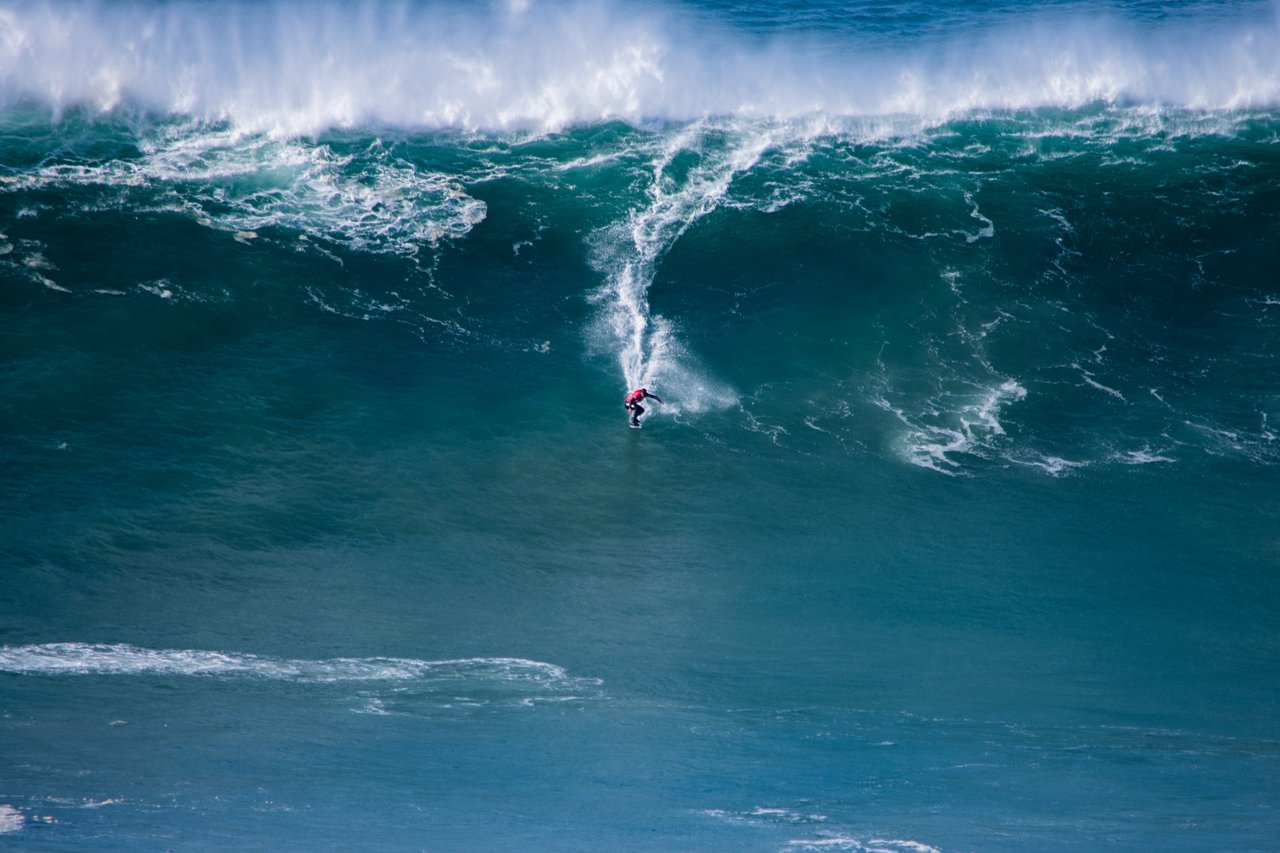 Where in Nazare is the Big Wave Surfing?
There are two beaches in central Nazare – Praia da Nazare (Nazare Beach) and Praia do Norte (North Beach).
Although Praia da Nazaré is in the town centre, this isn't where you'll see the big waves.
In fact, the waves on this Nazare beach are surprisingly mild!
Instead, you'll want to head to Nazare's Lighthouse, Farol da Nazare.
This lighthouse is on the headland bordering the Praia do Norte beach, where the Nazare big waves break.
To get here from Nazare town, you can either drive or take the Funicular and then walk.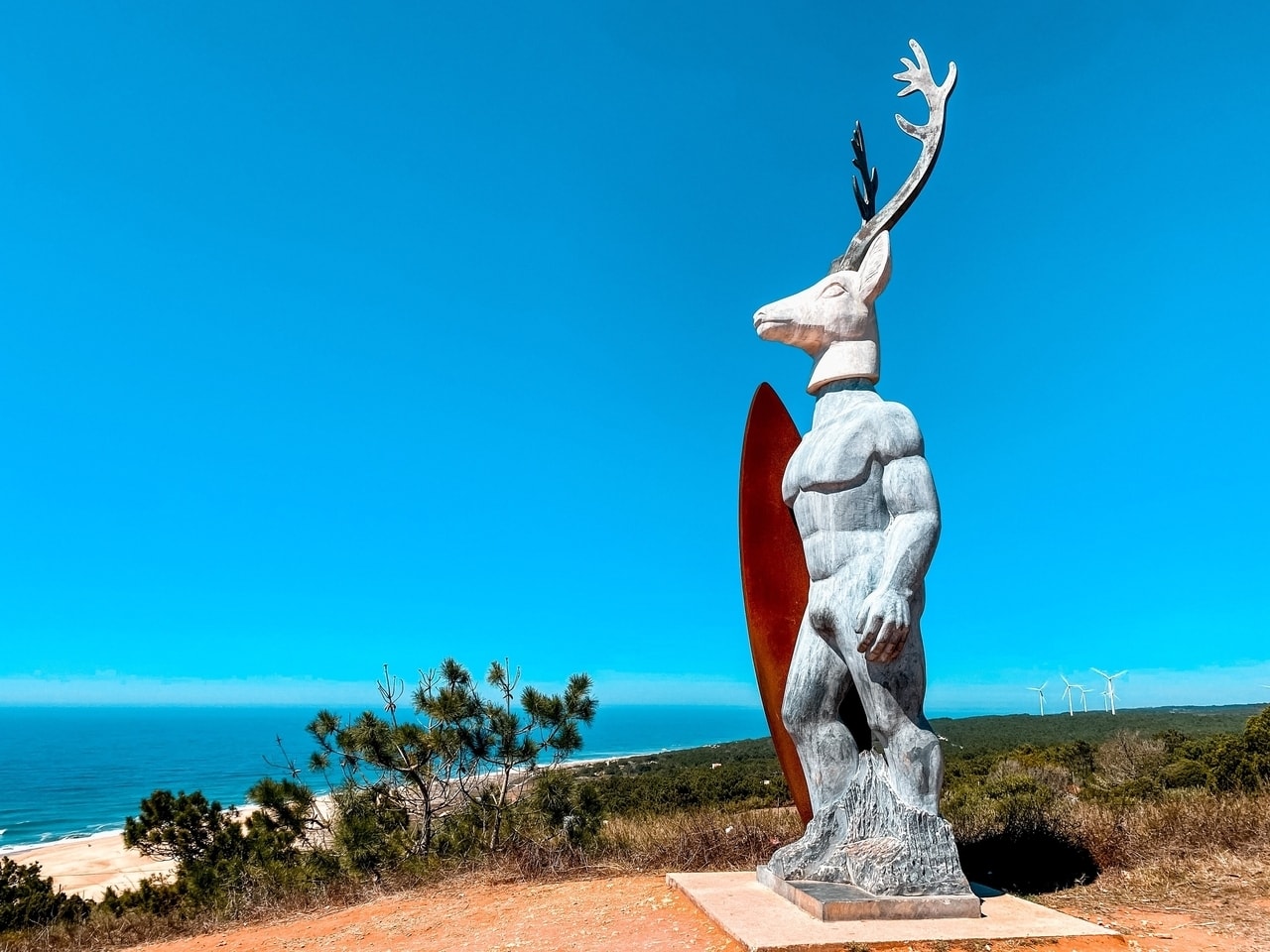 Nazare Lighthouse
The lighthouse is the best place to view the waves as it offers panoramic views of the waves breaking from a safe distance. It's the go-to Nazare lookout point!
You may recognise this red lighthouse as featured in all those crazy photos and videos of people watching the insane surfers on the monster waves in Nazare.
That's because this is is the Nazare big wave view point you see in all the photos.
Because of this the Nazare Lighthouse is one of the most famous landmarks in Portugal! 
This whole area is an awesome place to spend a while and hang out.
In summer, buskers play laid-back music, and there are countless viewpoints to look over either the town or the Praia do Norte.
Nazare Surfing Museum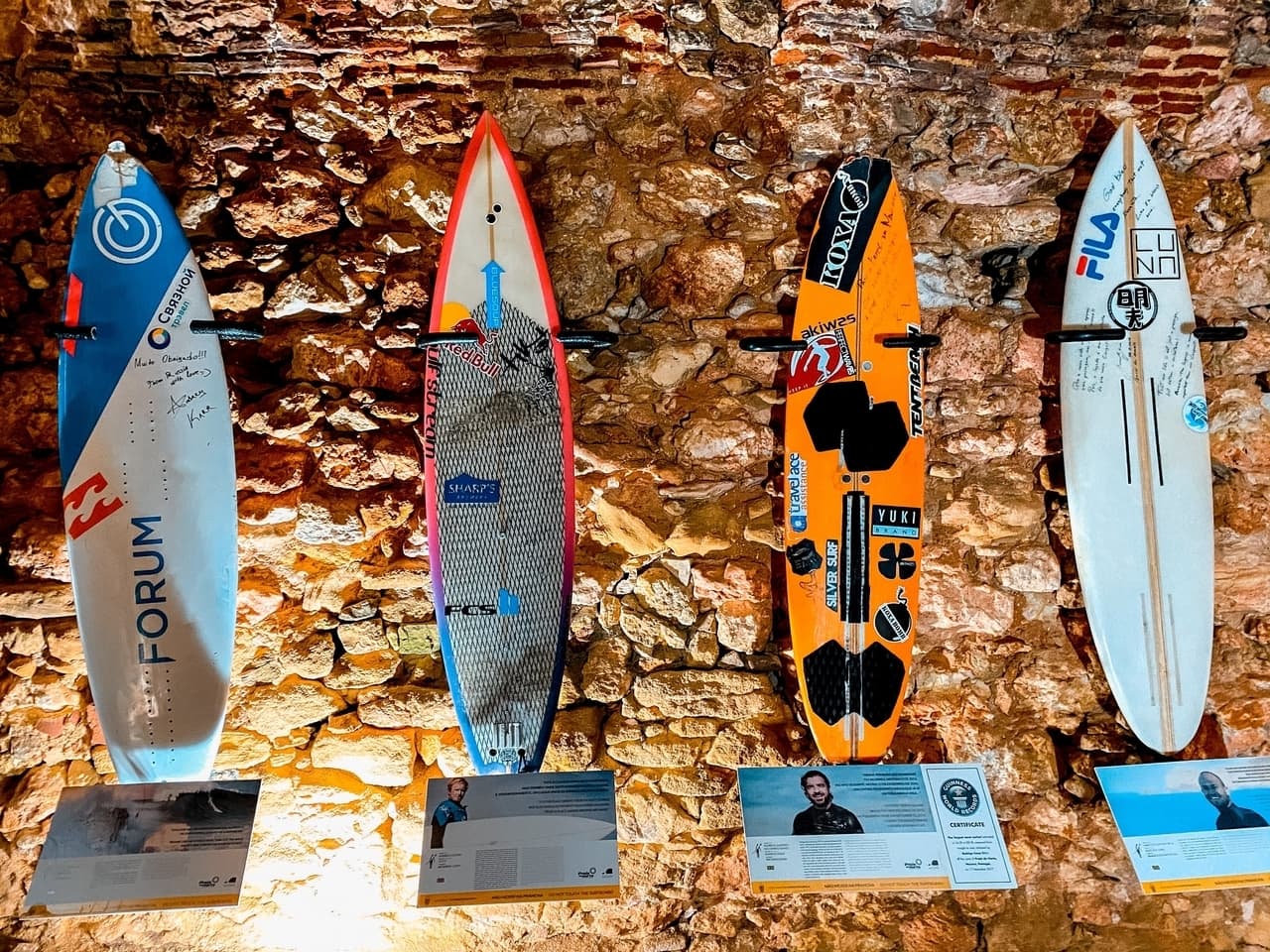 To get to the lighthouse itself, you'll have to enter the Nazare surfing museum underneath it.
I was so stoked when I found this out, as I wasn't even aware there was a surfing museum here!
Entry to the museum costs just €1. Although it's a small museum, it made my visit undoubtedly better.
It contains an exhibition space explaining why the waves here get so huge (turns out there's a massive underwater canyon which causes the waves to build so much height).
There's also a section with videos and photos documenting the sheer power of the Nazare waves (and just how brave/insane the surfers are)!
My favourite part, though, was the space which contained surfboards and jet skis used by surfers in Nazare and donated to the museum.
Some of these are in super rough shape after tackling the power of Nazare's waves (one board was even snapped in half)! But it really reinforced just how powerful the surf here is.
Next to each item was a quote by the surfer who used it about their experience.
These quotes really reflected the complex feelings the surfers have about this terrifying experience!
Once you've explored the museum, it's time to step out onto the pier, right next to the lighthouse!
I couldn't resist snapping a selfie because I just couldn't believe that I had finally made it there!
Standing at the lighthouse and looking at the water far below me, it was hard to even comprehend how huge the waves get.
It had me even more desperate to return in the winter to witness this extreme feat of nature for myself.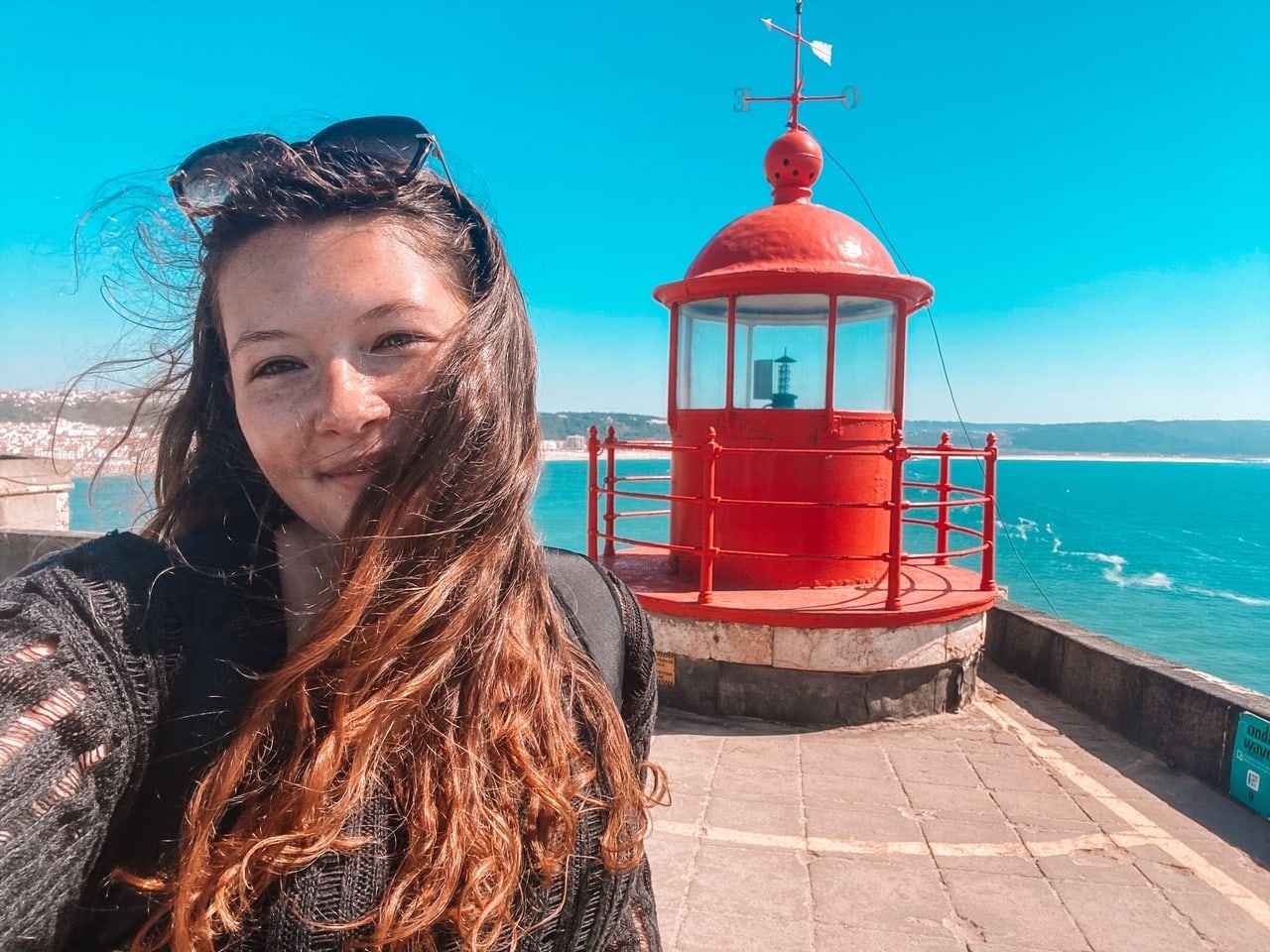 Praia do Norte Beach
If you have time, you can also go down onto the Praia do Norte beach to see the waves from a different perspective.
PLEASE be careful though!
Apparently, some waves can be totally rogue and sweep people into the sea from the beach.
Stay firmly on the beach and nowhere near the water!
When is the Big Wave Season in Nazare?
The big wave season in Nazare runs between October and March, and this is the best time to visit Nazare for the big waves.
That doesn't necessarily mean you'll see giant waves, though.
The huge waves only happen when big swells move into the area.
So, if you're only in the town for a day or a week there's a chance you'll totally miss them.
Nazare is still awesome (and you can still get an idea of how huge the waves must get even when the swell isn't there) without the big waves, but it's a bucket list experience for a lot of people to see them.
The Nazare waves in October can be unpredictable, but sometimes there are huge swells!
Typically speaking, the months in the middle of the Nazare big wave season – November, December, January and February, have the highest chances of big waves.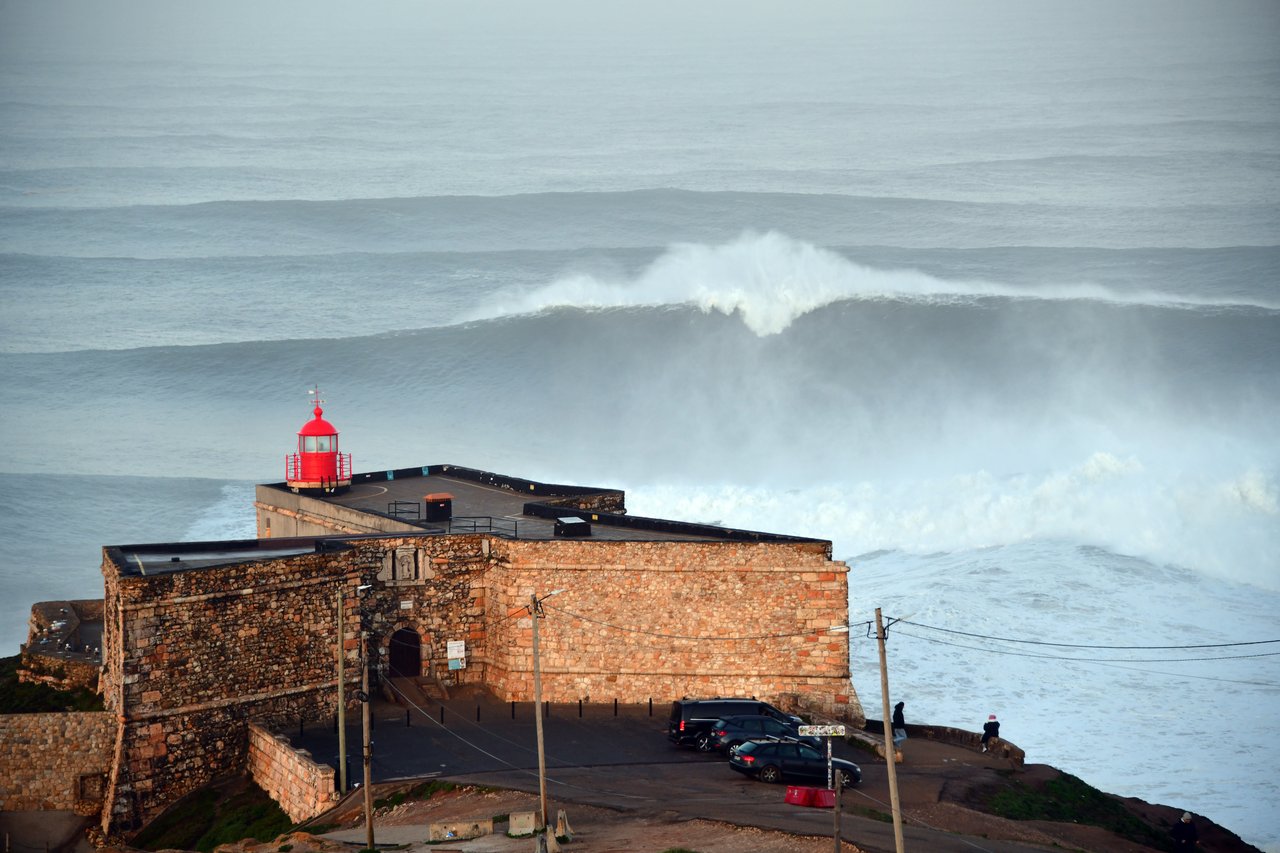 I visited in summer, so although I was thrilled to finally be in Nazare I knew that I'd be back sometime in winter to try to see the big waves.
There are two ways to increase your chances of seeing the huge waves Nazare is famous for.
Which one is best for you depends on how long you have, and how far away you live from Portugal.
The first option is to stay for as long as you can during the big wave season and cross your fingers.
If you stay for two weeks there's a good chance you'll see some good swell, but three weeks would be ideal.
Many surfers spend the entire season here, waiting!
Of course, for people with normal jobs, this can be tricky, so that's why I recommend the second option, that I'll discuss shortly. It's what I plan to do next winter!
Nazare Waves Forecast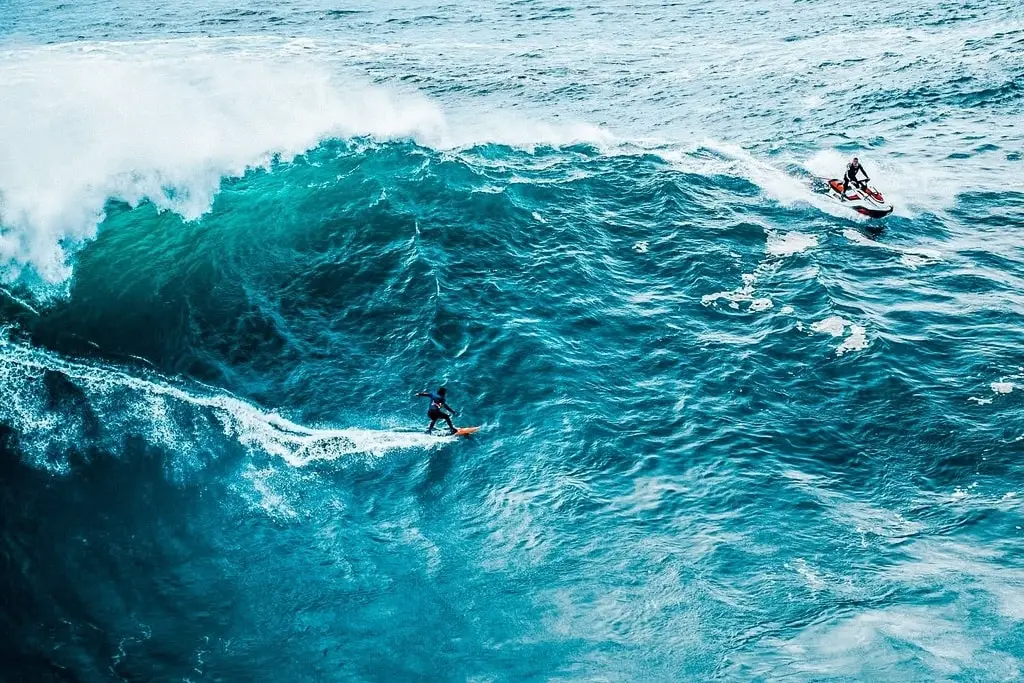 The most popular option, and the one that gives you the best chance to see the huge waves, is to track the swell and only book your flights as soon as you know there's a swell coming.
Dedicated Facebook groups track the swell in the area and send out alerts when there are big waves forecasted.
This notification usually comes about a week before the swell is due to arrive.
Then, it's just a matter of booking time off work and booking your flights to Lisbon!
It's worth trying to spend as many days in Nazare as you can to increase your chances of seeing the surfers in action.
Flights may be slightly pricey since they're so last minute, but OBVIOUSLY it will be worth it!
How Big are the Nazare Waves?
The size of the waves in Nazare totally depends on the time of year you're visiting. On an average day in winter, the waves in Nazare reach heights of around 50 feet (15 metres).
That said, on days with great big wave surfing conditions reach heights of around 80 feet (24 metres).
This is why winter is the best time to surf in Nazare for the big wave surfers.
During heavy storm conditions, when the waves have, to date, been unsurfable, the waves in Nazare have been said to measure over 100 feet (30 metres)!
Biggest Waves Ever Surfed in Nazare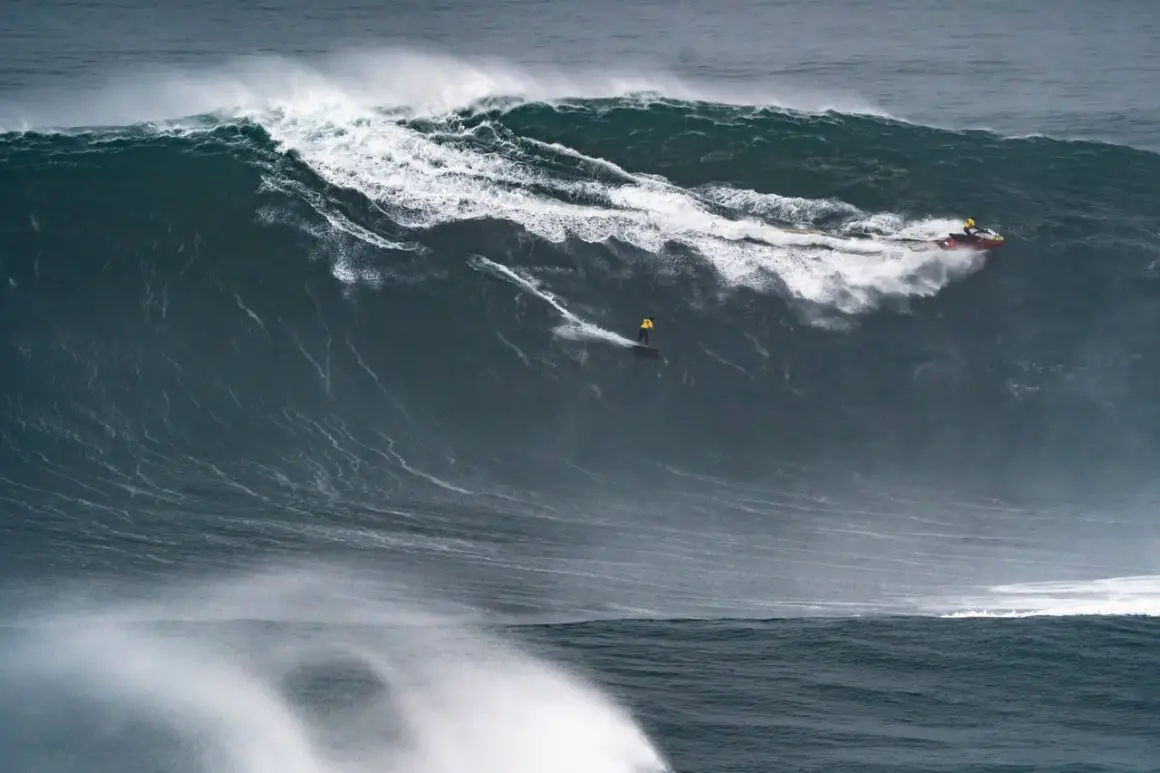 Garrett McNamara
Hawaiian surfer Garrett McNamara was the person who put Nazare on the map in November 2011 by surfing a wave which measured a whopping 78 feet!
At the time, this was the biggest wave ever surfed.
McNamara, never happy to settle, then unofficially broke his own record for the biggest wave ever surfed in 2013, when he managed to surf a wave rumoured to measure around 100 feet tall.
Unfortunately, the height of this wave could not be officially verified, so his 2011 record remained the official standard.
Rodrigo Koxa
Garrett McNamara's 2011 World Record wave stood uncontested until 8 November 2017, when Brazilian surfer Rodrigo Koxa surfed an 80 foot wave. 
Sebastian Steudtner
Germans have never dominated the world surf scene.
Well, they didn't until German surfer Sebastian Steudtner smashed the Guinness World Record for the biggest wave ever surfed in October 2020 in Nazare.
The record-breaking wave measured an epic 86 feet tall!
Maya Gabeira
Brazilian big wave surfer Maya Gabeira is the world-record holder for the biggest wave ever surfed by a woman, and this record-breaking feat also took place in Nazare.
The wave, which Gabeira surfed in February 2020, measured 73 feet (22.4 metres).
Not only was this a new Guinness World Record for Gaberia, who also held the previous world record women's wave title, but it was also the biggest wave surfed in Nazare by anybody during that year's big wave season.
Why are Nazare Waves so Big?
It's surprising that such massive waves can crash so close to the beach, but there are a few reasons why the waves in Nazare are so big. 
It's all got to do with the underwater Nazare canyon in the area of the waves, which is supported by the strong winds and water currents here.
These three factors work together to make the big swells Nazare is famous for!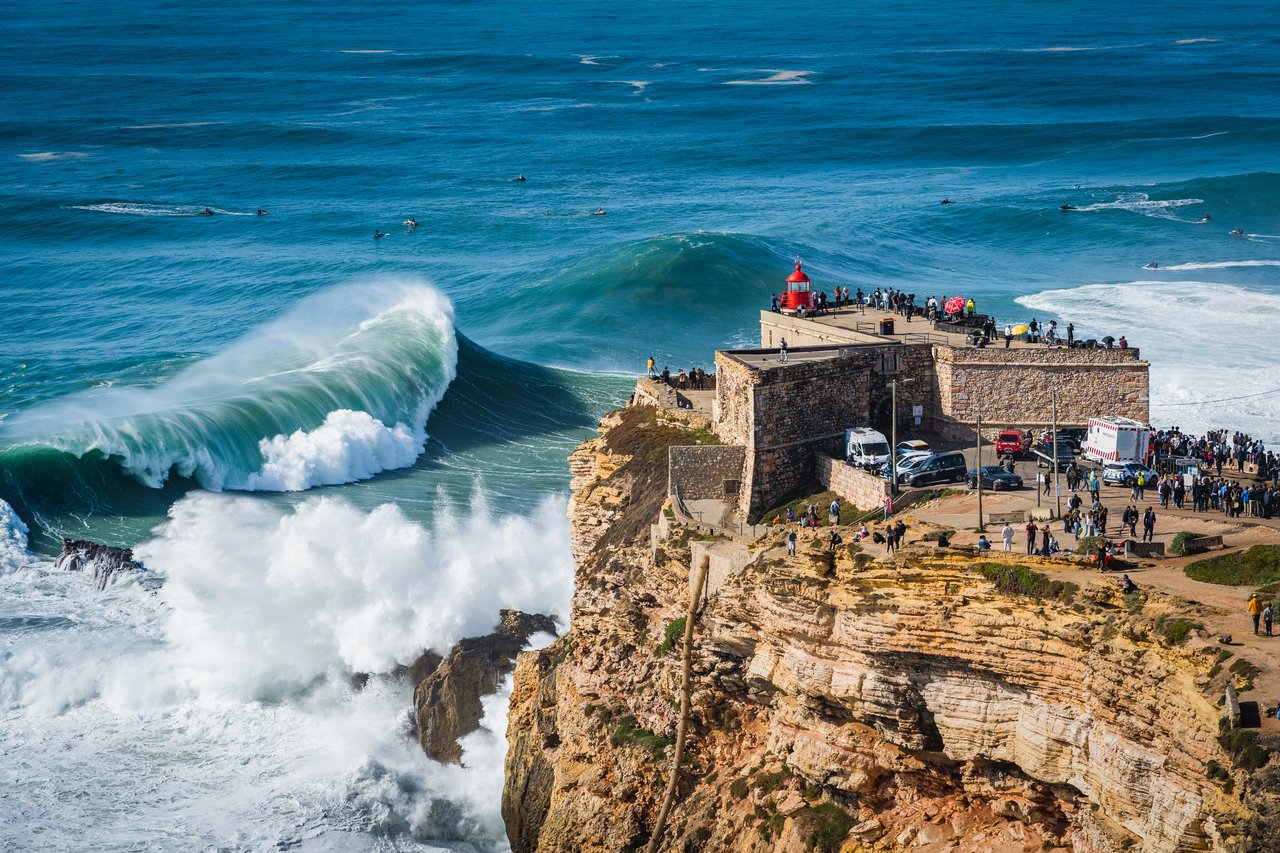 Nazare Underwater Canyon
You'll learn more about what makes the Nazare waves so big at the Nazare Surf Museum, but here's the downlow in case you can't make it there:
There's an underwater canyon, one of the largest in Europe, underneath the surface of the ocean where the big wave surfing takes place – just off the coast of Playa do Norte.
Its maximum depth reaches at least 5,000 metres below the ocean floor, and is around 230 kilometres long.
Picture the Grand Canyon, but at the bottom of the ocean. Pretty wild, right?
It's not quite clear why this huge canyon ended up here, but scientists theorise that it has something to do with the Nazare fault line, a fracture line in the earth's tectonic plates that can cause earthquakes.
The Nazare underwater canyon helps to make Nazare's waves so big for a few different reasons. 
Firstly, the deep canyon makes waves travel with more speed, because they don't dissipate their energy moving across the ocean floor.
Secondly, the difference in depths between the canyon and the normal seabed changes the swell's speed and direction.
This very sudden depth change makes the waves stand up tall.
Finally,  the current from the shore, which is dragging energy and water out to sea, meets the wave to make it even bigger.
Can You See the Nazare Big Waves in Summer?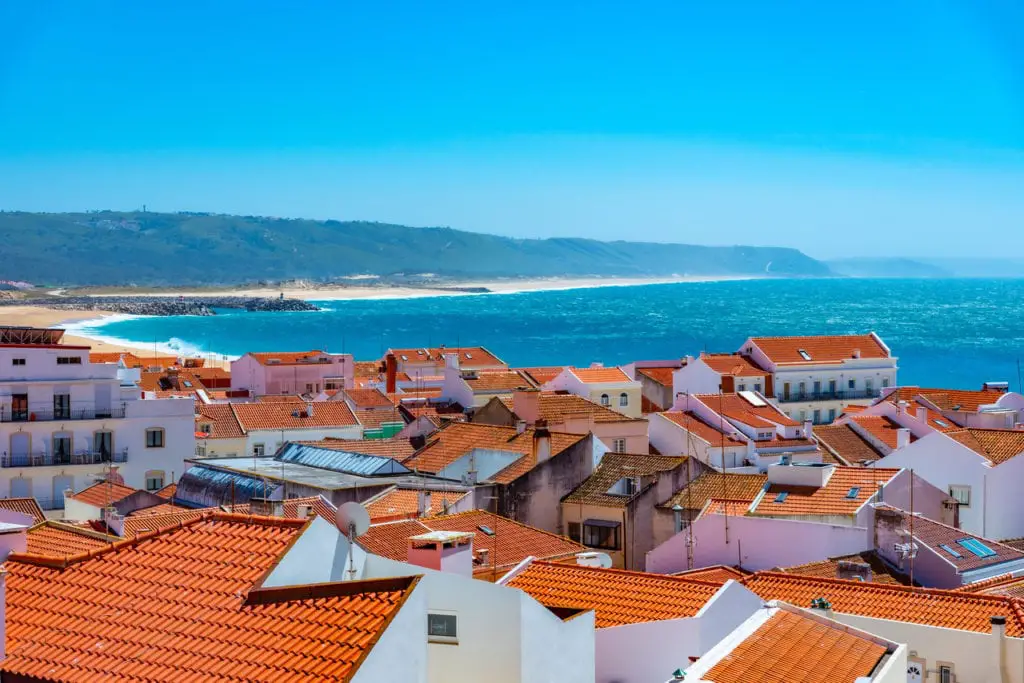 The big waves don't generally show up in summer (May-September), and Nazare does not always have big waves.
In summer, Praia do Norte is pretty much unsurfable!
However, there are sometimes still waves on the main beach in central Nazare, Praia da Nazare. 
Unfortunately, Praia da Nazare isn't exactly a beginner-friendly surf spot either.
The fast, heavy and strong waves here make it a challenging spot, better suited to surfers with their own shortboards who surf regularly.
For beginner-friendly surf spots in Portugal, head to Cascais, Ericeira, Lagos or Peniche.
How to Get to Nazare from Lisbon
Whether you're just flying into Lisbon and then spending weeks in Nazare, or you're heading out on a day trip to watch the big waves of Nazare, you'll need to know how to get here from Lisbon. Here are your options:
Driving to Nazare from Lisbon
The most popular way to get to Nazare on day trips from Lisbon is undoubtedly by driving.
The journey takes around 1 hour 25 minutes, and there are sufficient parking options in the town.
Note that the journey involves driving on a toll road, so expect to pay around €7 in toll fees each way.
However, if you're anything like me, driving on the other side of the road is way too intimidating!
Luckily, there are lots of other ways you can get to Nazare from Lisbon which don't involve getting behind the wheel.
Phew!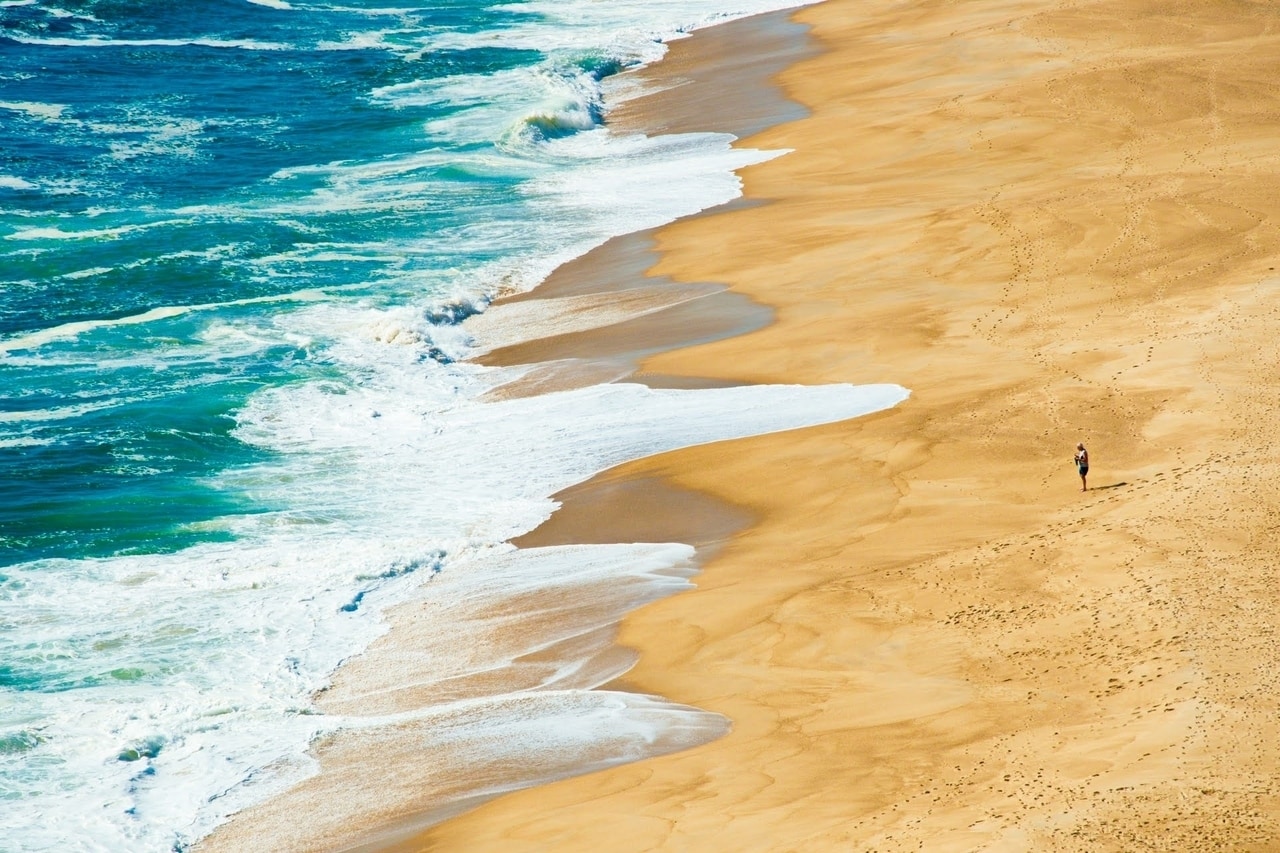 Getting From Lisbon to Nazare by Bus
There's a direct bus which will shuttle you from Lisbon to Nazare and from Nazare to Lisbon, and tickets cost around €11 each way.
You can get tickets for as low as €6 each way if you book far enough in advance, though.
The journey takes around 1 hour and 50 minutes.
This is undoubtedly the cheapest way to get to Nazare, and you can buy tickets here.
A company called Rede Expressos operates buses on this route.
The first bus of the day usually departs at 9am, and this is the one I recommend if you want to spend as much time as possible in Nazare.
As much as I hate to admit it, I actually find using buses in unfamiliar cities really intimidating. 
I know, I know. I'm working on it…
For this reason, I decided not to take the bus. If you're less of a wimp than I am this could be the perfect option for you though!
Visiting Nazare on a Tour from Lisbon
This is by far the easiest way to visit Nazare from Lisbon, and is the option I went for.
What's more, trips to from Lisbon usually stop at a few other great destinations during the day such as Obidos and Fatima.
Joining a tour is a great way to get a taste for a few different locations in one day, and it takes the hassle of worrying about public transport out of the equation.
This is the tour I went on, and at just €60 for the entire day, including four different stops, it was great value for money.
The tour's rave reviews speak for themselves!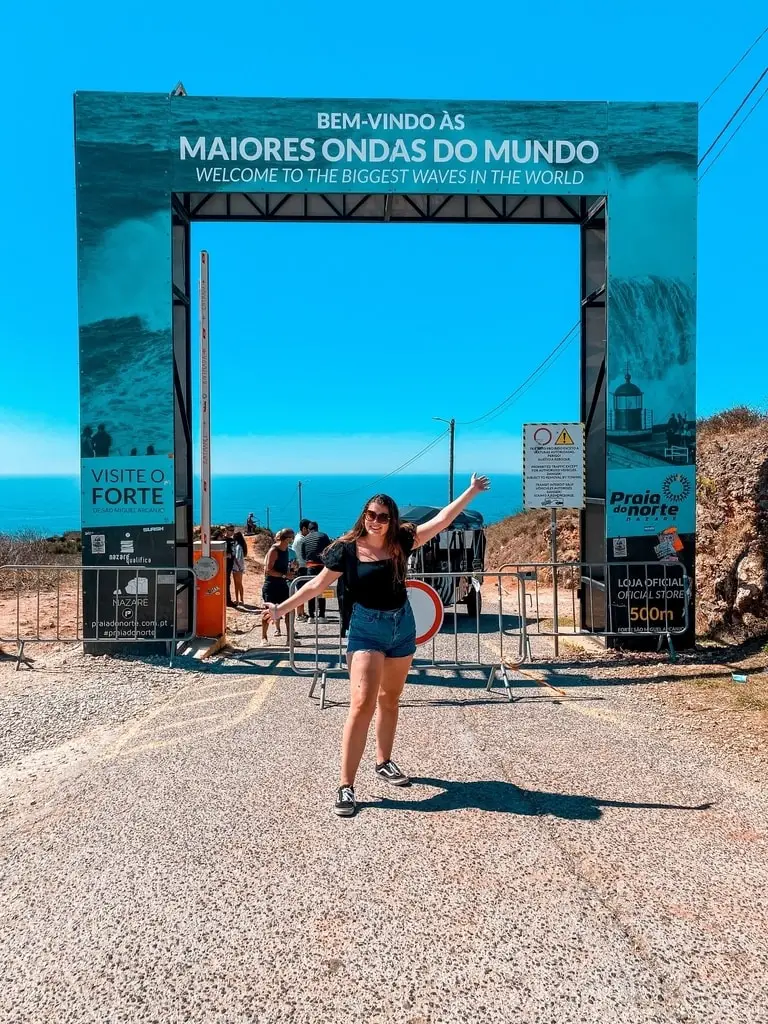 Where to Stay in Nazare
Hostel
Budget travellers and surf fanatics, rejoice! There is a hostel in Nazare, and it's very good value for money.
As well as cute decor, this top-rated hostel is spotlessly clean and right in the centre of Nazare, making it convenient to visit all of the town's main attractions.
You're also just a short walk from the funicular which takes you up to the area where you'll see the big waves.
A bed in a dorm room costs around €25 per night, with a private double room costing just €44 per night.
Click here to check availability & book!
Budget Hotel
This clifftop hotel, which is just a short walk away from the Nazare big wave viewpoint, is the perfect place to stay in Nazare if you're in town just to marvel at the waves.
It attracts surfers and surf enthusiasts from all over the world thanks to its location, has an outdoor pool, and includes free breakfast!
What more could you ask for?
Twin rooms cost around €75 per night.
Click here to check availability & book!
What's the Weather like in Nazare, Portugal?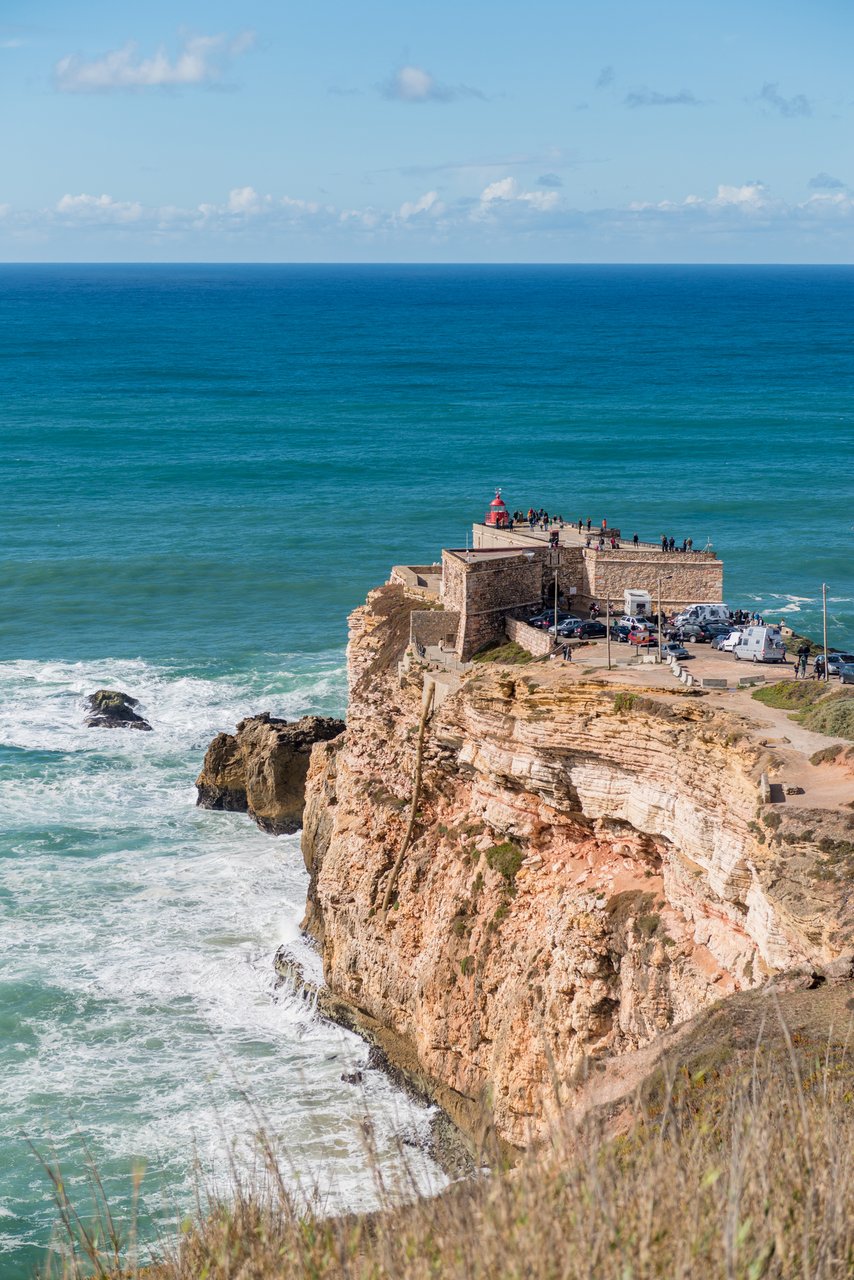 Well, Nazare is on the Portuguese coast, so it's safe to say the weather is great in summer!
Surprisingly, though, it can be pretty cold and wet in winter – the perfect weather for standing around all day watching surfers on the famous Portugal big waves…
What I loved about the weather in Nazare is that it wasn't too hot.
I visited in August, and the sea breeze meant that the town was a pleasant temperature.
As someone who simply cannot handle sweltering temperatures, I was beyond happy with this!
In the summer months, you'll see highs around 25°C (77°F) and lows of around 17°C (63°F).
In winter, Nazare's weather has highs of 17°C (63°F) and lows of 7°C (45°F).
Are the Nazare Big Waves Worth Visiting?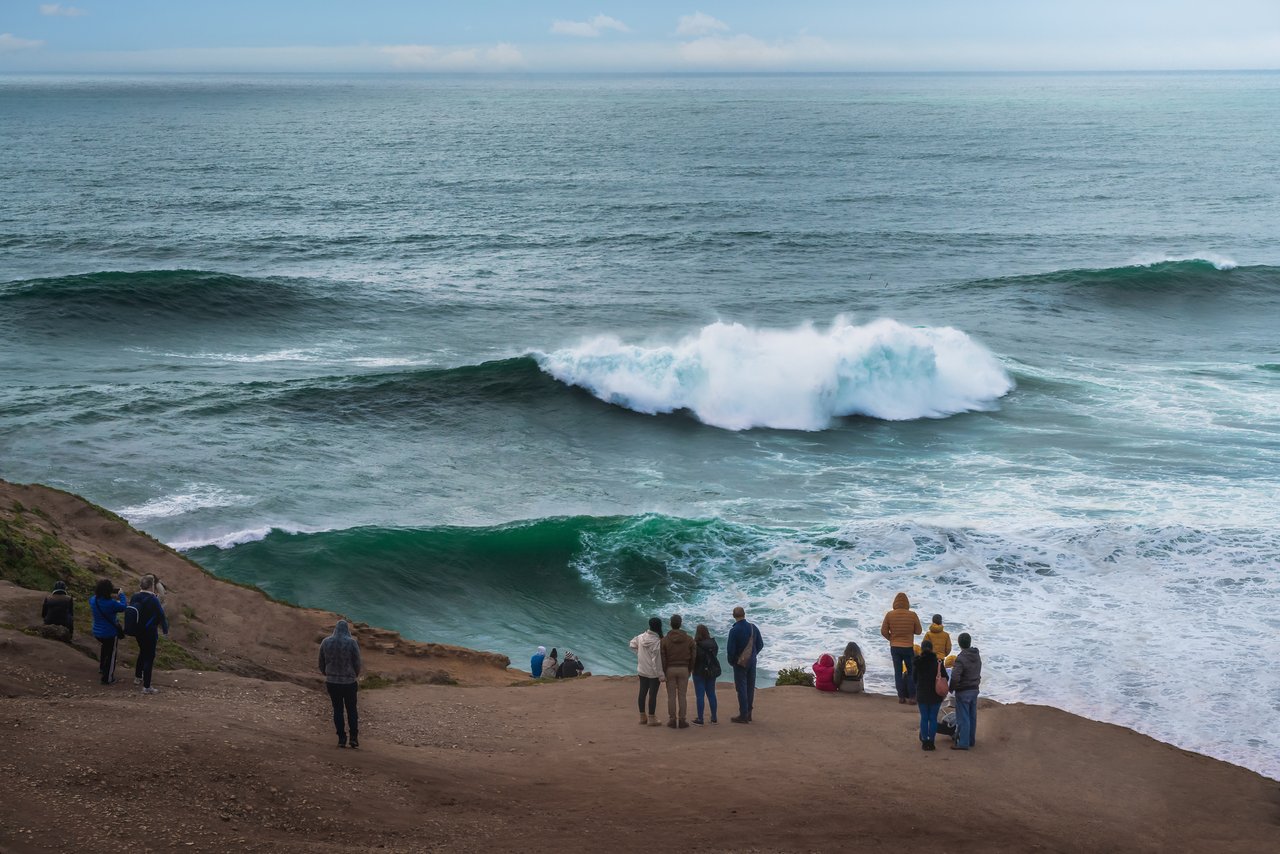 Nazare and the big waves are totally worth visiting in any season, as it's just so exciting to visit the place where such huge waves occur.
I've now checked visiting Nazare off my Portugal bucket list, but I'm still to witness the huge waves for myself.
Stay tuned for updates! You can check out my other posts about Portugal here.