There is a good chance that this post contains affiliate links. If you make a purchase through them, I may receive a small commission at no extra cost to you! As an Amazon Associate, I earn from qualifying purchases. As ever, all opinions are my own.
Last Updated on January 4, 2022 by Ella
Braga and Guimarães are two of the most popular day trips from Porto, but most visitors only spend a weekend in Porto and don't have enough time on their trip to go on two separate day trips. Instead, lots of visitors consider visiting both Braga and Guimarães in one day.
If you're wondering whether it's even possible to visit Braga and Guimarães in one day, the answer is yes! It'll be a really jam-packed day, but it's definitely possible.
To see both Braga and Guimarães in one day, you have two options: visiting them independently on public transport or taking a guided tour for the day. In this blog post, I'll share exactly how to do both of the options, and then share the pros and cons to help you choose which option is best for you.
Click here to check tour prices and availability!
Option 1: Visiting Braga and Guimarães in one day with public transport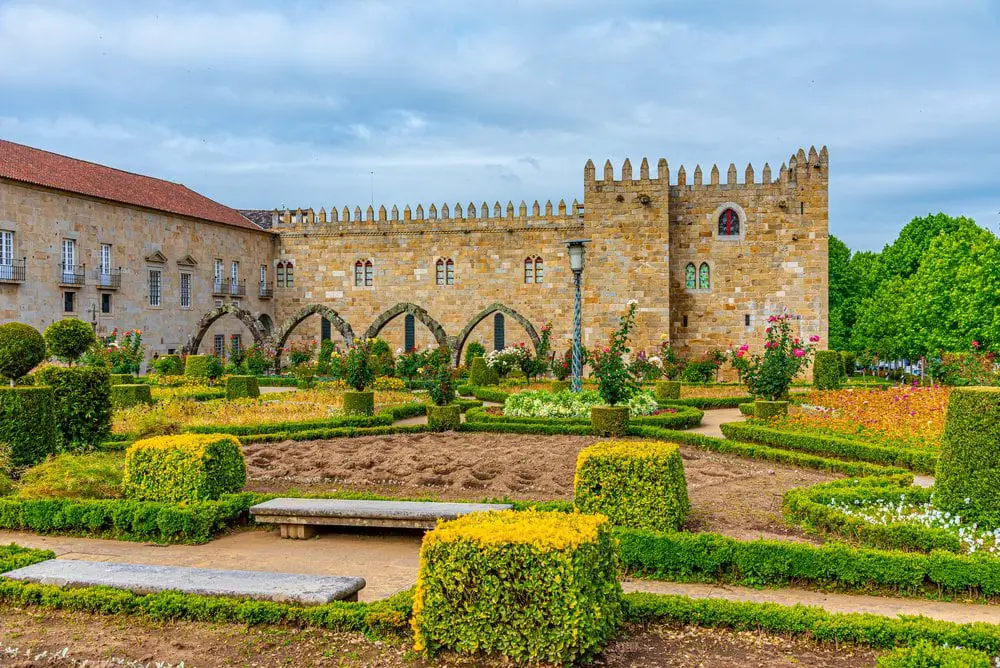 Although technically possible, given the amount of time you'll spend on public transport to visit these two cities on a day trip from Porto, it will be a very long day!
I recommend heading to Braga first since it gets slightly busier than Guimarães. You can get there from Porto either by train or bus.
Porto to Braga
Train: The train from São Bento station to Braga takes 55 minutes, and costs €3.25. Although you can buy tickets on the day, it's better to book online in advance to be as organised as possible. 
Bus: The bus from Porto to Braga takes around 1 hour, and is operated by FlixBus. It departs from Camelias bus station in Porto, and arrives at the Braga Transport Centre (Centro Coordenador de Transportes de Braga). You definitely should book your tickets in advance for the bus, as the earlier you book the cheaper they'll be.
Whichever option you choose, aim to take the earliest departure you can to maximise the amount of time you'll have exploring the two cities!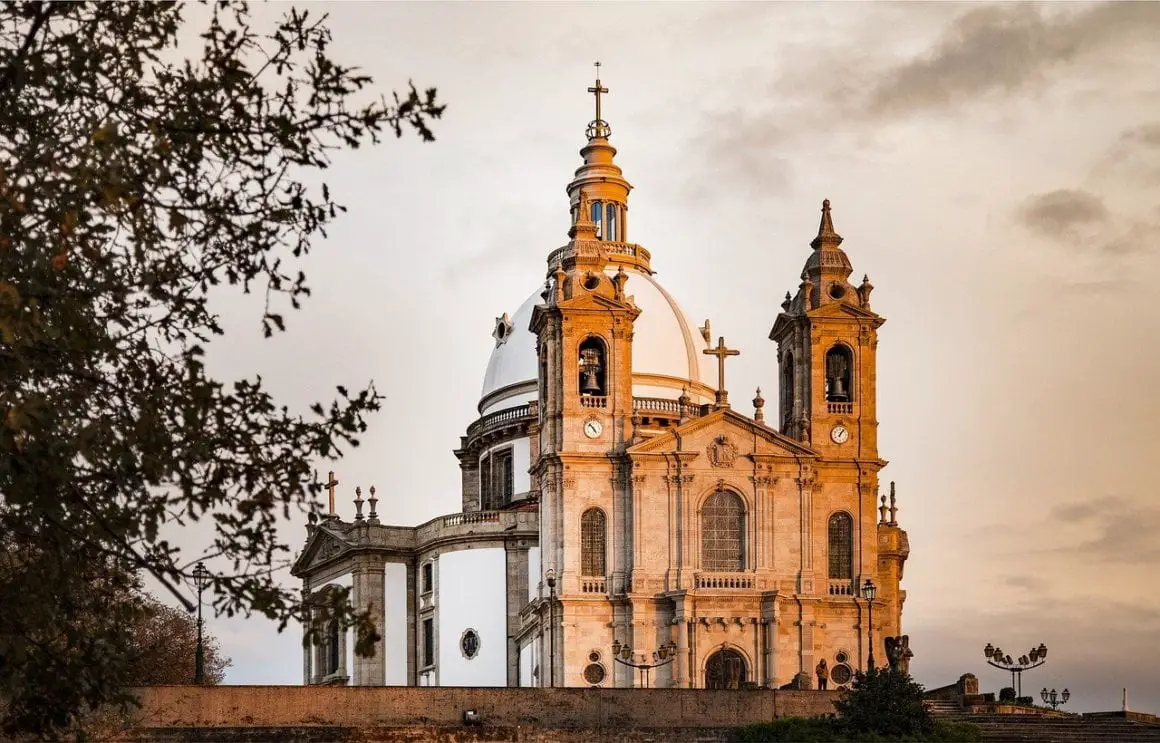 In Braga
Once you're in Braga, spend the morning exploring the city. There are a ton of gorgeous churches to visit in the city, as well as the tranquil Garden of Santa Barbara. If you've come all this way, though, chances are you want to visit the Bom Jesus do Monte, the world-famous pilgrimage site.
To get to the Bom Jesus from Braga, it's unfortunately another journey on public transport. You can hop on bus number 2 or bus number 88, which takes around 20 minutes each way. Your best option is to purchase the 1-day tourist ticket from the bus driver for €3.35, which will cover your return journey.
Bom Jesus do Monte
The Bom Jesus is the reason most people visit Braga, as it's one of the most recognisable monuments in Portugal. That said, visiting it does take up quite a bit of your limited time in Braga during this day trip! I recommend allocating no more than 45 minutes at the Bom Jesus before returning to central Braga because it's time to move on to the next destination!
Braga to Guimarães
You only have one option when it comes to getting from Braga to Guimarães – you'll need to catch the bus. There are two providers, though. 
The Arriva Bus takes 50 minutes, and the Flix Bus takes 25 minutes. Obviously, this means the Flix Bus is the one to aim for, but it's way less frequent. If you're travelling with FlixBus, you'll need to book your tickets in advance.
Guimarães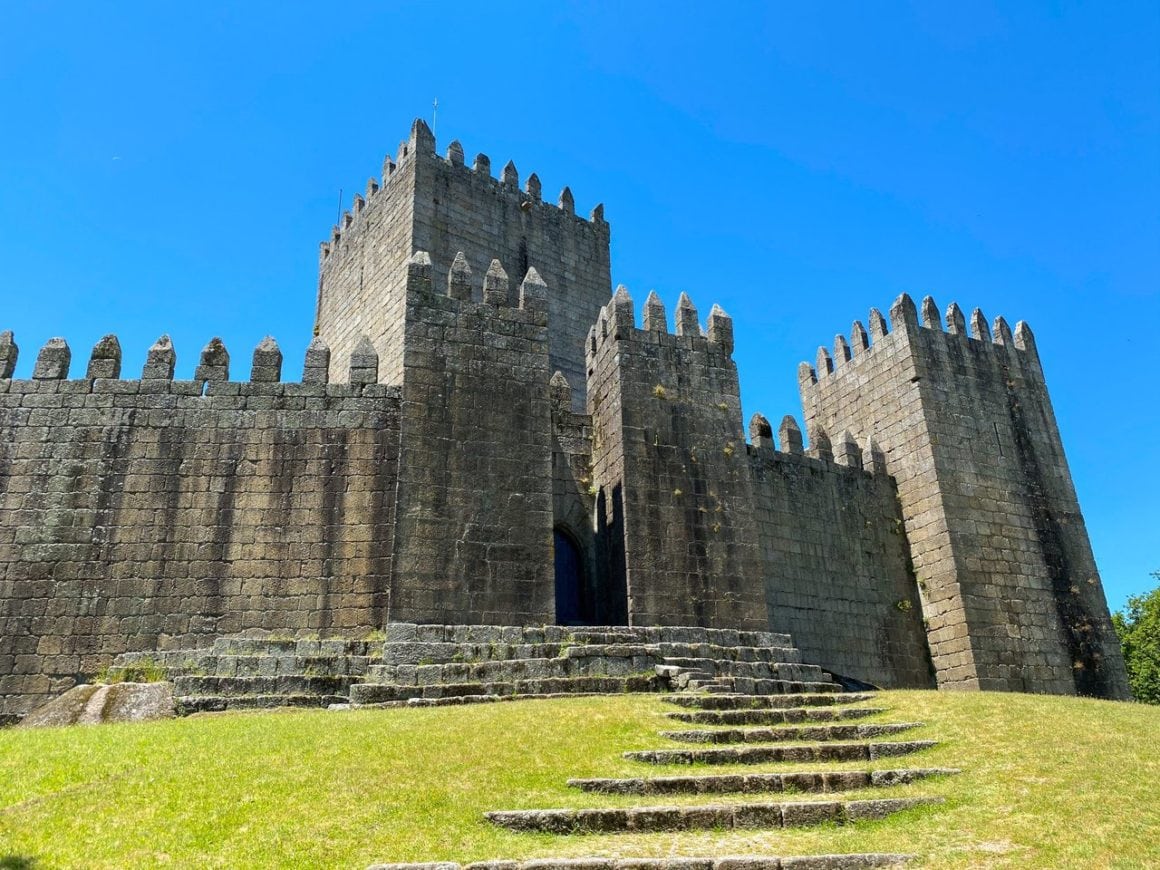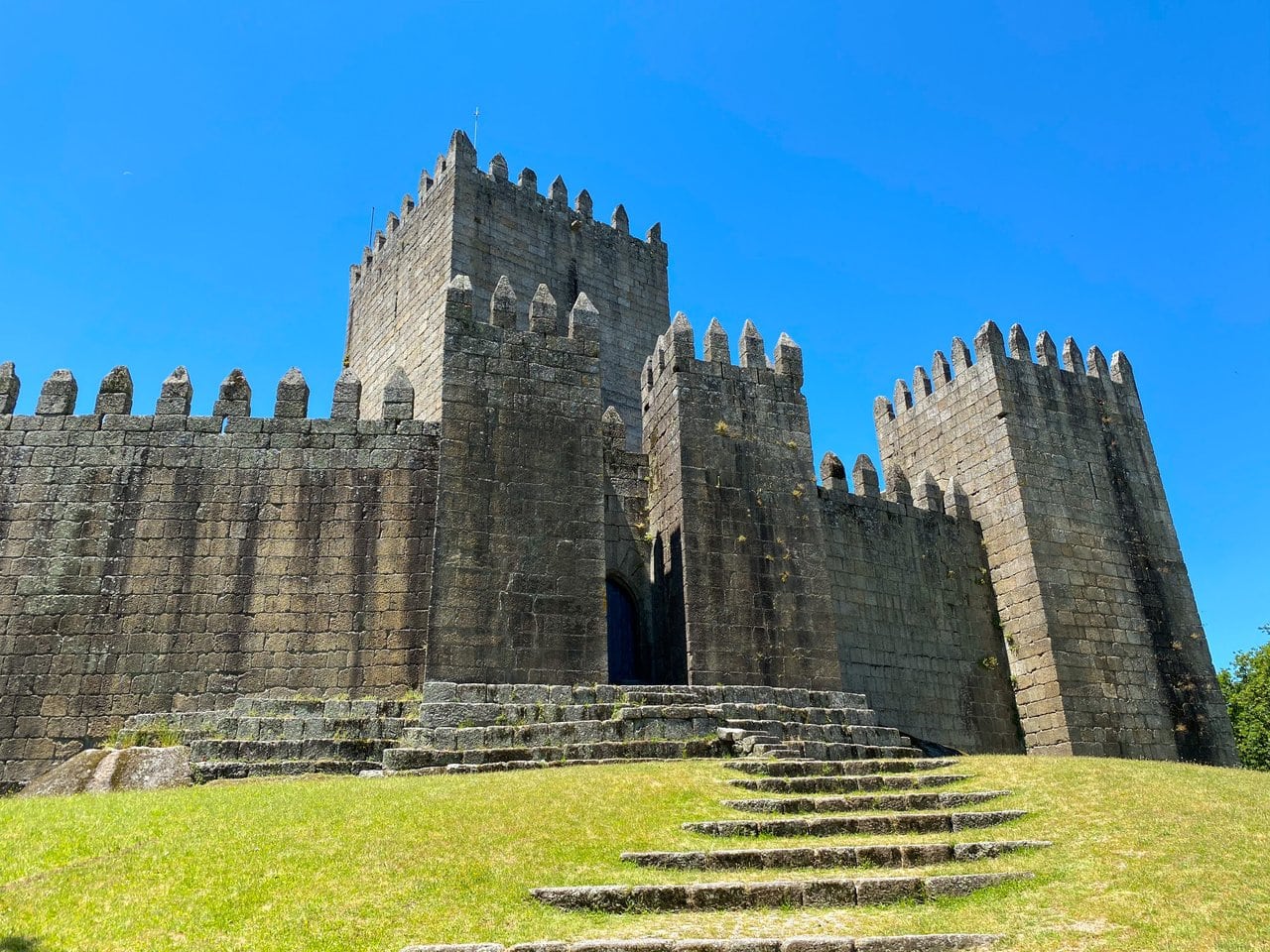 Finally, you're in the fairytale city of Guimarães, and it's time to explore! I have a full guide on the best things to do in Guimarães, but first it's time for a late lunch!
You can't get a heartier or more affordable lunch anywhere in Guimarães better than at Cantinho do Sabores. It's a restaurant for locals, so a bit of Portuguese will come in handy, but if not, Google Translate will do the trick.
After lunch, head straight to the Castle of Guimarães and the Palace of the Dukes of Braganza, the two top tourist attractions in the city. If you still have time afterwards, catch the cable car up to the mountain-top retreat of Penha for the sunset.
Guimarães to Porto
From Guimarães, you can either catch the bus or the train, but the bus, at 50 minutes, is 25 minutes faster than the train. 5 different bus providers operate on this route, so it's worth choosing the one that works best for you by checking the departure times here. 
On arrival back in Porto, it's time to give yourself a huge round of applause, because you'll be absolutely exhausted! As you can see, visiting Braga and Guimarães in one day is definitely possible, even though it is definitely not simple or relaxing!
Option 2: Visiting Braga and Guimarães in one day with a tour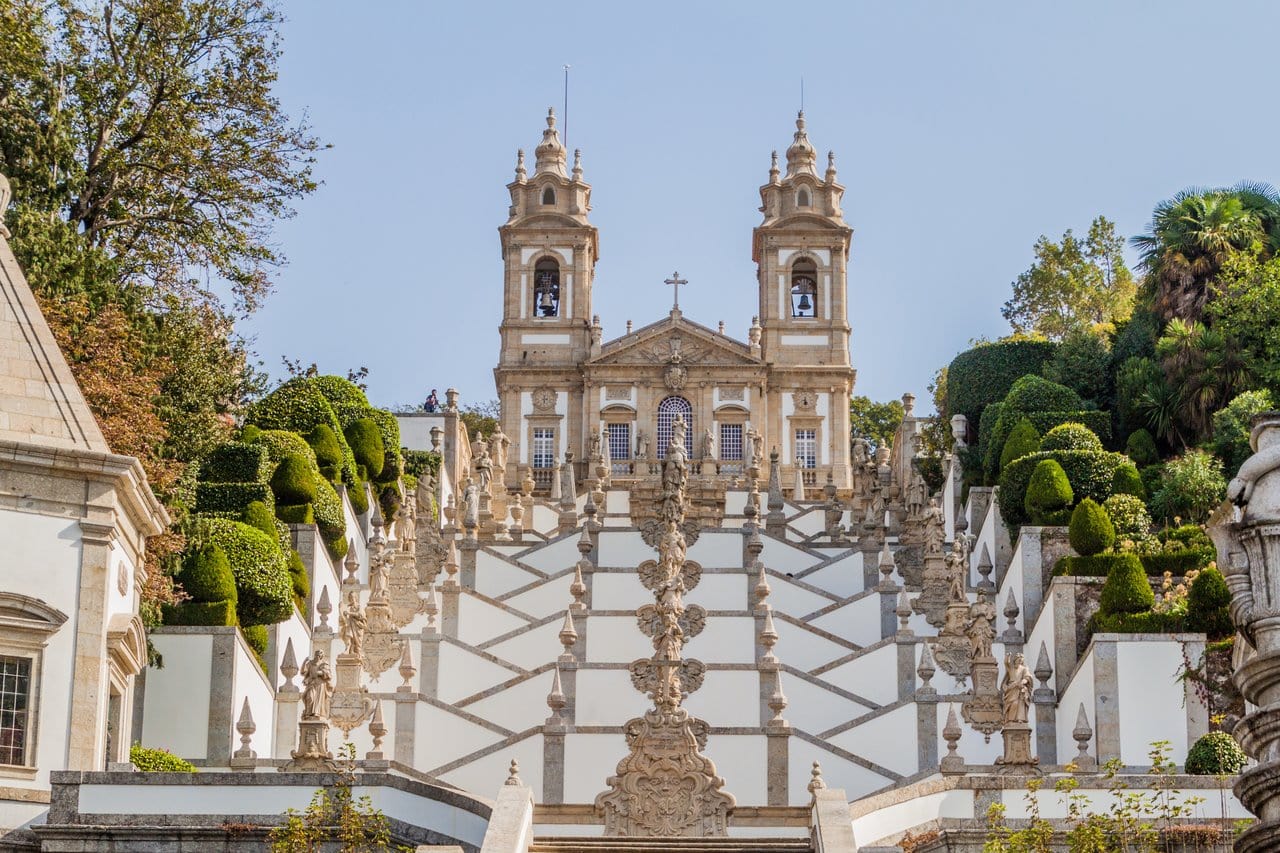 Ahhhh, the easy option. Life's so much better when it's easy.
Although I tried my best to make visiting Guimarães and Braga in one day as easy as possible, the reality is you'd be catching no less than five different buses throughout the day, and by waiting for and taking public transport, you'll lose out on a ton of valuable sightseeing time!
That's why, if I was to combine the two cities into one day trip, I'd take a tour. 
No doubt about it. 
It's easy, it gives you more sightseeing time, and it's not even that expensive. 
When it comes to tours to Braga and Guimarães from Porto, this is the best value tour out there. It costs €60 for the day, including your transportation, entry to all the essential monuments and palaces AND lunch. For that price, it's definitely worth taking a tour for the day to avoid any hassle or public transport stress!
Visiting Braga and Guimarães From Porto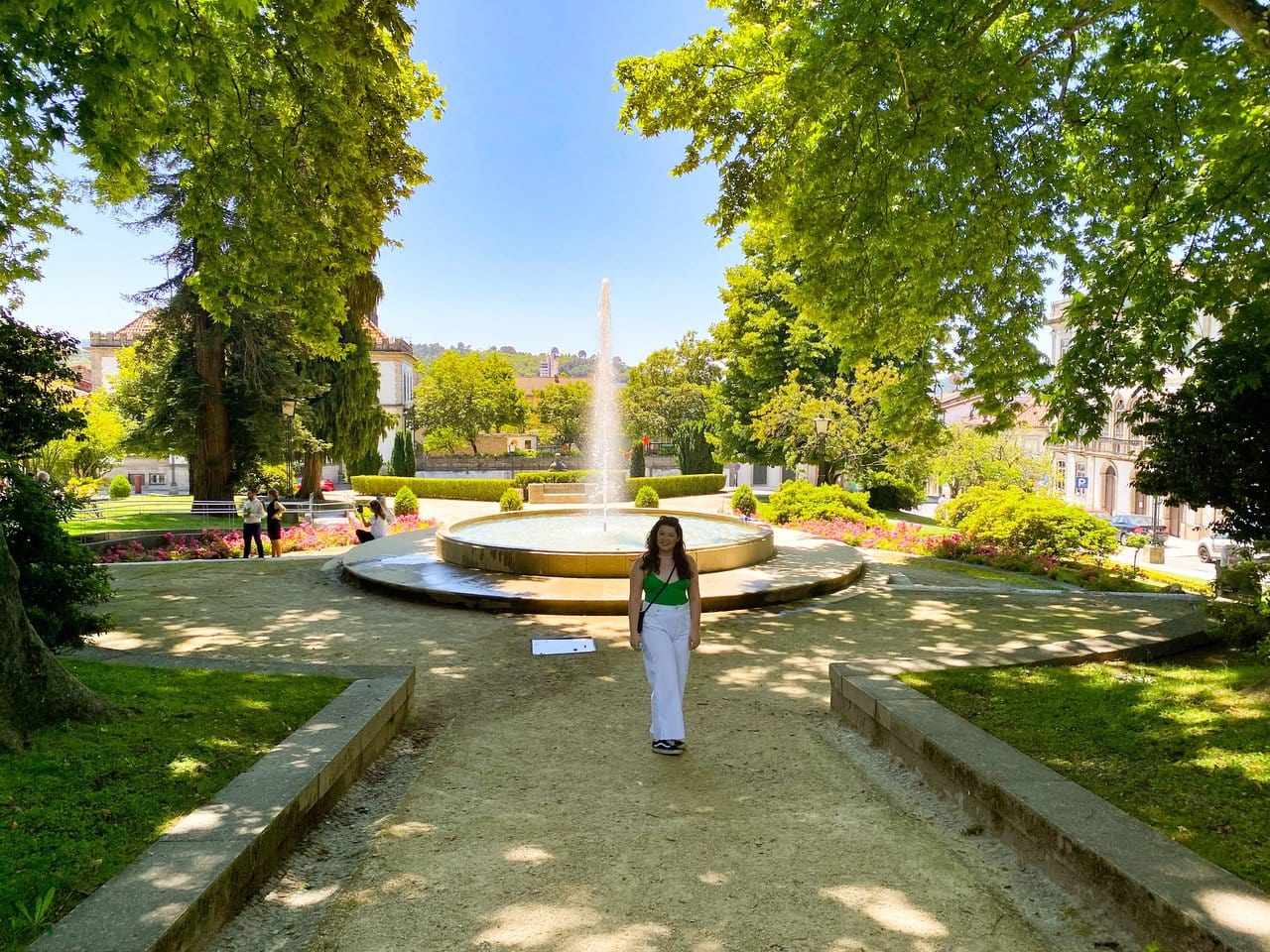 So, as you can see, it's totally doable to visit both of these fabulous Portuguese cities in one day.
Do I recommend it, however? 
It depends!
If you're desperate to visit both Braga and Guimarães, couldn't possibly choose just one, and simply don't have the time to allocate whole days to each of them, then, yes, you should definitely visit them both in one day! The tour is the ideal way to take all the planning and stress out of the trip, too.
And hey, I'm not judging you. I'm no stranger to rocketing around a city at breakneck speed and trying to cram in as many attractions as possible. We gotta work with the time we have!
If, however, you have enough time to see both on separate days, or would rather immerse yourself in the destinations, then I really recommend spending a full day in each of these cities.