There is a good chance that this post contains affiliate links. If you make a purchase through them, I may receive a small commission at no extra cost to you! As an Amazon Associate, I earn from qualifying purchases. As ever, all opinions are my own.
Last Updated on January 25, 2022 by Ella
Recognisable world-over, the word Bondi elicits dreams of gorgeous white sand, cloudless skies and world-class surf. But Bondi is way more than just a beach, and there are a tonne of fun things to do in this hip neighbourhood!
In fact, there's so much going on in Bondi that you could spend days there, and visiting just to spend the afternoon on Bondi Beach would be a crime! 
In fact, I chose to base myself in Bondi during my trip to Sydney, and I was so happy I did! That being said, I was on a whirlwind two week trip to Australia, and although I ticked a good number of Bondi attractions off my bucket list, I didn't have time to do absolutely everything I wanted to (a common travel problem!).
Luckily, a few travel blogger friends agreed to pitch in and write about their favourite things to do in Bondi to help me convince everybody that Bondi is more than just a beach.
If you find yourself in Bondi wondering what to do aside from hang out at the beach, we've got you covered!
The Best Things to Do in Bondi, Sydney
Bondi Icebergs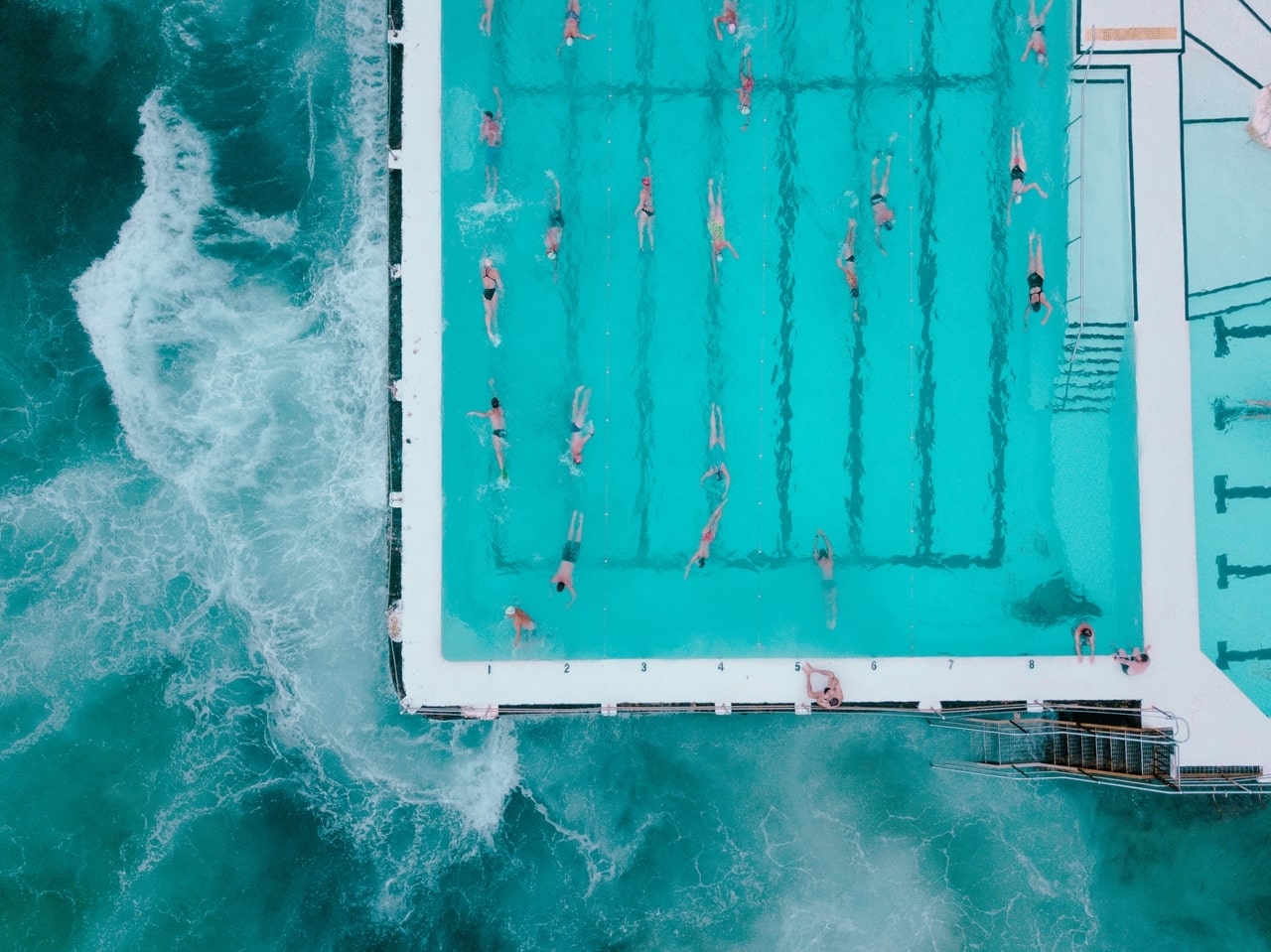 Bondi Icebergs is probably the most iconic tourist attraction in Bondi. Overlooking Bondi Beach, this 50-metre infinity pool is the most photographed swimming pool in the world! Many people prefer to just check it out and snap some photos, but if you're brave and not afraid of cold water you can go for a swim there!
Entry to Bondi Icebergs costs $9, and that includes entry to the sauna overlooking the ocean! It's worth mentioning, however, that Bondi Icebergs is a lane swimming pool, so it's not really appropriate for just going for a splash.
The Bondi beach pool has been standing on the southern end of Bondi beach for over 100 years and is still open to the public every day. Yup, even in winter.
The pool is also filled with salt water, and on rough days you'll see the waves from the ocean rushing into the pool! There definitely isn't any swimming experience quite like this! Just be prepared – the water in this pool is SO. COLD. Even in summer!
To find out more about swimming at the Bondi Beach pool, you can check out my dedicated post here!
Contributed by: Me!
Dudley Page Reserve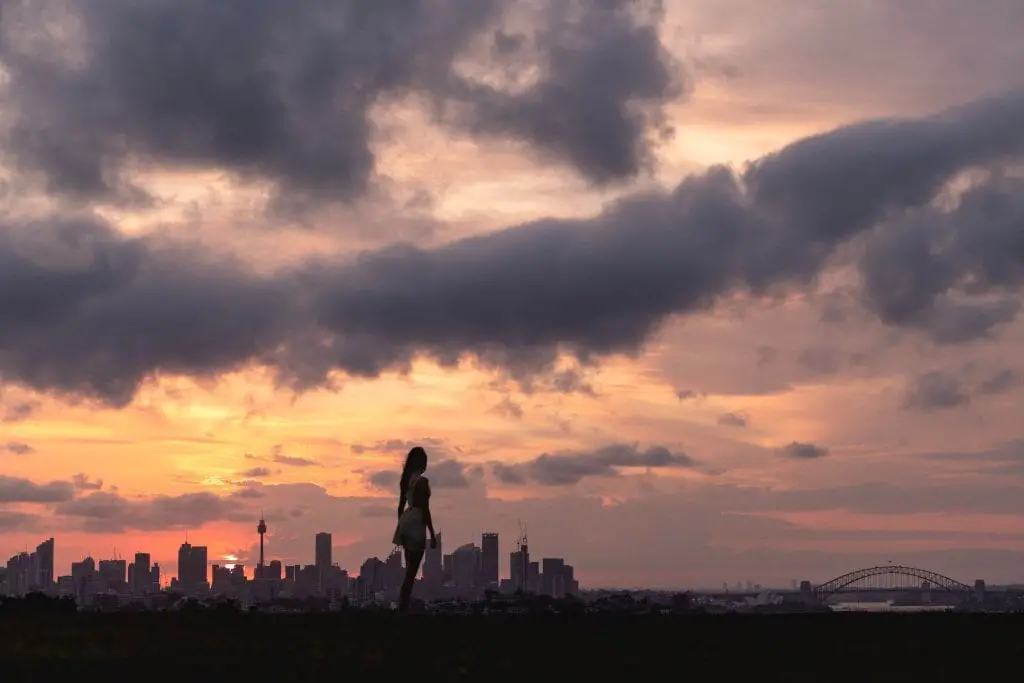 Whilst exploring Bondi make sure you add a stop at Dudley Page Reserve to your itinerary for the most gorgeous views over Sydney! From here you can see the Sydney Opera House, Sydney Harbour Bridge and Sydney Tower alongside the rest of the city skyline in the distance.
This grassy area is the perfect spot for a picnic on a hot summer's day, especially due to the ocean breeze, but sunset is definitely the best time to visit Dudley Page Reserve.
The way the sun shines over the city and reflects upon the water is magical, and makes it undoubtedly one of the most instagrammable places in Sydney too! 
If you're feeling adventurous you could also visit this spot while walking from Bondi to Watson's Bay (or the other way around). While Dudley Page Reserve doesn't have amenities other than a few swings, it's one of the best viewpoints in Sydney and one of the best things to do in Bondi.
Contributed by Cassie from Cassie the Hag
Bondi to Coogee Coastal Walk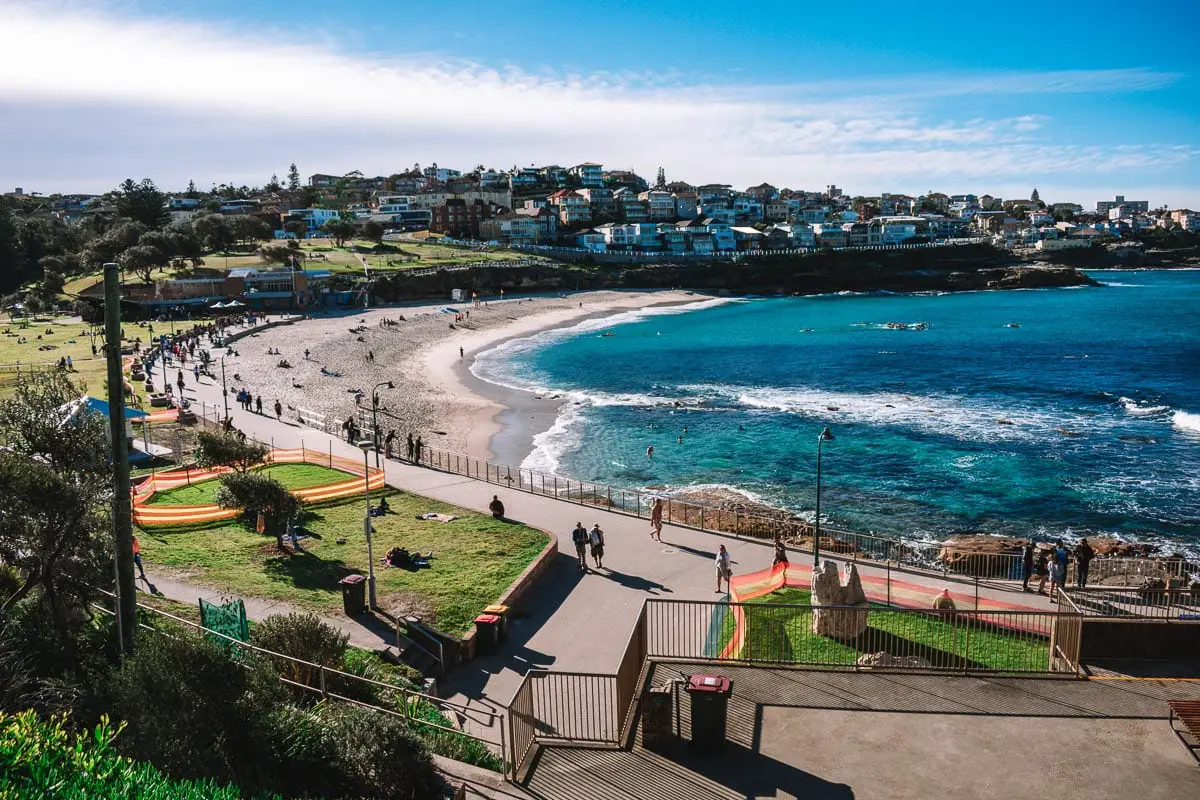 The Bondi to Coogee walk is by far one of the most fun things to do in Bondi. What's more, it's completely free! The walk stretches along the coast and offers up breathtaking views of the cliffs and ocean. Despite what you might expect, though, there is more to the walk than just the views.
Along the walk, you'll spot local Australian wildlife and little coves along the way, where you can roll out your towel and relax for a while. In the middle of the walk you'll also come across Bronte Beach – a less busy version of Bondi Beach, complete with a rock pool perfect for swimming in to cool off.
To fully appreciate the 6km walk, allow yourself 2-3 hours. This will give you plenty of time to sunbathe, casually walk along the coast and perhaps even enjoy a game of beach volleyball on Coogee Beach.
You can do the walk in either direction. If you want to make the walk as easy as possible head out from Coogee in the direction of Bondi – there's less uphill walking in this direction!
Contributed by Kerrie & Woody from Just Go Travelling
Aquabumps Gallery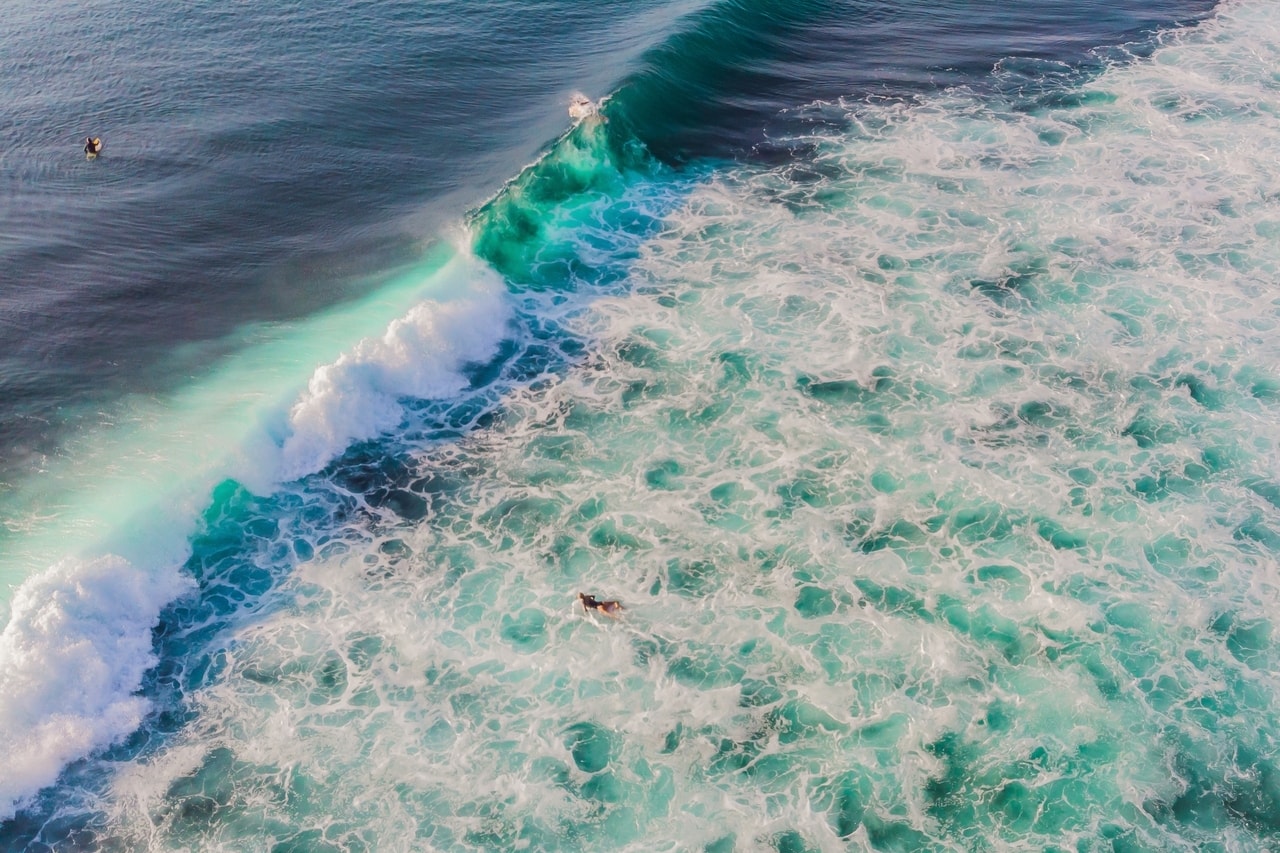 Whether you're a resident of Sydney or a visitor from the other side of the world, a trip to Bondi Beach simply must include a trip to the fabulous Aquabumps Gallery. Situated on Curlewis Street (just a 5-minute walk from the famous Bondi Pavilion) Aquabumps is one of the most fun things to do in Bondi.
Aquabumps first opened in smaller premises in 2004 and is the result of the owner, Eugene Tan's, combined passions for photography and surfing. Better known as 'Yooj', his incredible range of photographs celebrate daily Bondi life.
You will inevitably spend hours poring over an endless number of gorgeous shots of surfers, swimmers, sunbathers, colourful sunsets and moody sunrises.
Whilst visiting Aquabumps look out for Yooj's most popular photograph titled 'Lone Swimmer'. The crisp blue waters surrounding the lone woman enjoying the sea immediately bring on a feeling of deep relaxation and yearning to be back in Bondi yourself.
If you're not fortunate to be in Bondi quite yet, Aquabumps also offer a daily photo email service. It's the perfect way to get a slice of Bondi in your day to day life. When you join the other 40,000 existing subscribers and you'll receive a photo to your inbox of Bondi taken that very morning.
Contributed by Paul from The Two That Do
Bondi to Watsons Bay Walk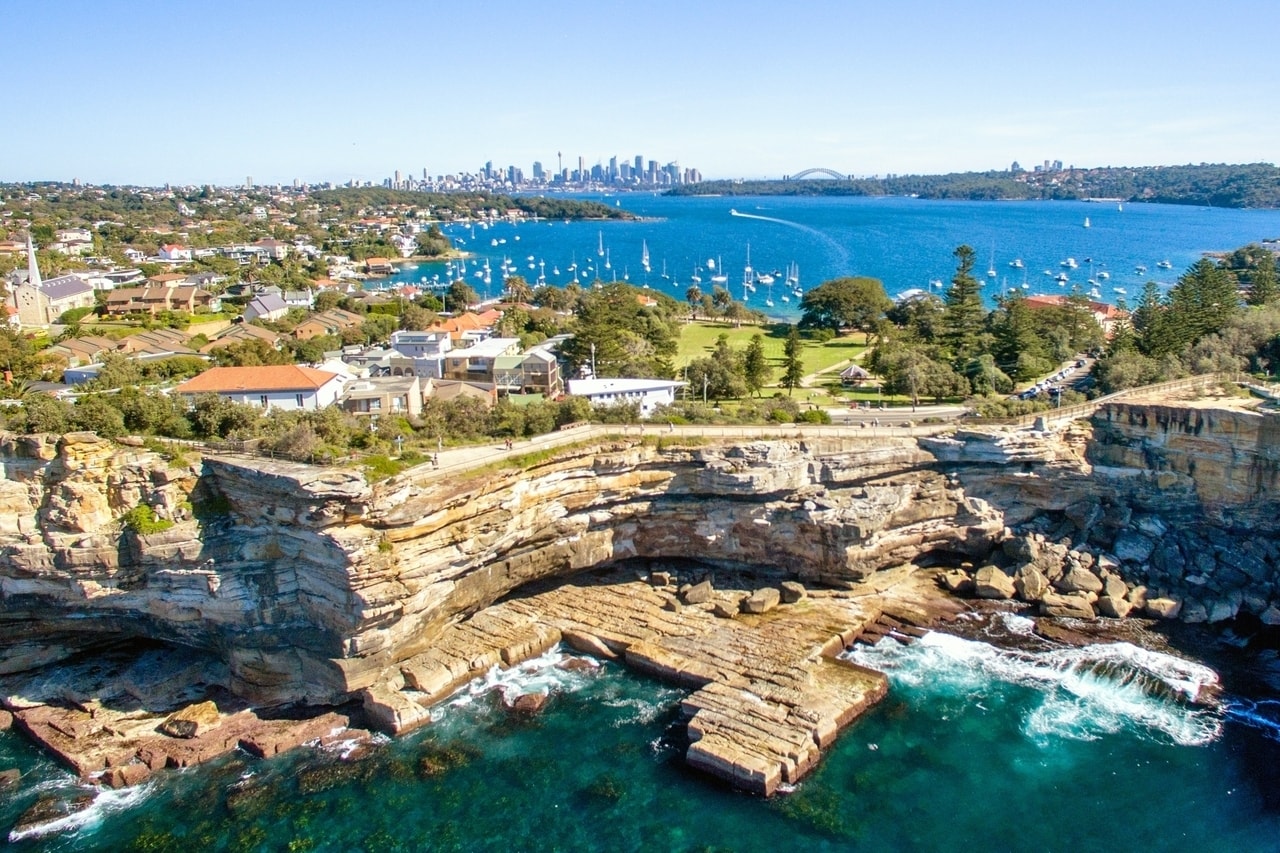 Most people are familiar with the Bondi to Coogee coastal walk, but the best-kept secret in this part of Sydney would have to be the Bondi to Watson Bay Walk. Why? Well, it's less crowded and has some stunning views that you won't be able to resist taking photos of.
The entire walk is approximately 7km and takes around 2 hours to complete (one way). Of course, the time it takes to finish the trek depends on the speed of your walk, the start and finish location, and how many times you stop to take photos along the way!
If you start at North Bondi, follow the paths, which are well-signposted, and follow the ocean's edge. You won't have any trouble finding your way to Watsons Bay from Bondi. 
A great way to finish this beautiful walk would be by popping into The Watson Bay Hotel to reward yourself with a cold drink and a delicious meal. 
Remember to pack plenty of water (water fountains are sparse along this route), wear comfortable shoes and of course, bring your phone or camera to capture some fantastic photos!
Contributed by Paula from TrulyExpat
Bondi Icebergs Dining Room & Bar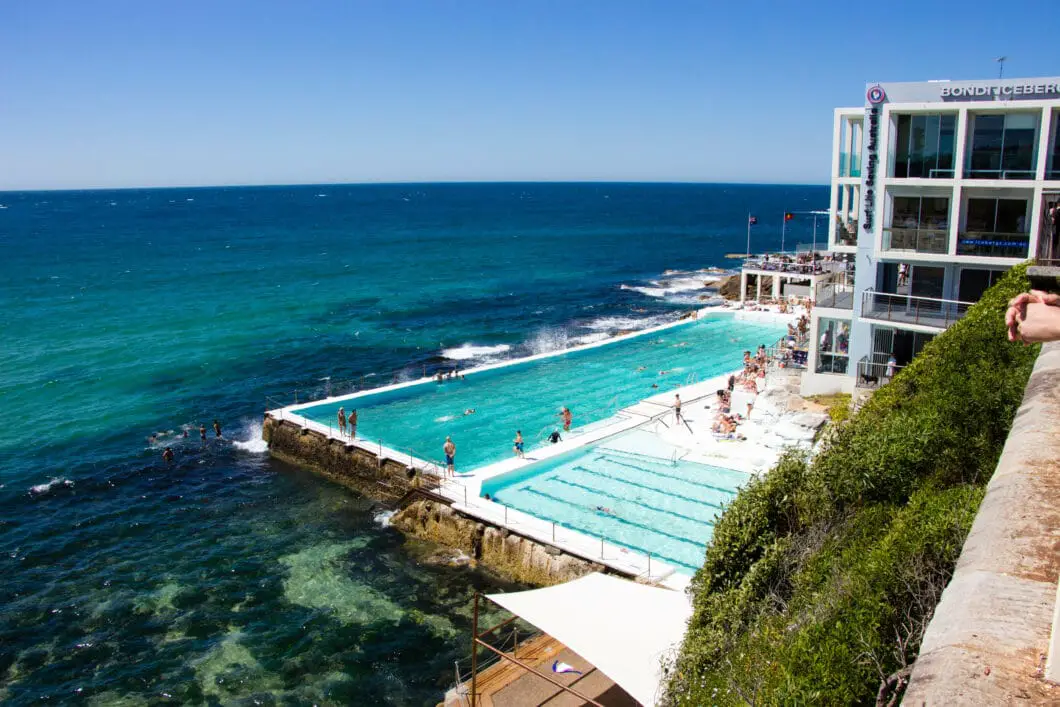 The Bondi Icebergs Dining Room & Bar has some of the best dining views in Sydney! Their dining room overlooks the Icebergs swimming pool, and at some tables you'll  also get a great view of the ocean. Dining here is easily one of the best things to do in Bondi!
Bondi Icebergs Dining Room & Bar is the perfect place to visit for lunch. Given its amazing location, it's no surprise that there is a long list of celebrities who like to lunch there while they're in town (we're talking Oprah, Beyonce, the Kardashians).
If you can't visit for lunch, visiting for dinner is a great experience as well, as the sunset views from the restaurant are incredible!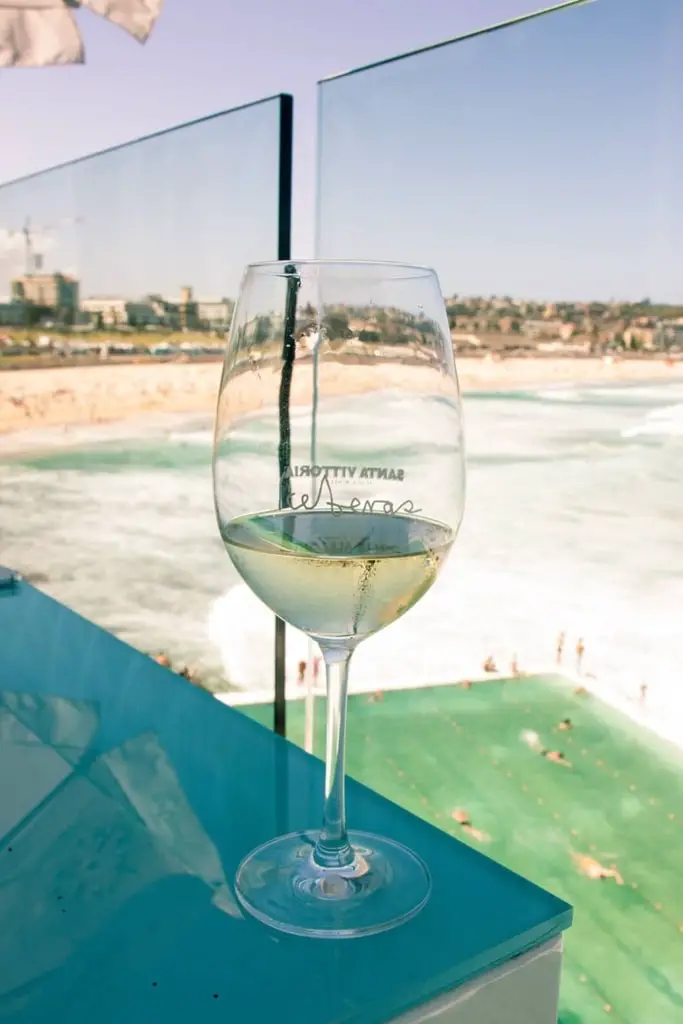 The service at Bondi Icebergs is fantastic and the seafood, as you can imagine, is super fresh – their oysters are especially tasty. That being said, while the food is good, it is not necessarily the BEST food in Sydney.
The views are what pull in the crowds here, and that's what you're paying for. If you're visiting Bondi at the weekend be sure to make a reservation, as it can get busy here.
It's also worth mentioning that the Bondi Icebergs Club is a different restaurant! This is a casual dining experience and is located below the Icebergs' Dining Room. It is a seat yourself cafeteria-style diner that also offers beautiful views. 
It's the perfect compromise if you don't want the expense of visiting the Bondi Icebergs Dining Room & Bar!
Contributed by Lindsey of Have Clothes, Will Travel
North Bondi Rocks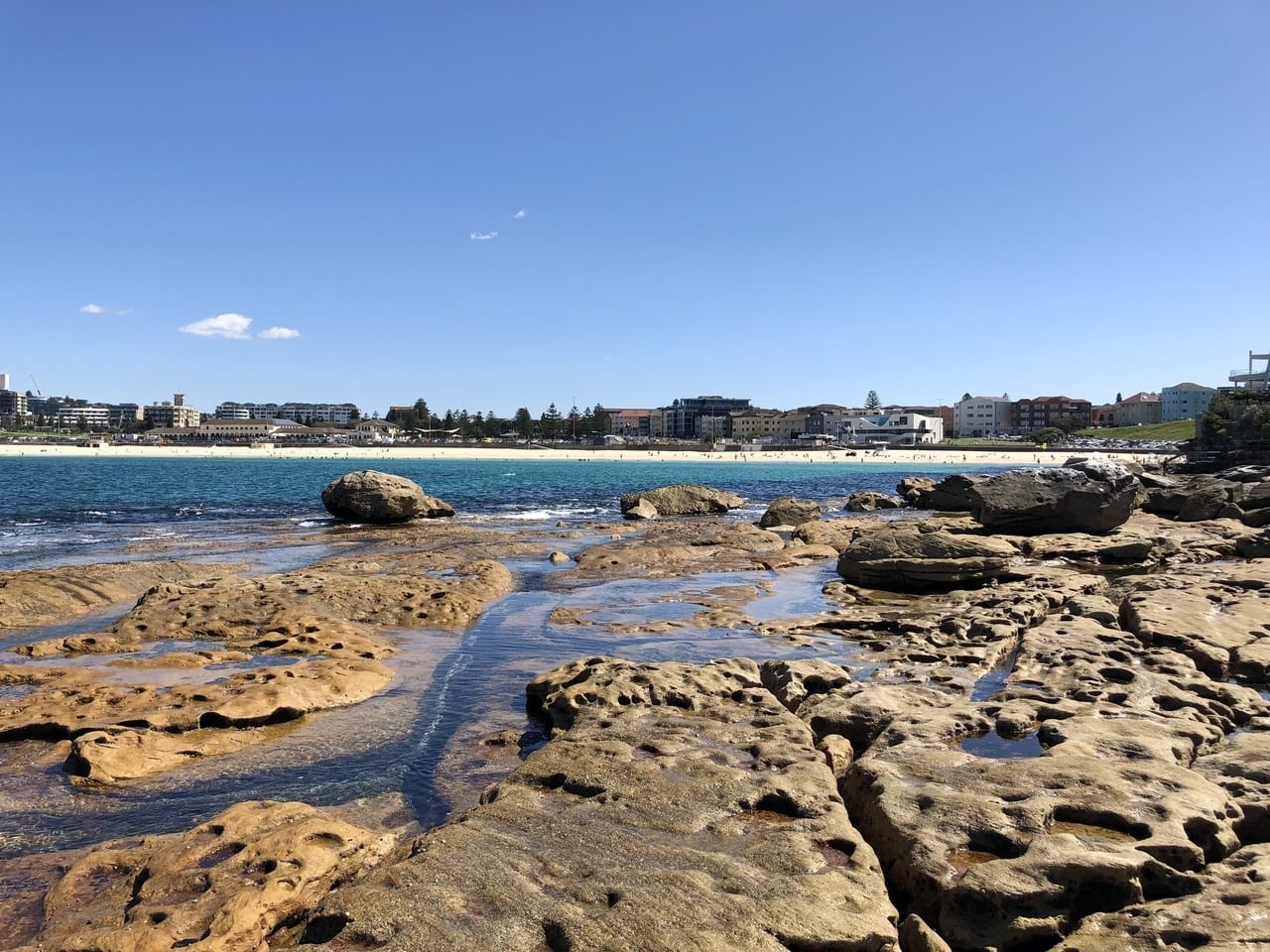 The northern end of Bondi Beach is mostly residential and much quieter than most other spots at Bondi Beach. You definitely won't have the constant stream of people from the coastal walks at the southern end of the beach, or the hustle and bustle of the beachfront area. 
But once you make it past the long road of apartments you'll reach a small park area that overlooks a series of small rocky cliffs. Here, you get a stunning view back over Bondi Beach and along the coastline. The headlands flanking most of the eastern suburb beaches are in full view from this point. 
The way this headland points to the south means that you have a clear view of the beach directly to the west. This makes it one of the best places to view the sunset in the area with the beachfront area creating the perfect foreground.
There is a staircase that will take you down onto the rocks where you can explore the headland. Accessibility will depend on the tides and size of the swell – so take caution. This is a popular spot for rock fishing, and it is also common to see people taking in some sun in a quiet spot amongst the rock formations. 
Scattered around the area are old Aboriginal rock carvings. They are unfortunately not well marked out, but you'll find them scattered around the area if you look hard enough! 
Contributed by James from Team AJ Travels
City to Surf Run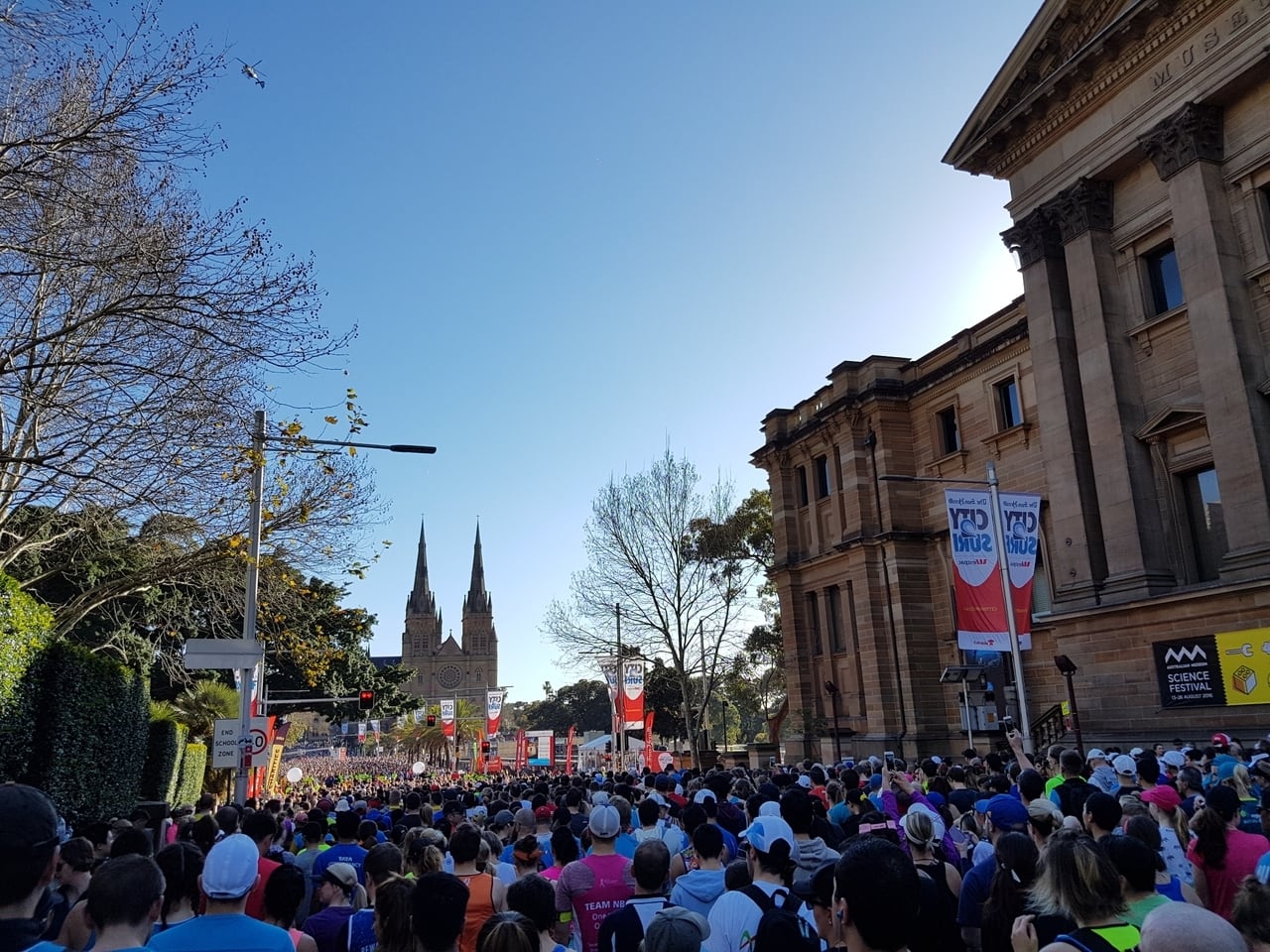 While it may not be everyone's idea of a good time, the City to Surf fun run has become an icon of Australian culture. It's one of the most popular events in Bondi by far!
The annual event has been running (ahem… no pun intended…) since 1971, and it takes place on the second Sunday of August. The City to Surf run attracts all types of runner, from the serious athletes through to the people who run in costumes. You'll probably even spot mums who push their kids along in prams!
The 14-kilometre course runs from the centre of Sydney through a number of suburbs, before cresting a hill and stretching towards the Bondi Beach finish line.
During the event the streets of Sydney are closed, so it's an exceptional experience to run along streets normally laden with cars. The majority of the course is also lined with spectators cheering runners on and bands playing along!
Waiting at the finish line, Bondi Beach itself is lined with pop-up food and entertainment for the 80,000 runners that will descend upon the beach over the course of the morning to join the party!
Contributed by Holly from Globeblogging
Take a Surf Lesson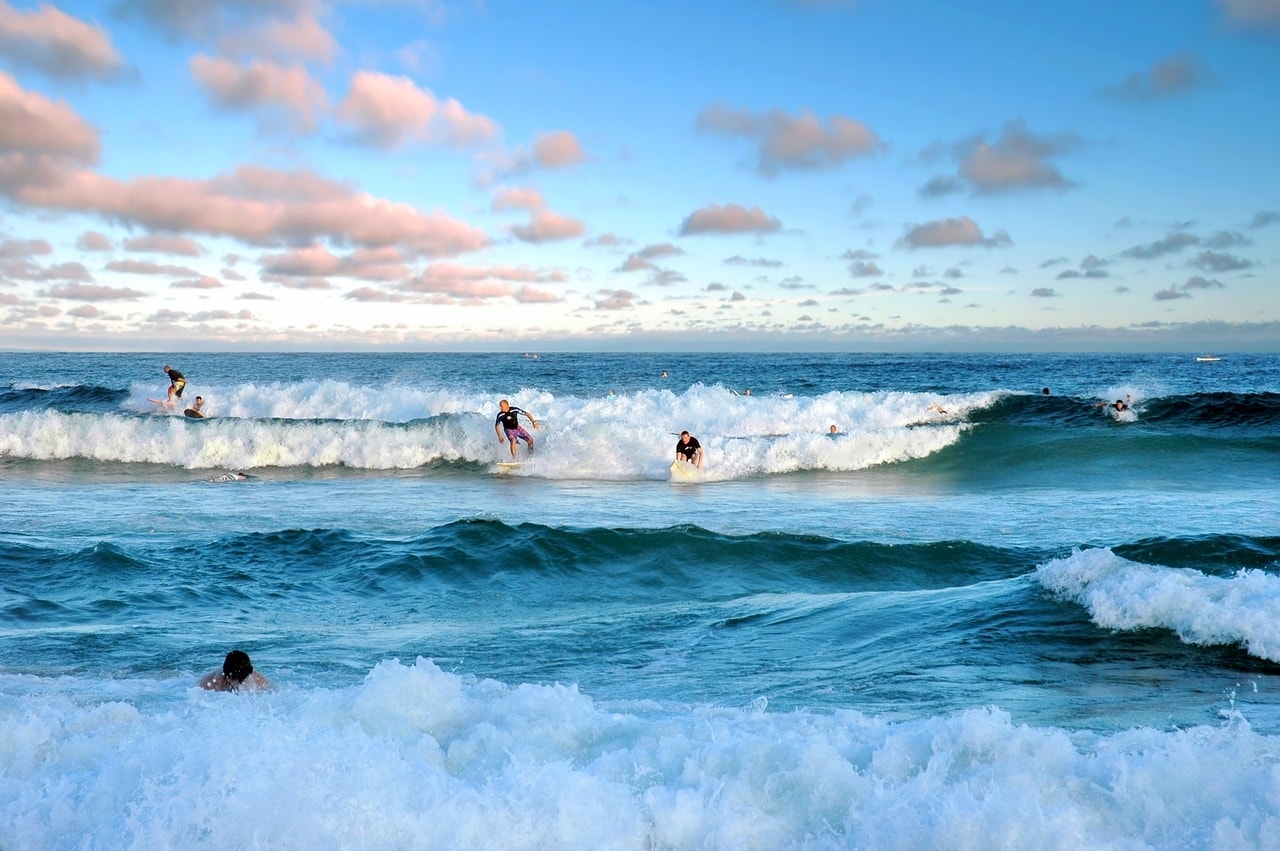 If you're ever wanted to surf Bondi Beach is the perfect place to try this quintessential Australian sport. For beginners, the north end of the beach offers great surf, whereas the southern end attracts the more serious riders. 
On a typical day, it's a normal beach right and left break which can get very crowded on weekends or during holidays when the weather and surf is good. Before you catch a wave though, make sure to go over surf etiquette and basic technique.
To do this, make sure you book yourself onto this 2-hour beginner surf lesson, that will cover everything you need to know to hit the waves like a pro! This fantastic 2-hour group lesson costs around $85.
During the class, an experienced instructor will go through essential surf safety and etiquette, and will also teach you how to paddle, catch waves, and stand-up. Everything you need is included in the price – wetsuit, surfboard, rash-vest, and your instructor!
Just make sure to bring your bathing suit, a towel, extra water and you're good to go. There's no better way to experience Australian surf culture than at Bondi Beach. 
Contributed by Natasha from the Great Ocean Road Collective.
Bondi Markets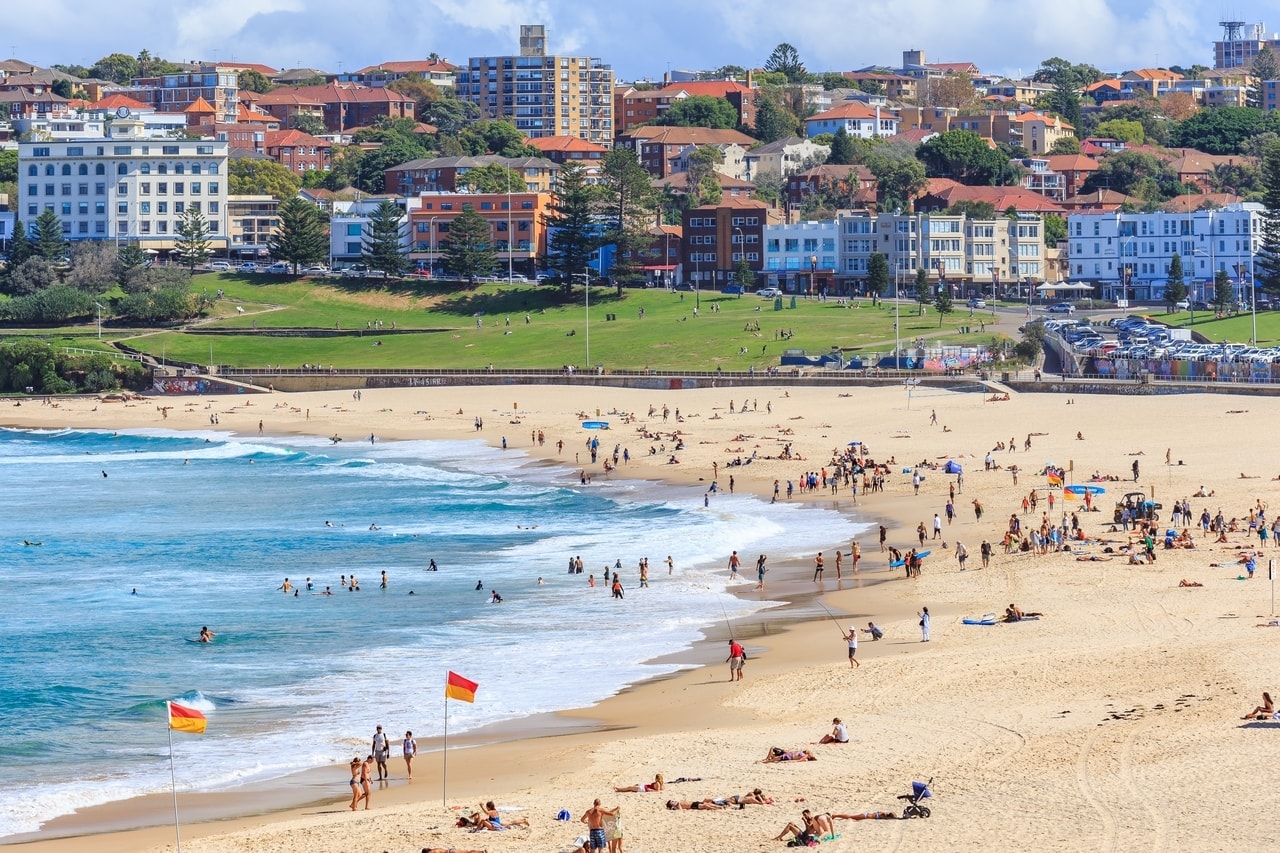 One thing you need to do when travelling to Sydney is to shop at the Bondi Farmers Market, one of the best attractions in Bondi. The market opened in 1993, and has been open to visitors every Sunday since on the beachfront grounds of Bondi Beach Public School on Campbell Parade, right across the road from Bondi Beach.
It's one of the best markets around to find locally designed clothing, cute souvenirs, handmade jewellery, arts, crafts, homewares, retro furniture, vintage clothes, and so much more!
Any visit to the Bondi Markets isn't complete without a trip to one of the most popular food stands at the market, Bar Pho. Here, you can get some delicious Pho for breakfast, an authentic Vietnamese tradition, right in the centre of Bondi!
Also, make sure to try the Raclette Shack, where you can delight in the gooey hand-carved cheese that has gone viral on social media.
After a morning spent shopping, you can head to Bondi Beach and have a relaxing lunch while enjoying the ocean views. The market is open from 9 am to 1 pm. 
Contributed by Kaila from Water Sky Land
Is Bondi Worth Visiting?
Bondi is definitely worth visiting! It's one of the most famous suburbs in Sydney, and is home to one of the most famous beaches in the world. What's more, there are quite a few fun things to do and see in Bondi, which will keep you occupied during your visit.
I may be biased, since I'm such a huge Bondi fan, but in my opinion a visit to Sydney wouldn't be complete without a trip to Bondi!
How Long Should You Spend in Bondi?
To make the most of all the fun things to do in Bondi, you should plan to spend at least one day in this suburb. During your one day in Bondi, I recommend embarking on the Bondi to Coogee coastal walk, taking a surfing class or going swimming at Bondi Icebergs, sunbathing at Bondi Beach and then heading over to Dudley Page Reserve for sunset.
---
I hope this round-up has you adding Bondi firmly to your next trip to Sydney, and has shown you that there is way more to do here than just the beach!
Don't forget to pin this post for later!