There is a good chance that this post contains affiliate links. If you make a purchase through them, I may receive a small commission at no extra cost to you! As an Amazon Associate, I earn from qualifying purchases. As ever, all opinions are my own.
It's not every day you get the chance to visit Europe's Best Beach (as voted by over 10,000 travellers in 2019 – I promise I'm not making it up!) but when I visited Stiniva Beach in Croatia that's exactly what I managed to do!
Surprisingly, though, despite being voted as Europe's best, Stiniva Beach it's still secluded. You definitely won't have to share the beach with hundreds of others.
This is probably due to its secluded location. You don't just stumble upon Stiniva Beach – you really have to go looking for it to find it! For this reason, many visitors to Croatia either don't realise that it exists, or just can't work out how to get there!
Having visited Stiniva Beach for myself I'm able to wholeheartedly confirm that, yes, it's drop-dead gorgeous. And yes, it's definitely worth making the trek to visit it.
So, today, I'm going to share everything there is to know about visiting Stiniva Beach in Croatia! This will include how to get there, where it even is in Croatia, and, of course, why you should visit.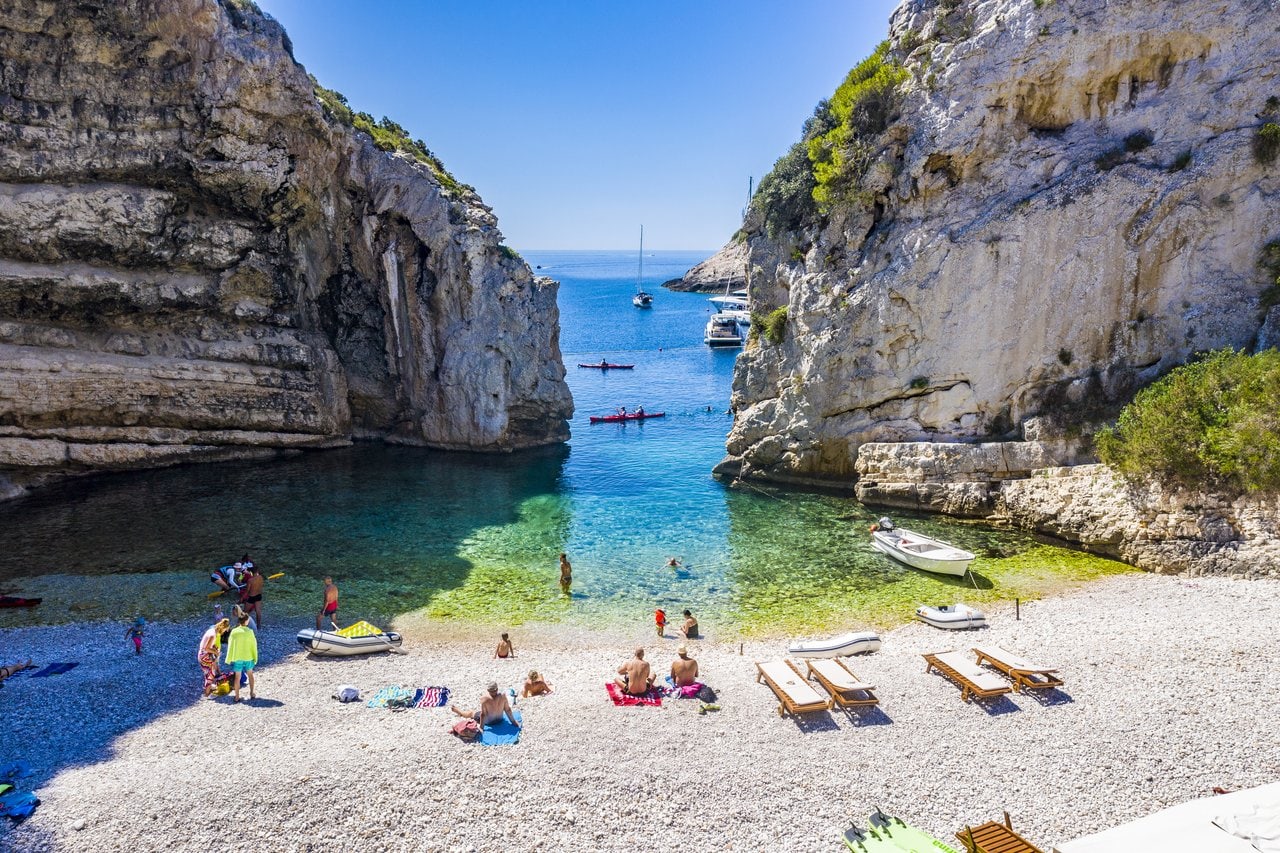 Where is Stiniva Beach in Croatia?
You'll find Stiniva Beach on the southern coastline of Vis, an island on Croatia's Dalmatian Coast. The island of Vis is around 50km from Split, and it's the farthest inhabited island off the Croatian mainland.
Because it's so far away, not many people visit Vis on day trips from Split unless they're on the 5 Island Tour, which we'll talk about shortly!
Why You Need to Visit Stiniva Beach
Okay, so if the fact it was voted the Best Beach in Europe in 2019 isn't enough to convince you to visit Stiniva Beach, here's the cold, hard truth: this beach really is a knockout.
With tall cliffs overhanging the beach, it feels like a secluded paradise. Plus, with sparkling blue water that looks as clear as glass, it's one of the best places to swim in Croatia. You can't access the beach unless you swim up to it or hike to it, so it's uncommon for it to be too busy. There's also something extremely exciting about swimming through the Stiniva Cove to reach the beach. 
If you visit in summer, when the weather is almost definitely going to be brilliant, you'll struggle to leave.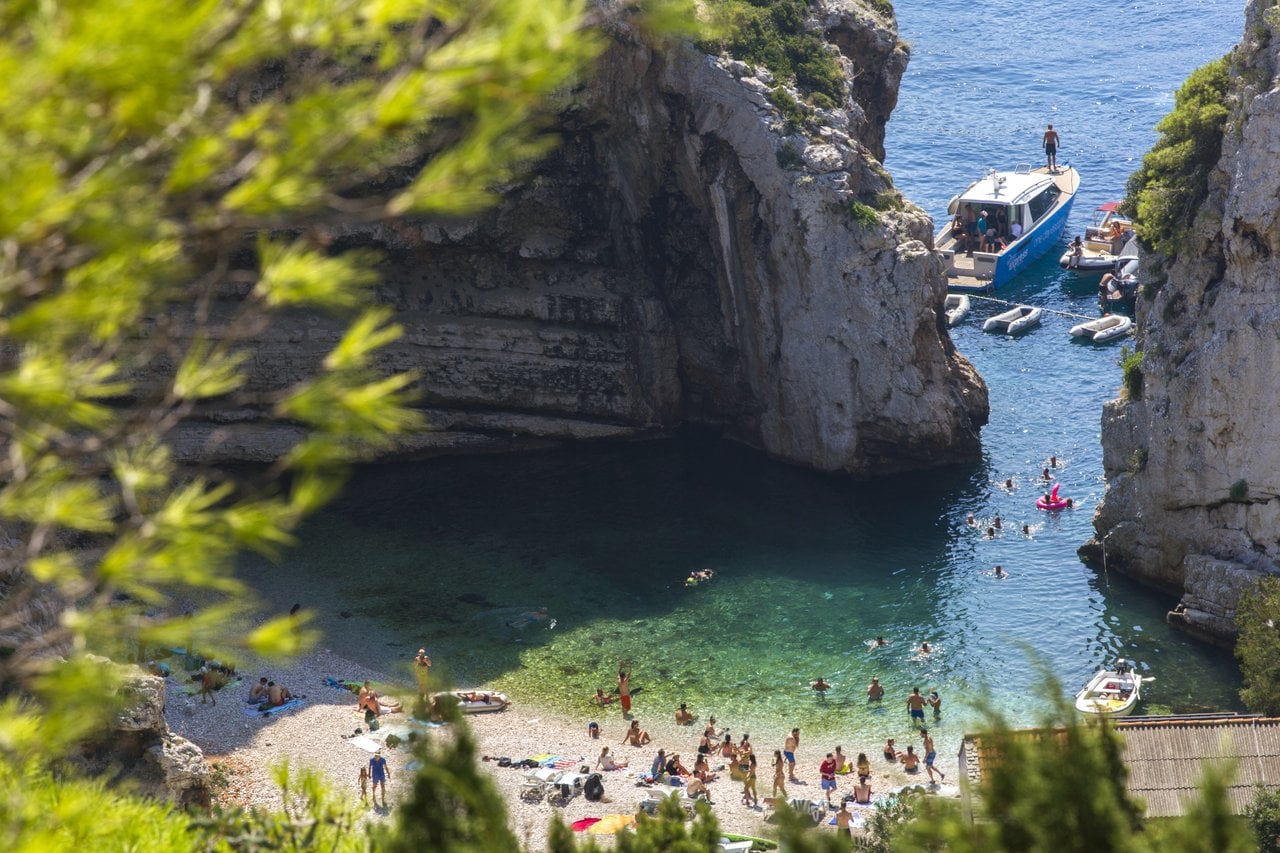 Because it's so tricky to get to, Stiniva Beach isn't commercialised. You won't find any annoying touts trying to flog crappy souvenirs to you as you try to sunbathe. There's a tiny bar in a shack on the beach (yay!) but that's all. 
If you arrive at Stiniva Beach via the 5 Island Tour your speedboat will moor outside of the cove. You'll then have to jump off the boat into the turquoise water and swim up to the beach.
Since all of the boats have to moor outside of the cove, you won't actually be able to see them from the beach, meaning that even if you visit on a really busy day in the height of summer you won't feel like you're visiting a tourist trap. 
How to Get to Stiniva Beach
5 Island Tour
The very best way to visit Stiniva Beach, and the method I chose, was to join this incredible 5 Island Tour from Split! This full-day tour is one of the most epic things you can do in Croatia, and I can't recommend it highly enough!
You can read my full review here!
During the tour, you'll visit some of Croatia's most iconic attractions via speedboat, including the Blue Lagoon, the Blue Cave, Hvar, and, of course, Stiniva Beach! Many of these attractions are places that are tricky to visit by yourself, so the 5 Island Tour is the perfect solution. 
The tour lasts a whopping 10 hours and gives you an incredible taste of the Dalmatian Coast in one day. I joined the tour as a solo traveller and made some good friends through the tour, so I definitely recommend it to solo travellers! 
Not fancying the 5 Island tour? No worries, there are a few other boat trips from Split that stop off at Stiniva Beach.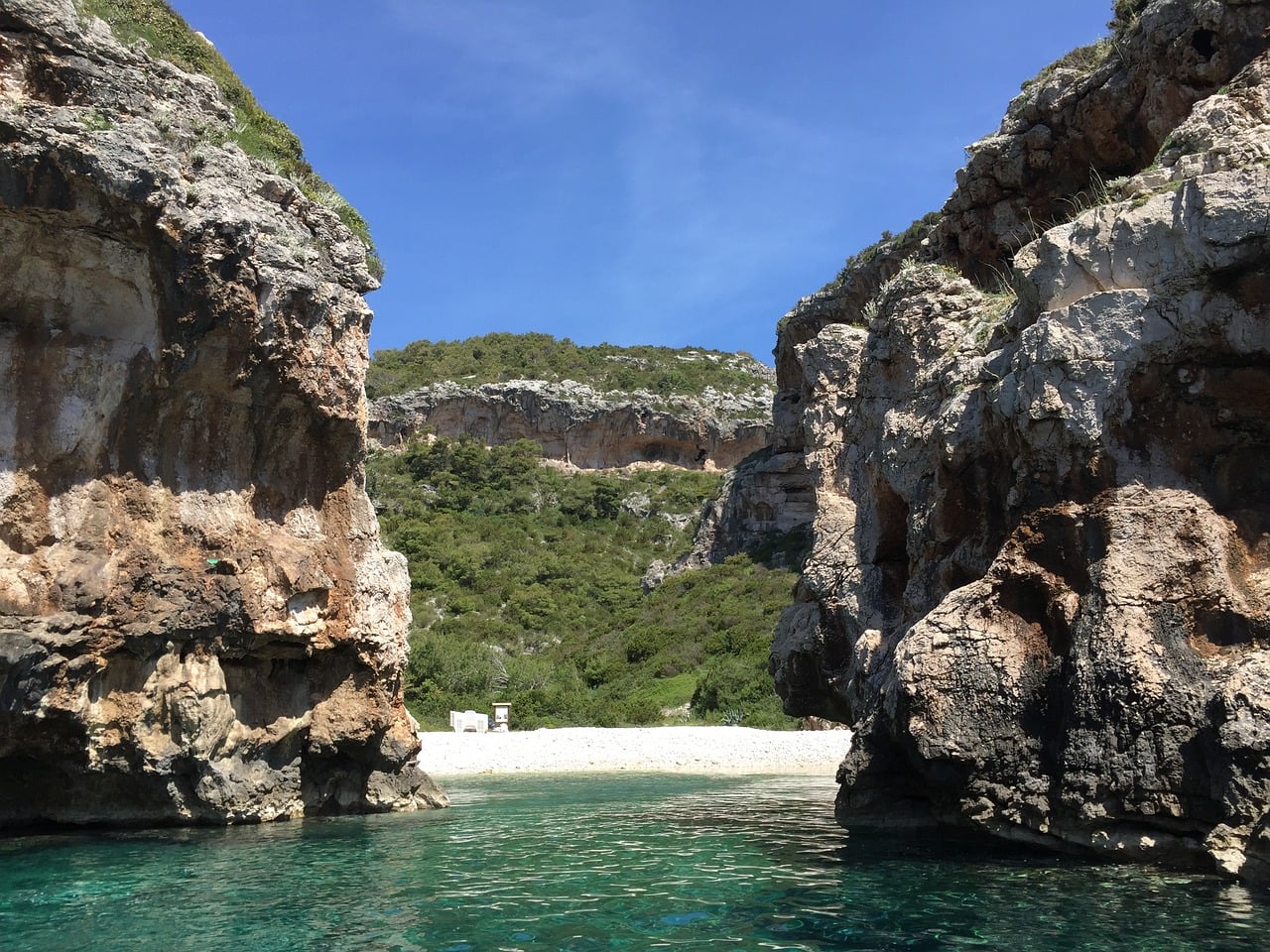 Hiking to Stiniva Beach
If you're already on Vis, the only way you can get to Stiniva Beach is by hiking. You'll also need a car or scooter to get you to the car park at the top of the cliffs overlooking Stiniva Beach because this is where the hike starts. It's not easily accessible by public transport.
From the car park there's a steep hiking trail down to the beach. It takes around 25 minutes to walk each way (but slightly longer when you're climbing back up!). The trail isn't too sturdy and consists of plenty of gravel. It's a really wise move to wear trainers so you're not slipping and sliding all over the place!
What to Expect at Stiniva Beach
Stiniva Beach, like most beaches in Croatia, is a pebble beach. It can be tricky to walk on pebbles with bare feet, so it's a good idea to add some water shoes to your Croatia packing list! If you don't have any, don't worry – you'll just have to crawl across the stones until you can lie down and sunbathe!
Since the only things to do at Stiniva Beach are swim, snorkel, sunbathe, or drink at the bar, you don't need to allocate a ton of time to spend here. I think 45 minutes to an hour is the perfect amount of time if you're arriving by boat.
This is how long I spent at the beach when I visited on the 5 Island Tour, and although I could have stayed for longer it was definitely enough.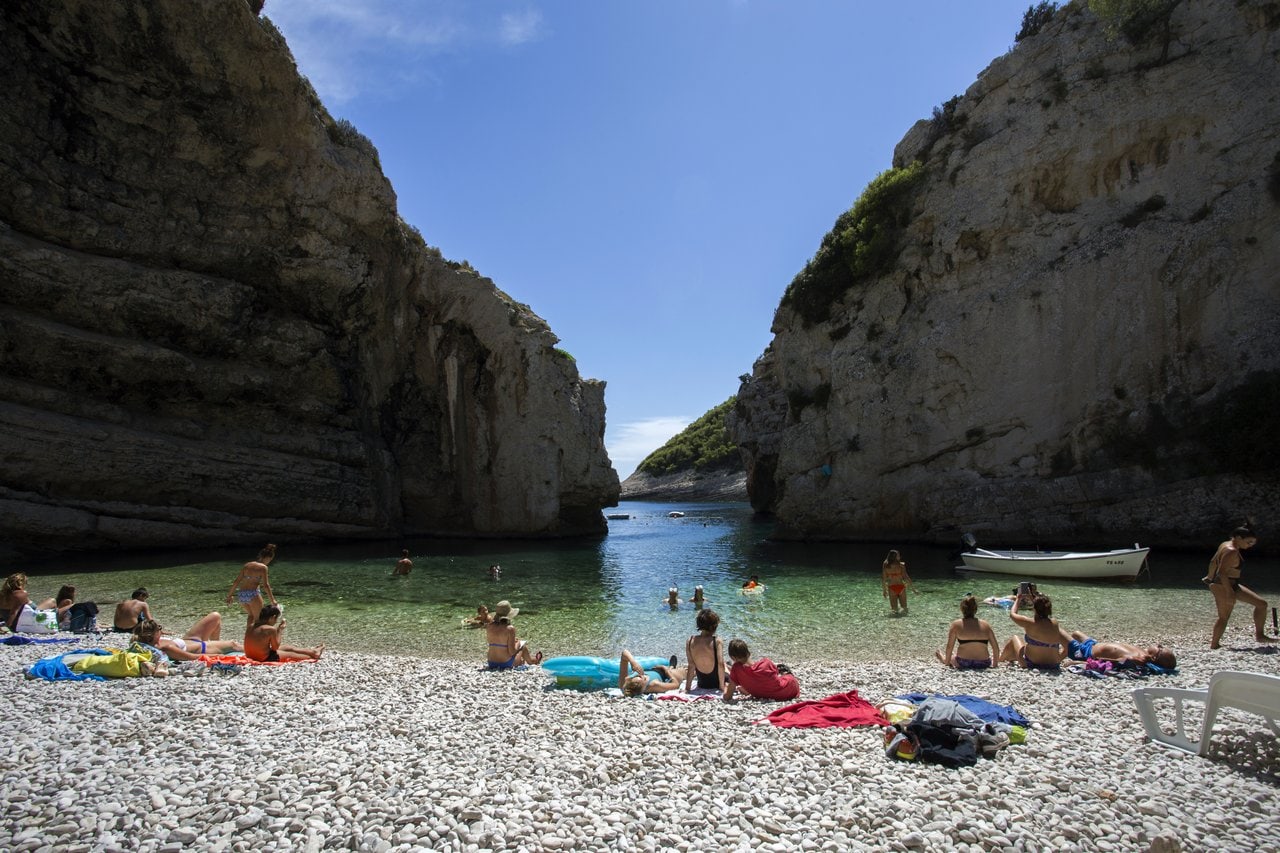 Since the beach is a bit of a trek to get to on foot, you may want to spend longer here if you had to hike down. You can definitely make this work, though. You can pack a picnic lunch, a few cold drinks and a towel and hang out on the beach for hours if you feel like it!
---
I recommend paying a visit to Stiniva Beach to anybody travelling in Croatia or on a weekend break to Split. It's one of the very best beaches Croatia has to offer, and the fact that it's a challenge to get to makes it even more rewarding when you finally arrive!
If you have any questions about visiting Stiniva Beach in Croatia feel free to drop me a comment or an email and I'll try my best to help. For more of my Croatia posts, click here!