There is a good chance that this post contains affiliate links. If you make a purchase through them, I may receive a small commission at no extra cost to you! As an Amazon Associate, I earn from qualifying purchases. As ever, all opinions are my own.
Costa Rica is world-famous for its beaches and surf scene, and chances are, if you're planning a trip to Costa Rica, you're gonna want to check out a few of its best beach and surf towns.
With two coastlines to choose from, though, and over 800 miles of coastline, there are a tonne of beach towns and surf towns in Costa Rica – so how do you know which are the best?
Costa Rica had been my dream destination for over five years before I finally visited it, and during those days I was massively into surfing, so you can bet your bottom dollar that I did a load of research into the best places to visit in Costa Rica. And, of course, the best places to surf.
A couple of years ago I was lucky enough to finally visit Costa Rica and try out a few beach towns for myself. So, to help others like me who were dreaming of a surf trip to Costa Rica, I've pulled together this list of the 7 best beach and surf towns in Costa Rica!
Puerto Viejo de Talamanca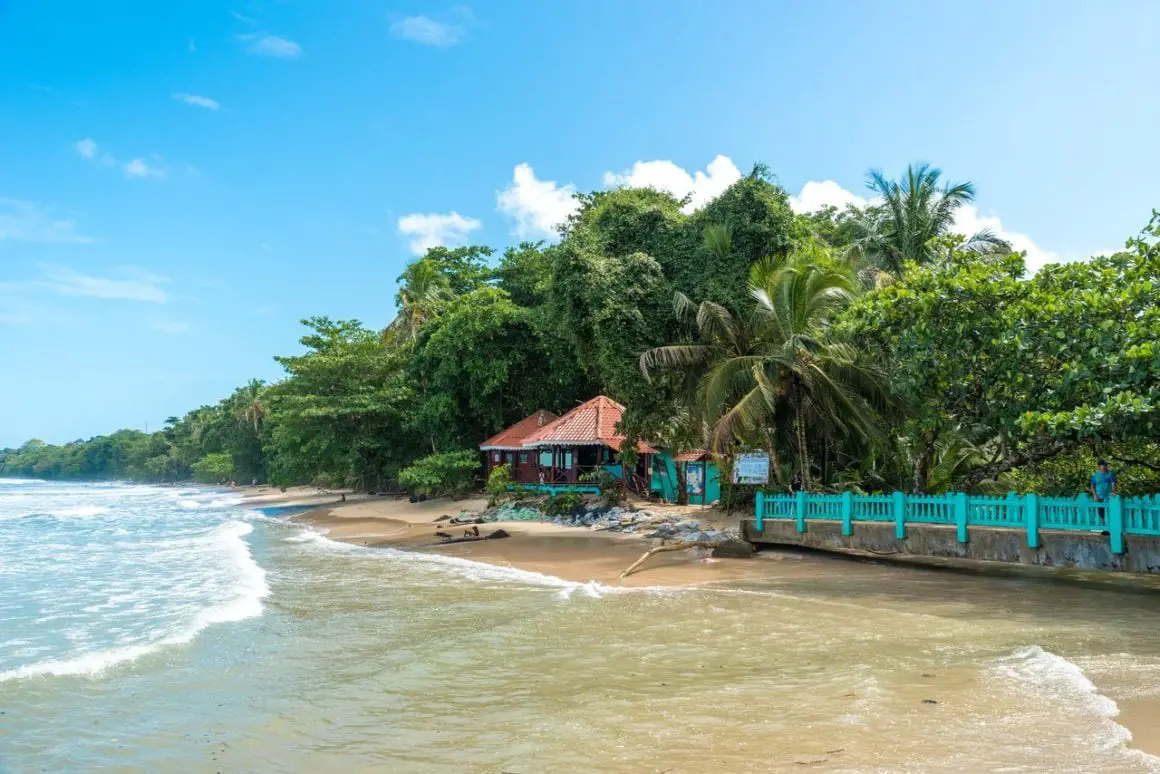 If you're looking for a relaxed beach town in Costa Rica, Puerto Viejo is the perfect destination for your next adventure!
There's something in store for every traveller here, with yummy seafood, surfing, yoga, and great beaches at your fingertips. Some of the best beaches are just slightly outside of town, so you can travel by foot or hire a bike to get to them. The journey there through the lush greenery of the town will be half of the fun!
If surfing is your jam, Puerto Viejo is one of the best Caribbean surf towns in Costa Rica. There are a few spots to choose from, but Playa Cocles is the best spot for beginners. Make sure to catch your waves early in the morning for the best experience. You're also able to hire surfboards or take a surf lesson at this beach, making it a great place to try out surfing for the first time.
I can't forget to mention Playa Chiquita! This peaceful, off-the-beaten-path location is a quiet beach less than 6km from Puerto Viejo. Even though this beach is amazing, there are a TON of other beaches to choose from in this surf town, so take your pick: Playa Punta Uva, Playa Grande, Playa Negra, and Chino Beach.
Other fun things to do in Puerto Viejo include visiting the Jaguar Rescue Center, taking a local chocolate tour, and visiting nearby Cahuita National Park. You can also head to Cashew Hill for walk-in public yoga classes for $5. 
Puerto Viejo is one of the best beach towns in Costa Rica for a reason. There are many relaxing beaches to choose from, a bunch of hip eateries to drool over, shops selling local handmade crafts, and fun nightlife!
Sámara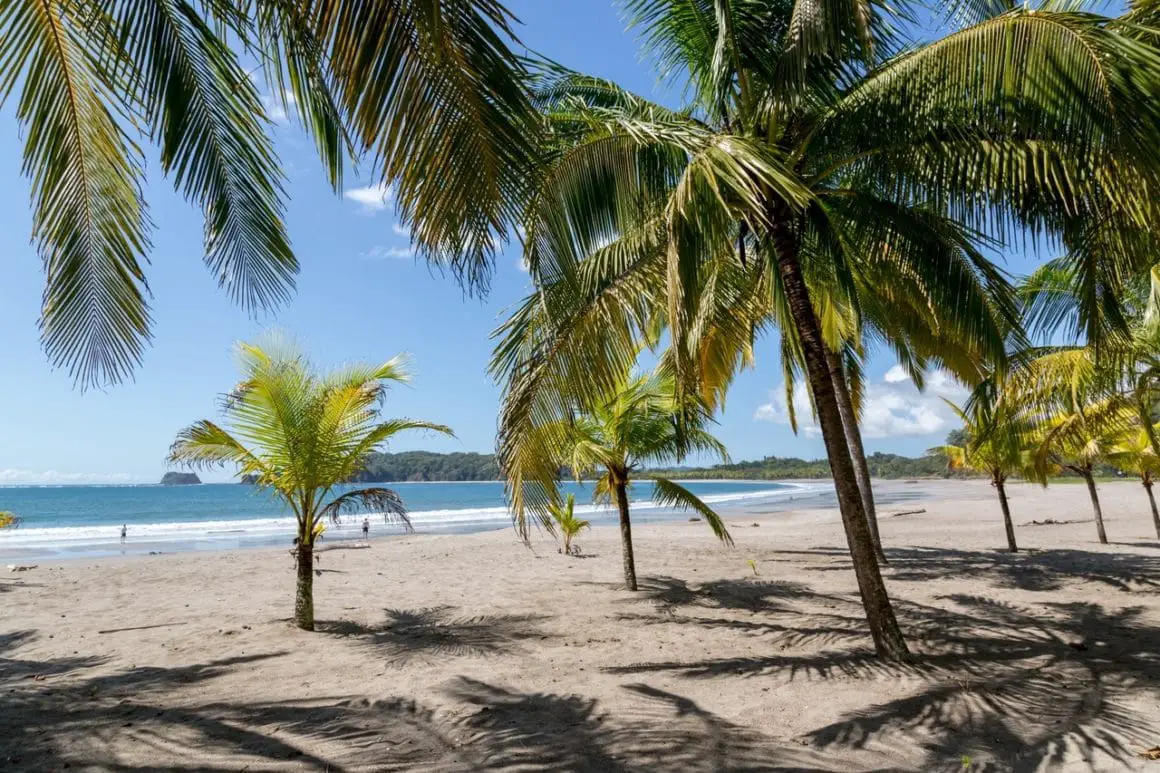 Sámara is a totally adorable and mellow beach town on the Pacific coast of Costa Rica. You'll be pleasantly surprised by the anything-goes vibe that permeates this quieter town.
This town is all about surfing with a beach for every skill level! Playa Sámara is the perfect surfing beach for all abilities – you'll get different conditions depending on the tide, but in general this beach is very beginner-friendly. Speaking of beginner-friendly, I highly recommend C&C Surf School, which is right on the beach and offers surf lessons and equipment hire.
More moderate and expert surfers will also enjoy the waves Playa Buena Vista, only a 30-minute walk from Sámara. This beach is more remote so don't forget to bring snacks and water for the day.
If a relaxed beach with fewer visitors is more your vibe, head to Playa Carillo. It's about 5 miles outside of the city, but you will have a beautiful day of swimming and sunbathing ahead of you.
There are a few fantastic things to do in Sámara, but aside from surfing, your best bet is to try some adventure activities in your free time if you plan to stay more than a few days. You could join a snorkelling tour, go horseback riding, or even join a kayaking tour.
The beaches are the main draw to Sámara, and that's what makes it one of the best surf and beach towns in Costa Rica. If you like spending your days in the sunshine followed by good food and fun adventures then this is definitely a stop you should add to your itinerary.
Manuel Antonio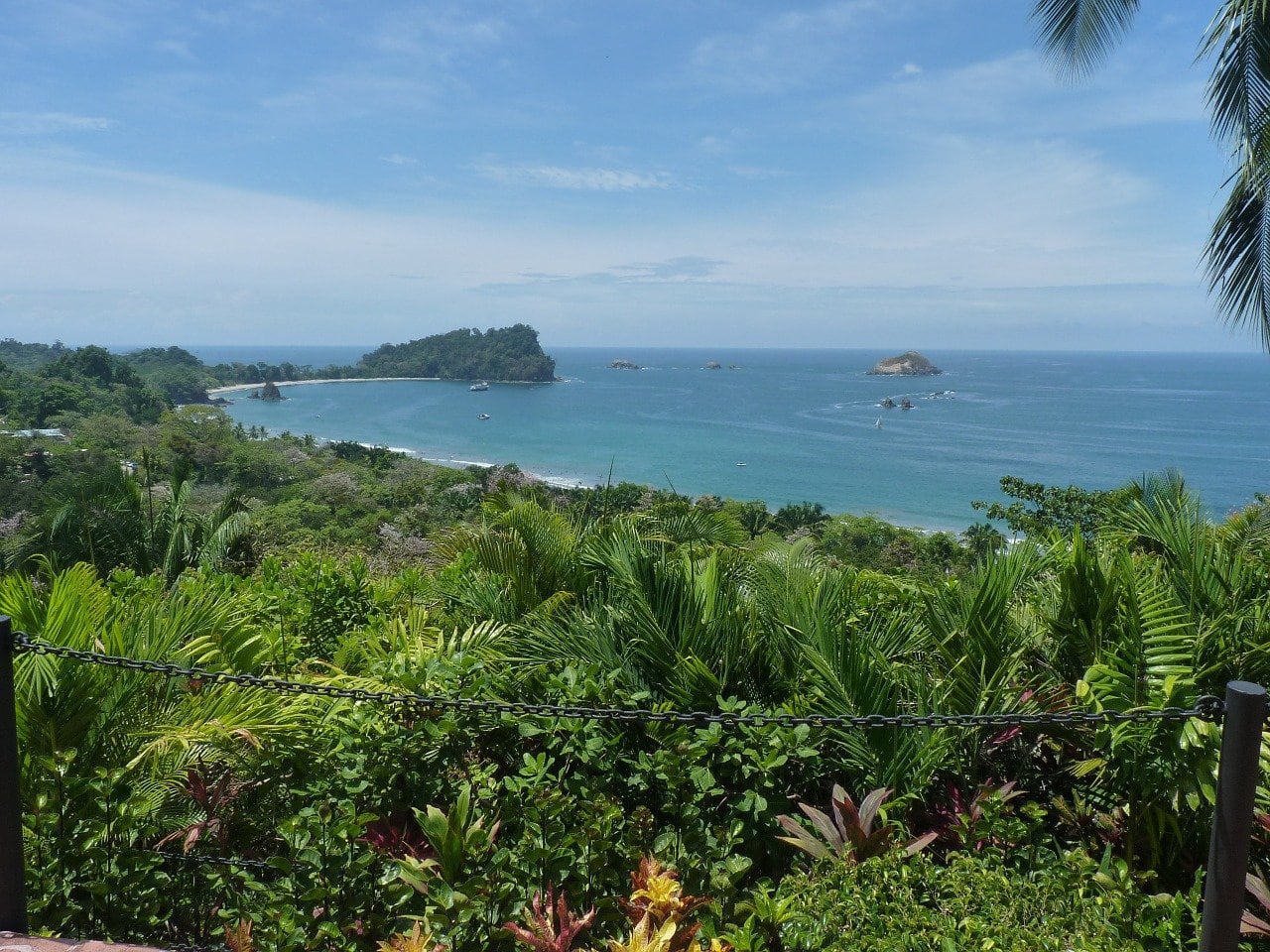 This beach town is also one of the best resort towns in Costa Rica, and it's known for being the most popular National Park in the country. So, whether you want to lay on the white sand beach, stay at a luxury hotel with a spa, or explore breathtaking landscapes – this is the place for you!
The sun always seems to be shining on the five beaches in Manuel Antonio. Playa Manuel Antonio is by far the most popular but you can also visit Playa Espadilla, Playa Gemelas, Playa Biesanz, and Puerto Escondido. You can swim, surf, or even scuba dive no matter which beach you choose! 
The gentler waves across the Manuel Antonio beaches are more for beginners or intermediate surfers. Any beach in town is an excellent option if you want to learn how to surf during your vacation. If you are hoping for a different water experience, parasailing, fishing, or catamaran tours of Manuel Antonio are also available.
Manuel Antonio has hotels and resorts to offer at every price point. So whether you are more of a budget hostel traveller or want to go all out, this Costa Rican beach town has everything you need for a pleasant vacation.
The National Park is a must-see for anyone stopping by. You'll definitely want to spend a whole day in the park, wandering through the numerous hiking trails and looking for animals, flora, and fauna. 
If beautiful beaches, wild plants and animals, and luxury accommodation are what you want for your next vacation then Manuel Antonio is the best beach town in Costa Rica for you!
Tamarindo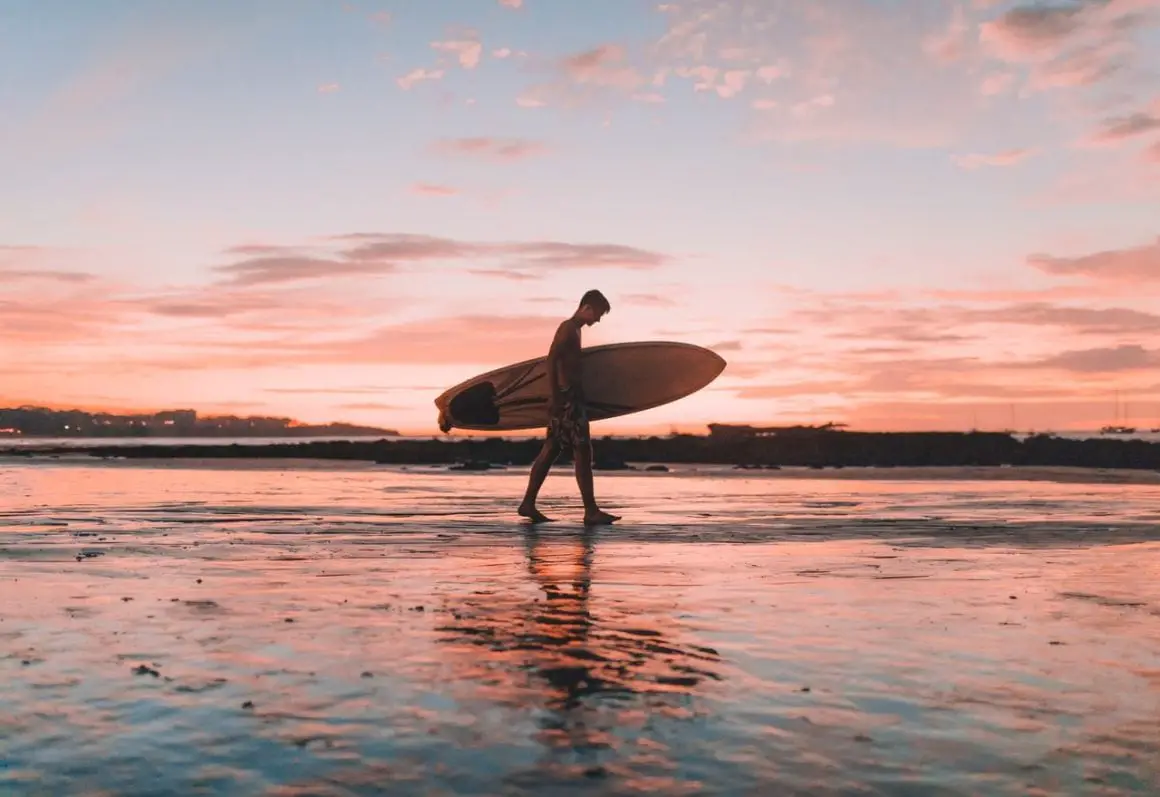 Dreaming of fun in the sun vacation with sizable surfing waves and famous nightlife? Then Tamarindo might be the best beach town in Costa Rica for you.
Tamarindo is arguably the best surf town in Costa Rica, and that's for a good reason. There are several different beaches for surfers, ranging from complete beginner to expert waves. Don't worry if you've never surfed before, as you can join a lesson at a top-rated surf school to teach you everything you need to know.
There is seriously an abundance of beaches to choose from in Tamarindo. The most unique beach in Tamarindo is Playa Conchal. Here, the sand consists of tiny crushed seashells which give it its perfect pink pearl effect. You don't want to miss out on this Instagram opportunity!
Whilst Tamarindo Beach is the most popular beach, Playa Avellanas is also unmissable. With swells that can reach 18 feet, this beach attracts world-class surfers from all over the world.
After a long day of surfing, Tamarindo is the perfect beach town to let loose and party. If you want to dance the night away with your friends, The Crazy Monkey Bar should definitely be on your list for the evening.
Tamarindo has a lot to offer for any traveller. However, if you're looking to spend time in a larger town with famous surfing and fun nightlife, add this beach town in Costa Rica to your list! 
Nosara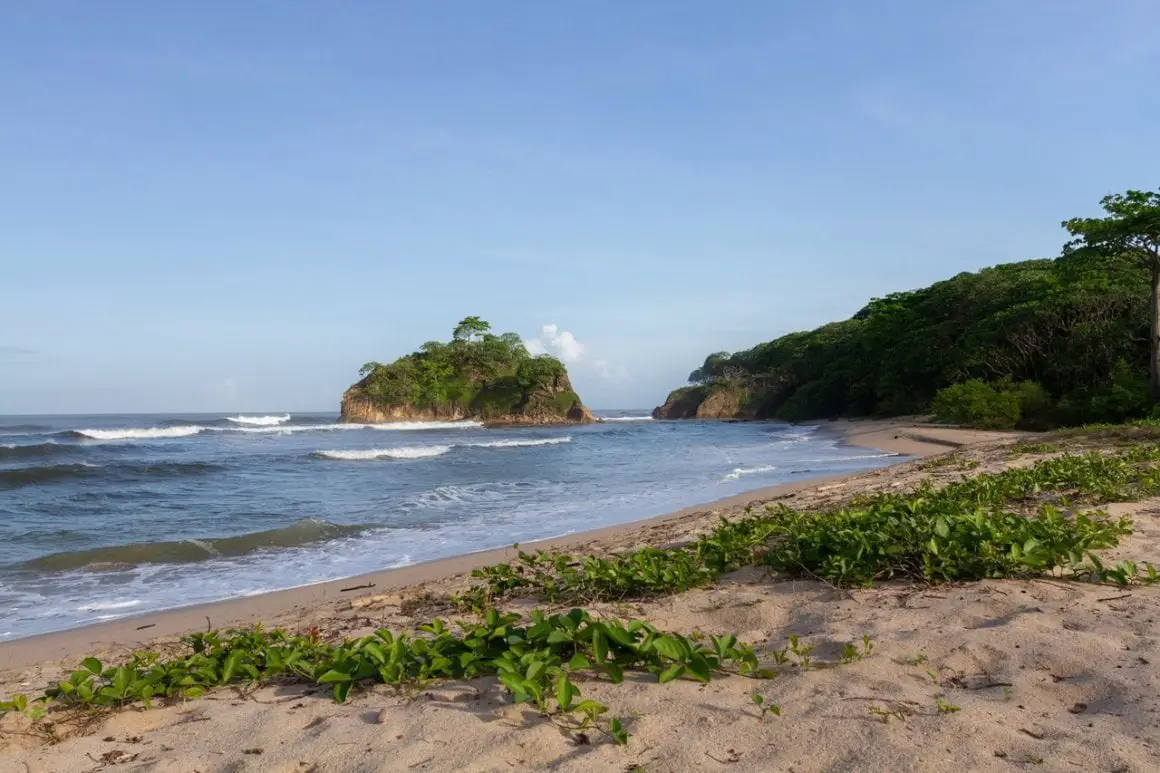 Nosara might be one of Costa Rica's best-kept secrets. With its chill vibe, many wellness and surf resorts, wildlife refuge, and healthy food options, this small town is a hippie paradise that's perfect for your next trip.
In recent years Nosara has grown into a wellness and yoga hub. That means there's no shortage of yoga classes and spas in the town, ready for you to enjoy. It's also known as one of the best surf towns in Costa Rica.
Playa Guiones is a 7-kilometre long beach in Nosara and a top surfing location. The waves here are perfect for both beginners and pros. If you are looking for surfing lessons, there are many schools and trainers available to give you a jump start.
Other beach activities in Nosara include fishing, ziplining, and monkey sanctuaries. If you're an animal lover, you might want to check out Ostional Wildlife Refuge, where you can see close to 20,000 turtles come to nest!
When you are done with your activities for the day, Nosara has many vegan restaurants to choose from. The Go Juice Truck is the perfect option for a light snack or smoothie, but if you're looking for something more substantial head over to Luv Burger. Here, you'll get a delicious,100% plant-based dinner.
Surfing may draw visitors to Nosara, but the food and relaxing environment will make you want to extend your stay. This locale is definitely one of the best beach towns in Costa Rica for relaxing, rolling out your yoga mat and connecting with yourself.
Montezuma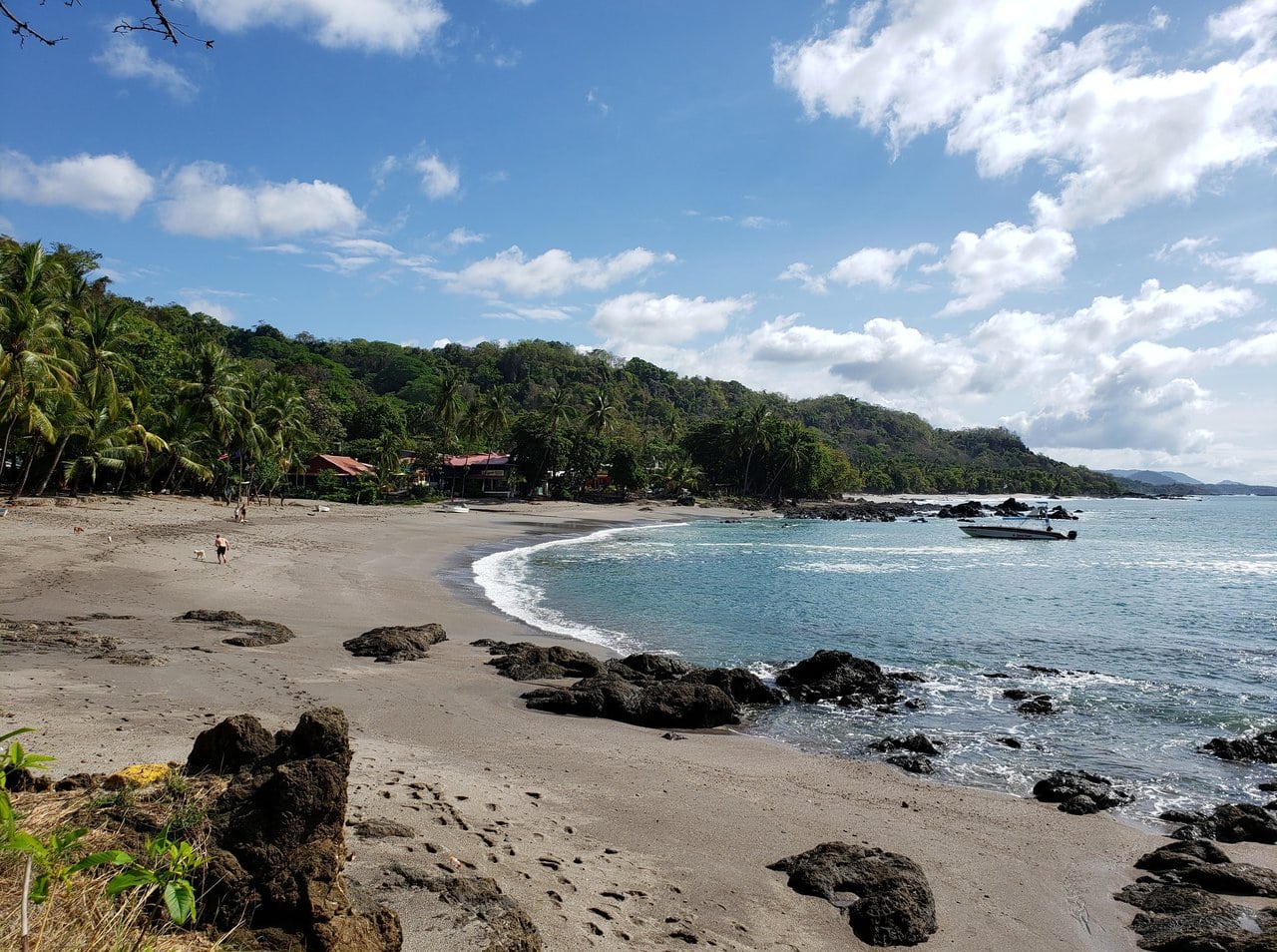 Montezuma is the lushest part of Costa Rica's Nicoya Peninsula – full of waterfalls, beginner-friendly surfing, and jungles. This is definitely one of the best beach towns in Costa Rica when it comes to adventure!
The town has a small, nature-loving vibe that's welcoming of visitors. Playa Grande is the busiest beach, and it's where most visitors start their day. Tourists and locals alike surf here, and you might even see a monkey on the beach.
The best thing to do in the area is visit Isla Tortuga, an untouched tropical island that you can visit on a day tour. Once there, you can relax on the beach or snorkel. Tons of Tortuga Island tours leave from Montezuma, so keep your eyes open when you're in town.
Montezuma itself has three waterfalls, and the hike you take to visit these is one of the best activities in the area. Once you get to the waterfalls, you can reward yourself by swimming in the pools and jumping from the lowest falls. This adventure is definitely a little more dangerous, so make sure to proceed with caution if you choose to join in.
It's technically possible to jump from the second-highest and highest falls, and you'll probably see locals doing this, but it really is best to avoid this to stay safe. 
Montezuma also boasts of multiple reserves in the area, such as the Curu Reserve and Cabo Blanco Reserve, both of which have miles of hiking trails, wildlife, giant trees, and exotic flowers. 
Montezuma may be the most beautiful beach town in Costa Rica, with an abundance of outdoor activities. This locale is a perfect fit for any traveller that wants to do a little bit of everything on their vacation.
Jacó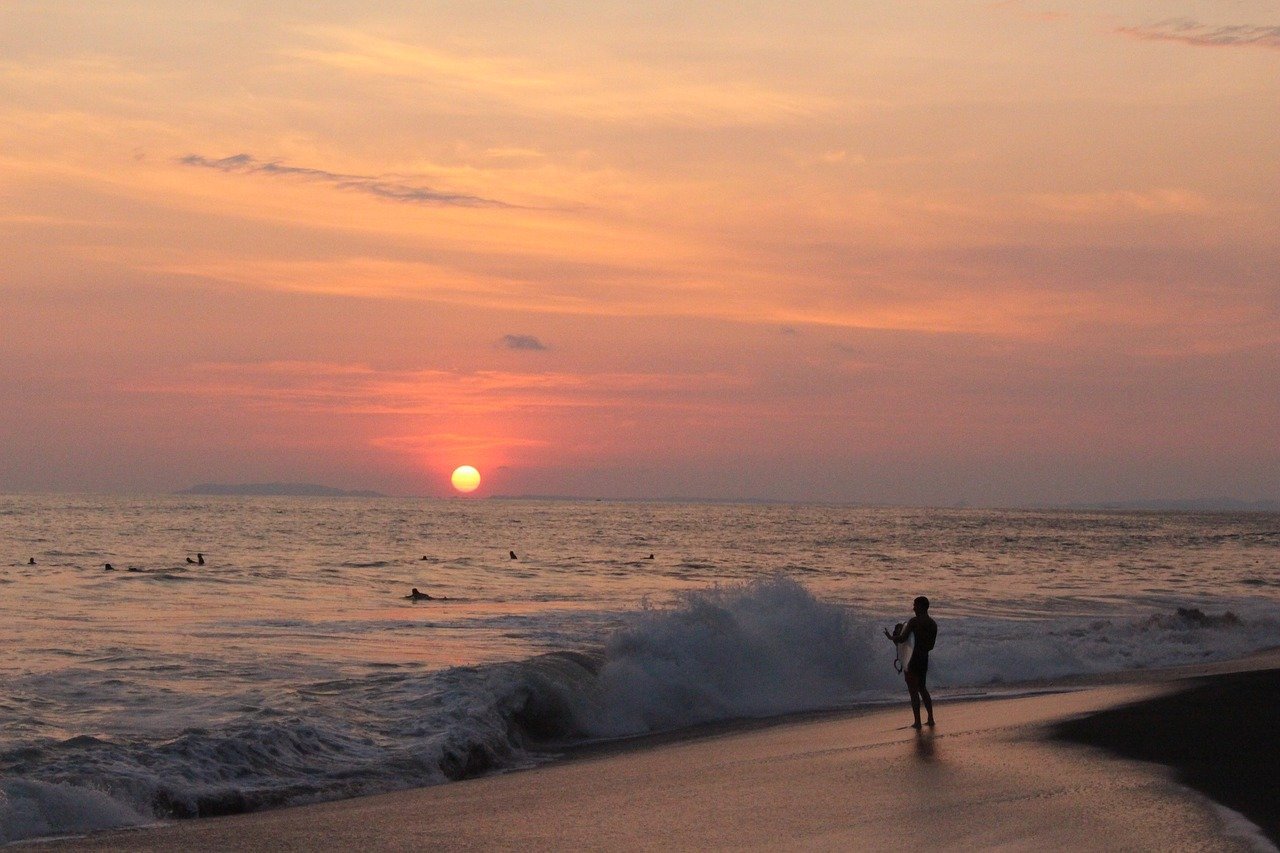 The tiny coastal town of Jacó is the perfect getaway on Costa Rica's Pacific coast, and it's known as the gateway to national parks. If you want to combine hiking with sunbathing on your Costa Rica trip, Jacó is the ideal beach town.
This town is beloved by both locals and tourists alike, and it's also super easy to visit. Jacó is just a 1 hour and 40-minute drive from the capital city, San Jose. It used to be a huge party town (and still has plenty of parties) but it's now calmed down and is more family-friendly.
Jacó Beach is the best place to head to kick back, relax, and take a dip in the ocean. If you'd prefer to be more active, Jacó Beach has no shortage of activities, from surfing, kayaking and boat rides to beach volleyball. There are strong riptides at the beach so it's important to be careful if you're swimming, and stay close to the shore.
If you're a surfer, head straight to Playa Hermosa, which became a World Surfing Reserve in 2020, which means its biodiversity and world-famous waves now have protected status. It's busy here at weekends, so if you want to surf quieter waves head here during the week.
If you'd prefer to get away from the beach and into the rainforest, head to nearby Carara National Park, where you can go hiking, horseback riding, or even ride ATVs through the park. If you want to be even more adventurous, join a rappelling tour from Jacó and go rappelling down the park's waterfalls!
Jacó is another Costa Rican beach town that's perfect for everyone – families, backpackers, and surfers, and its proximity to Carara National Park is an added bonus! 
Are you ready to travel to Costa Rica?
Before you book anything, make sure you have solid travel insurance in place – it's way too risky, and downright, idiotic, to travel without it! I recommend World Nomads for Costa Rica since they cover a tonne of fun adventure activities, so you can go surfing, rappelling or white water rafting without any concerns. Click here to check their prices!
For booking accommodation in Costa Rica, I recommend Hostelworld for hostels and Booking.com for hotels, guesthouses and apartments. What I love about Booking.com is that most properties on there have free cancellation up until a few days before your booking. Given the current state of the world, that can save you hundreds if you have to cancel your trip at the last minute!
To book activities, I always use either Get Your Guide or Viator. They're both pretty similar, but they often have different activities and tours on offer, so I like to check both to compare activities and prices.
Liked this post? Pin it!