There is a good chance that this post contains affiliate links. If you make a purchase through them, I may receive a small commission at no extra cost to you! As an Amazon Associate, I earn from qualifying purchases. As ever, all opinions are my own.
It's easy to see why La Fortuna is one of the most popular places to visit in the entire country of Costa Rica. This small town, about 2.5 hours away from San Jose in the North West of the country, is the gateway to Arenal Volcano National Park. There are also a ton of brilliant things to do here!
Oh, and it's totally stunning.
Since Arenal is so close to La Fortuna, people are usually referring to both towns when they talk about "La Fortuna" or "Arenal". So, for this reason, this post will contain the very best things to do in both La Fortuna and Arenal.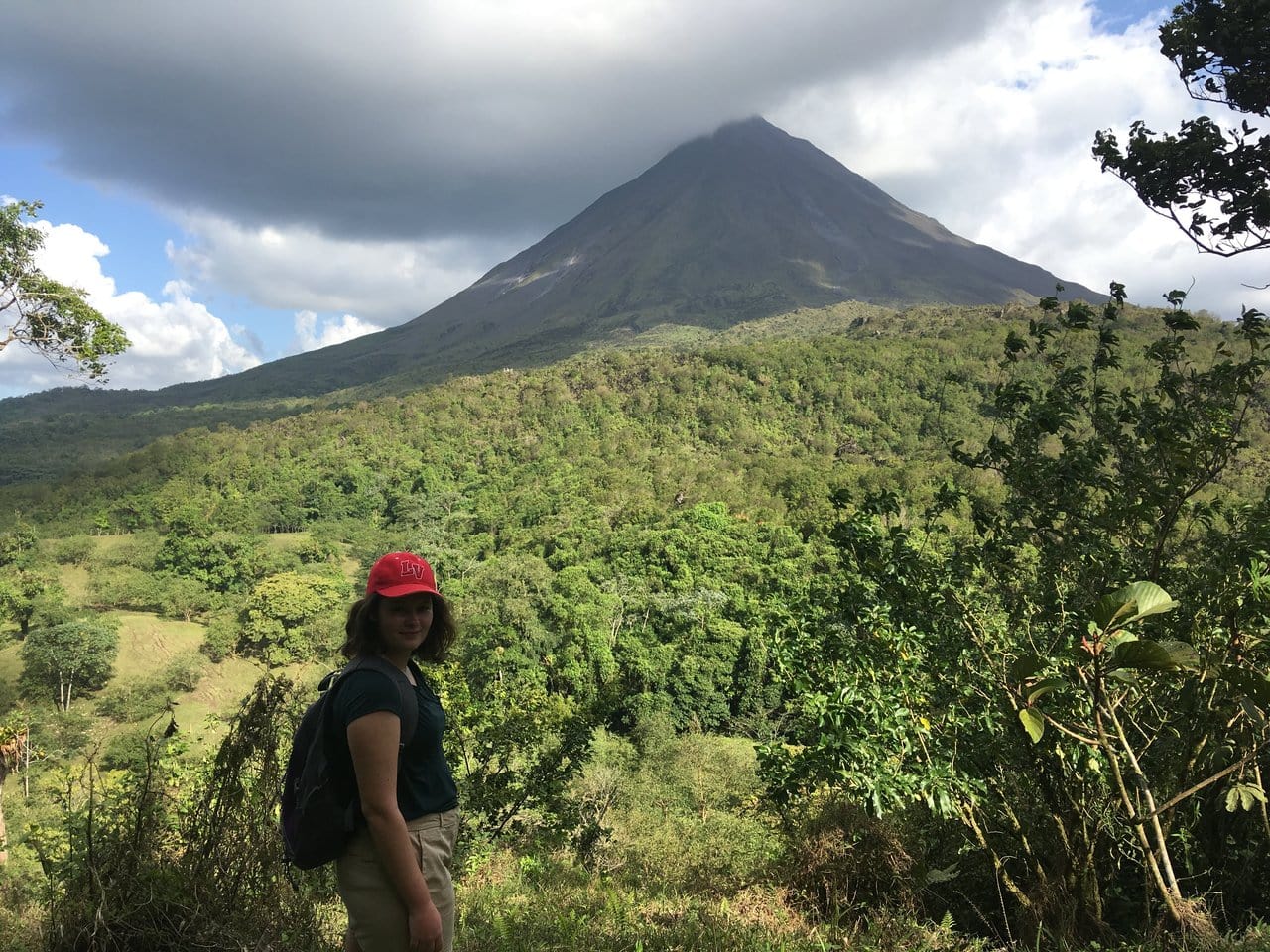 Whether you're looking to hike the Arenal Volcano, go whitewater rafting, or chill out in La Fortuna's many hot springs, there are plenty of fun activities you can do in La Fortuna, and there really is something to suit everybody!
I spent three days in La Fortuna during my two weeks to Costa Rica, and I had an incredible time! I'd go as far as to say that a trip to Costa Rica wouldn't be complete without a trip to La Fortuna. Yup, it's really that good!
Pura Vida!
Top tip: Costa Rican currency is confusing, but most places accept both Costa Rican Colones and US Dollars. To keep it simple, all prices in this post are listed in US Dollars.
Top Things to Do in La Fortuna and Arenal, Costa Rica
Relax at the Arenal Hot Springs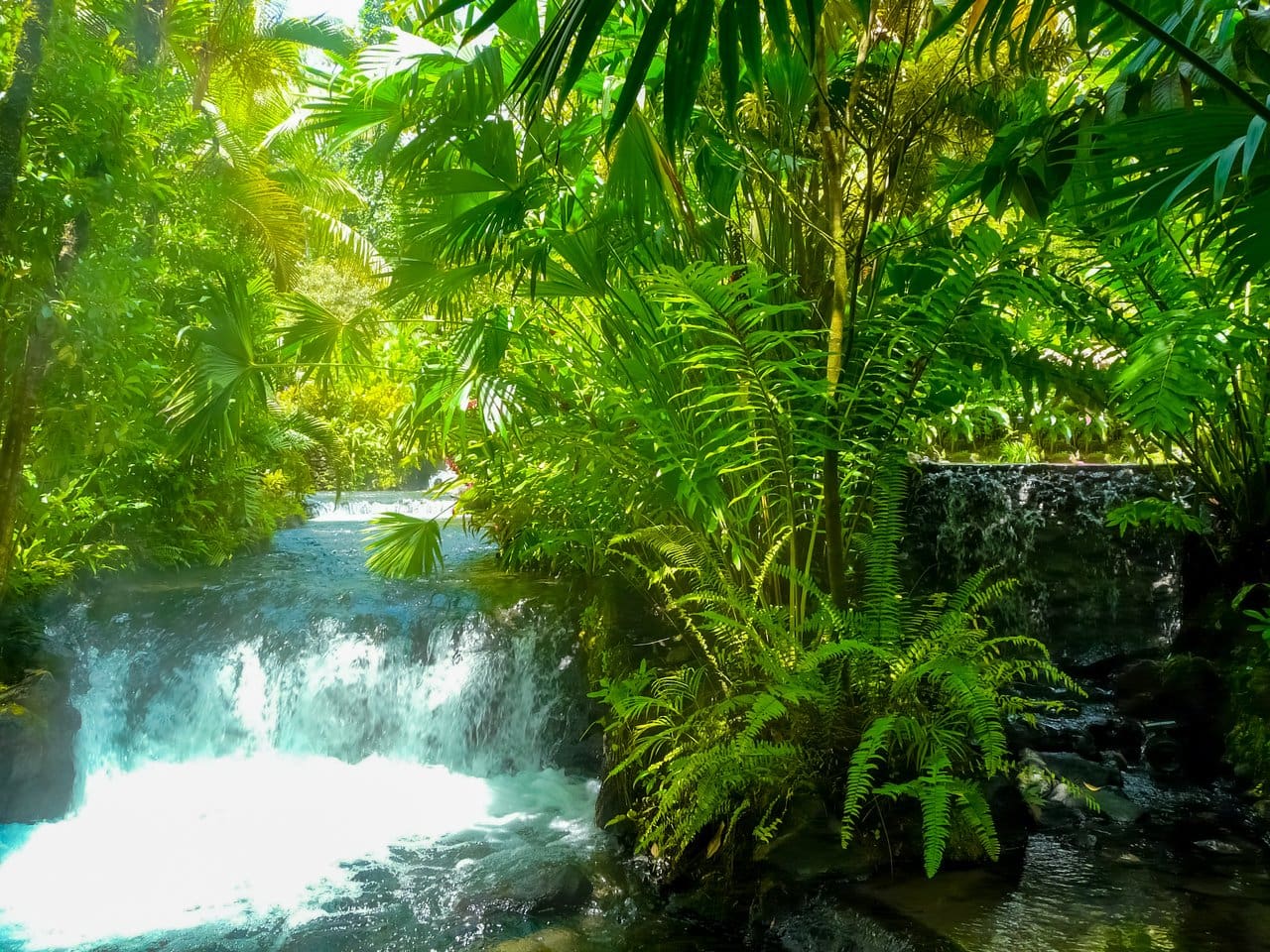 After doing so many active and adrenaline-inducing things in La Fortuna and Arenal, it's time for a more relaxing option. Arenal is famous for its volcanic hot springs, and there's no better way to spend a day unwinding than in their soothing waters.
There are 12 different hot spring resorts around the base of Arenal Volcano, and each has something different to offer. The best by far, though, is the Baldi Hot Springs, the largest hot springs in the world! They consist of 25 thermal pools of different temperatures, and some even have views of the Arenal Volcano!
A day pass to the thermal pools costs $39 per person, or $59 if you want to add lunch or dinner. You can purchase tickets at the front desk on arrival, or buy them in advance here. 
Hanging Bridges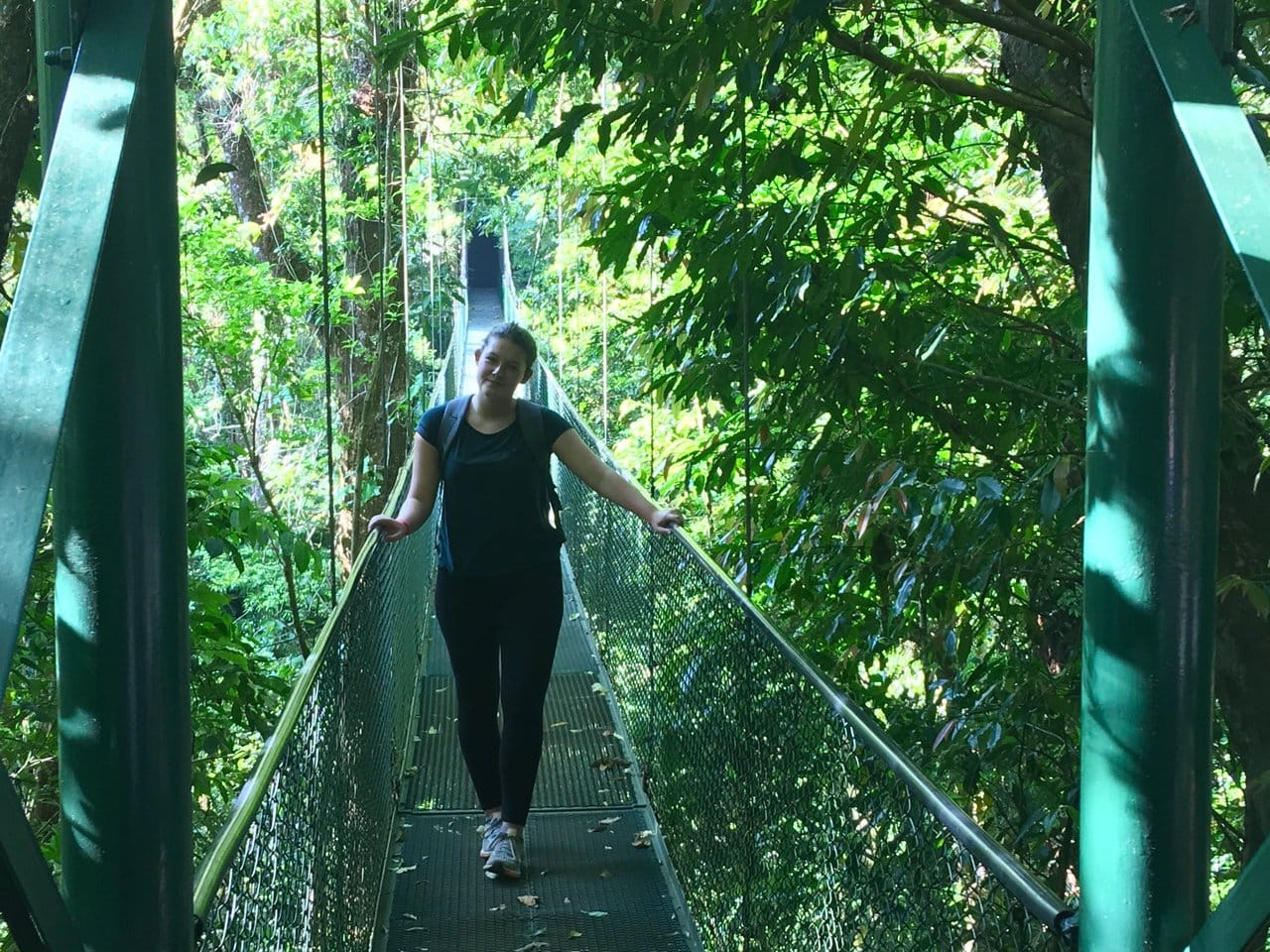 One of the most popular things to do in La Fortuna is taking a tour to the Mistico Hanging Bridges! 
You'll find the Mistico Hanging Bridges stretched across the rainforest, about 30 minutes outside of La Fortuna. The main hanging bridges trail winds through the jungle for two miles, taking you across six suspension bridges. From the bridges you can check out the rainforest from above and, if the skies are clear, you'll even see the Arenal Volcano!
The hanging bridges are one of the ultimate Costa Rica bucket list attractions, and if you didn't get your photo taken standing on one of the Hanging Bridges, you can't really say you visited Costa Rica!
If you've got a car in Costa Rica you can drive to the Hanging Bridges, but visiting independently means you won't have a guide with you to explain all the fascinating plants and wildlife you pass.
For this reason, the best way to visit the Hanging Bridges from La Fortuna is on this kick-ass tour, which has over 330 5-star reviews! The tour includes your round-trip transportation to Mistico and a 2.5 hour guided trek through the rainforest and Hanging Bridges by a professional guide. Your guide will spot all the nearby wildlife for you and share invaluable information about the rainforest's ecosystem.
The tour costs $65, and you can check availability and book your place here!
Horseback Riding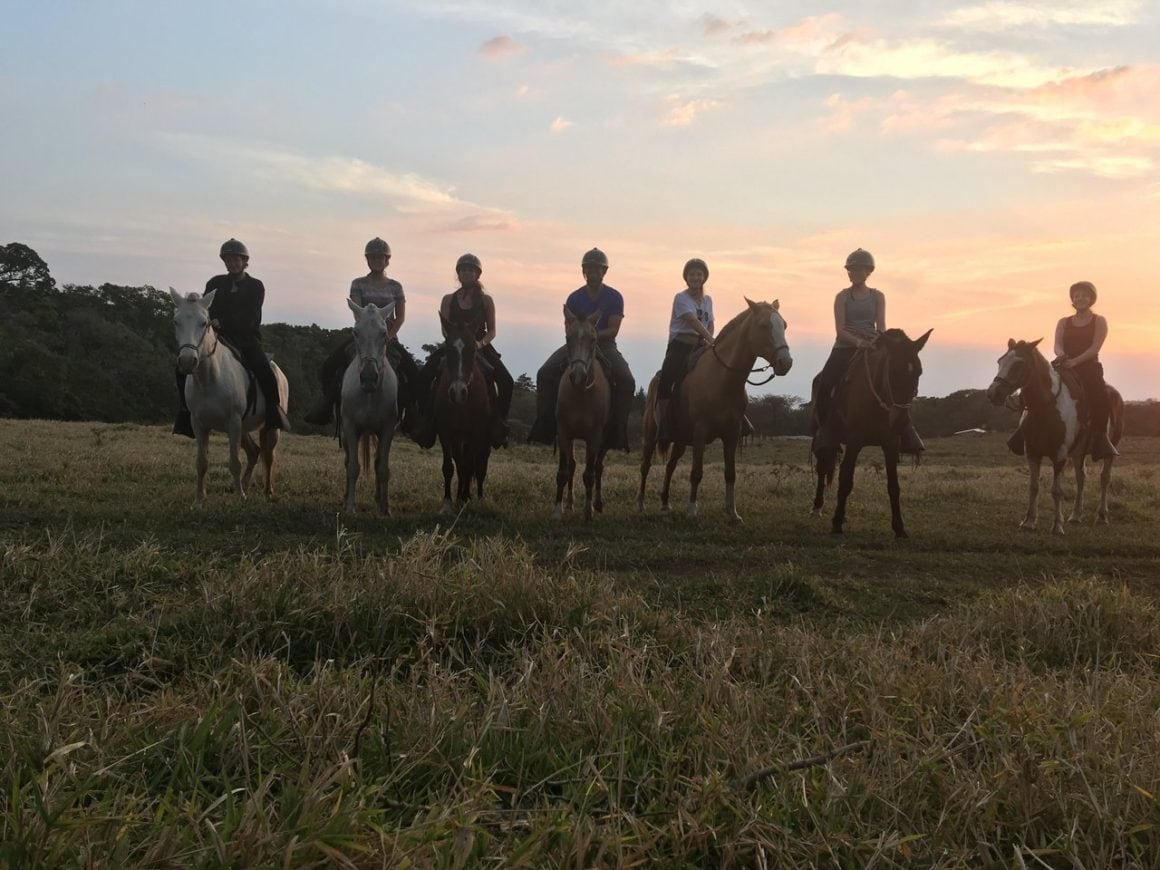 If you're into horseback riding, La Fortuna is one of the best places to do it in Costa Rica! This area of the country is particularly beautiful, and exploring it on horseback makes it even more special. 
Whether you're a seasoned pro or a complete beginner, I have no doubt that you'll enjoy going horseback riding in La Fortuna. Normally, your group will be divided up into different skill levels to keep everybody happy.
I tried horseback riding for the first time in Costa Rica, and I learnt so much in just one session! Back home in the UK (and I'm guessing it's the same in the US too), there's no way you'd be allowed to do much more than sit on the horse if you're a beginner.
In Costa Rica, they have no such concern! You'll be galloping across the countryside in no time – it's such a thrill!
There are lots of different horseback riding tours departing from La Fortuna which all offer different things. If you want to spend a morning or afternoon exploring La Fortuna's surroundings on horseback, including a trip to the famous hot springs, you can't go wrong with this 6-hour tour which costs $70 and includes your transportation from La Fortuna.
Click here to check availability and book!
Go Canyoning
If you're looking for adrenaline activities to try in La Fortuna, look no further than canyoning!
Canyoning is hard to explain, but it's basically travelling down a canyon by different methods, including jumping, hiking, swimming and scrambling. If you've ever wanted to jump off the top of a waterfall into the water, this is your chance!
You obviously can't go canyoning by yourself, so you'll need to book with a tour group to make sure you have safe and fun experience.
Although I've never done canyoning, I've done some pretty intense research to find the very best canyoning tour in La Fortuna, and I feel very confident recommending this one! 
During your tour you'll rappel down a 150-foot tropical waterfall, swim in the pool below, and then get started tackling the canyon below. You'll then jump down numerous waterfalls from 10 to 40 feet tall to reach the end of the canyon, where you'll refuel with a delicious Costa Rican meal.
The day costs $125 per person, which is one of the best value canyoning tours you can find, especially when you consider the 5/5 rating it has!
Explore Lake Arenal on a Paddleboard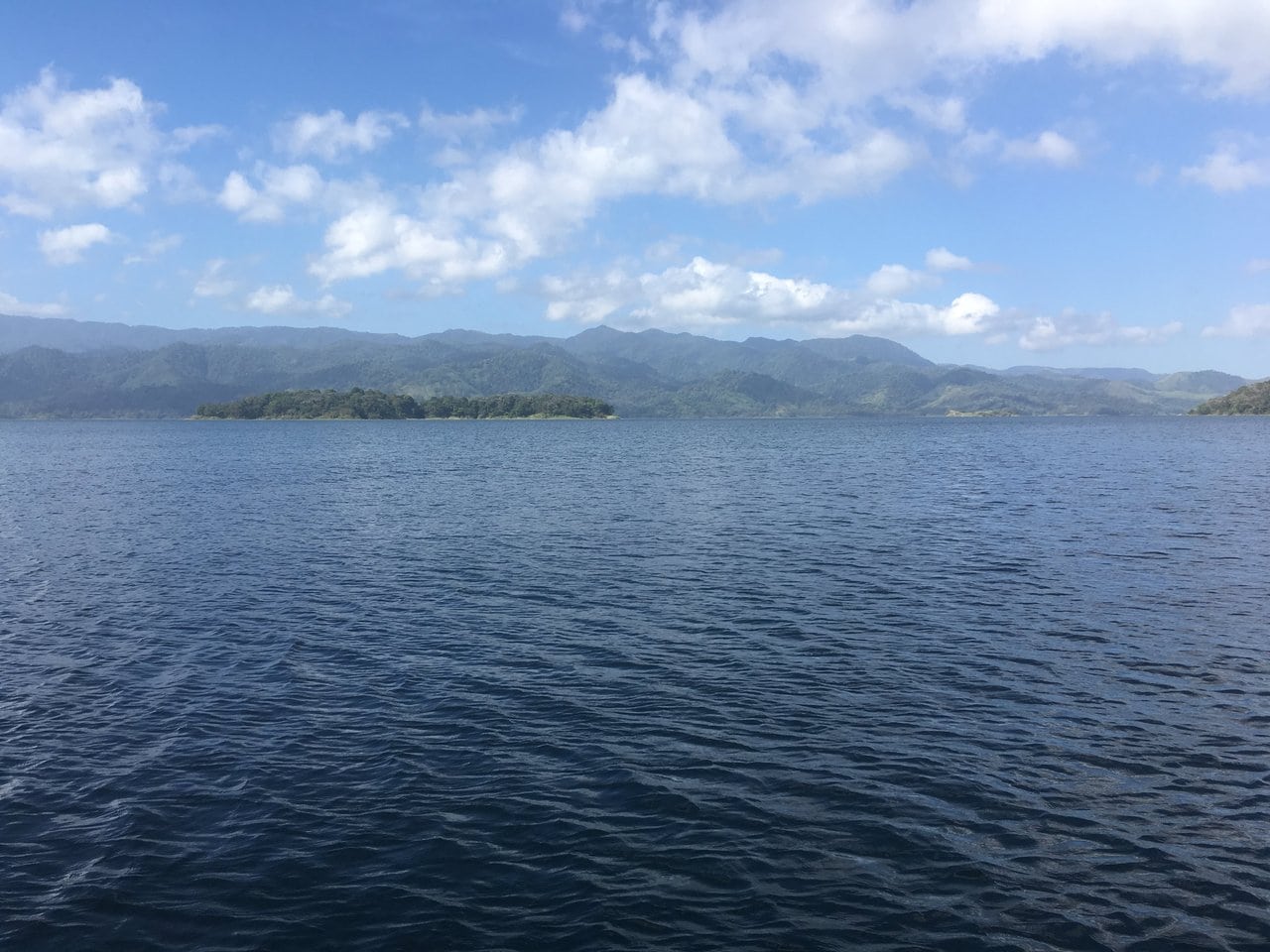 Some of the very best views of Arenal Volcano are from Lake Arenal, the largest lake in Costa Rica. Since the lake is so huge, chances are you won't see any other visitors when you go.
That's not because it sucks or anything – visiting Lake Arenal is one of the most popular things to do in La Fortuna! It's because the lake is so huge that there's plenty of space for everybody.
The most popular things to do at Lake Arenal are stand up paddleboarding. Not only is standing on the paddleboard one of the best ways to explore the lake and check out the views, but it's also pretty funny trying not to fall off!
This popular paddleboarding tour will show you the very best areas of the lake and help you to get the best views of Arenal Volcano. Your guide will also teach you a few paddle boarding tricks! The tour lasts for 4 hours and costs $76, which includes pickup and dropoff from your hotel in La Fortuna, a guide, and the use of a paddleboard.
Whitewater Rafting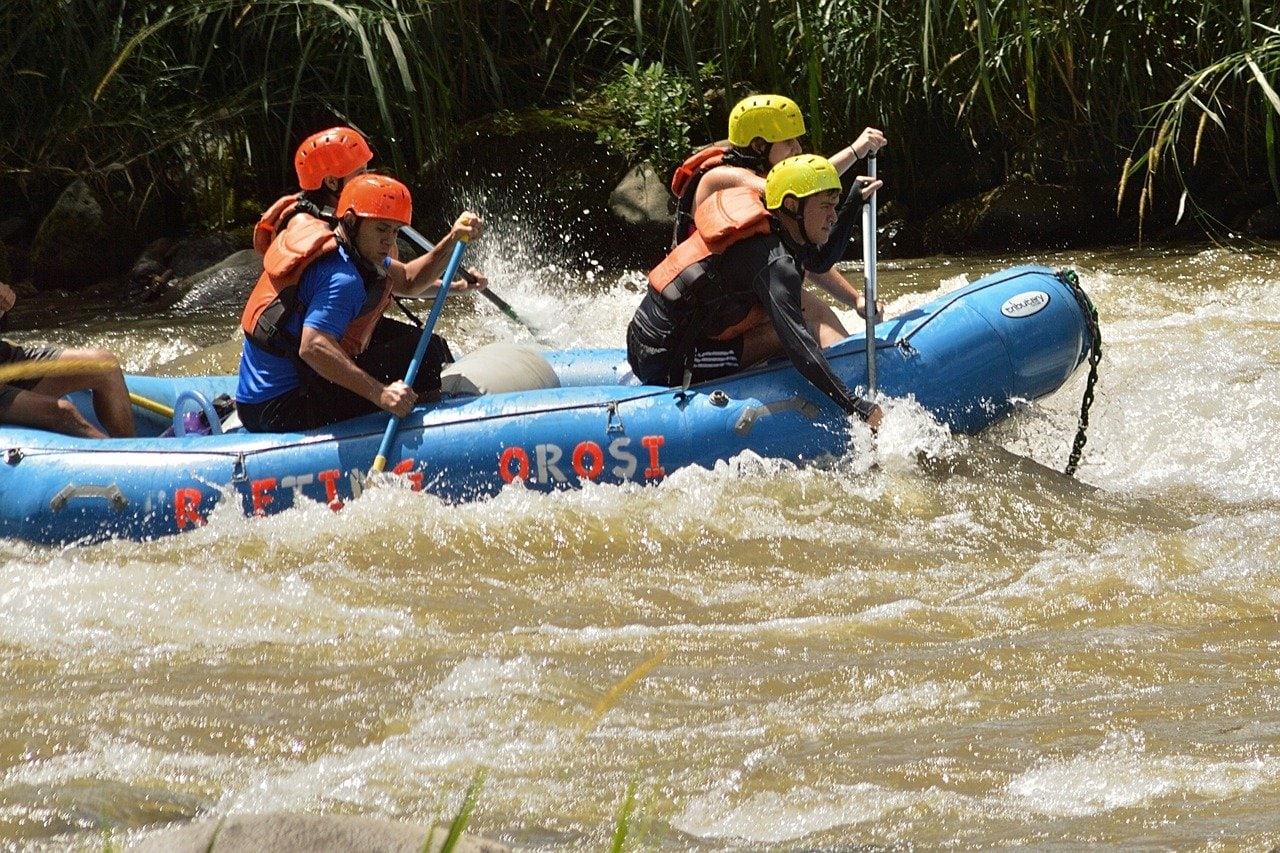 The Bolsa River is one of the very best places to go whitewater rafting in Costa Rica. Since it's just a 50-minute drive away from La Fortuna, it's one of the most fun things to do near the town!
Suitable for complete beginners, this whitewater rafting experience lasts for 6 hours and will see you tackling Class II and III rapids, checking out epic views of the rainforest, and maybe even seeing some monkeys, sloths and toucans hanging out in the trees above you.
The trip includes pick-up and drop-off from your hotel in La Fortuna, transportation to the Bolsa River, a safety briefing, all your equipment, a guide, 2 hours of rafting, the chance to swim in the river after your rafting, drinks, snacks, and a traditional Costa Rican lunch. They really do have everything covered!
Click here to check availability and book your place!
Hike Arenal Volcano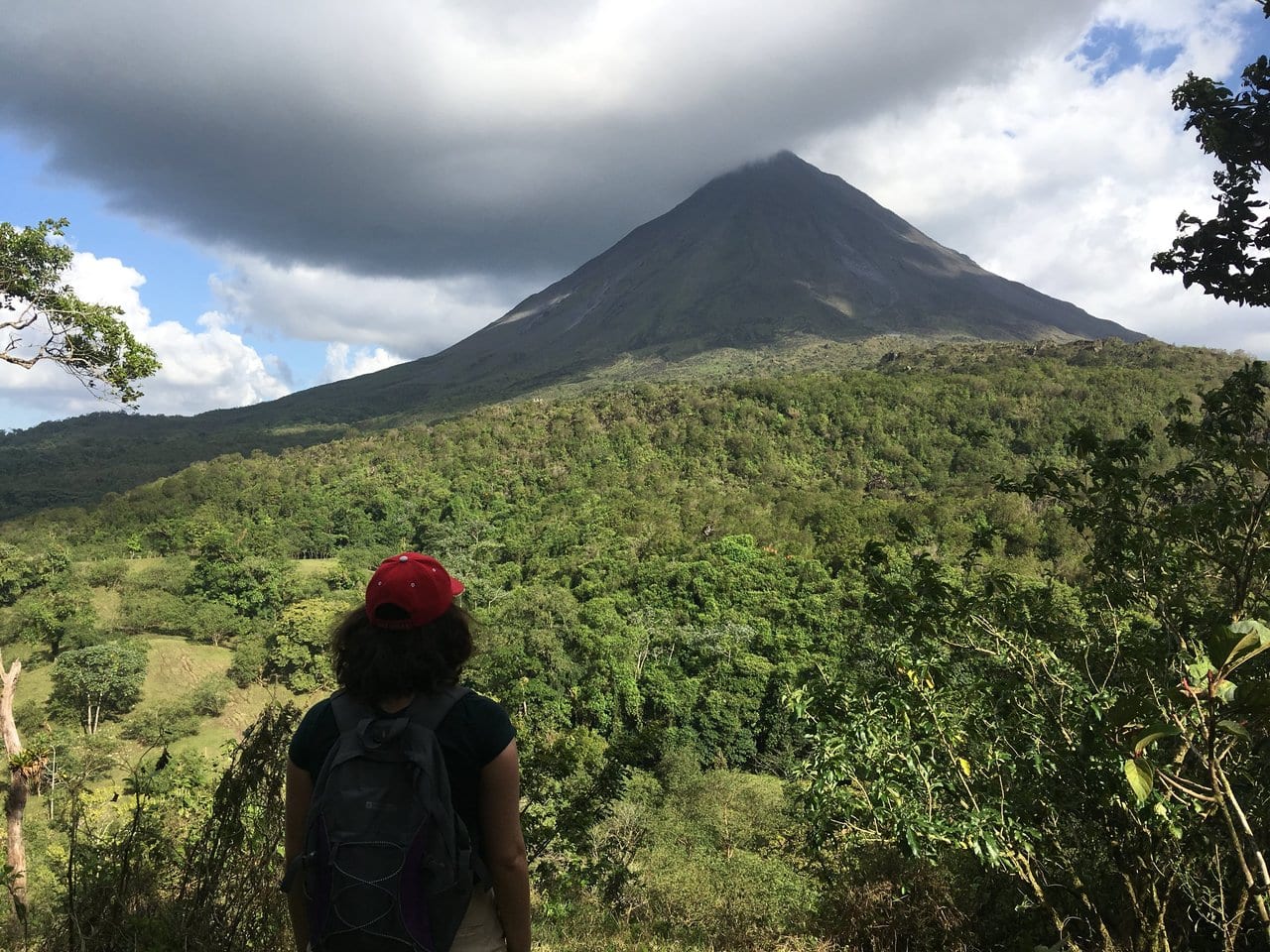 Hikers from all over the world flock to Costa Rica to hike the Arenal Volcano. No need to worry though – you don't have to be a pro hiker to do it. There are a ton of different hiking trails and hiking guides available so, no matter your skill level, you'll agree that this is one of the best things to do in La Fortuna!
If you're planning to hike, don't forget to add sturdy trainers or hiking boots to your Costa Rica packing list!
If you have your own car, Arenal Volcano is just a 12-minute drive away. You'll have to pay a national park entry fee of $15 for adults and $5 for children aged 6-12 at the ranger station, where you can also pick up a trail map. The routes are well-marked and will take you around some of the most beautiful spots in Costa Rica! 
Unfortunately, there's are no information signs along the trail, so you have no way of learning about the volcano or national park whilst you walk. For this reason, it's very popular to join a guided hike with a local naturalist guide (an expert in natural history – NOT a nudist! I admit to getting the two confused more than once…). 
Your guide will teach you all about the history of the volcano and its eruptions. They will also point out areas that have been altered by previous eruptions and lava flows. It's fascinating! I joined a guided hike, and thoroughly recommend it – I learnt a million times more than I would have done hiking solo!
This top-rated guided hike will take you around the volcano and over fields of petrified lava from previous eruptions, past glowing, fresh lava, and to the hiding places of some of Costa Rica's famous wildlife. 
It costs $67, lasts for four hours, and includes your entry fees to the national park. You also won't have to worry about a thing, as your transport to and from La Fortuna is covered!
Tour a Local Coffee Farm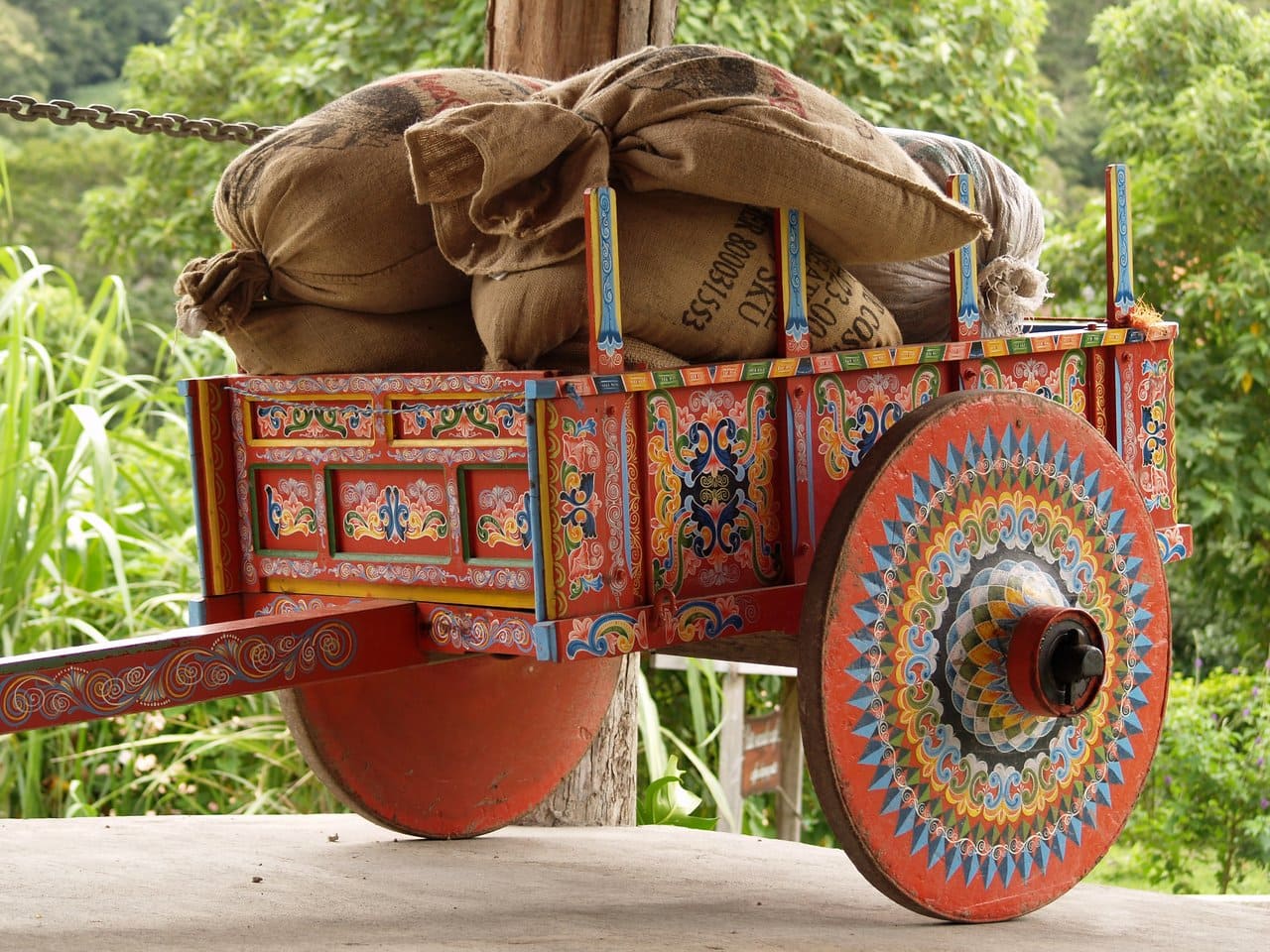 Costa Rica is the 13th-largest producer of coffee in the world. That's pretty impressive for such a small country. Costa Rica has also been growing cacao since at least 1563, so they know a thing or two about making two of the world's favourite things – coffee and chocolate!
On this fabulous coffee and chocolate tour you'll learn all about how Costa Rican coffee is grown and produced. You'll then get to sample some of Costa Rica's famous coffee, as well as local chocolate and sugar cane.
The tour only lasts for 2.5 hours, which makes it one of the best things to do in La Fortuna if you only have a morning or an afternoon to spare. The experience costs $40, and you can book your place here!
Meet Sloths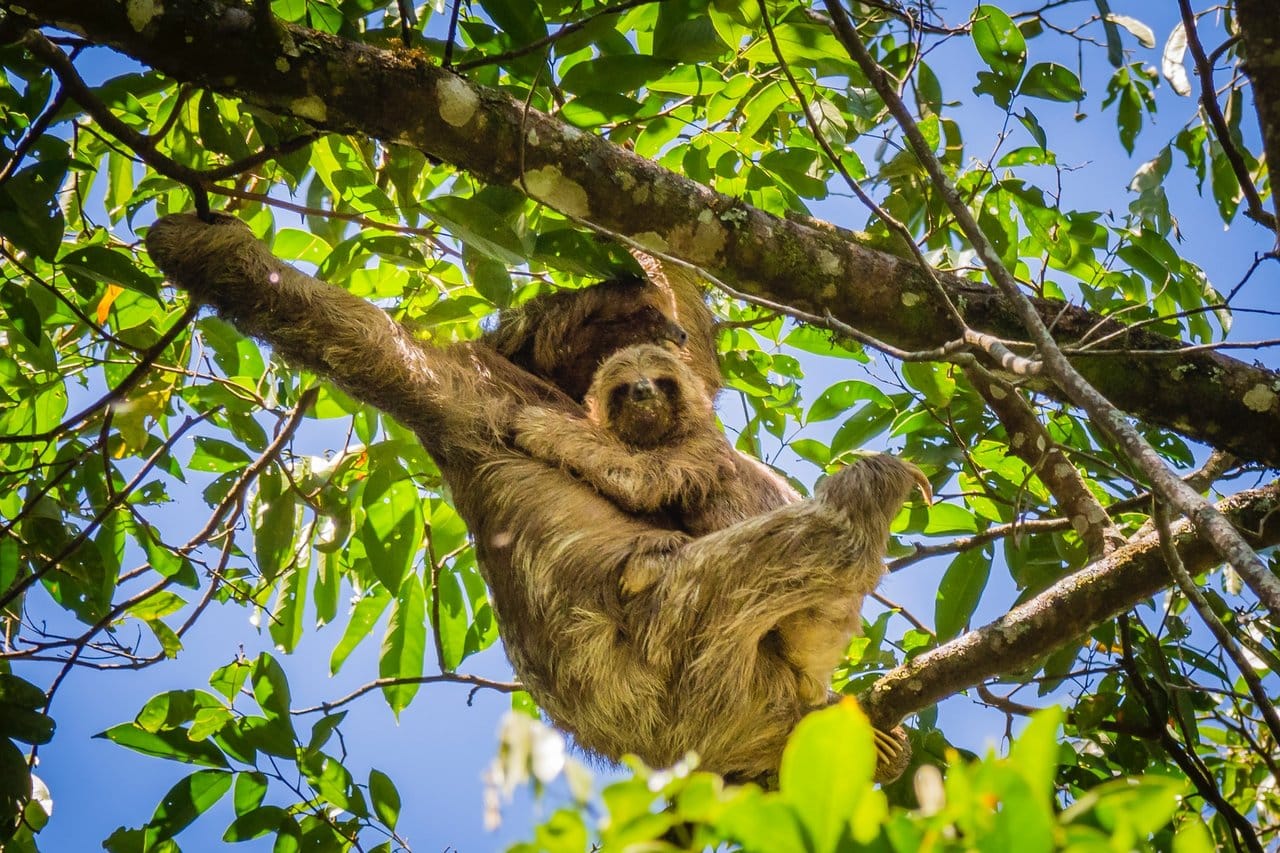 It's time to meet Costa Rica's most famous resident – the sloth!
Sloths are adorable, and plenty of people visit Costa Rica with the one goal of seeing one with their own eyes. Luckily, you'll be able to visit some whilst you're in La Fortuna.
There's a chance you'll get to see sloths hanging out in the treetops above the road or hiking trails if you're incredibly lucky, but you're far more likely to see sloths on this sloth tour from La Fortuna, where your guide will take you to plenty of spots where sloths are almost guaranteed to hang out.
The experience costs $62, and during the tour your guide will teach you all about these mysterious creatures as you stare up into the treetops in the search for sloths. You're also likely to see toucans, dart frogs, and other wildlife native to the Costa Rican rainforest!
Venado Caves
Most visitors to La Fortuna don't know about the Venado Caves, and they're easily one of the most underrated things to do in La Fortuna! The caves formed 15-20 million years ago, and consist of ten chambers and an underground river.
Taking this tour of the Venado Caves should be at the top of any intrepid travellers' La Fortuna to-do list!
With the cave illuminated by torches, you'll get to take in the majestic and cavernous chambers and crawl through smaller caves to explore secret sections. You'll also get to visit famous formations in the cave, as well as say hello to some bats, crabs and frogs. 
The tour lasts for 4 hours, includes your return transportation to La Fortuna and all your safety equipment, and costs $110. 
Go Ziplining
Going ziplining is an iconic Costa Rica experience, and it's a fabulous way to check out the rainforest from above!
Although it's very popular to go ziplining in the cloud forest of Monteverde, you're also able to go ziplining in La Fortuna. The main reason to do this it in La Fortuna is because you'll get epic views of the Arenal Volcano! You'll zoom over the rainforest on 9 different zip lines and even go on a Tarzan Swing over the forest on this canopy ziplining tour from La Fortuna.
Things To Do in La Fortuna at Night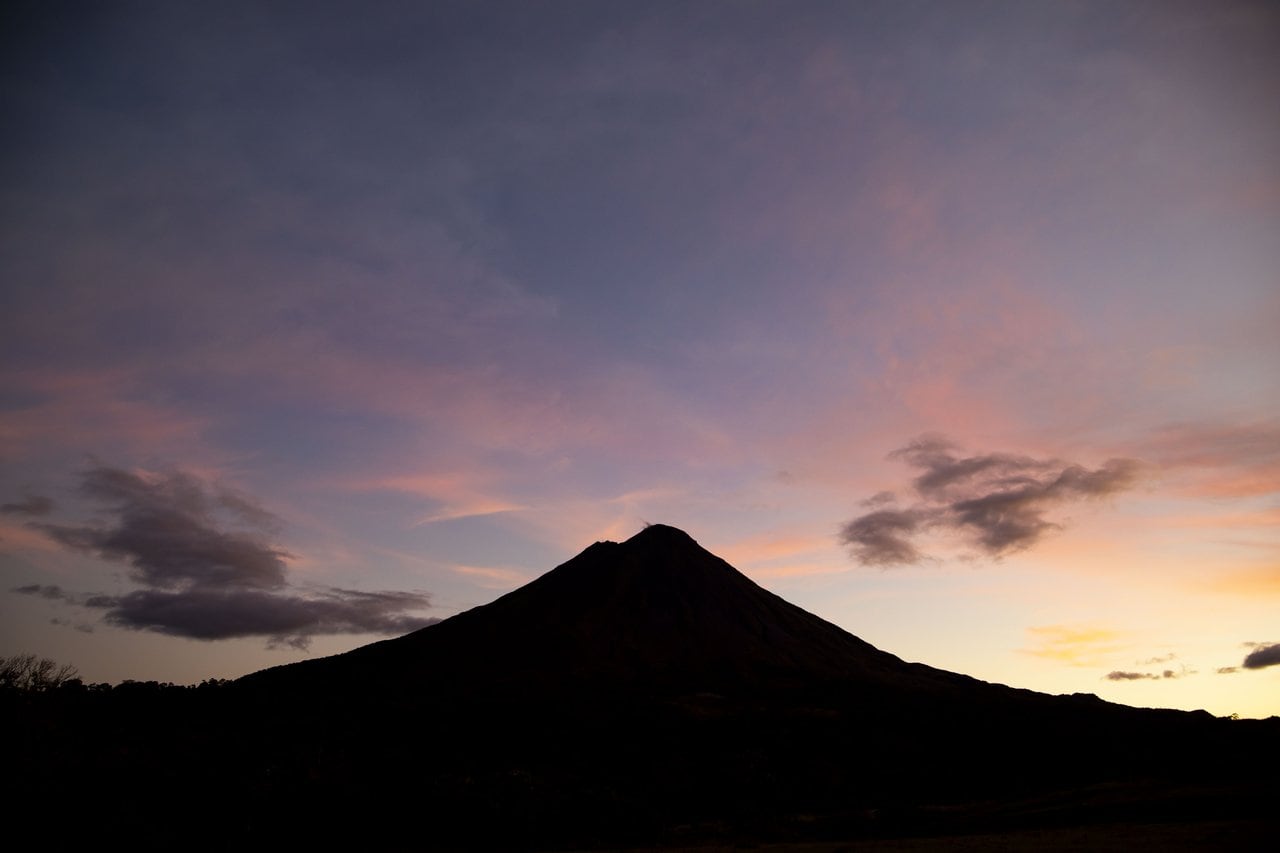 La Fortuna after dark is magical. The town's many bars and restaurants come to life, and you'll find everyone looking blissed out and happy after spending the day doing some of the many brilliant activities in La Fortuna. 
Obviously, one of the best things to do in La Fortuna at night is to chill, eat and drink. However, there are a few very special things to do in La Fortuna once night falls.
Go on a Night Time Nature Hike
Some of La Fortuna's shy wildlife doesn't come out unless they're under the cover of night. That's why the only way to see these creatures is on a night time guided hike! This is one of the most popular and unique things to do in La Fortuna at night and, since dinner is included in the tour price, you'll save some money!
On the night time guided hike you'll get to see some of Costa Rica's many nocturnal frogs, birds, mammals, bats and insects. You'll also stop by a frog sanctuary to meet and learn about some of Costa Rica's many frogs, including the Bull Frog, the beautiful Glass Frog, and the Red Eyed Tree Frog.
Tickets cost $88 per person and include a traditional Costa Rican dinner. Click here to buy your ticket!
Sample Traditional Costa Rican Food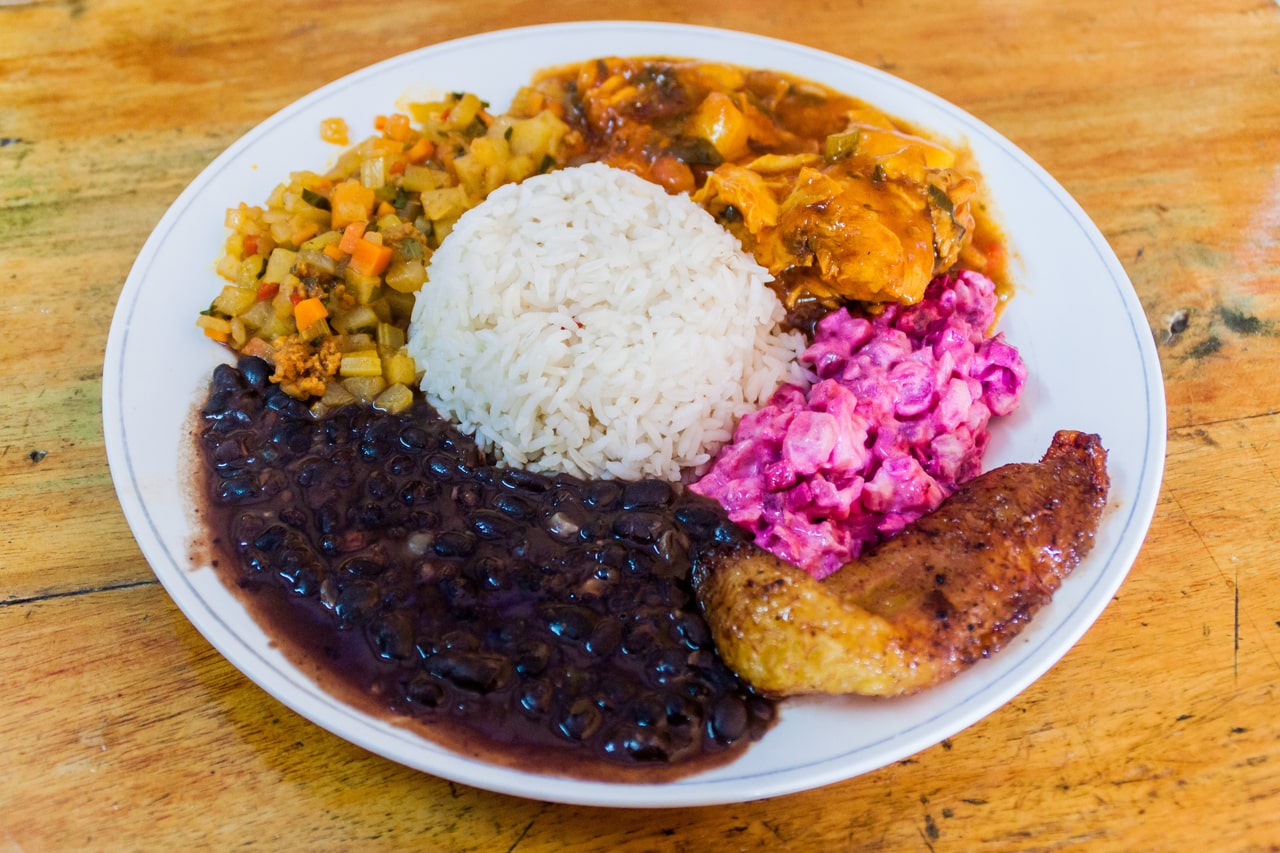 In the town of La Fortuna you'll find a whole host of authentic Costa Rican restaurants serving up delicious Costa Rican food. There are also a lot of overpriced, bland tourist restaurants, so you need to do some research beforehand!
Good options include Soda La Parada, La Choza de Laurel,  and La Cascada, but it's worth reading this helpful guide to where to eat in La Fortuna for more information.
Twilight Wildlife Safari
Taking a twilight wildlife safari is pretty similar to joining a night time nature hike. The twist is that it takes place on the Peñas Blancas River, and you'll get to check out the nocturnal wildlife that lives in and around the river.
At dusk, your guide will pick you up from your hotel in La Fortuna and make the 15-minute drive to the river. You'll then board a raft and start journeying along the water, eagerly awaiting your first glimpses of the hidden wildlife.
Tickets cost $72, and you can get them here.
Take a Cooking Class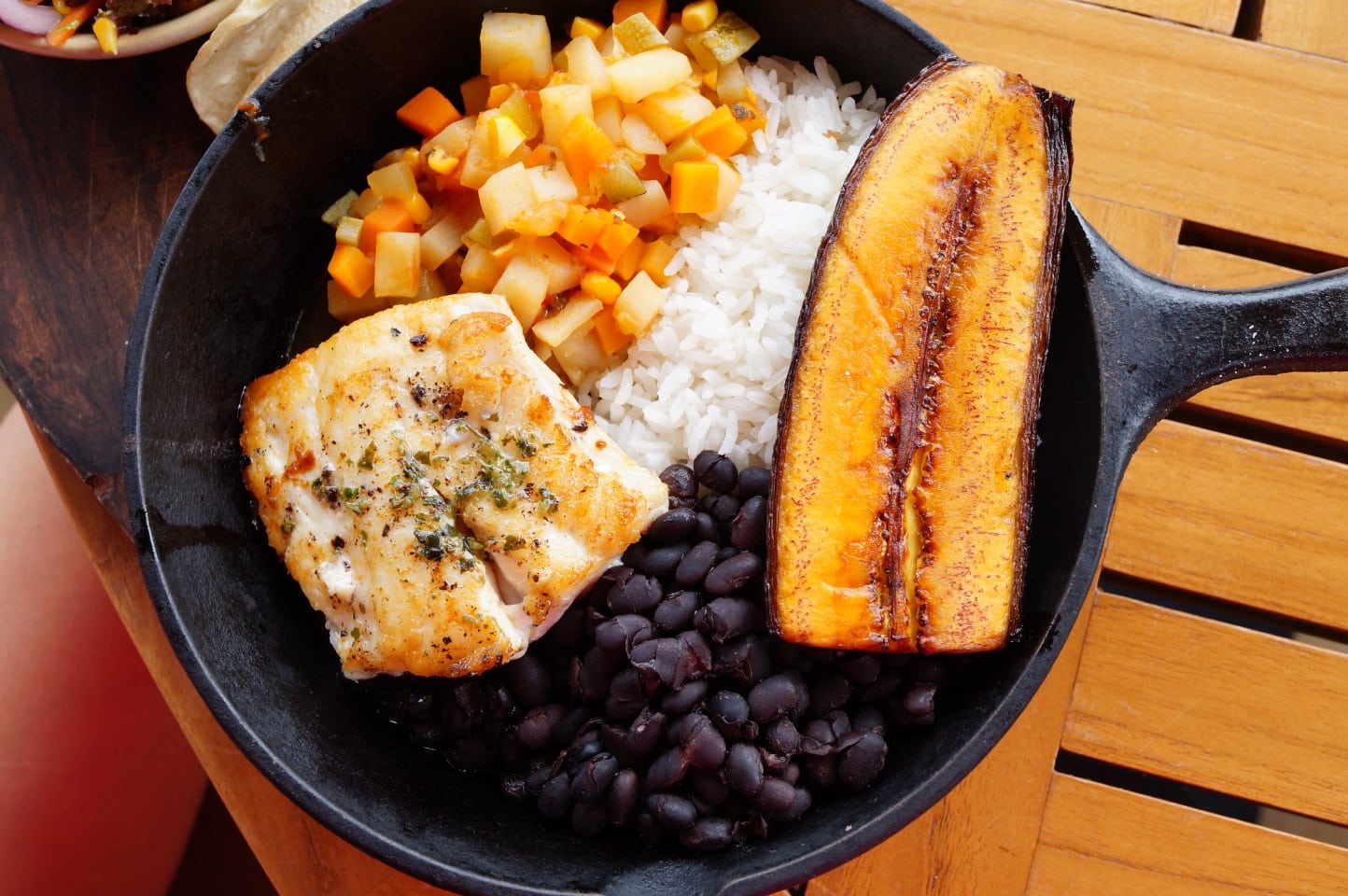 Are you already enjoying Costa Rican flavours and want to learn how to replicate them in your own kitchen? Then joining a Costa Rican cooking class like this one is the perfect activity for you to do in La Fortuna at night!
You'll start the cooking class off with a tropical Costa Rican cocktail before learning how to make the staples of Costa Rican cuisine such as tortillas and picadillos. You'll get the recipes to take home with you, and, once you've finished cooking, you'll sit down to enjoy a meal, including the things you learnt to cook!
The cooking class costs $55 and includes your dinner. It's one of the best value things to do in La Fortuna at night!
Click here to check availability & book!
How to Get Around La Fortuna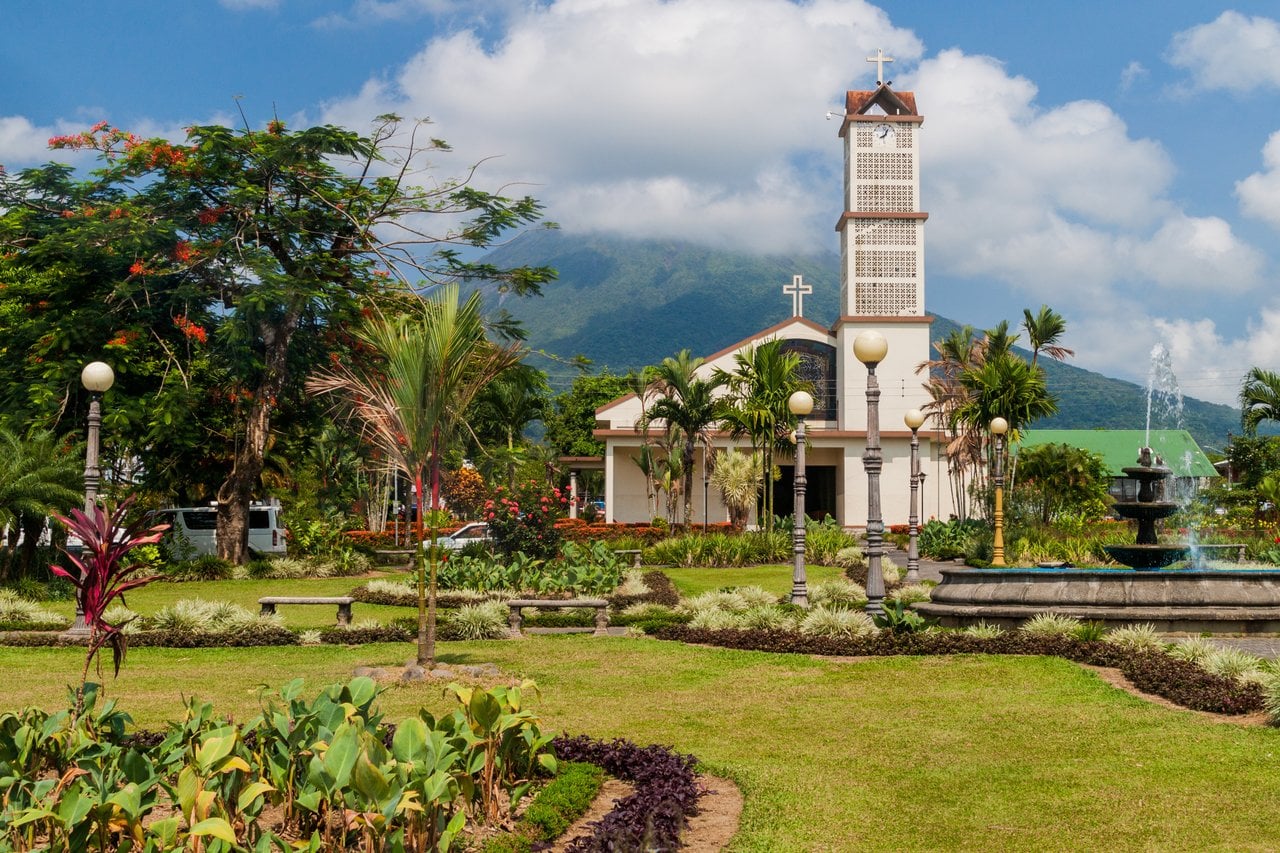 La Fortuna isn't a large town by any stretch. For this reason, you're easily able to stroll around town and you won't need to use public transport. 
Unfortunately, though, many of the best things to do in La Fortuna are actually around 20-30 minutes away from town. You'll need to either use a tour company to get to these activities or drive there yourself. 
I don't typically recommend driving in Costa Rica if you're not familiar with the roads there. They're absolutely insane! My tour group drove past so many road accidents in our two weeks in Costa Rica! 
For this reason, it's far better to join a tour. I always use GetYourGuide to book my organised tours, and I've always had good experiences! Plus, their generous cancellation policy is ideal in case your plans change. I have also had good experiences with Viator, which is a very similar company. 
How Many Days Should You Spend in La Fortuna/Arenal?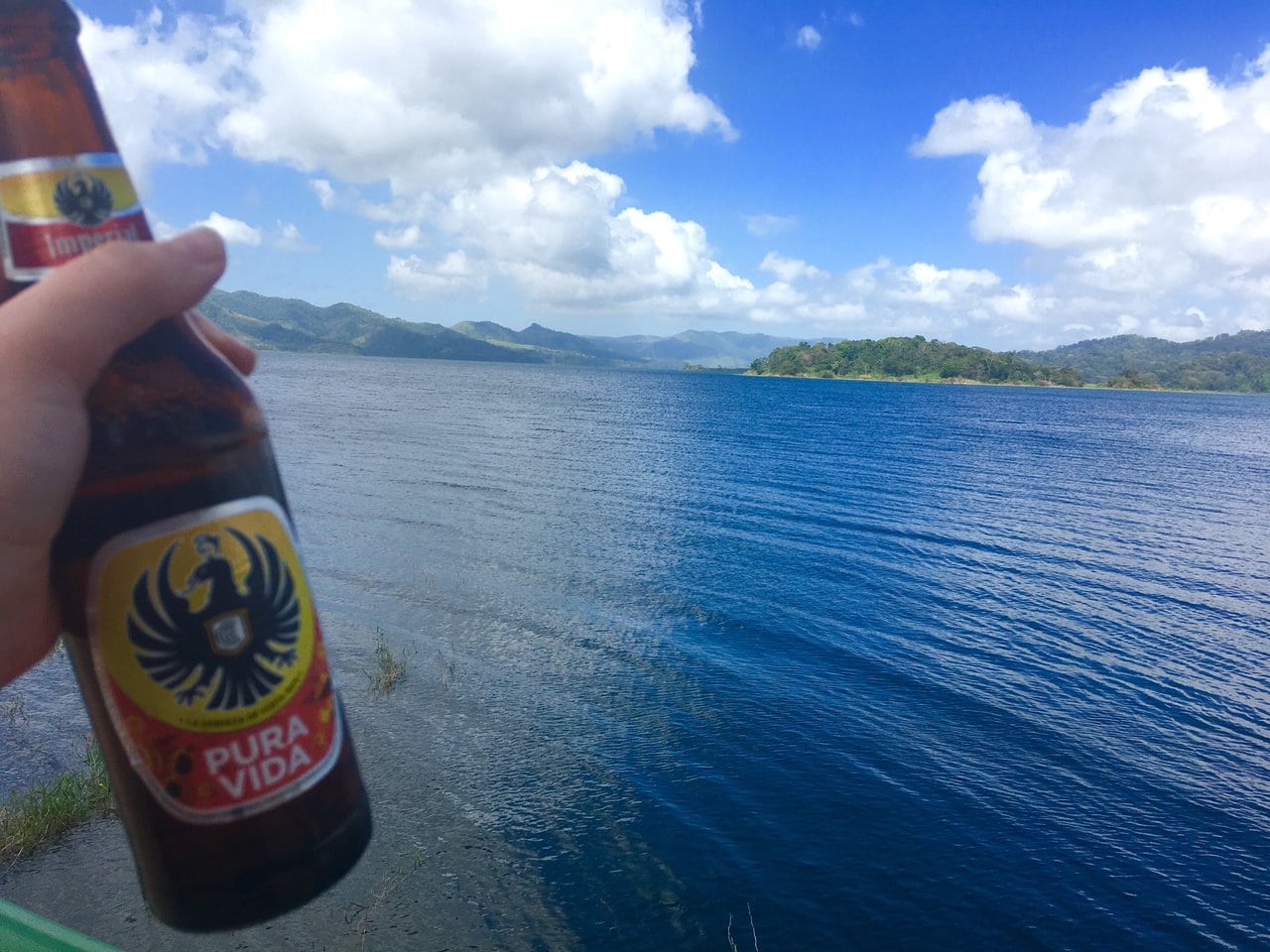 I recommend spending three full days in La Fortuna. With three days you'll have plenty of time to get to know this charming town and check out plenty of the best things to do. If you have longer, I recommend staying for longer!
Lots of people only visit La Fortuna for two days. This can still be enough if you're selective about which activities you do. You'll have enough time to stroll through the town, and check out a few of the main activities you're most excited about, such as the Arenal Volcano, Lake Arenal, and the La Fortuna hot springs!
Where to Stay in La Fortuna
If you're a mid-range traveller it's worth checking out the La Fortuna Suites, which costs around $78 per night for a double room and includes a very highly-rated breakfast. It's also very central, meaning you won't need to trek in the heat to get to the town centre.
If you're travelling on a tight budget, or as a solo traveller, I definitely recommend Selina La Fortuna! This stylish hostel offers Teepee tents, private rooms and dorm rooms. Plus, it's right in the centre of town and has a great vibe every night of the week. At $25 per night for a bed in a dorm room, it's one of the cheapest places to stay in La Fortuna!
When Is The Best Time to Visit La Fortuna?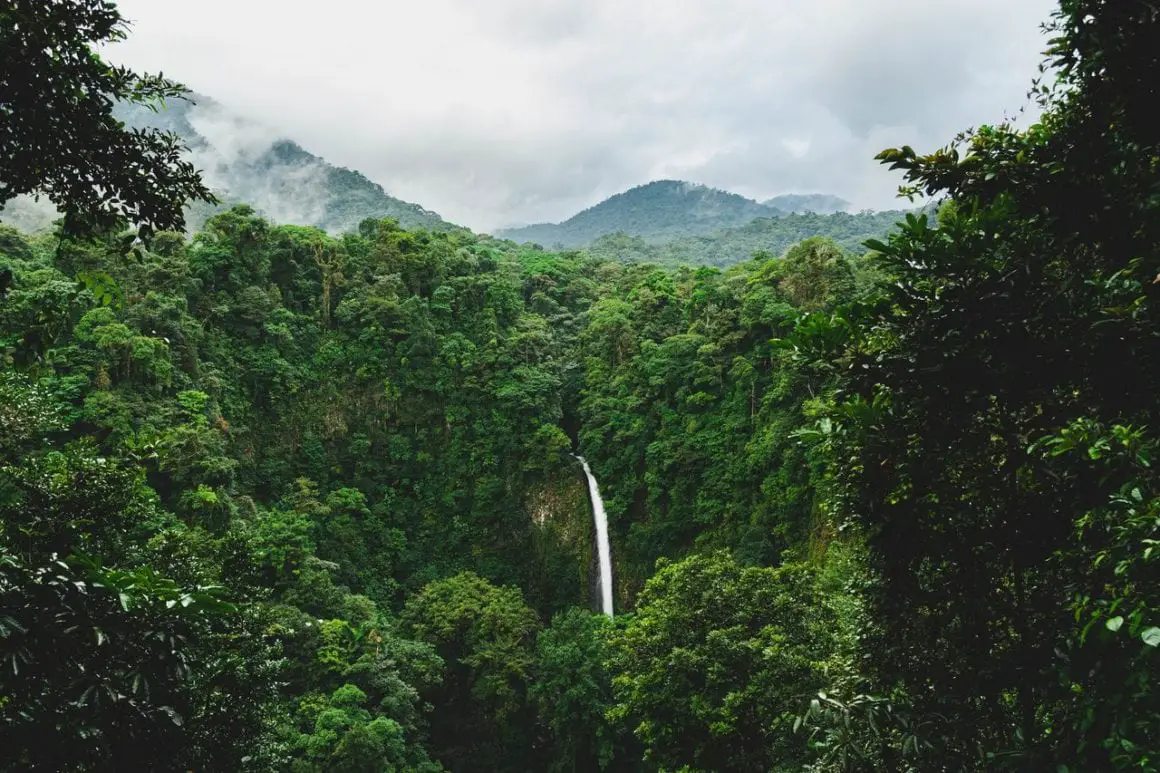 The best time to visit La Fortuna is definitely the dry season, which runs between December and April. This time of year offers plenty of sunshine and lovely tropical temperatures, making it perfect for exploring the rainforests. You'll also usually get clear skies, ideal for checking out the Arenal Volcano in the distance!
Unfortunately, La Fortuna is its busiest and most expensive during the dry season. If you're on a tighter budget or would prefer a more laid-back experience, visit La Fortuna during the shoulder season (May-mid-August).
It's still worth visiting La Fortuna if you're here during the wet season (April-May). You'll save quite a bit of money on accommodation and activities – but expect a lot of rain!
---
As you can see, there are a ton of epic and fun things to do in La Fortuna and Arenal! This area of Costa Rica is all about adventure. Because of this, a visit here certainly doesn't come cheap, but it's absolutely worth it!
So, now it's over to you – what activities are you most excited to try in La Fortuna?
Liked this post? Pin it!