There is a good chance that this post contains affiliate links. If you make a purchase through them, I may receive a small commission at no extra cost to you! As an Amazon Associate, I earn from qualifying purchases. As ever, all opinions are my own.
Chances are you're not planning a trip to Costa Rica for the food and drinks there.
After all, Costa Rican cuisine has a reputation for being bland. 
That's just not true, though! 
Sure, a lot of the food in Costa Rica is simple, but the freshness of its fish, fruit and vegetables, alongside its hearty and comforting flavours, means that Costa Rican cuisine really is a bit of a hidden gem. 
So, if you're looking for dishes and drinks to try whilst you're travelling in Costa Rica, check out my recommendations below!
Best Traditional Food to Try in Costa Rica
1. Ceviche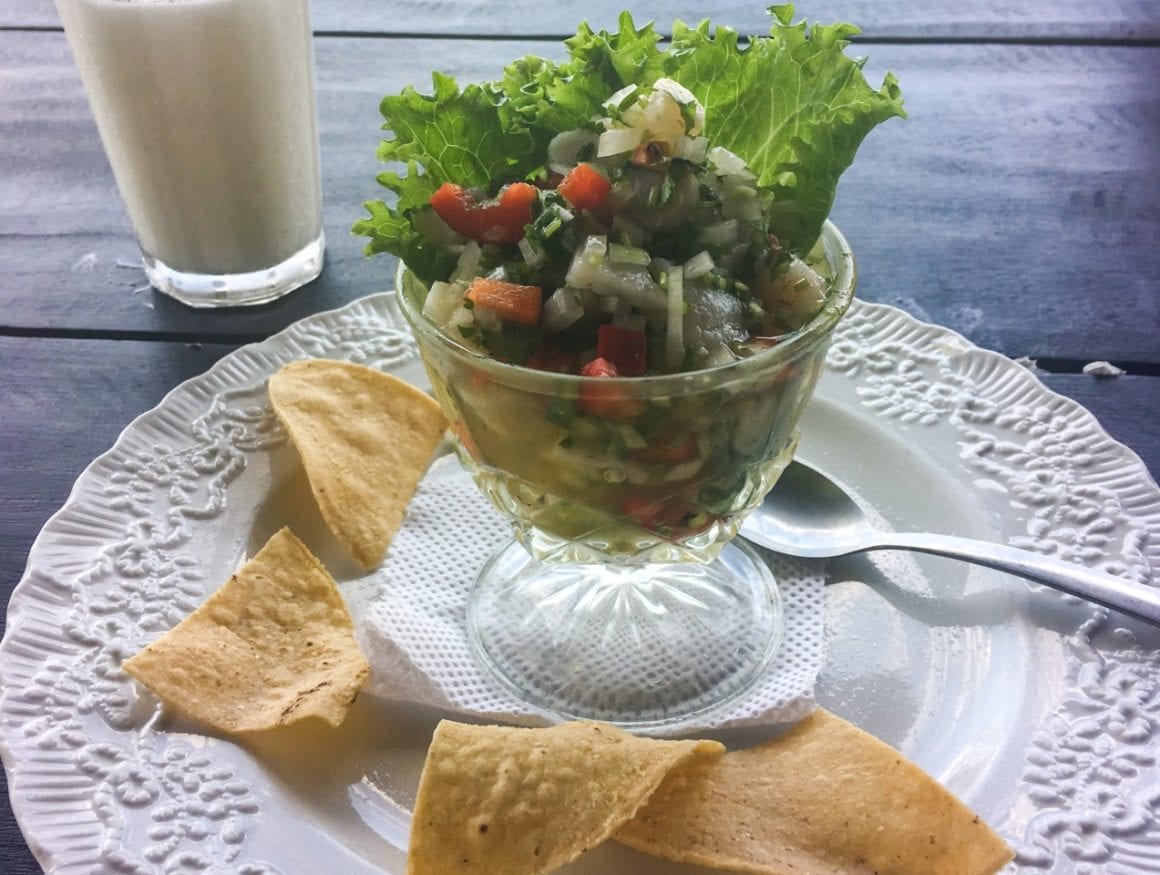 Costa Rica was the first place I ever tried ceviche, so, although it's a popular dish across South and Central America, I recommend trying ceviche in Costa Rica! 
Each country puts their own slightly different spin on ceviche, and Costa Rica's approach is to make a simple, stripped-back version that showcases the unbelievable natural flavours of the dish.
Ticos (the name for Costa Rican people) usually serve ceviche in a cocktail glass with a piece of lettuce sticking out of the top and some tortilla chips or patacones on the side to scoop up the ceviche with. Yum!
I saw some Ticos putting sauces such as ketchup or hot sauce on their ceviche, but this nearly made me scream!!!! Trust me – ceviche in Costa Rica is delicious all on its own. There is absolutely no need for sauce! 
2. Gallo Pinto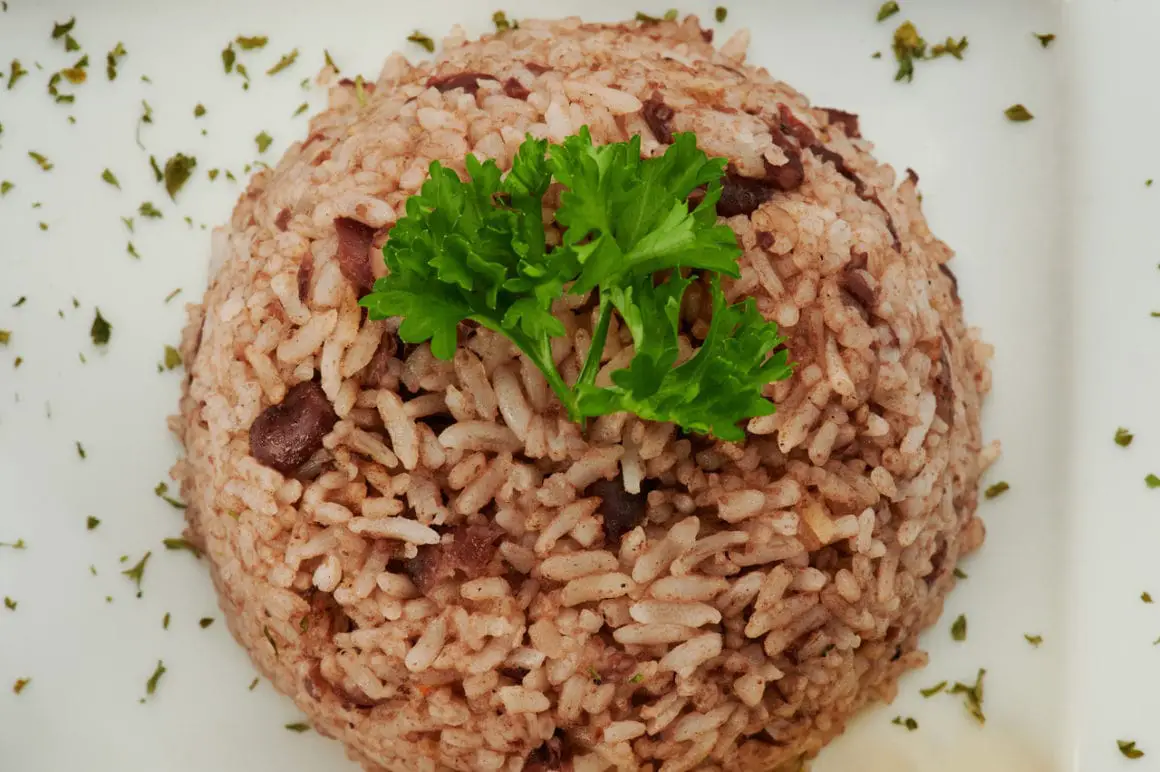 This delicious breakfast or side of rice and beans is the national dish of Costa Rica – and that's pretty easy to figure out. After all, gallo pinto features on nearly every menu in the country! 
There's no set recipe for gallo pinto, and each restaurant or soda (Costa Rican canteen) will likely have its own, slightly different version. This is a great thing, as you'll be eating this dish at least once a day!
A fun fact about gallo pinto is that both Costa Rica and Nicaragua claim it as their national dish, and want to take credit for its creation. This means each country consistently tries to one-up the other in the who-does-gallo-pinto-best competition. 
For example, in an attempt to pronounce itself the king of gallo pinto in 2003, Costa Rica cooked a staggering 438kg of the stuff, entering the Guinness Book of World Records for the most gallo pinto ever cooked in one go!
Of course, this was unacceptable to Nicaragua, which cooked up enough gallo pinto to feed over 9,000 people.
Costa Rica responded in 2007, which is now known as gallo pinto day, when it cooked up enough gallo pinto for 22,000 people! Nicaragua responded a few years later by cooking gallo pinto for 50,000 people.
Clearly, the dish must be pretty good to have induced such madness between the two nations! 
3. Casado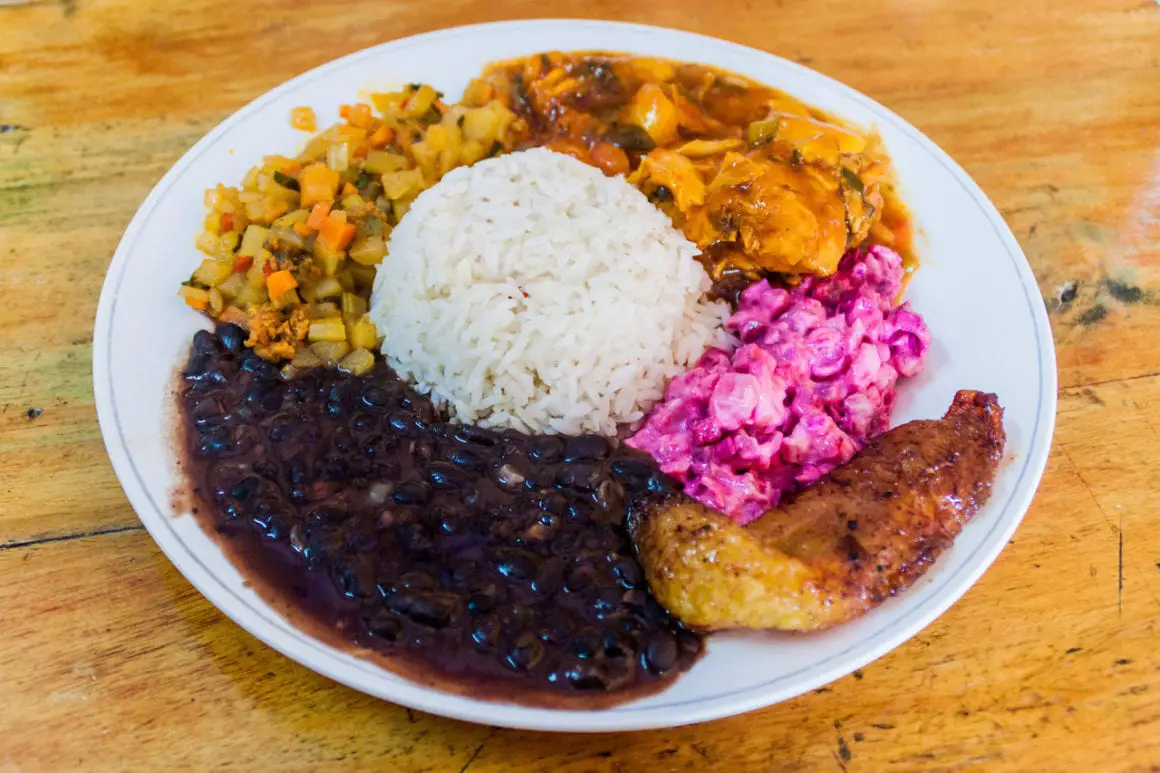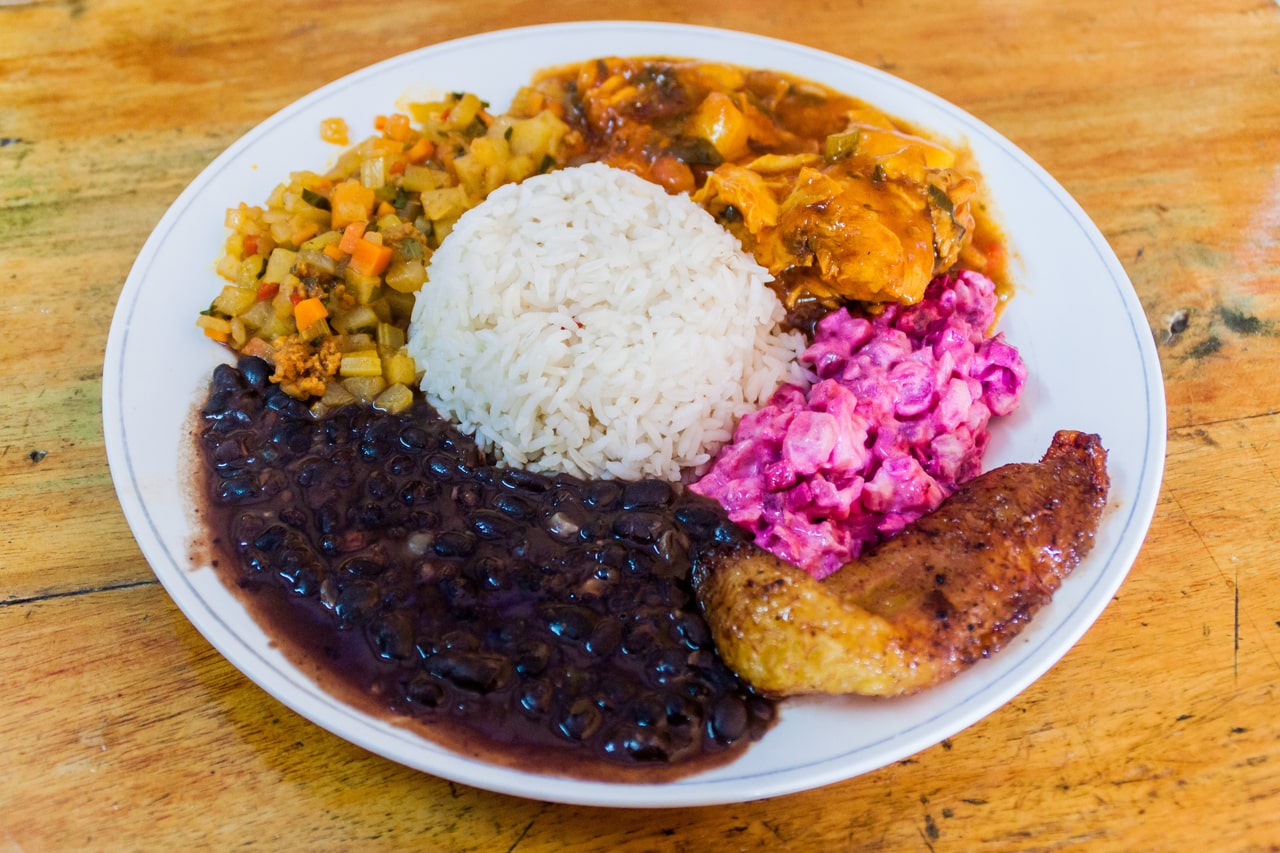 Enjoying this traditional lunch is an unmissable Costa Rican experience because it's as authentic as you can get!
You'll typically find these in Sodas. the casdao set meal is usually the vendor's own twist on a dish of rice and beans, meat or fish, and a side salad. Of course, not every Casado is the same, and nowadays some come with fried plantains, avocado or tortillas. 
The point stands, though – this is a meal of meat or fish with rice and some sides. It's cheap, it's filling, and it's super popular with locals.
Don't get me wrong – a Casado is not going to explode your tastebuds and change your life. It's tasty, but its main selling point is its simplicity and the amount of food you get for your money. 
Enjoying a Casado is a cultural experience you can't miss in Costa Rica! The flavours vary from region to region, but the best casado I ate was in Puerto Viejo de Talamanca, on the Caribbean coast – because they use jerk seasoning with everything!
4. Sopa Negra
Eating soup in Costa Rica's heat may sound like madness, but bear with me.
This soup, made of black beans, peppers, garlic, hot peppers, coriander and chicken broth is hearty and comforting, as well as very filling (Costa Rican cuisine has a theme)!
After cooking, the soup is topped with chopped hard-boiled eggs and a dollop of sour cream. You'll then either get tortillas on the side or white rice mixed into the soup.
Although you'll see variants all over Latin America, the soup originates from Costa Rica.
Although the typical idea of Costa Rica is a hot beach with palm trees, there are some areas of the country (especially the cloud forest) which are very chilly! It's here that sopa negra makes the ideal warming lunch or dinner!
5. Patacones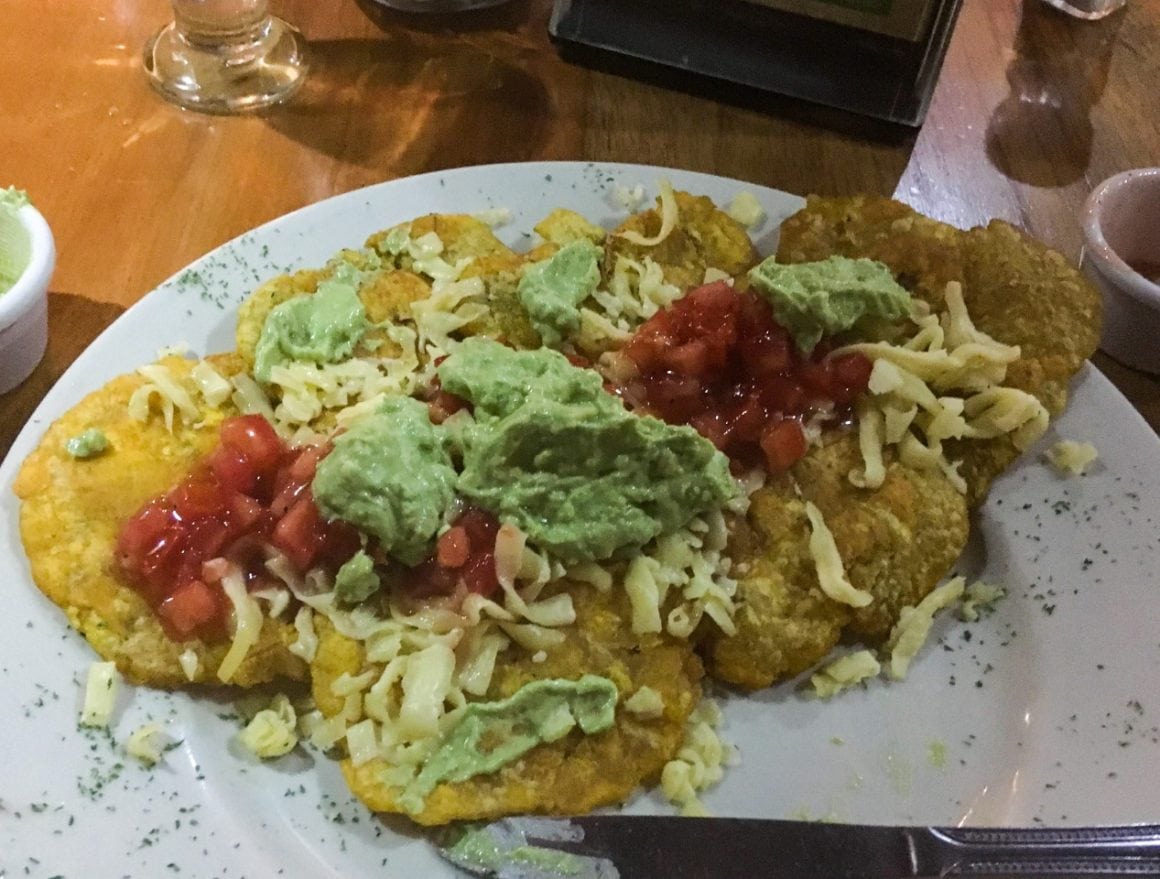 Patacones are kind of like Costa Rican nachos – but they're made out of plantain. To make them, large chunks of plantain are mashed flat, then fried.
They're then served with a range of sides you can pour on top of them, such as grated cheese, avocado, mashed black beans or salsa.
Patacones are usually a starter or side dish, but in my experience they're filling enough as a main course – I couldn't even finish them!
Patacones are filling and can be quite stodgy, so make sure you have an empty stomach beforehand!
6. Chifrijo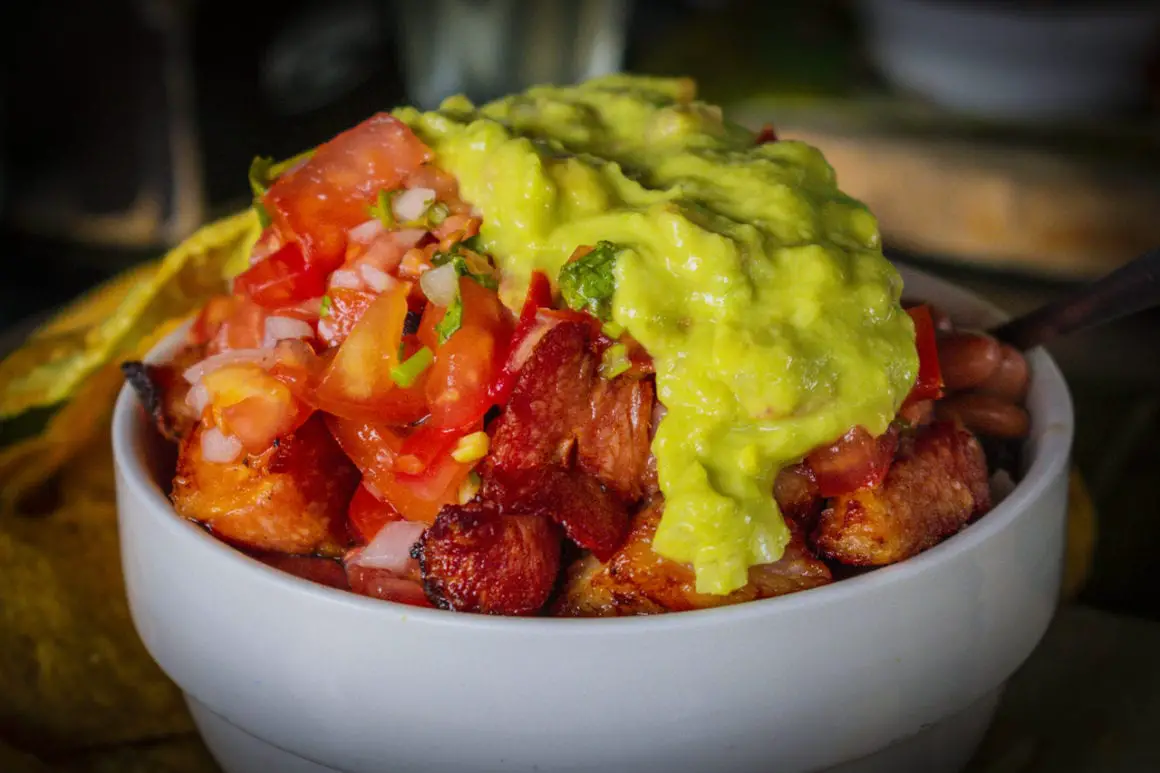 Chifrijo is often called a taco bowl, and it's a staple starter dish in bars and restaurants across Costa Rica. It's the type of thing you'll snack on whilst enjoying a cold beer.
Chifrijo was first created in San Jose in the 1990s, so it's fairly new to the Costa Rican food scene. 
What's so great about the chifrijo is that, unlike many of the typical Costa Rican dishes, this is only popular in Costa Rica! You're unlikely to find it anywhere else in Central or South America.
In a bowl of chifrijo there's white rice, beans that have been cooked in spices, pieces of fried pork rinds, pico de gallo and tortilla chips on the side.
Not only is it a brilliant starter or snack, but it's also affordable. On average, expect to pay $4 for a plate. Given how expensive things can be in Costa Rica, this is a steal!
Best Traditional Costa Rican Drinks
7. Pipa Fria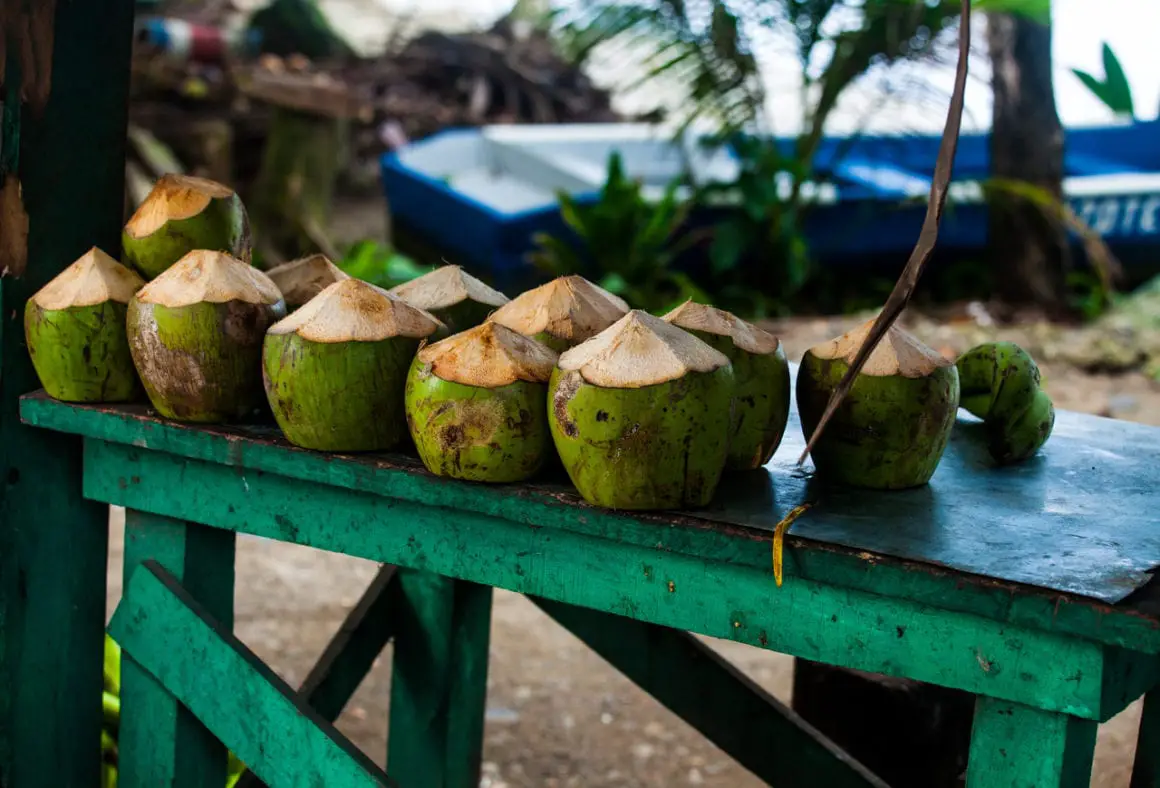 Need to rehydrate after a day at the beach?
Pipa fria will come to the rescue!
Pipa fria is literally just a coconut with a straw in the top. Simple, cheap, but soooo good!
I mean, who doesn't want to lounge on the beach, drinking fresh coconut milk straight from the coconut? The coconut is shaved down so it takes up less space, then kept in a cooler until you buy one.
There's nothing better after a day in the Costa Rican sun than this drink!
It's available all over Costa Rica, but you'll find it much more frequently at Costa Rica's many beach towns. Often, they'll be for sale on roadside carts or by vendors on the beach, and they're cheap (around $1).
8. Batidos/Refrescos
If you go to Costa Rica and don't have a refresco, I can't even talk to you.
These are the absolute BOMB!
These cold smoothies, made with either milk or water, are available pretty much everywhere in Costa Rica – from petrol stations to beachside shacks.
Some places call them batidos, some call them refrescos, but no matter what you call them, believe me when I say they are fabulous.
Costa Rica grows so much fruit (including some you've probably never heard of before) which means some weird and wonderful refresco flavours. Each flavour is usually available with water or with milk (which usually costs slightly more). 
Nothing is more universally popular in Costa Rica than a refresco, and I challenge you to try as many as you can whilst travelling in Costa Rica!
9. Imperial Beer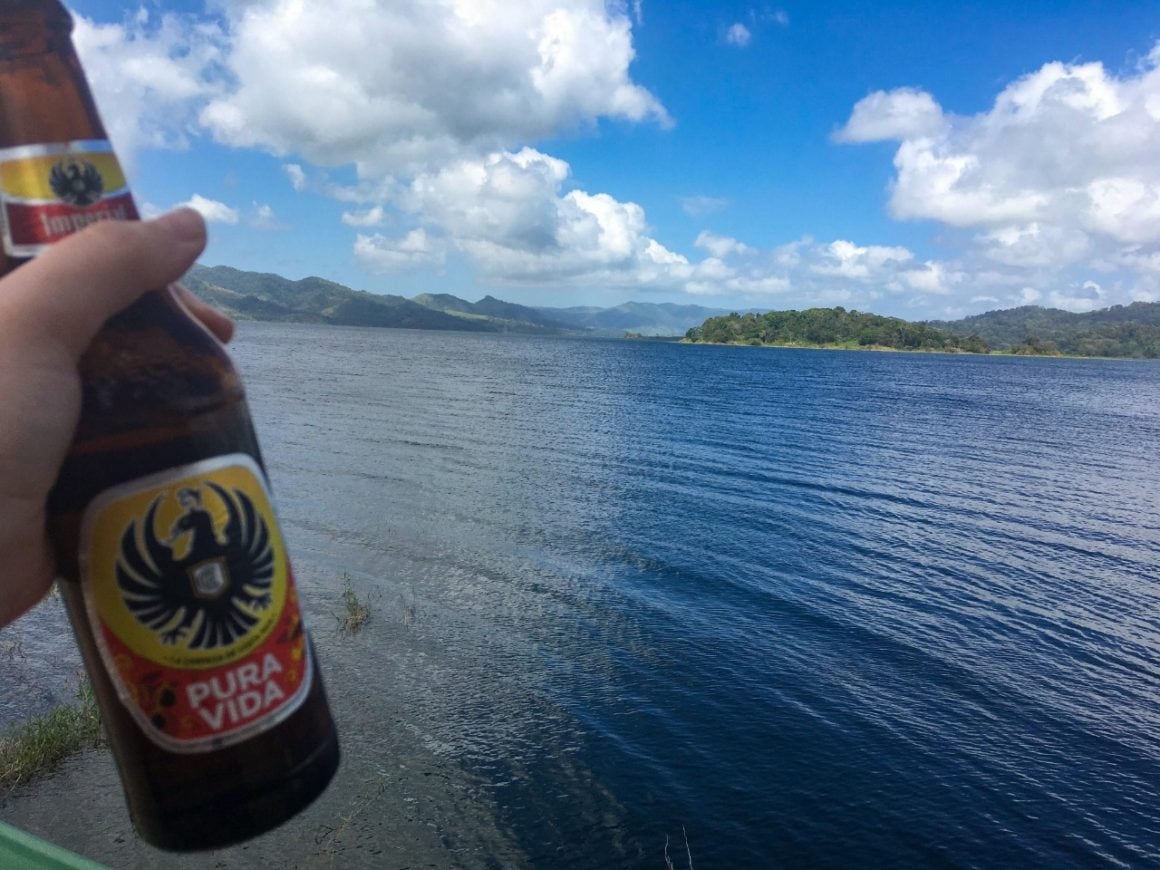 This is the most common beer in Costa Rica, and although it's nothing groundbreaking, when you've just finished hiking Arenal Volcano, cracking open a bottle of ice-cold Imperial beer will have you drooling. It's just so refreshing!
Ticos have been enjoying this beer since 1924 and it's available for pretty cheap at the supermarkets as well as at bars and restaurants. There are other beers you'll find pretty often, such as Pilsen and Bavaria, but Imperial is the most iconic of them all in Costa Rica.
10. Horchata
Horchata is available all over Central America, and it's very popular in Costa Rica.
This drink was unlike anything I had ever tasted before – it's a cold, non-alcoholic drink containing milk, rice flour, cinnamon, and sugar. You'll also find combinations with condensed milk, ground peanuts or vanilla.
It's available pretty much everywhere and is like a Costa Rican dessert milkshake. It's smooth, creamy and very sweet, and quite an acquired taste. I'm still not sure whether I liked it or not – so I guess I'll need another trip to Central America to decide!
---
Although Costa Rica isn't on the foodie tourist trail, if you're ready to dive into the local flavours and restaurants, there are plenty of delicious food and drinks to try whilst travelling in Costa Rica.
Of course, if there's one theme across all of Costa Rica's famous dishes, it's that they're very filling. This is brilliant value for money, but, if you're planning to eat some traditional Costa Rican food, make sure your stomach is empty first!
More Costa Rica Posts:
Costa Rican Currency Made Simple
Samara – A Guide to Costa Rica's Coolest Beach Town
The Ultimate Costa Rica Packing List
Don't forget to pin this post to save it for later!