There is a good chance that this post contains affiliate links. If you make a purchase through them, I may receive a small commission at no extra cost to you! As an Amazon Associate, I earn from qualifying purchases. As ever, all opinions are my own.
Last Updated on January 10, 2022 by Ella
On my first Greyhound Bus journey in Australia, I chatted to a South African girl named Gabby. In classic backpacker fashion, we became fast friends and agreed to meet the next day to hike the coastal walk in Noosa National Park. I was thrilled – the coastal walk is one of the best things to do in Noosa. Enough pre-trip YouTube sessions had shown me just what a treat I was in for.
I headed to Noosa for two things: surfing, and hiking the coastal path. My childhood summers consisted of two to six weeks spent in Cornwall, England, where I would surf every single day and take in a few of the drop-dead gorgeous coastal walks. Doing the exact same thing in Australia, but with warm weather and tropical water temperatures, had me stoked.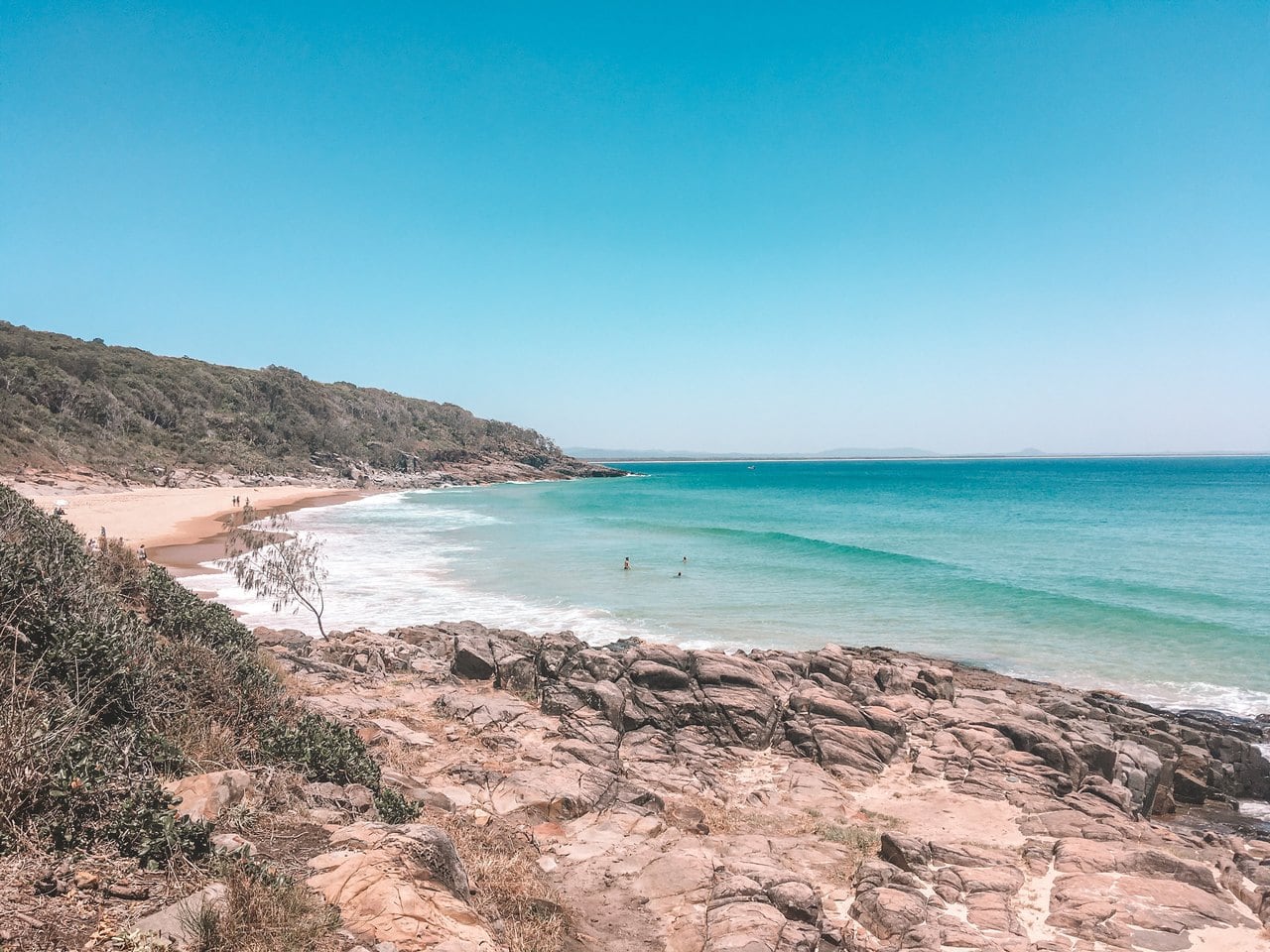 Read: The 10 Best Things to Do in Noosa (That You Can't Miss!)
What & Where is the Noosa National Park Coastal Walk?
Noosa National Park is in the town of Noosa, on the dreamy Sunshine Coast of Southern Queensland, Australia. The National Park is epic, spanning a whopping 4,000 hectares, and playing home to numerous endangered animal species.
Although there are five walking tracks in the park, a quick google search or a few seconds reading a guidebook reveals the coastal path is the most popular route by far. For obvious reasons: everybody loves the many beaches in Noosa!
The coastal path is 5.4km in distance, starting on the stunning Sunshine Beach and ending on Noosa Heads Main Beach. Well, it could be in reverse, but this was the direction I headed in.
Although you could walk the whole path in just over an hour (if you were trying to break a record), that would be a total waste of all that breathtaking scenery.
I spent a heavenly 5 hours walking the route, which was the perfect amount of time to walk at a leisurely pace, take loads of photos, and make a few sunbathing stops along the way.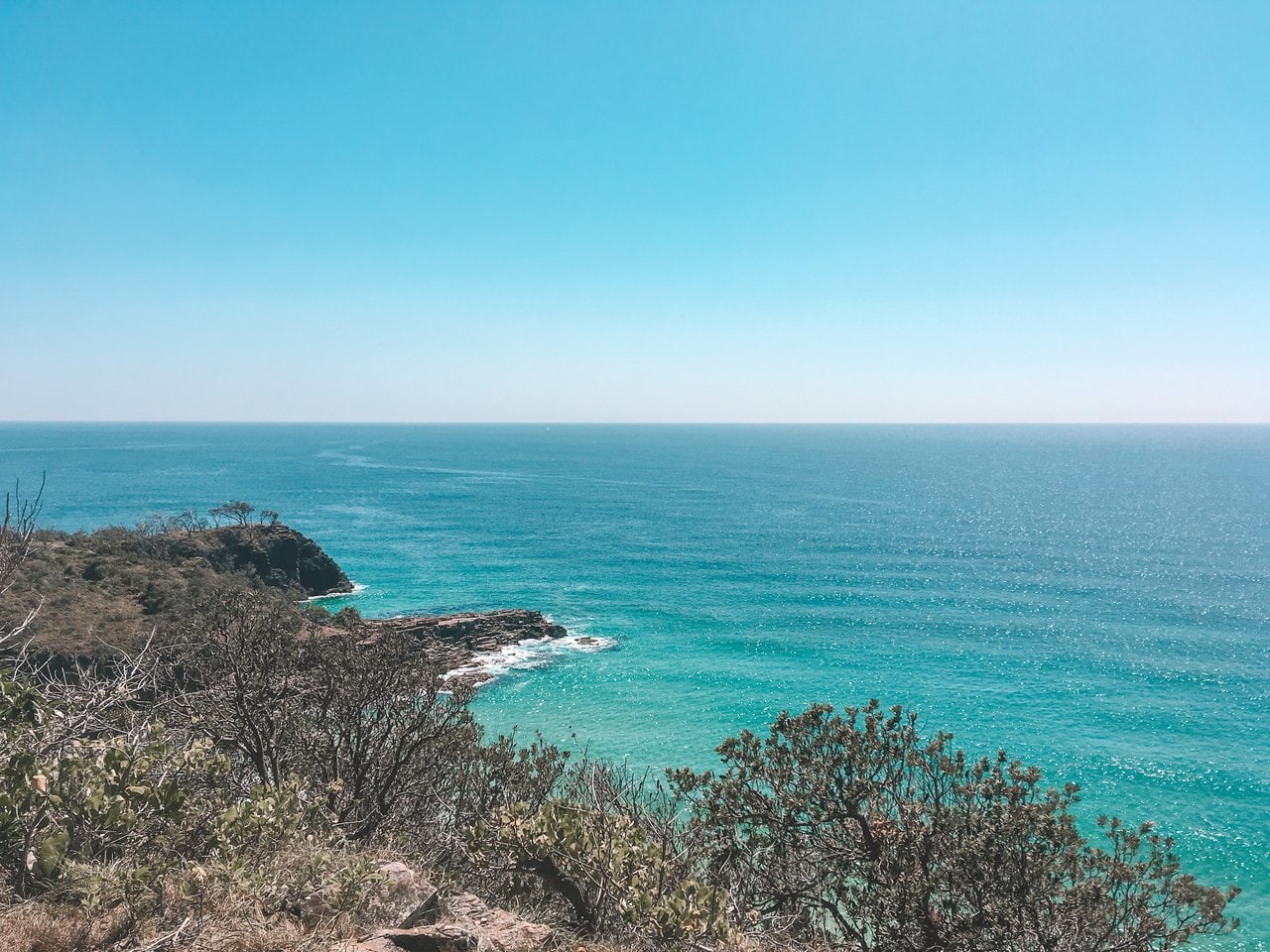 A popular choice is to start at either Sunshine Beach or Noosa Heads Main Beach, complete the route, then turn round and walk it in reverse, back to the starting point.
Having made the most of everything the route had to offer the first time around, I opted to walk up to the Laguna Lookout to take in an awesome viewpoint, before improvising my own route back through the National Park to my hostel near Sunshine Beach.
Well, that was the plan… Before I got thoroughly lost and had to walk back to my hostel along a freeway. I guess it wouldn't be me if everything went to plan!
Stops on the Noosa National Park Coastal Walk
Sunshine Beach
Waking up to scorching 30 degree weather, I met Gabby on the end of Sunshine Beach, next to the start of the coastal path. I hadn't anticipated just how long the beach itself was! I had already walked about 2km before I caught up to her. The morning was stunning, without a cloud in the sky. The sun was already beating down on the my neck, despite the fact it was barely 8am.
Whether you're starting or ending the coastal path at Sunshine Beach, it would be criminal not to spend time here. I was lucky enough to have three full days in Noosa, so spent many hours during my time in Noosa lounging on this beach with a book or splashing in the crystal clear water. I stayed at the Noosa Flashpackers Hostel, just 5 minutes away from Sunshine Beach. Lucky me!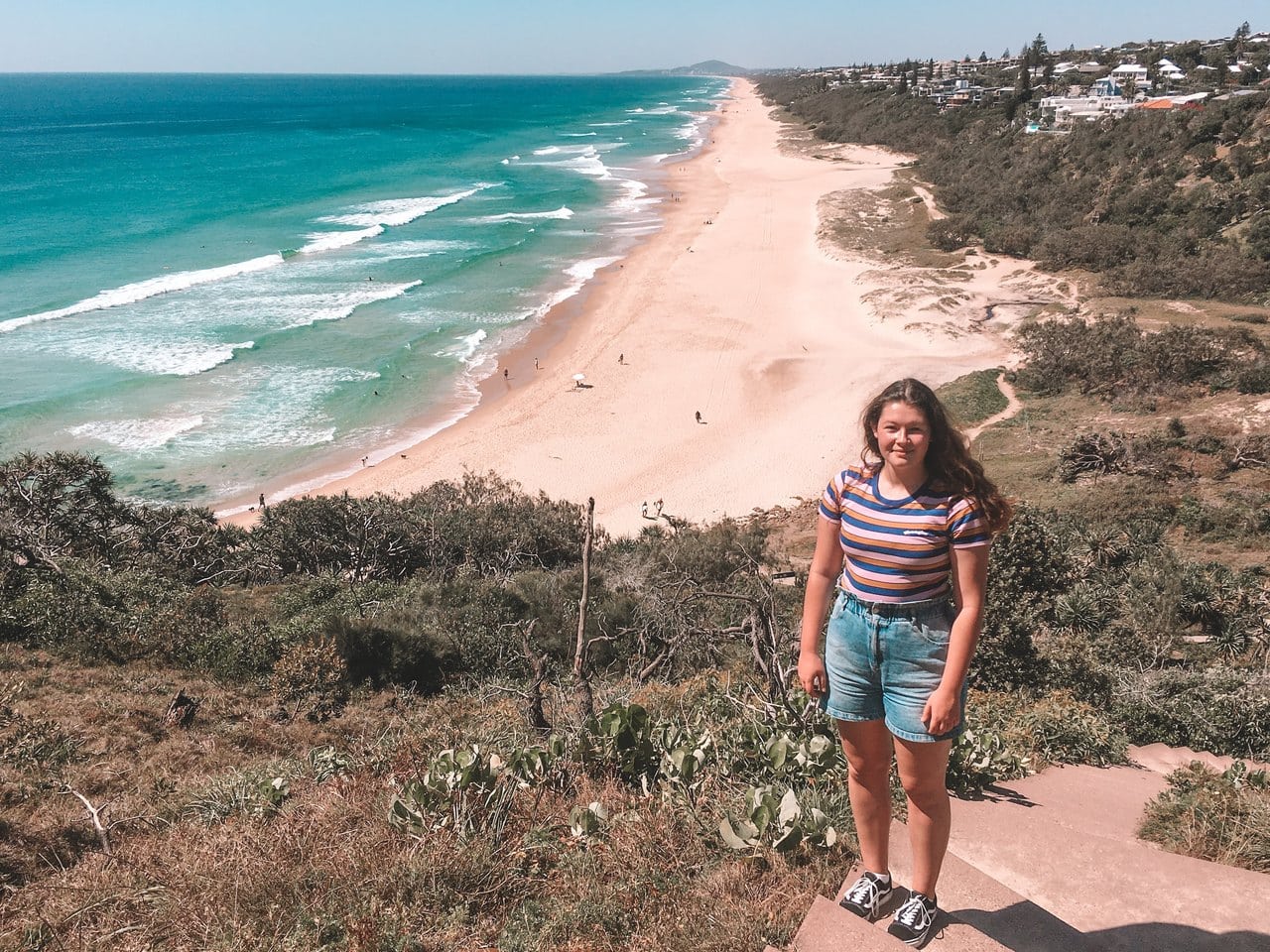 I was slightly worried that the path wouldn't be obviously marked, but I had nothing to worry about. There are clear signposts along the route, marking your location and popular stops, and  the paths are very obvious.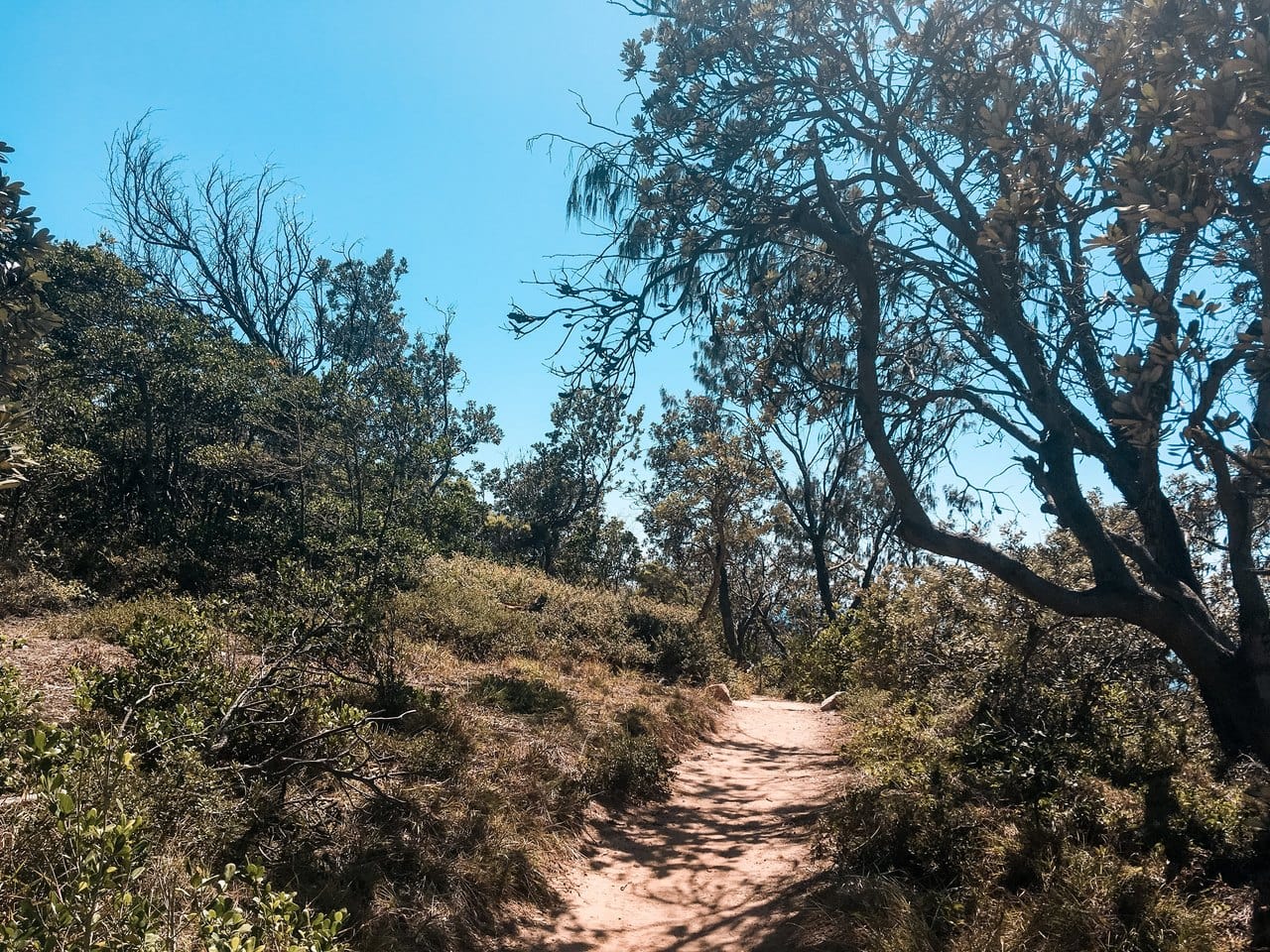 The track starts with a steep climb up the hill at the end of Sunshine Beach. From the top of the hill, you can catch some extraordinary views of the beach and the ocean.
Alexandria Bay
Following the track and hugging the coast, we emerged onto Alexandria Bay. To my absolute shock, I spotted a very naked man taking a stroll along the shoreline of the gorgeous beach.
"Erm…" I started, not really knowing what to ask Gabby.
"Look over there!" she giggled, and to my mortification, I spotted a couple, with all hanging loose, paddling in the water.
Being British, any kind of public nudity is blush-inducing for me, to say the least. All I could do was stifle laughter as we crossed the beach. I tried to keep my eyes on the path in front of me.
It felt like a shame, as I would have loved to pay more attention to the beach, but I really didn't want the nudist beachgoers to think I was scrutinising their, ahem, parts…
A quick google that night revealed that Alexandria Bay is in fact an unofficial nudist beach. This is your warning! I would have preferred to have known this beforehand so I wasn't so surprised. However, the beach was fairly quiet (though I'm not sure if that was because it was early morning or just because it's a secluded area).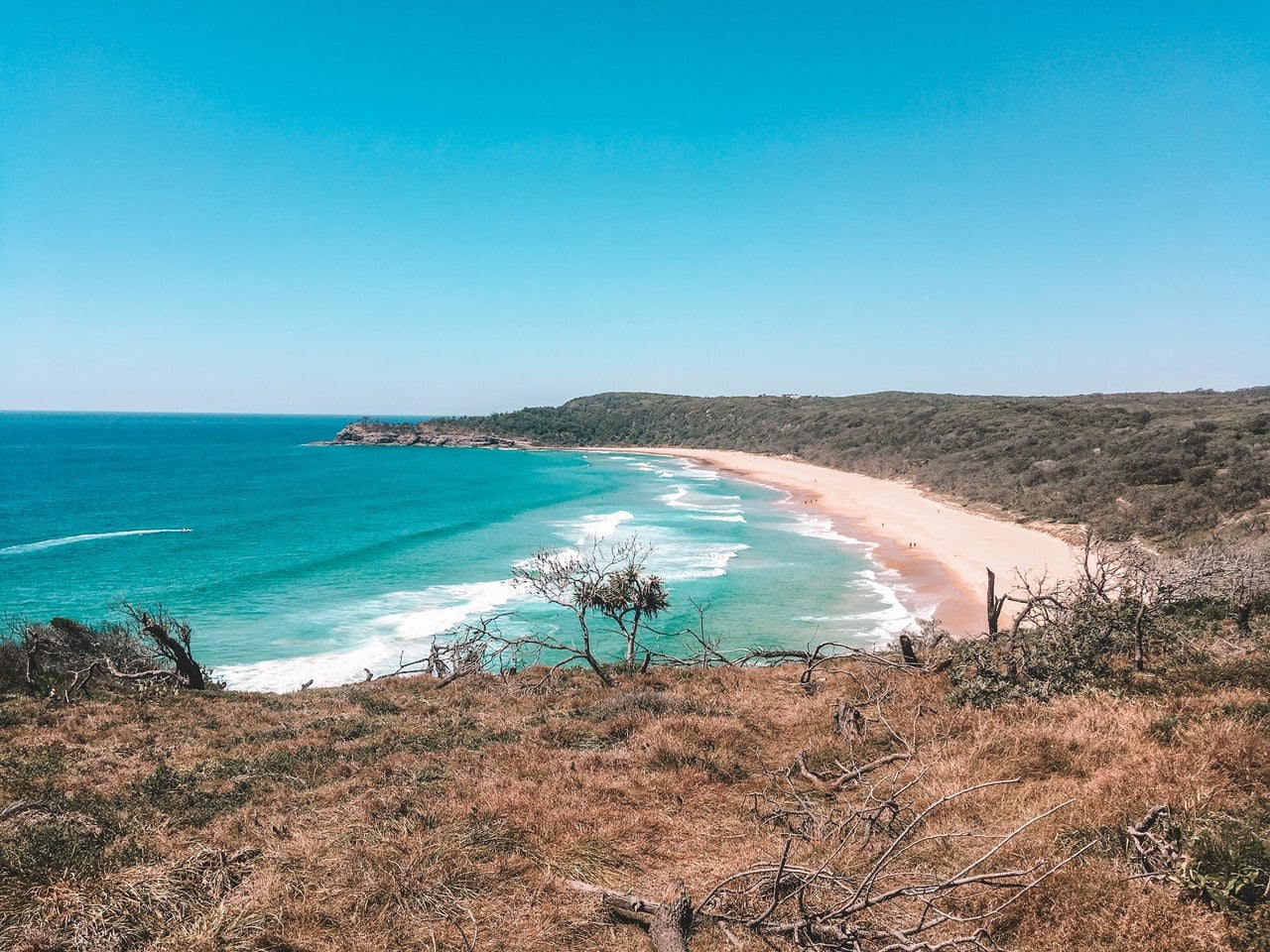 Hell's Gates
Coming to the other end of Alexandria Bay, we joined the trail again, and carried on walking until arriving at the slightly intimidating-sounding Hell's Gates.
Much less terrifying than its namesake, Hell's Gates is simply stacks of rocks where the rush of waves and the tides causes terrific crashes and bursts of water. It's a cool place to stay a few minutes and appreciate the power of nature.
Noosa National Park Fairy Pools
If you've done any Instagram snooping of Noosa beforehand, you'll undoubtedly have come across photos of people posing in the Noosa Fairy Pools. This is possibly the most popular stop on the Noosa National Park Coastal Walk. I was hyped to see them!
I don't know quite what I expected, but the Fairy Pools are essentially large rockpools. In theory, the surrounding rocks protect them from the rush of incoming waves, creating a peaceful, secluded spot.
I for one don't know how people pose in there, as the rocks were definitely not protecting the pools from the oncoming waves! Each set that rolled in crashed dramatically over the rocky barrier before flooding the pools with twice the water they previously had!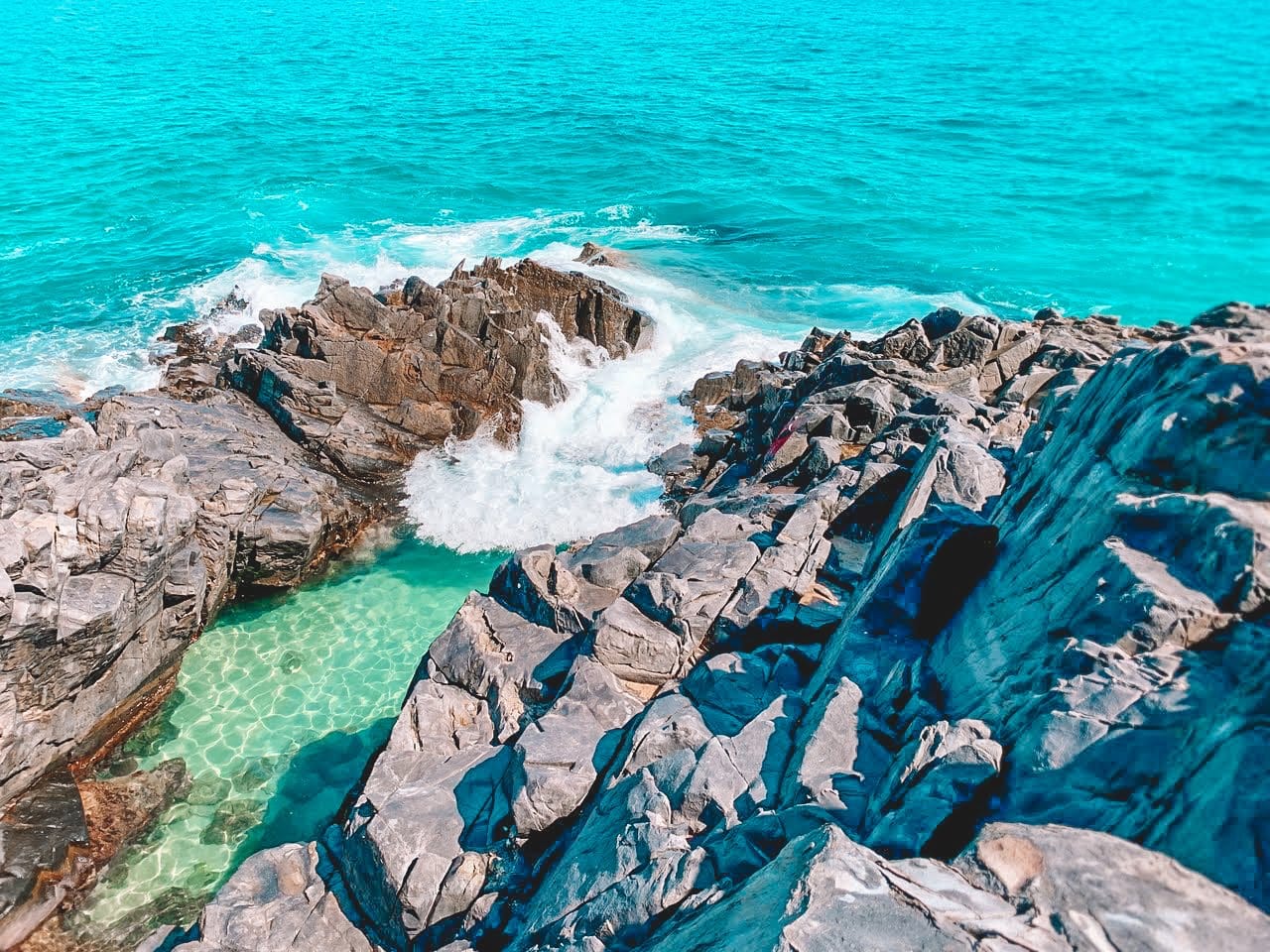 I can't remember seeing any signage pointing out the Fairy Pools, so be on the lookout for them on this part of the track. You'll usually see at least a couple of people hanging out on the rocks there, which is a good indication you're in the right spot.
Gabby, desperate to see what the hype was all about, headed into the pools. I decided to hang out from the safety of the rocks just off the path, laughing as oncoming waves drenched her from head to toe.
Winch Cove and Picnic Cove
Both coves are popular sunbathing spots, but we stopped off at Winch Cove to sunbathe and take a breather, then cooled off in the sea. Swimming isn't recommended on any of the beaches between Noosa Heads Main Beach and Sunshine Beach as they're not patrolled by lifeguards, but we stayed shallow, the sea was fairly flat, and I couldn't spot any currents.
It's worth stopping on either beach to break up the walk and reapply sunscreen. Once you've caught your breath, head along the path to Granite Bay.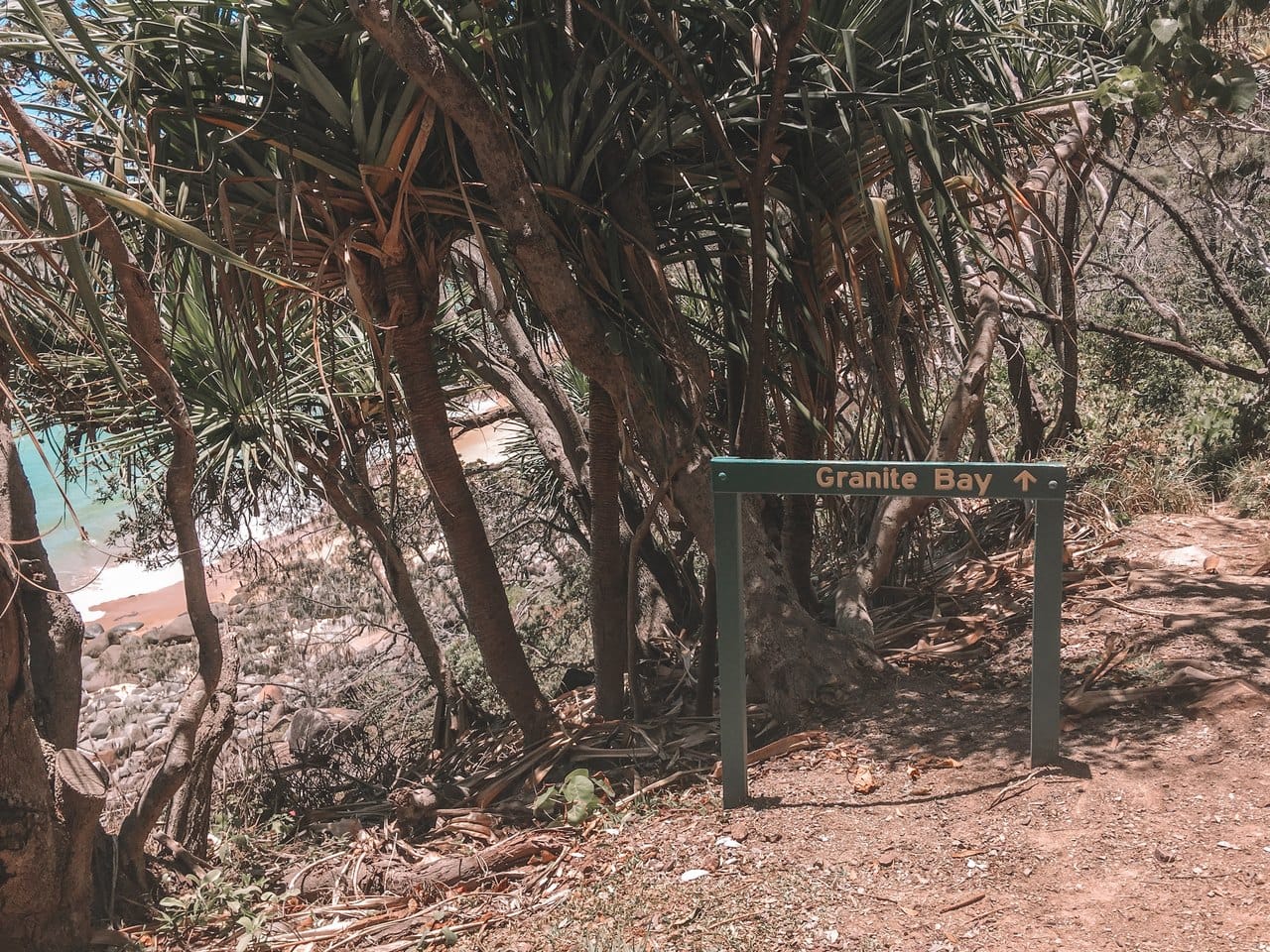 Dolphin Point Lookout
Not much further along the path is the Dolphin Point Lookout. Here, you guessed it, is a good place to try to spot dolphins in the distance. We unfortunately didn't spot any, but they are common year-round in this area.
Tea Tree Bay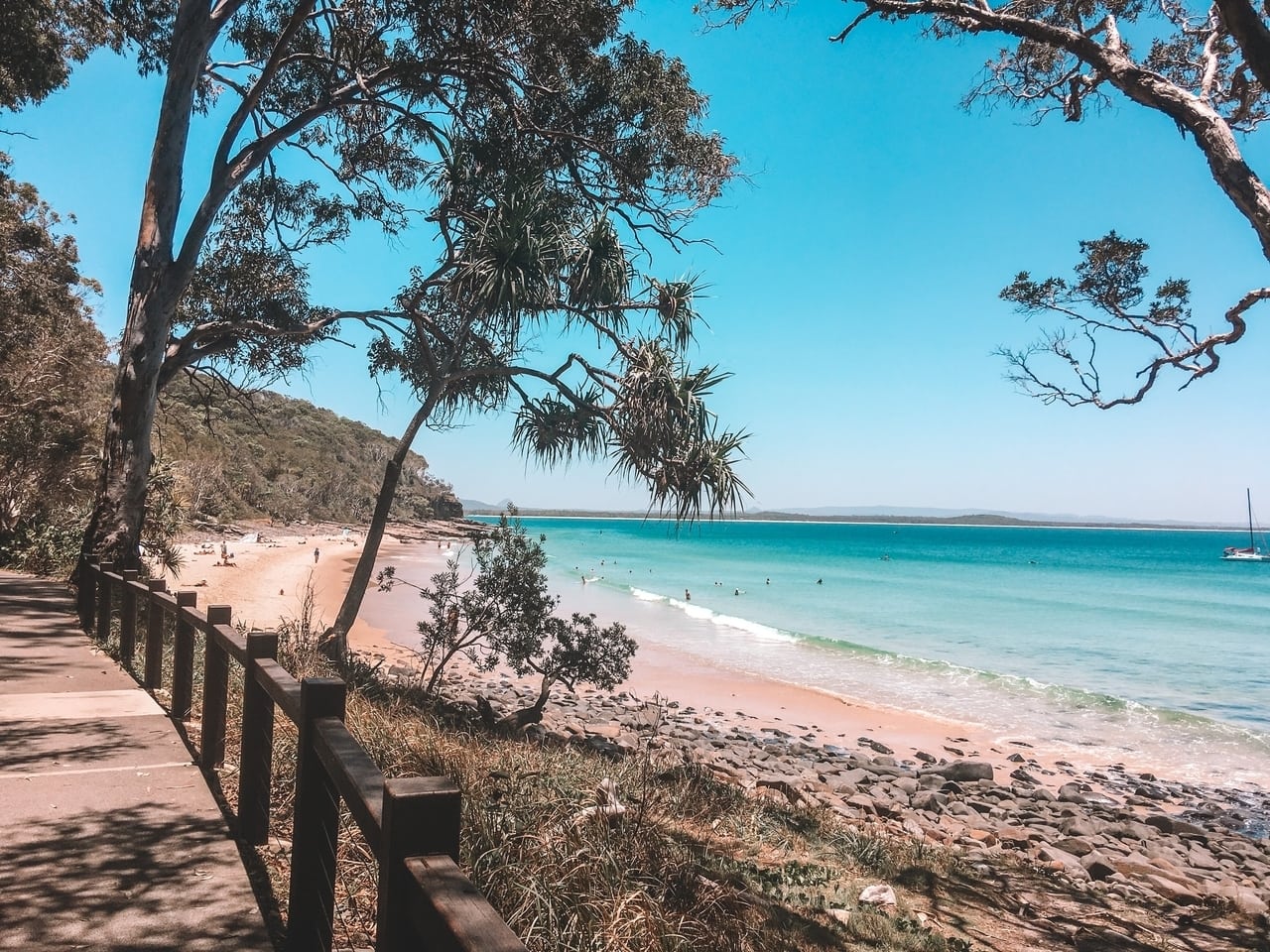 Apparently a popular spot for surfers, Tea Tree Bay was slightly busier than the other beaches we had passed. This could have been because it was getting later in the day, or could be because it's closer to town and is more accessible.
The beach here was slightly rockier than the others, but the sea was still that gorgeous, clear blue-green we had come to expect but never lost our excitement over.
The walk past Tea Tree Bay is in the shade, which was the perfect respite from the relentless sun. There is also a shack to the left of the track where you can fill up your water bottle. This was such a godsend! I had set off with 1.5 litres of water, and I had already drank it all!
---
Planning a trip to Australia? You're gonna love my other posts!:
• The Coldest Swim of My Life at the Bondi Beach Pool
• The Best Accommodation on Hastings Street, Noosa
• What It's Like to Visit Nimbin, Australia
• 10 Unmissable Things To Do In Bondi, Sydney
---
Boiling Pot Lookout
Just 300 metres away from the end of the trail, the Boiling Pot lookout is the last (or first, depending in which direction you walk!) viewpoint on the amazing Noosa National Park coastal walk.
Depending on the ocean conditions, the rock formation directly below the viewpoint is supposed to look like a pot, with the swirling water inside it presumably being the 'boiling' part.
The sea when we got here was relatively tame, and there was definitely no 'boiling' going on (expect for us, who were struggling in the Queensland summer heat). Regardless, the view over the never-ending expanse of ocean was epic – even if the Boiling Pot wasn't quite boiling.
Following the track just a few minutes longer, you'll emerge out onto the Noosa National Park car park. A few minutes along the road, you'll arrive at the Noosa Heads Main Beach.
Lifeguards patrol this beach, and it's and safe to swim. In my opinion, I wasn't blown away by this beach. In fact, I found it kinda ugly, but a beach is still a beach. Sunshine Beach just knocks the socks off it, though!
We headed into town to grab poke bowls for lunch, which were delicious, before returning to the Noosa National Park car park. From here, you'll see signposts for the different national park tracks.
Laguna Lookout
Spotting a signpost for the Laguna Lookout, and surprisingly having some energy left, we decided to go for it. It's only a short walk from the town, but it is entirely uphill and pretty steep.
If you're feeling tired after the coastal walk, heading to the Laguna Lookout might be a bit much. The views from the top really are spectacular though.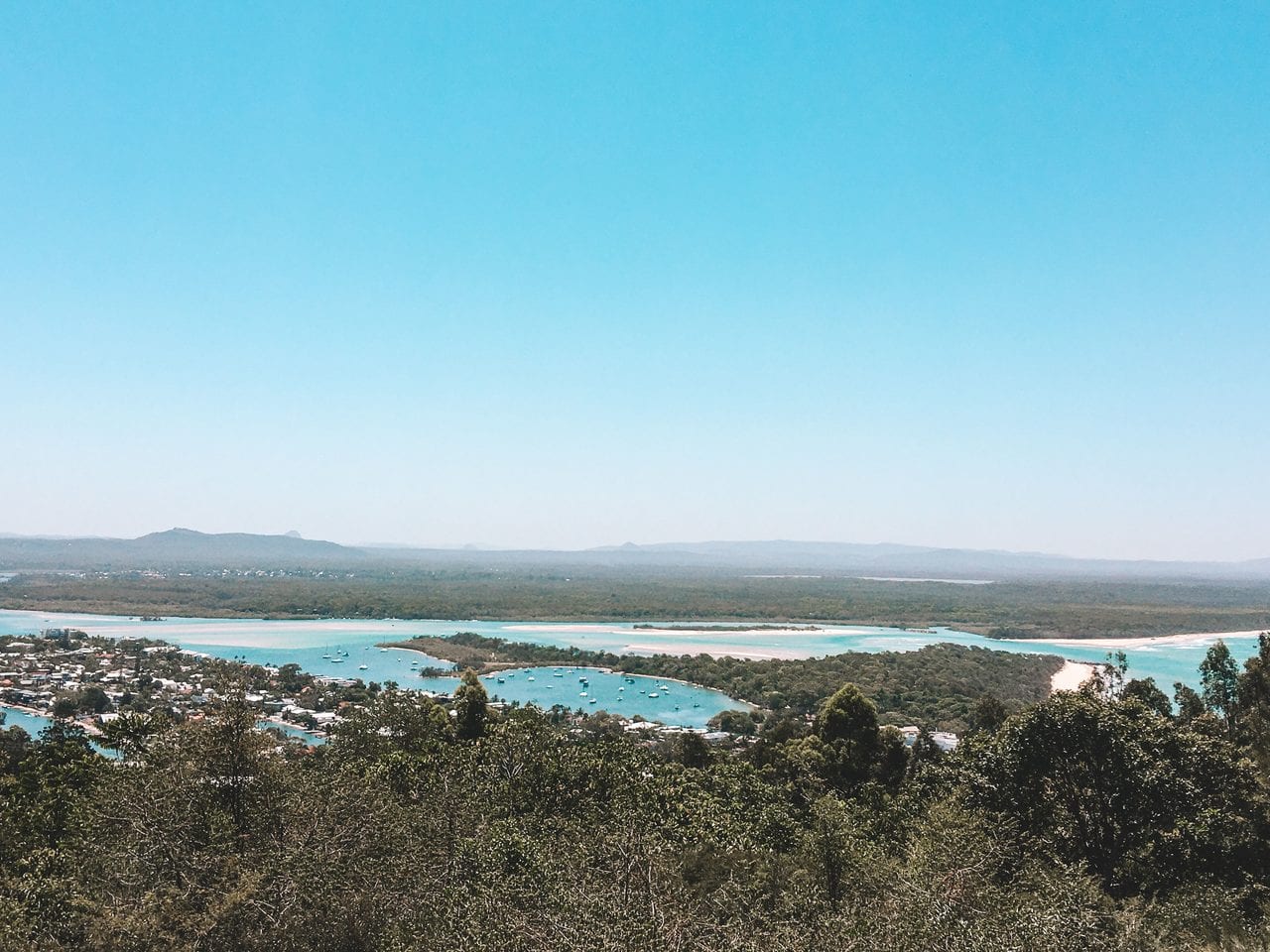 After taking some photos, we followed the road (you can drive to the Laguna Lookout). We assumed it would lead us back towards Sunshine Beach, where both our hostels were.
Sure, it did. But the route also involved walking through some areas that seemed pretty sketchy, and also walking along a busy road for a while. We should have just caught the bus back. Oops.
By the time I said goodbye to Gabby and walked into my hostel, my feet were covered in blisters. I wore my Birkenstock sandals for the walk, and they worked perfectly. Unfortunately, the odd route back meant loads of grit got in them during that journey, causing the blisters.
Lesson learnt, ladies and gents – don't improvise hiking routes!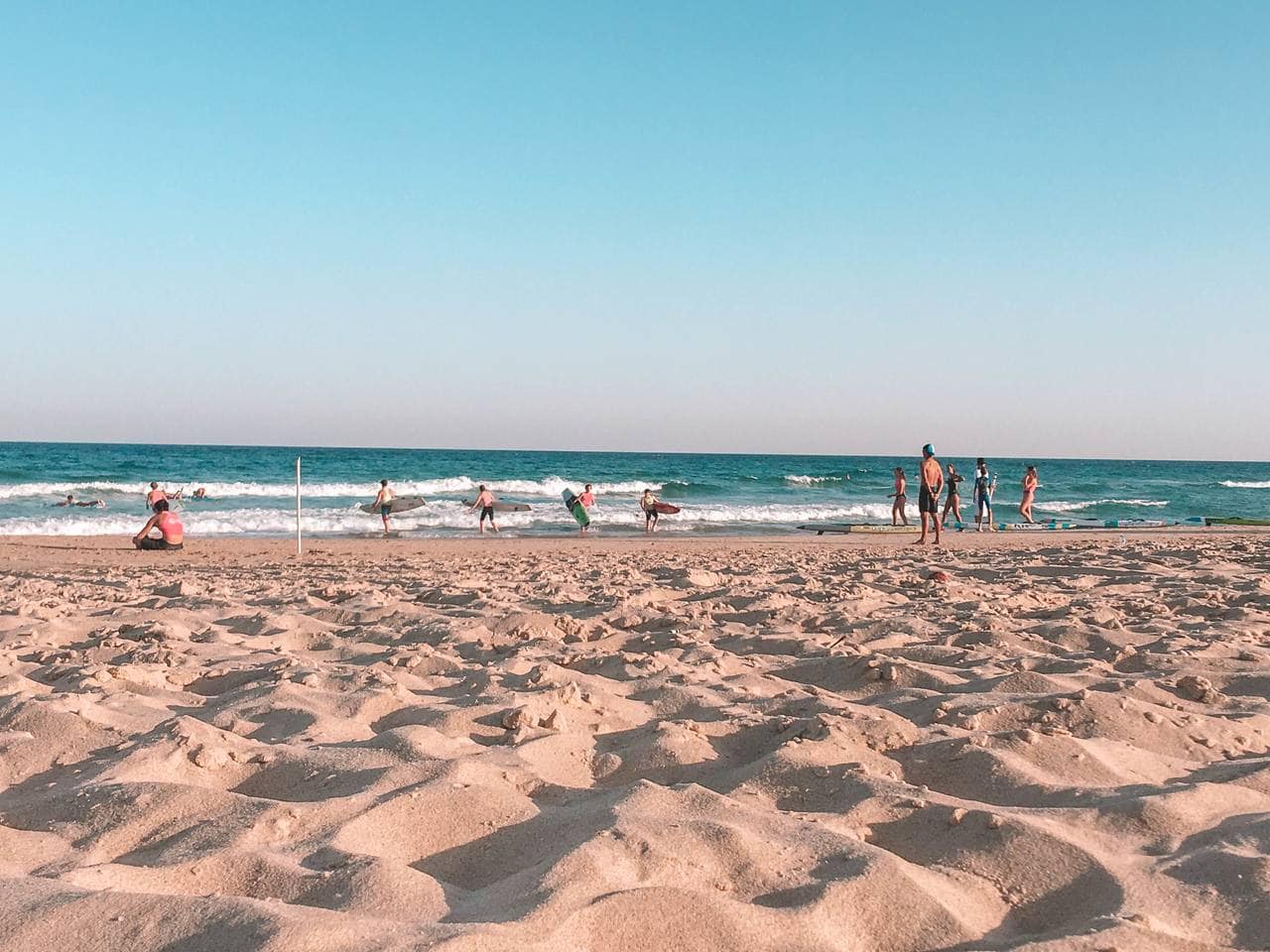 Top tips for the Noosa National Park Coastal Walk
If you're walking in the summer months, set off as early as you can in the morning. Alternatively, set off a couple of hours before sunset. Noosa in summer can get HOT and a lot of the path is in direct sunlight.
Pack SPF 50+ sun cream and apply it as frequently as you can. You might sweat off some of the sun cream whilst hiking, and the sun's rays are super strong.
Take at least 1.5 litres of water per person, but the more you can carry the better.
There are no places to get food along the route, so take snacks with you.
Wear your swimming costume underneath your clothes. That way, if you feel like stopping off at a beach or taking a dip in the fairy pools, you don't have to do the tricky 'getting changed behind a towel' manoeuvre.
Don't bother wearing hiking boots – trainers or sturdy sandals, such as Birkenstocks, are fine. Gabby did the hike in flipflops, and said it was totally fine, although I wouldn't personally recommend that.
Hiking the Noosa National Park Coastal Walk was one of the best memories I have from my time in Australia, and should definitely be on your Queensland bucket list!
Have you hiked in Noosa National Park? Which walk was your favourite?
Liked this post? Pin it!