There is a good chance that this post contains affiliate links. If you make a purchase through them, I may receive a small commission at no extra cost to you! As an Amazon Associate, I earn from qualifying purchases. As ever, all opinions are my own.
Anyone would think Leeds was designed as a base to go on days out from. I mean, it's located between so many awesome cities, right on the border of the Yorkshire Dales, not too far away from the coast, and even a surprisingly short train ride away from London!
If you fancy exploring more of your surroundings on days out from Leeds, I've got you covered. I lived in Leeds for 3 years, and during that time I'd hop on the train to go on a day trip every other weekend! 
I know which day trips are worth taking from Leeds and which aren't, and I've pulled together alllll of the best ones for you right here!
The thing is though, life can so easily get in the way of our day trip plans! 
It's so easy to think "ah well, I'm just a bit tired this weekend, I'll go some other time"… and then 'some other time' never comes around!
For this reason, I challenge you to book at least one day trip from Leeds as soon as you've finished reading this post! If it's booked and in the diary, it's definitely happening, and you won't miss out on all the fun days out Leeds has to offer!
I've put a link at the bottom of each destination which will take you straight to the train times and ticket prices between Leeds and the destination.
Be sure to drop me a message in the comments letting me know where you've booked 🙂
Fun City Days Out From Leeds
Leeds is close to loads of awesome cities which make for great days out! Here are my favourites:
York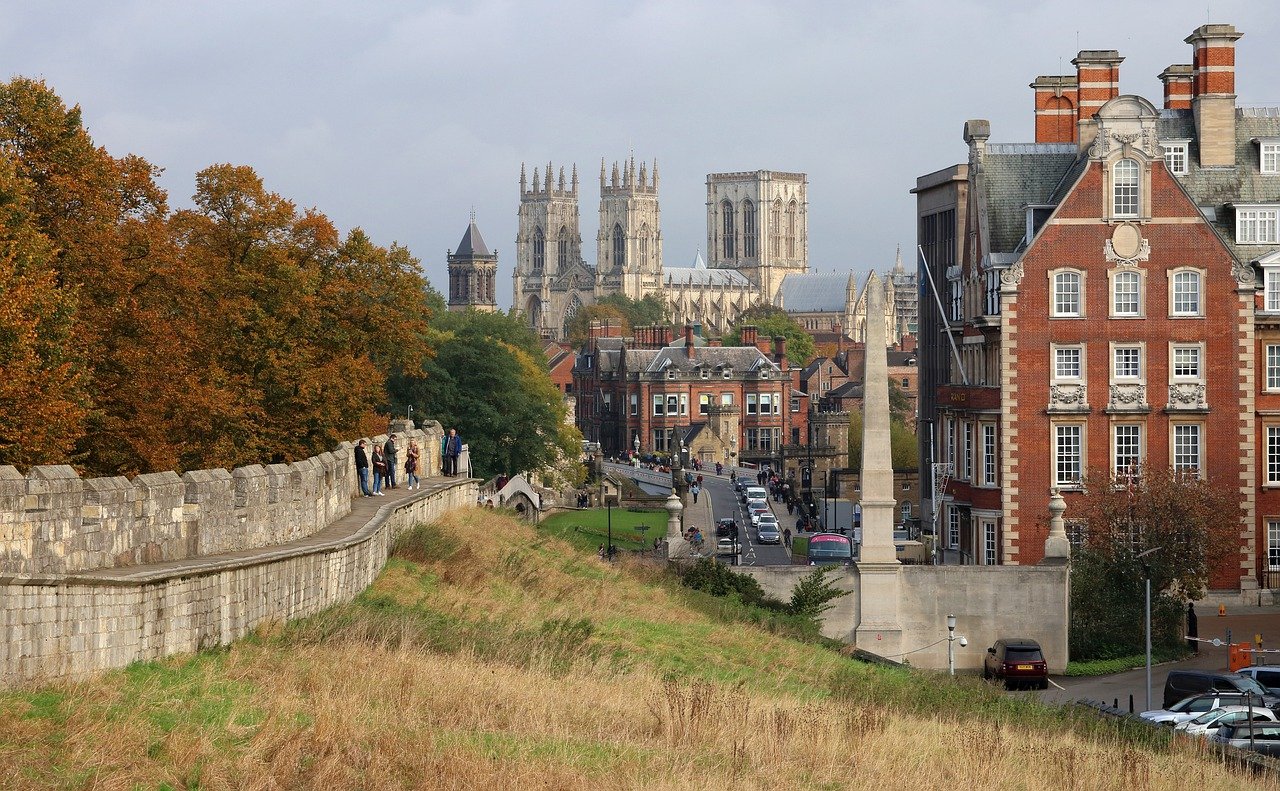 If you're looking to get lost in a gorgeous university city, York is the day out from Leeds for you! This hugely popular city has loads of things to do to keep you entertained for a day trip or even a full weekend trip.
One of the best things to do in York is to visit the Jorvik Viking Centre, one of the coolest museums I've ever been to. It might come as a surprise to learn that York has Viking connections, but it was actually one of the Vikings' most important settlements. Jorvik contains artefacts and ruins from the 10,000-year-old city, and also gives you a guided tour of what life was like in the Viking city of York. 
Once you've been to Jorvik, you can't miss out on stopping by the Shambles for some shopping. This street is thought to be the oldest in York and is rumoured to be J.K. Rowling's inspiration behind Diagon Alley in the Harry Potter Books. It's easy to see why! This cobbled alleyway, surrounded by higgledy-piggledy ancient buildings, is full of used book shops, jewellers and a shop named "The York Ghost Merchants". Sounds spooky!
Of course, you can't visit York on a day trip from Leeds without visiting the York Minster, the city's iconic cathedral. You can pay to go inside, but even from outside you'll get a taste of just how epic and intricate the design of the cathedral is.
To round off your day in York, stop by one of its many fabulous pubs. My favourite is The Golden Fleece, which is perhaps the oldest pub in York. Ye Olde Starre Inne and The Black Swan are also great options.
Getting there: York is just a 30-minute direct train journey away from Leeds, making it perfect for an easy day out. Check train ticket prices here.
Wakefield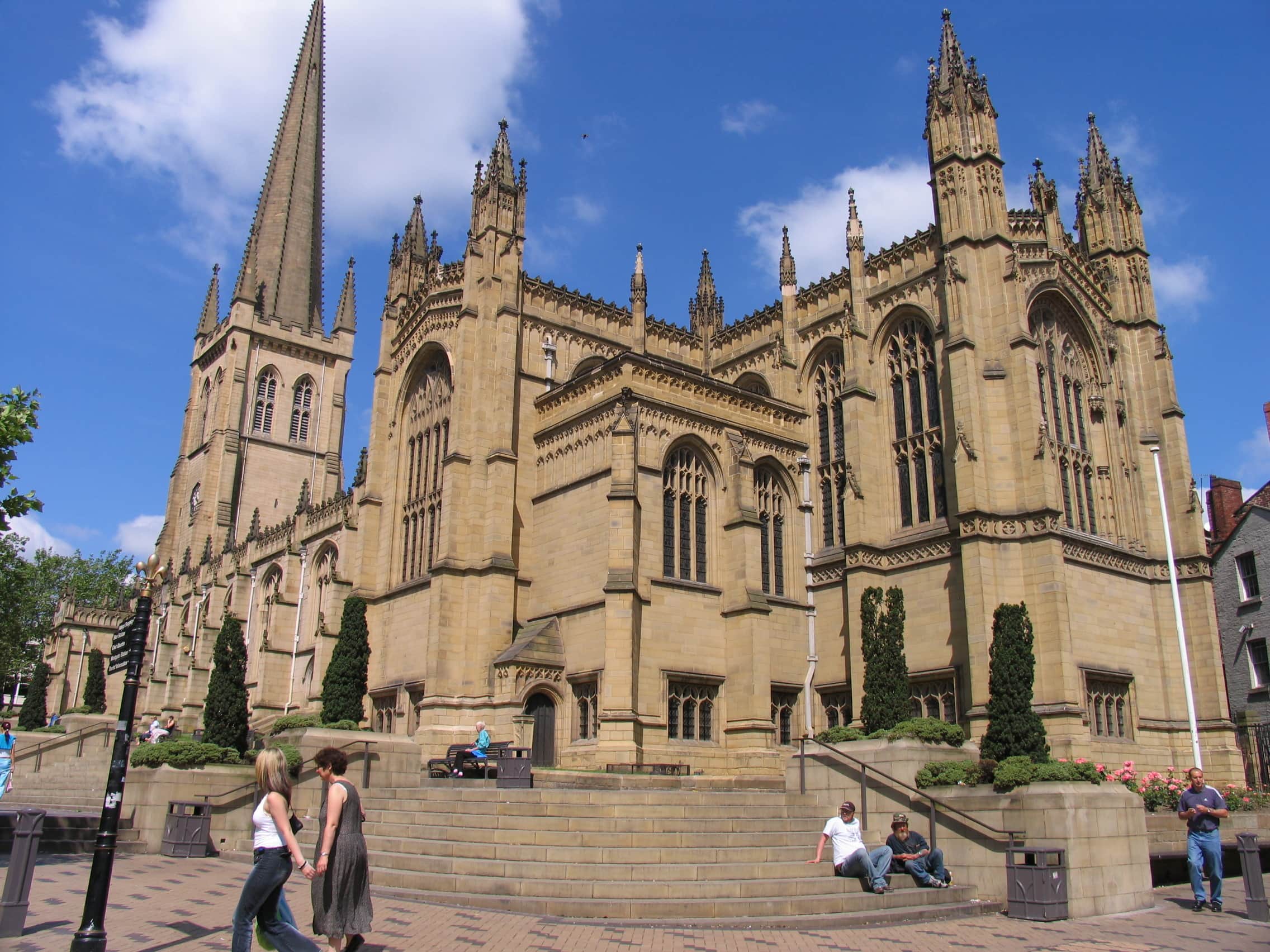 Known for way more than being the home to everybody's favourite TV Cruise Show host, Jane McDonald, Wakefield has a lot to offer people visiting on day trips from Leeds.
For art lovers, a trip to The Hepworth is a must-do. This award-winning gallery exhibits the sculptures of, and pays homage to, Wakefield-born artist Barbara Hepworth. Admission is free!
Don't miss visiting the most prominent landmark in Wakefield whilst you're here, the Wakefield Cathedral. It has the tallest spire in Yorkshire and is pretty darn spectacular. If you're anything like me, I'm never too bothered about going inside cathedrals, but this one delivers enough just from the exterior!
For a bit of history, you can take a 15-minute bus or train to Sandal Castle from central Wakefield. This ruined medieval castle was actually the setting for Shakespeare's play Henry VI, Part 3. Sure, the play isn't as cool or popular as Hamlet, but it's still a pretty neat claim to fame! During the Wars of the Roses the Battle of Wakefield was fought just outside the castle, so there's plenty of history surrounding this building. 
If it's a nice day, round off your day trip from Leeds to Wakefield with a stroll around Thornes Park before heading back to the train station to return to Leeds.
Getting there: Trains between Leeds and Wakefield take just 13 minutes! This is probably the easiest of all days out from Leeds, so there's no excuse not to book your train tickets now!
Manchester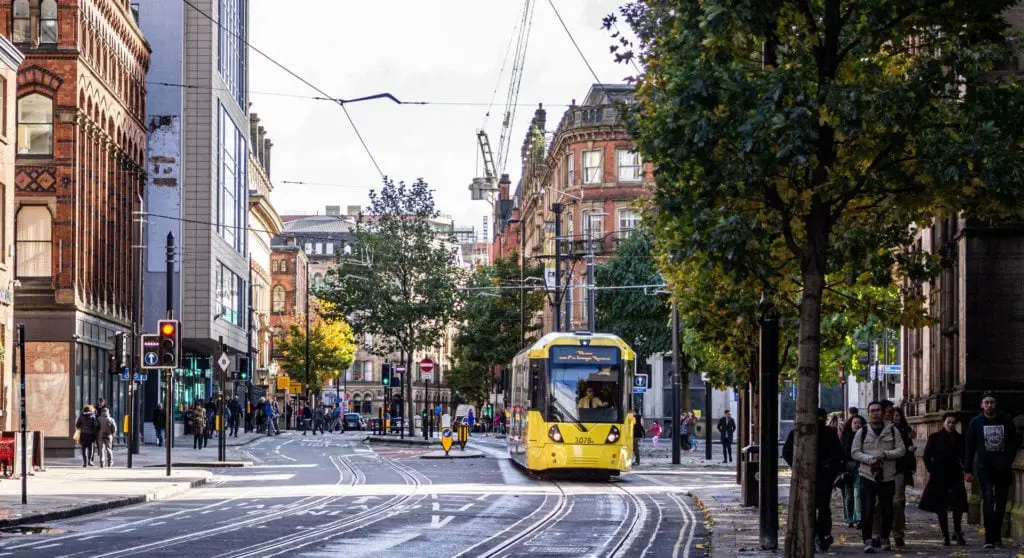 Home to some of the greatest bands ever, Manchester is a must-visit city for anybody in the UK. It's definitely worth a day trip from Leeds.
Obviously, another thing Manchester is world-famous for is its football, and even if you can't get tickets to a game, fans can visit the National Football Museum. In fact, I'm about as uninterested in football as it gets, and even I enjoyed the museum! Every child who went to school in the North has probably already been to the Science and Industry Museum, but I promise it's a lot more interesting to visit as an adult! 
For spellbinding gothic architecture, you just HAVE to step inside the John Rylands Library. Looking more like a castle that could feature in Harry Potter, this is one of my favourite places to visit in Manchester. You can enter the library for free, but you won't want to leave!
For weird and wonderful vintage, don't miss shopping in Affleck's Palace, a mixture of small independent shops selling vintage clothes, piercings, vegan food, and a whole host of other cool things. You can get lost in the surrounding area (and my favourite area of Manchester) the Northern Quarter. Here, you'll find dirt-cheap vintage, record shops, second-hand books, quirky cafes and truly delicious brunch.
When it comes to drinks in Manchester, I love The Fitzgerald for laid-back and sophisticated cocktails. For something more upbeat, head to Lost in Tokyo.
Getter there: trains from Leeds to Manchester take 1 hour and 20 minutes and are direct. Check ticket prices here!
Bradford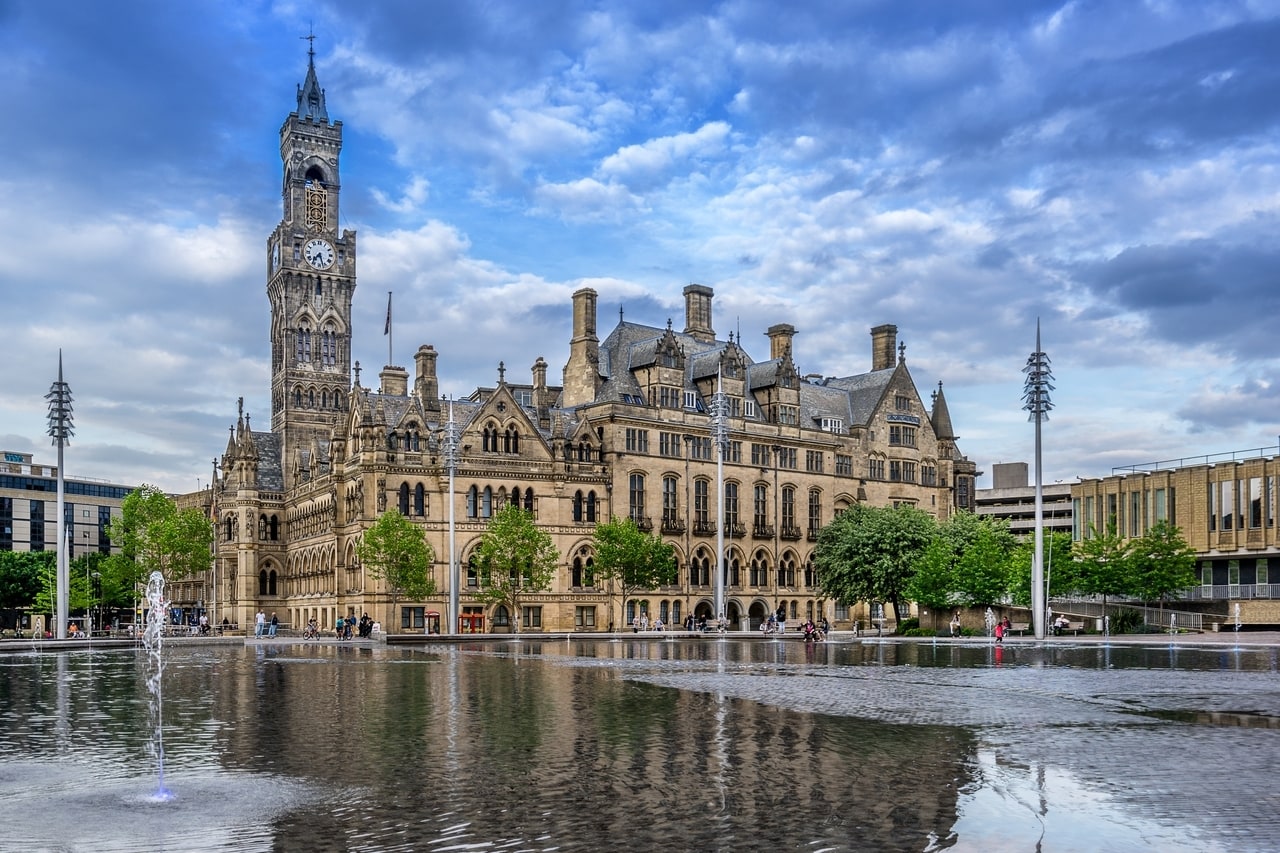 Probably the most underrated location for day trips from Leeds is the industrial city of Bradford. Bradford rarely gets raved about by tourists, but I really don't understand why!
There's a surprising amount of fun things to do in Bradford, and it's probably the best kept secret day trip from Leeds!
Lots of people visit Bradford to go ice skating since Leeds doesn't have its own ice rink. This is certainly a great way to kick off your day out, but don't jump back on the train as soon as you're done!
Instead, head to the National Science and Media Museum. This museum is so much fun and super interactive, perfect for families or even a date. What's more, entry is totally free. They also have an area where you can play vintage video games. Win!
Another fabulous place to visit in Bradford is Cartwright Hall, an art gallery about a mile out of the city centre. Catch an Uber and don't miss this off your Bradford itinerary, as it's a fascinating building with frequently alternating art exhibitions. When I visited, there was an exhibition about probably the most famous Bradford citizen, David Hockney. It was great to see and learn more about his art in the city he grew up in.
Bradford has a thriving craft beer scene, and drinks are quite a bit cheaper than you'll be used to in Leeds. My personal favourite place to visit (I can't visit Bradford without stopping by!) is The Record Cafe. Part-record shop, part-craft beer bar, this place is super unique and friendly, and they serve THE BEST cheese boards.
To round off the day, it would be a crime to visit Bradford on a day trip without eating a curry! Bradford is famous for the many amazing curry houses in the city, and each one has something different to offer. My favourite is International, by My Lahore is also delicious.
Getting there: Trains from Leeds to Bradford take just 18 minutes and run really frequently. You can check ticket prices here.
Newcastle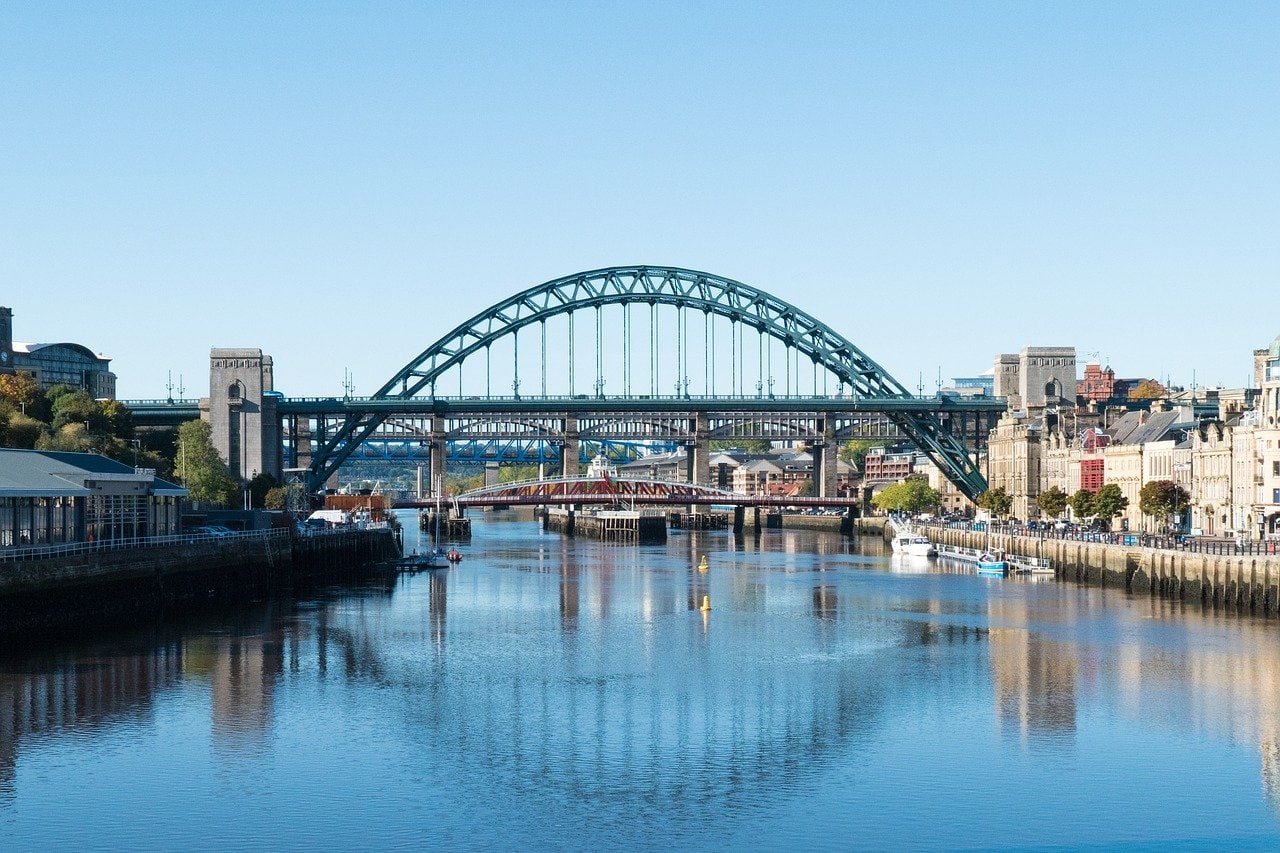 Although Newcastle doesn't immediately spring to mind for many people when considering days out from Leeds, it should! Newcastle is one of my favourite cities in the UK, and it's got so much to offer! 
Start your visit with a walk along Quayside, the area of Newcastle by the River Tyne. Here, you'll see the Millennium Bridge, an important feature in Newcastle's skyline. 
A short walk up one of the side streets will lead you to Newcastle Castle. This is a medieval fortification built on the site of an earlier fortress which gave the city its name. Here, you can explore the castle's ancient passages and learn about Newcastle's war-torn history.
For something unusual to do on your day trip from Leeds to Newcastle, head to the Victoria tunnel (you will need to book in advance). This tunnel was originally built for the transportation of coal across the city but was repurposed as an air raid shelter in WW2. Nowadays, guided tours take you through the tunnel and its years of history, including Newcastle's role in WW2.
If it's a sunny day, there's nothing better to do in Newcastle than to catch the Metro to the nearby seaside town of Tynemouth. Here, you can chill on the beach, enjoy fish and chips, and even explore another castle (Tynemouth Castle).
Newcastle is a city full of students, and it's also notorious for its party scene. This kicks off mid-afternoon on Saturdays when the locals love to head to the city's many pubs for some Newcastle Brown Ale. The stuff is delicious! My favourite is Lady Grey's as the number of unique beers it has on offer is staggering. If you want to sample some of Newcastle's legendary nightlife, you will have to book yourself into a hotel!
Getting there: Newcastle is just a 1 hour 45 minute train journey from Leeds. Check train prices here.
London
Loads of Leeds residents dismiss London as a destination for day trips because it's so far away. However, thanks to the amazing train link between the two cities, it's totally doable! Don't get me wrong, it'll be a long day, but it's London. Visiting London is never wrong!
It's hard to know where to start when recommending what to do on a day trip to London from Leeds because there is just SO. MUCH! It really depends on what you're interested in (and whether or not it's raining)!
You can never be disappointed by visiting Buckingham Palace and then walking to Hyde Park on a day trip to London from Leeds. Hyde Park is my favourite park in the whole of London, and, of course, Buckingham Palace is just so iconic and exciting.
From Buckingham Palace, you can also walk down to the Houses of Parliament to marvel at Big Ben and then stroll along the River Thames to see the London Eye. There are also plenty of free museums in London. If it's raining, you can always take shelter in the National Gallery, the National History Museum or the V&A Museum.
Whilst you're in London, I challenge you to try some food that you just can't get in Leeds! My favourites include Filipino charcoal ice cream at Mamasons or the London tradition of pie, mash and liquor at M Manze. 
Don't forget to enjoy a pint or two at The George Inn, one of London's oldest pubs and a favourite hangout of author Charles Dickens. Of course, if you're feeling fancy, a drink at the Shard (head to the Aqua Shard bar) is a true only-in-London experience.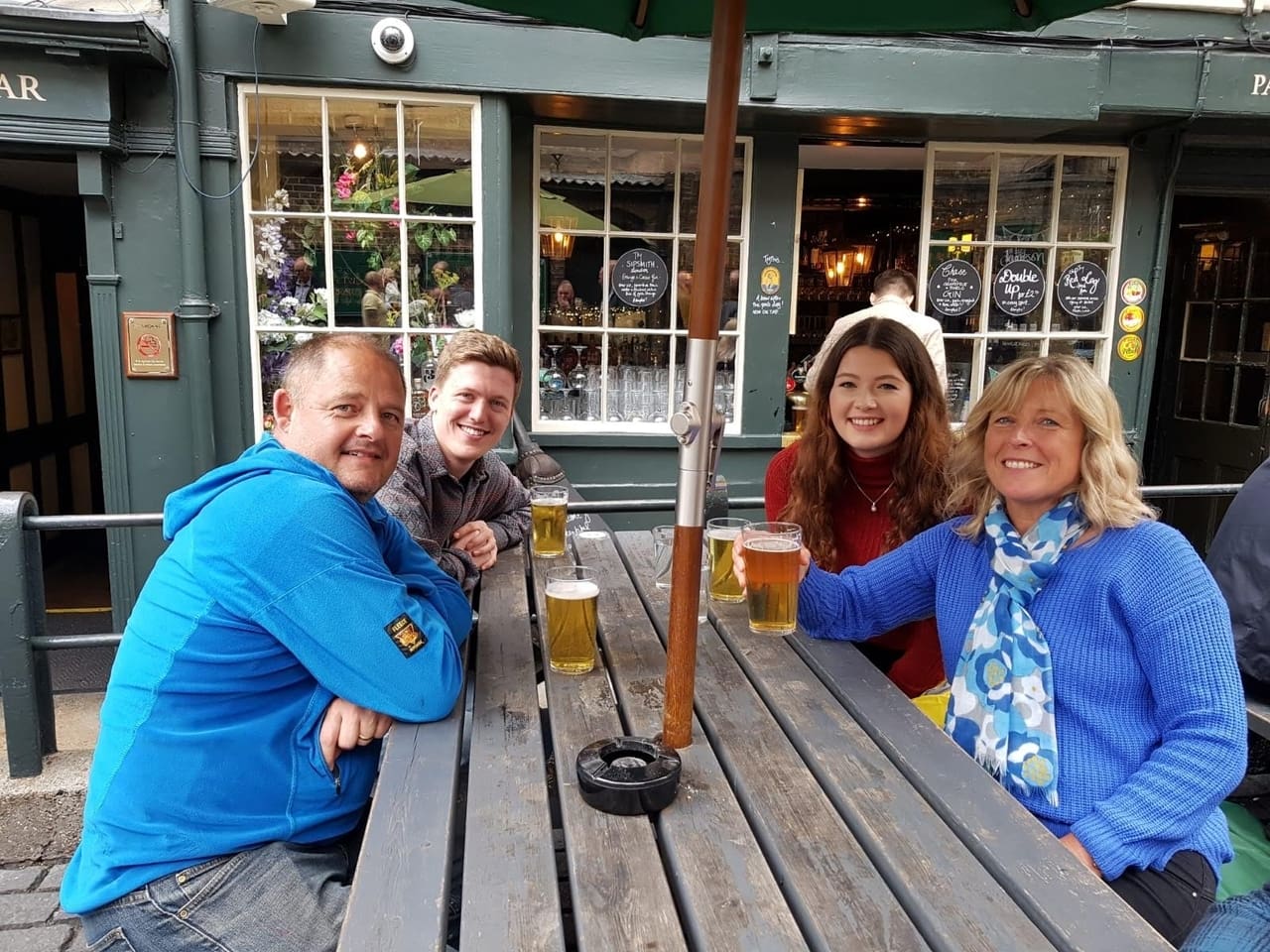 Getting there: the quickest train from Leeds to London takes 2 hours and 16 minutes. You can check ticket prices here.
Charming Town Day Trips from Leeds
Wanting to get away from the hustle and bustle of city life, but don't want to get too deep into nature? You'll love these day trip ideas to charming towns near Leeds:
Knaresborough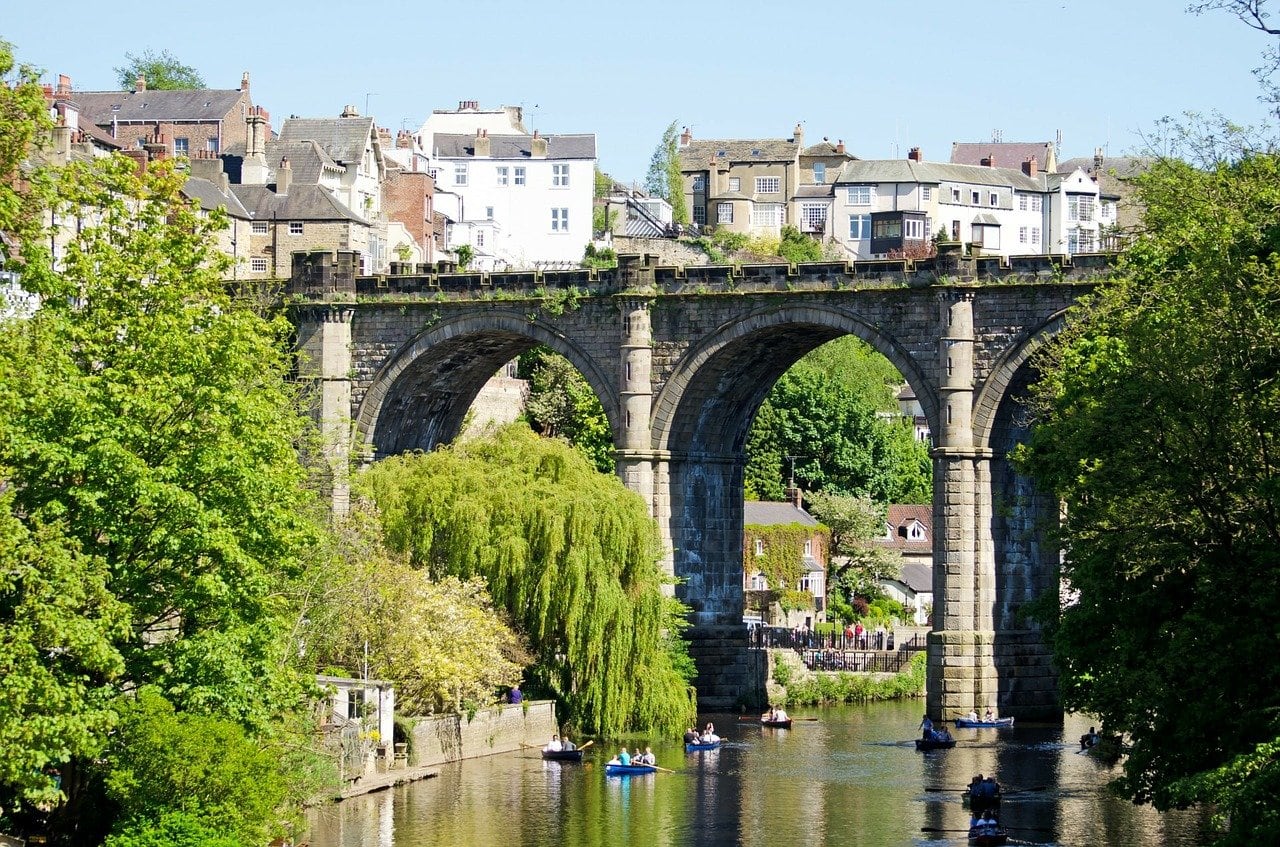 Knaresborough is a town with a village feel and is an incredibly peaceful place to get away from it all for the day.
The top visitor attraction in Knaresborough is probably the Knaresborough Castle, a ruined fortress built by the Normans at the beginning of the 12th century. Although the castle is now in ruins you can still climb the tower and peer into the castle dungeons. There's also the Courthouse Museum which teaches the story of the castle and is open from April-September.
I recommend completing the River Nidd walk whilst you're in Knaresborough. You can easily wander this as it flows through the town centre (you won't need any hiking gear). It's a fun way to explore the beauty of Knaresborough and get to know the layout of the town.
For something a bit different, head to Mother Shipton's Cave, the oldest tourist attraction in England! It was here that the prophetess Mother Shipton was born, and you can learn all about her prophecies and the strange waters in the area which turn everyday objects into stone.
Getting there: The train from Leeds to Knaresborough takes 55 minutes. You can check ticket prices and book here.
Ilkley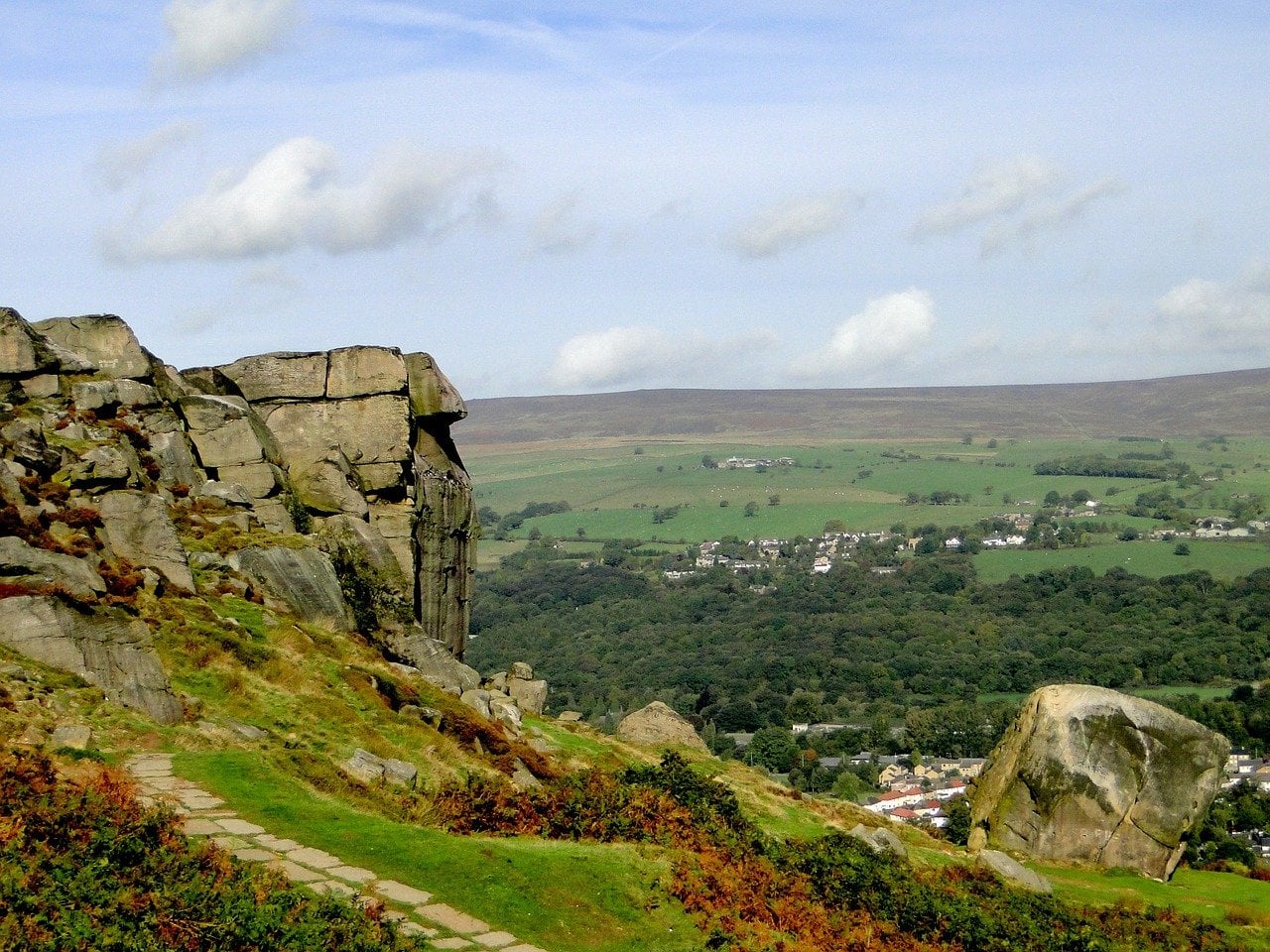 The picturesque town of Ilkley rose to fame in the 1800s as a spa town, known for its fresh air, fancy hotels and rolling moor. Nowadays, although it's no longer a spa town, it definitely still has fresh air and the famous Ilkley Moor.
Ilkley is popular in summer for days out from Leeds, especially with families, because of the Ilkley Lido. This outdoor pool is the ideal place to spend a summer afternoon and cool off from the heat. If it's raining, head to The Manor House, the local museum filled with local artefacts and artworks.
If you're feeling active, head out on the 2.4 mile circular Ilkley Moor walk. It's a super easy walk to complete on your day out from Leeds and won't take too long.
Round off your day with a pint or a pub meal at The Flying Duck, the best pub in Ilkley. With a brewery on-site, many of the beers are local brews, so it's worth sampling a few while you can!
Getting there: you can get to Ilkley on the train from Leeds in just 28 minutes! Book your train tickets here.
Harrogate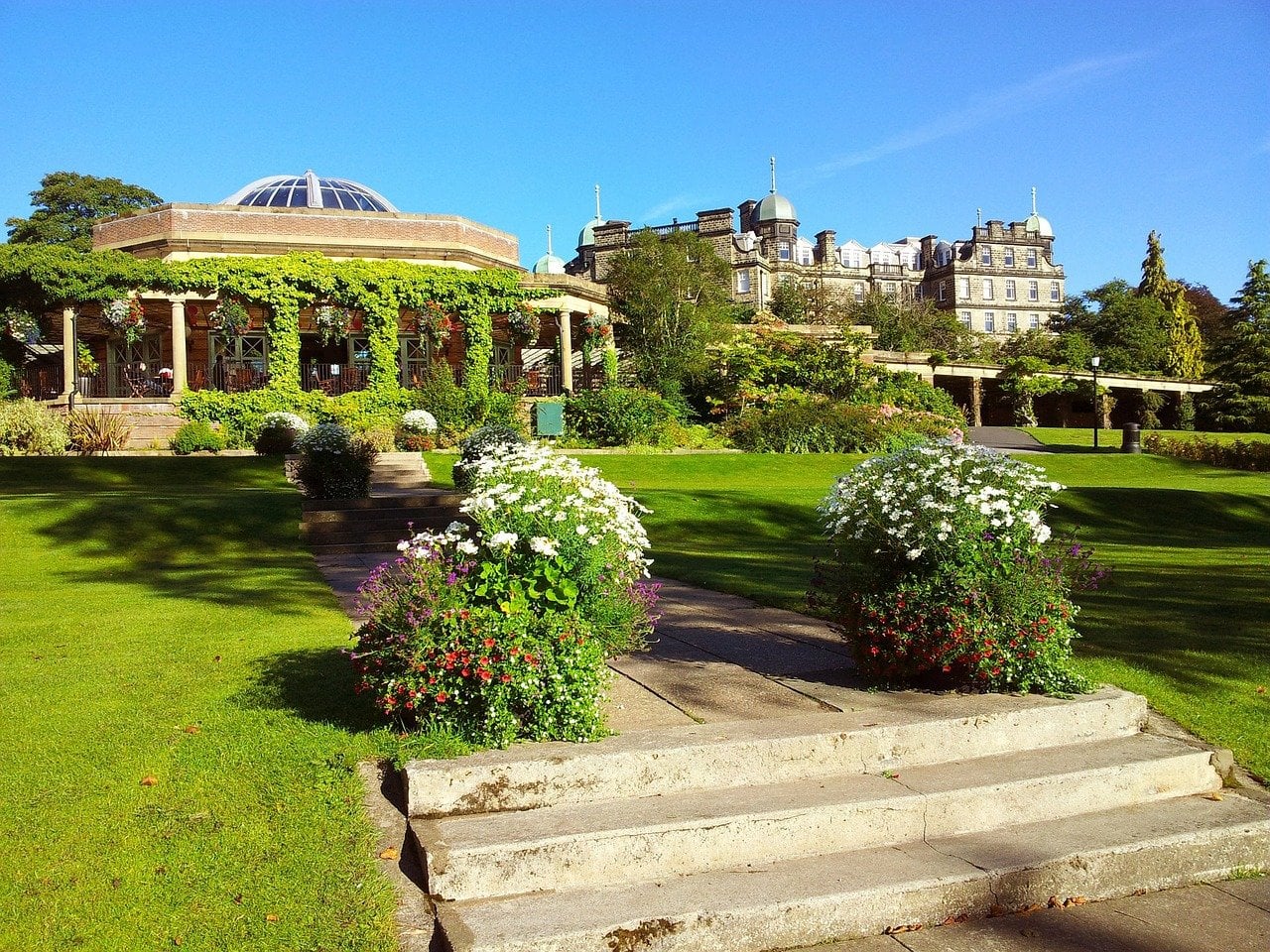 You may have heard that Harrogate is pretty fancy-schmancy, but I promise it's still worth a visit and isn't intimidating!
Harrogate again rose to fame as a spa town and is straight-up gorgeous. It's a great place to spend the day on a trip from Leeds, and it's fun to pretend to be a rich Harrogate resident for a few hours.
Start your visit to Harrogate with a stroll around the Valley Gardens to get an idea of what Harrogate was like in its prime. Here, you'll find immaculately maintained flower beds and lawns. Covering over 17 acres, you'll be able to spend plenty of time exploring here if you wish!
Next up, you absolutely have to visit Betty's Tea Room, a Harrogate institution. This cafe was opened in 1919 and merges Yorkshire and Swiss traditions, serving up breakfast, lunch and afternoon tea. Pretty much everything you order here is amazing, but the afternoon tea is my firm favourite. You get to sample a bit of everything!
After a visit to Betty's, take the opportunity to stroll around the Montpellier Quarter, the area surrounding Betty's Tea Rooms. This area of the town has over 50 independent shops, and some of them are extremely posh! It's a fun place to window shop and see how the other half live.
Getting there: The train from Leeds to Harrogate is super quick, and will have you there in just 35 minutes! We love quick and easy day trips! You can check train times and book your tickets here.
Scarborough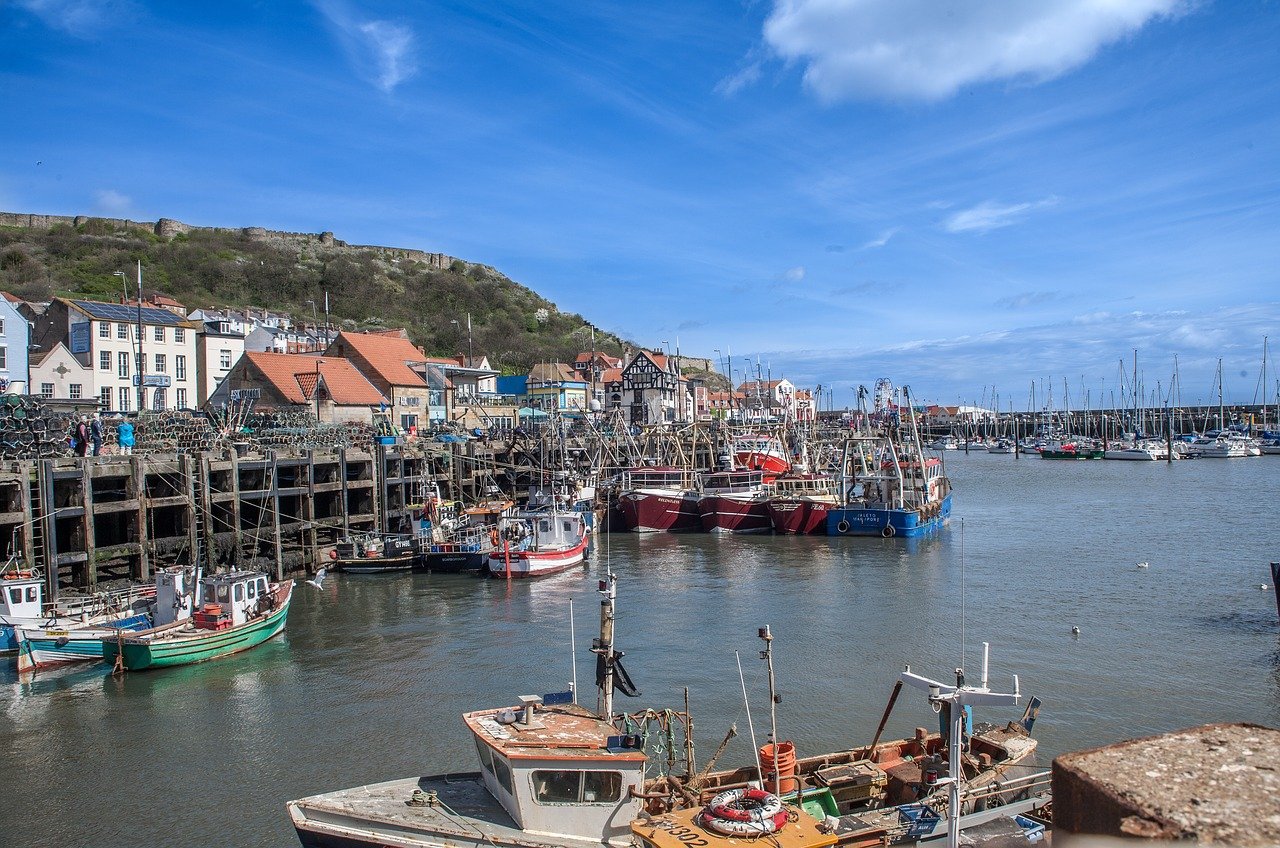 If you want a day out at the seaside from Leeds, Scarborough is your best bet. It's surprisingly easy to get to on public transport, and it's not too far away from Leeds.
Obviously, the reason you'd want to take a day trip to Scarborough is to enjoy some good old fashioned seaside fun. Grab a bucket and spade and build sandcastles on the beach, get a fish and chip lunch and maybe even get a disposable BBQ from the supermarket and have a beach barbecue as the sun sets!
Of course, Scarborough also has a tonne of amusement arcades. You can't visit the town without spending a while on the famous 2p slot machines!
Did you know that, if the conditions are right, you can even go surfing in Scarborough? You can take a surf lesson or stop by Fluid Concept surf shop to hire some gear if you're brave enough! Even if there are no waves, you can go out on the sea for some paddleboarding.
For a touch of culture, pay a visit to Scarborough Castle, a 12th-century castle overlooking the sea with amazing viewpoints. The last king to stay there was Richard III, whilst he planned defences against the expected invasion of Henry VII. Exciting stuff!
Getting there: To get to Scarborough, it'll take 1 hour 35 minutes on the train with one change in York. Check ticket prices here.
---
For more Yorkshire Coast trip inspiration check out my Yorkshire Coast Road Trip from Leeds or my post about hiking the coastal path in Staithes.
Saltaire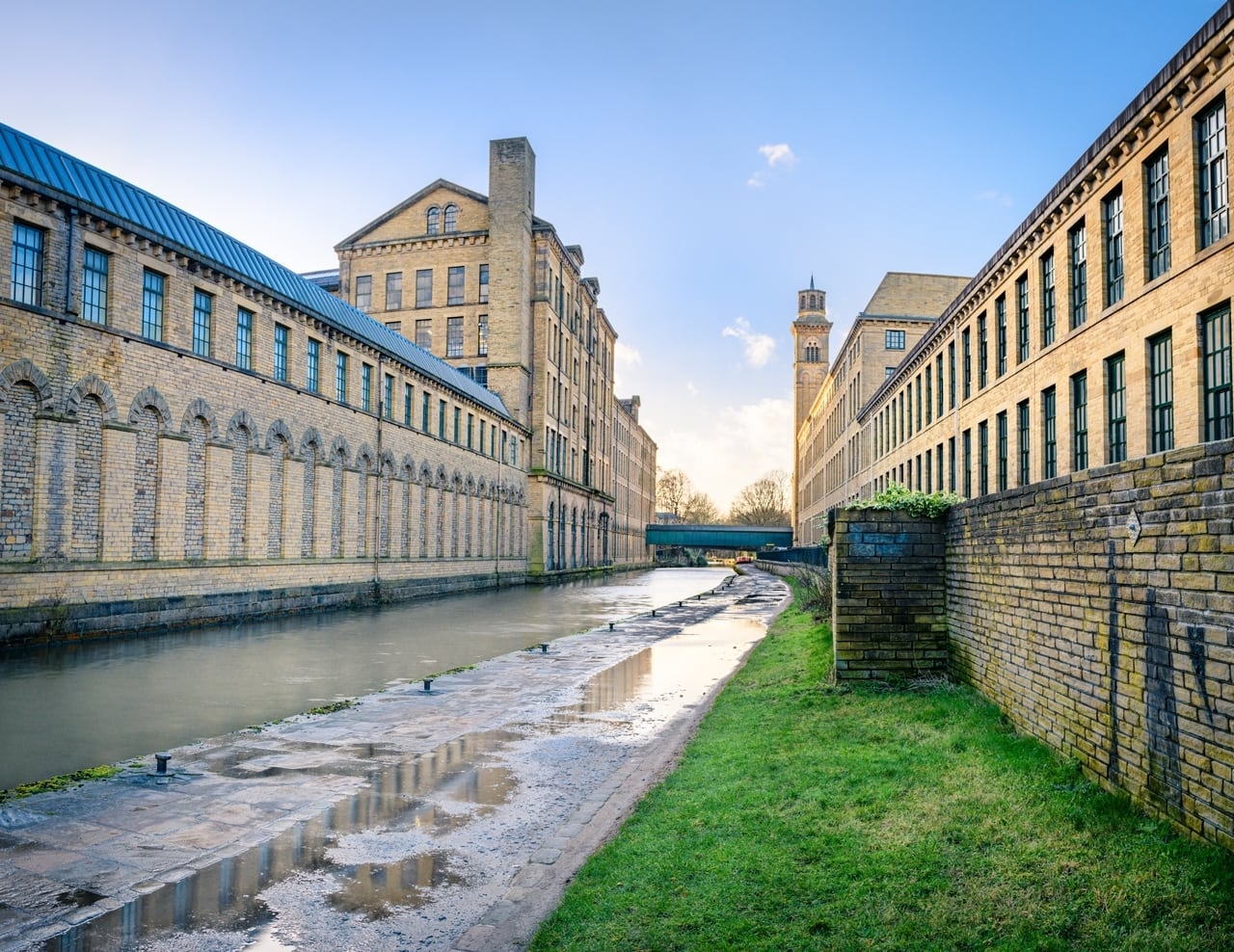 Saltaire is SUCH an easy day trip from Leeds, and it's somewhat of a hidden gem too. Sure, it gets visitors, but not half as many as it deserves!
This Victorian town was designed and purpose-built by Sir Titus Salt to house the workers of his textile mill, Salts Mill. 
Can we just talk about how awesome the name Titus Salt is?? So majestic. So Victorian. I love it!
This entire town is a UNESCO World Heritage Site because it's just so darn unique and well-preserved. The workers' housing remains and is still lived in today, and it's fascinating wandering around Saltaire and considering how perfectly planned out it all was. 
Unlike most of his trash contemporaries, Sir Titus was actually known for taking good care of his workers. He provided a free school for the children of his mill workers, a concert hall, a library and even a free gym! 
The best part of any visit to Saltaire is going inside Salts Mill. Today, it's used as a multi-purpose space for shops, rotating art exhibitions and a museum section dedicated to the history of Saltaire and the Salt family. 
To round off a day out in Saltaire from Leeds, have a drink in Don't Tell Titus. Titus Salt was no fan of alcohol and didn't want his workers to be either. For this reason, I love the tongue-in-cheek name of this bar!
Getting there: Saltaire is another one of the easiest days out from Leeds. It takes just 15 minutes on the train! Buy your train tickets here.
Awesome Hiking Day Trips From Leeds
Ignoring all the epic countryside surrounding Leeds would be a crime! Here are my favourite day trips perfect for hiking enthusiasts:
Otley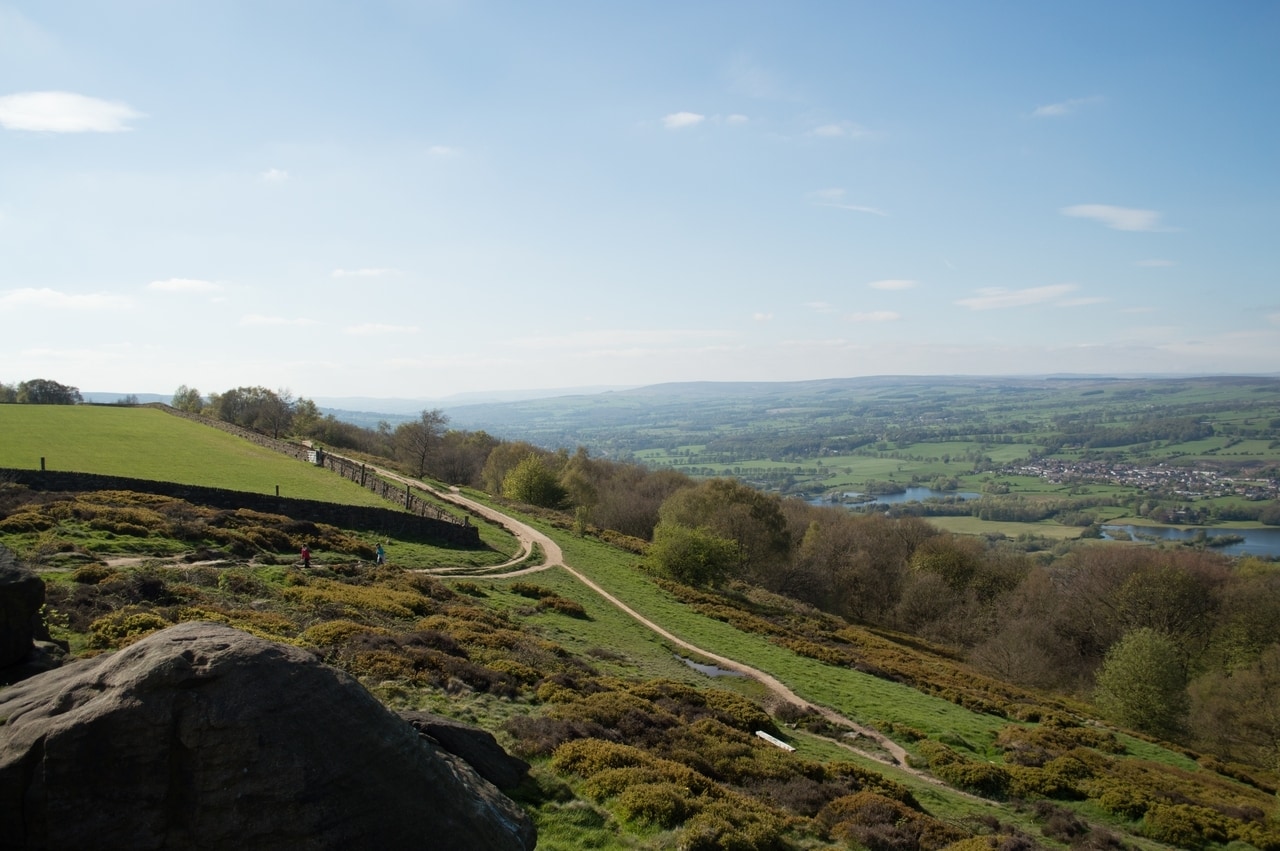 Just outside of Leeds, the market town of Otley is a peaceful retreat away from the city. It's also home to the Otley Chevin hike, which is truly enchanting. Despite being such a popular hike, it was not crowded at all. I enjoyed a good chunk of the hike without another person in sight!
The circular Otley Chevin hike is around 5.5 miles and takes in the Otley Chevin and the surrounding Chevin Forest Park. Otley is the perfect day trip from Leeds for a Sunday when you want to get out into fresh air and blow the cobwebs away!
Once you've completed the hike, the town of Otley is definitely worth dedicating some time to. One of the highlights is the Otley Market, which is held in the market square on Tuesdays, Fridays and Saturdays. 
Even without the market, Otley is such an idyllic and peaceful town to stroll around. It's full of independent shops, cafes and pubs. For a fabulous lunch, you can't miss the Stew and Oyster. Here, they serve up hearty (and truly delicious) stews, perfect to warm you up after a winter hike! They also have a range of craft beers that I can never resist!
Getting there: Get the X84 bus from Leeds City Bus Station, which will drop you off at Otley Bus Station in as little as 38 minutes!
Haworth
Haworth, home to the Brontë sisters, is where Emily Brontë wrote Wuthering Heights and where Anne Brontë wrote The Tenant of Wildfell Hall. The town is still Brontë crazy to this day!
First of all, I can't forget to mention just how stunning this town is. We're talking cobbled streets, colourful bunting, cosy pubs and amazing views over the surrounding countryside! What draws so many visitors to Haworth, though, is a visit to the Brontë Parsonage, the home of the famous literary sisters. Once you've explored the house, head to St Michael's Church to visit the family gravestone.
Before embarking on any hikes you should definitely stop off at one of Haworth's many tea rooms. I visited The Apothecary Tea Rooms which had delicious tea and scones!
The best way to immerse yourself in Brontë country (the name of the surrounding countryside) is the Top Withens hike. This hike, starting and ending in Haworth, takes you up onto the moors to visit the ruins of the Top Withens Farm. Experts think Emily Brontë used this as the setting for Wuthering Heights. If you've read the book, the bleak windswept moors will perfectly transport you back into the story. The circular hike is 8.3 miles and moderate. 
On your return to town, grab a well-earned pint at the King's Arms. As well as the usual beers, they have a whole host of Brontë inspired beers. When in Haworth, it seems only right to carry the Brontë theme over to beer too.
Getting there: Getting to Haworth from Leeds involves catching a train and a bus, but it's super simple. First, catch the train to Keighley. From outside Keighley train station, catch the B3 Brontë Bus to Haworth. In total, the journey should take around 55 minutes. Don't forget to book your train tickets to Keighley here in advance to get the best price! You can buy a bus ticket on board the Brontë Bus.
Malham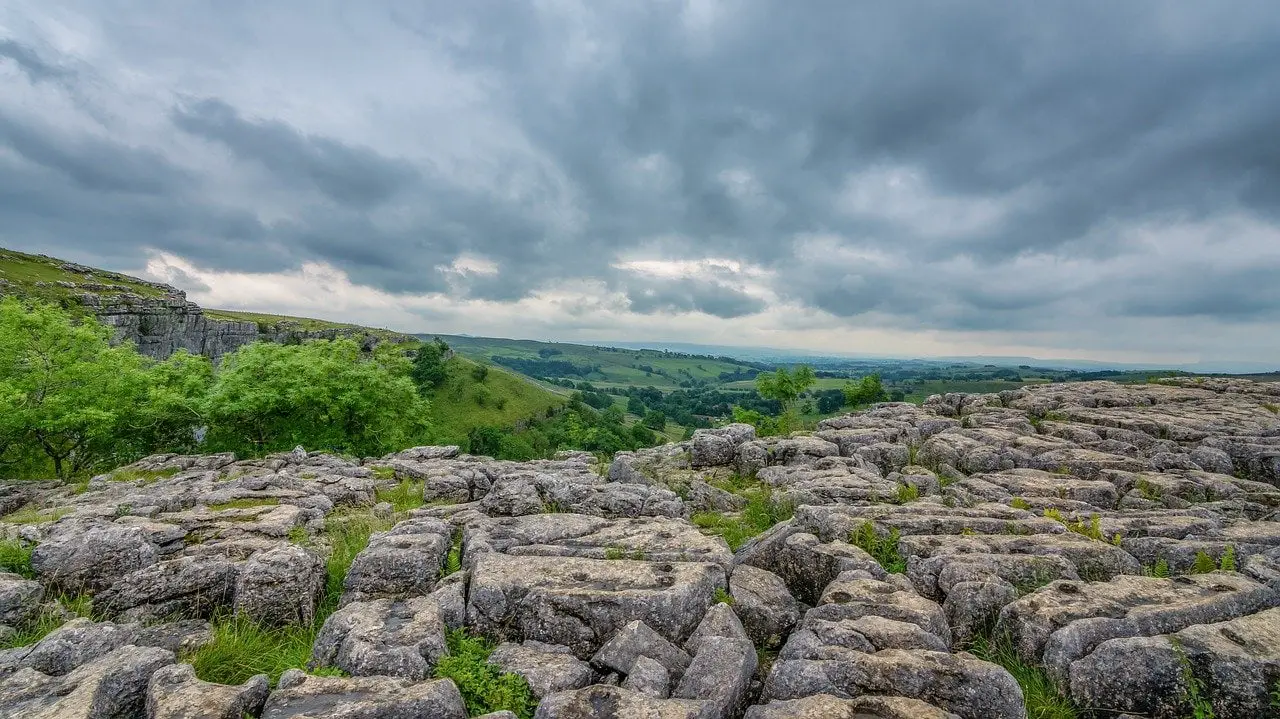 One of the most popular hikes in Yorkshire starts in the charming village of Malham. It's here that visitors arrive to start the Malham Cove hike. Malham Cove is a beloved beauty spot inside the Yorkshire Dales National Park. The Cove itself formed over 12,000 years ago from meltwater from a glacier, which is what gives it its unique appearance.
Malham Cove definitely saw a spike in popularity after the release of the Harry Potter and the Deathly Hallows movie, as part of it was shot here. Malham Cove has always been a great hiking spot for locals, though. 
The best way to see Malham Cove and its surroundings is via the Circular hike from Malham village. The hike takes in not only Malham Cove but also Gordale Scar and Janet's Foss waterfall. There are some steep sections, so keep that in mind in case you have any injuries. Overall, though, it is not a hugely challenging hike. 
The hike comes in at 7.6 miles and takes around 3 hours to walk. That leaves you with plenty of time to explore the village of Malham afterwards. Leeds will feel light-years away as you enjoy rural life in this idyllic area. 
The Lister Arms is a lovely quaint pub which also serves up fabulous post-hike lunches. I recommend recovering from your hike here!
Getting there: To get to Malham by public transport, you'll first need to catch the train from Leeds to Skipton (check train prices here). You then catch the 210 bus to Malham. The total journey time works out at around 1 hour and 40 minutes. Driving takes 1 hour and 10 minutes.
Hebden Bridge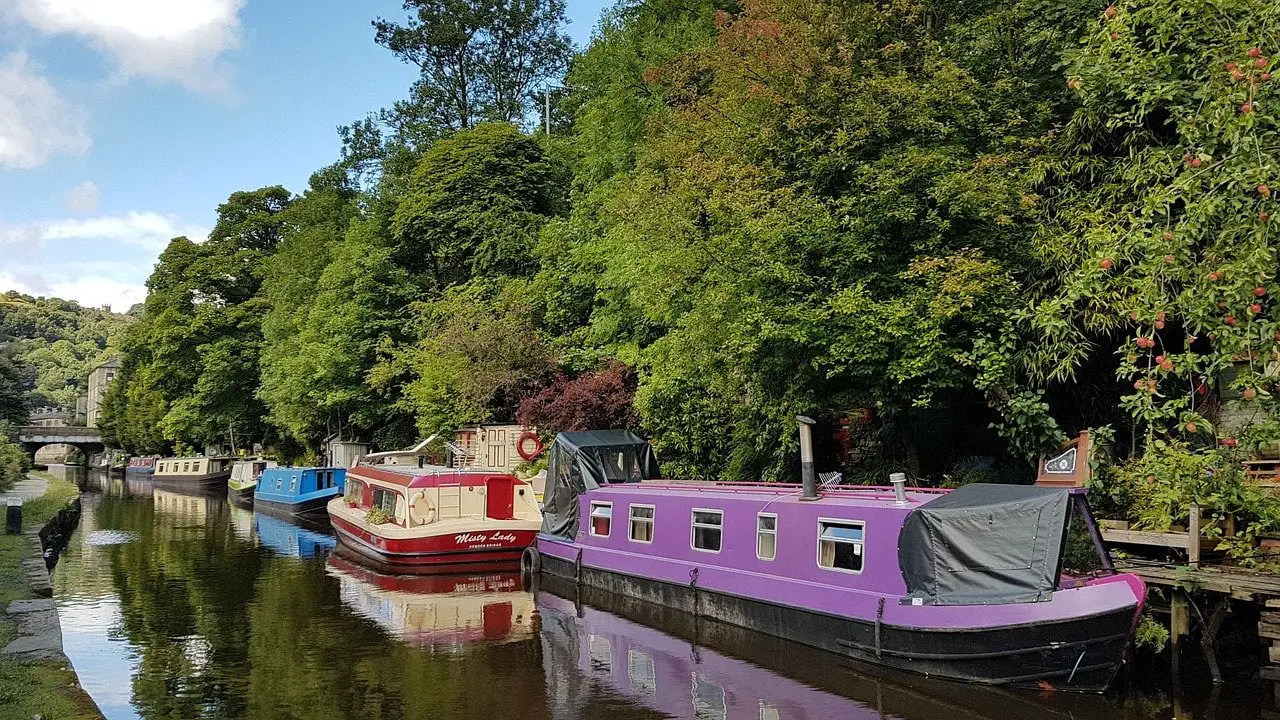 I know I shouldn't have favourites, but back when I lived in Leeds days out to Hebden Bridge really were my favourite. 
Why?
Let's see… Hebden is surrounded by miles and miles of hiking routes, meaning you can hike here weekend after weekend and not repeat the same path. It's also drop-dead gorgeous. It's also known as the "hippie town" of Yorkshire. You'll find all sorts of free spirits in Hebden Bridge, and their laid-back, carefree approach to life really is infectious. 
Add to that the town's thriving craft beer scene, and you have the best day trip from Leeds!
There are too many great hikes to list one by one, so instead I'll send you to this website. It is super comprehensive and has all the details of the best hikes near Hebden Bridge. 
My personal favourite has got to be the Hebden Bridge to Haworth hike because it combines two of my favourite towns in Yorkshire and the scenery is outstanding. 
Or do I prefer the awesome Hardcastle Crags hike??
See! There are too many amazing hikes to choose from!
Even if you're not in the mood for hiking, Hebden Bridge is a lovely town to spend the day in. You can stroll along the Rochdale Canal, meander up to Heptonstall, the hidden village above Hebden Bridge, catch some live music (or just a drink) at the Trades Club or window shop at all the unique and cute independent shops in the town.
A visit to Hebden Bridge isn't complete without rounding it off at Vocation Brewery. I return to this place time and time again! The decor here is so cool, their rotating selection of beer is always top-notch, and even their food is mouth-watering. I would visit Hebden Bridge just to have a drink here – it's that great!
Getting there: It takes just 40 minutes on a direct train to get from Leeds to Hebden Bridge. You'll love the old-fashioned Hebden Bridge train station! To check prices and book your train tickets, click here.
---
There's plenty of ideas for unforgettable day trips from Leeds here, so now it's over to you to get out exploring! The amount of fun days out available from Leeds is one of the best parts about living there, so it's important to make the most of it!
If you're looking for more awesome things to do in Yorkshire, check out my HUGE Yorkshire Bucket List post!
Which day trip from Leeds are you going to go on?