There is a good chance that this post contains affiliate links. If you make a purchase through them, I may receive a small commission at no extra cost to you! As an Amazon Associate, I earn from qualifying purchases. As ever, all opinions are my own.
Last Updated on June 22, 2022 by Ella
Split is one of the most visited cities in Croatia, and with a ton of budget airlines operating out of its airport, I'm sure that's not going to change anytime soon!
Split itself is an awesome city, and I had so much fun there! There's Diocletian's Palace, Marjan Park, and, of course, the beautiful Riva waterfront.
That said, though, you don't need to allocate more than one full day to explore the city of Split. This is ideal, as it leaves you plenty of time to explore more of Croatia on day trips from Split.
I visited Split for 5 days and spent 4 of those on day trips. I did a ton of research beforehand, so I knew exactly where I wanted to visit, but I knew I had to make some tough decisions… There are just so many different options!
To help you plan your perfect trip to Split, Croatia, here are my suggestions for amazing day trips from Split!
5 Island Tour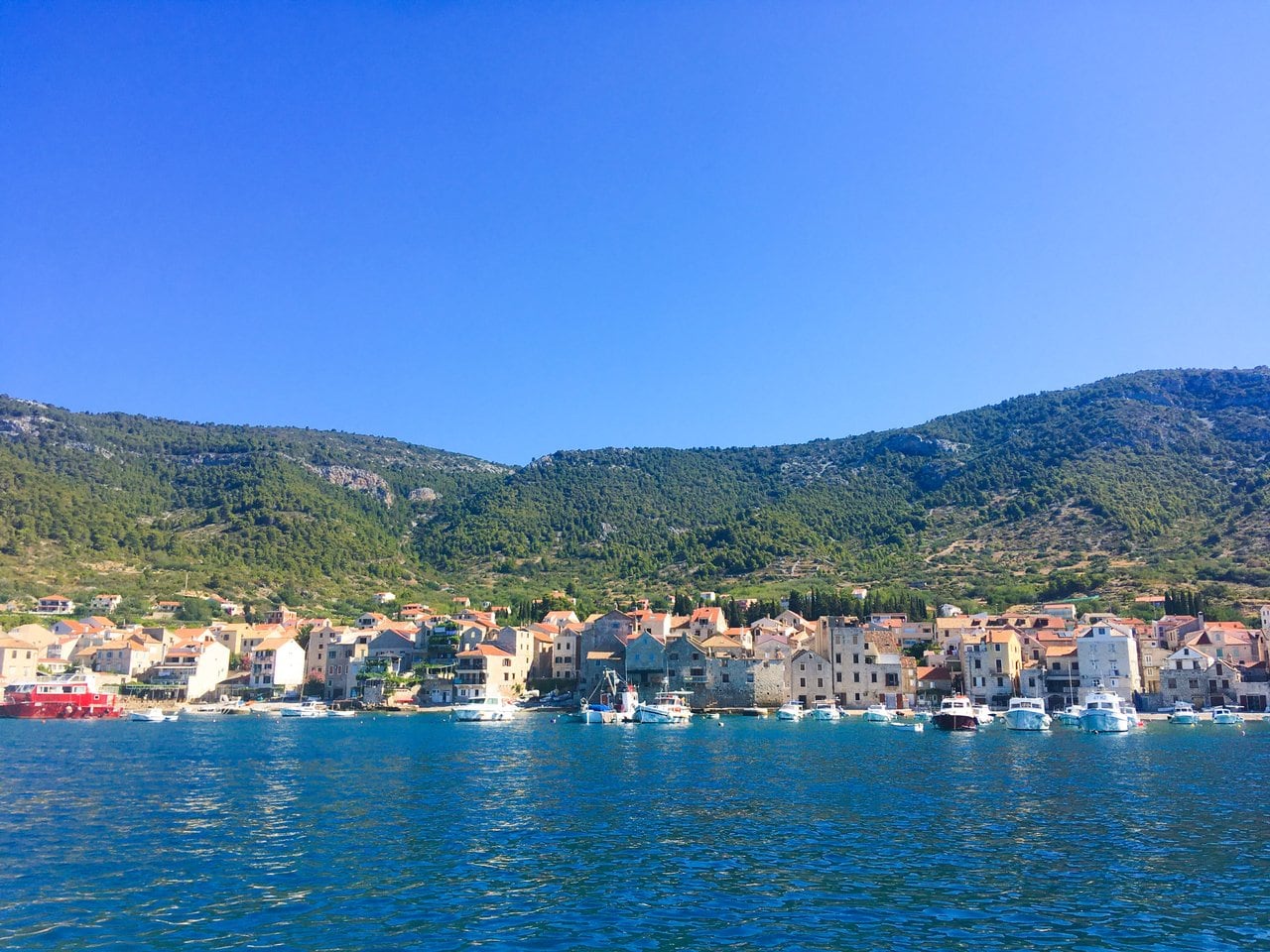 The 5 Island tour is probably the most popular day trip from Split because it's so easy to do!
This tour is a full day of hopping around the islands and attractions surrounding Split. It's the ideal way to get a taste of Croatia's islands if you're short on time and can't make dedicated trips to them all. 
Starting at Split, the 5 Island Tour pays a visit to the town of Komiža (on the island of Vis), the Blue Cave, the Blue Lagoon, Stiniva Cove and Hvar. The day tour lasts a whopping 10 hours!
I had an epic time on the 5 Island Tour, and it was the best thing I did during my visit to Split by far. You can read my full review of the 5 Island Tour here.
Getting there: Unfortunately, it's not possible to do the 5 Island Tour without a tour group (unless you have your own speedboat!). I went on this tour and I highly recommend it! All 5 Island Tours depart from Split Harbour. 
Click here to check availability & book!
3 Island Tour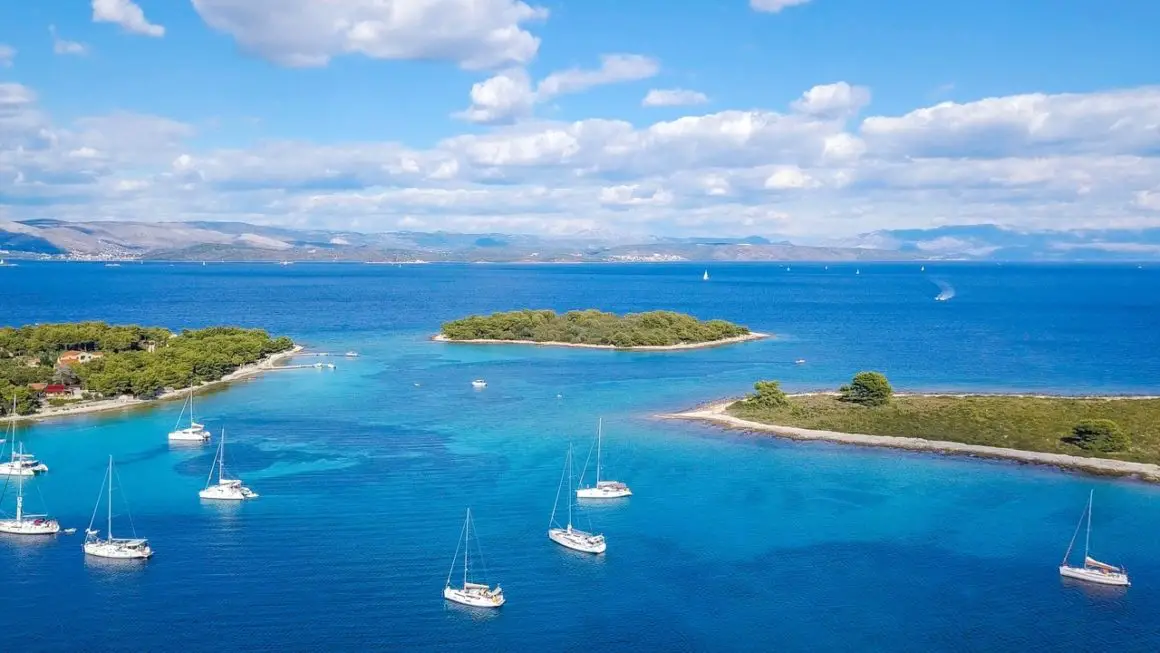 If you're on an even more limited time budget but still want to go island hopping from Split, your best bet is the 3 Island Tour. Like the 5 Island Tour, this is a speedboat tour that'll take you to a few beautiful spots off the coast of Split. Unlike the 5 Island Tour, the 3 Island Tour is just 5.5 hours long. It's ideal if you only have half a day to spare.
The 3 Island Tour stops at Trogir, the Blue Lagoon and the dreamy island of Šolta. Trogir often comes up on lists of the best day trips from Split but, in my experience, there aren't enough things to do in Trogir to spend a full day there. It's far better to just spend an hour or so visiting on the 3 Island Tour.
Getting there: Like the 5 Island Tour, it's not possible to go on the 3 Island Tour without a tour group or your own speedboat. I did both the 5 Island and 3 Island Tours, and although I thought the 5 Island was the better of the two (you get to visit way more destinations, after all), the 3 Island Tour is still a great choice. I went on this tour and had a great time.
Intrigued? Read my full 3 island tour review here.
Hvar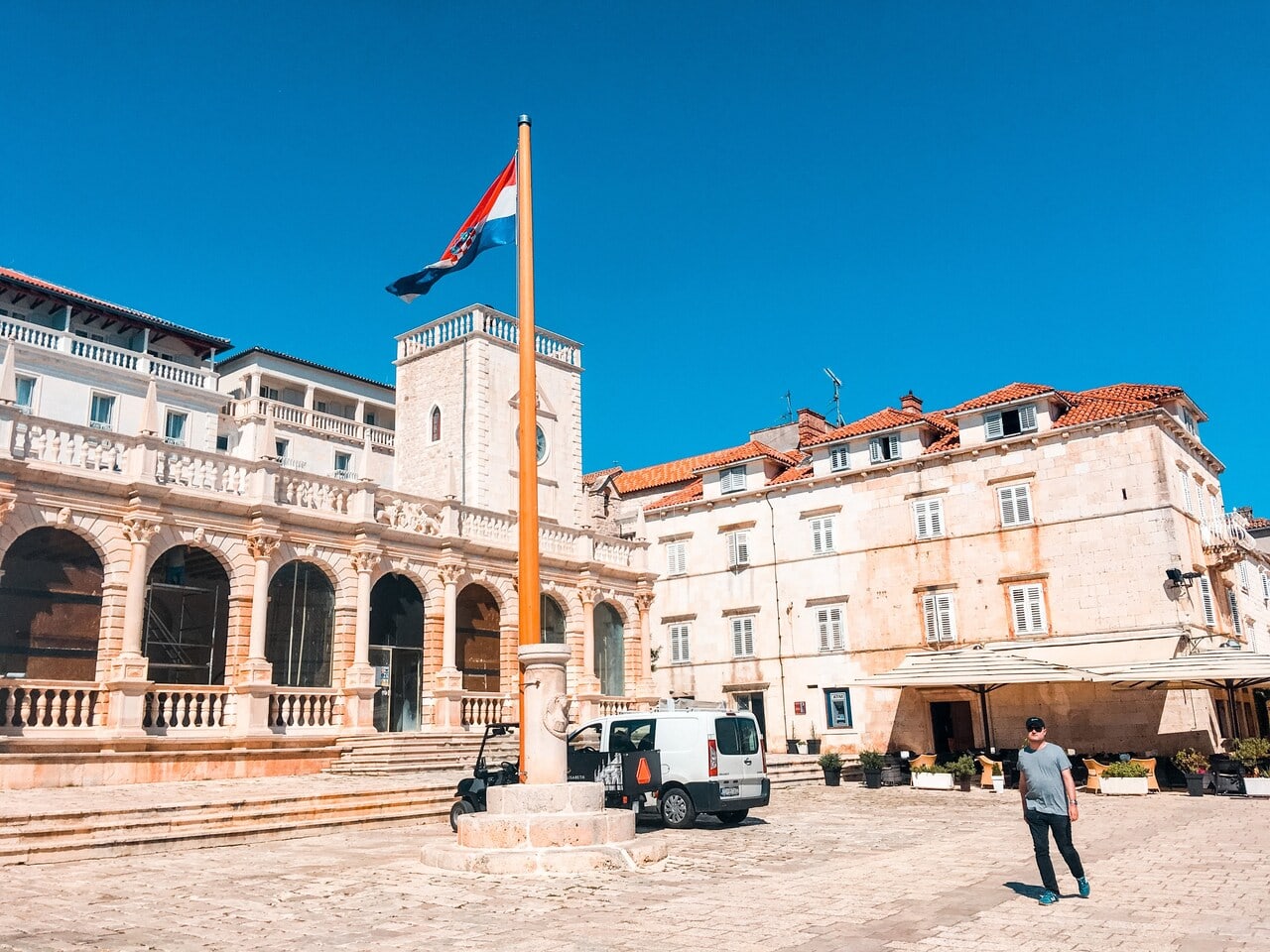 A playground for the rich and famous and broke backpackers alike, Hvar Town (on the island of Hvar) is well worth a day trip from Split. Even approaching the town on the ferry, before you step foot on the island, you'll be in love!
I visited Hvar on the 5 Island Tour, and I loved it so much that I returned the very next day so I could spend the full day there!
Start your visit with a wander around the stunning whitewashed old town before making the climb to the Tvrdava Fortress. From here, you'll get epic views of Hvar's coastline and the surrounding islands. 
Once you're back in town, head to Pokonji Dol Beach to cool off in its crystal clear waters and catch some rays. If you're able to tear yourself away from your sun lounger, head to Hula Hula Beach Bar for sunset and toast to the day with a glass of irresistible Croatian wine.
Getting to Hvar from Split: Ferries run from Split Harbour to Hvar multiple times a day (and are more frequent in summer). The journey takes between 55 minutes and 1 hour and 40 minutes. If you're going on a Split to Hvar day trip during peak season, book your ferry tickets as soon as possible. They sell out fast!
Krka National Park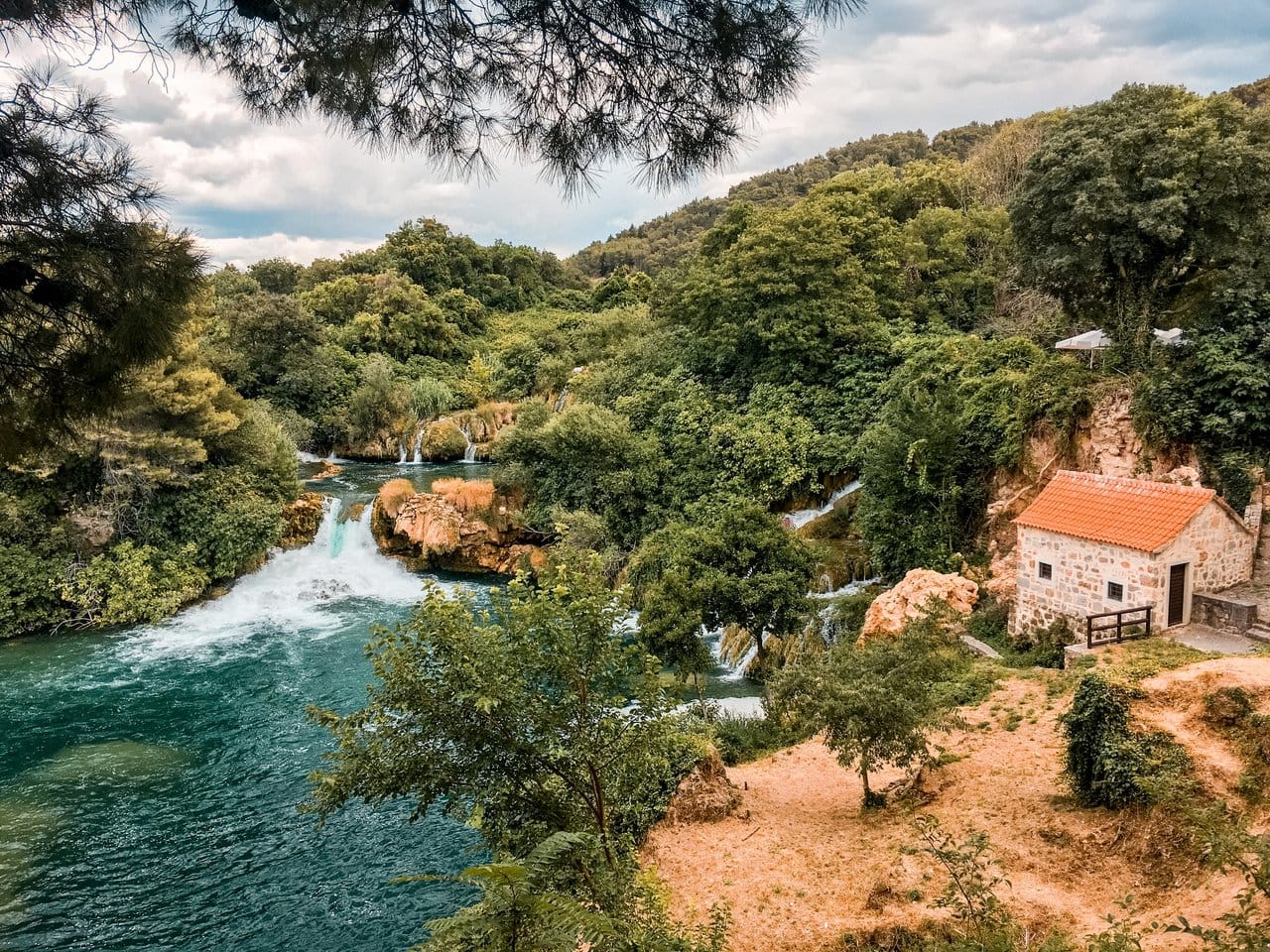 Krka National Park is another one of the incredibly popular day trips from Split. Not only is it super easy to visit from Split, but it's also one of the most beautiful places in Croatia.
The chain of waterfalls in this national park are huge and impressive, and also (obvs) incredibly photogenic. Because of this, if you want photos without anybody else in, make sure you get there as early as possible. 
When I visited, visitors could swim in the water, which was a truly unforgettable experience. Unfortunately, however, as of January 2021 visitors can no longer swim in the Krka waterfalls due to conservation concerns. This totally sucks, but it's understandable, and it's no reason not to visit!
Hike the trails around the waterfalls to get the best viewpoints, and then catch the ferry through the national park (which is an awesome way to see more of the park) to the tiny town of Skradin, where you can explore some more.
Getting to Krka from Split: You can catch a bus from Split to Skradin, where you'll catch the ferry into the national park. The journey takes around 1.5 hours and bus tickets cost around €15 return. You'll then also need a park entry ticket, which costs between €4 and €26.50 depending on when you visit! You could also hire a car to get there. 
I opted to join this Krka waterfalls tour from Split. It ended up not costing much more than visiting independently and meant I would have a guide. Plus, I hate the hassle of navigating buses in foreign countries, so the convenience of getting there directly was well worth it for me!
Zadar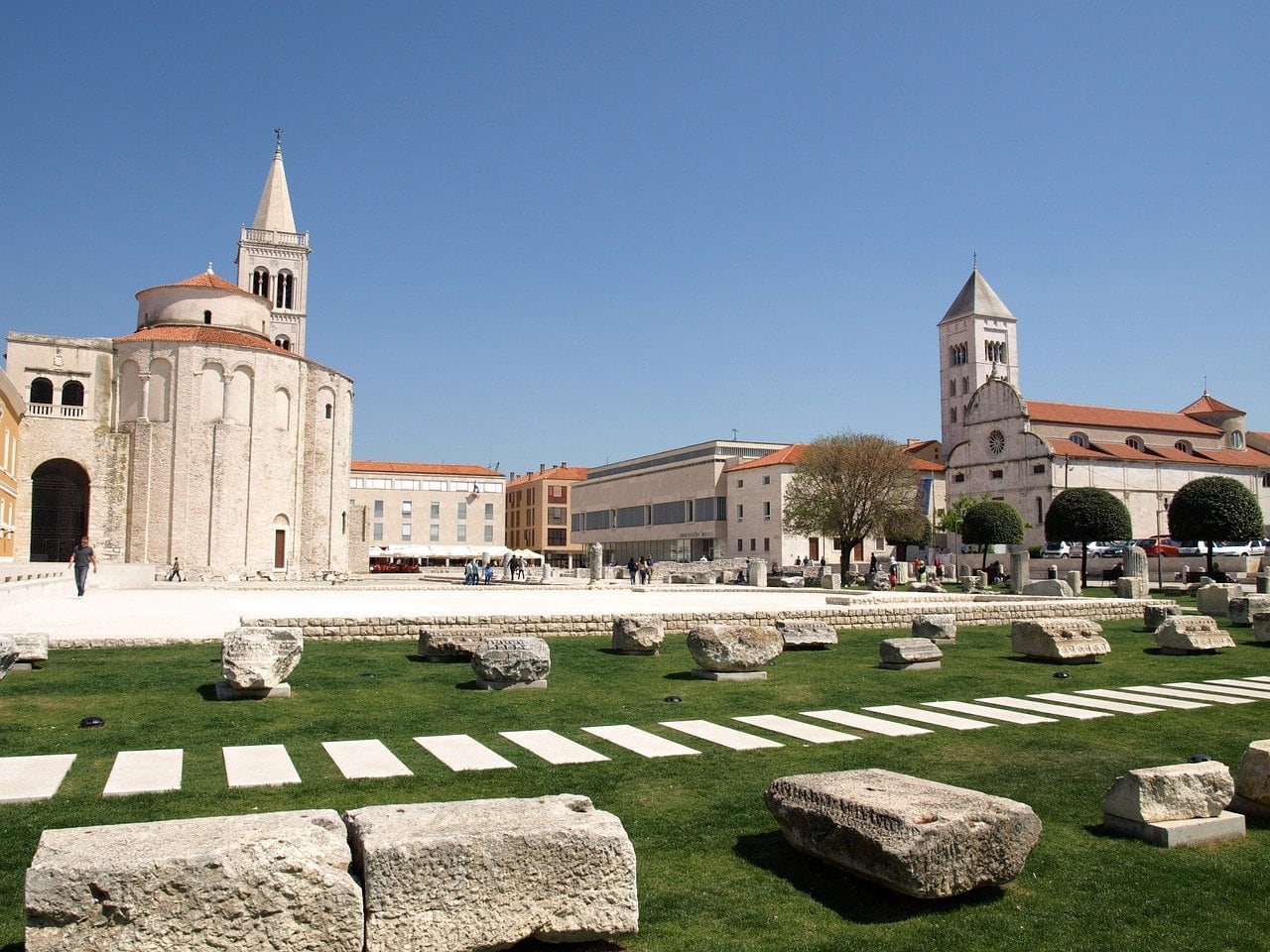 Zadar has been an up-and-coming Croatian city for a few years now, but it's still not as popular as Split and Dubrovnik. This means you'll have all of its beauty but half of the crowds!
Like Split, You'll find Zadar on the Dalmatian Coast, and it's known for its Roman history. Roman ruins mingle with the city's more modern streets, so you won't have to look far to come across a historical landmark. The jewel in Zadar's Roman crown, though, is definitely the ancient Roman Forum, one of the city's most famous landmarks.
Don't miss Zadar's Sea Organ and Sun Salutation. The Sea Organ is a set of stairs designed to whistle and sigh as the wind passes, and the Sun Salutation is another quirky architectural site designed by the same person who designed the Sun Salutation.
Getting to Zadar from Split: The bus from Split to Zadar takes around 2 hours and 30 minutes, so this will be a day trip you'll need to get up early for! Return tickets cost around €27, but the sooner you book the better the deal you'll get.
Makarska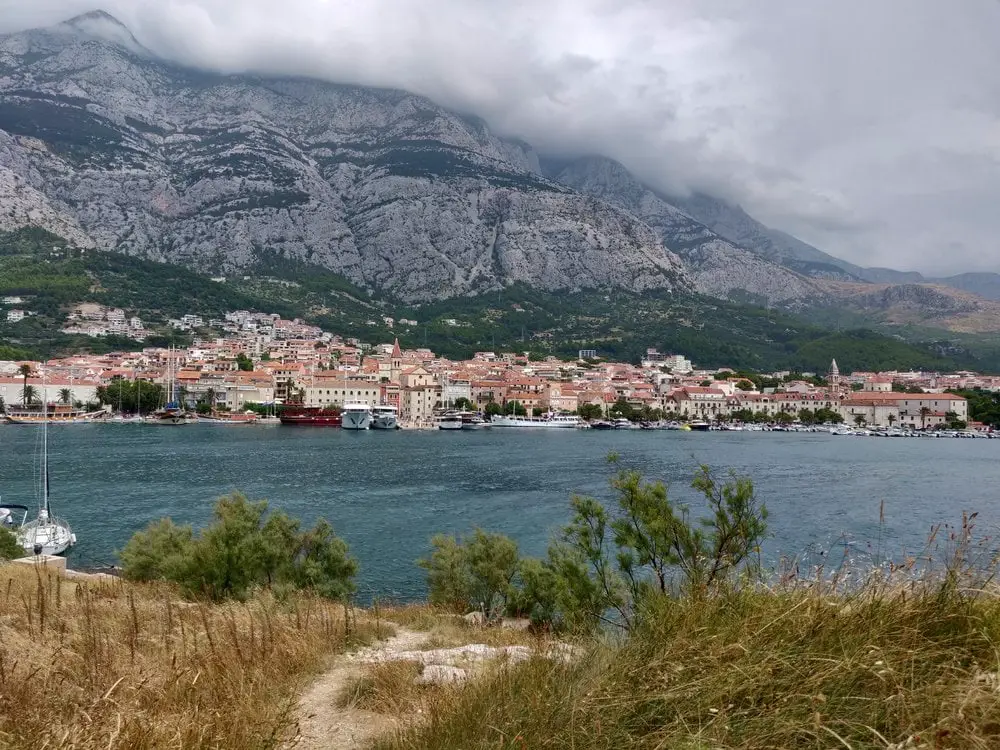 You'll find the stylish Makarska Riviera just 90km from Split. Situated at the foot of Biokovo Mountain, this historic city features a long pebble beach, a sleepy Old Town, and plenty of trendy cafes, restaurants and bars.
There aren't a ton of attractions in Makarska, so a visit here is all about relaxing – you can go hiking, chill on the beach, do some cliff jumping, or just go cafe hopping. It's a great spot to get away from the tourist crowds of Split and spend the day chilling.
Getting to Makarska from Split: The easiest way to get to Makarska is by bus, which takes around 1 hour and 20 minutes. Tickets cost around €3 each way.
Trogir and Solin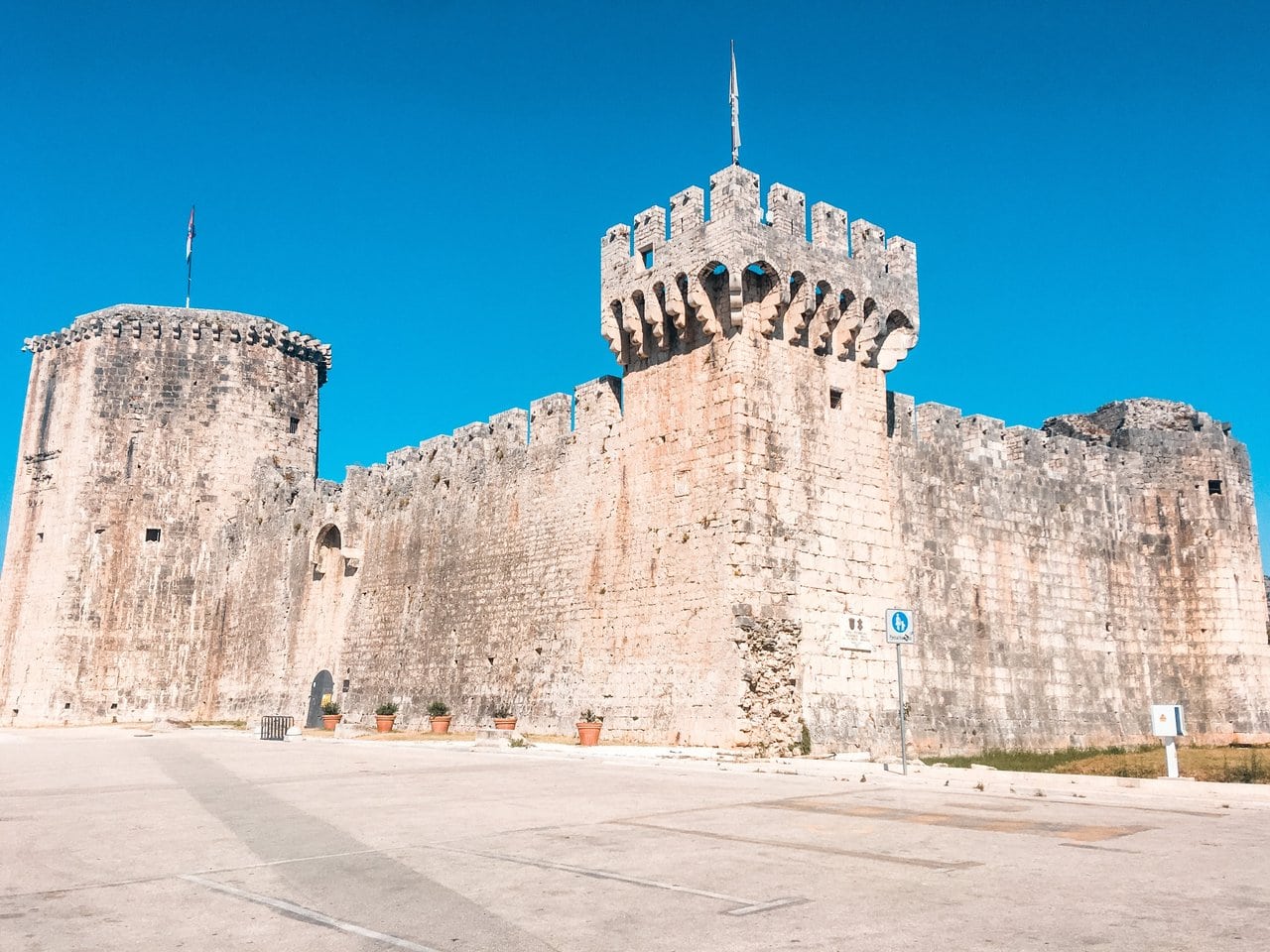 As I mentioned earlier, I don't think that there is enough to do in Trogir to spend the full day there. It's definitely still worth visiting, though! That's why I recommend combining a visit to Trogir with a trip to the Roman town of Salona.
Start the day by catching the bus from Split to Trogir, and spend the morning walking the perimeter of Kamerlango Castle, check out the UNESCO listed Cathedral of St Lawrence and go for a swim off Pantan Beach. 
From Trogir, it's time to head over to Solin. This town was the birthplace of Emperor Diocletian (the dude Diocletian's Palace in Split is named after). The top attractions here are all Roman ruins, which are fascinating to explore, and you can design your own self-guided walking tour around them. 
From Solin, it's just a 7-minute bus journey to Klis Fortress. The forstress was a Game of Thrones filming location and defended against the Ottoman invasion in Europe in the early 16th century.
Getting there: From Split bus station, take the number 37 bus to Trogir, which takes 50 minutes and costs just a couple of Euros. From Trogir, it's a 20-minute bus journey to Solin. From Solin back to Split, you can catch the train, which takes 10 minutes.
Plitvice Lakes National Park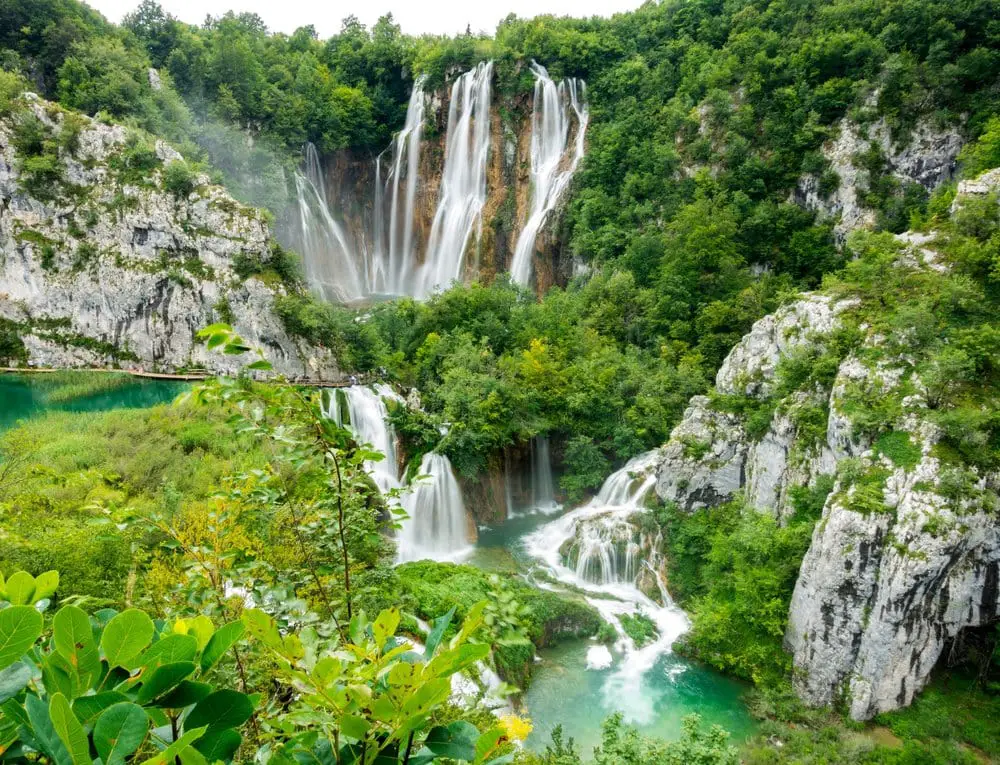 Visiting the Plitvice Lakes from Split is quite the mission (it's over 270km away!), but I totally understand why you would want to do it. After all, Plitvice Lakes are the most popular tourist attraction in Croatia!
The good news is, if you're okay with a long day, a day trip from Split to Plitvice Lakes National Park is definitely possible.
The national park was awarded World Heritage Status in 1979, and exploring its sixteen lakes is on most visitors to Croatia's bucket list. There are several walking trails through the park designed to help you see all of the highlights. 
If you're visiting independently, aim to arrive at Entrance 1 and take route C. Walking this trail should take you around 4 hours. It includes both the lower and upper lakes, and the opportunity to take a boat trip across the lakes. If you're visiting on a guided tour, your guide will take you around all of the best areas and share their local knowledge with you.
Getting to Plitvice Lakes from Split: The national park is really far away from Split, so the only feasible way to visit on a day trip from Split is on a guided tour or drive yourself. This tour is one of the cheapest, is one of Get Your Guide's top picks and gets rave reviews. However, it's worth noting that the park entry fee is not included, so budget for that too (€24).
Bol, Brač Island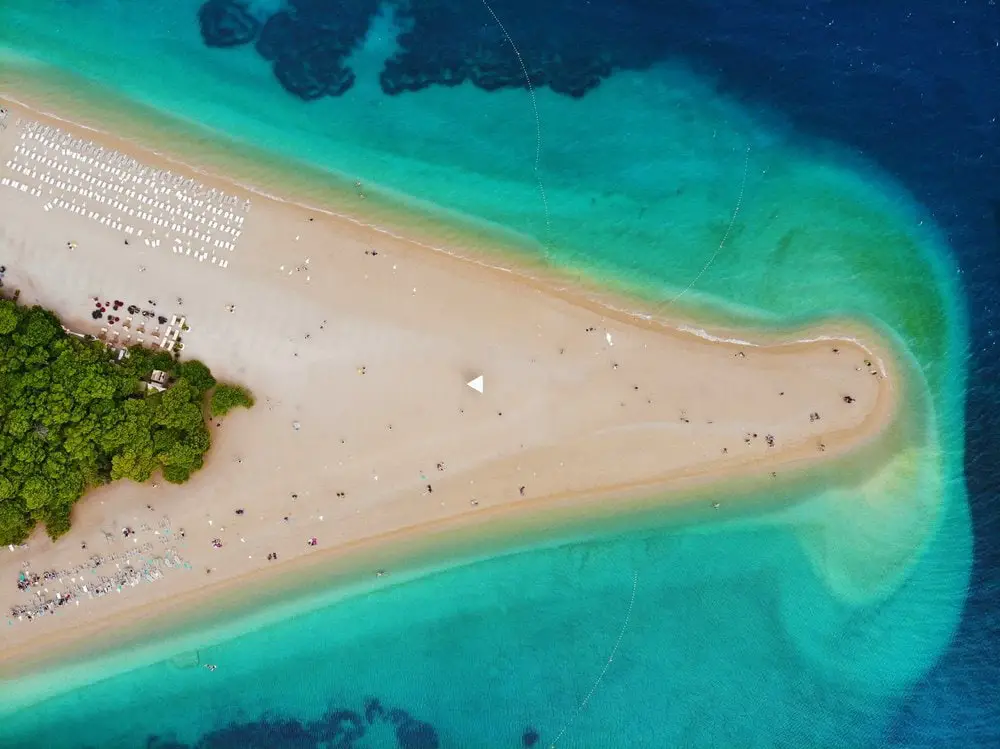 If you've ever searched Croatia on Google Images, chances are you'll have seen a photo of Zlatni Rat Beach in the town of Bol, on the island of Brač. This long spit of sand, which is also known as the Golden Horn, is one of the most recognisable places in Croatia. It lures people from all over the world!
Bol is the windsurfing capital of Croatia, so it's always busy with windsurfing enthusiasts, but it's also a very popular holiday destination with Croatian families and has some of the best beaches around. 
There's not a ton to do in Bol aside from windsurfing and hanging out at the beach, but in my opinion it's still well worth a visit as it's stunning! A word of warning, though. I don't recommend sunbathing on the Zlatni Rat Beach itself. It's very exposed there, so it's suuuuper windy, and gets quite cold! Instead, head over to a more sheltered area.
For more info on Bol, check out my full Bol travel guide!
Getting to Bol from Split: In summer there are 4 ferry journeys per day that run between Split and Bol. The journey takes around 1 hour and return tickets cost around €26.50.
If you want to see more with your day, you can catch the ferry to Supertar, also on the island of Brač, then get the bus or a taxi to Bol. That way, you'll get to see both towns!
Mostar, Bosnia & Herzegovina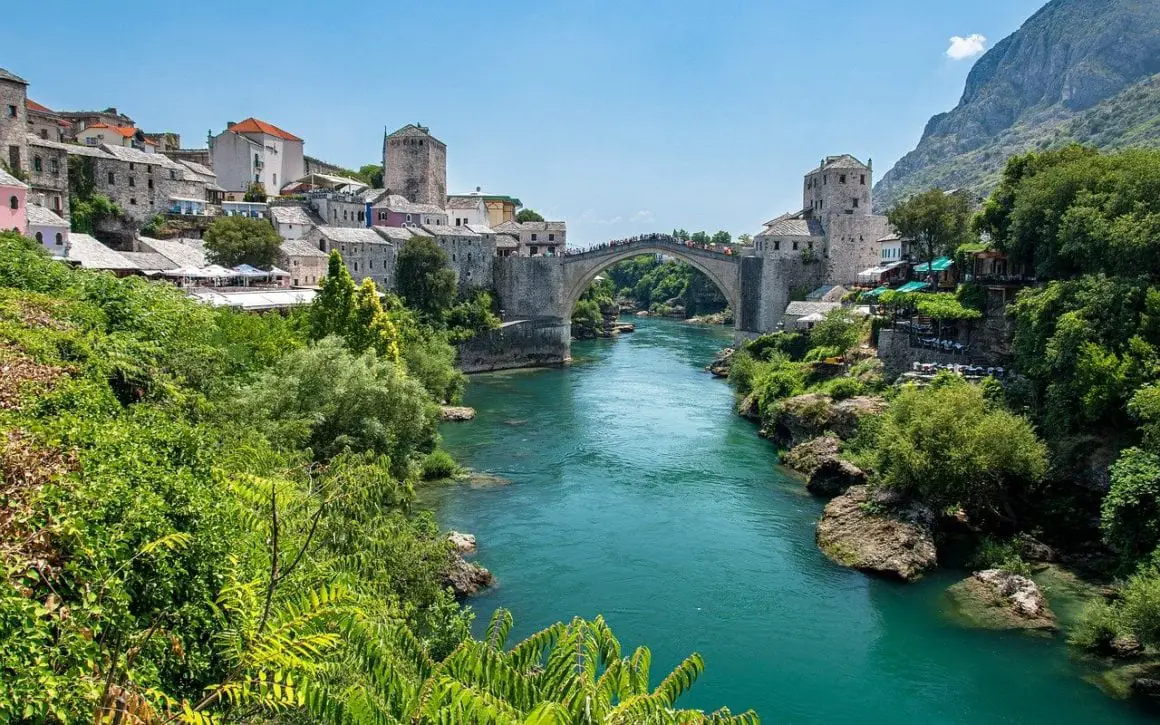 This is another one of the longer day trips from Split, but what makes it so cool is you can briefly visit a whole new country on this day trip!
Mostar, a charming city in Bosnia and Herzegovina, is 170km from Split. Because of this, it's just about doable on a day trip. Although the distance isn't too far, crossing the border twice in one day could waste quite a bit of time if you're unlucky.
The tour you'd need to take to get to Mostar stops off at Pocitelj, a medieval Ottoman-style village in Bosnia and Herzegovina, and the Kravica Waterfalls, a popular swimming spot.
Once you're in Mostar, don't miss visiting the Old Bridge, the city's most famous landmark, carefully rebuilt after being destroyed in the conflict of the 1990s. 
Getting to Mostar from Split: You can either drive yourself or join a guided tour from Split to Mostar. The public bus journey takes around 3 hours and 30 minutes each way, so it's not really an option for a day trip! Don't forget to pack your passport for the border crossing.
Guided day trips from Split are lengthy, lasting for 11 or 12 hours depending on traffic, so you'll definitely be getting your money's worth! Find out more about the Split to Mostar tour here.
Korcula
This is a long day trip from Split that's easy to do without a tour group, so if you're on a tight budget a visit to Korcula for the day is the solution!
The day will be a very early start, so as soon as you arrive in Korcula grab a coffee in the Old Town and spend some time people-watching. Once you've got your caffeine fix, it's time to explore! The morning is the best time to wander the streets of Korcula's idyllic old town since it'll be quieter and also not too hot yet.
As temperatures rise, step inside St Mark's Cathedral, and then head to the kitschy yet interesting Marco Polo Museum. In the afternoon, take the 15-minute ferry to the tiny island of Badija, where you can spend some time on its beautiful beaches and explore its Franciscan Monastery.
Getting to Korcula from Split: Ferries run between Split harbour and Korcula 3 times a day in summer, and the journey takes between 2 hours and 15 minutes and 3 hours and 40 minutes.
In summer, catch the first ferry of the day, at 6am, and head back to Split on the 6:45pm ferry. Return tickets cost around €40. Pack some entertainment for the long journey!
Cetina River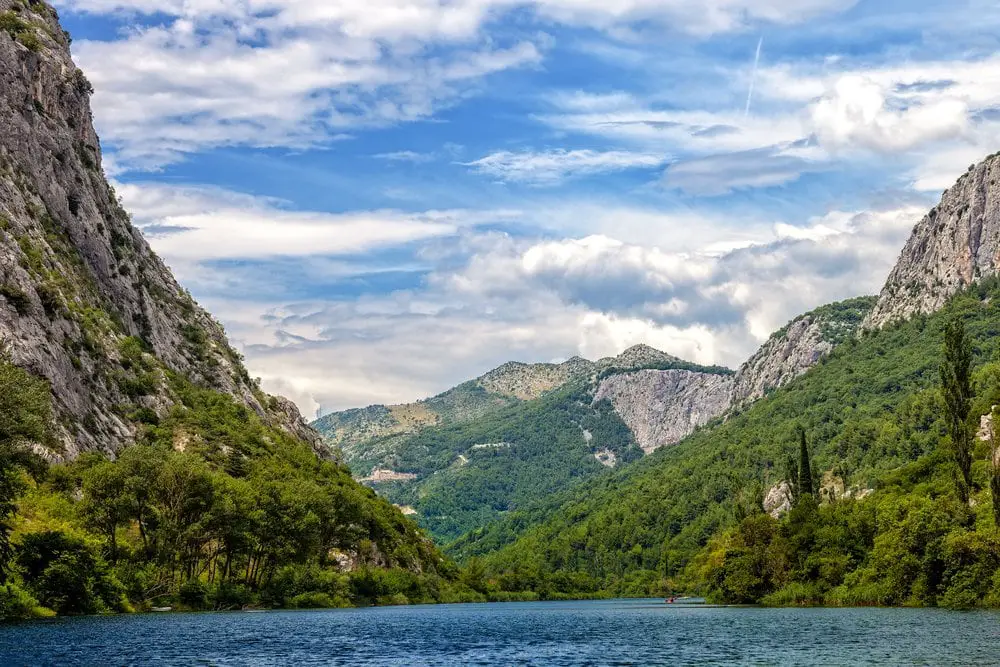 When it comes to adventure activities near Split, rafting and cliff jumping at the Cetina River are definitely the most popular! For safety reasons (and so you can use their equipment) you'll have to join a tour group, but the good news is they are pretty affordable, coming in at around €30.
The river has a combination of calm, tranquil areas and second and third grade rapids, so you'll get a taste of both relaxation and adventure. Rafting here is suitable for beginners as well as those more experienced, and every tour leader will run through a safety induction before you get in the water. 
As if the rafting wasn't enough, the Cetina River is perfect for canyoneering, and you can jump off rocks up to 5 metres above the water. Combine that with swimming, exploring caves and showering under waterfalls, and a trip to the Cetina River sounds pretty unmissable!
Getting to the Cetina River from Split: This awesome tour from Split lasts for 5 hours, gets a ton of excellent reviews, and includes everything you could possibly want to do at the Centina River.
Dubrovnik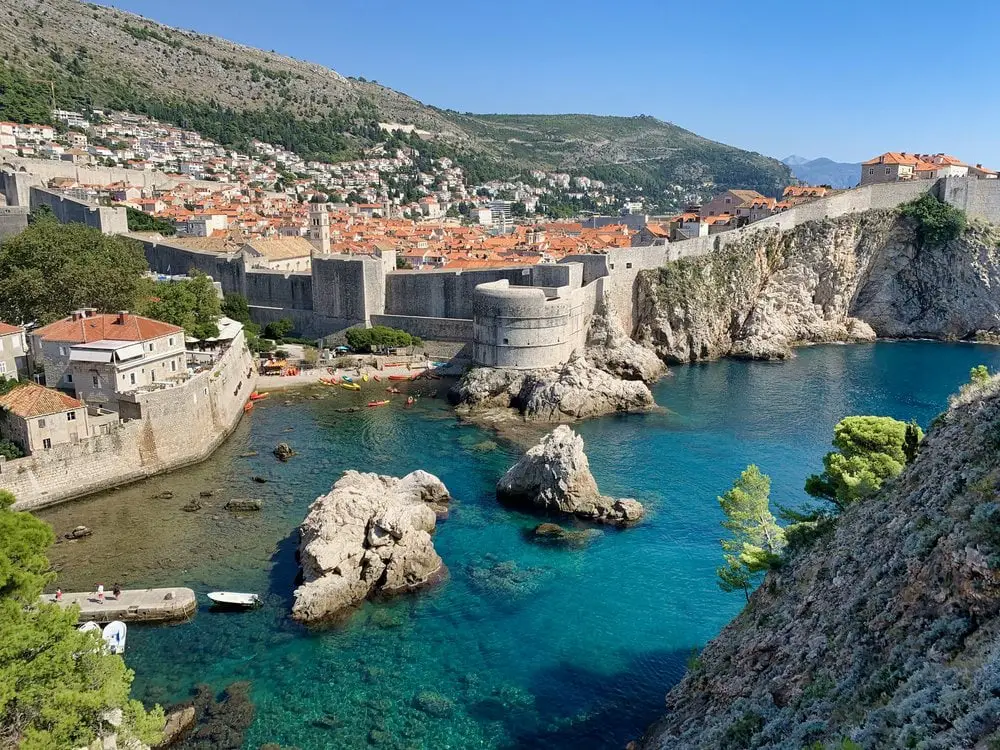 This is definitely the longest and most gruelling on this list of day trips from Split, but plenty of visitors to Split often want to combine their trip with a visit to Dubrovnik. After all, this city is hyped beyond belief, so surely it must be worth a visit?
If you can stay overnight in Dubrovnik, making it a 2-day trip from Split, I highly recommend this. The journey from Split to Dubrovnik takes over 4 hours, so the longer you can spend in Dubrovnik the better!
Dubrovnik is popular for a reason, though. Pretty much everywhere you walk in the UNESCO listed Old Town is centuries old, and its role as a filming location for Game of Thrones has only added to its popularity. Spend the day walking the Old Town walls, stop by Luza Square, visit the Franciscan Monastery and head to a beach.
Getting to Dubrovnik from Split: The only realistic way to do this day trip is on a guided tour. because using public transport would take forever. If you spent 8 hours of the day driving back and forth you'd be far too tired to enjoy Dubrovnik.
This tour is affordable, takes all the planning off your shoulders and gets fabulous reviews!
Šibenik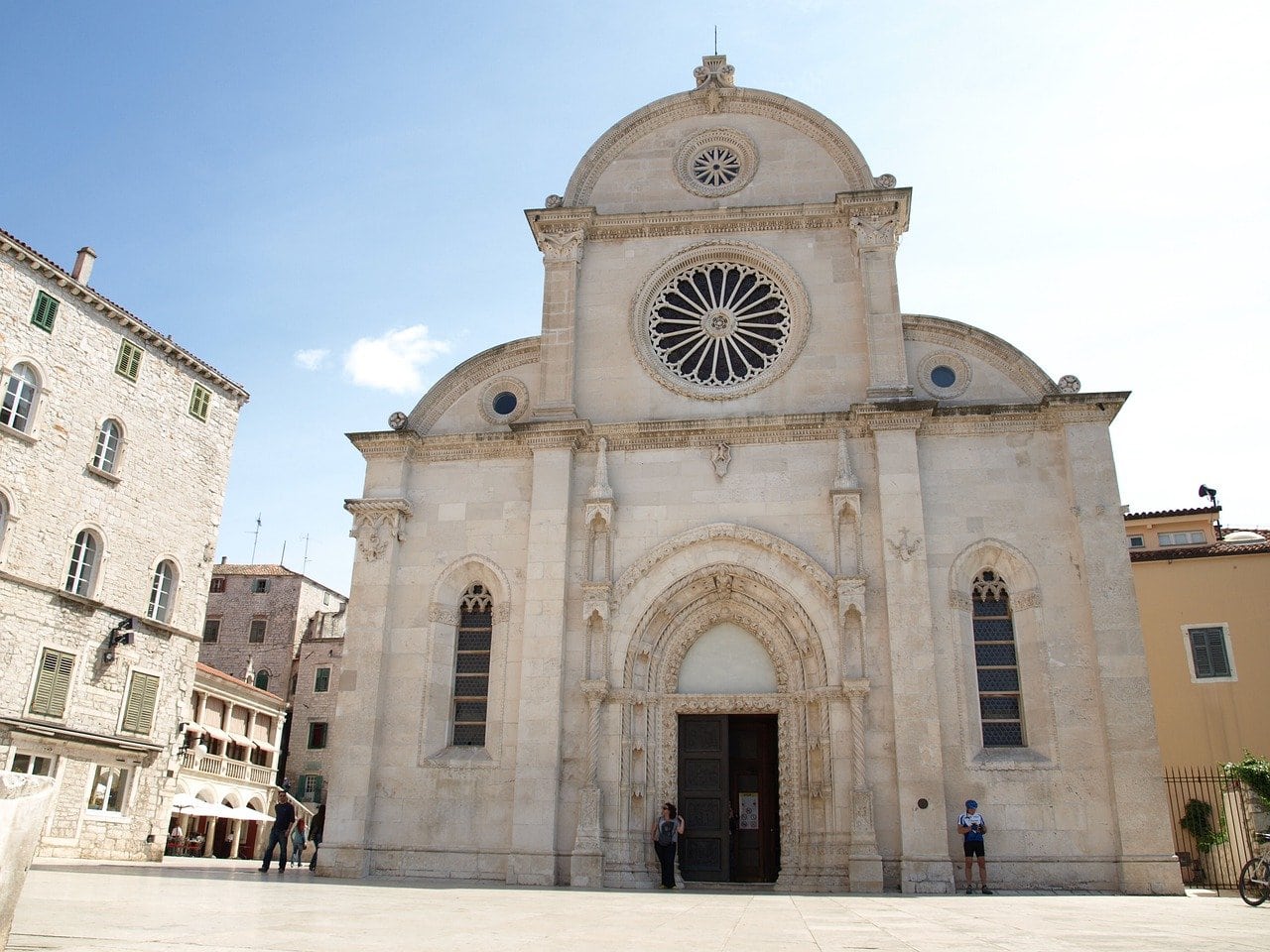 An hour north of Split, you'll find the small, walled city of Šibenik, a very easy and very beautiful day trip destination. The entire city is made of stone, and it's almost 1,000 years old.
I was so surprised by just how stunning this city was because I had never even heard of it before I visited! Sibenik is still under the radar for many visitors to Split, but with its waterfront location and charming streets (I'm a sucker for cobblestone streets, and there are flowers everywhere!) get there fast before it becomes a big hit!
The city's masterpiece is St. James' Cathedral, a 15th-century building and UNESCO World Heritage Site. Look closely to see the 71 sculpted faces lining the side of the building – it's pretty eerie.
Getting to Šibenik from Split: Buses run between these two cities frequently, and the journey takes 1 hour and 40 minutes. Tickets cost €6.50.
Šolta Island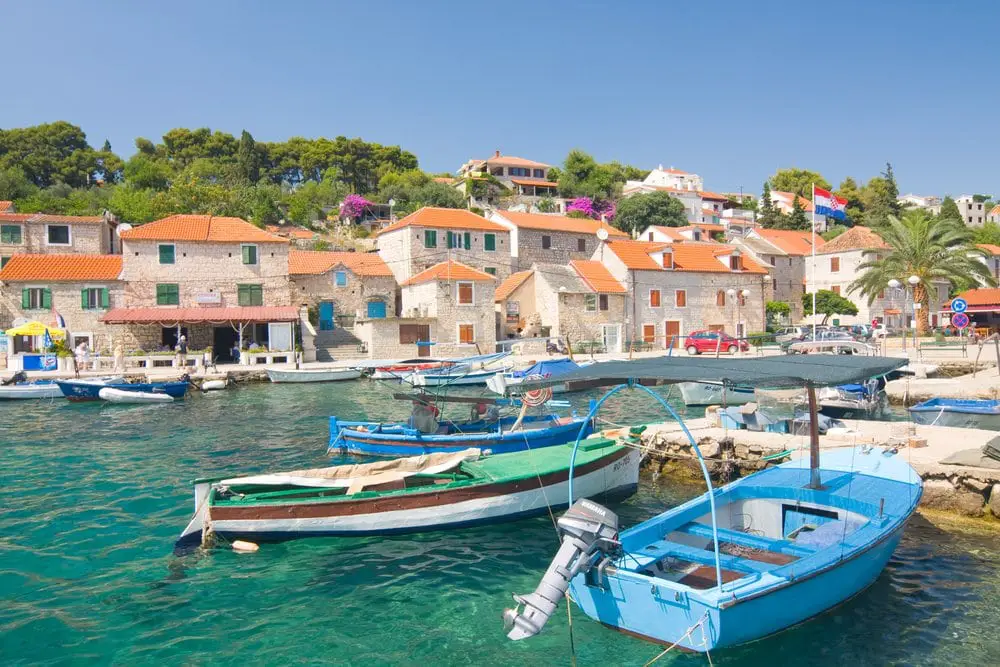 The picturesque island of Šolta is such an easy day trip from Split – it takes just 30 minutes to get here by ferry! I visited this island on the 3 island tour, and I was very impressed by how calm and tranquil it was. It felt like the tourist hype that many of the other islands experience totally passed Šolta by.
That's fine by me – it means quiet beaches, streets and restaurants, and a feeling like you're on an island far away from civilization. 
Šolta doesn't have too many tourist attractions, so it's ideal to just head here to do some exploring on foot, hang out at the beach, devour some delicious food at a local restaurant, and perhaps join an olive tour around the island's olive groves. It's definitely the most laid-back destination on this list of day trips from Split.
Getting to Šolta from Split: Ferries run up to seven times a day (in high season) between Split and the port town of Rogac on Šolta island. The journey takes between 30 and 60 minutes each way. Return tickets cost around €9.
---
I hope these 15 ideas for day trips from Split got you super excited to visit Split! It's the ideal base to explore the Dalmatian coast. So many of these day trips can be done on a super-tight budget, so your trip to Split can be as shoestring or as lavish as you want. Win!
Did you do any of these day trips on my recommendation? Got any questions? Let me know in the comments!