There is a good chance that this post contains affiliate links. If you make a purchase through them, I may receive a small commission at no extra cost to you! As an Amazon Associate, I earn from qualifying purchases. As ever, all opinions are my own.
I feel pretty darn lucky to live so near to London Bridge because it's home to some truly brilliant coffee shops and cafes!
And no, we're not talking Costa and Starbucks here (although there are LOADS near London Bridge).
As a certified coffee-snob, I live for scoping out the smaller, indie coffee shops and cafes, discovering unique coffee shops and finding places that serve coffee so good it sends shivers down your spine. I've lived in the London Bridge/Borough neighbourhood for 9 months now, so I've spent plenty of time on the quest to find the best coffee in my neighbourhood! Some of my recommendations are cult classics, and others are hidden gems you'd never know about unless you spoke to a local.
If you're in the London Bridge area, you're spoilt for choice when it comes to great coffee shops. Not only do you have the London Bridge area itself, but the famous Borough Market is just a few minutes' walk away, where you'll find some truly epic coffee.
So, let's delve in! Here are my tried and tested recommendations for the best, freshest, most irresistible coffee at London Bridge!
The Best Coffee Shops & Cafes near London Bridge
Crol & Co
This awesome indie coffee shop and cafe has two branches – one in Bermondsey and one in London Bridge. Lucky for you, the London Bridge one is just a 4 minute walk from London Bridge underground station! To get there quickest, take the Borough High Street exit from the station.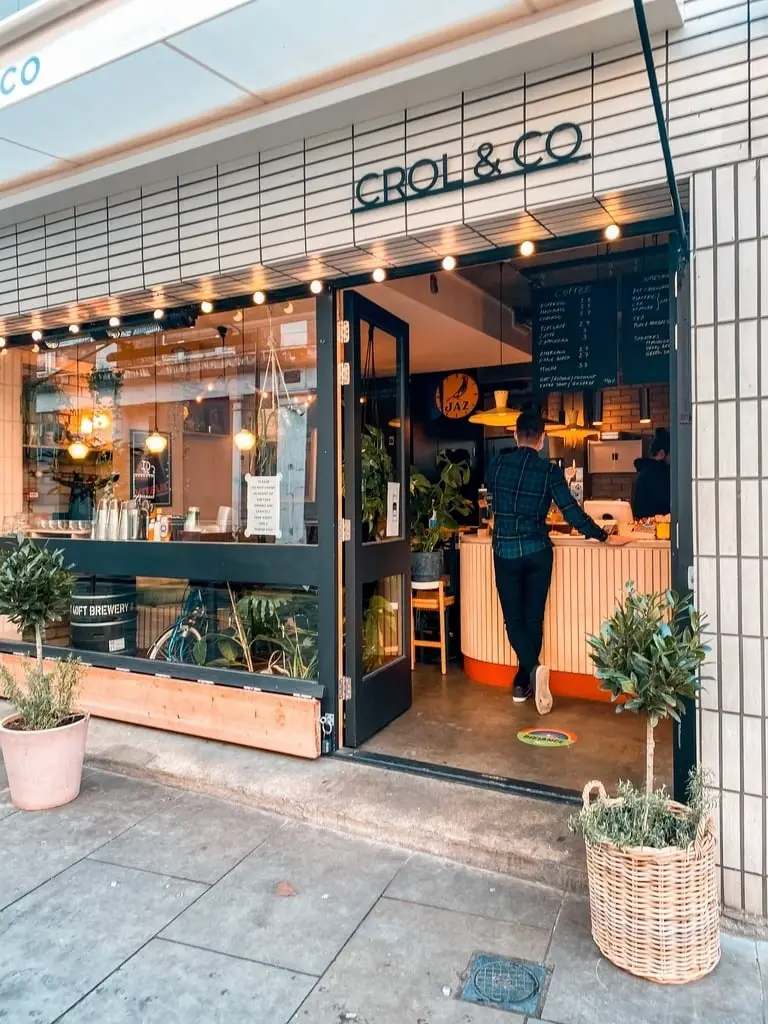 Crol & Co is a local's favourite and a true hidden gem. Walking down Borough High Street in the opposite direction of Borough Market, you'll have to turn down the unassuming Newcomen Street to find this tucked-away cafe. Inside, you'll find a delightfully cozy hipster hangout, serving up mouth-watering coffee and baked treats. In summer they put a seating area outside which is a great place to while away a lazy Sunday morning. In the evening, Crol & Co doubles as a small bar, where you can order cocktails, wine and beer.
You'll truly feel like a local as you get your coffee at Crol, as it's well away from the Borough Market tourist hordes! Lattes cost £3 and are a decent size – I think Crol's coffee is great value.
Crol & Co is open from 8am – 10pm Monday-Friday, 9am-10pm on Saturday, and 10am-5pm on Sunday.
Roasting Plant Coffee
At just a 1 minute walk from London Bridge underground station and right next to London Bridge itself, you can't get coffee in a more convenient location than Roasting Plant Coffee! Take the London Bridge train station exit from London Bridge underground to get there quickest.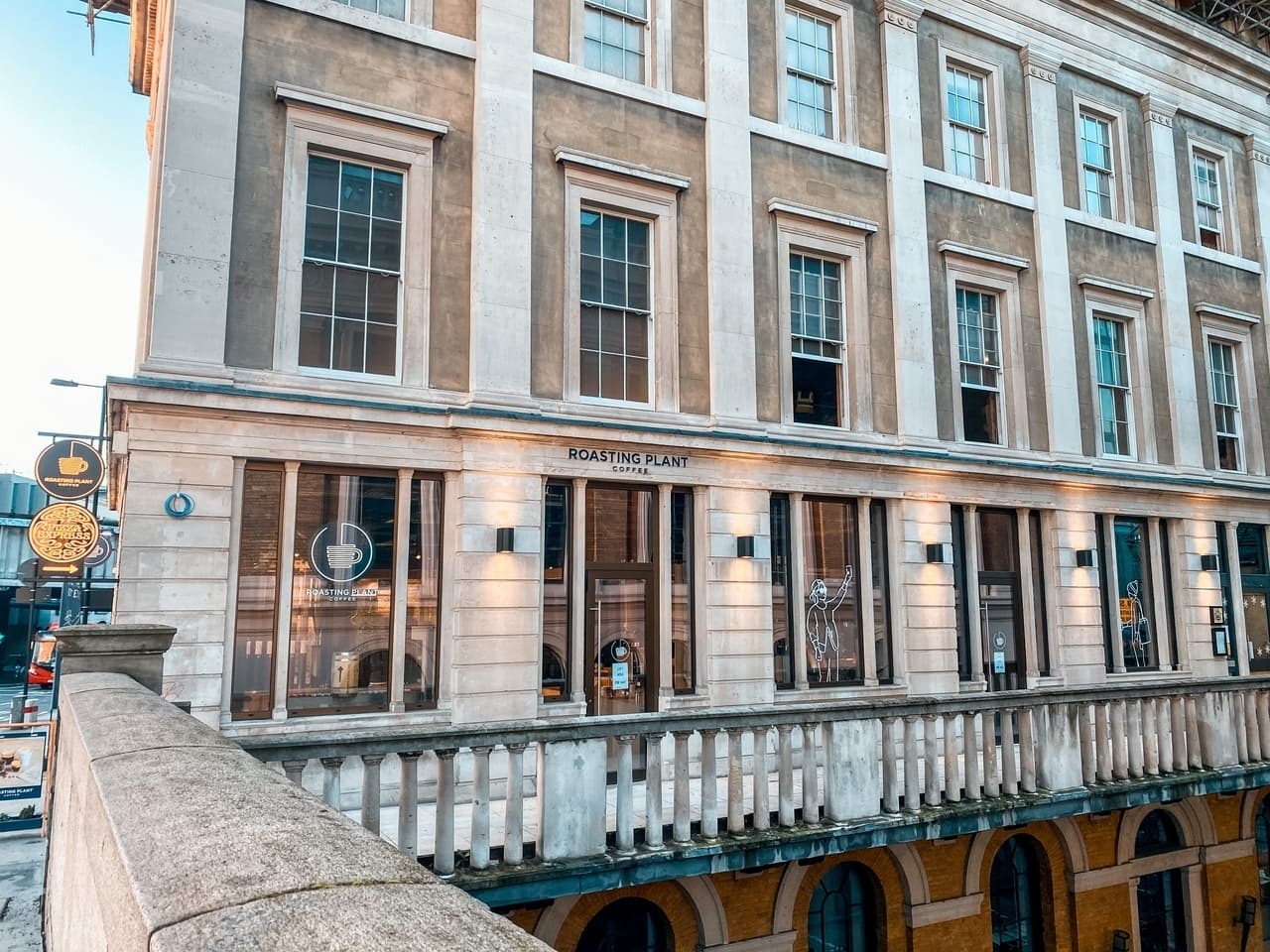 Although Roasting Plant is a small (but international!) chain, it still brings everything that makes indie coffee shops and cafes so fabulous. We're talking the classic avo and poached eggs on sourdough brunch offering, 4 different types of coffee beans to choose from, and a modern, hip interior.
What makes Roasting Plant so fun to get coffee from is their wild coffee-making system. When placing your coffee order, you can choose from four different types of beans. They have aromatic & complex, mild & smooth, full-bodied & bold, or sweet & delicate. Once you've made your choice, the coffee beans are suctioned up through a tube over your head and dropped into the coffee machine. The machine then grinds them right in front of you before pouring the coffee into your cup. This is by far the most bizarre coffee-making system I've come across, but, even if it's a bit gimmicky, it's so much fun!
The coffee is smooth and strong, and, unlike a lot of other coffee shops near London Bridge, you have a choice of 3 different sizes of coffee. This is perfect if it's the type of day when only a bucket of coffee will do!
You can either dine-in or take out. If you decide to take out, Roasting Plant's location so close to the river and Borough Market makes for a lovely walking route whilst you sip.
Roasting Plant Coffee is definitely the most expensive coffee shop on this list. A medium latte will set you back £3.65! That said, I still go here often because I just can't resist their fun coffee making system and their smooth, creamy coffee.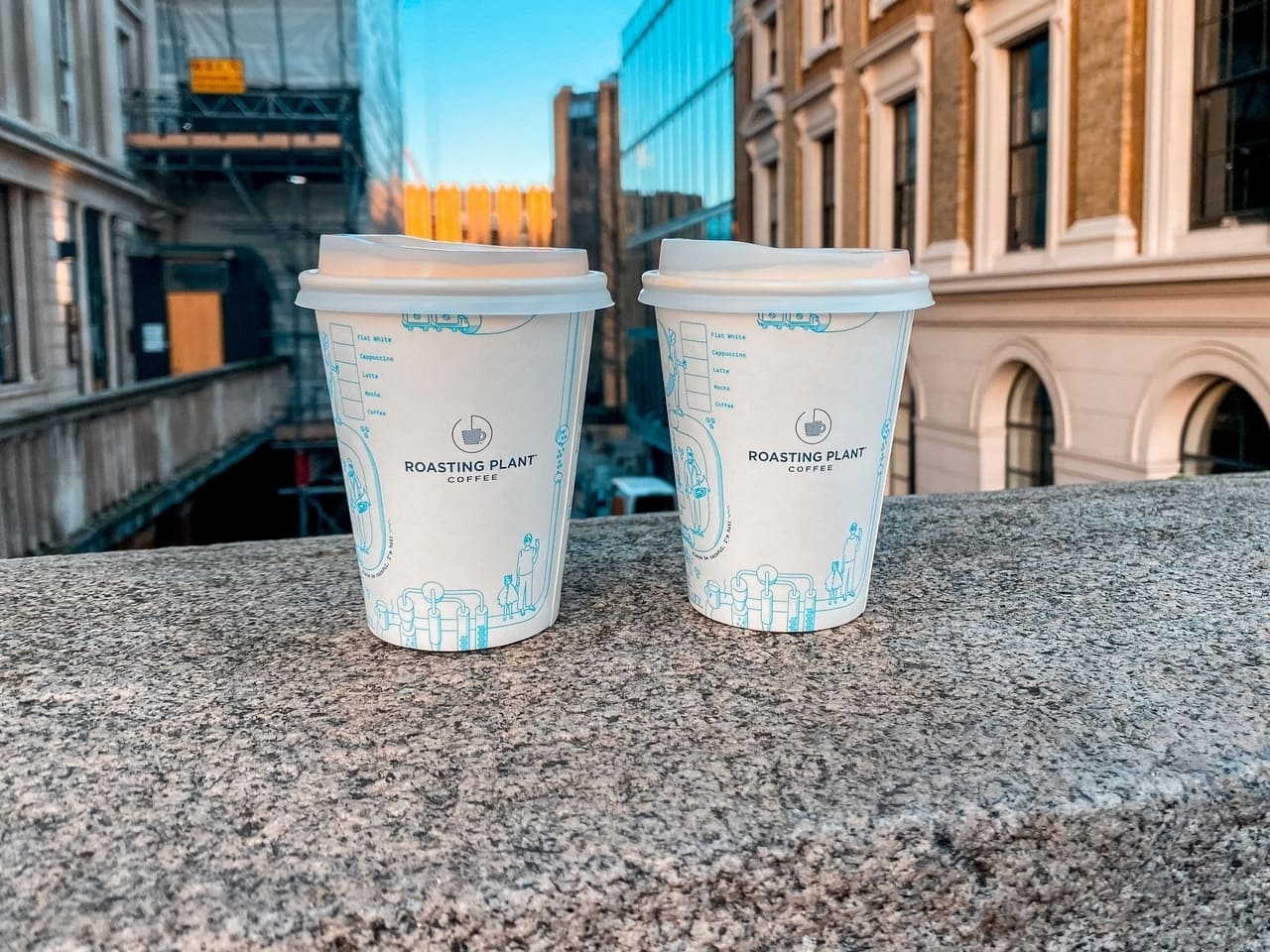 Roasting Plant Coffee is open from 8:30am – 5pm Monday-Friday, 10am-6pm on Saturday, and 11am-5pm on Sunday.
The Gentlemen Baristas
I know it's wrong to have favourites, but I just can't deny it any longer! The Gentlemen Baristas is my favourite coffee shop near London Bridge! You'll often find queues here on Saturdays, and for good reason.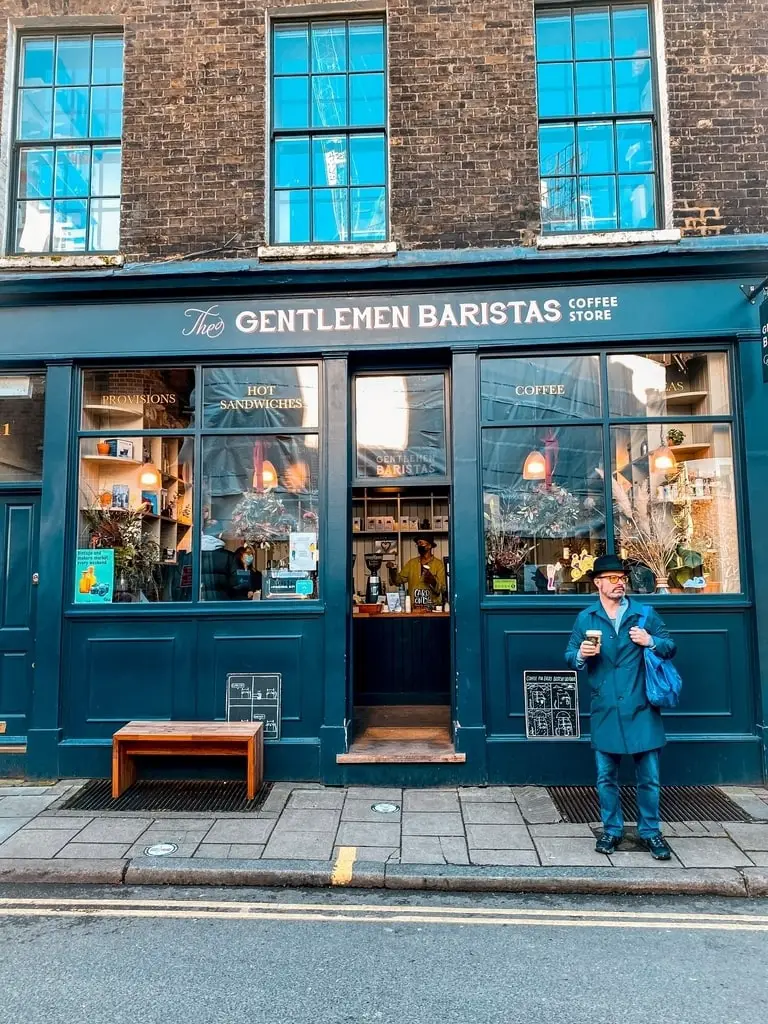 There are three branches of The Gentlemen Baristas all super close to each other. There's London Bridge (which is actually in Borough Market), Borough (which, confusingly, is not in Borough Market), and an outpost at Flat Iron Square, a popular street food and drink market.
My go-to is the London Bridge shop, which is sat right at the edge of Borough Market. In my opinion, it serves up the best coffee at the market! To get here the quickest, take the Borough High Street exit from London Bridge underground station, and you'll only have to walk 3 minutes to get here.
This London-only chain, established by a few friends in 2014, has so much soul and cosy vibes, and they take their coffee super seriously! What's more, their baked goods look to-die-for! I have managed to resist temptation so far, but it's only a matter of time…
Latte art is standard here, and their coffee is strong and bitter in the best possible way. As an added bonus, their milk will never be anything but frothed to silky smooth perfection. Another thing I freaking love about this coffee shop is how affordable it is. It's the cheapest (yet still great quality) of all my recommendations for the best London Bridge coffee shops! Their lattes, cappuccinos and flat whites cost £2.70. This is insane value for money given the typical prices at London Bridge coffee shops.
Roasting Plant Coffee is open from 8:00am – 3pm Monday-Wednesday, 8:00am – 4:00pm on Thursday, 8:00am-5:00pm on Friday and Saturday and 09:00-4:00pm on Sunday.
---
Want More London Posts? I Gotcha:
• The Ultimate Guide to Visiting Hampton Court Palace
• Benjamin Franklin House – London's Weirdest Tourist Attraction?
• London in Lockdown: A Photo Diary
---
Monmouth
Is this the most popular coffee shop and cafe near London Bridge?
Yup, I think so!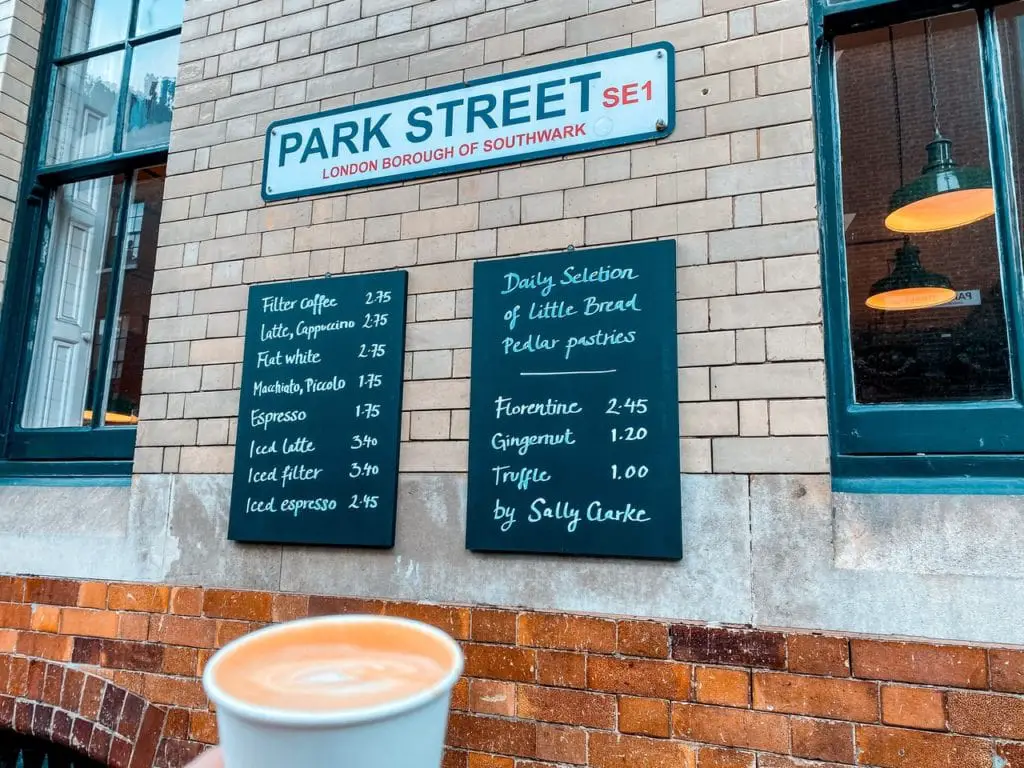 This artisan coffee shop is just across the street from The Gentlemen Baristas. It also overlooks Borough Market and serves up super popular coffee. You'll find queues here no matter what time you visit (I even had to queue at 9am on Monday morning!). On Saturdays, though, it's not uncommon to queue for over 20 minutes! 
Just like The Gentlemen Baristas, to get here from London Bridge underground station you'll need to take the Borough High Street exit from the underground. From there, it's a 3 minute walk through Borough Market.
Monmouth is a great place to stay awhile. Whether you're doing some work or reading a book, their buzzing atmosphere and fast wifi has you covered. Plus, the whole place smells of their delicious freshly ground coffee and baked treats, which you can't beat!
Now – do I think Monmouth's coffee is worth queuing 20 minutes? To be honest, no. There are so many amazing coffee shops and cafes near London Bridge where you won't have to queue (or will only have to queue for a couple of minutes) that I don't think Monmouth's coffee is life-changing enough to justify it. 
Is it great coffee? Absolutely! Is it worth waiting for 20 minutes? No. But I'm an impatient person, and I can't imagine many coffees being worth a long wait for me. Lots of people continue to queue up though, so take my opinion with a grain of salt! To enjoy your visit to Monmouth the most, I highly recommend visiting on a weekday. This way, you'll only have to queue for a couple of minutes.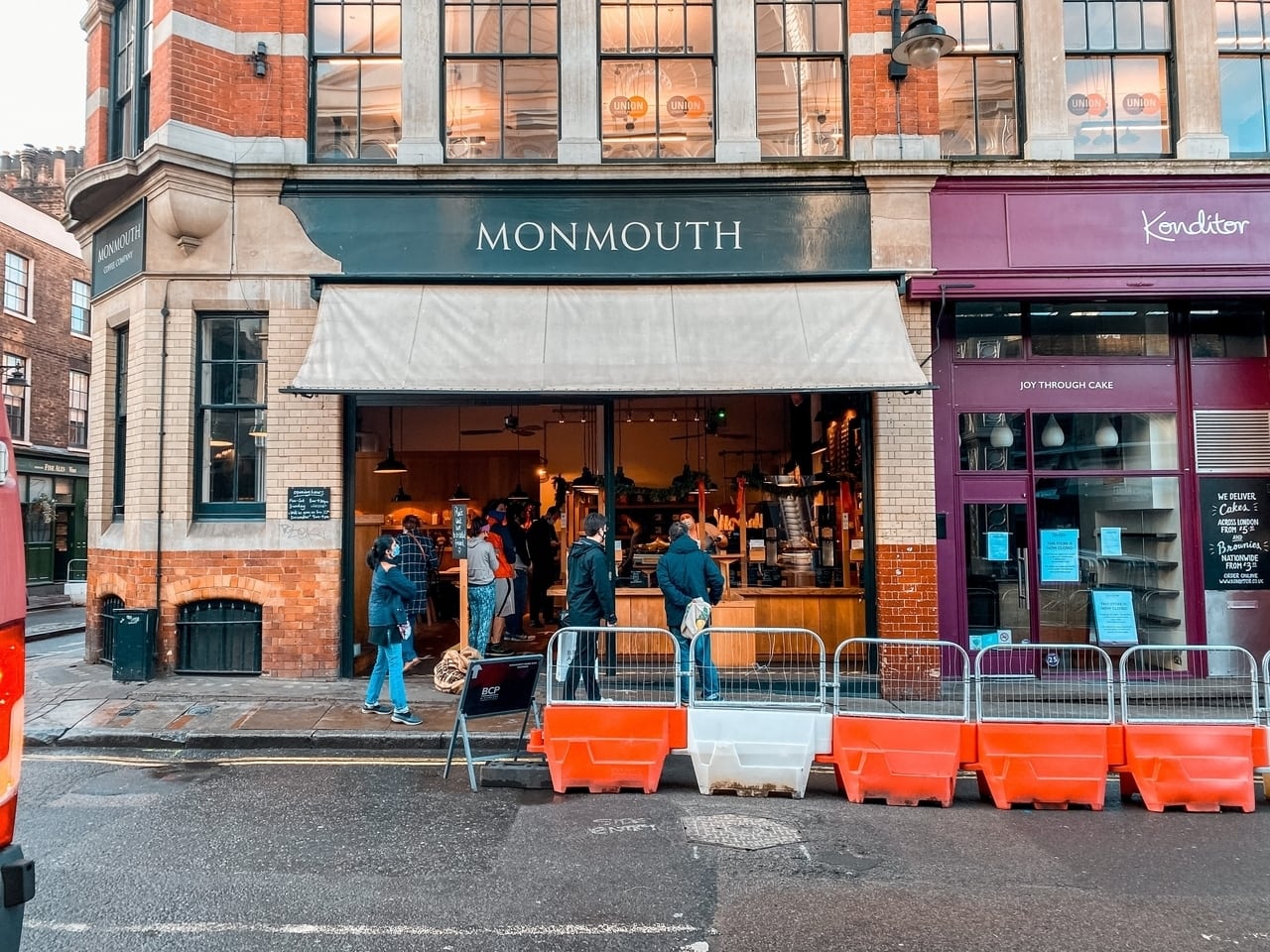 As well as the fabulous coffee, you'll find fabulous prices at Monmouth. Most of their coffees cost £2.75, which is just 5p more expensive than The Gentlemen Baristas. I love fresh, delicious coffee at bargain prices!
Monmouth Coffee is open from 8:00am – 4:30pm Monday-Saturday, and is closed on Sunday.
Colombian Coffee Co.
If you're shopping in Borough Market you're gonna love stopping by this cool stall run by Colombian Coffee Co. You'll find it in the market area behind Southwark Cathedral. To get here, take the Borough High Street exit from London Bridge underground station, then walk for just 2 minutes!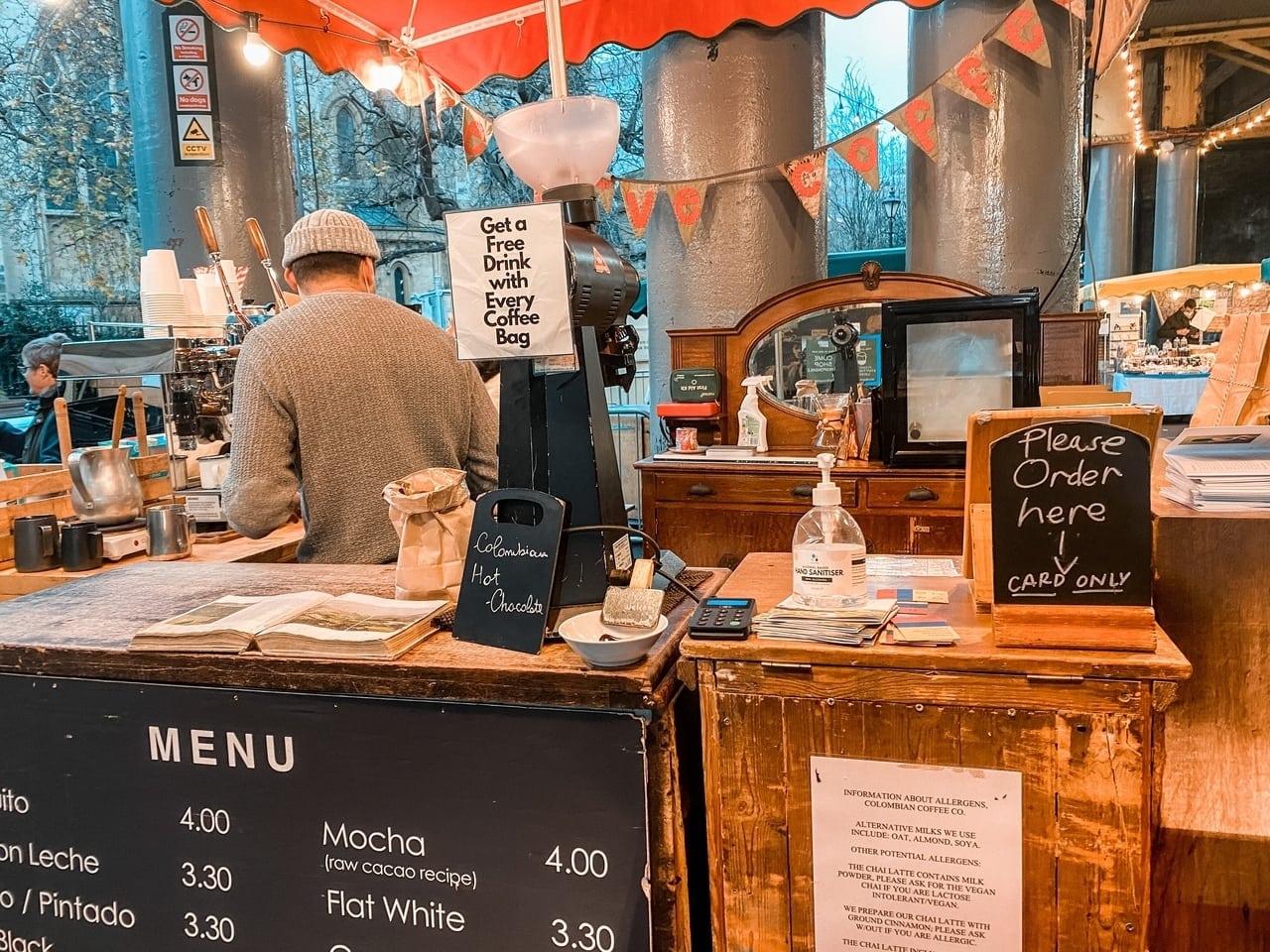 Tasting their single origin Colombian coffee, you'll instantly fall in love with its unique flavour. Just like everywhere in Borough Market, it's likely you'll have to spend some time queuing here at the weekends, but that's just part of the experience. They offer traditional Colombian-style coffee offerings as well as the classic lattes, cappuccinos and americanos.
Since this is a market stall, there's unfortunately nowhere to sit. I recommend either finding a bench along the river or sipping your coffee whilst strolling through Borough Market. Lattes and flat whites cost £3.30.
Colombian Coffee Co. is open from 8:00am – 5:00pm Saturday-Thursday and 8:00am – 6:00pm on Friday.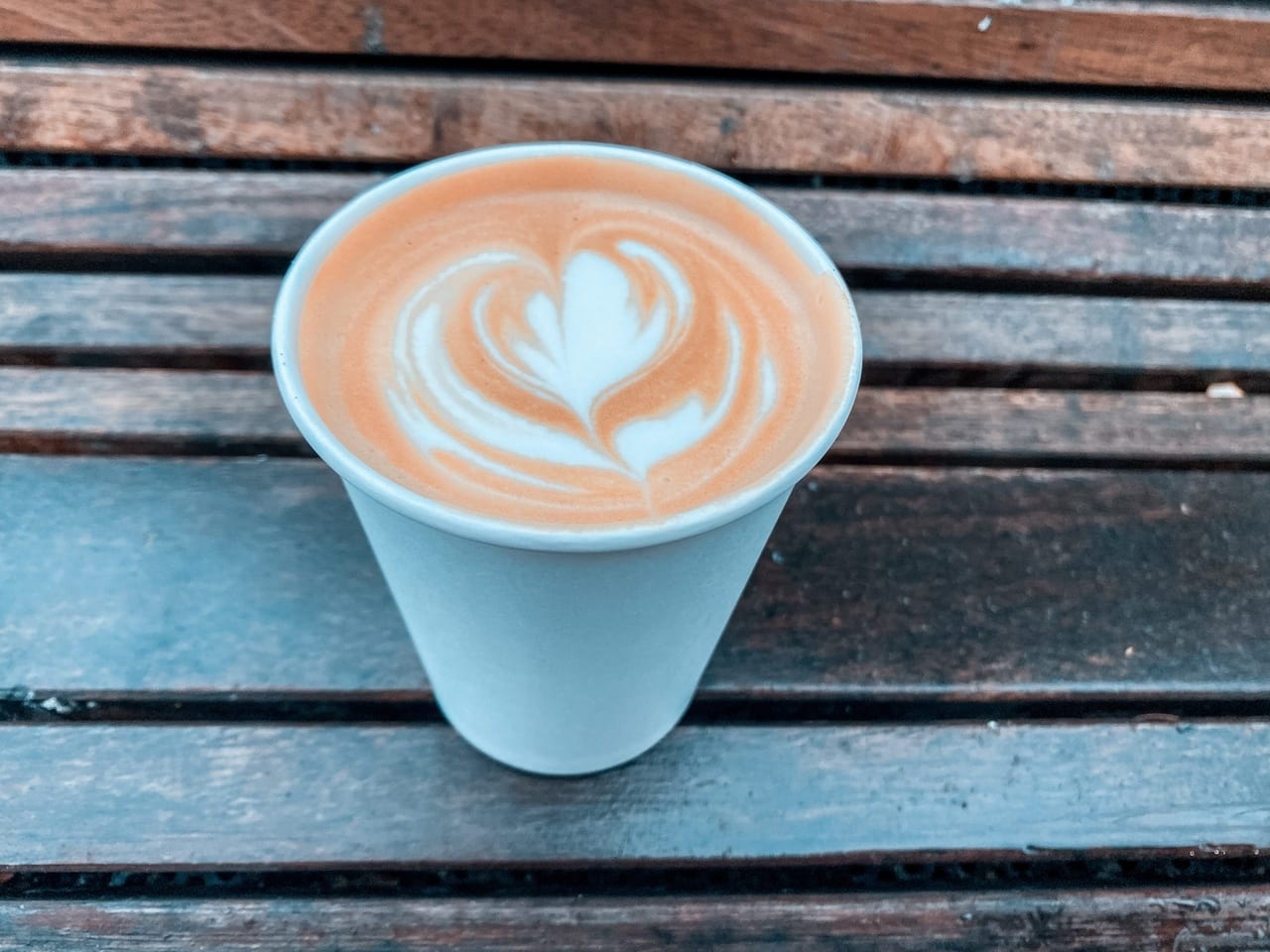 Where Is Your Favourite London Bridge Coffee Shop?
London Bridge is such an epic place if you're looking for some of the best coffee in London, and I feel beyond lucky having all these amazing coffee shops right on my doorstep! Whether you live nearby, are just passing through the neighbourhood, or even have some time to kill before you catch a train from London Bridge, you won't have to look far to find great coffee!
Although The Gentlemen Baristas wins my nomination for the best coffee shop near London Bridge, realistically every one of these places deserves that title, and the only way you'll be able to decide for yourself is if you try them all!
Where is your favourite coffee shop near London Bridge?