There is a good chance that this post contains affiliate links. If you make a purchase through them, I may receive a small commission at no extra cost to you! As an Amazon Associate, I earn from qualifying purchases. As ever, all opinions are my own.
Last Updated on February 17, 2022 by Ella
Given that I live here I'm definitely biased, but I think London is one of the best cities in the entire world! The main thing that I love about living here is that there is just an endless list of things to do in the city. And with a whopping eleven royal palaces to explore in London, you're spoilt for choice if you're a fan of the royal family (or just English history)!
Sure, we've all heard of Buckingham Palace and Hampton Court Palace, and they're definitely worth visiting, but this list will also cover some of London's hidden gem palaces that you'll never have heard before. I mean, travel is all about getting off the beaten path from time to time, right?
Some of the royal palaces in London close to visitors over the winter, so if you want to check out some royal attractions on your trip, summer is definitely the best time to visit London.
With that said, let's get started!
Buckingham Palace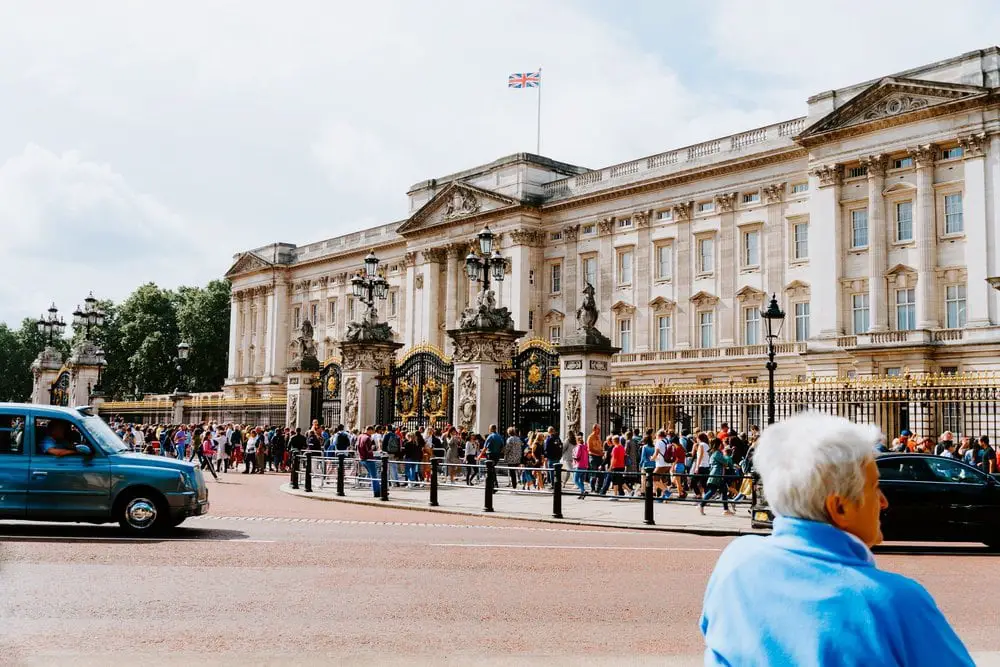 Let's start off with the star attraction of the London palace scene – Buckingham Palace! It's always crowded outside, but that's for good reason!
Buckingham Palace is the official London residence of the Queen, and if you see the royal standard flag flying from the palace, it means the lady herself is in residence. Probably the best way to discover Buckingham Palace is by attending the Changing of the Guard Ceremony. 
The whole ceremony is fabulous if you're into all the pomp and ceremony of the royal family. It takes around 45 minutes and starts at 11am. It happens daily in June and July, and on Mondays, Wednesdays, Fridays and Sundays in the other months. What's more, it's free to attend!
As for exploring the palace itself, it's only open for guided tours between July and October. The tour dates and times are also pretty sporadic and, at around £60, are quite expensive! You'll find information on joining a tour of the palace here.
As an alternative, there are ways to go inside Buckingham Palace without shelling out a ton of cash. The first is to visit the Buckingham Palace Gardens, which cost £16.50. The second is to visit the Queen's Gallery, which costs £15. The Queen's Gallery is the Queen's art collection of over 450 pieces.
Buckingham Palace Gardens tickets: Click here.
Buckingham Palace Queen's Gallery tickets: Click here.
The Banqueting House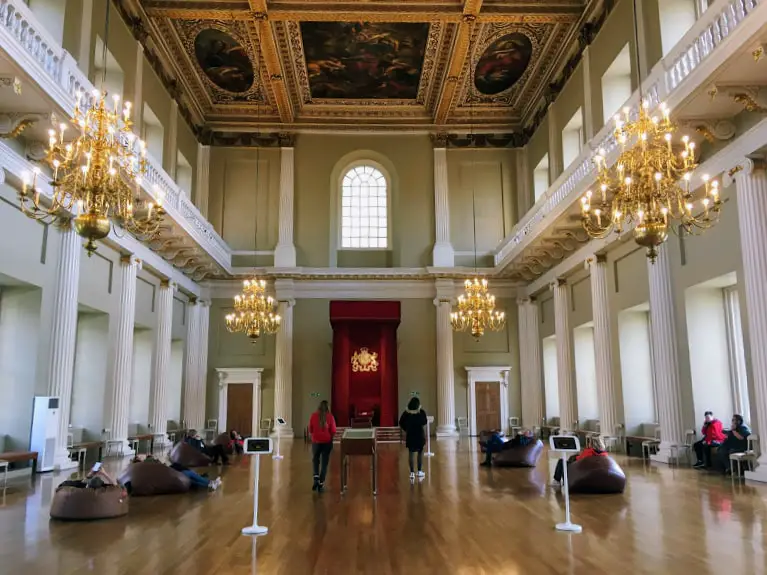 The only part that remains of the once-spectacular Palace of Whitehall, and the main residence of the Kings and Queens of England from 1530 until 1698, is the Banqueting House. Unfortunately, the rest of Whitehall palace burned down in the 17th century.
The Banqueting House was the main entertaining area of the palace, and it is thought that Shakespeare and his troupe performed plays here for King James I. Relatively few visitors to London even know that the Banqueting House exists, so it truly is a hidden gem to add to your London itinerary.
As well as being the site of royal entertainment, it was also on a platform outside the Banqueting House that King Charles I was beheaded during the English Civil War! 
The highlight of any trip to the Banqueting House is stepping into the main hall, where you'll find its lavish ceiling which is adorned by paintings by Reubens. Beanbags are scattered around the room so you can lie on them, admire the ceiling, and listen to the audioguide teach you about the history of the palace.
What's so great about visiting the Banqueting House is that it's located in central London, and only takes 45-minutes or so to see. Perfect if you're short on time!
Banqueting House tickets: Tickets cost £7.50, and you can get them here.
Hampton Court Palace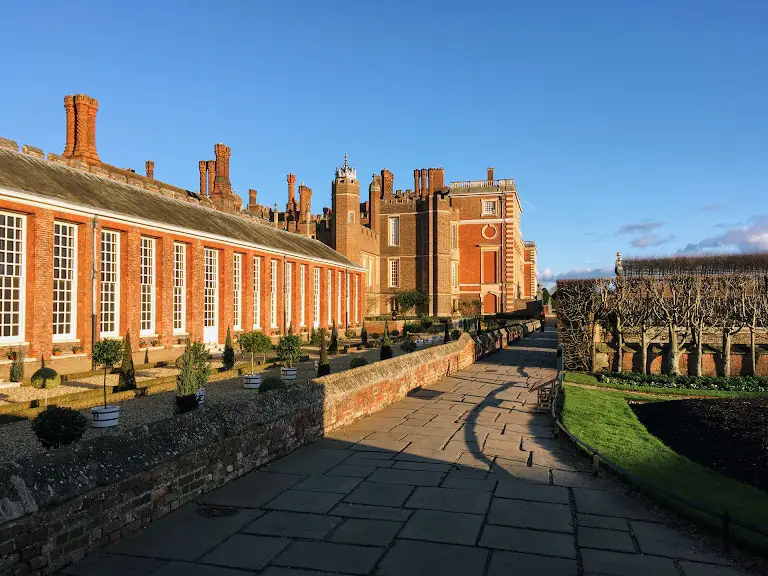 Hampton Court Palace is quite far away from central London (35 minutes on the train), but it's definitely worth the journey! 
The Palace is most famous for being the residence of Henry VIII, but it actually has been the home of many other monarchs during its 500 years of history. You'll get an audioguide on arrival, which does a fabulous job of guiding you around the palace, but I recommend heading to the Henry VIII apartments as soon as you arrive because they get busy as the day goes on.
Hampton Court is rumoured to be haunted, and the palace run their very own ghost tours! For this reason, if you're visiting London in autumn, a trip to Hampton Court Palace is one of the best things to do in London for Halloween!
Spare plenty of time for strolling the Hampton Court Palace Gardens, which are simply STUNNING!
Hampton Court Palace tickets: Tickets cost £25, and you can get them here.
For more information on visiting Hampton Court Palace, check out my post containing everything you need to know!
Kensington Palace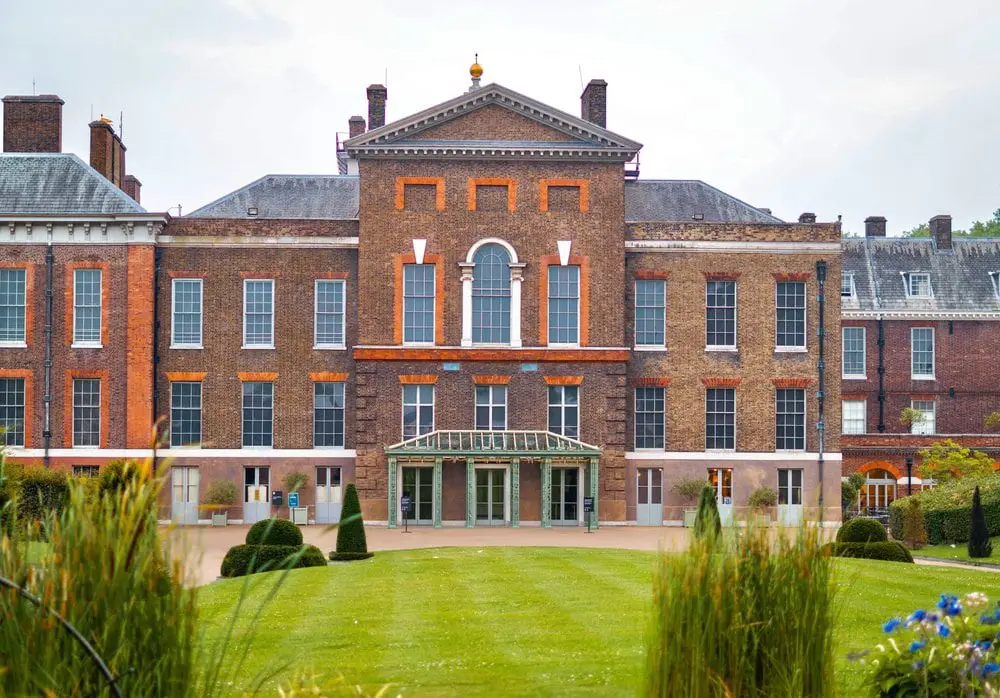 As the birthplace of Queen Victoria, the former home of Diana, Princess of Wales and the current London residence of the Duke and Duchess of Cambridge (Prince William and Kate!) Kensington Palace is undoubtedly one of the best royal palaces to visit in London.
Although the palace is still used today, it's open to the public to visit. It contains some fascinating exhibitions that include artefacts and outfits worn by the royal family. Probably the most exciting item on display is Princess Diana's wedding dress, which is truly breathtaking. If you're a Diana fan, Kensington Palace is a must-visit!
As well as the exhibitions, you'll also get to explore the ostentatious interiors of the palace. Don't miss stopping by the King's State Apartments, Queen's State Apartments and Victoria Apartments. Exploring these grand rooms really does remind you of how the other half live!
Since Kensington Palace is situated just two miles from Buckingham Palace, I recommend seeing them both on the same day. From Buckingham Palace, enjoy the stroll through the fabulous Hyde Park and Kensington Gardens before arriving at Kensington Palace.
Kensington Palace tickets: Tickets cost £23 on the door, but they're much cheaper when you book online here.
Tower of London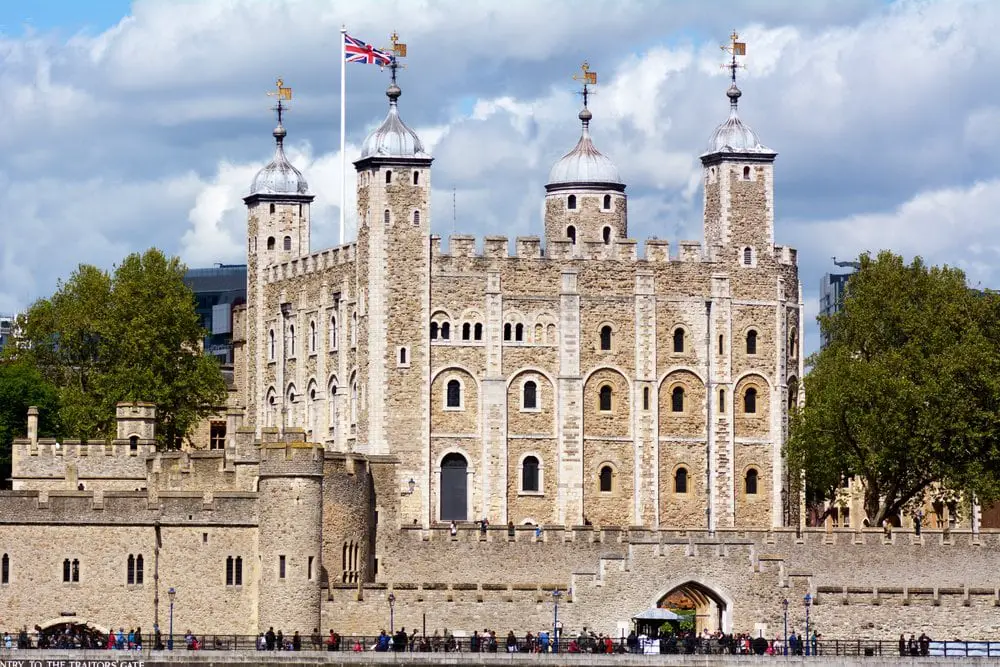 With all the tales of torture and gore, it can be easy to forget that the Tower of London was once a royal palace. Its official name is Her Majesty's Royal Palace and Fortress of the Tower of London, and it's been on the banks of the River Thames for almost 1,000 years.
The Tower of London is undoubtedly better known as a prison. It saw its first prisoners way back in 1110 and only saw its last in 1952, when famous criminal twins Ronnie and Reggie Kray were locked up there.
Nowadays, the star attraction of the Tower of London is the Crown Jewels, which you're able to check out during your visit! Your entry ticket includes a guided tour of the Tower by the Yeoman Warders, the Tower's famous guards, who'll share with you the story behind the tower's ever-present ravens, and guide you around the Tower of London's must-see sights.
Tower of London tickets: Tickets cost £29, and you can get them here.
St James' Palace & Clarence House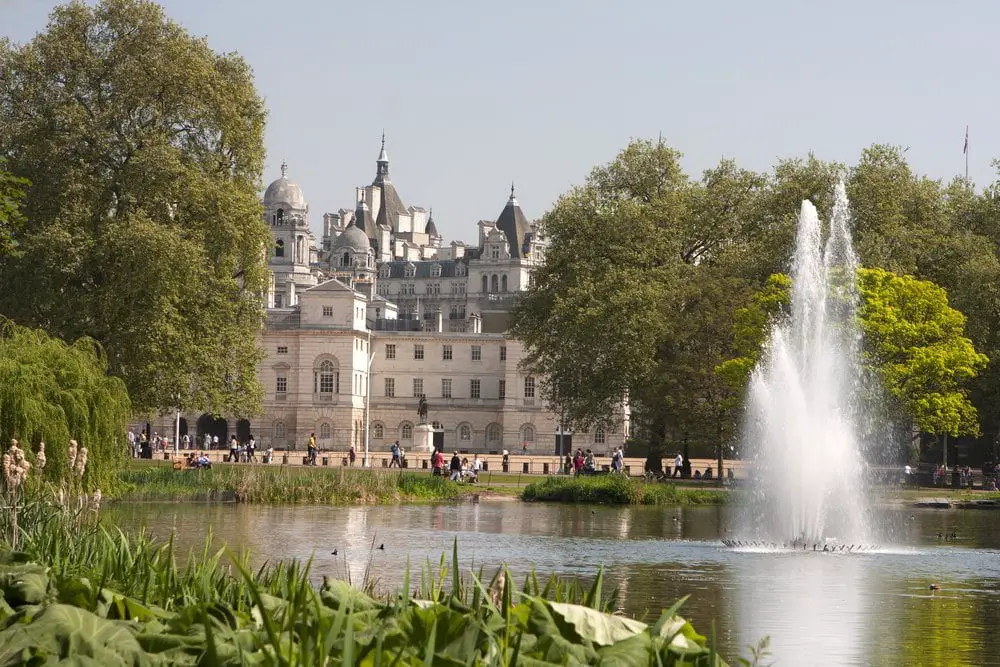 St James' Palace, which is just a short stroll away from Buckingham Palace, was built in the 16th century. It was home to English Kings and Queens for 300 years – up until the reign of Queen Victoria.
Today, the palace is still in use by the royal family, and hosts around 100 receptions every year. Unfortunately, it's not open to the public.
Clarence House, which you'll find next to St James' Palace, was constructed in the 19th century. It's now the official residence of the Prince of Wales (Prince Charles) and Camilla, Duchess of Cornwall. It's not a palace, but it's certainly lavish and looks like one from the inside!
Clarence House is open to the public in August each year, so if you're a Royal Family superfan, plan your visit to London to coincide with this!
Clarence House tickets: Tickets cost £11.30, which includes a guided tour. Find out more here.
Lambeth Palace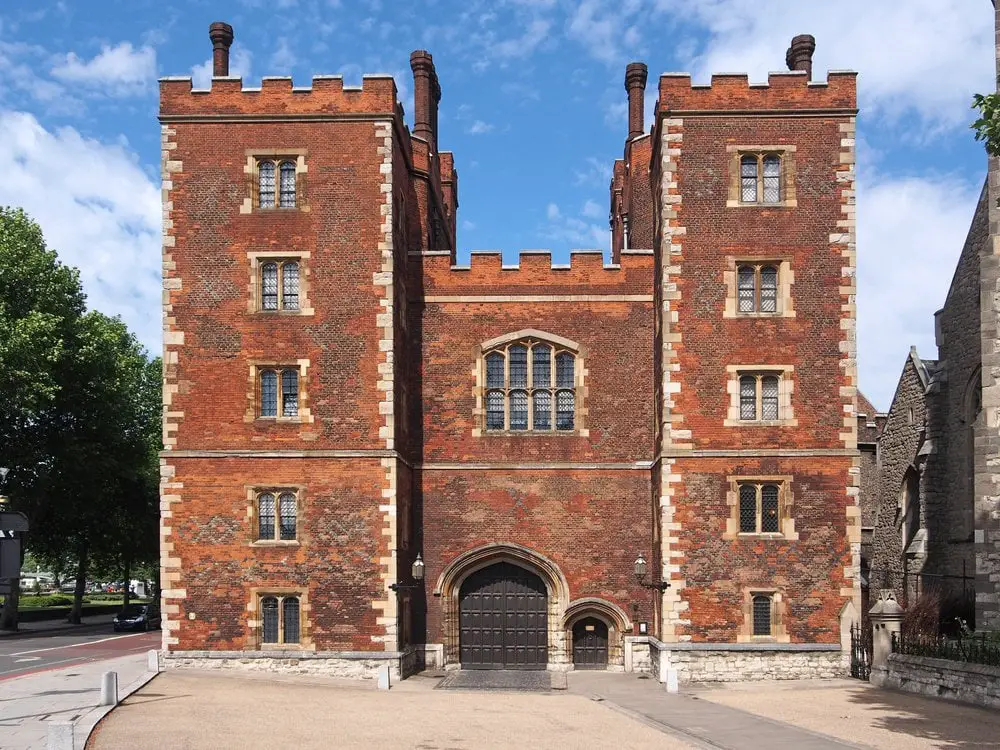 When it comes to under-the-radar palaces in London, Lambeth palace is as secret as it gets! In fact, I'd walked past it countless times before I even realised that it was a palace!
Although it's not technically a 'royal' palace (it's been the official home of the Archbishop of Canterbury for over 800 years), you wouldn't be able to tell. It's on the opposite side of the Thames to the Westminster Palace, so it's super easy to combine a visit to the two.
To visit Lambeth Palace, though, you'll have to get creative. It's not open to the public on a daily basis, so you'll have to keep a lookout for their guided tours, open days and special events when they open up the palace for visitors. They keep their website updated with all upcoming visiting opportunities.
Palace of Westminster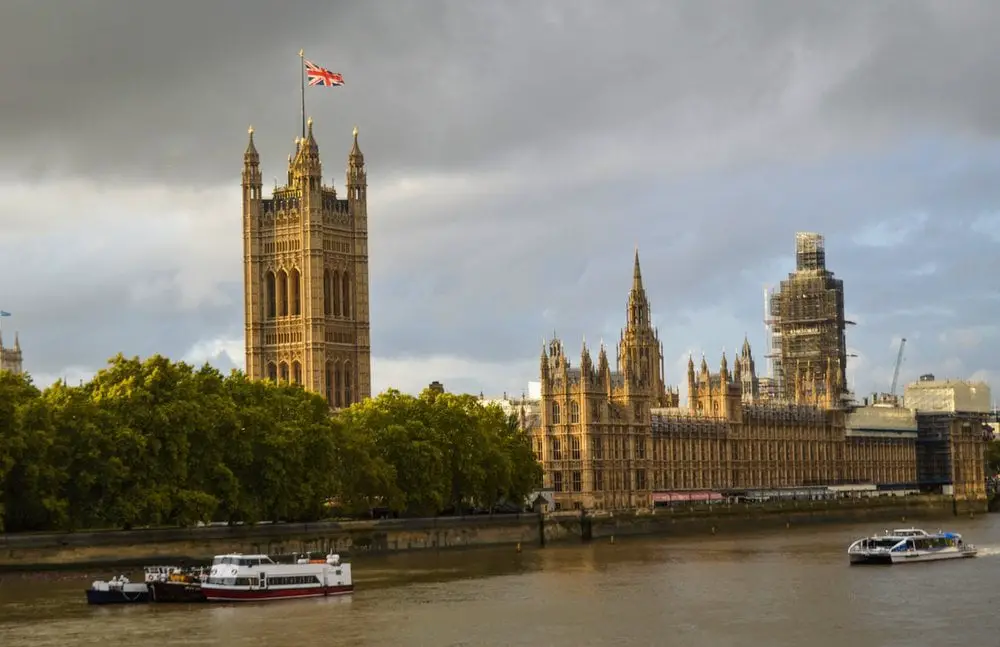 You'd be forgiven for not knowing that this iconic London landmark is actually a palace, but it is! More informally known as the Houses of Parliament, the Palace of Westminster was the primary residence of the Kings of England until the royal apartments burnt down in 1512. 
It has since become the official home to Parliament, and huge decisions have been made here for hundreds of years.
Obviously, any visit to London isn't complete without checking out the Palace from the outside and snapping some photos of Big Ben, but to explore the inside you'll have to join a guided tour.
It used to be that only UK residents could explore the Houses of Parliament, but thankfully that rule has been scrapped. Nowadays, anybody is welcome to join a guided tour, which lasts around 90 minutes.
Westminster Palace tickets: Tickets cost £22 and you can get them here.
Kew Palace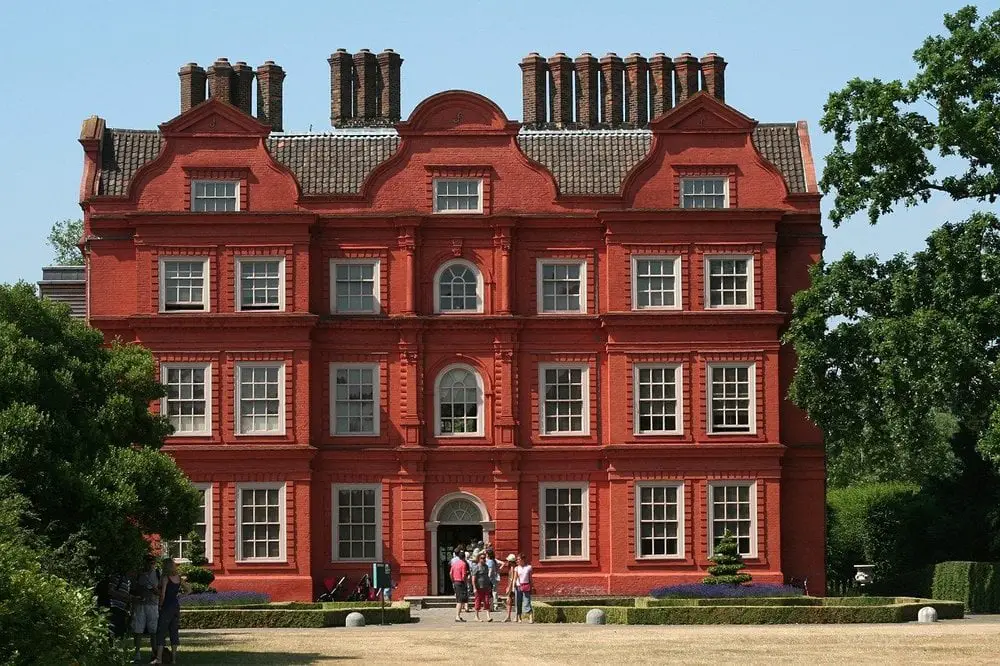 London's smallest palace, which relatively few people even know exists, is certainly not to be missed! After all, who wouldn't want to explore one of the best palaces in London without the crowds?
It wasn't always the case that Kew was the smallest of all the palaces in London, but a series of changes to its structure over the years has left it with a cosy, intimate feel (well – as cosy as you can get inside a freaking palace).
Kew Palace was home to King George II and Queen Caroline in the 1720s, before becoming the refuge of King George III when he became ill. As well as exploring the interiors and staterooms of the palace, you'll also get to visit the 'Mind Behind the Myth' exhibition detailing George III's life and his health struggles that lead to him cruelly being labelled "mad".
You'll find Kew Palace inside the world-famous Kew Gardens, and your entry ticket to the gardens also includes entry to the palace. Just don't forget – the palace closes in winter!
Kew Palace tickets: Included in the Kew Gardens ticket, which costs £13.50. Get your ticket here!
Winchester Palace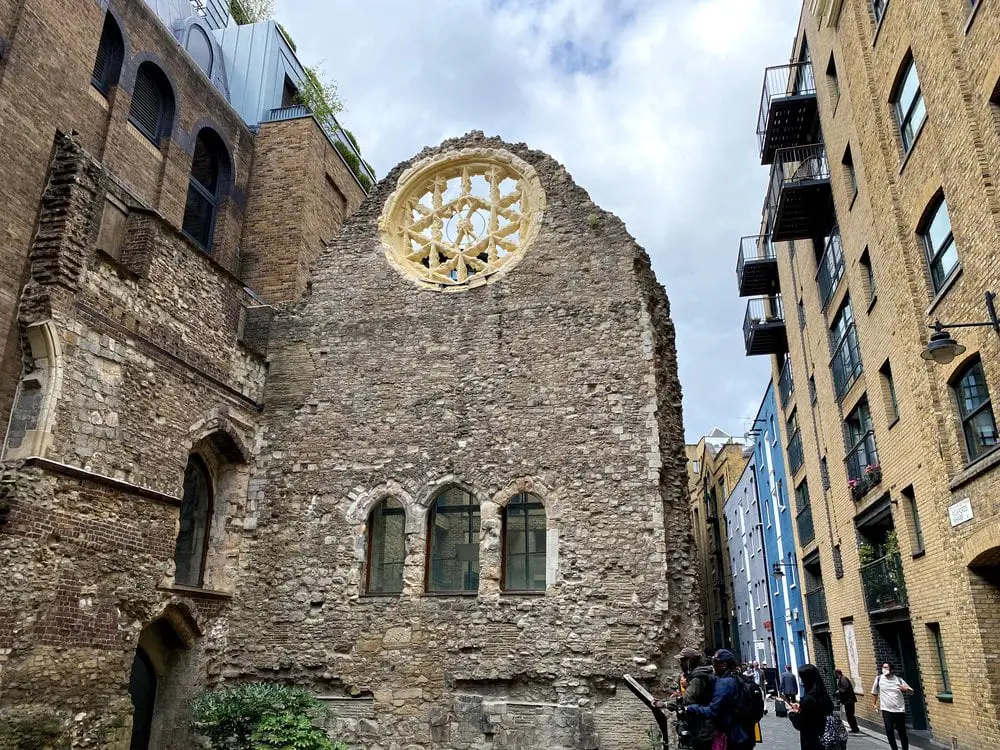 I had probably walked past Winchester Palace hundreds of times before I ever realised it was important. The big giveaway was the crowds always taking photos of what I thought was just a crumbling old wall!
That's pretty much what Winchester Palace is, though. Although it's now in ruins, Winchester Palace was once one of the largest and most important palaces in London. It was built in the 13th century and was sadly almost completely destroyed in a fire in 1814.
You'll find Winchester Palace on Clink Street near London Bridge, and, given that it's no longer a complete building, it's free to visit. 
If you're a London palaces superfan, you should definitely pay Winchester Palace a visit. After all, you're still able to see the remaining wall of the palace's Great Hall, which shows off its grand architecture.
However, if you're short on time and can only visit a few of the royal palaces on this list whilst in London, I recommend heading to the more famous palaces. You can then visit Winchester Palace on a future trip.
Windsor Castle
Although not technically in London (but it's very neat so I'm still counting it!) you'll find Windsor Castle, which is, in my opinion, the best of all the royal palaces in London! Getting to Windsor from central London takes around 50 minutes on the train, and it's super easy!
Windsor Castle is the oldest and largest occupied castle in the world. Quite the claim to fame! It's where Queen Elizabeth II spends most of her time when she's not at Buckingham Palace, and it's housed countless monarchs before her. Windsor Castle was constructed for William the Conqueror in the 11th century, so it's been around for quite a while!
Windsor Castle is the perfect idea for a day trip away from the madness of central London, especially for fans of the royal family! Harry and Meghan got married in Windsor, and the whole town looks straight out of a postcard and is super idyllic.
Whilst at Windsor Castle, be sure to allocate time to stroll the Royal Gardens, discover St George's Chapel (the burial site of many of England's Kings) and peruse the Royal Collection of Art.
Windsor Castle tickets: Tickets cost £23.50, and you can get them here!
Eltham Palace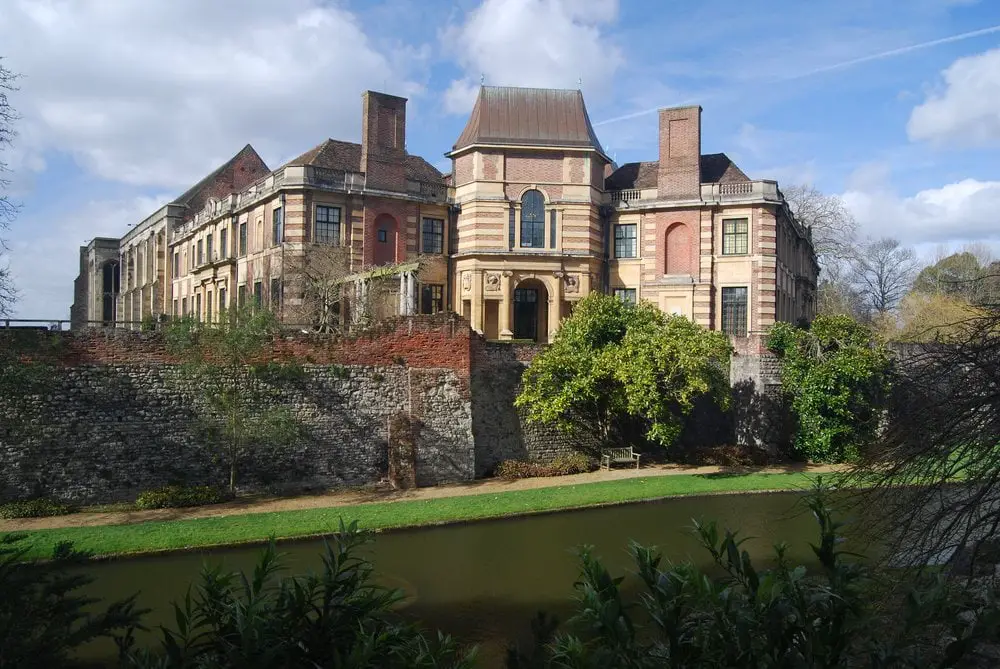 Eltham Palace is definitely one of the best royal palaces in London if you're looking to get off the beaten path.
The palace was originally given to Edward I in 1305 and went on to be a royal residence until the 16th century. It was regularly used by the Tudor courts for the Christmas celebrations, so if you're visiting London at Christmas, be sure to visit Eltham Palace to follow in their footsteps!
Unlike most royal palaces in London, Eltham Palace was almost completely redecorated when a non-royal couple, the Courtaulds, acquired the lease to the palace in the 1930s. What then commenced was a huge and extravagant transformation of the palace into an eccentric mix of Art Deco and Medieval features. 
Because of this intriguing design, visiting Eltham Palace is an experience totally different to the other royal houses and palaces in London. You should definitely consider paying it a visit!
Eltham Palace tickets: tickets cost £15.70. Get them here!
Visiting the Royal Palaces in London on a Budget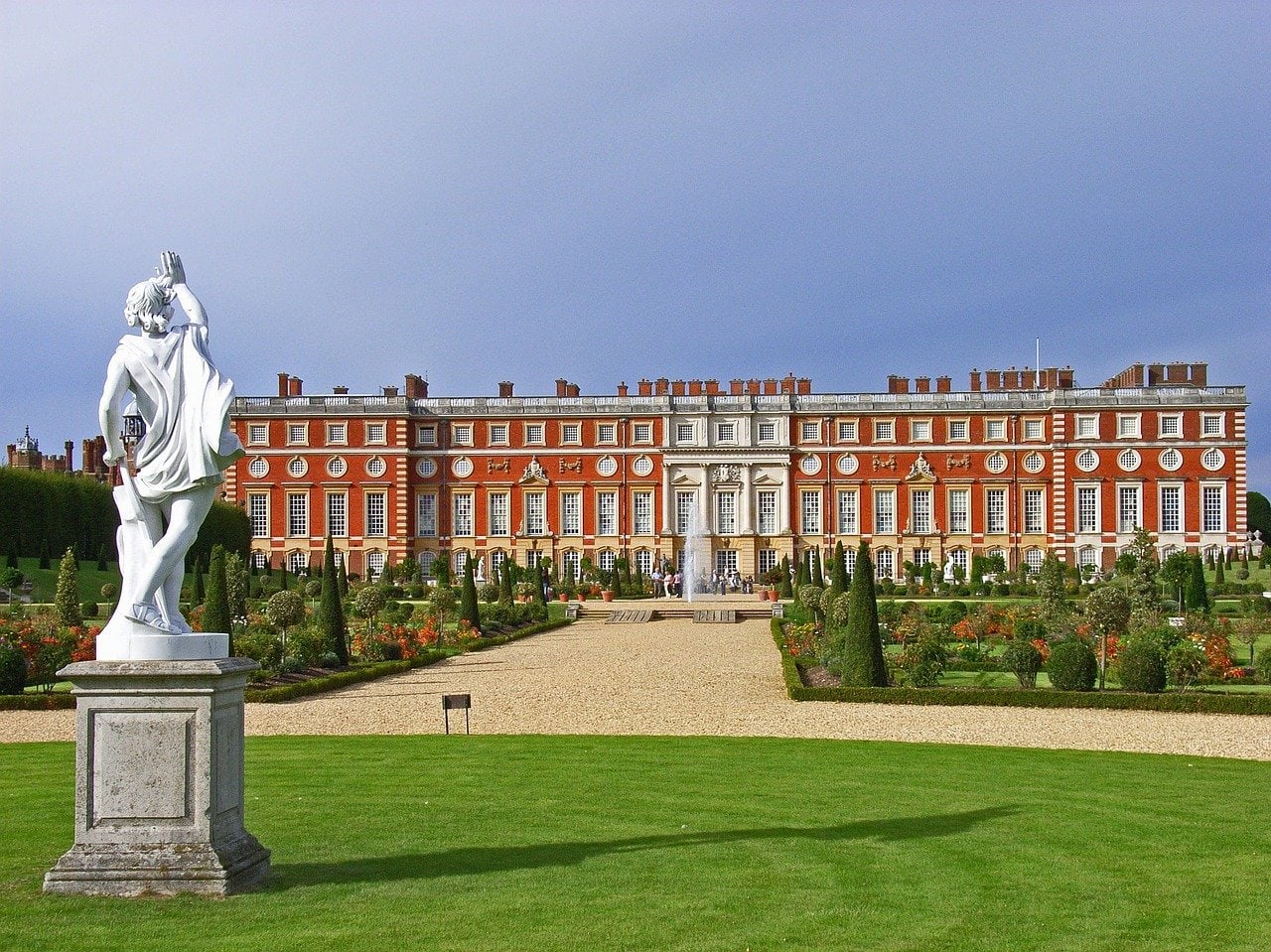 Wanting to visit more than one of these fabulous royal palaces, but don't want to break the bank?
I've got you. Some of those individual entry tickets are expensive!
If you're planning to visit a few royal palaces whilst you're in London, here's a little tip I have to do so on a budget – the London Pass.
The London Pass is an all-inclusive attraction pass for over 80 attractions in London. It includes the Tower of London, Kew Gardens, Kensington Palace, Windsor Castle, the Queen's Gallery at Buckingham Palace, Hampton Court Palace and Eltham Palace!
You can get the London Pass for between 1 and 10 days, but if you're focussing on the royal palaces whilst in London I recommend getting the London Pass for 2 days and seeing as many palaces as you can during that time! You can then save any cheaper attractions you want to see in London for any additional days you have in the city.
The London Pass costs £59 for one day, £81 for two days, and £93 for three days.
Let's use the two-day pass as an example. Entry tickets to most of the palaces I listed in this post cost an average of £23 each. The Tower of London alone costs a whopping £29! 
If you bought the London Pass, you'll already have saved yourself some money once you've visited four palaces over two days in London. Throw in another attraction that's included in the pass, like St Paul's Cathedral, and the London Pass will have saved you a pretty penny!
Find out more about the London Pass here.
When is the Best Time to Visit London Palaces?
The best time to visit London if you want to visit a few palaces and royal attractions is definitely summer. At this time of year the palace gardens will all be at their most beautiful. Plus, some royal palaces only open in summer!
Read more: Visiting London in Summer – The Ultimate Guide!