There is a good chance that this post contains affiliate links. If you make a purchase through them, I may receive a small commission at no extra cost to you! As an Amazon Associate, I earn from qualifying purchases. As ever, all opinions are my own.
Last Updated on July 4, 2022 by Ella
If you're looking for some of THE BEST brunch spots in London, head straight to the London Bridge neighbourhood. Trust me – we know how to do brunch properly here.
Sure, you'll find good brunches all over London, but what's so great about London Bridge is the sheer number of brunch options, coupled with the fact that it's WAY less crowded than the more touristy areas.
I've lived in this neighbourhood for over a year now, and have tried (almost) all the brunches around here in the name of…erm… research… Here's my roundup of the best brunches in and near London Bridge, perfect to add to your weekend plans! 
The Table Cafe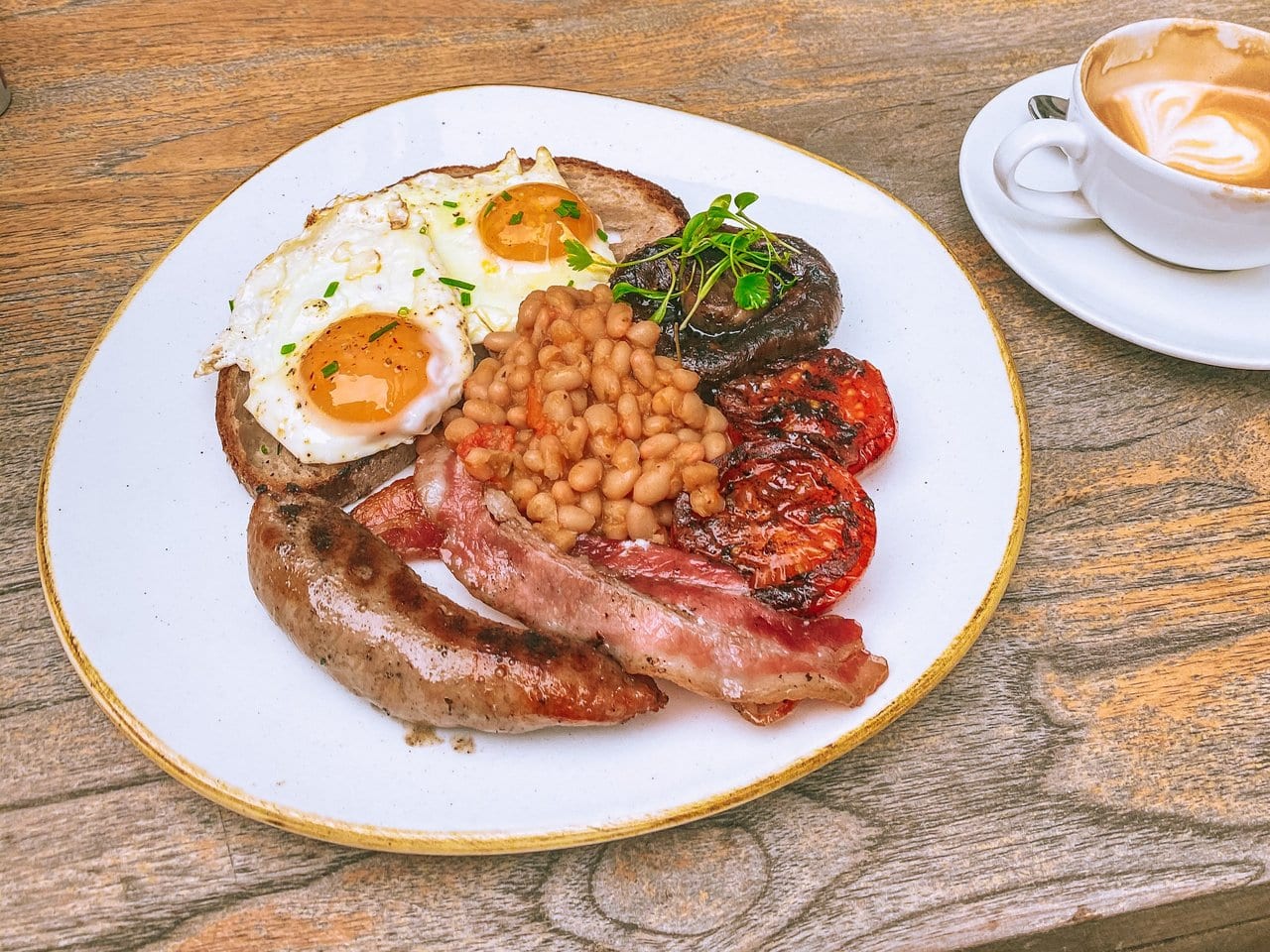 The Table is probably my favourite brunch cafe near London Bridge. I've been there like, 7 times by now!
Their menu is comprehensive and covers everything you could possibly want at brunch. There are waffles, pancakes, a full English, loads of veggie options, burgers and, of course, Eggs Benedict. They also have plenty of more unusual options, such as smoked ham and chorizo hash or sweetcorn fritter.
They serve alcohol (including the queen of brunch, Bloody Mary Cocktails!) as well as teas, yummy coffee and fresh smoothies.
You can make reservations in advance (and for brunch on a Saturday I highly recommend this) but they always save tables for walk-ins. So, if you're prepared to wait, you'll always get a table.
Getting there: Take the Borough Market exit from London Bridge underground station. From here, it's a 10-minute walk.
Opening times: Monday-Friday 8am-4pm, Saturdays and Sundays 9am-5pm. They're also open for drinks and snacks on Thursdays and Fridays from 5am-9pm.
Gentlemen Baristas Borough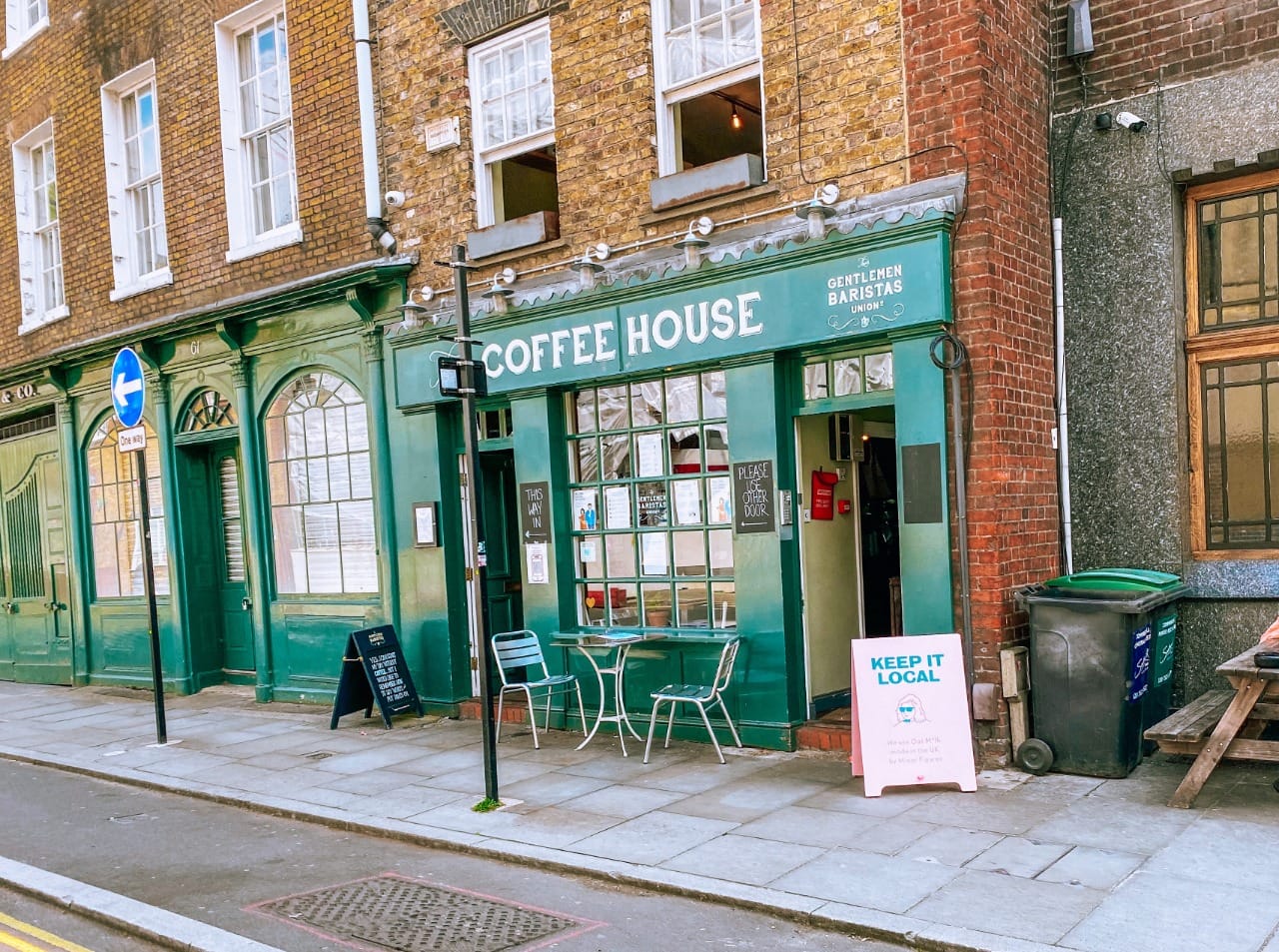 You may have seen me hype up the Gentlemen Baristas' coffee in my Best Coffee Near London Bridge post, but this time we're here to talk about their delicious brunch!
The Gentlemen Baristas Borough has a bright and airy cafe space upstairs, as well as an outdoor balcony area, where you can sit and enjoy their brunch menu in the most casual surroundings of all of these brunch near London Bridge options. 
They're open every day for coffee, pastries and sandwiches, but if you're looking for brunch you'll have to visit from Wednesday to Sunday. Luckily, though, it's served all day long!
Their brunch menu is small but mighty, and you'll find plenty of sourdough toast, poached eggs and smashed avocado featured. They also have some more exciting options though, such as smoked salmon, housemade labneh, cucumber, caperberries, dill and micro herbs on sourdough toast. Yum!
This is the best place to get brunch near London Bridge on a budget – probably because it's primarily a cafe, so they keep things casual and affordable. Just don't forget to order a coffee with your brunch – I freaking love their coffee.
Getting there: Take the Borough Market exit from London Bridge underground station. From here, it's a 5-minute walk.
Opening times: 7:30am-4:30pm Monday-Friday, 9am-5pm Saturdays and Sundays. Brunch is served Wednesdays-Sundays.
Lantana
If there's one thing we all know Australians love, it's brunch! Luckily, you can sample the Australian take on brunch right in London Bridge at Lantana.
This place is such a laid-back and chill cafe, and their coffee is to die for! They have a ton of vegetarian and vegan options, and the food has a unique Asian twist. They're open for breakfast, lunch and dinner, but it's obviously their weekend brunch that we're here for. I can personally vouch for their smashed avocado on sourdough with halloumi and poached eggs (drools), and I'm eyeing up their poke bowls for next time!
Lantana also offers one of the most popular bottomless brunch options in London Bridge. For £30, you can get a brunch dish as well as unlimited prosecco or mimosas. 
Not drinking, but want to join in the fun? They have a dry option of unlimited teas, coffees, and juices with any brunch dish for £25.
Getting there: Take the Borough Market exit from London Bridge underground station. From here, it's a 4-minute walk.
Opening times: Monday-Friday 7:30am-10pm, Saturdays 9am-10:30pm and Sundays 9am-4pm.
The Breakfast Club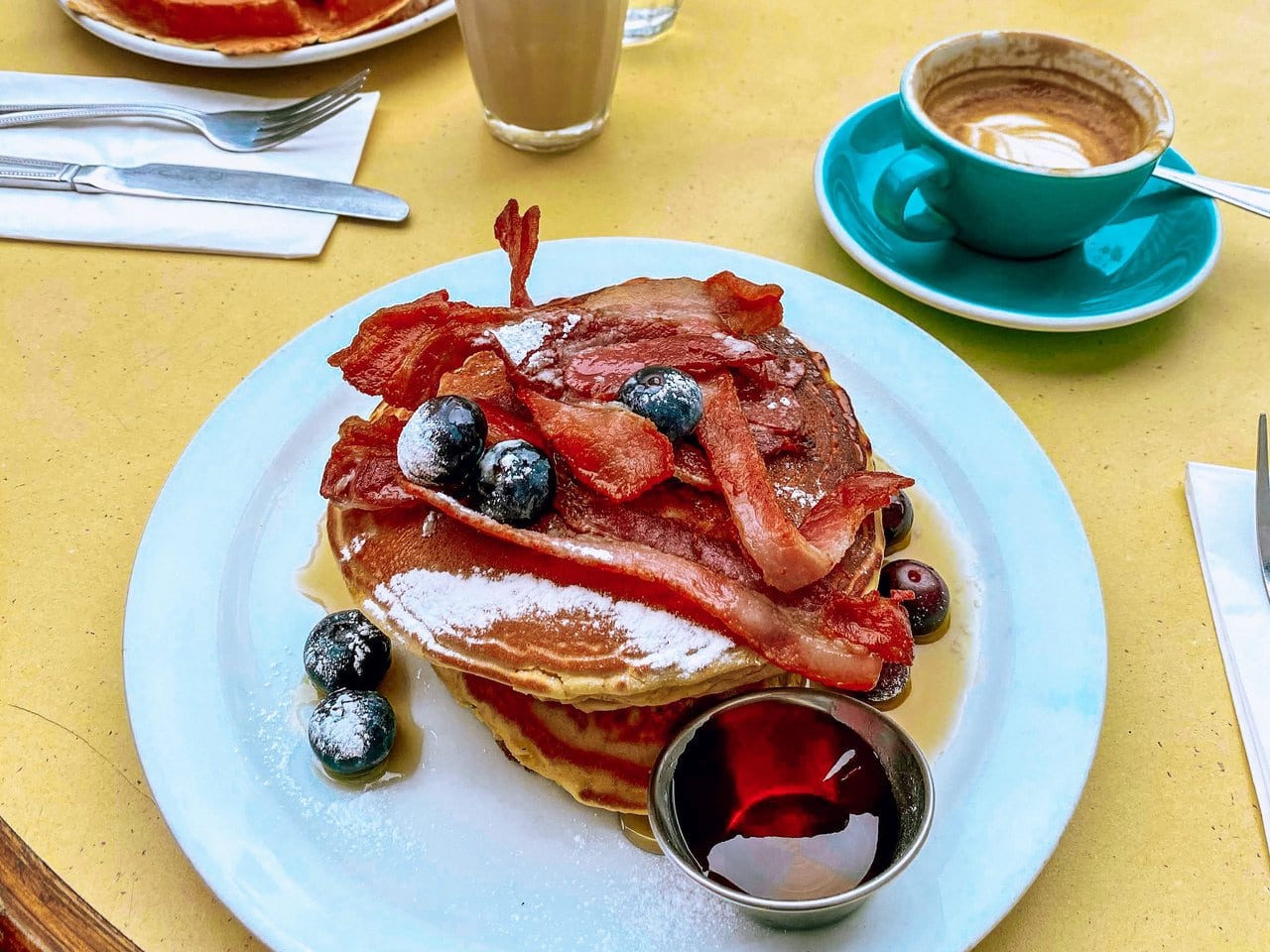 This hugely popular London brunch chain has a branch by London Bridge, and it's definitely worth the hype! Decorated like an old-fashioned caff, with a kooky pink ceiling for extra ambience, the vibe in here is laid-back and welcoming. 
Craving pancakes at 6pm? The Breakfast Club has got you covered. They serve breakfast food all day long, so there's no 'evening menu' and no cut-off point where you've arrived too late to get breakfast. Perfect if you've opted for a long lie-in at the weekend!
If that wasn't enough, pop by in the evening to explore their underground Tequila Dive Bar – Call Me Mr Lucky. Talk about brunch with a twist!
Getting there: Take the Borough Market exit from London Bridge underground station. From here, it's a 2-minute walk.
Opening times: Monday-Saturday 8am-10pm, 8am-7pm on Sundays.
The Refinery Bankside
Another popular breakfast near London Bridge is the one served up at The Refinery, Bankside. This place is HUGE and is always buzzing – especially since they have so many brunch cocktails on the menu.
This place is a normal restaurant and bar, so you can visit at any time of day, but it's always busy for weekend brunches. They have a huge outside terrace in summer, making it ideal if the sun is out and you want to make the most of it. 
Their brunch menu includes burgers, Full English, and all the usual brunch suspects, but it also includes their halloumi sticks, which are SO GOOD! I could write love letters to those halloumi sticks – that's how good they are.
Getting there: Take the Borough Market exit from London Bridge underground station. From here, it's a 10-minute walk. It's also just a few minutes walk from Blackfriars train station.
Opening times: 11am-11pm daily.
Where the Pancakes Are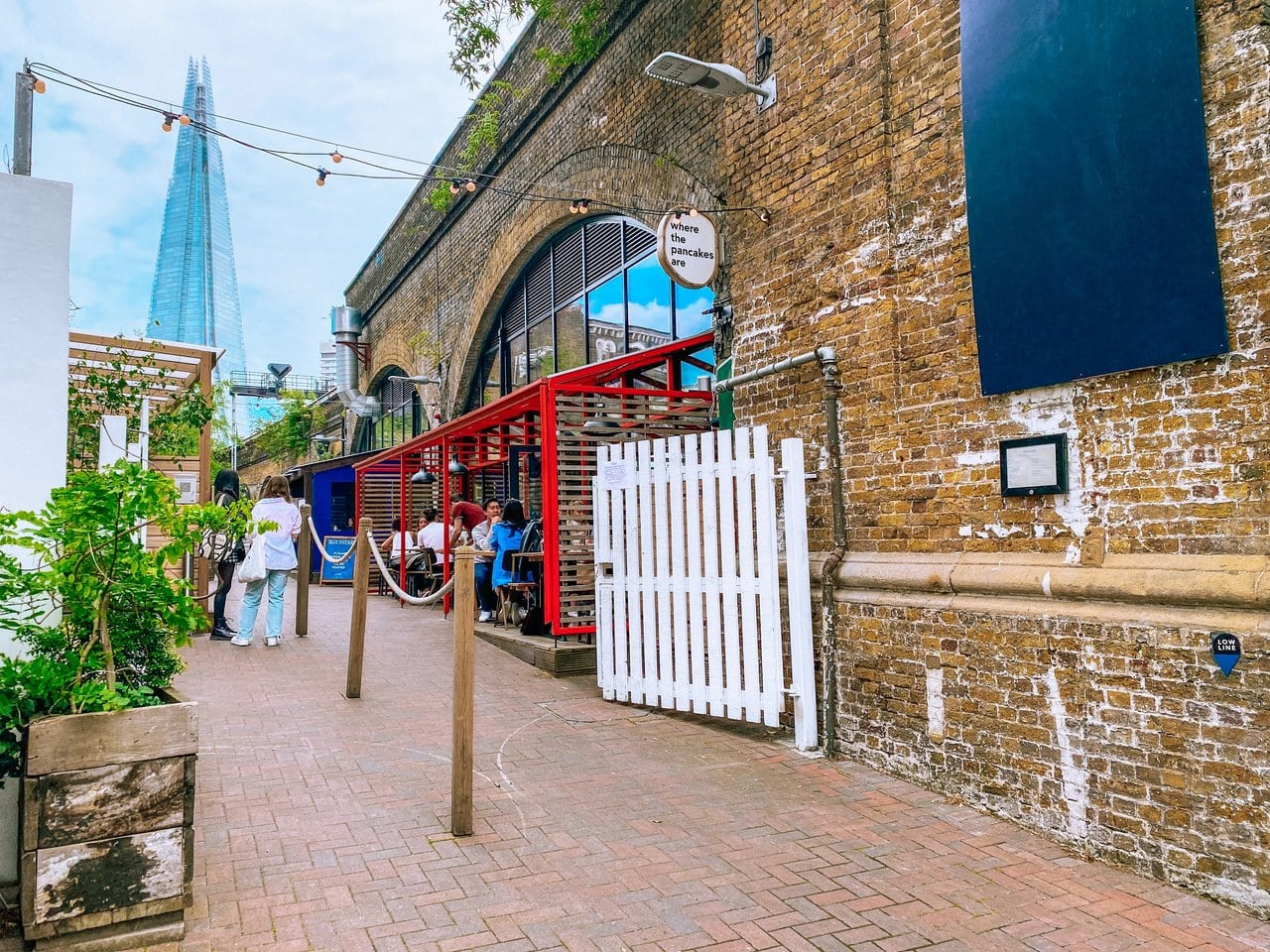 It's pretty easy to guess what's served up here. Yup, burgers.
Just kidding! 
Where The Pancakes Are do just one thing, but they do it well. Sweet and savoury pancakes, all day long. Their batters are made fresh daily, and they take their pancakes very seriously. They're not cheap (around £12 per dish) but you can guarantee your pancakes will be absolutely drool-worthy.
You'll find the Where The Pancakes Are restaurant in the ultra-hip Flat Iron Square, a cool space for drinking with some street food stalls. If you're planning on heading out for drinks after your brunch, you're already in the right spot!
Not only is Where The Pancakes Are in Flat Iron Square, but you'll also get epic views from The Shard, one of the most famous Landmarks in London, whilst you eat It's a good idea to book in advance for Where The Pancakes Are as it's always busy, but if you're visiting outside of peak times you might get lucky if you arrive without a reservation.
Getting there: Take the Borough Market exit from London Bridge underground station. From here, it's a 6-minute walk.
Opening times: Sunday-Thursday 9am-6pm, 9am-6:30pm on Fridays and Saturdays.
Santo Remedio
Three words: Mexican. Bottomless. Brunch.
You take incredible, mouth-watering Mexican dishes, you serve them at breakfast time, and you give the people what they want – bottomless margaritas, Modelo beers, or cava for two hours. That's what Santo Remedio does, and boy are they doing it well. All their dishes are designed to share, so bring a few friends and dive in!
The decor here is freaking gorgeous and super kitschy, the service is excellent, and the food. Oh my god, the food. Just get the soft shell crab tacos – trust me.
You pay for each dish, and then the bottomless option is an extra £30 per person. Sounds steep, but their margaritas are normally £9.50 each, so you won't have to work too hard to get your money's worth! 
This is easily the best bottomless brunch near London Bridge if you're looking for something slightly different. It's not cheap, but it's so, so worth it for a special occasion. 
Getting there: Take the Joiner Street exit from London Bridge underground station. From here, it's a 6-minute walk.
Opening times: 5:30pm-10:30pm Tuesdays and Wednesdays, 5:30pm-11pm Thursdays and Fridays, 12 noon – 11pm on Saturdays and 12 noon – 9pm on Sundays. Closed on Mondays.
London Bridge Grind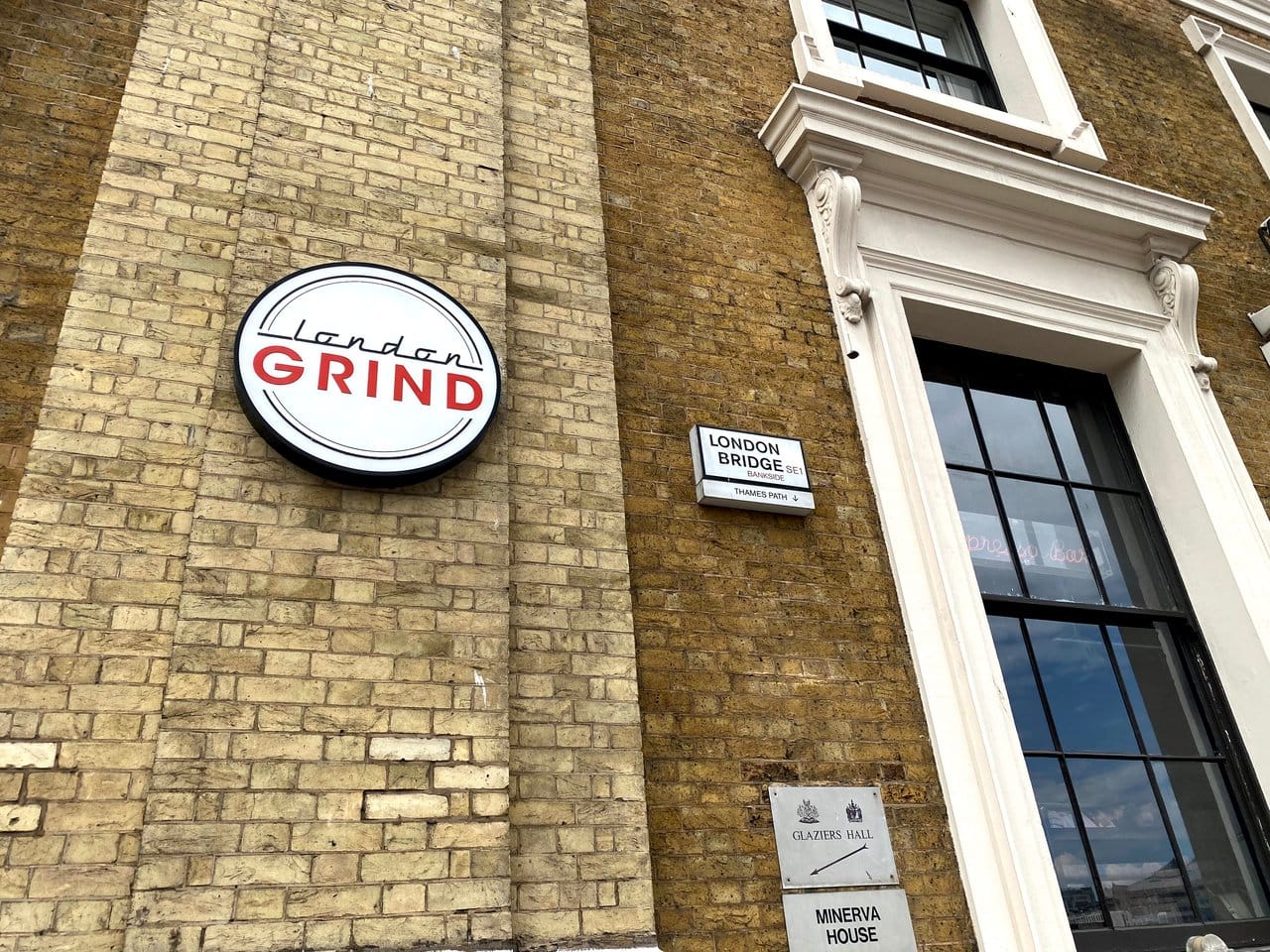 This London coffee chain is immensely popular across the city, but here at London Bridge Grind you'll find the chain's first restaurant. Coffee is still the focus, but they've added a whole host of all-day brunch options as well as almost a full menu page of different brunch cocktails on offer.
All the usual brunch foods are served here, as well as acai bowls, burgers and the less-typical sweet potato harissa cakes with poached eggs and yoghurt.
They have a small selection of dishes on their breakfast menu, which is served every day, and a much larger selection on their weekend brunch menu. They also have a bottomless option, where you can add as much prosecco as you like for 90 minutes, for £15 – and it's available on weekdays!
This place is open late on weekends, so they have an evening menu of sharing plates and a few main courses, but it's at its busiest on weekend mornings and afternoons – so I recommend booking ahead.
Getting there: Take the main exit (London Bridge) from London Bridge underground station. From here, it's a 2-minute walk.
Opening times: 8am-11pm Wednesday-Thursday, 8am-1am on Fridays, 9am-1am on Saturdays and 9am-6:30pm on Sundays. London Bridge Grind is closed on Mondays and Tuesdays.
---
There you have it – 8 amazing, tried-and-tested-by-a-local brunch spots near London Bridge that you have to get yourself to ASAP! I sure hope this post has left you drooling and ready to discover London Bridge's awesome brunch and breakfast scene. 
I love living here so much because there are just so many amazing brunch spots to try out!
Don't forget to pin this post!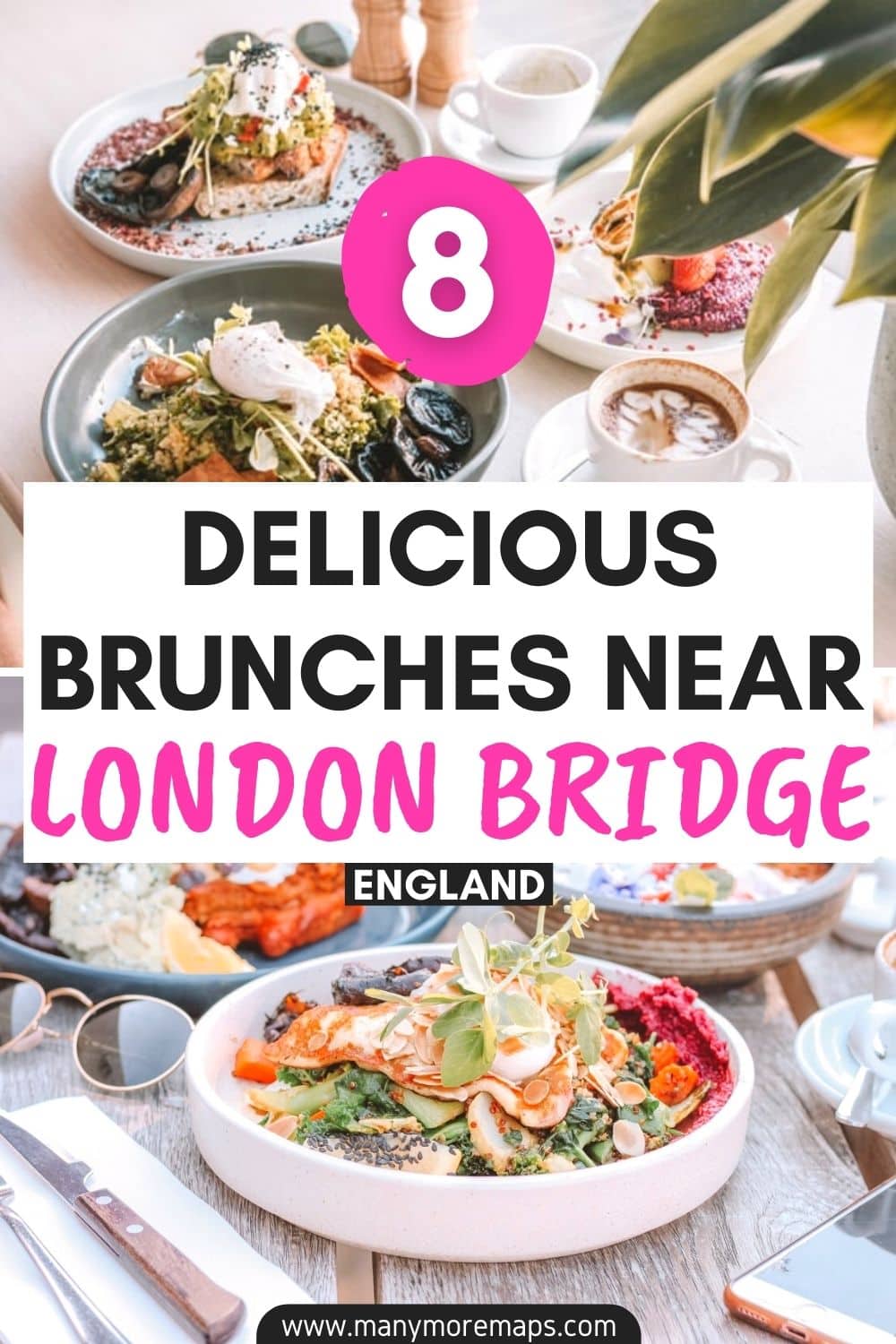 Looking for more London brunch spots? Check out my guide to the best brunches in Bermondsey here and the best brunches in Brixton here!