There is a good chance that this post contains affiliate links. If you make a purchase through them, I may receive a small commission at no extra cost to you! As an Amazon Associate, I earn from qualifying purchases. As ever, all opinions are my own.
Last Updated on December 30, 2021 by Ella
With the nights drawing in and the temperatures (finally) dropping, we're getting close to the spooky season and I am Here. For. It! And, unlike last year, Halloween in London for 2021 is set to… you know… actually go ahead.
That's fabulous news Londoners and tourists alike! After all, it feels like London was designed for Halloween. The city has a ton of grisly history, and apparently haunted locations, meaning there's no shortage of awesome things to do in London for Halloween.
Whether your ideal Halloween activity in London is being scared senseless at the London Dungeon, delving into true crime history on a Jack the Ripper Tour, or hanging out in London's most beautiful graveyard, you won't be disappointed.
Can't decide what to do? No worries – here are 15 unmissable things to do in London for Halloween!
Jack The Ripper Tour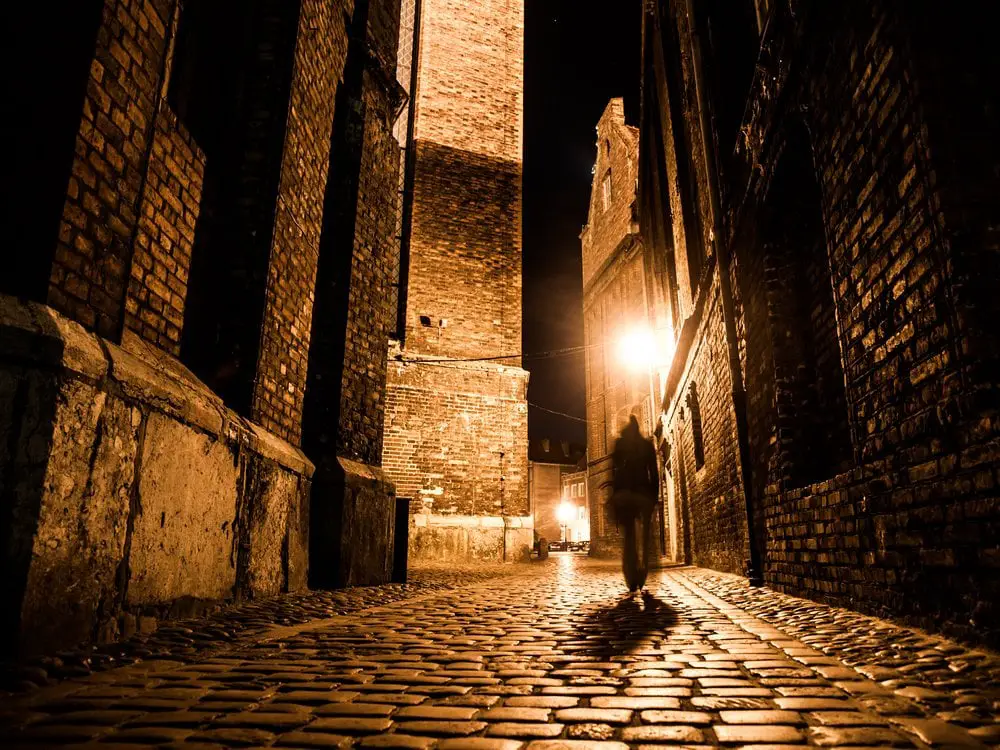 This is my favourite suggestion of what to do at Halloween in London because it's so unique to the city and totally spooky!
On this tour you'll step back in time to Victorian London to explore the dark East London streets previously stalked by one of the most famous serial killers in the world, Jack the Ripper.
Meeting your tour guide in Whitechapel, you'll explore the main sites in the Jack the Ripper story, including each of the crime scenes. To this day, the identity of Jack is still unknown, and you'll consider the main suspects and go deep inside Jack the Ripper's mind to try to work out what his motives were.
This tour is undoubtedly the best Jack The Ripper tour in London. It lasts for two hours, costs just £14, and the guides are total experts on all things Jack.
Fun fact: apparently, a Jack the Ripper expert is called a Ripperologist!
The London Dungeon
If you're into a good old-fashioned scare (and disclaimer: I am certainly not!) the London Dungeon is the place for you. 
This is one of the most obvious things to do in London for Halloween, so if you want to go on Halloween night itself, book as far in advance as you can! It's always booked up well ahead of the big night, so it pays to be organised.
In case you've never been to a dungeon before, the experience includes interactive shows and a couple of rides guiding you through the history and creepy characters of London.
Their aim is to make yo you jump out of your skin, so be warned! Most people who actually love being scared think the London Dungeon is pretty tame, but if you're a big baby like me you'll find it terrifying!
I've only ever been to the Hamburg Dungeon, but after spending the entire time scared out of my mind (and maybe having a discreet cry or two) I vowed to never return to a dungeon ever again – a vow I am sticking to!
Yeah, I'm a big scaredy-cat.
Tower of London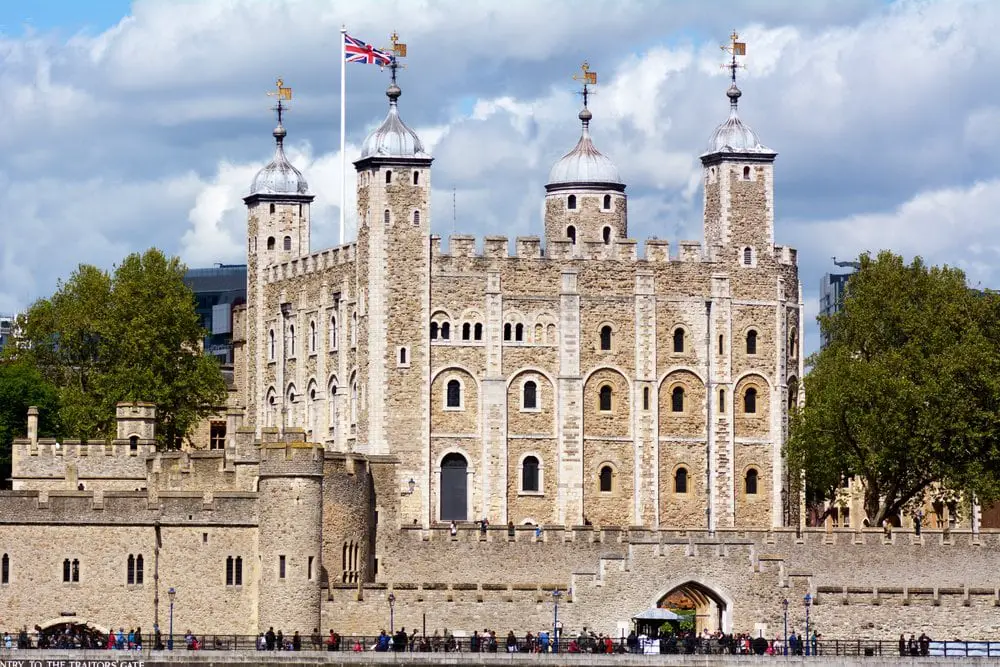 For an attraction equal parts history and spookiness, look no further than the Tower of London. The Tower, which overlooks the River Thames, has held some of England's most notorious prisoners for almost 1,000 years. It's also one of the best palaces in London!
It was first used as a prison in 1100 and saw inmates as late as 1952, when famous organised crime leaders Ronnie and Reggie Kray were interned there.
During the Tudor era, it was at the Tower of London that Lady Jane Grey and Anne Boleyn were executed. It's also where Guy Fawkes was tortured until he confessed to the Gunpowder Plot to blow up the Houses of Parliament.
Today, fortunately, no torture or executions take place, and it's one of the most family-friendly landmarks to visit in London.
During your Halloween visit, don't miss learning about the macabre reason that ravens always hang out at the Tower. You'll also want to stand on the spot of famous executions and tour the battlements.
London Bridge Experience
The London Bridge Experience has pretty much the same offering as the London Dungeons, but this attraction has been voted the scariest attraction in the UK for 11 consecutive years – so you're almost guaranteed a scream or two!
The London Bridge Experience is open year-round, and entry tickets cost £25. Once you arrive, you'll walk through 4 different rooms, with spooky sets and talented actors who share some of the gruesome history of the London Bridge area and give you a good scare along the way.
You'll also get to visit the London Tombs, a 'scare maze' experience with creatures jumping out at you. For kids under 11 (and big babies like myself), they also have a 'less scary' option. Phew!
At Halloween, the London Bridge Experience really ramps things up, offering two Halloween special tours. The first is the Phobophobia 13 show, which is basically a more horrifying version of the usual tour, complete with clowns, butchers, zombies and snakes. 
If you're visiting with kids, or just don't want to be scared senseless, they also offer the Family Halloween Show, which involves a spooky walk through the creepy past of London Bridge followed by an excursion to the London Tombs.
Take The Haunted London Tour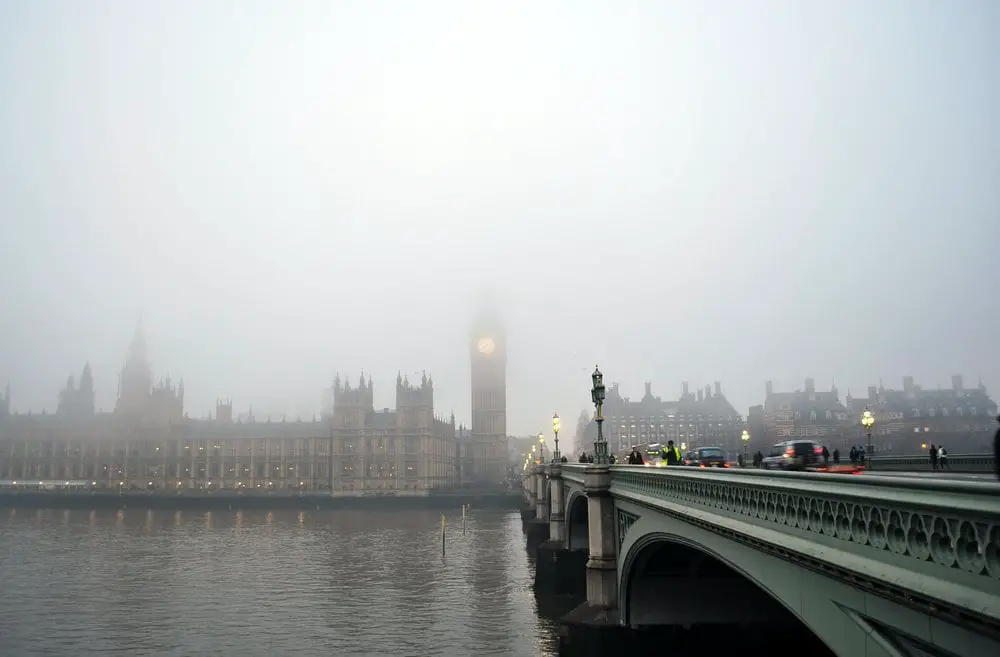 London is an old, old city, so it makes sense that it'd be full of alleged ghost sightings and haunted locations. This tour, which is run by the most established ghost guide in London (he's written over 22 books on the topic!) lasts 1 hour and 40 minutes and costs £12 per person.
The tour takes in multiple different haunted London locations, from a graveyard to a haunted pub, to abandoned back-streets, and introduces you to the story of some of London's most infamous ghosts.
Obviously, you can create your own tailor-made ghost tour, and if you're on a really tight budget this is the perfect thing to do in London for Halloween. After all, it'll be free!
However, it would take a ton of research, and it would take you a lot of time to pull together. By joining a tour group, you can just turn up, ready to explore and go ghost hunting with no hassle.
Harry Potter Afternoon Tea
Harry Potter is synonymous with Halloween, but here in London there's far more Harry Potter-inspired things to do than just visiting the Warner Brothers Studio!
One of the more unique Harry Potter experiences in London is the Harry Potter afternoon tea at the fabulous bakery, Cutter & Squidge.
Hosted in their basement 'Potion Room', their interactive afternoon tea experience, or 'potions class' is a delicious way to transport yourself from London to Hogwarts for Halloween. 
Donning your robes as you enter the Potion Room, you'll meet your Potions Master, who will have you casting spells and stirring up concoctions to magic up some delicious treats in no time!
The afternoon tea experience costs £49.50 for adults and £39.50 for kids. For that price, (as you'd expect!) everything is included – including Unicorn Tears and Elixir of Life teas! Book as far in advance as possible, because it's incredibly popular!
You'll find more details here.
Drink at a Haunted London Pub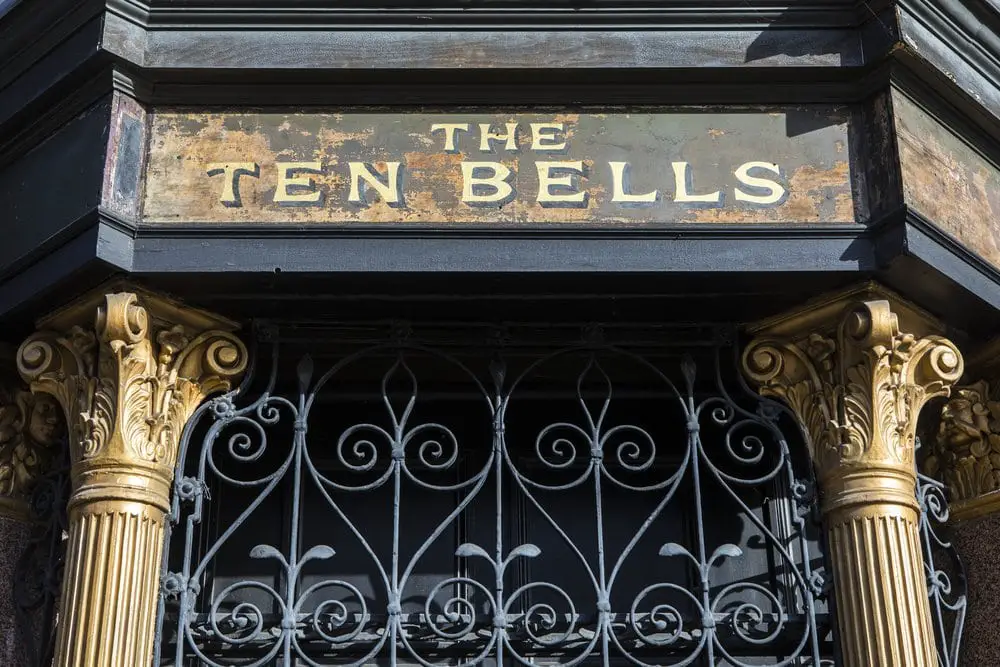 If there's one thing Londoners do well, it's drinking. The city is jam-packed full of historic pubs, and since they're often full to the brim with eager visitors, it's easy to ignore the rumours that so many of them are haunted!
To explore them best, you can either head out and enjoy a pint with the paranormal, or design your own ghostly pub-crawl heading from one haunted establishment to the next. Just don't drink so much that you're not sure whether you saw a ghost or not ;).
Some suggestions for the most haunted pubs in London include The Viaduct Tavern, near St Paul's, The Ten Bells in Spitalfields, and Spaniards Inn in Hampstead, where it is rumoured the ghost of highwayman Dick Turpin haunts the street in front of the pub.
Dennis Severs' House at night
Book after-dark entry tickets to this previously derelict house which was redesigned to look like the home of the imagined Huguenot Family in the 18th century. Strict silence is enforced in the house, and with the only light coming from the flickering candles, you'll almost definitely get the creeps.
Dennis Severs' House is half-museum and half-art installation, and with the silence highlighting the ticking of the clocks and crackling of the fires, you'll definitely feel like you're on the set of some long-forgotten mystery or horror movie.
Opening hours are quite limited, with the 'silent night' entry only available on Friday nights between 5pm and 9pm. Entry costs £20, and you can book your tickets here.
Explore London's abandoned tube stations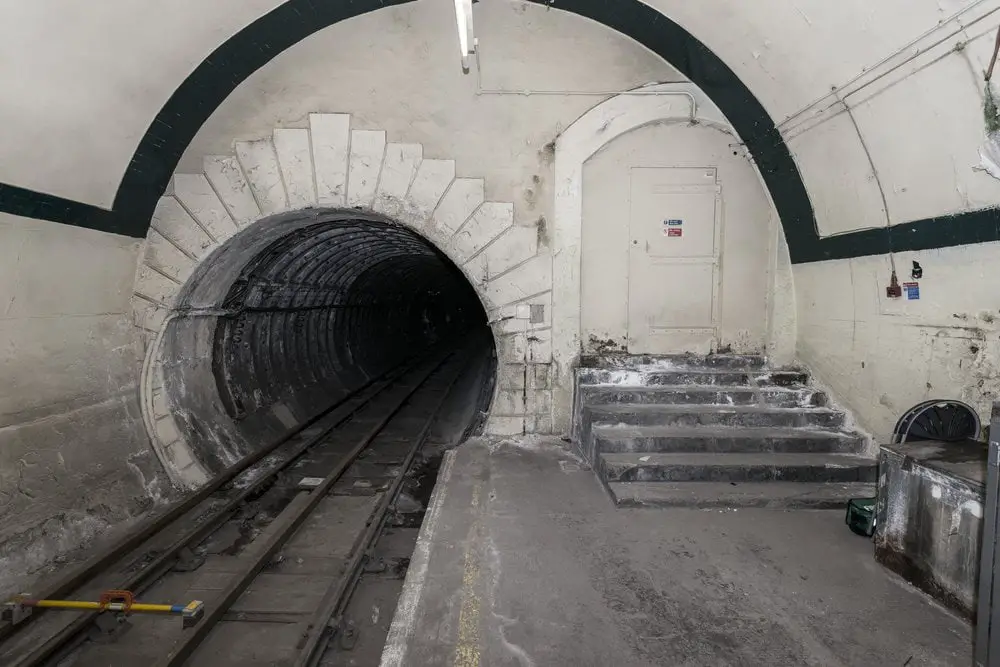 Exploring an abandoned anything gives me the chills, but exploring an abandoned London Underground tube station feels exceptionally creepy. After all, that far underground there's no daylight, and given the tube's history, almost certainly a couple of ghosts.
There are a few 'secret' or 'abandoned' tube stations scattered across London, but the one you're able to visit is Aldwych station, which opened to the public on the Piccadilly line in 1907 and closed in 1994 after falling footfall.
On a station tour run by the London Transport Museum, you're able to descend into this hidden station and explore the abandoned ticket hall, original lifts and empty platforms. Scary!
Highgate Cemetery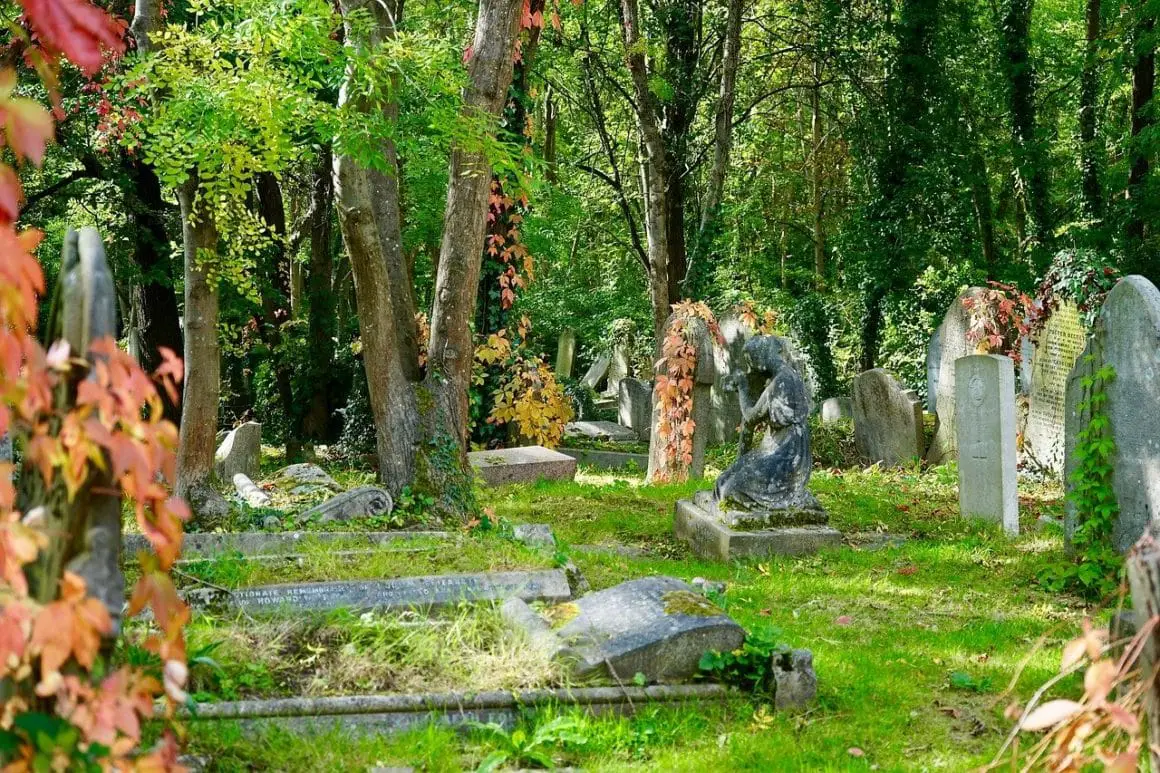 Nothing says Halloween like hanging out in a graveyard, right?
It sounds weird, but bear with me. Unlike your typical graveyard, Highgate Cemetery is actually a tourist attraction too. With over 170,000 people buried here, this graveyard is huuuggee. It's also very beautiful – in a creepy graveyard type of way, of course.
Highgate Cemetery is probably the most famous graveyard in the UK because it's the resting place of so many celebrities. As you wander you'll find the graves of philosopher Karl Marx, writer George Eliot, and even beloved singer, George Michael.
You can either explore independently or join a guided tour. The tours take 1 hour and 15 minutes and include a visit to the catacombs too. Check their website for tour times. Highgate Cemetery is still a working graveyard, and obviously a place of rest, so please be respectful as you visit.
London Ghost Bus
Welcome to the world's only comedy-horror show on wheels – the Ghost Bus! Hop aboard this classic 1960's Routemaster bus, which is painted black, for a 1 hour and 15 minute terrifying, yet hilarious, tour of London's most famous landmarks.
Although it can get pretty frightening for very young children, the London Ghost Bus is ideal for families as it's the perfect level of spookiness. You'll need to book your tickets in advance, but seating on the bus is first-come-first-served. To get the best seats, you'll have to get there early!
The bus departs daily at 7:30pm and 9pm from 8 Northumberland Avenue – near the Embankment tube station.
Clink Prison Museum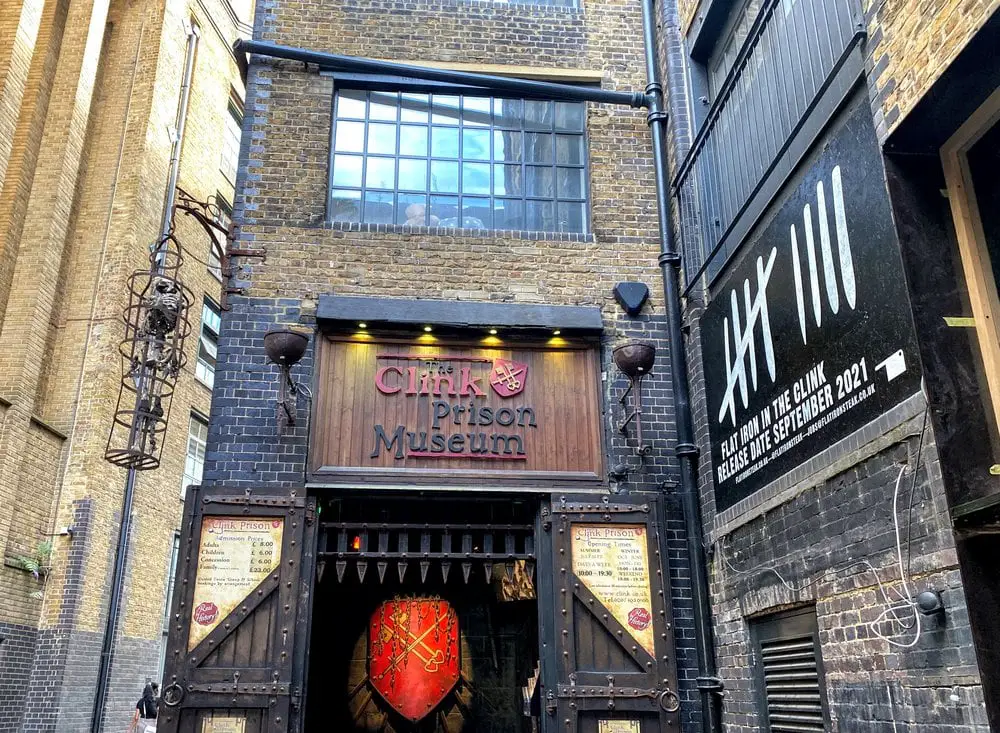 Dating back to 1144, the Clink Prison is one of the oldest (and most notorious!) prisons in England – and since it's so close to London Bridge, it's actually super easy to visit!
Nowadays, the site of the prison has been turned into a kooky yet fascinating museum of the Clink Prison – including exhibits about the torture techniques used at the prison. 
I'll warn you – the museum gets pretty bizarre. After all, it has the death mask of Oliver Cromwell on display! That said though, its kitschy approach to exhibiting its historical artefacts and information means that it's the perfect attraction for those of us who love Halloween but are also massive scaredy-cats! 
Plus, we all love a Halloween attraction that's both freaky and educational, right?
Adult entry tickets cost £8, and it's open every day except Christmas day!
Movie Marathon at Prince Charles Cinema
The Prince Charles Cinema near Leicester Square is unrivalled when it comes to playing Halloween cult classics during the spooky season. 
You'll find almost every Halloween-inspired, horror or spooky movie you can imagine being played here during October, but what makes the Prince Charles Cinema stand out from the crowd is their double and triple features and their all-night movie marathons.
Yup, you heard me right!
Their classic horror all-nighter, which includes 5 iconic films played back-to-back, starts at midnight and runs alllll night. They also usually run the full Harry Potter film series as an all-nighter for Halloween, as well as a few other Halloween-themed all-nighter events.
This isn't for the faint hearted! After all, 7+ hours is a long time to watch movies for, regardless of the season. The question is – will you be able to stay awake the whole night?
You'll find more information here.
Hampton Court Palace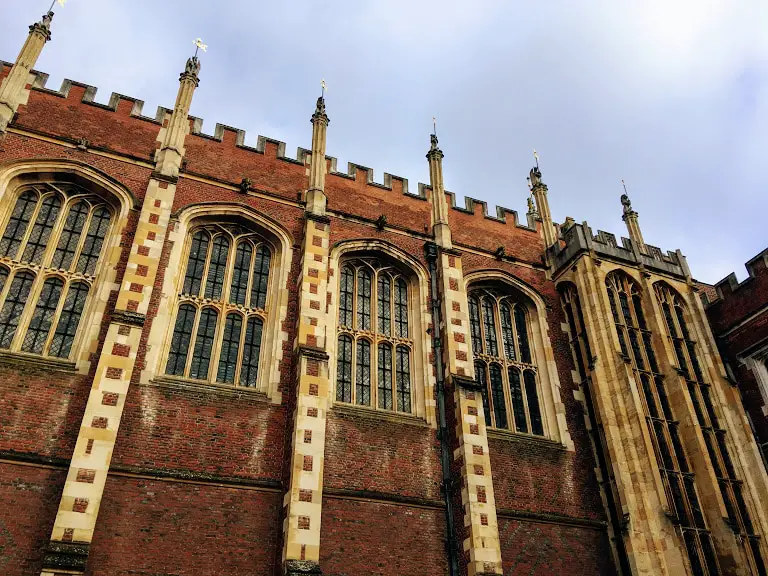 Hampton Court Palace may not be the most obvious of things to do in London for Halloween, but with its hundreds of years of history, it certainly has seen its fair share of gruesome events.
I've written a complete guide to visiting Hampton Court Palace, and you can definitely visit it at any time of year, but I feel like Hampton Court would be perfect for Halloween. I mean, I visited in January, and it still manages to give me the creeps!
Given its reputation for being haunted, Hampton Court runs its very own ghost tours. Even if you're not on one of their dedicated tours, though, the free audioguide you get at the palace gives you a detailed history of the ghosts at Hampton Court, and where you can try to find them!
For the best chance of seeing a ghost, head straight to the area called the Haunted Gallery, where Henry VIII's fifth wife, Catherine Howard, who was beheaded at the palace, is rumoured to still haunt the area.
Entry tickets cost around £25 – book them here!
Drink in a prison cell at Alcotraz
Alcotraz is a prison-themed cocktail bar chain, and you'll find its London venue, Cell Block Two One Two, just off Brick Lane in East London.
Part-theatrical experience and part-cocktail bar, Alcotraz is the ideal way to go drinking on Halloween with a twist.
It's bring your own alcohol – so be sure to pack anything that can be made into a cocktail and their expert mixologists, or… ahem… crooked guards, will whip you up a bespoke cocktail based on your tastes and what you managed to 'smuggle in'.
You'll have to don your orange jumpsuit on entry before the warden takes you to your group's cell. From here, the guards will conspire with you to make sure your bootlegged booze is whipped up into fabulous cocktails. Just don't let the warden catch you!
Entry costs £35.99, so it is pricey considering your booze isn't included, but it's certainly a one-of-a-kind experience!
---
There are so many options for fun and spooky things to do in London for Halloween, and there truly is something for everybody. Yet another reason why I love this city so much!
Whether you're looking for an adrenalin-filled scare, or just a harmless spooky activity to do at Halloween, London has got you covered. It's one of the best places to spend Halloween in Europe!
What's your recommendation for the best things to do in London for Halloween?