There is a good chance that this post contains affiliate links. If you make a purchase through them, I may receive a small commission at no extra cost to you! As an Amazon Associate, I earn from qualifying purchases. As ever, all opinions are my own.
Last Updated on April 29, 2022 by Ella
There are a ton of places to visit near Porto for the day. Everybody has heard of the Douro Valley and Braga – after all, they're probably the two most popular day trips from Porto! But if you don't follow the crowd and want to get off the beaten path a bit, a day trip from Porto to the historic city of Guimarães is perfect! 
Not only is Guimarães an incredibly easy and affordable day trip option (perfect if you're visiting Porto on a budget!), but it also has plenty to keep you occupied for the day. I chose to visit Guimarães after seeing photos of its palace and castle. I'm a sucker when it comes to historical attractions, so just a few seconds after I saw them I booked my bus tickets! 
I had such a wonderful day in Guimarães, and I'm so glad I visited! Not only is the city stunning, but its pace is so much slower and the vibe more laid-back than Porto. The weather in Guimarães on my day trip was incredible too, which definitely helped!
Guimarães is one of the best cities you could possibly visit if you want to learn more about the history of Portugal. It's considered the birthplace of the country. This is because King Alfonso, the first King of Portugal, was born there. For this reason, the city is incredibly important to Portuguese people, and it's got a lot of medieval history.
After enjoying my trip to Guimarães so much, I'm keen to show off what a fabulous day trip from Porto this city is. I also want to convince more people to pay it a visit.
Here's how to rock a day trip to Guimarães from Porto!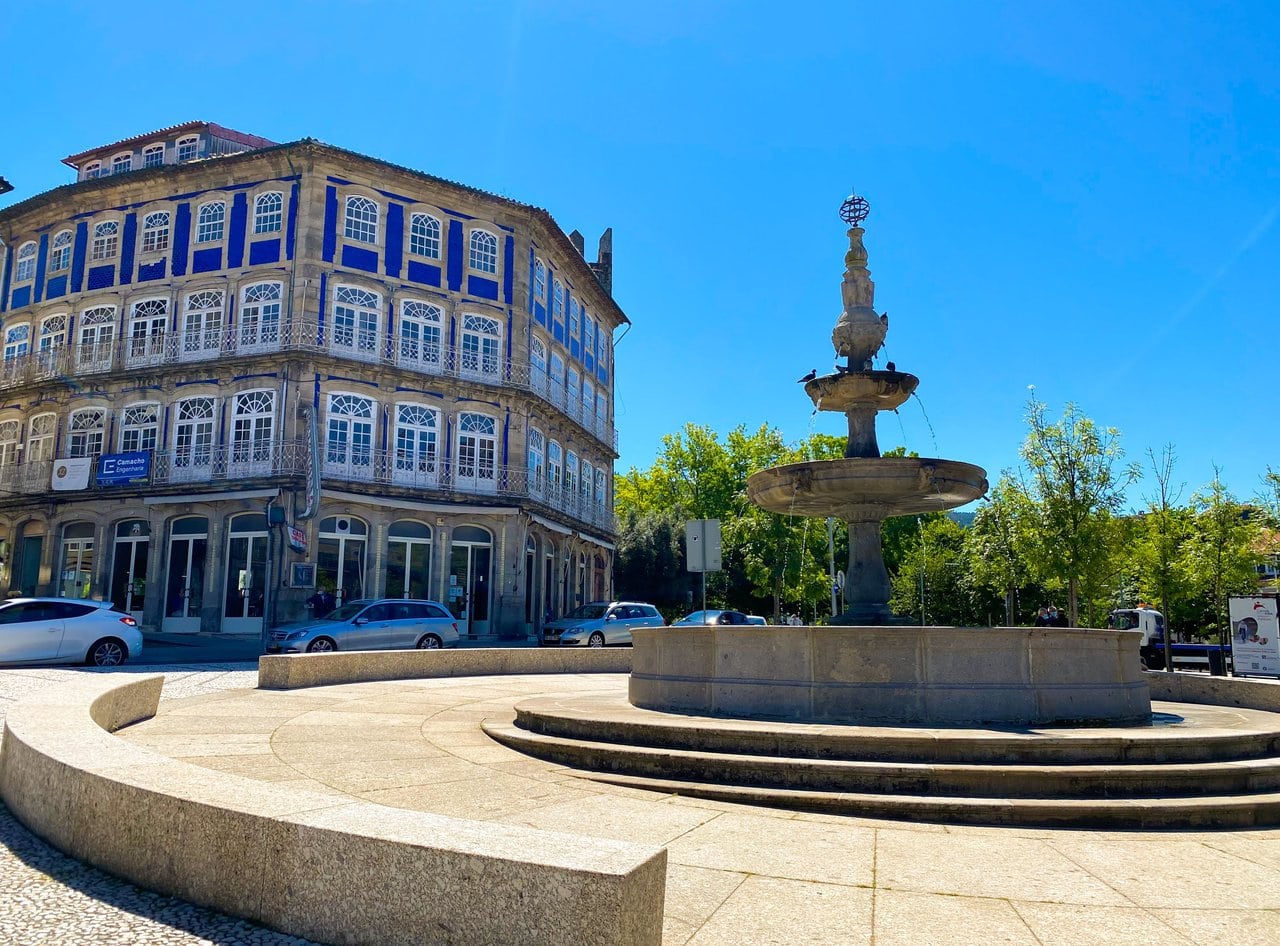 How to get to Guimarães from Porto
Guimarães is around 50 km northeast of Porto. The fastest way to get there from Porto is by bus, which takes around 50 minutes. There are a ton of different companies that operate on this route, but I opted for Flixbus. The bus is incredibly cheap, and costs just €1.99 each way if you book a day or so in advance!
The bus was comfortable and easy as there were no stops in between Porto and Guimarães. Plus, both bus stations were just a 10-minute walk away from the city centres, which was ideal.
Another option is to catch the train. The journey time takes around 80 minutes, so it's definitely slower than the bus. It also costs €3.25 each way – certainly not breaking the bank, but more expensive than the bus. The upside of catching the train is that it departs from Porto's stunning Sao Bento station. You can search train times and prices here.
The final option is to join a guided tour to Guimarães and Braga. This is definitely the best option if you want to cross both cities off your bucket list in the same day, as doing this independently is quite a mission!
Things to Do in Guimarães, Portugal
There are only a few main attractions and things to do in Guimarães, but there's still enough to fill an awesome day with.
Palace of the Dukes of Braganza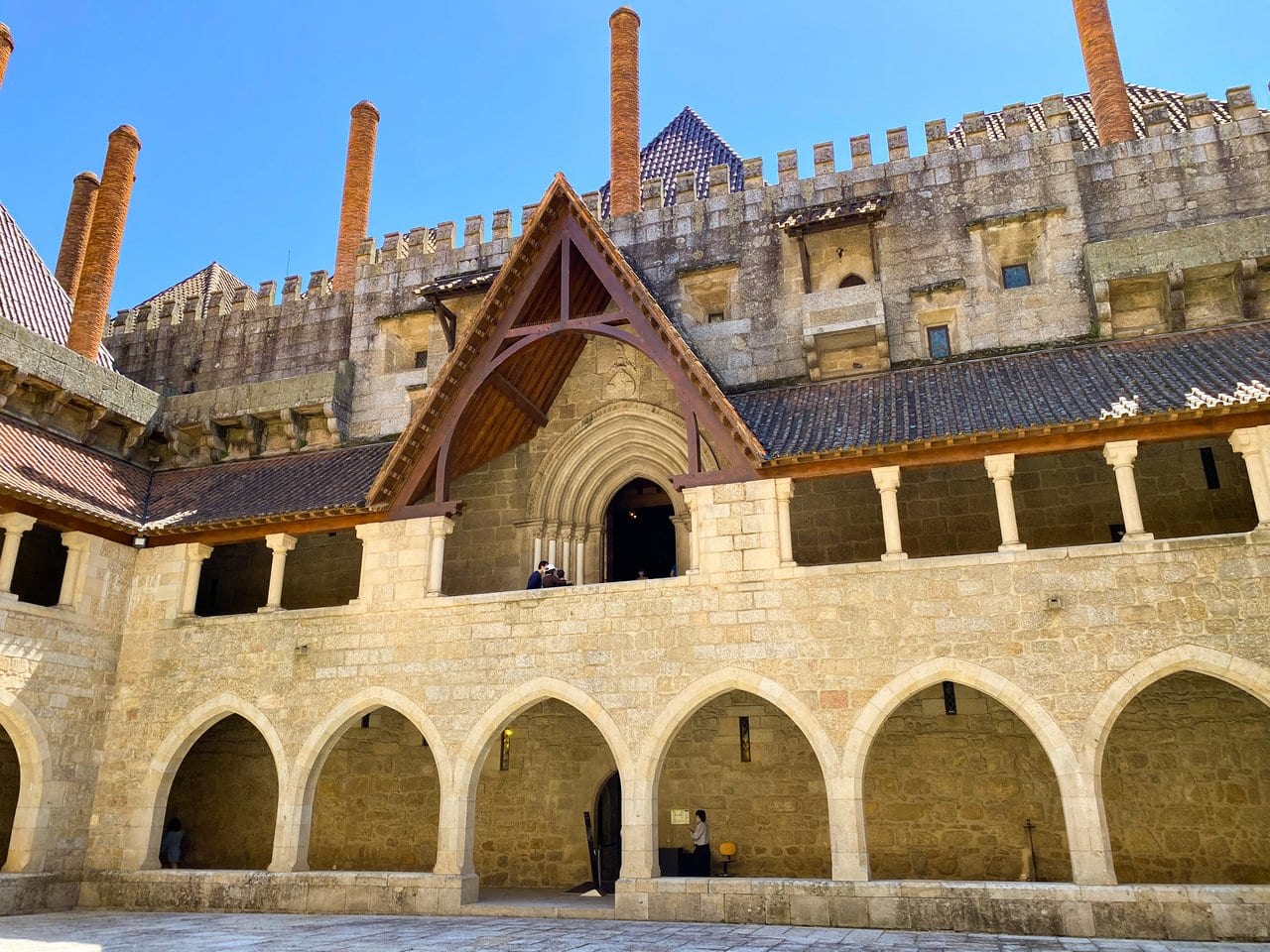 Your first stop in Guimarães should be the Palace of the Dukes of Braganza. This medieval estate was built for the 8th Count of Barcelos, and it's definitely an imposing building. 
There isn't a ton of history to read about in the palace (signposts and information available is pretty lacking) but it's an interesting place to explore, and it is very photogenic! 
There was a bit of a queue when I arrived but it moved quickly. At the ticket desk, be sure to purchase the combined ticket of the Ducal Palace and the Guimarães Castle, which costs just €6. 
See what I mean about Guimarães being budget-friendly?
Guimarães Castle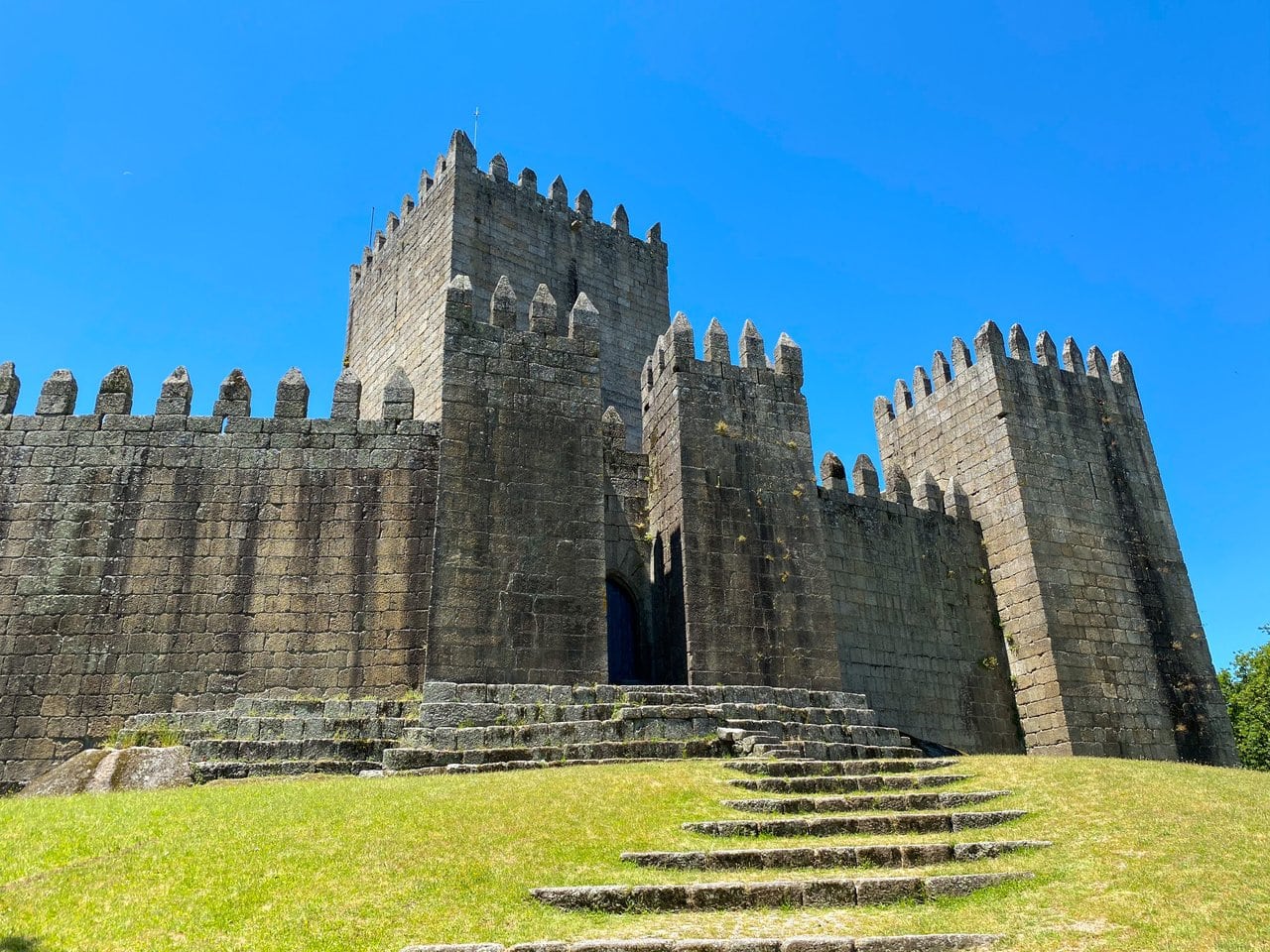 The next stop is Guimarães Castle, which is just next door to the Palace. This 10th-century castle isn't huge, but it's a lot of fun to walk around, climb the walls and admire the kick-ass views over the surrounding hillsides. 
There was even less information about the history of the castle available at the site, so if you want to know more I recommend checking out their website beforehand.
Enjoy Wandering the Streets of Guimarães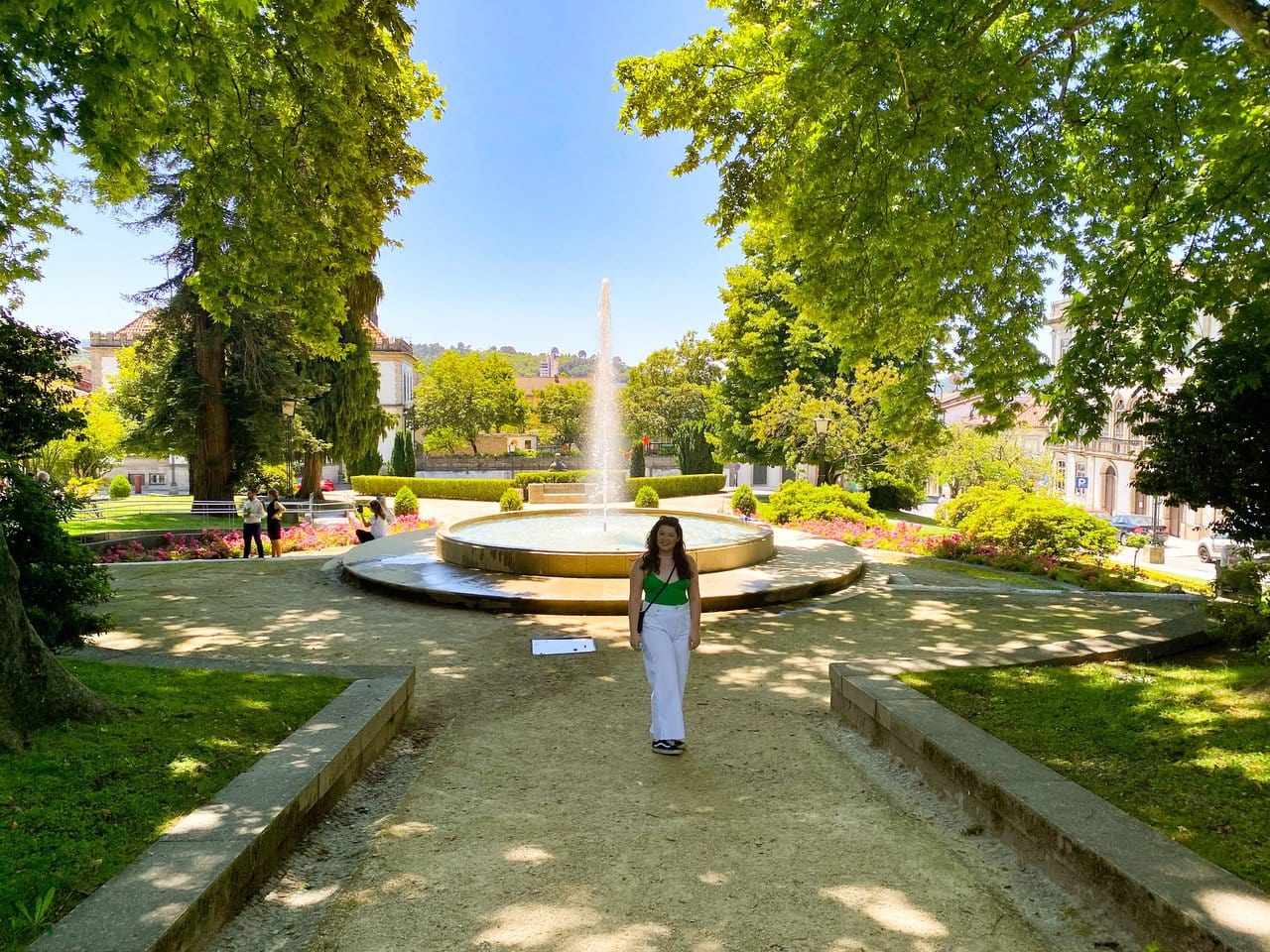 This sounds like an odd suggestion, but the streets of Guimarães (especially those near the castle and palace) are so delightfully pretty! You'll find fountains, flowers, and lots of cafes with locals sitting outside sipping their coffee.
Spending a while wandering aimlessly is the perfect way to explore the beauty of the city and take a break from some sightseeing.
Eat Lunch at Cantinho Dos Sabores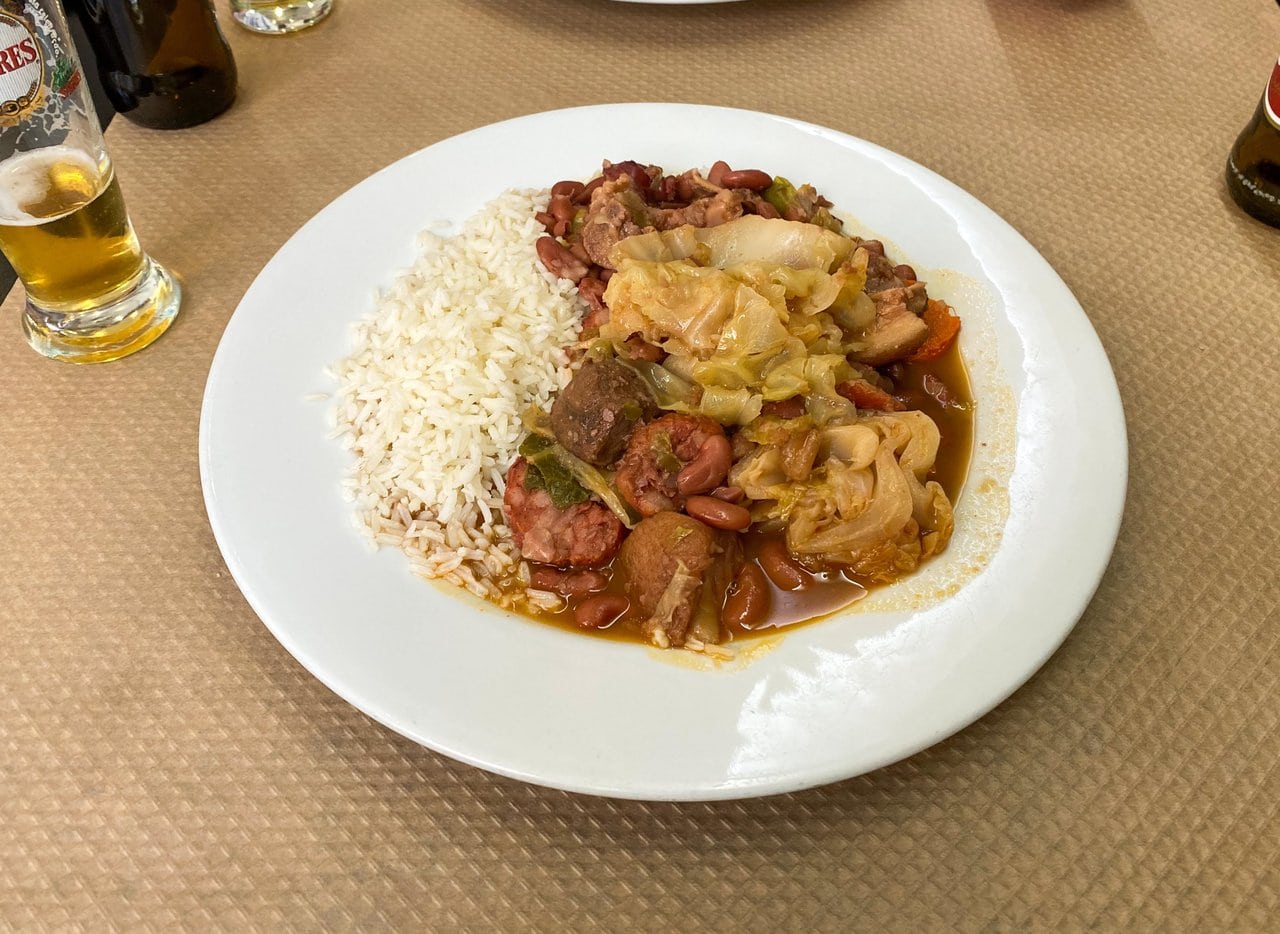 For authentic and hearty Portuguese food (which is ridiculously cheap) head to Cantinho Dos Sabores. It's one of the best lunch restaurants in Guimarães.
You should definitely order the set menu of the day. You'll get soup, a HUGE main dish, and a beer/wine/soft drink for €5. Yup, you heard me right!
This place was the best value of all the restaurants I visited in Portugal. I still have no idea what my main dish was (I speak no Portuguese and the waitress spoke no English, so I just picked a random dish and hoped for the best!) but it sure was tasty.
It was also incredibly filling, so you'll probably want to have a lie down after lunch. But there's no time for that! It's on to the next destination!
Stop by the Jardim do Largo da República do Brasil & the Church of Consolação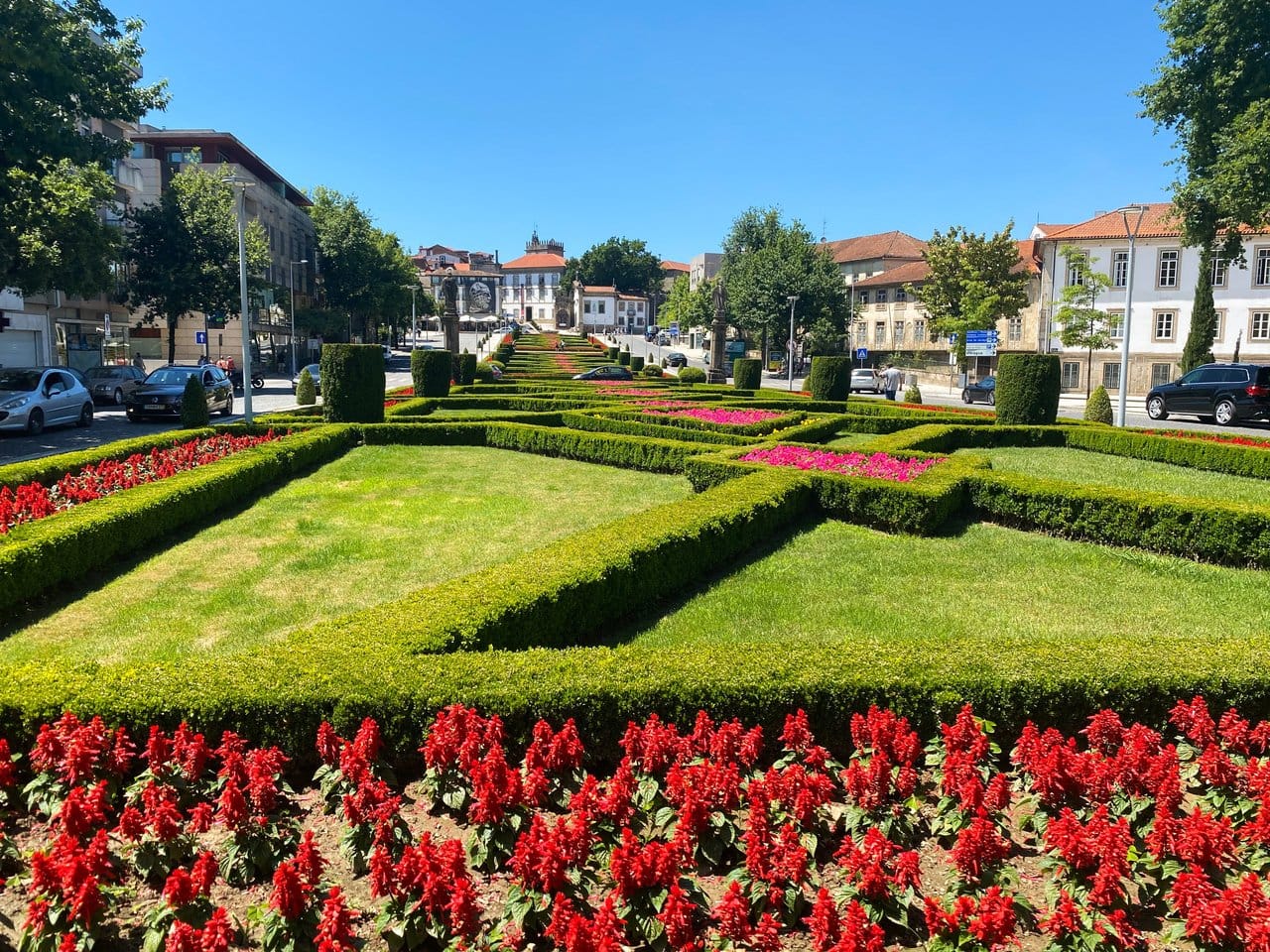 This is a beautiful area of the city to stop off for a few minutes and snap some photos. The garden was blooming with colourful flowers when I visited.
It's right outside the baroque Church of Consolação which has been around since 1785 and you'll always find people standing on its steps trying to snap the perfect Instagram photo. 
The exterior is covered with azulejos, and it's incredibly pretty. We didn't bother going inside, but it's free to enter.
Take the Funicular to Penha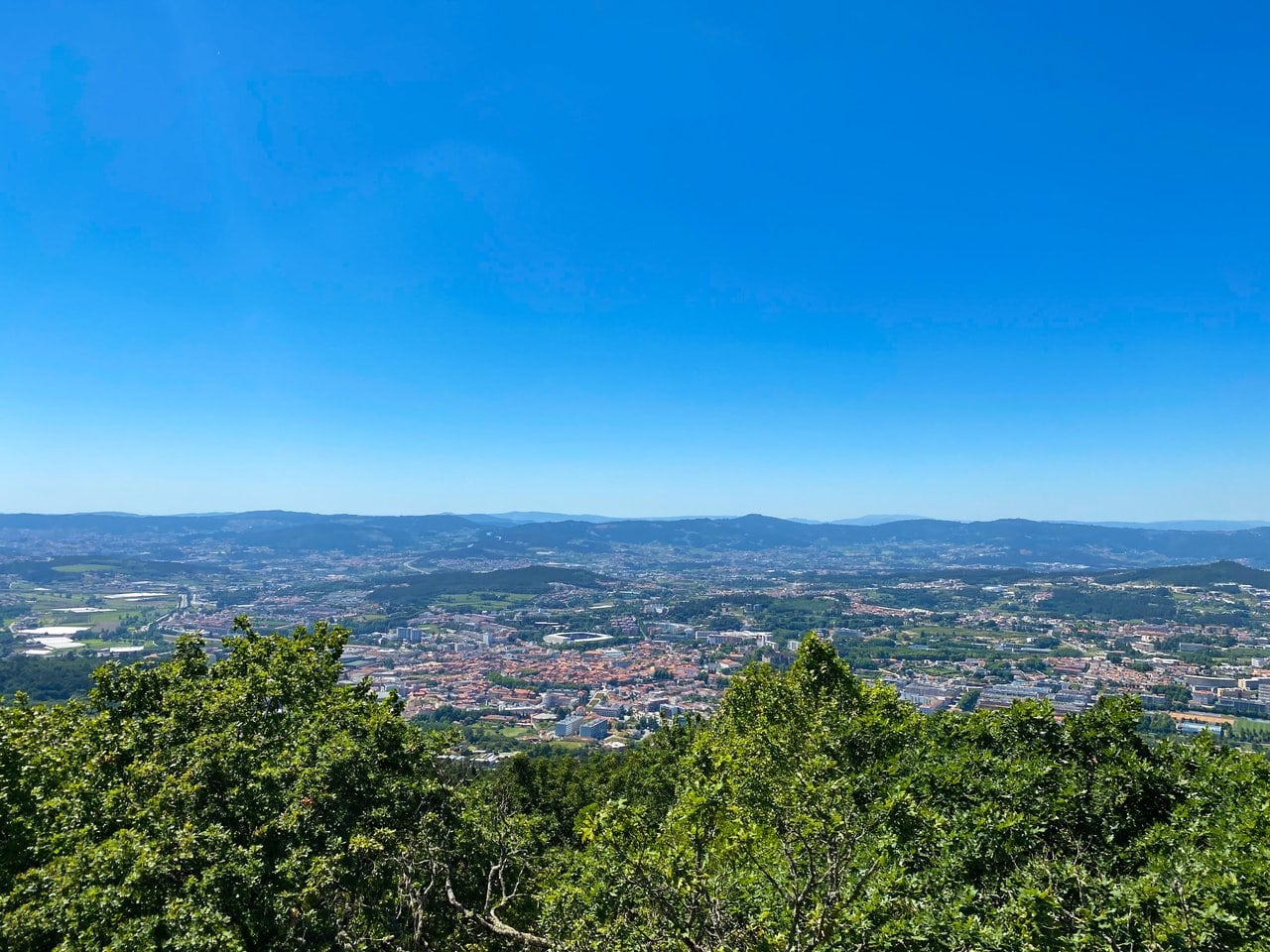 Now for the unexpected highlight of my day trip from Porto to Guimarães! 
I hadn't been on a cable car in years, but taking the cable car from Guimarães to the mountain-top retreat of Penha was incredibly fun. Plus, it offered a great opportunity to nosey at the expensive houses on the mountains overlooking Guimarães.
The cable car stop is just a 6-minute walk away from the Church of Consolação, and return tickets cost €7.50.
You have the option to get a single ticket and then walk back to Guimarães but I don't recommend this. It would take you about an hour to walk back, and you'd miss out on the bird-eye views the cable car offers. Plus, it was BOILING when I visited Guimarães, so I can't imagine anything worse than walking down the hill in that heat!
If the cable car just doesn't sound like your cup of tea, you can get a taxi to Penha from Guimarães for around €10. 
Things to do in Penha, Portugal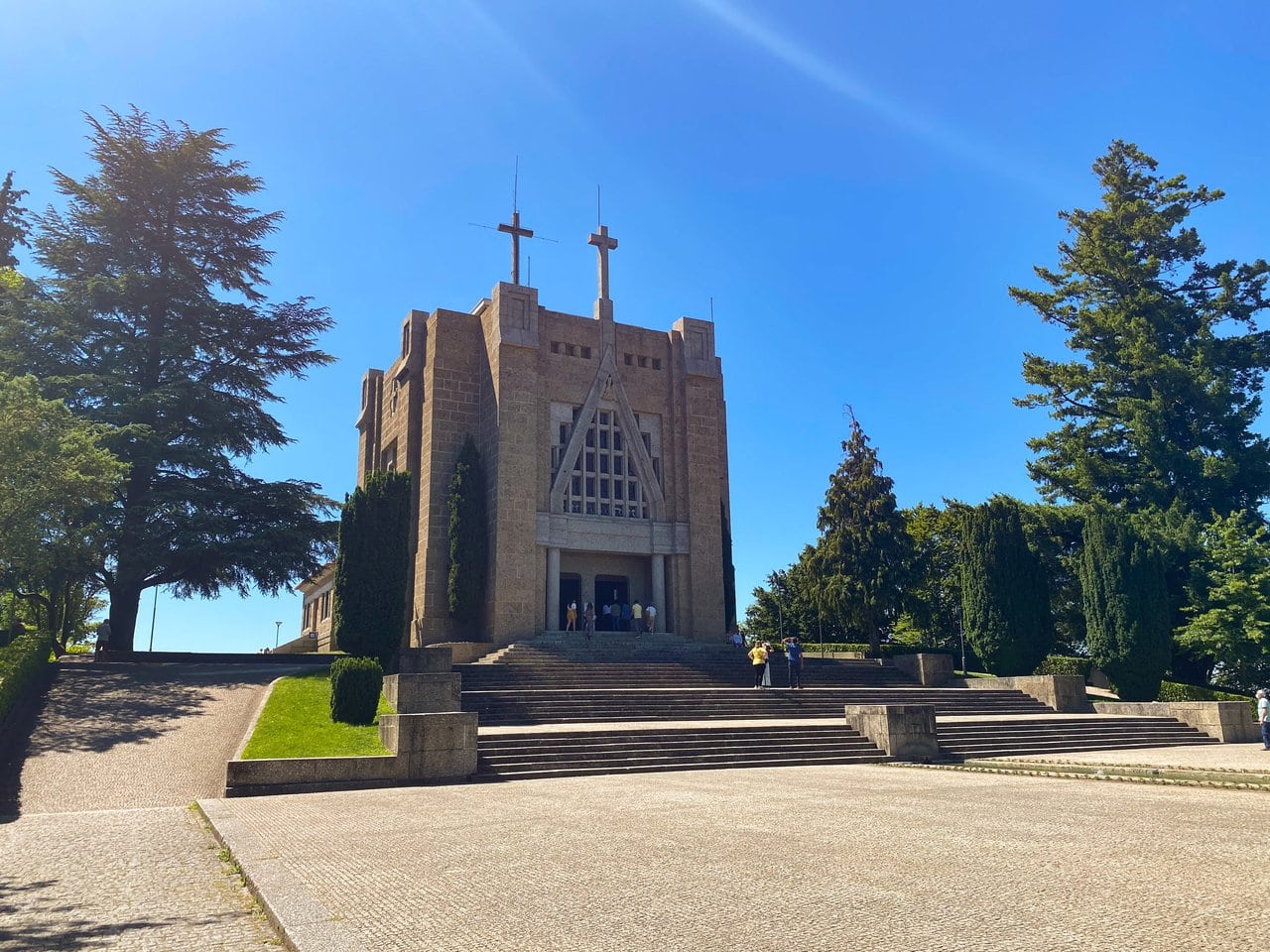 Penha is a refreshing break from the humidity and heat of the city. The best thing to do here is to relax and enjoy the beautiful surroundings. It's an area shaded with lots of woodland, trails and parks, so it's totally perfect for setting down a picnic blanket and people watching.
If you have the energy and the footwear, there are plenty of hikes in the area. There are also a load of huge boulders in the area that are fun to climb to the top of (hey – it's fine to be a big kid sometimes!).
The best place to visit whilst you're at the top of the mountain is the Santuario da Penha. The church is pretty, for sure, but it's not the church we're visiting per se – it's the viewpoint just behind the church overlooking the city!
This is a very popular spot to watch the sunset, but it's good to visit at any time of day – and it never gets too crowded. I could have stayed there for ages. It felt like such a peaceful place.
After I visited the Santuario da Penha viewpoint, I found a secluded park, laid down a blanket and spent some time relaxing. The heat and the sightseeing of the day had really wiped me out, so some time doing nothing and watching the world go by was well needed.
And that's how to spend a day in Guimarães! As you can see, there aren't a million things to do there, but there's plenty to fill one day with, and the city is just so charming!
Combining Guimarães and Braga on a Day Trip From Porto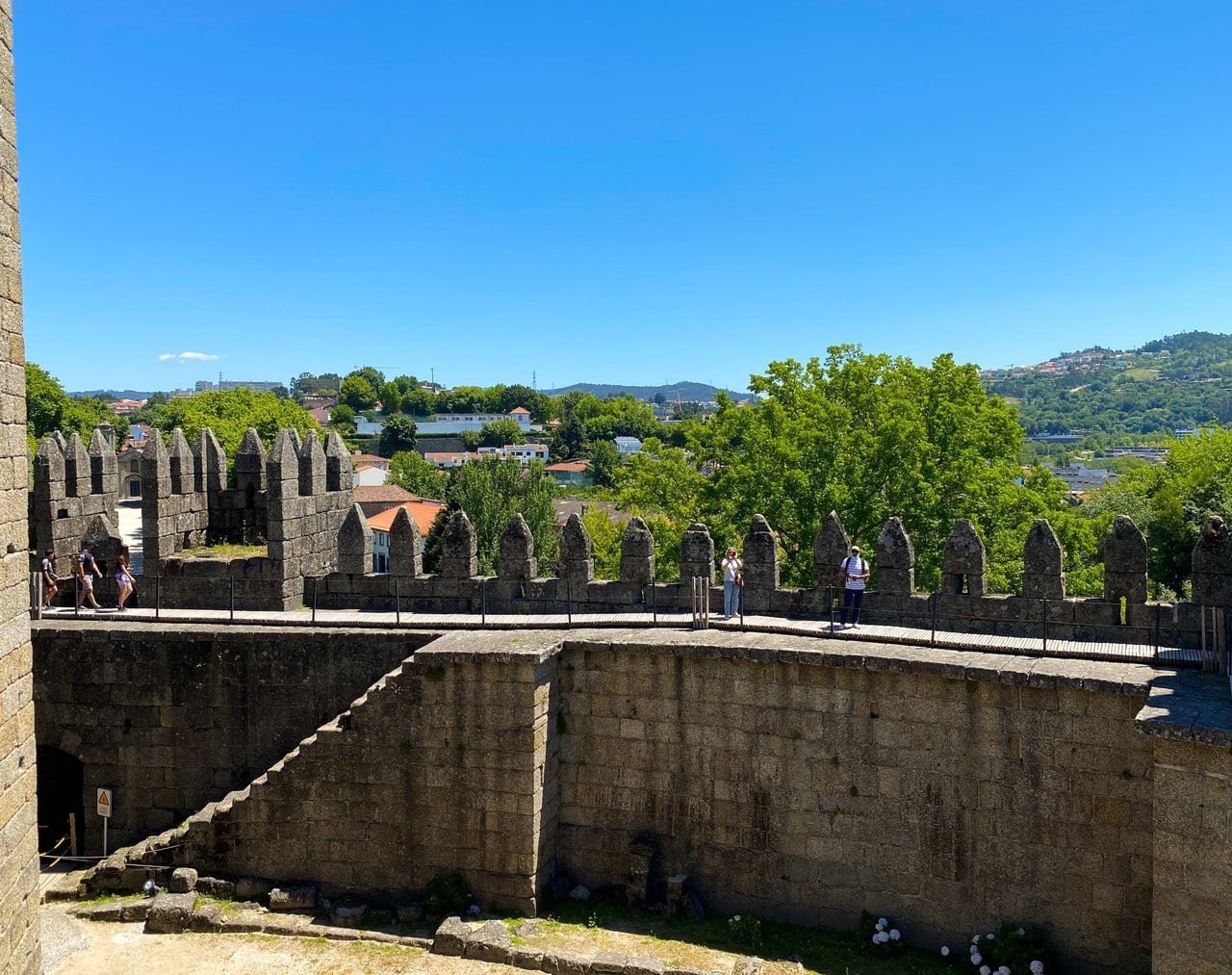 It can be tempting to try to see Guimarães and Porto in one day as these two towns are both fairly near to each other. Heck, I was tempted too! After spending the full day in Guimarães, though, I don't recommend trying to cram both cities into one day trip for a few reasons. 
Firstly, there is enough to do in Guimarães to fill a full day. Plus, I really enjoyed being able to take my time there. Rushing around the town trying to see it in just a few hours would be totally missing out.
Secondly, The bus between the two cities takes 25 minutes, and when you're in Braga you'll have to catch the bus from Braga to the Bom Jesus do Monte (because you can't really visit Braga without seeing this!). All this travel time adds up and takes away from your sightseeing time.
If you do want to combine Braga and Guimarães on a day trip from Porto, get ready for a really long day. I recommend heading to Braga first and arriving at the Bom Jesus do Monte as early as possible. Aim to catch the bus to Guimarães at around midday, zoom around the palace and castle, then at sunset get the funicular up to Penha.
Of course, the easiest way to combine both cities in one day is to join a guided tour for the day. This cuts out the time spent on public transport and walking between attractions. This tour covers both Braga and Guimarães and includes lunch!
It gets consistently great reviews, and costs €60 per person. Obviously, this is much more than it costs just to visit independently, but you're paying for the convenience and the guide's knowledge.
Click here to check tour availability!
---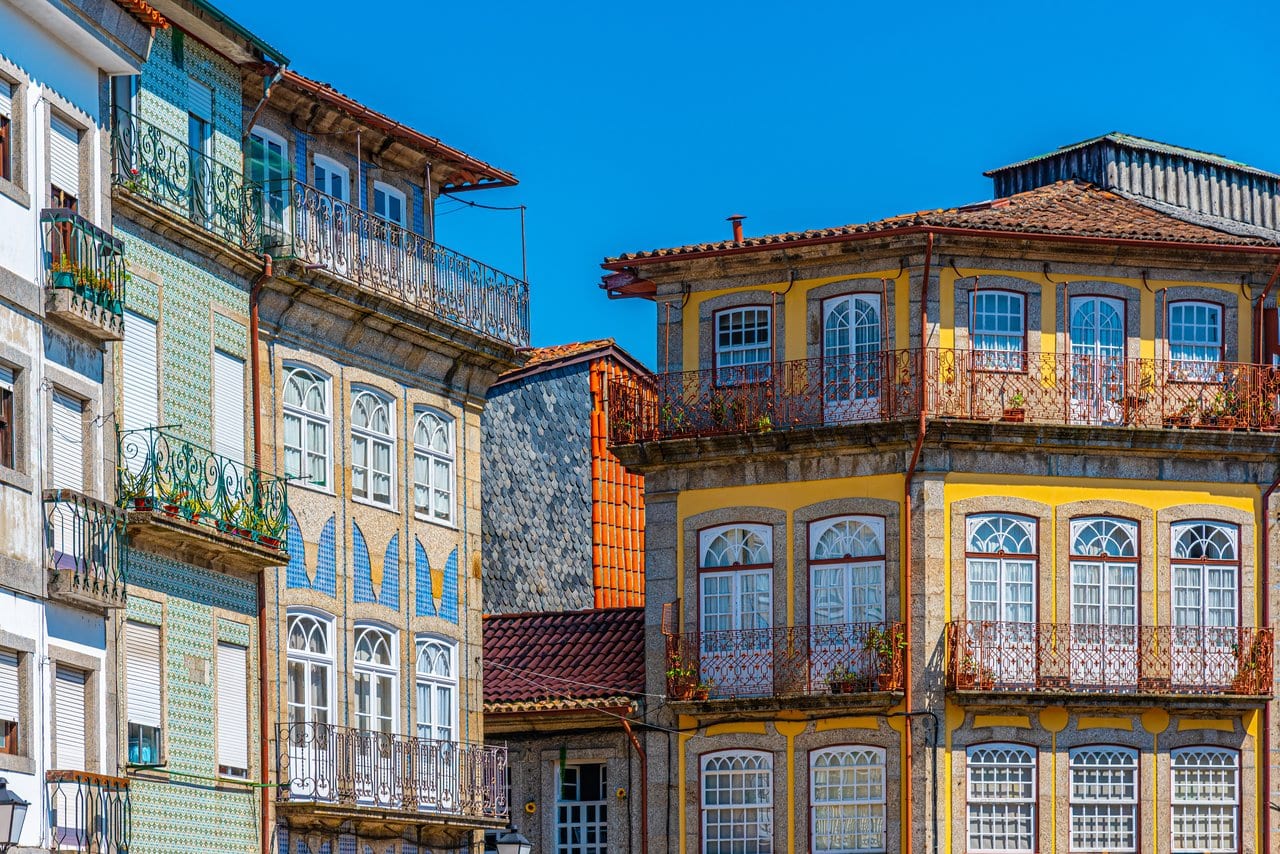 My day trip to Guimarães was such an easy and simple day trip, but it is one of the fondest memories I have from my two weeks in Portugal. The city itself is enchanting, and really got a hold over me!
Given the fast pace I usually travel at, taking a day to slow things down in Guimarães was definitely the break I needed before I returned to Porto. Want to know what to pack? Check out my ultimate day trip packing list!
I hope this post has convinced you to book a day trip to Guimarães from Porto! Let me know if you have any questions in the comments – I'm happy to help!
Liked this post? Pin it!