There is a good chance that this post contains affiliate links. If you make a purchase through them, I may receive a small commission at no extra cost to you! As an Amazon Associate, I earn from qualifying purchases. As ever, all opinions are my own.
Last Updated on January 4, 2022 by Ella
If you have ever researched the best day trips from Lisbon, chances are you'll have heard of Óbidos. This dreamy medieval town is drop-dead gorgeous! At just 85 km from Lisbon, it's really easy to visit from the capital city.
Although Óbidos definitely leans into its medieval history, it's actually even older than that. In fact, Óbidos is thought to be older than the foundation of Portugal itself! 
I'm a sucker for a walled medieval town. There's something so fairytale-esque about them! Add to that the fact that Óbidos was holding a mini medieval festival during my time in Lisbon, and I was ready to go!
I was only visiting Portugal for four days, and I had a lot I wanted to pack in. Luckily, I found this tour from Lisbon which promised to take me to Óbidos and Nazare, the two day trips I really wanted to do, as well as the town of Fatima the Batalha Monastery – all in one day!
I didn't have enough time to dedicate a full day to each of these destinations, so taking the tour was the perfect solution!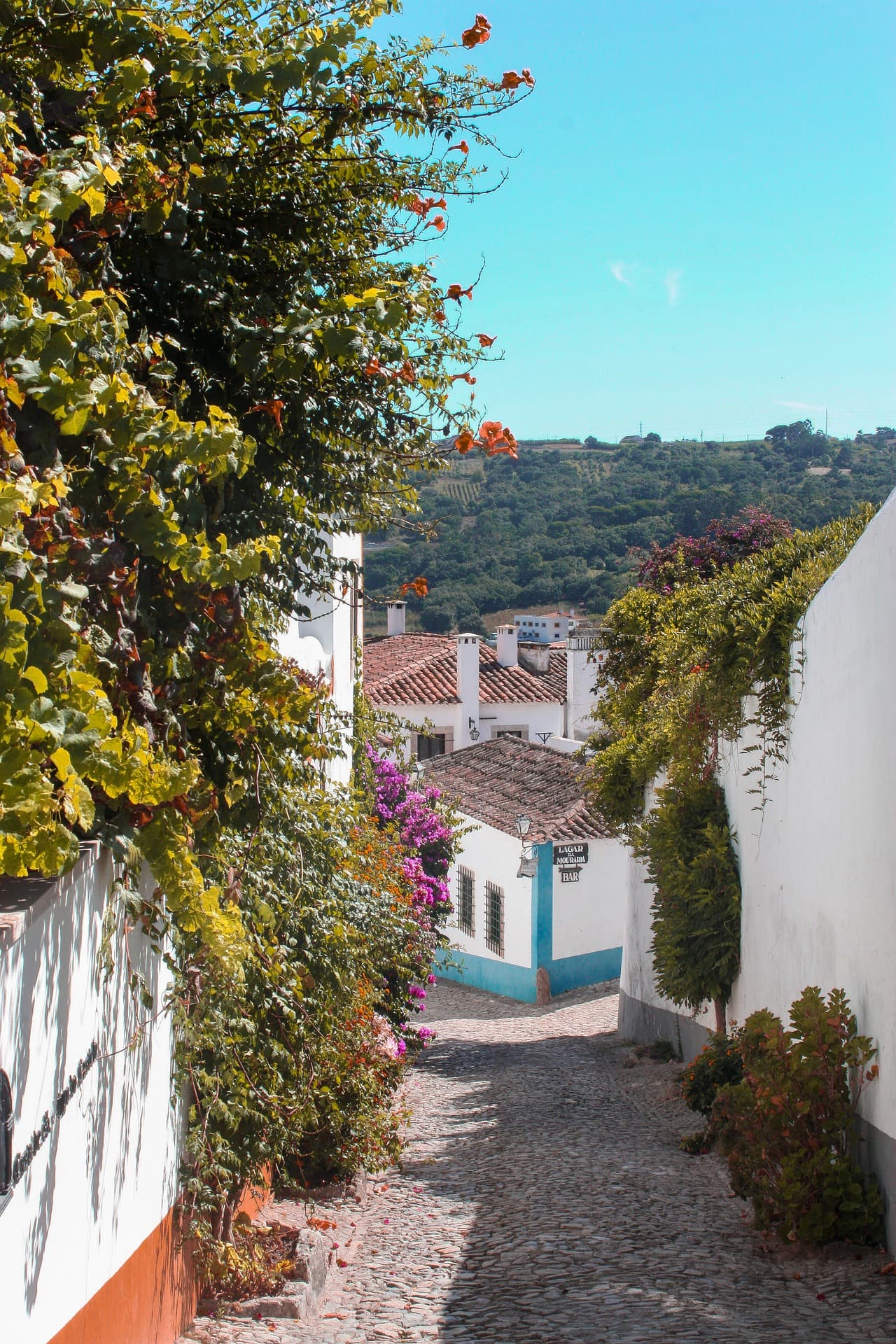 Why Visit Óbidos?
Óbidos is known for its gorgeous medieval historic town walls and the Óbidos castle. Recently though, Óbidos has become a hot spot for book lovers since 2015, when the Literary Man hotel opened. Ever since, more book shops have been popping up all over Óbidos. The town has truly embraced its literary heritage. In fact, by December 2015, Óbidos was named a UNESCO City of Literature!
As a self-proclaimed book-nerd, I was all for paying a visit to check out its many book shops and soak up the atmosphere. Many book lovers also extend their stay in Óbidos with a night at The Literary Man hotel, which looks amazing! This hotel contains over 65,000 books, and I'm tempted to return to Óbidos just to spend the night there!
Óbidos is pronounced more like "Ob-ee-dush", which I would never have known without my tour guide. I'm glad I saved myself the embarrassment of mispronouncing it. I never would have guessed the correct way to say it!
You should visit Óbidos not only for the books but for its well-preserved old town, its stunning surroundings and the opportunity to get away from the rest of the world. Don't get me wrong – the town can be busy in summer, but with only a few thousand residents and barely any cars, clubs or supermarkets, it's easy to transport yourself back in time for a few hours. In Óbidos, it feels like life hasn't changed here for hundreds of years!
What to See and Do in Óbidos
Wander the Old Town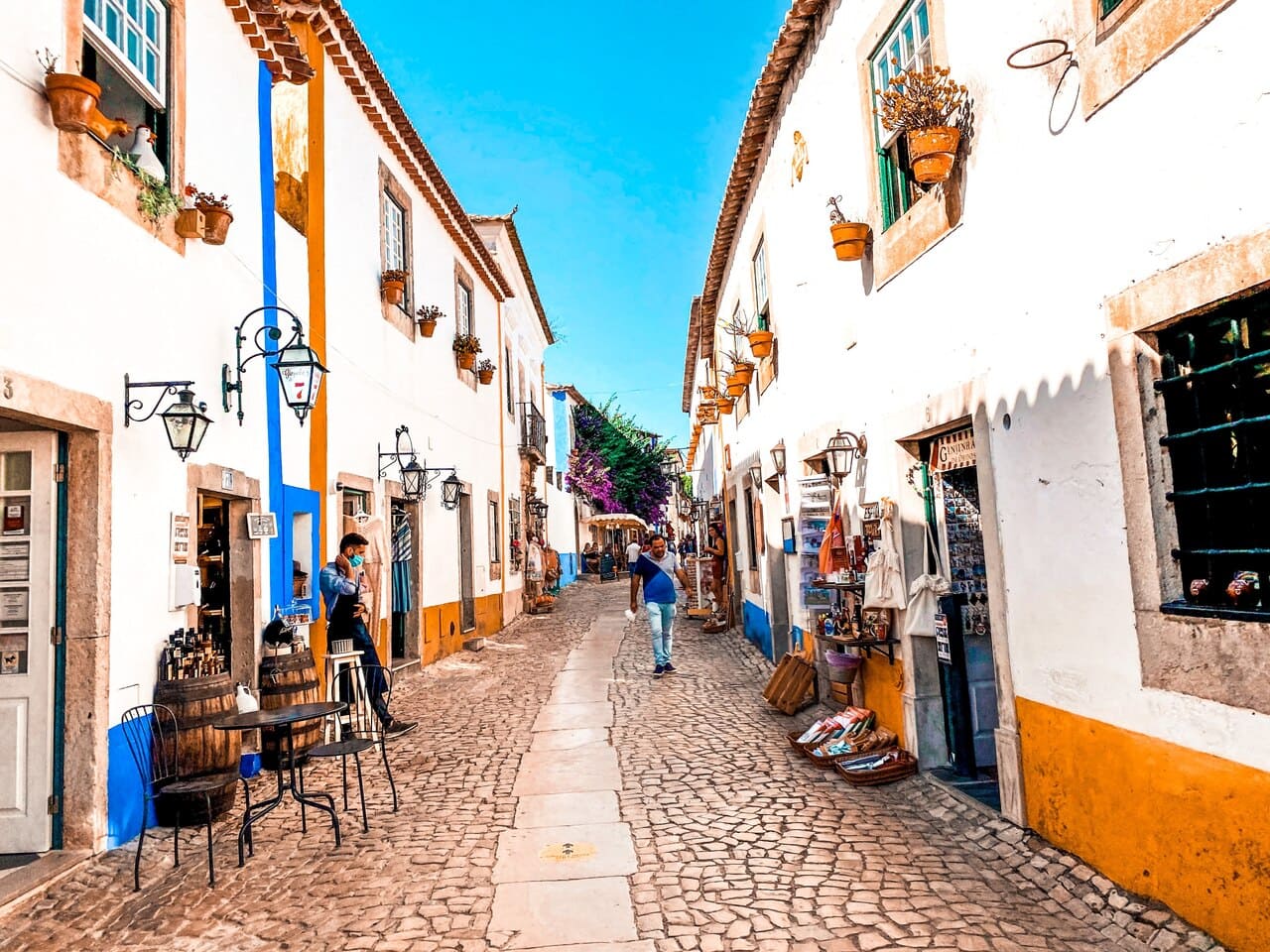 It's almost impossible to get lost in Óbidos' old town as it's so small and very logically laid out. There are a few main streets to walk along, which are all lined with shops and restaurants, and the borders of the town are enclosed by the town walls. 
I recommend walking along each of the main streets one by one, as they all have a lot to offer, with cutesy shops selling local trinkets, book shops, and stalls selling ginja, the local liquor.
The streets of Óbidos ooze medieval charm, and the bright yellows and blues of the buildings make the setting even more gorgeous! As you walk you won't be able to resist snapping photo after photo because everything is just so. darn. pretty!
Óbidos' streets can get crowded in summer (it's such a small town, after all), so to enjoy your stroll in peace do it as early as possible.
Walk Around the Castle Walls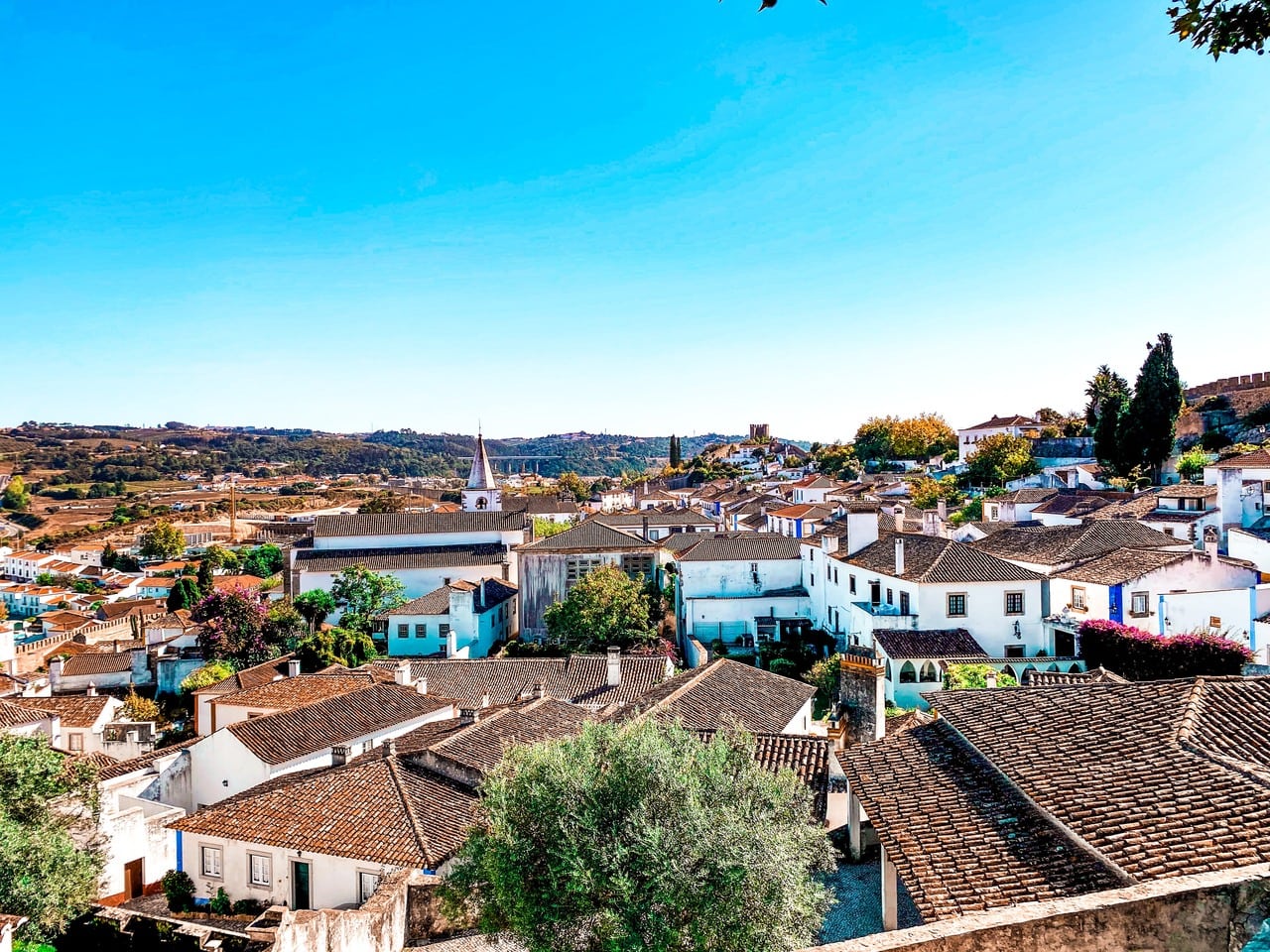 At each of the entrances to the medieval old town you'll find a map showing where you can get up onto the Óbidos castle walls. Some options are steep flights of stairs and others are rocky paths – you need good mobility to get up here!
Once at the top, you'll have fabulous views over the surrounding countryside and over the walled old town. From here, you can actually follow the walls around the town.
Please be careful though! There are no railings and the walls are uneven, so you'll need to pay attention to where you put your feet. Maybe give it a miss if you're unstable on your feet or scared of heights. The walkways are also narrow, so walking single-file is the safest option.
At one end of the walls you'll find Óbidos castle which contains the Pousada hotel, and on the other end there's the Óbidos tower. The castle is open for hotel guests only, but you're free to climb the stairs to the tower for panoramic views over the town.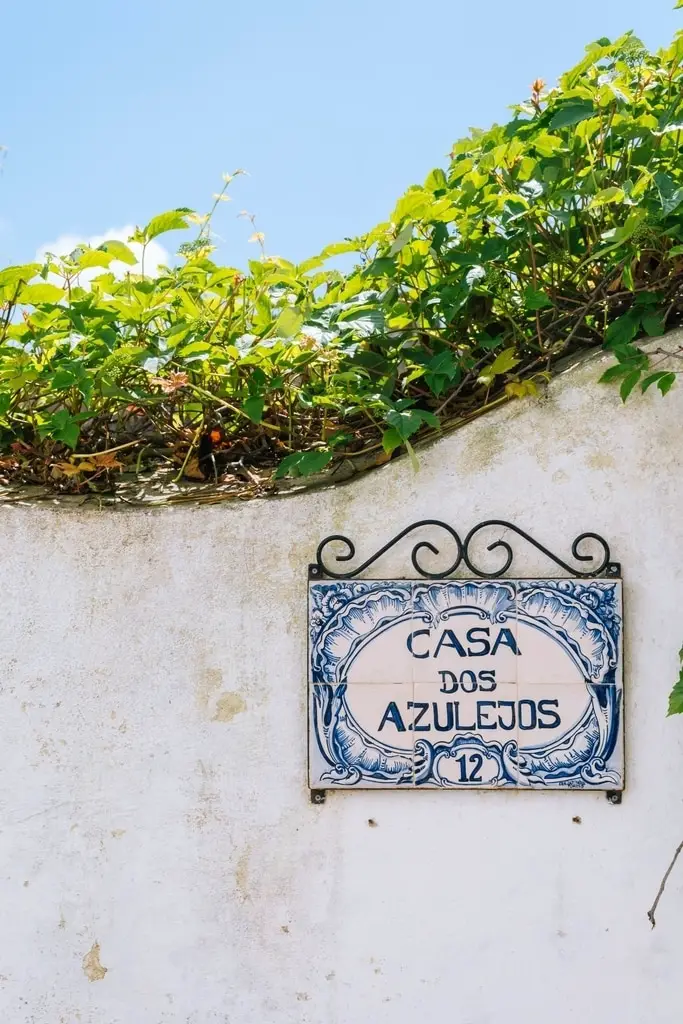 Go Book Shopping
There are over 10 book shops in Óbidos, and plenty of them sell books in English as well as Portuguese. Although not all of the book shops are of a high standard, they're still a lot of fun to nosey around and try to find that title you've been looking for.
Since Óbidos was declared a UNESCO City of Literature, many venues started capitalising on this and adding a book shop to their existing premises. That means you're not likely to find the latest releases here, as there aren't many dedicated bookshops. A lot of them specialise in second-hand books and books in Portuguese.
Not to worry, though! There are some book shops you absolutely shouldn't miss whilst in Óbidos, which include:
Livraria de Santiago
This book shop is unique because it's inside an old church, which dates back to the 12th century. It's admittedly pretty weird strolling around a church to peruse books, but it's definitely a one-of-a-kind experience. The shop covers all sorts of genres here and it sells predominantly new books, but the books are pricey!
Livraria do Mercado
In the centre of Óbidos you'll find the Biological Market, which sells all sorts of fresh produce. Nowadays, though, it also sells books! In fact, it now has far more books on sale than it does fresh produce! There are SO many books here that it'll take you forever to go through them all. With titles in a variety of languages and a mix of both new and second-hand books, you're sure to find something you'll want to take home with you.
The Literary Man Hotel Bookshop
Although this is, obviously, a hotel, it also doubles as a bookshop and you're welcome to browse the stacks. It's this hotel which catapulted Óbidos to fame in the literary world, and with its shelves holding over 65,000 books, it's no wonder why.
With that many books on offer, it's unlikely you'll come away empty-handed. The shop is also at the cheaper end of the scale, with second-hand books here costing around €5. Although there are lots of different languages available the majority of the titles are in either English, Portuguese or French.
Drink Ginja de Óbidos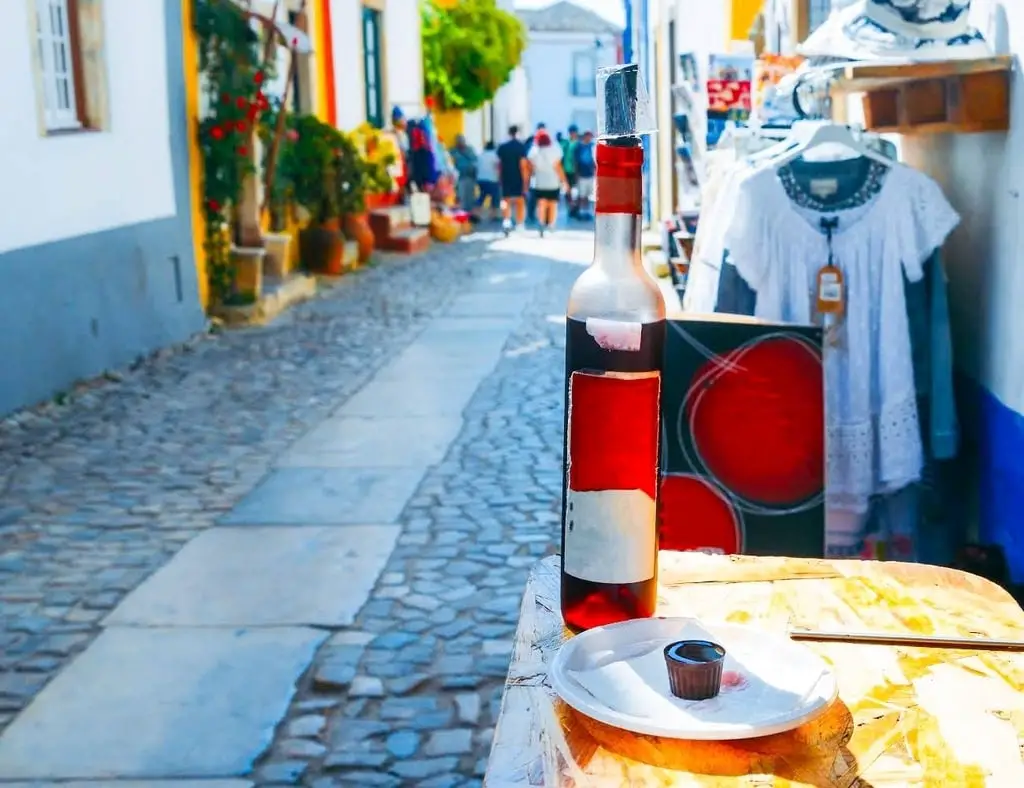 Óbidos is arguably the best place in Portugal to try this beloved sour cherry liqueur. Although you can sample it in Lisbon, ginja itself is usually from Óbidos – so it's worth waiting to get to its place of origin to try it. Plus, in Óbidos it's served the best way – in edible dark chocolate cups!
As you wander through Óbidos you'll find places selling ginja everywhere, so you won't have to look far for it! They all sell fabulous ginja, so it's not that important which place you choose. For the most traditional ginja in Óbidos, though, you'll have to head to Bar IBN Errik Rex, where they serve a less syrupy sweet version. I'm personally all about its sweet taste – so I guess it depends on your preferences!
Another reason you'll love sampling ginja in Óbidos is how cheap it is. You can sample it from street vendors for as little as €1! I'm a big fan of the stuff!
Marvel at Óbidos Castle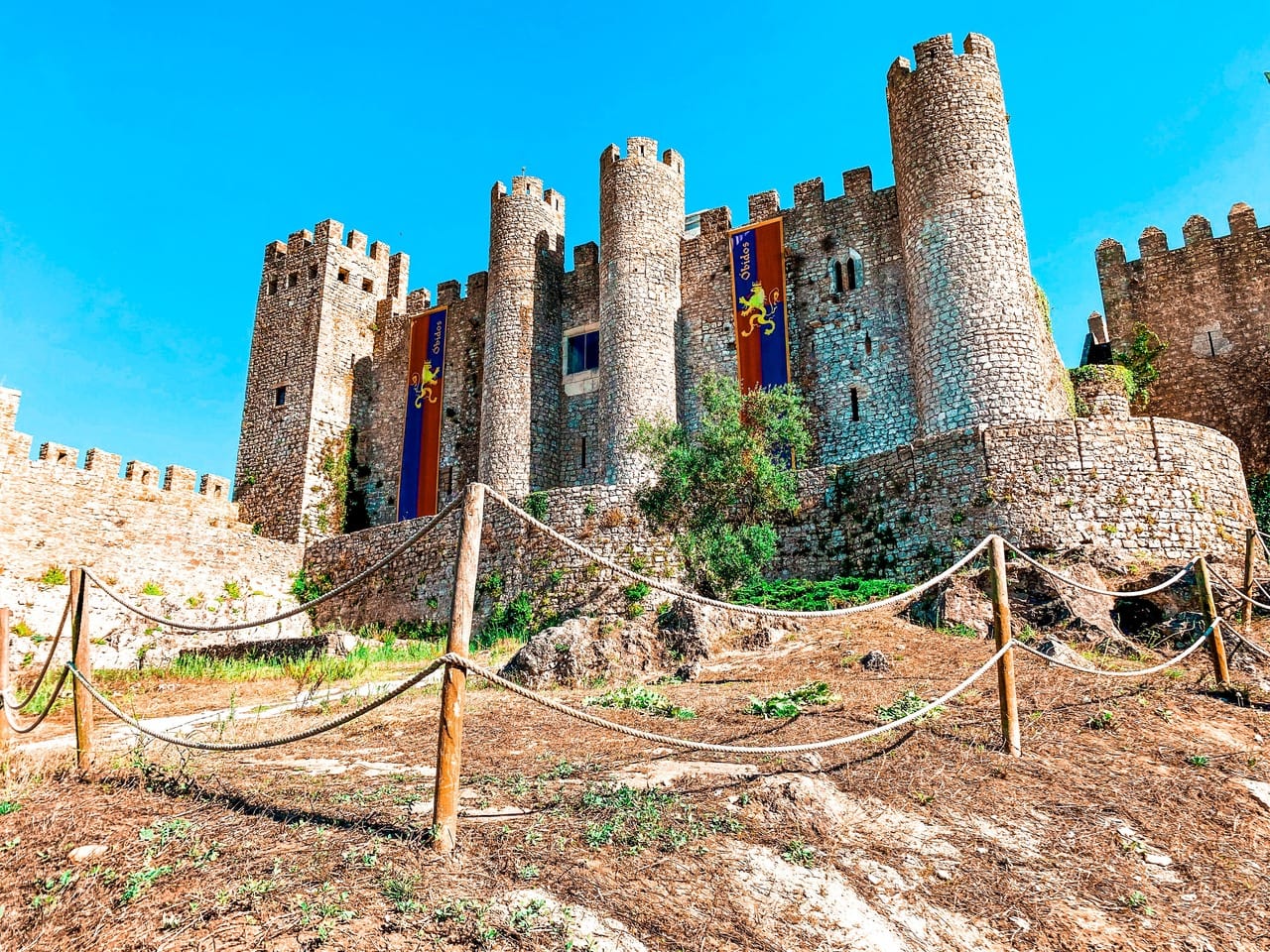 The Óbidos Castle is now a boutique hotel providing guests with the experience of sleeping inside the castle. Obviously, exploring Óbidos Castle isn't possible for typical day-trippers from Lisbon, but if you're in Portugal as part of a romantic break, a stay here could be the perfect way to add a memorable experience to your trip.
Apparently, the castle has not changed much in the hundreds of years it's been standing. Being able to explore it with barely any other tourists sounds very tempting!
I did a bit of snooping online because I was curious (and jealous of the people staying there!) and some of the rooms still have the medieval touch to them. It's also pretty expensive though, with a double room for two costing around €185 depending on the time you visit. You can check the latest prices here.
As I was travelling on a budget, by myself, and only had a few hours in Óbidos, the closest I got to the Óbidos castle was walking up to it and admiring it from the outside. This is still pretty darn great! I'm a sucker for castles, so although I was desperate to look inside I still enjoyed checking out its exteriors.
Stop by Santa Maria Church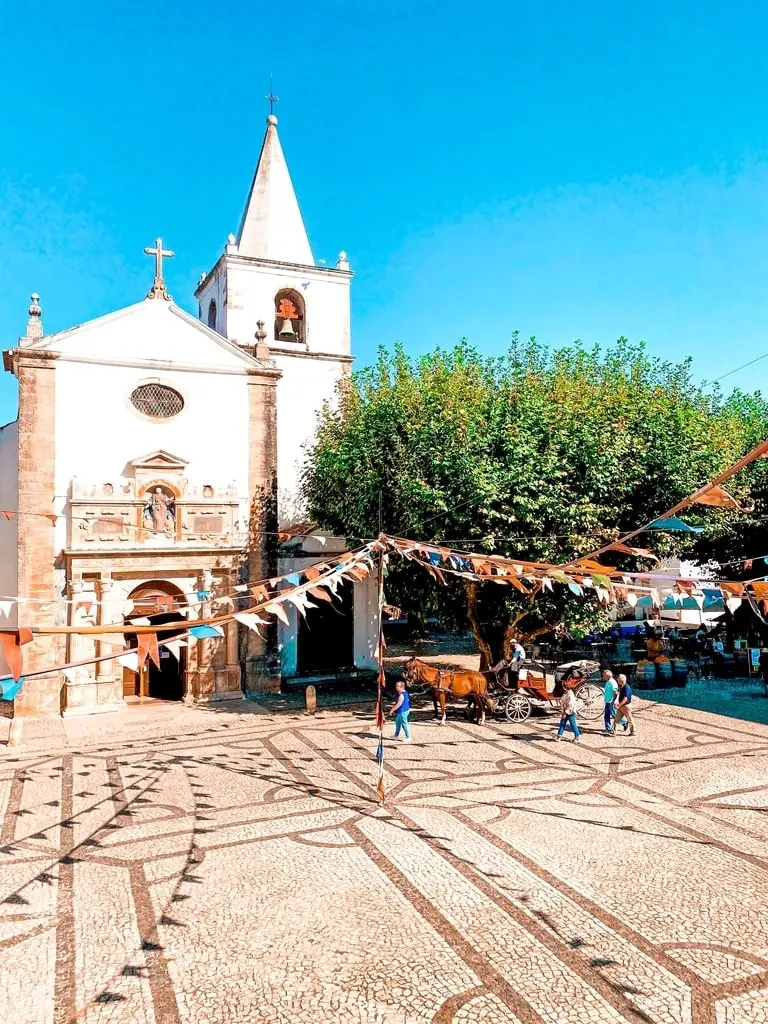 Although I'm no church fanatic, I can't deny how gorgeous the Santa Maria church in Óbidos is. Maybe it's the colourful bunting lining the streets outside, or its dazzling white walls which glisten in the strong Portuguese sun, but I just thought it was stunning! 
I didn't go inside (although you can enter for free), but if you're strolling along the medieval old town it's one of the highlights of the area and definitely stopping for a look.
Festivals in Óbidos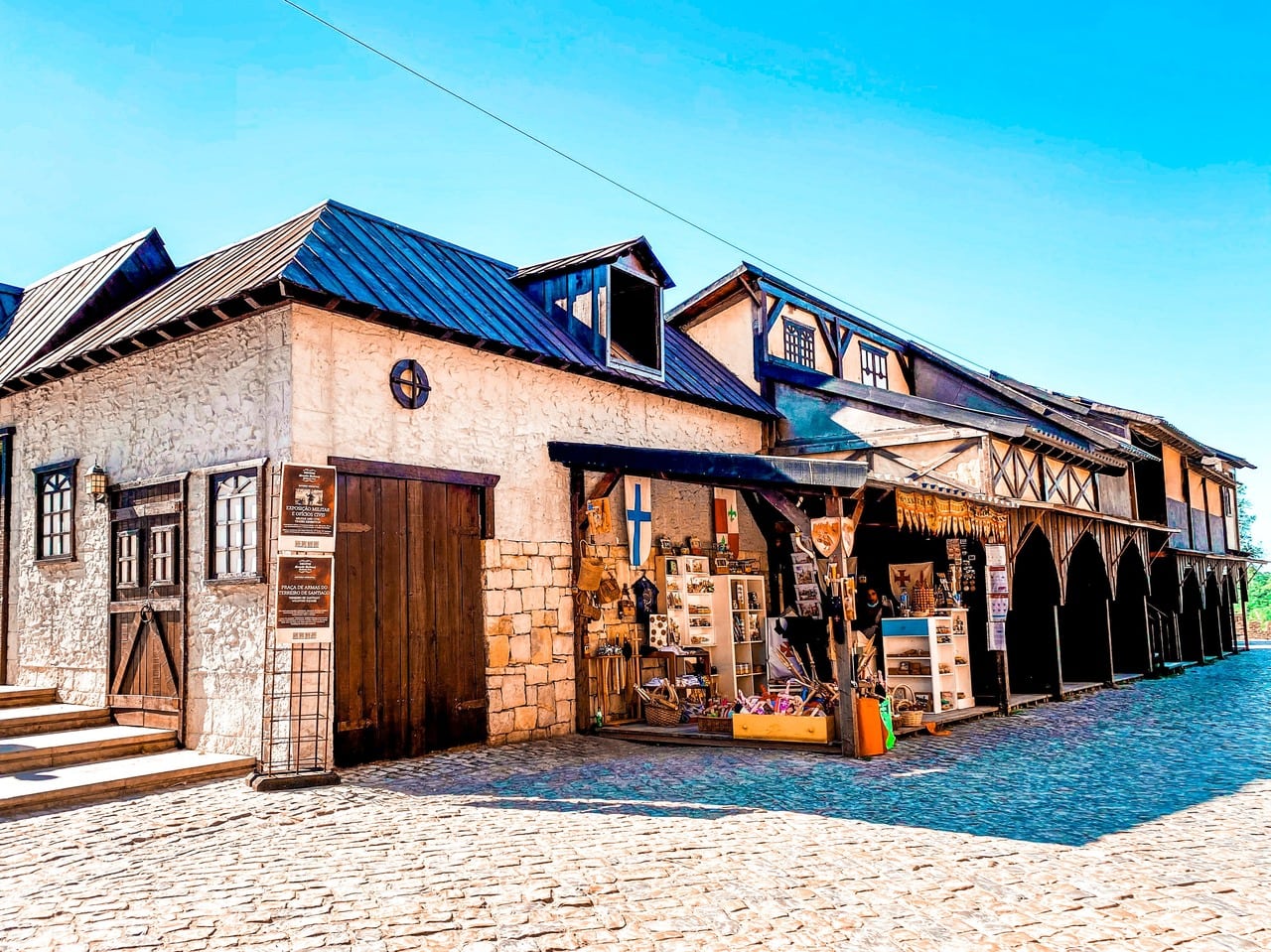 Óbidos is home to several festivals throughout the year, and whilst I visited there was a medieval festival in the town. Apparently this was a mini-version of the main festival, which takes place at the end of July and the start of August. 
During the festival, medieval market stalls are set out across the town. Visitors often dress up in medieval clothing (which you can hire). If you're wanting to fully immerse yourself in the spirit of the festival, there's even a medieval supper on Friday and Saturday evenings you can join.
There's also the irresistible Óbidos Chocolate Festival, which runs in late April and early May. During the chocolate festival, Óbidos' streets are covered with market stalls showing off the most indulgent cakes, desserts and chocolates you've ever seen – and it's all available to buy! There are culinary classes available to join which teach you the art of cooking with chocolate, and even competitions you can watch for titles such as "Chocolatier of the Year". Sounds like my kind of festival!
How Much Time Do You Need in Óbidos?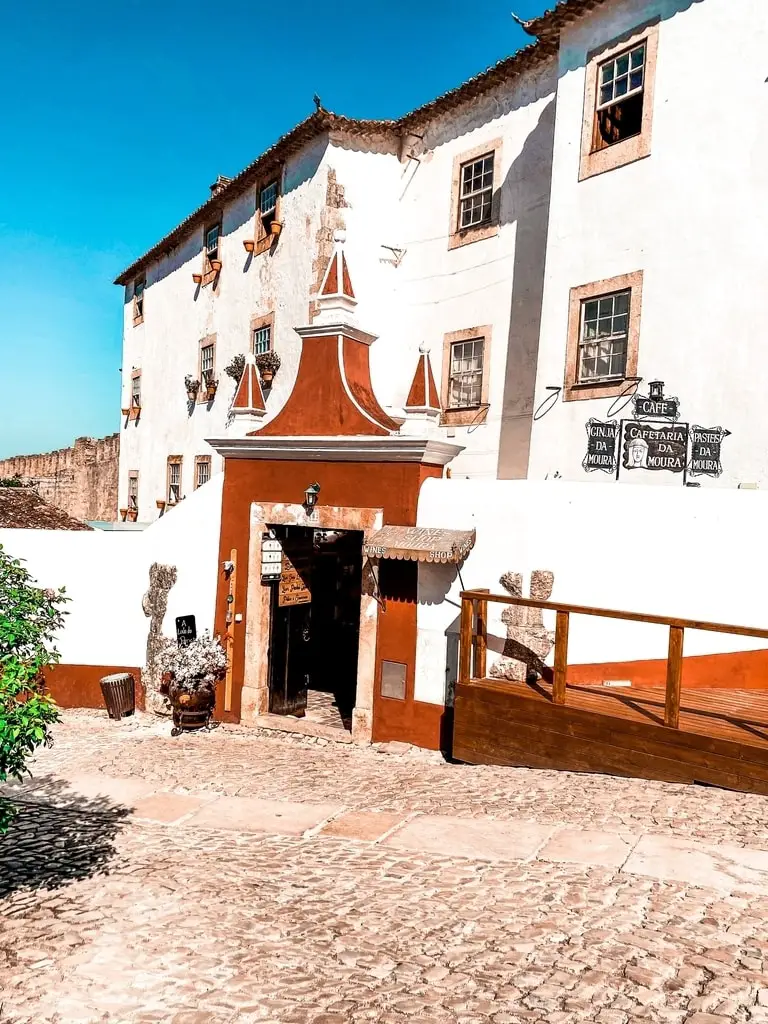 Óbidos is definitely not the place you'll have to rocket around checking off a huge list of attractions. Instead, it's a place to stroll, take it easy and while away a few hours. I personally recommend spending 3 or 4 hours in Óbidos unless you're here to stay overnight.
How to Get to Óbidos from Lisbon
Taking a Tour to Óbidos
Unless you're planning to stay overnight in Óbidos, the best way to visit the town is on a day tour from Lisbon. By not having to rely on public transport, you can visit a few different destinations in just one day! 
I went on this tour and for just €60 I thought it was fabulous value for money. From Lisbon, we visited the holy town of Fátima, saw the 14th-century monastery at Batalha, paid a visit to the giant waves in Nazare, and, of course, had plenty of time in Óbidos. You can check out reviews here.
Driving to Óbidos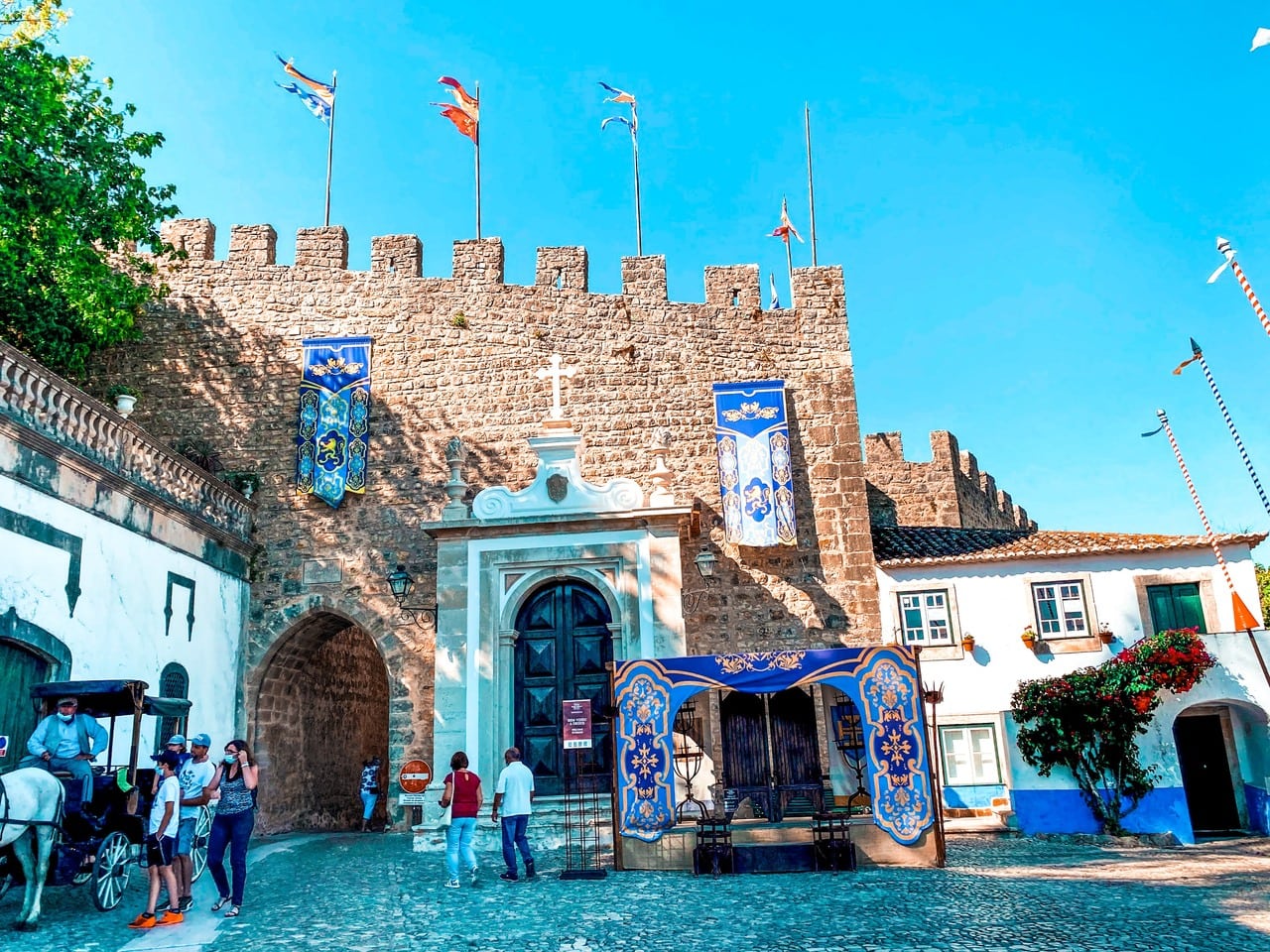 I don't recommend hiring a car if you're just staying in Lisbon, but you can hire one for the day if you're looking to explore its surroundings, including Óbidos. I only recommend hiring a car if you're going to visit a few other places, otherwise it's too much hassle just for Óbidos!
From Lisbon, the drive to Óbidos is just over an hour, although that does include having to pay to drive on a toll road. Directly in front of the entrance gate to Óbidos there is a pay and display car park. It'll cost you just a few euros for a couple of hours. Óbidos fills up with day-trippers very quickly, so you need to get here as early as possible!
Taking the Bus to Óbidos
If you want to visit Óbidos only on your trip from Lisbon, the easiest and cheapest way is with the bus.
The journey takes around 1 hour and 10 minutes and is operated by the Rede Expressos buses. Ticket prices vary depending on how far in advance you book but are usually around €8.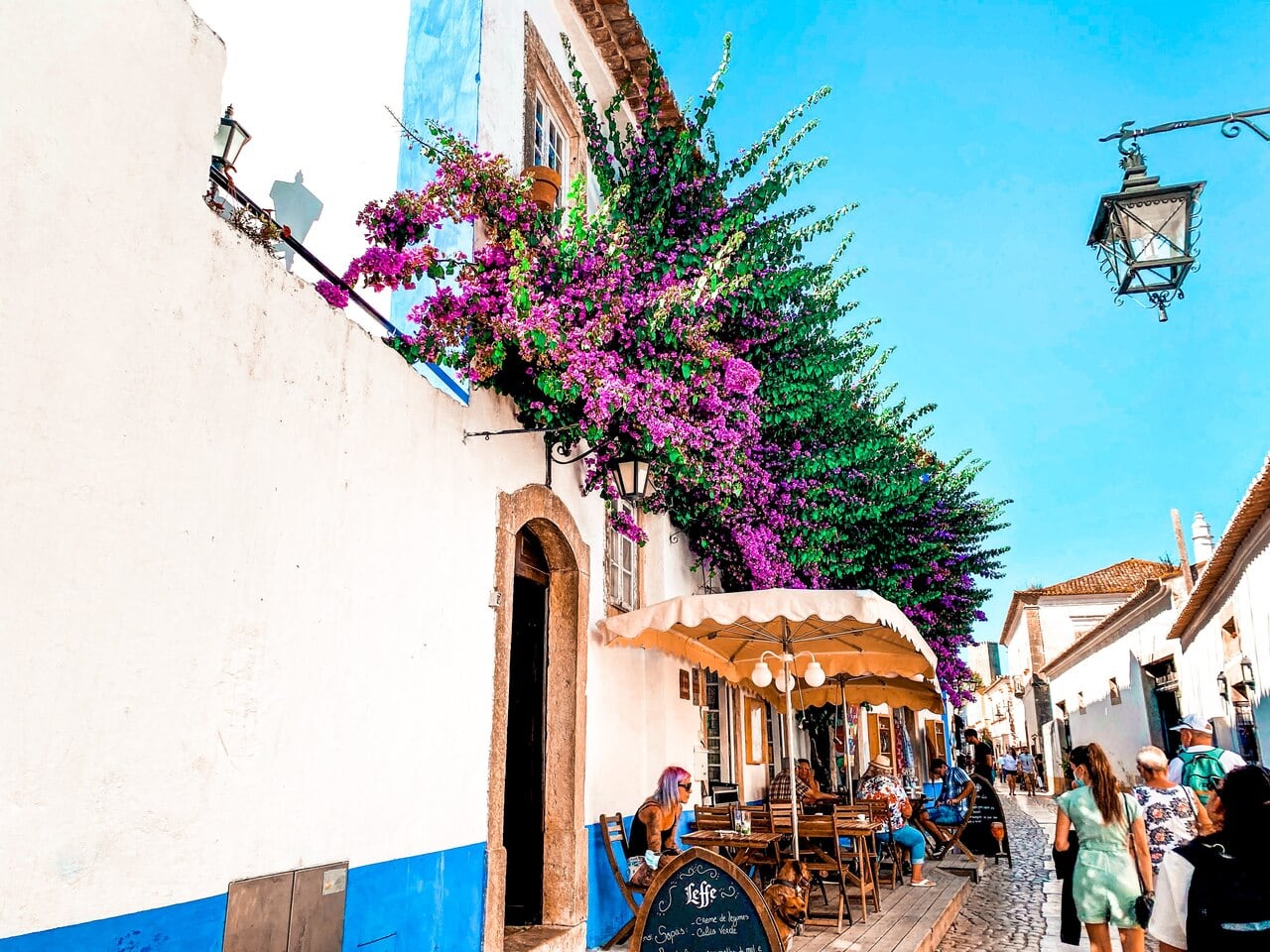 Is Óbidos Worth Visiting?
In my experience, Óbidos is absolutely worth visiting. Although there aren't a million things to do here, it's a wonderful and relaxing place to spend a few hours. Treat yourself to some ginja and a book or two, stroll the old town and snap some photos of the castle before heading back to Lisbon feeling totally refreshed and relaxed!