There is a good chance that this post contains affiliate links. If you make a purchase through them, I may receive a small commission at no extra cost to you! As an Amazon Associate, I earn from qualifying purchases. As ever, all opinions are my own.
It can be tricky to break off the beaten path in the Algarve, a hugely popular coastal region in Southern Portugal, but in Tavira you can do exactly that.
That's not to say Tavira doesn't see its fair share of tourists (it definitely does) but you'll find that this idyllic town doesn't become overrun with travellers in the summer, and it's been able to retain its traditional charm.
If you've already visited the Algarve heavy-hitters such as Lagos, Vilamoura and Portimão it's time to branch out, and Tavira is the perfect location for Algarve tourists looking for something different and a slower pace.
In this travel guide, I'm going to cover absolutely everything you need to know to plan your trip to Tavira, including the best things to do, places to stay and my suggestion of how many days you should spend in Tavira.
Let's get started!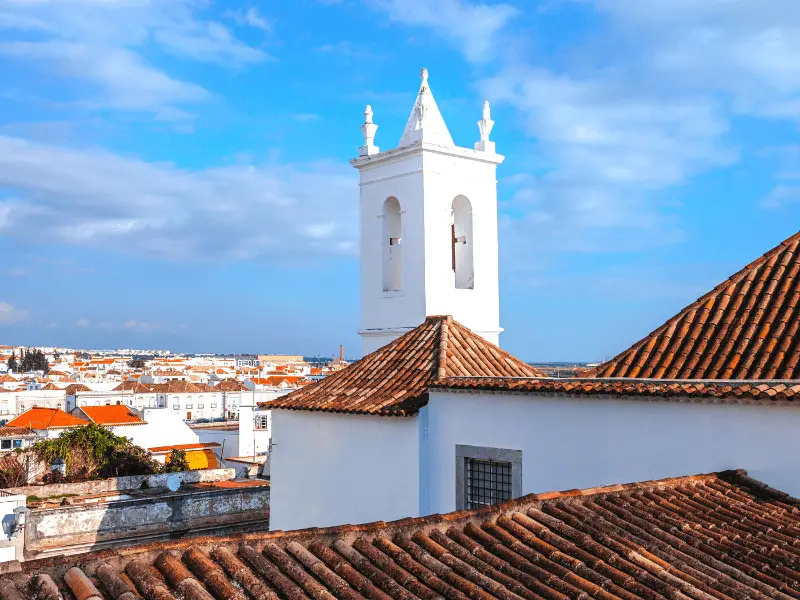 Where is Tavira?
You'll find the town of Tavira in the eastern Algarve, which is on the southern coast of Portugal. You'll find it wedged between the city of Faro and the Spanish border, and you'll notice plenty of Spanish influence in the town – especially in its food!
With so many other towns on the Algarve to choose from, not many tourists choose to visit Tavira compared to the tourist hotspots of Lagos, Faro and Albufeira. However, if you're looking for a more authentic destination on the Algarve where you can spend a few days relaxing and sightseeing, Tavira is definitely the right location for you.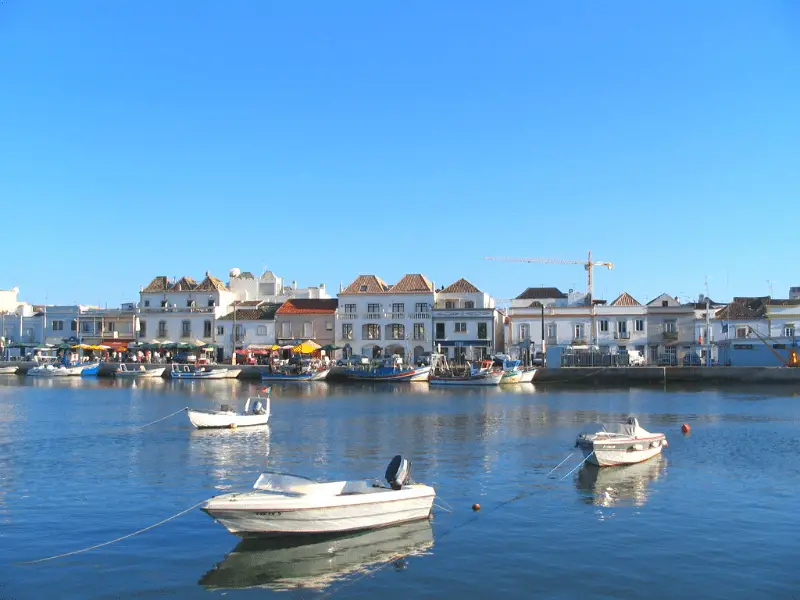 How to Get to Tavira, Portugal
If you're flying to the Algarve you'll land at Faro Airport, which is ideal, since it's just 41km away from Tavira. From the airport you'll need to catch the shuttle bus to Faro Bus Terminal, which takes around 20 minutes. From here, you can catch a direct bus to Tavira, which will take around 1 hour. The whole journey will cost you around €8.
From Lisbon, you can either take the train or the bus. 
You can catch a direct bus from Lisbon's Sete Rios bus station to Tavira, which takes between 3 and 4 hours. 
By train, you'll have to take a 3-hour train from Lisbon to Faro, and then get a train from Faro to either Porto Nova or Tavira (check which is closest to your accommodation), which takes around 45 minutes.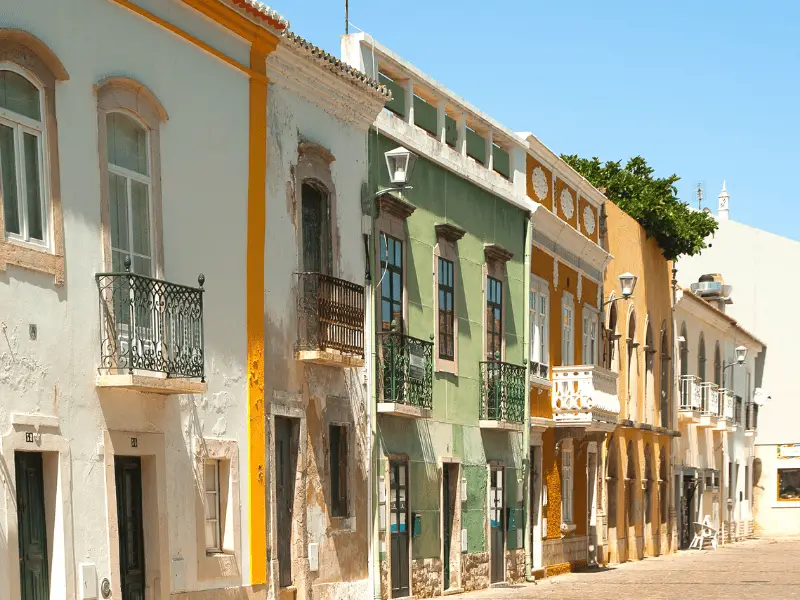 Things to Do in Tavira, Portugal
Take a Tuk-Tuk Tour
The best (and most fun!) way to see the main sights of Tavira and learn about local life is on this 1-hour tuk-tuk tour. 
Guided by a local driver, you'll see all of Tavira's highlights such as Tavira Castle, Praça da República and the Tavira Salt Flats. It's the perfect introduction to the town, and is ideal if you have limited time to spare!
Tavira Castle
The Tavira Castle, or Castelo de Tavira, dates back to the Moorish occupation of the town in the 11th century.
Today, the castle mainly consists of (well-preserved) ruins, but in its heyday it was an essential defensive structure for Tavira, protecting the town from pirate raids and invasion attempts from Northern Africa.
The castle is free to explore and is easily the most-visited tourist attraction in Tavira. Unfortunately, there isn't much information at the castle, so your visit will mostly consist of wandering around the castle walls and checking out the views of Tavira from the top. 
Praça da República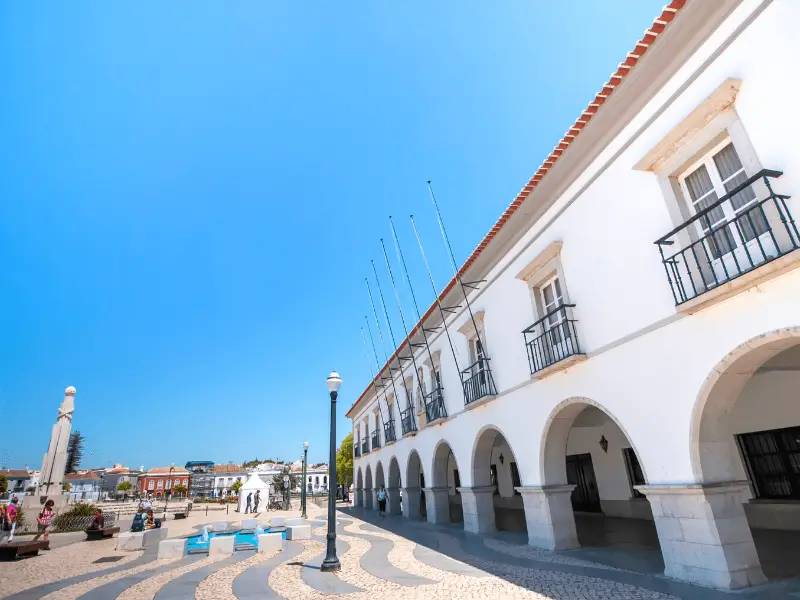 The Praça da República is the grand main square of the town, and it makes an excellent starting point for your exploration of Tavira.
Cafes line one side of the square, and you'll struggle to resist stopping for a coffee and a spot of people watching. On the other side of the square you'll see the Tavira Town Hall, with a fountain in front of it.
There isn't anything in particular to do in Praça da República (except for sipping coffee!) but I thought it definitely needed to feature on this list of the best things to do in Tavira since it's one of the town's most important landmarks.
Praia da Ilha de Tavira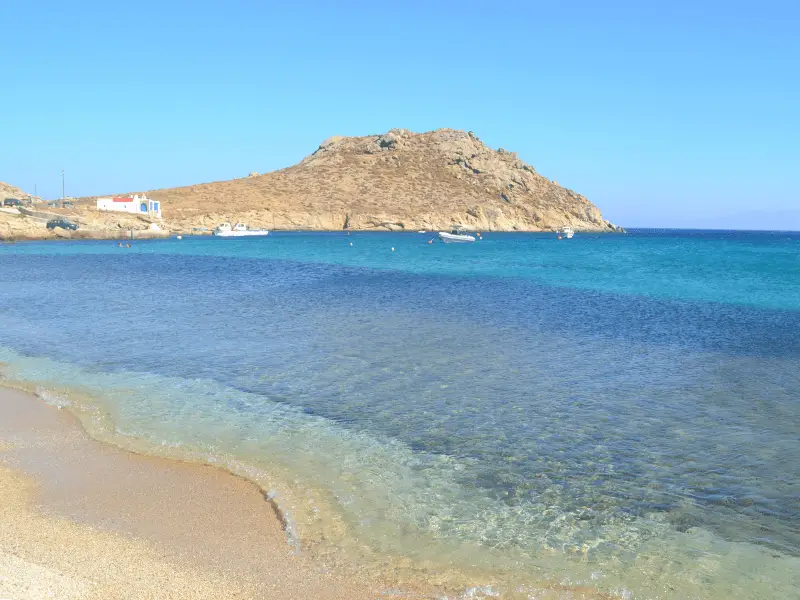 This stunning sandy beach is the closest to town, and it's also the most popular! Situated on Tavira Island (a very beautiful island full of beaches near Tavira), the only way to access this beach is via ferry, which adds a bit of adventure to your visit!
In summer you can catch the ferry from Tavira Harbour to Tavira Island, which takes just 20 minutes and costs €2 for a return ticket.
At the beach you'll find cafes and a shop, so you don't need to worry about packing everything before you visit. If you'd prefer to explore rather than sunbathe you can head out on the 20-minute walk to the nearby beach of Praia da Terra Estreita, and then further on to Praia do Barril. 
Tavira Riverfront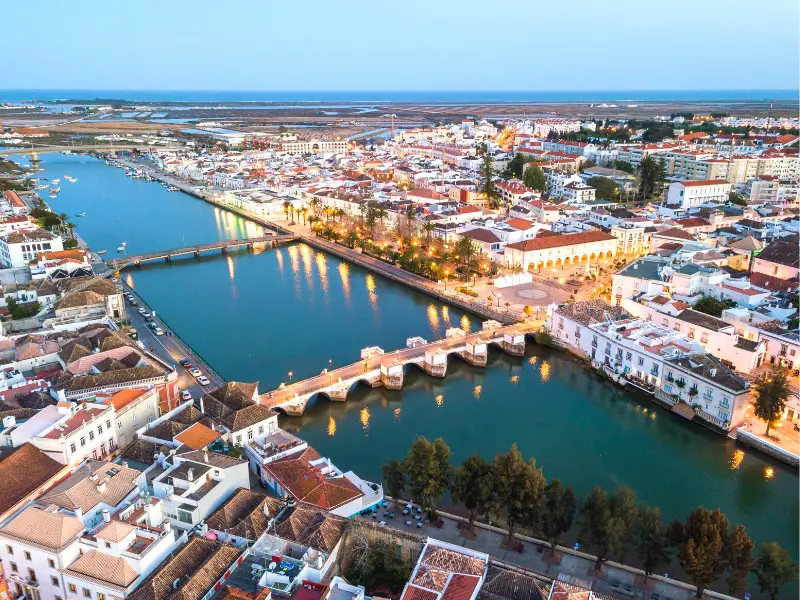 The River Gilão runs through the town of Tavira and is straddled by the Pont Romain de Bridge. The bridge is referred to as the "Roman Bridge" and dates back to the Moorish occupation of Tavira. It got its current look from renovations in the 17th century.
The bridge is for pedestrians only, making it ideal for strolling across and checking out the views the bridge offers of Tavira's waterfront mansions and the Praça da República. It's also the best place to see the sunset in Tavira!
Islamic Museum
Although the Moors occupied this entire region of Portugal for hundreds of years, there are very few tourist attractions that document and celebrate this history. That's why the Islamic Museum in Tavria is so unique!
At this museum you'll find an exhibition of Islamic artefacts located in the area, as well as numerous rotating exhibitions which all focus on the local area. Since Tavira Castle has so little information available, this is definitely the best place to visit in Tavira if you want to learn about Tavira's past.
Since the museum is indoors, it's also one of the very best things to do in Tavira when it rains. It doesn't rain very often here, but when it does you definitely need an interesting tourist attraction to shelter in!
Explore the Ria Formosa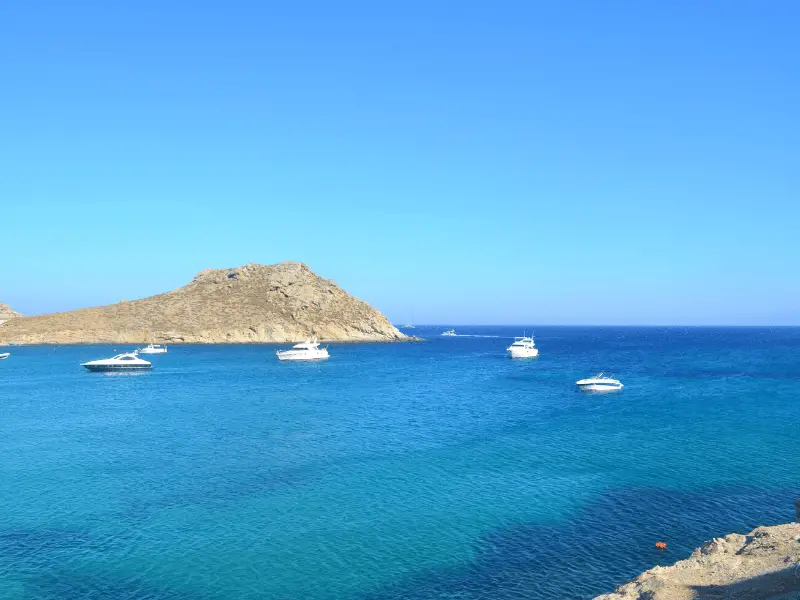 This huge natural park, which spans around 18,000 hectares, is one of the Algarve's hidden gems – and it's right on Tavira's doorstep!
The Ria Formosa is a coastal lagoon, consisting of beaches, sand dunes, mudflats, and tiny islands, and it's home to some of the most beautiful beaches near Tavira. You can catch ferries from Tavira out to the Ria Formosa, and it's very straightforward.
Torre de Tavira
Next up is one of the most unusual things to do in Tavira, the Torre de Tavira/Tavira Tower/Camera Obscura. Phew, that's a lot of names!
Housed in an old water tower, the Tavira Tower was transformed into a Camera Obscura and opened to the public in 2004. It's the best way to see Tavira from a different angle and learn about the town's cultural and historical heritage.
Inside, you'll get to see live images of Tavira reflected onto the walls of the building, and you'll marvel at the panoramic view of Tavira and its surroundings. 
A visit here lasts around 30 minutes, and tickets cost €5 for adults and €3 for kids.
Catch a Fado performance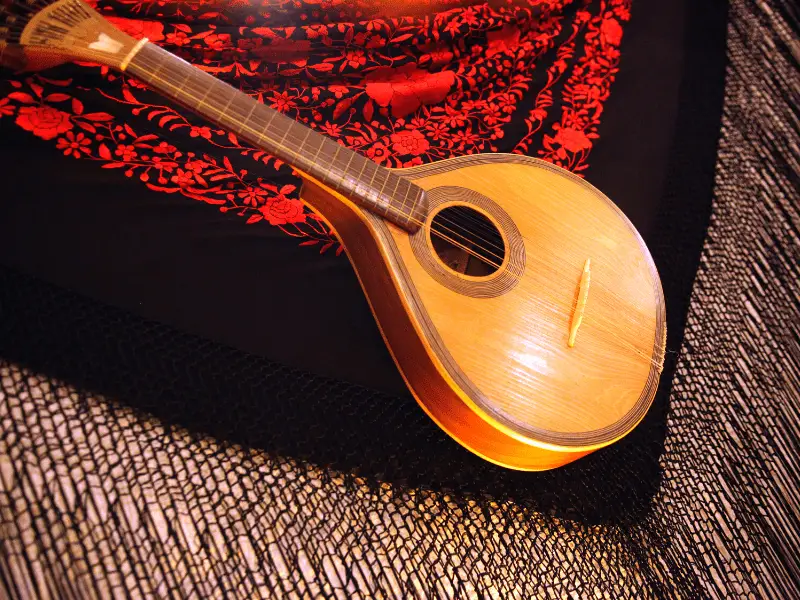 Fado is a traditional type of Portuguese music that developed in Lisbon in the 1820s, and nowadays catching a Fado performance is on many tourists' Portugal bucket list. 
Traditionally, Fado performances are held in Lisbon. In fact, it's pretty rare to find Fado in the Algarve. However, at Fado com História, you can enjoy traditional Fado right in the centre of Tavira!
Performances last around 35 minutes, and during this time you'll get to see this captivating music style, complete with viola, Portuguese guitar and vocals, for yourself. After the performance, you'll receive an explanation about the history and context of Fado, and you'll get to round off your visit with a glass of wine from Porto.
Shows are at 3pm, 5pm and 7pm, and tickets cost €10. Performances run Monday-Saturday in summer, with fewer performance days in winter. Check showtimes and dates on their website.
Tavira Museum/Galeria Palace
The stunning 16th century Palácio da Galeria is home to Tavira's municipal museum. As well as a permanent exhibition of historical artefacts found in the area, you'll also find temporary art and culture exhibitions here celebrating local heritage.
It's a pretty small museum so you won't need to spend long here, but you may want to spend a while checking out the beautiful views of Tavira from the Museum's terrace. 
Entry costs €2 per person.
Igreja de Santa Maria do Castelo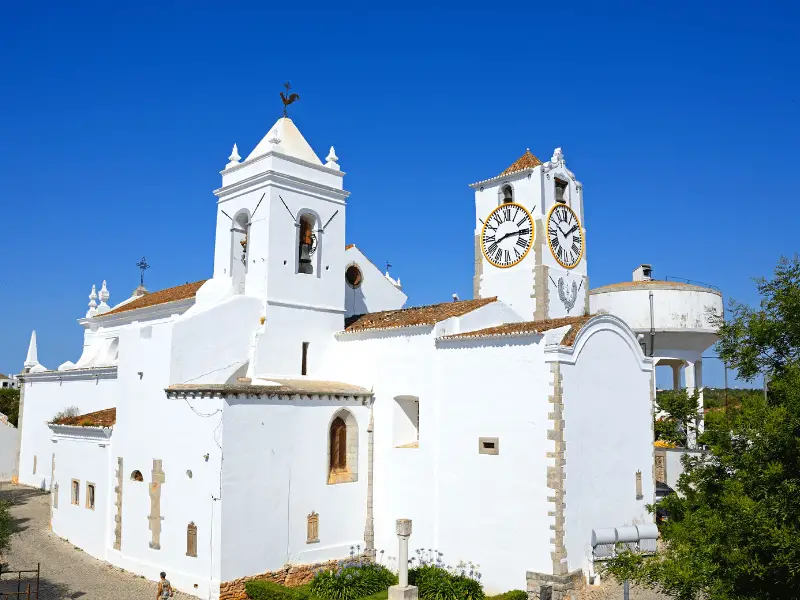 Just a short walk away from the Tavira Castle is Igreja de Santa Maria do Castelo, one of the most beautiful churches in Tavira and a National Monument of Portugal. It was built in the 13th century but badly damaged in the earthquake of 1755 and later re-modelled. 
There's no doubt that the exterior of this church is beautiful – it's painted in white and yellow, like many buildings in the Algarve. It's definitely worth stepping inside, though, where you'll find gorgeous blue and white azulejos (Portuguese tiles).
You can't visit Igreja de Santa Maria do Castelo without climbing up to the Bell Tower, where you'll get some of the best views in Tavira! Entry to the Bell Tower costs €2.50 per person.
Best Restaurants in Tavira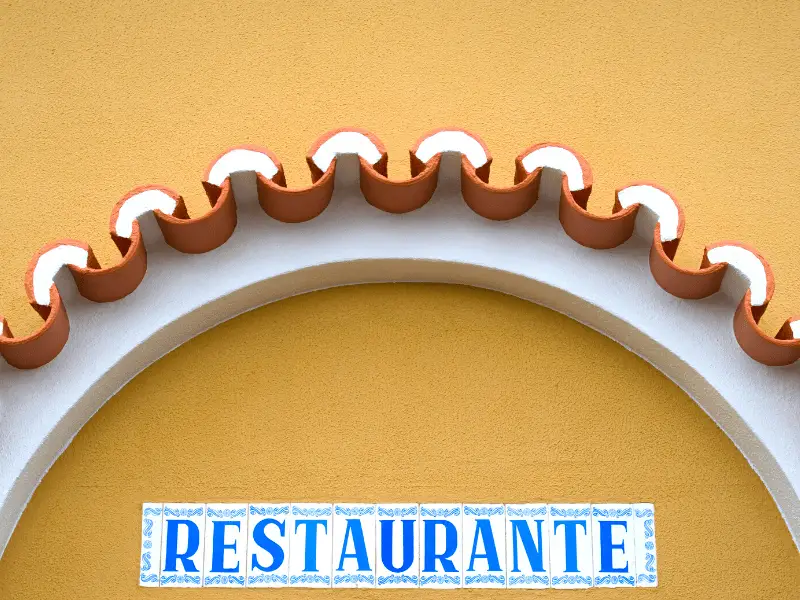 Tavira isn't a huge place, but it does have a good mix of traditional Portuguese and other cuisines and a few brilliant restaurants for you to try. Here are my top picks!
A Ver Tavira – offering much sought-after traditional tasting menus with a modern twist, A Ver Tavira definitely deserves its mention in the 2022 Michelin Guide. In summer, make sure you eat on their terrace overlooking beautiful Tavira. There's no beating around the bush – this is fine dining, with a price tag to match. But, since you're on holiday anyway it's the perfect excuse to splurge!
Casa Simão – this hole in the wall restaurant is as local as it gets, and is the place to head if you want to see what the locals eat. Order the dish of the day – it's usually the freshest dish on the menu and costs €7! There are no airs and graces here, but you'll definitely get good food, fast service and cheap prices.
Tia Maira Tapas – if you're looking to try tapas in Tavira, look no further than Tia Maria. Here, you'll find traditional tapas, delicious wine, and no shortage of beer options! It's slightly tucked away from Tavira town centre so you probably wouldn't stumble across it by accident, but it still gets very busy in summer from those in the know!
Where to Stay in Tavira, Portugal
Budget Hotel 
Situated right in front of the River Gilão, this charming guest house is right in the centre of Tavira, just a stone's throw away from all of the best things to do in town. With a great rating from hundreds of reviewers on Booking.com, and with breakfast included, this guesthouse arguably offers guests the best value for money in Tavira!
Click here to check the latest prices!
Mid-Range Hotel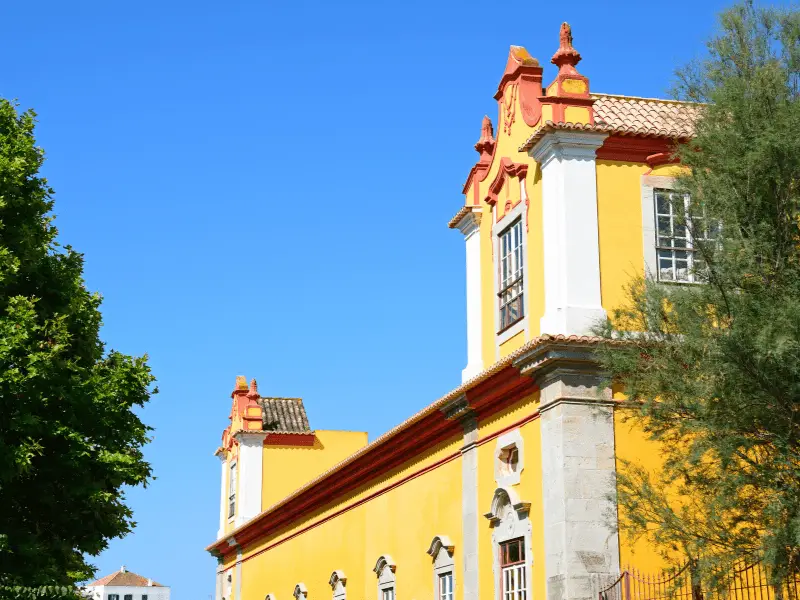 If you're looking for something more special, check out the most famous hotel in Tavira. This historical building is set around the quiet courtyard of the 16th-century St. Augustine's Convent and is just a few minutes' walk from the Roman Bridge. As you eat your free breakfast out on the hotel's historic courtyard, overlooking the pool, you'll truly feel like you're on holiday.
Click here to check the latest prices!
Hostels in Tavira
If you're travelling on a tight budget, you can't go wrong by staying at this popular hostel. With helpful staff who will help you to plan your trip and a mix of dorm rooms and private rooms, staying here is definitely good value for money. What's more, it's owned by the chain Hostelling International, so you can rest assured that standards are high here.
Click here to check the latest prices!
How Many Days to Spend in Tavira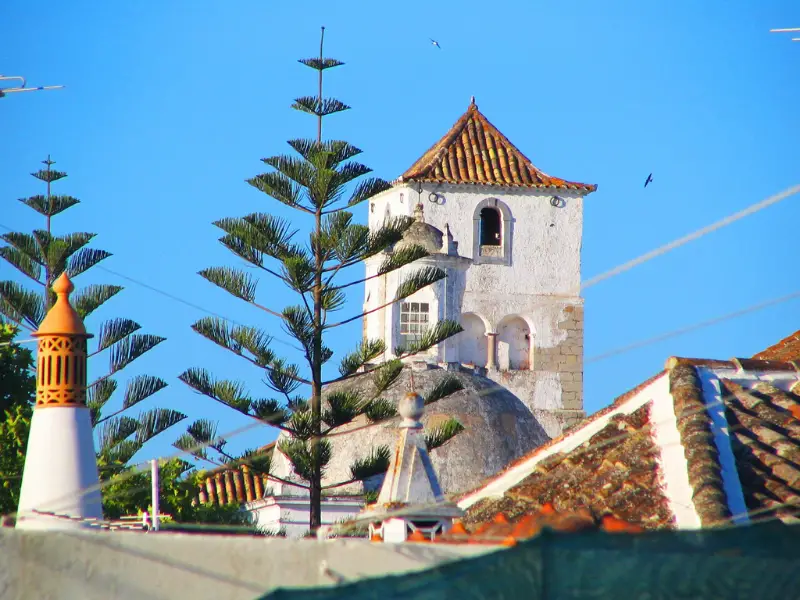 Two days is the ideal amount of time to spend in Tavira, which will allow you to check out the town's historic landmarks, spend some time relaxing on the beach and indulge in some delicious local cuisine. 
If you want to spend more time on Tavira's beaches and out exploring the Ria Formosa you could definitely stretch your stay in Tavira for three or even four days.
As usual, it totally depends on your travel style and what you're looking for from your trip!
What to Pack for Tavira, Portugal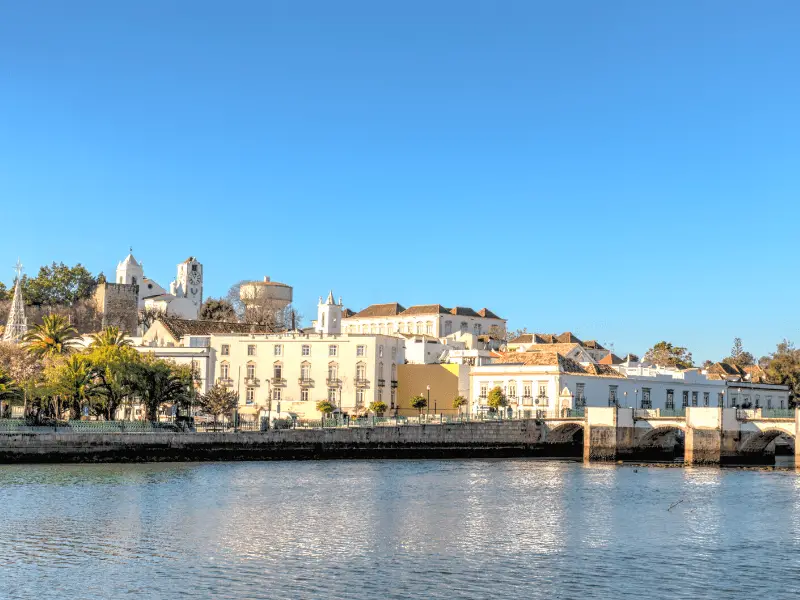 You won't need to pack anything specifically for Tavira that you wouldn't need for a trip to anywhere else on the Algarve. However, there are a few travel essentials I always recommend for travel to warmer destinations:
This quick-dry towel is my go-to! It dries super quickly, so you don't have to carry a soggy towel around with you, rolls up into a tiny ball, and sand doesn't stick to it. It's perfect for a beach trip.
Reef-friendly sunscreen is the way to go if you want to protect your skin without polluting and damaging the ocean and marine life there.
This waterproof phone lanyard. If you want to go into the sea but don't want to leave your valuable belongings on the beach I can't recommend getting one of these enough! You can put your phone, money and ID in the waterproof pouch and wear it around your neck as you go for a paddle or swim. I also love that the case is see-through, so you can take selfies and videos underwater!
I'm obsessed with guidebooks and love to read about the destination I'm travelling to whilst I'm on bus or train journeys or sunbathing at the beach. I recommend packing the Insight Guides Pocket Algarve guidebook to help you to plan your Algarve trip. Not only does this guidebook have a tonne of helpful information to plan your itinerary, but it's also filled with wanderlust-inspiring photos to get you excited for your travels!
The Best Travel Insurance for Tavira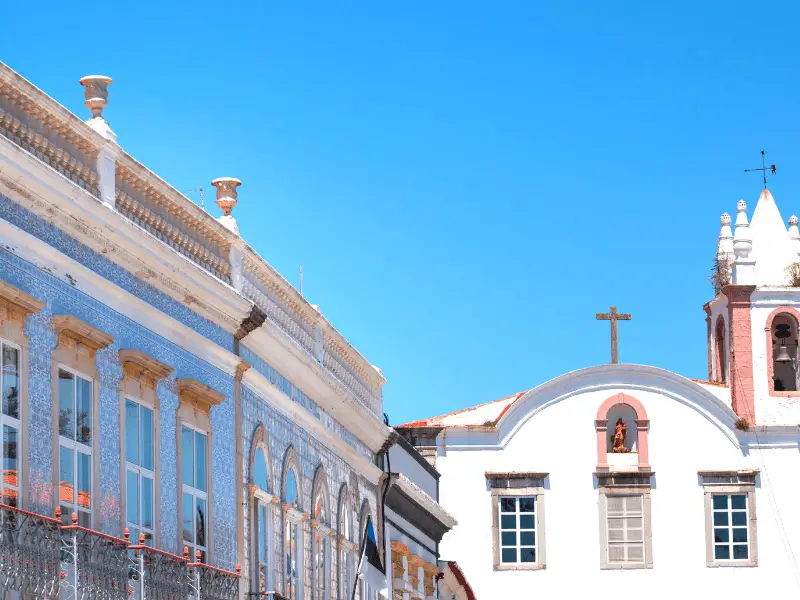 I've never travelled without insurance, but it's scary just how many people do. You can be as careful as humanly possible, but bad luck happens to all of us and some things are just totally out of our control. 
That's where travel insurance comes in. Get your wallet stolen? Fall sick and need emergency medical treatment? The airline loses your luggage? No problem, your insurance will have you covered.
It's unlikely that anything bad will happen to you in Tavira, or Portugal in general, but having insurance could be the difference between the trip of a lifetime and a total nightmare.
For travellers from outside the EU I recommend World Nomads. This is probably the most popular insurance in the world for adventurous travellers. It also covers a ton of fun activities so you can go hiking or mountain climbing with no worries.
Click here to get a quote from World Nomads!
For my EU readers I recommend SafetyWing. World Nomads isn't available to EEA residents at the moment, so SafetyWing is a great alternative. They offer a pretty similar service and cover package and very competitive rates.
Click here to get a quote from Safety Wing!
Is Tavira Worth Visiting?
If you're looking for a laid-back Portuguese town where you can strike the perfect balance between sightseeing and beach time, Tavira is definitely worth visiting. 
However, it doesn't have as many things to do or the same buzzing atmosphere as places like Lagos or Albufeira. For this reason, if you're looking to party, or want a younger crowd, Tavira may not be worth visiting for you.
Liked this post? Pin it!