There is a good chance that this post contains affiliate links. If you make a purchase through them, I may receive a small commission at no extra cost to you! As an Amazon Associate, I earn from qualifying purchases. As ever, all opinions are my own.
Last Updated on January 27, 2022 by Ella
It's no secret that Cambridge is one of the dreamiest places to visit in the UK. From punting along the River Cam, to exploring Cambridge University's many sprawling colleges, to getting your knowledge fix in the Fitzwilliam Museum, there are a million reasons why Cambridge is one of the most popular day trip destinations from London.
Luckily, Cambridge is also a fairly small city, so it's definitely possible to see the highlights in a day.
With hundreds of years of history, over 30 colleges, and countless other attractions to visit in the city, though, narrowing down all the things to do in Cambridge into a one day itinerary can be a challenge!
That's where I come in.
I've visited Cambridge five or six times now because my boyfriend's family lives there, so I've been spoilt for choice when it comes to opportunities to get out and explore Cambridge. Recently, I had a whole day to spend exploring the city and decided to take full advantage of it!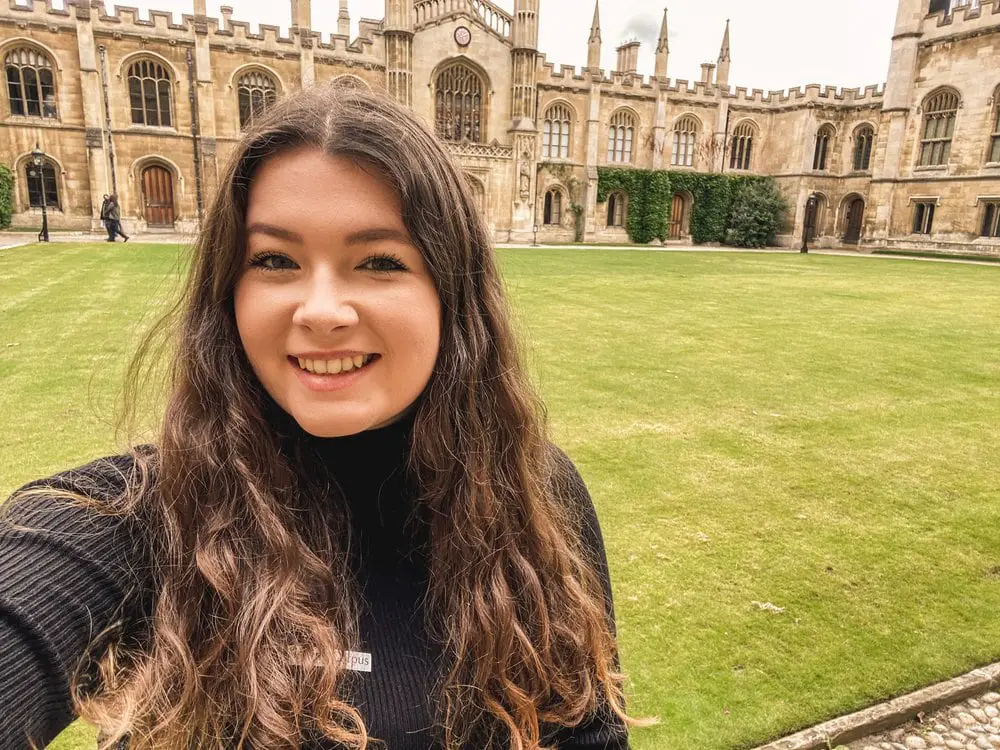 After that trip, I decided to create the perfect one day itinerary for any day trip to Cambridge. In this itinerary, you'll visit the most beautiful colleges of Cambridge University, check out some fascinating historical landmarks, and even come face to face with a really bizarre clock.
Let's begin! 
Day Trip to Cambridge from London – How to Get There
Cambridge is one of the easiest day trips you can do from London since you can reach it on a direct train that takes just 54 minutes! Trains depart multiple times an hour from Blackfriars, Liverpool Street, St Pancras and Kings Cross Stations in London.
The cheapest time to take a day trip from London to Cambridge is, surprisingly, at the weekend. This is because on the weekend you can purchase the "super off-peak day return" train ticket, which costs just £13.60.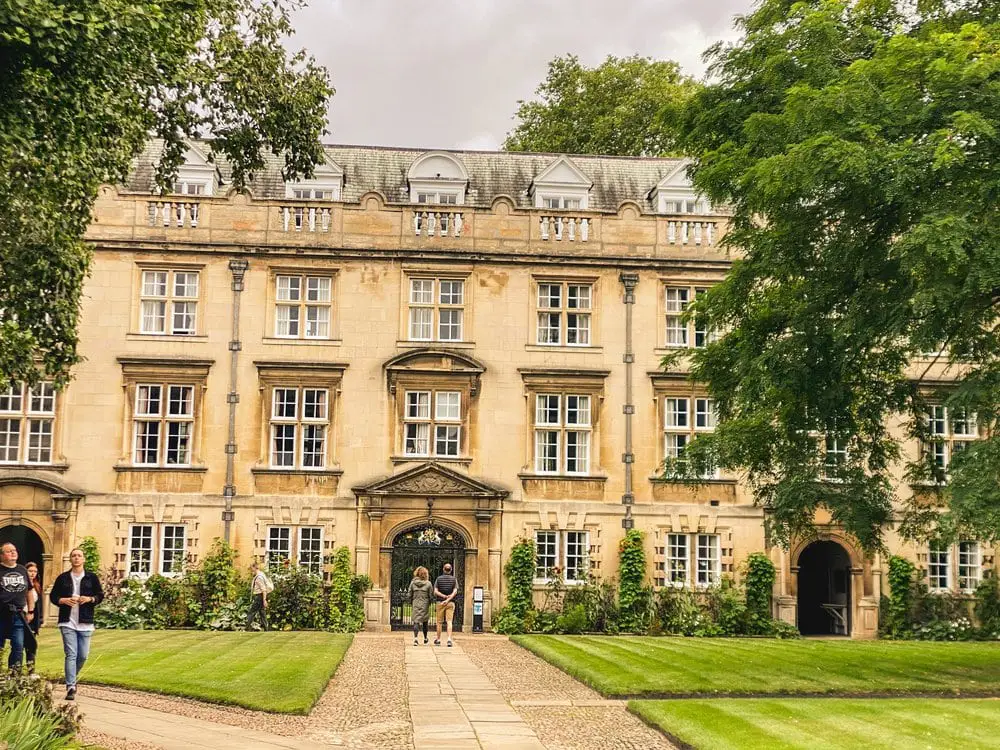 During weekdays, you'll have to catch a peak train in the morning to get to Cambridge at a decent time, which will make your train tickets much more expensive!
I always buy my train tickets from Trainline and recommend them as you can get your ticket on your phone rather than having to print it out. 
Check train times and prices here!
Cambridge One Day Itinerary
The earlier you can get to Cambridge on your day trip, the better! Most attractions open at 10am, so I recommend arriving at 9.30am since the train station is about a 15-minute walk away from the centre of Cambridge. 
There's also another reason I recommend getting to Cambridge early…
Stop 1 – Hot Numbers Coffee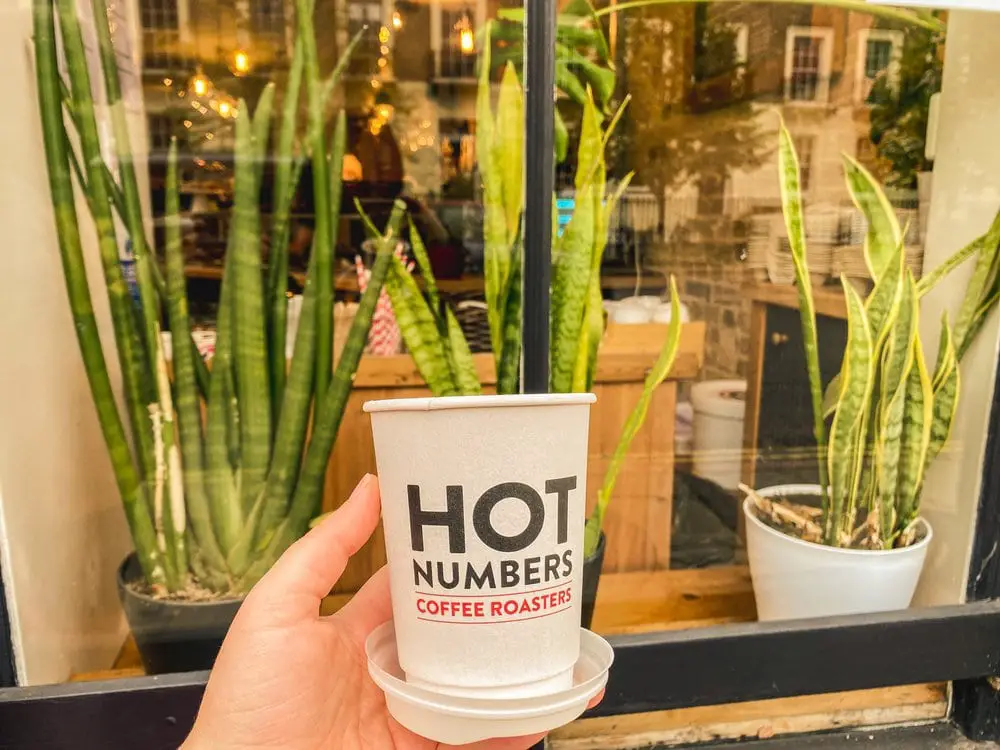 This coffee shop is on the way from Cambridge train station into the city, and it's THE BEST COFFEE EVER! Seriously. Every time I visit Cambridge, I insist on visiting Hot Numbers. They play jazz music, the coffee is awesome and their breakfast offerings are second-to-none. 
What's not to love?!
If the weather isn't on your side, sip your coffee inside Hot Numbers, but if it's lovely, I recommend getting your coffee to go so that you can sip as you stroll.
Since it'll be so early, this is a unique opportunity to get your first glimpses of the city before the tourist madness descends, so make the most of the peace and quiet whilst it lasts!
Stop 2 – Christ's College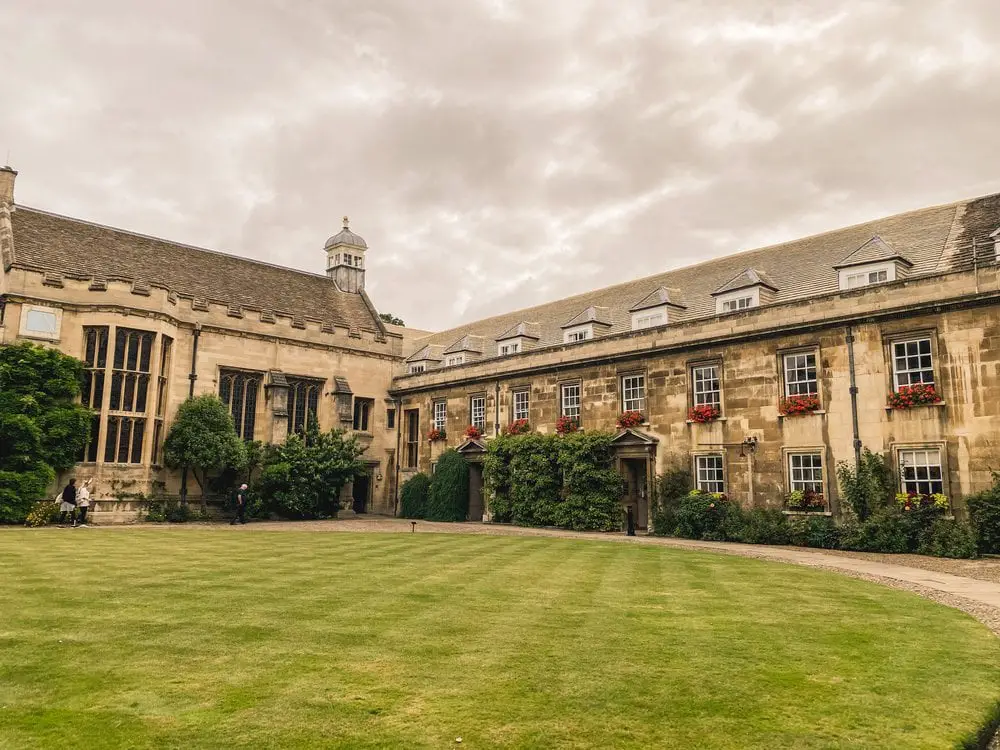 12-minute's walk from Hot Numbers is Christ's College, the perfect introduction to visiting Cambridge colleges – and what's even better is that it's free to visit!
The gardens are open from 9am, so even if you arrive super early in Cambridge you'll be able to spend some time at Christ's College. It's hardly the most beautiful college in Cambridge, but it's certainly not bad to look at!
You won't find any information here to guide you around and share the history of the college, so I recommend just having a stroll before heading over to the meeting point for the next stop on this itinerary, where you'll learn much more about Cambridge's colleges.
Stop 3 – Walking Tour of Trinity and Pembroke with a Graduate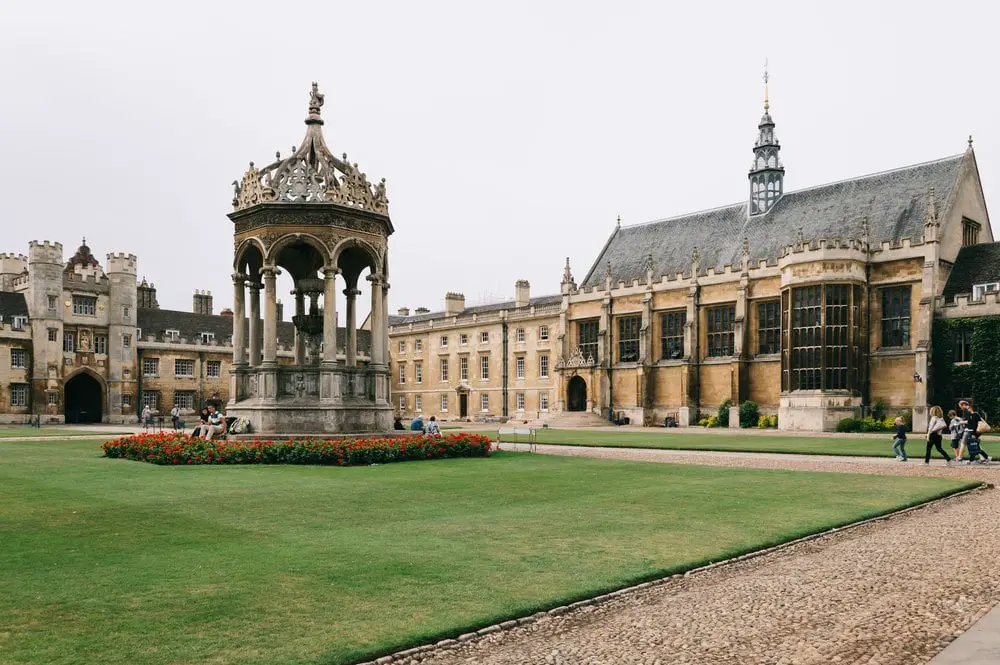 Trinity and Pembroke colleges are two of the most visited colleges in Cambridge. That's because they're both super impressive, and downright gorgeous! 
Visiting independently, though, comes with its challenges. You have to pay to enter both colleges, and once you're inside there isn't any information around teaching you about what you're looking at or the history of the college. 
Some colleges give you a little map with some brief information, but you really are going into the college blind if you visit independently. It's far better to have some information to bring the colleges to life!
That's why I recommend joining this guided walking tour, which is run by a Cambridge University graduate. The tour lasts 90 minutes, includes your entry tickets to both colleges (as well as a guided walking tour of the surrounding areas) and a guide who has been there and knows everything there is to know about the colleges! 
You can ask them anything, from the history of the colleges, to what life is like as a student, and they will be happy to share their knowledge with you.
The tour costs £23, and there are three departures per day: 11am, 1pm and 3pm. I recommend booking onto the 11am tour so that it can act as your introduction to Cambridge, and you'll be equipped with all the information you learnt on the tour to help you explore Cambridge throughout the day.
Stop 4 – The Corpus Clock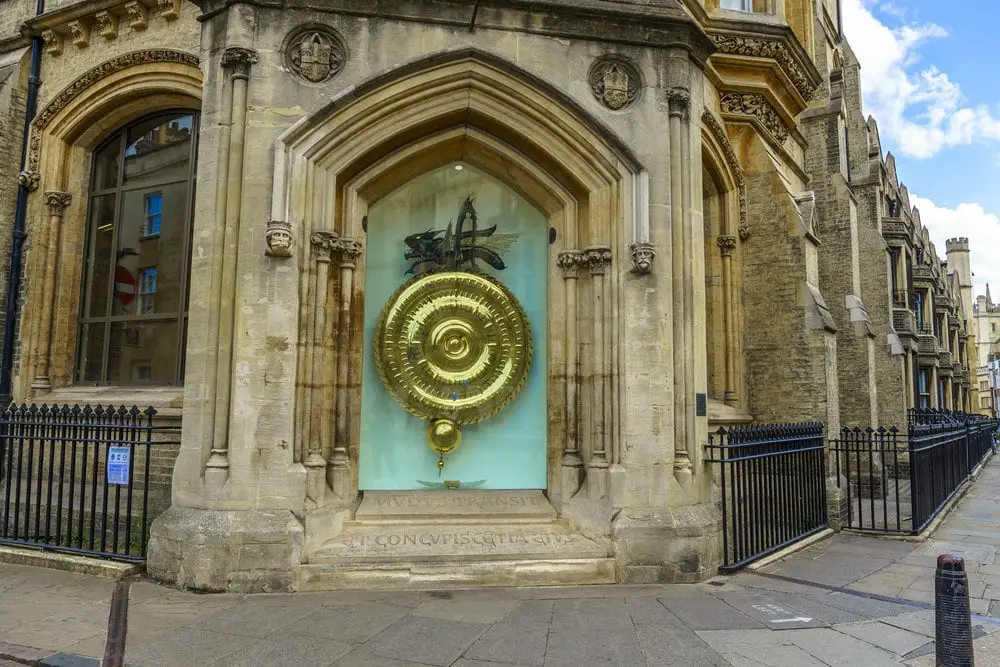 Okay, so the Corpus Clock will only take you a few seconds to visit, but it's just so freaking bizarre that I couldn't resist including it on this day trip itinerary. It's been in its position outside the Taylor Library of Corpus Christi college since 2008 and is basically a huge grasshopper sat on top of a golden ticking clock. 
Weird, right??
The grasshopper's mouth repeatedly opens and closes in a super grotesque way, which supposedly symbolises our time being eaten away, which is, uh… slightly unnerving.
The clock is also only accurate once every five minutes, which is supposed to be a reminder that time is relative to us all. 
Nice.
As I said, it's super weird, but definitely worth checking out during your day trip to Cambridge – even if only to witness its bizarreness.
Stop 5 – Visit Corpus Christi College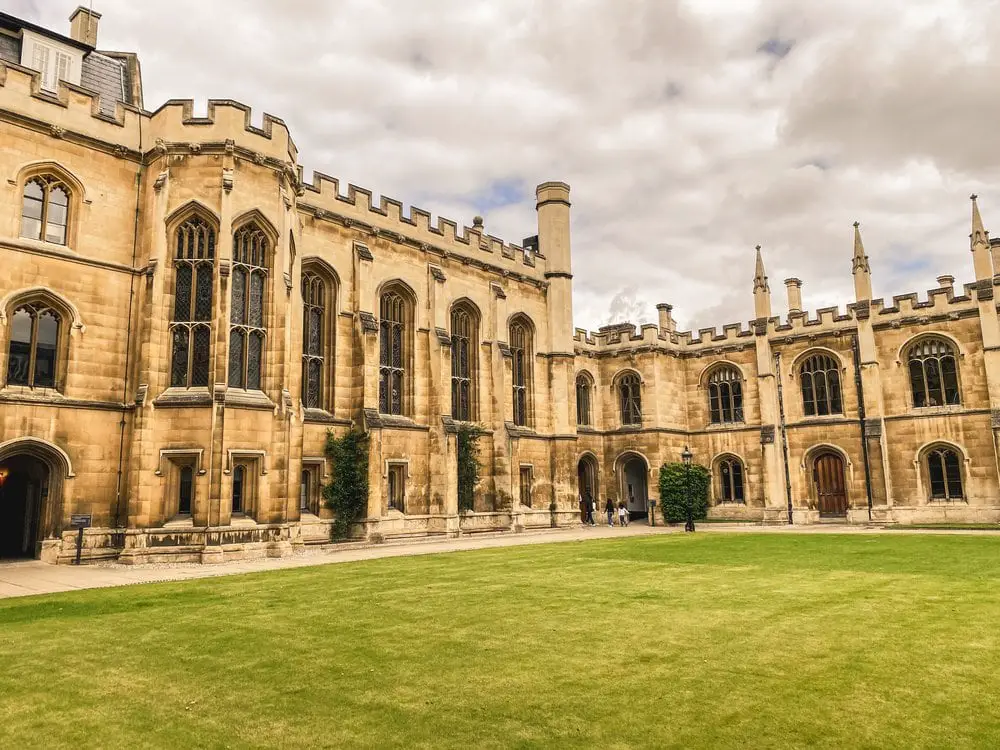 Founded in 1352, Corpus Christi is one of the oldest colleges in Cambridge, and, unsurprisingly, it's totally beautiful. It has one of the smallest student populations of all the Cambridge colleges, so the students here are very tight-knit.
The entrance to the college, like many of the Cambridge colleges, is very unassuming, so keep your eyes out for it! 
Corpus Christi is open for the public to visit, although you'll have to pay £5 to do so. If you don't want to pay, though, you're able to walk up to the entrance where you'll be able to look and take photos of New Court for free.
I paid the £5 to enter, but I personally don't think it was worth it. New Court is probably the most beautiful spot in the college and you can see it for free. Since you'll have already visited Trinity and Pembroke colleges in depth on the tour earlier in the day, I recommend just taking the free visit option for Corpus Christi college and saving yourself some money.
Stop 6 – Lunch at Aromi
An Italian deli may not be the first thing that comes to mind when you picture lunch in Cambridge, but this place is a Cambridge institution, and it always has queues outside!
Luckily, if you're happy to take away, the queue moves pretty quickly – and there's no reason to sit inside a restaurant when you could eat at the park or in front of one of the beautiful colleges!
They serve up pizza by the slice and mouth-watering sandwiches, so I recommend grabbing some lunch on the go to maximise the time you have to spend exploring. Expect to pay around £6-7 for lunch here.
Stop 7 – Heffers Bookshop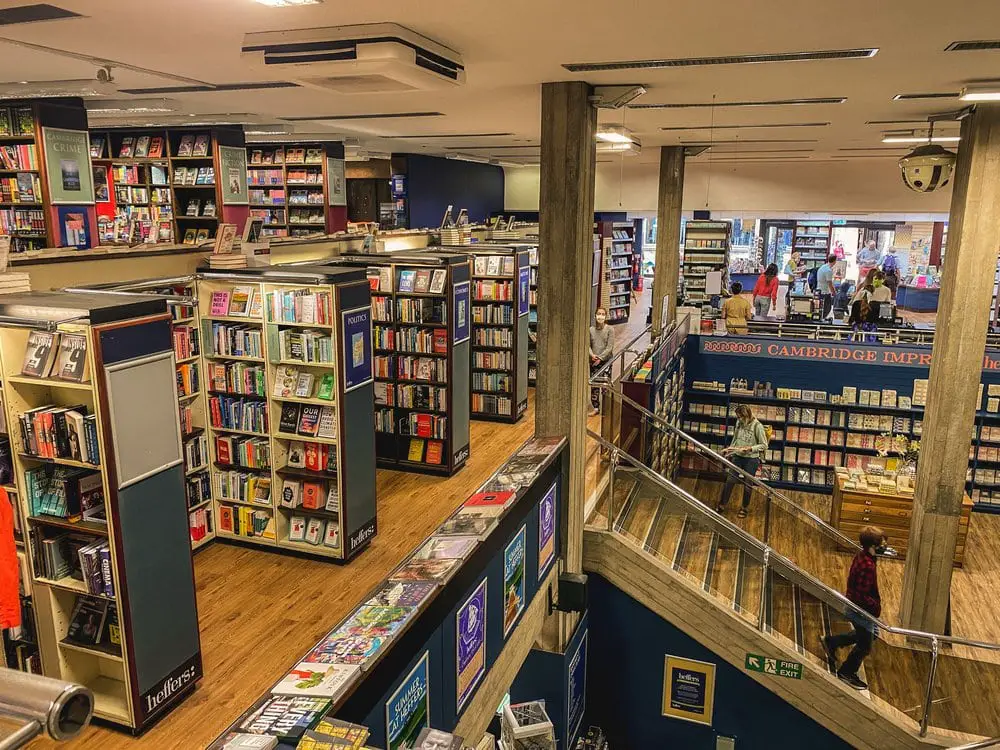 This huge, independent bookshop is the perfect refuge from the crowded Cambridge streets. Plus, since you're in Cambridge it's pretty much a requirement to indulge your inner academic and stock up on reading material during your day trip. 
As a bookworm, I could have spent hours perusing the never-ending shelves at Heffers!
This bookshop has been trading in Cambridge since 1876, so it has definitely stood the test of time. They have a huge range of titles and genres, multiple floors, and one of the most comprehensive selections of travel guides I have seen in a long time. 
Stop 8 – Punting along the River Cam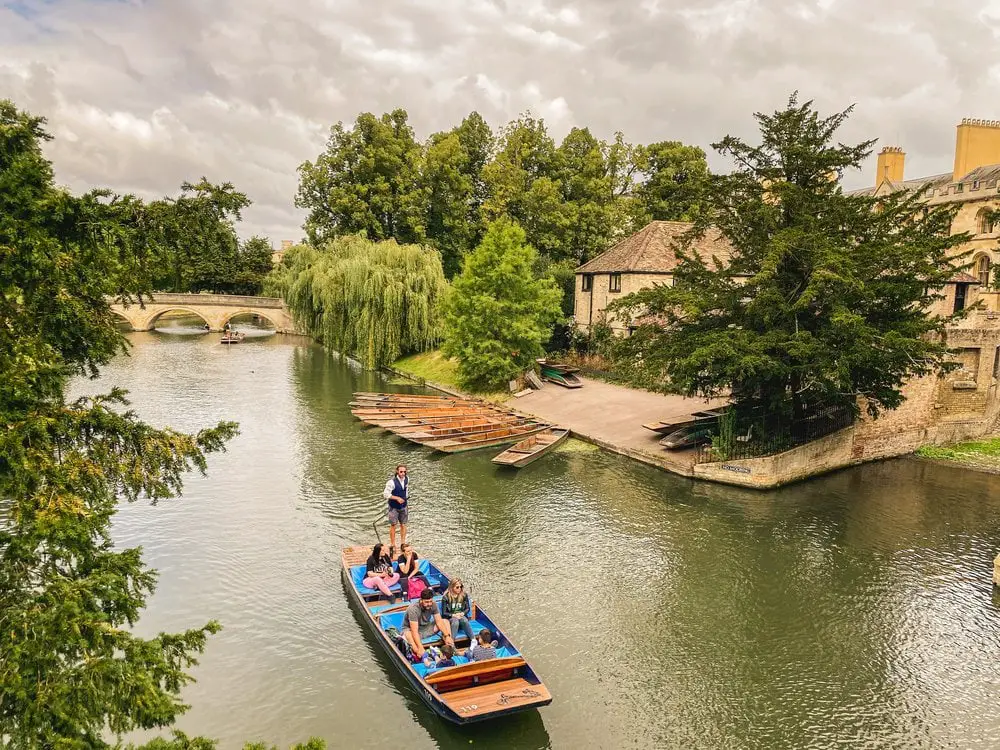 A trip to Cambridge in the summer months wouldn't be complete without going punting, and this uniquely Oxbridge (Oxford and Cambridge) experience is the best way to take in the beauty of the city. Plus, going punting is super relaxing – all you have to do is sit back and watch as you pass by some of the most iconic landmarks of the city. 
Punting tours usually last for around 45 minutes, and your punting guide will be a local who can share the history of punting in Oxbridge, point out the sites you pass, and answer any questions you have about life in Cambridge.
Although punting is infinitely better on sunny days, the punting boats contain cushions and blankets to keep you warm if it's slightly chilly when you visit, so it's not *completely* weather dependent. 
There are a ton of punting providers who will try to convince you to join their punting tour whilst you're sightseeing in Cambridge, but if you book face-to-face like this, it'll cost you a small fortune. The best way to go punting in Cambridge on a budget is to book online in advance.
For example, the average on-the-day punting price is £30 per person. However, if you book online in advance here, £30 will get you a punting tour for up to three people. Those are some crazy savings!
Click here for the best deal on puting tours.
Stop 9 – Climb the Tower of Great St. Mary's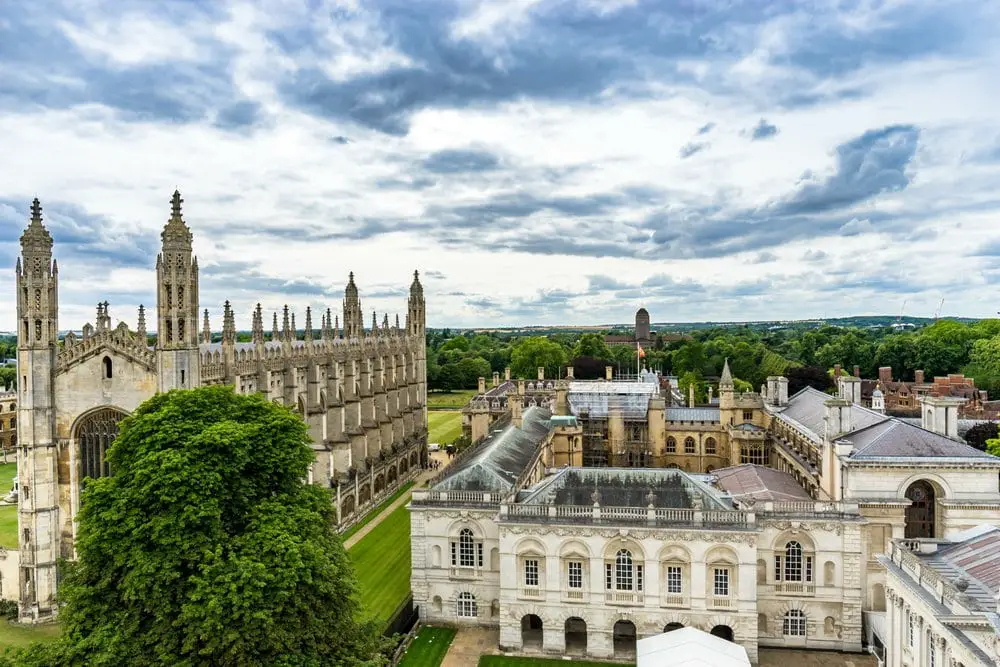 Great St Mary's is the church of Cambridge University as a whole, and, like most other things in Cambridge, it's ancient. The foundations of the church itself date back from 1010, although the original church burnt down in the 13th century and was rebuilt in the 14th century.
Although the church building itself is impressive, it's the church tower we're visiting for. After climbing up the tower's countless stairs you'll find the very best views over Cambridge. You'll be stunned by just how many spires the city has!
If you've packed your camera, now is the time to get it out, since this is the best opportunity you'll get to snap photos of Cambridge without people constantly walking in front of your lense.
Entry to the tower costs £6.
Stop 10 – The Round Church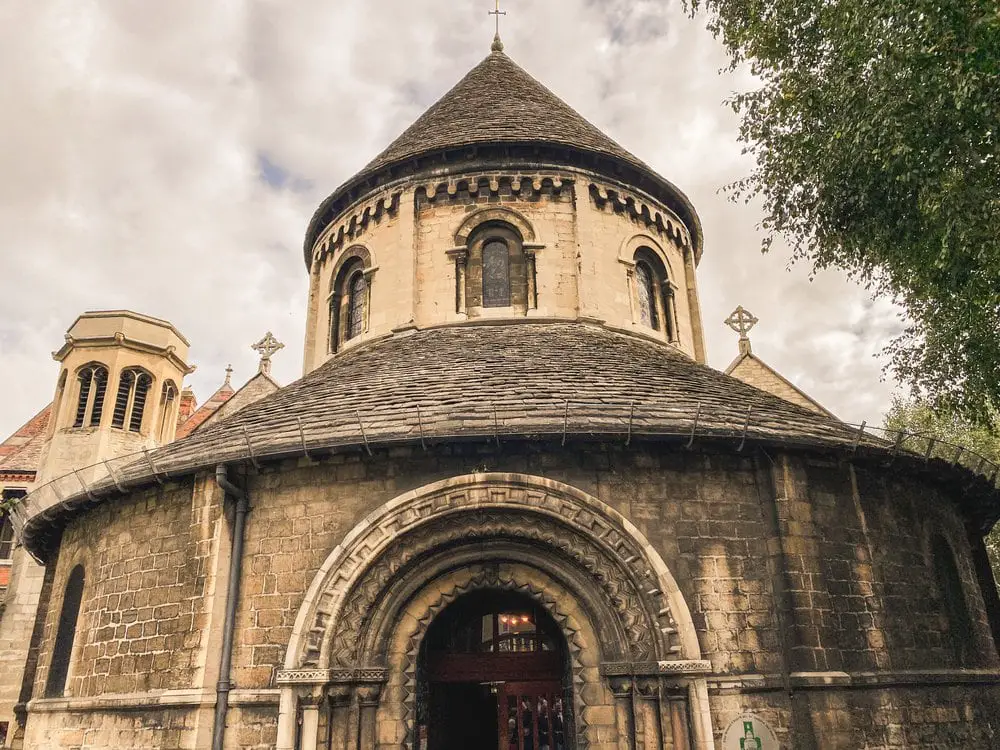 This 900-year old church was built by the mysterious Knights Templar in 1130, and its striking exterior is what makes it an essential stop on this one day in Cambridge itinerary.
I have only ever visited the Round Church from the outside, but inside you'll find the "Cambridge Story Exhibition", which details the story of the city from Roman times to the present day. It gets great reviews, so I definitely need to make it inside the round church on my next visit! 
Even if you choose not to go inside, though, chances are you won't have seen a building quite like this in England before, so it's worth stopping by to snap some photos.
Entry costs £3.50.
Stop 11 – The Fitzwilliam Museum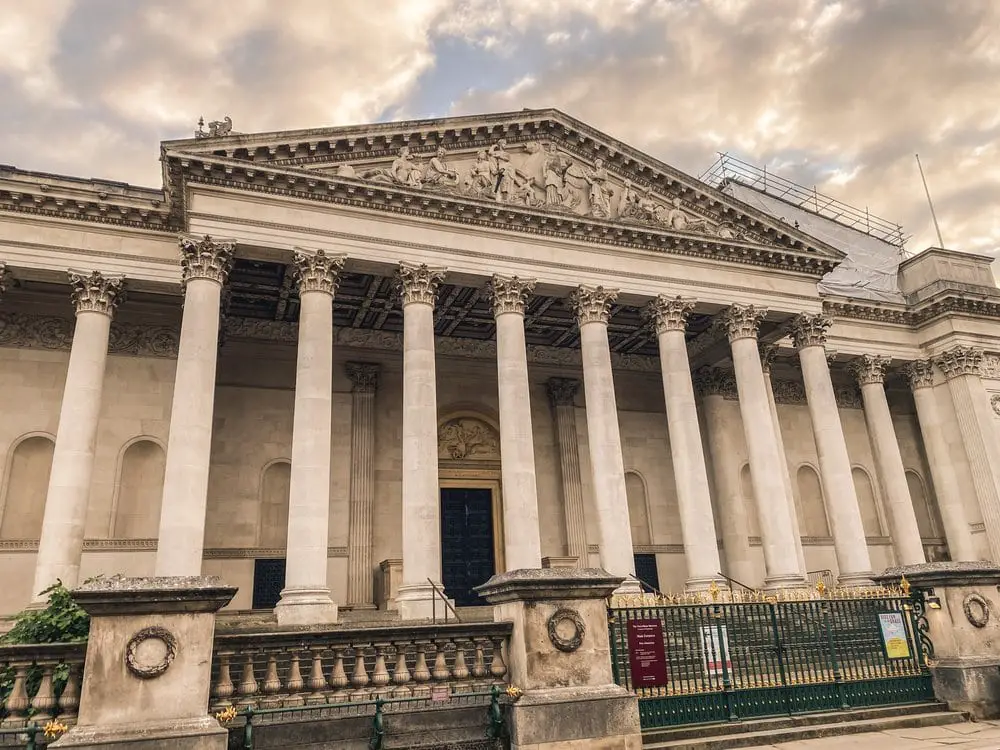 The Fitzwilliam Museum is easily the best museum in Cambridge! It houses over half a million historical objects and art pieces, so it's easy to spend half a day here without getting bored. 
If you're visiting Cambridge when it's raining, the Fitzwilliam is my top recommendation for the perfect place to shelter from the weather whilst learning at the same time.
Entry to the Fitzwilliam Museum is totally free, so if you're visiting Cambridge on a tight budget this is one of my top recommendations. 
Stop 12 – Drink at The Eagle Pub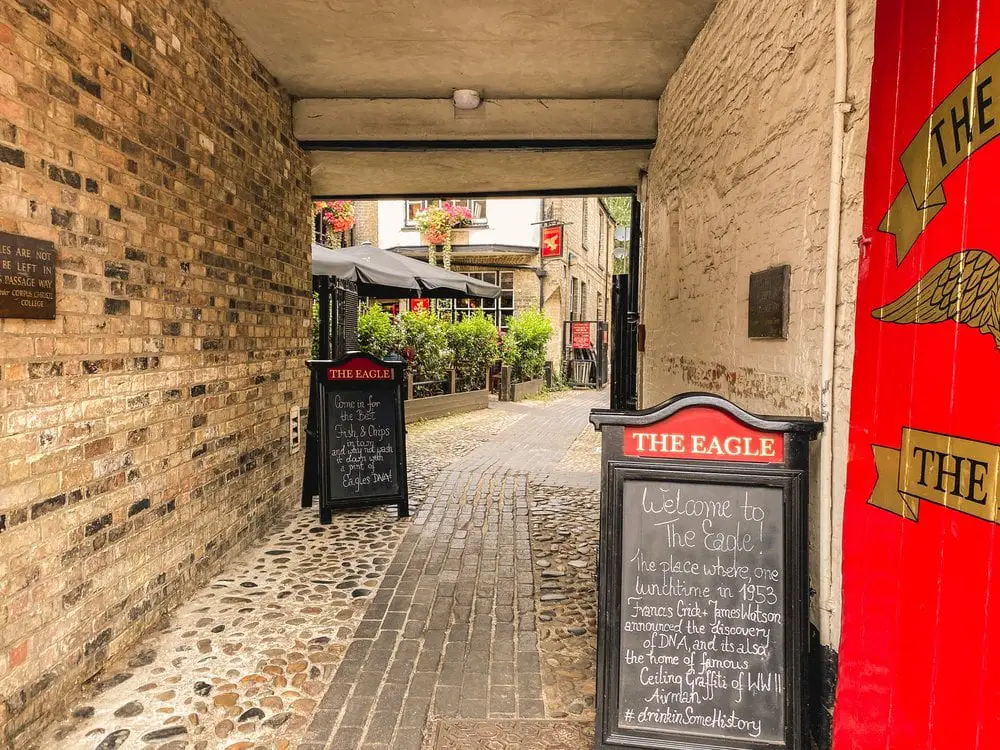 The Eagle is the second-oldest pub in Cambridge (the oldest is the Pickerell Inn), and first opened way back in 1667. Its astonishing age may be a good reason to visit, but there are plenty more! Let's skip straight over its charming interior and talk about The Eagle's history.
Francis Crick walked into this pub at lunchtime on 28 February 1953 to announce that he and his co-worker, James Watson, had "discovered the secret of life" after they had come up with their proposal for the double-helix structure of DNA. This discovery had staggering consequences in the world of molecular biology and genetics, and the pub prides itself on being the venue for such an important announcement.
As well as the main pub, The Eagle also has an annexed "RAF Bar". It's called this because, during a refurbishment in the 1990s, graffiti was uncovered on the ceiling. Further scrutiny revealed the graffiti to be the names, squadron numbers and doodles of allied airmen who were stationed nearby during WW2 and drank here regularly. The graffiti is now preserved for you to see on your visit to the pub!
Although it's not super cheap, The Eagle has a wide variety of beers on offer and it's certainly cheaper than London! The average pint will set you back around £5.
Stop 13 – Evensong at King's College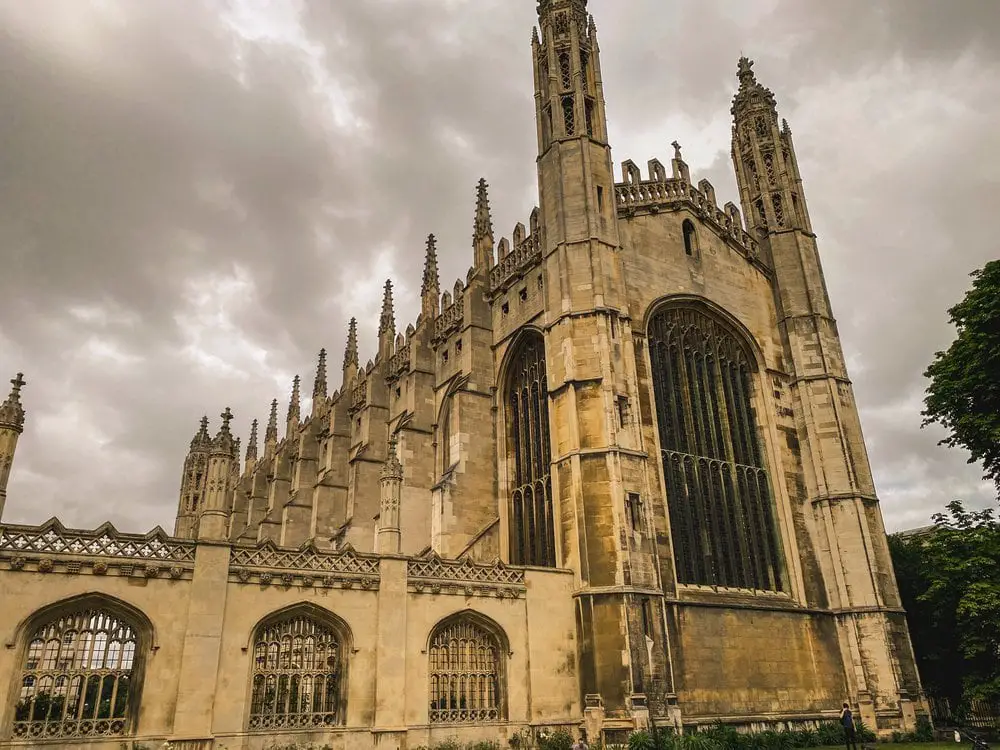 The essential way to round off your day trip to Cambridge is by attending Evensong at the King's College Chapel. 
Evensong is a tradition that's been held at King's College for over 470 years, and it's still going strong! Whilst attending the ceremony you'll get to hear the songs of the choir and the haunting music of the Chapel's famed organ. 
The ceremony only takes place during term time, when it'll begin at 5:30pm Monday-Saturday and 3:30pm on Sunday. It's totally free to attend and you won't need a ticket. Just turn up half an hour before it begins and join the queue of visitors filing into the Chapel.
Getting around Cambridge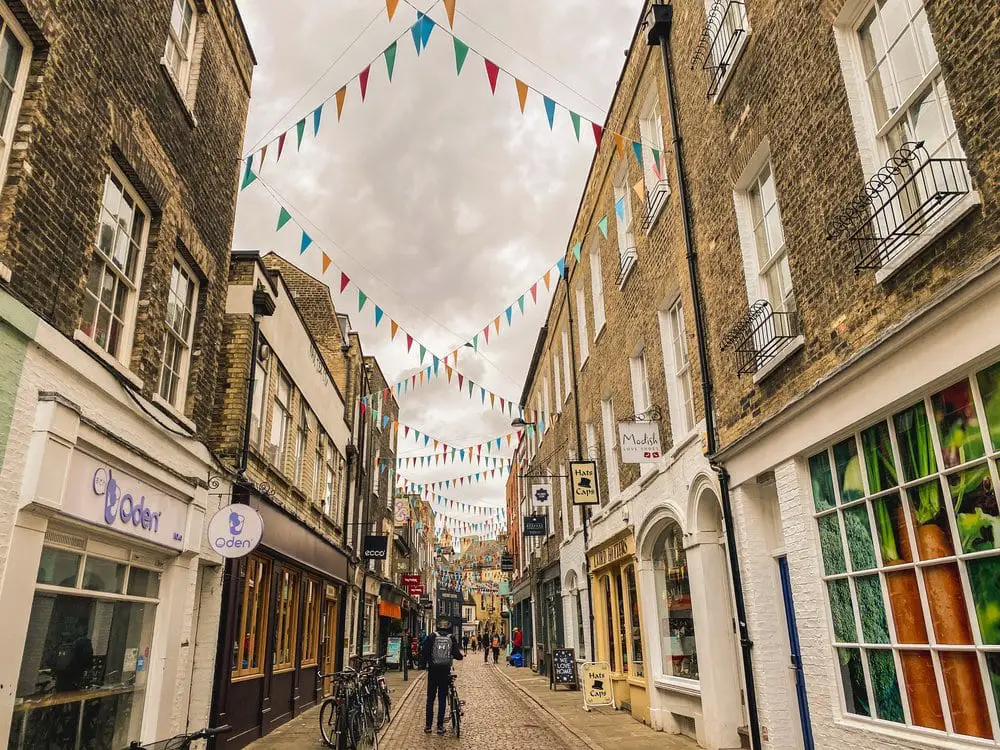 You may notice a red Hop-On-Hop-Off tour bus circulating Cambridge, but in my opinion buying a ticket for this bus is a complete waste of money. Most of the sights in Cambridge are all in the city centre, which is extremely walkable and totally flat.
For this reason, you won't need to worry about public transportation during your time in Cambridge at all. Provided you have no mobility issues, it's very quick and easy to walk from attraction to attraction. 
Half the charm of Cambridge is coming across unbelievably pretty buildings and streets completely by accident as you're on the way to somewhere else, and you wouldn't get that on the bus!
Best Time to Visit Cambridge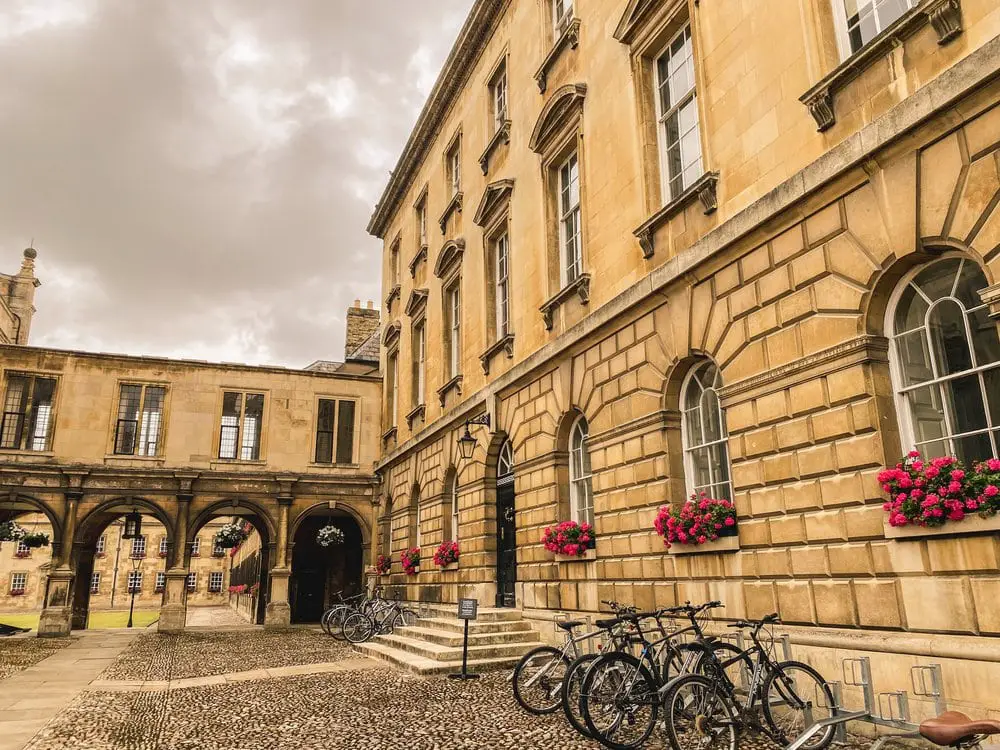 There isn't really a best time to visit Cambridge – it's great in autumn, winter and summer. 
Yes – even in the January cold and the rain Cambridge retains its charm. Plus, what's better than cosying up in a Cambridge cafe in winter with a good book and pretending to yourself that you're a student?
My favourite time to visit Cambridge is in autumn when all the students have returned to university because there's such a buzz in the air. Cambridge's dark academia vibes lend themselves perfectly to the gloomy autumn weather, and its many parks become covered in bright orange leaves. It's heavenly!
If you're wanting to take a punting tour or see as many attractions as you possibly can during your one day in Cambridge, summer is undoubtedly the best time to visit.
Not only is summer the best time to go punting (since you won't freeze on the boat) but the longer daylight hours give you much longer to explore and check more attractions off your Cambridge bucket list. Plus, opening hours are often longer in summer!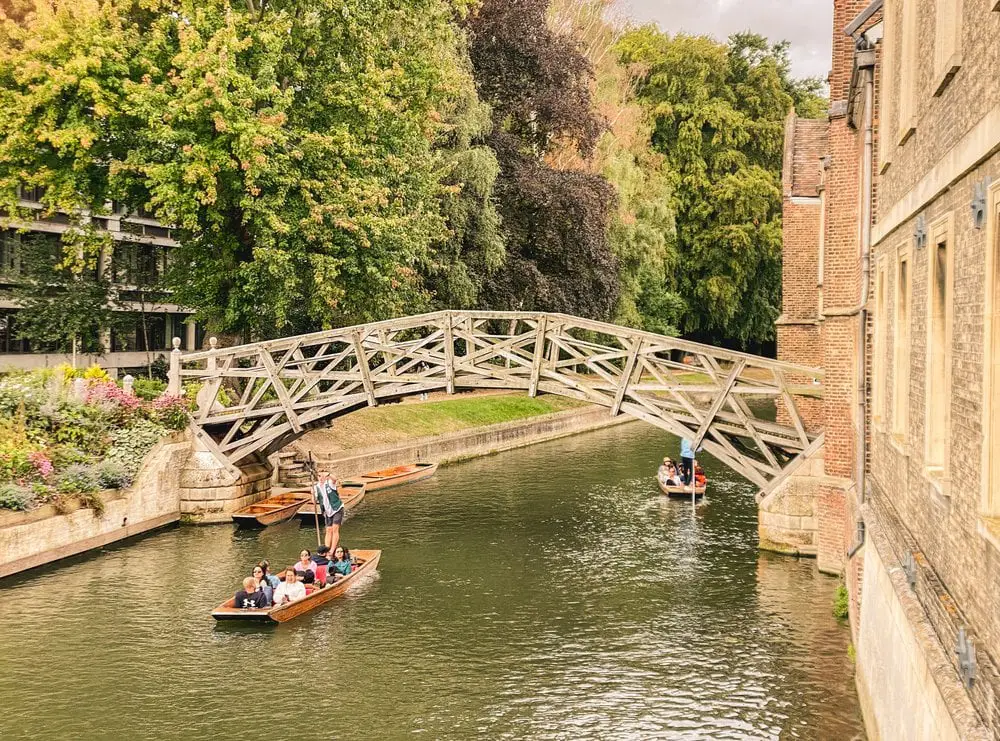 Although there's not a best time to visit Cambridge, there is certainly a worst time to visit, which is spring. 
Between April and June the university students sit their final exams, which means most colleges close to visitors. It would be a real shame to visit Cambridge and not get the chance to wander around a few colleges, so I definitely recommend avoiding this time of year for your day trip.
Want more UK travel tips and inspiration? Head over to my UK travel page!