There is a good chance that this post contains affiliate links. If you make a purchase through them, I may receive a small commission at no extra cost to you! As an Amazon Associate, I earn from qualifying purchases. As ever, all opinions are my own.
As a huge Shakespeare nerd, spending a weekend in Stratford upon Avon had been on my bucket list for as long as I can remember. After a long wait, I finally made it there!
And trust me, it definitely lived up to my expectations.
After spending a blissful weekend in Stratford upon Avon in 2020 I couldn't get over how lovely this town was. However, since some of the attractions weren't open back then, I decided to go back for another weekend in Stratford upon Avon this summer.
After another wonderful trip I'm totally hyped and ready to share all the best things to do and places to visit in this charming town with you! That's why I've pulled together this epic weekend in Stratford upon Avon itinerary. 
If you follow this itinerary you're pretty much guaranteed to have an amazing time, see all the highlights, and stay at the very best hotel in Stratford upon Avon.
So, what are we waiting for? Let's get started!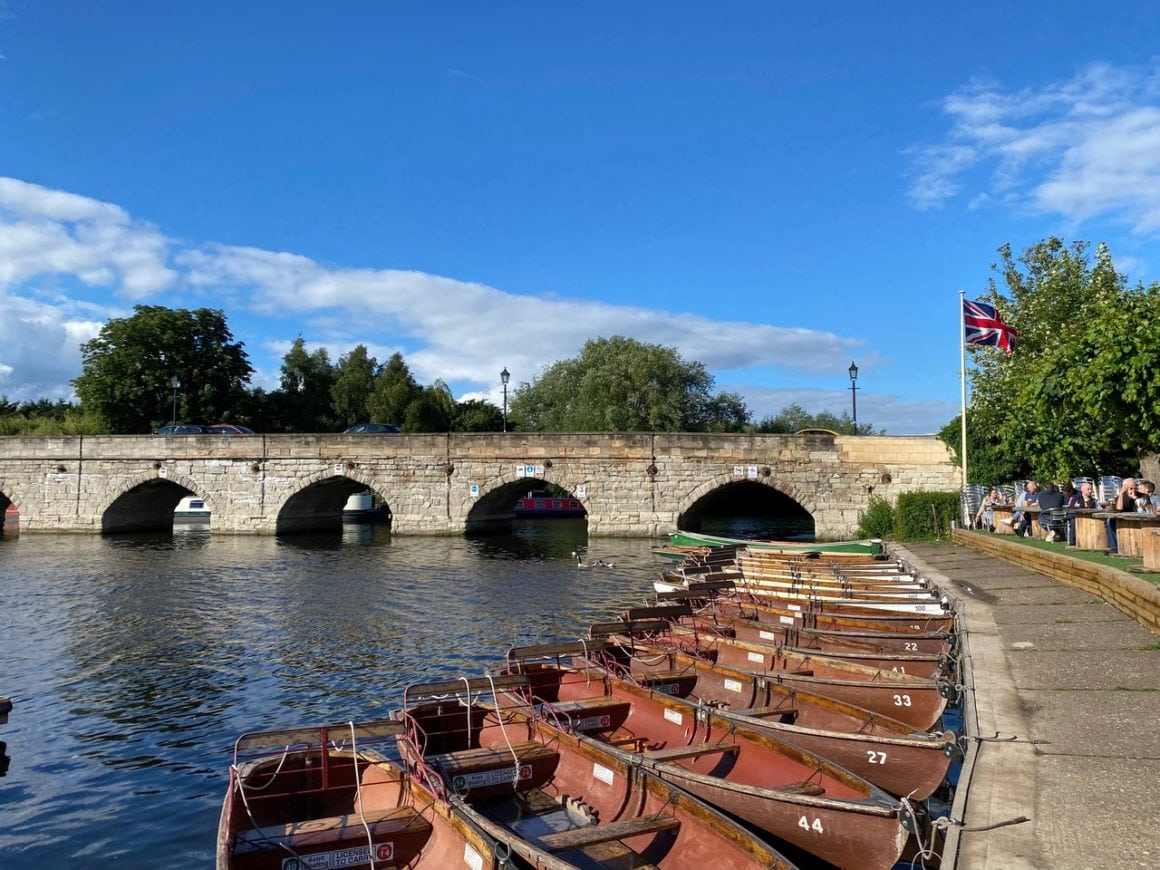 How to Get to Stratford upon Avon
The best way to get to Stratford upon Avon is by train, and there's no need to rent a car to visit the town. It's small and walkable, and the few attractions that aren't in the town centre are easy to get to via the hop-on hop-off tourist bus.
From London, the total journey time takes around 2 hours and 10 minutes. You'll need to catch the train from London Marylebone to Leamington Spa, where you'll switch trains to catch the train to Stratford upon Avon. The journey is really easy, and return tickets cost around £35.
Since Stratford upon Avon is in the midlands, many people also visit the town from Birmingham. From Birmingham, the fastest direct train to Stratford upon Avon takes just 32 minutes! Return tickets cost £15.60. 
How to Spend a Weekend in Stratford upon Avon
Day 1 – It's All About Shakespeare!
Stop 1 – Shakespeare's Birthplace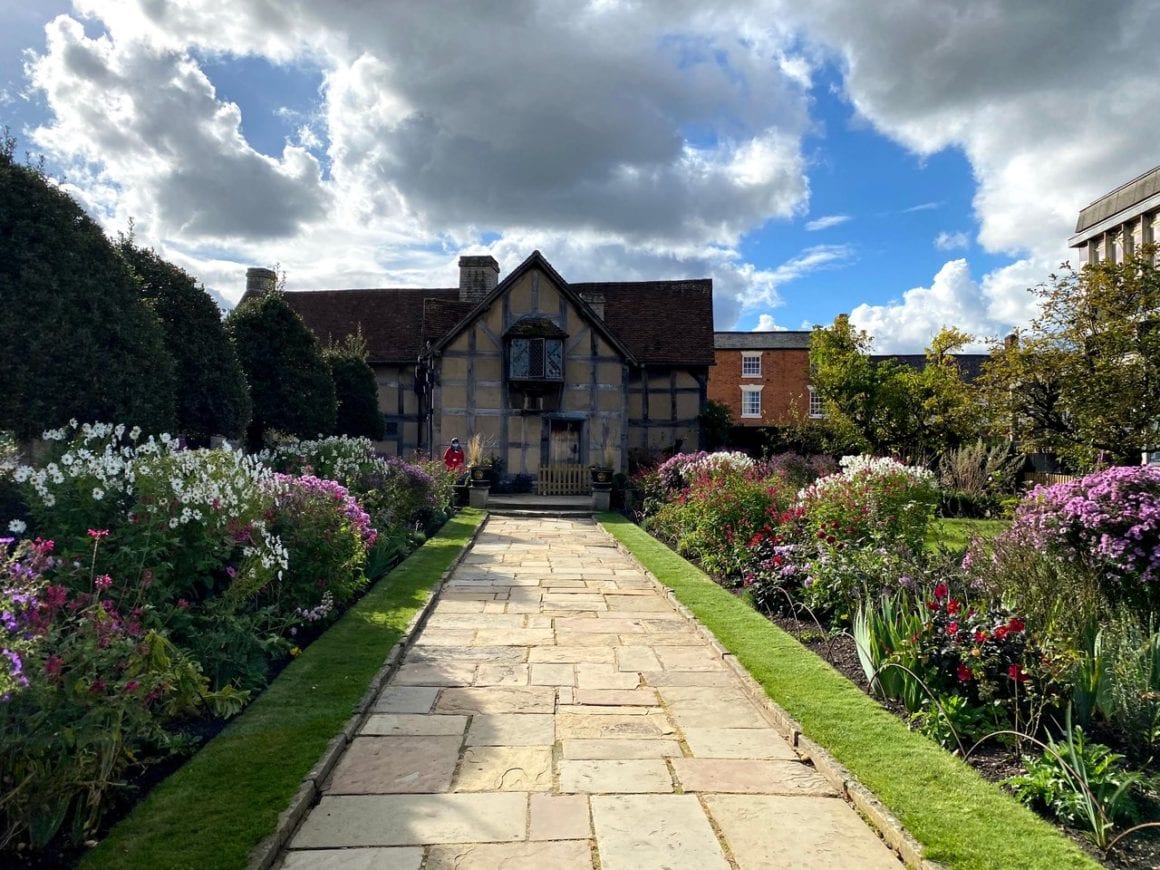 It's time to kick off your weekend in Stratford upon Avon with the place where it all started – Shakespeare's Birthplace! 
A visit to Shakespeare's Birthplace starts with a brief exhibition documenting Shakespeare's life, for those who need a quick briefing, before you stroll through the delightful flower-filled garden to enter Shakespeare's Birthplace. Shakespeare was born in this house in 1564 and grew up here. 
Definitely stop to speak to the staff inside the house who are the most enthusiastic and knowledgeable I think I have ever come across! Ask them all of your burning questions about Shakespeare or life in the Shakespearean era and they'll have the answer!
Entry costs £18, but you're able to purchase a one-day Shakespeare's Story ticket which allows you to enter Shakespeare's Birthplace, Anne Hathaway's Cottage and New Place, which are all stops on day one of this Stratford upon Avon itinerary. The Shakespeare's Story ticket costs £24 – click here to buy yours!
Stop 2 – Magic Alley
This is a very random stop, but if you're into Harry Potter you won't want to miss this on your trip to Stratford upon Avon. Heck, even if you're not a fan you'll probably enjoy visiting here – it's unique and pretty interesting.
The Magic Alley is a Harry Potter-style, old-fashioned shop selling all sorts of magic memorabilia. It's definitely got an Ollivanders vibe to it! If you're visiting Stratford upon Avon at Christmas this is also an unmissable destination, as it sells the best Christmas gifts and decorations in Stratford upon Avon!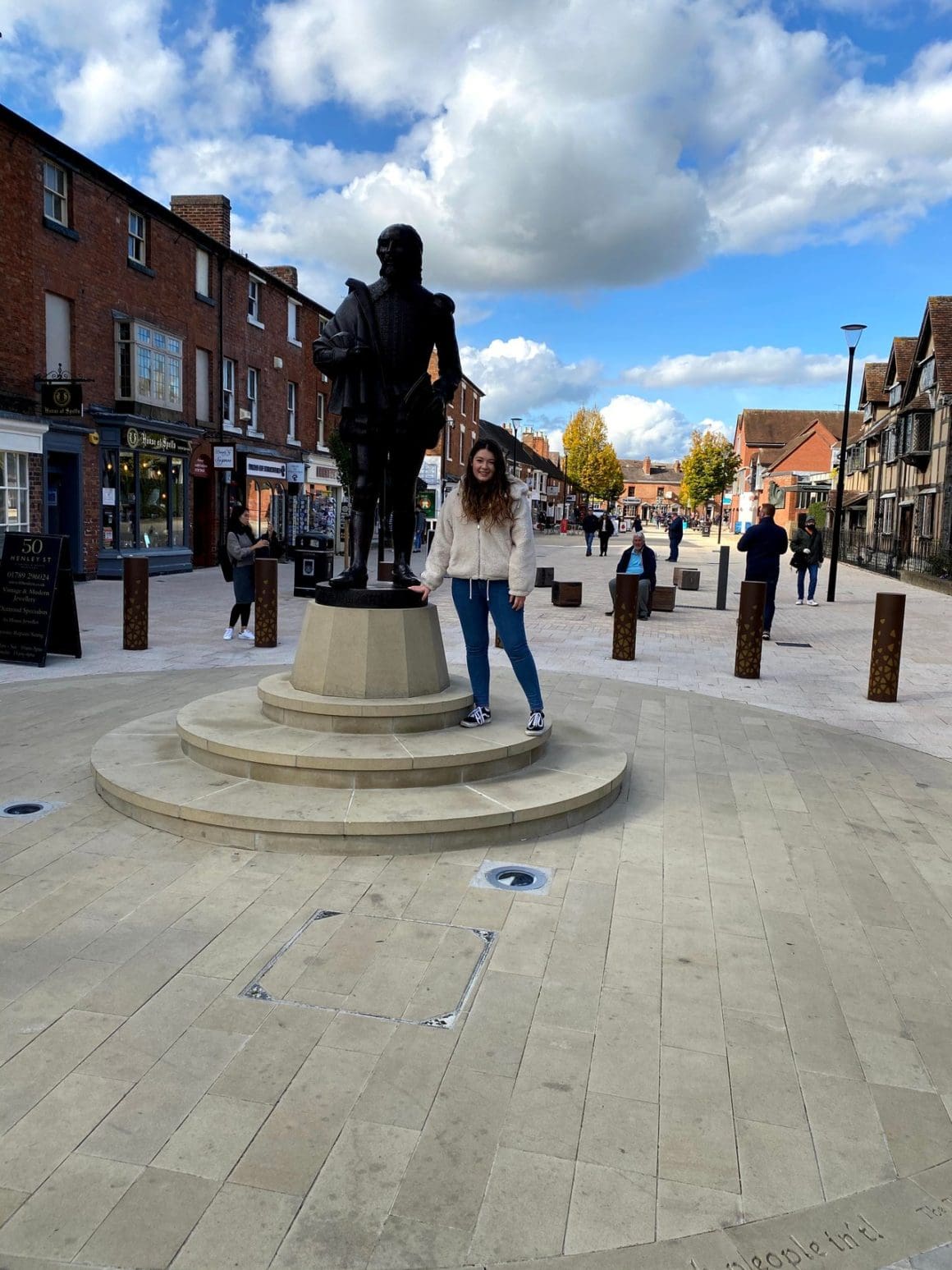 Stop 3 – Lunch at Plantarium Cafe
For lunch, it's time to visit one of the most popular cafes in Stratford upon Avon! The Plantarium serves up veggie and vegan food so fabulous you won't even notice it's all plant-based! From soups to sandwiches, burgers to burritos, this cafe has an excellent selection for you to choose from for lunch.
They also have some quirky drinks on their menu you won't get anywhere else, such as their famous blue matcha latte or the Biscoff latte. 
Stop 4 – Anne Hathaway's Cottage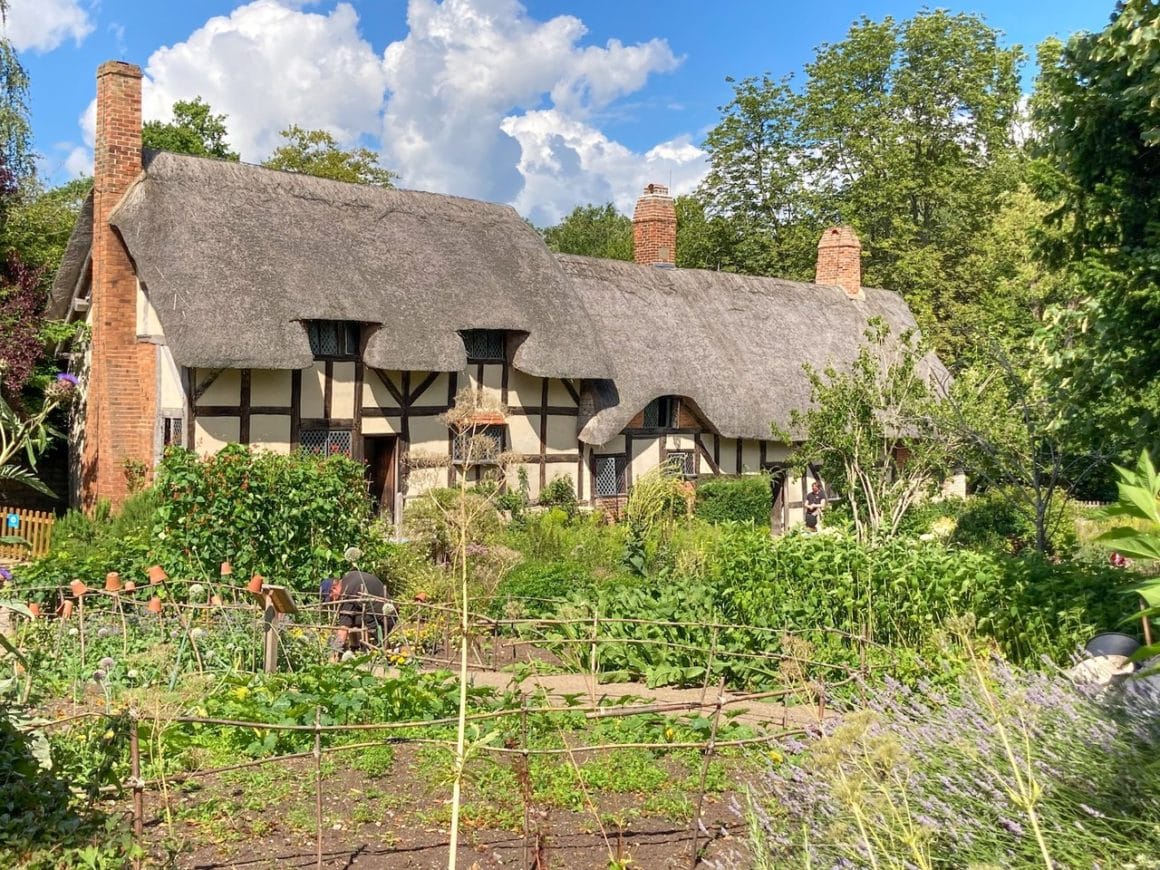 To get to the next stop, Anne Hathaway's Cottage, you'll have to catch a bus from outside Oxfam. There are quite a few routes that go to Anne Hathaway's cottage so I recommend simply searching it on Google Maps and catching the bus it suggests.
Anne Hathaway's cottage is pretty much everything that springs to mind when you hear the word "cottagecore". With a thatched roof and wooden timber beams, nestled inside an idyllic country garden, this building is nothing short of stunning.
This was the childhood home of Shakespeare's wife, Anne Hathaway, who was born here around 1556. It is thought that she probably continued to live here until her marriage to William Shakespeare in 1582.
Inside, you'll find many original pieces of furniture and brilliant guides who can tell you anything you could possibly want to know about Shakespeare or Anne Hathaway. If it's sunny outside, be sure to allocate enough time to stroll in the lovely gardens, where you'll feel far removed from the hustle and bustle of the 21st century.
Entry to Anne Hathaway's cottage is included in your one-day Shakespeare's Story ticket. Otherwise, individual tickets cost £13.
Stop 5 – Shakespeare's New Place
Back in town, Shakespeare's New Place is the site of the huge house Shakespeare purchased in 1597 once he had finally become a successful playwright in London. At the time, it was the largest house in the borough and was the Shakespeare family home for 19 years.
Once Shakespeare died, the house passed to his daughter, and was eventually demolished in 1759. It was only in 1876, when the Shakespeare Birthplace Trust took over responsibility for the site, that the idea of making the site of Shakespeare's New Place into a museum was considered.
You won't need too much time in Shakespeare's New Place. The garden is the highlight, but to be honest the house and museum don't have a whole lot inside. However, since it's part of the Shakespeare's Story ticket you may as well pay it a visit. After all, you've paid for it!
Entry to Shakespeare's Birthplace cottage is included in your one-day Shakespeare's Story ticket. Otherwise, individual tickets cost £13.
Stop 6 – Drink at The Garrick Inn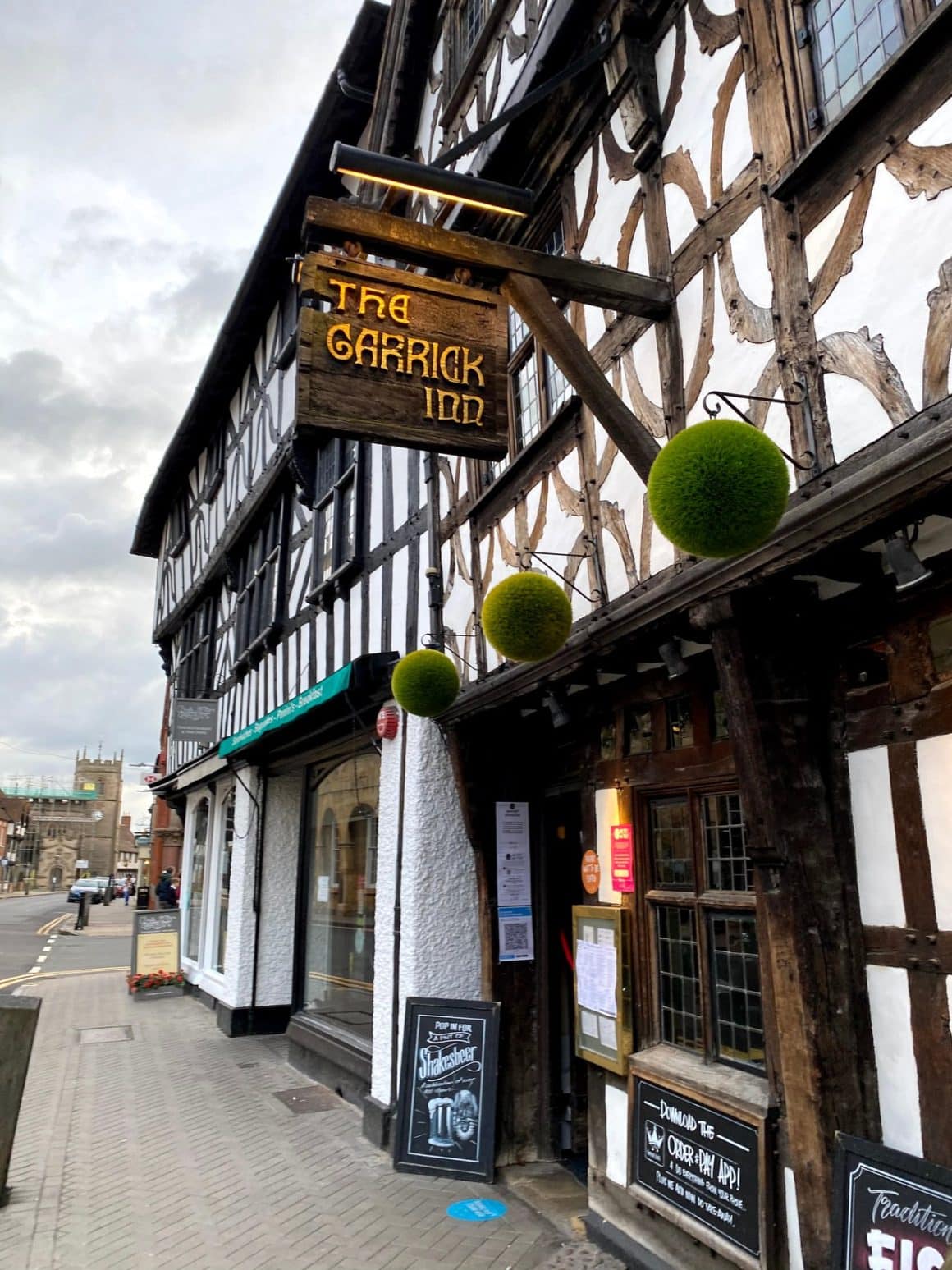 After so much history you're probably ready to rest your legs and have a drink – so why not combine history and drinking at The Garrick Inn, reportedly Stratford upon Avon's oldest pub! The exact date it was built isn't certain but is widely considered to be 1596, although parts of the building date as far back as the 14th century.
This is a wonderfully cosy pub to warm up in if you're visiting Stratford upon Avon in autumn or winter, but even in summer it's worth a visit for its historical value. Prices are in line with other pubs in Stratford upon Avon, with a pint costing around £6.
Stop 7 – Dinner at The Vintner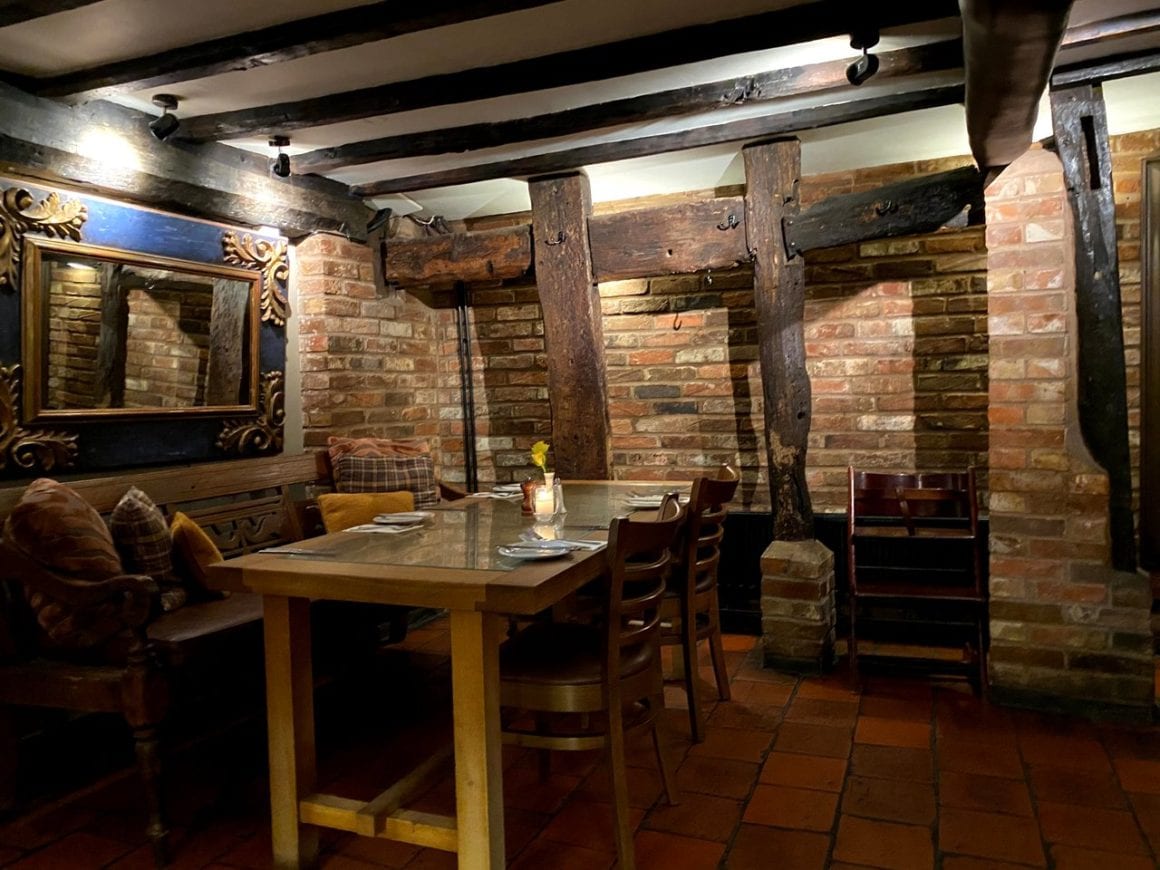 This stunning restaurant in the heart of Stratford upon Avon is a must-visit for any weekend trip! Here, you'll find a concise but mouth-watering menu featuring seasonal dishes using local ingredients. 
My boyfriend and I enjoyed their three-course set menu here, which costs a very reasonable £23. It was incredible value for money.
It's worth booking in advance for Friday and Saturday nights, but if you don't manage to book in advance it's still worth trying to get a walk-in table just in case. We didn't book but managed to get lucky, and I'm so glad we did!
Day 2 – Mary Arden's Farm & Riverside Strolls
Stop 1 – Shakespeare's Schoolroom and Guildhall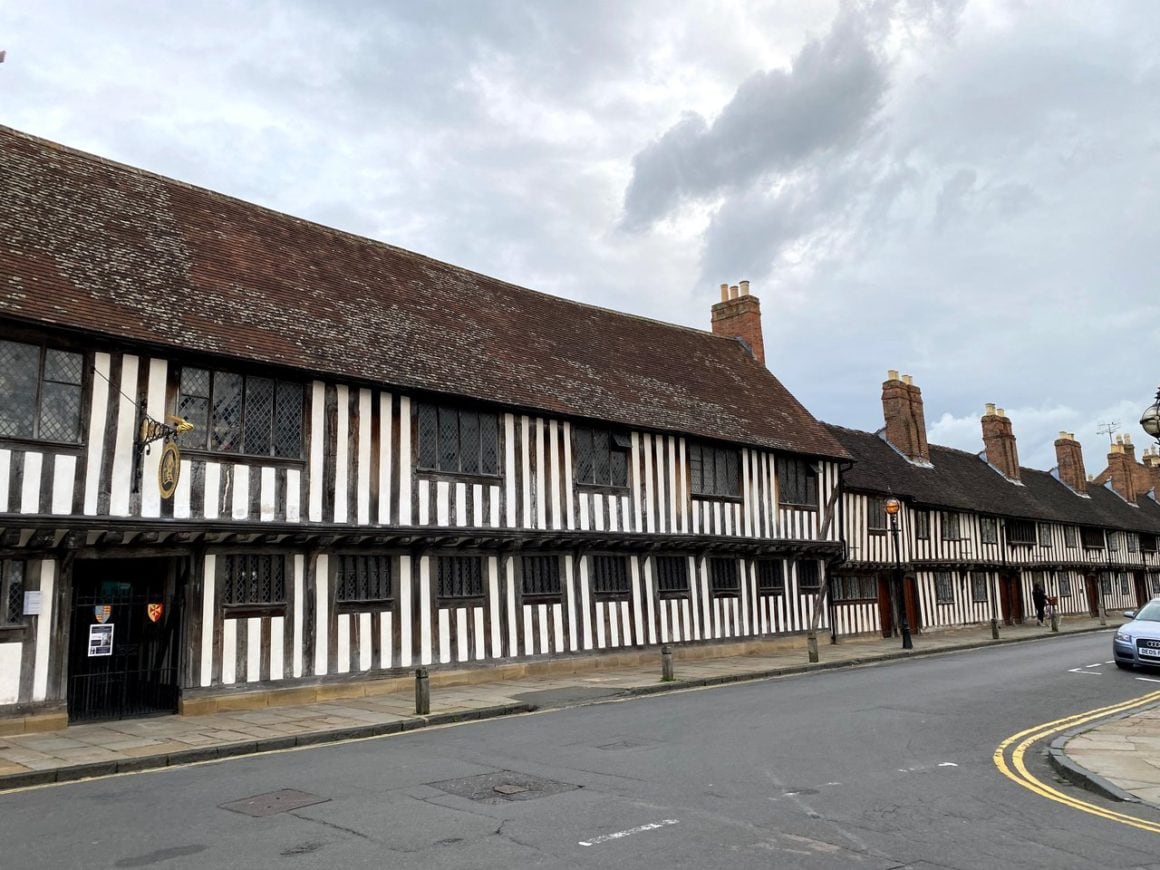 After your breakfast, the first stop of the day is Shakespeare's Schoolroom and Guildhall, another gorgeous timber-framed building in the centre of town. It was here that Shakespeare studied in the 1570s.
It's an interactive place to visit, and you're able to dress up in Tudor clothes and take a Latin lesson with Tudor schoolmaster "Mr Jenkins". You'll also learn how to write with a quill and ink! 
As well as being educational, a visit here is just a lot of fun – especially for kids, or those of us who just enjoy doing something different from a typical museum.
Tickets cost £12.50, and you can buy them on the door or on the schoolroom's website.
Stop 2 – Mary Arden's Farm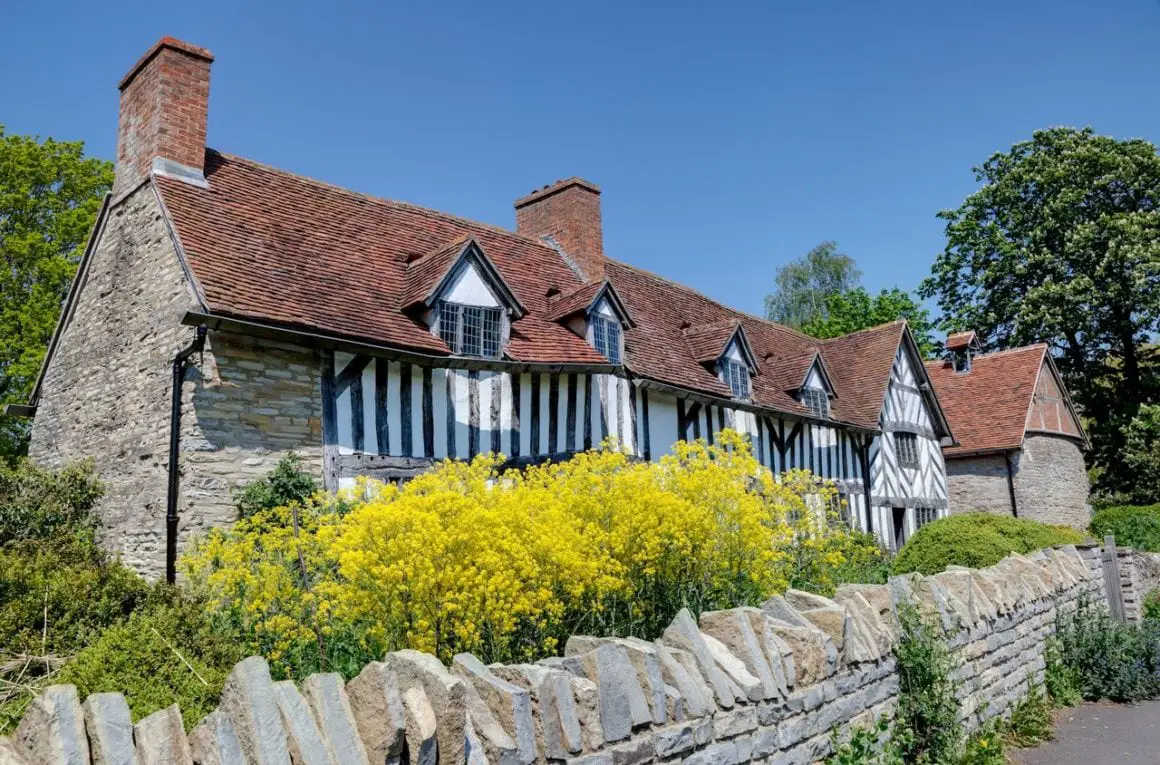 It's time to catch the bus out of town to visit Mary Arden's Farm. You can catch a direct train from Stratford upon Avon to Wilmcote, which takes just 6 minutes. An off-peak day return ticket costs just £2.30. From Wilmcote station Mary Arden's Farm is just a 5-minute walk away.
You'll feel like you've travelled through time as you arrive here as you'll instantly be surrounded by the sights, sounds and smells of a Tudor farm. The farm is incredibly important from a historical perspective as it was the home to May Arden, Shakespeare's mother. 
This area is totally stunning and exactly what you'd picture when you think of the Tudor countryside. The farm is open seasonally, from Easter until the end of October. Admission costs £9.50.
Stop 3 – Lunch at The Dirty Duck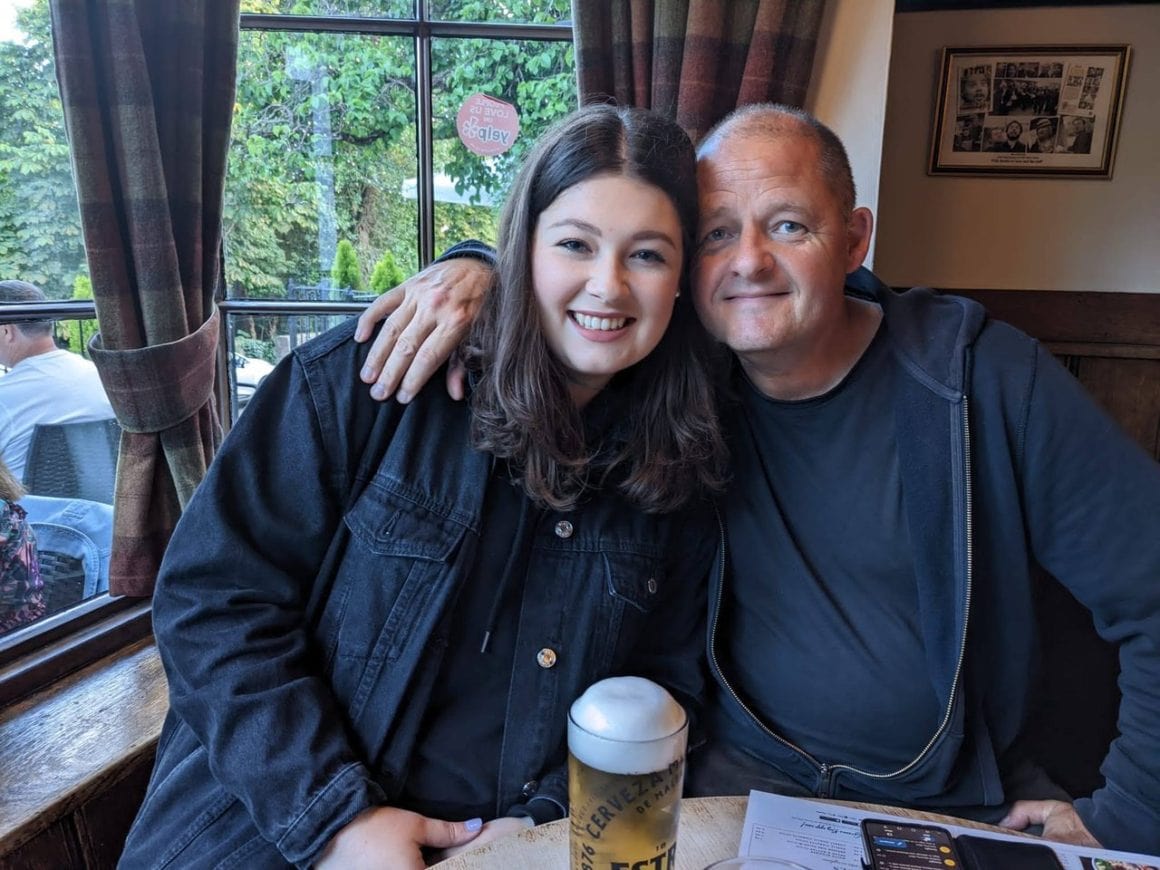 Back in town, I recommend getting a pub grub lunch at the riverside Dirty Duck. The pub's interior is old-timey and cosy, but its riverfront terrace is also a great place to dine if the sun is out.
I enjoyed a vegetarian mushroom pie with mash here and it was lovely! It cost £13.99, so not cheap, but prices here are in line with other pub grub options in town.
Stop 4 – Stroll along the River Avon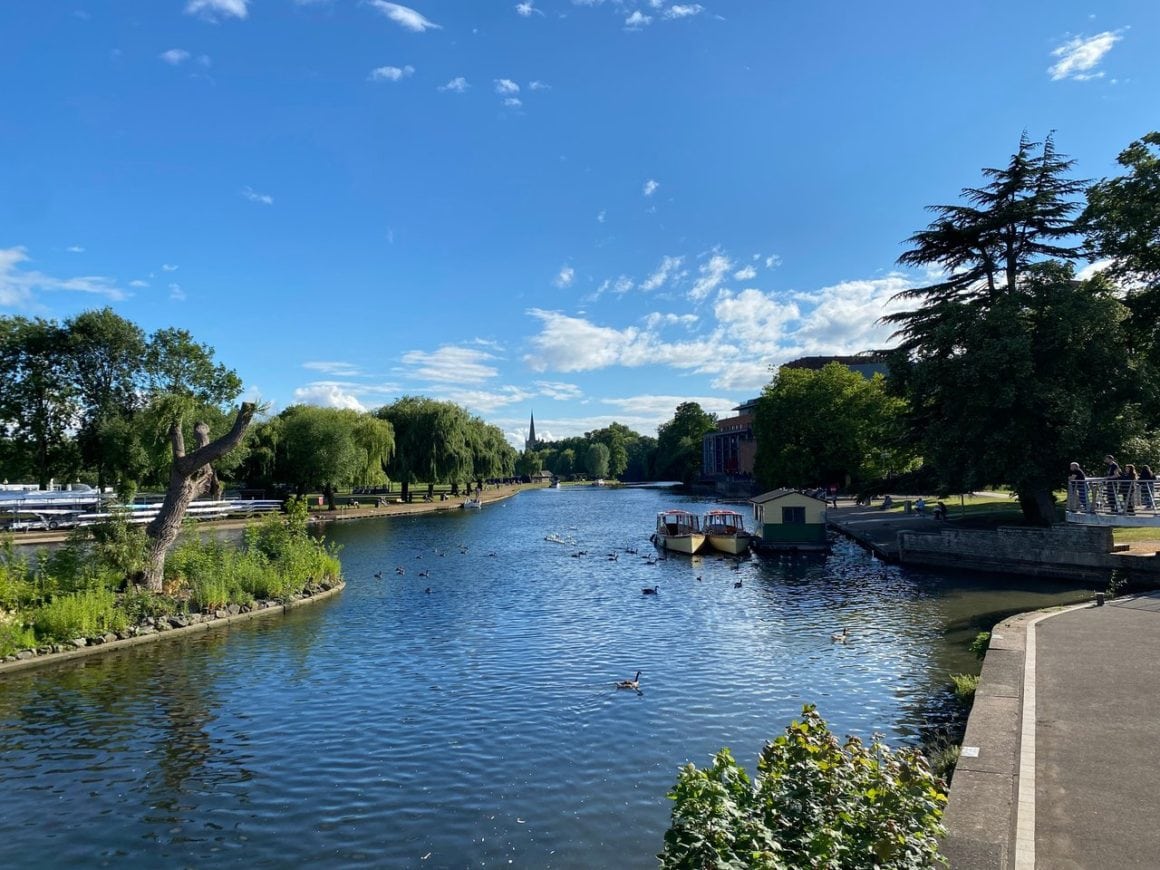 Since you're by the river, I recommend taking advantage of this and going on a peaceful riverside stroll. This part of Stratford is very relaxing, especially if you walk along the river in the direction of the Holy Trinity Church. It's the easiest way to get away from the tourist crowds in town.
Stop 5 – Holy Trinity Church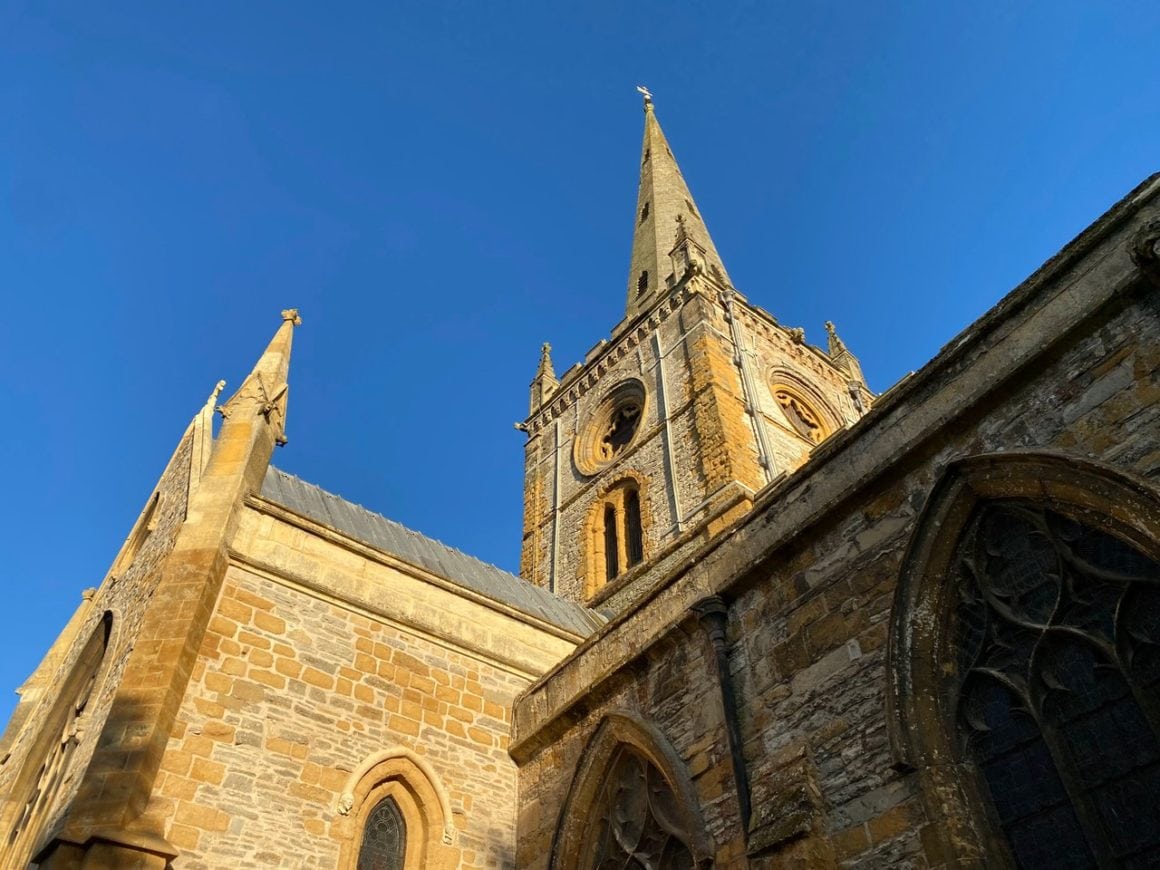 After a short walk along the river you'll come to Holy Trinity Church. This beautiful church is surrounded by a very picturesque cemetery which is where you will find the graves of William Shakespeare, Anne Hathaway and a few of their relatives. 
Entry to the church is free, but the cemetery containing Shakespeare's grave is the star attraction here.
Stop 6 – Royal Shakespeare Theatre
Walking back along the river into town, you'll be back at the perfect time to catch a performance at the Royal Shakespeare Theatre. If you managed to book tickets in advance, that is! If not, head back into Stratford upon Avon for another night of drinking at ancient pubs and eating awesome locally-sourced food.
Plays by Shakespeare, other playwrights from his era and more modern playwrights are performed here. If you're super keen to see a Shakespeare play you should check the performance schedule in advance and plan the timing of your weekend in Stratford upon Avon around that.
And, with that, we round off this weekend in Stratford upon Avon itinerary! This itinerary has covered everything that I have learnt during my two visits to Stratford upon Avon and takes in all of the best things to do in town. I'm confident that if you follow this itinerary you'll have a fabulous weekend!
Where to Stay in Stratford upon Avon
…For an Unforgettable Experience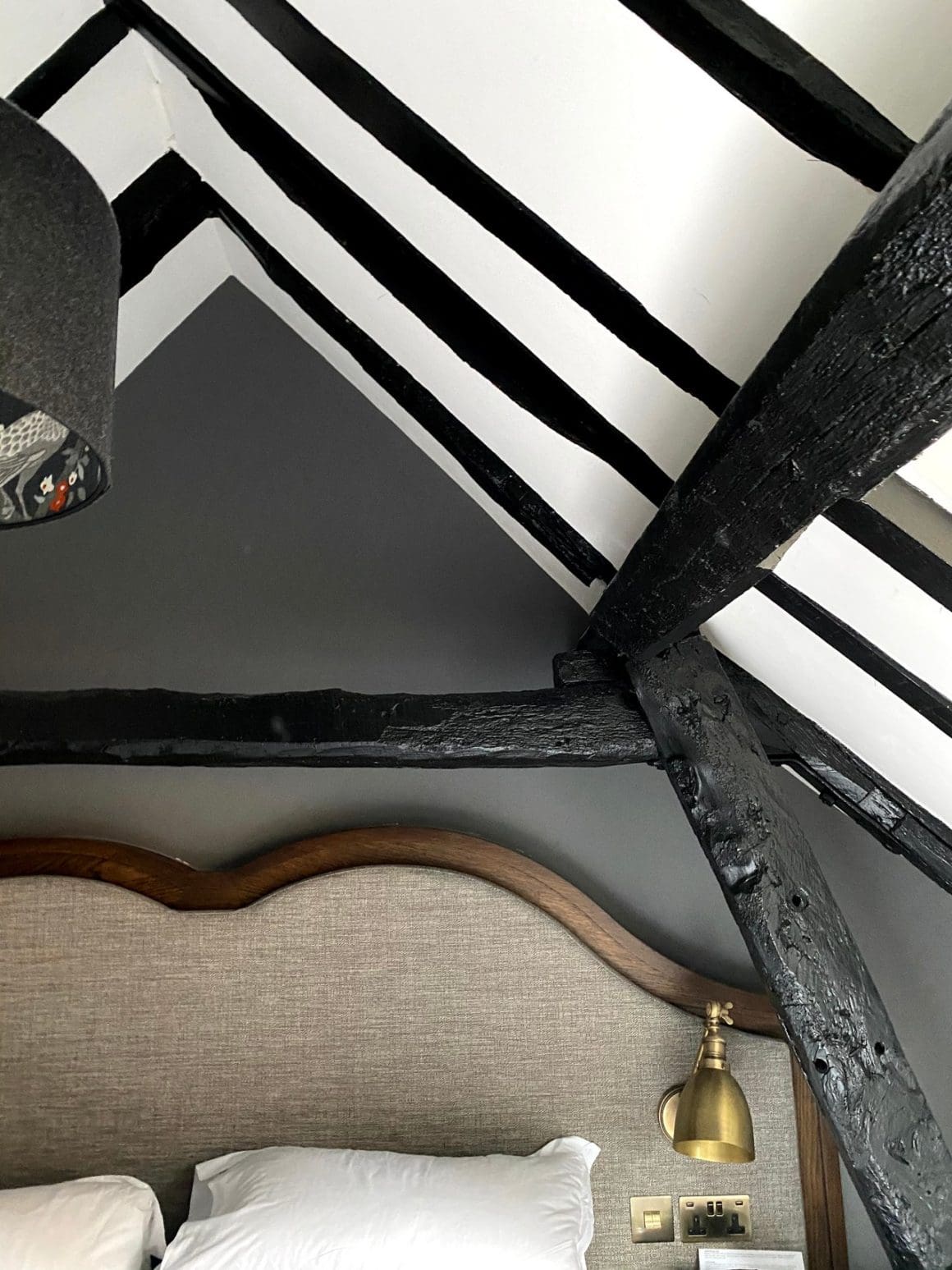 I stayed at this unforgettable hotel in Stratford upon Avon, and I don't think I'll ever stay anywhere else in town! This gorgeous hotel offers Tudor-style rooms, and I highly recommend you request one in your booking. Oh, and their locally-sourced cooked breakfast is INCREDIBLE.
I first visited Stratford in October 2020 (when tourism was still low due to the pandemic) and I actually got a free upgrade to a Tudor Suite. This was, without a doubt, the best hotel room I've ever stayed in, and if you have the cash the suite is absolutely worth the money. Even the normal rooms are gorgeous, and the hotel is right in the centre of Stratford.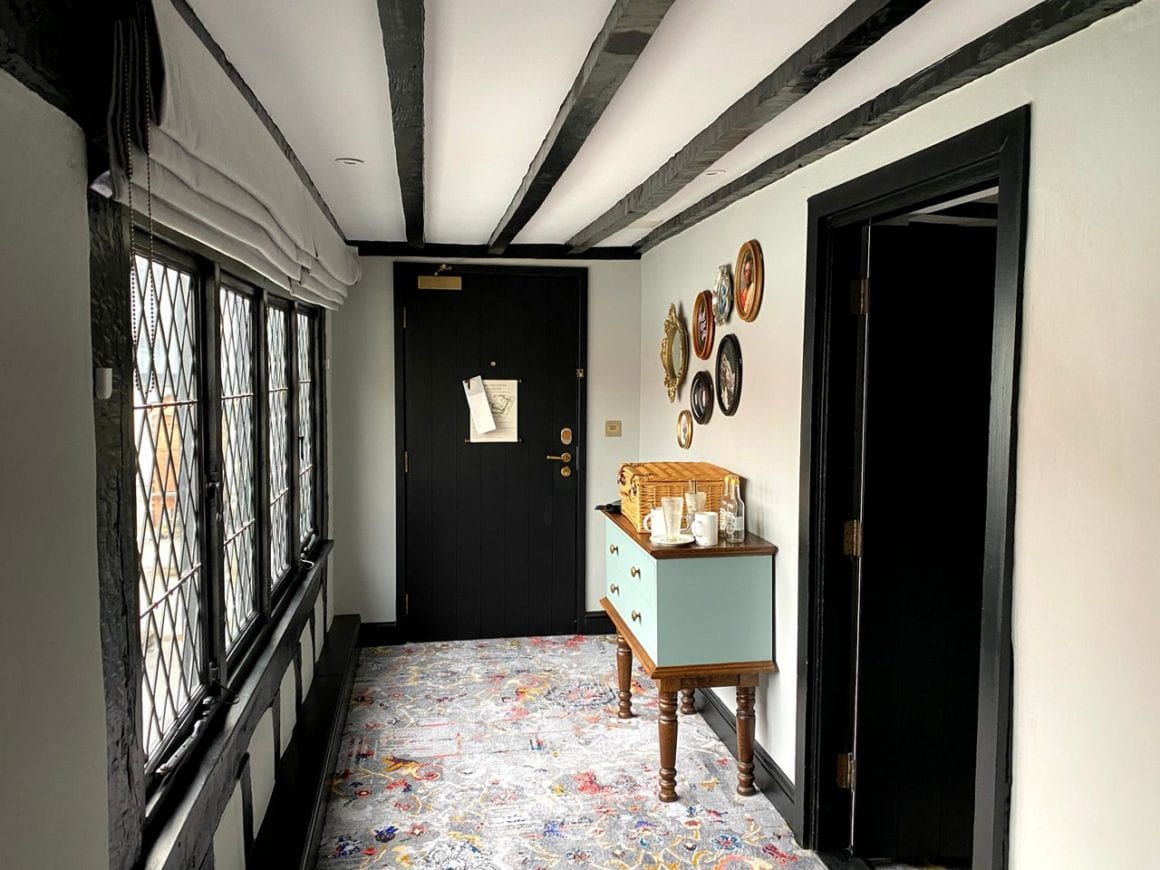 … On a Budget
There's no beating around the bush here – accommodation in Stratford upon Avon is expensive! It makes sense, though – it's one of England's most popular tourist attractions! Luckily, this independent guest house has got your back if you're travelling on a budget.
Located very centrally and including free breakfast, it really does offer bang for your buck, and it's got an exceptional 9.5/10 rating on Booking.com! You can't argue with that!
… On a Shoestring Budget
Budget backpackers rejoice – Stratford upon Avon does indeed have its own hostel! Just a couple of kilometres away from town, you'll still be able to save money by walking everywhere, and the hostel has great reviews. 
A bed in a dorm room will set you back just £15, and private rooms start at £39 per night. It's the cheapest accommodation in town!
How Many Days Do You Need in Stratford upon Avon?
If you want to see all of the best tourist attractions in Stratford upon Avon, you'll need at least two full days. However, if you can stretch your trip to three days you'll be able to take your time and relax, and even have a lie-in in the mornings! 
If you only have one day to spare it's definitely possible to visit Stratford upon Avon on a day trip, but you'll have to accept that you won't see everything. You'll need to be selective about which tourist attractions you add to your itinerary if you only have one day in Stratford upon Avon. 
I actually stayed in Stratford upon Avon for three full days on my first visit and it was perfect – I was able to see every attraction I wanted to with time to sleep in in the mornings, relax over lunch, and stop for a coffee whenever I pleased. If you're visiting for three days and want to get out of Stratford you could even spend a day at nearby Warwick Castle!
Is Stratford upon Avon Worth Visiting?
Yes. 100%! If you're interested in Shakespeare, you will absolutely love it here. Even if you're not interested in Shakespeare, you'll still love it. When I visited with my mum she had absolutely no interest in Shakespeare and was still blown away by the beauty of the town and its many historic buildings.
If you're on the fence, this is the sign you have been waiting for. Go! You won't regret it.