There is a good chance that this post contains affiliate links. If you make a purchase through them, I may receive a small commission at no extra cost to you! As an Amazon Associate, I earn from qualifying purchases. As ever, all opinions are my own.
I may be biased, but London truly is one of the most beautiful cities in the world. It's also one of the most expensive.
So, if you're wanting to check out some of the best views in London it's only natural to expect that the view would cost you a pretty penny. Well, I'm here to tell you that's not true! Actually, there are quite a few places you can visit for free to catch some of the prettiest views in London.
In my humble opinion, London's free viewpoints are even better than the ones you have to pay £25 for!
So, from famous attractions to local hidden gems, here are my recommendations of where to go for the best free views in London!
Primrose Hill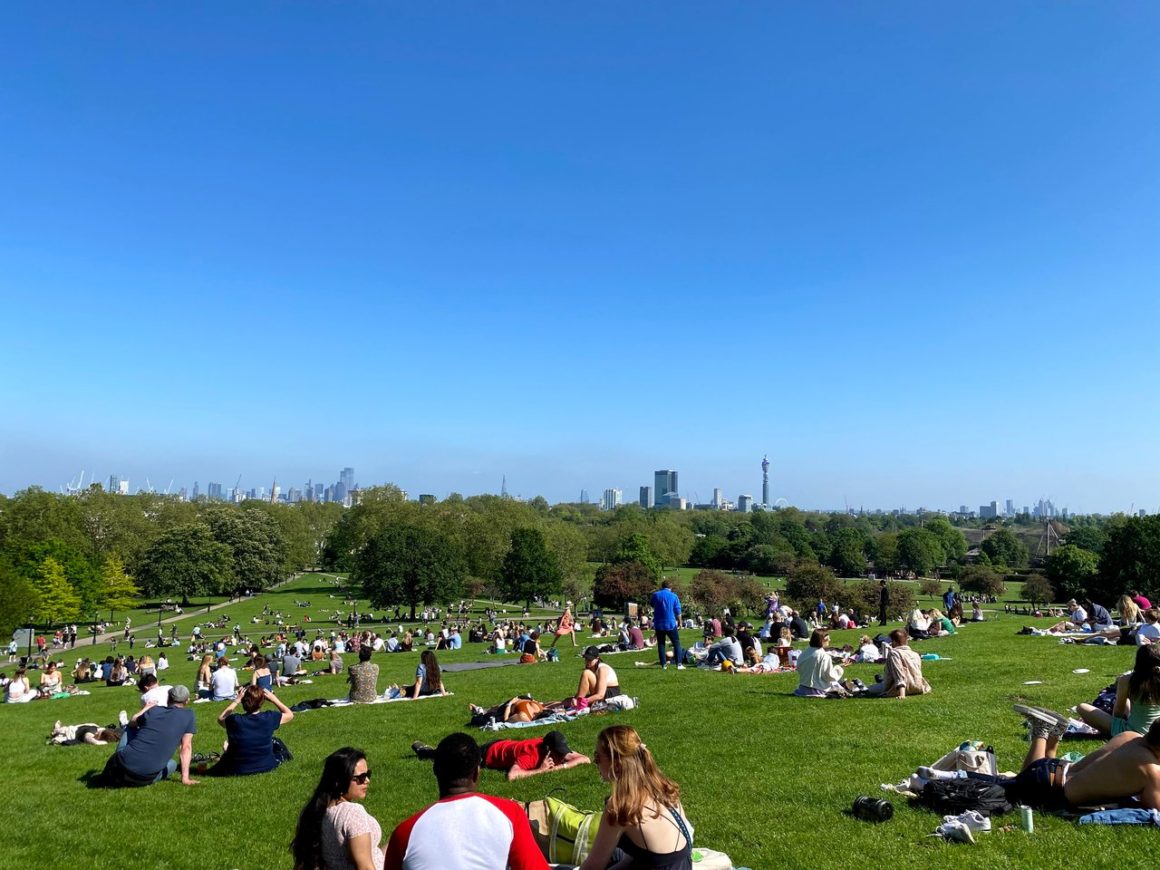 Primrose Hill is where it feels like half of London goes whenever we get sunny weather. From this lovely park, you'll get epic views of the London skyline and Regent's Park. It certainly deserves its place at the top of this list of the best free views in London.
Primrose Hill park sits around 63 metres above sea level, which is pretty high for London. It's also one of the city's seven protected views, meaning development that would restrict the view is restricted.
Primrose Hill isn't just a park, but is actually also the name of the fancy London neighbourhood where the park is situated. This neighbourhood rocketed to fame in the 90s when a bunch of celebrities such as Kate Moss, Ewan McGregor and Jude Law moved here and started being referred to as the "Primrose Hill set".
During your visit to Primrose Hill be sure to save time to simply stroll around these beautiful streets, take photos of all of the flowers in bloom (if you're here at the right time of year) and peruse the independent shops and artisan bakeries.
Getting to Primrose Hill: the nearest tube station is  Chalk Farm, which is around an 8 minute walk from the park. Chalk Farm is on the Northern line.
Sky Garden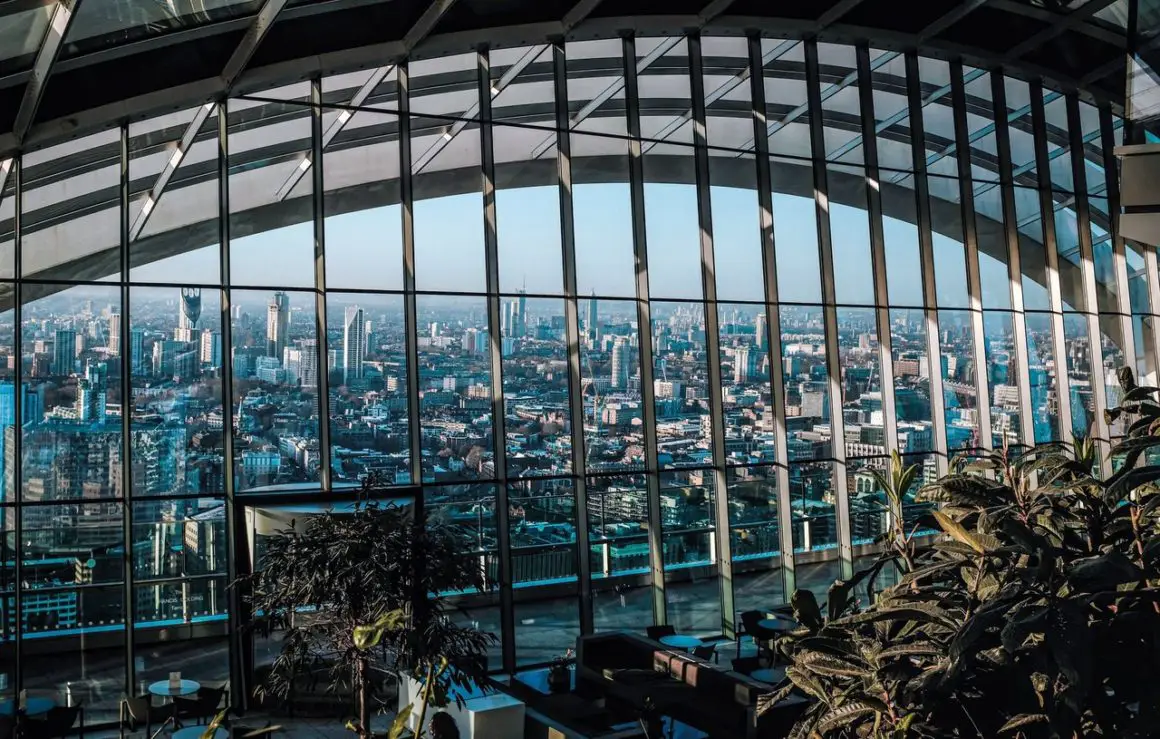 You wouldn't believe that this viewpoint, which is at the rooftop of London's famous Walkie Talkie building, is free, but it really is! This is the highest public garden in London, and is a super unique place to visit during your trip.
The floor-to-ceiling windows here offer unparalleled views of central London, including the Shard and St Paul's Cathedral. You're not just limited to looking over at the City of London, though, as the Sky Garden actually offers 360-degree views over London.
Taking in the free views at the Sky Garden does require a bit of advance planning. You'll need to pre-book a time slot for entry here. 
You can book your place up to three weeks in advance, and I recommend doing so as early as you can (especially if you plan to visit at the weekend when things get booked up almost immediately).
Getting to the Sky Garden: the nearest tube station is Monument, which is on the Circle and District lines.
Tate Modern
Okay, so I'm definitely not a big fan of the Tate Modern, or modern art in general, but if there's one thing I am a fan of it's that it offers some of the best free views in London!
Entry to the Tate Modern is free, so even if you're skipping the art and just heading there for the viewpoints you won't have to pay a penny.
When you go inside, head straight for the Blavatnik Building and go to the top floor. Here, you'll find a large open viewing platform where you'll get some wonderful views of St Paul's Cathedral, the Globe Theatre and the River Thames.
Getting to Tate Modern: the nearest tube station is Southwark, on the Jubilee line, but you can also get here easily from Blackfriars (Circle and District lines) or London Bridge (Jubilee and Northern lines).
St James' Park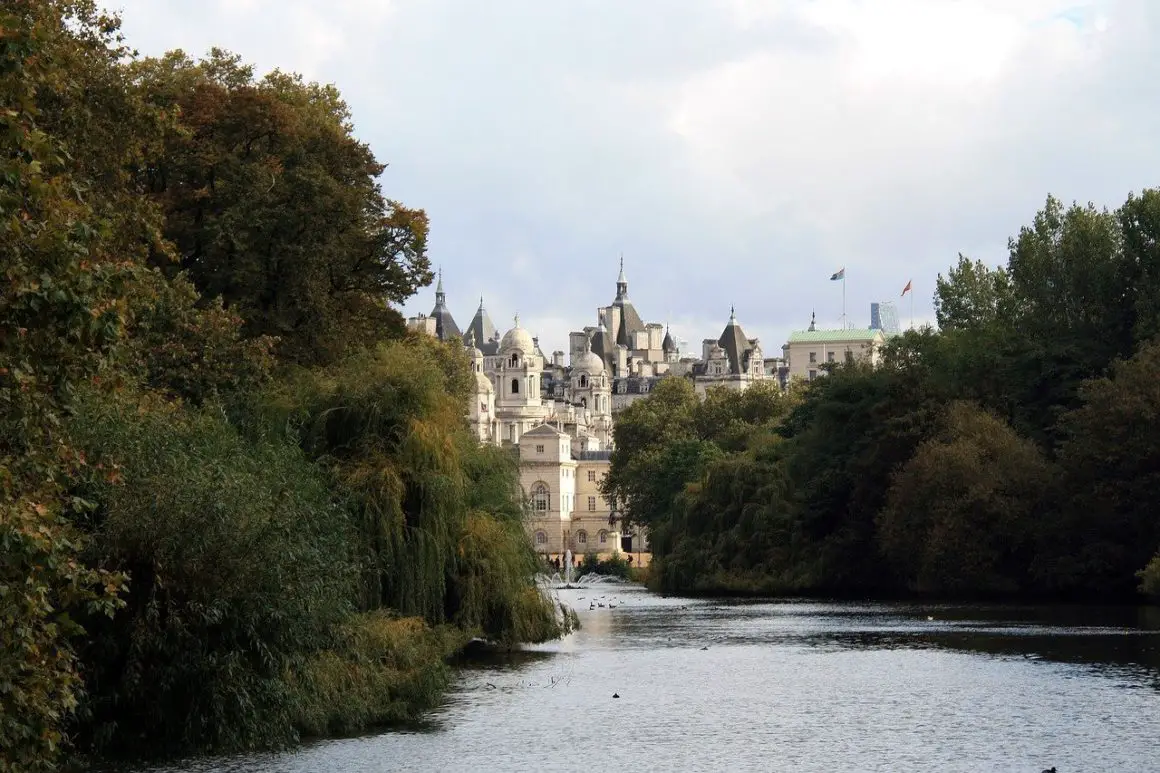 You won't typically find St James' Park on lists of the best free views in London, but as a local it's probably my favourite! It's surrounded by some of London's most iconic attractions, you'll get beautiful views of London from every angle, and it's a welcome respite from the madness of the city.
This small park really does have it all. If you turn one way you'll see Buckingham Palace in all of its glory. Turning to the other side, you'll see the park's lake with the London Eye and the majestic Household Cavalry building. 
This is, in my opinion, the prettiest park in London. Don't miss walking past the idyllic Duck Island Cottage and checking out the vibrant flower beds in spring and summer. 
Getting to St James' Park: the nearest tube station is St James' Park, which is on the Circle and the District lines.
Read More: Top Tips for Visiting London in Summer – By a Local!
Greenwich Park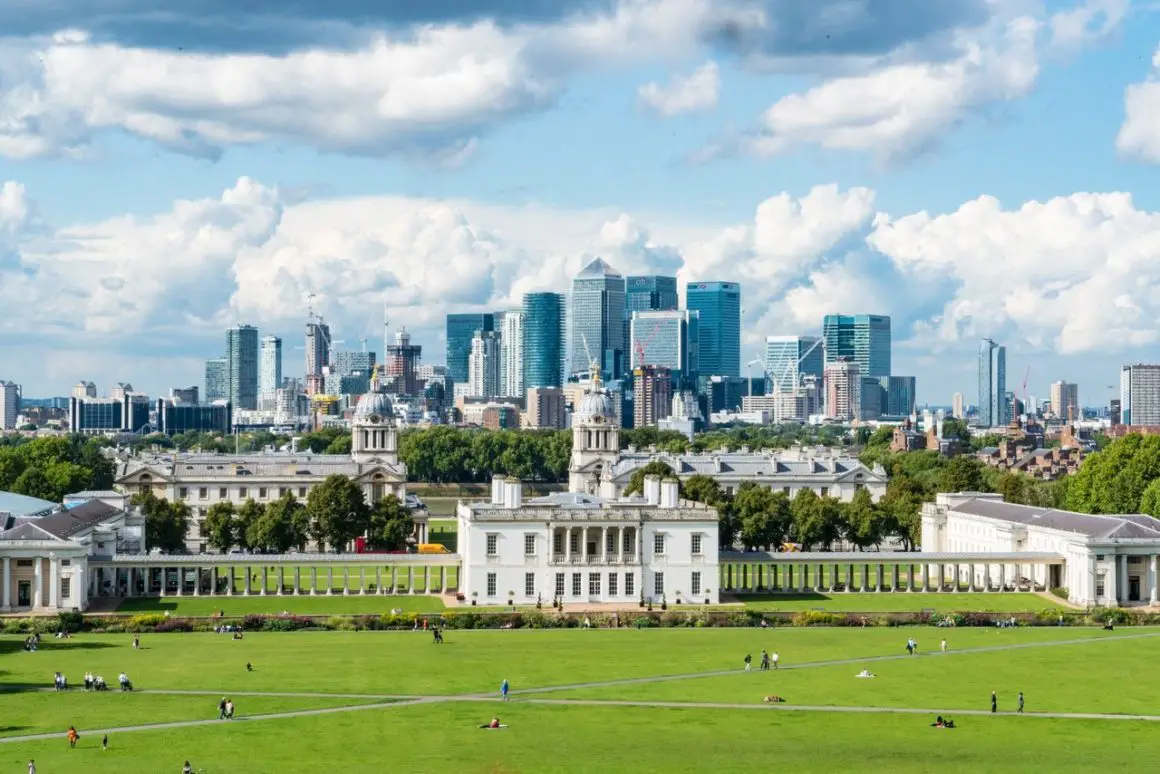 Although Greenwich Park as a whole offers fabulous views over London's skyline, if you head to the grounds of Greenwich Observatory you'll have the best seat in the house. Since the observatory is on top of a hill you'll be able to see even more from here.
Unlike most London views, which look out on central London, the view from Greenwich Park looks out over Canary Wharf, London's iconic business capital. 
Getting to Greenwich Park: on a sunny day, getting to Greenwich Park from Central London is part of the fun! Sure, you can catch the train to Maze Hill, but you could also catch the Thames Clipper boat and sail along the River Thames to get to Greenwich!
Parliament Hill (Hampstead Heath)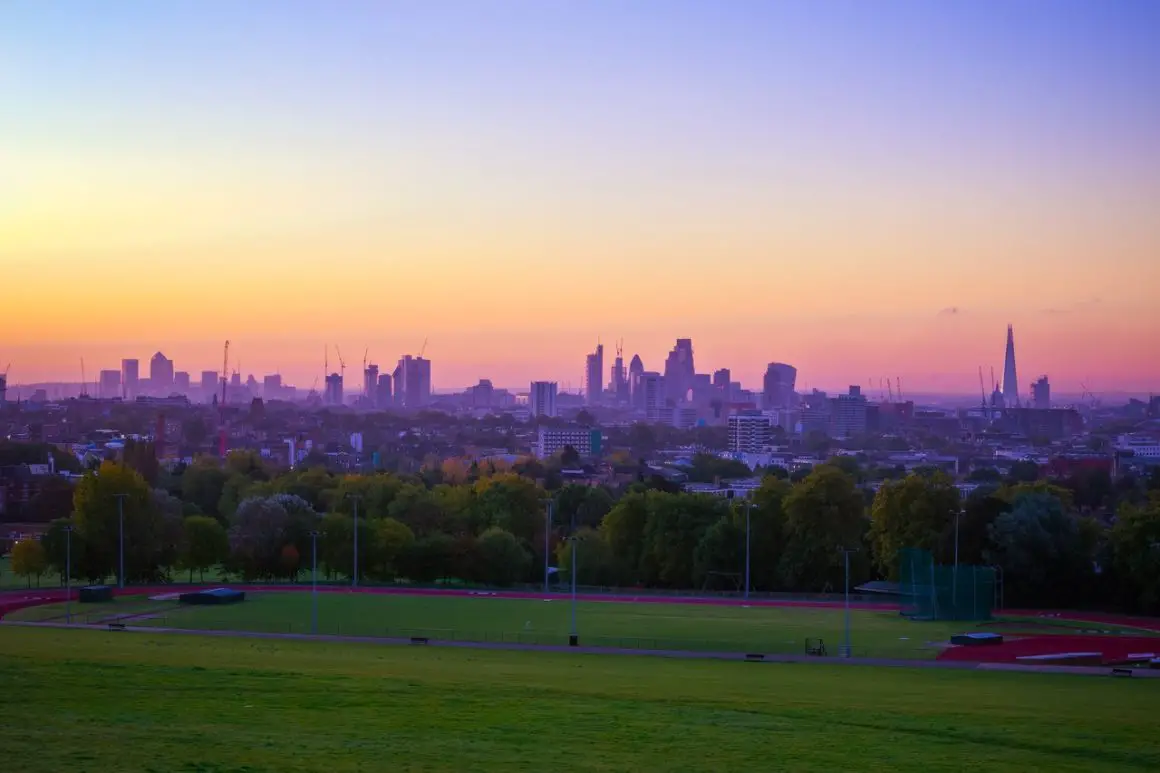 Parliament Hill, an area of the famous Hampstead Heath, is one of the very best free views in London. It's also one of the city's top sunrise and sunset spots, so be sure to time your visit for the start or end of the day if you want to see London's sky streaked with orange and pink.
At around 98 metres above sea level, Parliament Hill offers a great vantage point to check out many of London's tallest buildings and most iconic landmarks.
You simply can't visit Parliament Hill without spending time exploring the rest of Hampstead Heath, though. This huge public park feels worlds away from the fast-paced city, and you could easily lose hours here lounging in the sunlight with a book or barbecuing with friends.
Getting to Parliament Hill: the nearest tube station to Parliament Hill is Belsize Park, on the Northern line, which is a 22-minute walk away. To get closer, take the overground to Hampstead Heath.
Alexandra Park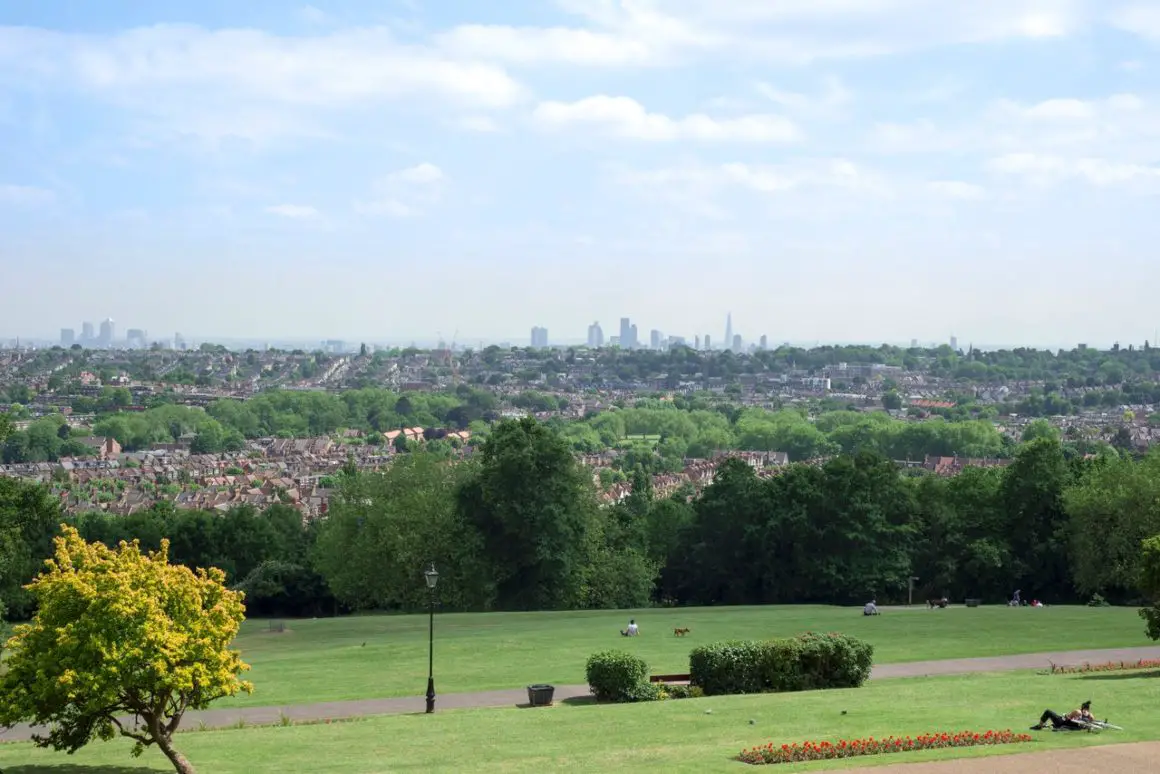 Although it's a bit of a journey from central London, the views from Alexandra Park are more than worth it. In the middle of the park you'll find the humongous Alexandra Palace, that us locals call Ally Pally.
You can go ice skating at Alexandra Palace, or check out some of the best music in the world (it's one of London's most famous music venues). From Alexandra Park you'll be able to see the Gherkin, the Walkie-Talkie and the Shard, as well as plenty of other famous London attractions.
The journey here does take a while so I personally recommend getting tickets to a concert at Alexandra Palace and taking in the free views beforehand to make the travel time worth it!
Getting to Alexandra Park: the best way to get to Alexandra Park is via train. The nearest train station is, conveniently, Alexandra Park.
The Garden at 120 Fenchurch Street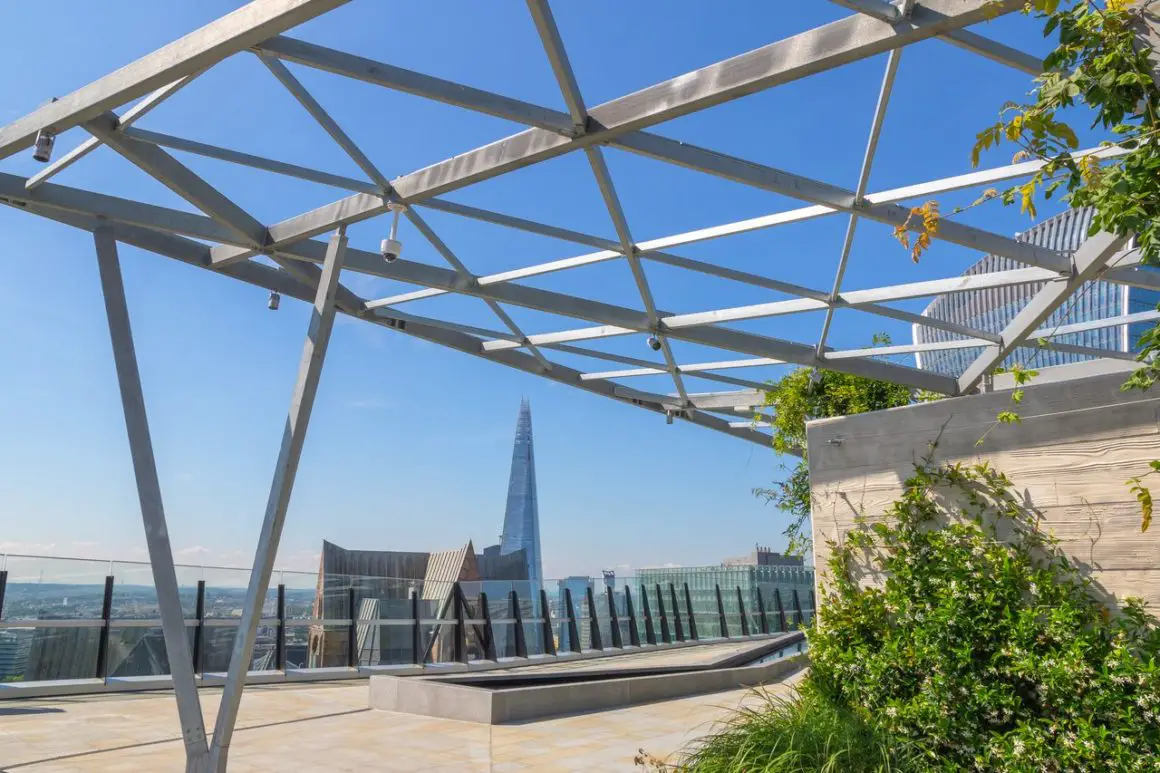 Just a short walk away from the Walkie Talkie, home to the Sky Garden, you'll find The Garden at 120 Fenchurch Street, a totally different viewpoint with a rather different vibe!
You'll find this outdoor public garden at 120 Fenchurch Avenue, a swanky office building. Sitting on the 15th floor, this viewpoint certainly isn't as high up as the Sky Garden, making it the perfect option for somebody who doesn't particularly like heights.
What's more, unlike the Sky Garden, you don't need to pre-book your place here – simply turn up whenever the weather is good and you fancy some of the best free views in London!
Getting to The Garden at 120 Fenchurch Street: the nearest tube station is Aldgate (Circle and Metropolitan lines) or Monument (Circle and District lines).