There is a good chance that this post contains affiliate links. If you make a purchase through them, I may receive a small commission at no extra cost to you! As an Amazon Associate, I earn from qualifying purchases. As ever, all opinions are my own.
Last Updated on February 17, 2022 by Ella
The best time to visit London is anytime! In my opinion, London is always a good idea.
Having lived in this amazing city for almost 2 years already, I've experienced the best and worst of all the seasons in London. Each one brings its own unique twist to London, and choosing the best time to visit London can be tricky. After all, each season has its benefits!
Because of this, the best time to visit London for you will totally depend on your travel style and interests.
You're not here for me to sit on the fence, though. You want to know when is the best time of the year to visit London, right?
If you just want a straightforward answer, here it is:
In my opinion, autumn (September – November) is the best time to visit London.
In this post, I'll go over the pros and cons of each season in London to help you choose when to visit.
Visiting London In Spring
Spring in London means longer daylight hours, cherry blossoms, and stunning flowers!
There's no doubt that spring is the prettiest season in London. From checking out the stunning Kew Gardens to going cherry blossom hunting in the city's countless parks, there are a ton of awesome things to do in London in spring.
Spring is my favourite time to visit Buckingham Palace and other royal attractions in London. With all the flowers blooming, the grounds come to life and are truly breathtaking. It's also the time when attractions that closed for winter start to reopen, so you'll have (even more) options of fun places to visit and explore.
It can still be pretty chilly in Spring, with temperatures hovering between 7 and 15°C, so you'll definitely need a jacket (and probably an umbrella too!). Although spring can offer stunning clear days with pleasant temperatures, more often than not it can be really unpredictable. 
For example, I'm currently writing this in May, and it's been raining and blowing a gale for three days straight now!
It can sometimes take quite a while – almost the whole of the spring season – for London to shake off its winter weather. That can be a bummer if you expected warm sunny days. 
In summary:
Pros of visiting London in spring: flowers and cherry blossoms, seasonal attractions reopen.
Cons of visiting London in spring: unpredictable (sometimes very cold) weather.
Visiting London In Summer
Summer is when the city comes to life, and is the best time of the year to visit the many gorgeous parks in London. The city has a tonne of outdoor attractions, and summer is the best time to visit these. If you're wanting to catch a play at the Globe Theatre, summer is the season for you!
Average temperatures are in the low twenties (celsius), but don't be fooled! We almost always have a few heatwaves in summer, when temperatures can reach a mind-boggling 40°C. 
Unfortunately, I'm not kidding.
London is just not prepared for extreme weather, and the whole city kind of comes to a standstill during heatwaves!
It's unlikely your accommodation will have air conditioning and the Tube, which you'll undoubtedly use a lot to get around, definitely doesn't have air-con. Descending underground during a London heatwave is something I shudder to even think about. For this reason, I don't think summer is the best season to visit London.
The school holidays in England take place from mid-July until the end of August. During this time, accommodation prices will rise and family-friendly activities will have mile-long queues. Not fun!
There are some good reasons to visit London in summer, though. 
Firstly, there are a ton of awesome events that take place in the city during summer. Many of the city's parks get taken over to host music festivals on weekends, and there are lots of funky exhibitions going on across the city.
Having a few drinks (and probably getting sunburnt) in the pub garden is also a British experience you can't miss – and summer is the best time of year for that.
In addition, it stays light in summer for so long (sometimes until 10pm!) so you get a lot more time to explore and get your tourist on. 
If you're visiting London in summer I highly recommend you book all of your activities, accommodation, flights as far in advance as you can. London is not a cheap city to visit anyway, but summer is probably the most expensive time of the year.
In summary:
Pros of visiting London in summer: long days, fun events, warmer weather.
Cons of visiting London in summer: crowds, having to make bookings in advance, expensive, heatwaves. 
Read more: The Ultimate Guide to Visiting London in Summer!
Visiting London In Autumn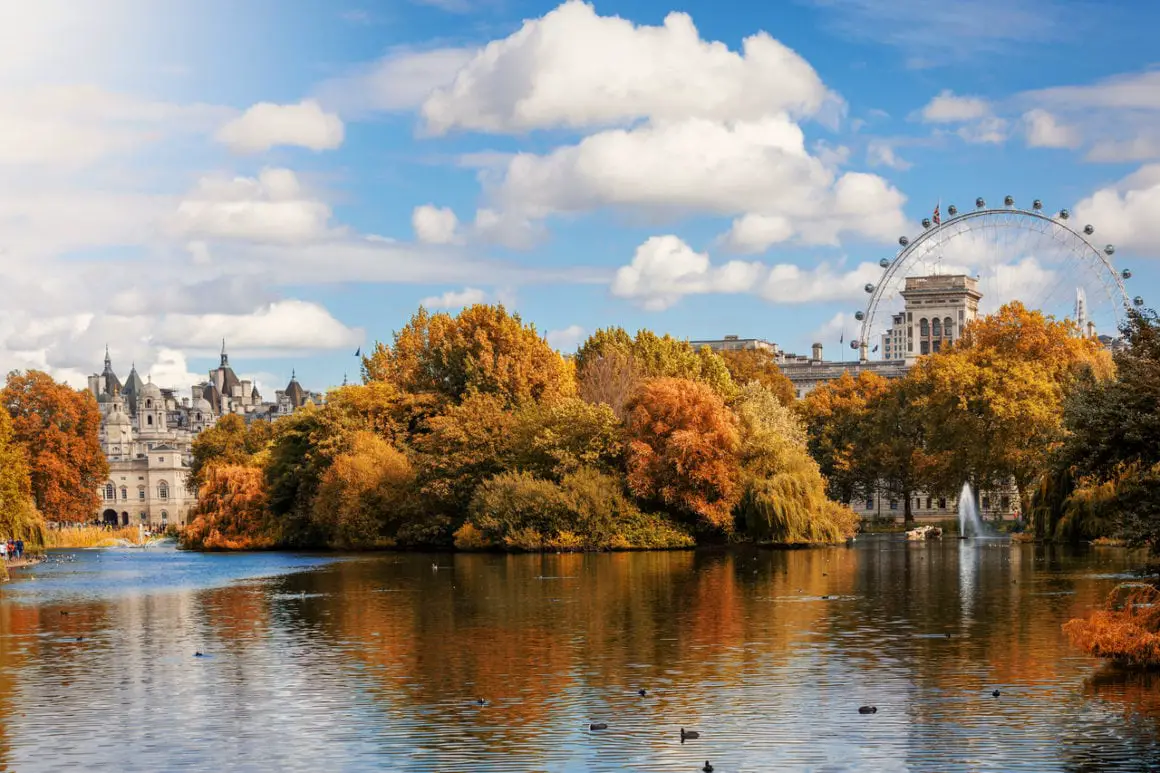 Autumn is my favourite season in London, and I think it's the best time for tourists in London. The weather stays surprisingly warm (usually around 16°C) until mid-November. What's more, the city is waaaay quieter than in summer, meaning less time spent queueing and more options for accommodation. 
Halloween isn't really a big deal in London, but you'll still find some spooky things to do such as going on a Jack The Ripper walking tour or visiting the Tower of London. October and November are fabulous for checking out the autumn foliage at the many parks, with St James' Park in particular boasting brilliant red leaves. 
11 November is Remembrance Day in the UK, so if you're in the city at that time you shouldn't miss visiting the Imperial War Museum.
Autumn is my favourite time of the year to explore London's many outdoor markets. On a weekend morning, I can never resist getting a coffee from one of my favourite London coffee shops then heading to explore Borough Market for some yummy food. 
Since autumn falls between London's two peak periods of summer and Christmas, you can find yourself some great bargains. Flights in particular often go on sale, so autumn is ideal for visiting London on a budget.
During summer, all of the football leagues go on break, but in autumn they return for a new season, so to enjoy an afternoon like a local head to the pub to watch a match.
In summary:
Pros of visiting London in autumn: mild weather, fall foliage, the city gets quieter, cheap flights.
Cons of visiting London in autumn: not as quiet as winter.
Visiting London In Winter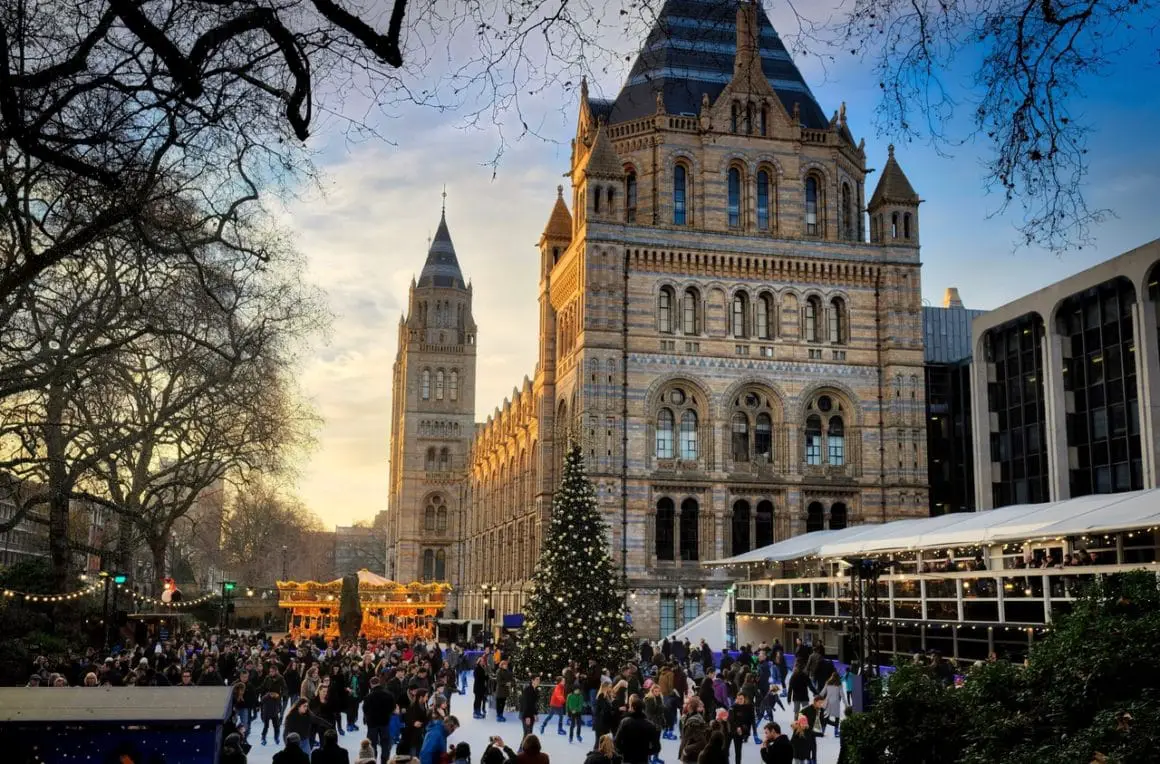 The winter months in London feel very long and span pretty much from the start of November until the end of March. The winter weather in London can be unpredictable, but, perhaps surprisingly, it doesn't rain as much as you'd expect. The wettest month is usually January, which averages 12 days of rain. In general, though, it's more likely to only rain for a few hours rather than the whole day.
Although winters in London feel long, the temperature stays fairly mild. It's very rare for it to drop below freezing. The temperature usually bounces between highs of 9°C and lows of 4°C. It also very rarely snows in London. Even if it does, it'll probably melt within a couple of hours.
In winter in London it gets dark at around 4pm. I know, that's pretty early, but shops and museums stay open until around 6 (and some much later). To make the most of being in London in winter, I recommend spending the evening cosying up in one of the city's staggeringly old pubs and enjoying some traditional real ale.
The upside of visiting London in winter is that there are plenty of cold and bright days which are beautiful for photos. Plus, the amount of visitors to the city plummets. This means cheaper hotels (and more choice!), and barely any time spent queuing for attractions. 
If you're visiting London on a budget, a trip to London in winter will save you a lot of money.
Obviously, there are two big exceptions: Christmas and New Year, when everything will be booked up months in advance, and prices soar!
December is a truly special time to visit London, though. There's Winter Wonderland in Hyde Park, Christmas shopping at Harrods, and, of course, the New Year's Eve Fireworks.
If you're a shopaholic, winter is a fabulous time to visit London. Huge sales take place from Boxing Day (26 December) until the end of January.
Speaking of January, if you're visiting London on a budget this is the time to go! Many restaurants (I'd say about 75% of them!) have crazy offers on, and you can get massively discounted tickets to many of London's most popular attractions.
In summary:
Pros of visiting London in winter: cheapest season, fewer crowds, cosy, mild weather, Christmas festivities.
Cons of visiting London in winter: unpredictable weather, short daylight hours.
So – When Is the Best Time to Visit London?
We all know that I ADORE living in London, and I just love that it has four very distinct seasons. It means you get to see a completely different side of the city each different season!
For this reason, there really isn't a bad time to visit London. Every season has its pros and cons. Although my favourite season in London is autumn, the best time to visit London for you totally depends on what type of trip you're looking for.
When is your favourite time of year to visit London?
Want to know more about London? As a Londoner myself, I have a TON of awesome resources created from my local perspective to help you plan your trip. Head over to my London page to check them out!
Liked this post? Don't forget to pin it!